Wednesday, March 7, 2007
Headlines---
Allied Capital acquires Direct Capital
Direct Capital Founder David Murray
Operations---Classified Ads
Presentation to Paul A. Larkins, Sunday, March 11
25% Increase Leasing Business Volume Jan 06-07
Balboa Capital changes finance direction
Brian Ofria finishes 927 in the LA Marathon
FASB, IASB Start Lease Accounting Project
Help Wanted---Classified Ads
Changes in Lease Accounting - Web Seminar
Placard-Free Global Brand Financing Campaign Slogan
Sales makes it Happen—by Christopher Menkin
Structuring the Deal
Additional Collateral--- Story Credit Lessors
Leasing Association Events-Meetings Open to All
easyhome Ltd. Quarterly EPS Growth of 41.2% U.S
TAL International Group 4th Quarter/year-end
BofA launches $20 billion environmental initiative
Scotiabank hits $1B record profit for Q1
HSBC net income fell 21% in North America
News Briefs---
You May have Missed---
"Gimme that Wine"
Calendar Events
Snapple Real Facts
Today's Two Top Event in History
This Day in American History
Winter Poem
SuDoku
Daily Puzzle
######## surrounding the article denotes it is a "press release"

Financial Funding Services, LLC

Sales/Regional Office
Generous Compensation with above average industry commission splits/unlimited income potential, six figures plus and nationwide financing for A – D credit.
Click here for more info.


---------------------------------------------------------------
### Press Release ###########################

Allied Capital acquires Direct Capital
PORTSMOUTH, N.H. - Direct Capital, a leading small ticket equipment leasing company, which provides financing for business-essential equipment, announced today a significant investment by Allied Capital Corporation, a publicly traded business development company in the United States with over $4.5 billion in total assets.
Allied Capital has committed $75 million to acquire a majority interest in Direct Capital. Allied's investment takes the form of senior subordinated debt, junior subordinated debt, and a majority of the common equity. Direct Capital principals have retained a significant equity position, will actively participate on the Board and will continue to lead the management of the firm. The investment by Allied Capital will accelerate Direct Capital's mission of providing essential services to its business clients and vendor partners, while benefiting from Allied Capital's experience in specialty finance.
Since 1993, Direct Capital has helped thousands of businesses acquire equipment and technology through affordable, customized financing solutions. Direct Capital's success with its business clients has been built by delivering impeccable service that rarely exists in the leasing industry today. The company offers the most robust lending capabilities available, backed by the speed, simplicity, and professional guidance that every business desires when it needs to finance capital equipment.
The company has also established itself as a leader in implementing programs to help vendors, dealers, and manufacturers of capital equipment increase their sales with financing. Direct Capital's ability to "deliver where other lenders fail" has become a key driving factor in its growth from this channel. Working directly with these equipment sellers, Direct Capital has delivered on big ideas and innovation that have made the company crucial to its partners' success.
"We view Allied Capital as the ideal partner for our business going forward," said the Chairman of Direct Capital, Christopher Broom. "Their unique leasing-industry knowledge, combined with their balance sheet strength and long-term investment horizon will allow us to build a premier, full-service leasing company."
"There is a tremendous amount of opportunity in our marketplace and we are very excited to partner with such a great company and leverage our respective strengths," said James Broom,
CEO of Direct Capital.
"We view this investment in Direct Capital as a unique opportunity to work with an experienced management team to build a small ticket leasing platform that generates attractive, risk-adjusted yields from a highly diversified portfolio of assets," said John Fruehwirth,
Managing Director of Allied Capital.
About Direct Capital
Founded in 1993, Direct Capital is a leading provider of small ticket equipment financing to businesses nationwide. The company's direct origination platform represents a "best in class" marketing and sales capability that is nearly unique in the industry. The company markets its services through direct relationships with equipment purchasers and through partnerships with vendors, dealers, and manufacturers of capital equipment. Direct Capital is also the official provider of equipment financing for eBay's Business and Industrial website. The company has over 200 employees and is based in Portsmouth, NH. For more information, please visit www.directcapital.com.
### Press Release ###########################
--------------------------------------------------------------

Direct Capital Founder David Murray

from the Intuit Web Site
(One day Leasing News will print the true, inside story of David Murray and how he was reportedly forced by his own family to leave the company he founded, Direct Capital, and then started Preferred Capital in Tahoe City with Louis Schneider, went to Venserve, Five Point Capital, Denali, spread the telemarketing plan-leasing credit card marketing plan around Orange County, California, then retired
via Tax Turbo!!!! Here is what happen to Preferred, according to David Murray's "partner" Louis Schneider. editor)
August 31, 2001 Archives
Louis Schneider Exclusive Interview
(2007: today he is a practicing attorney in Los Angeles, California)----
Preferred Lease in its hay day was doing $12 million a month with their best month $18 million, according to Louis Schneider, one of the founders and present chief operating officer. The plastic leasing card idea that the other founder David Murray discovered was originally being used by Transworld Leasing.
"We basically were a marketing company, "Schneider explained. " We were not interested in the back end, carrying leases, or even approving leasing. Our financial statements reflected a marketing company, not a lessor."
Consultants and advertising industry friends were hired to develop a "model", a master marketing plan, that was then taken to companies such as Dun and Bradstreet, where groups were identify who would lease, who would be already a "good credit," and then the lists were further re-defined, according to various "models" that were developed.
"I would originally go to funders and ask what kinds of leases' they wanted," Schneider says. "They thought I was crazy. We wanted to fulfill what type of customer they wanted on their books. Instead, they gave us their 'vendor score card' system and rates.
"Others would say we want a score of 620, four years in business, low 4 in the bank, no restriction on guarantees or collateral, or whatever their definition that they wanted for say 11 ½% return."
The operation was to take young people, not in the industry, train them in telephone marketing, in leasing, responding to the leads generated by specific mailings, not just bulk mail, but following the lists Fair Isaac or other scores, very similar to now bank card mail solicitations.
"We did over $120 million with Advanta over a fourteen month period," Schneider summarizes. "They had a full time supervisor and two credit people right here in Lake Tahoe. All of a sudden, one day, the federal regulators walk into Atlanta Bank, tell them there are too may sub-prime mortgages and to close down the operation, including equipment leasing.
"Advanta was buying like crazy, selling the leases off, putting them into securitization, and has a $50 million in warehousing when this happened. It not only put them into a spin, but they were our sole source at the time. We had a bank line, but we had this momentum going, and I remember this day very well, May 30th, it hit us hard. The down market came at the same time. We found ourselves living on the advance rentals until Jim Raeder came along with some investors and saved our company.
"We are back to doing what we do best, market leases. As far as our portfolio at Advanta, I think much of it was sold off. People like Rudy Trebels also bought from us via Advanta. They chose the credits. I think the portfolio is performing well, but remember, we are not a "back-end" leasing company, we are a "front room" marketing company and I think we are the best in the business."
(There is a lot more from Louis Schneider, but that's all for today, folks. editor)
--------------------------------------------------------------

Operations---Classified Ads

The first tornado captured by the NSSL doppler radar and NSSL chase personnel.
The tornado is here in its early stage of formation. *
Orange County, CA
Operations/Credit Manager with 15 Years Experience, Middle & Large Ticket, initiated policies for Patriot Act and Sarbanes Oxley, Team Motivator.
E-mail: equiplender@aol.com
East Windsor, NJ
Skilled Manager in credit, collections, training, documentation, policy and procedure, lease and finance operations. Get results and keep the customer coming back.
Email: rgmorrill@comcast.net
Resume
http://64.125.68.91/AL/LeasingNews/Resumes/Richard_Morrill.pdf
New York, NY
10+ years in equipment leasing/secured lending. Skilled in management & training, documentation, policy and procedure development & implementation, portfolio reporting. Strong work ethic.
Email: dln1031@nyc.rr.com
Wayne, NJ
20+ heavily experienced collection/recovery VP looking to improve someone's bottom line. Proven, verifiable track record. Knowledge of all types of portfolio. Will relocate
Email: cmate@nac.net
These job-wanted ads are free. We also recommend to both those seeking a position and those searching for a new hire to also go to other e-mail posting sites:
http://64.125.68.91/AL/LeasingNews/Classified.htm
In addition, those seeking employment should go to the human resource departments on company web sites for funders, captive lessors, and perhaps "broker-lessors."
To place a free "job wanted" ad here, please go to:
http://64.125.68.91/AL/LeasingNews/PostingForm.asp
For a full listing of all "job wanted" ads, please go to:
http://64.125.68.91/AL/LeasingNews/JobPostings.htm

*
Image ID: nssl0064, National Severe Storms Laboratory (NSSL) Collection
Location: Union City, Oklahoma
Photo Date: May 24, 1973
Credit: NOAA Photo Library, NOAA Central Library; OAR/ERL/National Severe Storms Laboratory (NSSL
--------------------------------------------------------------

Presentation to Paul A. Larkins, Sunday, March 11
Leasing News Advisory Board member Edward Castagna will be presenting Key Equipment Finance President Paul A. Larkins "the Leasing News Person of the Year for 2006" at the Sunday, March 11th, dinner at the ELFA/SAP Executive Roundtable being held at the Hyatt Regency Coconut Point Resort & Spa, Bonita Springs, Florida.

Paul A. Larkins
President and Chief Executive Officer
Key Equipment Finance
Superior, Colorado
Leasing News salutes Paul A. Larkins as the person who has done the most for the entire equipment leasing industry in 2006.
Paul has demonstrated leadership in the entire equipment leasing industry, not only in the continental United States, but aboard. His contributions start at home in Superior, Colorado, where he not only invites financial leaders from around the world to visit, but he personally, and through his company, contributes money and time to his local community.
One of his greatest contributions is toward continuing education, where he not only supports an active intern program, but was the leader in completing a 2,247 square-foot training center for his employees. The "Leasing University" is available "on line" as well as offering one to two classes per week for every employee.
One of Key Equipment Finance examples of promoting education is the combined $25,000 to the University of Colorado Leeds School's Office of Diversity Affairs that assists historically underrepresented students in their pursuit in the multinational business arena.
Larkins has been a leading proponent and fund-raiser for LeasePAC and a long time supporter of the Equipment Leasing and Finance Foundation, serving on the Foundation's National Development Committee.
He and his entire staff get involved in both the local community, the United States, plus now North America, Europe and Asia Pacific.
During this period he also was instrumental in the development of Key National Finance group for Keycorp National Banking, a Cleveland-based KeyCorp is one of the nation's largest bank-based financial services companies, with assets of approximately $95 billion.
While accomplishing his personal and business goals, in 2006, he served as Chairman of the Equipment Leasing and Finance Association (formerly the Equipment Leasing Association.) The organization saw the retirement of their 27 year president Michael J. Fleming, CAE, the engagement of former Congressman Kenneth E. Bentsen, Jr. (Leasing News Chairman Bob Teichman labeled "... a brilliant choice. Bentsen is personable, professional and passionate, and is well-known on Capitol Hill," the changing of the association's name to include "finance" and its inherent direction, the incoming of the association's first female chairman, Valerie Hayes Jester, while trying to bring some semblance in ethics to a changing equipment leasing/finance world filled with fraud, FASB accounting rules, and the need for a more active voice in Washington and the 50 state legislatures.
Leasing News salutes Paul A. Larkins as the person who has done the most for the entire equipment leasing industry in 2006.
Conference Brochure:
http://leasingnews.org/PDF/ER07_Brochure.pdf
Articles on Leasing Person of the Year:
http://www.leasingnews.org/Conscious-Top%20Stories/P_Larkin.htm
--------------------------------------------------------------

25% Increase in Leasing Business Volume Jan 06-Jan 07
The Equipment Leasing and Finance Association (ELFA) January report shows a 25% increase compared to last year for the same month; however, the media has picked up there is a 47% decrease since the month of December.
2002: Changing of the guard: Outgoing Equipment Leasing Association Chairman Joe Lane, formerly of IBM, and incoming chairman Edward A. Dahlka, Jr., President, LaSalle National Leasing Group.
""We have a renewed hope that 2007 will build upon the solid volume growth from last year, as this January is much stronger than 2006, with head count growth continuing and credit quality holding steady," said past ELFA president Ed Dahlka, who is president of LaSalle National Leasing Corporation. His company participates in the survey each month.
Here is the chart comparing the months for 2006:
Credit approvals were also up:
Losses improved, particularly compared to last January:
Employee growth reached 11,438 from the reporting companies, growing each month as the
chart indicates:
Receivables over 90 days inched slightly upward to 0.8 percent.

These are the companies that participate in the survey:
ADP Credit Corporation
Bank of America Leasing
Bank of the West
Canon Financial Services
Caterpillar Financial Services Corporation
CIT
De Lage Landen Financial Services
First American Equipment Finance
GreatAmerica Leasing Corporation
Hitachi Credit America
HP Financial Services
Irwin Financial
John Deere Credit Corporation
Key Equipment Finance
LaSalle National Leasing Corporation
Marlin Leasing Corporation
National City Commercial Corp.
RBS Asset Finance
Regions Equipment Finance
Siemens Financial Services
US Bancorp Leasing & Financial
US Express Leasing
Verizon Capital Corp/Verizon Credit
Volvo Financial Services
Wells Fargo Equipment Finance
--------------------------------------------------------------

Balboa Capital changes finance direction
From a warehouse line at a Southern California bank and then selling off portolio's and securitization, Balboa Capita, Irvine, California moves into a new frontier, brought to this level primarily by its equipment leasing broker program by Curt Lysne, formerly of Colonial Pacific fame, along with regional broker system leaders.
Broker Key Contacts:
Curt Lysne
Chief Sales Officer
(949) 399-6395
f: (949) 224-2795
clysne@balboacapital.com
John Bunce
Regional Sales Manager
(503) 223-4379
f: (949) 809-8808
johnb@balboacapital.com
Matt Lawler
Regional Sales Manager
(949) 553-3433
f: (949) 399-3133
mattjl@balboacapital.com
Craig Lysne
Regional Sales Manager
(812) 539-4333
f: (949) 809-8830
craigal@balboacapital.com
Jimmy Chao
Credit Desk
(949) 399-6380
f: (949) 476-2343
jimmytc@balboacapital.com
Elizabeth Gonzalez
Funding
(949) 399-6341
f: (949) 809-8834
elizabethdg@balboacapital.com
Jeanette Huynh
Funding
(949) 399-6343
f: (949) 809-8834
jeanetteoh@balboacapital.com
After Pat Byrne bought out his long term partner Shawn Giffin in May, 2004, he began some major changes, including accepting broker business, instituting Compass internet software as well as other production changes.
1993: Balboa Capital Corporation ,VP Finance Shawn Giffin, CLP (left) congratulates President Patrick E. Byrne, CLP. The Western Association of Equipment Leasing member firm was recently ranked #67 overall on the Inc. 500 list.

Firms: Balboa Capital Corp.
Specialization: High-tech
Lease Range: $10K-$2 million
Number of Employees: 35
According to Balboa Capital Chief Financial Officer David Chiurazzi, "...this is a particularly meaningful transaction for the company since it establishes Balboas ability to access the term ABS market in order to provide the financing needed to support the company's continued growth.
" After ten years of utilizing securitization conduit facilities, this transaction represents the next step in Balboas evolution and brings us one step closer to achieving our goal of establishing a programmatic approach to future issuance," Chiurazzi said. "The transaction was a great success and we are fortunate to have received the markets enthusiastic support. We look forward to continuing to develop our relationships with investors as we become a regular issuer in the term market."
Balboa Capital announced that it completed its first term securitization by issuing $100,000,000 in contract backed notes through its subsidiary, BCC VI. RBS Greenwich Capital was the transactions Initial Note Purchaser. The $100,000,000 notes were priced at L +15 and guaranteed by financial guaranty insurance policies issued by XL Capital and Radian Asset Assurance. The notes were rated AAA and Aaa by Standard and Poors and Moodys respectively and sold to a diverse group of investors.
Balboa Capital advertises that it gives up to 20% for brokers with participation in residuals and Evergreen clauses regarding lease payment extension. There plans have increased the "application only" to $100,000 with commercial leases up to $250,000.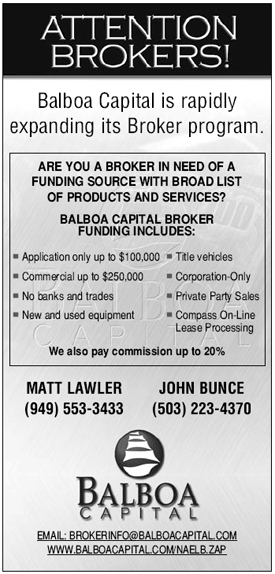 The recent press release regarding the $100 million securitization also stated:
"The company is aggressively adding new sales reps, vendors, and brokers to its roster. After a strong 2006, the company anticipates robust originations growth this year."
Leasing News requested a comment from CEO and owner Patrick Byrne, but did not receive one. As a favor, we are not going to print the only photograph we had, when he was young.
But we do have a digital "x-ray":
Inside Patrick "Evergreen" Byrne's Brain
----------------------------------------------------------------------------------
Brian Ofria finishes 927 out of 26,000 in the LA Marathon

In the 22nd annual City of Los Angeles Marathon presented by Honda Brian Ofria of Antares Leasing, Woodland Hills, California, finished 927 out of 26,000 in the Los Angeles Marathon, a 12 mile downhill stretch starting at mile 2.
He said it was a Marathon of memories.
· Beatles music as you passed the landmark Hollywood Bowl.
· Celebrity water stations in Hollywood.
· Running the 6th Street Bridge at mile 23 with the most spectacular view of the city in race history.
· Sampling the local culture at entertainment centers along the way.
Congratulations may be sent to briano@antaresleasing.com
--------------------------------------------------------------

Leasing Industry Help Wanted
Credit Analyst

Credit Analyst
Irvine, California
Southern California candidates only--Minimum two years experience with leasing credits, $40-$45K base depending on experience.
Call or e-mail: Pamela Stuber 800-234-0136 ext. 243 pstuber@nationwidefunding.com

About Us: As a leader in equipment financing we have created funding partnerships with a wide variety of financial institutions and specialized credit facilities. This diversity allows us to be a complete funding partner for your business.


Sales Regional Office

Financial Funding Services, LLC

Sales/Regional Office
Generous Compensation with above average industry commission splits/unlimited income potential, six figures plus and nationwide financing for A – D credit.
Click here for more info.


Small Ticket Specialists

Three Small Ticket Specialists

Ft. Lauderdale, FL, Nashville, TN, and
Richmond, VA.
Click here for more information.


--------------------------------------------------------------

FASB, IASB Start Lease Accounting Project
ELFA eNews Daily
On February 26, a seminar jointly sponsored by the UK Finance and Leasing Association (FLA) and UK Accounting Standards Board (ASB) convened in London. The event, ominously titled "The Future of Accounting for Equipment Leasing," drew interested parties from as far away as Australia and the U.S. (including representatives from the Equipment Leasing and Finance Association) and included presentations outlining developments on and likely outcomes of the current lease accounting project.
IASB member Warren McGregor, principal author of the so-called G4+1 papers published in the mid- and late-1990s, provided an overview of the project. McGregor criticized the current risk and reward accounting model as one in which "similar transactions yield dissimilar and arbitrary accounting." He affirmed the Board's favoring the rights and obligations approach as the model on which a future standard would be based.
McGregor presented a timetable for action on the project. The IASB and FASB will begin joint deliberations beginning in April or May of 2007, with a preliminary views document issued for comment some time in 2008. In the meantime, one or perhaps two additional meetings of the working group will be scheduled. He left open the date by which an Exposure Draft would be released. He stated that "if everything went smoothly", a new standard would be in place by 2012. This is noteworthy as the previously stated timetable for issuance of a new standard was 2009.
In a panel discussion following McGregor's remarks, several subject matter experts, including ELFA's lead technical consultant Bill Bosco, covered a number of relevant issues and responded to questions posed by panel moderator and FLA president Martin Hall as well as from the audience. Among these items were cost/benefit of any new standard; the complex nature of leasing; the fact that the vast majority of the $1.25 billion in "unrecorded" operating lease obligations involve long term real estate lease transactions, and not equipment leases; and treatment of options, to name a few. McGregor concluded by stating that the IASB/FASB plan to take a deliberative approach to the project and are looking for as much information as will help them develop a sound and workable standard.
The first meeting was held on February 15, an 18-member advisory body comprised of practitioners, auditors, and industry representatives held its first meeting in London. Included in this international working group on lease accounting are three members of the ELFA Financial Accounting Committee. Members of IASB, FASB and staff also participated in the meeting. The working group will help guide the Boards and staff in the development of a global lease accounting standard designed to replace FAS 13 in the US and IAS 17 in Europe and elsewhere.
It was clear in the papers and in the discussion that the Board members and staff favor a "right of use" approach over the current "risk and reward" model embodied in the current rules. They do not favor the "whole asset" approach, which would capitalize the economic value of the leased asset rather than just the right of use value. The "right of use" approach is a components-based model requiring the lessee to identify and account for rights and obligations in the lease contract. Under this model, a lessee would capitalize the right to use equipment in a lease contract and record it on the balance sheet as an asset; the obligation to pay rent would be recognized as a liability. Generally, the amount recorded at lease inception would be the present value of the minimum lease payments.
--------------------------------------------------------------

Changes in Lease Accounting - No Longer IF, It's WHEN
ELFA eNews Daily
Webinar: Thursday, March 22, 2007 @ 1:00 p.m. - 2:30 p.m. Eastern
Rod Hurd - Managing Director - Montgomery Street Financial Services, LLC and ELFA Financial Accounting Committee Chair
Bill Bosco -- Consultant, Leasing 101
Mindy Berman - Managing Director, Corporate Finance, Jones Lang LaSalle
The web seminar, Changes in Lease Accounting - No Longer IF, It's WHEN, scheduled March 22, 2007, 1:00pm-2:30pm EST, is a must-attend for those in leasing and finance organizations looking to be brought up-to-speed on an issue that potentially could have the most dramatic impact on the way the equipment leasing and finance business is conducted since adoption of sweeping tax reform changes in the mid-eighties.
While most in the leasing and finance industry are aware that changes are afoot with respect to the current lease accounting standard, FAS 13, do you know what alternatives to the current model are being considered by the standards-setters? Or, when any change is expected to occur. Or, how your particular business might be impacted?
Join the panel of experts, which includes ELFA Financial Accounting Committee Chair Rod Hurd and noted authority Bill Bosco, who will help provide answers to these and other critical questions. In addition, Mr. Bosco, a member of the newly formed FASB/IASB Working Group, will provide his thoughts and feedback to ELFA members on the first meeting of the advisory group held in London February 15.
More information:
http://www.leasingnews.org/Pages/ELFA-Lease_Acct.htm
To Register:
http://online.krm.com/iebms/reg/reg_p1_form.aspx?ct=0016738&EventID=12524&oc=
10&coecc=0016738&dict=26
--------------------------------------------------------------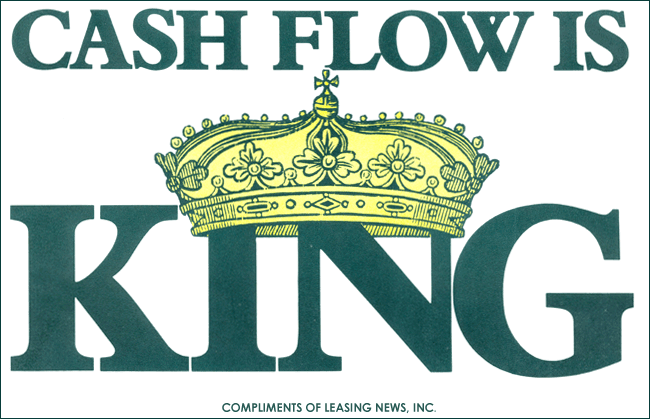 --------------------------------------------------------------

Sales Make it Happen
by Christopher Menkin
Structuring the Deal
While additional collateral is not a common requirement in an equipment leasing transaction, when an applicant must have a fast answer or move to take advantage of a major shift in business, often this not only overrides a higher interest rate for the risk, but also making additional collateral available.
It goes back to the original three "C's" of credit: Character, Capacity, and Capital. If you eliminate the "Capital," then leasing looks at "Cash Flow." If you eliminate "Capacity" or even have criteria on "Character," such as below a Beacon 600, you rely on the collateral---which on the street means "structuring the deal."
The leasing credit grantor looks toward the cash flow of the business, the credit of company and its principals, plus the nature of the business. Yes, it is important often to look at the individuals or corporations behind the company, the business plan, and the cash flow. It is a mistake to look at the equipment to make you whole, and for a fact, most frauds in the leasing industry come from the vendor regarding the real cost or nature or ownership of the equipment. In addition, a downturn in the economy can even make a hard collateral fork lift difficult to sell (I can tell you from personal experience here in Silicon Valley such an experience, or you can ask Pentech Financial the many warehouses they once had of furniture and computers.)
Often finding additional collateral will help in the credit decision, particularly in dealing with a "story credit" or a new venture or a situation that requires something else to make it work. Often credit grantors are willing to take more of a financial risk by requiring "other" collateral.
When the transactions needs something more to convince their credit committee or decision makers to over ride guidelines or their general criteria, a little "extra" can make all the difference.
It is also best to make this with your application, as the more times you go back to a funder on a transaction, they colder they get. Ask George Alpi, Gregg Steffes or Kathy Robb at Bank of the West. They don't want to negotiate to obtain an approval from them.
The more times you have to go back, the more things they find wrong in the transactions. It works the first time, or generally it will never go through.
"Extra" meaning more than the original equipment. Often the instance is not "credit worthiness," but the value or nature of the equipment.
Other collateral is expected. The bankers call such requirements an "abundance of caution."
Here is the list of typical collateral, in order of significance to the credit grantor:
Cash
A typical lease requires one month as a security deposit. This deposit is not income to the lessor, but held as a deposit for losses not only against the specific lease, but all leases. On the lessor's financial statement, its place is long term liability. It is not earned until the end of the lease and most commonly is used in lieu of the last lease payment.
To make the lessor more comfortable, often two or more security deposits can be required. This is particularly true when the income has a short life, and the lease is longer than the life of the equipment.
It is also not uncommon for a lessor to require a ten, or twenty-five, and sometimes a fifty percent deposit. Usually there is not any interest earned on this deposit to the lessee. Often the deposit is not held for the full length of the lease, but a specific time limit and other requirements, such as a history of payments made on time or financial criteria. The deposit is an incentive to obtain a credit approval on the lessee and equipment.
It is rare that the lessee earns interest on the deposit. The deposit is an extra "yield" to the credit grantor. Larger transactions it is not uncommon to provide an interest, but it is not common in leases under $50,000, for instance.
CD's
This is very similar to cash, except the lessee earns the interest on the "deposit" Often the Certificate of Deposit is held at the lessor's bank.
The credit grantor does not get the yield on holding the money.
It sometimes is held at the lessee's bank, but there are many restrictions and procedures in place. It is also not uncommon to find the CD from a "guarantor" or third party, such as a company that will realize the appreciation of the equipment and performance of the lessee with the equipment. Trust's and other entities may also have the ability to pledge a certificate of deposit. Time limit and other considerations may be made, depending primarily on the size of the transaction and situation.
The advantage to the applicant is they can declare the money on their financial statement
(although a certified statement will require that it be footnoted as being held as a guarantee to a debt.) CD's are helpful when the lessee qualifies for a smaller lease, but wants a large lease and the company is often moving to a major plateau. Often a relative or even another corporation will put up a CD as they are earning interest, plus in a default, they avoid other costs and have the "loss" covered.
Letters of Credit
The lessee obtains a letter of credit through their bank. It may come from their bank relationship, meaning accounts receivable, other loans, or personal guarantees of value to the bank. Costs are normally between one to two percent per year.
The letter of credit may also be in a step manner, meaning each year the dollar amount decreases as the lease is paid out. It is most common for the letter of credit to cover the entire stream of payments, not just the cost of the equipment.
Sometimes the letter of credit replaces a personal guarantee, a restriction of the nature of the equipment. In once instance, we completed a $300,000 letter of credit lease with a law firm, utilizing one personal guarantee and none of the other partners. We completed a $75,000 lease with a letter of credit and other equipment as collateral. We like letters of credit more than a cash deposit, but ranked number two because in the leasing business, additional security deposits are more common.
Stock
In this instance, the stock is most common physically held by the lessor or its bank or stock broker. There are instances when the stock is held by a third party. It is not uncommon for the stock to be valued at 50% of its selling price, or in other words, on a $50,000 lease, $100,000 worth of publicly traded stock to be held by the lessor. In all the instances we have seen, the full dollar amount of the lease is required to be covered by a publicly traded stock, municipal bond, or other such instrument.
Warrants are a form of stock. This is very common in Venture Backed Leases. A warrant is issued by the lessee, meaning the value of the stock "today" is promised to the lessor with the ability to purchase at any time in the future ( there can be time limits, but not common to require ). This gives the lessor the advantage that a new company starting out with a stock value of $5 may go to $50, or better yet, split several times, and it multiplies to be worth $125 or more in three to five years. It is an incentive to extend credit to a company not turning a profit or expected to turn a profit for several years. It is also attractive to investors or smaller leasing companies who are willing to extend credit with warrants.
This instrument has become so popular with banks and venture capital groups in the last few years, that the dollar amount considered has gone down to $100,000 (usually the minimum was $500,000).
There are companies that in addition to taking the stock, which is usually 4% to 5% of the money extended up to 10%. There are also covenants that in a default turn over a percentage of the company to the credit grantor. One current one has 30% of the company in a default is owned by the credit lender.
Vehicles
Contrasting warrants, smaller transactions, where the credit or situation is not present, or company is new, pink slips to vehicles are held by the lessor. A vehicle appraisal, condition report, and department of motor vehicle processing are required. In many states, the highway patrol, motor vehicle department, can perform a condition report. Often a third-party vehicle dealer is used for both the appraisal and vehicle condition report. Often the lessor utilizes a "blue book" and sight inspection by a leasing officer.
In the past we have written several of these leases, trading pink slips for collateral substitution. This is more common with new tow truck operators or sub-contractors in the construction industry.
Additional Guarantors
The old rule was a blood relative. We have had mothers and father's guarantee for their children's new company or management of their existing company. This applies to all ages. We had a 68 year old mother guarantee her son's expansion of his business. We were very glad when the lease was completed because no matter the financial situation of the guarantor, we did not want to collect from grandmother.
Sometimes it is a corporate guarantor, such as from a corporation out of the state, often foreign, who has started a "presence" and new corporation in the United States. In California, we have several leases guaranteed by a Canadian, Israel, British, or Finish parent corporation. We also have leases from out of state corporations, such as one guaranteed by the Texas Corporation parent or former corporation who sold one of their companies to their employees in an ESOP plan.
The older credit days of obtaining a guarantee from a best friend are gone. Creditors found when it came to collecting money from best friends, the friendship ended and only the attorneys were paid.
Other Equipment
Informal appraisals from dealers or other parties are most common, using the depreciation schedule in the tax return to verify cost of equipment and value of the equipment. It is not uncommon to require 150% of the depreciated value in lieu of a formal appraisal that may cost the lessee three percent of the evaluation from a professional appraiser.
A UCC search may cost up to $250 to verify that the equipment is "free and clear" from other blanket liens or specific liens. It is not uncommon for the process to take two to four weeks longer to clear up liens that have not been released or for debtors to be paid off. Often this is also viewed as a "sale-leaseback," meaning a bulk rate filing in a local newspaper for ten days is also required.
Real Estate
There are funders who basically base most of their decisions on the real estate being used as the "additional collateral." At one time, banks were afraid of second mortgages, especially if an industrial building. There are companies that base their credit decisions on this collateral.
One of the reasons that leasing is attractive in these types of credits is that loans and direct financing require full disclosure of the costs (and profits,) whereas a lease does not in almost all of the United States.
--------------------------------------------------------------

Additional Collateral--- Story Credit Lessors
These companies often take "additional collateral" to put the deal together. They specialize in what is known as a "story credit."
(To qualify for this list, the company must be a funder and not a "Broker/Lessor" or "Super Broker/Lessor", along with an acceptable Better Business Bureau Rating and no history of complaints at Leasing News. We reserve the right to not list a company who does not meet these qualifications.)
We encourage companies who are listed to contact us for any change or addition they would like to make. Adding further information as an "attachment" or clarification of what they have to offer would be helpful to readers is very much encouraged.
Alphabetical list - click on company name to view more details

ABCO Leasing, Inc.
Boston Financial & Equity Corp.
Mesa Leasing, Inc.
Advantage Funding
Cobra Capital LLC
Pawnee Leasing Corporation
Agility Solutions
Calfund, LLC
Radiance Capital, LLC
Allegiant Partners Incorporated
Dakota Financial
Summit Leasing, Inc.
American Leasefund, Inc.
Dolsen Leasing Company
TEAM Equipment Leasing, Inc.
Bankers Capital
Financial Pacific Leasing
TechLease, L.L.C.
Barrett Capital Corporation
Forum Financial Services, Inc.
Black Rock Capital
Gonor Funding
Blackstone Capital Partners, L.P.
IFC Credit Corporation
--------------------------------------------------------------

Leasing Association Events-Meetings Open to All
Lunch, EAEL, Sudbury, MA
UAEL,Costa Mesa,CA
Tuesday, March 20th
Noon - 2pm
Longfellow's Wayside Inn
72 Wayside Inn Road
Sudbury, MA
973.443.1776
Hosted by John Ingham of M&T Bank, and George Parker of Leasing Technologies International, Inc.
Members: $35
Non-Members: $50
212.809.1602
alison@eael.org
http://www.eael.org
-----------------------------------------------------
UAEL Pacific Area Event
The UAEL Southern California
Roundtable Event

Thursday, March 22, 2007
12:30 PM - 4:30 PM

Experian Building
475 Anton Blvd
Costa Mesa, CA 92626
Attendee Cost

$0.00 (Member Price)
$10.00 (Non-Member Price)

Plan to Attend

To register for the event go to the Event Section of the website.

Description

Please join us for the 5th annual Roundtable

We are pleased to announce some new exciting topics

"How To Put Together A Winning Submission Package"
Mohammed Ahsan

Focus: Commercial Transaction and complex/Structured deals
Present a good story
Shortfalls with a good explanation
Additional support-Real Estate, equipment or other assets

"Trade Show Marketing"
Ken Goodman

Show Selection
Working the Floor as an attendee
Pre and Post Show actions
Vendor relations and Joint Promos
Becoming an Industry expert

"Do You Want To Be The Next Tiger Woods?"
Andrea Woolf, Business Coach

Do you have a plan to Succeed?
Are you clear what success means to you and your company?
Setting clear goals
Being enthusiastic and unstoppable

"Training Your Sales Team"

Making a commitment to your professional life and to your company
Understanding sales quota's
What does it take to make it in this business?

"What Does That Score Mean?"

Experian

Open forum to ask questions and get advise

Each group will be allotted 25 Minute intervals for discussion and they will end with an open question forum.

Host Contact:

Barbara Griffith
Southern California Leasing
714-573-9804
bgriffith@socalleasing.com

Justin Vogel
PFF Bank & Trust
909-851-0782
justin.vogel@pffb.com

Mohammed Ahsan
Quail Capital Corp.
818-843-8686
mahsan@quailcap.com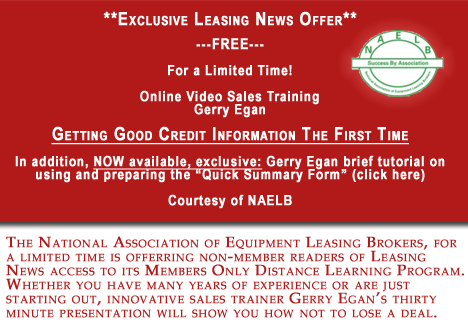 ---------------------------------------------------------------
### Press Release ###########################

easyhome Ltd. Announces Quarterly EPS Growth of 41.2% U.S. Growth Strategy,
and Dividend Increase of 16.7%
EDMONTON, ALBERTA) - easyhome Ltd. (TSX:EH - News),Canada's leading merchandise leasing company, today announced its results for the fourth quarter ending December 31, 2006.

Fourth quarter highlights are:
- Revenue increased $4.2 million to $31.9 million from $27.6 million for the same quarter last year, an improvement of 15.3%.
- Same store revenue growth of 5.7% building on 6.9% for the fourth quarter of 2005, and 8.1% in the third quarter 2006.
- Potential monthly lease revenue increased to $9,523,000 from $8,258,000 at the end of 2005, an improvement of 15.3%.
- 21 consecutive quarters of comparable revenue growth.
- $0.8 million of losses from stores open less than 12 months (2005 - $0.4 million).
- Operating income improved $1.2 million to $4.2 million from $3.0 million in 2005, an increase of 39.3%.
- Net income increased $0.8 million to $2.5 million, an improvement of 45.5%.
- Diluted earnings per share of $0.24 up 41.2% from reported diluted earnings per share in 2005 of $0.17
- Opened 10 new stores
Full Year highlights are:
- Revenue increased $16.5 million or 16.0% from $103.1 million in 2005 to $119.6 million in 2006.
- Same store revenue growth of 5.4%.
- Opened 28 new stores and 3 financial services kiosks.
- Net income was $9.0 million in 2006 versus $5.7 million in 2005. Net income in 2006 was adversely impacted by a $0.4 million future income tax expense related to reductions in future federal income tax rates. Adjusted net income for 2006 of $9.4 million is up $1.8 million or 23.7% from 2005's net income, adjusted for the after tax class action settlement provision of $1.9 million.
- Fully diluted earnings per share of $0.86 in 2006 versus $0.55 in 2005. Diluted earnings per share in 2006 adjusted for the future tax rate changes was $0.90, up $0.16 or 21.6% from 2005's diluted earnings per share adjusted for the class action settlement provision.
David Ingram, President and CEO, expressed his delight with the results. "We have rounded out the year with another stellar performance. This is our 21st consecutive quarter of growth, and with the addition of 28 new stores during the year--another record for the Company--we now have 191 stores across the country. In addition, we have three financial kiosks that have performed well and will be the foundation of what we expect to be a very promising new line of business."
Mr. Ingram added that the financial results put the Company on the strong footing it needs to explore new ventures. "We are investing in our Stores of the Future, upgrading our technology and expanding our Staging business. In addition, although we will slow our pace of expansion somewhat in 2007 to focus on recruiting the best staff for our new stores, we expect to add another record number of stores in 2008, in line with our long-term strategy of 15% growth annually. We are confident that we have the financial muscle needed to open up new territories and bring new products and services to our customers."
A key element of the Company's long-term growth will be easyhome's entry into the United States in 2007, noted Ingram. "The time is ripe for us to launch in the U.S. We plan to open two or three corporate stores in states that border Canada in 2007, an initiative that will be complemented by a Franchise Agreement we have concluded with an entity controlled by Bud Gates. Mr. Gates is a former Chairman & CEO of the largest US based rent-to-own business. In addition Mr. Gates has successfully owned franchise operations in the rent-to-own and food industries. This agreement grants him exclusive rights to franchise the easyhome concept anywhere in the United States, outside the border states. We have already launched licensing in Canada, and we are comfortable with it. This strategy will permit us to expand much more rapidly than if we were to grow the American business on our own, and it minimizes our financial risk while presenting us with a huge potential upside."
The Company established the following targets for fiscal 2007. Total revenue growth of approximately 15%-18%, same store revenue growth of approximately 5%-7%, and new store openings of approximately 21-24.
Donald K. Johnson, Chairman of the Board commented that "easyhome is a very different Company today than it was five years ago. We have an excellent platform in place to grow our Canadian store base by approximately 15% per annum for the next few years. While the financial services proposition is still being tested, the results to date are promising. We are particularly excited about our entry in to the U.S. market through a balanced growth strategy. This franchise agreement limits the financial risk to our Company and our shareholders, and would not be a material distraction to our senior management team who are focused on executing our Canadian growth strategy. We have a high level of confidence in our master franchisee, Bud Gates, given his extensive knowledge to the U.S. rent-to-own industry and his experience in the franchise sector."
Full press release at:
http://biz.yahoo.com/ccn/070306/200703060376498001.html?.v=1
### Press Release ###########################

TAL International Group, Inc. Reports Fourth Quarter 2006 and Full Year Results
PURCHASE, N.YTAL International Group, Inc. (NYSE: TAL - News), one of the world's largest lessors of intermodal freight containers and chassis, reported results for the fourth quarter and twelve months ended December 31, 2006.
Pre-tax income for the fourth quarter of 2006 was $23.1 million compared to $4.6 million in the prior year quarter. Adjusted pre-tax income (1) for the quarter, excluding unrealized (gains) losses on interest rate swaps and other non-operational items, was $22.8 million compared to $18.5 million in the fourth quarter of 2005. Please see page 9 for a detailed reconciliation of adjusted pre-tax income. The company focuses on pre-tax results as it does not expect to pay any significant income taxes for a number of years due to the availability of accelerated tax depreciation on the existing container fleet and planned future equipment purchases.
Total revenues for the fourth quarter of 2006 were $78.1 million compared to $79.4 million in the fourth quarter of 2005. EBITDA (3) was $61.5 million for the quarter versus $59.4 million in the prior year period. Adjusted EBITDA (3) was $61.2 million for the quarter versus $59.6 million in last year's fourth quarter. Please see page 8 for a detailed reconciliation of EBITDA and adjusted EBITDA.
Net income for the fourth quarter of 2006 was $14.9 million, or $0.45 per fully diluted common share, versus $1.7 million in the prior year quarter. Adjusted net income (2) for the quarter, excluding unrealized (gains) losses on interest rate swaps and other non-operational items was $14.7 million, or $0.44 per fully diluted common share, compared to $11.9 million in the fourth quarter of 2005. Please see page 9 for a detailed reconciliation of adjusted net income.
"We are very pleased with our fourth quarter operating results" commented Brian M. Sondey, President and CEO of TAL. "Strong peak-season demand for refrigerated containers along with resilient dry container utilization contributed to a 2% increase from the third quarter in our fleet-wide utilization to 93%, and supported higher leasing revenue. Additionally, an increase in new container prices helped facilitate strong selling prices for our used containers, and we generated solid gains on the sale of our older equipment."
Mr. Sondey continued, "While our results for the fourth quarter primarily reflect the strong performance of our major business drivers, our reported results were also positively impacted by certain items that are part of the normal course of our business but tend not to occur within a predictable pattern. These items include a gain related to a finance lease transaction for certain of our older containers as well as a gain resulting from an unusually large number of containers reported lost by several customers. We estimate that, in total, these items had a favorable impact on our fourth quarter operating results in the range of $0.03 to $0.04 per fully diluted share."
Full press release at:
http://biz.yahoo.com/bw/070306/20070306006375.html?.v=1
### Press Release ###########################
--------------------------------------------------------------

News Briefs----
Bank of America launches $20 billion environmental initiative
http://www.iht.com/articles/ap/2007/03/06/business/
NA-FIN-COM-US-Bank-of-America-Environment.php
Scotiabank hits $1B record profit for Q1
http://www.cbc.ca/cp/business/070306/b030679A.html
HSBC net income fell 21% in North America, still 5% profit
http://www.buffalonews.com/145/story/26511.html
HSBC calls quits on U.S. deals as it sorts out subprime mess
http://www.snl.com/interactivex/article.aspx?CdId=A-5436429-10852
Factory Orders Dive Amid Broad Declines
http://www.washingtonpost.com/wp-dyn/content/article/2007/03/06/
AR2007030600370.html
Greenspan sees 33% chance of recession
http://www.usatoday.com/money/economy/2007-03-06-greenspan_N.htm
Bernanke urges Congress to rein in mortgage giants Fannie Mae and Freddie Mac
http://www.stltoday.com/stltoday/business/stories.nsf/story/
9853B934EB4A08A986257297000D0FBB?OpenDocument
Hurricane results in $5.8 billion in claims in Texas, Louisiana
http://www.signonsandiego.com/news/business/20070306-1329-rita-insurance.html
He's no Dummy---Schwarzman gets Tussauds for $1.9B
http://www.nypost.com/seven/03062007/business/
hes_no_dummy_business_zachery_kouwe.htm
American Idol: 3/6: Where's the wow?
http://www.myajc.com/post/idolblog/36_eight_guys_battle_for_six_spots.html
Chuck Berry Documentary Wins DVD Award
http://www.nytimes.com/reuters/arts/entertainment-berry.html
---------------------------------------------------------------


You May have Missed---
Warren Alpert, 86; made a fortune in order to share it
http://www.boston.com/business/articles/2007/03/06/
warren_alpert_86_made_a_fortune_in_order_to_share_it/
----------------------------------------------------------------


"Gimme that Wine"
Ernest Gallo dies at 97
http://www.winebusiness.com/news/
http://www.pressdemocrat.com/EarlyEdition/article_view.cfm?recordID=
6156&publishdate=03/07/2007
Vineyard Industry Has "Taken Off' in Maryland
http://www.americanfarm.com/TopStory3.06.07c.html
High Hopes for Tuscany's Newest Vintages
http://www.winemag.com/ME2/dirmod.asp?sid=&nm=&type=Publishing&mod=Publications%
3A%3AArticle&mid=8F3A7027421841978F18BE895F87F791&tier=4&id=260127D32B9E476D
992C103EBA726D35
In Wine Country, Pruning Isn't Just a part of the job
http://www.nytimes.com/2007/03/05/us/05prune.html?_r=1&ref=dining&oref=slogin
Brassfield Winey
http://leasingnews.org/PDF/Jerome_Draper2.pdf
Wine Prices by vintage
http://www.winezap.com
http://www.wine-searcher.com/

US/International Wine Events
http://www.localwineevents.com/

Winery Atlas
http://www.carterhouse.com/atlas

Leasing News Wine & Spirits Page
http://two.leasingnews.org/Recommendations/wnensprts.htm

The London International Vintners Exchange (Liv-ex) is an electronic exchange for fine wine.
http://www.liv-ex.com/
----------------------------------------------------------------

Calendar Events This Day
Learn What Your Name Means Day
Celebrate your name today by looking up (online ) its meaning.
Go here to contact Jerry Hill: www.jerryhill.com or
http://www.behindthename.com/
National Be Heard Day
Women currently own approximately 9.1 million small businesses in the US and are starting them at twice the rate of their male counterparts. But of tine, female business owners are less likely to get the media coverage they deserve. National be Heard Day celebrates and empowers each female business owner and entrepreneur who can find her voice, tell her story and be heard through publicity efforts. www.beheardsolutons.com
Stop the Clocks Day
http://homeschooling.about.com/library/blmar5a.htm
----------------------------------------------------------------

The term 007 was derived from 20007, the home zip code of many Washington, D.C. agents.
(The codename of legendary Secret Service Agent, James Bond, written by British writer Ian Fleming. According to the author, that made him "lucky." 20007 is a zip code for a section of Washington, D.C., but not how the James Bond OO7 was chosen.
Number 10 error for Real Facts. Editor)
http://www.brainyzip.com/zipcodes/20/20007.html
----------------------------------------------------------------

Today's Two Top Event in History
1965 -- First US "combat" troops sent to Vietnam. (As opposed to "advisers" & troops who are in a defensive roll.) The Johnson administration tries to hide this policy change & denies rumors, but a State Department spokesman "mistakenly" spills the beans a couple months later.
http://distefano.com/
1965-Selma, Alabama March: 525 people began a fifty-four mile march from Selma, Alabama to the state capitol in Montgomery They were demonstrating for African American voting rights and to commemorate the death of Jimmie Lee Jackson, shot three weeks earlier by an state trooper while trying to protect his mother at a civil rights demonstration. On the outskirts of Selma, after they crossed the Edmund Pettus Bridge, the marchers, in plain sight of photographers and journalists, were brutally assaulted by heavily armed state troopers and deputies. Here is their story with photographs: http://memory.loc.gov/ammem/today/mar07.html
[headlines]
----------------------------------------------------------------

This Day in American History
1539-Former black slave Estevanico (Esteban) de Dorantes, native of Azamoor Morocco, sets out to explore what is now the southwestern part of the US.
http://www.estevanico.org/history.html
http://www.tsha.utexas.edu/handbook/online/articles/view/EE/fes8.html
http://www.rra.dst.tx.us/c_t/people/ESTEVANICO.cfm
1644-First Whaling Industry: Southampton, NY, a town on the coast of Long Island where whales were often cast ashore, established the first whaling industry. The town was divided into four wards of 11 persons each to attend to the whales. Two persons from each ward were employed to cut them up so that each inhabitant obtained an equal portion. The popularity grew to the point a whaling franchise was granted to a Mr. Whiting in 1647 for the waters of Long Island Sound between Stonington, CT, and Montauk Point, NY.
1638 -Controversial colonial churchwoman Anne Hutchinson, 47, and nineteen other exiles from the Massachusetts Bay Colony settled in Rhode Island, at the site of modern Portsmouth.
http://www.annehutchinson.com/anne_hutchinson_biography_001.htm
http://www.rootsweb.com/~nwa/ah.html
1717 - The "Great Snow", a composite of four winter storms to hit the eastern U.S. in nine days, finally came to an end. Snow depths averaged 60 inches following the storm. Up to four feet of snow fell around Boston MA, and snow drifts 25 feet high were reported around Dorchester MA.
1729- Henrietta Johnston, self-taught portrait artist born in Ireland about 1655 and immigrated to the United States with her husband in 1707 and settled in what is now Charleston, SC. Her husband immediately became ill and while she nursed him and took care of her children and home in abject poverty, to raise money she began to draw portraits of local dignitaries in the new form of pastels.
Almost 50 portraits are credited to her and she is considered to be the first American woman artist. Her technique was straight forward with little adornment. Almost nothing is known about her life. She may have moved to New York to work after her husband's death.
http://askart.com/Biography.asp
http://desertfun.bestreadguide.com/charleston/stories/19990914/art_johnston.shtml
http://www.amazon.com/exec/obidos/ASIN/0945578032/avsearch-df1-2-20/
102-1682336-8966565
1774---The British close port of Boston to all commerce
1778 -Captain James Cook first sights Oregon coast, at Yaquina Bay
http://www.neworegontrail.com/lighthouse/yaquina.bay.htm
http://www.newportnet.com/coasthistory/RoadTrip.htm
http://www.newportnewstimes.com/1999/nt_news1029/general/nt_news-18.html
1782 -Ohio Territory militiamen began a two-day massacre of the Moravian Indian town of Gnadenhutten (modern New Philadelphia, Ohio). In all, 96 Christian Indians of the Delaware tribe were slaughtered, in retaliation for Indian raids made elsewhere in the Ohio Territory.
http://www.usgennet.org/usa/topic/colonial/pioneer/chap16.html
1799 -- John Fries launches a rebellion in Pennsylvania against the imposition of the "direct tax" enacted by Congress 1 July 1798, on lands, houses & slaves. Fries' mob was dispersed by the Militia after a march on Bethlehem. Fries was arrested & sentenced to be hanged for treason, before being pardoned by the President.
1802 -In Washington, D.C., the first Baptist church was organized with six charter members. Their first pastor Obadiah Brown was hired five years later, and Brown remained in that pulpit while involving himself in every important local Baptist program for the next 43 years!
1848- In Hawaii, Great Mahele (division of lands) signed
http://hotspotshawaii.com/nalostuff/May96/GreatMahele.html
http://www.amazon.com/exec/obidos/ASIN/0870221256/avsearch-df1-2-20/
102-1682336-8966565
1849- Luther Burbank, American naturalist and author, creator and developer of many new varieties of flowers, fruits, vegetables and trees. born at Lancaster, MA.. Luther Burbank's birthday is observed in California as Bird and Arbor Day. He died at Santa Rosa, CA, Apr 11, 1926.
http://ci.santa-rosa.ca.us/lbhg/gardens.asp
1850-Slave States Balance: the acquisition of territory following U.S. victory in the Mexican War revived concerns about the balance of free and slave states in the Union. This day Senator Daniel Webster delivered his famous three hour "Seventh of March" speech urging sectional compromise on the issue of slavery. Advising abolition-minded Northerners to forgo antislavery measures, he simultaneously cautioned Southerners that disunion inevitably would lead to war. He endorses the Compromise of 1850 proposed by Kentucky Senator Henry Clay on 29 January 1850, as a means of preserving the Union. It called for California to be admitted as a free state; for the passage of an inhumane Fugitive Slave law; for new territories in the Southwest to he allowed to organize without restrictions on slavery; for protecting slavery in the District of Columbia while abolishing domestic slave trade there; and for a settlement of $10 million to Texas if the state would relinquish claims to one-third of its territory (now in New Mexico, Oklahoma, Kansas, Colorado, and Wyoming). The compromise would be adopted on 09 September 1850.
http://www.dartmouth.edu/~dwebster/speeches/seventh-march.html
Following the lead of senators Henry Clay and Stephen Douglass, Webster endorsed Clay's plan to assure sectional equilibrium in Congress. Passed after eight months of congressional wrangling, the legislation admitted California to the Union as a free state, permitted the question of slavery in Utah and New Mexico territories to be decided by popular sovereignty, settled Texas border disputes, and abolished slave trading in the District of Columbia while strengthening the Fugitive Slave Act. This speech by Daniel Webster supported Senator Henry Clay's compromise, who had run for president, lost, and come back to the U.S. Senate as a most influential politician. It brought together the U.S. Senate for a brief period of time. He espoused the provisions of the Fugitive Slave Bill. It is said, John Greenleaf Whittier had Webster in mind when he wrote in his poem: "Ichabod:"
" All else is gone from those great eyes
The soul has fled;
When faith is lost, when honor dies
The man is dead."
http://www.lib.umd.edu/RARE/RareCollection/danielwebster.html
http://www.danorr.com/webster/7thofmarch-text.html
1854- Charles Miller of St. Louis, MO, patented a sewing machine to stitch buttonholes,revolutionizing the garment industry.
1860- -- 6,000 shoemakers joined by 20,000 other New England workers in Lynn, Massachusetts strike. During the great New England shoemakers strike, about 1,000 women workers in Lynn, Massachusetts, strike for a union & against wage cuts. Marching through a blizzard, the women carry signs proclaiming: "American Ladies Will Not Be Slaves."
In 10 days, a procession of 10,000 workers marches through Lynn in the largest labor protest prior to the Civil War. Within a month, shoe manufacturers offer higher wages to bring strikers back to the factories. But the companies refuse to recognize a union.
1862 -- Battle of Elkhorn Tavern, Day 2, Generals McCulloch, McIntosh and Slack killed. Union Army gains control of Missouri.
http://civilwartraveler.bravepages.com/PR/PRPAN12.htm
http://www.oldalgonquin.net/civilwar/36th/pearidge/indexpearidge.htm
http://www.cwbattlefields.com/virtualtours/pearidgebattle.html
http://www.civilwarhome.com/pearidge.htm
http://stellar-one.com/civil_war/battle_of_pea_ridge_23.htm
http://www.lsjunction.com/people/mccullob.htm
http://www.members.cox.net/confed/third/mcculloch.html
http://www.2020site.org/texas/lesson58.html
http://stellar-one.com/civil_war/battle_of_pea_ridge_39.htm
1865- Michael A. Healy of Georgia, became the first Coast Guard serviceman who was African-American. He was appointed this day to the Revenue Cutter Service, the predecessor of the Coast Guard. He became captain on March 3, 1883, and was commanding officer of the Bear from 1886 to 1895.
1865-Battles round Kinston NC
http://www.aboutthecivilwar.com/uscivilwar5/1577470273AMUS116707.shtml
1869- the Suez Canal opened. This waterway across Egypt connecting the Mediterranean and Red seas was built by the French. In 1956, Egyptian president Nasser nationalized the canal, prompting an invasion by the British, French and Israelis. The Six-Day War in 1967 shut down the canal for eight years.
1872 -8º F in Boston MA
1888 Alcide "Slow Drag" Pavageau Birthday
http://user.tninet.se/~rrr043f/slow_drag.htm
1893-(Alice) Lorena Hickok, highest paid woman newspaper reporter of her day with Associated Press, political reporter, and later became investigator for Harry Hopkins in the Department of Commerce after her involvement with Eleanor Roosevelt made her step out of journalism. She actually lived in the White House with Mrs. Roosevelt and slept in ER's apartment.
http://www.gwu.edu/~erpapers/abouteleanor/q-and-a/glossary/hickok-lorena.htm
http://www.gaussian.com/ptownfringe/lorena.htm
http://www.amazon.com/exec/obidos/ASIN/0306809982/ref=ase_atriumA/
102-1682336-8966565
1908 -Cincinnati Mayor Mark Breith stood before city council & announced that, "women are not physically fit to operate automobiles"
1911- Willis S. Famsworth of Petaluma, CA received two patents, one for a coin-operated locker, and one with William H. Reed on a coin receptacle "magazine-hinge and conveyor" The insertion of a coin in a slot released a key to open and close the locker. The "magazine hinge" enable newspapers
and magazines to be purchased from a locked stand.
1917- Drummer Lee Young born, New Orleans, LA.
1923 -- Robert Frost's poem, "Stopping by Woods on a Snowy Evening," is published in the New Republic magazine. Proud of the poem, he said the lines, "Whose woods these are, I think I know, his house is in the village though..." contained everything he ever knew about how to write.
http://writersalmanac.publicradio.org/programs/2006/03/06/
1935-Monopoly was invented this day by Charles Darrow. While unemployed during the Depression, Charles Darrow devised this game and he sold it himself for two years. Monopoly was mass marketed by Parker Brothers beginning in 1935. Darrow died a millionaire in 1967.
1938-Janet Guthrie, an aerospace engineer, was one of the first four women to qualify for the scientist- astronaut program of NASA, the first woman to race in the Indianapolis 500 races, finishing ninth in 1978. (She was forced to withdraw two other times because of engine trouble. Her other entries in 1977 and 1979 were aborted because of engine trouble. No women were even allowed in the repair and refueling pits at the Indy 500 until a lawsuit in 1972.)
http://www.janetguthrie.com/
http://www.britannica.com/women/articles/Guthrie_Janet.html
http://www.writetools.com/women/stories/guthrie_janet.html
1945-A small advance force of the US first Army captured the Ludendorff railway bridge across the Rhine River at Remagen -the only bridge across the Rhine that had not been blown up by the German defenders-thus acquiring the first bridgehead onto the east bank, a turning point in World War II. Not since the days of Napoleon had an invading army crossed the Rhine. There have been several movies about this event, including, "Saving Private Ryan." tnks of the US Third Corps reach the Rhine River opposite the small German town of Remagen, Germany, and find the Ludendorff Bridge damaged but still usable The bridge, which had miraculously survived the massive Allied air assaults on Nazi Germany and then the country's own efforts to protect its interior from the Allied invasion, is an unexpected strategic coup for the US First Army. Troops and vehicles are immediately rushed across, and for the first time, the US forces secure a foothold on the eastern side of the fortified Rhine River shore.
Nazi dictator Adolf Hitler is so furious to learn of the US'o use of the intact Ludendorff Bridge that he fires General Gerd von Rundstedt as commander of western German forces. German bombers attempt to destroy the bridge, but the US troops continue to move across and expand the beachhead on the other side. On 17 March, after transporting thousands of troops and military vehicles across the Rhine, the bridge collapses, killing twenty-five Americans. Nevertheless, the Allies now hold the area and engineers erect other bridges nearby. Supreme Allied Commander General Dwight D. Eisenhower later says that the discovery of the intact bridge "put victory just around the corner."
1946—Top Hits
Let It Snow - Vaughn Monroe
Symphony - The Freddy Martin Orchestra (vocal: Clyde Rogers)
Oh, What It Seemed to Be - The Frankie Carle Orchestra (vocal: Marjorie Hughes)
Guitar Polka - Al Dexter
1946 - Grauman's Chinese Theatre on Hollywood Boulevard was the site of the 18th Annual Academy Awards celebration. Bob Hope hosted the first half of the show with James Stewart stepping up to the mike for the second half. The Best Motion Picture of 1945 was Paramount's "The Lost Weekend", produced by Charles Brackett. It also won for Best Director (Billy Wilder), Best Actor (Ray Milland), and Best Writing of a Screenplay (Charles Brackett and Billy Wilder). The Oscar for Best Actor in a Supporting Role went to James Dunn for "A Tree Grows in Brooklyn". Best Actress was Joan Crawford for her performance in "Mildred Pierce". The votes for The Best Actress in a Supporting Role prize went to Anne Revere for "National Velvet". The Best Music/Scoring of a Musical Picture Oscar went to George Stoll for "Anchors Aweigh" and Best Music/Song was "State Fair" by Oscar Hammerstein II and Richard Rodgers.
http://www.infoplease.com/ipa/A0148306.html
Make Love to Me! - Jo Stafford
Young-At-Heart - Frank Sinatra
Cross Over the Bridge - Patti Page
Slowly - Webb Pierce
1954 - No. 1 Billboard Pop Hit: ``Make Love to Me,'' Jo Stafford.
1955-Carl Perkins' "Blue Suede Shoes" enters the R&B chart. It is the first time a C&W artist has made the R&B chart.
1955 - "Peter Pan", with Mary Martin and Cyril Richard, was presented as a television special for the first time. The complete Broadway cast production was also broadcast in color on WRCA, Channel 4, New York City on "Producer's Showcase." It could also be seen in black and white on the NBC network.
1956 - Lonnie Donegan's hit song, "Rock Island Line", was doing well on the pop music charts from across the big pond. The popular music from Great Britain's 'King of Skiffle' ushered in the new music craze called 'skiffle'. Donegan was born in Glasgow, Scotland and was a member of Chris Barber's Jazz Band. He had one other major hit on the U.S. pop charts even bigger than "Rock Island Line". In 1961, Donegan's "Does Your Chewing Gum Lose It's Flavor (On the Bedpost Over Night)" made it to the top five in America. The song was a top-10 hit in 1924 by Ernest Hare and Billy Jones. However, instead of "Chewing Gum" in the original title, it was "Spearmint". Donegan recorded his version of the song in 1959, two years before it became a hit. Incidentally, John Lennon and George Harrison of The Beatles both started their careers in skiffle bands.
1962—Top Hits
Duke of Earl - Gene Chandler
Hey! Baby - Bruce Channel
Break It to Me Gently - Brenda Lee
Walk on By - Leroy Van Dyke
1964-The Beatles "I Want to Hold Your Hand" and "She Loves You" are, according to Billboard, "neck and neck" for the top spot on the singles chart.
1964 -- Capitol Records is besieged with requests for heavyweight boxing champ Cassius Clay's album, "I Am the Greatest." It's in big demand because of Clay's defeat of Sonny Liston last month. Columbia expects to sell 500,000 copies & Clay (aka, Muhamed Ali) says, "I'm better & prettier than Chubby Checker."
1965 -- First US "combat" troops sent to Vietnam. (As opposed to "advisers" & troops who are in a defensive roll.) The Johnson administration tries to hide this policy change & denies rumors, but a State Department spokesman "mistakenly" spills the beans a couple months later.
http://distefano.com/
1965-Selma, Alabama March: 525 people began a fifty-four mile march from Selma, Alabama to the state capitol in Montgomery They were demonstrating for African American voting rights and to commemorate the death of Jimmie Lee Jackson, shot three weeks earlier by an state trooper while trying to protect his mother at a civil rights demonstration. On the outskirts of Selma, after they crossed the Edmund Pettus Bridge, the marchers, in plain sight of photographers and journalists, were brutally assaulted by heavily armed state troopers and deputies. Here is their story with photographs:
http://memory.loc.gov/ammem/today/mar07.html
1966-The Shadow of Knights, a Chicago garage band, enter the Top Ten with their biggest hit, "Gloria."
1967-Jim Morrison and The Doors performed at the Matrix, San Francisco, California
1967 - No. 1 Billboard Pop Hit: ``Love Is Here and Now You're Gone,'' The Supremes.
1969-Tommy's Roe's single, "Dizzy" earns a gold record for sales over one million.
1970—Top Hits
Bridge Over Troubled Water - Simon & Garfunkel
Travelin' Band/Who'll Stop the Rain - Creedence Clearwater Revival
Rainy Night in Georgia - Brook Benton
It's Just a Matter of Time - Sonny James
1973-Traffic have a gold LP with "Shootout at the Fantasy Factory," their final LP with the extended group.
1975-David Bowie's "Young Americans" is released.
1978—Top Hits
(Love Is) Thicker Than Water - Andy Gibb
Sometimes When We Touch - Dan Hill
Emotion - Samantha Sang
Mamas Don't Let Your Babies Grow Up to Be Cowboys - Waylon & Willie
1981 - No. 1 Billboard Pop Hit: ``I Love a Rainy Night,'' Eddie Rabbit. Before recording on his own, the singer writes songs for Elvis Presley, Ronnie Milsap, Tom Jones and Dr. Hook.
1983- Willie Nelson received a lifetime achievement award at the Songwriters' Hall of Fame dinner in New York.
1985 - The song "We Are the World", from the album of the same name, was played on the radio for the first time. Forty-five of pop music's top stars had gathered together to combine their talents to record the music of Lionel Richie and Michael Jackson. Richie and Jackson sang, too, while Quincy Jones did the producing of the USA for Africa record. The proceeds of the multimillion-selling recording went to aid African famine victims. The project, coordinated by Ken Kragen, was deemed a huge success.
1986—Top Hits
Kyrie - Mr. Mister
Sara - Starship
Living in America - James Brown
You Can Dream of Me - Steve Wariner
1987 - Forty-five cities in the north central and northeastern U.S. reported record high temperatures for the date. Huron SD hit 80 degrees, and Pickstown SD reached 81 degrees. Rochester MN and Rockford IL smashed their previous record for the date by sixteen degrees.
1987 - World Boxing Council (WBC) heavyweight champ, 'Iron' Mike Tyson, became the youngest heavyweight titlist ever as he beat James Smith in a decision during a 12-round bout in Las Vegas.
1990 - A major ice storm left much of Iowa under a thick coat of ice. It was the worst ice storm in at least twenty-five years for Iowa, perhaps the worst of the century. Up to two inches of ice coated much of western and central Iowa, with three inches reported in Crawford County and Carroll County. As much as five inches of ice was reported on some electrical lines. The ice downed 78 towers in a 17-mile stretch of a high voltage feeder near Boone costing three electric utilities fifteen million dollars. Damage to trees was incredible, and clean-up costs alone ran into the millions. Total damage from the storm was more than fifty million dollars.
1997-Declaring that Steven Hoffenberg had "wreaked havoc on innocent lives," Federal Judge Robert Sweet sentenced the notorious Wall Street swindler to a twenty-year prison term. In the ruling, handed down on this day in 1997, Sweet ordered the former chief of Towers Financial Corps to pay out $462 million in restitution, as well as a $1 million in fines. Hoffenberg had been accused of pawning off vast sums of "worthless" Tower-backed bonds to unsuspecting investors. All told, Hoffenberg had conned investors out of a whopping $500 million, money which he used to fund his extravagant habits.
2003 ---UAL Corp., the bankrupt parent company of United Airlines, announces that sales of 3.9 million shares of UAL by the company's employee benefit plans (authorization by the IRS announced on 04 March) have lowered employee ownership in those plans below 20%, thereby triggering the "Sunset" provisions contained in the company's certificate of incorporation that affect UAL's corporate governance structure.
--------------------------------------------------------------

Winter Poem
The Telephone

Robert Frost

When I was just as far as I could walk
From here today,
There was an hour
All still
When leaning with my head against a flower
I heard you talk, Don't say I didn't, for I heard you say---
You spoke from the flower on the window sill---
Do you remember what it was you said?

"First tell me what it was you thought your heard."
an excerpt—the beginning of the poem
http://www.internal.org/view_poem.phtml?poemID=164
--------------------------------------------------------------

SuDoku
The object is to insert the numbers in the boxes to satisfy only one condition: each row, column and 3x3 box must contain the digits 1 through 9 exactly once. What could be simpler?
http://leasingnews.org/Soduku/soduko-main.htm
--------------------------------------------------------------

Daily Puzzle
How to play:
http://www.setgame.com/set/puzzle_frame.htm
Refresh for current date:
http://www.setgame.com/set/puzzle_frame.htm

--------------------------------