Senior Credit Analyst
Westport, CT.
Captive construction equipment finance background preferred;flexible adaptive team player w/8 years underwriting exper. For more info/to apply click here.
A Fortune 500 construction equipment manufacturing company.


Thursday, March 13, 2008
Headlines---
Archives-March 12, 2001 (yesterday and today)
Tyco buys CIT/Capital Stream $30 MM/NetBank
Classified Ads---Senior Management
Lease Police extends free subscriptions
Law Firm Askounis-Borst Breaks Up
Cartoon---Chef Rudy Trebels with his attorneys
Stan Ragley new CEO of One World Leasing
Classified Ads---Help Wanted
Sales makes it Happen---by Adrian Miller
Everything I learned about training
I learned in Kindergarten
Terry Waggoner's Son in Afghanistan
Marlin Business Bank Opens
GE Chief Immelt sees revenue up 10%
Dollar Falls to Record Low Against Euro
"Watch your receivables like a hawk"
Rates up: mortgage demand drops
Subprime Crisis Foments Bankruptcy Surge
News Briefs---
You May have Missed---
Woman earns Silver Star
Sports Briefs---
"Gimme that Wine"
Calendar Events
Snapple Real Facts
Today's Top Event in History
This Day in American History
Irish Blessing
SuDoku
Daily Puzzle
GasBuddy
Provence, France-Vacation
News on Line---Internet Newspapers
Boca Raton, Florida
######## surrounding the article denotes it is a "press release"
------------------------------------------------------------------

Archives-March 12, 2001 (yesterday and today)
Tyco buys CIT/Capital Stream $30 MM/NetBank
Tyco International Buying CIT
Tyco International Ltd. is buying commercial lender CIT Group Inc. for about $9.2 billion in cash and stock in a deal that would allow the manufacturer to finance purchases of its wide array of products.
The deal announced Tuesday by Tyco -- whose products include electronic equipment, fire and security systems and disposable medical supplies -- would give CIT shareholders a 54 percent premium for their shares over Monday's closing prices.
L. Dennis Kozlowski, Tyco's chairman and chief executive, said buying CIT will help Tyco grow faster, while allowing the 93-year-old finance company to bolster its lending business.
Several manufacturing companies already have such arrangements in place. They include General Electric Co., whose GE Capital helps finance GE businesses and is a profitable financial services business.
Most CIT shareholders will get stock for their shares, but a Japanese bank that owns 27 percent of CIT will get cash. Tyco is paying 0.6907 Tyco shares for each of CIT shares, representing $35.02 a share in value based on Tyco's closing price Monday of $50.70 a share. But Tyco is paying $35.02 a share in cash to Dai-Ichi Kangyo Bank for its 71 million CIT shares.
The deal was approved by the boards of both companies but is subject to approval by CIT shareholders and regulators.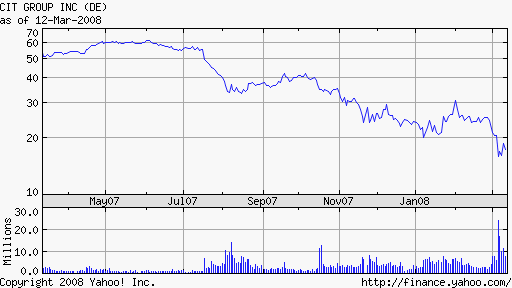 (CIT closed at $17.39 yesterday.)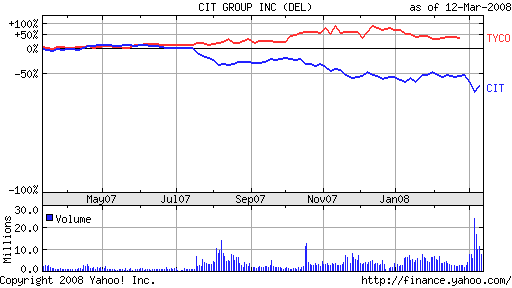 ---
CapitalStream hits financing goal with venture investors
'Flight to quality' helps (headline of the story)
Tuesday, March 13, 2001
By John Cook
Seattle Post-Intelligencer Reporter
CapitalStream of Seattle has raised $20 million in venture capital to promote its online transaction and leasing platform for the financial services industry. Investors in the company include FTVentures, Banc of America, Polaris Venture Partners, Spectrum Equity Investors, Voyager Capital, Merrill Lynch Ventures and the Benaroya Co.
To date, the privately held company, formerly known as System One Software, has raised
$47.5 million.
(February 22, 2008 sold to HCL Technologies, based in India, for $40 million cash:
http://www.leasingnews.org/archives/February%202008/02-22-08.htm#cap )
---
NetBank(R) Receives Regulatory Approval of Its 2001 CRA Strategic Plan
ATLANTA, March 13 /PRNewswire/ -- NetBank(R), Member FDIC, Equal Housing Lender, (Nasdaq: NTBK; http://www.netbank.com), and the world's leading Internet bank with more than $1.8 billion in assets, today announced that the Office of Thrift Supervision (OTS) has approved its strategic plan on meeting requirements under the Community Reinvestment Act (CRA) during 2001. The bank's strategic plan incorporates suggestions and counsel from regulators and community leaders.
(November 28, 2007 Netbank liquidated, stockholders end up with nothing:
http://www.leasingnews.org/archives/November%202007/11-28-07.htm#netb )
--------------------------------------------------------------

Classified Ads---Senior Management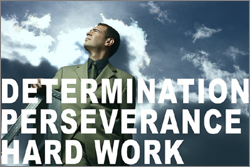 Atlanta, GA
Strong sales and leadership skills; demonstrated with sales training and sales performance. Lead team in both regional and national operations and developed marking programs.
Email: mll1946@comcast.net

Europe
25+ yrs exper. management roles Chase, AT&T Capital, Heller Financial, SFS. Develop biz from "scratch to success". Looking for challenging & pioneering job.
Email: frans@alliedproperty.net

Northern California
CLP - Director of Customer Finance for Fortune 500 manufacturer. Program development, credit, closing, sales training, portfolio mgt.
email: drdawkins@mac.com"
Philadelphia, PA
27 yrs. exp. sales, ops., credit, strategy, P&L mngmet. Most recently created & executed the biz plans for 2 highly successful Bank-owned small ticket leasing subsidiaries.
email: mccarthy2020@comcast.net
For a full listing of all "job wanted" ads, please go to:
http://www.leasingnews.org/Classified/Jwanted/Jwanted.htm
To place a free "job wanted" ad here, please go to:
http://www.leasingnews.org/Classified/Jwanted/Jwanted-post.htm
--------------------------------------------------------------

Lease Police extends free subscriptions
With over 100 subscribers in one year's time, and ten to be added as soon as they compile their information to add, subscription will continue free for almost four more months.
eMail sent to subscribers:
"The management of Lease Police, Inc has decided to extend the no charge period on all inquires thru to June 30, 2008. At this time we have 106 subscribers with an almost equal mix of Broker and Funders. In addition we are plowing thru the 2007 repossessions that have been sent to us and posting them into the Early Unsatisfactory Termination data base. This job should be complete by March 31st and it will reflect in the quality of our reports.
"Our new scoring model is in place and you will see scores of 1 to 100 on vendors only with the lowest being the best. After March 31st, I urge all of you to put a vendor inquiry on all your regular accounts to see how they stack-up.
"Be mindful that length of time in the system and recent inquires play into the algorithms we used. Therefore these scores like good wine will get better with age."
Regards,
Bernie Boettigheimer, CLP
President
Lease Police, Inc.
972-361-8111
972-692-8091-fax
214-549-3426-cell
bernieb@leasepolice.com
Please Click on Banner to learn more
--------------------------------------------------------------

Law Firm Askounis-Borst Breaks Up
As the FTC-IFC Credit, Morton Grove, Illinois bench trial moves to April 28, 2008 at 9:30 a.m. before United States District Court, Northern District of Illinois Magistrate Judge Jeffrey Cole, some of the latest news is the break-up last weekend of Askounis & Borst, PC. How this affects the train headed down the track to a court showdown is in the hands of IFC Credit CEO Rudy Trebels.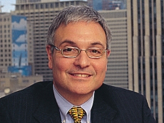 Thomas V. Askounis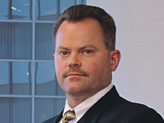 Vincent Borst, Borst and Collins, LLC
Both Askounis and Borst were members of the Chicago Law Firm James Coston, now Coston & Rademacher, a 100 employee Chicago-based law firm which for over 20 years has concentrated its practice in equipment leasing and financing, according to their web site. Coston was the first attorney to become president of the United Association of Equipment Leasing (2003-04.)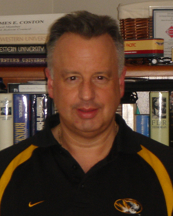 Coston was the first attorney to become president of the United Association of Equipment Leasing (2003-04.)
Askounis & Borst is now Borst & Collins, LLC at the same address and telephone numbers, 180 N Stetson Ave, Suite 3400, Chicago, IL 60601,Tel. (312) 861-7100, Fax. (312) 861-0022.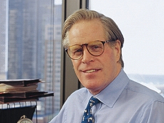 Daniel L.Collins, Borst and Collins
David Alexander Darcy and Debra Rose Devassy have joined Thomas Askounis down the street and the firms name is Askounis and Darcy, LLC. November 1 Kenneth D. Peters created a new firm, Dressler & Peters, LLC.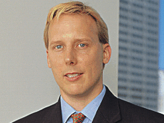 David Alexander Darcy, Askounis & Darcy, LLC
(Sorry could not find a photo of Debra Rose Devassy. editor)
The three who have been representing IFC Credit Corporation are reportedly remaining on the defense team. Kenneth D. Peters was reportedly listed in name only.
Thomas V. Askounis told Leasing News he remains "very amicable" with Vince Borst and Kenneth Peters. He added he has been, and will remain, a long time friend of Vince Borst.
"This has nothing to do with the IFC Credit-FTC case and will cause no problems, no representation issues, and the decision on how the work will be divided will be made by IFC."
It seems Askounis was not involved directly in the case, although two attorneys who are now with his new firm were, and evidently will continue, to be active.
Vince Borst was not available to make a comment.
It was reported earlier that the firm of Winston and Strawn had taken the lead in the defense with Peter Deeb more in the background for political and public relations support.
Attorneys on record for IFC:
Beth Anne Alcantar, IFC Corporation Attorney
Vincent Thomas Borst, Askounis & Borst, P.C.
David Alexander Darcy, Askounis & Borst, P.C.
Debra Rose Devassy, Askounis & Borst, P.C.
Kenneth D. Peters, Askounis & Borst, P.C.
Stephen Charles Schulte, Winston and Strawn
Jeffrey Mark Wagner, Winston and Strawn
Peter Deeb, Frey, Petrakis, Deeb, Blum & Briggs, P.C.
Expert Legal Witnesses chosen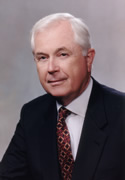 Michael J. Fleming, principal, the Alta Group
Added to the Expert Legal Witness list to testify in behalf of IFC Credit Corporation are John Dean and Michael Fleming, both from the Alta Group.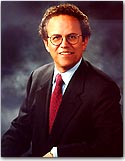 John C Dean, the Alta Group founding principal
Dean is past chairman and Fleming is past president of the now Equipment Leasing and Finance Foundation. The Alta Group is well-known for their many years of providing expert testimony for leasing companies.
The Federal Trade Commission has named as their Expert Legal Witness, Gerry Egan, TecSource, well-known leasing trainer and past president of the National Association of Equipment Leasing Brokers.
He has written many articles on sales for trade publications, including
Leasing News.
This is reportedly his first effort as an Expert Legal Witness.

Gerry Egan
--------------------------------------------------------------

Cartoon---Chef Rudy Trebels with his attorneys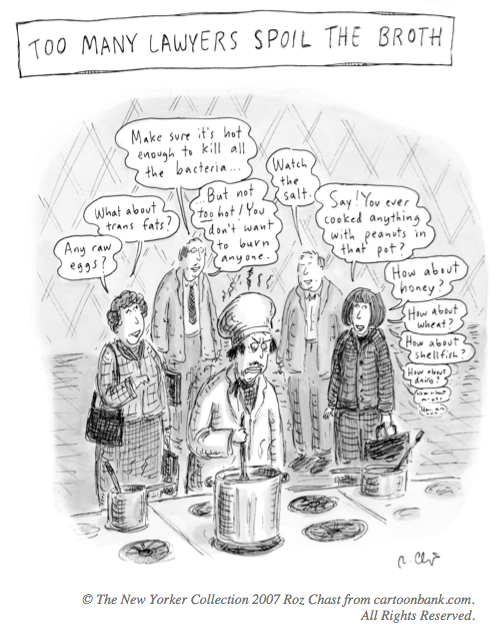 --------------------------------------------------------------

Stan Ragley new CEO of One World Leasing
John Winchester, CLP, Communications Leasing, Inc, Nashville, Tennessee is thanked for his term as chairman.

John Winchester, CLP
John Ragley, Leasing Resources, Charlotte, North Carolina is the man now elected to head the 23 member-owner leasing cooperative.
(A photograph was not available at press time. editor)
"Stan Ragley is our CEO and I'm still President...All the officers rotate among the members except me and Dave Foglesong who assists me. We had a ball in St. Croix and got some work done there too."

Ira Romoff
IRomoff@OneWorldLeasing.com
Boca Raton, Florida - through March 31, 2008
561-470-1289
201-776-7040 cell
201-669-4049 fax
Boca West
1775 Bridgewood Drive
Boca Raton, Fl 33434

Ira Romoff
Membership guidelines to join the first leasing co-op:
In business five years or more--
At least ten years of industry experience---
Independent Equipment Leasing and Finance Company (originator)--
Equipment cost volume of approximately $5,000,000.00 per year---
Agree to OneWorld Leasing's Membership Ethics and Code of Conduct Statement---
Here is a list of the 23 members provided by One World Leasing:
http://leasingnews.org/PDF/OneWorldStaffList.pdf
Current Newsletter (3.3mb download:)
http://leasingnews.org/PDF/OWL_Newsletter_Issue_1.pdf
St. Croix Photo's (1.1mb download:)
http://leasingnews.org/PDF/St._Croix_pix.pdf
--------------------------------------------------------------

Leasing Industry Help Wanted
Broker Relations Manager

Broker Relations Manager
Bothell , Washington
Build/manage broker base. Provide guidance to new brokers. Work with "full financial" credit packages, "story" & non-standard credits from $25,000 to $450,000.
e-mail jimb@abcoleasing.net or
fax resume: 425.806.1813 .
Our new business is sourced exclusively through brokers.
Senior Credit Analyst


Senior Credit Analyst
Westport, CT.
Captive construction equipment finance background preferred;flexible adaptive team player w/8 years underwriting exper. For more info/to apply click here.
A Fortune 500 construction equipment manufacturing company.


--------------------------------------------------------------

Sales Make it Happen --- by Adrian Miller
Everything I Needed to Learn About Training I Learned in Kindergarten
Adrian Miller Sales Training
www.adrianmiller.com
Some experts believe that the first few years of life are the most formative. Others suggest that the early teens are the most influential. Personally, I'm not so sure; there seems to be some good logic in both views. However, regardless of whether my personality was crafted as an infant or a teen, I can say one thing with confidence: I learned some very important things about training in kindergarten. Here's my favorite three.
Kindergarten/Training Principle #1: Don't Make Me Cry, Don't Make Me Turn Away
As a grown-up, I've learned to cope with many situations that, in kindergarten, used to outright floor me and have me screaming at the top of my lungs; or, at least, sulking in a dark corner, waiting for the chance to go home. And at the top of this coping list is dealing with boring or stressful situations.
When faced with boredom or stress, I'm now fully aware that the best thing to do is not to create a scene or start banging my arms down on a desk or carpet. That is, I learned to mask my true reaction – freaking out -- and replace it with a polite smile, or a stifled yawn. As a thriving kindergarten student, however, I hadn't quite yet honed this important coping skill; and so when faced with a situation that I found disagreeable, I expressed my feelings quite visibly, and some might say, quite honestly. I was unhappy, and believe me, it showed .
As a trainer, and as someone who has a vested interest in the growth and development of great training (regardless of whether I'm a part of it or not), I'm fortunate to carry around this kernel of kindergarten wisdom: people might look like they're not freaking out, but inside, they might very well be screaming and pleading for the day to end.
And with this insight, I've learned that I must be particularly sensitive to the energy and body language that I'm receiving from training participants. Sure, on the surface, they may look fairly composed; but that's just something we've all learned to do as grown-ups. Yet if I'm boring them, or if I'm stressing them out because my delivery is not engaging them, then I have to adjust.
For example, I may find it valuable to break up a large group into smaller groups if I feel that the room needs an energy boost. Or I might suggest an early break if I feel that I need to reestablish the goals of the training, and can more effectively do it after a clarifying and refreshing time out. Or, I may simply forego a planned presentation, and instead, open up the floor for questions and answers. There's no hard and fast rule as to what is needed; there's only the principle that, as a trainer, I must remember that on the surface, my trainees might not be expressing their true opinion about the training. It's up to me to scan for this, and to make adjustments as I detect changes, both good and bad.
#2: Kindergarten/Training Principle Nap Time is Invaluable
Though different people have different kindergarten experiences, one unifying theme that bridges both generations and cultures tends to be the nap period .
Whether 10 minutes or half an hour, the majority of us experienced that special time in kindergarten where the lights were turned off, and the window shades drawn; and it was quiet, sleepy time. A chance to restore our spent energies, and return to the kindergarten experience with new and positive energy.
Until I became a trainer, I didn't give this any thought. I just figured that they told us to lie down because they were tired of the noise we were making, and needed a break. Yet eventually, the insight dawned on me that nap time served me very well. Nap time enabled my young, energetic, and sensory-overloaded mind and body to recharge. It gave me a stamina boost that helped me focus on post-nap activities, such as potato painting, or the all important sing-a-long. In other words: nap time served a primary strategic purpose (who knew?).
Fast forward to today, and I can see that the same strategic importance remains. Trainees need "down time" (if not necessarily nap time, though some do…). Training can be overwhelming; especially since, at heart, all training is about change. Since change is the most stressful thing that both people and companies experience, it's incumbent upon me to ensure that I know when my trainees are becoming agitated, and when a short time-out break is going to serve them well.
I'm also reminded that the capacity for people – not just trainees, but people in general – to learn something new tends to peak at about the 30 minute mark. That is, anything beyond 30 minutes, and the ability to accept and process information begins to wane. After an hour or so, I believe that it can be counterproductive to convey any information.
This isn't a negative situation; nor is it a critical observation. It's not that trainees don't want to learn, or that they can't. It's simple human tolerances. We aren't meant to sit for more than an hour and learn something; it's not actually within our biological development, if you really look at it. Can you imagine our cave people ancestors spending hours learning how to hunt and gather? They'd be eaten; or they'd starve, or both.
We've come along way since our cave days, but not as far as it may seem. We still need to learn things, obviously, but we still require frequent breaks. Though we may not yet be at the "nap time" stage in workplace training (though perhaps one day?), as a trainer, I can address this need nicely by ensuring that breaks happen frequently enough so that trainees stay fresh, alert, and engaged.
Kindergarten/Training Principle #3: You remember the good times
Though as adults we've have countless experiences, and each of those moments takes up residence in our memory, we can all probably hearken back to our kindergarten days to recall whether we enjoyed it or not. And as we reflect upon those enjoyable moments, we're overcome by a feeling of gladness; of a fond memory unraveling inside us. That's the feeling of an open-minded experience.
It's also fair to say that people who enjoyed kindergarten got more out of the experience than those who dreaded it. Though we don't cognitively recall what we learned or how, if we liked kindergarten – if we liked our teacher, and liked the atmosphere of where we were learning – we certainly learned much more than we realized. After all, even now as adults, often the most enjoyable and effective learning takes place when we don't know that we're learning. In such cases, we learn better because there's no inner resistance to learning; there's no mental labeling, or psychological border crossing official, who says "this is a learning experience, it is now entering your mind, please be aware and ensure that you want this to happen".
Seen in this way, a powerful insight that was brokered in kindergarten is that people learn more when they enjoy themselves . They not only learn more, but they remember more; and that is the key, since at some early point the training will end, and the trainee will need to apply what she/he has learned. If a trainee has a horrible experience, chances are she/he will retain only what is barely necessary; items that will help them keep her/his job (e.g. a new protocol or policy). But there won't be any real lasting growth as a result of the training; growth that goes beyond the framework of the curriculum.
Ensuring that trainees enjoy their learning experience shouldn't, however, be confused as providing trainees with a party or celebration each time. Some training is more formal, either because of the subject matter, or because of the environment itself. This is fine; and there's no need to necessarily have trainees doing the limbo and wearing nacho hats in order to create memorable training experiences.
Yet as I learned in kindergarten, this isn't necessary. Only as adults do we tend to equate "fun on the outside with fun on the inside". It's often not necessary; all it takes is paying attention to trainees and engaging them in the experience.
Some trainees will be highly extroverted and gregarious; others will be quiet and analytical. Some like to talk a lot on the spot; others prefer to take information back to their desks and reflect upon it for a few days. This is all fine. As a trainer, it's my job to use my skills and techniques – in partnership with the organization itself – to see that learners have an enjoyable experience, regardless of the environment or subject matter.
And it bears repeating, because it's so useful and so easy to forget: when trainees enjoy their training experience, they learn more, retain more, and achieve more.
And as a trainer, seeing that trainees learn, retain, and achieve, is the ultimate goal of what I do; and, in that sense, what kindergarten did for me, as well.
Adrian Miller Sales Training
516-767-9288
516-445-1135 (cell)
www.adrianmiller.com
http://www.adrianmiller.com/blog/
Sales Makes it Happen articles:
http://www.leasingnews.org/Legacy/index.html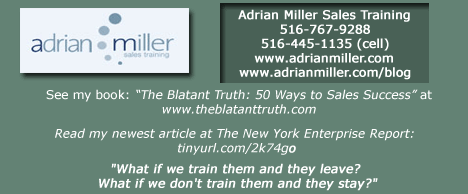 --------------------------------------------------------------

Terry Waggoner's Son in Afghanistan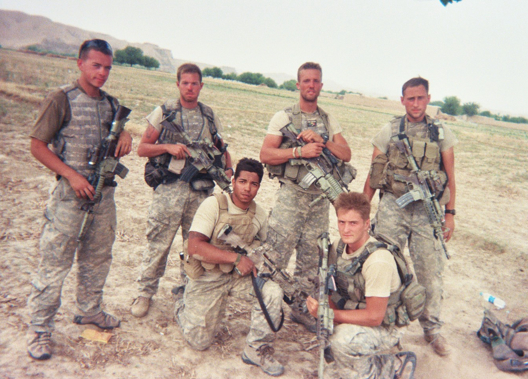 Jeremiah, standing, second from right, 2 bracelets on his right wrist
Leasing and Viet Nam vet, plus 82nd Airborne Dad, as he likes to sign his e-mails, Terry Waggoner's son Jeremiah has been back in Afganistan for one year and would have been route home but for the 3 month extension to a 15 month tour that he elected to take.
Sports Illustrated Peter King interviewed members of Jeremiah Wagners unit in Afghanstan:
"...members of the Army's 1st Battalion, 508th Scout Sniper Reconnaissance Platoon. Four in the platoon of 30 are highly trained Army Rangers, the others are elite soldiers. Several of them wear silver bracelets bearing the name of the late Tanner James O'Leary, a South Dakota kid and driver of their Humvee that was blown up by an IED on a mission near here last year. These guys jump out of planes and hunt Taliban soldiers for a living.
One young sergeant, Jeremiah Wagner of Simi Valley, reminded me of a skinny, chiseled Rambo, with the only attitude you can have for a man who does his job, a sort of frenetic, passionate fearlessness. Their captain, Staff Sgt. James Anderson of San Diego, could pass for the late 49er line coach, Bob McKittrick. He's bald, 32, as tough as they come -- and he doesn't have to say a word for you to know that. He just looks at you, and you look at his form-fitting T-shirt and think, whoever messes with this man is going to die.
This platoon gets dropped in remote regions of the country for up to a month at a time, and they set up camp in the woods or the mountains and search for the enemy. One of them talked about mowing down Taliban troops as they walked into death...
I asked the men of the 508th what role the NFL, and football Sundays, played in the lives of their platoon.
"Huge,'' said Wagner. "Absolutely huge. This last mission we were on sucked. Just sucked. No football. Season was over. No making fun of the Cowboy fans. No baseball. Nothing to talk about. An hour felt like a day.''
There's a nine-and-a-half-hour time difference between Kandahar and New York, so the Sunday afternoon NFL games kick off late Sunday night and early Monday morning here. Wagner said when the platoon was out on a football weekend, the men would begin calling back to base on a satellite phone in the middle of the night -- but mostly on Monday morning -- to find out the status of games.
"You would not believe how important the NFL is in getting us through the week,'' Wagner said. "On Wednesday, we start talking about the games coming up Sunday, and then we'll talk about the games for hours after we find out who won.''
Full Peter King "Sports Illustrated" story:
http://sportsillustrated.cnn.com/2008/writers/peter_king/03/09/usotrip/index.html
---------------------------------------------------------------
### Press Release ###########################

Marlin Business Bank Opens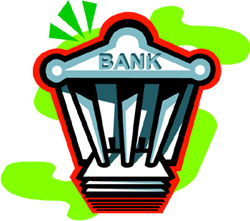 MOUNT LAUREL, N.J.,-- Marlin Business Services Corp. (Nasdaq:MRLN) is pleased to announce the opening of its industrial bank, Marlin Business Bank, located in Salt Lake City, Utah.
"We're very excited to announce the opening of Marlin Business Bank and the opportunities it offers our business. Our plan to launch this bank began in October 2005 and we're pleased to have successfully completed the process. Our immediate plan for the bank is to broaden our sources of funding at lower cost insured deposit rates," said Daniel P. Dyer, Chairman and Chief Executive Officer of Marlin Business Services Corp. "Other plans for the bank include initiatives that fit with our small business lending strategy. We believe the bank is a competitive differentiator for Marlin, and it will serve as a key enhancement to our business model."
About Marlin Business Services Corp.
Marlin Business Services Corp. is a nationwide provider of equipment leasing and working capital solutions primarily to small businesses. The Company's principal operating subsidiary, Marlin Leasing Corporation, finances over 70 equipment categories in a segment of the market generally referred to as "small-ticket" leasing (i.e. leasing transactions less than $250,000). The Company was founded in 1997 and completed its initial public offering of common stock on November 12, 2003. In addition to its executive offices in Mount Laurel, NJ, Marlin has regional offices in or near Atlanta, Chicago, Denver and Philadelphia and Salt Lake City. For more information,
visit www.marlincorp.com or call toll free at (888) 479-9111.
Stock closed Wednesday at 8.87; Volume: 19,500
Avg Vol (3m): 63,998.4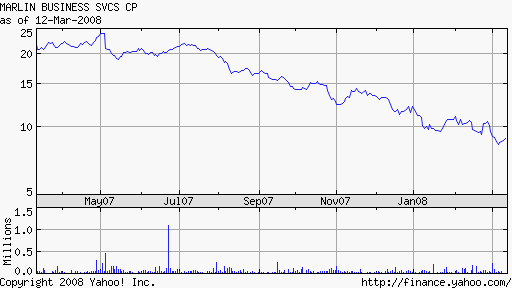 one year chart: Yahoo
### Press Release ###########################
--------------------------------------------------------------

News Briefs----
GE Chief Immelt sees revenue up at least 10 percent in '08
http://www.signonsandiego.com/news/business/20080312-1140-ge-outlook.html
Dollar Falls to Record Low Against Euro
http://biz.yahoo.com/ap/080312/dollar.html?.v=3
Jerry York's advice to CFOs: "Watch your receivables like a hawk."
http://www.cfo.com/article.cfm/10836210?f=alerts
With rates highest since October, mortgage demand drops
http://www.usatoday.com/money/economy/housing/2008-03-12-mortgage-apps_N.htm
Subprime Crisis Foments Bankruptcy Surge
http://www.cfo.com/article.cfm/10851567/c_10836796?f=home_todayinfinance
Soaring foreclosures are bad news for neighbors with good credit who want to sell or refinance
http://www.signonsandiego.com/news/business/20080312-1334-home
refinance-troubles.html
Boeing's customers expect more delivery delays for 787 Dreamliner
http://seattletimes.nwsource.com/html/boeingaerospace/2004276088_boeing12.html
Google completes online-ad merger
http://www.mercurynews.com/business/ci_8542803?nclick_check=1
David Hernandez is stripped of "Idol" chance
http://www.accessatlanta.com/blogs/content/shared-blogs/accessatlanta/idol/
entries/2008/03/12/312_whos_out_wi.html
---------------------------------------------------------------


You May have Missed---
Woman earns Silver Star
http://www.fayobserver.com/article?id=288108
---------------------------------------------------------------

Sports Briefs----
Mackey Repeats As Iditarod Champion
http://www.examiner.com/a-1274621~Mackey_Repeats_As_Iditarod_Champion.html
----------------------------------------------------------------


"Gimme that Wine"
Unconventional wine expert says the number of taste buds determines your wine preferences
http://www.sfgate.com/cgi-bin/article.cgi?f=/c/a/2008/03/07/WI0UVB2AL.DTL
Wine Library TV: Robert Parker for a new generation?
http://www.calendarlive.com/tv/cl-fo-youngwineside12mar12,0,7341201.story
What causes good wine to go bad?
http://www.chicagotribune.com/entertainment/dining/chi-uncorked_bad_1
2mar12,1,7624371.column
Many Wine Consumers 'Overwhelmed'
http://winesandvines.com/template.cfm?section=news&content=53745
Wine Prices by vintage
http://www.winezap.com
http://www.wine-searcher.com/
US/International Wine Events
http://www.localwineevents.com/
Winery Atlas
http://www.carterhouse.com/atlas
Leasing News Wine & Spirits Page
http://two.leasingnews.org/Recommendations/wnensprts.htm
The London International Vintners Exchange (Liv-ex) is an electronic exchange for fine wine.
http://www.liv-ex.com/
----------------------------------------------------------------

Calendar Events This Day
Ear Muff Day
http://holidayinsights.com/moreholidays/March/earmuffday.htm
Good Samaritan Involvement Day
A day to emphasize the importance of unselfish aid to those who need it. Recognized on the anniversary of the killing of Catherine (Kitty) Genovese, March 13, 1964, in Kew Gardens community, Queens, NY. Reportedly no fewer than 38 of her neighbors, not wanting "to get involved," witnessed and watched for nearly 30 minutes at the fleeing girl was pursued and repeatedly stabbed by her 29-year-old attacker.
Jewel Day
http://holidayinsights.com/moreholidays/March/jewelday.htm
National Coconut Torte Day
National Open an umbrella Indoors Day
The purpose of this day is for people to open umbrellas indoors
and note whether they have any bad luck.
Uranus Day--Uranus Discovered, 1781
http://www.enchantedlearning.com/subjects/astronomy/planets/uranus/
World Kidney Day
The purpose of this day is to raise awareness about the importance of our kidneys—amazing organs that play a crucial role in keeping us alive and well—and to spread the message that kidney disease is common, harmful, and treatable.
www.worldkidneyday.org
Saint feast Days
http://www.catholic.org/saints/f_day/mar.php
----------------------------------------------------------------

A perfect game in baseball is one in which the same player pitches the entire game without allowing any player of the opposing team to reach first base -- by any means.
----------------------------------------------------------------

Today's Top Event in History
1974-The Arab Oil Embargo was lifted. It would take several weeks before long gasoline lines disappeared here. The oil-producing Arab countries agreed to lift their five-month embargo on petroleum sales to the US. During the embargo prices went up 330 percent and a ban was imposed on Sunday gasoline sales. The embargo was in retaliation for US support of Israel during the October 1973 Middle-East War.
[headlines]
----------------------------------------------------------------

This Day in American History
1565- Smoking of tobacco was introduced to England by John Hawkins. Hawkins was primarily a slave trader, carrying Africans to the West Indies. Most of his dealings were with the Spanish in the West Indies, but during his second trip to the region visited the small French colony in Florida and learned to smoke tobacco from the colonists, who had learned from the Indians. Hawkins returned to Eng­land with a shipload of tobacco.. He described the Indian use of the plant this way: "The Floridians when they travel have a kind of herb dried, who with a cane and an earthen cap in the end, with fire, and dried herbs put together, doe sucke thorow the cane the smoke thereof, which smoke satisfieth their hun­ger, and therwith they live foure or five days without meat or drinke, and this all the Frenchmen used for this purpose."
1687-Father Eusebio Kino, 42, an Italian-born Jesuit in the service of Spain, began missionary labors in the American Southwest. In all, Kino established 25 Indian missions in the area now divided between northern Mexico and Arizona.
http://www.azcentral.com/news/specials/azhistory/02086kino0210.html
http://www.desertusa.com/mag98/april/papr/du_kino.html
http://www.nps.gov/tuma/Father_Kino.html
http://discoverseaz.com/History/Kino.html
1789-Young Enoch Brooks inscribed his name in this children's Bible in Princeton, New Jersey. Now a rare artifact of Americana, Brooks' book is one of four extant copies of A Curious Hieroglyphick Bible. With nearly five hundred woodcuts by American artists, this Bible was the most ambitious woodcut volume produced in America up to that time. He was not only a prolific printer of children's books but at one time owned more than 20 book stores in the Boston, MA area. http://memory.loc.gov/ammem/today/mar13.html
1791 - Thomas Paine's The Rights of Man was published in London.
http://odur.let.rug.nl/~usa/D/1776-1800/paine/ROM/rofmxx.htm
http://www.infidels.org/library/historical/thomas_paine/rights_of_man/part1.html
1794- Eli Whitney received a patent for the cotton gin, allegedly based on the ideas and concept of a Black slave on a plantation he was visiting. Whether he, the black slave, or Katherine Greene, the owner of the plantation he was visiting, came up with the concept of wire cleaning the cotton balls is a matter of historic controversy. Whitney's cotton gin was capable of maintaining a daily output of 23 kg (50 lb) of cleaned cotton, and its effect was far-reaching, making southern cotton a profitable crop for the first time. Whitney, however, failed to profit from his invention. Numerous imitations appeared, and his 1794 patent was not validated until 1807. This made cotton a major crop in the South where slaves were "imported" to meet the demand, plus could be utilized for other crops due to this invention. "By the early 1800's, more than 700,000 slaves lived in the South. They accounted for about a third of the region's people. By 1860, the slave states had about 4 million slaves. Slaves outnumbered whites in South Carolina and made up over half the population in both Maryland and Virginia. Slavery began to develop even deeper roots in the South after Eli Whitney of Massachusetts invented his cotton gin in 1793. This machine removed the seeds from cotton as fast as 50 people working by hand and probably contributed more to the growth of slavery than any other development. Whitney's gin enabled farmers to meet the rapidly rising demand for cotton. As a result, the Southern cotton industry expanded, and cotton became the chief crop in the region. The planters needed more and more workers to pick and bale the cotton, which led to large increases in the slave population. The thriving sugar cane plantations of Louisiana also used many slaves during the first half of the 1800's. By 1860, about 4 million slaves lived in the South." It is stated that in 1860, one in three people in the South were slaves.
http://www.invent.org/hall_of_fame/152.html
http://www.pbs.org/wgbh/aia/part3/3h1522.html
http://web.mit.edu/invent/iow/whitney.html
http://www.eliwhitney.org/main.htm
http://www.pbs.org/wgbh/aia/part3/3narr6.html
http://ia.thebostonchannel.com/blackhistory/1947088/detail.html
http://www.archives.gov/digital_classroom/lessons/cotton_gin_patent/
cotton_gin_patent.html
1798-birthday of Abigail Fillmore, first wife of Millard Fillmore, 13th president of the US. Born at Stillwater, NY. It is said that the White House was without any books until Abigail Fillmore, formerly a teacher, made a room on the second floor into a library. Within a year, Congress appropriated $250 for the president to spend on books for the White House. Died at Washington, DC, Mar 30, 1853.
1802- Absalom Jones ordained first Black priest in Episcopal Church
1813-. Lorenzo Delmonico was born in Marengo, Switzerland and was invited to join his uncles in their successful pastry shop and catering business in New York in 1831. He soon transformed the business into one of the first, best, most elegant and famous restaurants in the country, Delmonico's. Lorenzo was not a chef, but he purchased the food and created the very extensive menu. He helped make the concept of the 'restaurant' an acceptable and successful one. After many moves the final Delmonico's restaurant was forced to close in 1923, a victim of Prohibition.
http://www.infoplease.com/spot/foodnames.html
1818- Absalom Jones ordained first Black priest in Episcopal Church
http://www.justus.anglican.org/resources/bio/98.html
http://www.satucket.com/lectionary/Absalom_Jones.htm
http://www.io.com/~kellywp/LesserFF/Feb/AbsJones.html
http://david-alexander.tripod.com/id117.htm
1836- Houston retreats from Santa Anna's army. Less than a week after the disastrous defeat of Texas rebels at the Alamo, the newly commissioned Texan General Sam Houston begins a series of strategic retreats to buy time to train his ill-prepared army. Revolutionary Texans had only formally announced their independence from Mexico 11 days earlier. On March 6, 1836, the separatists chose Sam Houston to be the commander-in- chief of the revolutionary army. Houston immediately departed for Gonzales, Texas, where the main force of the revolutionary army was stationed. When he arrived, he found that the Texan army consisted of 374 poorly dressed and ill-equipped men. Most had no guns or military experience, and they had only two days of rations. Houston had little time to dwell on the situation, because he learned that the Mexican general Santa Anna was staging a siege of the Alamo in San Antonio. Before Houston could prepare his troops to rush to aid the defenders, however, word arrived that Santa Anna had wiped them out on March 6. Scouts reported that Santa Anna's troops were heading east toward Gonzales. Unprepared to confront the Mexican army with his poorly trained force, Houston began a series of strategic retreats designed to give him enough time to whip his army into fighting shape. Houston's decision to retreat won him little but scorn from the Texas rebels. His troops and officers were eager to engage the Mexicans, and they chafed at Houston's insistence on learning proper field maneuvers. Houston wisely continued to organize, train, and equip his troops so they would be prepared to meet Santa Anna's army. Finally, after nearly a month of falling back, Houston ordered his men to turn around and head south to meet Santa Anna's forces. On April 21, Houston led his 783 troops in an attack on Santa Anna's force of nearly twice that number near the confluence of Buffalo Bayou and the San Jacinto River. With the famous cry, "Remember the Alamo," the Texans stormed the surprised Mexican forces. After a brief attempt at defense, the Mexican soldiers broke into a disorganized retreat, allowing the Texans to isolate and slaughter them. In a stunning victory, Houston's army succeeded in killing or capturing nearly the entire Mexican force, including General Santa Anna, who was taken prisoner. Only two Texans were killed and 30 wounded.Fearful of execution, Santa Anna signed an order calling for the immediate withdrawal of all Mexican troops from Texas soil. The Mexicans never again seriously threatened the independence of the Lone Star Republic.
1846---In San Francisco, Colonel Castro issued a proclamation that declared John Frémont and his party to be a band of highwaymen.
1865—Slaves were assigned to military duty in the Confederate Army by a bill signed by President Jefferson Davis. During the Civil War, blacks not only had related jobs, but also were uniformed soldiers and officers. CSA General Patrick Cleburne had suggested enlisting slaves a year before, but few in the Confederate leadership considered the proposal, since slavery was the foundation of southern society. One politician asked, "What did we go to war for, if not to protect our property?" Another suggested, "If slaves will make good soldiers, our whole theory of slavery is wrong." General Lee weighed in on the issue and asked the Confederate government for help. "We must decide whether slavery shall be extinguished by our enemies and the slaves be used against us, or use them ourselves." Lee asked that the slaves be freed as a condition of fighting, but the bill that passed the Confederate Congress on March 13 did not stipulate freedom for those who served. The measure did nothing to stop the destruction of the Confederacy. Several thousand blacks were enlisted in the Rebel cause, but they could not begin to balance out the nearly 200,000 blacks that fought for the Union.
http://www.rebelgray.com/BlackSoldiers.htm
http://www.nps.gov/apco/blacks.htm
http://www.augustachronicle.com/stories/022199/met_confeds.shtml
http://www.africana.com/archive/dailyarticles/index_20010410.asp
http://www2.netdoor.com/~jgh/mobile.html
1868-The US Senate began its trial to impeach President Andrew Jackson. For the first time in the nation's history a president was impeached. Pres. Johnson was accused by Congress of having violated the Tenure of Office Act of 1867, which forbade the president to discharge any federal officer holder appointed "by and with the consent of the Senate." Johnson tested the act by removing Secretary of War Edwin M. Stanton on February 21. The impeachment was brought largely because the radical Republicans bitterly opposed Johnson's plans for Reconstruction. Johnson's firing of Stanton gave them the opportunity they had been seeking. On February 24 the House of Representatives voted to impeach. The US Senate trial began this date. Sworn in as president after Lincoln's assassination in April 1865, President Johnson enacted a lenient Reconstruction policy for the defeated South, including almost total amnesty to ex-Confederates, a program of rapid restoration of U.S.-state status for the seceded states, and the approval of new, local Southern governments, which were able to legislate "black codes" that preserved the system of slavery in all but name. The Republican-dominated Congress greatly opposed Johnson's Reconstruction program and passed the "Radical Reconstruction" by repeatedly overriding the president's vetoes. Under the Radical Reconstruction, local Southern governments gave way to federal military rule, and African-American men in the South were granted the constitutional right to vote. In March 1867, in order further to weaken Johnson's authority, Congress passed the Tenure of Office Act over his veto. The act prohibited the president from removing federal office holders, including Cabinet members, who had been confirmed by the Senate, without the consent of the Senate. It was designed to shield members of Johnson's Cabinet like Secretary of War Edwin M. Stanton, who was appointed during the Lincoln administration and was a leading ally of the so-called Radical Republicans in Congress. In the fall of 1867, Johnson attempted to test the constitutionality of the act by replacing Stanton with General Ulysses S. Grant. However, the U.S. Supreme Court refused to rule on the case, and Grant turned the office back to Stanton after the Senate passed a measure in protest of the dismissal. On February 21, 1868, Johnson decided to rid himself of Stanton once and for all and appointed General Lorenzo Thomas, an individual far less favorable to the Congress than Grant, as secretary of war. Stanton refused to yield, barricading himself in his office, and the House of Representatives, which had already discussed impeachment after Johnson's first dismissal of Stanton, initiated formal impeachment proceedings against the president. On February 24, the House voted 11 impeachment articles against President Johnson. Nine of the articles cited his violations of the Tenure of Office Act; one cited his opposition to the Army Appropriations Act of 1867 (designed to deprive the president of his constitutional position as commander in chief of the U.S. Army); and one accused Johnson of bringing "into disgrace, ridicule, hatred, contempt, and reproach the Congress of the United States" through certain controversial speeches. On March 13, according to the rules set out in Section 3 of Article I of the U.S. Constitution, the impeachment trial of President Johnson began in the Senate. U.S. Supreme Court Chief Justice Salmon P. Chase presided over the proceedings, which were described as theatrical. On May 16 and again on May 26, the Senate voted on the charges brought against President Johnson. Both times the vote was 35 for conviction and 19 for acquittal, with seven moderate Republicans joining 12 Democrats in voting against what was a weak case for impeachment. Because both votes fell short--by one vote--of the two- thirds majority needed to convict Johnson, he was judged not guilty and remained in office. Nevertheless, he chose not to actively seek reelection on the Democratic ticket. In November, Ulysses S. Grant, who supported the Republicans' Radical Reconstruction policies, was elected president of the United States. In 1875, after two failed bids, Johnson won reelection to Congress as a U.S. senator from Tennessee. He died less than four months after taking office at the age of 66. Fifty-one years later, the U.S. Supreme Court declared the Tenure of Office Act unconstitutional in its ruling in Myers v. United States.
1868- Birth of Charles E. Cowman, American missionary pioneer. In 1901 he sailed to Japan with his wife Lettie (who later authored "Streams in the Desert"), where in 1910 they founded the Oriental Missionary Society.
http://www.backtothebible.org/devotions/bio_cowman.htm
1873-- PBS Pinchback, first Black state governor, is denied his senate seat by the Senate, 1873. Senators were elected at this time by the state legislature. In January 1873, the Louisiana legislature elected Pinchback to the U.S. Senate, which was also contested by another rival W.L. McMillen. Though McMillen eventually acknowledged Pinchback's claim to the seat, Senators uncovered evidence that Pinchback had paid $10,000 to obtain it. On March 13, 1875, the Senate denied Pinchback his seat by a vote of 32 to 29.
http://www.fact-index.com/p/p_/p__b__s__pinchback.html
http://www.pbs.org/wnet/aaworld/reference/articles/p_b_s_pinchback.html
1887- Chester Greenwood of Maine received a patent for earmuffs.
1906-clarinet/sax player Frank Teschemacher born Kansas City MO, Died, 1932 Chicago
http://www.redhotjazz.com/tesch.html
http://wwwp.musicmatch.com/artist/artist.cgi?ARTISTID=600112
1911- Lafayette Ronald Hubbard, science fiction writer, recluse and founder of the Church of Scientology, born at Tilden, NE. His best-known book was Dianetics: The Modern Science of Mental Health. Died at San Luis Obispo County, CA, Jan 24, 1986.
http://www.lronhubbard.org
1912- the Chamber of Commerce of the United Sates was founded by approximately 500 representatives of commercial organizations, trade associations, and individual establishments, who were invited to participate in a series of discussions by President William Howard Taft and Secretary of Commerce and Labor Charles Nagel. The headquarters of the chamber of Commerce of the Untied States was dedicated on May 20, 1925.
1912 – Mystery writer Bill S. Ballinger (1912-1980), aka Frederic Freyer, B.X. Sanborn, born, Oskaloosa, Iowa. American thriller writer, who specialized from the early 1950's in a multi-level kind of narration or divided narration. Received Edgar Allan Poe Award from Mystery Writers of America in 1960 for his TV work.
http://www.kirjasto.sci.fi/ballinge.htm
1913---guitarist Lightin' Slim ( Otis V. Hicks) born St. Louis, Mo.
http://www.luckymojo.com/blueshoodoolightninslim.html
1913- Sammy Kaye, one of the most successful bandleaders of all time, was born in Rocky River, Ohio. Although the syrupy sweet romantic sounds were denounced by critics and music purists, the "Swing and Sway with Sammy Kaye" formula was so successful that his orchestra stayed together long after the big band era had ended. His hit records in the 1940's included "Daddy," "Harbor Lights" and "It Isn't Fair." Kaye died on June 2nd, 1987.
http://www.sammykayeorchestra.com/
1913-guitarist Slim Lightin' (Otis V. Hicks) born St. Louis, Mo, Died July 27,1994
http://physics.lunet.edu/blues/Louisiana.html
1914-base player Bob Haggart bass born New York City /Died December 2, 1999
http://www.riverwalk.org/profiles/haggart.htm
http://www.52ndstreet.com/justjazz/Haggart_birthday.html
http://www.atlantajazzparty.com/ajp10.html
1914-bassist Bob Haggart born New York City.
1922-drummer Willie "Rough Dried" Williams born Lake Village, AR
1923 - A great improvement in radio receivers was advertised. The new models had a concealed speaker and eliminated the need for headphones, which were considered a nuisance because they were so heavy to wear and messed up hairdos. The new radios were also said to have a 'foolproof' design.
1924-pianist Dick Katz born Baltimore MD
http://www.jazzcanadiana.on.ca/_KATZ.HTM
1925- Legislation prohibiting the teaching of evolution within the state's public school system was passed by Tennessee State Assembly. A celebrated violation of this law led to the famous July Scopes Monkey Trial
http://www.law.umkc.edu/faculty/projects/ftrials/scopes/tennstat.htm
http://www.law.umkc.edu/faculty/projects/ftrials/scopes/scopes.htm
1925-- guitarist Bob "Poor" Woodfork born Lake Village,AR
1926-- Roy Haynes Birthday
http://www.ejn.it/mus/haynes.htm
1929- Helen Candaele Saint Aubin, known as Helen Callaghan during her baseball days, was born at Vancouver, British Columbia, Canada. Saint Aubin and her sister, Margaret Maxwell, were recruited for the All-American Girls Professional Baseball League, which flourished in the 1940s when many major league players were off fighting WWII. She first played at age 15 for the Minneapolis Millerettes, an expansion team that moved to Indiana and became the Fort Wayne Daisies. For the 1945 season the left-handed outfielder led the league with a .299 average and 24 extra base hits. In 1946 she stole 114 bases in 111 games. Her son Kelly Candaele's documentary on the women's baseball league inspired the film A League of Their Own. Saint Aubin, who was known as the "Ted Williams of women's baseball," died Dec 8, 1992, at Santa Barbara, CA
1930-trumpterer Blue Mitchell born Miami, FL Died May 21, 1929
http://www.vh1.com/artists/az/mitchell_blue/bio.jhtml
http://members.tripod.com/~hardbop/blue.html
1932- country singer Jan Howard was born in West Plains, Missouri. Howard first hit the charts in 1960 with "The One You Slip Around With." She is best known for her duets with Bill Anderson, which included "For Loving You," a country chart-topper from 1967. Howard was also successful on her own, with such country hits as "Evil on Your Mind" and "My Son," a tribute to her son, Jim, who died in Vietnam two weeks after the song was recorded in 1968.
1932 -- With six million unemployed, chaos in Berlin, starvation & ruin, the threat of Marxism, & a very uncertain future, the German people turn to Hitler by the millions. In the presidential election, Hitler receives over eleven million votes (11,339,446) or 30% of the total. Hindenburg receives 18,651,497 votes or 49%. Since Hindenburg does not get the majority, a run-off election is held. In the campaign that follows, Hitler crisscrosses Germany in an airplane, descending from the clouds into the arms of growing numbers of fanatics, at ever larger rallies. He gives them a positive message, promising something for everyone, then ascends back into the clouds. "In the Third Reich every German girl will find a husband!" - Hitler once promises.
1932 – Hunger marches were taking place throughout the country; the Bonus marchers are expelled from Washington. This day Herbert Hoover sends a secret message to Congress advising it not to cut the pay of Army or Navy personnel because they may be need to put down the marchers, who's numbers seem to be growing. He believes they are communist inspired as are the hunger marches in England and Germany. The economy is not in that bad of shape as the newspapers report, he adds.
http://www.weisbord.org/ThreeOne.htm
http://www.studsterkel.org/htimes.php
1939- singer and songwriter Neil Sedaka was born in Brooklyn, New York. Sedaka began writing songs with his lifelong musical partner, Howard Greenfield, at age 13, and in 1958 sold his first song, "Stupid Cupid," which became a hit for Connie Francis. The following year, Sedaka began his own recording career, scoring hits with such songs as "Oh Carol," written for Carole King, "Calendar Girl" and "Breaking Up is Hard to Do," which went to number one in 1962.
For much of the 1960's, Sedaka concentrated on songwriting, composing chart successes such as "Working on a Groovy Thing" for the Fifth Dimension and "Puppet Man" for Tom Jones. In 1975, Elton John helped Sedaka get back on the charts by having him record an LP for his Rocket label. From "The Hungry Years" came the number-one hit single "Laughter in the Rain." Sedaka topped the charts for a second time that year with "Bad Blood."
http://www.history-of-rock.com/neil_sedaka.htm
1940-"The Road to Singapore," starring Bob Hope, Bing Crosby, and Dorothy Lamour, opened. The comedy was the first of seven Road pictures, which brought fame and fortune to its actors.
1941-the Benny Goodman Sextet cuts "Air Mail Special"
1944---Top Hits
Mairzy Doats - The Merry Macs
Besame Mucho - The Jimmy Dorsey Orchestra (vocal: Bob Eberly & Kitty Kallen
No Love, No Nothin' - Ella Mae Morse
Rosalita - Al Dexter
1946-The first Medal of Honor awarded to a soldier of Japanese ancestry was conferred upon Private First Class Sadao S. Munemori of Company A,100th Infantry Battalion, 442dn Combat Team, for action near Seravezza, Italy, on April 5, 1945, when he knocked out two machine guns with grenades and saved the livers of two of his companions by diving on an exploding grenade. The medal was presented posthumously this day to his mother, Mrs. Nawa Munemori.
1947 - "The Best Years of Our Lives", produced by Samuel Goldwyn, was a big favorite winning the Best Picture prize at the 19th Academy Awards held at the Shrine Auditorium in Los Angeles. Actor/producer/comedian Jack Benny hosted the glittering gala. "The Best Years of Our Lives" won Oscars for Best Director (William Wyler); Actor (Fredric March); Supporting Actor (Harold Russell); Film Editing (Daniel Mandell); Screenplay (Robert E. Sherwood); and a shared award with "The Jolson Story" for Best Score. Other awards for the best of 1946: Actress: Olivia de Havilland in "To Each His Own", and Actress in a Supporting Role: Anne Baxter in "The Razor's Edge". The Best Song was "On the Atchison, Topeka and the Santa Fe" (from "The Harvey Girls") by Johnny Mercer and Harry Warren. Foreign-made films showed up in these Oscars, bringing an end to Hollywood's then exclusive rights to the coveted awards. Of the foreign movies nominated, three were British ("Henry V" - producer, Laurence Olivier; "Brief Encounter" starring Celia Johnson; "Perfect Strangers" which won the Oscar for Best Writing/Original Story [Clemence Dane]), one was French ("Les Enfants du paradis", an original screenplay by Jacques Prévert) and one Italian ("Roma, città aperta", screenplay written by Sergio Amidei, Federico Fellini).
http://www.infoplease.com/ipa/A0148339.html
1951 - " The comic strip, "Dennis the Menace", appeared for the first time in 18 newspapers across the U.S. The strip became an international favorite in thousands of newspapers and spawned a CBS-TV program that starred Jay North as Dennis. The series lasted for several seasons and is still seen in syndicated re-runs. A somewhat popular movie starring Walter Matthau as Mr. Wilson and Christopher Lloyd as the bad guy was released in 1993.
http://www.kingfeatures.com/features/comics/dennis/about.htm
1952---Top Hits
Slowpoke - Pee Wee King
Tell Me Why - The Four Aces
Please, Mr. Sun - Johnnie Ray
Wondering - Webb Pierce
1956 - In a rally in Birmingham, Alabama, Asa Carter, the executive secretary of the north Alabama White Citizen's Council, charged that rock and roll was introduced to white teenagers by the N.A.A.C.P. and other pro-integration forces. He initiated a campaign to pressure radio stations to bar what he termed "immoral music".
1958-"The Long Hot Summer," starring Paul Newman, Joanne Woodward, and Orson Welles, opens in Baton Rouge, Louisiana. Newman, who won the Cannes Film Festival award as Best Actor for his performance in the film, married Woodward the same year-the pairing is one of Hollywood's longest lasting marriages.
1960---Top Hits
The Theme from "A Summer Place" - Percy Faith
Wild One - Bobby Rydell
Baby (You've Got What It Takes) - Dinah Washington & Brook Benton
He'll Have to Go - Jim Reeves
1960-- National Football League owners voted to allow the Chicago Cardinals to move to St. Louis. The Cardinals are generally regarded as the oldest continuing operation in pro football, having been founded as the Morgan Athletic Club, a neighborhood team in 1899. The Cardinals remained in St. Louis through the 1987 season after which owner Bill Bidwill transferred the team to Phoenix, AZ.
1961-President John F. Kennedy sets up the Alliance for Progress.
http://www.fordham.edu/halsall/mod/1961kennedy-afp1.html
1962- trumpeter Terence Blanchard born New Orleans LA
http://www.terenceblanchard.com/
1962 -- Wing Luke becomes the first non-white to be elected to the Seattle City Council, and the highest Asian-American elected official in the continental US at the time.
1964- Motown Records released Mary Wells's "My Guy," written and produced by Smokey Robinson. It was the Supreme's co-founder only number-one hit as a single.
http://www.marywilson.com/
1968 - The Byrds received a gold record for the album, "Greatest Hits", which featured "Turn! Turn! Turn!", written by Pete Seeger (excerpted from the Book of Ecclesiastes in the Bible); "Eight Miles High"; "Mr. Spaceman"; "Mr. Tambourine Man"; "All I Really Want To Do"; and "My Back Pages". The group consisted of Jim McGuinn, David Crosby, Gene Clark, Chris Hillman and Mike Clarke. Kevin Kelly, Gram Parsons, Clarence White, John York and Gene Parsons were also members of the group through the years. The Byrds were inducted into the Rock and Roll Hall of Fame in 1991.
1969-" The Love Bug" released by Walt Disney studio. Directed by Robert Stevenson, the film starred "Herbie," a loveable Volkswagen bug with a personality. Abused by the evil racecar driver "Thorndyke" (David Thomlinson), Herbie is rescued by the young good-guy racecar driver "Jim" (Dean Jones). Grateful for his rescue, Herbie rewards the hapless Jim by winning one race after another on his driver's behalf. The excitement begins when the ruthless Thorndyke plots to get Herbie back by any means necessary. Based on a story by Gordon Buford, The Love Bug inspired two sequels, Herbie Rides Again and Herbie Goes To Monte Carlo.
1968---Top Hits
Love is Blue - Paul Mauriat
(Theme From) Valley of the Dolls - Dionne Warwick
(Sittin' On) The Dock of the Bay - Otis Redding
Take Me to Your World - Tammy Wynette
1970 - An extremely popular cover of "LIFE" magazine was issued, showing the current fashion battle over long versus mini skirts.
http://www.life.com/Life/covers/1970/cv031370.html
1971 -- The Allman Brothers Band records its breakthrough album, "Live at the Fillmore East."
http://www.allmanbrothersband.com/
1972- "The Merv Griffin Show", starring game show and late-night television host, Merv Griffin, started its syndicated debut for Metromedia Television. Joining Merv were Arthur Treacher, and Mort Lindsey and his orchestra. In the 1940s, Griffin had a number one song with the Freddy Martin Orchestra, "I've Got a Lovely Bunch of Cocoanuts", which launched him to fame. He had his own radio show at KFRC in San Francisco in the late 1940's, branching into early local television. Griffin battled Johnny Carson on CBS-TV late night, and lost. He also fought ABC-TV's Joey Bishop, and again lost. He did win in the Metro media show; and in ownership of stations such as WPIX-TV 11 in New York, WPOP Radio in Hartford, Connecticut. Later, he came up with "Wheel of Fortune" and the formula for "Jeopardy", which he also owns; making him one of the world's richest entertainment moguls. Griffin also owns several hotels in Atlantic City, New Jersey and Beverly Hills.
1972 -- Author Clifford Irving pleads guilty to a charge that the "autobiography" of Howard Hughes on which he supposedly collaborated was a hoax.
http://www.who2.com/cliffordirving.html
1974-The Arab Oil Embargo was lifted. It would take several weeks before long gasoline lines disappeared here. The oil-producing Arab countries agreed to lift their five-month embargo on petroleum sales to the US. During the embargo prices went up 330 percent and a ban was imposed on Sunday gasoline sales. The embargo was in retaliation for US support of Israel during the October 1973 Middle-East War.
1976---Top Hits
December 1963 (Oh, What a Night) - The Four Seasons
All by Myself - Eric Carmen
Take It to the Limit - Eagles
The Roots of My Raising - Merle Haggard
1976 - The Four Seasons, featuring Frankie Valli, returned to the pop charts after an absence of 10 years. The group's "December, 1963 (Oh, What A Night)", became the top song in the United States. Valli's real name is Castelluccio and with him were Bob Gaudio, Nick Massi and Tommy DeVito. Joe Long and Charlie Callelo were members in the 1960s, when Gaudio focused on producing for the group and DeVito left. The original producer was Bob Crewe. The name, The Four Seasons, was taken from a bowling alley in New Jersey. The group charted a total of 30 songs, plus Valli had nine solo hits. In 1990, they were inducted into the Rock and Roll Hall of Fame.
1980 -- Pink Floyd's "The Wall" goes platinum a few weeks into its 15 week stay at Number One. The two-record set is largely the brainchild of bass player Roger Waters, who now emerges as the group's creative head.
http://www.rogerwaters.org/
http://ingsoc.com/waters/
http://www.pinkfloyd-co.com/mast_idx.html
1983- Radio talk show host Larry King brought his topical interview program to syndicated TV.. Using a telephone hook-up, viewers called in to speak to particular guests. King has been appearing on CNN since 1985 interviewing a variety of newsmakers and celebrities.
http://www.cnn.com/CNN/Programs/larry.king.live/
1983-- Randy Smith's NBA consecutive-game streak came to an end as he played in his 906th straight game. Smith played for Buffalo, San Diego, Cleveland, New York, and San Diego (again.)
1984---Top Hits
Jump - Van Halen
Girls Just Want to Have Fun - Cyndi Lauper
Somebody's Watching Me - Rockwell
Going, Going, Gone - Lee Greenwood
1985 - National Football League owners met in Phoenix, AZ and tabled a proposal that would have allowed transmitters and receivers in football helmets. The idea was to allow quarterbacks to talk with players in noisy stadiums. The idea did become a reality, but a minor one. Players complained of too much interference and static.
1986- Susan Butcher wins the Iditarod dogsled race from Anchorage to Nome, Alaska, in the record time of 11 days, 15 hours, almost seven days faster than the time in 1985 when Libby Riddles was the first woman to win the race. Butcher again wins the race in 1987 in what is called a new era in the dogsled competition
1993- "Informer" by Toronto rapper Snow reached number-one on the Billboard Hot 100. It would remain in the top spot for seven weeks, making it one of the most successful Canadian songs ever on the US chart. Snow's debut album, "12 Inches of Snow," also was a million-seller.
1994- Prodigy puts newspaper online--the Atlanta Journal- Constitution. One of the earliest online newspapers, the Journal-Constitution listed local information, including Little League scores, lunch menus, and crime reports, as well as local advertising. The news service was available as a subscription service, with additional fees for bulletin board usage. Other early online newspapers included the St. Louis Dispatch and Florida Today.
1998 - Candice Bergen and the cast of Murphy Brown filmed the 245th and final episode of the award-winning and sometimes controversial CBS sitcom. The hour-long finale featured appearances by Julia Roberts, Bette Midler, and George Clooney, as well as Bergen's real mother, Frances.
http://timstvshowcase.com/murphybak.jpg
--------------------------------------------------------------

Poem
Irish Blessing
May you always have work for your hands to do.
May your pockets hold always a coin or two.
May the sun shine bright on your windowpane.
May the rainbow be certain to follow each rain.
May the hand of a friend always be near you.
And may God fill your heart with gladness to cheer you.
--------------------------------------------------------------

SuDoku
The object is to insert the numbers in the boxes to satisfy only one condition: each row, column and 3x3 box must contain the digits 1 through 9 exactly once. What could be simpler?
http://leasingnews.org/Soduku/soduko-main.htm
--------------------------------------------------------------

Daily Puzzle
How to play:
http://www.setgame.com/set/puzzle_frame.htm
Refresh for current date:
http://www.setgame.com/set/puzzle_frame.htm
--------------------------------------------------------------


http://www.gasbuddy.com/
http://www.gasbuddy.com/GB_Map_Gas_Prices.aspx
http://www.gasbuddy.com/GB_Mobile_Instructions.aspx
--------------------------------------------------------------

Provence, France-Vacation
http://le-monastier.site.voila.fr/
--------------------------------------------------------------

News on Line---Internet Newspapers
Boca Ratan, Florida
--------------------------------