***** Extra Extra *****
CIT stock hits $6.45 a share
CIT stock a year ago was $61.49. It hit $6.45 today, but closed at $9.63.

The decline was the news of CIT having to draw on its $7.3 billion in bank credit lines as it struggled to refinance debt that will be due in the next few months; shares plunged 17.3%.
"Our decision today is a result of the protracted disruption in the capital markets as well as recent actions by the rating agencies," said Jeffrey M. Peek, Chairman and CEO. "It provides us with added flexibility and ensures that our clients have the financing they need to operate and grow their businesses successfully. We are actively positioning CIT to maximize value by optimizing our business portfolio and sizing our company to market conditions."
Peek said CIT Group CIT cannot get capital from other sources amid continued deterioration of the credit markets. Aside from looking for new funding, CIT Group said it would also consider selling non-strategic assets and business lines to help raise cash.
Last year, CIT Group shut down its mortgage lending operations. During the fourth quarter, the company set aside $385.5 million to cover bad mortgages.
CIT Group also created a separate $250 million reserve to cover losses in its home equity portfolio.
Moody's said it will continue to review CIT Group's operations for more potential downgrades, while S&P placed CIT Group on a negative outlook, which is a more long-term view.
Fitch Ratings signalled it may downgrade CIT Group, saying the credit market illiquidity has significantly impacted CIT's funding profile, according to a report on Thomson Financial News.
Fitch believes that current market conditions have materially constrained CIT's ability to source traditional unsecured funding at economically viable prices, and also believes CIT may need to utilize established alternative sources of funding and liquidity, which include unsecured, committed bank lines totaling 7.3 bln usd.
'Absent recent liquidity related events... CIT's fundamental performance remains sound considering the current environment,' the agency added.
It placed CIT's issuer default and debt ratings on rating watch negative as follows: long-term IDR at 'A', short-term IDR at 'F1', senior debt at 'A', subordinated/preferred at 'A-', short-term debt at 'F1'.


Senior Credit Analyst
Westport, CT.
Captive construction equipment finance background preferred;flexible adaptive team player w/8 years underwriting exper. For more info/to apply click here.
A Fortune 500 construction equipment manufacturing company.


Wednesday, March 19, 2008
Headlines---
Pictures from the Past--1981 Joe Woodley
Classified Ads---Syndicator
Lease Company Stocks Two Days Later
Cartoon---Decisions
Sales Make it Happen by Linda P. Kester
"Surviving a Recession"
Are we headed for Stagflation?
by Al Schuler
Lease/Loan State License Requirements
Popular Leasing goes Direct
Classified Ads---Help Wanted
Jobs---Are you next?
Financial Regulators Business Continuity
News Briefs---
You May have Missed---
"Gimme that Wine"
Calendar Events
Snapple Real Facts
Today's Top Event in History
This Day in American History
Winter Poem
SuDoku
Daily Puzzle
GasBuddy
Provence, France-Vacation
News on Line---Internet Newspapers
San Diego, California
######## surrounding the article denotes it is a "press release"
------------------------------------------------------------------

Pictures from the Past--1981 Joe Woodley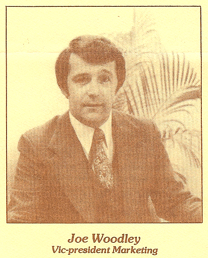 Vice-president Marketing
Colonial Pacific Leasing
(photo: CPL Volume 1, March 1981 Newsletter)
November 20, 2001:
Ex-WAEL Prez to Be New Chief Executive Officer
Joe Woodley, CLP, is the new full-time United Association of Equipment Leasing (UAEL) Chief Executive Officer. He will continue at Westover Financial. He was president of the organization (UAEL) in 1987, when it was the Western Association of Equipment Lessors
He is president of Westover Financial, Inc., San Clemente, CA (now Santa Ana, Ca.) He served as WAEL's 1985 Secretary/Treasurer and a member of the Executive Committee.
"Joe has been active in the leasing industry for 15 years, starting with a position with the Burroughs Corporation after his graduation from the University of Albuquerque, New Mexico. He was involved in private leasing in 1972 and 1975-77, spending the interim years with St. Paul Leasing. He was Vice President/Marketing at Colonial Pacific Leasing Company from 1977-84.
(His web site bio states he started Westover Financial in 1984.
http://www.westoverfinancial.com/woodley.html)
"Joe has been on the WAEL Board of Directors since 1982, and was Program Chairman for the Spring Conference in 1985. He served as Board Liaison to the Brokers Committee in 1983, and the Membership.
(WAEL November, 2001 Newsletter)
1986 Western Association of Equipment Lessors President Ted Parker, Charter Equipment Leasing (left) admonishes 1987 President-elect Joe Woodley, Westover Financial to " talk softly and carry a big stick" as he passes the gavel.
(1987 WAEL Newsletter)
--------------------------------------------------------------

Classified Ads---Syndicator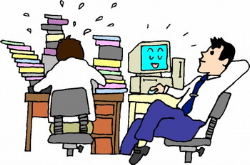 Overland Park, KS
Top Syndicator from single deal to portfolios. 20+ yrs exp. Available for contract work or full time position. Nationwide contacts.
E-mail: FFLLeasing@aol.com
Westchester County, NY
7+ years in pricing, credit, and syndications. Strong credit skills and marketing experience at VP level. All collateral. MBA in Finance.
Email: Joe.Sears@gmail.com
For a full listing of all "job wanted" ads, please go to:
http://www.leasingnews.org/Classified/Jwanted/Jwanted.htm
To place a free "job wanted" ad here, please go to:
http://www.leasingnews.org/Classified/Jwanted/Jwanted-post.htm
--------------------------------------------------------------

Lease Company Stocks Two Days Later
Monday was the one year decline of most leasing/bank stocks, except for GE, Key Corp, Sterling Bank, USBancorp, as exceptions. Since the sudden jump and then pullback, here is the last five day to show before and after in this very short period: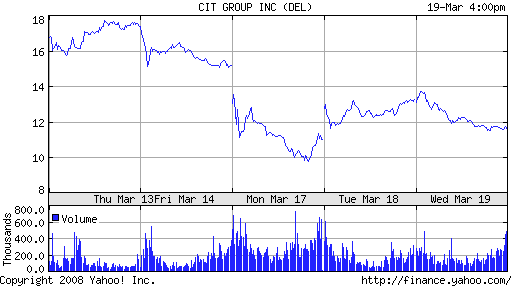 Cit
11.75
Day's Range: 11.45 - 13.82
52wk Range: 9.55 - 61.47
Volume: 13,463,784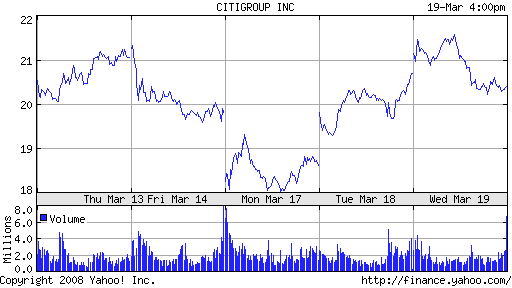 Citibank
20.41
Day's Range: 20.21 - 21.65
52wk Range: 17.99 - 55.55
Volume: 129,208,500
Avg Vol (3m): 107,546,000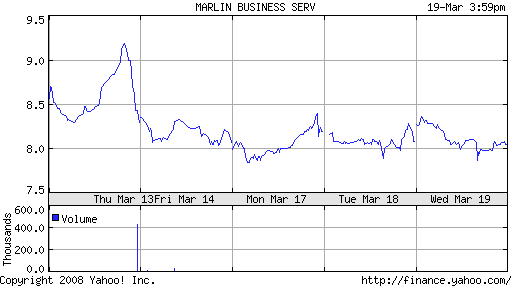 Marlin
8.05
Day's Range: 7.87 - 8.37
52wk Range: 7.83 - 24.29
Volume: 47,189
Avg Vol (3m): 69,737.1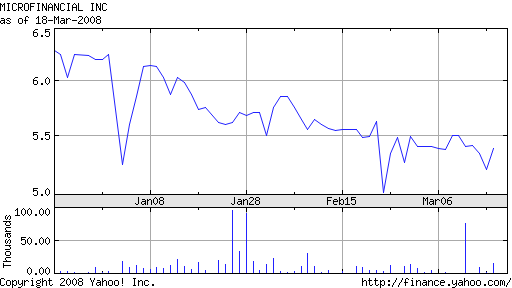 Microfinancial
5.41
Day's Range: 5.03 - 5.48
52wk Range: 4.08 - 6.52
Volume: 500
Avg Vol (3m): 12,753.2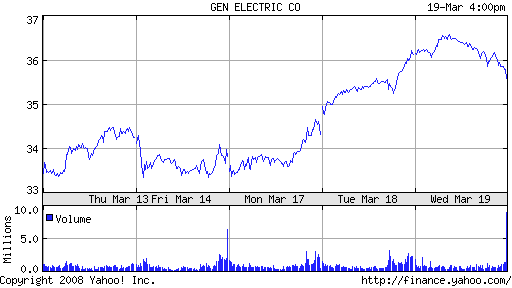 GE
35.59
Day's Range: 35.55 - 36.63
52wk Range: 31.65 - 42.15
Volume: 64,758,657
Avg Vol (3m): 48,020,600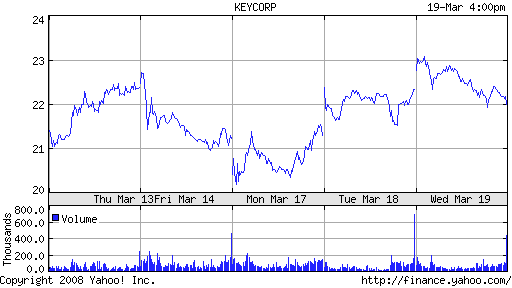 Key Corp (Key Equipment Finance)
22.01
Day's Range: 21.89 - 23.11
52wk Range: 19.00 - 38.97
Volume: 5,394,361
Avg Vol (3m): 5,484,820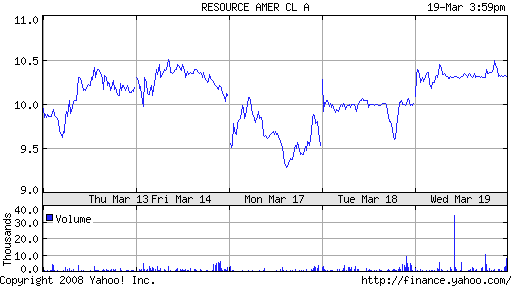 Resource America (LEAF)
10.32
Day's Range: 10.08 - 10.50
52wk Range: 9.27 - 25.00
Volume: 137,444
Avg Vol (3m): 108,150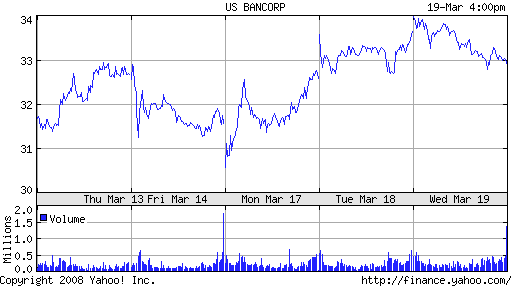 US BANCORP (Manifest, too)
32.93
Day's Range: 32.72 - 34.01
52wk Range: 27.86 - 36.16
Volume: 21,608,965
Avg Vol (3m): 13,669,900
Due to internet technical difficulties, all the sites of Monday
were not available for five day stock information.
--------------------------------------------------------------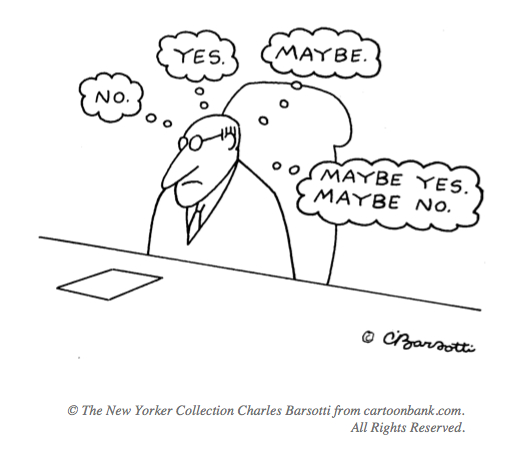 --------------------------------------------------------------

Sales Make it Happen By Linda P. Kester
Surviving a Recession
By: Linda P. Kester
(Originally published in Leasing News March 7, 2001)
Diversification, how funders tighten credit selectively, and how to take advantage of select opportunities.
Many of today's brokers and lessors have never experienced a recession, because of that they may get caught up in the negativity created by the media and feel helpless. The world is not coming to an end, the economy as a whole has just stopped growing for a brief period. A few areas will be hit significantly, most will not be affected that dramatically. There are ways that you can make sure that you are not dragged down with the unfortunate minority. In my opinion there are three key themes you need to focus on to make the best of market conditions we haven't experienced in ten years.
Prepare for tough times when you feel they are coming, react quickly and appropriately to what is happening and return to a focus on the fundamentals you may have strayed from during the easier times.
Okay, you like the rest of the business community expect tough times are ahead.
Accepting that, what do you do next? One of the basic strategies is also one that people stray away from during the "good" times. Whether you are a broker or a funding source you should strive to diversify as many aspects of your business as practical. Different sectors, geographical areas, lines of equipment, etc. are impacted differently during a recession. The less concentration you have in any one area leaves you less vulnerable if that area is impacted more than others. We all know what has happened to the Dot Com sector and if you had concentrated in that business you probably are already feeling the sting of not diversifying your business by now.
Another example would be the trucking business. Spurred by the high cost of fuel, many in that business are struggling and if you are in that business you may have felt this through higher losses or lower volume. Even if you think you can buck the odds and still get volume from your core businesses in spite of a recession, remember, during tougher times funding sources tighten selectively. Instead of tightening across the board they tend to select areas that they perceive to be struggling and tighten aggressively in those.
Look to see how many aspects of your business need more diversification. What would happen if one or two of your best vendors shut their doors? What if your best sales rep quit?
Are you concentrated in one sector that will feel a credit squeeze more than others? There are a lot of changes happening with funding sources. Are you relying heavily on one or two? A recession is defined as a period when the economy is shrinking, albeit slightly. In reality,
though, what happens is some sectors shrink dramatically while others actually continue to thrive. Diversifying you business will help keep you in the latter group.
Another way to prepare yourself for a slowdown is to know your funding sources and manage the relationship properly. Are the lessors you saw last year with the lowest rates and largest credit appetite still there? If not then maybe those with the same strategies will not be around next year. Try to find out which of your sources is healthy enough and has the right strategies to stay in the business for the long haul. Once you have selected those, manage the relationship so that you will both keep it going through tougher times. Send them a good mix of credits, not just the tougher ones and when possible help them out with problem accounts. While this is basic stuff, the brokers who do this properly with the right sources will be the ones
who continue to get their business underwritten during tougher times. Remember, when funding sources tighten they do so selectively and this applies to their sources of business as well as the credits.
In a recession as in any time of change there are select opportunities. If you have prepared yourself properly so that you business remains healthy you can take advantage of them.
Many of your competitors will not prepare themselves properly and will either pull back or even exit certain markets or customers. This is the time to take advantage and get additional business from those customers. It won't be easy but vendors remember who was there for them when they needed it. Vendors tend to lose trust in sources that are in then out of the business, they like consistency. Another way to take advantage of competitors that are shrinking is to hire displaced or frustrated employees. Sometimes this is the best way to take business away from the competition.
In a declining economy the government tends to lower key interest rates, take advantage of this. A funding source with whom you have a good relationship with will generally pass on all or most of their lower cost of funds. Use this selectively to either keep vendors that aren't getting as many credits approved happy or to get in the door with some of those customers who are disappointed with your competitors. Of course if you don't have to lower rates to keep some of your business use the increased margins to help offset the lower approval rates you may be experiencing.
Get back to the fundamentals of your business. This is probably what helped you grow your business and will definitely get you through more challenging times. During periods of prolonged prosperity people tend to get lazy. Sales people tend to get away from prospecting and funding sources and credit approval are easier to come by. The time to prospect is when you still have business, not when you wake up one morning and realize you have nothing coming in the door. You know how long it takes to develop a new account properly.
Returning to the fundamentals of your business also requires training. Don't let your employees stumble during these uncertain times. Some areas that may need fine tuning are discipline, motivation and overcoming objections. Refresher courses in these areas will pay off if some of your existing customers slow down or simply go away. Give your employees these tools and they can take control to ensure that you hold on to your existing vendors and lessees. In addition, if approvals are tougher to come by then maybe courses in credit presentations are needed. When credit is looser people tend to get the bare minimum in applicant information.
Now may be the time to educate your staff on understanding credit and working the tougher transactions.
There is a possible recession looming out there. If and when it happens some people will be harmed. They will inevitably blame the economy. They are probably right now maintaining the states quo and simply hoping it doesn't happen. Prepare now and you will find
that you will not be affected very dramatically. This will leave you in a stronger position and enable you to react to changing times and take advantage of select opportunities.
Returning to the fundamentals of your business will help you take advantage of weaker competitors, develop new and varied sources of business and create the opportunities for success that will actually make the next couple of years very profitable.
Linda Kester helps leasing companies obtain more volume. For more information please visit www.lindakester.com
Sales Makes it Happen articles:
http://www.leasingnews.org/Legacy/index.html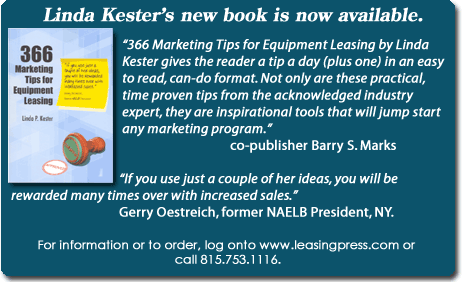 --------------------------------------------------------------

Are we headed for Stagflation?
by Al Schuler, U.S. Department of Agriculture
(Mr. Schuler has been accurate on his observations and predictions for the last five years or more than we have been printing his reports.
editor)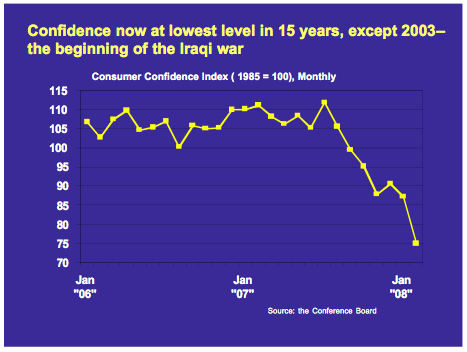 We are seeing a classic "credit crunch" where lenders just will not lend unless there is very little risk involved. The Fed just lowered the Fed funds rate 75 basis points – that will help some, but it doesn't address the "credit risk aversion problem" that permeates the market today. As noted by Mark Zandi, Dismal Scientist March 11, "until the mortgage markets and financial markets stabilize, the economy will struggle". He note further that we will need further movement by Congress and the Bush Administration to deal with the worsening foreclosure problem and bring some semblance of "confidence" to the credit markets. I would agree, but I'm not sure how they will do that without a massive transfer of risk/liability from the private sector to the federal government – that means the taxpayer - you and me. A.K. the Resolution Trust scenario in the 1989 – (A corporation formed by Congress in 1989 to replace the Federal Savings and Loan Insurance Corporation and respond to the insolvencies of about 750 savings and loan associations. As receiver, it sold assets of failed S&Ls and paid insured depositors). We will have to wait and see how this plays out.
Analysis and outlook: The crash of the housing bubble continues to worsen: Year over year, single family starts are down 40% while permits are down 42%. Single family activity is at its lowest point since 1991. Inventories are at 10 months or more and growing as foreclosures continue to increase. As the housing correction continues, we are hearing more and more about the possibility of a recession or that one has already started. The key to the U.S. economy is consumer spending because it makes up 65% to 70% of our GDP. Anything that impacts what you and I spend (on consumption or investment) can and will impact the economy. Things like the subprime mess which is now spreading to other parts of the financial sector – note the recent Bear Stearns and Carlyle Group implosions just last week.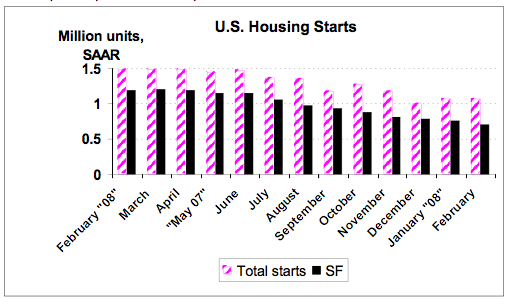 February housing starts decreased 0.6%, to 1.065 million (SAAR). The decrease in total starts was muted by the to the strength in multi family housing, which was up 14%, while single family activity fell 6.7% to 0.707 million (SAAR). Regionally, starts were split, down 27.7% in the Northheast; flat in the MidWest: and up 3.9% in the south and up 5.1% in the West. Permits continue to slide, down 7.8% to 0.978 million (SAAR), the slowest pace in almost two decades.
Back to the economy – the chart below shows how far confidence has dropped since the spring of 07 when the credit markets started to unravel. When people lose confidence, they reign in their spending and "batten down the hatches".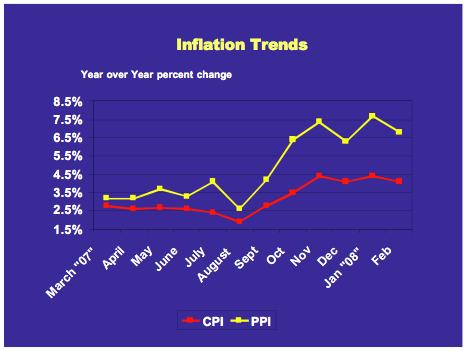 PPI: wholesale CPI: consumer
More on the economy – inflation is still high, both wholesale (PPI) and consumer (CPI). This presents problems for the Fed as they consider further rate cuts, but right now, the economy is the main concern and inflation will have to wait. This sets the stage for possible return to "stagflation" – slow economy and rising inflation.
This is a difficult scenario to deal with as traditional tools (interest rates and government pump priming – the tax rebates) work at cross purposes – they help the economy but fan inflation. In addition, the dollar keeps falling in this environment, and that nudges up inflation pressures – e.g., higher cost for imports and sooner or later, foreigners will demand higher rates on all those U.S. treasuries they are buying to compensate for the weaker dollar. So, Bernake has his hands full and I hope he can get it right and I for one believe he will.
For housing to return to normal we need the financial and credit markets to settle down – that will help to ease the foreclosure problem which is needed to bring inventories into a better balance. Better balance will help mitigate the fall in home prices, and that also mitigates the foreclosure problem. In my opinion, the financial/credit markets won't settle down until the federal government (the Bush Administration) takes the lead and addresses the problem in a forthright and decisive manner. I believe they will take more decisive action in the future (the tax rebates won't even pay for the added cost of gasoline according to Dr. Zandi) – the role of the government is to restore confidence – they are the ones in the best position to do this, and that is why we elected them in the 1st place.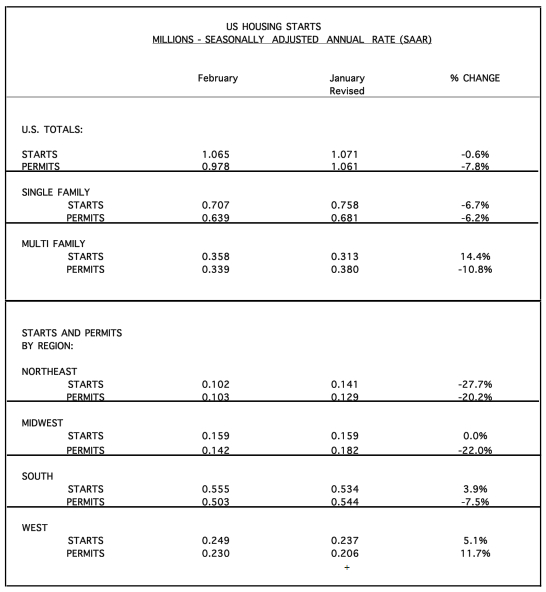 --------------------------------------------------------------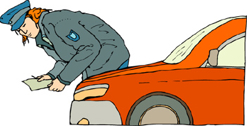 Lease/Loan State License Requirements

The subprime mortgage situation has resulted in tougher standards and more enforcement for mortgage brokers in various states. Unfortunately those involved in making personal property laws often fall into the "loan origination" category, particularly if viewed as a commercial transaction.

While it is thought that leasing is not well-regulated, as it may not be as controlled as banking, insurance, real estate, there are regulations that apply to advance rentals, there are laws regarding deposits, usury rates, representations, as well as other requirements. More and more states are applying the same standards for commercial transactions as they have for consumers, particularly if a "consumer" guarantees the commercial transaction. The popular word is "transparency." Profits from documentation fees, UCC fees, placing insurance, as well as other fees are being challenged in class action suits with many companies often settling with the plaintiff than facing the cost of defending each contract with its provisions.

Those who are brokers and not the lessor or "creditor" on the initial lease/loan contract are particularly affected, including regulations of others doing business with them. Discounters and lessors are also now be required to have licenses in many states, as well as anyone who is involved in process who is not a direct employee of a licensed entity must have a license.

It should be pointed out that according to recent statistics, 84% of lease transactions are classified as "capital leases," meaning they are "finance" transactions. Leases that sell the stream of payments or discount them also get treated as a "finance" and therefore arguments that the transactions are true leases or operating leases may be disqualified for meeting FASB and IRS requirements.

This is not a complete list, which is still in progress, but it has been up-dated as of
March 11, 2008.

Arizona: All "advance fee loan brokers" must register annually with the state.

Arizona Revised Statutes, sec. 06-1303-1310 (1996)


Registration process:

http://azdfi.gov/Licensing/AppPack/ALB_App.htm

Arkansas: All brokers of "a loan of money, a credit card or a line of credit" may not assess or collect an advance fee. In addition, all brokers must register with the Securities Commissioner, post a surety bond of $25.000 and have a net worth of $25,000.

Arkansas Code Annotate sec. 23-39-401 (1995)

California: "In addition to the lending authority provided by the law, the California Finance Lenders Law provides limited brokering authority. A "broker" is defined in the law as "any person engaged in the business of negotiating or performing any act as broker in connection with loans*made by a finance lender." Brokers licensed under this law may only broker loans to lenders that hold a California Finance Lenders license."
http://www.corp.ca.gov/FSD/lender. (*any transaction that is not a true rent or meets the accounting and tax rules or is re-sold as a loan or discount or has a nominal purchase option is considered under this nomenclature. )

Connecticut: Brokers of "unsecured loans" may not assess or collect an advance fee. Connecticut General Statues, sec. 369-616 (1997)

Florida: Brokers of a "loan of money, a credit card, line of credit or related guarantee, enhancement or collateral of any nature" may not assess or collect an advance fee.

Florida Statues, Chapter 687.14 (1992)

Georgia: A broker of "loans of money, a credit card, a line of credit or related guarantee, enhancement or collateral of any kind or nature" may not assess or collect an advance fee unless such fee is for "actual services necessary to apply for the loan." Official Code of Georgia Annotated, sec. 7- 7-1 (1992)

Idaho: No fee may be collected unless a loan is actually made.

Idaho Code, sec. 26-2501 (1992) Illinois:

Code ,

815 ILCS 175/15-5.03

Under the Act, a "loan broker" means any person who, in return for a fee from any person, promises to procure a loan for any person or assist any person in procuring a loan from any third party, or who promises to consider whether or not to make a loan to any person. 815ILCS 175/15-5- 15(a)

Specifically excluded from the application of the Act, however, are (1) any bank …regulated by any service loans for the Federal National Mortgage Association… (3) any insurance producer or company authorized to do business in [Illinois], (4) any person arranging financing for the sale of the person's product, (note that this exception does not apply to any person selling someone else's product and only applies to "the" person's product, implying the exception is for the owner of the product arranging for financing), (5) any person authorized to conduct business under the Residential Mortgage License Act of 1987 and (6) any person authorized to do business in [Illinois] and regulated by the Department of Financial Institutions or the Office of Banks and Real Estate.

"In the event that the Act is violated by the broker, the Secretary

of State is empowered by the statute to make investigations and examinations, suspend or evoke the broker's approval, subpoena witnesses, compel the production of books and records, order depositions and obtain temporary restraining orders and injunctions against the broker. In the vent that a violate is found, the Secretary of State may impose a fine in the amount of $10,000 for each violation and the broker shall be liable to any person damaged in the amount of tactual damages plus attorneys fees." This appears as standard language on most states.

Iowa: A broker of loans of "money or property" may not assess or collect an advance fee except for a "bona fide third-party fee" and a broker must obtain a bond or establish a trust account and file required documents with the Commissioner or Insurance.

Iowa Code, sec. 535C (19920

)

Kansas : Broker is not exempt. Discounter or Lessor is exempt : " 'Creditor' means any person to whom a loan is initially payable on the face of the note or contract evidencing the loan" is exempt. Anyone who earns a fee or accept a deposit, except a bank, financial institution, discounter or lessor, must be registered.
http://www.securities.state.ks.us/rules/loan.rtf

Kentucky: Brokers of "a loan of money, a credit card, a line of credit or related guarantee, enhancement or collateral of any kind or nature" may not assess or collect an advance fee.

Kentucky Revised Statutes Annotated, sec. 367.380 (1992)

Louisiana: A broker of loans of "money or property…whether such agreement is styled as a loan, a lease or otherwise" must obtain a surety bond or establish a trust account in the amount of $25,000. A broker may not collect an advance fee but may collect an "advance expense deposit for commercial loans" only for actual expenses incurred in obtaining the loan. Louisiana Revised Statutes Annotated, sec. 9:3574 (1993); Louisiana Revised Statutes Annotated, Sec. 51:1910 (1992)

Maine: No license required: "the regulation of commercial loan brokers does not fall under the jurisdiction of the Maine Bureau of Consumer Credit Protection. Transactions involving two businesses are legal/contractual in nature. Therefore, disputes involving a commercial loan between a business and commercial loan provider or broker must be settled in the court system." http://www.maine.gov/pfr/consumercredit/faqs/loan_broker_faq.htm#j

Mississippi: A broker or loans of money may not assess or collect an advance fee and can be fined up to $5,000 for each violation. Mississippi Code Annotated, sec. 81-19-17 (1997)

Missouri: A broker of loans of "money or property" may not assess or collect an advance fee. Missouri Revised Statues, sec. 367 300 (19920

Nebraska: A broker of loans of money may not assess or collect an advance fee. Nebraska Revised Statutes, sec. 45-189 (1993)

New Jersey: Brokers of "loans of money" may not assess or collect an advance fee.
New Jersey Rev. Statutes, sec. 17:10B (1992)

New Mexico:


New Mexico currently requires Brokers/Lessors to register for Licensing under the NM Mortgage loan Company or Loan Broker Act with the Financial Institutions Division of the State of New Mexico.B anks with Brick and Mortar within the State of New Mexico are exempt.

Prior to licensing applicants must submit the Following:

Articles of Incorporation
Listing of all principals (including management)
A full financial Package (to meet their minimum requirements of liquidity)
Personal financial statements on all principals
Disclosure of all current or past suits (civil or criminal)
Attach a corporate surety bond
Include a $400.00 registration fee renewable yearly

North Carolina: A broker of "loans of money or property…whether such agreement is styled as a loan, a lease or otherwise" must obtain a surety bond or establish a trust account in the amount of $25,000 and obtain a license. North Carolina General Statutes, sec. 66-106 (1992)

North Dakota: Brokers may not accept an advance fee unless the broker is licensed.
North Dakota Century Code, 13-04. 1-09.1 (1993)

Ohio: Department of Commerce, Division of Financial Institutions

(Certificate to engage in the business of a credit services organization in accordance with the provisions of Sections 4712.01 to 4712.14 of the revised code of Ohio, subject to all the provisions thereoff and to the regulations of the division.) Ohio Department of Taxation require's a "Vendor's License" under provision 5739.17 of the REvised Code (...is hereby authorized to sell tangible personal property and selected services at the retail locatoin specified bleow.) This also makes the lessor responsible for all taxes with penalties for not doing so.

South Carolina: A broker of "a loan of money, a credit card, a line of credit or related guarantee, enhancement or collateral of any kind or nature" may not assess or collect an advance fee. South Carolina Code Annotated, sec. 34-36-10 91992)

--------------------------------------------------------------

Popular Leasing goes Direct

It appears Popular Equipment Finance, formerly known as Popular Leasing, part of the Popular Bank family, has taken a new direction by increasing its direct sales staff. According to the St. Louis Business Journal Popular President Fred Van Etten has increased the direct sales staff by 16 in the last year with the current total count of 32 direct sales people. Van Etten told the St. Louis Business Journal "...the bulk of them one-person operations -- in 15 states."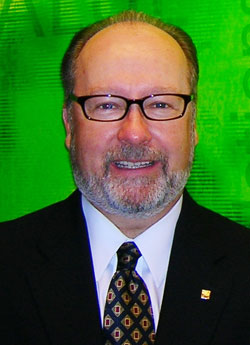 Fred Van Etten, President
"Hiring more salespeople is part of a growth strategy that Van Etten has been undertaking at Popular Equipment since he was named president of the company one and a half years ago," he told the
St. Louis Business Journal.
"The initiatives also include focusing the company's lines of business and hiring or promoting new executives.
"The plan, Van Etten said, helped Popular Equipment Finance Inc., boost revenue by 22 percent last year to $178 million, up from about $140 million in 2006."
Reportedly he is discussing other programs that would not interfere with the direct sales effort.
Popular Equipment Finance changed its name at the end of last year from Popular Equipment Leasing. The company currently employs a total of 92 people, 64 of them based at its headquarters in Ballwin, Missouri.
--------------------------------------------------------------

Leasing Industry Help Wanted
Senior Credit Analyst


Senior Credit Analyst
Westport, CT.
Captive construction equipment finance background preferred;flexible adaptive team player w/8 years underwriting exper. For more info/to apply click here.
A Fortune 500 construction equipment manufacturing company.


--------------------------------------------------------------

Jobs---Are you next?
Weekly Jobless Claims (Seasonally Adjusted), Week Ending 03/08 (reported 03/13)
353,000
Payroll Employment (Nonfarm Jobs Created or Lost), February
-63,000
Unemployment Rate, February
4.8 percent
Does not include Bear Stearns
14,000 Stunned Employees of Bear Stearns Wonder What's Next
CityNews.ca Staff
Imagine hearing on a Sunday that the company you work for had been sold in a stunning reversal of fortune over the weekend. That's the reaction around the world from the 14,000 employees of Bear Stearns, the century-old investment bank that was purchased by rival JPMorgan Chase and Co.
The venerable institution, which has survived world wars, the great depression, endless economic uncertainty and weathered countless financial storms finally got swept away in the U.S. credit crunch, in an almost unthinkable shift that took about two weeks from start to finish.
Those who toil for the bought-out bank came back to work in stunned silence Monday, aware their stock options may now be worth next to nothing and their jobs could soon be gone. At least 30 per cent of Bear Stearns was owned by its employees, who stand to lose the most. With JPMorgan paying just $2 a share, a fifteenth of its Friday market value, the losses could be heavy.
Now workers are trying to cope with an economic uncertainty that wasn't even on their radar 72 hours ago. "The valuation is virtually nothing, it is indeed rock bottom," one employee explains. "We have tanked - it's very, very sad. Everyone is in mourning."
Bear Stearns has been having problems for the past eight months, as investors lost confidence in the entity. Workers were expecting some kind of fallout - but not this. "We've just been told we are JPMorgan employees," one trader relates. "The valuation is obviously not that good - they're paying just $2 a share, it's effectively a wipe-out. A lot of people here own stock options."
And not even the highest paid will come out unscathed. The bank doesn't offer so-called 'golden parachutes' to executives, who are left without any compensation from a takeover.
Some workers are already scrambling to find other jobs elsewhere. But with so many pondering jumping ship, not all will find new berths on these rocky financial seas.
JPMorgan admits there will likely be some job losses, although more staff could be added in Asia. But that won't help the thousands of employees in Europe or North America.
---------------------------------------------------------------
### Press Release ###########################

Financial Regulators Release Updated Business Continuity Planning Booklet
WASHINGTON — The Federal Financial Institutions Examination Council (FFIEC) today issued updated guidance for examiners, financial institutions and technology service providers to identify business continuity risks, and evaluate controls and risk management practices for effective business continuity planning. The guidance is an update to the "Business Continuity Planning Booklet," which was issued in March 2003.
The revised booklet includes enhancements to the business impact analysis and testing discussions, and addresses emerging threats and lessons learned in recent years. The booklet also stresses the responsibilities of each institution's board and management to address business continuity planning with an enterprise-wide perspective by considering technology, business operations, communications and testing strategies for the entire institution.
Key elements of the FFIEC's December 2007 Interagency Statement on Pandemic Planning have been added to the booklet. A pandemic outbreak would present unique business continuity challenges. The methodologies detailed in the booklet provide a framework for financial institutions to develop or update their pandemic preparedness plans. All financial institutions should have plans that address how the institution will function during a pandemic event.
Other changes in the booklet highlight the importance of business continuity planning for all financial institutions, regardless of whether their systems are provided in-house or through third-party service providers, as well as lessons learned from financial institutions that suffered damage from hurricanes Katrina and Rita. Electronic versions of the Business Continuity Planning Booklet and other IT Examination Handbook booklets are available at
http://www.ffiec.gov/ffiecinfobase/index.html
The FFIEC IT Examination Handbook is a collaborative effort of the FFIEC's Information Technology Subcommittee of the Task Force on Supervision. The Information Technology Subcommittee promotes uniform and effective information technology policies and supervisory programs for financial institutions and their service providers.
### Press Release ###########################
--------------------------------------------------------------

News Briefs----
Visa Initial Sale Raises $3.17 Billion for U.S. Banks
http://www.bloomberg.com/apps/news?pid=20601087&sid=acp5Q3kHpnhI&refer=home
---------------------------------------------------------------


You May have Missed---
`American Idol' axes another contestant
http://tv.yahoo.com/show/34934/news/urn:newsml:tv.ap.org:20080320:
tv_american_idol__ER:8457
----------------------------------------------------------------


"Gimme that Wine"
2005 Avant-Garde Pinot Noir
Drink now. Very fresh, great bouquet. Domaine Carneros Wine Maker Eileen Crane says one of their best, designed to be opened now. Plastic cork. She says the winery is trying to move over to these corks as the "natural" corks are having more and more problems in spoiling the wine. This red does not have much tannin, but is light and refreshing. $23 retail. At the Domain Carneros Wine Club: $20.70.
"The Avant-Garde Pinot Noir is the most fruit forward pinot noir in our collection. Created to be the vanguard of the vintage, this wine heralds the particular fresh fruit qualities of the Carneros Region. It is a delicate wine intensely aromatic with notes of cherry, strawberries, cassis, exotic spice and black tea.
"The Avant-Garde is a wonderful accompaniment to salmon, chicken, veal or pork. This wine will enhance the vibrant flavors of California and Mediterranean cuisine."
Wine Prices by vintage
http://www.winezap.com
http://www.wine-searcher.com/
US/International Wine Events
http://www.localwineevents.com/
Winery Atlas
http://www.carterhouse.com/atlas
Leasing News Wine & Spirits Page
http://two.leasingnews.org/Recommendations/wnensprts.htm
The London International Vintners Exchange (Liv-ex) is an electronic exchange for fine wine.
http://www.liv-ex.com/
----------------------------------------------------------------

Calendar Events This Day
Agriculture Day
http://homeschooling.about.com/library/blmar19a.htm
Chocolate Caramel Day
Iran: National Day of Oil
National Holiday. Commemorates the nationalization of Iran's oil fields in 1963.
Poultry Day
http://holidayinsights.com/moreholidays/March/poultryday.htm
Saint Joseph's Day
Feast days of Joseph, husband of the Virgin Mary and foster-father of Jesus. patron of the Catholic Church.
Sparky the Fire Dog's Birthday
Swallows return to San Juan Capistrano
Traditional date (St. Joseph's Day) since 1776, for swallows to turn to old mission of San Juan Capistrano, California.
Saint feast Days
http://www.catholic.org/saints/f_day/mar.php
----------------------------------------------------------------

Gunsmoke debuted on CBS-TV in 1955, and went on to become the longest-running (20 years) series on television.
----------------------------------------------------------------

Today's Top Event in History
1848-birthday of Wyatt Earp. Born at Monmouth, IL, and died Jan 13, 1929, at Los Angeles, CA. A legendary figure of the Old West, Earp worked as a railroad hand, saloonkeeper, gambler, lawman, gunslinger, miner and real estate investor at various times. Best known for the gunfight at the OK Corral Oct 26, 1881, at Tombstone, AZ.
[headlines]
----------------------------------------------------------------

This Day in American History
1589 - William Bradford, Pilgrim father, governor of Plymouth Colony, one of the early presidents of the United States. Born at Yorkshire, England, baptized Mar 19, 1589. Sailed from Southampton, England, on the Mayflower in 1620. His wife Dorothy fell off the Mayflower and drowned on 7 December 1620, when it was anchored in Provincetown Harbor. Died at Plymouth, MA, May 9, 1657 (OS).
http://www.pilgrimhall.org/bradfordwilliam.htm
http://members.aol.com/calebj/bradford.html
http://members.aol.com/calebj/letterbook.html
1674---French Jesuit missionary Jacques Marquette erected a mission on the shores of Lake Michigan, in present day Illinois. His log cabin became the first building of a settlement that afterward grew to become the city of Chicago.
1687 -- The French explorer La Salle is murdered in by his own men while searching for the mouth of the Mississippi, along the coast of the Gulf of Mexico.
1734- birthday of Thomas McKean, signer of the Declaration of Independence and governor of Pennsylvania. Born at Chester County, PA, he died June 24, 1817.
http://virtualology.com/hallofusa/uspresidents/thomasmckean.net/
1785 - the first city college was the College of Charleston, Charleston, SC, which was founded in 1770, but chartered this day. On December 20, 1837, it became a municipal university under municipal control.
1847 - Painter Albert Pinkham Ryder was born at New Bedford, MA, where he gained a great love for the sea, the subject of many of his works. Ryder was a misanthrope and recluse. He dedicated himself to his painting, working slowly and piling layer after layer of paint on his canvases until he achieved the look he was after. In his lifetime Ryder created only 150 paintings. Three of his best-known works are The Race Track, Toilers of the Sea and Siegfried and the Rhine Maidens. Ryder died Mar 28, 1917, at Elmhurst, NY. Because of his method of painting, many of his works have deteriorated since their creation.
http://www.artunframed.com/albert_pinkham_ryder.htm
1848-birthday of Wyatt Earp. Born at Monmouth, IL, and died Jan 13, 1929, at Los Angeles, CA. A legendary figure of the Old West, Earp worked as a railroad hand, saloonkeeper, gambler, lawman, gunslinger, miner and real estate investor at various times. Best known for the gunfight at the OK Corral Oct 26, 1881, at Tombstone, AZ.
1860-birthday of William Jennings Bryan, American political leader, member of Congress, Democratic presidential nominee (1896), "free silver" advocate, assisted in prosecution at Scopes trial, known as "the Silver-Tongued Orator." Born at Salem, IL, he died at Dayton, TN, July 26, 1925.
http://memory.loc.gov/ammem/today/mar19.html
1864-birthday of Charles M. Russell, St. Louis, Missouri. He moved to Montana at about age 16 and became a cowboy. Considered one of the greatest Western artists, he recorded the life of the cowboy in his artwork.
http://www.cmrussell.org/
1881 - birthday of Edith Nourse Rogers was a YMCA and Red Cross volunteer in France during World War I. In 1925 she was elected to the US Congress to fill the vacancy left by the death of her husband. An able legislator, she was reelected to the House of Representatives 17 times and became the first woman to have her name attached to major legislation. She was a major force in the legislation creating the Women's Army Auxiliary Corps (May 14, 1942) during World War II. Rogers was born at Saco, ME, and died Sept 10, 1960, at Boston.
1883- African-American Jan Matzeliger invented the first machine to manufacture entire shoe
http://www.invention.org/culture/african/matzeliger.html
1891 - Birthday of Earl Warren, American juist, 14th chief justice of the US Supreme Court, governor of California, born Los Angeles, Calif. Died at Washington, DC, July 9, 1974. He went from a crusading attorney general to a very conservative, right wing governor, they claim, and became one of the most liberal on the bench, hated by those who one time applauded him for his very conservative political actions.
1897-vocalist/comedian Jackie "Moms" Mabley born Brevard, NC
1918-Anniversary of passage by the Congress of the Standard Time Act, which authorized the Interstate Commerce Commission to establish standard time zones for the US. The Act also established "Daylight Saving Time," to save fuel and to promote other economies in a country at war. Daylight-Saving Time first went into operation on Easter Sunday, Mar 31, 1918. The Uniform Time Act of 1966, as amended in 1986, by Public Law 99-359, now governs standard time in the US. US: Daylight Saving Time Begins April 7.
1904 - Birthday of John Joseph Sirica, "the Watergate Judge," born at Waterbury, CT. During two years of trials and hearings, Sirica relentlessly pushed for the names of those responsible for the June 17,1972 burglary of the Democratic National committee headquarters in Washington's Watergate Complex. His unwavering search for the truth ultimately resulted in the toppling of the Nixon administration. Judge John Sirica died August 15,1992, at Washington, DC.
1919-blind pianist Lennie Tristano born Chicago, IL
http://www.lennietristano.com/
1920-brithday of bassist Curly Russell, New York City. ( played a lot with Bird )
1921-gospel vocalist Bobby McFerrin, Sr., born Marianna, AR
1927-Don Richard ( Riochie) Ashburn, Baseball Hall of Fame outfielder, born at Tilden, NE. Ashburn won two national League batting titles and collected 2,574 hits over a 15-year career. He was a key member of the 1950 Philadelphia Phillies, known as the Whiz kids. After retiring he broadcast Phillies games for 35 years. Inducted in the Hall of Fame in 1995. Died at New York, NY, September 9, 1997
1930- alto saxophonist Ornette Coleman born Fort Worth, TX An iconoclastic saxophonist and composer, his experiments in free-form improvisation sharply divided the jazz establishment upon his emergence in 1959. Largely self-taught, he played in rhythm-and-blues bands before settling in Los Angeles in 1951, where he gradually formed a quartet of musicians who were receptive to his unorthodox ideas. He first recorded in 1958 and made his New York debut the following year. He made a series of important recordings in 1959--61 that shaped the direction of jazz for the next twenty years. A sporadic performing artist after the early 1960s, he occasionally led both a conventional jazz quartet and the rock band Prime Time, but turned increasingly to composition, producing several works for symphony orchestra in accordance with his "harmolodic theory." Most commonly played a "plastic" alto saxophone.
http://www.pbs.org/jazz/biography/artist_id_coleman_ornette.htm
1931 -- The state of Nevada legalizes gambling.
1935 - Suffocating dust storms occurred frequently in southeastern Colorado between the 12th and the 25th of the month. Six people died, and many livestock starved or suffocated. Up to six feet of dust covered the ground. Schools were closed, and many rural homes were deserted by tenants.
1936-vocalist/songwriter Willie Dixon Columbus, MS
http://www.blueflamecafe.com/index.html
1937-Count Basie and his band open at the Apollo Theatre in Harlem for the first time.
1937- pianist/vocalist Clarence "Frogman" Henry born Algiers, LA
( I have all his records. He is best know for: :"I Ain't Got No Home, But I Do [I Don't Know Why])"
http://www.tsimon.com/henry.htm
1941-The US aircraft carrier Lexington departed Pearl Harbor, Hawaii, to deliver aircraft to Midway Island. Because of this mission, the Lexington inadvertently avoided the Japanese attack on Pearl Harbor on 07 December. It was later to play a pivotal role in the Japanese defeat at Midway. Other US ships were not as lucky. Japanese carrier-based planes attacked the bulk of the US Pacific fleet moored in Pearl Harbor, sinking or severely damaging nineteen naval vessels, including eight battleships.
1945 -- Kamikaze attacks USS Franklin off Japan. In a maneuver heralded as one of the greatest feats in naval history, the light cruiser USS Santa Fe bellied up alongside the flaming Franklin & rescued over 800 sailors while still being stalked by Japanese fighter pilots.
1946-vocalist Ruth Pointer born Oakland, CA.
http://www.thepointersistersfans.com/ruth.html
1948 -an F4 tornado moved through Fosterburg, Bunker Hill, and Gillespie, Illinois, killing 33 people and injuring 449. 2000 buildings in bunker hill were damaged or destroyed. Total damage was 3.6 million dollars.
1949 - The American Museum of Atomic Energy opened in Oak Ridge, Tennessee.
1950-Sarah Vaughan records " Mean to Me, " Columbia 745 )
http://www.parsec-santa.com/celebrity/celeb_pages/SarahVaughn.html
1950 - Timberline Lodge reported 246 inches of snow on the ground, a record for the state of Oregon.
1950---Top Hits
I Said My Pajamas - Tony Martin & Fran Warren
Music, Music, Music - Teresa Brewer
If I Knew You Were Comin' I'd've Baked a Cake - Eileen Barton
Chatanoogie Shoe Shine Boy - Red Foley
1951 - "The Caine Mutiny", a novel by Herman Wouk, was published for the first time. Wouk won a Pulitzer for the novel. He followed it with several more successes: "Marjorie Morningstar", "The Winds of War", and "War and Remembrance".
1953 - The Academy Awards celebrated their silver anniversary -- and came to television. NBC paid $100,000 for the rights to broadcast the event on both radio and TV, the first to be telecast, black and white to over 174 stations.. Hollywood's best turned out to hand out the Oscar statuettes for the movies of 1952. The party was held at the RKO Pantages Theater, Los Angeles, with Bob Hope hosting. A dual celebration was staged in New York City, where Conrad Nagel was host. The Best Picture award went to Cecil B. DeMille's "The Greatest Show on Earth". Best Director was the legendary John Ford for "The Quiet Man". The rest of the best: Actor: Gary Cooper for "High Noon"; Supporting Actor: Anthony Quinn for "Viva Zapata!"; Actress: Shirley Booth for "Come Back, Little Sheba"; Supporting Actress: Gloria Grahame for "The Bad and the Beautiful"; Art Direction-Set Decoration/ Color: Paul Sheriff, Marcel Vertès for "Moulin Rouge"; Music/Song: Dimitri Tiomkin (music), Ned Washington (lyrics) for the song, "High Noon (Do Not Forsake Me, Oh My Darlin')", from "High Noon".
1954 - Viewers saw the first televised prize fight shown in living color as Joey Giardello knocked out Willie Tory in round seven of a scheduled 10-round bout at Madison Square Garden in New York 1968 - Dean Martin received a gold record for the album, "Houston". Martin charted 17 hits on the pop music charts in the 1950s and 1860s. "Houston" was his 12th.
1956 - New England had its second heavy snowstorm in 3 days. 20 inches piled up at Putnam, Connecticut, 19.5 inches fell at Blue Hill Observatory in Milton, Massachusetts, and Boston, Massachusetts recorded 13 inches. Traffic was paralyzed. This storm made a contribution to the snowiest march ever in southern New England (until 1993).
1957 - Elvis Presley buys his Graceland estate in Memphis, Tenn.
1958---Top Hits
Don't/I Beg of You - Elvis Presley
Sweet Little Sixteen - Chuck Berry
Dinner with Drac (Part 1) - John Zacherle
Ballad of a Teenage Queen - Johnny Cash
1958-Big Records releases "Our Song," the first record by a teenage duo from Queens, New York, who go by the names of Tom and Jerry. The pair will become famous in the '60s under their real names, Paul Simon and Art Garfunkel.
1966---Top Hits
The Ballad of the Green Berets - SSgt Barry Sadler
19th Nervous Breakdown - The Rolling Stones
Nowhere Man - The Beatles
Waitin' in Your Welfare Line - Buck Owens
1971 - No. 1 Billboard Pop Hit: ``Me and Bobby McGee,'' Janis Joplin. The song is the second posthumous No. 1 song of the rock era, reaching the top of the charts almost six months after Joplin's death.
1972-Immaculata College defeated West Chester State, 52-48, to win the first Association of Intercollegiate Athletics for Women national basketball tournament. The AIAW crowned a champion for 11 years, but most Division 1 teams entered the new NCAA tournament starting in 1982.
1974 - Jefferson Airplane is re-named Jefferson Starship. The line-up includes Paul Kantner, Grace Slick, drummer Johnny Barbata, David Freiberg, Peter Kaukonen, Cragi Chaquico and Papa John Creach.
1974---Top Hits
Seasons in the Sun - Terry Jacks
Dark Lady - Cher
Sunshine on My Shoulders - John Denver
There Won't Be Anymore - Charlie Rich
1977- The final episode of "The Mary Tyler Moore Show." It premiered on September 19, 1970 and ran for 168 episodes. "Mary Tyler Moore" was the first of a new wave of sitcoms to make it big in the early '70s. It combined good writing, an effective supporting cast and contemporary attitudes. The show centered around the two most important places in Mary Richards's (Mary Tyler Moore) life-the WJM-TV newsroom and her apartment at Minneapolis. At home she shared the ups and downs of life with her friend Rhoda Morgenstern (Valerie Harper) and the manager of her apartment building, Phyllis Lindstrom (Cloris Leachman). At work, as the associate producer (later producer) of "The Six O'clock News," Mary struggled to function in a man's world. Figuring in her professional life were her irascible boss Lou Grant (Ed Asner), levelheaded and softhearted news writer Murray Slaughter (Gavin MacLeod) and self-obsessed, narcissistic anchorman Ted Baxter (Ted Knight). In the last episode the unthinkable happened-everyone in the WJM newsroom except the inept Ted was fired.
1980 -- Elvis Presley's autopsy is subpoenaed in the "Dr. Nick" drug case. "Dr. Nick" is Dr. George Nichopoulous, Presley's personal physician who is soon found guilty of over-prescribing drugs to Presley & others, including Jerry Lee Lewis.
1982---Top Hits
Centerfold - The J. Geils Band
Open Arms - Journey
I Love Rock 'N Roll - Joan Jett & The Blackhearts
Blue Moon with Heartache - Roseanne Cash
1984- a major winter storm produced blizzard conditions in northwestern Kansas and southern Nebraska. This storm, which began affecting the region on the 18th, dumped 10 to 20 inches of snow over the above mentioned areas. A severe ice storm occurred in northeastern Kansas with 1 inch ice accumulations common. The 1400 foot radio tower for KLDH-TV near Topeka buckled and then collapsed from the weight of a 3 inch coating of ice. This ice storm ranks as one of the worst ever to hit Kansas.
1985 - IBM announced that it was planning to stop making the PCjr consumer-oriented computer. The machine had been expected to dominate the home computer market but didn't quite live up to those expectations. In the 16 months that the PCjr was on the market, only 240,000 units were sold. A young software programmer purchased the rights to the operating system and started a "tiny" software operation compared to IBM to be called Microsoft in the near future.
1990---Top Hits
Escapade - Janet Jackson
Black Velvet - Alannah Myles
Roam - The B-52's
Hard Rock Bottom of Your Heart - Randy Travis
1998- Maj1988 - Seven cities in California and Nevada reported record high temperatures for the date as readings soared into the 80s and lower 90s. Los Angeles CA reported a record high of 89 degrees. Five cities in south central Texas reported record lows, including El Paso, with a reading of 22 degrees.
1989 - Six cities reported new record low temperatures for the date as cold arctic air settled into the Upper Midwest for Palm Sunday, including Marquette MI with a reading of 11 degrees below zero. or league baseball owners gave final approval to the sale of the Los Angeles Dodgers from Peter O'Malley to media mogul Rupert Murdoch's Australian-based news conglomerate, News Corp. O'Malley had inherited the Dodgers from his father, Walter, who moved the team from Brooklyn to Los Angeles following the 1957 season, which Brooklyn fans never forgive him. Critics of the $311 million sale to Murdoch's company bemoaned the fact that one more team would no longer be family-owned. Nobody seemed happy about the sale except for Rupert Murdock, reported never to have seen the team play in person.
2003-Operation Iraqi Freedom: At 9:30pm, EST, two hours past a deadline for Iraqi dictator Saddam Hussein to step down from power, US and British forces began air strikes gains this regime. A ground campaign (adding Australian forces) followed quickly, and by April 9, Baghdad was in allied control and Hussein had disappeared. On May 1, President George W. Bush announced the end of major military operations in Iraq, although a peacekeeping force remains and faces violet and fatal attacks from insurgents. Hussein was captured by US forces on December 13, 2003. ON June 28, 2004, Iraq regained its sovereignty. And on December 15, 2005, 70 percent of Iraqi's registered voters turned out for parliamentary elections---one of the freest elections on record in the Arab world.
2005-- After avoiding salary arbitration by signing a one-year $10.5 million deal worth in the off season, Lance Berkman agrees to a six-year, $85 million contract. The three-time All-Star outfielder will be an Astro until 2010 with the club holding the option for an additional year.
NCAA Basketball Champions This date
1955 San Francisco
1960 Ohio State
1966—Texas Western
--------------------------------------------------------------

Poem
Irish Blessing
May your neighbors respect you,
Trouble neglect you,
The angels protect you,
And heaven accept you.
--------------------------------------------------------------

SuDoku
The object is to insert the numbers in the boxes to satisfy only one condition: each row, column and 3x3 box must contain the digits 1 through 9 exactly once. What could be simpler?
http://leasingnews.org/Soduku/soduko-main.htm
--------------------------------------------------------------

Daily Puzzle
How to play:
http://www.setgame.com/set/puzzle_frame.htm
Refresh for current date:
http://www.setgame.com/set/puzzle_frame.htm
--------------------------------------------------------------


http://www.gasbuddy.com/
http://www.gasbuddy.com/GB_Map_Gas_Prices.aspx
http://www.gasbuddy.com/GB_Mobile_Instructions.aspx
--------------------------------------------------------------

Provence, France-Vacation
http://le-monastier.site.voila.fr/
--------------------------------------------------------------

News on Line---Internet Newspapers
San Diego, California
http://www.signonsandiego.com/
--------------------------------