Monday, March 24, 2008
Headlines---
Correction:
Lease/Loan State License Requirements
Classified ads--Asset Management
CIT Exposed---
Airline Industry Troubles
Marlin to depend on new Industrial Bank
Evergreen: Failure to Give Notice
IFC Credit continues to press forward
Classified Ads---Help Wanted
Top Stories - March 17--March 19
Leasing 102 by Mr. Terry Winders, CLP
"Structuring a Lease"
Poker tables by Mr. Terry Winders, CLP
Leasing Exec. writes Detective Novel
JPMorgan to Raise Bear Stearns Bid?
News Briefs---
Calendar Events
Snapple Real Facts
Today's Top Event in History
This Day in American History
Baseball Poem
SuDoku
Daily Puzzle
GasBuddy
Provence, France-Vacation
News on Line---Internet Newspapers
Sports
######## surrounding the article denotes it is a "press release"
------------------------------------------------------------------

Correction: Lease/Loan State License Requirements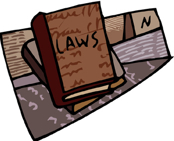 The web site has been up-dated for the State of Washington.
Therefore there appears to be some confusion regarding the definition of "Loan Originators," as readers have pointed out, so it will be revaluated. This is going to be deleted from the list and if the law says a license in leasing is not needed, it will be noted.
Nevada has a license requirement and will be added. Here is some brief information.
http://leasingnews.org/PDF/Nevada_Registration.pdf
California law appears to be more complicated than it was when described as a personal property broker (basically it is a better category to be a "lender" than a "broker."
From Los Angeles, California Attorney Tom McCurnin:
It was stated that in California: "In addition to the lending authority provided by the law, the California Finance Lenders Law provides limited brokering authority. A "broker" is defined in the law as "any person engaged in the business of negotiating or performing any act as broker in connection with loans*made by a finance lender." Brokers licensed under this law may only broker loans to lenders that hold a California Finance Lenders license."
http://www.corp.ca.gov/FSD/lender. (*any transaction that is not a true rent or meets the accounting and tax rules or is re-sold as a loan or discount or has a nominal purchase option is considered under this nomenclature. )"
I'd like to clarify this:
1. First the definition of a "broker" under the Financial Lender's Law is not what you and I consider to be a broker. A broker in leasing often includes someone who writes the lease as a lessor and immediately assigns it to the real lender in a table funding deal. Under the Financial Lenders Law, a broker is only someone who negotiates it or assists in the financing, and who is not the actual lessor. If that "broker" was a lessor, he or she would have to be licensed as a Finance Lender. Indeed, if one was licensed as a broker and actually was a lessor, one wonders whether it would have to assign the lease only to a licensed lender. I advise lessor brokers to be licensed as a lender, not a broker.
2. Finance Lenders may assign to anyone, not merely other Financial Lenders. Servicers, for example, do not have to be licensed.
3. There is no definition in the Financial Lenders Law as to what a "true lease" is. Presumably, the Department of Corporations would have to use the Uniform Commercial Code 1-201(37) [e.g., no nominal consideration for residual and 10% put is not nominal] but nowhere is that defined.
(In a response to a question, Tom added:)
If the "broker" is not in the paper trail, e.g., not a lessor (and just negotiating the deal and not a lessor), than yes, the leasing company accepting the paper must be licensed.
If the "broker" is an actual lessor, and is licensed it can assign to anyone to service. e.g., any licensed finance lender can assign to another lender, who does not have to be licensed. The entity originating the deal must be licensed, others down stream do not have to be licensed, as long as the first in the chain is licensed.
Tom McCurnin
Barton, Klugman & Oetting
333 South Grand Ave.
Suite 3700
Los Angeles, CA 90071
Voice: (213) 621-4000
Direct (213) 617-6129
Fax: (213) 625-1832
As Leasing News did, we recommend readers seek more information for their circumstances from a California attorney familiar with equipment leasing and finance law, as well as an attorney rather than these short synopsis from Leasing News.
(We are not licensed to give legal advice anywhere. editor)
Lease/Loan State License Requirements (to be revised)
http://www.leasingnews.org/archives/March%202008/03-19-08.htm#req
--------------------------------------------------------------

Classified ads--Asset Management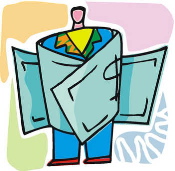 Los Angeles, CA
Lease Administrator with strong background in processing and operations development. Seeking immediate opening for Senior Processor Position with long term potential for Credit Administration. Cindy.Messler@gmail.com
Massachusetts, MA
Started in credit and collections 30 years ago with a private agency. My skills are negotiating with Attorney's, Insurance Companies & Large & small companies.
cityofpa@earthlink.net | Resume
http://www.leasingnews.org/Classified/Resumes/cityofPA_Resume.doc
New York, NY
10+ years in equipment leasing/secured lending. Skilled in management & training, documentation, policy and procedure development & implementation, portfolio reporting. Strong work ethic.
Email: dln1031@nyc.rr.com
Seattle, WA
20 years combined experience in Asset Management and Collections. History of successfully maximizing the residual position through superior negotiation skills and remarketing.
Email: gcsprings@comcast.net
United States
Multi- talented individual looking to relocate back to mainland. Over 20 years of experience in Asset Management, Venture Leasing, Operations and Senior Management Positions.
RESUME | Email: dan@ggpglobal.com
For a full listing of all "job wanted" ads, please go to:
http://www.leasingnews.org/Classified/Jwanted/Jwanted.htm
To place a free "job wanted" ad here, please go to:
http://www.leasingnews.org/Classified/Jwanted/Jwanted-post.htm
--------------------------------------------------------------

CIT Exposed---
by Christopher Menkin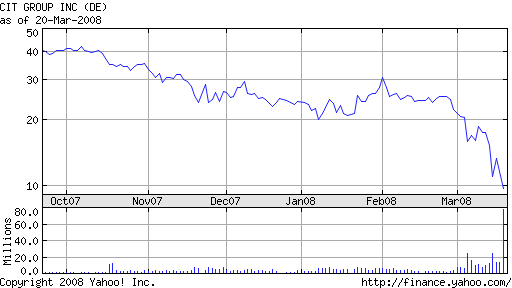 Readers are telling Leasing News that they believe CIT Group is in serious trouble. In this analysis, you will read how other leasing executives view the public information, plus what the financial
statement says and what it does not say.
"They appear to be the next target for a "takeover" sale as JP Morgan and Bear Stearns."
Vice-president of a major, independent leasing company
"This means it would cost $2.70 million in one lump sum to insure $10 million in debt for five years, in addition to annual premiums of $500,000 a year. Look at the bank covenants to learn why CIT is taking this action."
A CFO of a major publically held leasing company
"Question: interest rate on "unsecured bank credit facilities" must be way higher than commercial paper and debt maturing 2008. I believe this can only mean they were NOT ABLE to refinance CP or LTDebt, so this is a borrowing of last resort to fund their "core commercial franchises" and pay off maturing paper. What is the maturity of the unsecured bank credit facilities and what are the covenants? Probably exhibits to their SEC filings lay out the terms of the "facilities". What is the profit margin on their "core commercial franchises" and how does that margin compare to the rate on the facilities + allocated overhead? I would guess (uniformed) that it's a negative spread, i.e. I see a last ditch attempt to stay in business. I suspect that if they cannot next take out the facilities lenders they are gone."
President of a major leasing company
"The CIT news prompted me to check Yahoo finance. As of Dec 31, 2007, CIT has stockholder (book) equity of $6.96 billion. Drop the goodwill and intangible assets and the tangible equity figure is $5.8 billion. With 191.23 million shares outstanding (currently), the book value per share is $36.40 and the tangible book value per share is $30.37.
"Whether the price is $6.45 (the low) or $9.43 (Thursday's close), it is still well below book. For those Mad Money folks, seekingalpha.com reports Jim Cramer's Stop Trading as referring to "MER (Merrill Lynch), UBS, WM (Washington Mutual) and C (Citigroup) (as) the four horsemen of the pending Apocalypse, and said these four banks cannot afford to fall. He sees Wells Fargo buying WM or Goldman Sachs picking up UBS. While MER will have its share of offers, C is too big to buy, and Cramer thinks it may be resuscitated by sovereign wealth funds… CIT is getting a $7.3 billion bank line to pay its debts and Cramer commented CIT has the "worst single portfolio I know of other than E*Trade" and needs an infusion of capital.
"I have been away from the leasing business for a few years but find it hard to fathom that CIT could have allowed its underwriting standards to slip to such a precarious position. Their balance sheet does not report unearned income so it is had to know how much fixed value is locked in their balance sheet, but at a 70% to 80% discount from tangible book, it is hard to see the justification in such a discount. Calamity creates opportunity. "" David Rabinovitz, retired leasing executive
"I'd only observe that if aircraft are an extremely low margin product right now it means everybody is RELYING on significant residual value which, when combined with the serious ills the aviation industry faces, is a foolish play. I would offer that no one is really a candidate to buy them out, but the TYCO phase was inexplicable so of course anything could happen.
"I bet they file when the extant lines mature OR if they avoid such it will be in concert with massive successful asset sales, and I think they will find the pricing very poor right now."
retired executive of major publically held leasing company
The company has a lot going for it, but it seems the home lending and student loans took its toll, and it is my opinion the airplane investments were a last ditch effort and also reflect problems on their year-end financial statement. The March 12 announcement of signing contracts with Airbus for 20 new aircraft (fifteen A320 family aircraft and five A330) worth approximately $1.9 billion at list prices appears to be a marketing ploy. The aircraft are scheduled to be delivered beginning in 2011 and continue through 2014. CIT already has commitments on the books to Airbus. Few really understand the airline industry and many think they can play in this ballpark, but only a very, very few, such as Steven Udvar-Hazy, chairman of International Lease Finance understand it. Unicapital saw its demise playing with aircraft, as did several other leasing companies (okay, it was airplane engines, but that still is aircraft.) Leaving their core financial marketplace has cost the company dearly as it appears they have over expended their core base, depending on "good times" to keep their growth going into new fields. Perhaps there are many such banks, finance and leasing companies who are in the same
position, but perhaps not as dramatic.
Looking at the 2007 year-end SEC filing, the bottom line for CIT, who had an increase in new business volume (excluding factoring:
(rounded off, dollars in millions) 2007 2006
Total Net Revenue and other income $1,753 $2,814
Provision for income tax -$194 $354
Return on Equity -1.6% 15%
Net Income (Loss) -111 1,016
Net Income (millions):
2007 -$111
2006 $1016
2005 $936
2004 $754
Stockholder Equity (in MM,rounded) 12/2007 9/30/3006 12/2006
6,960 7,059 6,462
There certainly were indications when CIT sold its interest in Dell Financial Services, their key to understanding the small ticket captive market place that was mention very often in their presentation
to other dealers, for$247.1 million, plus U.S. Systems Leasing for a pre-tax gain of $21 million.
What was originally misleading was the note in the press release that total new business volume grew 22% over last year "driven by international operations."
The unaudited consolidated income statement revealed in the millions (rounded off) 2006 year end $823, but $1.041 in 2007 as well as credit losses of $68 million in 2006, but $385.5 in 2007 year-end.
There were two items I think "hidden," as I had to use a calculator to get to them, and in the remaining 16 pages I considered them hidden. I don't think the SEC would say that nor CIT, but from
analyzing financial statements, I would say the numbers were there, but you had to work to find them.
First, I think significant were the differences in cash and cash equivalents, going from $4,458 million in 2006 to $6,792 million along with $4,398 in non-recourse, secured borrowings to $17,430 in 2007. Management was stretching for more liquidly and willing to pay a higher price for it.
What was not highlighted, and someone confusing, until you worked out the numbers on a calculator, were the "Finance Receivables Past Due 60 days or more" that revealed both home lending and student loans were $881 million.
The Non-Performing Assets, which were $892 million.
Ironically, CIT Financial that was in business to insure cash flow has fallen into being the description of one of their clients.
Leasing News has been reporting on the changes in upper management, particularly after a major "branding" marketing. It started with the press release of Thomas B. Hallman, announcing he is taking retirement, only a few months after an exclusive interview of his plans for expanding the small ticket market operation he developed in the United States into Europe. He had ideas, plans, and was excited.


Thomas B Hallman
He was CIT Vice Chairman, Specialty Finance, responsible they said for "the strategic vision behind CIT's acquisition of Barclays UK and German vendor finance businesses," as well as Dell Financial
and setting up vendor centers to service captive accounts.
Then, Rick Wolfert, Vice-Chairman, commercial finance, was abruptly let go.


Rick Wolfert
Walter J. Owens was brought in after serving as Chief Marketing Officer for GE Commercial Finance


Walter J. Owens
Then on board came Jay DesMarteau (40) as President of CIT Equipment Finance, worked with General Electric for 15 years in a number of increasingly senior roles


Jay DesMarteau
All of a sudden the hiring of ex-GE executives. Something was up, but no one was indicating that the company was in trouble until it appears they could no longer hide it.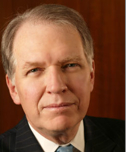 Jeffrey Peek, CEO
Jeffrey Peek, a top executive at Credit Suisse First Boston and onetime leading candidate for the presidential post at Merrill Lynch, joined in 2004. The thrust seemed away from their proven marketplaces to new countries, more large airplanes, subprime mortgages, student loans, growing to offices in more than 30 countries, including Canada, Europe, Latin America, Asia and Australia &
New Zealand.
In the bad news of the major loss for 2007, CIT announced it
was cutting its workforce by 4.4 percent in the fourth quarter with the sale of a leasing business and ended the year with about 6,700 employees. It will record a $50 million pretax charge in the first quarter for severance and related costs.
Peek in a telephone conference call last week to the media and investors, after issuing an announcement CIT was drawing on $7.3 billion in unsecured loans from about 40 U.S. banks to help conduct daily operations. He told the media that "given the current market environment, we need to run a smaller company." He reported that CIT has been holding discussions with "deposit-rich, asset-poor depository institutions" about perhaps providing the lender with additional funding, while CIT needs sufficient cash to cover $9.7 billion of debt that matures this year, besides its short-term commercial-paper debt; a move that highlights the commercial finance company's difficulty in raising cash to pay off debt.
Drawing on bank lines is often seen as an emergency action for companies unable to get financing elsewhere.
The cost to insure CIT's debt with credit default swaps is trading at distressed levels, costing 27 percent of the sum insured as an upfront payment, in addition to annual premiums of half a percentage point, according to broker Phoenix Partners Group.
CIT announced they needed to raise $6 billion and $8 billion in the first two quarters of 2008, said Thursday it was looking at additional financing sources and might sell nonstrategic assets or businesses over the near term. Drawing on bank lines is often seen as an emergency action for companies unable to get financing elsewhere.
Joseph Leone, the newly appointed company's CFO, said told the telephone conference call that at least initially, the corporation will keep its core middle-market commercial financing business—trade, corporate, transportation, and vendor financing—off the market, the executives said. "We do see those businesses as our marquee businesses and would like to keep them intact" as much as possible, Leone said, adding that at least for now, those asset sales "wouldn't impair those lines of business."
In 1908, Henry Ittleson founded the Commercial Credit and Investment Company to help fuel the growth of a rapidly-expanding nation. Ninety-plus years and several name changes later, The CIT Group is now stronger than ever, with managed assets of over $50 billion and 11 consecutive years of increased earnings.
The following is a timeline detailing the evolution of the CIT Group, from our inception in 1908 to 1999's acquisition of Newcourt Credit Group Inc.:
1908 CIT was founded as Commercial Credit and Investment Company by Henry Ittleson in St. Louis (initial business efforts were in financing receivables).
1915 Company moved its headquarters to New York City and changed its name to Commercial Investment Trust with the identifying initials "C.I.T."
1915 CIT signed an agreement with Studebaker for nationwide wholesale and retail financing of automobiles. This was the first automobile financing program in the U.S.
1920 CIT began to build its industrial financing business alongside its consumer business.
1924 CIT went public and its stock was listed on the New York Stock Exchange. It issued its first annual report. The company had 600 employees and assets of $44.7 million.
1942 CIT Financial Corporation, the company's industrial financing entity, was incorporated.
1933 The company acquired Ford Motor Company's financing arm, Universal Credit Corporation.
1964 Several CIT owned factoring companies were merged to form CIT's Meinhard-Commercial Corporation. William Iselin & Co. was another CIT factoring organization at the time.
1969 CIT began its withdrawal from the automobile financing business. The company refocused energies on industrial equipment financing, factoring and leasing.
1980 RCA acquired CIT.
1984 Manufacturers Hanover Bank purchased CIT from RCA.
1986 The company officially changed its name to The CIT Group.
1987 Albert R. Gamper, Jr., sector executive vice president of Manufacturers Hanover, was named chairman and CEO of CIT. When Dai-Ichi Kangyo Bank purchased 60% of CIT's stock in 1989, he was named president and CEO of CIT.
1988 CIT sold its consumer loan businesses.
1989 Dai-Ichi Kangyo Bank acquired 60% of CIT from Manufacturers Hanover.
1991 CIT acquired Fidelcor Business Credit Corp. and renamed it CIT Credit Finance.
1991 CIT's new equity investment unit, founded a year earlier, made its initial investment.
1992 CIT Consumer Finance was started 'de novo' to offer home equity loans, returning CIT to the home equity loan business.
1992 CIT Venture Capital became a licensed Small Business Investment Corporation.
1994 CIT acquired Barclays Commercial Corp. and merged it with its commercial services unit to create the largest factoring organization in the U.S.
1995 Dai-Ichi Kangyo Bank acquired an additional 20% of CIT from Chemical Banking, the successor company to Manufacturers Hanover.
1995 The CIT group ended the year with a record $17 billion in assets, reached the $225 million mark in earnings and employed approximately 2800 people across the U.S.
1996 Chemical Bank merged with Chase Manhattan. CIT ownership is 80% by Dai-Ichi Kangyo Bank and 20% by the Chase Manhattan Corporation.
1997 CIT launched an initial public offering of 20% of CIT's common stock to acquire from The Dai-Ichi Kangyo Bank, Limited its option to purchase the 20% interest owned by the Chase Manhattan Corporation and to exercise such option. CIT once again lists its stock on the New York Stock Exchange ("CIT").
1998 CIT completes a successful secondary stock offering, reducing DKB's stake to approximately 44% with the balance of the shares owned by the public.
1999 On January 28, 1999, CIT reports record earnings of $338.8 million with more than $26.2 billion in managed assets.
On March 8, 1999, CIT announced it will acquire Newcourt Credit. On November 15, CIT completed acquisition of Newcourt.
In the new century, CIT survived a brief acquisition by the ill-fated Tyco Corporation and became 100 percent publicly owned in 2002. Following Al Gamper's retirement in 2004, new CEO Jeffrey M. Peek worked to maximize CIT's cross-marketing potential while reorganizing along industry-focused, rather than product-focused, lines. That September, CIT's purchase of CitiCapital's vendor financing business in Germany was the company's first European acquisition.
The history was obtained from the CITGroup.com website.
CIT executive changes:
http://www.leasingnews.org/archives/December%202007/12-07-07.htm#cit
--------------------------------------------------------------

Airline Industry Troubles
(Relates to CIT story)
by Jeffrey Taylor, CLP, CPA
U.S. airlines may face a new round of restructuring amid a stumbling economy and spiraling fuel prices.
The turnabout reflects the headwinds that have buffeted the industry as oil prices have risen 75% in the past year and the housing slump has mushroomed into a broader credit crisis, making it hard for many businesses and households to borrow and prompting consumers to cut back on spending.
Other industries, from the nation's beleaguered banks to retailers and auto makers, are facing similar pressures. But the major airlines, many of which have spent long periods under bankruptcy protection in recent years, worry they are especially vulnerable.

Continental Airlines expects to pay $1.5 billion more for fuel this year than last, Chief Financial Officer Jeff Misner told a J.P. Morgan aviation conference earlier this week. "Maybe we'll throw a recession on top of that...and a weak dollar just to kind of make sure it stays real, real interesting," he added.
Glenn Tilton, chairman and chief executive of United Airlines told workers earlier in the week, "This industry has serious challenges ahead. Continued uncertainty about the overall U.S. economy, with the price of fuel at historically high levels, has put significant pressure on all U.S. carriers."
Consolidation was expected to help insulate the domestic carriers from such difficulties and better prepare them to compete with rich overseas rivals. But a proposed merger of Delta and Northwest appears to have run aground because the airlines' unionized pilots can't agree on a common seniority system.
Yesterday, Delta's pilots rejected the Northwest pilots' suggestion that they take their dispute to binding arbitration. It isn't clear whether Delta and Northwest are willing to proceed without a pilots deal, or whether they will throw in the towel on the merger.
Merrill Lynch now predicts that the eight largest U.S. carriers will post combined losses of $1.5 billion this year, compared with a previous forecast for a collective profit of $1.7 billion. J.P. Morgan analyst Jamie Baker expects wider industry losses of between $4 billion and $9 billion this year, and a slump in travel demand starting in the second quarter.
The airlines have hoarded big piles of cash, estimated at nearly $25 billion at the end of 2007. But while oil prices retreated yesterday, falling $4.94 to $104.48 a barrel on the New York Mercantile Exchange, they remain near all-time highs. And with jet-fuel prices around $132 a barrel, those cash piles could shrink fast, putting carriers in danger of breaching debt covenants with lenders.
It was a reduction in travel demand in early 2001 that presaged a severe downturn for the airlines. That plunge was exacerbated by the Sept. 11, 2001, terrorist attacks and a spike in fuel costs. Since 2001, four big airlines and many smaller ones have been through bankruptcy court and others reorganized under the threat of a bankruptcy filing. Collectively, the airlines laid off 170,000 workers -- or about 38% of their labor forces -- cut wages and benefits, and pared other expenses.
Airlines continue to hedge some of their fuel needs, but at current prices hedging is extremely costly, and the carriers don't want to lock in historically high fuel costs in case prices fall.
Experts expect the airlines to speed up their domestic capacity reductions, attempt more fare increases where they can, fan out even more of their planes to international routes, possibly force their commuter-carrier vendors to jettison inefficient 50-seat jets, and ground more of their own gas-guzzling aircraft.
--------------------------------------------------------------

Marlin to depend on its new Industrial Bank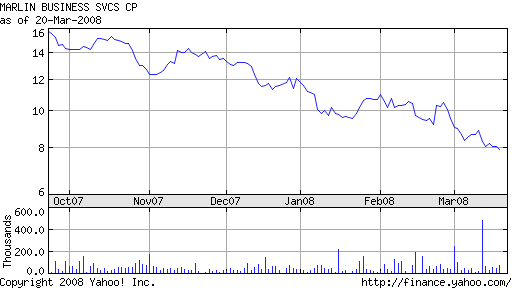 Since Marlin fired key people, after reporting forcing popular CEO Gary Shivers to "retire," the performance and stock has been going down. Friday's low was $7.91.
The latest news is a filing to the Security Exchange Commission announcing Marlin deciding not to seek renewal of the $125 million to Deutsche Bank AG, New York. It believes its new industrial
bank in Utah will serve its purposes (shades of NetBank.)
"On March 20, 2008, Marlin Leasing Corporation ("Marlin", a subsidiary of the Registrant) sent written notice to Deutsche Bank AG, New York Branch ("Deutsche") informing Deutsche that Marlin has decided not to seek renewal of the $125 million Series 2000-A Warehouse Facility extended by Deutsche to Marlin. The Series 2000-A facility is scheduled to expire pursuant to its terms on March 24, 2008, and there are currently no borrowings outstanding under the facility.
"On March 12, 2008, the Registrant announced the opening of Marlin Business Bank (the "Bank"). The Bank provides the Registrant with diversified funding options at more favorable terms than the Series 2000-A Warehouse Facility. The Bank will provide up to $69 million in origination funding capacity in its first year of operations, up to $90 million in its second year,
and up to $105 million in its third year and beyond.
"Management believes that the new funding capacity provided by the Bank renders the Series 2000-A Warehouse Facility unnecessary, resulting in Marlin's decision not to seek renewal of that facility. "
The venture into factoring was a dude. Reportedly the original president of the bank resigned. This unknown reliance in a marketplace afraid of new banks is questionable, particularly with the loss of revenue and declining stock prices. Please stay tuned.
SEC Filing
http://leasingnews.org/PDF/20_Mar_08_MRLN.pdf
--------------------------------------------------------------

Failure to Give Notice of Lease Renewal Sinks Lessor's Claim for Rent
ELFA eNews Daily
Commercial Lending Litigation News
(03/13/08) Vol. 20, No. 19

A New York court recently decided against an equipment company that sued its lessee for continuing rent after equipment was not returned on time, saying that the lessor had not given the lessee notice of a provision in the lease that automatically renews the lease if equipment is not returned promptly.
In Parimist Funding Corp. v. Suffolk Vascular Associates, the leases in question stipulated the automatic renewal policy in writing, but Suffolk claimed it had an oral agreement with Parimist that they could purchase the equipment for $1 at the end of the lease and that the leases were security assignments under the Uniform Commercial Code, which terminates the obligations at the end of the lease.
The court rejected Suffolk's claims, finding that the transaction did not constitute a security interest and that oral agreements are not acceptable as evidence, but found that New York contract statutes stipulate that a lessor must give a lessee 15 days' notice of plans to renew a lease, which Parimist failed to do.
--------------------------------------------------------------

IFC Credit continues to press for settlements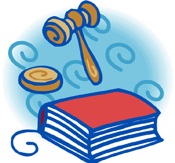 Leasing News has reported that as the FTC-IFC Credit, Morton Grove, Illinois bench trial moves to April 28, 2008 at 9:30 a.m. before United States District Court, Northern District of Illinois Magistrate Judge Jeffrey Cole, it has been trying to settle as many of the outstanding NorVergence leases. Meanwhile Missouri and Texas Attorneys General await the outcome.
As evidence to the thrust to settle cases before the bench trial, attorneys continue to report the move to settle cases. This is from attorney Michael J. Fleck:
"I find it curious that IFC spent years fighting for the validity of the forum selection clause to be upheld in Illinois, at considerable cost and expense to both sides, only to covertly negotiate a purported settlement in a distant forum. Further, the terms of that settlement are worse than what other leasing companies settled for years ago before protracted litigation. These terms do not consider the counterclaims that may prevail in Illinois. IFC voluntarily selected Illinois to initiate these hundreds of lawsuits. It was not forced to settle in New Jersey; it chose to settle in New Jersey, completely counter to its successful arguments that the cases belong in Illinois.
"We have spent months negotiating standing orders and protective orders to move these consolidated cases forward and not once did IFC inform the Court, the FTC or any Illinois defense counsel of the New Jersey negotiations. Apparently, IFC may be regretting its victory over the jurisdiction issue in Illinois.
"My office filed a Motion for Sanctions against IFC concerning its conduct in entering into the purported NJ Class Settlement (attached). Today, Judge Murray, who is presiding over the consolidated IFC/NorVergence cases, issued a preliminary injunction that affects this settlement (attached). This is set for additional hearing on March 27, 2008 at 1:30 PM before Judge Murray. (The hearing, however, may be postponed by IFC Credit until April. editor)
Michael J. Fleck
The Law Office of Michael J. Fleck, P.C.
10771 Route 47 PO Box 992
Huntley, IL 60142-0992
847-669-2558
847-669-2564 fax
It is IFC Credit Corporation policy not to comment on pending litigation.
www.flecklawoffice.com
mfleck@flecklawoffice.com
Cook County:
http://leasingnews.org/PDF/Cook_County_PI_IFC_(2).pdf
Motion for sanctions:
http://leasingnews.org/PDF/Motion_for_Sanctions_Filing.pdf
--------------------------------------------------------------

Leasing Industry Help Wanted
Senior Credit Analyst


Senior Credit Analyst
Westport, CT.
Captive construction equipment finance background preferred;flexible adaptive team player w/8 years underwriting exper. For more info/to apply click here.
A Fortune 500 construction equipment manufacturing company.


--------------------------------------------------------------

Top Stories - March 17--March 19
Here are the top ten stories most "opened" by readers last week:
(1) Popular Leasing goes Direct
http://www.leasingnews.org/archives/March%202008/03-19-08.htm#pop
(2) Lease/Loan State License Requirements
http://www.leasingnews.org/archives/March%202008/03-19-08.htm#req
(3) Public/Private Leasing companies
http://www.leasingnews.org/archives/March%202008/03-17-08.htm#comp
(4) Lease Company Stocks Two Days Later
http://www.leasingnews.org/archives/March%202008/03-19-08.htm#stock
(5) Leasing 102 by Mr. Terry Winders, CLP
"Pricing"
http://www.leasingnews.org/archives/March%202008/03-17-08.htm#102
(6) Sales Points from -- ANONYMOUS!!
http://www.leasingnews.org/archives/March%202008/03-17-08.htm#point
(7) Sales Make it Happen by Linda P. Kester
"Surviving a Recession"
http://www.leasingnews.org/archives/March%202008/03-19-08.htm#sales
(8) Independent truckers see end of the road
http://news.yahoo.com/s/ap/20080301/ap_on_bi_ge/truckers__trouble
(9) Recession is here, economist declares
Feldstein heads key forecasting group Slump may be worst since World War II
http://www.boston.com/business/articles/2008/03/15/recession_is_here_economist_declares/
(10) Pictures from the Past--1981 Joe Woodley
http://www.leasingnews.org/archives/March%202008/03-19-08.htm#past
Not counted due to technical reasons:
Extra
CIT stock hits $6.45 a share
http://www.leasingnews.org/archives/March%202008/03-19-08-extra.htm
--------------------------------------------------------------

Leasing 102
by Mr. Terry Winders, CLP
" Structuring a Lease"
There are many ways to structure a lease and sometimes I think you just use your fingers and toes. Structuring requires a good understanding of how to use a calculator or more importantly a computer based pricing program. I use the term structuring and not pricing because structuring is using the customer's needs and pricing is placing the Lessor's requirements into the structure. If you ask the correct questions a lessee will reveal their needs and a structure will emerge.
A lease structure depends on the type of lease you are trying to create. Too often Lessor's ignore the rules and just use a calculator to compute what they think is the appropriate lease payment stream. We have discussed many times in the pass how irregular or seasonal payments are more indicative of leasing, and the benefits it brings, than level payments over three to five years. A creative structure is very hard to do unless you have use of some leasing tools.
If you are going to structure a level payment transaction that has a bargain purchase option at lease termination then a standard financial calculator will work. I prefer a HP 17BII because it allows for changing the mode from algebraic to reverse polarity and back again to facilitate the many ways we compute percentages and math problems; plus it contains a complete amortization of the transaction so with a few pushes of the correct button you can compute a payoff. A HP12C does an excellent job of computing payments that are level but it is slow and has way too many limitations. Still old timers hate to change so they purchase them for their subordinates. I think they just do not like having their subordinates knowing more than they do. Staying up with the times is very important. Poor tools result in poor performance.
Some people like to use t-value which works well on leases intended as security or disguised conditional sales contracts because they do not have tax consequences. However please do not use it if you are offering transaction with fair market purchase options or fixed price purchase options that are not viewed as a bargain. Those transactions will have tax consequences and with the current economic stimulus act you need to understand the impact on your return. I have presented, in the pass, the effect of income tax on transactions when the payment stream is sold off on a non-recourse basis and the packager retains tax ownership. It would be hard to discover the actual return without a computer tax lease structuring program like Super Trump or Lease Analysis.
A computer based pricing program gives you a ton of structuring advantages and correctly computes the payments and your all end yield with all the updated tax consequences. It also allows you to place fees, outside expenses, broker fees, and periodic expenses into the mix to determine a proper structure. The prices of these programs are easy to handle and the capabilities to create almost any structure with ease improves your competitive position tremendously. You would be at a great disadvantage without it and probably are missing profitable opportunities or are failing to get a proper fee for your marketing efforts. Brokers and packagers would also look more professional with the reports and schedules the programs produce.
Many people feel that the ability to structure a deal is a real art because of the many ways there is to create a program that meets both the accounting and tax requirements of the Lessee and the often different accounting and tax needs of the Lessor. In addition it is very often when the Lessor that wins a deal is the one who knew how to structure the deal to take the emphasis off the rate and place it on the structure because it provided value from a cash flow, expense control, or timing issue that had greater value than an interest rate. It is usually plan b, or plan c, that wins the deal and not what the customer originally requested.
You should plan to review how you use your lease tools to create structures or lease programs for your customers and begin to ask the questions that will lead the customer away from rate concerns and into a structure that will accommodate fulfilling other needs. A professional lease salesperson without a structuring program is like a boat without a captain.
Mr. Terry Winders, CLP, has been a teacher, consultant, expert witness for the leasing industry for thirty years and can be reached at leaseconsulting@msn.com or 502-327-8666.
He invites your questions and queries.
Previous #102 Columns:
http://www.leasingnews.org/Conscious-Top%20Stories/Leasing_102/Index.htm
--------------------------------------------------------------

Mr. Terry Winders' Poker Tables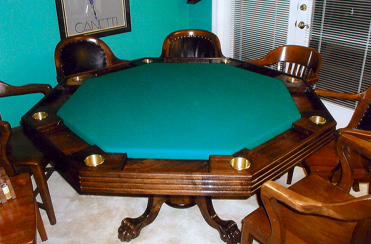 Terry's hobby is not only playing poker, but building poker tables.
He built one for himself, and when his poker friends came over to play, they wanted him to build one. Now he builds them not only as a hobby, but a side-line business.
"They are all solid walnut except the Base board. They are therefore very heavy. I sell the plain ones for $2450, the one with a bumper all the way around for $2695 and the one with the red bumper and chip holders for $2995. The color of the bumpers and the color of the felt can be any color the person wants....The purchaser must pay for shipping...."
Terry
Chairs not included:
Bumper all around: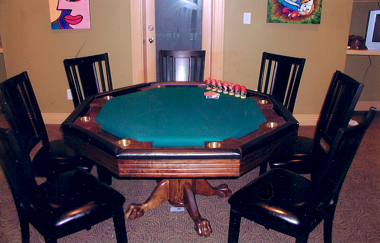 Chip holder and bumpers version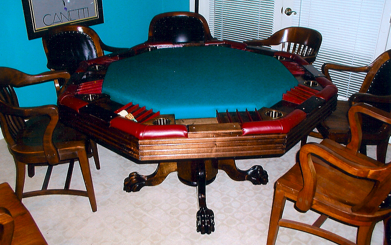 Get an audit or a CD or training or poker table
from Mr. Terry Winders, CLP:
leaseconsulting@msn.com
--------------------------------------------------------------

Leasing Exec. writes Detective Novel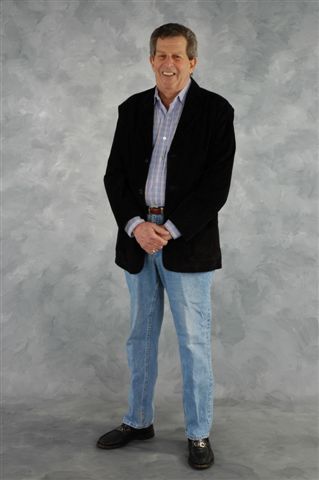 Spending most of his career in equipment leasing sales, Mike Berke's employers included Leasco Capital Corporation (now Reliance Group, Inc.), Sussex Leasing Corp., Eaton Financial Corporation and AT&T Capital Corporation.
During that time he also trained hundreds of personnel from manuals, instructional guidelines and how-to's he wrote, additionally authoring numerous articles for industry association publications, magazines, periodicals and newsletters. He frequently performed as speaker, moderator, panelist and participant at national, regional, and local industry association conferences arranged by groups including the Equipment Leasing Association (ELA), Eastern Association of Equipment Lessors (EAEL) and National Association of Equipment Leasing Brokers (NAELB).
In 1994 he authored the 250-page text Selling Equipment Leasing, published by the AMACOM division of The American Management Association. Currently out of print, the book is still available through resale.
An avid reader, mostly of popular fiction, it was that pastime that inadvertently nudged Mike into writing fiction. A couple of years ago he mentioned to a friend, Carroll Suddath, a teacher of creative writing, that he had just read several books by well-known writers, each having seemingly far-fetched or outlandishly contrived endings. Telling her this was not only frustrating as a reader, but also upsetting because of the waste of valuable time, she replied, "You're a writer. If that's what you really think, write something better."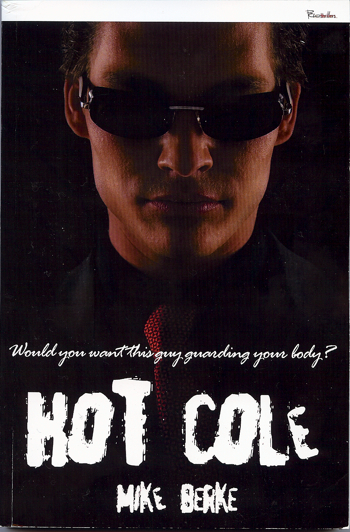 About Hot Cole
Bobby Cole, a bartender in Manhattan, realizes his life is going nowhere, when suddenly two strangers enter his world and turn it upside-down. Soon Bobby finds himself working for an insurance company, providing bodyguard services for the seriously wealthy…as well as their unspeakably valuable possessions. When Bobby and his girlfriend break up a robbery attempt at a glitzy boating party, they inadvertently infuriate a leader in the Russian Mafia, who swears to take vengeance on them. Plenty of action, fights, chases and suspense ensue as Bobby tries to stay one step ahead of the mob and help police capture a dangerous criminal.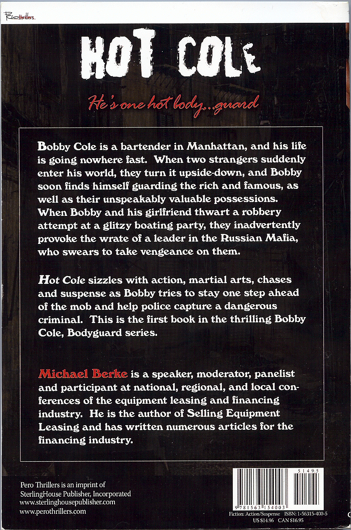 email: m-berke@erols.com
Website: www.bobbycolebooks.com
publisher: www.sterlinghousepublisher.com
### Press Release ###########################
--------------------------------------------------------------

News Briefs----
JPMorgan in Negotiations to Raise Bear Stearns Bid
http://www.nytimes.com/?emc=na
With Economy Tied to Wall St., New York Braces for Job Cuts
http://www.nytimes.com/pages/business/index.html?adxnnl=1&adxnnlx=
1206333434-JuRm4UshfI0je3brH6SrjQ
----------------------------------------------------------------


"Gimme that Wine"
Wine Prices by vintage
http://www.winezap.com
http://www.wine-searcher.com/
US/International Wine Events
http://www.localwineevents.com/
Winery Atlas
http://www.carterhouse.com/atlas
Leasing News Wine & Spirits Page
http://two.leasingnews.org/Recommendations/wnensprts.htm
The London International Vintners Exchange (Liv-ex) is an electronic exchange for fine wine.
http://www.liv-ex.com/
----------------------------------------------------------------

Calendar Events This Day
Argentina: National Day of Memory for Truth and Justice
Public Holiday since 2002 commemorating victims of the military coup d'etat of 1976.
Chocolate Covered Raisins Day
http://holidayinsights.com/moreholidays/March/chocolateraisinday.htm
Dyngus Day (Poland)
http://holidayinsights.com/other/dyngusday.htm
Easter Monday
Holiday or bank holiday in many places, including England, Northern Ireland, Wales, Canada and North Carolina in the U.S.
England: Hallaton Bottle Kicking
Hallaton, Leicestershire. Ancient custom dating back at least 600 years.
Houdini Day
Birthday of magician Harry Houdini.
(see this day in American History)
Luxenbourg: Emaishen
Luxenbourg (city.) Popular traditional market and festival at the " Marche-aux-Poosons" Young lovers present each other with earthenware, articles, sold only on this day.
Saint Gabiel: Feast day
Saint Gabriel the Archangel, patron saint of postal, telephone and telegraph workers.
South Africa: Family Day
National holiday.
Switzerland: Egg Races
Rural nothwest Swiss Easter Monday custom. Race among competitors carrying larger numbers of eggs while running to neighboring villages.
United Kingdom: Easter Monday Bank Holiday
Bank and public holiday in England, Wales and Northern Ireland
(Scotland not included. )
Saint feast Days
http://www.catholic.org/saints/f_day/mar.php
----------------------------------------------------------------

The first losing candidate in a US presidential election was Thomas Jefferson. He lost to John Adams. George Washington had been unopposed.
----------------------------------------------------------------

Today's Top Event in History
1919-Lawrence Ferlinghetti, poet, author (Coney Island of the Mind), founder of City Lights Bookstore in San Francisco, born Yonkers, NY. Perhaps best known for opening a bookshop called the City Lights Pocket Book Shop. He described City Lights "as a place you could go in, sit down, & read books without being pestered to buy something." The store became a home for the Beat Generation of poets & writers, & Ferlinghetti also turned it into a publishing house -- the first to publish Allen Ginsberg's poem Howl. City Lights published it in 1957 and Ferlinghetti was immediately arrested on obscenity charges. He won the trial and went on to publish William S. Burroughs, Jack Kerouac & Paul Bowles. He wrote a pair of novels, two volumes of plays and over 10 books of poetry. Some say it was the birth of "Beatniks," a term coin by the late columnist Herb Caen. Today it is a popular tourist attraction in North Beach. * Baseball Canto ( at end)
http://recollectionbooks.com/siml/library/FerlinghettiWhite.htm
http://www.citylights.com/
(Also see Baseball Poems—here)
[headlines]
----------------------------------------------------------------

This Day in American History
1664 - Roger Williams was granted a charter to colonize Rhode Island.
1765 - Britain passed the Quartering Act, fording American colonists to provide temporary housing to British soldiers.
1776- one week after the British troops under General William Howe evacuated Boston, General George Washington wrote a letter to the Continental Congress. General Washington expressed his "surprize and disappointment" that the British fleet had not departed the harbor and described its various exploits while still in the region.
http://memory.loc.gov/ammem/today/mar24.html
1788-In a popular referendum, Rhode Island rejected the new Constitution by a vote of 2,708 to 237. The state later (May 29, 1790) ratified the Constitution and ratified the Bill of Rights June 7, 1790.
1825- American colonization of a new state was authorized by a law passed by the new Mexican state of Texas-Coahuila. In 1823, Stephen Austin had been given authorization by law and decree to bring settles into the region, but in 1924 ,a new republic was established in Mexico and a new constitution enacted. The new law gave the states conditions for colonization. This was the start of "Texas."
1837-Canada legally recognizes Black suffrage, thus begins one of the
Underground Railroads final destination toward freedom.
http://www.duke.edu/~mahealey/black_canada.htm
1852 -the Susquehanna River ice bridge at Havre de Grace, Maryland began to break up after 40 days of use. A total of 1738 loaded freight cars were hauled along the rails laid on the ice.
1855-Andrew W. Mellon, American financier, industrialist, government official (Secretary of the Treasury), art and book collector born at Pittsburgh, PA. Died Aug 27, 1937, at Southhampton, NY.
1874-Harry Houdini, Magician and escape artist. Born at Budapest, Hungary, died at Detroit, MI, Oct 31, 1926. Lecturer, athlete, author, expert on history of magic, exposer of fraudulent mediums and motion picture actor. Was best known for his ability to escape from locked restraints (handcuffs, straitjackets, coffins, boxes and milk cans). Anniversary of his death (Halloween) has been the occasion for meetings of magicians and attempts at communication by mediums.
http://lcweb2.loc.gov/ammem/vshtml/vshdini.html
1883 - Long distance telephone service began between Chicago and New York.
1898 - The first United States automobile was sold. Mining engineer Robert Allison paid $1,000 for a Winton.
1898-Dorothy Constance Straton, Dorothy Constance Stratton, born at Brookfield, MO, was instrumental during WWII in organizing the SPARS, the women's branch of the US Coast Guard (authorized Nov 23, 1942). Under Lieutenant Commander Stratton's command some 10,000 women were trained for supportive noncombatant roles in the Coast Guard. SPARS was dissolved in 1946 after the war had ended. Stratton worked with many women's organizations, including the Girl Scouts as national executive director in the '50s.
1900-Birthday of trumpet player June Clark, Long Ranch, NJ.
1904-Pianist Pete "Boogie-Woogie" Johnson Birthday
http://www.colindavey.com/BoogieWoogie/articles/pj.htm
1912 - Residents of Kansas City began to dig out from a storm produced 25 inches of snow in 24 hours. The snowfall total was nearly twice that of any other storm of modern record in Kansas City before or since that time. A record 40 inches of snow fell during the month of March that year, and the total for the winter season of 67 inches was also a record. By late February of that year Kansas City had received just six inches of snow. Olathe KS received 37 inches of snow in the snowstorm, establishing a single storm record for the state of Kansas.
1919-Lawrence Ferlinghetti, poet, author (Coney Island of the Mind), founder of City Lights Bookstore in San Francisco, born Yonkers, NY. Perhaps best known for opening a bookshop called the City Lights Pocket Book Shop. He described City Lights "as a place you could go in, sit down, & read books without being pestered to buy something." The store became a home for the Beat Generation of poets & writers, & Ferlinghetti also turned it into a publishing house -- the first to publish Allen Ginsberg's poem Howl. City Lights published it in 1957 and Ferlinghetti was immediately arrested on obscenity charges. He won the trial and went on to publish William S. Burroughs, Jack Kerouac & Paul Bowles. He wrote a pair of novels, two volumes of plays and over 10 books of poetry. Some say it was the birth of "Beatniks," a term coin by the late columnist Herb Caen. Today it is a popular tourist attraction in North Beach. * Baseball Canto ( at end)
http://recollectionbooks.com/siml/library/FerlinghettiWhite.htm
http://www.citylights.com/
1902-John Wesley Powel, American financier, industrialist, government official (Secretary of the Treasury), art and book collector born at Pittsburgh, PA. Died Aug 27, 1937, at Southhampton, NY.
1905 -the temperature at Valley Head, Alabama fell to 18 degrees below zero. This was the coldest temperature ever recorded in Alabama until January 1966.
1912 - Residents of Kansas City began to dig out from a storm produced 25 inches of snow in 24 hours. The snowfall total was nearly twice that of any other storm of modern record in Kansas City before or since that time. A record 40 inches of snow fell during the month of March that year, and the total for the winter season of 67 inches was also a record. By late February of that year Kansas City had received just six inches of snow. Olathe KS received 37 inches of snow in the snowstorm, establishing a single storm record for the state of Kansas
1922 - Singer King Pleasure born Oakdale, Tenn. Best known for his 1953 hit, "Moody's Mood for Love." Died 1992.
http://www.amazon.com/exec/obidos/ASIN/B000000YC6/ref%3Dnosim/
lksmsubsite-sub-mu-asin-20/104-0082188-8675910
1922-- Birthday of Dave Appell, Arranger for big bands: Benny Carter, Earl 'Fatha´ Hines; TV music director, record producer, singer, songwriter, musician with Dave Appell and the Applejacks.
1928-Birthday of tenor sax player Evelyn Young, Memphis, TN
1929-Dr. Roger Bannister born, distance runner, broke the 4-minute-mile record in 1954, born Harrow, Middlesex, England, Mar 24, 1929.
1930 - The recently discovered ninth planet was given the name Pluto.
1932-Birthday of piano player Dave Mackay, Syracuse, NY
http://www.pricegrabber.com/search_getprod.php/masterid=517498001/
ut=43a1166ef26dea3a
1936-The Longest NHL Game. Mud Bruneleau of the Detroit Wings scored at 16:30 of the sixth overtime period to end the longest game in National Hockey League history. The goal gave the Red Wings a 1-0 victory over the Montereal Maroons in a Stanley Cup semifinal game. Detroit won the series, three games to none, and went on to defeat the Toronto Maple Leaves in the finals.
1941 - Glenn Miller started work on his first film for 20th Century Fox, "Sun Valley Serenade".
1942-Birthday of Jesus Maria (Jay" Alou, former baseball player, born Haina, Dominican Republic.
1944 - The first Civilian Exclusion Order issued by the Army is issued for the Bainbridge Island area near Seattle. The forty-five families there are given one week to prepare. The island's oldest, continuously operating farm -- established in 1928 -- is owned by 75-year-old Akio Suyematsu, who grows strawberries, pumpkins and Christmas trees. World War II brought one of the saddest chapters of island history -- the nation's first forced evacuation of residents of Japanese ancestry, most of them American citizens. On President Roosevelt's authority the army forced some 240 people, including Suyematsu's family, to leave -- mainly for California internment camps. They received a week's notice in March 1942 to dispose of their property. By the end of October, 108 exclusion orders would be issued, and all Japanese Americans in Military Area No. 1 & the California portion of No. 2 incarcerated.
http://seattlepi.nwsource.com/neighbors/bainbridge/hist26.html
http://www.historylink.org/output.CFM?file_ID=3111
http://www.janm.org/clasc/chronology.htm
http://www.janet.org/janet_history/niiya_chron.html
mass escape of WWII occurs at Stalag Luft III when 76 allied airmen tunneled out.
Only 3 made it home.
1945-Billboard magazine, the music trade publication, began the pop music record chart this day in No. 1 hit in the pop chart was Nat King Cole's "King Cole Trio."
1949- the Academy of Motion Pictures Arts and Sciences gave Oscars to who were father and son,the only time this has happened: Walter Houston, who won the best supporting actor award, and his son, John Huston, who won the award for the best director, both for "The Treasure of Sierra Madre. The film also received the award for the best screenplay. Ironically, the first time a husband and wife win Oscars, this has happened, the same year, Oscar winners who were husband and wife: Sir Laurence Oliver for his performance in "Hamlet", beating out Humphrey Bogart, and his wife, Vivien Leigh, who received hers on February 29, 1940, for her performance in "Gone with the Wind." On March 20, 1952, she received a second Oscar for her part as Blance du Bois in
"A Streetcar Named Desire."
http://www.infoplease.com/ipa/A0148405.html
1949- Steve Lang, bass guitarist with the Canadian rock group April Wine, was born. Lang joined the band in 1975, replacing Jim Clench. Lang was with April Wine when they shared the stage with the Rolling Stones at the El Mocambo nightclub in Toronto in 1977. April Wine was Canada's leading touring band of the 1970's, but the band failed to have much of an impact in the U.S.
1951-Brithday of 49er Coach Dennis Erickson, born Everett, WA.
1954-Birthday of cello player Hank Roberts, Terre Haute, IN.
http://www.scaruffi.com/avant/roberts.html
1955---Top Hits
The Ballad of Davy Crockett - Bill Hayes
Sincerely - McGuire Sisters
Darling Je Vous Aime Beaucoup - Nat 'King' Cole
In the Jailhouse Now - Webb Pierce
1955 - On Broadway, Tennessee Williams's Southern drama, Cat on a Hot Tin Roof, staged by Elia Kazan, debuted to mixed reviews; 694 performances.
1958 - In Memphis, Tennessee, Elvis Presley reported to local draft board 86, where he became US 53310761. Since Elvis was now 'government property' as he served his time in the Army, Uncle Sam stood to lose approximately $500,000 in taxes each year Private Presley was in the Army. After receiving the standard GI haircut, he was quoted as saying "Hair today, gone tomorrow." Presley had actually received his draft notice the previous December, but was granted a 60- day deferment to complete the movie "King Creole." Some say rock 'n' roll died when Presley entered the service. Certainly, after he was discharged in March 1960, Presley himself was no longer a rock 'n' roll performer. He became primarily a movie star and middle-of-the-road singer, not touring, but performing mostly in Las Vegas, Nevada.
1959- The re-formed Drifters' "There Goes My Baby" is released on Atlantic Records. Not only is it the group's first disc with new lead singer Ben E. King replacing the departed Clyde McPhatter, but joining the production team are Herry Leiber and Mike Stoller.
1960 - A United States appeals court ruled the novel, "Lady Chatterly's Lover", was not obscene and as such, could be sent via the mail.
1962-Birthday of pianist Renee Rosnes Saskatchewan Canada
http://reneerosnes.com/
http://jazzdiscography.com/Artists/Rosnes
1963---Top Hits
Our Day Will Come - Ruby & The Romantics
The End of the World - Skeeter Davis
He's So Fine - The Chiffons
Still - Bill Anderson
1971---Top Hits
Me and Bobby McGee - Janis Joplin
She's a Lady - Tom Jones
Just My Imagination (Running Away with Me) - The Temptations
I'd Rather Love You - Charley Pride
1972- Twelve years after it was first a #2 hit for Paul Anka, "Puppy Love" by Donny Osmond climbs to #3 and goes gold. The tune also inspires lots of wisecracks about Osmond.
1973 - Professional track debuted as Kip Keino beat Jim Ryun in the mile run at the International Track Association meet in Los Angeles, California.
1974 - North Carolina State beat Marquette to win the NCAA basketball championship.
1979---Top Hits
Tragedy - Bee Gees
What a Fool Believes - The Doobie Brothers
Heaven Knows - Donna Summer with Brooklyn Dreams
I Just Fall in Love Again - Anne Murray
1982 Five congregations in the eastern San Francisco Bay area became the first to declare themselves publicly as sanctuary churches, in an effort to help refugees from Central America establish themselves in the U.S. during political and military unrest in their native countries.
1985 - The Golden Raspberry Awards, a parody of the Oscar Awards were presented. The movie, "Bolero" took home the top honors, for John and Bo Derek; who won for worst director and worst actress, respectively.
1986- The 58th Academy Awards show was held at the Dorothy Chandler Pavilion, Los Angeles. It took three hosts (Alan Alda, Jane Fonda and Robin Williams) to handle the MC duties this time. The Best Picture was "Out of Africa" (Sydney Pollack, producer). It also won Best Director (Sydney Pollack); Best Writing/Screenplay Based on Material from Another Medium (Kurt Luedtke); Best Cinematography (David Watkin); Best Art Direction-Set Decoration (Stephen B. Grimes, Josie MacAvin); Best Sound (Chris Jenkins, Gary Alexander, Larry Stensvold, Peter Handford); and Best Music/Original Score (John Barry). But "Out of Africa" didn't win everything. Other Oscars went to "Kiss of the Spider Woman" (Best Actor: William Hurt); "The Trip to Bountiful" (Best Actress: Geraldine Page); "Cocoon" (Best Supporting Actor: Don Ameche - his first Oscar) and "Prizzi's Honor" (Best Supporting Actress: Anjelica Huston). The award for Best Music/Song was given to Lionel Richie for "Say You, Say Me" from "White Nights". Other memorable movies in 1985 (some Oscar winners, some not): "The Color Purple" (11 nominations - no Oscars), "Back to the Future", "Ladyhawke", "Rambo: First Blood Part II", "Agnes of God", "Silverado" and "Witness
http://www.infoplease.com/ipa/A0149645.html
1987 - A winter-like storm in the central U.S. produced blizzard conditions from South Dakota to western Kansas. Snowfall totals ranged up to 24 inches at Neligh NE, with 19 inches at Winner SD. Winds gusting to 60 mph created twelve foot snow drifts in Nebraska stranding thousands on the highways
1987---Top Hits
Lean on Me - Club Nouveau
Let's Wait Awhile - Janet Jackson
Nothing's Gonna Stop Us Now - Starship
I'd Still Be Loving You - Restless Heart
1988 - Thunderstorms developing along a cold front produced severe weather from Minnesota to northeastern Texas. The thunderstorms spawned ten tornadoes, including one which injured five persons near Raymondville MO
1989-The tanker Exxon Valdez ran aground at Prince William Sound, leaking 11 million gallons of oil into one of nature's richest habitats.
1989 - Low pressure off the coast of Virginia brought heavy rain to the Middle Atlantic Coast States, and heavy snow to the Northern Appalachians. Cape Hatteras NC was soaked with 5.20 inches of rain in 24 hours, and snowfall totals in Vermont ranged up to 12 inches. Winds gusted to 52 mph at New York City.
1990 - The storm system which produced heavy snow in the Lower Missouri Valley the previous day, spread heavy snow across parts of the Upper Ohio Valley and the Middle Atlantic Coast Region. Snowfall totals of 2.2 inches at Philadelphia PA and 2.4 inches at Atlantic City NJ were records for the date. Up to six inches of snow blanketed southern Ohio. In the Middle Atlantic Coast Region, snow coated the blossoms of cherry trees which had bloomed in 80 degree weather the previous week.
1992 - Democrat Jerry Brown upset front-runner Bill Clinton in the Connecticut presidential primary.
1992 -as of 2:45 am CST, International Falls, Minnesota had recorded 29.5 inches of snow for the month with snow still falling. This set a new monthly snowfall record for February. The old record was 29.0 inches set back in 1911. A new record was also set for winter season snowfall (Dec-Feb) with 68.5 inches. The old record was 67.9 inches set in 1990-91.
1992 - On this date, a Chicago county circuit judge approved a settlement that meant refunds for thousands of fans of Milli Vanilli. Rob Pilatus and Fab Morvan, the dred-locked German pop duo, had admitted earlier that they had not sung on their Grammy Award-winning album, My Girl. They also confessed to lip-synching during their concerts. The two "singers" moved their lips and bodies in music videos and live concerts, while the recorded voices of unknown singers did the actual vocals. Under the settlement, buyers of Milli Vanilli compact discs would be entitled to $3 refunds, and cassette buyers could collect $2 refunds. It was estimated that the settlement could affect as many as 10 million people.
1994--the Crystal Mountain ski resort in Washington State recorded 65 inches of snow in a 24 hour period, the state record for 24 hour snowfall.
1996-The first astronaut who was a woman to live in a space station was biochemist Dr. Shannon W. Lucid, 53, of Bethany, OK. This day she transferred from Space Shuttle Atlantis to the Russian space station Mir for a planned five-month stay. It was the first time the shuttle returned to earth with lone less person aboard than had been present at the launch. Lucid remained on the station for 188 days, the longest space sojourn by any American and any woman until that time. Her return was delayed more than six weeks by emergency repairs to the booster rockets of the Atlantis and by hurricane. She came home in the Atlantis, which touched down at Edwards Air Force Base, Uroc, CA, on September 26, 1996.
http://www.jsc.nasa.gov/Bios/htmlbios/lucid.html
1997 – At the Shrine Auditorium, Los Angeles as the Academy of Motion Picture Arts and Sciences (AMPAS) awarded prizes for the best of the movie biz in 1996. Comedian/actor Billy Crystal hosted this 69th awards show. Let's rip into the envelopes and get on with it. Best Picture: "The English Patient" (Saul Zaentz, producer); Best Director: Anthony Minghella for "The English Patient"; Best Actor: Geoffrey Rush for "Shine"; Best Actress: Frances McDormand for "Fargo"; Best Supporting Actor: Cuba Gooding, Jr. for "Jerry Maguire"; Best Supporting Actress: Juliette Binoche for "The English Patient"; Best Music, Song: Andrew Lloyd Webber (music), Tim Rice (lyrics) for "You Must Love Me" from "Evita". And the Oscar goes to ... "The English Patient", "The English Patient", "The English Patient" ... for a total of 9 Oscars.
http://www.infoplease.com/ipa/A0147717.html
2001- During an exhibition game against the Giants, Diamondback hurler Randy Johnson's fastball hits and instantly kills a dove flying in front of home plate. The bird appears to explode as the National League Cy Young winner's pitch sends it over catcher Rod Barajas' head.
NCAA Basketball Champions This Date
1956 San Francisco
1962 Cincinnati\ 1980 Louisville
--------------------------------------------------------------

Baesball Poem

Baseball Canto
Lawrence Ferlinghetti
Watching baseball, sitting in the sun, eating popcorn,
reading Ezra Pound,
and wishing that Juan Marichal would hit a hole right through the
Anglo-Saxon tradition in the first Canto
and demolish the barbarian invaders.
When the San Francisco Giants take the field
and everybody stands up for the National Anthem,
with some Irish tenor's voice piped over the loudspeakers,
with all the players struck dead in their places
and the white umpires like Irish cops in their black suits and little
black caps pressed over their hearts,
Standing straight and still like at some funeral of a blarney bartender,
and all facing east,
as if expecting some Great White Hope or the Founding Fathers to
appear on the horizon like 1066 or 1776.
But Willie Mays appears instead,
in the bottom of the first, and a roar goes up as he clouts the first one
into the sun and takes off, like a foot runner from Thebes.
The ball is lost in the sun and maidens wail after him
as he keeps running through the Anglo-Saxon epic.
And Tito Fuentes comes up looking like a bullfighter
in his tight pants and small pointy shoes.
And the right field bleachers go mad with Chicanos and blacks and Brooklyn beer-drinkers,
"Tito! Sock it to him, sweet Tito!"
And sweet Tito puts his foot in the bucket
and smacks one that don't come back at all,
and flees around the bases like he's escaping from the United Fruit Company.
As the gringo dollar beats out the pound.
And sweet Tito beats it out like he's beating out sury,
not to mention fascism and anti-Semitism.
And Juan Marichal comes up, and the Chicano bleachers go loco again,
as Juan belts the first ball out of sight, and rounds first and keeps going
and rounds second and rounds third,
and keeps going and hits pay dirt
to the roars of the grungy populace.
As some nut presses the backstage panic button
for the tape-recorded National Anthem again,
to save the situation.
But it don't stop nobody this time,
in their revolution round the loaded white bases,
in this last of the great Anglo-Saxon epics,
in the territorial libre of Baseball.
--------------------------------------------------------------

SuDoku
The object is to insert the numbers in the boxes to satisfy only one condition: each row, column and 3x3 box must contain the digits 1 through 9 exactly once. What could be simpler?
http://leasingnews.org/Soduku/soduko-main.htm
--------------------------------------------------------------

Daily Puzzle
How to play:
http://www.setgame.com/set/puzzle_frame.htm
Refresh for current date:
http://www.setgame.com/set/puzzle_frame.htm
--------------------------------------------------------------


http://www.gasbuddy.com/
http://www.gasbuddy.com/GB_Map_Gas_Prices.aspx
http://www.gasbuddy.com/GB_Mobile_Instructions.aspx
--------------------------------------------------------------

Provence, France-Vacation
http://le-monastier.site.voila.fr/
--------------------------------------------------------------

News on Line---Internet Newspapers
Sports
--------------------------------