Looking to Hire the Best!
If you are located in the Mid-Atlantic region with a book of customers and limited funding, we should talk. Email resume to: resume@libertyfg.com
Call Tom at 800-422-1844
About the Company: Liberty is a regional self-funded finance company specializing in hard assets at good rates.

Friday, March 6, 2009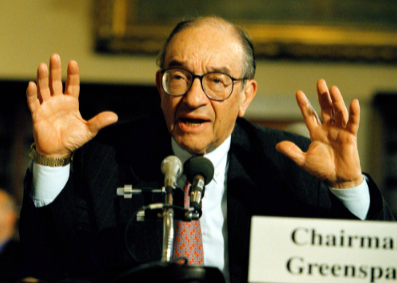 Headlines---
Correction: $2.25 credit reports/$100 site inspections
Classified Ads---Syndicator
Pioneer--IFC Credit-DZ Bank
Cash Flow is King Placard
Marlin closes Two Offices/28 employees let go
Compensation: Summer of 2006
Classified ads---Help Wanted
Mortgage Applications fall 12.6%
In Theaters: Watchmen/Fados
DVD's: In the Electric Mist/Straw Dogs/ Dear Zachary
Fernando's View by Fernando F. Croce
No need for the FDIC 20% emergency assessment?
Leasing News Banner Advertising
View from the Top--by Steve Chriest
War of Attrition on Your Customers
Ask Andrew---Funding motor vehicles/trucks
Beige Book: conditions to remain poor
Fitch: Fixed Income Bleak View of 2009
ELFA TALF: Asset-Backed Securities
Key Wins Best Education Practice Award
Immelt Scrambles as stock dips below $5.00
More job cuts at Wells Fargo & Co.
12% American behind in Mortgage Payments
50,000 Protest Budget Cuts in NYC
Most foreclosures pack into a few counties
IDOL Judges toss a Wild Card show curve
News Briefs---
You May have Missed---
California Nuts Brief---
Sports Briefs---
"Gimme that Wine"
Today's Top Event in History
This Day in American History
SuDoku
Daily Puzzle
GasBuddy
Weather, USA or specific area
Traffic Live----
######## surrounding the article denotes it is a "press release"

Sales
San Clemente, California
The iFinancial Group is looking for highly motivated individuals with experience originating equipment lease transactions . We offer a relaxed work environment, provide leads and offer above industry standard commission. Call Todd Clark 888-852-5155 x223
email: tclark@ifinancialgroup.com
Ten years providing financing nationwide

--------------------------------------------------------------

Correction: $2.25 credit reports/$100 site inspections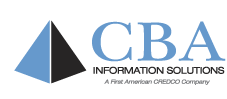 While the CBA Credit Bureau has many features, it is not the one utilized by the National Association of Equipment Leasing Brokers. The company CBA was sold and new name is:
First American CREDCO
12395 First American Way
Poway, CA 92064
They do not sell credit report inquiries that create "Trigger Data:"
"Pricing to NAELB members is:
1 Bureau - Single Subject (Experian, TU & Equifax) $ 2.25
Dual and tri-merge reports available at tiered discounted pricing"
Note they also provide site inspections, $100 the first year:
"No annual membership fee from CBA
$100 physical site inspection fee at year 1 only
Access via Internet
Access to all three credit bureaus…
Experian
Trans Union
Equifax
1, 2 or 3 bureau merged pyramid files in one easy to read format
Flat pricing; meaning no cross access fees
No minimum billing requirement"
Jim Blumberg of MIJ ASSOCIATES LLC (MIJLeasing@Charter.net) is NAELB's benefit's committee chair, and instrumental in putting the program in place. He sent this for Leasing News' Readers:
"The information in the 'Trigger Leads' section this morning's letter regarding the CBA program offered through the NAELB had referred to an incorrect web site. This should clear up the issues.
"The NAELB originally had an agreement with CBA Information Solutions located in Cherry Hill NJ. Last year, this service company was purchased by First American Credco, from California. After the acquisition, we re-worked our agreement with them and continue to have a great discount program, in place. All of our active members have the ability to sign up for the services at a discounted price.

"The trigger lead situation was not an area of concern when we first started this program. That said, we were delighted to find out that our provider does NOT sell trigger lead data or any other inquiry specific information. They provide a myriad of reports for mortgage lenders, equity lenders, and offer a host of customized solutions to a variety of other related industries. As a provider, their inquiries are tagged under their corporate name for all the industries they service. So, everyone appears the same. The report pricing is discounted to our active NAELB members. The program details are provided to our membership through the NAELB home page at www.NAELB.org . Active members can access the benefits section and sign up for this program and other discounted benefits offered by the association. Non members can actually apply for membership through this site, as well.
"The general information web site for CBA Information Solutions is www.cbainfo.com It will provide some basic information about the service provider. Since the acquisition by First American Credco, the site is under going changes and should be receiving additional updates during the months ahead.
"I hope this helps clarify the program offered by CBA Information Solutions and the NAELB. If anyone wishes to become a member of the Association, so they can participate in our benefit programs, they can contact the membership team at the NAELB office at 1-800-996-2352.
"If you have any questions on the above, you may contact me at 864-228-9400.
Thanks and enjoy your day…
"Jim Blumberg"
--------------------------------------------------------------

Classified Ads---Syndicator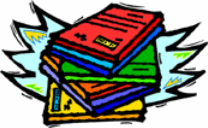 Chicago, IL
Syndicator with 20+ years experience in selling or buying one-off leases and portfolios. Price, structure, negotiate and document transactions.
Full time position or contract work.
Email: tpschmuker@yahoo.com
Resume

Overland Park, KS
Top Syndicator from single deal to portfolios. 20+ yrs exp. Available for contract work or full time position. Nationwide contacts.
E-mail: FFLLeasing@aol.com
Westchester County, NY
7+ years in pricing, credit, and syndications. Strong credit skills and marketing experience at VP level. All collateral. MBA in Finance.
Email: Joe.Sears@gmail.com
For a full listing of all "job wanted" ads, please go to:
http://www.leasingnews.org/Classified/Jwanted/Jwanted.htm
To place a free "job wanted" Leasing News ad:
http://www.leasingnews.org/Classified/Jwanted/Jwanted-post.htm
ELFA Career Center: Job Seekers (free):
http://careers.elfaonline.org/search.cfm
--------------------------------------------------------------

Pioneer--IFC Credit-DZ Bank
by Christopher Menkin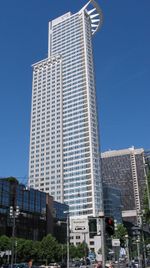 DZ Bank Tower in Frankfurt, Germany
Headquartered here, DZ maintains branches, subsidiaries and representative offices in key financial centers and most key economic regions, worldwide.
No official news from IFC Credit, Morton Grove, Illinois or Pioneer Capital Corporation, Addison, Texas. The last was from responses received on January 14th that funding was being held up and hoped to resume on January 26th, according to a Pioneer Capital memo printed in Leasing News, but in reality started on January 30th, as a portfolio was sold by IFC Credit, some funding was completed, with the rest after the 2nd portfolio was sold, which a IFC Credit "insider" told me was LEAF (who reportedly paid a pretty penny for their warehouse line at Wells Fargo-Foothill.) There reportedly is a third IFC Credit portfolio to be sold. How they are meeting cash flow may be a feat of magic or in business terms, "living on the float."
Readers say their leases to be funded in December were funded the beginning of February at Pioneer. It does not appear Pioneer has been approving many leases since January, as well as IFC Credit, according to insiders. Several readers have told Leasing News they have received signed lease contracts with the advance rental and other fees returned in full, advising them to go elsewhere. Reportedly vendors who were to be paid are accepting "terms."
It would seem to me that brokers and vendors who were doing business with the companies of IFC Credit would be shying away from submitting new business, especially with the slowness of payment or payments not received. There are brokers and vendors being paid, but slowly, and perhaps the prevailing attitude is "at least it is going to get funded," "at least I am going to get paid," "if I go somewhere else, it could be worse."
The difficulty is the securitization marketplace that made up 70% of the financing, compared to banks, who also would syndicate portfolios. One of the serious players, run by Dan Marino out of New York as agent, is DZ Bank AG Deutsche Zentral-Genossenschaftsbank.
DZ BANK AG Deutsche Zentral-Genossenschaftsbank (German Central Co-operative Bank) is the central bank for around 1,300 cooperative banks in Germany, which play a central role in retail banking. An internet search will find securitization and warehouse program announcements directed by Marino with Butler Capital, Direct Credit, Enterprise, Equilease, IFC Credit, Marlin Business Services, to name just a few. At one time, the German based bank could sell these off, and now with planned merger in April with WGZ Bank AG, it doesn't seem practical, particularly when DZ Bank announced plans to raise about 500 million euros in fresh capital.
Bloomberg on March 4 reported, "The lender reported a 2008 net loss of 1.1 billion euros after a year-earlier profit because of debt-related write downs.
"DZ Bank also pledged to modify its business model by scaling back its capital markets and structured finance business, including closing its Milan office and shrinking in New York, and well as reducing its asset-backed securities holdings."
Yesterday, Eurozone interest rates were cut to an all-time low in response to the worst recession in continental Europe since World War II, European newspapers reported. The European Central Bank cut its main interest rate from 2 percent to 1.5 percent. European newspapers have observed "2009 is off to a weak start, with a 20.2 percent year-to-year drop in industrial production reported in Spain and German engineering companies reporting foreign orders for January were down 50 percent from January 2008."
--------------------------------------------------------------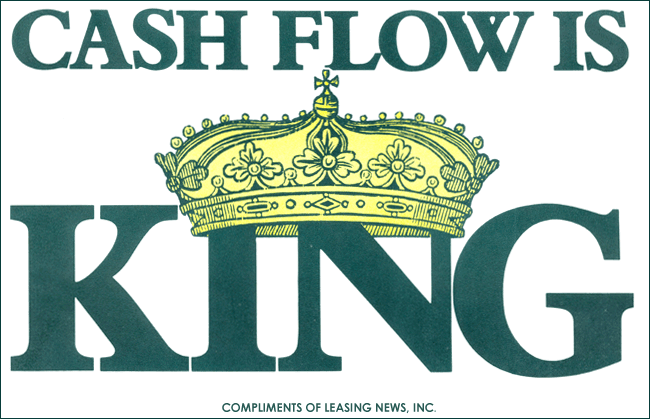 --------------------------------------------------------------

Marlin Business Services Closes Two Office/28 let go
by Christopher Menkin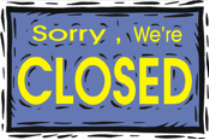 Many emails on Wednesday and Thursday that Marlin Business Services, Mount Laurel, NJ (NASDAQ:MRLN) closed two offices, let 28 people go, such as first insider: "28 laid off today...2 branch offices closed...funding capped at 10MM this month," another writing "Word on the street is that they just didn't have the cash anymore to pay all the employees and they had to cut costs prior to their earnings announcement."
A well-known "insider" to Leasing News stated: "Not not funding at all, but being VERY selective with funding. App volume is down considerably as credit tightens. It's probably the same everywhere. We have to be careful to cover our own hides."
Another: "Things have really changed. Broker dept is totally gone, the last of the reps were transferred to other sales positions."
Final, highly reliable insider: "Yes. 2 offices closing. 28 is about right. Maybe a couple less while things are finished up in the branches that are closing. Chicago and Utah sales office shutting down, bank in Utah staying open.
Without communication from Marlin Business Services, it is difficult to substantiate about the cut in fundings, the sales revenue down due to no more broker referrals. This may not be known until May or even June about the first quarter of 2009.
Other readers question Leasing News reporting about the Marlin Business Service memo printed Friday. No comments were made. It was left up to readers to interpret. It appears many jumped to the wrong conclusion. The way I read the official memo is: it does not say Marlin is getting out of the vendor leasing business, because if they were, they would be out of business.

It says to me Marlin is "clamping down" on specific vendors, looking for "specific types of business," changing their pricing, using a difference "scale," perhaps also increasing their "equipment not financed" list; using more "due diligence." They want more control of what they are accepting, and in their statement about getting out of the broker business, didn't like the quality they were seeing as well as the approved to signed and funded ratio.*

Marlin in previous announcement of cut backs as well as telephone conferences for the last year said they were concerned about the economy and making adjustments. CEO Dan Dyer has not changed his position. While Leasing News has criticized changes in the past in management, almost two years ago, Marlin was ahead of GE Capital and CIT, among others, in recognizing and wanting to make changes. In retrospect, the attempt at changing directors into other avenues, although only the industrial bank in Utah "survives," may also have shown foresight to the pending marketing conditions here today.
There are 27 leasing companies out of business since the start of last year. No one is immune. Those that survive have all cut back on employees, programs, many exiting the broker business, and all have tightened up their criteria. Even the hard lenders like Dakota Financial have done so (Leasing News reported their memo to brokers with Dakota's permission.**) How can we expect GE, CIT, even Key,
letting good people go (look at the recent hires printed here and how many came from Key) and then criticize Marlin that the sky is falling. (I am going to write more about the real state of the industry for Monday's edition.)

Marlin Business Servicer stock is a good investment, as noted by Leasing News in several stories, including two editorial. It should be noted the officers think so too, as they have been purchasing stock themselves as noted in SEC filings the last year, and recently as the end of February.***
This Marlin memo was sent as an extra last Friday and added to the Leasing News Friday edition on our web site. If Marlin had communicated more on its meaning to Leasing News, it may have been better received by readers.
In running it today, due to the many inquiries and readers seeming to jump to wrong conclusions, I specifically point out the "Mission Statement" at the end:
"To:
From: Marlin Leasing Corporation
Date: February 25, 2009
Re: Policy Change
"Dear Vendor:
Due to the continued disruption of the financial markets, Marlin will be implementing changes which affect our application acceptance policies effective March 1, 2009.
Marlin will only process applications from existing Marlin customers (lessees) using modified rate sheets for dealers meeting acceptable portfolio performance as determined by Marlin.
We believe that this change is temporary but we will be relying on the stabilization of the credit markets before reverting back to our standard policies. Any future change to our policy will be communicated to you when appropriate.
"Thank you in advance for your cooperation. Please contact me directly at 888-479-9111 with any questions.
"Sincerely,
Sales Rep
Marlin Leasing Corporation
"MARLIN'S MISSION
Marlin Business Services Corp. is a company of dedicated employees committed to the delivery of quality credit products to small businesses with exceptional customer service and convenience...one customer at a time."
Marlin will be announcing their fourth quarter and year end 2008 at 9am, Tuesday, March 10.
*
Dakota Financial New Credit Guidelines
http://www.leasingnews.org/archives/February%202009/02-13-09.htm#dakota
**
Ed Siciliano, Senior Vice President Chief Sales Officer, statement broker business:
http://leasingnews.org/PDF/Marlin_letter.pdf
***
Section 16 SEC Filing (officers buying or selling stock)
http://www.snl.com/irweblinkx/insiders.aspx?iid=4089372
--------------------------------------------------------------

Compensation: Summer of 2006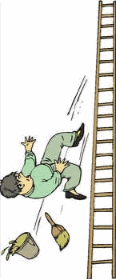 In the summer of 2006 Leasing News published several compensation charts, showing what direct sales were receiving in compensation, vendors being paid from 2% to 8% referral with some as high as 12% (some had a finance manager like the auto dealership have placing business.) This was what brokers could earn in the good old days:
--------------------------------------------------------------

Leasing Industry Help Wanted
sales

Sales
Position available for experienced salesperson to solicit direct business for equipment & vehicle leasing company located in Maryland. Madison Capital provides lease financing nationwide, in Canada and Puerto Rico
Call either Nancy Pistorio (800.733.5529 ext 7325) or Allan Levine (800.733.5529 ext 7337)
About the Company: We are a direct funding source for most types of equipment and all makes of vehicles. We have brokerage capability and experience for equipment transactions up to $10,000,000.



Looking to Hire the Best!
If you are located in the Mid-Atlantic region with a book of customers and limited funding, we should talk. Email resume to: resume@libertyfg.com
Call Tom at 800-422-1844
About the Company: Liberty is a regional self-funded finance company specializing in hard assets at good rates.


Sales
San Clemente, California
The iFinancial Group is looking for highly motivated individuals with experience originating equipment lease transactions . We offer a relaxed work environment, provide leads and offer above industry standard commission. Call Todd Clark 888-852-5155 x223
email: tclark@ifinancialgroup.com
Ten years providing financing nationwide



VENDOR SALES SPECIALISTS
LEASING SALES PROFESSIONALS
Like selling vendor programs and large transactions?
Enjoy international financing programs?
Prefer the advantages of a commission only environment with the security of health and welfare benefits?
CLICK HERE to find out how to have fun again.

Vice President
Credit Manager/Funding Operations
Hands-on, professional and personable senior management team member to work with small ticket leases from the third party broker marketplace. Click here for more information.
About the company: Founded in 1982, we originate all of our leases through an independent network of lease brokers


Please see our Job Wanted section for possible new employees.
-------------------------------------------------------------

Mortgage Applications fall 12.6%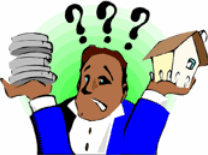 The Mortgage Bankers Association reported their The weekly mortgage application survey by the Mortgage Bankers Association fell 12.6% last week, February 27 ending. It is also more telling on a seasonally adjusted basis to 649.7 from 743.5 one week earlier, which was only a four day week due to Monday being President's Day.
The average contract interest rate for 30-year fixed-rate mortgages rose to 5.14% from 5.07%, with points decreasing to 1.05 from 1.25, including the origination fee, for 80% loan-to-value ratio loans.
The average contract interest rate for 15-year fixed-rate mortgages inched up to 4.73% from 4.71%, with points increasing to 1.13 from 1.12, including the origination fee, for 80% LTV loans.
-------------------------------------------------------------

In Theaters: Watchmen/Fados
DVD's: In the Electric Mist/Straw Dogs/ Dear Zachary
Fernando's View
By Fernando F. Croce
In Theaters: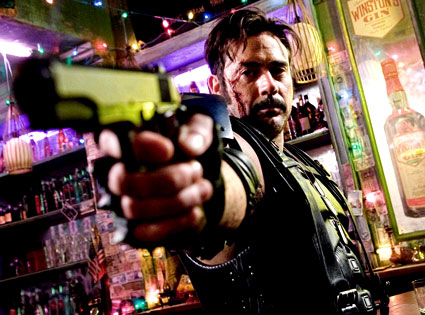 Watchmen (Warner Bros. Pictures): One of the decade's most highly anticipated projects, the movie version of Alan Moore's massive, highly acclaimed graphic novel series brings plenty of action and visual extravagance to the screen. Following a group of superheroes in an alternate America in 1985, the dense plot portrays a world in which superhuman powers play a large role in everyday life, as well as in shadowy conspiracies. When one of his former colleagues is killed, the masked avenger Rorschach (Jackie Earle Haley) begins an investigation that involves superheroes such as Dr. Manhattan (Billy Crudup), Silk Spectre II (Malin Akerman) and Nite Owl II (Patrick Wilson). It's up to the fans to decide if director Zack Snyder ("300") has faithfully captured the spirit of the series, though audiences just looking for a thrilling yarn will surely be satisfied.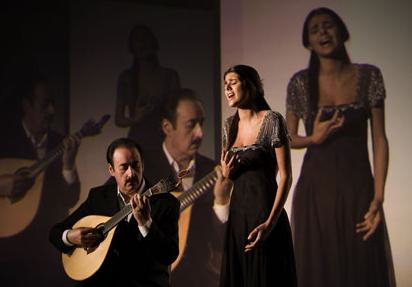 Fados (New Yorker Films): Over the years, Spanish director Carlos Saura has become a specialist in movies that capture the passion and fervent drive of musicians without ever becoming static. Having already documented operas, tangos, and flamencos, Saura here focuses on the many varieties of fados, Portugal's tradition of unique song and dance. There are superb performances by celebrated artists like Chico Buarque, Lila Downs and Caetano Veloso, all of them staged with Saura's customary mastery of color and camera movement. In addition, there's invaluable information about the fado's place within Portuguese culture, from its colonial origins to its use in the upheavals of recent decades. Ravishing to look at and listen to, "Fados" is both a history lesson and a feast for the senses.
New on DVD: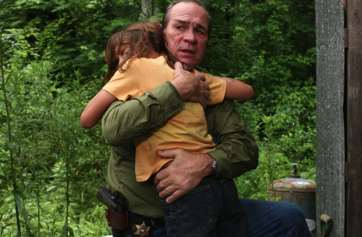 In the Electric Mist (Image): This sturdy drama from a celebrated director and with an A-list cast somehow never got a theatrical release. Then again, DVD may be a better place to appreciate its leisurely pace and rich, flavorful atmosphere. In any case, Bertrand Tavernier's Deep South-set film is one to seek out. Tommy Lee Jones stars as Dave Robicheaux, a grizzled detective whose inquiry into the death of a prostitute unearths a web of corruption and secrets in his Louisiana town. The French-born Tavernier displays an endless fascination for the alternately seductive and dangerous Southern locations, enhancing the mood with a roster of first-rate performances from John Goodman, Kelly Macdonald, Mary Steenburgen and Ned Beatty. Keep an eye out for appearances by director John Sayles and former The Band guitarist Levon Helm.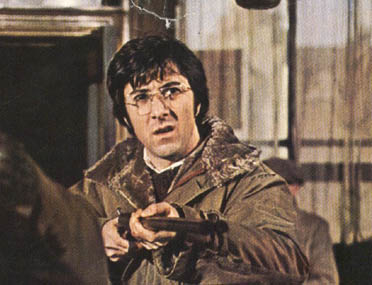 Straw Dogs (Criterion): As potent now as when it was first released in 1971, this controversial film from Sam Peckinpah ("The Wild Bunch") remains a chilling look into the bestial side of human nature. The story follows the harrowing struggles of a young couple, American mathematician David Sumner (Dustin Hoffman) and his British wife Amy (Susan George), as they rent a house in a small village in rural England. Many locals are brutal bullies, and as their provocations become progressively more violent and insidious, David finds his own potential for brutality tested. Acclaimed and condemned with equal zeal, Peckinpah's film is as troubling as it is complex. The Criterion DVD includes documentaries and intriguing behind-the-scenes footage.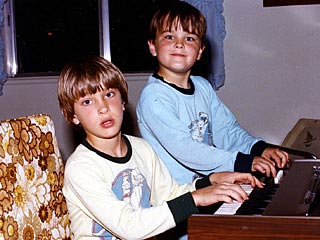 Dear Zachary (Oscilloscope Pictures): Documentaries don't come more intense or affecting than Kurt Kuenne's emotional, personal essay about outrage, loss, and hope. When the filmmaker's longtime friend, Andrew Bagby, was killed in 2001, the main suspect—his pregnant ex-fiancée Shirley Turner—fled to Canada, where she gave birth to Bagby's baby Zachary. Putting together a wide-ranging collection of interviews, documents and home movies, Kuenne has woven a heart-breaking tribute to friendship, sudden tragedies, and emotions that often go disturbingly out of control. Done on a miniscule budget but with vast reserves of palpable passion, this is a remarkable documentary that's often hard to watch but harder yet to forget.
-------------------------------------------------------------

No need for the FDIC 20% emergency assessment?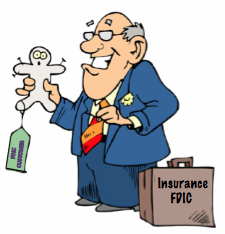 Senator Christopher Dodd (D-Conn.) introduced legislation yesterday to allow the Federal Deposit Insurance Corp. to temporarily borrow as much as $500 billion from the Treasury Department. It increases the borrowing authority from $30 billion to $100 billion. Dodd's bill creates another source of bailout funds in addition to the $700 billion already appropriated by Congress. It also reduces the 20% emergency assessment to be imposed on banks by the FDIC.
Leasing News has been writing about the proposed 20% emergency
FDIC assessments to build up insurance funds for bank failures. As reported in "Bank Beat," the FDIC Fourth Quarter reports declares their bank problem list grew during the quarter from 171 to 252 institutions; seventeen banks have failed this year compared to 25 for the entire 2007.
The FDIC last week approved a one-time "emergency" fee and other assessment increases on the industry to rebuild a fund to repay customers for deposits of as much as $250,000 when a bank fails. The fees, opposed by the industry, may generate $27 billion this year after the fund fell to $18.9 billion in the fourth quarter from $34.6 billion in the previous period, the FDIC said.
Depending on the risk category, banks in the previous raise of insurance pay from 12 cents per $100 of deposits to 14 cents per $100. At question is the 20% emergency requirement. Many banks said the 32% will move them from a profit to a loss, and that is not helping customer confidence.
Community Banks were the first to complain, saying it was unfair.
It appears more of a move of fear by the FDIC, the same that got BofA CEO and Chairman Ken Lewis in trouble, including rumors of "early retirement."
Leasing News printed the statement of the president of the Independent Community of Bankers of America.*
Chairman Sheila Bair said the deposit insurance fund could dry up amid a surge in bank failures. "Without these assessments, the deposit insurance fund could become insolvent this year," she responded in an open letter to the banking industry.
"A large number" of bank failures may occur through 2010 because of "rapidly deteriorating economic conditions," Bair said in the open letter. "Without substantial amounts of additional assessment revenue in the near future, current projections indicate that the fund balance will approach zero or even become negative.
"The FDIC realizes that these assessments are a significant expense, particularly during a financial crisis and recession when bank earnings are under pressure," Bair wrote. "We did not want to impose large assessments when the industry and economy are struggling. We searched for alternatives but found none better."
Many of the community banks rejected TARP as it was not necessary. Many of the larger banks, such as US Bancorp tried to reject and Bank of America now believes it request for additional TARP is what brought the lack of confidence and stock price down so dramatically.
The FDIC "will revise the interim rule, if appropriate, in light of the comments received," the agency said in a Federal Register notice.
It appears objections from the American Bankers Association may reduce the one time assessment to 10%. Of course, if an emergency assessment is required, the FDIC has the power to re-instate the 10% that they are giving up today.
Please note the latest list of CRA examination of banks rated (O is Outstanding; S is Satisfactory; NI is Needs to Improve; and SN is Substantial Non-compliance) there were no "SN" and only five "NI."
http://www.fdic.gov/regulations/community/monthly/2009/cramar09.html
*Community Banks Position
http://www.leasingnews.org/archives/March%202009/03-04-09.htm#tarp
FDIC Failed Banks (list in process of being up-dated today, Friday)
http://www.fdic.gov/bank/individual/failed/banklist.html
(This ad is a "trade" for the writing of this column. Opinions
contained in the column are those of Mr. Terry Winders, CLP)
-------------------------------------------------------------

The editor tries to place banner ads where they will be read by those the advertisers want to reach, rather than placed at random. News stories that will have an "ill" effect are avoided as best as possible. Often it is the position of the banner ad that attracts more response. This is at the sole discretion of the editor.
Banner ads may appear under the headlines at the choice of the editor, but are not guaranteed. An attempt is made to share them on a rotation basis with other banner advertisers.
$395.00

6.5W X 1.5 H

468W X 180H

21 days

$595.00

6.5W X 2.5 H

468W X 180H

21 days

$750.00

6.5W X 4" H

468W X 288H

21 days

$850.00

6.5"W x 5"H

468W X 360H

21 days
21 Days on the Leasing News web site ( holidays not included.) They are placed by the editor in an appropriate position near a story that may be more compatible to their ad. They also appear under the headlines in each News Edition on a rotation basis instead of being placed by a news story.
$595---six months $500 month/12 months $475
$750---six months $640 month/12 months $600
$395 Special--Three months in a row $1,200
($595/$750 monthly billing, $395 special: $1,200 in advance)
$850---six months $725/12 months $675
Combination discounts are further available with Help Ad "contracts."
Two month, three month, six month and one year contracts are available with a discount. Ads for employment should be placed in the classified ad section, where it is possible to also appear at the top of the headlines.
Email: Kitmenkin@leasingnews.org
-------------------------------------------------------------

How to Unleash a War of Attrition on Your Customers
I recently asked a friend, Dave, how his company was faring in the current economic downturn. When Dave replied that sales were below projections, I asked him about his CEO's strategy for coping with declining sales revenue.

Dave told me that he didn't think the CEO had a strategy. Instead, Dave told me that the CEO simply instructed the sales team to "Go out and round up as many new customers as quickly as you can find them."

Dave is right. Rushing out helter-skelter looking for new customers isn't a strategy; it is an ill-advised sales tactic born out of desperation and doomed to failure in an unforgiving economy. Worse, this predictable, knee-jerk reaction to slowing sales isn't likely to help solve a sales revenue shortfall and may, in fact, contribute directly to vanishing profits and a company's demise.

Every sales organization should plan on losing about 20% of its customers each year through natural attrition. Seeking out new customers, then, should be a natural part of an overall sales revenue strategy.

Dave's CEO, however, in mandating that his sales team seek out and convert as many prospects into new customers as quickly as possible, has unwittingly unleashed a war of attrition on the company's current customers. Here's why:
Sends the Wrong Message to Customers
Does Dave's CEO actually think his company's customers won't notice the lack of attention paid to them as the sales team runs all over the globe, digging up greener pastures in search of new customers? Is he worried that his customers, the ones that helped pay his bills and generated profits for his company in the days-of-plenty, may resent being ignored or abandoned in difficult times?

Sends the Wrong Message to Employees
Implied in the CEO's mandate to the sales team is "let's abandon any notion we may have had about cross-selling and up-selling in our customers' organizations." The sales and sales support teams, along with everyone else in the company, now knows that current customers are expendable, and that taking care of customers is no longer a corporate priority. The CEO's message to company employees, though perhaps unintended, is that it's OK to neglect, even to ignore current customers as increasingly scarce resources are allocated to the rush to acquire new customers.
Sends an "Open Season" Message to Competitors
Another unintended consequence of this flawed sales tactic is the "Open Season" sign the company's sales team hangs above customers' doors as they start hunting for new customers. Any capable and able competitor will surely seize an opportunity to add value to customers who are neglected or ignored by their primary vendor.
Worthy competitors will also likely sense desperation and a lack of creative thinking when they see a competitor invoke a knee-jerk sales tactic that must, because of the limits of available time, ignore key customers.
It's Not Good For Profitability
What makes Dave's CEO think that any new customers the sales team brings to the company's table aren't immune from the challenges this economic melt-down is presenting to virtually every company in all industries worldwide?

Is the CEO worried that his sales team will unearth prospects who may be higher credit risks than the company's current customers? Should he be worried about attracting customers that are unprofitable because they only buy when prices have been reduced, usually demand high-cost, extraordinary services that drain the seller's resources and cannot be counted on for long-term loyalty?
It's Time to Get Customer Intimate
The volatile economic milieu in which all companies today find themselves immersed screams for a strategic approach to protecting customers and expanding key customer relationships. If ever there was a time to get customer intimate, it's now.
Corporate board rooms need to reverberate with the sounds of brainstorming sessions devoted to discovering how best to add value to key customers in perhaps their greatest time of need in many decades.
The alternative, unfortunately, is to succumb to the temptation of a knee-jerk reaction that alienates customers and employees, and invites competitors to hunt your best customers with your unintended cooperation.
Steve Chriest is a well-respected management and sales consultant who specializes in helping organizations develop comprehensive sales processes that integrate strategy, training, sales tools and management systems to improve sales revenue.
He is the founder of Selling-UpTM, a San Francisco-based sales improvement consulting firm. He developed Selling-Up's exclusive Sales Management Operating SystemTM and is publisher of Sales Journal, a monthly sales strategy publication for an E-suite audience. Steve created Selling-Up's most popular educational offerings, including Strategic Sales RoadmapTM and online courses such as Profits and Cash – The Game of Business and Assertive Negotiating.
Steve is a regular contributor to executive-level publications such as Customer Think and Customer Management IQ. Steve recently completed his first book, Selling The E-Suite, The Proven System For Reaching and Selling Senior Executives, in which he translates his experiences as a CEO into a practical guide for selling to senior executives. Steve can be reached at: schriest@selling-up.com.
-------------------------------------------------------------

Ask Andrew---Funding commercial motor vehicles/trucks
Andrew Aldridge is President and principle of GPD Capital Services, Inc. His experience spans 27 years in originating funding for commercial customers needing equipment and titled vehicles financed and or leased. GPD is uniquely established with strong well known funders who primarily do not work with outside originators.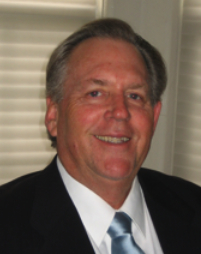 by Andrew Aldridge
Any information provided in this article of an accountancy nature verify with a licensed CPA.
FUNDING AS IT PERTAINS TO COMMERCIAL MOTOR VEHICLE/TRUCK INDUSTRIES
In this 2nd article I will write about various transactions I've consummated with one of my clients. This example is for a large fleet of trucks and vans.
Back Drop:
Customer uses hundreds of trucks and cargo vans in their business. Credit after review was "Good" with audited statements, long time in business, 2 times net worth on the amount I was asked to fund. Funding amount was 2.7M. Issues were reduction in sales from one year to the next. We had positive banking relationships as well as plenty of comparable credit. Also, customer wanted a 60 month term with 20% and 25% End Values on two different types of fleet units-"A" Truck with equipment, and "B" Cargo van with equipment fitted inside. Negotiations were on-going for a month or so. Once approved and terms accepted all went very smooth using individual schedules outlining each unit.
Funding Particulars
| | | |
| --- | --- | --- |
| Estimated numbers | | |
| | Equipment A | Equipment B |
| TRAC Style | Master Contract with schedules | SAME |
| Selling cost: | $65,000.00 | $23,689.00 |
| Cap Cost: | $65,325.00 | $23,807.00 |
| | (1/2% Acquisition fee added to cap) | SAME |
| Term: | 60 months | SAME |
| Payment: | Variable/LIBOR | SAME |
| | at the time Libor was 4.82% | 4.89% |
| | Plus a mark up in interest of 2.5% | SAME |
| | Admin fee of: .075 | SAME |
| | Prime at time of funding was 8.25% | SAME |
| Actual payment: | $ 1,126.17 + use tax | $423.91 + use tax |
| End Value: | $16,331.25 = 25% of cap cost | $4,762.00 = 20% |
| GPD Capital earned: | 1.93% on cap cost. | 2.176% on cap cost. |
GPD fee income percentage of cap is considered low by most equipment funding originators. Due to the larger cap cost makes the total fee large enough to make your time well worth the effort.
This particular customer in the "A" example currently has a reduced payment of $968.06 per month since Libor is now at .46%. Current savings is $158.11 per month per unit.
With the current economic times, more customers are keeping their equipment longer due to revenue declines. Distribution channels have become clogged. This brings up a very important opportunity. Providing a refinance program either on a Trac Lease or Finance contract can save a customer thousands of dollars over the remaining term and or reduce cash outlay each month by expanding the time-frame of repayment by increasing the overall term.
The next article I will present another aspect of originating Commercial Motor Vehicle/Truck funding and some of the nuisances in doing so.
Andrew Aldridge
President, GPD
Direct Voice: 888-331-9781 EXT 12 | Direct Fax: 408-364-0743 | Cell: 408-888-7027
E-mail: Andrew@GPDCSI.com
NATIONWIDE FUNDING: VEHICLES.BUS.COACH.SHUTTLE.TRUCKS.TOW.LIMO.SUV.SUV STRETCH.TOWN CAR.PASS WAGON-DEALER FACTORY ORDERING SVCS & ALL EQUIPMENT TYPES.
-------------------------------------------------------------

Beige Book predicts economic conditions to remain poor

Reports from the twelve Federal Reserve Districts suggest that national economic conditions deteriorated further during the reporting period of January through late February. Ten of the twelve reports indicated weaker conditions or declines in economic activity; the exceptions were Philadelphia and Chicago, which reported that their regional economies "remained weak."
"Looking ahead, contacts from various Districts rate the prospects for near-term improvement in economic conditions as poor, with a significant pickup not expected before late 2009 or early 2010."
Boston
www.federalreserve.gov/fomc/beigebook/2009/20090304/1.htm
New York
www.federalreserve.gov/fomc/beigebook/2009/20090304/2.htm
Philadelphia
www.federalreserve.gov/fomc/beigebook/2009/20090304/3.htm
Cleveland
www.federalreserve.gov/fomc/beigebook/2009/20090304/4.htm
Richmond
www.federalreserve.gov/fomc/beigebook/2009/20090304/5.htm
Atlanta
www.federalreserve.gov/fomc/beigebook/2009/20090304/6.htm
Chicago
www.federalreserve.gov/fomc/beigebook/2009/20090304/7.htm
St. Louis
www.federalreserve.gov/fomc/beigebook/2009/20090304/8.htm
Minneapolis
www.federalreserve.gov/fomc/beigebook/2009/20090304/9.htm
Kansas City
www.federalreserve.gov/fomc/beigebook/2009/20090304/10.htm
Dallas
www.federalreserve.gov/fomc/beigebook/2009/20090304/11.htm
San Francisco
www.federalreserve.gov/fomc/beigebook/2009/20090304/12.htm
Full Report:
http://www.federalreserve.gov/fomc/beigebook/2009/20090304/FullReport.htm
#### Press Release ##############################

U.S. Fixed Income Investors Offer Bleak View of 2009

Fitch Ratings-New York-A deep or very deep recession will grip the U.S., Europe and emerging markets over the coming year, and the economic downturn is likely to last one to two years across all regions, according to the most recent Fitch Ratings/Fixed Income Forum Survey of Senior Fixed Income Investors.
The bi-annual survey, designed to provide insight into the opinions of professional money managers on the state of the U.S. credit markets, includes a wide range of questions targeting views on the economy, fundamental credit conditions across various asset classes and sectors, corporate strategies, and other market developments.
In the recent survey, conducted in January, expectations for stability in the housing market were pushed further back, with 57% of respondents not expecting normal conditions to return before 2010. However, most investors believe that credit market stability will return sometime in 2009 (77% expressed this view).
In a notable reversal from the mid 2008 survey, and clearly a consequence of the speed and severity of the economic downturn, the recent survey showed greater receptivity on the part of investors to the expanded role of government in the credit markets.
Banks' reluctance to lend received the most votes as a high risk to the credit markets over the next 12 months and nearly 40% of respondents believe that banks' willingness to lend will not stabilize this year.
Interestingly, the corporate area with the most votes (40%) for some improvement over the coming year was financials. However, 44% of investors also expected improvement among financials in the June 2008 survey. In fact, responses on the outlook for financials continued to be among the most diverse. Views were also notably divided on whether the bigger risk going forward is inflation or deflation.
The full survey is titled 'Grim 2009 Economic and Credit Market Outlook From Senior U.S. Fixed Income Investors' and is available on Fitch's web site at www.fitchratings.com under Credit Market Research.
If you have trouble viewing the report, please follow this link
http://www.fitchratings.com/corporate/reports/report_frame.cfm?rpt_id=428086
#### Press Release ##############################

Equipment Leasing and Finance Association (ELFA) Statement on the
Launch of the Term Asset-Backed Securities Loan Facility (TALF)

Washington, DC, --The Equipment Leasing and Finance Association (ELFA) commends the Obama Administration and the Federal Reserve Board for their launch of the Term Asset Backed Securities Loan Facility (TALF) which the Fed and Department of Treasury jointly announced earlier today. The TALF program is designed to catalyze the securitization markets and thus increase liquidity, credit availability and overall economic activity.
In their announcement, the Federal Reserve and the Treasury stated they anticipate that TALF, which is a component of the Consumer and Business Lending Initiative (CBLI), will be expanded to include other asset classes including asset backed securities (ABS) backed by small ticket equipment, heavy equipment and agricultural loans and leases. The agencies anticipate that such loans and leases could be eligible for the April 2009 funding of the TALF.
"With the public securitization market at a virtual standstill since mid-2008, including the equipment finance ABS market, the ability of lenders to meet consumer and commercial loan demand has been greatly constrained," said ELFA President, Kenneth E. Bentsen, Jr. "The TALF, and its potential expansion to include commercial loans such as equipment leases and loans, will greatly enhance lenders' ability to fund loan demand and get the economy moving again," Bentsen said.
The ELFA, the trade association that represents companies in the $650 billon equipment finance sector, has called on the Federal Reserve and the Treasury to expand TALF to include ABS backed by equipment leases and loans. By including equipment leases and loans as eligible collateral under the TALF program, the Federal Reserve and the Treasury would help provide much needed liquidity to the secondary market for equipment finance assets while unlocking the equipment finance ABS market.
About the ELFA
The Equipment Leasing and Finance Association (ELFA) is the trade association that represents companies in the $650 billion equipment finance sector, which includes financial services companies and manufacturers engaged in financing capital goods. ELFA members are the driving force behind the growth in the commercial equipment finance market and contribute to capital formation in the U.S. and abroad. Its over 700 members include independent and captive leasing and finance companies, banks, financial services corporations, broker/packagers and investment banks, as well as manufacturers and service providers.
For more information, please visit www.elfaonline.org
#### Press Release ##############################

Key National Finance Corporate University Wins Best Practice Award
SUPERIOR, Colo. – – Key National Finance announced its Learning University GenLink course has won a 2008 Best Practice S.T.A.R. Award in the mid-size organization category from the American Society of Training and Development, Rocky Mountain Chapter. Key National Finance is the umbrella organization for KeyCorp's (NYSE: KEY) national businesses, including Key Equipment Finance, one of the largest bank-held equipment finance companies in the United States.
"Key National Finance is a strong supporter of continuing education through our Learning University, and its GenLink course represents our employee training efforts at their best," said Paul A. Larkins, president and chief executive officer of Key National Finance.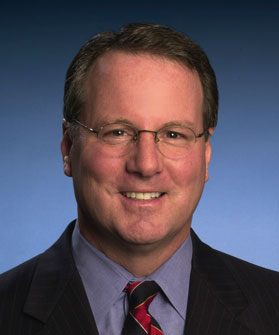 2006 Leasing News Person of the Year, noted for his consistent
contribution to education at his company and the industry.
"Participants in this course have commented on how much they learned about generational influences in the work environment, and I know this can only help employees grow on a personal level, as well as improve how we work together to deliver the best possible service to our clients."
Key Equipment Finance's GenLink course, launched in 2008, was designed to create awareness of generational and demographic changes in the workforce. The course educates employees on generational drivers and strengths, as well as ways to motivate, improve communication and recognize and appreciate the value of each generation.
The American Society of Training & Development, Rocky Mountain Chapter, www.astdrmc.org, uses the S.T.A.R. award – Superior Training Achievement Recognition – to annually recognize training/learning programs or projects that stand out as best practices within the local workplace learning community.
About Key National Finance
Key National Finance is the umbrella organization for KeyCorp's (NYSE: KEY) national businesses and includes lease advisory and distribution services, equipment finance, education resources and auto finance. Lease advisory and distribution services provides structured financing and equipment securitization products plus syndication and distribution capabilities. Equipment finance professionals meet the equipment leasing and financing needs of businesses of all sizes and provide global equipment manufacturers, distributors and resellers with financing options for their clients. Education resources provides federal education loans, payment plans and advice for students and their parents. The auto finance group finances dealer inventories of automobiles. Key National Finance's four businesses total nearly $23 billion in managed assets and nearly 1,200 employees.
For more info, visit http://www.knfonline.com.
Cleveland-based KeyCorp is one of the nation's largest bank-based financial services companies, with assets of approximately $101 billion. Key companies provide investment management, retail and commercial banking, consumer finance, and investment banking products and services to individuals and companies throughout the United States and, for certain businesses, internationally.
For more information, visit https://www.key.com.
#### Press Release ##############################
---------------------------------------------------------------------

News Briefs----
Immelt Scrambles as stock dips below $5.00
http://www.nypost.com/seven/03052009/business/capital_punished_158121.htm
More job cuts at Wells Fargo & Co.
http://www.upi.com/Business_News/2009/03/05/More_job_cuts_at_Wells_Fargo_Co/UPI-37981236303501/
12% American behind in Mortgage Payments
http://www.boston.com/business/articles/2009/03/05/mortgage_woes_break_records_again_in_4q/
50,000 Protest Budget Cuts in NYC
http://wcbstv.com/breakingnewsalerts/recession.budget.protest.2.951551.html
Most foreclosures pack into a few counties
http://www.usatoday.com/money/economy/housing/2009-03-05-foreclosure_N.htm
IDOL Judges toss a Wild Card show curve
http://blogs.pressdemocrat.com/default.asp?item=2344290
---------------------------------------------------------------


You May have Missed---
Last call: All Circuit City stores to close by Sunday
http://www.pressdemocrat.com/article/20090305/ARTICLES/903050223/1349?Title=
Last-call-All-Circuit-City-stores-to-close-by-Sunday
---------------------------------------------------------------

Sports Briefs----
Dallas Cowboys release Terrell Owens
http://www.dallasnews.com/sharedcontent/dws/spt/stories/030509dnspotoblog.40e65ca.html
"With the list of team issuing statements that they have no interest in wide receiver Terrell Owens, there is only one logical spot where he is likely to land and that is with the Oakland Raiders. Guys with bad reputations who can still play football in the waning days of their careers can always count on Al Davis to give them a shot. So get your popcorn ready Raider fans!"
http://www.theredzone.org/
---------------------------------------------------------------

California Nuts Briefs---
Sacramento cops give up raises to save 70 jobs
http://www.sacbee.com/1089/story/1671238.html
----------------------------------------------------------------


"Gimme that Wine"
Box vs. Bottle: Can a chef tell the difference?
http://blog.pressdemocrat.com/biteclub/2009/02/box-vs-bottle-can-a-chef-tell-
the-difference.html
Cult wines at mass-market prices
http://www.latimes.com/features/food/la-fo-sommelier4-2009mar04,0,481881.story
Napa's big challenge: succession planning
http://www.theglobeandmail.com/servlet/story/RTGAM.20090304.wldecanter04/BNStory/
lifeFoodWine/home?cid=al_gam_mostemail
Wine glasses really do make difference
http://www.news-leader.com/article/20090304/LIFE02/903040457
Wine Prices by vintage
http://www.winezap.com
http://www.wine-searcher.com/
US/International Wine Events
http://www.localwineevents.com/
Winery Atlas
http://www.carterhouse.com/atlas/\
Leasing News Wine & Spirits Page
http://two.leasingnews.org/Recommendations/wnensprts.htm
The London International Vintners Exchange (Liv-ex) is an electronic exchange for fine wine.
http://www.liv-ex.com/
----------------------------------------------------------------

Today's Top Event in History
1836-Four days after Texas declared itself an independent republic, the Alamo, a fortified mission at San Antonio, Texas, where fewer than 200 Texans were garrisoned was captured by the Mexican leader Gen. Antonio Lopez de Santa Anna, who had led 3000 troops across the Rio Grande. Every Texan except a mother, a child, and servant was killed. The siege, led by Mexican general Santa Anna, began Feb 23 and reached its climax Mar 6, when the last of the defenders was slain. Texans, under General Sam Houston, rallied with the war cry "Remember the Alamo" and, at the Battle of San Jacinto, Apr 21, defeated and captured Santa Anna, who signed a treaty recognizing Texas's independence.
http://memory.loc.gov/ammem/today/mar06.html
[headlines]
----------------------------------------------------------------

This Day in American History
1521 - Magellan discovered Guam (today a protectorate of the United States.)
https://www.cia.gov/library/publications/the-world-factbook/geos/gq.html
1779 - The US Congress declared that only the federal government, and not individual states, had the power to determine the legality of captures on the high seas. This was the basis for the 1st test case of the US Constitution in 1808.
1791-American painter of miniatures and a member of the famous Peale family of artists, Anna Claypoole Peal is born at Philadelphia, PA; died December 25,1878.
http://www.picturehistory.com/find/p/13976/mcms.html
1820 - The Missouri Compromise, enacted by Congress, was signed by President James Monroe. This compromise provided for the admission of Missouri into the Union as a slave state, but prohibited slavery in the rest of the northern Louisiana Purchase territory. The compromise was invalidated in the 1856 Scott vs. Sanford case.
1822 - USS Enterprise captures four pirate ships in Gulf of Mexico.
1834- Delmonico's, one of NY's finest restaurants, provides a meal of soup, steak, coffee & half a pie for 12 cents. The restaurant is considered the oldest in New York. Some of it's "firsts:"
The first diner called by the French name restaurant
The first diner where guests sat at their own tables
The first printed menu
The first tablecloths
The first debutante ball outside a private home
The first restaurant to offer a leisurely lunch and dinner
Oysters Rockefeller
Lobster Newberg, first called Lobster Wenberg
Baked Alaska
Eggs Benedict
Delmonico potatoes
Delmonico steak
Hamburger (known then as the Hamburg Steak) First use of the expression that something is "86'd", since the Delmonico Steak was item 86 on the menu and, when sold out, it was 86'd") .
http://www.nextmagazine.net/restaurants/delmonicos.shtml
http://www.cbbqa.com
1836-Four days after Texas declared itself an independent republic, the Alamo, a fortified mission at San Antonio, Texas, where fewer than 200 Texans were garrisoned was captured by the Mexican leader Gen. Antonio Lopez de Santa Anna, who had led 3000 troops across the Rio Grande. Every Texan except a mother, a child, and servant was killed. The siege, led by Mexican general Santa Anna, began Feb 23 and reached its climax Mar 6, when the last of the defenders was slain. Texans, under General Sam Houston, rallied with the war cry "Remember the Alamo" and, at the Battle of San Jacinto, Apr 21, defeated and captured Santa Anna, who signed a treaty recognizing Texas's independence.
http://memory.loc.gov/ammem/today/mar06.html
1857-Dred Scott decision (Blacks are not citizens of the U.S.). The US Supreme court handed down a decision in the case of Dred Scoot v. Sandrod, which became a major setback for anti-slavery forces and further aggravated the growing ill feeling between North and South. Dred Scott was a slave who owner had taken him from Missouri to Illinois, a free state in 1834. Scott later returned to Missouri and in 1846 sued for his liberty on the grounds that his stay in free territory ended his slavery. The Court ruled, however, that Scott could not sue because slaves were not citizens. Going beyond the specific case, the Court also said that Congress had no power to prohibit slavery in territories and therefore, the Missouri Compromise of 1820, already repealed by the Kansas-Nebraska Act, was unconstitutional.
1862- The Battle of Pea Ridge, Ark., was fought. A Confederate army of 16,000 under General Earl Van Dorn attacked a Union army of 10,500 under Brig. General Samuel Ryan Curtis, whose last reserves prevented a Union disaster on the second day. Among the heavy losses on both sides were two Confederate generals, Benjamin McCulloch and James McQueen McIntosh.
1864--There were an average of 7,333 desertions a month from the Union army. Many desertions were the result of bounty jumpers - men who would collect bounty to enlist, then desert and do it again elsewhere. The US government spent $300 million dollars on bounties while state and local governments spent about the same...
http://www.tnstate.edu/library/digital/document.htm
slavery in Tennessee.
1872 - A cold wave hit the East coast sending the mercury plunging to 8 degrees below zero at Boston. It was the most severe March cold wave in modern history.
1885 -- Birthday of humorist and sportswriter Ring Lardner, Sr., born Niles, Michigan. Lardner wrote about sports for a variety of newspaper, mostly in Chicago. In both his columns and his short stories, he reproduced ballplayers' vernacular speech patterns with great success, thereby laying the groundwork for generations of baseball fiction to come. Lardner abandoned baseball after the Black Sox scandal was exposed. He wrote songs, plays and magazine articles but never the novel that some of his friends though he should. Taciturn and solemn with a biting sense of humor, Lardner drank and smoked to excess, even after contracting tuberculosis in 1926. Posthumously given the J.G. Taylor Spink Award in 1963 for his baseball writing, Died at East Hampton, NY, September 25, 1933.
1892- The first women's collegiate basketball game was played at Smith College in Northampton, MA. Senda Bereson, then Smith 's director of physical education and "mother of women's basketball" supervised the game, in which Smith's sophomore team beat the freshman team, 5-4.
1892- Clark Daniel Shaughnessy, football player and coach born at St. Cloud, MN. After playing football at the University of Minnesota, Shaughnessy strung tog3ether a coaching career of several institutions: Tulane, Loyla of the South, Chicago, Stanford, Maryland and Pittsburgh. He coached the Los Angeles Rams and assisted George Halas with the Chicago Bears. Shaughnessy is known as the father of the modern T formation and played a key role in developing modern pro defensive football. Died at Santa Monica, CA, May 15, 1970.
1905-Father of Western Swing, Bob Willis, born in Kosse, TX. Originally a performer (fiddler) with the Light Crust Doughboys, Willis later former the popular Texas Playboys. Bob Willis and the Texas Playboys appeared on film and at the grand Ole Opry made western swing popular with such hits as "San Antonio Rose." Willis died May 13, 1975 at Fort Worth, TX.
1918- Bassist Red Callendar is born in Richmond, VA.
http://www.allmusic.com/cg/amg.dll
1923—Guitarist Wes Montgomery birthday
http://www.duke.edu/~mjs4/wes/
http://www.allmusic.com/cg/amg.dll
1924- Sarah Caldwell, conductor birthday. She founded and produced almost 50 operas at the Boston Opera, first woman to conduct at the Metropolitan and the New York Philharmonic, and first recipient of the Kennedy Center Award for Excellence.
http://arts.endow.gov/artforms/Opera/Caldwell.html
http://smithsonianassociates.org/programs/caldwell/caldwell.htm
1926- Economist, former Chairman of the Federal Reserve, Alan Greenspan, birthday, New York, New York
1936-singer Sylvia Vanderpool born New York City, New York
http://www.soulwalking.co.uk/Sylvia%20Robinson.html
1939- Harry James records "Two O'clock Jump."
1940- Duke Ellington records " Jack the Bear," KoKo."
1941 - Les Hite and his orchestra recorded "The World is Waiting for the Sunrise" on Bluebird Records. The instrumental became Hite's most popular work. A decade later, Les Paul and Mary Ford added a vocal to the tune, making it one of their biggest-selling hit songs.
1945—Top Hits
Accentuate the Positive - Johnny Mercer
I Dream of You - The Tommy Dorsey Orchestra (vocal: Freddy Stewart)
A Little on the Lonely Side - The Frankie Carle Orchestra (vocal: Paul Allen)
I'm Losing My Mind Over You - Al Dexter
1953—Top Hits
Till I Waltz Again with You - Teresa Brewer
Don't Let the Stars Get in Your Eyes - Perry Como
Keep It a Secret - Jo Stafford
Kaw-Liga - Hank Williams
1954 - Florida received its greatest modern-day snowfall of record, with 4.0 inches at the Milton Experimental Station. Pensacola FL equaled their 24-hour record with 2.1 inches of snow.
1957-The doo-wop quartet the Diamonds make their pop chart debut with "Little Darlin'," their biggest hit. It reaches #2 on the pop chart and #3 R&B.
1961—Top Hits
Pony Time - Chubby Checker
Surrender - Elvis Presley
Wheels - The String-A-Longs
Don't Worry - Marty Robbins
1962 - Frank Sinatra recorded his final session for Capitol Records in Hollywood. Sinatra had been recording for his own record label, Reprise, for two years. His final side on Capitol was "I Gotta Right to Sing the Blues", with Skip Martin's orchestra.
1964 - Tom O'Hara ran the mile in 3 minutes, 56.4 seconds, setting a world indoor record in Chicago, IL.
1964- Heavyweight champion Cassius Marcellus Clay announced that he had embraced the Nation of Islam and changed his name to Muhammad Ali. As Clay, he had won a gold medal in the 1960 Summer Olympic Games in Rome and captured the heavyweight crown with a stunning TKO of Sonny Liston at Miami Beach on February 25, 1964.
1965--The Temptations went to #1 on the US singles chart with the Smokey Robinson penned song "My Girl", making the group the first male act to have a chart topper for Motown Records.
1967--*OUELLET, DAVID G. Medal of Honor
Rank and organization: Seaman, U.S. Navy, River Squadron 5, My Tho Detachment 532. Place and date: Mekong River, Republic of Vietnam, 6 March 1967. Entered service at: Boston, Mass. Born: 13 June, 1944, Newton, Mass. Citation: For conspicuous gallantry and intrepidity at the risk of his life above and beyond the call of duty. As the forward machine gunner on River Patrol Boat (PBR) 124, which was on patrol during the early evening hours, Seaman Ouellet observed suspicious activity near the river bank, alerted his boat captain, and recommended movement of the boat to the area to investigate. While the PBR was making a high-speed run along the river bank, Seaman Ouellet spotted an incoming enemy grenade falling toward the boat. He immediately left the protected position of his gun mount and ran aft for the full length of the speeding boat, shouting to his fellow crewmembers to take cover. Observing the boat captain standing unprotected on the boat, Seaman Ouellet bounded on to the engine compartment cover, and pushed the boat captain down to safety. In the split second that followed the grenade's landing, and in the face of certain death, Seaman Ouellet fearlessly placed himself between the deadly missile and his shipmates, courageously absorbing most of the blast fragments with his body in order to protect his shipmates from injury and death. His extraordinary heroism and his selfless and courageous actions on behalf of his comrades at the expense of his life were in the finest traditions of the U.S. Naval Service.
1969—Top Hits
Everyday People - Sly & The Family Stone
Proud Mary - Credence Clearwater Revival
Baby, Baby Don't Cry - Smokey Robinson & The Miracles
To Make Love Sweeter for You - Jerry Lee Lewis
1969- Russell Louis Schweickart and Colonel James Alton McDivitt, were the first astronauts to transfer from one spacecraft to another while in orbit, making an intravhicular transfer from Gumdrop, the Apollo 9 command ship to the Spider, the lunar module, leaving the pilot, Colonel David Randolph Scott in the command ship.
1972- Shaquille Rashan O'Neal, basketball player, born Newark, NJ.
1972 - The 'Golden Bear', Jack Nicklaus, passed Arnold Palmer as golf's all-time, money winner. Nicklaus captured the Doral Eastern Open golf tournament to run his career earnings up to $1,477,200
1973-The group, War, out from under the shadow of former leader Eric Burdon, receive their second gold single of the week for "Cisco Kid," four days after "The World is a Ghetto" did likewise.
1975- Led Zeppelin's sixth album, "Physical Graffiti," was certified gold.
1976 - The Waylon & Willie (Jennings and Nelson) song, "Good Hearted Woman", started the last of three weeks at the top of the country music charts. Waylon and Willie wrote the song in 1969 during a poker game in Ft. Worth, TX. According to Jennings, "I'd been reading an ad for Ike and Tina Turner and it said, 'Tina Turner singing songs about good-hearted women loving good-timing men.' I thought, 'What a great country song title that is!'"
1976- Dorothy Hamill of the US completed women's figure skating celebrated double triumph by adding first place in the world's Championship, contested in Goteberg, Sweden, to the Olympic gold medal she won in February in Innsbruck, Austria. 1977—Top Hits
Love Theme from "A Star is Born" (Evergreen) - Barbra Streisand
Fly like an Eagle - Steve Miller
I Like Dreamin' - Kenny Nolan
Heart Healer - Mel Tillis
1976--After placing 28 songs in the Top 40 of Billboard's Pop chart, The Miracles make the list for the last time when "Love Machine" went to the top. Their run included seven Top 10 hits and two number ones.
1978- Billy Joel was awarded a rare platinum single for "Just the Way You Are."
1981 - Walter Cronkite, the dean of American television newscasters, said "And that's the way it is" for the final time, as he closed the "CBS Evening News with Walter Cronkite". An audience estimated at 17,000,000 viewers saw 'the most trusted man in America' sign-off. Cronkite retired after more than 30 years in broadcasting. He was replaced by Dan Rather at the anchor desk.
1982-Billboard points out that Dick Clark has donated the podium he stood behind on the original "American Bandstand" to the national museum at the Smithsonian.
1982-The Go-Go's debut LP, "Beauty and the Beast," released last July, starts a seven week run at Number One.
1982-Willie Nelson's "Always on my Mind" enters the pop chart at #88. The original was recorded in 1972 by Elvis Presley. Nelson's version will reach number One on the country chart and win a Grammy for Song of the Year.
1982 - The most points scored by two teams in the National Basketball Association made history. San Antonio beat Milwaukee 171-166 in three overtime periods to set the mark.
1983- The United States Football League opened its first season of play with five games. The USFL was designed to avoid competing with the NFL by playing in the spring, but it lasted only three years.
1985 - Yul Brynner played his famous role as the king in "The King and I" in his 4,500th performance in the musical. The actor, age 64, opened the successful production on Broadway in 1951.
1985—Top Hits
Careless Whisper - Wham! featuring George Michael
Can't Fight This Feeling - REO Speedwagon
California Girls - David Lee Roth
Baby Bye Bye - Gary Morris
1987 - Twenty-eight cities in the north central U.S. reported record high temperatures for the date. Pickstown SD was the hot spot in the nation with a reading of 83 degrees. The high of 71 at Saint Cloud MN smashed their previous record by 21 degrees.
1988- Julie Krone won the 1,205 th victory of her career, thereby becoming the all-time winning female jockey in history, Krone rod Squawter, a filly, to victory in the ninth race at Aqueduct Racetrack.
1988- "In the Heat of the Night" premiered on TV. NBC's police drama was based on the 1967 movie with the same name. Carroll O'Connor played Mississippi police chief Bill Gillespie who, along with Howard Rollins as Detective Virgil Tibbs, investigated crimes in the rural South. The cast featured Alan Autry as Sergeant Bubba Skinner, Anne-Marie Johnson as Virgil's wife, Althea, David Hart as Deputy Parker William, Hugh O'Connor as Deputy Lonnie Jamison, Christian LeBlanc as Deputy Junior Abernathy, Geoffrey Thorne as Deputy Sweet and Crystal Fox as dispatcher Luanne Corbin. The last telecast aired July 28, 1994, but the program remains popular in re-runs.
http://timstvshowcase.com/heatbak.jpg
1990 - Colorado's strongest winter storm of the season moved northeastward across the state producing 50 inches of snow at Echo Lake, 46.5 inches on Buckhorn Mountain, and 46 inches near the top of Coal Canyon. Snow fell at the rate of several inches per hour during the height of the storm, while winds gusted above 50 mph. Several hundred rush hour commuters, including the state governor, were stranded in blizzard conditions along Highway 36 between Denver and Boulder. Drifts up to twelve feet high had to be cleared southeast of Boulder.
1996- Chris Osgood of the Detroit Red Wings became the third goalie in NHL history to score a goal. He fired the puck into an empty net with 11 seconds remaining as Detroit beat the Harford Whalers, 4-2.
2000-Eric Clapton was inducted into The Rock and Roll Hall of Fame for the third time, after receiving previous honors as a member of The Yardbirds and Cream.
2003 - President Bush held a new conference and warned that he was prepared to go to war soon in Iraq with or without UN backing.
--------------------------------------------------------------

SuDoku
The object is to insert the numbers in the boxes to satisfy only one condition: each row, column and 3x3 box must contain the digits 1 through 9 exactly once. What could be simpler?
http://leasingnews.org/Soduku/soduko-main.htm
--------------------------------------------------------------

Daily Puzzle
How to play:
http://www.setgame.com/set/puzzle_frame.htm
Refresh for current date:
http://www.setgame.com/set/puzzle_frame.htm
--------------------------------------------------------------


http://www.gasbuddy.com/
http://www.gasbuddy.com/GB_Map_Gas_Prices.aspx
http://www.gasbuddy.com/GB_Mobile_Instructions.aspx
--------------------------------------------------------------

Weather
See USA map, click to specific area, no commercials
--------------------------------------------------------------

Traffic Live---
Real Time Traffic Information
You can save up to 20 different routes and check them out with one click,
or type in a new route to learn the traffic live.
--------------------------------