Vice President
Credit Manager/Funding Operations
Hands-on, professional and personable senior management team member to work with small ticket leases from the third party broker marketplace. Click here for more information.
About the company: Founded in 1982, we originate all of our leases through an independent network of lease brokers


Wednesday, March 11, 2009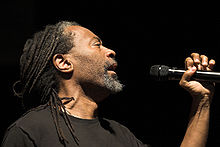 Headlines---
Steven Craig Gilyeart, JD, passes away
Classified Ads---Sales Manager
Marlin---The House of Dan
by Christopher Menkin
$100 off CLP Coupon
Classified Ads---Help Wanted
How Bad is It? 12 Points to Dealers.
ELFA Captive/Vendor Finance Conference
Sales makes it Happen--- by Scott Wheeler
"Bridges Over These Troubled Waters "
Alexa Ranks Leasing Media Sites
Annual Contracts at Leasing News
$4.2 Million Equipment-Leasing Scheme
De Lage Landen remains healthy
Videojet Selects Direct Capital
Citi buoys global markets
Depression lessons: Keep on spending
China's Financial Leasing Industry
Boeing, Mexicana 25-Airplane Deal
AG Cuomo demands details Merrill Bonuses
Madoff guilty plea expected
AmEx hands out $1M-plus bonuses
AOL Hands Out Pink Slips
'India most bullish on hiring globally'
Microsoft Still Has Eyes for Yahoo
News Briefs---
You May have Missed---
California Nuts Brief---
Sports Briefs---
"Gimme that Wine"
Today's Top Event in History
This Day in American History
SuDoku
Daily Puzzle
GasBuddy
Weather, USA or specific area
Traffic Live----
######## surrounding the article denotes it is a "press release"
------------------------------------------------------------------

Steven Craig Gilyeart, JD, passes away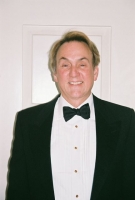 April 17, 1951 - February 24, 2009
Readers who attended the Memorial service on Saturday, March 7, 2009 at Evergreen Washelli Funeral informed Leasing News. His leasing associates say his death was sudden and unexpected. He will be missed by them.
"In Loving Memory
"Steven Craig Gilyeart, 57, passed away February 24, 2009, in Seattle, Washington. He was born April 17, 1951 in Des Moines, Iowa, spent his childhood in Atlanta, Georgia, grew up in Bartlesville, Oklahoma, went to law school in Texas, and chose to reside in Seattle. Steve had a multi-faceted career as an attorney, leasing specialist and international law consultant that combined with his adventurous spirit took him to exotic and dangerous places around the world.
""He lived wholeheartedly and always challenged himself. In the early years, he was a swimmer, a photographer, a DJ, a hiker and mountain climber and a skydiver. Later Steve strove for excellence in skiing, sailing, martial arts, scuba diving, dancing and even the biathlon. He was widely read and a living Britannica. He loved Asian culture, opera, roses and Newfoundland dogs. Always a dreamer, he transformed his creative energies into movie making, poetry, and music. He lived life to the fullest, pushed the envelope, and fearlessly and positively confronted challenges. Nothing held back this modern Samurai warrior - except over time his failing body.
He will be sorely missed by his son, Michael, his mother Bonnie, his sister Marilyn and friends and colleagues around the world. They would appreciate your signing his online guestbook at www.washelli.com and sharing your memories of Steve."
http://www.washelli.com/obits/obituaries.php/obitID/48018
His biography:
http://www.internationalleasing.com/About%20Steven%20Gilyeart.htm
--------------------------------------------------------------

Classified Ads---Sales Manager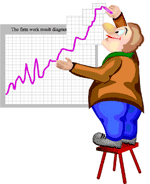 Chicago, IL
Sales Executive or Senior Manager, with responsibility for leasing capital equipment in support of transactions based on current market values, market potential and economic trends.
tomvolk53@hotmail.com
For a full listing of all "job wanted" ads, please go to:
http://www.leasingnews.org/Classified/Jwanted/Jwanted.htm
To place a free "job wanted" Leasing News ad:
http://www.leasingnews.org/Classified/Jwanted/Jwanted-post.htm
ELFA Career Center: Job Seekers (free):
http://careers.elfaonline.org/search.cfm
--------------------------------------------------------------

Marlin---The House of Dan
by Christopher Menkin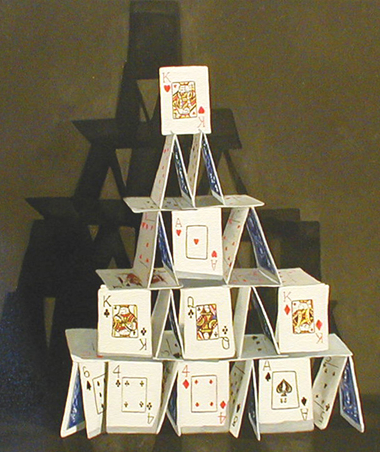 Marlin Business Services, Mount Laurel, NJ (NASDAQ: MRLN) net income for the fourth quarter of 2008 was a loss of $7.3 million, year ending loss of $5.2 million compared to a year-end profit of 2007 of $18.2 million. The stock has seen a decline. The natural reaction is it is happening to everyone in the leasing and finance industry, event GE and CIT. There is more to the story than this easy excuse.
First, by net worth and programs available, Marlin Business Service is neither GE or CIT, and should not be compared as the stock brokerage firms do. Marlin did not have any subprime mortgages or student loans or credit cards. More to the point, year-end personnel is 286, no where near to the thousands at CIT, GE, and even LEAF or Key Finance. Today they have less employees. Their niche was to operate as a boutique leasing company making personal relationships and friends through a broker network and select vendors as the company the founders came from: Advanta, who ironically stayed in the credit card business.
While a company is really its "employees" and to those in the financial community, rate of return per employee, before reading further, please look at the numbers from CEO Dan Dyer, and former accountant, SEC's filing of March 9, 2009
(he should be more a numbers man than anyone else):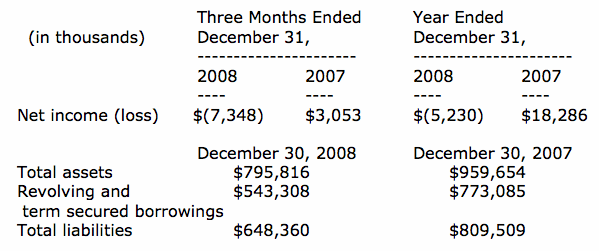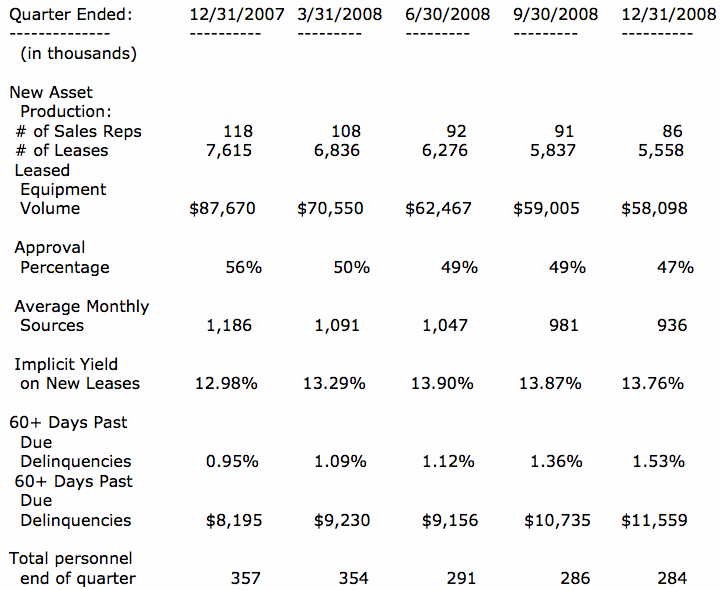 What a year it has been for Dan Dyer, CEO of Marlin! A broker department that is no longer functional, 68 workers shown the door (73 no longer according to above, but include those who left on their own accord), branch offices closing, and the latest card to drop? 7.7 million dollars gambled away in risky interest rate hedging activities ( Leasing News is told Dan Dyer's brother Joe is responsible for the 12.8MM charge for the swap loss. He is the head of their treasury group.) A 66 cent per share loss in the fourth quarter is certainly not shocking, considering we are in an environment where leasing companies like CIT and MFI trade for less than 3 bucks a share, but still, it is disturbing.
Yes, yields are up because they are not doing any broker business, not because they are doing anything "better". Broker business had a lower yield, and they altered their mix of business. Executive Vice-President, Corporate Secretary, Chief Legal Officer George Perose stated on one of their earnings calls last year that this was their "best management team ever", yet the Marlin Business Service portfolio and volume numbers crumble each quarter.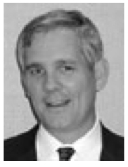 Marlin CEO Dan Dyer
How did we get here? Perhaps the biggest problem is that CEO Dan Dyer has still not admitted to making a single mistake. At the telephone conferences he blames the losses on anything from Hurricane Katrina to, more recently, the slow footedness of the FDIC. Marlin has reportedly spent hundreds of hours on legal cases against ex-employees. He certainly doesn't want them talking, especially to Leasing News. Perhaps they are to blame for this mess? It appears he thinks so in the legal filings. Are they the reason Marlin has to hold fundings to less than 10 million dollars per month? I don't think so. I think its time for upper management to look into the mirror. So far there has been the opposite; in fact, key officers recently gave themselves a raise. * This is really a slap in the face to the families of the ex-employees currently looking for work. We have other companies, including city and county employees forgoing a pay raise, even some cutting their salaries ten percent so they don't have to let employees go.
It is the employees trained by the older management of two years ago that are mostly keeping things going. Exiting the broker business, which was admitted to be one of the reasons for the drop in sales and income, may have been a poor move on their part. As Direct Capital, Financial Pacific, LEAF, Key Finance, Pawnee, PredictiFund, TimePayment, US Bancorp Manifest to name a few, pick up business left on the table by Marlin, it seems the best that can happen is one of these companies purchase Marlin's operation before nothing much is left except upper management finds itself talking to each other. Oops, they may be doing that already…
*Marlin's Dan Dyer/George Pelose get Raises + stock
http://www.leasingnews.org/archives/December%202008/12-24-08.htm#marlin
SEC 8-K filing Fourth Quarter/Year-end:
http://leasingnews.org/PDF/Marlin_March_9_09.pdf
--------------------------------------------------------------

****Announcement*************************************
$100 off CLP Coupon
The Certified Lease Professional Foundation believes now is the time to use the educational tools available that will enhance the professional image within the industry, plus give the hold the knowledge to build long term relationships within the industry and also to your clients and those who have the potential of improving your livelihood.
$100 savings. Register to sit for the CLP Certification Exam and receive The Certified Lease Professionals' Handbook for a reduced fee of $495.00. Offer valid through June 30, 2009.
The CLP Foundation is the official governing body for the Certified Lease Professional ("CLP") Program. The CLP designation sets the standard for professionalism in the leasing industry. This designation identifies and recognizes individuals within the leasing industry who have demonstrated their competency through continued education, testing and conduct. This designation is the only internationally recognized lease certification program in the world.

For further information about our Mentor Program and Anonymous Test Taking Program, please contact Cindy Spurdle at 610/687-0213 or cindy@clpfoundation.org.
www.clpfoundation.org

CLP $100 off Coupon:
http://leasingnews.org/PDF/CLP_Stimulus_Voucher.pdf
Why I became a CLP:
http://www.leasingnews.org/CLP/Index.htm
(Leasing News provides this ad "gratis" as a means
to help support the growth of Lease Police)
**** Announcement**************************************
[headlines]
--------------------------------------------------------------

Leasing Industry Help Wanted
sales

Sales
Position available for experienced salesperson to solicit direct business for equipment & vehicle leasing company located in Maryland. Madison Capital provides lease financing nationwide, in Canada and Puerto Rico
Call either Nancy Pistorio (800.733.5529 ext 7325) or Allan Levine (800.733.5529 ext 7337)
About the Company: We are a direct funding source for most types of equipment and all makes of vehicles. We have brokerage capability and experience for equipment transactions up to $10,000,000.




VENDOR SALES SPECIALISTS
LEASING SALES PROFESSIONALS
Like selling vendor programs and large transactions?
Enjoy international financing programs?
Prefer the advantages of a commission only environment with the security of health and welfare benefits?
CLICK HERE to find out how to have fun again.

Vice President
Credit Manager/Funding Operations
Hands-on, professional and personable senior management team member to work with small ticket leases from the third party broker marketplace. Click here for more information.
About the company: Founded in 1982, we originate all of our leases through an independent network of lease brokers


Please see our Job Wanted section for possible new employees.
-------------------------------------------------------------

How Bad is It? Expect more Layoffs. 12 Points to Dealers.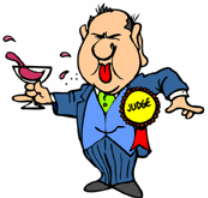 Letters to Leasing News:
"I have been in the leasing industry since the mid 1980's and our industry has never been more stressed for capital. These are truly untested times. Every leasing company is under duress and every leasing company is conserving capital at present. Is not prudent to take care of your existing customers until the capital markets stabilize?
"Leasing companies owned by stable banks such as US Bank, Wells Fargo and Key are holding all the cash and are lending only to the best credits. DLL which is owned by a foreign bank also has plenty of capital available and are "upgrading" their customer base. Capital markets, securitization and lease lines (pools) are not available and the independents are scrambling for every dollar they can borrow. If banks do not begin to lend soon, you will see more independent leasing companies drain their existing lines and our industry will suffer greatly."
(I don't agree. The head of US Bank said they were making loans and leases to anyone who qualifies. I also think both Key and Wells Fargo are being very aggressive in this market place. They are many smaller companies who have cash, as well as many "C" and "D" funders looking for business. They perhaps have more to choose from, so dealers and independents will have to change their ways to get their business done. editor)
(name with held)
"You can expect to see more layoffs as leasing companies bunker down until the market changes. Perhaps an article on the "State of the Industry" will help everyone better understand some of the decisions being made by leasing companies today.
"The industry will continue to:
1. Review all vendor programs and relationships for profitability. Those vendors who are low margin have been and will be terminated
2. Expect continued slow down in service levels on credit approval and funding
3. Expect more layoffs as less employees are needed to process less business (sales reps and operations)
4. Expect interest rates to rise as the cost of capital increases.
5. Expect small businesses so begin to default at an accelerated rate"
(Interest rates have already risen. Money is available, but funders are paying higher prices for it, and subprime lease money is very available, with more upfront and other collateral being required. Remember the old adage, "The person with the gold makes the rules." I think you can get almost any deal done today as you did yesterday, but the lessee will pay more and the referral make less. Editor)
(name with held)
"I don't think your realize how bad it is. I have talked to 30+ banks and lenders the past 30 day's and there is no market today for B, C or D credits at all. Banks have a "put" on earnings right now and they don't want to answer to the regulators on buying perceived bad paper regardless of the rate. I know you know a lot of brokers but if you talk to them today, they will have a whole new tune regardless of their time in business."
(name with held)
(It is not only brokers, but direct sales personnel, as well as what the leasing industry label "vendors" or "captive lessors." In reality, they are "dealerships," many with "finance managers," in charge of obtaining financing for what they company sells and provides... Some may be manufacturers or manufacturer representatives or major companies in specific industries, such as Henry Schein or Patterson Dental.
(According to the "summer of 2006 compensation" survey, printed last Friday, many are paid the same points as a "free lance broker," while others break out the rate specifically as Marlin did as up to 8 points to vendors for submitting business.*
(Dealers also receive higher points, as indicated by this inquiry last week:
("Do you know of any "funders" that allow a company like mine to put 12+ points into a transaction?"
(Director of Financial Services contact Leasing News often, such as:
("I run the leasing program for ******, an IT reseller that has been in business for 25 years. The leasing program has been around for 13 years, and I have been running ******** for about 4 years now.
("Recently, we had some of our flagship leasing accounts cut off for originations in 2009 which has left us scrambling. We have met with a plethora of banks and have some good things going, but I feel we can always use additional players. I am asking you to refer me to 5 lenders that are stable, give good service, and have decent rates. A lot to ask, right?
("Some of our captives (Huntington, CIT, Tigris) have left us in a very unique position in Q1, as they refuse to loan to our flagship enterprise accounts...
("Whomever you can recommend would be greatly appreciated.")
http://www.leasingnews.org/Funders_Only/Funders.htm
http://www.leasingnews.org/Funders_Only/Funders_B.htm
http://www.leasingnews.org/Story_Credit/Story_Credit.htm
*Summer of 2006 compensation:
http://www.leasingnews.org/archives/March%202009/03-06-09.htm#comp
-------------------------------------------------------------

ELFA Annual Captive and Vendor Finance Conference

April 5-7 in Dallas, Texas
WHAT: Announcement of the annual Captive and Vendor Finance Conference hosted by the Equipment Leasing and Finance Association.
The conference addresses issues essential to the success of the captive equipment financier and the role that third-party finance organizations play in helping captives achieve growth and profitability.
Titled "Serious Questions Call for Serious Answers," this conference will feature the following program topics: • Examining Your Business Model: What are you doing to create a sustainable business model in the current landscape? • Underwriting and Portfolio Management: Have your underwriting policies changed? How are you monitoring your exposures? • Capital Strategies: Who's got the money and what does it take to get it? • Sales Force Effectiveness: What are customers looking for today and how have your strategies changed in meeting their needs? • Managing Profitability: How much can you cut and still be able to service your customers? What can be done with under and non-performing accounts? How are you analyzing your financials and cash flows?
WHEN: April 5 to 7, 2009
WHERE: Four Seasons Hotel, Los Colinas (Dallas), Texas
WHO: Executive and senior level representatives from captive and third-party finance organizations.
REBATE OFFER: ELFA will provide special rebates to member companies planning to send multiple attendees to the Captive and Vendor Finance Conference. There are two rebates available: 1. First Time Attendee Rebate: If at least one individual from your company is registered to attend this conference at the full ELFA member rate, and you have never attended the ELFA Captive and Vendor Finance Conference, you are eligible to receive a 25 percent rebate off the full registration fee. To receive this rebate you must reserve your accommodations with the Four Seasons Las Colinas Hotel. That's a savings of $287.50.
2. Third Person Rebate: To be eligible for the $500 rebate, your company must (a) register at least three people at the regular or first time attendee conference rate, and (b) all must reserve their accommodations with the Four Seasons Las Colinas Hotel. Each additional registrant above three will also be eligible for the $500 rebate.
About ELFA
The Equipment Leasing and Finance Association is the trade association that represents companies in the $650 billion equipment finance sector which includes financial services companies and manufacturers engaged in financing capital goods. Its more than 700 members include independent and captive leasing and finance companies, banks, financial services corporations, broker/packagers and investment banks, as well as manufacturers and service providers. For more information, please visit www.elfaonline.org
The ELFA is also the premier source for statistics and analyses covering the equipment finance sector. To access ELFA's comprehensive industry information,
please visit http://www.elfaonline.org/ind/research/
-------------------------------------------------------------
-------------------------------------------------------------

Sales Make it Happen --- by Scott Wheeler
With over twenty-six years of leasing experience and an Executive Masters in Business Administration, Scott is an accomplished senior leasing executive with leadership qualities in marketing and operations. His extensive experience will benefit organizations looking to reach a higher level of profitability and corporate development.

Bridges Over These Troubled Waters

"Isolation is not a prudent choice in today's market".

Our industry is currently navigating through rough financial waters. Funding sources are pulling back, credit criteria are tightening, an approval is being pulled, portfolio quality is deteriorating and on and on and on. Some are asking if it's even worth building a bridge over these troubled times and they are exiting the industry all together.

The problem appears to be that there is no game book for these times. Uncertainty by the funding sources, lessors, brokers and lessees is at an all time high. The troubled waters of uncertainty are rising with each news release, and watching of the evening news. Who is on first, second and third and what are the rules? Where are we headed? What will the landscape look like when the waters recede? Who will be left and will they be wearing any clothes? Many on a macro and micro level are hunkering down, disengaging from the market and waiting for the stormy waters to pass before they make their next move. The troubled waters may be with us for some time and there will be the need to have a strong bridge in order to cross over these rough waters into the future.

The bridge for most will be made with strong interwoven relationships with both past and new business partners. The need for a strong network is more important today then ever. The network needs to be both wide and deep. Networking is not accomplished by pulling back and hunkering down but rather by engaging with others on many different levels. In difficult times it is often natural to talk to your old acquaintances more regularly, to stay in your comfort zones and to hope that better days will be right around the corner. However, this new bridge will need to be built with new relationships, new business partners, and with new leasing tools. The bridges will have multiple names like creativity and flexibility.

As true leasing entrepreneurs we will need to read the flowing waters below even though we will have little control over what is formulating around us. The financial markets are turning different colors every day with major changes involving our banks, insurance companies, investing firms and more. The small and middle size business will be affected in many different ways by these market influences depending upon industry, size and ability to react. However, it is with certainty that these businesses will need cash in order to innovate, to retool and to survive. The small and medium size business will need to build their bridges with financial partners who are able to supply innovative funds. These alternative funds have been traditionally supplied by third party independent lessors and financial firms; and there is no doubt that our industry will again supply the needed funds for capitalistic businesses with an opportunistic spirit.

I am personally hopeful that the free market will dominate the flow of water. The market needs the time to react to an almost constant injection of new rules and regulations. The market needs to create its own game book based upon the facts of what has occurred in the recent past. The leasing professional needs to be well versed on what is flowing around us to study the cause and effects of each new change. As entrepreneurs, we need to take a big picture approach to our marketing strategy and business planning. Isolation is not a prudent choice in today's market.

In order to personally react to the market, we each need to engage in the process, engage with our associations, engage with our lessees, engage with our funding sources, and engage with our investors. Now is not the time to hunker down into a hole, but rather to actively pursue building many different bridges toward the future. I challenge each of us to commit to our entrepreneurial spirits and to build better bridges with all of our business partners. Building meaningful long lasting bridges is not easy, it is not a quick process, but it is important and future leasing generations will appreciate our efforts.

Please let me know your thoughts, suggestions or ideas.
scott@wheelerbusinessconsulting.com or 410-877-0428.

Sales Makes it Happen articles:
http://www.leasingnews.org/Legacy/index.html
-------------------------------------------------------------

Alexa Ranks Leasing Media Web Sites
| | | | | |
| --- | --- | --- | --- | --- |
| Rank | 3/9/2009 | 2/9/2009 | | |
| 1. | 177,600 | 191,947 | | www.leasingnews.org Leasing News |
| 2. | 675,972 | 794,783 | | www.monitordaily.com Monitor Daily |
| 3. | 774,782 | 760,043 | | www.elfaonline.org Equipment Leasing and Fin. Association |
| 4. | 930,387 | 762,522 | | www.lessors.com eLessors Networking Association |
| 5. | 1,069,299 | 1,103,261 | | www.ibaa.org Ind Community Bankers of America |
| 6. | 1,315,880 | 1,027,492 | | www.naelb.org* National Assoc. of Equip Leasing Brokers |
| 7. | 1,832,917 | 2,669,469 | | www.nefa.org National Equipment Finance Association |
| 8. | 2,221,442 | 968,291 | | www.cfa.com Commercial Finance Association |
| 9. | 2,576,608 | 1,657,851 | | www.Worldleasingnews.com World Leasing News |
| 10. | 2,726,281 | 1,985,805 | | www.leasinglife.co.uk The Journal for Asset Finance |
| 11. | 2,865,127 | 3,986,555 | | www.iicl.org Institute of International Container Lessors |
| 12. | 3,095,943 | 3,906,267 | | www.clpfoundation.org CLP Foundation |
| 13. | 5,879,825 | 5,114,693 | | www.executivecaliber.ws Exec Caliber-Jeffrey Taylor |
| 14. | 6,747,893 | 5,023,365 | | www.leasefoundation.org Equip. Leasing & Fin Fndn |
| 15. | 7,739,836 | 5,640,178 | | www.leasingnotes.com Leasing Notes |
| 16. | 9,832,251 | 4,577,886 | | www.aglf.org Assoc of Government Leasing Financing |
| 17. | 14,311,008 | 9,427,263 | | www.leaseassistant.org Lease Assistant |
| 18. | 18,456,342 | 12,075,357 | | www.nationalfunding.org The National Funding Assoc |
| 19. | 19,716,802 | 7,811,880 | | www.Leasingpress.com Leasing Press |
| 20. | No Data | 7,299,479 | | www.leasecollect.org Lean -Lease Enforcement Att Net |
David G. Mayer's Business Leasing and Finance News is not included in the Alexa report list as it does not have its own individual site and Alexa finds Patton Boggs, LLP Attorneys at Law. The rating is not valid as it includes all those who visit and communicate with the law firm. When Business Leasing and Finance News has its own individual web site, it will be included in the Alexa survey.
www.theleaseblog.com is a blog that exchanges emails and theleaseblog.ning.com is a "member only" blog that also exchanges emails and therefore are not included. Alexa ranked them 10,104,167 and 5,425,100 respectively.
*It should be noted that NAELB web site "list serve" requires logging onto their site, meaing their e-mails are counted as a visit to the site, whereas they are "list serve" communication. These are technically visits to the web site, but primarily to use "list serve."
The Alexa tool bar works on most browsers.
They are partnered with Google.
You may download their free tool bar A graph and analysis of the last three months are available.
-------------------------------------------------------------

Annual Contracts Attractive at Leasing News
Help Wanted Ad Pricing Criteria
Smaller Ads
$500.00 minimum for four lines
$75.00 each additional line
- Design work to help create the ad is free.

- Description of your company is free
(company description cannot have more lines than your ad)
Cost Per Day (based on ad price)
$500.00 - $23.81 per day
$600.00 - $28.57 per day
$700.00 - $33.33 per day
$800.00 - $38.10 per day
$900.00 - $42.86 per day

All rates are subject to change.
Ads run a minimum of 21 days on the web site ( holidays not included.) There are placed in the "Help Wanted' section by category, alphabetical, with the largest ad in the category first. Copy may be amended without any extra charge.
It is also our policy to place "help wanted" ads above the news edition headlines. This position is not available as a paid position, but appear on the top of the news edition in a rotation basis. This position is not guaranteed,but is a practice to give advertisers more attention to their ad.
Please send an email to kitmenkin@leasingnews.org to post a Help Wanted Ad.
Here are some samples of various size ads:
www.leasingnews.org/Classified/examples.htm
If you prefer a " non-employment" ad, we sell a banner ad, please
click here for pricing.
If you would like more information, please contact: kitmenkin@leasingnews.org
We reserve the right to refuse any advertising.
Ads for employment should be placed in the classified ad section, where it is possible to also appear at the top of the headlines.
No changing or alternating banner ads.
Ad copy may be up-dated or changed at any time during the time period.
No charge for artwork or design.
To see sample size of ads, please go here.
---------------------------------------------------------------------
#### Press Release ##############################

$4.2 Million Equipment-Leasing Scheme
NEWARK, N.J. – A New York man was indicted today for allegedly orchestrating a $4.2 million broadcasting equipment lease and financing scheme that caused losses of more than $3 million for major lenders, Acting U.S. Attorney Ralph J. Marra, Jr. announced.
David A. Moro, 49, of Pomona, is named in the 34-count Indictment with conspiracy to defraud, among others, lenders CFC Investment, based in Cincinnati, Ohio; Hewlett Packard Financial Services, based in Murray Hill, N.J.; Santa Barbara Bank and Trust, based in Santa Barbara, Calif.; Wells Fargo Equipment Finance, Inc., in Minneapolis, Minn.; Citi Capital, based in Moberly, Mo.; The CIT Group, based in Livingston, N.J.; American Express Business Finance Corporation, based in Houston, Texas; ACC Capital Corporation, based in Salt Lake City, Utah; Diamond Lease (USA), Inc., based in New York; and Bank of the West, based in San Francisco.
Moro is also charged with six counts of mail fraud, five counts of wire fraud, three counts of bank fraud (Santa Barbara Bank and Trust, Bank of the West, and Cathay Bank, based in Flushing, New York), 17 counts of money laundering involving monetary transactions over $10,000, and two counts of making false statements in a matter within the jurisdiction of the FBI and Internal Revenue Service.
Moro has been out on bail since a criminal Complaint was filed against him in federal court in November 2007 on more limited charges. Moro will be required to make an initial appearance in federal court in Newark sometime over approximately the next 10 days. As detailed in the conspiracy and fraud charges, Moro was the Chief Executive Officer for Inchon LLC, based in Englewood Cliffs, N.J. During the period from 2003 through 2005, Moro allegedly approached the victim lenders, directly and through brokers, seeking to induce the lenders to purchase a total of more than $4.2 million of purported high-end broadcasting equipment, as part of lease-financing agreements with Inchon LLC.
Moro allegedly advised lenders that Inchon LLC, and its subsidiary Russian Radio Network LLC, needed the broadcasting equipment in order to upgrade and expand its ethnic radio programming. As proof of his need for financing, Moro allegedly presented the lenders and brokers with fraudulent equipment invoices reflecting that Smart Function LLC, based in Parsippany, N.J., as well as other purported vendors, had provided Inchon LLC with new highend Digital Audio Servers, when in fact, Moro supplied S.M., the owner and operator of Smart Function, with the necessary hardware and software to assemble the equipment, at a fraction of the represented cost.
According to the Indictment, at times Moro caused fraudulent equipment invoices to be sent to lenders and brokers which represented that the Digital Audio Servers had been provided, when in fact, this equipment did not exist. On these occasions, when the lenders arranged for inspections before funding the leases, Moro allegedly instructed S.M. to place new serial numbers on old Digital Audio Servers when the lenders sent inspectors to verify the existence of what they believed to be newly purchased broadcasting equipment. According to the Indictment, Moro also caused fraudulent lease applications and supporting 3 documents to be submitted to the lenders and brokers which falsely represented the income, assets and business associations of an individual who was falsely portrayed to the lenders and brokers as the 100 percent owner of Inchon LLC.
After the lease financing agreements were executed and funded by the lenders, Moro ceased making the required lease payments on behalf of Inchon LLC, resulting in a loss to the Lenders in excess of $3 million, according to the Indictment.
The money laundering charges stem from the movement of funds from Smart Function LLC to Inchon LLC. Moro allegedly used the laundered funds to pay personal and unrelated business expenses.
Despite the Indictment, the defendant is presumed innocent unless and until proved guilty beyond a reasonable doubt.
Marra credited Special Agents of the FBI, under the direction of Special Agent in Charge Weysan Dunn, and Special Agents of the IRS Criminal Investigation Division, under the direction of William P. Offord, for the successful investigation leading to the Indictment.
The government is represented by Assistant U.S. Attorney Leslie Faye Schwartz of the U.S. Attorney's Office Strike Force Unit in Newark.
Defense Counsel: Anna Cominsky, Esq., Newark, N.J.
(News provides this ad "gratis" as a means
to help support the growth of Lease Police)
#### Press Release ##############################

De Lage Landen remains healthy
2008 net profit €235 million ($344 million) -Lease portfolio up 13% to €23.3 billion ($32.4 billion) -Risk Adjusted Return On Capital (RAROC) at 20% -De Lage Landen wins Vendor Lessor of the Year Award -Athlon Car Lease's fleet surpassed the 200.000 mark
Karel Schellens, Chief Executive Officer, acknowledges that the situation that unfolded itself in 2008 is unprecedented: "In 2008 we've seen a financial crisis and recession coming together. A worst case scenario for us. But we're still here. Better yet, we made a net profit of €235 million. Our portfolio grew by 13% to €23.3 billion. It's safe to say we're still a very healthy, trustworthy company with a bright future. We have taken adequate measures that will help warrant our future, a profitable future.
"More specifically, we have intensified our efforts in improving our infrastructure, our processes, our systems. We will invest in our member community and make sure they have all the tools and substance to achieve true customer connectivity and partnership. I am convinced that partnership is the cornerstone for success now and in the future, for our customers as well as for us."
• 2008 net profit €235 million ($344 million)
• Lease portfolio up 13% to €23.3 billion ($32.4 billion)
• Risk Adjusted Return on Capital (RAROC) at 20%
• De Lage Landen wins Vendor Lessor of the Year Award
• Athlon Car Lease's fleet surpassed the 200.000 mark
• De Lage Landen number 1 in customer satisfaction in the Netherlands
• Factoring unit reports 165% growth
Outlook
De Lage Landen expects capital to remain scarce and volatile in terms of pricing all throughout 2009. The economic recession will negatively impact the residual value of lease cars. Moreover, the recession will add to the upward trend of risk costs. Combined, this will put heavy pressure on the company's profitability. De Lage Landen has been reporting double digit growth figures for years on end. In 2009 however, the company does not expect its portfolio to exceed the single digit growth range. If there ever was a time in which partnership holds true, it is in 2009. De Lage Landen will balance its risk and financial management strategies with customer connectivity and partnership; standing by customers and helping them through difficult times. In addition De Lage Landen will invest in its infrastructure, processes and people. Enhancing the quality of its organization is key to a profitable future for De Lage Landen and its partners.
Full Press Release:
http://www.delagelanden.com/press/40965202.html
#### Press Release ##############################

Videojet Selects Direct Capital for New Finance Program

PORTSMOUTH, N.H. - - Direct Capital Corp., a leading provider of equipment financing, has been selected as the preferred financing provider for Videojet Technologies, Inc., the global leader in coding solutions for products and packaging.
This new partnership announcement comes on the heels of Direct Capital's recent extension of a $100 million lease-backed commercial paper securitization. The company plans to utilize that capital to expand its funding capacity for U.S. businesses.
"Videojet's selection of Direct Capital is another strong endorsement of our innovative finance platform for equipment vendors," said Steve Lankler, Vice President of Business Development for Direct Capital. "In this challenging economic environment, it is important that market leading companies like Videojet and Direct Capital partner to deliver solutions that make it easier for businesses to acquire the products and capital they clearly need to thrive and succeed. We are proud that Videojet has selected Direct Capital and, together, we will deliver a world-class financing program."
Direct Capital is an ideal partner for Videojet and its distributors nationwide because of Direct Capital's ability to service a broad range of credit risks and focus on initiatives that stimulate new sales for its partners. These capabilities have become increasingly appealing for businesses due to the current economic conditions that many are facing.
"Partnering with Direct Capital enables Videojet to offer competitive leasing solutions to customers when capital equipment budgets are tight," says Adrian Fernandez, Vice President of Marketing for Videojet. "Convenient, flexible leasing programs that fit our customers' operating budgets help them obtain the latest marking and coding technologies during challenging times."
For more information about financing options from Direct Capital, call 800-999-9942 or visit www.directcapital.com. For more information about financing options from Videojet, call 800-843-3610 or visit www.videojet.com.
# # #
About Direct Capital
Established in 1993, Direct Capital is the 8th largest independent equipment leasing and finance company in the United States, according to Monitor. The company provides specialty finance solutions, including capital equipment leasing, commercial loans, and merchant cash advances. Direct Capital markets its services through relationships with businesses and through partnerships with vendors, dealers, and manufacturers of capital equipment. Superb execution on its unique delivery model is the cornerstone of Direct Capital's success in an increasingly commoditized financial services industry. Direct Capital is headquartered in Portsmouth, NH and operates offices in New York, Chicago, Atlanta, Detroit and New London, NH.
About Videojet Technologies
Videojet Technologies Inc. is a world-leading manufacturer of coding, printing and laser marking products, fluids, and accessories for the product identification industry. As experts in continuous ink jet (CIJ), drop-on-demand (DOD), thermal transfer overprinting (TTO), array, and laser technologies, Videojet has over 275,000 units installed worldwide. Sales, service, training, administrative and application support is provided by direct operations worldwide, including Austria, Brazil, Canada, Chile, China, France, Germany, India, Ireland, Japan, Korea, the Netherlands, Poland, Portugal, Russia, Singapore, Spain, Switzerland, Turkey and the United Kingdom, with more than 250 direct sales and service personnel in the United States alone. Videojet's distribution network includes over 175 distributors and OEMs, serving 135 countries.
#### Press Release ##############################
---------------------------------------------------------------------

News Briefs----
Citi buoys global markets
http://www.ft.com/cms/s/0/ae018b70-0d8a-11de-8914-0000779fd2ac.html
Depression lessons: Keep on spending
http://www.usatoday.com/money/economy/2009-03-09-depression-spending-lessons_N.htm
China's Financial Leasing Industry Is Expected to Maintain a Growth Rate About 20% in 2009
http://biz.yahoo.com/bw/090310/20090310005990.html?.v=1
Boeing, Mexicana Group Agree to 25-Airplane 717 Leasing Deal
http://biz.yahoo.com/prnews/090309/sf80852.html?.v=1
AG Cuomo demands details on Merrill Bonuses (he's running for gov.)
http://www.nypost.com/seven/03102009/business/show_us_the_money_158845.htm
Madoff guilty plea expected; trustee's found only $1B so far
http://www.usatoday.com/money/markets/2009-03-10-ponzi-fraud-madoff_N.htm
AmEx hands out $1M-plus bonuses; CEO declines his
http://www.usatoday.com/money/industries/banking/2009-03-10-amex-ceo-declines-bonus_N.htm
AOL Hands Out Pink Slips, Plans to Cut 10% of Staff
http://www.washingtonpost.com/wp-dyn/content/article/2009/03/10/AR2009031003307.html
'India most bullish on hiring globally'
http://timesofindia.indiatimes.com/Business/India-most-bullish-on-hiring-globally/
articleshow/4251703.cms
Microsoft Still Has Eyes for Yahoo
http://www.internetnews.com/bus-news/article.php/3809656/Microsoft+Still+Has
+Eyes+for+Yahoo.htm
Salmonella recall could cost peanut producers $1B
http://www3.signonsandiego.com/stories/2009/mar/10/salmonella-impact-031009
/?zIndex=64999
---------------------------------------------------------------

(This ad is a "trade" for the writing of this column. Opinions
contained in the column are those of Mr. Terry Winders, CLP)

You May have Missed---
Museum reveals engraving hidden in Lincoln watch
http://news.yahoo.com/s/ap/20090311/ap_on_re_us/lincoln_watch_engraving
----------------------------------------------------------------


"Gimme that Wine"
Finessed and Light: California Pinot Noirs With a Manifesto
http://www.nytimes.com/2009/03/11/dining/11pour.html?ref=dining
Bright $20 Argentine Malbecs Conquer Wine World: John Mariani
http://www.bloomberg.com/apps/news?pid=20601088&sid=afHLiNT3yO4Y&refer=muse
Grape growth in Washington
http://www.agweek.com/articles/?id=2808&article_id=13764&property_id=41
High-octane wines may just be a matter of taste
http://www.sfgate.com/cgi-bin/article.cgi?f=/c/a/2009/03/08/
FDJ415SU15.DTL&hw=wine&sn=001&sc=1000
Wine Prices by vintage
http://www.winezap.com
http://www.wine-searcher.com/
US/International Wine Events
http://www.localwineevents.com/
Winery Atlas
http://www.carterhouse.com/atlas/\
Leasing News Wine & Spirits Page
http://two.leasingnews.org/Recommendations/wnensprts.htm
The London International Vintners Exchange (Liv-ex) is an electronic exchange for fine wine.
http://www.liv-ex.com/
----------------------------------------------------------------

Today's Top Event in History
1903-bandleader Lawrence Welk born at Strasburg, ND. He learned to play the accordion and at 17 formed his first band. After playing all over the Midwest, he moved to Los Angeles where in 1955 his show began its nationwide television broadcast of 'Champagne Music." The longest-running program in TV history, "The Lawrence Welk Show" played each Saturday on ABC from 1955 until 1971 when it was dropped because sponsors thought its audience was too old. One of my closest high school friends, Warren Luening, came from New Orleans to play on this show as a teenager. Today he is a sought after top studio musicians, his trumpet solo's noted on records for Frank Sinatra, Barry Manilow, among many others, plus major motion picture credits. Welk kept the show on a network of more than 250 independent stations for 11 more years after the network, and still can be seen in reruns. Welk's entertainment empire included the purchase of royalty rights to songs, including the entire collection of songs by Jerome Kern. He also was a major real estate investor. His son Larry manages the estate today.
http://www.spaceagepop.com/welk.htm
http://www.welkshow.com/
http://www.branson.com/branson/welk/champan.htm
[headlines]
----------------------------------------------------------------

This Day in American History
1665 -New York's English Deputies approved a new legal code, which guaranteed all Protestants the right to practice their religious observances unhindered. It seems those leaving the old world brought their religious prejudices with them, but with the intermingling of cultures, things began to change here. This action was the result of English proprietor of New York, James Duke of York who on February 28 th approved official recognition of all Protestant sects. Until this date, the official and only legal church was the Reformed Protestant Dutch Church. This unusual toleration of the Dutch Church by the English Church, by the way, contrasted sharply with the restrictive policies of the Dutch West India Company before its lost of the colony to the British in 1664. Despite this restriction, a great many unauthorized religious groups established footholds in the Dutch colony. This religious diversity inherited by the English proprietor in 1664 made the policy of toleration a practical necessity.
1731-Robert Treat Paine birthday, Jurist and signer of the Declaration of Independence. Born at Boston, MA; died there May 11, 1814
http://www.roberttreatpaine.com/
http://www.colonialhall.com/painert/painert.asp
1789- Benjamin Banneker with Pierre L'Enfant began to lay out Washington in the District of Columbia, Benjamin Banneker has been called the first African American intellectual. Self-taught, after studying the inner workings of a friend's watch, he made one of wood that accurately kept time for more than 40 years. Banneker taught himself astronomy well enough to correctly predict a solar eclipse in 1789. At the request of President George Washington, Banneker was placed on the planning committee to develop the nation's capital. It was lucky for DC that he had been asked to be a part of that process. When Pierre LÌEnfant, the architect who had been asked to lead the design process, was fired for his bad temper he left the city taking all of the plans with him. In two days Benjamin Banneker recreated the complete layout of the streets, parks and major buildings all from memory. His effort saved the U.S. government innumerable time and effort. ( In trying to prove the date of this event, it appears part of this may be "legend" or "hoax" mixed in with the truth. L'Enfant is recognized as the designed and he was "fired." "As chief designer of the new national capital, L'Enfant quickly antagonized the three commissioners in charge of making sure the place got built. When they complained, he alienated his principal supporters, including George Washington, who reluctantly fired him."" Although L'Enfant's plan was followed he was dismissed in 1792 after being responsible for removing without permission, the house of Daniel Carroll, an important resident in the city." "Banneker did not work with L'Enfant. Banneker returned home in April 1791. L'Enfant was appointed in March 1791 to a very different job and worked at that job until March 1792. They would never have met and Bannaker would never have seen L'Enfant's plans which were, according to him, still incomplete in 1792. L'Enfant still has the plans and lived just outside Washington until he died in 1825. He is (now) buried at Arlington Cemetery but refused an appointment as professor at West Point."
http://www.cnn.com/2000/STYLE/design/05/22/major.lenfant.ap/
http://www.africana.com/archive/articles/tt_614.asp
http://www.progress.org/banneker/bb.html
http://www.inventorsmuseum.com/Benjamin_Banneker.htm
http://www.mth.msu.edu/banneker/
1824-the US War Department created the Bureau of Indian Affairs.
1845- Wittenberg College was chartered in Springfield, Ohio, under Lutheran auspices.
http://www.wittenberg.edu/about/history.html
1861-The Confederate constitution was adopted unanimously by the Confederate congress in session at Montgomery, Ala. It declared the sovereignty of states and forbade passage of any law prohibiting slavery. Montgomery, Alabama, delegates from South Carolina, Mississippi, Florida, Alabama, Georgia, Louisiana, and Texas gathered and spelled out that their country wanted to preserve slavery, which was the reason for the formation of state. The constitution resembled the Constitution of the United States, even repeating much of its language, but was actually more comparable to the Articles of Confederation--the initial post- Revolutionary War U.S. constitution--in its delegation of extensive powers to the states. The constitution also contained substantial differences from the U.S. Constitution in its protection of slavery, which was "recognized and protected" in slave states and territories. However, in congruence with U.S. policy since the beginning of the 19th century, the foreign slave trade was prohibited. The constitution provided for six-year terms for the president and vice president, and the president was ineligible for successive terms. Although a presidential item veto was granted, the power of the central Confederate government was sharply limited by its dependence on state consent for the use of any funds and resources. Although Britain and France both briefly considered entering the Civil War on the side of the South, the Confederate States of America, which survived until April 1865, never won foreign recognition as an independent government The war was about slavery:
"Representatives and direct taxes shall be apportioned among the several States, which may be included within this Confederacy, according to their respective numbers, which shall be determined by adding to the whole number of free persons, including those bound to service for a term of years, and excluding Indians not taxed, three-fifths of all slaves."
"No bill of attainder, ex post facto law, or law denying or impairing the right of property in Negro slaves shall be passed."
"Congress shall also have power to prohibit the introduction of slaves from any State not a member of, or Territory not belonging to, this Confederacy."
"The Confederate States may acquire new territory; and Congress shall have power to legislate and provide governments for the inhabitants of all territory belonging to the Confederate States, lying without the limits of the several Sates; and may permit them, at such times, and in such manner as it may by law provide, to form States to be admitted into the Confederacy. In all such territory the institution of Negro slavery, as it now exists in the Confederate States, shall be recognized and protected by Congress and by the Territorial government; and the inhabitants of the several Confederate States and Territories shall have the right to take to such Territory any slaves lawfully held by them in any of the States or Territories of the Confederate States."
http://www.law.ou.edu/hist/csa.constitution.html
1865- General William T. Sherman captured the town of Fayetteville, North Carolina, and promptly destroyed the Fayetteville arsenal
http://memory.loc.gov/ammem/today/mar11.html
1888- Great Blizzard of 1888 rages
http://www.infoplease.com/spot/blizzard1.html
1898-Dixieland trombone player Miff Mole born Roosevelt NY
http://www.redhotjazz.com/miff.html
http://www.harlem.org/people/mole.html
http://www.missouri.edu/~cceric/mm/miff.html
1903-bandleader Lawrence Welk born at Strasburg, ND. He learned to play the accordion and at 17 formed his first band. After playing all over the Midwest, he moved to Los Angeles where in 1955 his show began its nationwide television broadcast of 'Champagne Music." The longest-running program in TV history, "The Lawrence Welk Show" played each Saturday on ABC from 1955 until 1971 when it was dropped because sponsors thought its audience was too old. One of my closest high school friends, Warren Luening, came from New Orleans to play on this show as a teenager. Today he is a sought after top studio musicians, his trumpet solo's noted on records for Frank Sinatra, Barry Manilow, among many others, plus major motion picture credits. Welk kept the show on a network of more than 250 independent stations for 11 more years after the network, and still can be seen in reruns. Welk's entertainment empire included the purchase of royalty rights to songs, including the entire collection of songs by Jerome Kern. He also was a major real estate investor. His son Larry manages the estate today.
http://www.spaceagepop.com/welk.htm
http://www.welkshow.com/
http://www.branson.com/branson/welk/champan.htm
1903- Dorothy Schiff Thackrey birthday, although born to wealth, she bolted the Republican party to engage in social welfare work. In 1939 she bought the New York Post. She wrestled it though the NYC newspaper wars and it lasted as the only daily afternoon paper.
http://www.britannica.com/women/articles/Schiff_Dorothy.html
1907- a number of rich and famous women of the day including Mrs. John Jacob Astor, Maude Adams, Ethel Barrymore, Mrs. Walter Damrosch, and Mrs. Harry Payne Whitney opened their own women's club The Colony with a clubhouse at 112 Madison Ave., New York City, the first time women had their own public gathering place.
1907 - After some delays, the trial of political boss Abe Ruef begins, on a charge of felony extortion in demanding the proprietors of Delmonico's restaurant to pay him $1,175 under a threat that he would hold up their liquor license if they did not submit to his demand.
1911 -the US snow depth record of 451 inches was measured at Tamarack, California.
1913- composer John Weinzweig, a pioneer of 20th- century composing methods in Canada, was born in Toronto. Weinzweig was the first Canadian to explore the 12-tone technique in his 1939 work "Suite for Piano Number One." Weinzweig's works are considered to be one of the cornerstones of the Canadian repertoire. His ballet suite, "Red Ear of Corn," composed in 1949, is his best known composition.
http://www.centremusique.ca/CMC/dac_rca/eng/u_/Weinzweig_Dr._John.html
http://server.xlinternet.com/~admin69/films/weinz.html
http://www.yorku.ca/caml/weinzweig.htm
1918-The first cases of the "Spanish" influenza were reported in the US when 107 soldiers became sick at Fort Riley,KS. By the end of 1920 nearly 25 percent of the US population had had it. As many as 500,000 civilians died from the virus, exceeding the number of US troops killed abroad in WWI. Worldwide, more than 1 percent of the global population, or 22 million people, had died by 1920. Due to the panic, cancellation of public events was common and many public service workers wore masks on the job. Emergency tent hospitals were set up in some locations due to overcrowding.
http://home.nycap.rr.com/useless/bubonic_plague/index.html
1919- birthday of band leader/composer Mercer Ellington, Duke Ellington's only son, Washington, DC.
http://www.eternalflame.com/ellingtn.htm
http://americanhistory.si.edu/paac/deyf97/mrcr.htm
http://www.dukeellington.com/
1922-Drummer Jackie Mills born Brooklyn NY
http://www.artistdirect.com/music/artist/bio/0,,517878,00.html?artist=Jackie+Mills
1922- Madeline Houston McWhinnery birthday, founder of the First Women's Bank in New York City, the first full-service U.S. commercial bank to be predominantly owned and operated by women. In 1989, the name was changed to First New York Bank For Business and in 1994, it was liquidated.
1926- Sax player Billy Mitchell born Kansas City MO
http://www.billy-mitchell.com/
1927-First Armored Car Robbery: the Flatheads Gang staged the first armored truck holdup in U.S. history on the Bethel Road, seven miles out of Pittsburgh, Pennsylvania, on the way to Coverdale. The armored truck, carrying $104,250 of payroll money for the Pittsburgh Terminal Coal Company, drove over a mine planted under the roadbed by the road bandits. The car blew up and five guards were badly injured.
1932-Jazz violinist Leroy Jenkins born 1932 Chicago IL
http://aacmchicago.org/members/Leroy.html
http://www.otherminds.org/shtml/Jenkins.shtml
http://search.centerstage.net/music/whoswho/LeroyJenkins.html
1935- Bank of Canada opens.
http://www.bankofcanada.ca/en/histor.htm
1937-Hudson Delange Bank cuts "Sophisticated Swing."
(see Will Hudson--- http://nfo.net/.CAL/th12.html
http://www.radiomoi.com:8080/skins/default/back1.gif
http://www.tuxjunction.net/moonglow3.htm
1941- the Lend-Lease program began which enabled Great Britain to borrow money from the US to buy food and arms during World War II, went into effect.
1942 - Vaughn Monroe and his orchestra recorded "Sleepy Lagoon", the last song Monroe recorded for Bluebird Records. Vaughn sang while Ray Conniff played trombone. Both later went to different record companies: Monroe with RCA and Conniff with Columbia. The baritone of Monroe was heard on radio, and he was in several movies in the 1950s. He died in May of 1973. "Racing With the Moon" and "Ghost Riders in the Sky" were two of his greatest contributions to music.
1942- Canadian folk singer and songwriter David Wiffen born.
http://www.vaughnmonroesociety.org/
1945- rock guitarist Harvey "Snake" Mandel was born in Detroit. He learned blues guitar in Chicago, and beginning in 1968 played on albums by such artists as Canned Heat and John Mayall. Mandel developed into one of the most sought-after session men, as well as releasing several albums on his own.
http://www.harveymandel.com/yes_today/roots.html
1947- Mark Stein, organist with Vanilla Fudge, one of the first heavy-rock bands, was born in Bayonne, New Jersey. Vanilla Fudge's extended and slow-motion version of the Supremes' "You Keep Me Hangin' On" was a top-ten hit in 1968. Their debut album contained similarly extended versions of such songs as "Eleanor Rigby," "Ticket to Ride" and "Bang Bang." The group called their music "psychedelic-symphonic rock," but audiences soon tired of it. Vanilla Fudge broke up in 1970. Mark Stein later formed a group called Boomerang. There was a Vanilla Fudge reunion in 1986.
http://www.mark-stein.com/
1948-a record cold followed in the wake of a Kansas blizzard. Lows of 25 degrees below zero at Oberlin, Healy, and Quinter, Kansas established a state record for the month of march. Lows of 15 degrees below zero at Dodge City, 11 degrees below zero at Concordia, and 3 degrees below zero at Wichita were records for March at these locations. The low of 3 degrees below zero at Kansas City, Missouri was their latest subzero reading of record.
1950---Top Hits
Music, Music, Music - Teresa Brewer
I Said My Pajamas - Tony Martin & Fran Warren
Dear Hearts and Gentle People - Bing Crosby
Chatanoogie Shoe Shine Boy - Red Foley
1950- singer Bob McFerrin born, New York, New York
http://www.bobbymcferrin.com/
1952-Guitarist Johnny Smith along with Stan Getz cut Moonlight in Vermont, NYC.
1958—Top Hits
Don't/I Beg of You - Elvis Presley
Sweet Little Sixteen - Chuck Berry
Lollipop - The Chordettes
Ballad of a Teenage Queen - Johnny Cash
1959- the first play by an African-American woman to appear on Broadway was "Raisin in the Sun," by Lorraine Hansberry, which opened at the Ethel Barrymore Theatre, New York City. It was a story about an African-American family living in the Southside area of Chicago and starred Sidney Poitier, Ruby Dee, and Claudia McNeil.
http://voices.cla.umn.edu/authors/LorraineHansberry.html
http://www.uwyo.edu/wch/bdpmmrs.htm
http://www.public.iastate.edu/~spires/Concord/raisin.html
1960-Pioneer 5 was launched from Cape Canaveral, the first spacecraft placed in solar orbit to investigate interplanetary space between the orbits of Earth and Venus. It transmitted data for 138.9 hours.
1962 -a record heavy snowfall occurred in Iowa, leaving up to 48 inches (at Inwood) on the ground. It was described as "one of the most paralyzing snowstorms in decades".
1963- the Rolling Stones entered the IBC Studios in London for their first recording session. They recorded cover versions of songs by their r'n'b heroes - Bo Diddley, Willie Dixon and Jimmy Reed. The recordings were never released.
http://www.rollingstones.com/home.php
1966---Top Hits
The Ballad of the Green Berets - SSgt Barry Sadler
Listen People - Herman's Hermits
California Dreamin' - The Mamas & The Papas
Waitin' in Your Welfare Line - Buck Owens
1968 - Otis Redding was posthumously awarded a gold record for the single, "(Sittin' on) The Dock of the Bay". On December 10, 1967, Redding was killed in a plane crash in Lake Monona in Madison, Wisconsin, and was inducted into the Rock and Roll Hall of Fame in 1989. The song, recorded just three days before his untimely death, was one of 11 charted hits Redding recorded between 1965 and 1969.
http://www.otisredding.com/biography/index.html
1970-The 1969 Grammy Award winners are announced. The Fifth Dimension's "Aquarius/Let the Sunshine In" is Record of the Year. Blood, Sweat and Tears, by the band of the same name is "Album of the Year" and Joe South's "Games People Play" is Song of the Year. Also, Crosby, Stills and Nash won the Best New Artist
1971-TV's fictional Rock band, The Partridge Family, featuring David Cassidy on vocals, receives a Gold record for "Doesn't Somebody Want to be Wanted". It's the second of their five Top 20 hits.
1971 - Television networks ABC, NBC and CBS were told by the Federal Communications Commission that a limited three-hour nightly program service -- or 'prime time' -- would begin in September. The network programs were to be slotted between 8 and 11 p.m. on the East and West coasts -- an hour earlier in the Central and Mountain time zones.
1974---Top Hits
Seasons in the Sun - Terry Jacks
Boogie Down - Eddie Kendricks
Jungle Boogie - Kool & The Gang
There Won't Be Anymore - Charlie Rich
1982 - Marin County Supervisor Barbara Boxer officially files for the congressional seat being vacated by John Burton. Boxer, 41 , a former aide to Burton, says she will run against President Ronald Reagan's economic and enviromental policies. Mayor Dianne Feinstein says a San Franciscan should hold the seat, but Boxer has ralied support from San Francisco's leftist activists.
1982---Top Hits
Centerfold - The J. Geils Band
Open Arms - Journey
I Love Rock 'N Roll - Joan Jett & The Blackhearts
You're the Best Break This Old Heart Ever Had - Ed Bruce
1985 - DJs around the U.S. began questioning listeners to see which ones could name the 46 pop music stars who appeared on the hit, "We Are the World". The song, airing first on this day as a single, contains a "Who's Who" of contemporary pop music.
http://www.inthe80s.com/weworld.shtml
1986-After years of debate, NFL owners adopted a rule change allowing the limited use of televised replays to assist the officials on the field. This system was eliminated after the 1991 season and has been debated periodically ever since.
1988 - A blizzard raged across the north central U.S. Chadron NE was buried under 33 inches of snow, up to 25 inches of snow was reported in eastern Wyoming, and totals in the Black Hills of South Dakota ranged up to 69 inches at Lead. Winds gusted to 63 mph at Mullen NE. Snow drifts thirty feet high were reported around Lusk WY.
1989 - Twenty-one cities in the central and southwestern U.S. reported new record high temperatures for the date. The afternoon high of 95 degrees at Lubbock TX equaled their record for March.
1990 - Forty-four cities in the central and eastern U.S. reported record high temperatures for the date. Record highs included 71 degrees at Dickinson ND and Williston ND, and 84 degrees at Lynchburg VA, Charleston WV and Huntington WV. Augusta GA and Columbia SC tied for honors as the hot spot in the nation with record highs of 88 degrees. A vigorous cold front produced up to three feet of snow in the mountains of Utah.
1990---Top Hits
Escapade - Janet Jackson
Dangerous - Roxette
Roam - The B-52's
Chains - Patty Loveless
1994- Mary Wilson was the only original member on hand as the Supremes received their star on Hollywood's Walk of Fame. Diana Ross, who split with the Supremes in 1970, was in Europe. The third original Supreme, Florence Ballard, died in 1976.
http://www.marywilson.com/
1996- Celine Dion's "Falling Into You" was released. By the end of the year, the album had sold more than 18-million copies worldwide.
http://www.celineonline.com/
1997- Paul McCartney was knighted by the Queen in a ceremony at Buckingham Palace. Hundreds of fans, some wearing T-shirts that read "Arise Sir Paul," cheered his arrival and stayed outside the palace until he emerged.
http://www.cnn.com/SHOWBIZ/9703/11/mccartney/
1997- the Columbus Quest defeated the Richmond Rage, 77-64, to win the fifth and deciding game in the American Basketball League's first championship series. Columbus had trailed two games to one. The Quest were lead by Valerie Still, who scored 14 points and was named Most Valuable Player of the finals.
1998 - French authorities dug up the remains of legendary French singer and actor Yves Montand and whisked them to a laboratory for DNA tests to settle a paternity suit. . ( You may say, "What has this to do with American History and my closest answer is that he was an old flame of Marilyn Monroe.) The tests would determine if Montand was the father of Aurore Drossard, age 22, who claimed she was his daughter and wanted part of his estate. Montand died in 1991 at age 70, just three days before he was to testify in the lawsuit. While alive, he refused to submit to the DNA testing, but was forced to do it in death. Yves Montand was a popular French nightclub singer and movie actor, most famous for his dramatic role in the 1953 thriller The Wages of Fear. His long marriage to actress Simone Signoret weathered his reputation as a ladies' man, including his famous dalliance with Marilyn Monroe, his co- star in Let's Make Love (1960). In the 1980s Montand had a second wind, with character roles in several films including Jean de Florette (1986). By the way, the DNA tests proved she was not his daughter
http://www.planningsense.com/archive/2001/05142001.html
http://www.findagrave.com/cgi-bin/fg.cgi?page=gr&GRid=1359
2001- Preston Wilson signs a $32 million, five-year contract with Florida. The 26-year old Marlin center fielder, the franchise's first 30-30 player, was obtained from the Mets in the Mike Piazza deal.
--------------------------------------------------------------

SuDoku
The object is to insert the numbers in the boxes to satisfy only one condition: each row, column and 3x3 box must contain the digits 1 through 9 exactly once. What could be simpler?
http://leasingnews.org/Soduku/soduko-main.htm
--------------------------------------------------------------

Daily Puzzle
How to play:
http://www.setgame.com/set/puzzle_frame.htm
Refresh for current date:
http://www.setgame.com/set/puzzle_frame.htm
--------------------------------------------------------------


http://www.gasbuddy.com/
http://www.gasbuddy.com/GB_Map_Gas_Prices.aspx
http://www.gasbuddy.com/GB_Mobile_Instructions.aspx
--------------------------------------------------------------

Weather
See USA map, click to specific area, no commercials
--------------------------------------------------------------

Traffic Live---
Real Time Traffic Information
You can save up to 20 different routes and check them out with one click,
or type in a new route to learn the traffic live
--------------------------------