Friday, May 11, 2007
Headlines---
Classified Ads---Controller
Levine interviews Bentsen at EAEL Conference
EAEL Conference by Allan Levine
Classified Ads---Help Wanted
Lease Financing Transactions and CMC
Marlin Stock Hits New Daily Low
FirstFed tops list of annual thrift rankings
Cartoon---Attorney's Bumper Strip
"To Tell the Truth"... How to be a Legal Expert
by Christopher Menkin
European Lease Blog Continues to Grow
Real Owner of All Those Planes: Steven Udvar-Hazy
GE pays $1.1 billion for Sanyo Electric Credit
CAI Expects to Raise $78.6M in IPO
News Briefs---
You May have Missed--- What bottled water is best?
Sports Briefs---
"Gimme that Wine"
Calendar Events
Snapple Real Facts
Today's Top Event in History
This Day in American History
Baseball Poem
SuDoku
Daily Puzzle
######## surrounding the article denotes it is a "press release"
-----------------------------------------------------------------------

Classified Ads---Controller
Boca Raton, FL
CPA w/ Sarbanes Oxley/ 15 years management exp. as CFO/ Controller/5 yrs w/ PWC Extensive exp providing accounting/ tax guidance for the equipment lease industry. Willing to relocate.
Email: bltushin@hotmail.com

Chicago, IL
Experienced in lease accounting, operations, management, and Sarbanes-Oxley. Seeking position with equipment lessor. Would consider contract assignments or relocating.
Email: leasecontroller@comcast.net

Southeastern, MI
Controller & Management experience w/ equip lessors &broker. MBA, CPA w/ extensive accounting, management, securitization experience with public and private companies. Willing to relocate.
Email: Leasebusiness@aol.com

West Palm Beach, FL
CPA/CFO/Controller/Due Diligence Officer/SOX Lead seeking position.
Email: obrienhowardj@aol.com
These job-wanted ads are free. We also recommend to both those seeking a position and those searching for a new hire to also go to other e-mail posting sites:
http://www.leasingnews.org/Classified/Posting_sites.htm
To place a free "job wanted" ad here, please go to:
http://www.leasingnews.org/Classified/Jwanted/Jwanted-post.htm
For a full listing of all "job wanted" ads, please go to:
http://www.leasingnews.org/Classified/Jwanted/Jwanted.htm
--------------------------------------------------------------

Levine interviews Bentsen at EAEL Conference

By: Allan Levine, COO, Madison Capital LLC, Baltimore, MD
This was perhaps an historic moment as the Equipment Leasing and Finance Association (ELFA) president, the Honorable Kenneth E. Bentsen, Jr. addressed the Eastern Association of Equipment Lessors ( EAEL) Spring Conference at the Seaview Resort & Spa Marriott Resort, Galloway, New Jersey.

Hon. Kenneth E. Bentsen, Jr., ELFA President
Since Bentsen was appointed president last year, there are noticeably changes to the leasing association. It is not only a name change and a female chairperson, Valerie Hayes Jester, or a more aggressive advocacy effort, but a reaching out, something other leasing associations, such as EAEL have not experienced before.

Valerie Hayes Jester, President of Brandywine Capital Associates, West Chester, PA. The first female chairperson of the Equipment Leasing and Finance Association, founded in 1961.
It was my distinct pleasure to meet the former congressman from Texas, and interview him before the meeting as well as to listen to his remarks at the conference.
After my interview with Ken Bentsen, I can only confirm my original impression that he brings a new kind of leadership, as it should be, to the newly-named ELFA. Times do change, mission statements change, and what drives organizations can change. It sounds as though ELFA is committed to a multi-year plan to "brand" our industry. Ken wants ELFA and industry supporters to educate our legislature and the business community to understand the important role lease financing plays in our economy. In short, Mr. Bentsen sees leasing as a "critical component of the financial supply chain".
As for ELFA membership, the perception that only large companies can afford or benefit from the ELFA is not in Mr. Bentsen's new footprint. He wants to diversify ELFA membership. In short, there will be an effort made to make membership more attractive so many non-members will consider joining. Under his leadership, the organization is exploring additional programs to attract a more diverse membership. A truly diverse membership, where all size companies derive benefit from what ELFA has to offer, will only help the industry overall. And, as members, all will have access to the vast amounts of industry data the ELFA provides. Exploring cost efficient and affordable ways to electronically deliver information members want and can afford is being reviewed for future implementation.
In addition, we need to police our industry. If we do not, politicians and others who may not understand the total industry picture may make decisions unfavorable to our industry. Others may wind up regulating our products without understanding our business. He feels we need to describe our industry to the business community. We are and will be the best at defining ourselves.
Also, Ken did not rule out a certification type program for industry professionals. If we do not regulate our business, the courts will. Let us look at the NorVergence case. Industry insiders can argue right or wrong, but the courts are sure making it look like the industry organizations have an obligation to question and police policy, practices, contracts, and pricing.
Politically, he feels we need to define who we are and not let politicians do it for us. "We should be proactive as an industry and not the target of others who want to regulate us."
On the economic front, Ken feels the economy as a whole will continue to have moderate growth as there is no recession in sight. With the continued expansion of our industry, he also sees private equity and hedge funds more willing to be involved in our business. There is plenty of money available and the yields can be attractive.
In addition, Mr. Bentsen has spent a lot of time traveling and visiting many members in the field. That is a great message. It appears he is out there and anxious to see what is going on.
In the end, one can only feel Kenneth E. Bentsen can make a difference. He is not a status quo guy out to appease a few. He has the experience, economic savvy, leadership ability, and most of all, the desire to make ELFA a "must belong to" association.
He is accessible. He is sincere. He wants to improve our industry with proper representation before the state and federal legislators. And he is not only asking his own membership to assist in improving the leasing industry, but is reaching out to others, including the Eastern Association of Equipment Lessors. He was clear about wanting all the leasing associations to work together for the good of the entire leasing community.
Mr. Bentsen has spent a lot of time traveling and visiting many members in the field. That is a great message. It appears he is out there and anxious to see what is going on.
In the end, one can only feel Kenneth E. Bentsen can make a difference. He is not a status quo guy out to appease a few. He has the experience, economic savvy, leadership ability, and most of all, the desire to make ELFA a "must belong to" association. Time will tell. One certainly gets the sense this president is accessible and will, as the second ELFA President, be different and make a difference.
--------------------------------------------------------------

EAEL Conference by Allan Levine
Bill Cowden congratulating Bruce Smith on being the new EAEL President.

Left to right: Cowden, Smith
Bill Cowden, Springs Leasing, Springs
Leasing, Charlotte, NC
Bruce Smith, Diversified Leasing, New Jersey
photo by A.Levine
Women in Leasing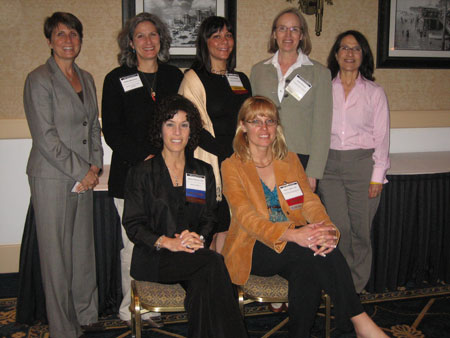 Click on image to see larger image.
Top left to right:
Jester , Monosson, Castagna, Williams, Pryor
Sitting: Madams Pistorio, Lipski
Valerie Hayes Jester
Chairperson ELFA
President Brandywine Capital Associates, Inc.
Deborah J. Monosson
President
Boston Financial & Equity Corporation
Denise Castagna
Marketing Coordinator
Nassau Asset Management
Judith Williams
Marketing Manager
American Lease Insurance
Alison Pryor
Executive Director EAEL
Sitting Left to right
Nancy Pistorio, CLP
Executive Vice President
Madison Capital
Shari L. Lipski, CLP
Principal
ECS Financial Services Inc.
photo by A.Levine
On Sunday May 6, the Equipment Association of Equipment Lessors held its annual Spring Conference at the Seaview Resort and Spa outside of Atlantic City.
EAEL installed a new a new president, Bruce Smith of Diversified Capital (New Jersey). His VP will be Bruce Winter of FSG Leasing (Laurel, Md.). Mr. Smith succeeded Nancy Pistorio of Madison Capital LLC (Baltimore). The term is for two years.
With the largest attendance of any prior Spring Conference, leasing execs including brokers, banks, funding sources, and service providers converged to pack networking and learning sessions, at its finest, into a few days. Sunday saw a golf tournament and evening opening reception that made one ready for the next two days of knowledge building information.
Learning sessions included:
A. Motivating sales personnel and retaining more customers
B. Presentations from Experian, Equifax, and Paynet as leasing tools were explored
C. "Let it Ride"-Anything one would want to know about vehicle leasing
D. A Sales training session with Rick Farrell focused on the dynamics of selling.
All sessions were well attended and provided great venues for picking up
"that extra piece of leasing info".
In addition, Ken Bentsen, the current ELFA President was the keynote speaker. He covered the State of the Industry, State and Federal Legislative issues, and ELFA's new Code of Fair Business Practices policy. He was gracious, thorough, very approachable, and possessed much industry information for the enthusiastic audience. There was a Q & A session that lasted about 40 minutes.
Allan
Allan Levine, Chief Operating Officer
MADI$ON CAPITAL
9D Gwynns Mill Court
Owings M i ll s , MD 21117

Direct Line: 443.796.7337
Office: 443.796.7333
fax: 443.796.7200
Equipment and Vehicle Leasing Solutions
www.madisoncapital.com

--------------------------------------------------------------

Leasing Industry Help Wanted
Regional Sales Managers


Regional Sales Managers
To establish small ticket vendor programs in major metro areas. Excellent compensation/ benefit package. View job description. Send resumes to Zully.Fernandez@IrwinCF.com
Company Description:
Irwin Commercial Finance (NYSE: IFC) is a true direct lender and in the ever changing leasing environment, we bring stability, creativity and consistent customer service levels to our business.


Sales

Financial Funding Services, LLC

Sales
We are looking for highly motivated sales staff with proven lease experience. If you are currently networked and have a source of business and want to become independent working from your home
or current office, we want to talk with you about joining our team. In addition to providing you and your customer base the very best of financial programs, service and support, we offer you a generous 60% of gross commission.
Please email Karl Probst, General Manager
kprobst@willamette-financial.com
Willamette Financial Funding Services LLC has been established since 1986. We are highly efficient, motivated and a leader in placing exceptional and challenged credits nationally. We are well connected with major funding sources capable of taking A, B and C credits. Our credit processing and clerical support to our sales staff is responsive and extremely efficient.


Sr. Credit Analyst


Senior Credit Analyst
Walnut Creek, California
Excellent opportunity to work with growing equipment leasing bank division, excellent reputation. Click here for more information.

First Republic Bank has offices in the San Francisco Bay Area, throughout California, and in Portland, Seattle, Las Vegas, Boston and New York.
----------------------------------------------------------------

Lease Financing Transactions and Commercial Money Center Inc.
ELFA eNews Daily
Should the ability to prevent fraud in lease financing transactions be trumped by a perceived need to preserve flexibility in such transactions? The Journal of Equipment Lease Financing recently published an article discussing the problems raised by a 2006 bankruptcy decision and suggests ways in which creditors may obtain some limited protection.
Lease Financing Transactions article, written by Benjamin R. Norris, explores the decision of the Bankruptcy Appellate Panel for the Ninth Circuit (BAP) in re Commercial Money Center Inc. and suggests some practical steps that may give protection against the problems created by the Bag's decision.

Benjamin R. Norris
brn@quarles.com

Benjamin R. Norris practices in the area of bankruptcy and creditors' rights, as a partner in the Phoenix office of the law firm Quarles & Brady. He has extensive experience in bankruptcy litigation as well as general commercial litigation in both state and federal courts, handling bench and jury trials involving prosecution and defense of bankruptcy avoidance actions, contracts, corporate control issues, lease disputes ,and lender issues. From 1989 to 1993, Mr. Norris was a trial attorney with the U.S. Department of Justice in Washington, DC. He was admitted to the State Bar of Arizona in 1987 and chaired its bankruptcy section in 2005-2006. He received his BA from Yale University in New Haven, Conn., in 1983 and a JD from Northwestern University, Chicago, in 1986.
Complete copy here:
http://leasingnews.org/PDF/norris%20article%5b1%5d.pdf
The Equipment Leasing & Finance Foundation publishes the Journal three times per year. Subscriptions are available through the Foundation website, www.LeaseFoundation.org
----------------------------------------------------------------

Marlin Business Service Stock Hits New Daily Low
No President, no Vice-President of Broker Division, and who's going from Marlin Leasing to the National Association of Equipment Leasing Broker's Nashville Conference next week?
Previous articles:
http://www.leasingnews.org/Conscious-Top%20Stories/Marlin_1st_qtr.htm
----------------------------------------------------------------

FirstFed tops list of annual thrift rankings
PFF Bancorp Third
By Maria Tor
Options Toolbox
SNL.com
Santa Monica, Calif.-based FirstFed Financial Corp. ($8.53 billion) topped SNL Financial's annual ranking of the 100 largest thrifts, an interesting feat, given that FirstFed also topped a recently compiled list of institutions with the most short interest.
FirstFed, an option ARM lender, placed in the top 10 of four of the six categories that SNL uses in determining the rankings, including the No. 1 spot for 2006 core return on equity.

Click on image to see a larger chart.
The rankings are based on 2006 performance at the 100 largest thrifts by asset size. SNL ranks the thrifts in six categories, then weights each ranking in determining a final score. The following four categories are applied a 20% weighting: Core return on average assets, core return on average equity, three-year core cash EPS growth, and the efficiency ratio. The other two categories are each weighted at 10%: The ratio of nonperforming assets, including loans 90 days past due, to total assets, and net charge-offs as a percent of total loans.
It had the 41st best ratio of nonperforming assets to assets and the 28th best ratio of net charge-offs to average loans. However, these ratios are as of Dec. 31, 2006, and FirstFed's first-quarter earnings report, issued April 25, revealed that nonperforming assets have increased to 0.46% of assets at March 31, from 0.21% at Dec. 31, 2006. Net charge-offs increased to 0.03% from zero percent.
Other mortgage lenders that are often lumped in as potential victims of the housing downturn were also ranked favorably in the 2006 rankings. Newport Beach, Calif.-based Downey Financial Corp. ($15.24 billion), another ARM lender, placed fifth; Coral Gables, Fla.-based BankUnited Financial Corp. ($13.94 billion), placed 15th; and Pasadena, Calif.-based IndyMac Bancorp Inc. ($29.69 billion) placed 18th. These companies have rewarded investors with favorable ROAE in 2006, which drove their high rankings. All three had short interest making up at least 30% of common shares outstanding as of April 15, indicating that at least some in the market do not believe these high ROAEs will last for long. Cracks in IndyMac's performance have already begun to show. The company's ROAE in the first quarter was 10.63%, compared to over 19% for 2006. IndyMac said in April that it expected its ROE to be around 10% again in the second quarter.
Rancho Cucamonga, Calif.-based PFF Bancorp Inc. ($4.55 billion) hit No. 3 in the rankings and is another institution with exposure to the California real estate market, especially through its finance unit, Diversified Builder Services Inc. While its asset quality rankings were low, it scored highly in ROAA, ROAE and the efficiency ratio.
Following FirstFed in the rankings is another institution that is not the typical thrift: Annapolis, Md.-based Severn Bancorp Inc. ($900.0 million). The company, which has four branches in Maryland, sells all of its fixed-rate mortgages to the secondary market, and so less than a third its portfolio is made up of residential mortgages. Construction, land acquisition and development loans make up 35.55% of the portfolio, according to the company's latest Form 10-K, and commercial real estate makes up 20.26% of the loans on its books.
2006 was a year that rewarded thrifts with strong ties to the housing market and to investors purchasing mortgage loans in the secondary market. As economists continue to caution that the housing and mortgage markets may get worse before they get better, next year's rankings could highlight a different type of high performer: thrifts that are able acclimate to a difficult operating environment.
----------------------------------------------------------------

----------------------------------------------------------------

"How to be a Legal Expert"
by Christopher Menkin
Even if you do not have the college degrees to qualify, you may have the experience to assist in resolving a dispute, supplying testimony as to common practices, or defining the procedures
in the leasing marketplace. You may also help mediate a settlement or be able to explain "leasing jargon" or give insight into current practices.
You are to be impartial, meaning you are not to represent the attorney and his client who hired you, but to give you unbiased "expert" testimony only. In trial, you may be called as an "expert witness," to give your professional opinion.
Attorneys and their client will pay for you expert testimony. This could be from $150 to $450 an hour, including traveling time, waiting time, lodging and food, too. I have been in cases where each side has two or more expert witnesses, each. While situations vary, it is possible to earn from $5,000 to $10,000 for your time in one case.
This column will explore the basics, such as "C.V.", agreement, and arriving at basic fees to charge.
Every legal expert, and in fact, every attorney, has a "C.V."
It stands for "Curriculum vitæ." It is Latin for "course of life." It basically is a summary of academic and professional history and achievements.
Some begin with a short paragraph: a summary. It should only be a few sentences, then list your education, then employment in the leasing industry.
If you have testified in any matters as a witness, it is best to list them. If you are hired and the opposing counsel wants to learn about you, one of the requirements is listing previous cases along with the attorneys name and address. Some may require a brief description of the case. A good litigator may call himself or have an assistant call your these references on the telephone to learn about you as a legal expert.
You may have a short version and a long version, depending on its use in a publication or a court room. Samples "on line" follow this article. You may be questioned in a deposition,
so don't exaggerate in your "C.V."
Here is a form that you can download for a fee and use on your computer (you can view it on line, too.) It covers mileage, waiting time, administrative time, research time, court time, and you need to decide what you are worth an hour and work backwards from there. Usually travel time is half your regular time and often court time is 1 ½ your regular time. Don't forget your parking receipts.
In San Francisco, that can be $25.00
http://www.4expertise.com/Contract_for_Expert_Witness_Services.html
You can vary your fee per case. It is most common that your fee equals the attorney hourly fee. It is best to first talk with the attorney on the telephone to understand what may be required. This conversation is generally free. Don't give any opinions at this time. Listen. If there is research to be done or to understand what you may be hired for, ask the attorney for an estimate of the time. Ask
him what he expects to pay you. Most often, they may turn it around. You may say the fee varies and you want to learn more about the "situation." To learn more, you may guess (never underestimate.) If it is four hours, make sure he sends you a check along with the documents before you proceed, or when you arrive at his office, you want a check first. I walked away from one he didn't have a check ready, or couldn't get one. It is not the way I want to start a "relationship." Also as a witness, even if brought to an office by a subpoena, you are entitled to a fee. I made one attorney give me cash,
that I signed for. Collecting from an attorney is not something that I look forward to. No money,
no performance.
Once you pass this threshold, I strongly suggest before going further that you obtain an agreement, plus a retainer. Don't work for free. Believe me, the smart attorney always gets a retainer from a new client. He expects you to ask for one, and if you don't, you are not only a "newcomer," but not as "smart" as he is. He won't work for a new client without a retainer. Why should you?
Early in the game an attorney called me up about a client who reportedly did not have a purchase option, and the lessor wanted an additional 12 months payment. It was a pretty large lease. The lessee claimed it was to be a $1.00 purchase, and the attorney thought the 12 month payment
was a "gimmick."
After agreeing to look at the paperwork, I estimated three hours.
At the time, I was charging $200 an hour, so he sent me the lease contracts, which I read, recognized the bank form, found three other leasing companies who did true leases with a 12 month extension, got a copy of their documents, and wrote up an opinion that the payment matched a "tax rate implied interest" and included the documents to support my opinion. He called me up and was annoyed with the opinion, and after a half hour of time, I told him I had almost four hours into this, but some was administrative, so send me the $600, since he obviously wasn't interested in my opinion or hiring me. You guessed it, I wound up taking him to small claims court (he sent in a check the day before the date, and I had the small claims postponed 30 days as I didn't trust him that the check would clear.)
I had another experience that I was charging $125 an hour for research and $250 an hour for my time, and the party only heard the $125 an hour. When I went over the retainer dollar amount, we both discovered the misunderstanding.
So I not only require a retainer, but a contract, too. Sometimes you have to chase money as the attorney will say the client is paying for your time, and should be paying you direct, but his client has not paid him. I have found attorneys in the middle of a case seem reluctant to ask their client
to pay them on time. Maybe I have had some poor experiences, but that is my observation. If they want to work for free, that is their business. I can tell you from experience, once you are no longer necessary (such as a case settling early,)
you will have to chase your money.
There are printed and internet legal expert directories where attorneys can find your "C.V." and explore your ability to help them; geography may make a difference, your experience in your niche may
benefit all parties, and you can be paid for your experience.
You can advertise in state and county bar directories, regional books, national books, legal notice newspapers, or on the internet as (list them.) Or on your web site as Ken Goodman, CLP does:
http://www.leasegood.com/
The best is referral and getting your name out that you are available. Making yourself available to those in your geographic neighborhood who may need your "expert" services is the first thing to do.
Equipment Leasing Legal Experts on line:
http://www.romingerlegal.com/expert/consultants/leasing_bonanno.html
http://expertpages.com/experts.php/leasing_california.htm
http://www.continopartners.com/rmcontino.htm
http://www.almexperts.com/ExpertWitness/adr/expert/5157519.html
http://www.thealtagroup.com/
Other advice on being a Legal Expert:
http://expertpages.com/news/cv_checklist.htm
Christopher "Kit" Menkin is the editor/publisher of Leasing
News. Here is his biography:
http://www.leasingnews.org/Advisory%20Board/kit_bio.htm
----------------------------------------------------------------
*********Announcement*********************************

European Lease Blog Continues to Grow
Facts & Figures:
220+ members since January
300-400 unique visitors per month
21000+ page views
Features:
Blog: A series of regularly updated blogs on a whole range of topics from Customer Loyalty through to the Hungarian Leasing Market.
Forum: Interactive forum for members to post ideas and opinions.
Leasing Jobs Index: A complete round up of over 50 top jobs in the European Leasing market
New & Moves: Press releases and corporate announcements.
Research: Links to the latest research being conducted within the industry.
Web Links: Corporate web links
RSS Feeds: RSS feeds sending content direct to your news readers.
Daily Toon: Daily business related cartoon...intended to make you smile.
If you haven't visited theLeaseBlog.com recently you will see some big changes, all designed to make theLeaseBlog.com experience better for you as members. Please take the time to check out the changes and be sure to let us know what you think of them...and don't forget to pass the word on and refer your friends and colleagues to the site.
Thank you all for your support so far and I look forward to developing the community further.
Kind Regards
Editor @ theLeaseBlog.com
***********Announcement********************************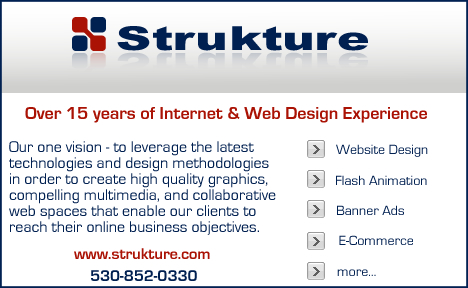 --------------------------------------------------------------

News Briefs----
The Real Owner of All Those Planes: Steven Udvar-Hazy
http://www.nytimes.com/2007/05/10/business/10flyboy.html?ref=business
GE pays $1.1 billion for Sanyo Electric Credit
http://www.iht.com/articles/2007/05/10/business/sxbriefs.php
CAI Expects to Raise $78.6M in IPO
http://biz.yahoo.com/ap/070510/cai_international_ipo_brief.html?.v=1
Trade Deficit Hits a Six-Month High
http://www.nytimes.com/2007/05/11/business/11tradedeficit-web.html?_r=
1&ref=business&oref=slogin
Retailers Issue Gloomy Sales Report for April
http://www.nytimes.com/2007/05/11/business/11retail.html?ref=business
JetBlue's Founder Is Stepping Aside as Chief
http://www.nytimes.com/2007/05/11/business/11jetblue.html?_r=1&ref=business&oref=slogin
Rice comes to Wolfowitz's aid over World Bank controversy
http://www.signonsandiego.com/news/business/20070510-1343-worldbank-wolfowitz.html
---------------------------------------------------------------


You May have Missed---
What bottled water is best?
http://www.cleanairpurewater.com/best_bottled_water.html
---------------------------------------------------------------

Sports Briefs----
Ravens' McNair not driving, but arrested in DUI incident
http://www.usatoday.com/sports/football/nfl/ravens/2007-05-10-mcnair-arrested_N.htm
Pistons back Bulls into corner after Game 3 win
http://www.usatoday.com/sports/basketball/nba/2007-05-10-pistons-bulls-game-3_N.htm
----------------------------------------------------------------


"Gimme that Wine"
TASTE 3 at Robert Mondavi, New Wine Culture, and the Cutting Edge
http://www.winebusiness.com/news/DailyNewsArticle.cfm?dataid=48093
Indian market fast opening up to wine
http://www.indiaenews.com/europe/20070510/51100.htm
Wine and Food matcher program
http://www.nataliemaclean.com/matcher/
When there's a challenge, wineries big and small consult with a Mr. Fix-It
http://www.sfgate.com/cgi-bin/article.cgi?f=/c/a/2007/05/04/WIG9BPGIR51.DTL
Wild for Wabo: $80 million will lift Hagar's spirits
http://www.sfgate.com/cgi-bin/article.cgi?f=/c/a/2007/05/07/
BUGOTPMMJ19.DTL&type=wine
Wine Prices by vintage
http://www.winezap.com
http://www.wine-searcher.com/
US/International Wine Events
http://www.localwineevents.com/
Winery Atlas
http://www.carterhouse.com/atlas
Leasing News Wine & Spirits Page
http://two.leasingnews.org/Recommendations/wnensprts.htm
The London International Vintners Exchange (Liv-ex) is an electronic exchange for fine wine.
http://www.liv-ex.com/
----------------------------------------------------------------

Calendar Events This Day
Chair Day
Eat What You Want Day –
Here's a day you may actually enjoy yourself. Ignore all those on-again/off-again warnings.
http://holidayinsights.com/moreholidays/May/eatwhatyouwantday.htm
www.dietitian.com/junkfood.html
International Migratory Bird Day –
To educate the public about migratory birds and the preservation of their habitats in the US and Central America. Annually, the second Saturday in May.
Military Spouse Appreciation Day
http://holidayinsights.com/moreholidays/January/spousesday.htm
Minnesota: admission Day:
Anniversary – Became 32nd state in 1858.
Twilight Zone Day
http://holidayinsights.com/moreholidays/May/twilightzoneday.htm
http://www.scifi.com/twilightzone/
Saint Feast Days
http://www.catholic.org/saints/f_day/may.php
----------------------------------------------------------------

The popsicle was invented in 1905 by an 11-year-old boy.
http://www.icecreamusa.com/popsicle/history/
----------------------------------------------------------------

Today's Top Event in History
1895--Birthday of American composer William Grant Still, born Woodville, Ms; perhaps the best-known African-American classical composer of the 20th century Died 3 December 1978, Los Angeles, California. Still wrote 8 symphonies, 7 operas and more than 100 other works, included such important works as Levee Land and Sahdji. As the ClassicalMusicDetroit.com site notes, he was a pioneer in many ways: as the first Black person to conduct a major American symphony (the Los Angeles Philharmonic at the Hollywood Bowl in 1936), to have an opera (Troubled Island in 1949) produced by a major company, and to have an opera performed on television
(Bayou Legend, posthumously, in 1981).
http://www.williamgrantstill.com/wgsbiography/
http://www.shs.starkville.k12.ms.us/mswm/MSWritersAndMusicians/musicians/WGStill.html
http://odyssey.lib.duke.edu/sgo/findaid/stillbio.html
[headlines]
----------------------------------------------------------------

This Day in American History
1647 - Peter Stuyvesant arrived in New Amsterdam to become governor.
1690 -- In the first major engagement of King William's War, British troops from Massachusetts seize Port Royal in Acadia (Nova Scotia and New Brunswick) from the French.
1807-Birthday of Ira Aldridge, Great 19th century Black actor, famous throughout the world, died 1867.
1823--Birthday of (Catherine) Sister Irene Fitzgibbon, headed a home for foundling babies whose care had previously been assigned to prisoners or the inmates of poorhouses.
She established the New York Foundling Hospital, a maternity hospital, a hospital for children, a care facility for children, a hospital for TB patients, and developed a program to give decent care for unwed mothers both before and after birth.
http://www.catholicity.com/encyclopedia/f/fitzgibbon,catherine.html
http://www.orphantrainriders.com/otm11.html
1858-Minnesota entered the Union as the thirty-second state on this day. Known as the "Land of Ten Thousand Lakes," Minnesota is the northern terminus of the Mississippi River's traffic and the westernmost point of an inland waterway that extends through the Great Lakes and the St. Lawrence Seaway to the Atlantic Ocean. The Ojibwe and the Dakota were among the Native peoples who first made this land their home and white settlement of the area began in 1820 with the establishment of Fort Snelling. In 1849, Minnesota became a US territory. The building of railroads and canals brought a land boom during the 1850s, and Minnesota's population swelled from only 6000 in 1850 to more than 150'000 by 1857. Chiefly a land of small farmers, Minnesota supported the Union in the Civil War and supplied large quantities of wheat to the Northern armies. Originally settled by migrants of British, German, and Irish extraction, Minnesota saw a major influx of Scandinavian immigrants during the nineteenth century. Minnesota's "Twin Cities" — Minneapolis and St. Paul — grew out of Fort Snelling, the center of early US settlement.
http://memory.loc.gov/ammem/today/may11.html
1862 - The Confederate ironclad CSS Virginia was destroyed by Confederate forces to prevent its capture by Union troops. The Virginia was built from the salvaged hull of the USS Merrimack. Two months prior to its destruction, the Virginia fought several Union ships in what became known as "The Battle of Hampton Roads."
1864-Attempting to head off Union General Phil Sheridan's cavalry advance on Richmond, one of the South's greatest military strategists, Confederate General J.E.B. Stuart's cavalry encountered the Federals at Yellow Tavern, Virginia. It was a surprise encounter, not only changing the direction of the war, but Stuart was mortally wounded in the battle and died the following day. The loss of one of its most colorful and effective cavalry leaders was a great loss to the South. It also marked the first time that Sheridan, with Gen. Grant's approval, was making his first independent cavalry action, surprising Stuart considerably. The battle did accomplish the delay of the Federal advance, delaying it long enough for the Confederates to strengthen the defense at Richmond, and Sheridan was forced to change his plans. After a standoff with the Union ironclad Monitor on Mar 9, the Confederate ironclad Merrimac was destroyed by the Confederate navy on May 11. In the wake of advancing Union troops in the Peninsular Campaign. the South was forced to destroy the valuable vessel and its manufacturing facility to prevent its capture by Union forces. The "History Channel" has an excellent series about these two warships.
1867-- Jefferson Davis [03 Jun 1808 – 06 Dec 1889] is released on bail from prison where, since being captured on 10 May 1865, he was awaiting a treason trial (which never would take place: the charges would be dropped on 25 December 1868) for having been President of the Confederacy during the US Civil War.
1885 --Jazz musician "King" Oliver born New Orleans, Louisiana.
http://www.redhotjazz.com/kingo.html
http://www.michaelminn.net/armstrong/sessions1/s231005.html
http://www.amazon.com/King-Olivers-Creole-Jazz-Band/dp/B000005R5L
#moreAboutThisProduct
1888-- American songwriter Irving Berlin was born in Russia. He wrote nearly 1,000 songs, and had his first hit in 1911 with "Alexander's Ragtime Band." Many of his best songs came from such Broadway musicals as "Call Me Madam" and "Annie Get Your Gun." Berlin also composed film scores, and many of his stage musicals were adapted for the screen. Among the best known of his songs are "White Christmas," "God Bless America" and "There's No Business like Show Business." On this date in 1988, celebrities from Frank Sinatra to Isaac Stern, Ray Charles to Leonard Bernstein paid musical tribute to Irving Berlin on his 100th birthday. The Carnegie Hall concert ended with all the performers singing "There's No Business like Show Business." Berlin himself did not attend but members of his family were there. Berlin died on September 22nd, 1989, age 101.
1894--Birthday of Martha Graham, the woman who most embodied the movements of modern dance; who influenced American modern dance as a dancer, teacher, and choreographer. Her career spanned more than 60 years during which she created almost 200 works from solos to feature presentations. Died April 1, 1991
http://www.time.com/time/time100/artists/profile/graham.html
http://marthagraham.org/center/
http://www.pbs.org/wnet/americanmasters/database/graham_m.html
1895--Birthday of American composer William Grant Still, born Woodville, Ms; perhaps the best-known African-American classical composer of the 20th century Died 3 December 1978, Los Angeles, California. Still wrote 8 symphonies, 7 operas and more than 100 other works, included such important works as Levee Land and Sahdji. As the ClassicalMusicDetroit.com site notes, he was a pioneer in many ways: as the first Black person to conduct a major American symphony (the Los Angeles Philharmonic at the Hollywood Bowl in 1936), to have an opera (Troubled Island in 1949) produced by a major company, and to have an opera performed on television (Bayou Legend, posthumously, in 1981).
http://www.williamgrantstill.com/wgsbiography/
http://www.shs.starkville.k12.ms.us/mswm/MSWritersAndMusicians/musicians/WGStill.html
http://odyssey.lib.duke.edu/sgo/findaid/stillbio.html
1901--Birthday of Gladys Rockmore Davis, U.S. artist who has works hanging in the Metropolitan Museum of Art. Died 1967.
http://www.rogallery.com/davis_gladys_rockmore/davisgr-biography.htm
http://www.artnet.com/artist/652212/gladys-rockmore-davis.html
1910 - Glacier National Park in Montana was created by an act of Congress. With over one million acres, the park is home to many animals, including wolves, grizzly bears, and mountain lions, and over 1400 plant species.
1926 -- Birthday of Mort Sahl, comedian, political satirist, beatnic, born Montreal, Quebec, Mort Sahl was one of a kind -- a razor-sharp trailblazer of biting, tremendous popular critical comedy in the 1950s and 1960s.
http://www.mortsahl.com/
http://www.imdb.com/name/nm0756340/
1927 - The Academy of Motion Picture Arts and Sciences was founded. The first Oscars were for films produced in the first year of the Academy: 1927-28. (For the first 6 years, the awards were for films produced during the fiscal year, not the calendar year.) Among the first winners were Emil Jannings and Janet Gaynor for acting, and Wings for best picture.
1928 - WGY-TV in Schenectady, New York began the first schedule of regular TV programs. WGY offered programming to the upstate New York audience three times a week using the electronic scanning method.
1937 -- Battle of the Bands between Benny Goodman & Chick Webb, Savoy, NY.
1938-Birthday of American composer Harvey Sollberger.
http://music.ucsd.edu/public/fm_music_directory.php?cmd=fm_music_directory_detail
&query_Full_Name=+Harvey+Sollberger&query_Active_Status=Faculty
http://grace.evergreen.edu/~arunc/texts/music/wolpe/wolpe/Harvey_Sollberger.html
http://www.newworldrecords.org/album.cgi?rm=view&album_id=17524
1941-- rock singer Eric Burdon, who first came to fame with the Animals during the 1960's British invasion, was born in Newcastle-on-Tyne, England. The Animals hit the top of the charts in both Britain and North America in the summer of 1964 with "House of the Rising Sun." When the original group broke up in 1966, Burdon began billing the band as Eric Burdon and the Animals. They began playing psychedelic songs, such as "San Franciscan Nights" and "Sky Pilot." In 1970, Eric Burdon fronted the funk band War for their number-one hit "Spill the Wine," but by the following year Burdon and War had parted company.
1942 -- Go Down, Moses by William Faulkner is published.
http://www.mcsr.olemiss.edu/~egjbp/faulkner/faulkner.html
1946 - Jack Barry, a familiar face on TV game shows, hosted "Juvenile Jury" on WOR Radio in New York City. The show was such a hit after five weeks on the air that it debuted on the Mutual Broadcasting System coast to coast. Maybe Barry became a bit too familiar in 1959. It was "Twenty One", the e1947 - B.F. Goodrich, from Akron, Ohio, announced the development of the tubeless tire.
enormously popular show that Barry hosted, that led to the Quiz Show Scandal that rocked television and the U.S. Congress.
1950-- After fans boo him for misplaying a ball, Ted Williams makes an inappropriate gesture three times (once to left, once to center, and once to right) to the Red Sox fans sitting in the outfield stands. During his next at bat, as the booing continues, the Splendid Splinter becomes the Splendid Spitter as Williams steps out of the box to spit at fans to show his displeasure.
1953 -A devastating tornado, rated f5 on the Fujita Scale, tore through downtown Waco, Texas. 114 people were killed and 597 were injured. Total damage was $41 million. Another tornado (f4) virtually leveled 15 square blocks of San Angelo, Texas with 13 people killed and 159 injured.
1953 - No. 1 Billboard Pop Hit: "The Song from Moulin Rouge," Percy Faith Orchestra/Felicia Sanders.
1954--Birthday of American composer Jane Ellen
http://www.classical-composers.org/comp/ellen
1955---Top Hits
Cherry Pink and Apple Blossom White - Perez Prado
Unchained Melody - Les Baxter
Honey-Babe - Art Mooney
In the Jailhouse Now - Webb Pierce
1955--- With the help of an Ernie Banks' grand slam, the Cubs snap the Dodgers' 11-game winning streak, 10-8. The bases-filled homer will be Mr. Cubs' first of five on the year.
1957 - The Everly Brothers make their debut on "Grand Ole Opry" in Nashville, Tenn.
1959 - Twenty-three-year-old Carol Burnett made her musical comedy debut in Once upon a Mattress at the Phoenix Theatre in New York City. Only eight years later, the talented comedienne would star in her own Emmy-winning TV musical variety program.
1961-President Kennedy approves sending 400 Special Forces troops and 100 other US military advisers to South Vietnam. On the same day, he orders the start of clandestine warfare against North Vietnam to be conducted by South Vietnamese agents under the direction and training of the CIA and US Special Forces troops. Kennedy's orders also called for South Vietnamese forces to infiltrate Laos to locate and disrupt communist bases and supply lines there.
1963---Top Hits
I Will Follow Him - Little Peggy March
Puff the Magic Dragon - Peter, Paul & Mary
If You Wanna Be Happy - Jimmy Soul
Lonesome 7-7203 - Hawkshaw Hawkins
1964 - No. 1 Billboard Pop Hit: "My Guy," Mary Wells. It is the first No. 1 hit for the Motown label.
1965 - Liza Minnelli opened in "Flora the Red Menace". The musical ran for only 87 performances at the Alvin Theatre.
1966 - The 1.6 inch snow at Chicago, IL, was their latest measurable snow of record. Previously the record was 3.7 inches on the 1st and 2nd of May set in 1940.
1968-"The Birds, the Bees and the Monkees," which was certified gold upon its release in April, enters the LP charts at #80. In one week, pushed by the singles "Daydream Believer" and "Valleri," it will jump to #3.
1969-Beginning of one of the most infamous battles that signified the growing frustration with America's involvement in the Vietnam War. Attempting to seize Dong Ap Bia Mountain, American troops repeatedly scaled the hill over a 10-day period, often engaging in bloody hand-to-hand combat with the North Vietnamese. After finally securing the objective, American military decision makers chose to abandon it and the North Vietnamese retook it shortly thereafter. The heavy casualties in the struggle to take the hill inspired the name "Hamburger Hill."
1970 - The Chairmen of the Board received a gold record for the hit "Give Me Just a Little More Time". The Detroit group recorded three other songs in 1970, with moderate success.
1970 -Lubbock, Texas was struck by a tornado rated f5 on the Fujita Scale. 26 people were killed and 500 were injured. The total damage was estimated at $135 million which was considered conservative. 600 apartment units were destroyed along with 430 houses. 250 businesses were damaged or destroyed. 80 percent of the windows in the downtown area were broken.
1970-The triple album "Woodstock" soundtrack is released on Cotillion Records. The document of the epochal rock festival will go gold within two weeks.
1971---Top Hits
Joy to the World - Three Dog Night
Never Can Say Goodbye - The Jackson 5
I Am...I Said - Neil Diamond
How Much More Can She Stand - Conway Twitty
1972 - - The Giants trade Willie Mays to the Mets for right-hander Charlie Williams and $50000 cash. The 'Say-Hey Kid', who is clearly past his prime, returns the city where he brilliantly began his Hall of Fame career.
1973 - Charges against Daniel Ellsberg for his role in the "Pentagon Papers' case was dismissed.
1974-Steely Dan's "Rikki, Don't Lose That Number" is released.
Brigadier General Margaret A. Brewer became the Marine Corps' first general officer who is also a woman. She was assigned Director of Information, Headquarters Marine Corps. Brewer had been director of the Women Marines, the seventh and last women's director, succeeding Colonel Sustad on 1 February 1973. During Brewer's tenure, the women marine corps was disbanded and all women were made a part of the regular marine corps.
http://www.usmc.mil/genbios2.nsf/0/38b50abed804a0bf85256a4000718780?
OpenDocument&Click=
1979---Top Hits
Reunited - Peaches & Herb
Music Box Dancer - Frank Mills
Stumblin' In - Suzi Quatro & Chris Norman
Backside of Thirty - John Conlee
1979-Peaches and Herb, the sweet-singing soul duo, receive a platinum record for "Reunited," a Number One hit for four weeks.
1981 - Heavyweight boxing challenger Gerry Cooney, left former champ Ken Norton on the ropes and unconscious after 54 seconds of the first round at Madison Square Garden in New York City.
1981-- The Andrew Lloyd Webber musical "Cats" opened in London. The composer had to mortgage his house to help finance the $1.1 million production. Since then, "Cats" has grossed more than one billion dollars in more than a dozen countries, including Canada. On May 11th, 1989, "Cats" became London's longest-running musical, playing its 3,358th performance. And on January 29th, 1996, it set the world record for longevity with its 6,138th performance.
1985 - Scott Brayton turned in the fastest lap ever at the Indianapolis Motor Speedway. Brayton was traveling at 214.199 MPH in the third lap of qualifying. Duane 'Pancho' Carter grabbed the pole position for that years Indianapolis 500. Carter entered the history books with a speed of 212.583 MPH for four qualifying laps around the 2.5 mile track at Indy.
1987---Top Hits
(I Just) Died in Your Arms - Cutting Crew
Looking for a New Love - Jody Watley
With or Without You - U2
The Moon is Still Over Her Shoulder - Michael Johnson
1988 - Unseasonably warm weather prevailed in the southwestern U.S. Reno, NV, reported a record high of 89 degrees.
1989-- Roy Orbison was inducted into the Songwriters' Hall of Fame at a ceremony in New York. Eric Clapton presented the award to Orbison's widow, Barbara.
1990 - Unseasonably cold weather followed in the wake of a spring storm in the north central U.S. Seven cities reported record low temperatures for the date, including Madison WI with a reading of 29 degrees. Thunderstorms produced severe weather in Kansas, Oklahoma and the northern half of Texas. Severe thunderstorms spawned four tornadoes in Texas.
1990 - Singer Ritchie Valens ("La Bamba," "Donna") receives a posthumous star on Hollywood's Walk of Fame.
1994- The Justice Department approved Novell's plans to purchase WordPerfect Corporation on this day in 1994. Novell also bought Borland's spreadsheet business, in an attempt to create a suite of office applications to compete with Microsoft Office. Novell's ownership of WordPerfect lasted less than two years.
1997 - U.S. box office receipts to date for the film Jerry McGuire, starring Tom Cruise and Cuba Gooding, Jr., had climbed to $150,850,000; The English Patient had brought in $76,259,531. Top box office producer on this date, however, was George Lucas's re-released science fiction classic, Return of the Jedi, which had a reported accumulated U.S. box office gross of $308,453,687; trailing behind it was the re-released The Empire Strikes Back, with an accumulated gross of $290,158,751.
1997 - IBM's supercomputer Deep Blue made chess history by defeating Gary Kasparov, the first time a reigning world champion had been bested in a match by a machine.
1999 - After two years of work, Columbia Records released Latin heartthrob Ricky Martin's fifth album, a self-titled cross-over to English. This album was a calculated decision, and the album's first hit, "Livin' La Vida Loca" shot to the top of the charts. Martin's third and fourth solo efforts went gold. His fourth album "Vuelve" had sold more than 6 million copies worldwide.
2003 ---In his last at-bat on the current home stand, 38-year-old first baseman Rafel Palmeiro drives a 3-2 fastball thrown by Indian hurler David Elder to become the second player this season and 19th overall to hit his 500th career home run. The 370-foot shot over the right field wall at The Ballpark in Arlington makes Raffy the first native of Cuba to reach the coveted milestone.
2004-- After missing yesterday's game to become to become an American citizen, Red Sox left fielder Manny Ramirez, much to the delight of the Fenway faithful, leads his teammates out of the dugout waving an American flag to celebrate his first day as a citizen of the United States. As the 31-year native Dominican Republic comes to bat America by Neil Diamond is played over the PA system.
2006-- Hideki Matsui streak of playing in every game since starting his MLB career with the Yankees in 2003 ends at 518 games as the left fielder breaks his left wrist attempting to make a diving catch. The 31-year Japanese star established the big league record for consecutive games to start a career, surpassing Hall of Fame infielder Ernie Banks, who played in 424 contests at the start of his playing days with Cubs from 1953-56.
--------------------------------------------------------------

Basketball Poem
Winner vs Loser
by: Author Unknown, Source Unknown
The Winner is always part of the answer;
The Loser is always part of the problem.
The Winner is always has a program;
The Loser always has an excuse.
The Winner says,"Let me do it for you;
The Loser says;" That is not my job."
The Winner sees an answer for every problem;
The Loser sees a problem for every answer.
The Winner says," It may be difficult but it is possible";
The Loser says,"It may be possible but it is too difficult."
When a Winner makes a mistake, he says," I was wrong";
When a Loser makes a mistake, he says," It wasn't my fault."
A Winner makes commitments;
A Loser makes promises.
Winners have dreams;
Loser have schemes.
Winners say," I must do something";
Losers say,"Something must be done."
Winners are a part of the team;
Losers are apart from the team.
Winners see the gain;
Losers see the pain.
Winners see possibilities;
Losers see problems.
Winners believe in win/win;
Losers believe for them to win someone has to lose.
Winners see the potential;
Losers see the past.
Winners are like a thermostat;
Losers are like thermometers.
Winners choose what they say;
Losers say what they choose.
Winners use hard arguments but soft words;
Losers use soft arguments but hard words.
Winners stand firm on values but compromise on petty things;
Losers stand firm on petty things but compromise on values. Winners follow the philosophy of empathy: "Don't do to others what you would, not want them to do to you";
Losers follow the philosophy, "Do it to others before they do it to you."
Winners make it happen;
Losers let it happen.
--------------------------------------------------------------

SuDoku
The object is to insert the numbers in the boxes to satisfy only one condition: each row, column and 3x3 box must contain the digits 1 through 9 exactly once. What could be simpler?
http://leasingnews.org/Soduku/soduko-main.htm
--------------------------------------------------------------

Daily Puzzle
How to play:
http://www.setgame.com/set/puzzle_frame.htm
Refresh for current date:
http://www.setgame.com/set/puzzle_frame.htm
--------------------------------