Financial Funding Services, LLC

Sales
We are looking for highly motivated sales staff with proven lease experience. If you are currently networked and have a source of business and want to become independent working from your home
or current office, we want to talk with you about joining our team. In addition to providing you and your customer base the very best of financial programs, service and support, we offer you a generous 60% of gross commission.
Please email Karl Probst, General Manager
kprobst@willamette-financial.com
Willamette Financial Funding Services LLC has been established since 1986. We are highly efficient, motivated and a leader in placing exceptional and challenged credits nationally. We are well connected with major funding sources capable of taking A, B and C credits. Our credit processing and clerical support to our sales staff is responsive and extremely efficient.


Wednesday, May 23, 2007
Congratulations: Apolo and Julianne
"Dancing with the Stars"
Jordin Sparks, next "American Idol"
Headlines---
Bob Baker, CLP, on the Seventh Floor
Archives---May 23, 2001—A Very bad day in Leasing
Dwight Galloway yells "GERONIMO!"
Classified Ads---Senior Management/Syndicator
Site Inspections on all deals
Dallas Cowboy Fan joins Affiliated in Texas
Classified Ads---Help Wanted
Leasing Police Growing
Sales makes it Happen—by Linda P. Kester
"Wiki"
John Pope to run Marlin Factoring
Sterling Financial NASDAQ Warning
NetBank did not file Year-end
News Briefs---
Sports Briefs---
"Gimme that Wine"
Calendar Events
Snapple Real Facts
Today's Top Event in History
This Day in American History
Baseball Poem
SuDoku
Daily Puzzle
Friday—"To Tell the Truth"
Executives may avoid guaranty in lease
######## surrounding the article denotes it is a "press release"
-------------------------------------------------------------------------------

Bob Baker, CLP, on the Seventh Floor
This is the tenth day that Robert D. Baker, CLP, Wildwood Financial, has been at St. Luke's Hospital, 232 South Woods Mill Road - Chesterfield, MO 63017, after a stroke requiring an operation on his brain to stop bleeding. This is his second stroke.
Leasing News is reporting these up-dates at the reader's request.
We have received many inquiries, such as:
"I know you will be in touch with Bob's family. Please let them know that many of us are praying for him and them. Many thanks."

Kathy J. Graves
Vice President of Operations
Financial Pacific Leasing, LLC
Ph. (877) 810-5133
Fax (253) 568-2222
kathyg@finpac.com
At this point, Bob was moved to the seventh floor of the hospital, "the medical floor," reported in "poor condition." His situation has not improved. The head nurse on the floor said he does not recognize or communicate with people. The prognosis was not good.
Out of respect for the family, please don't send any cards or flowers at this point. Out of respect for the family, Leasing News may not report on his condition until there is positive news, as we all wish him a speedy recovery. Our prayers are with him and his family
Kit Menkin, editor/publisher
Bob Baker, CLP, has been active in the Finance and Leasing Industry for over 35 years. He founded the Wildwood Financial Group, Ltd in 1994. It is considered by most to be the most comprehensive and successful Lease Training School in the Leasing Industry. Wildwood conducts training to existing Leasing Companies and Professionals as well as conducts training at its school in St Louis for entrepreneurial men and women wishing to enter the Equipment Leasing Arena as a Leasing Broker.
He was the 33rd individual in the United States to receive the coveted and prestigious CLP (Certified Lease Professional) designation. He currently is also an instructor for the foundation for those individuals striving to obtain certification.
He is a founding member of the Leasing News Advisory Board.
Mr. Baker has served on the Board of Directors of the United Association of Equipment Leasing (UAEL) in 1997-1998, 2003-2004 and most recently was elected to the 2007 UAEL Board. He has also served on the Board of Directors of The Certified Lease Professional Foundation. Additionally he served as Director of Education for the National Association of Equipment Lease Brokers (NAELB). He has also served on the advisory boards of The Leasing News, Colonial Pacific Leasing, Business Credit Leasing, and The Manifest Group.
Mr. Baker is a co-author of the "Lease Professional Handbook." In 1998 he was the first recipient of the "Bill Granieri Top Gun Memorial Award." He is also a member of the Eastern Association of Equipment Lessors, National Association of Credit Managers, National Association of Equipment Leasing Brokers and the United Association of Equipment Leasing.
--------------------------------------------------------------

Archives---May 23, 2001—A Very bad day in Leasing
CIT shareholders approve Tyco offer
Amplicon announces re-organization to CalFirst
Terminal Leasing bites the dust
Bay View Capital bites the dust
Humboldt Bancorp closes leasing
Randy Anderson leaves Capital Stream
to become a leasing broker reaction
These are the stories in synopsis. To see the full story, please go to the archive page:
http://two.leasingnews.org/archives/May01/5-23-01.htm
CIT Shareholders Approve Proposed Tyco-CIT Acquisition
LIVINGSTON, N.J--The CIT Group, Inc. (NYSE: CIT, TSE: CIT.U and Exchangeable Shares: TSE: CGX.U), a leading global source of financing and leasing capital, announced that its shareholders have approved the company's proposed transaction with Tyco International Ltd. (NYSE:TYC, BSX:TYC, LSE:TYI) at a special meeting held today in Livingston, New Jersey. The transaction will close upon receipt of the requisite regulatory approval, which is expected to occur by June 1, 2001.
"Our shareholders voiced their strong support for the recommendation of CIT's board of directors and we are delighted with today's affirmative vote," said Albert R. Gamper Jr., CIT Chairman, President and CEO.
---
Amplicon Reorganizes as Bank Holding Company; Launches California First National Bank
SANTA ANA, Calif.--(BUSINESS WIRE)--May 23, 2001--Amplicon Inc. (Nasdaq:AMPI) ("Amplicon") today announced that it reorganized into a holding company form of organizational structure.
As a result of the reorganization, a new parent company, California First National Bancorp, a California corporation ("CalFirst Bancorp"), owns 100% of Amplicon, the previous publicly held company. Stockholders of Amplicon have automatically become stockholders of CalFirst Bancorp.
In addition, today CalFirst Bancorp purchased 100% of the common stock of California First National Bank ("CalFirst Bank" or "Bank"), and with the investment of $20 million by CalFirst Bancorp, CalFirst Bank started operations as an FDIC-insured national bank.
--
Terminal Leasing Bites the Dust---Officially

PUBLIC AUCTION
NOTICE OF SECURED PARTY SALE OF COLLATERAL
(PORTFOLIO OF PERSONAL PROPERTY LEASES) OF
THE TERMINAL MARKETING COMPANY, INC.
BY VIRTUE OF A DEFAULT under that certain Loan and Security Agreement, dated as of June 5, 1998, as amended, modified and/or supplemented (the "Loan Agreement"), between The Terminal Marketing Company, Inc. (the "Borrower") and Lehman Commercial Paper, Inc. ("Secured Party"), and pursuant to the terms and conditions of the Loan Agreement, other agreements entered into in furtherance thereof and Section 9-504(3) of the Uniform Commercial Code as enacted in the State of New York.
Bay View Capital Exits the Scene, Good People on the Street

It is true that Bay View Capital has decided to exit the commercial leasing business and other business lines due to the strategic change in the company's direction as determined by the new management team. Although Bay View Commercial Leasing met or exceeded its objectives, our organization no longer fit within the regional bank holding company's future business plan.
Accordingly, we have discontinued originating new leases and loans and are funding out all commitments through the end of the month.
Best regards,
Bay View Commercial Leasing
Jeff Allard CLP, COO and staff,
Paul Torres CLP, AVP & Credit Manager; Jan Eriksen AVP & Division Sales Manager; Amy Slavin, Division Sales Manager, Broker Desk; Jennifer Isip, Sr. Leasing Specialist; Antoinette Fresquez, Leasing Specialist.
Bancorp Financial Services, Sacramento, California---
Humboldt Bancorp says Goodbye to the Weakest Link
(Doug Rees, Vice-President, has not returned our calls as it appears the second quarter loss and investigation by the Security Exchange Commission, Sacramento, California, has put the company into an immediate "wind down" as they originally informed the Security Exchange Commission and issued a press release, that they later stated was "misinterpreted" and was only "for accounting purposes." They had asked Leasing News for a "correction," which we did. with the express purpose of hoping they would survive. editor
http://www.leasingnews.org/archives/April01/4-27-01a.htm
It appears the shutdown has affected several leasing transactions and we have been attempting to obtain public information, to help those in the industry, such as this person:
Just a note on the Bancorp Financial Issue we have a 300k portfolio in funding now that they are now stating they cannot honor this commitment because they are out of money. This was told to us by Doug Reese on Tuesday.
We were notified that they would be closing on Friday of late week at 4:30pm (really nice) As of yesterday they were going to purchase the portfolio through a deal they worked out with G.E. Capital / CPL but that has also fell through. This is turning out to be another United Capital issue. You may print this by please leave our name off since we still are working on selling this portfolio to them.

Name Withheld
---
"Randy Anderson, formerly of System 1, has completed Wildwood Financial Training and is about to enter the broker business , as soon as he sells his house in Edmonds, Washington, and moves back to Modesto, California---Jim Buckles, formerly of System 1, has started a software support company, including training and custom programming ( Leasing News will have a feature on this soon )"
No offense to Randy directly, but I certainly hope that none of my vendors and customers will suddenly be contacted by anyone that has recently left the company, and that Capital Stream is doing, yes and they have a resemblance, too.
Name Withheld
--------------------------------------------------------------

Dwight Galloway yells "GERONIMO!"
If you didn't receive our "flash" about the sale of NetBank on Monday and thus the sale of NetBank Business Finance, here it is:
http://www.leasingnews.org/archives/May%202007/05-21-07%20-%20Flash.htm
Those on the mailing list received it, as well it was put on the current news edition
(send kitmenkin@leasingnews.org to be added to the mailing list.)
Ex-US Army paratrooper (Airborne) Dwight Galloway is meeting with his top brokers to say there is only good news on the horizon in South Carolina. The bet is Galloway won't say it will be "Business as Usual." He will say it can only get better, with ceiling limits increased and perhaps direct business from EverBank branches."

Dwight Galloway, CLP
President, NetBank Business Finance
(now EverBank Business Finance or EverBank
Business Leasing and Finance???)
November 22, 2001
Dwight Galloway, Republic Leasing of South Carolina

All of us at Republic are thrilled about the acquisition of our long time parent, Resource Bancshares Mortgage Group, Inc. by NetBank, Inc.!
Among the many benefits to us will be the continuity of management (RBMG's CEO Doug Freeman will become the CEO of NetBank), lower-cost funding for our leases and a corporate culture that stresses acquisition of high quality earning assets through wholesale channels.
Our strategy for Republic will be simple:
Apply the lower cost of funds to become the very best broker/lessor-funding source in the country. In addition to leveraging NetBank's technology to provide world-class service to our business sources, we intend to become very competitive in the app-only and lower middle market for better credits.
We are especially looking forward to establishing stronger relationships with our lessors that develop programs for their niche vendors. We have no doubt that our many long time brokers will be calling soon with their advice on how we can apply these new tools.
In addition, we have already begun to hear from lessors whose needs we will soon be able to meet once the acquisition has closed.
You were right in your assessment Kit: we certainly have been given an early present!
Dwight Galloway
dgalloway@rlclsg.com
--
Republic Leasing of South Carolina Cuts Over 100 Brokers
May 31, 2002 Leasing News
"We are very happy to have Rich with us, "Dwight Galloway, CEO and very popular leasing executive said. " We hope to soon have all of the team, as well as all the other tools, necessary to build an excellent funding source for the next decade.
Republic Leasing Company, a NetBank company, (NTBK, Nasdaq) formally announced that Rich Viola has joined the Republic team as Director of Administration. Viola has eighteen years of outstanding success in the broker funding industry, including positions as VP of Finance for Colonial Pacific and Textron Financial Capital, and President/COO of FNF Capital. He will be working with Charles Randall, President and Dwight Galloway, CEO to help continue the growth and profitability of the small/mid ticket funding source as they take advantage of the relationship with their new parent NetBank.
Galloway indicated that, "Rich's tremendous knowledge and experience will enhance our ability to achieve our goal of unsurpassed service to the broker community. We are assembling a team of leasing professionals that, with the help of NetBank, will provide the products and long range reliability brokers need in a funding source. We are committed to forging partnerships with quality broker/lessors who value our fourteen years of dedication and understanding of their needs."
"We are looking to do things better, faster, and cheaper, "he said. "Our parent has given us great opportunities with cost of funds and support. We have always supported the broker community. We want to do better and Viola has experience and abilities that he will add to our efforts."
Accordingly, Viola is from New York, but lived in Oregon and the latest, Denver, Colorado. He has moved his family to South Carolina. Dwight Galloway says the weather is great, except for hot summers (but then, many of us don't mind the warm evenings to sit outside with our family and friends).
"This is great to have him on our team, "Galloway said. "For fourteen years, we have picked the best deals, and maybe Viola can teach us a few things. Maybe we can make less mistakes and do more business, more efficiently, and really perform better for the broker community."
Dwight Galloway dgalloway@rlclsg.com
Obviously the numbers speak for the past success of Charles Randall and Dwight Galloway and their staff as the March to February figures are $193,913,000:
Monthly from March 2006
(In the Thousands)
| | |
| --- | --- |
| Year 2006 | |
| March | $19,693 |
| April | $21,150 |
| May | $17,963 |
| June | $19,410 |
| July | $13,366 |
| August | $12,686 |
| September | $13,123 |
| October | $13,464 |
| November | $17,437 |
| December | $13,428 |
| Year 2007 | |
| January | $14,284 |
| February | $17,909 |
| March | $19,756 |
Geronimo Prayer "
"Heavenly father, hear my call, For through the sky I will soon fall. Stand up, hook up, shuffle to the door, I pray for your will, nothing less, nothing more. One thousand, two thousand, three thousand, four... My canopy fill 'fore I count any more. Give me courage, in the midst of my fear, to enjoy your world's beauty from way up here. From jumpers and obstacles float me clear, and safely to the drop zone help me steer. Feet 'n knees together, preparing myself to land, never more aware that I'm secure within your hand. Guide and help me lord, as I get quickly to my feet, to conquer every obstacle 'til the mission is complete. In our Lord's name I shall forever pray, 'cause I'm "AIRBORNE" and "PRAYER BORNE" GERONIMO!!!!!!!!!!!!!!!!!!! "
AMEN Written by Chaplain Danny Presswood, 1991. ,Source: Rigger@PARATROOPER.COM
http://paratrooperprayers.tripod.com/id14.html
--------------------------------------------------------------

Classified Ads---Senior Management/Syndicator
Senior Management
Atlanta, GA
Strong sales and leadership skills; demonstrated with sales training and sales performance. Lead team in both regional and national operations and developed marking programs.
Email: mll1946@comcast.net
Philadelphia, PA
27 yrs. exp. sales, ops., credit, strategy, P&L mngmet. Most recently created & executed the biz plans for 2 highly successful Bank-owned small ticket leasing subsidiaries.
email: mccarthy2020@comcast.net
Syracuse, NY
Int. equip. leasing exec. 25 yrs global P&L sr. mngt., including corporate turnarounds, strategic planning, new biz dev., structure finance, contract neg., vendor leasing specialist.
Email: jimh356094@aol.com
Syndicator
Overland Park, KS
Top Syndicator from single deal to portfolios. 20+ yrs exp. Available for contract work or full time position. Nationwide contacts.
Email: FFLLeasing@aol.com
To place a free "job wanted" ad here, please go to:
http://www.leasingnews.org/Classified/Jwanted/Jwanted-post.htm
For a full listing of all "job wanted" ads, please go to:
http://www.leasingnews.org/Classified/Jwanted/Jwanted.htm
--------------------------------------------------------------

Site Inspections on all deals
by Christopher Menkin
In the Specialty Optical dba SOS deposition with the case in Dallas that IFC Credit lost ( and is on appeal, allegedly) where there was a hold back not originally disclosed, John Estok, the head of the division, disclosed that there were up to 800 NorVergence leases with IFC Credit. At the time, 550 were not paying.
From sources, the funds are borrowed, allegedly $9 million from a line of credit at PFF Bank (confirmed by the bank officer to Leasing News), $3 million from two investment groups (from three reliable sources), and $1 million in other bank lines (from court testimony.)
What the actual dollar potential loss is not know as well as how much was in a "hold back." What is known is that there are over 500 cases still in litigation. 496 in the Illinois area. Claims, counter claims, several lost cases in appeal, two in federal court, 68 active, discovery, depositions, as judges try to find "common issues" to bring about 500 of the NorVergence cases together ( most of them IFC Credit. ) Two are in Illinois mediation.
Paul Bent, Alta Group, did a column on "Settlement vs. litigation," guessing a case could cost approximately $28,500 to $57,500; on the average $43,000. So 500 times $43,000 is $21,500,000.
The SOS case was estimated by the opposing attorney to cost $100,000. It is difficult to state what the original 800 cost, or the over 500 still going on. Whether the process goes all the way to the Supreme Court is not known. The guess is IFC Credit may be out $25 million from their cash flow in attorney and court costs. (Whether you include the $13 million line or not, less any settlements, it is certainly costing IFC Credit a lot of cash flow, perhaps as much as $50 million including their lodging, transportation, and time executives have spent in testimony and communicating with all the parties involved.)
Many of the cases that are part of the consolidation, on appeal and in Federal Court are being defended by Michael J. Fleck, Colleen Helenhouse and Thomas Schmid of the Law Office of Michael J. Fleck, P.C., Huntley, IL (www.flecklawoffice.com).
Defense attorneys are trying to bring more into mediation. The offense is by Askounis & Borst, P.C., Chicago, Illinois, who formerly worked for Jim Coston at Coston & Rademacher, Chicago, Illinois. While they may not be directly responding in other states, where they may not be licensed or able to directly participate, they are the "lead" attorneys.
Maybe mediation would be a good idea.
Don't forget, Randy Brook, Senior Federal Trade Commission, is still active on the case. Readers haven't heard from him because he has been on vacation in Paris, France. Add the FTC penalties to be
imposed, and perhaps return of settlements collected, this could definitely could be quite serious.
Maybe funders should make "site inspections" mandatory on all deals.
The fee is charged to the lessee.
IFC Consolidated order by Judge James F. Henry, Cook County, Illinois
http://leasingnews.org/PDF/IFC_Cook-co.pdf
SOS case:
http://www.leasingnews.org/Conscious-Top%20Stories/IFC_Credit_trouble.htm
Paul Bent, Settlement vs. litigation
http://www.leasingnews.org/Conscious-Top%20Stories/Settlement_Vs_litigation.htm
--------------------------------------------------------------

Dallas Cowboy Fan joins Affiliated in Texas
Affiliated Investment Group, owned and operated by Jim Lahti and his sons, also known as "The Flexible Funding Source," has added Bryan Garner as National Account Manager. His main job will be the broker sales representative.

Bryan Garner
There is no graying of the hair at Affiliated as the younger generation is definitely getting involved.
"As Affiliated Investment Group's broker network continues to grow, Bryan's position became necessary to assist the company in its sales, marketing and transaction processing,
"Stephen Lahti said.
Prior to joining Affiliated, Bryan was a successful sales representative in the petroleum industry. His background also includes experience in investment sales and software sales in the telecom industry working with international companies.
Bryan was a Computer Science major at the University of Texas previously to his move into the telecom industry. Bryan lives in Cedar Park with his wife and new baby girl. Jim Lahti also says he is a big Dallas Cowboy fan.
James R. Lahti, CLP
Affiliated Investment Group, Inc.
930 South Bell Blvd., Suite 104
Cedar Park, TX 78613
(512) 336-7335, Fax: 512-336-7336
Email: jrl@affiliatedinvestment.com
--------------------------------------------------------------

Leasing Industry Help Wanted
Regional Sales Managers


Regional Sales Managers
To establish small ticket vendor programs in major metro areas. Excellent compensation/ benefit package. View job description. Send resumes to Zully.Fernandez@IrwinCF.com
Company Description:
Irwin Commercial Finance (NYSE: IFC) is a true direct lender and in the ever changing leasing environment, we bring stability, creativity and consistent customer service levels to our business.


Sales

Financial Funding Services, LLC

Sales
We are looking for highly motivated sales staff with proven lease experience. If you are currently networked and have a source of business and want to become independent working from your home
or current office, we want to talk with you about joining our team. In addition to providing you and your customer base the very best of financial programs, service and support, we offer you a generous 60% of gross commission.
Please email Karl Probst, General Manager
kprobst@willamette-financial.com
Willamette Financial Funding Services LLC has been established since 1986. We are highly efficient, motivated and a leader in placing exceptional and challenged credits nationally. We are well connected with major funding sources capable of taking A, B and C credits. Our credit processing and clerical support to our sales staff is responsive and extremely efficient.


Sales-marketing


Sales-marketing
Phoenix, Arizona or Virtual Office; 3 to 5 years of experience; high-end small ticket & Middle-Market vendor programs. Click here for more information.
Manufacturers' Lease Plans Inc. (MLPi) is the pioneer of short-term rental and operating lease financing, funding high technology equipment manufacturers since the 1960s.
Sr. Credit Analyst


Senior Credit Analyst
Walnut Creek, California
Excellent opportunity to work with growing equipment leasing bank division, excellent reputation. Click here for more information.

First Republic Bank has offices in the San Francisco Bay Area, throughout California, and in Portland, Seattle, Las Vegas, Boston and New York.
----------------------------------------------------------------

Leasing Police Growing
Founder and president of Lease Police, Inc. is Chief Bernie Boettigheimer, CLP, formerly founder and president of Pioneer Capital Corp. He just returned from the National Association of Equipment Leasing Broker Conference in Nashville, Tennessee.

"It was a great pleasure to get the reception by the brokers," he said. "One after another came by my booth to express support with 25 firm commitments to subscribe and just as important to post an Unusual Vendor Activity Report on www.leasepolice.com.

"As of today we have 19 posted such 'Alerts' and 3 more just received that need investigation. 60 "Alerts" could put a severe damper on fraud in this country."
During this initiation period, LeasePolice.com will be collecting default histories from lessors as well as "unusual activity" warnings on vendors and lessees. During this initial period, the system will be a free service. Upon maturation of the database, the price of the service is expected to be less than $5 per report.

"To me the entrepreneurial spirit displayed by these brokers epitomizes why NAELB has grown to almost 1000 members," Chief Boettingheimer added. "One broker, just one year in the industry, said she was haunted by the possibility of a buy-back in case of a fraud deal. Another vowed never to be in that situation again.

"Having spent 23 years funding broker credits I shouldn't have been surprised at this response. One can not help but be moved by such a spirit and this was the Great News Coming out of Nashville."

LeasePolice.com offers two types of user accounts – funder and broker. Broker accounts are limited in the amount of pulls per month. All funder users must provide default data on their portfolio.

To view an online demo of the LeasePolice.com system, go to:

https://www.leasepolice.com/infosite/product.html

To subscribe, go to www.leasepolice.com. During the initial 6 month data collection period, all accessed matches are free!
Lease Police, Inc.
15950 North Dallas Parkway
Suite 400
Dallas, TX 75248
Telephone (972) 361-8111
Fax (972) 692-8091
Contact: Bernie Boettigheimer, bernieb@leasepolice.com
----------------------------------------------------------------

Sales Make it Happen
by Linda P. Kester
This is from Linda P. Kester's smash
hit book "366 Marketing Tips for Equipment Leasing."
"This book is a MUST READ for all leasing sales professionals," says Bill Waddell, co-founder Marlin Leasing.
The former president of the National Association of Equipment Leasing Brokers Gerry Oestreich, says," If you use just a couple of her ideas you will be rewarded many times over with
increased sales."
In this selection, Linda P. Kester, a nationally recognized outstanding leasing sales trainer, and professional speaker, introduces "Wiki;" how it helped her write this book.
235
Wiki
What is a wiki? A wiki is a piece of sofware that allows anybody to edit web pages (without being a webmaster) and post comments. A wiki lets you collaborate with other, and keep communication all in one place. A wiki is similar to a public message board in that any user can register and post their comments. Where a wiki differs is the capability of creating an inter-connected database within its pages.
I wrote this book in a wiki called stikipad (www.stikipad.com)
It's the best software! It's also free. (There are plans for 150mb, 500mb, 1gb storage, including bandwidth. Editor)
One way to use a wiki is to plan a sales meeting with a vendor. You can both update your own "private" website and see and discuss the work that has already been completed.
Another idea is to list a vendor's approved transaction. The vendor reps can then go in and update the status of their approvals.
This is such a great tool, that I had to include it in the book.
What are the three ways you could use a wiki?
1. ___________________________________________________________________
2. ___________________________________________________________________
3. ___________________________________________________________________
Linda Kester helps leasing companies increase volume. For more information, visit: www.lindakester.com. Questions, contact: Linda@lindakester.com.
Previous "Sales makes it Happen" columns at:
http://www.leasingnews.org/Legacy/index.html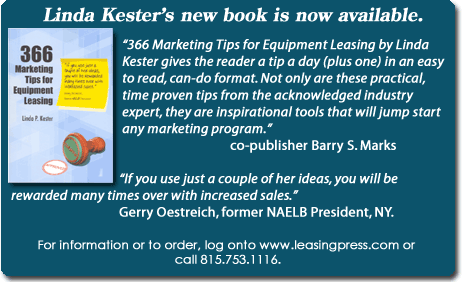 ---------------------------------------------------------------
### Press Release ###########################

Marlin Announces Hiring of New Portfolio Manager, Marlin Trade Receivables Corp.
MOUNT LAUREL, N.J., -- Marlin Business Services Corp. (Nasdaq:MRLN) is pleased to announce that John Pope has joined the company as Portfolio Manager of Marlin Trade Receivables Corp. In this role, John will oversee the credit operations of the factoring division.
"We are very pleased to have John join our team," said Lynne Wilson, CFO of Marlin Business Services Corp. "His combination of experience and industry knowledge will provide the support Marlin Trade Receivables needs as we continue to expand our reach into the small-ticket factoring market."
John is a respected professional with over twenty years of experience in the factoring industry. Prior to joining Marlin Trade Receivables, he previously held Senior Vice President positions for both First Capital Corp. and Signal Capital Corporation, as well as various management positions within the financial services industry.
About Marlin Trade Receivables Corp.
Marlin Trade Receivables is a subsidiary of Marlin Business Services Corp. and provides trade receivables financing to small businesses.
About Marlin Business Services Corp.
Marlin Business Services Corp. is a nationwide provider of equipment leasing solutions primarily to small businesses. The Company's principal operating subsidiary, Marlin Leasing Corporation, finances over 70 equipment categories in a segment of the market generally referred to as "small-ticket" leasing (i.e. leasing transactions less than $250,000). The Company was founded in 1997 and completed its initial public offering of common stock on November 12, 2003. In addition to its executive offices in Mount Laurel, NJ, Marlin has regional offices in or near Atlanta, Chicago, Denver, Philadelphia and Salt Lake City. For more information, visit http://www.marlincorp.com or call toll-free at (888) 479-9111.
CONTACT: Marlin Business Services Corp.Robert Case, Marketing Manager
888.479.9111, ext. 4172
### Press Release ###########################
--------------------------------------------------------------

News Briefs----
Sterling Financial Corporation of Lancaster, Pa., Receives Nasdaq Staff Determination Letter -
Sterling to Appeal
http://www.snl.com/irweblinkx/file.aspx?IID=100659&FID=3829700
Netbank did not file end of year financial statement
http://www.ajc.com/business/content/business/stories/2007/05/22/0522biznetbank.html
All Hail Apolo
http://www.accessatlanta.com/entertainment/content/shared-blogs/accessatlanta/
tv/entries/2007/05/22/all_hail_apolo.html
5/23: For Jordin, this is her now!
http://www.myajc.com/post/idolblog/523_blakejordin_showdown.html
'Dateline' drops Stone Phillips
http://www.ajc.com/business/content/business/stories/2007/05/22/0522bizstone.html
---------------------------------------------------------------

Sports Briefs----
At Long Last, Super Bowl Coming To North Texas
http://www.dallascowboys.com/news.cfm?id=B4F2408B-E56F-5F4B-DAB3644206D02A55
----------------------------------------------------------------


"Gimme that Wine"
The Vineyard, the Barrel and Full Disclosure---Eric Asimov
http://www.nytimes.com/2007/05/23/dining/23pour.html?ref=dining
Wine Prices by vintage
http://www.winezap.com
http://www.wine-searcher.com/
US/International Wine Events
http://www.localwineevents.com/
Winery Atlas
http://www.carterhouse.com/atlas
Leasing News Wine & Spirits Page
http://two.leasingnews.org/Recommendations/wnensprts.htm
The London International Vintners Exchange (Liv-ex) is an electronic exchange for fine wine.
http://www.liv-ex.com/
----------------------------------------------------------------

Calendar Events This Day
Bifocals Day
Declaration of the Bab –
Baha'l commemoration of May 23, 1844, when the Bab, the prophet-herald of the Baha'l Faith, announced in Shiraz, Persia, that he was the herald of a new messenger of God. One of the nine days of the year when Baha' is supposed to work.
Lucky Penny Day
http://holidayinsights.com/moreholidays/May/pennyday.htm
http://homeschooling.about.com/library/blmay23a.htm
Mesmerism Day
Birthday of Franz Anton Mesmer
http://serendip.brynmawr.edu/Mind/Trance.html
Morocco: National Day –
National holiday Commemorates referendum on the majority of the king in 1980.
National Taffy Day
http://southernfood.about.com/od/candyrecipes/r/blbb290.htm
Ratification Day (South Carolina)
May 23, 1788 South Carolina became the 8th state of the Union. It also was the first state to secede
from the United States on December 20, 1860
http://en.wikipedia.org/wiki/South_Carolina
Shavout of Feast of Weeks –
Jewish Pentecost holy days. Hebrew dates, Sivan 6-7, 5767. Celebrates giving of Torah (the Law) to Moses on Mount Sinai. Began at Sundown May 22.
Sweden: Linnaeus day –
Stenbrohult. Commemorates birth of Carlus Linnaeus (Carl von Linne), Swedish maturalist, born May 23, 1707 (OS) and who died at Uppsala, Sweden, Jan 10, 1778.
World Turtle Day –
An observance sponsored by American Tortoise Rescue to help people celebrate and protect turtles and tortoises, as well as their habitat around the world.
http://homeschooling.about.com/od/freeprintables/ss/seaturtleprint.htm
----------------------------------------------------------------

Almonds are a member of the peach family.
http://www.botanical.com/botanical/mgmh/a/almon026.html
http://www.almondsarein.com/
http://www.almondsarein.com/AlmondLovers/content.cfm?ItemNumber=4518&
mnItemNumber=3878&snItemNumber=3896&tnItemNumber=3898&qnItem
Number=3936#
----------------------------------------------------------------

Today's Top Event in History
1865-Celebration of the end of the Civil War.
http://memory.loc.gov/ammem/today/may23.html
[headlines]
----------------------------------------------------------------

This Day in American History
1785- Benjamin Franklin, Philadelphia, PA, writes his friend, George Whately, " I have only to move my eyes up and down as I want to see distinctly far or near" as he describes his invention that day of a bifocal eyeglass. He was annoyed at having to carry two pairs of glasses. He took a frame and equipped it with lenses that consisted of two parts with a different focusing powers. Inasmuch as ordinary spectacles in the colonies cost as much as $100 each, a huge sum of money in those days, his invention did not receive ready popular response, as only the wealthy could afford glasses.
1788- By a vote of 149 to 73, South Carolina became the eighth state to ratify the Constitution. The colony originally named in honor of Charles I of England, became one of the United States on this day. The eighth state also has the dubious honor of being the first state to secede at the start of the Civil War in 1861. Its capital city is Columbia. The state bird is Carolina wren. The yellow jessamine (jasmine) is the state flower. It is also called the Palmetto State, after the palm tree that decorates the land.
1803-In the Tripolitan War (1801-1805), Commodore Edward Preble was commissioned as commander of a U.S. Navy squadron to be sent against Tripoli.
Today my son Dash is a seaman on the U.S.S. Preble, an Arleigh Burke –guided missile destroyer.
http://www.usspreble.org/commodor.html
http://www.dallaslibrary.org/cgi/goldmedals/edwardpreble.html
http://www.preble.navy.mil/
http://www.raytheon.com/businesses/rids/preble.html
http://www.navysite.de/dd/ddg88.htm
1810-Birthday of Margaret Fuller, journalist and author born at Cambridgeport, MA, began reading Virgil at age six. Her conversational powers won her the admiration of students at Harvard University and she was befriended by Ralph Waldo Emerson. She shared editorial duties with Emerson on the Transcendentalist quarterly "The Dial," and was hired by Horace Greely as literary critic for the New York Tribune. Her book "Women in the Nineteenth Century," the first feminist statement by an American writer brought her international acclaim. In 1846, as a foreign correspondent for the Tribune, she became caught up in the Italian revolutionary movement and secretly married a young Roman nobleman, the Marquee Giovanni Angelo Ossoli. En Route to the US, Fuller and her husband and died July 19, 1950, when their ship was wrecked off Fire Island near New York, NY.
1832-"I would rather die upon yonder gallows than live in slavery". Samuel Sharpe, Jamaican hero, hanged. 1832 -- Jamaican national hero Samuel Sharpe hung. Instigator of the 1831 Slave Rebellion which began on the Kensington Estate in Saint James and was largely instrumental in bringing about the abolition of slavery.
http://www.mfaft.gov.jm/Symbols/Heroes_Sharpe.htm
http://www.jamaicaway.com/Heroes/SharpePage.html
http://www.mfaft.gov.jm/Symbols/Heroes_Sharpe.htm
1846-Arabella Mansfield, born Belle Auerlia Babb near Burlington, IA, was the first woman admitted to the legal profession in the US. In 1869 while teaching at Iowa Wesleyan College, Mansfield was certified as an attorney and admitted to the Iowa bar. According to the examiners, "she gave the very best rebuke possible to the imputation that ladies cannot qualify for the practice of law. " Mansfield never did practice law, however, continuing her career as an educator. She joined the faculty of DePauw University, at Greencastle, IN, where she became dean of the schools of art and music. One of the first woman college professors and administrators in the US, Mansfield was also instrumental in the founding of the Iowa Woman Suffrage Society in 1870. She died Aug 2, 1911, at Aurora, IL
http://women.eb.com/women/articles/Mansfield_Arabella.html
1864-The campaign between Union commander Ulysses S. Grant and Robert E. Lee, the commander of the Army of Northern Virginia, continues southward to the North Anna River around Hanover Junction. In early May, Grant crossed the Rapidan River with the Army of the Potomac and then clashed with Lee's forces in the Wilderness on May 5 and 6 before racing to Spotsylvania Court House for an epic 12-day battle. Grant's continuous pressure on Lee would ultimately win the war, but he was racking up casualties at a rate that was difficult for the Northern public to stomach. Grant believed that Lee could not maintain his position at Spotsylvania because two other Union armies under the command of Franz Sigel and Benjamin Butler were attempting to cut off the Confederate supply line in the Shenandoah Valley and the Rebel stronghold south of Richmond. But both were failing miserably. By 19 May, Grant had had enough of Spotsylvania. He pulled his troops to try another run around Lee to Richmond. Correctly predicting Grant's move, just as he had done two weeks before when Grant left the Wilderness for Spotsylvania, Lee raced the Yankees 30 km south and beat Grant's troops to the North Anna River. The rail center here was crucial to his supplies. At the North Anna, Grant found Lee's position to be even stronger than at Spotsylvania. The river had high banks, and Lee's side was higher than the Union side in several places. Still, Grant made an attempt to dislodge the Rebels. He made two assaults, but neither came close to breaking the Confederate lines. He would try again the next day before moving south to Cold Harbor.
1865-Celebration of the end of the Civil War.
http://memory.loc.gov/ammem/today/may23.html
1895-New York's then-governor Samuel J. Tilden was the driving force that resulted in the combining for the private Astor and Lenox libraries with a $2 million endowment and 15,000 volumes from the Tilden Trust to become the New York Public Library. The main branch of the library opened to the public this day
(lower half of: http://memory.loc.gov/ammem/today/may23.html )
1900-Sergeant William H. Carney of the 54th Massachusetts Colored Infantry became the first black to win the Congressional Medal of Honor. He was cited for his efforts, although wounded twice, during the Battle of Fort Wagner, South Carolina, June 18, 1863. His commendation is very worth while reading: http://www.newbedford.k12.ma.us/elementary/whc.htm
1903- Dr. Horatio Nelson Jackson of Burlington, VT, a physician, with Sewell K. Crocker of Seattle, WAS, as his mechanic, began the first non-professional transcontinental car trip. The same driver also drove the mileage in a 20 horsepower $2,500 Winton, manufactured by the Winton Motor Carriage Company of Cleveland, OH. Jackson and Crocker left San Francisco on May 23 and arrived in New York City on July 26. The average daily run was 25 miles. The trip lasted 63 days, of which 44 were spent traveling and 19 awaiting supplies, as there were very few gasoline stations, Howard Johnson's or even Seven-11's along the way. 1910-birthday of singer/guitarist/drummer Scatman Crothers, Terre Haute, IN
1908-John Bardeen born Madison, Wisconsin; along with William Shockley and Walter Bratton, invented the transistor, which set the stage for all modern microelectronics. Bardeen was also the only person ever to win the Nobel Prize for Physics twice. Bardeen worked as a physicist for the U.S. Navy during World War II. After the war, he joined Bell Telephone Laboratories, where he worked on the electronic conducting properties of semiconductors. In 1947, his team invented the transistor, which won the group a Nobel Prize in 1956. Semiconductors replaced vacuum tubes in electronic equipment, making electronics progressively smaller, faster, and more durable. Bardeen became a professor of physics at the University of Illinois in Urbana. In 1972, he won a second Nobel Prize, with Leon Cooper and John Schrieffer, for their work on the theory of superconductivity. He died in 1991.
http://www.nobel.se/physics/laureates/1972/bardeen-bio.html
1910-bandleader and clarinetist Artie Shaw birthday, whose real name is Arthur Arshawsky, was born in New York. Shaw formed his first orchestra in 1936, and two years later had a double-sided million-seller with "Begin the Beguine" and "Indian Love Call." One of the most popular artists of the swing era, Shaw is estimated to have sold more than 43-million copies of such records as "Frenesi," "Summit Ridge Drive" and "Dancing in the Dark." Artie Shaw was married eight times - two of his wives were Lana Turner and Ava Gardner. Shaw later became an author and a theatrical producer, and in the 1980's again began fronting a big band.
Birthday
http://www.parabrisas.com/d_shawa.html
http://www.artieshaw.com/
1920- Helen O'Connell birthday, vocalist with Jimmy Dorsey's band from 1939 to 1943, was born. Her duets with Bob Eberly, backed by the Dorsey band, on such songs as "Amapola," "Tangerine" and "Green Eyes" sold millions of records. O'Connell and Eberly also appeared on a 1953 TV show with bandleader Ray Anthony, and for a while during the 1960's, O'Connell was the hostess on NBC's "Today" show. She died September 9, 1993, San Diego, CA
http://www.parabrisas.com/d_oconnellh.html
http://www.artistdirect.com/music/artist/bio/0,,474861,00.html?artist=Helen+O%27Connell
1922 - "Abie's Irish Rose", opened at the Fulton Theatre in New York City. The play continued for 2,327 performances and numerous revivals as well. It is estimated that some 50,000,000 people have seen the play performed somewhere in the world.
1928--Singer Rosemary Clooney was born in Maysville, Kentucky.
When Clooney was in her junior year in high school, she and her younger sister Betty began performing on Cincinnati radio station WLW. Bandleader Tony Pastor heard them, and soon the sisters were singing, in person and on record, with the Pastor orchestra. Betty tired of the road, and soon after Rosemary began a solo career. She signed with Columbia Records, and in 1951 had her first number-one hit, "Come On-A My House," a song chosen for her by producer Mitch Miller. Her other hits included "Hey There," "Tenderly" and "This Ole House." Clooney married actor Jose Ferrer in 1953. The marriage was a stormy one that eventually ended in divorce. Her domestic problems and a resulting weight problem took her out of circulation for some years. But she returned to singing in the 1970's and
also had a very popular television show. She died on June 29, 2002.
http://www.rosemaryclooney.com/
1932-birthday of guitarist/flutist Les Spann, Pine Bluff, AR
http://www.fantasyjazz.com/catalog/spann_l_cat.html
1934- Robert Moog birthday, inventor of the music synthesizer which bears his name, born New York City.
http://www.obsolete.com/120_years/machines/moog/
http://dir.salon.com/people/bc/2000/04/25/moog/index.html
http://remixmag.com/ar/remix_robert_moog/
1934-Clyde Champion Barrow and Bonnie Parker were shot to death by Texas and Louisiana state police officers as they attempted to escape apprehension in a stolen 1934 Ford V-8 near Bienville Parish, Louisiana. Bonnie and Clyde met in Texas in 1930 when the nineteen-year-old Bonnie was tending bar. At the time, Bonnie was married to an imprisoned murderer. Soon after the two met, Clyde was arrested for burglary and sent to prison. Bonnie smuggled a pistol into the prison, and Clyde broke out. Over the course of their crime spree together, Bonnie and Clyde were believed to have committed thirteen murders and several robberies and burglaries. For over two years, the couple evaded local police officers in rural counties of Texas, Louisiana, and New Mexico. Not until the FBI, then called the Bureau of Investigation, became involved in the case did law-enforcement officials gain ground on Bonnie and Clyde.. In the spring of 1934, following tireless investigations, federal agents traced the gang to a remote county in Southwest Louisiana. A certain Methvin family was said to have been aiding and abetting the Bonnie and Clyde gang for over a year. It was learned that Bonnie and Clyde, along with some of the Methvins, had staged a party at Black Lake, Louisiana, on the night of May 21. Two days later, just before dawn, a posse of police officers from Texas and Louisiana, including Texas Ranger Frank Hamer, laid an ambush for Bonnie and Clyde along the highway near Sailes, Louisiana. In the early morning, Bonnie and Clyde appeared in their automobile. The officers reported that the coupe attempted to flee, but more likely, owing to the fact that Bonnie and Clyde had killed five policemen, the posse opened fire without warning. For two minutes, deputies showered the car with bullets. Both Bonnie and Clyde were killed in the barrage. Their bullet-riddled 1934 Ford later became a valuable collectible. Bonnie and Clyde gained a place in popular mythology as dustbowl Robin Hoods. The 1967 film Bonnie and Clyde, starring Warren Beatty as Clyde and Faye Dunaway as Bonnie, portrayed a charming and irreverent pair who took their game too far. Examination of the couple's past, as well as an examination of their victims, shows that Bonnie and Clyde were more likely carefree killers. Their popularity owed to the mistrust of the authorities of the Dustbowl during the Depression era, and to the couple's uncanny ability to elude the police for over two years.
1940-Frank Sinatra, singing with the Tommy Dorsey Orchestra, records "I'll Never Smile Again," the first of several No. 1 hits he recorded while performing with Dorsey. The singer had joined the orchestra earlier that year.
1941 - Buddy Baer was disqualified at the beginning of the seventh round as Joe Louis defended his heavyweight boxing title for the 17th time. Baer's manager refused to leave the ring when the round was ready to begin. He later became a well-known actor along with his brother, Max.
http://www.sacbee.com/static/archive/news/projects/people_of_century/
century_special/baers.html
http://french.imdb.com/Name?Baer,+Buddy
http://www.ifilm.com/ifilm/people/people_index/0,4128,168843,00.html
http://www.antekprizering.com/baerbuddysig.html
1944 - Chicago University called it quits to sports when it announced plans to withdraw from the Big 10 Conference of the NCAA and all other athletic competition.
1945 - No. 1 Billboard Pop Hit: ``Sentimental Journey,'' Les Brown Orchestra/Doris Day.
1951---Top Hits
Mockingbird Hill -Patti Page
On Top of Old Smokey - The Weavers (vocal: Terry Gilkyson)
Too Young - Nat King Cole
Kentucky Waltz - Eddy Arnold
1951- Jill E. Barad birthday. She became president of chief operating officer of Mattel, Inc., in 1992. She joined Mattel in 1981 as a product manager and became marketing director of the Barbie line in 1982. Under her guidance Barbie sales moved from $485 million in 1988 to more than $1 BILLION in 1994. Her marketing strategy included Hot Wheels as well as tie-ins with Disney, McDonald's, etc. She's made Mattel the largest toy manufacturing company in the world. She also bore two children while making her way to the top, not letting pregnancy slow her down. In fact, one of her major promotions came when she was five months pregnant. Today, there are more Barbie dolls in existence than there are people in the U.S.
http://www.surferess.com/CEO/html/jill_barad.html
http://aol.businessweek.com/1998/21/b3579001.htm
1959---Top Hits
The Happy Organ - Dave 'Baby' Cortez
A Teenager in Love - Dion & The Belmonts
Dream Lover - Bobby Darin
The Battle of New Orleans - Johnny Horton
1962 - The National Basketball Association agreed to plans to transfer the Philadelphia Warriors to San Francisco, CA. The team became the San Francisco Warriors (now the Golden State Warriors).
1962 - Joe Pepitone of the New York Yankees set a major-league baseball record by hitting two home runs in one inning. The rare feat lifted the Yankees past the Kansas City Athletics by a score of 13-7.
1964- Capitol releases The Beach Boys' "I Get Around" b/w "Don't Worry Baby." "I Get Around" goes on to become the group's first #1 hit, topping the chart for 2 weeks.
1964-Millie Small's "My Boy Lollipop," already a hit in the U.K., enters the Hot 100 in the U.S. It stays on the charts for 12 weeks climbing up to Number Two.
1965 - No. 1 Billboard Pop Hit: ``Help Me Rhonda,'' The Beach Boys.
1966-The Beatles' "Paperback Writer" b/w "Rain" single is released. The A-side was a tune written by Paul McCartney and featured John and George on backing vocals. The B-side was a Lennon song.
1967---Top Hits
Groovin' - The Young Rascals
Respect - Aretha Franklin
I Got Rhythm - The Happenings
Sam's Place - Buck Owens
1973- Clive Davis, president of Columbia Records, was fired by boss Arthur Taylor. Davis wrote a book about his experiences, and later formed Arista Records.
http://www.lipservicemag.com/clive.htm
http://www.livedaily.citysearch.com/artist/320.html
http://www.amazon.com/exec/obidos/ASIN/0688028721/fast-bkasin-20/
002-0667839-4443242
1975---Top Hits
Shining Star - Earth, Wind & Fire
Before the Next Teardrop Falls - Freddy Fender
Jackie Blue - Ozark Mountain Daredevils
I'm Not Lisa - Jessi Colter
1979-The New England Whalers of the National Hockey League changed their name to the Hartford Whalers. The team was an original member of the World Hockey Association and won the first WHA championship, the Avco World Cup, in the 1972-73 season. When the WHA folded following the 1978-79 season, the Whalers were one of four WHA teams taken into the National Hockey League.
1979-Sister Sledge's "We Are Family" goes platinum. The album's title track, a #2 hit last month, is the rallying call for baseball's Pittsburgh Pirates, who will go on to win the 1979 World Series in October. Perhaps best remembered in the US version of "The Bird
Cage."
1983---Top Hits
Let's Dance - David Bowie
Flashdance...What a Feeling - Irene Cara
Little Red Corvette - Prince
Common Man - John Conlee
1991---Top Hits
I Like the Way (The Kissing Game) - Hi-Five
Touch Me (All Night Long) - Cathy Dennis
Here We Go - C + C Music Factory Presents Freedom Williams and Zelma Davis
If I Know Me - George Strait
1994- Prodigy Services announces a deal with Media General Cable to provide Prodigy access via cable television wires to 200'000 subscribers in Fairfax County, Virginia. Prodigy expected the cable hookup to provide faster speed and enable flashier graphics. At the time, most Prodigy users logged on to the system via 9600-baud modems. Over the next four years, modem speed would increase dramatically, but interest in cable modems would grow as companies like AtHome worked with local cable providers to offer higher-speed bandwidth.
1994 ---Four men convicted in the 1993 bombing of the World Trade Center are each sentenced to 240 years in prison.
2000 ---Joining Babe Ruth and Ted Williams, Seattle's Rickey Henderson draws his 2,000th career walk becoming only the third player in baseball history to reach the milestone.
2002 - Buddy Guy is among the multiple winners at the W.C. Handy Awards, mounted by the Blues Foundation in Memphis. Guy wins for contemporary male artist of the year and blues instrumentalist of the year (guitar); his "Sweet Tea" is named contemporary blues album of the year.
2006 - -Brad Paisley wins three of the evening's top awards at the Academy of Country Music (ACM) Awards. His "Time Well Wasted" (Arista Nashville) is named album of the year, and he also wins the video and vocal event prizes for "When I Get Where I'm Going," a hit collaboration with Dolly Parton.
--------------------------------------------------------------

Baseball Poem
Rookie Instructions
On the path to second
you don't hesitate
or guess.
You read the pitcher,
his motion,
stance, arms,fanny,
grip on the ball,
and his legs
His whole body
tells you more
than any
history teacher ever did.
After looking,
take a few feet,
and dare the future.
Run hard
and slide.
Never, never
look back,
and if you're tagged
out,
I'll tell you about
the catcher.
Written by Robert L. Harrison,
"Green Fields and White Lies,"
Baseball poems, published by McFarland
& Company
--------------------------------------------------------------

SuDoku
The object is to insert the numbers in the boxes to satisfy only one condition: each row, column and 3x3 box must contain the digits 1 through 9 exactly once. What could be simpler?
http://leasingnews.org/Soduku/soduko-main.htm
How to play:
http://www.setgame.com/set/puzzle_frame.htm
Refresh for current date:
http://www.setgame.com/set/puzzle_frame.htm
--------------------------------