Sales-marketing
Phoenix, Arizona or Virtual Office; 3 to 5 years of experience; high-end small ticket & Middle-Market vendor programs. Click here for more information.
Manufacturers' Lease Plans Inc. (MLPi) is the pioneer of short-term rental and operating lease financing, funding high technology equipment manufacturers since the 1960s.
Wednesday, May 30, 2007

May Robert D. Baker, CLP, Rest in Peace
Headlines---
Classified Ads---Controller
Sterling Financial needs your help
Cartoon---New Bumper Strip
Verifying Federal Tax Returns
Barker to be Sentenced June 18th
WinMark Equipment Finance Now Solely Owned
Sales makes it Happen---by Linda P. Kester
"Tips for your Vendor"
Leasing Meetings/Events Open to All
Classified Ads---Help Wanted
Cartoon---Not Angry
Bole new VP at Mantis Financial
Subprime Aftershocks Slam Com. RE Lenders
El Camino Resources Mexico Expands
BCI Aircraft Leasing buys Three Boeing 737
Zoellick to replace Wolfowitz at World Bank
Toronto stocks slump/Bank of Canada
RBS Launches Hostile Bid for ABN
Fitch: ABN AMRO on Watch Pos
News Briefs---
You May have Missed---
"Gimme that Wine"
Calendar Events
Snapple Real Facts
Today's Top Event in History
This Day in American History
Baseball Poem
SuDoku
Daily Puzzle
######## surrounding the article denotes it is a "press release"
--------------------------------------------------------------------

Classified Ads---Controller
Boca Raton, FL
CPA w/ Sarbanes Oxley/ 15 years management exp. as CFO/ Controller/5 yrs w/ PWC Extensive exp providing accounting/ tax guidance for the equipment lease industry. Willing to relocate.
Email: bltushin@hotmail.com
Chicago, IL
Experienced in lease accounting, operations, management, and Sarbanes-Oxley. Seeking position with equipment lessor. Would consider contract assignments or relocating.
Email: leasecontroller@comcast.net
Southeastern, MI
Controller & Management experience w/ equip lessors &broker. MBA, CPA w/ extensive accounting, management, securitization experience with public and private companies. Willing to relocate.
Email: Leasebusiness@aol.com
West Palm Beach, FL
CPA/CFO/Controller/Due Diligence Officer/SOX Lead seeking position.
Email: obrienhowardj@aol.com
To place a free "job wanted" ad here, please go to:
http://www.leasingnews.org/Classified/Jwanted/Jwanted-post.htm
For a full listing of all "job wanted" ads, please go to:
http://www.leasingnews.org/Classified/Jwanted/Jwanted.htm
--------------------------------------------------------------

Sterling Financial needs your help
by Christopher Menkin
The Leasing Industry has been in the major newspapers with AllServe, CyberNet, Le-Nature, NorVergence, RW Professional, and now from the "inside" itself.
As the vultures turn on Sterling Financial, Lancaster, Pa, the company struggles to survive. As Leasing News reported on Monday, several class action suits are under way, basically based on the charge Sterling did not disclose to stockholder faster with information that it had uncovered.
The fact is Sterling notified NASDAQ of irregularities as reported in Leasing News. On April 19 Sterling learned of the "irregularities" at Equipment Finance LLC, which specializes in financing logging equipment. This unit had brought in 41 percent of Sterling's profits in 2006. The dollar amount, if not recovered, will wipe out three years of profit.
Despite outside bank auditors and inspections, reportedly their accounting departments became suspicious of some double booking and check payments on existing loans, some double payments, and evidently went to a paper trail, rather than the computer read out of accounts. It also appears that accounting records could be changed by code and/or authorization. For instance, missing checks in one month could be eliminated so the next month, the outstanding checks were no longer there. There is a lot more to the story, but for lack of being able to quote directly from the source, the above is a quick synopsis.
According to the reliable source, they soon learned that copies of checks did not exist or were double and triple counted as compared with the records in the computer. Certain officers with a high credit approval had loans without proper documentation or procedure, Leasing News was told. It appeared an internal Ponzi type pyramid had been discovered. Although not all the paper work or investigations were complete, or near complete, it was becoming obvious they had uncovered a major, long time cover-up.
Officers and employees of Equipment Finance "schemed to conceal credit delinquencies, falsify financing contracts and related documents, and subvert Sterling's established internal controls," the company said in a press release.
"The scheme was able to avoid detection until recently due to the depth and breadth of the collusion. In other words, employees at different seniority levels and functional areas were apparently involved," the company continued.
A bank spokesman said customer accounts had not been affected.
Five Equipment Finance employees have been terminated, including the chief operating officer and executive vice president. Sterling's chief revenue officer said Thursday the company did not plan any additional firings. The names are not known at this time, nor has the public heard their version of the internal findings.
Established in 1945, Equipment Finance was acquired by Sterling in 2002 for $30.5 million in stock and cash. In its 2006 annual review filed April 2, the company said Equipment Finance is "one of Sterling's true performance success stories" that originated more than $115 million in new contracts with assets increasing to more than $300 million in 2006. Insurance also may cover some or all of the losses. It is important to note Sterling has $3.3 billion in assets, has hired outside help, and is complying in providing all the information it has discovered.

Last Five Months
Day's Range: 9.93 - 10.47
52wk Range: 9.31 - 24.20
Volume: 916,127
Last Trade: 10.11
Trade Time: 4:00PM ET
Change: 0.14 (1.40%)
Previous stories:
http://www.leasingnews.org/Conscious-Top%20Stories/Sterling.htm
--------------------------------------------------------------

--------------------------------------------------------------

Verifying Federal Tax Returns
Several funders noted a tax discrepancy from Sheldon Player of Equipment Acquisition Resources, Palatine, Illinois. Leasing News is following up on this story. There reportedly have been several "buy backs," and Leasing News is continuing to develop more to the overall story.
Don Blody, Vice-President, Butler Capital, was the first to catch the federal tax return discrepancy.
Readers have asked how he did it. So we asked him:
"There is a form (4506-T). I have attached a copy.
"We use a service called Rapid Reporting. They are able to get the tax return verifications from the IRS within 24 hours (sometimes sooner)."
Request for Transcript of Tax Return form:
http://leasingnews.org/PDF/f4506t_SOFG.cd.pdf
Sheldon Player, Greyhound Leasing, Deja vu?
http://www.leasingnews.org/archives/May%202007/05-04-07.htm#deja
--------------------------------------------------------------

Barker to be Sentenced June 18th
Stephen Barker is the last to be sentenced in the RW Professional scandal. He has been scheduled to be sentence several times. The last time was May 25th. It has now been moved to June 18th.
Barker was reprimanded to jail in February, 2006, when found guilty in the defrauding of Bank of New York, various leasing entities, and individuals in a lease double dipping, fraudulent transactions, and a host of other charges that eventually may exceed $50 million. Leasing News was told by a reliable source that he turned computer information over the U.S. Attorney's office and will be most likely receiving a sentence of six years today.
Barry Drayer,67, was convicted of heading up the group that defrauded banks of $28 million, leasing brokers and leasing companies, as well as lessees in perhaps another $25 million. He was sentenced to 11 1/2 years in prison Federal Judge Arthur Spatt, Central Islip, New York. He will presently surrender and be assigned a facility by the Bureau of Prisons. He has been under house arrest for five years.
--------------------------------------------------------------

WinMark Equipment Finance Now Solely Owned
Massachusetts Mutual Life Insurance Company announces it has bought out its partner and CrossHarbor Capital Partners' interest in Winmark Equipment Finance. The company focuses primarily on transactions from $5 million to $25 million. The original purpose was to "...act as a funding partner for a select group of national equipment loan and lease originators who specialize in providing capital to Fortune 500 companies and investment-grade companies."
The firm is headquartered in Foxborough, Mass., and the senior management team -- including John Chipman, Winmark's President and CEO; David Coutu, Winmark Senior Vice President; Bill Oberg, Winmark's Chief Financial Officer; and John Pedro, a Winmark Senior Vice President -- will remain and retain their positions and titles within the newly formed MassMutual Asset Finance.
"MassMutual has been an outstanding partner for Winmark throughout its development stage," said Chipman. "MassMutual's financial strength will allow us to accelerate and deepen our penetration of our market as we move into the growth phase of our development. MassMutual's ownership position will help us expand our product offerings, which we hope will be welcome news to the market."
Reportedly has more than $725 million in assets under management and approximately 150 customers throughout the U.S.
--------------------------------------------------------------

Sales Make it Happen
by Linda P. Kester
This column is dedicated to Bob Baker, CLP,
one of the best sales trainers I have ever met.
He will be missed by many of us.
This is from Linda P. Kester's smash
hit book "366 Marketing Tips for Equipment Leasing."
"This book is a MUST READ for all leasing sales professionals," says Bill Waddell, co-founder Marlin Leasing.
The former president of the National Association of Equipment Leasing Brokers Gerry Oestreich, says," If you use just a couple of her ideas you will be rewarded many times over with
increased sales."
7
Tips For Your Vendors
Here are some tips regarding leasing that you can pass along to your vendors to help them increase their equipment sales:
Every time you quote a system include a monthly lease payment. Don't wait until a capital expenditure has been turned down.
Relate the monthly lease amount to monthly savings (or income). Show how the equipment pays for itself.
Reduce cost to the lowest common denominator.
For example, lease cost per day.
When the order is large or complicated, use the "I have an expert" method. Call me! We will be able to arrange something to fit your customer's needs. Extreme flexible may just be the key to the sale.
Avoid getting trapped into a technical discussion of leasing. If special question arise regarding the lease, call me. You know the equipment. I know leasing.
Use the lease application as a signed order. When they sign an application, in their mind they have bought the system.
Use the lease terms to close the sale. "This is the two year monthly payment and here is the three year monthly payment. Which of these figures suits your monthly budget best?" This automatically assumes the sale is made, and it asks how he plans to buy.
Linda Kester helps leasing companies increase volume. For more information, visit: www.lindakester.com. Questions, contact: Linda@lindakester.com.
Previous "Sales makes it Happen" columns at:
http://www.leasingnews.org/Legacy/index.html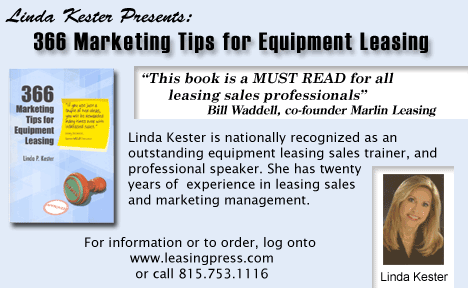 --------------------------------------------------------------

Leasing Meetings/Events Open to All
EAEL Annual Crabfeast Obrycki's Crab House, Baltimore, MD
UAEL North Western Area Event
UAEL New England Area Regional
UAEL Evening at the Track, Grand Prairie, TX
UAEL St. Louis Regional Gathering
UAEL

Oregon Networking Regional Cocktail Reception Party
EAEL "Day at the Races" Arlington Race Track, Chicago, IL
AZELA Diamondback's Baseball outing & summer meeting
EAEL Northeast Golf Outing, Bethpage Red Course, Farmingdale, NY
UAEL 5th Annual Southern California Anaheim Angels Night!
NAELB 2007 Western Regional Meeting - Costa Mesa, CA
EXPO Marriott Teaneck, NJ
NAELB 2007 Eastern Regional Meeting - Atlanta, GA
To view Leasing Association Conferences in 2007, please click here.
--------------------------------------------------------------

Leasing Industry Help Wanted
Corporate and Commercial Leasing Specialist


Corporate and Commercial Leasing Specialist, Alabama

5 years experience sales and credit
Great opportunity.
Click here for more information.


Regional Sales Managers


Regional Sales Managers
To establish small ticket vendor programs in major metro areas. Excellent compensation/ benefit package. View job description. Send resumes to Zully.Fernandez@IrwinCF.com
Company Description:
Irwin Commercial Finance (NYSE: IFC) is a true direct lender and in the ever changing leasing environment, we bring stability, creativity and consistent customer service levels to our business.


Sales

Financial Funding Services, LLC

Sales
We are looking for highly motivated sales staff with proven lease experience. If you are currently networked and have a source of business and want to become independent working from your home
or current office, we want to talk with you about joining our team. In addition to providing you and your customer base the very best of financial programs, service and support, we offer you a generous 60% of gross commission.
Please email Karl Probst, General Manager
kprobst@willamette-financial.com
Willamette Financial Funding Services LLC has been established since 1986. We are highly efficient, motivated and a leader in placing exceptional and challenged credits nationally. We are well connected with major funding sources capable of taking A, B and C credits. Our credit processing and clerical support to our sales staff is responsive and extremely efficient.


Sales-marketing


Sales-marketing
Phoenix, Arizona or Virtual Office; 3 to 5 years of experience; high-end small ticket & Middle-Market vendor programs. Click here for more information.
Manufacturers' Lease Plans Inc. (MLPi) is the pioneer of short-term rental and operating lease financing, funding high technology equipment manufacturers since the 1960s.
--------------------------------------------------------------

---------------------------------------------------------------

Bole new VP Business Development Mantis Financial
Steve Bole has been named Vice President of Business Development for Mantis Financial, a full-service equipment leasing company based in Austin, Texas.
Bole will be responsible for establishing relationships with equipment vendors and end users nationwide. Bole has 16 years of sales and management experience in the healthcare, telecom and software industries.
Mantis Financial is the newest member of One World Leasing. The company started in 2001,
considering leases $5,000 and above in North America.
Steve Bole
Mantis Financial
ph: (512) 402-1650
fax: (512) 402-1655
steve@mantisfinancial.com
www.mantisfinancial.com
--------------------------------------------------------------

Collateral Damage: Subprime Aftershocks Slam Commercial Real Estate Lenders
By Dan Freed dan.freed@sourcemedia.com
The drastic sell off in loans to homeowners with shaky credit has sent shock waves through the commercial real estate market. Senior real estate executives at three large investment banks all concede they have taken heavy losses on some of their loans, and they believe few, if any, desks have not been hit.
The bleeding is expected to continue for the next two to three months, as some $60 billion worth of loans underwritten before the market seized up must still be securitized and sold into the market over the next six weeks. Still, the consensus appears to be that commercial real estate will not be hit as hard as its residential counterpart.
The reason for the pullback is twofold, according to Brian Lancaster, head of structured products research at Wachovia. First, as collateralized debt obligations backed by subprime home loans sold off dramatically in February, they sparked a more muted price drop in commercial real estate CDOs, since many investors are active in both markets. That weakened the bid for commercial mortgage-backed securities, which are bought by CDO managers. "The net effect of all of that was to increase commercial real estate borrowers' costs by about 15 or so basis points," Lancaster explains.
Also, Moody's Investors Service, stung by criticism that the rating agency failed to assess properly the risk taken by subprime lenders, has said it will revise its rating standards on commercial mortgage-backed securities. Faced with the sudden possibility of downgrades, investors have readjusted their price expectations, suddenly demanding far more compensation for the risk they are taking.
The move definitely earned Moody's some enmity from dealer desks, as many banks are now stuck trying to sell loans they made before the rating agency said it would tighten its standards. "When the rating agencies shift the rules of the game, it's really sort of event risk, because everyone was just doing their jobs, originating based on what the rating agency standards were several months ago. Suddenly, new standards are being phased in, so it's painful now," Lancaster says.
Senior real estate executives at two large banks say the damage has been more severe than anything experienced by the credit markets since the Russian debt crisis in the late 1990s. Price movements have not been nearly so drastic. Spreads on triple B-rated CDO tranches have widened some 100 basis points since December, according to one dealer, compared with 200-300 bp in the late 1990s. However, there have been some drastic losses, as so-called kick-outs are on the rise. In a kick-out, investors who have bought a pool of loans subsequently, after analyzing the loans more closely, reject the pool as too risky and send it back to the dealer.
The pullback has also imperiled some high-profile property sales. According to a report in Commercial Mortgage Alert, a newsletter, RFR Realty, a New York office landlord, has failed to find a lender to back its purchase of $800 million worth of office buildings from Blackstone Group. Blackstone flipped the buildings after acquiring Equity Office Properties for $39 billion in February.
"People are looking more closely at deals. Things got out of hand and rating agencies and investors want to make sure the underwriting is in check," says Michael Higgins, head of real estate finance at CIBC. "Some players were very aggressive, looking for league tables and pushing the market. Overall, I think this is probably very healthy for the marketplace, because it's bringing back quality underwriting. It was a borrowers' market and that's changing right now, but delinquencies are still very good."
Indeed, there are lots of reasons for optimism if one looks at market fundamentals, according to Lancaster, who predicts that commercial rents will continue rising and vacancies will continue falling nationwide in 2007. Apartment properties, for example, which make up 20% to 25% of the underlying loans in CMBS, should do very well, Lancaster reasons, as higher borrowing standards make owning a home more difficult and falling home prices scare away potential buyers. All of these potential homeowners - a number Lancaster believes is in the millions in the US - will become renters. "You'll see a much larger pool of renters than we have ever had in the history of the subprime market," he says.
The analyst is also encouraged by the Moody's action, likening it to an "inoculation" of a healthy market. "The patient is very healthy. This is the time to tighten standards, to bump credit enhancements, not as Moody's did in the subprime market, which was already sick - and you could argue they made it worse." Attempts to reach Moody's were unsuccessful.
One apparent sign that commercial real estate lenders remain confident is that they are still looking for debt capital markets executives to drum up underwriting business.
"It has been a very robust market for hiring; demand for talent in debt capital markets is as strong as ever," says Jane Lyons, partner at Rhodes Associates, an executive search firm.
The search goes on not only in New York, but also in less critical markets, such as Miami and Atlanta, as well as in markets outside the US, Lyons says.
(c) 2007 Investment Dealers' Digest Magazine and SourceMedia, Inc. All Rights Reserved.
http://www.iddmagazine.com
http://www.sourcemedia.com
### Press Release ###########################

El Camino Resources Mexico Moves to Expand Its Market Coverage
through New Acquisition of Leasing Company
CHATSWORTH, Calif.----El Camino Resources Mexico ("ECRM") has announced that it has finalized the acquisition of the Mexican regional leasing company, ABC Leasing of Mexico City. David Lopez, ECRM's managing director, reported, "ABC Leasing brings to El Camino Mexico some very good business elements that will add to our substantial capabilities in Mexico today. They have offices in many local markets of central and northern Mexico with sales staff in Guadalajara, Morelia, Veracruz, Guanajuato and Chihuahua. These offices will add a considerable amount of new clients and allow us to reach out to more locations in Mexico. We felt that it was important for us to reach additional geographical market segments to better serve the end users brought to us by our strategic alliance with BBVA Bancomer, as well better utilize the additional lease funding capability from the bonds we are issuing on the Mexican Bolsa. Additionally, with this acquisition El Camino Mexico has extended its market coverage to much of Mexico and can now provide full-service coverage to our Mexican-originated vendor programs, as well as new programs being generated in the U.S. by our parent company."
ABC Leasing brings to El Camino Mexico its 25 employees and a leasing portfolio of nearly $90 million pesos of well-managed assets with a very low delinquency ratio. The primary focus of ABC has historically been on motor vehicle leasing for small companies, from one unit to a complete fleet, with full service included (i.e. auto maintenance, licensing with the authorities and usage taxes). ABC also has some important vendor programs covering such products as golf carts, energy production equipment, water treatment appliances, and aircrafts (airframes and engines).
ABC ownership in Mexico was a joint venture of a Mexican investment management group, formally associated with the Ventana Fund, a U.S. investment group with headquarters in Irvine, California.
For more information about El Camino Resources' vendor programs in Mexico, please contact:
Mexico
Luis Arrieta
Vendor Director
larrieta@elcamino.com.mx
011- (52) (55) 5980 - 7046
El Camino Resources Mexico
Alfonso Napoles Gandara No. 50
Col. Pena Blanca Santa Fe
Deleg. Alvaro Obregon
C.P. 01210
Mexico, D.F.
United States
Doug Nielsen
Vice President of Business Development
dnielsen@elcamino.com
(303) 327-1532
370 Interlocken Boulevard, Suite 400
Broomfield, CO 80021
### Press Release ###########################

BCI Aircraft Leasing, Inc. Purchases Three Boeing 737-300QC
Aircraft on Lease to Europe Airpost
CHICAGO----Chicago-based BCI Aircraft Leasing, Inc. ("BCI") today announced it has acquired the first of three Boeing 737-300QC aircraft that it had previously been leasing from a US lessor. The aircraft are on long term operating lease to Europe Airpost. The other two will be purchased in the coming months.
"We have enjoyed a strong relationship as a lessor to Europe Airpost for several years and we are very pleased to have this opportunity to expand that relationship," said Craig Papayanis, Managing Director for BCI.
Europe Airpost operates mail and cargo flights for the French postal service during the night, and scheduled and charter passenger service by day. Its main base is Charles de Gaulle International Airport, Paris
BCI Aircraft Leasing, Inc. was founded in 1997 and since then has become one of the world's largest and fastest growing privately-held operating leasing companies with a portfolio of more than 100 commercial aircraft. BCI provides airlines with financial products and services to help them achieve their financial and fleet planning goals. BCI's customer list includes leading airlines such as Air France, KLM Royal Dutch Airlines, Delta Airlines, Southwest Airlines and many other prominent air carriers around the world. For more information, please visit www.bciaircraft.com
### Press Release ###########################
--------------------------------------------------------------

News Briefs----
Zoellick tapped to replace Wolfowitz at World Bank
http://www.theglobeandmail.com/servlet/story/RTGAM.20070529.wzoellick30/
BNStory/Business/columnists
http://www.usatoday.com/money/world/2007-05-29-world-bank-chief_N.htm
Toronto stocks slump on resources, Bank of Canada
http://ca.today.reuters.com/news/newsArticle.aspx?type=businessNews&storyID=
2007-05-29T204138Z_01_N29307736_RTRIDST_0_BUSINESS-MARKETS-CANAD
A-STOCKS-COL.XML
RBS Launches Hostile Bid for ABN
http://www.chicagotribune.com/business/sns-ap-abn-amro-takeover-battle,0,
398283.story?coll=chi-business-hed
Fitch: ABN AMRO on Watch Pos
http://www.fitchratings.com/corporate/events/press_releases_detail.cfm?pr_id=
356353&sector_flag=7&marketsector=1&detail=
Oil prices drop more than $2 a barrel
http://www.usatoday.com/money/industries/energy/
2007-05-29-oil-prices-tuesday_N.htm
CDW agrees to $7.3 billion buyout from Madison Dearborn
http://www.chicagotribune.com/business/chi-070529-mad,0,3670843.story?
coll=chi-business-hed
Mother and calf rollick in S.F. Bay near Alcatraz Island/Tiburon
http://www.sfgate.com/cgi-bin/article.cgi?f=/c/a/2007/05/30/WHALES.TMP
Photo's/Video
http://www.sacbee.com/static/newsroom/whales/
VeriSign founder, CEO resigns
http://www.mercurynews.com/business/ci_6012799
Silicon Valley developers Peery, Arrillaga honored
http://www.mercurynews.com/business/ci_6010863?nclick_check=1
---------------------------------------------------------------


You May have Missed---
The richest man you've never heard of
http://www.usatoday.com/money/world/2007-05-30-carlos-slim-usat_N.htm
----------------------------------------------------------------


"Gimme that Wine"
Two-Buck Chuck still going strong
http://www.oregonlive.com/business/oregonian/index.ssf?/base/business/
1180392920253970.xml&coll=7
Snake River Valley AVA--Idaho
http://www.cnbc.com/id/18909148
Washington Wineries Now Number 500
http://www.winemag.com/ME2/dirmod.asp?sid=&nm=&type=Publishing&mod=Publications
%3A%3AArticle&mid=8F3A7027421841978F18BE895F87F791&tier=4&id=22940A3EE0
3243CB926AD5E4E3DA5D80
Summer Breezes in, Sipping Barbera
http://events.nytimes.com/2007/05/30/dining/reviews/30wine.html?ref=dining
Wine scandal leaves Sausalito with a bad taste
http://www.sfgate.com/cgi-bin/article.cgi?file=/c/a/2007/05/29/
MNG9CQ336I1.DTL&type=wine
Wine Prices by vintage
http://www.winezap.com
http://www.wine-searcher.com/
US/International Wine Events
http://www.localwineevents.com/
Winery Atlas
http://www.carterhouse.com/atlas
Leasing News Wine & Spirits Page
http://two.leasingnews.org/Recommendations/wnensprts.htm
The London International Vintners Exchange (Liv-ex) is an electronic exchange for fine wine.
http://www.liv-ex.com/
----------------------------------------------------------------

Calendar Events This Day
Compact Disc Day
Decoration Day
First widely observed in 1868. This precursor to Memorial Day was established to honor the nation's Civil War dead by decorating their graves. On May 5, 1868, General John A. Logan of the Grand Army of the Republic, an organization of former sailors and soldiers, had declared in General Order No. 11 that:
The 30th of May, 1868, is designated for the purpose of strewing with flowers, or otherwise decorating the graves of comrades who died in defense of their country during the late rebellion, and whose bodies now lie in almost every city, village, and hamlet churchyard in the land. In this observance no form of ceremony is prescribed, but posts and comrades will in their own way arrange such fitting services and testimonials of respect as circumstances may permit.
During the first celebration of Decoration Day, General James Garfield made a speech at Arlington National Cemetery, after which 5000 participants helped to decorate the graves of the more than 20'000 Union and Confederate soldiers buried in the cemetery.
This 1868 celebration was inspired by local observances of the day in several towns throughout America that had taken place in the three years since the Civil War. In fact, several Northern and Southern cities claim to be the birthplace of Memorial Day, including Columbus, Mississippi; Macon, Georgia; Richmond, Virginia; Boalsburg, Pennsylvania; and Carbondale, Illinois.
In 1966, the federal government, under the direction of President Lyndon Johnson, declared Waterloo, New York, the official birthplace of Memorial Day. They chose Waterloo—which had first celebrated the day on 05 May 1866—because the town had made Memorial Day an annual, community-wide event during which businesses closed and residents decorated the graves of soldiers with flowers and flags.
By the late 1800s, many communities across the country had begun to celebrate Memorial Day and, after World War I, observances also began to honor those who had died in all of America's wars. In 1971, Congress declared Memorial Day a national holiday to be celebrated the last Monday in May. (Veterans Day, a day set aside to honor all veterans, living and dead, is celebrated each year on 11 November.)
Today, Memorial Day is celebrated at Arlington National Cemetery with a ceremony in which a small American flag is placed on each grave. Also, it is customary for the president or vice-president to give a speech honoring the contributions of the dead and lay a wreath at the Tomb of the Unknown Soldier. About 5000 persons attend the ceremony annually.
Several Southern states continue to set aside a special day for honoring the Confederate dead, which is usually called Confederate Memorial Day:
Mississippi: Last Monday in April
Alabama: Fourth Monday in April
Georgia: 26 April
North Carolina: 10 May
South Carolina: 10 May
Louisiana: 03 June
Tennessee (Confederate Decoration Day): 03 June
Texas (Confederate Heroes Day): 19 January
Virginia: Last Monday in May
— // History Channel
Loomis Day – To honor Mahlon Loomis, a Washington, DC dentist who received a US patent on wireless telegraphy in 1872 (before Marconi was born). Titled "An Improvement in Telegraphing." The patent described how to do without wire; this patent was backed up by experiment on the Massanutten Mountains of Virginia.
Memorial Day (Traditional) – This day honors the tradition of making memorial tributes to the dead, especially remembering those who have died in battle. Observed as a legal public holiday on the last Monday in May.
Water a Flower Day
http://holidayinsights.com/moreholidays/May/waterflowerday.htm
Catholic Feast Days
http://www.catholic.org/saints/f_day/may.php
----------------------------------------------------------------

Children grow faster in the spring.
Wrong number 26—could not "justify" the "Real Fact."
Seasonal variations, such as growing faster in spring and summer, are normal; one site says children from two years old to puberty grow faster in spring and summer than fall and winter, as they exercise and eat more. Another site says, "Until age ten, there is little difference in the size of boys and girls. All children tend to grow twice as fast in spring as they do in the fall, but they gain more weight in the fall." According to the site, if Real Fact had said grow faster in the spring---and summer, perhaps it would have been more correct.
http://www.saizenus.com/docs/1.2_COOL.CLICK_-_ParentEdBro_singlpgs.pdf
http://www.serono-canada.com/english/solution/growth/consumer/growfact.htm
http://www.redshiftnow.ca/aging/growup.aspx


----------------------------------------------------------------

Today's Top Event in History
1868 - Memorial Day was observed for the first time in the United States -- at the request of General John A. Logan, the national commander of the Grand Army of the Republic. It was first called Decoration Day because the General had seen women decorating graves of Civil War heroes.
http://www.historychannel.com/cgi-bin/frameit.cgi?p=http%3A//www.
historychannel.com/exhibits/memorial/memorial.html
http://memory.loc.gov/ammem/today/may30.html
[headlines]
----------------------------------------------------------------

This Day in American History
1498 - Christopher Columbus set sail with six ships from Sanlucar in Spain on his third voyage of exploration to the Americas. In reality, he never discovered the main land, only a group of islands in the Bahama's that he thought were islands off of India, thus he named the natives he found on these islands: Indians. And why we call the native American Indians this name. The scuttlebutt of the time was that these natives were the lost tribe of the Hebrews (I am not making this up. Read your history.)
1539-Hernando DeSoto, Spanish governor of Cuba, landed at Tampa Bay with 600 soldiers, animals, and equipment as he prepared to scour the southeast in search of gold and valuables.
http://www.floridahistory.com/inset11.html
http://www.floridahistory.com/inset44.html
1734- Benjamin Franklin published the first American Masonic Book. The Masons were a strong movement for several centuries in America. http://members.aol.com/jobiefamly/benfrank.htm
http://www.npg.si.edu/exh/franklin/chamber.htm
1783- The Pennsylvania Evening Post became the first daily newspaper published in the US. The paper was published at Philadelphia, PA, by Benjamin Towne. http://www.historycooperative.org/journals/ht/35.1/br_4.html
1806- Dueling was common in early America. Future president Andrew Jackson shot and killed Charles Dickson this day at Harrison's Mills on the Red River, Logan County, KY. The proud and volatile Jackson, a former senator and representative of Tennessee, called for the duel after his wife Rachel was slandered as a bigamist by Dickinson, who was referring to a legal error in the divorce from her first husband in 1791. The combatants stood 24 feet apart. Dickinson fired first. The shot broke a couple of Jackson's ribs and grazed his breastbone. Despite the injury, Jackson fired and killed Dickinson. It was one of a hundred duels and brawls in which Jackson is said to have participated. Jackson served as president of the United States from March 4, 1829, to March 3, 1837.
1818-May 30 Douglas and Lincoln not allowed to speak at funeral
http://www.geocities.com/logicalthinker_2000/Freddouglass.html
1814 - Navy gunboats capture three British boats on Lake Ontario near Sandy Creek, NY.
1822-- House slave betrays Denmark Vesey conspiracy (37 blacks hanged.) Fear of salve insurrections was common in the South in the early nineteenth century. Many were forced to wear slave
medals with curfew hours. While there were few actual instances of trouble, a serious uprising took place in Charleston, SC. It was led by a free black, Denmark Vesey, who had purchased his freedom in 1800. Over the years, Vesey had organized a plot to seize control of Charleston, but word leaked out in June. Militia and federal troops were called out, many slaves were arrested, and Vesey and 35 others were executed. Some estimates put the number of slaves involved as high as 9000.
1848- William G. Young of Baltimore, MD patented the "ice cream freezer." A record of a purchase for a "cream machine for ice" is contained in George Washington's expense ledger under date of May 17, 1784, and there were such machines dated earlier, but this is the first patent and production manufacturing of it followed for two centuries.
http://www.napalinks.com/website/002/page-03.htm
1854- The territories of Kansas and Nebraska are created by the Kansas-Nebraska Act. Signed this day by Pres. Franklin Pierce it brought the country closer to civil war. The bill, sponsored by Sen. Stephen A. Douglas, Democrat of Illinois, created two new territories and provided what Douglas called "popular sovereignty," also called "Squatter sovereignty." This means that those who settled in each territory would have the right to decide whether the territory, when admitted as a state, would be free or slave. In the North some people were infuriated because the law had the effect of repealing the Missouri Compromise of 1820, which said that there would never be slavery north of the southern boundary of Missouri, except for Missouri itself. Douglas was harmed politically by his sponsorship of the bill.
1868 - Memorial Day was observed for the first time in the United States -- at the request of General John A. Logan, the national commander of the Grand Army of the Republic. It was first called Decoration Day because the General had seen women decorating graves of Civil War heroes.
http://www.historychannel.com/cgi-bin/frameit.cgi?p=http%3A//www.
historychannel.com/exhibits/memorial/memorial.html
http://memory.loc.gov/ammem/today/may30.html
1879 - A major outbreak of severe weather occurred in Kansas and Western Missouri. Tornadoes in Kansas killed 18 persons at Delphos and claimed 30 lives at Irving where two twisters struck within minutes of one another, reducing the small community to rubble. The second tornado was perhaps two miles wide and exhibited multiple vortices.
1886-Seeing eye dog creator Dorothy Wood Eustis born in Philadelphia, Pennsylvania. As a widow she moved from the U.S. to Switzerland where she continued her experiments in breeding German shepherd dogs of great intelligence and easy dispositions. Her dogs were soon in great demand all over Europe for police work. A school was developed in Europe to train the intelligent dogs for what we know today as the Seeing Eye dogs for the blind. She returned to the U.S. to establish the Seeing Eye movement, setting up a training school for dogs and owners. At her death her school had trained more than 1300 guide dogs for the blind - all based on her breeding acumen.
http://search.eb.com/women/articles/Eustis_Dorothy_Leib_Harrison_Wood.html
1902-birthday of actor/comedian Stepin Fetchit, Key West, FL Died, Woodland Hills, CA. 1985
http://us.imdb.com/Name?Fetchit,+Stepin
1903-birthday of African-American poet Countee Cullen, Baltimore, MD
http://members.aol.com/hynews/cullen.htm
http://www.nku.edu/~diesmanj/cullen.html
1905-birthday of trumpet player Sidney DeParis, Crawfordsville, IN
http://www.centrohd.com/biogra/d2/sidney_deparis_b.htm
1909-Benny Goodman' birthday
http://www.duke.edu/~eca/
http://www.mala.bc.ca/~mcneil/cit/citlcgoodmanb.htm
1909 - A very narrow but intense tornado, rated f4 on the Fujita Scale, cut across the sleeping town of Zephyr, Texas shortly after midnight. 34 people were killed and 70 were injured. Many homes were literally swept away with nothing left on the sites, just vacant lot after vacant lot.
1910-birthday of African-American Ralph Metcalfe, Olympic gold medal sprinter born at Atlanta, GA. Metcalfe set world records in the 100 years, 100 meters and 200 meters between 1932 and 1936. At the 1936 Berlin Olympics he finished second to Jesse Owens in the 100 meters and won a gold medal as a member of the 400-meter relay team. After World War II, Metcalfe was very active in Democratic politics, serving as a convention delegate, first Illinois Athletic commissioner, elected four times to the US House of Representatives. He founded the Ralph H. Metcalfe Youth Foundation which provided athletic and educational programs for youth. He was named a member of the President's Commission on Olympic Sports in 1975. The federal building at 77 W. Jackson in Chicago was named for him when it was dedicated in 1991. Died at Chicago, IL, October 10,1978
http://bioguide.congress.gov/scripts/biodisplay.pl?index=M000675
1911-The first Indianapolis 500. The race was created by Carl Fisher, who in 1909 replaced the stone surface of his 2.5-mile racetrack with a brick one—hence the nickname "The Brickyard." The first long-distance race was won by Ray Harroun, 29 years old, who drove a 16-cyclinder Marmon Wasp over the 2.5 mile oval course for a distance of 500 miles in 6 hours, 41 minutes, 8 seconds, an average of 74.7 miles per hour. Only 38 of the 44 cars entered completed the race. One contestant was killed in an accident. The race was witnessed by 85,000 spectators.
http://www.diecast.org/diecast98/html/asp/list_reviews/xq/ASP/id.CA431/
qx/reviewpix.htm
1912-During the second running of the Indianapolis 500, driver Ralph Mulford was told he would have to finish the race to collect 10th-place money. Mulford did so, but it took him eight hours, 53 minutes, more than 2 ½ hours longer than the winner. He stopped for fried chicken several times along the way, and the rule was changed the following year.
http://www.bridgestone-usa.com/indexfr.htm
1922- Lincoln Memorial Dedication. If you haven't seen it in person, it is well worth the trip. The memorial is made of marble from Colorado and Tennessee and limestone from Indiana. It stands in West Potomac Park at Washington, DC. The outside columns are Doric, the inside, Ionic. The Memorial was designed by architect Henry Bacon and its cornerstone was laid in 1915. A skylight lets light into the interiors where the compelling statue "Seated Lincoln," by sculptor Daniel Chester French, is situated
http://www.nps.gov/linc/
1923 - Howard Hanson's 1st Symphony "Nordic," premiered.
1927-- Birthday of actor Clint Walker , Hartford,IL ( My father Lawrence Menkin wrote many of the TV show Cheyenne series that Clint Walker starred in.)
http://www.clintwalker.com/
http://classicimages.com/1999/april99/walker.html
1932-Birthday of American composer Pauline Oliveros, Texas.
U.S. avant-garde and electronic music composer of theatrical pieces, often with mixed media, co-founded the San Francisco Tape Music Center, rose to full professor at UC, San Diego, at the Center for Musical Experience. She won the Beethoven prize for her city-music piece Bonn Feier.
http://www.deeplistening.org/pauline/
http://media.hyperreal.org/zines/est/intervs/oliveros.html
1935-Tommy Dorsey splits from Jimmy after disagreement on tempo on "I'LL Never Say Never Again Again" at the Glen Island Casino, New Rochelle, NY. They would not talk to each other until the 1950's, playing only one more time together on a television special.
1943-Battle of the Aleutian Island. The islands of Kiska and Attu in the Aleutian Islands off the coast of Alaska were retaken by the US 7th Infantry Division. The battle (Operation Land grab)began when an American force of 11,000 landed on Attu May 12. In three weeks of fighting US casualties numbered 552 killed and 1,140 wounded. Only 28 wounded Japanese were taken prisoner. Their dead amounted to 2,352 of whom 500 committed suicide.
1943-birthday of Gale Eugene Sayers, pro Football Hall of Fame running back, born Wichita, KS.
http://communities.msn.com/Blackside/tributetoblackathletes.msnw?action=
ShowPhoto&PhotoID=56
http://search.biography.com/print_record.pl?id=19207
1950-Top Hits
My Foolish Heart - The Gordon Jenkins Orchestra (vocal: Eileen Wilson)
Bewitched - The Bill Snyder Orchestra
It Isn't Fair - The Sammy Kaye Orchestra (vocal: Don Cornell)
Birmingham Bounce - Red Foley
1956-African-Americans in Tallahassee began a bus boycott in that city. They were protesting the system of segregation that required non-whites to ride in the back of busses.
1958-Top Hits
All I Have to Do is Dream - The Everly Brothers
Return to Me - Dean Martin
Do You Want to Dance - Bobby Freeman
Just Married - Marty Robbins
1963 - No. 1 Billboard Pop Hit: "It's My Party," Lesley Gore.
1964- Wynonna Judd birthday, U.S. country western singer who won the Grammy 1985, 86, 87, 89 She was voted top female country artist award in 1994.
http://www.wynonna.com/
1966-Top Hits
When a Man Loves a Woman - Percy Sledge
A Groovy Kind of Love - The Mindbenders
Paint It, Black - The Rolling Stones
Distant Drums - Jim Reeves
1967 - Daredevil Evel Knievel jumped 16 automobiles in a row in a motorcycle stunt at Ascot Speedway in Gardena, Georgia.
1968-The Beatles begin recording "The White Album."
1971 - The spacecraft Mariner 9 was launched in the direction of Mars. It became the first craft to orbit another planet, returning many images of Mars. The images revealed what appear to be riverbeds on the surface, suggesting the presence of water on Mars at some point in the past. Mariner 9 photographed the entire surface of Mars.
1973 - No. 1 Billboard Pop Hit: "My Love," Paul McCartney & Wings. The song is McCartney's first No. 1 song with Wings, a group he formed after the breakup of the Beatles.
1974-Top Hits
The Streak - Ray Stevens
Dancing Machine - The Jackson 5
The Show Must Go On - Three Dog Night
No Charge - Melba Montgomery
1975 - Alice Cooper received a gold record for the romantic album, "Welcome to My Nightmare". Alice's real name was Vincent Furnier. He changed his name to Alice Cooper in 1966 and was known primarily for his bizarre stage antics. He appeared in the film "Prince of Darkness" in 1987 and had 11 hits on the pop/rock charts in the '70s and '80s, including a pair of million-selling singles: "I Never Cry" and "Poison."
1980-Though many say disco is deader than a door nail, "Mickey Mouse Disco" turns platinum.
1982-Top Hits
Ebony and Ivory - Paul McCartney with Stevie Wonder
Don't Talk to Strangers - Rick Springfield
I've Never Been to Me - Charlene
Just to Satisfy You - Waylon & Willie
1977-- "In company with the first lady ever to qualify at Indianapolis -- Gentlemen, start your engines." So began the 1977 Indianapolis 500, and the lady in question was the American race car driver Janet Guthrie.
http://www.janetguthrie.com/
http://www.amazon.com/exec/obidos/ASIN/0817858822/avsearch-bkasin-20/
002-0667839-4443242
1985 - ABC-TV announced that every game of the baseball World Series would be played under the lights for the biggest baseball audience possible.
1985 -The temperature in Oklahoma City reached a sizzling 104 degrees, making it the highest ever for so early in the season. Also, this marked the very first time the temperature had reached the 100 degree plateau in the month of May at Oklahoma City.
1986 - Hanford, Washington hit a scorching 104 degrees, breaking the all-time record high temperature for May for Eastern Washington. Yakima, Washington hit 102 degrees, a record high for the month of May for Yakima. Records also fell at Boise and Reno.
1988 - No. 1 Billboard Pop Hit: "One More Try," George Michael.
1990-Top Hits
Vogue - Madonna
All I Wanna Do is Make Love to You - Heart
Hold On - Wilson Phillips
Walkin' Away - Clint Black
1992-Charles Geschke, president of Adobe Systems, is rescued after kidnappers held him hostage for four days. Geschke's generous philanthropy had attracted the attention of two would-be kidnappers in Silicon Valley. The two abducted Geschke at gunpoint in broad daylight, blindfolded him with duct tape, and kept him chained and handcuffed in a rented house.
The FBI nabbed one of the kidnappers during a ransom drop and rescued Geschke on 30 May 1992. Ironically, a neighbor of Geschke's had noticed a man, who later proved to be one of the kidnappers, rifling through Geschke's mail several days earlier. She had written down the license plate number; however, not knowing Geschke was missing, she never gave the number to the police until after Geschke had been returned.
2001-- Barry Bonds hits career homer No. 522 passing Willie McCovey and Ted Williams to move up to #11 on the all time list, and making him the number one lefty home run hitter in National League history. The round tripper is the 17th hit by the Giant outfielder in May breaking the record set by Mickey Mantle (1956) and Mark McGwire (1998).
2002-World Trade Center Recovery and Cleanup Ends. A solemn and mostly silent ceremony marked the symbolic end of recovery operations t Ground Zero, the former site of the World Trade Center, after the September 11, 2002, terrorists' attacks. The last standing steel girder was cut down on May 28. An honor guard carried an empty stretcher draped with an American flag to represent those victims who were not recovered from the ruins. Members of the NYPD, NYPD and city, state and federal workers, as well as family members and Ground Zero recovery teams, participated in the ceremony.
Stanley Cup Champions This Date
Edmonton Oilers
--------------------------------------------------------------

Baseball Poem
The Base Stealer

Poised between going on and back, pulled
Both ways taut like a tight-rope walker,
Fingertips pointing the opposites,
Now bouncing tiptoe like a dropped ball,
Or a kid skipping rope, come on, come on!
Running a scattering of steps sidewise,
How he teeters, skitters, tingles, teases,
Taunts them, hovers like an ecstatic bird,
He's only flirting, crowd him, crowd him,
Delicate, delicate, delicate, delicate - Now!

----Robert Francis
--------------------------------------------------------------

SuDoku
The object is to insert the numbers in the boxes to satisfy only one condition: each row, column and 3x3 box must contain the digits 1 through 9 exactly once. What could be simpler?
http://leasingnews.org/Soduku/soduko-main.htm
--------------------------------------------------------------

Daily Puzzle
How to play:
http://www.setgame.com/set/puzzle_frame.htm
Refresh for current date:
http://www.setgame.com/set/puzzle_frame.htm
--------------------------------