Leasing Sales Representative
Long Island, NY
Hiring experienced or new to business sales reps. Transactions in all states / all industries. Send resume to: info@sterlingcap.net or fax 631-414-7571.
About the Company: Sterling Capital Leasing, LLC is a national small ticket/middle market leasing company

Monday, May 5, 2008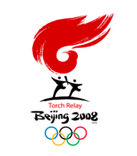 Headlines---
Major Development at FTC-IFC Credit case
FTC-IFC Settlement in the Offering
Slow Pay to Brokers
Are Leasing Company stocks good investments?
"B" Credits: Chesswood sees Pawnee Leasing
New school for brokers: Premier Lease Academy
Classified Ads---Help Wanted
Top Stories --April 14-April 18
Barry Dubin's Daughter on Fox TV News
Leasing 102 by Mr. Terry Winders, CLP
"Holding Leases"
NACM Index continues to indicate contraction
Dolphin loses its Appeal on NorVergence leases
National City Commercial Capital/NorVergence
NorVergence Fraud-related Settlement/Georgia
Is Jeffrey Peak the man to run CIT
Buffett's thumbs down on dollar
News Briefs---
You May have Missed---
Sports Briefs---
"Gimme that Wine"
Calendar Events
Snapple Real Facts
Today's Top Event in History
This Day in American History
Spring Poem
SuDoku
Daily Puzzle
GasBuddy
Provence, France-Vacation
News on Line---Internet Newspapers
Pacific Palisades, California
######## surrounding the article denotes it is a "press release"
------------------------------------------------------------------

Major Development at FTC-IFC Credit case
Bench Trial postponed until July 14th
Trebels on the record for the first time
(His side of the story!)
FTC makes some startling admissions
In a major concession, and perhaps a turning point, particularly after the IFC Credit, Morton Grove, Illinois loss in Dallas, Texas on their appeal regarding SOS or Specialty Optical Systems, Inc. Northern District of Illinois, Eastern Division, United States Magistrate Judge Jeffrey Cole granted a second request by both parties for a continuance. Originally he said the bench trial would begin regardless on April 27th. This is a big surprise.
Neither the FTC or IFC are talking about what is happening, but information now available in PACER indicates a major change in the FTC position, particularly admitting in a deposition with CEO Rudy Trebels that they do not believe IFC knowingly entered into fraudulent transactions with NorVergence or were part of a Ponzi scheme and that lessees were deceived that service was included in the contract.
In making the motion to Reconsider the Court's Partial Denial of IFC's Motion to Dismiss and Supplemental Motion to Dismiss. Debra R. Devassy of Askounis & Darcy, representing IFC Credit Corporation includes this Exhibit 1.
The Court: Well, was it—let me ask this. Was it the scheme by NorVergence?
You said it wasn't a Ponzi scheme.
Mr. Schroder (FTC): Your Honor, I have never said it was a Ponzi---it
was not a Ponzi scheme. I do believe it was...I'm not sure that the record will prove that point. It will simply prove that NorVergence got its money 80 percent from the rental agreements, 20 percent from consumers for services, and that they were paying a lot more for services than what they were collecting from the consumers for services.
The above comes in a submission by attorneys Debra Devassy, Alexa Darcy, Askounis & Darcy, Vincent Borst, Borst & Collins, Peter Deeb, Frey, Petrakis, Deeb, Blum & Briggs.
Here are parts of the deposition by several attorneys of IFC Credit CEO Rudy Trebels as filed as Exhibit 1, where the FTC states its position that IFC was not part of any fraud:
(Vincent Borst of Borst & Collins, representing IFC Credit, is asking the questions of Rudy Trebels, CFO in this part of the deposition:)
Q. During this time period when you did this original Master Program Agreement, would that hold true, you didn't have any indication that there was any fraudulent conduct going on?
A. Our normal bad debt is about 1 percent a year. So there's no reason in the world that we would possibly have entered into buying contracts and invest more than the full net worth of the company if we thought there were any issues like this. I mean it is just is unfathomable that us or nay of the other leasing companies would do that----I know you feel different, but it's just---
Mr. Schroeder: Let me state on the record that FTC has never taken the position that IFC knew NorVergence was engaged in fraud when it bought the contracts. Just from Economics 101, I agree that we don't think that that would have made financial sense. Why would you do that? That's not our case. So we can stipulate to that.
Mr. Borst: Okay
By Mr. Borst:
Q: Just following on too with the amendment, which is at page 18 of the agreement. This is a later time period at March 16, 2004. Was there any concern on IFC's part in this time period, Marcy of '04, we're about four or five months down the road, that NorVergence was engaged in any kind of fraudulent conduct?

No.

Q. And nothing like that motivated IFC's desire to enter into the amendment to the Master Program Agreement?

A. No. They had asked us to look at buying a little bid deeper into the credit process and that there were some delays in the---I'm not sure if it was here or later, but along the way there were some delays in getting the T1's connected, and that's where

(Page 172 is missing from the Exhibit...next page begins 173,
as the exhibit concerns the FTC testimony:)

has collected from its NorVergence lessees come as a result of settling various pieces of litigation related to the NorVergence equipment rental agreements?
Yes.
Q. And does IFC continue to actively pursue settlement with its lessees?
A. Yes
Q. As you sit here today, for any of those lessees, if you know the answer to this question, for any of those lessees that are settling, it is your understanding they are doing so voluntarily or it's something they wish to do?
Mr. Borst: I have no further questions.
Mr. Schroder: I have one. It's more a clarification of my stipulation. I told you what we didn't think, and I want the record to reflect what we do. I don't think that the evidence will show that IFC bought these contracts knowing that NorVe3rgence wasn't going to provide the services. That's what would have been a bad financial decision. We do allege and will continue to allege and we think the evidence proves that when IFC took the contracts, it knew that the customers expected to get services for their payments under the rental agreements and that the customers were deceived into thinking that their payments under the rental agreements world get them services. But I do believe the record will also show that IFC at that point in time expected that NorVergence would come through and do the services...

While not present at the proceedings, in reading transcripts of the hearings, documents, motions, it appears the IFC legal team is "outflanking" the FTC team. Each of the top attorneys in their profession appears to be very active in the proceedings, and despite the "breakup" of Askounis & Borst and originally assumption that Peter J. Deeb of Frey, Petrakis, Deeb, Blum & Briggs, was more a "lobbyist," if you will accept that word, it appears that paying for the best attorneys available does make a different.

This should not be viewed as an opinion that Robert Schroeder and his staff are not doing their job, but in my opinion the fact that the senior attorney who delayed his retirement to complete the package, Randall H. Brook, would have made a difference
in the hearing as he was not only the architect of the case, but active with information to and from many attorney generals cases throughout the United States.

Perhaps also the court venue itself is also making a difference as other Illinois courts, as well as Judge Jeffrey Cole, have accepted the NorVergence lease forum clause on venue, whereas many other courts across the country have not. In addition, it appears this may get down to the fact as to how "strong" the NorVergence lease contract is accepted.

Many attorneys, on both sides of the matter, look at the NorVergence lease contract as very weak, poorly drawn up, and it appears it was only accepted on the argument that prior leasing companies accepted it as a good legal document.

Rudy Trebels Exhibit 1:
(note: Mr. Trebels home address was removed from the transcript. editor)
http://leasingnews.org/PDF/IFC_Credit_Corp.pdf
Coda: Note in this news edition, there are three cases where leasing companies lost, one an appeal, and two instances of action by attorney generals in their state.
--------------------------------------------------------------

FTC-IFC Settlement in the Offering
by Christopher Menkin
This is the first time IFC Credit CEO Rudy Trebels position has become public regarding the purchasing of NorVergence leasing contracts. It is something he should have done a long time ago, in this writer's opinion. His attorneys obviously told him to speak only in court and not to the news media.
The Pacer legal filings indicate the momentum has changed, almost as if watching a football game. IFC Credit is out of being backed into the one yard line where it was painted into before this Illinois trail began. The ball is now in Trebels hands as his team is moving forward toward the fifty yard line.
It appears to me the only reason Judge Cole would delay the proceedings is that he sees a settlement in the offering. Judge Cole was quite adamant in starting the trial on April 27th. It appears the motions made and revelations by the FTC indicated to him that a compromise was available. Or to put it more bluntly, whether the legal aspects or other facts or opinions are yet to come, a meeting of the minds on position deserved a "time out."
A settlement would certainly resolve many legal questions, plus indicate further that despite "hold backs" and maneuvers during NorVergence bankruptcy that it was not until much later than IFC Credit became aware of the problems with NorVergence and its contract procedure. It appears IFC Credit was relying on NorVergence to provide services and became more away of NorVergence financial condition not far from when they filed bankruptcy (remember the Dun & Bradstreet reports right before the filing found no derogatory credit and it appeared the company was in very good financial condition. ) More importantly, what seems to have been proven in these proceedings brings the onus back to NorVergence for its deception and away from IFC Credit Corporation.
How a settlement will be viewed by the attorney generals of Missouri and Texas, waiting in the wings, may be to IFC Credit's advantage as well. It does certainly appear that Judge Cole is conservative
by his rulings and strict running of the court in this procedure; certainly it is his court, meaning he is going to look more at the hard evidence, specifically which the lessee signed the contract and should be responsible for what they signed, that they were aware that without service, the contracts were basically valueless. He is not going to make a political decision, but go solely by the letter of the law.
We then are back to the original defense by all the leasing companies that the contract stands by a "hell and high water" position that the document be viewed under commercial law, not consumer
law, that the signer is responsible for accepting the terms and conditions of what he or she signs. Then the conclusion is the early settlements by leasing companies were strictly business or "political" decisions and not primarily legal decisions.
Filed May 2, 2008: the transcript of the April 29 hearing is on 29 pages; the 114 page transcription is on 29 pages of this motion by Devasy and gives both parties side of their position before Judge.
(2.89 mb download)
http://leasingnews.org/PDF/IFC_Credit_Corp2.pdf
--------------------------------------------------------------

Slow Pay to Brokers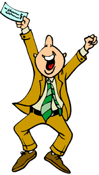 The main complaint about not being paid since February involved a leasing company not named. It has been settled, therefore the name will not be revealed.
When Leasing News mentioned this complaint, it also brought up several regarding a major leasing company in Southern California. several readers thought it was LEAF as evidently there has been talk on the National Association of Equipment Leasing Association (NAELB) web forum about slow pay. Due the confidentiality, Leasing News will not quote emails on the NAELB forum.
For the record, the company the complaints concerned were not LEAF, but another major company in Southern California, who's president most likely is burned up because he was asked for a comment from Leasing News ( he never responded. editor)
Any slowness in receiving commissions from any leasing company may be caused by a funding delay, a re-evaluation, incorrect certificate of insurance, hold up on a verbal by the signer, better due diligence of paperwork, and often just too much volume going through the pipe.
A spokesman for LEAF said they pay brokers as fast as a deal is funded with a cut off time of 3pm; no delays except for normal administration processing in funding of a transaction.
LEAF itself is in very good shape, $1.7 billion in assets under management as of December 31, 2007. The main operation also is in New Jersey. Again, the complaint is not against this company, although LEAF does have affiliates and offices in Southern California.
Recently LEAF completed "Fund II, raising $120 million, stating this was down within 14 months, way ahead of schedule using a syndicate of more than 70 broker dealers. Fund I was for $17.1
million and Fund II was $60 million.
Crit DeMent, Chairman and Chief Executive Officer of LEAF, stated, "We are very pleased by the confidence financial advisors and individual investors have shown in LEAF with their tremendous acceptance of our investment programs. LEAF's ability to raise substantial equity in the current dislocated capital markets allows us to continue to take advantage of this situation, and the lack of liquidity by other companies, on behalf of our investors."
A large bridge facility ($380mm) was used to purchase the NetBank lease portfolio which is collateralized by the LEAF's assets. The bridge loan expires in November, 2008.
In their most recent SEC filing, it appears FUND III is being used to cover this.
Form 8-K for RESOURCE AMERICA INC
28-Apr-2008
Other Events
"Item 8.01 Other Events.
"In our current report on Form 8-K dated as of November 7, 2007, we described our indirect subsidiary's acquisition of a portfolio of leases from the Federal Deposit Insurance Corporation and originated by NetBank. We further stated our intention to sell that portfolio of leases to an investment partnership sponsored by LEAF Financial Corporation, one of our indirect subsidiaries.
"On April 22, 2008, we completed the transfer of this portfolio of leases by transferring to LEAF Equipment Leasing Income Fund III, L.P., an investment partnership sponsored by LEAF Financial Corporation, membership interests of the entity that owns the special purpose entity that owns the portfolio of leases. This special purpose entity, that owns the portfolio of leases, now wholly owned by the investment partnership, remains the borrower on the Morgan Stanley Bank financing. As a result of the foregoing transaction, approximately $323 million of commercial finance assets were transferred by the regististrant to the investment partnership together with approximately $315 million of related debt financing."
Perhaps more will be explained this Wednesday, May 7, 2008, when Resource America will present the company's First Quarter report at 8:30am, EDT; particularly why their stock is doing so well.
--------------------------------------------------------------

Are Leasing Company stocks good investments?
by Christopher Menkin
(When a writer signs his name to an article, it then notes the opinions expressed are his, plus gives him the privilege to have a viewpoint.)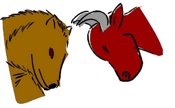 The question I have been asking friends who invest is have they ever considered leasing companies? They tell me they would never invest in leasing, not because of my personality, but simply put: "leasing companies stocks are poor investments as evidenced by their stock performance."
I specifically asked them why they thought the stocks were not performing well. Their ranges from: investors are holding their breath on risky investments: leasing companies are considered risky:
their record is taking credits with people who have little cash or established credit: there are better investments.
The news also about SILO's, FILO's, NorVergence, and all the fraud involved also seem to scare those who are aware of these events.
The Dow Jones was up on Friday, so perhaps the conclusion is what they told me in the first place: the performance of the stock alone is scary in itself: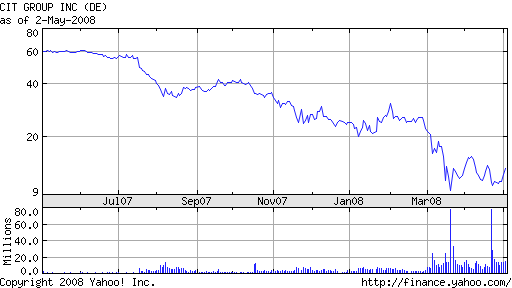 CIT Friday: $12.91 $61.47 (52 week high)
Subprime mortgages and student loans are their problem. The commercial sector which made the company grow continues to perform, although sections are being sold off for cash flow. The
current CEO comes from Merrill Lynch, who also got into trouble with subprime and consumer loans, now out of the leasing business. CIT has survived many turns and twists in the marketplace
since its inception; however, is it a good stock investment today?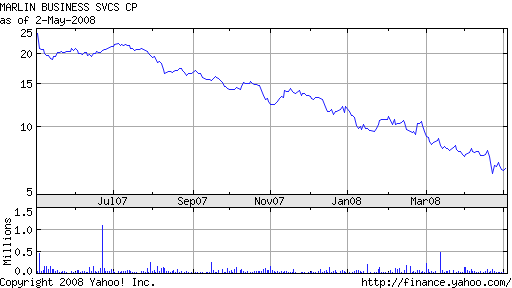 Marlin Friday: $6.60 $24.26 (52 week high)
This company appears undervalued, even though many criticize its poor management and the loss of its key executives. Profits as well as performance is continuing to decline, business loans and factoring was abandoned ( actually never got off the ground), opening an industrial bank at this time in Utah was not viewed as a smart move, and now moving its efforts into vehicle leasing has many selling this company's stock. May 9th Marlin will have a telephone conference on their earnings. This company may suddenly find itself out of leasing as Advanta leasing did,
one a leader in its day for small ticking leasing.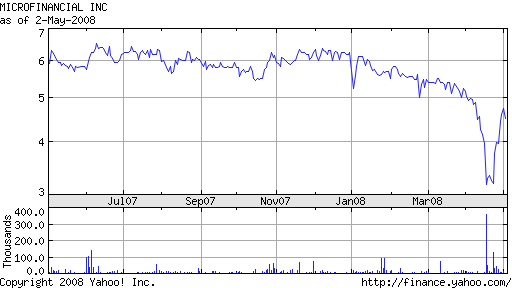 MicroFinancial Friday: $5.55 $6.52 (52 week high)
A company in the micro-ticket marketplace. It has some problems in the past, but continues to perform, and in comparison, by percentages, the stock is not doing as badly as the other two publically held companies, but is also perhaps in the same indication.
In looking at banks, many who have leasing divisions or own leasing companies, the leasing numbers are not available. Whether they should be viewed also as not doing as well in the stock market may
be on the subprime and other loan problems now surfacing.
These two companies have active leasing companies: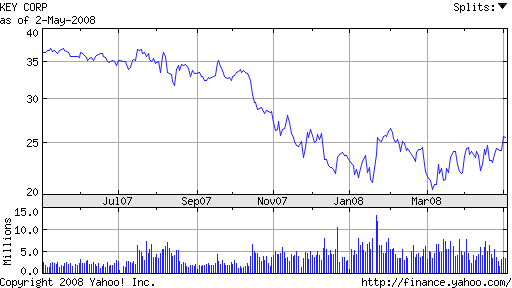 Key Corp. Friday: $25.58 $37.09 (52 week high)
This bank has been more conservative and not suffered as the East Coast banks have. More importantly, the numbers in the last financial statement break apart the leasing segment, looking
healthy, and considering the marketplace, doing very well with below average losses. Keys annual shareholders meeting will be May 15,2008.
Since this is basically about leasing, my opinion is the Key Equipment Finance unit is a place to work; doing very well in this tough market place with sold leadership. Please note Paul A. Larkins, President and CEO, was Leasing News Person of the Year for 2006.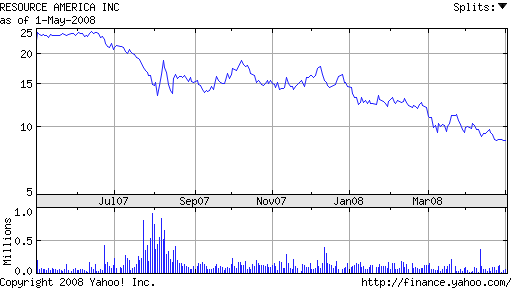 Rexi Friday: $8.56 $24.99 (52 week high)
Resource America is a $1.7 billion company and LEAF Corporation is a small part in comparison ( see above story.) It does not have the subprime loan problems, but seems to fit in with the leasing
entities who's stock is well below value. Rexi looks quite undervalued for its performance. Rexi's second quarter webcast will be May 9,2008. Perhaps we all will learn more then as it appears to
me this is a stock to buy at this low price.
--------------------------------------------------------------

"B" Credits is how Chesswood sees Pawnee Leasing
by Christopher Menkin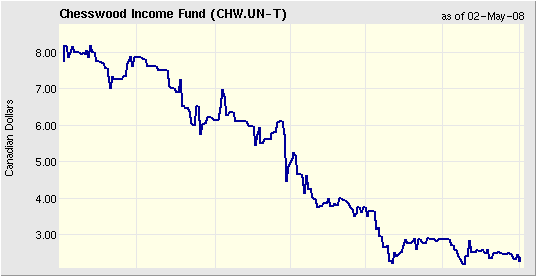 Pawnee Friday:$2.39 $8.20 (52 week high)
Pawnee is one of the three companies owned by the Chesswood out of Toronto, Canada. Although a US company, Pawnee is on the Canadian Stock Exchange. In a marketplace where this company
should be performing, it is fizzling out. Its parent thinks its market place is "B" credits, when its history and rate structure are primarily "subprime" leases with a few "C" credits. The "B" market rate in leases under $30,000 to brokers finds buy rates from 8% to 10% whereas Pawnee leases are 28% to 32% with first and last two or first and last three with a residual. Pawnee cannot compete in the "A" and "B" leasing broker marketplace utilizing brokers as their sources of business.
The reality is brokers are independent, not tied to any one company, and when the broker can make more points, meaning a higher commission, and at the same time, offer their clients a lower lease rate, often with a faster turn around time, that's where they are going to go---- especially when they have so many funding sources knocking at their door.
It addition never in the leasing history have the leasing brokers been so well supported. The National Association of Equipment Leasing Brokers weekly On Line "Meet the Funder," a list serve where member communicate about funding sources, plus Leasing Forum, which features a 'Looking For Funding' electronic bulletin board where members find homes for transactions of nearly every description.
In addition a mentor program, service discounts, and even rebates from their $295 annual membership fee, too. Plus the association has excellent assets and a management service without equal for members only, controlled solely by brokers
( funders do not have a vote in the association, although they may join.)
In the Chesswood Income Fund annual report, the filing states: "Direct financing lease income decreased by approximately $1.3 million year-over-year predominantly due to a $1.4 million decrease as a result of freight exchange. In US dollars, direct financing lease income actually increased by approximately $153,000 in a year. The average number of lease outstanding through 2007 remained virtually unchanged from 2006. Direct financing leasing income decreased by approximately $1.2 million ($161,000 decrease in US$) in the three-month period predominantly due to foreign exchange fluctuations compared to the prior year...
"During the year-end December 31, 2007, the provision for credit losses increase by $3.8 million year-over-year due to the effect of higher charge-off levels on Pawnee's allowance for doubtful accounts, as compared to the pro-forma figures for the prior years..."
"During the three-month period ended December 31, 2007, the provision for credit losses increased by $869,000 in 2007 compared to the same figure last year.
December 31, 2007 year-end financial statements show "direct leasing"
(in thousands of dollars and unaudited) going from $28,075 in 2006
to $26,727 in 2007.
The last quarter, three month ending in 2006 was 7,267 and 2007, 6,123.
Chesswood is not aware of Pawnee's subprime marketplace or reputation for subprime transactions, often called "story credits." This marketplace has seen the growth of many smaller companies, just as when Pawnee started out and was micromanaged in leases for "risky" equipment and credits. Prior management had "hands on" 24/7 in the acceptance of leases. Today it is part of a Toronto company
with executive decisions made there . As Chesswood influences Pawnee's choice of equipment and credit, its broker base goes elsewhere.
This lack of understanding is not an opinion, but comes directly from the Chesswood Annual Report where they explain:
"BUSINESS OF PAWNEE
"Pawnee is an equipment leasing company that provides lease financing on micro and small-ticket business equipment. Pawnee focuses on small businesses in the start-up and "B" credit segment of the U.S. Leasing market, servicing the lower 48 states through a network of approximately 550 independent brokers. As of December 31, 2007, Pawnee administered over 7,200 leases in the portfolio, with remaining scheduled lease payment so approximately US$107.2 million over the next five years..."
"Pawnee's business model is different from certain other leasing consumer sup-prime mortgage and finance companies in a number of important respects, including the following:
unlike sub-prime mortgage companies, Pawnee does not provide funding to the residential consumer, and funds only " business essential" commercial equipment.
Pawnee does not sell its leases, but rather retains its leases for their full term,
Pawnee's revenues are derived directly from its leases and are not derived from (and therefore, and more importantly, Pawnee's revenues are not dependent upon) fees from the sale of its
portfolio of leases, and
not only is there significant geographic diversification (within the United States) within Pawnee's portfolio of leases, there is also significant diversification in terms of the equipment funded and significant diversification in terms of the industries in which Pawnee's lessees operate."
Chesswood Income Year-end: 76 pages (3.66mb download)
http://leasingnews.org/PDF/Chesswood_2007_Report.pdf
--------------------------------------------------------------

New school for brokers: Premier Lease Academy

Joining the school-training fray is Premier Leasing Academy out of Roswell, Georgia. $19,995 for five "intensive day training" in Atlanta, Georgia. They promise "back office support" for one year and access to over 20 "lenders."
The caveat also promises "2 full days of Sales and Marketing training to participants as part of the week long course" with Ms. Linda Kester.
A press release states "She will also provide a full year of support via newsletters, email, and teleconferences. Linda has this to say about her decision to partner with Premier Leasing academy, "Jim, David & Randy have a superior level of integrity. Their complete knowledge of the industry and attention to detail makes them a dynamic team. I'm proud to be a part of that team."
Named as founders are James DuBois, David Hamilton and Randy Russell. Their background was not given. A telephone call to Premier Leasing Academy received voice mail that all academy "consultants" were on the other line talking to candidates and would get back within 24 hours time.
Linda Kester told me that " David Hamilton has been in the business for at least 18 years. They act as a Super Broker."
The web site states: " You will be able to finance transactions with these lenders from $5,000 to $2,000,000 or more. You can get your deals approved in as little as a few hours with the right information.
"1. TRANSACTION BASED FEES
"In the industry we talk about points you can earn; 1 point = 1% of the total equipment cost.
"• Equipment Leasing you can earn up to 15 points of the total cost.
- Example: $40,000 equipment loan at 15%=$ 6,000
• Working Capital Loans can bring in up to 7 points
- Example: $100,000 loan at 7% = $7,000
"You can clearly see if you only do 2-3 transactions a month how much you can make. You do not need to do a lot of transactions each month to be very successful.
"2. ON GOING INCOME WITH VENDORS
By developing a relationship with Vendors (suppliers of equipment) you are creating yourself a sales force with no overhead. As they sell their equipment and their customers need financing, they are sending you transactions. You become their in-house finance company and help them increase sales while increasing your own profits.
"Vendors should be able to send in three to five transactions a month and in some cases more. So, you can see that if you work with your Vendors you will see the dollars add up quickly by answering the phone or reading a faxed application.
"An example: a vendor sells $40,000 piece of equipment. You make 5% or $2,000. That same vendor sells 3-5 pieces of equipment each month. In your first year you should be able to open up 2 to 4 vendors....once again, you do the math!"
www.leasingcareer.com
1-866-625-5154
Other Leasing schools/facilities:
http://www.leasingnews.org/Conscious-Top%20Stories/School-Franchisors.htm
--------------------------------------------------------------

Leasing Industry Help Wanted
Collector

Collector
Lake Success, NY
Full time, entry or jr. level collector, auto and/or equip collection exp. preferred. Resume: fax 718-392-5427
attn: Ed Kaye/Eric Coolbaugh
About the Company: Advantage Funding is the leader in automotive and equipment lease financing, Lake Success, NY.


Document Processor

Documentation Processor
New York, NY.
Mid-Town New York office seeking Documentation Processor with approximately 3 years experience. Click here for details.
Leasing Sales Representative


"A Top Producers Dream"
Outstanding Back Office Support
High Commissions – Up To 80%
Elite Training Program
Access to many Major Funding Sources with the ability to obtain approvals not available elsewhere
Click Here if you want to achieve more!


Leasing Sales Representative

Leasing Sales Representative
Long Island, NY
Hiring experienced or new to business sales reps. Transactions in all states / all industries. Send resume to: info@sterlingcap.net or fax 631-414-7571.
About the Company: Sterling Capital Leasing, LLC is a national small ticket/middle market leasing company

Special Assets Workout Officer

Special Assets Workout Officer,
San Francisco, CA
5+ years collection experience work-out commercial accts. equip. finance/leasing-
click here for more info
About the Company: Bank of the West and its subsidiaries are equal opportunity/affirmative
action employers.


--------------------------------------------------------------

Top Stories --April 14-April 18
Here are the top ten stories most "opened" by readers last week:
(1) Leasing Companies lose another big one
http://www.leasingnews.org/archives/April%202008/04-28-08.htm#lose
(2) Archives-April 27, 2000--Paul Menzel,CLP
SURVIVAL OF THE FITTEST
http://www.leasingnews.org/archives/April%202008/04-28-08.htm#arch
(3) Marlin announces conference call
http://www.leasingnews.org/archives/May%202008/05-01-08.htm#mrln
(4) Archives--May 1, 2000
Re-Establishes Kropschot Financial Services
http://www.leasingnews.org/archives/May%202008/05-01-08.htm#arch
(5) Where in the World is Kit Menkin?
http://www.leasingnews.org/archives/May%202008/05-01-08.htm#kit
(6) "Flowers..." "From Whom?" " Candygram."
"I'm only a dolphin, ma'am"
http://www.leasingnews.org/archives/May%202008/05-01-08.htm#whom
(7) Paul Weiss, back for a second time
http://www.leasingnews.org/archives/April%202008/04-28-08.htm#advisor
(8) Sales Make it Happen --- by Linda P. Kester
"Overcoming Discouragement"
http://www.leasingnews.org/archives/May%202008/05-01-08.htm#sales
(9) Leasing 102 by Mr. Terry Winders,CLP
"Income Tax Requirements"
http://www.leasingnews.org/archives/April%202008/04-28-08.htm#102
(10) Balboa Promotes Phil Silva to Exec. Vice
http://www.leasingnews.org/archives/May%202008/05-01-08.htm#bcc
--------------------------------------------------------------

Barry Dubin's Daughter on Fox TV News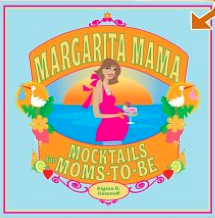 If you didn't see Alyssa D. Gusenoff, daughter of well-known leasing attorney Barry Dubin of Cooper, White & Cooper LLP, on Fox TV News promoting her book "Margarita Mama"---here it is:
http://www.myfoxboston.com/myfox/pages/Home/Detail;jsessionid=9875741F81EFBE5BE
348968154C3D651?contentId=6438342&version=1&locale=EN-US&layoutCode=VSTY&
pageId=1.1.1&sflg=1
Bonus:
Barry's grandson Zachary Gusenoff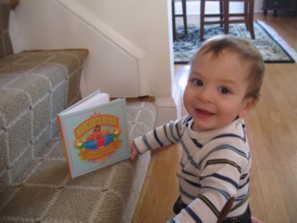 --------------------------------------------------------------

Leasing 102
by Mr. Terry Winders, CLP
Holding Leases
In an effort to maximize income or to get a better buy rate many Lessor's have a line of credit at a local bank where they draw down the money required to fund a lease and take it off the street. Then when the opportunity presents itself they sell it off to a funding Lessor. This can also allow a Lessor time to bundle a series of transactions that create a larger dollar sale and lower funding rates. The question becomes how the legal and tax consequences are impacted by the purchase and sale of the goods.
When you fund a True Lease and pay the vendor for the equipment you become its owner for both, Federal, and State income tax purposes and its legal owner for Uniform Commercial Code purposes. If you fund "a lease intended as a security" such as a "money over money" transaction or a "conditional sales lease" or any lease with a bargain purchase option then it is said that you are only holding the ownership in "trust" until the lease has been paid in full therefore what your are selling off is the right to collect the rents and a security interest in the equipment which requires you to assign the UCC-1 that you filed. In addition there is the State sales tax and other assed taxes that you become responsible for until you pass title or the security to the funding institution.
Regardless of the type of lease when you fund the transaction you must have a sales tax permit from each state each piece of equipment resides in. Then the sales tax must be collected and remitted to the proper jurisdiction for any standard payments you receive. Then you must send the additional prepayments such as the last payment plus the sales tax to the funder. When you initially pay for the equipment it also requires you to provide a resale certificate number to avoid sales tax on the purchase price. You must send a resale certificate to each vendor of the equipment under lease. Then forms must be completed for sales tax receipts and sent to the State, in the beginning usually monthly and then later on in a quarterly time frame.
When you proceed to sell off a bargain option transaction the difference between your outstanding balance and the purchase price will be your profit but it must be clearly recorded as to equipment cost and mark up. When selling a true lease the time you have held it determines its book value to you. If you have passed a quarterly Federal Income Tax reporting period then having taken the first part of the MACRS depreciation the purchase price will be effected by the tax consequences. Your sale may be the difference between the undepreciated value and the discounted rent price presenting you with both recovery of ordinary corporate income tax and a capital gains tax. In addition you will have to deal with your States income tax.
You must always remember that to pass title or ownership for UCC purposes the new owner/lessor must obtain a "bill of sale" and take "possession". Usually possession is handled in the original lease by making the Lessee the Lessor's agent to accept the equipment from the vendor. When the new Lessor takes ownership the Lessee's acknowledgement of the assignment should carry a statement that they are also acting as the new Lessor's agent for possession purposes.
Holding leases is a tricky business with a lot of costs and proper bookkeeping. Be sure you have separated each type of lease and know the consequences at the time of funding so you handle all the sales and income tax issues properly. Also if the funding occurs over the end of the year then property tax can also be a problem.
Mr. Terry Winders, CLP, has been a teacher, consultant, expert witness for the leasing industry for thirty years and can be reached at leaseconsulting@msn.com or 502-327-8666.
He invites your questions and queries.
Previous #102 Columns:
http://www.leasingnews.org/Conscious-Top%20Stories/Leasing_102/Index.htm
--------------------------------------------------------------

NACM Index continues to indicate contraction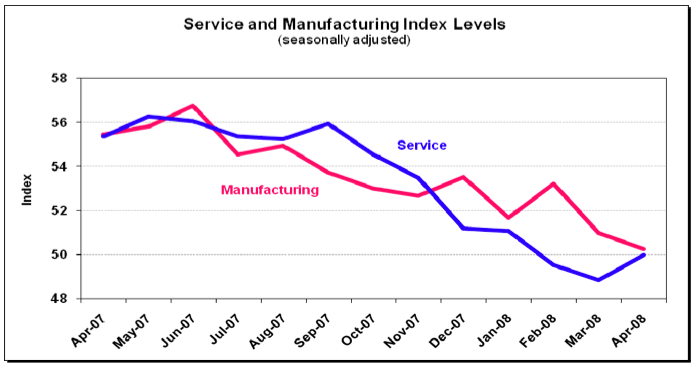 National Association of Credit Manager's Chart
Daniel North, chief economist with credit insurer Euler Hermes ACI said that comments from participants for April from credit managers indicated an increase of slow paying customers and overall economic weakness, especially in businesses exposed to the housing industry.
"... there was a significant increase in comments about the negative effects of higher input costs, especially fuel," he said. "No doubt the Federal Reserve will cite these inflationary pressures as a concern when it signals to the financial markets that the cycle of monetary easing is about to end."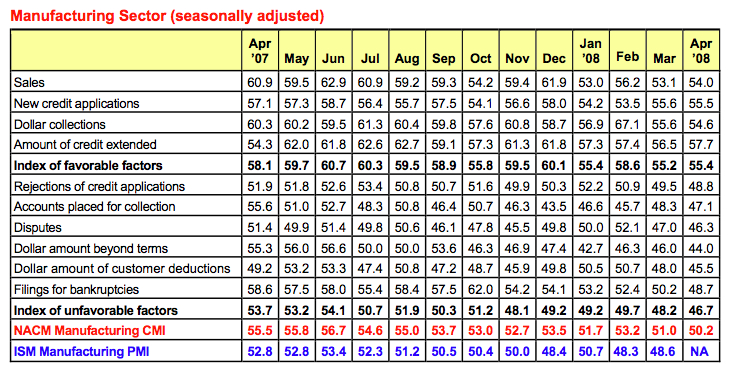 The seasonally adjusted manufacturing sector index fell for the second consecutive month as eight of its 10 components slid. Comments North provided from participants noted weak economic conditions: "laid off about quarter of our staff," "sales very low," "accounts finding more and more reasons not to pay within their times and are requesting extensions," and "too much inventory."
In addition to comments about the weak economy, however, this month saw a distinct increase in participants' notes about rising prices, North said. A manufacturer of plumbing fixtures said they "just increased prices" while a food processor stated, "We had a price increase." An operator of a steel works gave a more thorough assessment highlighting the dangers of inflation: "We continue to increase prices as our raw materials prices have drastically increased….Many (of our customers) cannot pass along price increases.…if current economic conditions persist for the rest of 2008, then 2009 will be a much worse year as customers cannot hang on."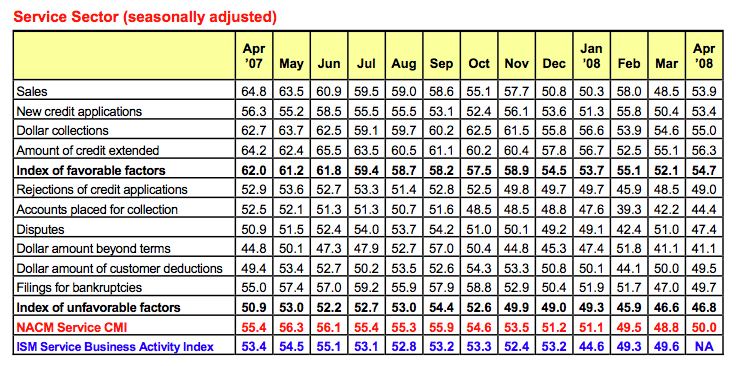 The seasonally adjusted service sector index rose 1.2%, the first increase in seven months, as seven of the 10 components rose. Comments from participants were mixed this month as some reported strength, others reported weakness and still others reported inflationary pressures, North noted. "Photographic and farm equipment, metals services and sporting goods industries all reported good business conditions," he said. "Lumber, home furnishing and transportation industries reported increases in NSF checks, slow pay, weak sales and cancellations."
North pointed out that, as with the manufacturing sector, inflationary pressures came to the forefront. Trucking and transportation equipment suppliers reported that higher fuel prices are causing "significant trouble." Other complaints reported were "cost of products sold has increased," "raw material cost(s) are up 30% from last year" and, finally, an angry "It's the fuel prices that (are) doing this!!"
"On a seasonally adjusted basis over the past 12 months, a weakening trend is very clear," said North. Nine of 10 components in both the manufacturing and service sectors fell (all 10 fell for the combined index). Manufacturing fell 5.3% while services declined 5.4%. "The data show without doubt a weakening economy over the past year, and the trends toward the critical 50 level bode poorly for the future," he concluded.
---
The National Association of Credit Management (NACM), headquartered in Columbia, Maryland supports more than 22,000 business credit and financial professionals worldwide with premier industry services, tools and information. NACM and its network of Affiliated Associations are the leading resource for credit and financial management information and education, delivering products and services which improve the management of business credit and accounts receivable.
www.nacm.org
--------------------------------------------------------------

Dolphin Loses its Appeal on NorVergence leases in Missouri
"Dolphin clearly chose to pursue the NorVergence customers, even in the face of immediate, numerous, and persistent complaints from the customers, when, under the MPA, it had clear recourse for recovery against NorVergence. This choice was evidently made early as Dolphin filed its first collection action under a NorVergence ERA as early as October of 2002. Fifty such suits were instituted between October 2002 and July 2004, when NorVergence filed for bankruptcy.
"That NorVergence is now in bankruptcy and shielded from financial responsibility should not inure to Dolphin. The language of 52.04(b) speaks of equity and good conscience. Based on the nature of the agreements involved, the course of events, Dolphin's lack of diligence (by agreement with NorVergence), weigh heavily that the actions of Dolphin leave the court with the impression that the trial court's ruling was correct. NorVergence is an indispensable party in deciding this particular collection action. Generally, an original lender is not an indispensable party in a collection action. See Nachbar v. Duncan, 114 S.W.3d 421 (Mo. App. 2003). Here, however, the allegations of fraud, as well as the disturbing inferences arising from the actions of Dolphin and NorVergence clearly distinguish this case from a garden-variety collections action. That fact that NorVergence cannot be here should be Dolphin's responsibility rather than that of the defendant-respondents."
Since 2002, over two hundred collections actions have been instituted by Dolphin in the Circuit Court of Randolph County seeking to collect rents due under NorVergence leases.
http://leasingnews.org/PDF/Dolphin.pdf
### Press Release ###########################

National City Commercial Capital to reduce debt for former
NorVergence telecommunications customers
SEATTLE – Six small businesses in Washington state that lost phone and Internet services when their telecommunications provider, NorVergence, Inc., went bankrupt in 2004 will not have to pay the full amount due on their rental contracts, the Washington State Attorney General's Office announced today.
National City Commercial Capital Company LLC agreed to issue refunds or reduce the debt of 381 former NorVergence customers nationwide as part of an agreement reached today with 22 states.
NorVergence claimed its "Matrix" box would deliver unlimited broadband, landline and cell phone service with no per-minute charges. Customers who rented boxes typically agreed to pay $500 to $2,000 per month for a period of three to five years. The Federal Trade Commission contended that the boxes were actually standard integrated access devices or sometimes just firewalls that neither lived up to the claims nor saved customers money.
NorVergence signed up more than 9,000 consumers nationwide then sold the rental agreements to approximately 40 different finance companies before being forced into bankruptcy by its creditors in June 2004.
"The states that negotiated this settlement allege that the rental agreements were void to begin with," said Assistant Attorney General David Huey. "National City Commercial Capital Company and the other finance companies who bought the agreements should have known about the fraud perpetrated by NorVergence."
National City denies any wrongdoing but has agreed to reduce the outstanding debt for customers who agree to the settlement offer and to correct any adverse credit information that resulted from customers not making payments. Nationwide, the company will forgive more than $7.2 million in lease payments.
Huey said the settlement will put $151,590 back in the hands of Washington business owners, should they choose to participate. Most of this amount will be paid in the form of debt forgiveness, while some business owners may receive refunds.
To participate, customers must pay all charges, late fees and taxes owed through July 15, 2004. National City will forgive 85 percent of the remaining contract balance thereafter, as well as any late fees or other penalties. The company will also forgive 80 percent of the remaining contract balance for customers who previously settled with the company. Settlement letters will be going out from National City to affected businesses within the next 30 days. The businesses will then have 35 days to respond.
Besides Washington, the following states participated in the National City agreement: Arizona, California, Colorado, Connecticut, Delaware, Florida, Georgia, Illinois, Kansas, Louisiana, Massachusetts, Maryland, Michigan, Missouri, North Carolina, New Hampshire, Ohio, Pennsylvania, Rhode Island, Virginia and West Virginia.
Fourteen finance companies have agreed to reimburse customers under agreements reached by the states.
The Federal Trade Commission sued NorVergence, alleging that the former New Jersey-based company's business practices violated consumer protection laws. The FTC settled charges against the company's founders, Thomas N. Salzano and Peter J. Salzano, in June. The final court orders bar the Salzanos from engaging in all fraudulent and deceptive conduct alleged in the complaint, require them to make specific disclosures when pitching products in the future, and subject them each to $50 million judgments, which were mostly suspended.
### Press Release ###########################

NorVergence Fraud-related Settlement Grants Relief to Georgia Businesses
ATLANTA, GA – Joe Doyle, Administrator of the Governor's Office of Consumer Affairs, announced a settlement with National City Commercial Capital Company, LLC, in connection with an alleged widespread telecommunications fraud involving NorVergence, Inc., a bankrupt New Jersey-based telephone equipment and service company. Under the settlement, National City Commercial Capital Company has agreed to refund or not collect $553,000 in rental payments from 38 Georgia companies. Mr. Doyle joined in the settlement with the Attorneys General of 22 other states.
National City Commercial Capital Company is one of approximately 40 financing companies involved with the financing of telecommunication services through the rental of data routers that NorVergence called a "Matrix box." NorVergence rented Matrix boxes (which purported to integrate and provide local telephone, long-distance telephone, wireless, and internet services) at a reduced rate to small businesses. NorVergence's deceptive sales pitch was that the "Matrix box" would provide telephone and internet services while reducing telephone and internet service bills by 30%. The two types of "Matrix boxes" cost NorVergence between $500-$1500 and did not provide telephone or internet services. NorVergence had to obtain and pay for those services from other providers, which it had stopped doing before it went into bankruptcy. The rental agreement was typically for 3-5 years for $200-$4000 per month, depending upon the business's previous telephone and internet bills.
After securing contracts with businesses, NorVergence sold the rental agreements to different finance companies, including National City Commercial Capital Company.
NorVergence had over 9,000 customer accounts nationwide. Most of these customers were small businesses, non-profit organizations, and local government entities. When NorVergence declared bankruptcy in June 2004, its customers were left without service but the finance companies, including National City Commercial Capital Company, maintained that the customers were still responsible for the five-year rental agreement payments.
### Press Release ###########################
--------------------------------------------------------------

News Briefs----
Is Jeffrey Peak the man to run CIT
http://biz.yahoo.com/nytimes/080505/1194771330246.html?.v=19
Buffett's thumbs down on dollar
http://www.nypost.com/seven/05042008/business/buffetts_thumbs_down_on_dollar_109387.htm
In Pellicano Case, Lessons in Wiretapping Skills
http://www.nytimes.com/2008/05/05/business/media/05trial.html?_r=1&ref=
business&oref=slogin
----------------------------------------------------------------


You May have Missed---
FASB on Subprime: "We Warned You"
http://www.cfo.com/article.cfm/11317645?f=alerts
---------------------------------------------------------------

Sports Briefs----
Celtics put Game 7 rout on ice, close out Hawks
http://www.usatoday.com/sports/basketball/nba/2008-05-04-hawks-celtics_N.htm
?loc=interstitialskip
Spurs must slow West to even score with Hornets
http://www.usatoday.com/sports/basketball/nba/2008-05-04-spurshornetsgame2_N.htm
----------------------------------------------------------------


"Gimme that Wine"
Outspoken Mac McDonald of Vision Cellars bridges gap between African Americans and the wine industry
http://www.sfgate.com/cgi-bin/article.cgi?f=/c/a/2008/05/01/WIJS10AHMJ.DTL
Who Buys Wine Direct?
Winery marketing people learn about their customers at Napa symposium
AmericanWinery.com Places Winery Partners in Major Product Portals -- Wineries May Now Access Millions of New Consumers Online
http://winebusiness.com/news/DailyNewsArchives.cfm
Understanding Red Wine's Potential Benefit for Diabetes
http://winebusiness.com/news/DailyNewsArchives.cfm
Private equity works the vineyard with $250 million fund targeting wineries
http://www.bizjournals.com/sanfrancisco/stories/2008/04/28/daily25.html?jst=b_ln_hl
Wine Prices by vintage
http://www.winezap.com
http://www.wine-searcher.com/
US/International Wine Events
http://www.localwineevents.com/
Winery Atlas
http://www.carterhouse.com/atlas
Leasing News Wine & Spirits Page
http://two.leasingnews.org/Recommendations/wnensprts.htm
The London International Vintners Exchange (Liv-ex) is an electronic exchange for fine wine.
http://www.liv-ex.com/
----------------------------------------------------------------

Calendar Events This Day
Bonza Bottler Day
To celebrate when the number of the day is the same as the number of the month. Bonza Bottler Day is an excuse to have a party at least once a month.
www.bonzabottleday.com
Cartoonist Day
To honor all cartoonists in the industry.
Denmark: Observation of 1945 Liberation.
Flag flying day to commemorate the 1945 liberation of Denmark from the Nazi occupation.
Ethiopia: Patriots Victory Day
National holiday. Commemorates the 1941 liberation of Addis Ababa by British and Ethiopian forces.
Ireland: May Day Bank Holiday
Bank holiday in the Republic of Ireland.
Japan: Children's Day
National holiday.
Melanoma Monday.
Also known as National Skin Self-Examination. People are encouraged to examine their skin for skin cancer.
www.aad.org
Mexico: Battle of Puebla.
The Mexican Army defeated French troops at the city of Puebla. This day is commemorated as a national holiday in Mexico.
Mexico: Cinco de Mayo.
Mexican national holiday recognizing the anniversary of the Battle of Puebla in 1862 in which Mexican troops under General Ignacio Zaragoza, outnumbered three to one, defeated invading French forces of Napoleon III.
http://holidayinsights.com/other/cinco.htm
http://homeschooling.about.com/od/holidays/ss/cincoprint.htm
National Chocolate Custard Day
National Hoagie Day
http://holidayinsights.com/moreholidays/May/hoagieday.htm
Netherlands: Liberation Day
Marks liberation of the Netherlands from Nazi Germany in 1945.
Oyster Day
http://holidayinsights.com/moreholidays/May/oysterday.htm
South Korea: Children's Day
A time for families to take their children on excursions. Parks and children's centers throughout the country are packed with excited and colorfully dressed children.
Thailand: Coronation Day.
National Holiday. Commemorates the crowing of the current king in 1946.
Totally Chipotle Day
To help trumpet what is proving to be one of the most popular "new" flavors in the US. Totally Chipotle Day helps familiarize the initiated with the delectable chipotle—a smoked jalapeno pepper---and its somewhat difficult pronunciation.
www. totally chipotle.com
United Kingdom: May Day Bank Holiday.
Bank and public holiday in England, Wales, Scotland and Northern Ireland.
Saint feast Days
http://www.123greetings.com/events/april2008.html
http://www.theonlinerecipebox.com/?page_id=11
http://homeschooling.about.com/cs/unitssubjhol/a/fundaysapr.htm
http://holidayinsights.com/moreholidays/april.htm
http://www.catholic.org/saints/f_day/apr.php
----------------------------------------------------------------

Number 34 wrong:
The wristwatch was invented in 1904 by Louis Cartier.
Records show Patek Phillipe created the first wristwatch in 1868, Louis Cartier is responsible for helping to popularize it over the traditional pocket watch, according to wikipedia.
http://en.wikipedia.org/wiki/Louis_Cartier
----------------------------------------------------------------

Today's Top Event in History
1966-- Willie Mays hit home run number 512 of his career. The San Francisco Giants' superstar became the greatest home run hitter in the National League to that time.
[headlines]
----------------------------------------------------------------

This Day in American History
1494-- Columbus discovered Jamaica in 1494, meeting the Arawak Indians, who reportedly celebrated the event with a rum drink. He would eventually enslave or kill all on the many islands by disease or violence.
http://www.picturehistory.com/find/p/1405/mcms.html
http://www.hartford-hwp.com/archives/41/038.html
http://www.webster.edu/~corbetre/haiti/history/precolumbian/tainover.htm
1847-The American Medical Association was organized at a meeting at Philadelphia attended by 250 delegates. This was the first national medical convention in the US.
1864- The forces of Union General Ulysses S. Grant and Confederate General Robert E. Lee clash in the Wilderness, beginning an epic campaign for the capture of the Confederacy capital. Lee had hoped to meet the Federals, who plunged into the tangled Wilderness west of Chancellorsville, Virginia, the day before, in the dense woods in order to mitigate the nearly two-to-one advantage Grant possessed as the campaign opened. For the next six weeks the battle continued off and on.
1867- Nelly Bly (Elizabeth Cochran Seaman) - U.S. journalist. The first woman superstar of journalism, NB was a fighter for women's rights and the underdog. She once feigned insanity to get inside asylum to expose the dismal conditions for the emotionally ill. Her fame, however, rests on a publicity race around the world to beat the 80-day around the world fictional trip authored by Jules Verne. Her career that started at $5 a week and reached a high point of $25,000 a year. Her first articles were about the slum life of her home area of Pittsburgh and the dismal conditions forced on the working girls of the city because of low wages and social stigmas. She then went to Mexico where she wrote of the poor there and the overt official corruption that kept so much of the culture in poverty while making others super rich.. She was expelled from Mexico when the articles appeared. The articles were later collected in Six Months in Mexico (1888). She moved to New York to work for Joseph Pulitzer's New York World at a much higher salary. Her first assignment was feigning insanity and being committed to an asylum. Her exposes resulted in a grand jury hearing and some changes in care of the insane. The articles were collected in Ten Days in a Mad House (1887) Her career included exposes of sweatshops, the jail system (she was arrested after pretending to shoplift), and even the briberies inherent in the lobbying system that influences legislatures. Then came her high publicized trip around the world to break the Jules Verne fictional record of "Around the World in 80 Days." Traveling alone on whatever transportation was available, she sent back dispatches that were eagerly read by the public so that when she returned to New York in 72 days, 6 hours and 11 minutes, she was the most famous woman in America - perhaps in the world. She published her exploits in a successful Nellie Bly's Book: Around the World in Seventy-two Days 1890). She was 23 years old. She also described using a diving bell to descend into the ocean and then floating above the earth in a balloon. Her real name was Elizabeth Cochran Seaman. The pen name "Nellie Bly" came from a Stephen Foster song.
1891- the world-famous Carnegie Hall opened in New York. Among the opening night attractions ... Tchaikovsky conducting his "Marche Solennelle." On this date in 1991, a 100th birthday celebration for the hall included two concerts, featuring the likes of violinist Isaac Stern, tenor Placido Domingo, soprano Jessye Norman, cellist Mstislav Rostropovich and conductor Zubin Mehta.
1893-Stock Market Crash: Wall Street stock prices took a sudden drop. By the end of the year 600 banks had closed. The Philadelphia and Reading, the Erie, the Northern Pacific, the Union Pacific and the Atchison, Topeka and Santa Fe railroads had gone into receivership; 15,000 other businesses went into bankruptcy. Other than the "Great Depression" of the 1930s, this was the worst economic crisis in US history; 15-20 percent of the workforce was unemployed.
1895- Peggy Margaret Francis Bacon - U.S. artist. Her main media were painting, dry point etching, and lithography. PFB once gave up painting because her husband derided her and made her think her efforts were inadequate. She was able to fashion a great career in caricatures and book illustrations. Her work was often featured in the New Yorker magazine. She resumed serious painting after her divorce at age 45. At age 80, in 1975, she became the first living woman to be given a retrospective at the National Museum of American Art. Her witty, much praised caricatures of the famous of her era were collected in the best-seller Off With Their Heads (1934).
1903-James Beard birthday, the Father of American Cooking was born at Portland, OR. In a long and busy culinary career, he penned more than 20 classic cookbooks, appeared on television's first cooking show in 1946 and was an enthusiastic ambassador for the American style of cooking. He died Jan. 21, 1985. His Greenwich Village brownstone is America's only culinary historic landmark and serves as the headquarters of the James Beard Foundation.
1904-Baseball's Perfect Game: Denton T. "Cy" Young pitched baseball's first perfect game, not allowing a single opposing player to reach first base. Young's outstanding performance led the Boston Americans in a 3-0 victory over Philadelphia in the American League. The Cy Young Award for pitching was named in his honor.
1925- High school science teacher John Scopes was arrested for teaching evolution in one of Tennessee's public schools
http://lcweb2.loc.gov/ammem/today/today.html
1936-The first bottle with a screw cap and a pour lip was patented by Edward A. Ravenscroft, Glencoe, Il. The bottles were manufactured by the Abbott Laboratories, North Chicago, Il.
1942- Country superstar Tammy Wynette, whose real name is Virginia Wynette Pugh, was born in rural Mississippi, near Tupelo. "D-I-V-O-R-C-E" and "Stand By Your Man," which is also the title of her autobiography, are typical of her country ballads, backed by the lush orchestral arrangements of Billy Sherrill. "Stand By Your Man," which topped the country charts in 1968, was the biggest-selling single by a woman in the history of country music. Her other number-one hits include "The Ways to Love a Man" from 1969, "He Loves Me All the Way" from 1970 and "We're Gonna Hold On," a 1973 duet with George Jones. Wynette and Jones were married from 1968 to 1975. In 1992, she teamed up with pop-pranksters The KLF. Together they scored a modest hit with a reworking of "Stand by your Man", called "Justified and Ancient (Stand by the Jams)."
Tammy Wynette died last month of natural causes
1946—Birthday trumpet player, composer Jack Walrath
http://shopping.yahoo.com/shop?d=product&id=1927006563&clink=dmmu.artist&a=b
1949---Top Hits
Cruising Down the River - The Blue Barron Orchestra (vocal: ensemble)
Forever and Ever - Perry Como
Again - Doris Day
Lovesick Blues - Hank Williams
1949-"Stop the Music" Premiers. ABC's prime-time musical-game show hosted by Bert Parks. Featured the singing talents of Kay Armen, Jimmy Blaine, Betty Ann Grove, Estelle Loring, Jaye P. Morgan and June Valli, and the dancing numbers of Sonja and Courtney Van Horne. Harry Salter conducted the band.
1955- - The musical, "Damn Yankees" opened in New York City for a successful run of 1,019 performances. The show, at the 42nd Street Theatre mixed both baseball and ballet. It is an adaptation of the book, "The Year the Yankees Lost the Pennant". Gwen Verdon starred in the role of Lola. Whatever Lola wants Lola gets including the Tony for Best Actress in a musical for her performance. My mother took me to the matinee and Ray Walton as the devil was my favorite.
1955 -Dodger rookie hurler Tommy Lasorda, making his major league debut, ties a record by throwing three wild pitches in the first inning of a 4-3 victory over the Cardinals. The future Dodger Hall of Fame skipper doesn't get the decision and will end his playing days after the 1956 season with a lifetime record of 0-4.
1957---Top Hits
All Shook Up - Elvis Presley
School Day - Chuck Berry
A White Sport Coat (And a Pink Carnation) - Marty Robbins
Gone - Ferlin Husky
1961- Astronaut Alan B. Shepard Jr. became America's first space traveler as he made a 15-minute suborbital flight in a capsule launched from Cape Canaveral
http://www.nytimes.com/learning/general/onthisday/big/0505.html
1962 -"West Side Story" soundtrack album goes to #1 & stays #1 for 54 weeks which is more than 20 weeks longer than any other album
1962 - No. 1 Billboard Pop Hit: "Soldier Boy," The Shirelles.
1965---Top Hits
Mrs. Brown You've Got a Lovely Daughter - Herman's Hermits
I Know a Place - Petula Clark
I'll Never Find Another You - The Seekers
This is It - Jim Reeves
1966-- Willie Mays hit home run number 512 of his career. The San Francisco Giants' superstar became the greatest home run hitter in the National League to that time.
1967-"San Francisco" by Scott McKenzie enters the charts and will eventually hit #4. The song became kind of an anthem during the hippie movement.
1973-Secretariat, ridden by Ron Turcotte, won the Kentucky Derby in record time of 1:59.2 "Big Red," as he was known, beat Sham by 2 ½ lengths and went on to win the Triple Crown.
1970 - No. 1 Billboard Pop Hit: "American Woman," Guess Who.
1973---Top Hits
Tie a Yellow Ribbon Round the Ole Oak Tree - Dawn featuring Tony Orlando
The Cisco Kid - War
Little Willy - The Sweet
Behind Closed Doors - Charlie Rich
1978-Pete Rose of the Cincinnati Reds got the 3,000 th hit of his career, a single off Steve Rogers of the Montréal Expos. Rose played in the majors form 1963 through 1986 and wound up with 4,256 hits, more than any other player.
1981---Top Hits
Morning Train (Nine to Five) - Sheena Easton
Just the Two of Us - Grover Washington, Jr./Bill Withers
Being with You - Smokey Robinson
Rest Your Love on Me - Conway Twitty
1981 - Mobile, Alabama had its worst flash flooding ever as thunderstorms unloaded 8 to 16 inches of rain over the metro area in a couple of hours. Damage was set at 36 million dollars.
1982 - No. 1 Billboard Pop Hit: "Chariots of Fire," Vangelis. The performer, whose real name is Evangelos Papanthanassiou, wins an Academy Award for the score to the film "Chariots of Fire."
1986 - Sacramento, California hit the 100 degree mark, breaking the previous record for this day of 92 degrees which was set in 1944. This is the earliest in the season Sacramento has hit the 100 mark.
1987 - Unseasonably hot weather prevailed in the western U.S. A dozen cities in California reported record high temperatures for the date. Afternoon highs of 93 degrees at San Francisco, 98 degrees at San Jose, 100 degrees at Sacramento, and 101 degrees at Redding, were the warmest of record for so early in the season. The high of 94 degrees at Medford OR was also the warmest of record for so early in the season.
1989---Top Hits
Like a Prayer - Madonna
I'll Be There for You - Bon Jovi
She Drives Me Crazy - Fine Young Cannibals
Young Love - The Judds
1989 - Thunderstorms swept across Georgia and the Carolinas during the late afternoon and evening hours spawning seventeen tornadoes. A tornado at Toccoa GA injured 15 persons, and a tornado at Chesnee SC killed two persons and injured 35 others. Five tornadoes in North Carolina accounted for five deaths, 88 injuries, and sixty million dollars damage. Thunderstorms also produced baseball size hail at Lake Murray SC, and wind gusts to 78 mph at Brooklyn MD.
1990 - A strong Pacific cold front moving rapidly inland caused weather conditions at the east end of the Strait of Juan de Fuca in Washington State to quickly change from sunny and calm to westerly winds of 60 mph and ten-foot waves. Three recreational fishing boats capsized in heavy seas off Port Angeles resulting in five deaths. In California, temperatures soared above 90 degrees across much of the state. The high of 101 degrees in downtown Los Angeles was eight degrees hotter than their previous record for the date
1993- Microsoft announced it would bundle its popular database software, Microsoft Access, with its Microsoft Office package, which already included MS Word and Excel. Microsoft's competitors, including Lotus and WordPerfect, also added database software to their office software suites.
1995 -a supercell thunderstorm rapidly developed just ahead of a fast moving bow echo squall line and blasted Tarrant County, Texas. Large hail up to 5 inches in diameter, driven by 80 mph winds, caused a tremendous amount of damage. 10,000 people were caught out in the open at Mayfest in Downtown Forth Worth, resulting in 109 injuries from the large hail. Torrential rains of up to 3 inches in 30 minutes and 5 inches in one hour across Dallas caused unprecedented flash flooding, resulting in 16 deaths. Total damage in Forth Worth alone was estimated at 2 billion dollars, making this the costliest thunderstorm event in U.S. history. This was the third severe hailstorm to Strike the area in only a little over a month.
1999 - At the 34th annual Academy of Country Music Awards, Garth Brooks is named artist of the decade, Dixie Chicks' critically acclaimed multiplatinum debut "Wide Open Spaces," is named album of the year, and Faith Hill wins top female vocalist, as well as single and video of the year honors for "This Kiss."
2000 -Cardinal first baseman Mark McGwire hits the longest home run in the 30- year history of Riverfront/Cinergy Field, but the 473-foot shot isn't enough as Ken Griffey Jr.'s homer leads the Reds past St. Louis, 3-2.
2005 - Mavis Staples and Charlie Musselwhite lead the field with three trophies each at the 26th W.C. Handy Awards, held in Memphis.
NBA Finals Champions This Date
1969 Boston Celtics
Stanley Cup Champions This Date
1966 Montréal Canadiens
--------------------------------------------------------------

Baseball Poem
The Base Stealer
Poised between going on and back, pulled
Both ways taut like a tight-rope walker,
Fingertips pointing the opposites,
Now bouncing tiptoe like a dropped ball,
Or a kid skipping rope, come on, come on!
Running a scattering of steps sidewise,
How he teeters, skitters, tingles, teases,
Taunts them, hovers like an ecstatic bird,
He's only flirting, crowd him, crowd him,
Delicate, delicate, delicate, delicate - Now!

----Robert Francis
--------------------------------------------------------------

SuDoku
The object is to insert the numbers in the boxes to satisfy only one condition: each row, column and 3x3 box must contain the digits 1 through 9 exactly once. What could be simpler?
http://leasingnews.org/Soduku/soduko-main.htm
--------------------------------------------------------------

Daily Puzzle
How to play:
http://www.setgame.com/set/puzzle_frame.htm
Refresh for current date:
http://www.setgame.com/set/puzzle_frame.htm
--------------------------------------------------------------


http://www.gasbuddy.com/
http://www.gasbuddy.com/GB_Map_Gas_Prices.aspx
http://www.gasbuddy.com/GB_Mobile_Instructions.aspx
--------------------------------------------------------------

Provence, France-Vacation
http://le-monastier.site.voila.fr/
--------------------------------------------------------------

News on Line---Internet Newspapers
Pacific Palisades, California
--------------------------------