Friday, May 10, 2019


Today's Leasing News Headlines
AACFB 2019 Annual Conference Report
By Shervin Rashti, CLFP, Slim Capital
New Hires/Promotions in the Leasing Business
and Related Industries
Leasing Industry Ads---Help Wanted
Centra Funding Positions Open
SBA Wants More Loans from Credit Unions
By Bob Coleman, Coleman Reports
Hackers Steal $40 Million in Bitcoin
From Cryptocurrency Exchange Binance
China's Mobile Payment Adoption Beats All Others
But Annual Spent: U.S., U.K., Israel, France, then China
Monitor Classified Conference Promotion as Association
National Alliance of Commercial Loan Brokers
Local Business Owners/Real Estate Investors
Invited to NACLB October 4th Las Vegas Broker Conference
Netflix Mother's Day Special by Fernando Croce
The Grapes of Wrath/Dumbo/Mother
Alice Doesn't Live Here Anymore/Sympathy for Lady Vengeance
Labrador Puppy/Shepard
Portsmouth, New Hampshire Adopt a Dog
Attorneys Who Specialize in
Banking, Finance, and Leasing
News Briefs---
Boeing's working to get the 737 Max back in the air
— but 1 in 5 travelers say they would never fly on it
Uber Prices I.P.O. at $45 a Share,
Valuing It at $82.4 Billion
Broker/Funder/Industry Lists | Features (wrilter's columns)
Top Ten Stories Chosen by Readers | Top Stories last six months
www.leasingcomplaints.com (Be Careful of Doing Business)
www.evergreenleasingnews.org
Leasing News Icon for Android Mobile Device

You May have Missed---
Poem
Sports Brief----
California Nuts Brief---
"Gimme that Wine"
This Day in History
SuDoku
Daily Puzzle
GasBuddy
Weather, USA or specific area
Traffic Live----
######## surrounding the article denotes it is a "press release," it was not written by Leasing News nor has the information been verified. The source noted. When an article is signed by the writer, it is considered a "byline." It reflects the opinion and research of the writer.

Please send a colleague and ask them to subscribe. We are free
Email kitmenkin@leasingnews.org and in subject line: subscribe


[headlines]
--------------------------------------------------------------
AACFB 2019 Annual Conference Report
By Shervin Rashti, CLFP, Slim Capital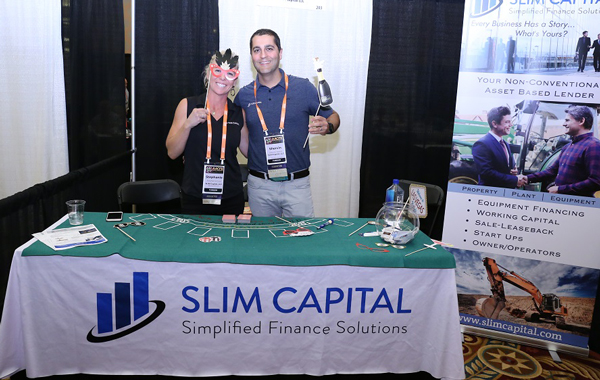 This year's American Association of Commercial Finance Brokers (AACFB), formerly known as the National Association of Equipment Leasing Brokers (NAELB), Annual Conference was held May 2-4 at the Caesar's Palace Hotel and Casino in Las Vegas, Nevada. This was the largest turnout in recent history. The final attendance count found the total was 353 with 168 brokers, 177 funder/associates and 8 guests. The group included 61 exhibitors.
The opening events included a Golf Tournament at the Desert Pines Club as well as a Women's Leasing Lunch, with over 50 active Leasing Women in attendance. Leasing News had a photo in their Wednesday News edition (1)
There was a "Speed Dating" Session, where Funders were positioned around the room and brokers were able to have short sessions with individual funders before they were prompted to move to the next funder. This proved to be a great way to set the tone of the conference as meaningful and efficient networking.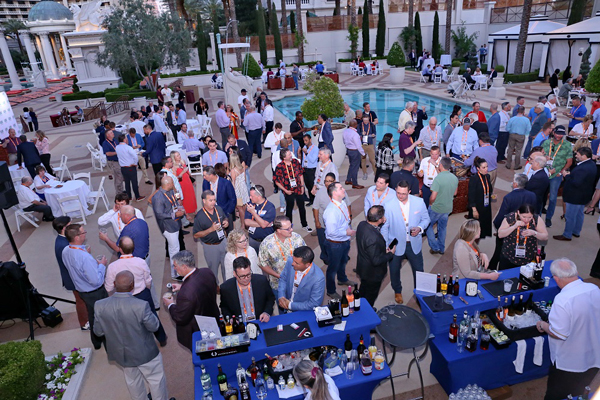 The evening's opening reception was held at the pool with lots of mingling, laughs and reconnecting. Jade Schenk of Brahma Lending was excited to tell me that, "After years of attending, we have been able to land a new funder to fill a void in our business."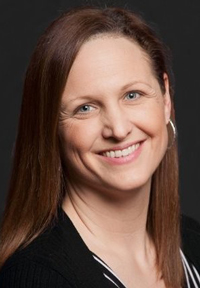 Monica Harper, Executive Director for the AACFB asserted being "thrilled with the broker turnout as it exceeded expectations." The excitement and large turnout is reassuring for the board, after having made the controversial decision to change the name of the association from the National Association of Equipment Leasing Brokers (NAELB) to the American Association of Commercial Finance Brokers (AACFB). This was done as a complete rebranding effort to broaden the scope of services and brokers served by this association. In the Future of AACFB Session, presented by Gary Greene, Lease$mart; Pete Sawyer, Sun South Equipment Leasing Inc.; Jaci Miller, ConnectedFi; Carrie Radloff, American Financial Partners, discussion centered on how the name change allows for Association growth by bringing in complementary industries. This includes SBA, mortgage, factoring, working capital, and other products that are much broader than the former name referenced. They discussed some of the newer Association offerings on the horizon that include health insurance, recruiter services, social media, email marketing, easier renewals and an education committee that assists with training on different products.
In line with the theme for the conference, "Win Big," there were plenty of opportunities to expand your network and "Learn Big", with fresh session ideas that broadened the scope of education that is generally the focus of these events.
To name a few, there were sessions on "FinTech and Market Disruption," presented by David Mill of North Mill Equipment Finance; "Building Your Own Portfolio," presented by me of SLIM Capital. Doug Houlahan of Clicklease and Kim Riggs of Orion First; "Speeding up Your Approval Process" presented by Taylor Moseley of General Financial; "How to Get Vendor Business in 2019," presented by Jamal Dean, Apple Capital Group and Jeff Brannon of SLIM Capital.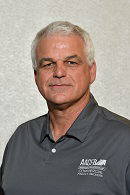 Paul Burnham, CLFP
El Dorado Commercial Finance
Incoming President
The Business Lunch included the "Passing of the Gavel" from Rodney Blecha of Precision Leasing to the incoming President, Paul Burnham of El Dorado Commercial Finance, a presentation of the financials by the Treasurer, Jim Phelps and an exciting change in the prize giveaways to an auction format.
Overall, the event venue was more enjoyable than years past, the energy was higher, the turnout was stronger, the format was more organized and it was Vegas! Looking forward to next year's annual event at the same venue.
In the meantime, the association announced the 2019 Commercial Financing Expo to be held at the Gaylord Palms Resort in Orlando, FL on September 19-20, 2019.
Women's Lunch at AACFB Conference
Glada's, Las Vegas, Nevada
http://leasingnews.org/archives/May2019/05_08.htm#aacfb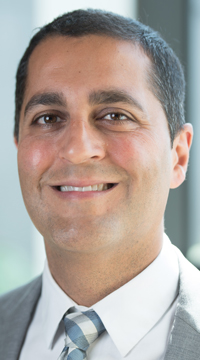 Shervin Rashti, CLFP
SLIM Capital, LLC
shervin@slimcapital.com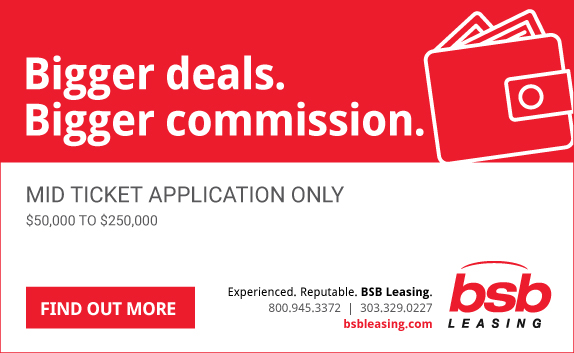 [headlines]
--------------------------------------------------------------
New Hires/Promotions in the Leasing Business
and Related Industries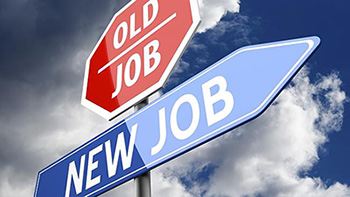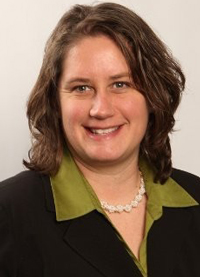 Christin (Lore) Anderson was hired as Officer, Commercial Equipment Finance Closing Specialist, Fifth Third Bank, Cincinnati, Ohio. She is located in Franklin, Tennessee. Previously, she was AVP, Document Specialist, MB Equipment Finance (October, 2016 - May, 2019). She joined General Electric Capital Corporation in September, 2011 as Transaction Coordinator; promoted Senior Transaction Coordinator, September, 2014. Prior, she was Vice President, Group Operations Manager, Banc of America Leasing & Capital, LLC (December, 1997 - January, 2011); District Account Representative, Whirlpool Finance Company (1993 - 2000). Education: Lake Forest Graduate School of Management. Masters of Business Administration, Business Administration and Management General (2000 - 2001). Drake University, Bachelor of Science, Business (1989 - 1993). Decorah (1985 - 1989).
https://www.linkedin.com/in/christin-anderson-b8a9037/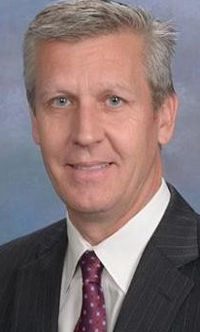 Rob Bakke was hired as Senior Vice President, Fifth Third Equipment, Cincinnati, Ohio. He is located in Minneapolis, Minnesota. Previously, he was Senior Vice President, MB Financial Bank (2016 - April, 2019); Senior Vice President, GE Capital (September, 1988 - March, 2016). Volunteer: President, Minneapolis United Soccer Club (2006 - 2009). Foster Parents, Safe Families for Children (2014 - Present). Volunteer Youth Soccer, Hockey and Basketball Coach, Minneapolis United (1999 - Present). Education: St. Olaf College. Economics. (1984 - 1988). Minnehaha Academy, High School (1980 - 1984). Activities and Societies: Soccer, Track, Basketball, Skiing. https://www.linkedin.com/in/rob-bakke-a0aa3944/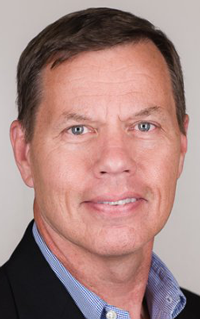 Douglas Ducray was hired as Vice President, Capital Markets, "responsible for syndication of loan and lease transactions," Fifth Third Bank, Cincinnati, Ohio. He is located in the Greater Atlanta Area. Previously, he was Senior Vice President, MB Financial Bank (July, 2016 - April, 2019); Senior Vice President, Syndication, Citizens Bank (February, 2004 - July, 2016); Vice President, GMAC Commercial Finance (March, 2002 - January, 2004); Vice President, Syndication, Citizens Bank (February, 2004 - July, 2016); Vice President, GMAC Commercial Finance (March, 2002 - January, 2004); Vice President, Syndication, PureMarkets Corporation (2000 - 2002); Vice President, Syndication, Bank of America (1992 - 2000); Regional Sales Manager, CheckFree (1991 - 1992); Vice President, Syndication, Barclays (1986 - 1991); Portfolio Manager, StorageTek (19982 - 1986). Education: University of Northern Colorado, MBA, Business Administration (1984 - 1985). Colorado State University, BS, Finance (1978 - 1982). https://www.linkedin.com/in/douglas-ducray-27b5174/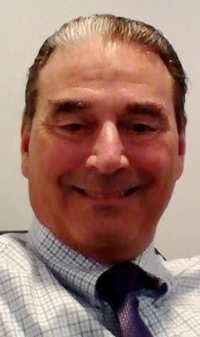 Steve Girshek was hired as Account Executive, "Providing Leasing & Financing Solutions to the Diagnostic Imaging & Cancer Treatment Industries" Highland Capital Corporation, Little Falls, New Jersey. Previously, he was Vice President, Leasing Manager, Healthcare, Key Equipment Leasing (December, 2010 - April, 2019); Regional Manager, SMT Leasing Company (October, 2003 - 2010); Regional Manager, DVI Financial Services (1994 - 2003); Vice President, Manager, US Concord (1982 -1995); Regional Sales Manager, VP, Chase Manhattan Leasing (1979 - 1982); Regional Credit Manager, Regional Sales Manager, CIT Corp (February, 1973 - February, 1979). Education: Queens College, MA, Economics (1967 - 1971). Activities and Societies: Phi Beta Kappa, National Economics Honor Society. Magna Cum Laude Graduate. https://www.linkedin.com/in/stevegirshek/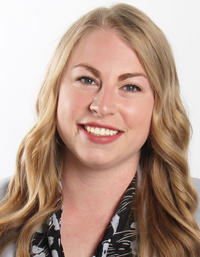 Marisa Gunhouse was promoted to Credit Analyst, CWB National Leasing, Winnipeg, Manitoba, Canada. She joined the firm May, 2012, as Credit Administrator; promoted May, 2013, Lease Administrator; promoted June, 2016, Credit Administrator. Volunteer: GenNext Member, United Way of Winnipeg (January, 2016 - July, 2018). Education: University of North Dakota, Doctor of Law-JD (2018 - 2021). University of Manitoba, Bachelor of Arts B.A. (Adv.), Psychology (2011 - 2016). https://www.linkedin.com/in/marisa-gunhouse-5a167aa6/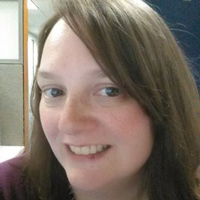 Melissa (Espey) Locke was hired as AVP, Fifth Third Equipment Finance, Hunt Valley, Maryland. Previously, she was MB Equipment Finance (October, 2015 - April, 2019); Funding Associate, Capital One Equipment Finance Corp (May, 2013 - October, 2015); AVP Operations, SunTrust Equipment Finance & Leasing (July, 2008 - April, 2013). Education: St. Mary's College of Maryland. Bachelor of Arts (B.A.), Economics (1990 - 1994). https://www.linkedin.com/in/melissa-locke-4169325a/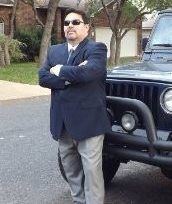 Rene Resendez was hired as Regional Sales Manager, Balboa Capital, Costa Mesa, California. He is based in San Antonio, Texas. Previously, he was Financial Solutions Consultant, Presidio Technology Capital (November, 2013 - April, 2019); Business Development Manager, Macquarie Corporate and Asset Finance (September, 2012 - November, 2013). He began his career as Account Manager, Dell Commercial Division, Dell Financial Services, February, 2006; promoted February, 2007, Sr. Account Manager; promoted February, 2010, National Account Manager; promoted July, 2011, Sales Manager, Western US. Education: South West Texas State. Business, Marketing (1991 - 1997). OW Holmes HS.
https://www.linkedin.com/in/rene-resendez-506a041/


Jeff Rousseau was promoted to Executive Vice President, Global Business, CSI Leasing, St. Louis, Missouri. He joined the firm November, 2000 "...as a corporate attorney and has served in a management role within CSI's international group since 2007. Prior to joining CSI, Rousseau practiced business law in St. Louis. He is a member of the bars of the States of Florida, Illinois and Missouri." He is located in O Fallon, Missouri. Education: Stetson University College of Law, J.D. (1994 - 1997). Valparaiso University (1990 - 1994). https://www.linkedin.com/in/jeff-rousseau-bab51b7/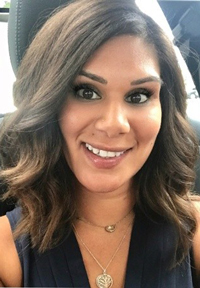 Amy (Kumar) Taylor was hired as Jr. Funder/VSR, Balboa Capital, Costa Mesa, California. Previously, she was Senior Processor, AHL Funding dba American Home Loans (March, 2017 - April, 2019); Credit Analyst, US Business Funding (July, 2018 - November, 2018); Senior Processor, New American Funding (April, 2016 - February, 2017); Closing Coordinator, Greenlight Loans (March, 2015 - April, 2016). She joined SunTrust December, 2010, as Assistant Branch Manager; promoted March, 2012, Consumer Loan Processing Specialist; promoted Personal Lines Underwriter, February, 2013; Personal Banker, Wells Fargo (December, 2009 - December, 2010). She joined Bank of America, July, 2006, as Customer Marketing Lead Associate; promoted October, 2007, Senior Collector. Prior, she was Senior Teller, Regions Financial Corporation (October, 2004 - June, 2006). Education: Georgia Tech, Industrial Engineering (1999 - 2003). Woodward Academy (1986 - 1999).
https://www.linkedin.com/in/amykumartaylor/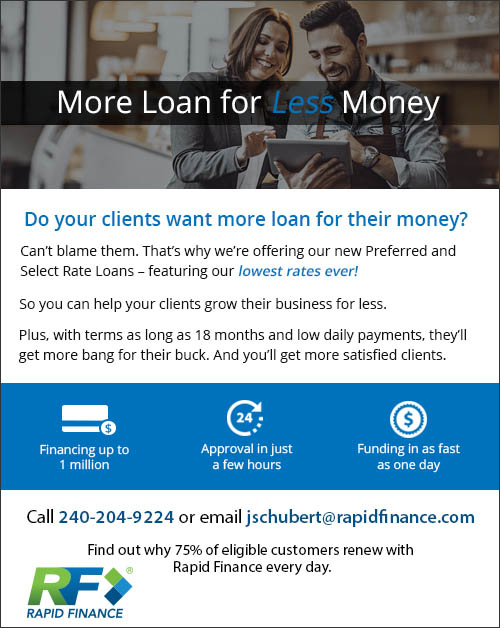 [headlines]
--------------------------------------------------------------
Help Wanted

[headlines]
--------------------------------------------------------------
SBA Wants More Loans from Credit Unions
By Bob Coleman, Coleman Reports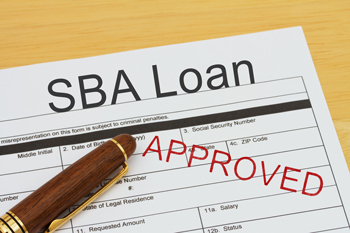 The National Credit Union Administration and SBA have signed an agreement to increase credit union participation in SBA lending.

Fewer than one in 10 credit unions participate in SBA's lending program.

The NCUA says the memorandum of understanding "to undertake a series of initiatives that will help credit unions better understand and make use of SBA-backed loans and resources. These joint initiatives may include webinars, training events, and media outreach."

Credit unions held 6,532 SBA commercial loans worth $2.1 billion as of Dec. 31, 2018, NCUA Board Chairman Rodney E. Hood said the announcement' provides an "opportunity to highlight SBA-guaranteed loans as another tool for credit unions to support small businesses and foster economic growth in their communities."

"Credit unions are well-situated to understand and work with their local businesses and entrepreneurs to extend affordable credit," he said.

SBA Acting Administrator Chris Pilkerton said the partnership with the NCUA will increase awareness of SBA programs among credit unions.

"Small businesses are the drivers of America's economic growth and we want to ensure they are equipped with the tools they need for success," Pilkerton said. "I look forward to our two agencies collaborating on shared best practices, educational initiatives, and increasing our support of current and future entrepreneurs."

Among the SBA lenders, commercial loans made up 9.1% of total loans, and SBA loans made up 4.8% of their commercial portfolio.

The largest credit union SBA lenders at the end of 2018 were:
Mountain America Federal Credit Union, Salt Lake City -- 373 SBA loans, $164.7 million
Redwood Credit Union, Santa Rosa, Calif. 270 SBA loans, $159.2 million.
Apple Federal Credit Union, Fairfax, Va. 71 SBA loans, $78.5 million.
Members Choice Credit Union, Houston 70 SBA loans $51.6 million.
Alaska USA Federal Credit Union, Anchorage 66 SBA loans, $45.8 million.
bob@colemanreport.com
Coleman Report
28081 Marguerite Pkwy., #4525
Mission Viejo, CA 92690


[headlines]
-------------------------------------------------------------
Hackers Steal $40 Million in Bitcoin
From Cryptocurrency Exchange Binance
By Eduard Kovacs, Security Week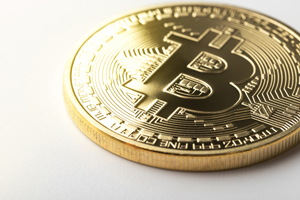 Binance, one of the world's largest cryptocurrency exchanges, revealed that hackers managed to steal over 7,000 bitcoins, worth more than $41 million.
According to Changpeng Zhao, founder and CEO of Binance, the hackers took the bitcoins from a hot wallet that stored roughly 2 percent of the company's total holdings. Zhao said no other wallets were impacted and assured customers that its Secure Asset Fund for Users (SAFU) emergency insurance fund will cover the losses.
The hack, which Binance described as "a large scale security breach," was discovered on May 7. The hackers are said to have obtained a large number of user API keys and two-factor authentication codes, and leveraged phishing, malware and other techniques to carry out the attack.
"The hackers had the patience to wait and execute well-orchestrated actions through multiple seemingly independent accounts at the most opportune time. The transaction is structured in a way that passed our existing security checks," Zhao explained. "It was unfortunate that we were not able to block this withdrawal before it was executed. Once executed, the withdrawal triggered various alarms in our system. We stopped all withdrawals immediately after that."
Binance plans on conducting a thorough security review that is expected to take roughly one week. The company has promised to keep customers updated on the progress, but deposits and withdrawals will remain suspended during the process.
"We will continue to enable trading so that you may adjust your positions if you wish. Please also understand that the hackers may still control certain user accounts and may use those to influence prices in the meantime. We will monitor the situation closely. But we believe with withdrawals disabled, there isn't much incentive for hackers to influence markets," Zhao said.
Zhao said on Twitter that Coinbase and other exchanges will block deposits from the bitcoin addresses to which the hackers transferred the funds.
Many cryptocurrency exchanges were hacked in the past years and attackers in many cases managed to steal millions and even tens of millions of dollars worth of cryptocurrency. The list of impacted exchanges includes Coinrail, Zaif, Coincheck, Bithumb, Bter, Bitfinex, and CAVIRTEX.


[headlines]
--------------------------------------------------------------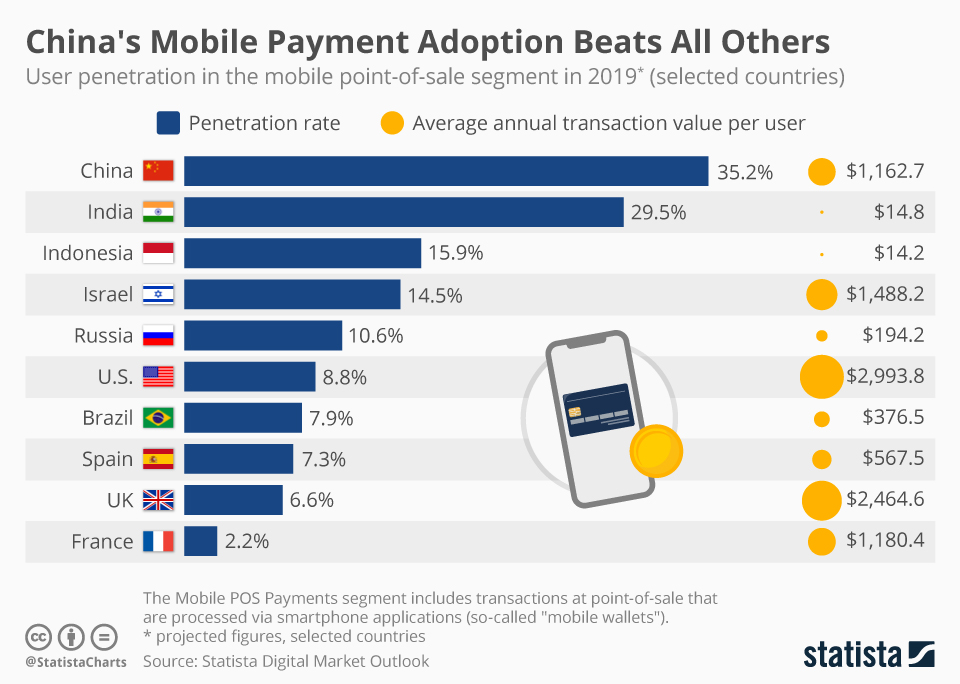 More than half a billion people in China will be paying with their phones in brick-and-mortar shops, cafes and restaurants this year, according to the Statista Digital Market Outlook. That equals a penetration rate of more than 35 percent, the highest in the world.
China's booming payment apps market is dominated by big players Alipay and WeChat Pay which have been adopted widely by shopkeepers, restaurateurs and consumers alike. In a country where a lot of small enterprises cater to customers, the use of credit cards had never been widely adopted, creating a leapfrog effect where businesses moved directly from cash to payment apps.
Yet, the overall annual transaction value per customer is higher in the U.S., the UK and France than in China. The average Chinese consumer is projected to spend around US$1,100 with payment apps in 2019, compared to more than US$2,400 in the UK and almost US$3,000 in the U.S. While India and Indonesia also have some of the highest payment app penetration levels in the world, the average spent per customer is extremely low, suggesting only very casual usage by a big chunk of consumers.
By Katharina Bucholz, Statista
https://www.statista.com/chart/17909/pos-mobile-payment-user-penetration-rates/


[headlines]
--------------------------------------------------------------
Monitor Classified Conference Promotion as Association
National Alliance of Commercial Loan Brokers
By Kit Menkin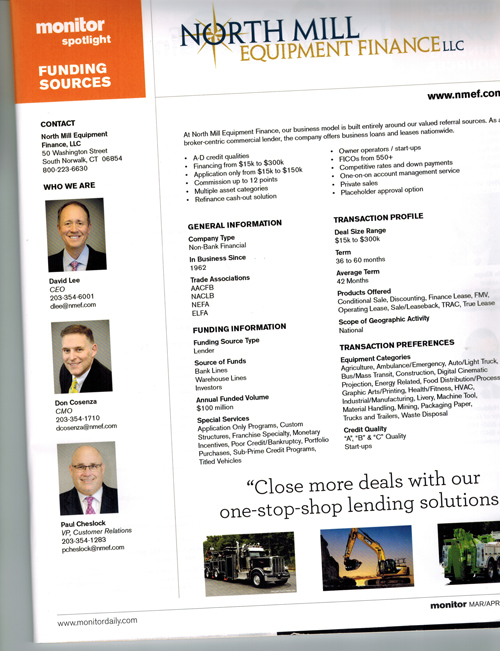 "We purchased a business page through Monitor which you attached. They had a whole listing of things we could check off including what 'associations' we affiliate with. Given that we show at all of them, I chose the NACLB as one of the conferences we attend. That they were listed as an 'association' is something that Monitor did – not sure why. Sorry I can't be of more help."
- Don Cosenza, North Mill Capital
Leasing News contacted several who chose NACLB as a "trade association." Most said they went and/or support the conference and that is why they included them.
This came from G. Fogle, CLFP, Managing Director, Quality Leasing:
"We didn't have much 'deep thought' about listing them as a trade association, rather, considered this as a listing of how we participate in the industry. However, under the definition of a "Trade Association" the NACLB qualifies per Oxford's Dictionary: 'an official group of people who have joined together for a particular purpose."
"…and Dictionary.com:
'An association of people or companies in a particular business or trade, organized to promote their common interests.'"
"These definitions don't mention anything about tax status, membership requirements or organizational governance.

Do you think the NACLB should not be listed as a Trade Association?"
Sorry, don't agree. Being an ex-chamber of commerce manager, going through the program to be certified, and serving on a county board, I see an association supported by membership and their membership fees and financial contributions. Yes, they have conferences, trade fairs, promotions, even sell things, and definitely meetings.
Having this opinion, I must admit that Wikipedia agrees with Mr. Fogle:
"A trade association, also known as an industry trade group, business association, sector association or industry body, is an organization founded and funded by businesses that operate in a specific industry."
https://en.wikipedia.org/wiki/Trade_association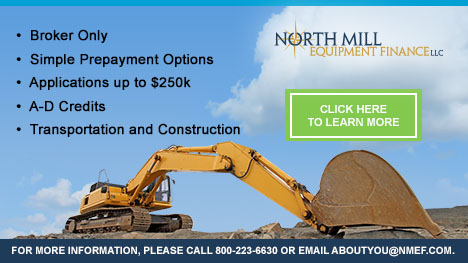 [headlines]
--------------------------------------------------------------
Local Business Owners/Real Estate Investors
Invited to NACLB October 4th Las Vegas Broker Conference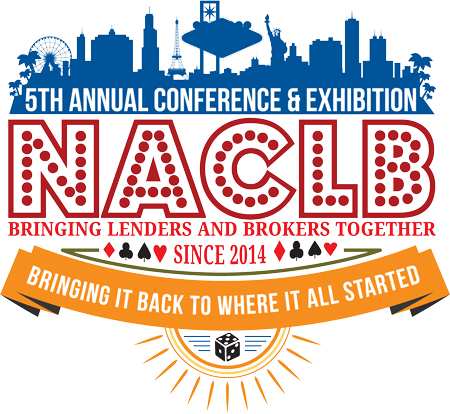 Kris Roglieri Co-founder of the National Alliance of Commercial Loan Brokers, told Leasing News, "In the continuous effort to build the most profitable and beneficial conference in the country for both lenders and brokers, the NACLB is adding a special event that has never been done before at other conferences. This is a special event that is only open to our valued exhibitors and sponsors. Introducing the NACLB Direct - Connect event.
"On October 4th (Friday) from 1pm to 3pm the NACLB is inviting local business owners and real estate investors to our exhibit hall to network with exhibitors. The NACLB has teamed up and formed partnerships with local chambers of commerce and real estate networking groups throughout Nevada to invite them to a meet and greet with our exhibitors should they have capital needs. It's a way for exhibitors to get more value out of our conference and at the same time serve the local communities in the state that's hosting our conference. We expect 100 to 300 business owners and real estate investors who are seeking funding to attend this two-hour event.

"Again, only NACLB exhibitors can attend this event and all booths will need to be set up by 12 Noon on Friday, October 4th. We strongly encourage all exhibitors to arrive Thursday night and allow for time for setting up starting 7:30am Friday morning."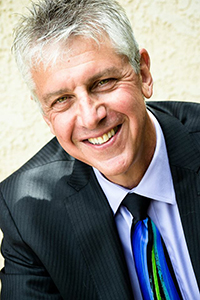 Among the speakers is Ken Greene, Esq., well-known Leasing News Advisor and Contributing Writer, speaking on Broker Licensing.
Register Now
https://www.eventbrite.com/e/naclb-2019-registration-53866142081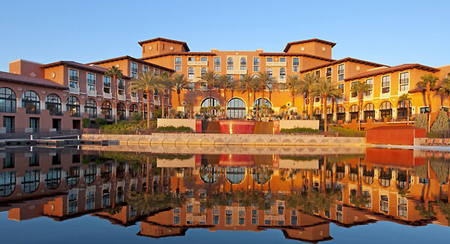 The Westin Lake Las Vegas Resort & Spa
Our Discounted room rate is $199.
This discounted rate will end October 2019
https://www.marriott.com/event-reservations/reservation-link.mi?id=1549659194861&key=GRP&app=resvlink

Full Information:
https://www.naclb.org/
[headlines]
--------------------------------------------------------------
Fernando's View:
Special Mother's Day Edition
By Fernando F. Croce
With Mother's Day just around the corner, we would like to offer a handful of recommendations to celebrate with the entire family. So hit your Netflix queue and get a hearty fill of cinematic mother love.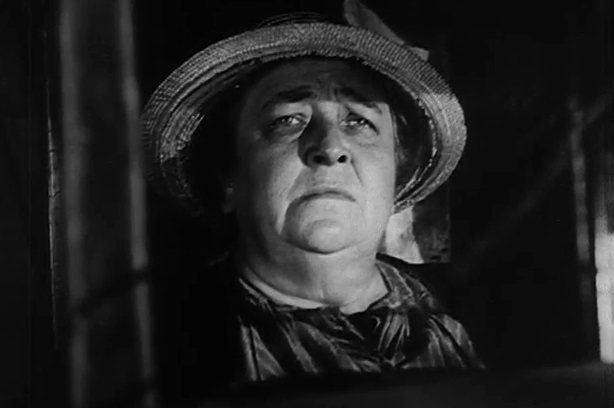 The Grapes of Wrath (John Ford, 1940): The legendary John Ford ("The Searchers") directed this stirring screen version of John Steinbeck's renowned novel, about a group of Dust Bowl farmers looking for a new start in California during the Depression. After drought consumes their home, the Joad family (led by just-out-jail son Tom, superbly played by Henry Fonda) takes to the road on their dilapidated truck. Driven by the dream of a modern garden waiting for them, they come face to face with the hardships of a nation in flux. Lavished with Oscars upon release, the film has become a classic of the American screen. What makes it also a choice Mother's Day pick, however, is Jane Darwell's unforgettable portrayal of Ma Joad, a simple, strong woman determined to keep her clan together.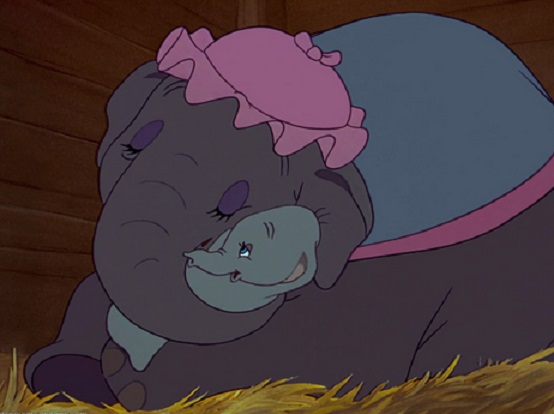 Dumbo (Walt Disney, 1941): With Tim Burton's remake still in theaters, revisit the 1941 original Walt Disney animated classic, which has one of the one heartwarming and wrenching portraits of maternal love. The eponymous character is a pint-sized circus elephant born with oversize ears. The target of cruel taunting from kids in the audience, Dumbo is fiercely protected by his mother—until she's locked away by the ringmaster and he has to face the world on his own. It's not until he realizes that his ears allow him to fly, that things begin to turn around. Beloved for decades, the film has many unforgettable sequences, most famously the surrealistic "Pink Elephants on Parade" number. None will get viewers more teary-eyed, however, than the "Baby Mine" encounter between Dumbo and his shackled mother.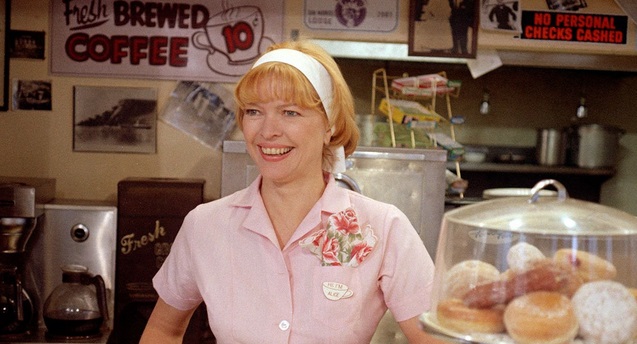 Alice Doesn't Live Here Anymore (Martin Scorsese, 1974): After capturing the film world's attention with the macho brawling of "Mean Streets," Martin Scorsese took a turn into female melodrama with this marvelous, underrated comedy. Ellen Burstyn won an Oscar for her rich performance as Alice Hyatt, a suddenly widowed housewife who decides to chase her dreams as a singer. The journey from New Mexico to California is a long and winding one, especially with her mischievous son Tommy (Alfred Luther) by her side. As she meets men both brutal and tender, Alice must reconcile her youthful fantasies with the rough reality of life. Not particularly known for memorable female characters, Scorsese here is, like his eponymous heroine, in a constant state of vibrant discovery, resulting in a robust mix of humor and heartbreak.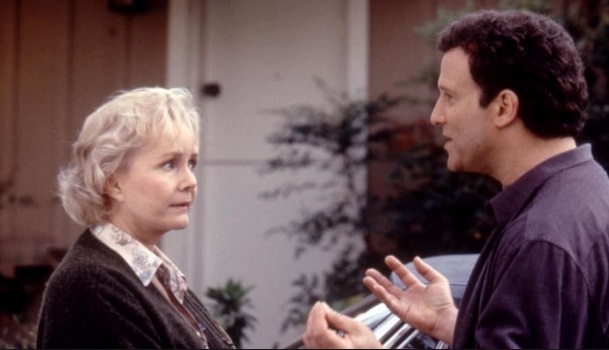 Mother (Albert Brooks, 1996): With his razor-sharp wit, writer-director Albert Brooks has brought his brilliant satirical eye to such topics as network TV ("Real Life"), emotional obsession ("Modern Romance") and domestic anxiety ("Lost in America"). It's motherhood's turn in this hilarious comedy, where Brooks plays John Henderson, a science-fiction writer whose personal life has taken a turn for the worse. After a series of failed relationships, he decides to learn about being less selfish by spending some time with his mother, Beatrice (Debbie Reynolds). Little does he suspect, however, that moving back home will exacerbate his neuroses rather than something them. For hearty laughter, nothing beats Brooks' tart yet loving look at the ties that bind mothers and children together and sometimes drives them crazy.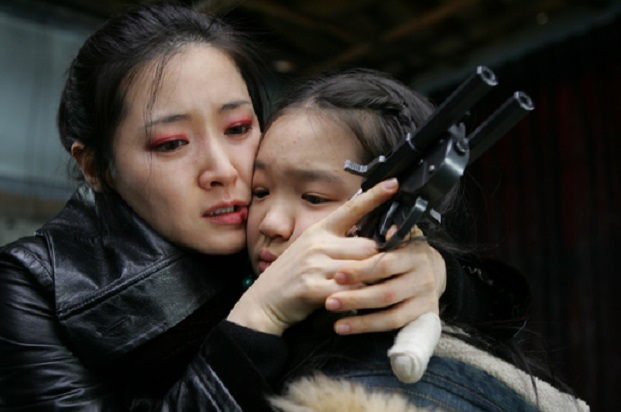 Sympathy for Lady Vengeance (Park Chan-wook, 2005): For a darker tribute to mothers, check out this harrowing drama from Korean revenge specialist Park Chan-wook ("Oldboy"). Lee Geum-ja (Lee Young-ae) is the eponymous heroine, a woman who, after spending thirteen years in jail for a crime she didn't commit, heads back into the outside world with accounts to settle. With the help of other retribution-hungry parents, she tracks down the man responsible for her misery, a teacher named Mr. Baek (Choi Min-sik). But can she also find Jenny (Kwon Yea-young), the daughter she thought she'dnever see again? A specialist in combining stylistic flash with strong violence and fierce emotions, Park's perverse ode to maternal tenacity plays as something of an Asian cousin to Quentin Tarantino's "Kill Bill" saga. With subtitles.
[headlines]
--------------------------------------------------------------
Labrador Puppy/Shepard
Portsmouth, New Hampshire Adopt a Dog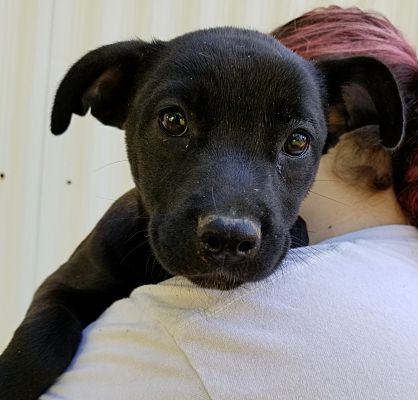 Trinity
Female
Black
Puppy
Shots Up to Date
Good with Kids
Good with Dogs
"TRINITY and her 9 siblings are adorable, 11 weeks old and around 13-16lbs each. We really have no clue what they are mixed with, the only thing we know is the mom was a shepherd mix...we do not know how big or small they will be, ..all we know is that they are beautiful!! The owner reached out and said if no one took them, he would have turned them all into Animal Control, so we could not let that happen and took these babies in! They are on the small side, but are loving playful babies!! Applications can be found on our website, Www.starbrightanimalrescue.org. Or please e mail sbanimalrescue@yahoo.com for an application for TRINITY. We try to respond to ALL enquiries so please check your junk mailbox if waiting to hear."
Star Bright Animal Rescue
New Hampshire Chapter
Portsmouth, NH 03801
sbanimalrescue@yahoo.com
http://www.starbrightanimalrescue.org
Additional Adoption Info
Our Adoption Process:
Our process begins with an application that must be submitted as the first step. If an application appears to be a match for the particular dog or puppy, we arrange for a time to discuss it over the phone. Once the phone interview takes place and there continues to be a potential for being a good match, we arrange for a meet and greet if the dog is fostered in Your area and then a possible home visit. After that, references are checked and you will be contacted via email or phone that you've been approved for adoption. At this time the adoption contract and the link to pay the deposit and/or adoption fee will be sent to you. Upon approval of application, a NON refundable $100 deposit via PayPal is required immediately to 'hold' the dog you are adopting. This deposit will apply toward the overall adoption fee of $400. The application review process can take up to a week or longer depending on the volume of applications, dogs/puppies available, and number of volunteers available. An adoption contract will be signed by both parties prior to the dog going to its new home
Application:
http://www.starbrightanimalrescue.org/adoption_application.html
Adopt a Pet
http://www.adoptapet.com/
[headlines]
--------------------------------------------------------------
Attorneys Who Specialize in
Banking, Finance, and Leasing

Birmingham, Alabama
The lawyers of Marks & Associates, P.C. have over 30 years experience in dealing with virtually every type of equipment financing and are recognized throughout the industry for prompt, practical solutions and exemplary service. They offer cost-conscious, effective lease enforcement and good counsel.
Email: Barry@leaselawyer.com
Website: www.leaselawyers.com


California
Marshall Goldenberg, Esq.
GLASS & GOLDBERG, ALC
22917 Burbank Blvd.
Woodland Hills, CA 91367-4203.
(818) 888-2220
mgoldberg@glassgoldberg.com
www.glassgoldberg.com


Kenneth C. Greene





California
Leasing and Financial consultant, active in several leasing
associations, as well as involved in music and film production in LA. Mention "Leasing News" for a free consultation.
818.575.9095
Skype: 424.235.1658
ken@kengreenelaw.com

Connecticut, Southern New England:
EVANS, FELDMAN & BOYER, LLC Collections, litigation, documentation, portfolio sales and financing, bankruptcy. We represent many of the national and local leasing companies doing business in this state. Past chairman EAEL legal committee. Competitive rates.
email: rcfeldman@snet.net
Los Angeles/Santa Monica
Hemar & Associates, Attorneys at Law
Specialists in legal assistance, including debt collection, equipment recovery, litigation for 35 years. Fluent in Spanish.
Tel: 310-829-1948
email: phemar@hemar.com


David G. Mayer
Partner, Dallas, Texas
Schackelford, Bowen, McKinley & Norton
9201 N. Central Expressway
Fourth Floor
Dallas, Texas 75231
Telephone: (214) 780-1400
http://shackelfordlaw.net/attorneys/david-g-mayer/

Los Angeles, Southern CA
Seasoned attorney representing secured creditors in auto finance and truck/equipment lease industry. Bankruptcy and State Court litigation. Vincent V. Frounjian (818) 990-0605 or email: vvf@pacbell.net.

Encino, California: Statewide "ELFA"
Hemar, Rousso & Heald, LLP 30 yr excellent reputation Lessor representation commercial litigation, debt collection, and bankruptcy.
Call Stephen E. Jenkins Esq (818) 501-3800

Los Angeles, Statewide: CA. "ELFA" Aggressive creditors rights law firm specializing in equipment leasing handling collection matters on a contingency, fixed fee or hourly cbasis. email:RGarwacki@prodigy.net


Los Angeles, Statewide: CA "ELFA"
Practice limited to collections, bankruptcy and problem accounts resolution. Decades of experience. 10-lawyer firm dedicated to serving you. Call Ronald Cohn, Esq. (818)591-2121 or email. Email: rrcohn@aol.com


California & National
Paul Bent – More than 35 years experience in all forms of equipment leasing, secured lending, and asset based transactions. Financial analysis, deal structuring, contract negotiations, documentation, private dispute resolution, expert witness services.
(562) 426-1000
www.paulbent.attorney
pbent@paulbent.attorney

Illinois

Kevin E. Trabaris: Concentrates his practice in the areas of commercial finance, corporate and business transactions. Extensive experience representing banks, financial companies, equipment lessors, insurers and other funding and intermediary entities and borrowers in connection with thousands of business financing matters. He has handled everything from small ticket transactions to billion dollar syndicated loans, real estate financing to asset-based facilities.
Email: ktrabaris@culhanemeadows.com
Telephone: 847-840-4687
www.culhanemeadows.com

Massachusetts

Joseph G. Bonanno, Esq., CLFP. Transactional/Documentation. Past special industry consultant to The World Bank, industry expert witness in litigation, appointed to Governor's Counsel to adopt Articles 2A and 9 in Massachusetts, MA continuing legal education co-instructor, past (5) Term Certified Leasing and Finance Professional Board Member, CLFP review instructor, numerous authored and co-authored published articles and conducting educational seminars. (781) 328-1010; law@jgbesq.com

National: Coston & Rademacher: Business attorneys serving the lease-finance industry since 1980. Transactional, documentation, corporate/finance, workouts, litigation, bankruptcy, portfolio management. Chicago-based national practice. Jim Coston, CLP (Members: ELFA, NEFA).
email: Jcoston@costonlaw.com
Website:www.costonlaw.com

Michael J. Witt, experienced bank, finance, and leasing attorney, also conducts Portfolio Audits. Previously he was Managing Counsel, Wells Fargo & Co. (May, 2003 – September, 2008); Senior Vice President & General Counsel, Advanta Business Services (May, 1988 – June, 1997) Tel: (515) 223-2352 Cell: (515) 868-1067
E-mail: MWitt@Witt-Legal.com
Web: www.witt-legal.com



St. Louis County , MO. - statewide:
Schultz & Associates LLP., collections, negotiation, and litigation. Also register and pursue recovery on foreign judgments. Contingency and reasonable hourly rates.
Ronald J. Eisenberg, Esq.
(636) 537-4645 x108
reisenberg@sl-lawyers.com
www.sl-lawyers.com
NJ, De, Pa: Specializing in leased equipment/secured transactions. Collections, replevins/workouts reasonable rates. Sergio Scuteri/Capehart & Scratchard, PAsscuteri@capehart.com / www.capehart.com
New York and New Jersey

Frank Peretore
Chiesa Shahinian & Giantomasi
West Orange, New Jersey
http://www.csglaw.com/
biographies/frank-peretore
Phone 973-530-2058
fperetore@csglaw.com
Documentation, portfolio purchase & sale, replevin, workouts, litigation, collection, bankruptcy. Aggressive. Over 30 years experience.

Thousand Oaks, California:
Statewide coverage Spiwak & Iezza, LLP 20+ years experience,Representing Lessors banks in both State/ Federal Courts/ all aspects of commercial leasing litigation.
Nick Iezza 805-777-1175
niezza@spiwaka
[headlines]
--------------------------------------------------------------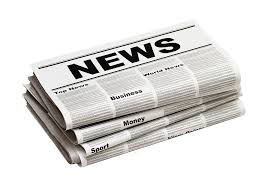 News Briefs----
Boeing's working to get the 737 Max back in the air
— but 1 in 5 travelers say they would never fly on it
https://www.chicagotribune.com/business/ct-biz-boeing-737-max-passenger-doubts-20190507-story.html
Uber Prices I.P.O. at $45 a Share,
Valuing It at $82.4 Billion
https://www.nytimes.com/2019/05/09/technology/uber-ipo-stock-price.html

[headlines]
--------------------------------------------------------------


You May Have Missed---
This infinitely-recyclable plastic might help us
finally clean up landfills and oceans
https://www.zmescience.com/science/plastic-pdk-recycle-82353636/


[headlines]
--------------------------------------------------------------
Submitted By: erika johnson

My heart races as I step on the court
Basketball my favorite sport
The whistle blows to start the game
It's a feeling I can't explain
My team is my family
When we work together there's no boundaries

Pass, shoot, score
Everyone wants more
Time for defense no one gets by
Shot goes up the ball is mine
The half time buzzer blows
Into the locker room we go

Start at half it's a tie
We need to give it our all to get by
Ten seconds left down by one
We can't be done
I have the ball I shoot a three
The crowd stands up and cheers or me.
[headlines]
--------------------------------------------------------------

Sports Briefs---

Kevin Durant's MRI results are in and he's out
https://www.eastbaytimes.com/2019/05/09/kevin-durants-mri-results-are-in-and-hes-out/
Kerr optimistic Durant will return if Warriors advance
http://www.espn.com/nba/story/_/id/26712296/kerr-optimistic-kd-return-warriors-advance
Giants' Posey on 7-day concussion list after hit in helmet
https://www.sfgate.com/sports/article/Giants-Posey-on-7-day-concussion-list-after-hit-13832846.php
Seahawks officially part ways with Doug Baldwin, Kam Chancellor
https://www.yahoo.com/sports/seahawks-officially-part-ways-with-doug-baldwin-kam-chancellor-202452366.html
[headlines]
--------------------------------------------------------------


California Nuts Briefs---


Gavin Newsom's California budget rises to $213 billion
as projected surplus grows
https://www.sacbee.com/news/politics-government/capitol-alert/article230196769.html?
Uber, Lyft account for two-thirds of traffic increase
in SF over six years, study shows
https://www.sfchronicle.com/bayarea/article/Uber-Lyft-account-for-of-traffic-increase-in-13830608.php
One of Bay Area's largest manufacturers is about to get bigger
https://www.sfchronicle.com/business/article/One-of-Bay-Area-s-largest-manufacturers-is-13833019.php
Four years after California's largest dam removal project,
how are the fish doing?
https://www.mercurynews.com/2019/05/08/four-years-after-californias-largest-dam-removal-project-the-fish-are-coming-back/
Cupertino dumps alternate plan for Vallco mall's redevelopment
https://www.mercurynews.com/2019/05/08/cupertino-dumps-alternate-plan-for-vallco-malls-redevelopment/


[headlines]
--------------------------------------------------------------



"Gimme that Wine"

http://www.youtube.com/watch?v=EJnQoi8DSE8
Where to Go Wine Tasting In Napa Valley
Without a Reservation
https://thepress.sfchronicle.com/trip/napa-no-reservati
Here Is the Full List of James Beard Awards 2019 Winners
https://www.eater.com/2019/5/6/18528531/james-beard-awards-2019-winners
Winners of 2019 Experience Rosé Competition Announced
https://www.winebusiness.com/news/?go=getArticle&dataId=213710
12 Livermore Valley Vineyard Districts Charted
https://www.winebusiness.com/news/?go=getArticle&dataId=213637
Free Wine App
https://www.nataliemaclean.com/mobileapp/

Wine Prices by vintage
http://www.winezap.com
http://www.wine-searcher.com/
US/International Wine Events
http://www.localwineevents.com/
Leasing News Wine & Spirits Page
http://two.leasingnews.org/Recommendations/wnensprts.htm
[headlines]
----------------------------------------------------------------
This Day in History

1497 - Italian navigator Amerigo Vespucci left for his first of four known voyages to the New World. The first and fourth voyages are disputed to have occurred, while the second and third are certain voyages. At the invitation of King Manuel I of Portugal, Vespucci participated as an observer in several voyages that explored the east coast of South America. On the first of these voyages, he was aboard the ship that discovered that South America extended much further south than previously thought. The expeditions became widely known in Europe after two accounts attributed to Vespucci were published between 1502 and 1504. In 1507, Martin Waldseemuller produced a world map on which he named the new continent America after the feminine Latin version of Vespucci's first name.
1643 - The first attempt for colonial government was the United Colonies of New England, organized in Boston, MA, by the colonies of Connecticut, Massachusetts, New Haven, and Plymouth as "a firm and perpetual league of friendship and amity for offense and defense, mutual advice and succor, upon all occasions, both for preserving and propagating the truth and liberties of the gospel and for their own mutual safety and welfare." A board of eight commissioners, two for each colony, formed the "consociation." Issues could be referred to the general courts for appeal, if not approved by six votes. John Winthrop of Massachusetts was the first president. Massachusetts, the largest colony, gradually withdrew because it did not have proportional representation.
1652 - John Johnson, a free black man, was granted 550 acres in Northampton, VA.
1676 – Bacon's Rebellion began, led by Nathaniel Bacon against the rule of Virginia Colony Governor William Berkeley. It was the first rebellion in the American colonies in which discontented frontiersmen took part. A similar uprising in Maryland took place later that year. The alliance between indentured servants and Africans (most enslaved until death or freed), united by their bond-servitude, disturbed the ruling class, who responded by hardening the racial caste of slavery to divide the two races from subsequent united uprisings with the passage of the Virginia Slave Codes of 1705. While the farmers failed in their initial goal of driving the Indians from Virginia, the rebellion did result in Berkeley being recalled to England.
1748 - [O.S.] Slave-ship Captain John Newton, 22, was converted to a saving Christian faith. Newton later became an Anglican clergyman, and, as the author of "Amazing Grace," a greatly respected hymn writer as well.
http://www.flash.net/~gaylon/jnewton.htm
http://www.noteworthyministries.com/agstory.htm
1775 - The first Revolutionary War military action occurred when Ethan Allen and 83 men who called themselves the Green Mountain Boys crossed Lake Champlain from Vermont in scows, entered Fort Ticonderoga, NY, through the south gate, and swarmed into the barracks while the soldiers were asleep. Allen demanded the surrender of the fort "in the name of the great Jehovah and the Continental Congress. The fort, commanded by Capital William Delaplace and Lieutenant Jocelyn Feltham, was captured with 78 guns, 6 mortars, 3 howitzers, thousands of cannon balls, 30,000 flits, and other supplies. Historians consider him one of the most improbable heroes in American History. "He secretly negotiated with the British during the Revolution to take Vermont out of the war in exchange for a huge tract of virgin forest. And, in the 1770's, with the help of roving bands of mounted Green Mountain Boys, he launched a campaign of terror to prevent New York from taking possession of land he claimed as his own in an area dispute between New York and New Hampshire. Before he was through, he burned down several homes, destroyed a few mills, and set up a kangaroo court in which he condemned colonial officers to punishment by whipping. Per Robert Shalhope in "The Roots of Democracy," "Allen swindle land out of his neighbors in Vermont, and cavorted with the British during the Revolution; when he was captured he not only refused to try to escape but he prevented others from doing so, at one point stopping the capture of a privateer from taking over a lightly defended British ship."
http://www.virtualvermont.com/history/eallen.html
1775 – The Second Continental Congress met as representatives from all Thirteen Colonies gathered in Philadelphia. The Second Congress managed the colonial war effort and moved towards independence, adopting the Declaration of Independence on July 4, 1776. Many of the same 56 delegates who attended the first meeting were in attendance at the second, and the delegates appointed the same President (Peyton Randolph) and secretary. Notable new arrivals included Benjamin Franklin of Pennsylvania and John Hancock of Massachusetts. Within two weeks, Randolph was summoned back to Virginia and he was replaced in the Virginia delegation by Thomas Jefferson, who arrived several weeks later. Henry Middleton was elected as president to replace Randolph, but he declined. Hancock was elected president on May 24. By raising armies, directing strategy, appointing diplomats, and making formal treaties such as the Olive Branch petition, the Congress acted as the de facto national government of what became the United States.
1779 - Birthday of George Ross (d. 1779), New Castle, DE. Signer of the Declaration of Independence. http://www.georgeross.net/
1801 - The Pasha of Tripoli declared war on the U.S. Piracy against U.S. shipping began after the end of the Revolution when the U.S. government lost its protection of France under the Treaty of Alliance. On 11 October 1784, Moroccan pirates seized an American merchant ship. The Spanish government negotiated the freedom of the captured ship and crew; however, Spain offered advice to the United States on how to deal with the Barbary States: offer tribute to prevent further attacks against merchant ships. The U.S. Minister to France, Thomas Jefferson, decided to send envoys to Morocco and Algeria to try to purchase treaties and the freedom of the captured sailors held by Algeria. Morocco was the first Barbary Coast State to sign a treaty with the U.S., on 23 June 1786. American diplomatic action with Tripoli and Algeria, the other major Barbary Coast States, was much less productive than with Morocco. Just before Jefferson's inauguration in 1801, Congress passed naval legislation that, among other things, provided for six frigates that 'shall be officered and manned as the President of the United States may direct.' ... In the event of a declaration of war on the United States by the Barbary powers, these ships were to 'protect our commerce and chastise their insolence—by sinking, burning or destroying their ships and vessels wherever you shall find them.'" On Jefferson's inauguration as president in 1801, the Pasha declared war.
1849 - The theater was very popular, particularly Shakespeare plays. A riot erupted outside the Astor Place Opera House at New York, NY, where the British actor William Charles Macready was performing. Led by the American actor Edwin Forrest, angry crowds revolted against dress requirements for admission and against Macready's public statements on the vulgarity of American life. The cause of the dispute was basically between two Shakespearean actors, one American, one British, who were then performing in rival productions of "Macbeth." The city had become caught up in the dispute, dividing along class lines, the rich favoring the British actor's production, the laborers favoring the American's. To followers of the American, it seemed that nothing less than democracy itself was at stake. On May 8, Macready's performance of Macbeth was stopped by Forrest's followers. Two days later, a mob led by Ned Buntline shattered the windows of the theater during a performance. Troops were summoned and they were ordered to fire, killing 22, wounding 26, injuring over 150, plus 86 arrests were made
(Source: Richard Shenkman, author of "Legends, Lies & Cherished Myths of American History").
http://www.mcny.org/astorriot.htm
1863 - Confederate General "Stonewall" Jackson dies of wounds inflicted accidentally eight days ago by his own troops.
1865 - Jefferson Davis was captured at Irwinville, GA by a contingent of Gen. James H. Wilson's cavalry, led by Lt. Col. Benjamin Pritchard. There was a contingent of soldiers and generals who wanted to hang him, including the U.S. Congress, but General U. S. Grant put the care of Jefferson Davis under a personally chosen cadre of troops.
http://memory.loc.gov/ammem/today/may10.html
1868 – The man who perhaps changed the game of baseball forever was born in Springfield, IL. Ed Barrow (d. 1953) was made the manager of the Boston Red Sox in 1918. He won the World Series in his first year with the Red Sox, during which he made the momentous decision to turn left-handed pitcher Babe Ruth, one of the game's great pitchers, into an outfielder. Ed then served as General Manager of the Yankees from 1921-44, during which the team emerged as the powerhouse in Major League Baseball. During that 24-year span, the Yankees went to the World Series 14 times, winning 10. In addition, during his GM days, the Yankees discovered and signed Tony Lazzeri, Lou Gehrig, Frank Crosetti, Joe DiMaggio, Phil Rizzuto, Lefty Gomez and other stars of their dynasty years. Barrow was also active in establishing one of the strongest farm systems in baseball during this period. Barrow was elected to the Baseball Hall of Fame in 1953, mere months prior to his death.
1869 - To meet the contract, a golden spike was driven by Leland Stanford, president of the Central Pacific, to celebrate the linkage of the Union Pacific and Central Pacific railways. Long called the final link in the ocean-to-ocean railroad, this event cannot be accurately described as completing the transcontinental railroad, but it did complete continuous rail tracks between Omaha and Sacramento. The actual completion was not until August 15.
http://memory.loc.gov/ammem/today/may10.html
1872 - Victoria Claftin Woodhull became the first woman nominated for president by the National Radical Reformers at Apollo Hall, New York. Frederick Douglass was the vice-presidential candidate. One of her campaign themes was "free sex." By the way, Douglass was the first African-American vice-presidential candidate. In 1888, he became the first African-American candidate for president at the Republican Convention that eventually chooses Benjamin Harrison. Douglass was later appointed U.S. Minister to Haiti. The closest any woman had come to the top seat of the nation since Victoria Woodhull was Geraldine A. Ferraro who was on the Democratic party slate as the Vice-Presidential candidate in 1984. In 2016, former Senator and Secretary of State, Hillary Clinton won the Democratic Party nomination for President only to lose to Republican Donald Trump.
1899 - Birthday of Fred Astaire, born Frederick Austerlitz (d. 1987) at Omaha, NE. Actor, dancer and choreographer, he began dancing with his sister Adele and in the mid-1930s, began dancing with Ginger Rogers. His resume said, "Can't act. Slightly bald. Can dance a little." Despite this, Astaire starred in more than 40 films including "Holiday Inn," "The Gay Divorcee," "Silk Stockings" and "Easter Parade." Astaire was ranked by the AFI as the fifth greatest male star of Classic Hollywood cinema in "100 Years…100 Stars."
http://themave.com/Astaire/
1905 - An F5 tornado 1/2-mile-wide ripped through Snyder, Oklahoma. 87 people were killed. Many people thought the approaching tornado was a hailstorm and did not take shelter.
1907 - Bandleader "Pee Wee" Hunt was born Walter Gerhardt Hunt (d. 1979), Mt. Healthy, OH. Best known for his big hit "12th Street Rag."
http://www.centrohd.com/biogra/h2/pee_wee_hunt_b.htm
http://seniormusicians.homestead.com/PeeWee.html
1907 – Heavyweight boxing champion, Jack Johnson, modestly stated that he is to marry Miss Lola Toy, a rich Australian white woman. The rumor of the marriage was called to big Jack's attention and, after much pressing, the husky lad admitted the facts. Johnson arrived in Oakland last night and is in excellent condition.
1909 – The longest no-hitter in the history of organized baseball occurred in a Blue Grass League game between the Lexington Colts and the Winchester Hustlers. Fred Toney, who would later pitch in the only double no-hitter in Major League history, threw a 17-inning no-hitter for Winchester, winning 1-0. He struck out 19 and walked only one in beating Lexington's Baker, who allows seven hits. A squeeze play ended the game.
1919 - Sir Barton, ridden by Johnny Loftus, won the Kentucky Derby by five lengths. Leading wire-to-wire, he went on to become the first horse to win the Triple Crown, (The Derby, The Preakness Stakes and the Belmont Stakes.)
1924 - J. Edgar Hoover was appointed as the sixth director of the Bureau of Investigation — predecessor to the FBI. He and was instrumental in founding the FBI in 1935, where he remained director until his death in 1972, aged 77. Hoover is credited with building the FBI into a larger crime-fighting agency than it was at its inception and with instituting a number of modernizations to police technology, such as a centralized fingerprint file and forensic laboratories.
http://members.tripod.com/~american_almanac/hoover.htm
http://www.spartacus.schoolnet.co.uk/USAhooverE.htm
1928 - The legendary country music group, the Carter Family, recorded "Wildwood Flower." This is the song most associated with the Carter Family, largely because of the guitar playing of Mother Maybelle Carter. "Wildwood Flower" is still in the repertoire of practically every country guitarist.
1932 - Author William Faulkner makes his first trip to Hollywood to write for MGM.
http://www.mcsr.olemiss.edu/~egjbp/faulkner/faulkner.html
1935 - '50s rock 'n' roll singer Larry Williams was born in New Orleans. He had several hits in 1957 and '58 with frantic novelty numbers such as "Short Fat Fannie," "Bony Moronie" and "Dizzy Miss Lizzy." "Miss Lizzy" was later recorded by the Beatles. Larry Williams committed suicide in January 1980.
1940 - Lionel Hampton , with the Nat King Cole Trio, records "Central Ave," "Breakdown," "Jack the Bellboy."
1945 - Les Brown Band records, "Leap Frog," Columbia.
http://www.bandsofrenown.com/
1945 - HALYBURTON, WILLIAM DAVID, JR., Medal of Honor.
Rank and organization: Pharmacist's Mate Second Class, U.S. Naval Reserve. Born: 2 August 1924, Canton, N.C. Accredited to: North Carolina. Citation: For conspicuous gallantry and intrepidity at the risk of his life above and beyond the call of duty while serving with a Marine Rifle Company in the 2d Battalion, 5th Marines, 1st Marine Division, during action against enemy Japanese forces on Okinawa Shima in the Ryukyu Chain, 10 May 1945. Undaunted by the deadly accuracy of Japanese counter fire as his unit pushed the attack through a strategically important draw, Halyburton unhesitatingly dashed across the draw and up the hill into an open fire-swept field where the company advance squad was suddenly pinned down under a terrific concentration of mortar, machinegun and sniper fire with resultant severe casualties. Moving steadily forward despite the enemy's merciless barrage, he reached the wounded marine who lay farthest away and was rendering first aid when his patient was struck for the second time by a Japanese bullet. Instantly placing himself in the direct line of fire, he shielded the fallen fighter with his own body and staunchly continued his ministrations although constantly menaced by the slashing fury of shrapnel and bullets falling on all sides. Alert, determined and completely unselfish in his concern for the helpless marine, he persevered in his efforts until he himself sustained mortal wounds and collapsed, heroically sacrificing himself that his comrade might live. By his outstanding valor and unwavering devotion to duty in the face of tremendous odds, Halyburton sustained and enhanced the highest traditions of the U.S. Naval Service. He gallantly gave his life in the service of his country.
1946 - Singer Donovan Phillip Leitch, better known as Donovan, is born Glasgow, Scotland.
http://home.cogeco.ca/~mansion1/solodonovan.html
1954 – Bill Haley & His Comets released "Rock Around the Clock," the first rock and roll record to reach number one on the Billboard charts (on July 9, 1955), a feat it repeated on charts around the world. The song stayed at this place for eight weeks. It was not the first rock and roll record, nor was it the first successful record of the genre (Bill Haley had American chart success with "Crazy Man, Crazy" in 1953, and in 1954, "Shake, Rattle and Roll" sung by Big Joe Turner reached No. 1 on the Billboard R&B chart). Haley's recording nevertheless became an anthem for rebellious 1950s youth and is widely considered to be the song that, more than any other, brought rock and roll into mainstream culture around the world. The song is ranked No. 158 on the Rolling Stone magazine's list of The 500 Greatest Songs of All Time. "Rock Around the Clock" is often cited as the biggest-selling vinyl rock and roll single of all time. The exact number of copies sold has never been audited; however, a figure of at least 25 million was cited by the Guinness Book of World records in its category "Phonograph records: Biggest Sellers" from the early 1970s until the 1990s, and it is second all-time to Bing Crosby's "White Christmas."
1954 - Top Hits
"Wanted" - Perry Como
"Young at Heart" - Frank Sinatra
"Little Things Mean a Lot" - Kitty Kallen
"Slowly" - Webb Pierce
1960 - U2 vocalist Bono was born Paul Hewson in Dublin, Ireland. U2 was formed in 1976, and by 1987, was acknowledged as the top rock band in the world. Their hit albums include "The Unforgettable Fire," "The Joshua Tree" and "Rattle and Hum." "Rattle and Hum" was also the title of U2's 1988 concert film.
http://www.atu2.com/band/bono/
1962 - Top Hits
"Soldier Boy" - The Shirelles
"Mashed Potato Time" - Dee Dee Sharp
"Stranger on the Shore" - Mr. Acker Bilk
"Charlie's Shoes" - Billy Walker
1963 - The Rolling Stones began their first recording session in London with producer Andrew Loog Oldham. Their first single, a cover of Chuck Berry's song "Come On," was released a month later.
1966 - Morning lows of 21 degrees at Bloomington-Normal, Illinois and Aurora, Illinois established a state record for the month of May. Snow flurries were reported at Kansas City, Missouri and Chicago.
1967 - Braves' outfielder Hank Aaron hits an inside-the-park homer off Phillies hurler Jim Bunning. It will be 'Hammerin' Hank's' only home run which doesn't clear the fence among his record setting 755 round-trippers.
1968 - Peace talks open in Paris with Averell Harriman representing the U.S. and Xan Thuy representing North Vietnam. Talks soon deadlock over the North Vietnamese demand for an end to all U.S. bombing of North Vietnam. More than 2,000 American soldiers die in combat in May, the highest monthly loss of the war.
1969 – A mere four months following the New York Jets' Super Bowl upset of the Baltimore Colts, the American Football League and the National Football League announced that plans for their merger and integration into one league with two conferences of 13 teams each were complete. Three NFL teams, the Baltimore Colts, the Cleveland Browns and the Pittsburgh Steelers, agreed to join the American Football Conference as part of the deal. Coincidentally, it was the Colts and Browns who survived the demise of the All-America Football Conference to join the NFL in 1950.
1986 - Navy Lt. Commander Donnie Cochran became the first black pilot to fly with the celebrated Blue Angels precision aerial demonstration team
http://www.raaheroes.com/military/navy/cochran.htm
1970 - Top Hits
"American Woman"/"No Sugar Tonight" - The Guess Who
"Vehicle" - The Ides of March
"Love or Let Me Be Lonely" - The Friends of Distinction
"The Pool Shark" - Dave Dudley
1970 - Hoyt Wilhelm of the Atlanta Braves became the first Major League pitcher to appear in 1,000 games when he was called in from the bullpen in a game against tithe St. Louis Cardinals. Wilhelm gave up three runs, and the Braves lost, 6-5.
1975 - Springfield, Missouri's Ozark Mountain Daredevils topped the Cashbox Best Sellers chart with their biggest hit, "Jackie Blue."
1977 - An unprecedented spring snowstorm hit Southern New England and New York.
1978 - Top Hits
"Night Fever" - Bee Gees
"If I Can't Have You" - Yvonne Elliman
"The Closer I Get to You" - Roberta Flack with Donny Hathaway
"It's All Wrong, But It's All Right" - Dolly Parton
1982 - As Northern California slowly recovers from the most destructive winter in recorded history, the dimensions of the damage, death and economic loss are just beginning to emerge. At least 51 people were killed, 481 were injured, more than 7,500 were left homeless and 10 counties were declared federal disaster areas. Damages are already in the excess $635 million.
1986 - Top Hits
"West End Girls" - Pet Shop Boys
"Greatest Love of All" - Whitney Houston
"Why Can't This Be Love" - Van Halen
"Grandpa (Tell Me 'bout the Good Old Days)" - The Judds
1990 - A spring snowstorm produced heavy snow in Upper Michigan and Eastern Wisconsin. Marquette, Michigan recorded 22.4 inches of snow to set not only a new single storm snowfall record for may but also a new monthly record for snowfall in May.
1991 - Severe thunderstorms blasted Western Texas and Nebraska. 15 tornadoes were reported in West Texas. 3 miles northwest of Lazbuddie, a complex of 5 tornadoes touched down within 10 minutes of one another. This consisted of the main funnel (rated f2) and 4 'satellite' tornadoes that rotated around the main vortex at a distance of about 1/4 mile. Hail 6 inches in diameter broke many windshields and did extensive damage to roofs in Peyote, Texas. 5 inch hailstones descended from a supercell thunderstorm near Crawford, Nebraska.
1994 - Barbra Streisand opened her first concert tour in 28 years with a show in New York. The tour was inspired by the warm reception she received at two New Year's concerts in Las Vegas.
1999 - In a 12-4 rout of the Mariners, Boston's shortstop Nomar Garciaparra hits two grand slams as well as a two-run homer becoming the first American League player to drive in 10 runs in a game since 1975.
2005 - Country superstar Faith Hill's new single "Mississippi Girl," becomes available as a free, timed-out download beginning via radio station Web sites across the country.
2010 - Solicitor General Elena Kagan was the youngest Justice and third woman nominated for the Supreme Court.
2011 – Microsoft purchased Skype, an Internet phone service, for $8.5 billion.
2012 – The Baltimore Orioles became the first team in the history of the American league to lead off a game with three consecutive homers. Ryan Flaherty, JJ Hardy and Nick Markakis went deep to open the bottom of the 1st.
2014 - Unidentified remains of victims of the September 11, 2001 terrorist attacks were put to rest in a private depository next to the museum at the World Trade Center Memorial site; the remains will not be accessible or viewable to the public.

Stanley Cup Champions:
1970 - Boston Bruins
1973 - Montreal Canadiens
-------------------------------------------------------------

SuDoku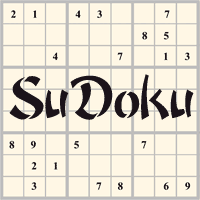 The object is to insert the numbers in the boxes to satisfy only one condition: each row, column and 3x3 box must contain the digits 1 through 9 exactly once. What could be simpler?
http://leasingnews.org/Soduku/soduko-main.htm
--------------------------------------------------------------

Daily Puzzle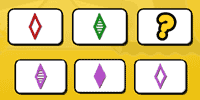 How to play:
http://www.setgame.com/set/puzzle_frame.htm
Refresh for current date:
http://www.setgame.com/set/puzzle_frame.htm
--------------------------------------------------------------


http://www.gasbuddy.com/
http://www.gasbuddy.com/GB_Map_Gas_Prices.aspx
http://www.gasbuddy.com/GB_Mobile_Instructions.aspx
--------------------------------------------------------------

Weather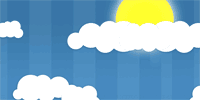 See USA map, click to specific area, no commercials
--------------------------------------------------------------

Traffic Live---
Real Time Traffic Information
You can save up to 20 different routes and check them out with one click,
or type in a new route to learn the traffic live
--------------------------------