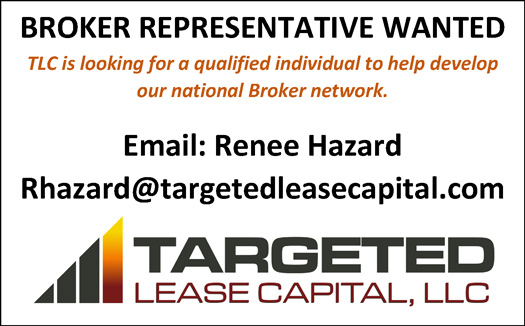 Thursday, November 14, 2019


Today's Leasing News Headlines
California Department of Business Oversight Proposes
Moving All California Financing Law Licensees
onto NMLS Licensing Platform
Leasing News Funder List "A"
Updated
New Hires/Promotions in the Leasing Business
and Related Industries
Leasing Industry Ads
Positions Available
The Next Generation of Top Producers
Sales Makes it Happen by Scott Wheeler, CLFP
CLFP Companies with Two or More Members
Updated from last Exam, Total Now 824 CLFPs
Classes for Lease & Finance Professionals
Attendance Update: Classes Scheduled plus Mentor Program
Chesswood Announces Results
for the Third Quarter 2019
Federal Judge Rules OCC Lacks Authority
to Create National Fintech Charter
DBO Forms Cannabis Banking Task Force
First Meeting November 20, DBO's Sacramento Office
Attorney General James' Statement on
Decision in 3D-Printed Guns Lawsuit
Marriage Story/Harriet/Good Boys
Scary Stories to Tell in the Dark/the Daytripper's
Film/Digital Reviews by Leasing News' Fernando Croce
Rottweiler Mix
Sacramento, California Adopt a Dog
Leasing News Policy Statement
Revisited
News Briefs---
U.S. Bancorp gets approval for additional
$2.5 Billion buyback
The Surprise Big Winner from GE's Earnings Report
Nasdaq
'Venice Is On Its Knees': Mayor Blames Worst Tides
In 50 Years on Climate Change
Is the Boeing 737 Max safe? 2 big reasons
the plane is still grounded by FAA after crashes
Berkeley Farms owner files for Chapter 11
Bankruptcy protection
Hackers Receive $500,000 in One Week via Bugcrowd
Find Many Hacks and Receive Awards
Subway Names Former Burger King Leader CEO
No Permanent CEO since June, 2018

Broker/Funder/Industry Lists | Features (wrilter's columns)
Top Ten Stories Chosen by Readers | Top Stories last six months
www.leasingcomplaints.com (Be Careful of Doing Business)
www.evergreenleasingnews.org
Leasing News Icon for Android Mobile Device

May Have Missed
Poem
Sports Brief----
California Nuts Brief---
"Gimme that Wine"
This Day in History
SuDoku
Daily Puzzle
GasBuddy
Weather, USA or specific area
Traffic Live----
######## surrounding the article denotes it is a "press release," it was not written by Leasing News nor has the information been verified. The source noted. When an article is signed by the writer, it is considered a "byline." It reflects the opinion and research of the writer.


Please send a colleague and ask them to subscribe. We are free
Email kitmenkin@leasingnews.org and in subject line: subscribe

[headlines]
--------------------------------------------------------------
California Department of Business Oversight Proposes
Moving All California Financing Law Licensees
onto NMLS Licensing Platform

By Paul W. Boller and David M. Gettings
Troutman Sanders LLP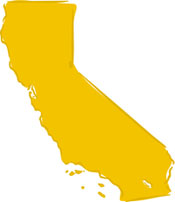 (May expand CFL Licensing to other states)
The California Department of Business Oversight ("DBO") on October 25 published a regulatory proposal to "modernize" the California Financing Law ("CFL") licensing process. To do so, the DBO proposed amending existing licensing rules to transition all licensees onto the Nationwide Multistate Licensing System ("NMLS"). According to the notice of rulemaking, today many CFL licensees receive and maintain their licenses through NMLS. This includes licensees engaged in residential mortgage origination and brokering. Other entities, such as non-residential real property lenders and brokers, are not currently on NMLS.
The DBO observes that because some "licensees may already participate in NMLS in other states," moving all licensees to NMLS would remove some of the inefficiencies associated with maintaining a "California license outside of NMLS." Additionally, the regulatory proposal would assist consumers by "providing … a common location nationally to access information on financial services providers." It would also streamline the DBO's licensing process "by leveraging the technology already developed and used nationally."
Acknowledging the growth of the NMLS platform beyond simply managing mortgage loan originators, the DBO notes that NMLS "now serves as a multistate licensing system for many industries." The DBO further notes that it currently uses the system to license "mortgage lenders, mortgage brokers, mortgage servicers, mortgage loan originators, student loan servicers, and program administrators." Consequently, this proposal would further solidify the important role NMLS serves in administering state licenses for financial services within California.
In addition to the above, the regulatory proposal implements AB 1284, which amended the CFL by establishing licensing requirements for Property Assessed Clean Energy programs administrators. AB 1284 was signed into law on October 4, 2017.
Until December 9, 2019, the DBO will accept and consider written comments related to the regulatory proposal.
The notice, proposed text, and initial statement of reasons for the proposed regulations are posted to the DBO website.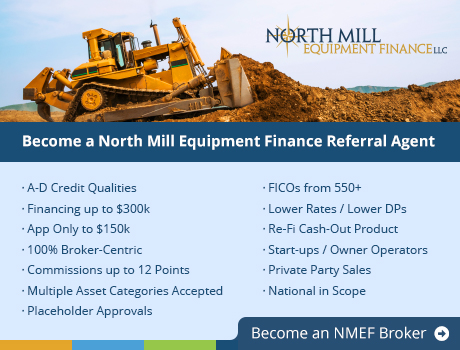 [headlines]
--------------------------------------------------------------
Leasing News Funder List "A"
Updated
This list was created a number of years ago and when a business changes, merges, or goes out of business, it is deleted.
Leasing News relies primarily on the companies themselves to keep the list current of who to contact, email, telephone numbers, and other information provided on the list, including:
A -Accepts Broker Business | B -Requires Broker be Licensed | C -Sub-Broker Program |
D -"Private label Program" | E - Also "in house" salesmen
There is no advertising fee or charge for a listing. They are "free." Leasing News makes no endorsement of any of the companies listed, except they have qualified to be on this specific list.
To qualify for this list, the company must be a "funder" and not a "Broker/Lessor" or "Super Broker/Lessor." The company may sell off its portfolio from time to time, but the definition is for a company or financial institution where 50% or more of its business is from actually "funding" transactions themselves, where they are on "recourse." Every non-public company's banker and/or investor(s) are contacted to verify this. Leasing News reserves the right to not list a company who does not meet these qualifications.
We encourage companies who are listed to contact us for any change or addition they would like to make. Adding further information as an "attachment" or clarification of what they have to offer would be helpful to readers is very much encouraged.
(To apply to be listed, please fill in our Funder Form and you
may e-mail to: kitmenkin@leasingnews.org.)
Alphabetical list - click on company name to view more details

First American Bank Leasing
OnePlace Capital
360 Equipment Finance
First Bank of Highland Park
Orix--Capital Markets
Advantage Funding
First Citizen Bank & Trust
Orix Financial Services, Inc.
Agstar Financial Services
First City Bancorp
Orix USA Corp.-Comm Finance
AIG Commercial
First Continental Leasing
P&L Capital Corporation
AIG Comm. Equip. Fin., Inc.
First Credit Corporation
Pacific Mercantile Bank
All Points Capital
First Federal Leasing
Pacific Western Equipment Finance
Alliance Leasing, Inc.
First Financial Corporate Services, Inc.
Padco Financial Services
Allegiant Partners Inc.
First Foundation Bank
Park National Bank
Allegheny Valley Bank Leasing
First Hawaiian Leasing
Allstate Leasing
FirstLease
Pawnee Leasing Corporation
American Leasefund, Inc.
First Midwest Equipment Finance
People's Capital and Leasing Corp.
Amsouth Leasing Corporation
First National Equipment Financing
PNC Equipment Finance, LLC
Applied Financial
Forsythe Technology Leasing
Providence Equipment Finance
Arrow Capital
Forum Financial Services, Inc.
Puget Sound Leasing
Atel Capital Group, Inc.
Frost Bank
Pullman Bank & Trust
Atlas Copco Customer Finance USA, Inc.
GATX Corporation
Quality Leasing Co., Inc
Balboa Capital Corporation
Global Financial &
Leasing Services, LLC
RBS Asset Finance
Banc Leasing
GreatAmerica Financial Services
Regions Leasing
BancorpSouth Equipment Finance
Harris Leasing Company
Republic Financial Corp.
Bank of America
Hewlett-Packard Fin Srvcs
Regions Financial Leasing, Inc.
Bank of Hawaii
Highland Capital Corporation
Resource Leasing Company
Bank of Ozarks Leasing
Highline Capital
Reyna Capital
BankFinancial FSB
Home Savings Bank
Rockwell Finance Group
Bankers Capital
Icon Capital
Royal Bank America Leasing
International Financial Services
Corporation
RLC Funding
Baycap, Inc.
International Lease Finance
Sentry Financial Corporation
Baystone Finance Group
Jules and Associates
SL Financial Services
Baystone Government Finance/
KS StateBank
Key Equipment Finance
SLIM Capital, LLC
Baytree Leasing Company, LLC
LEAF Financial
Sovereign Bank
BB&T Leasing
Leasing Technologies Int'l, Inc.
Specialty Leasing Group, Inc.
Black Rock Capital
LFC Capital
Standard Professional Services, LLC.
BNY Capital Funding
Liberty Leasing
Stearns Bank
Blue Bridge Financial, LLC
M&I Equipment Finance
Sterling Bank Leasing a division of Sterling National Bank
Boston Financial & Equity
M&T Commercial Equipment Leasing
Suntrust Leasing
BSB Leasing, Inc
Mag Capital
Susquehanna Patriot Commercial Leasing
BTMU Capital
Madison Capital
Targeted Lease Capital, LLC
C Leasing Company
Manufacturer's Lease Plans, Inc.
TCF Equipment Finance
California First Leasing
Marlin Capital Solutions
TEAM Funding Solutions
Calfund
Maxim Commercial Capital, LLC
Textron Financial Corporation
Capital Markets Group U. S. Bank Equipment Finance
Mesa Leasing, Inc
Timepayment Corp
MB Financial Bank
Tokyo Leasing U.S.A.
CBI Leasing
MBNA
Town & Country Leasing
Celtic Bank Leasing & Equipment
Finance Group
Microfinancial/Leasecomm
Tri County Bank
National City Comm Capital
Trans Lease
C.H. Brown Company
Nations Equipment Finance
Unicyn Financiel
Chase Equipment Leasing
Navitas Lease Corp
US Bancorp Business Leasing
Chesapeake Industrial Leasing
NewLane Finance
Vision Financial Group, Inc.
CHG-Meridian
NexTier Leasing
Varilease Technology Group
CIT Group
NFS Leasing, Inc.
Varion Capital Corp
CitiCapital
Norlease, Inc.
Verizon Capital Group
Coamerica Leasing Corp.
North Mill Equipment Finance
VGM Financial Services
Comdisco
Northern California Production Credit Assn.
Wachovia Leasing
Commerce Commercial Leasing
Northwest Leasing Company, Inc.
Wells Fargo Bank
Commonwealth Capital Corp.
Wells Fargo Equipment Finance
Continental Bank
Corporate Leasing Associates
Willis Lease
CSI Leasing
Your Leasing Solution, LLC
Dakota Financial
Zions Credit Corporation
Data Sales Co.,Inc.
Hillcrest Bank Leasing
De Lage Landen US
Dedicated Leasing
Dext Capital
Diablo Capital
Diamond Leasing
Emigrant Business Credit
Exchange Bank Leasing
Farm Credit Leasing Services
Fifth Third Leasing Company
Financial Federal
Financial Pacific Leasing
Financial Pacific Leasing Commercial
Funder List "A"
http://leasingnews.org/Funders_Only/Funders.htm
[headlines]
--------------------------------------------------------------
Help Wanted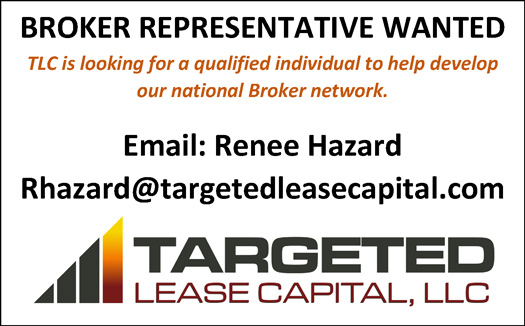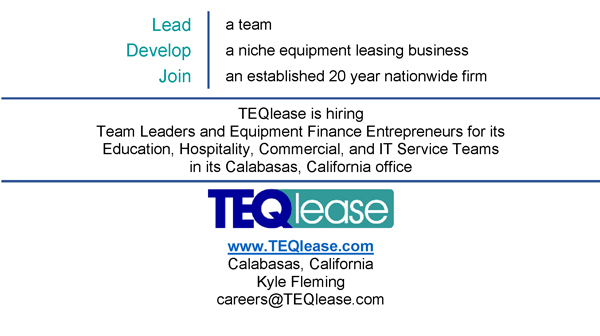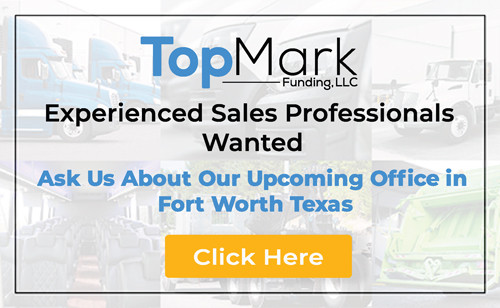 [headlines]
--------------------------------------------------------------
New Hires/Promotions in the Leasing Business
and Related Industries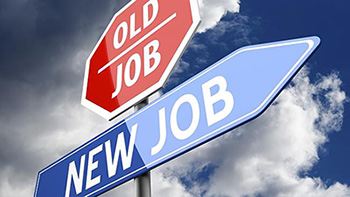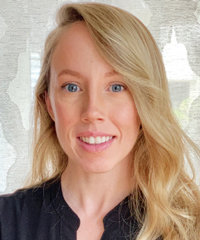 Priscilla A. Gray, CLFP, was hired as Operations Manager, LendSpark, Carlsbad, California. Previously, she was VP of Documentation & Funding, Ford Financial Services, Inc. (January, 2004 - November, 2019); Front Desk Receptionist, Holiday Inn Express Hotel & Suites (July, 2001 - January, 2004). Certifications: CLFP, Issued December, 2018. Education: Escondido High School, Diploma (1997 - 2001). https://www.linkedin.com/in/priscilla-a-gray-clfp-b53920108/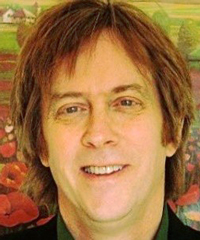 Mark Keehnle was hired as Manager, Strategic Partnerships, US Med Capital, Miami, Florida. He is located Greater Boston Area Previously, he was Principal, Realistic Business Capital, February, 2019; Business Development Manager, Durham Commercial Capital, September, 2012; Business Development Manager, Riviera Finance (April, 2010 - April, 2012): Independent Business Development, Allerton Hill Financial Group (February, 2009 - March, 2010); Sales Manager, Aquent Financial Services (July, 1999 - December, 2009); Leader of New Service research, MacTemps/Aquent (1998 - 2002); Finance Department Manager, MacTemps (1998 - 2002). His career started at Mac Temps, October, 1990 as Credit Manager; promoted April, 1995, Finance Department Manager. Education: D'Amore-McKim School of Business at Northeastern University. Masters, Finance (1994 -1996). Northeastern University, Bachelors Science, Economics (1991 - 1994). Berklee College of Music, Guitar, Voice (1981 - 1983). https://www.linkedin.com/in/markkeehnle/


Michael LaSalle was announced as Senior Vice President, Bank Channel Director for the Equipment Finance Team, Bell Bank Equipment Finance, Fargo, North Dakota. He is located in Minneapolis, Minnesota. He joined the firm August, 2019. "(He)...will serve as liaison with Bell's correspondent bankers and the community banks they work with in 14 states." Previously, Bankers' Bank (February, 2013 - August, 2109). Organizations: Equipment Leasing and Finance Association. Wisconsin Equipment Leasing & Finance Association. Independent Community Bankers Association. Education: University of Minnesota.
https://www.linkedin.com/in/michael-lasalle-309b2666/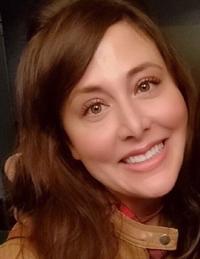 Michelle Moval was promoted to National Account Manager, AP Equipment Finance, Edmonds, Washington. She joined the firm July, 2019, as Account Executive. Previously, she was Merchandiser, Fred Myers (October, 2016 - July, 2019). Licenses and Certifications: Creativity Bootcamp, LinkedIn. Issued January, 2109, No Expiration Date. Digital Media Sales Consultant. YP/YP Marketing Solutions. Education: Orange Coast College, General Studies. https://www.linkedin.com/in/michellemoval3/


[headlines]
--------------------------------------------------------------
The Next Generation of Top Producers
Sales Makes it Happen by Scott Wheeler, CLFP
Young, aggressive originators in the commercial equipment leasing and finance industry are performing extremely well. The industry is robust and new originators are no longer taking years to become top producers for their companies. I have witnessed young originators who, in a matter of months, are opening new relationships with both vendors and end-users. They are aggressively generating high quality applications and approvals.
Many of these originators are excited to be part of a high-performing team. They are quick learners and have the ability to follow defined training programs which outline the objectives, goals, and needed expertise to be effective originators. These younger professionals are well versed in the latest technology and have the skills to effectively use CRM systems, ranking matrices, and other technology to efficiently gather needed information to prospect and close with the "right" clients. These professionals are taking leadership roles within their companies within just a few years and are leading the industry into a stronger future.
Given the proper tools, these younger professionals are willing to connect with, talk directly with, and effectively communicate in person with, top decision makers. They are hungry to maximize their incomes and be part of an industry that offers upward mobility and career advancements.
Many younger originators quickly see the tremendous opportunities that exist in the commercial equipment leasing and finance industry. They are ready to learn all aspects of the business. They are preparing for leadership roles in the near term and are willing to take the necessary steps to learn the ropes from seasoned veterans in the industry.
I challenge seasoned professionals to be a part of the next generation and to mentor the emerging younger talent. (Seasoned veterans can learn from the next generation while sharing their personal past experiences.) I encourage younger professionals to think bolder, take every opportunity to understand every aspect of the industry, and to fully understand the risk and reward propositions within the industry.

The Future is Bright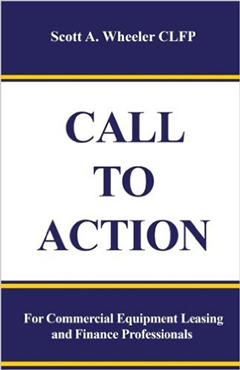 Order via Amazon: https://www.createspace.com/5355516

Scott A. Wheeler, CLFP
Wheeler Business Consulting
1314 Marquis Ct.
Fallston, Maryland 21047
Phone: 410 877 0428
Fax: 410 877 8161
Email: scott@wheelerbusinessconsulting.com
Web: www.wheelerbusinessconsulting.com
Sales Makes it Happen articles:
http://www.leasingnews.org/Legacy/index.html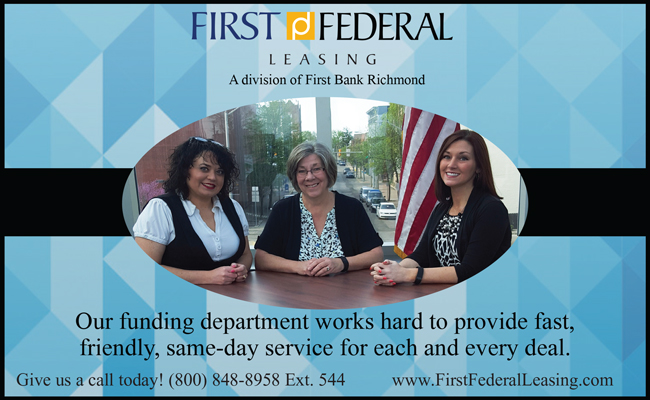 [headlines]
--------------------------------------------------------------
CLFP Companies with Two or More Members
Updated from last Exam…Total Now 824 CLFPs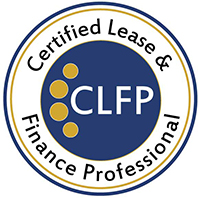 | | |
| --- | --- |
| Company | Count |
| First American Equipment Finance, a City National Bank Company | 124 |
| Stearns Bank NA-Equipment Finance Division | 39 |
| Amur Equipment Finance | 33 |
| Financial Pacific Leasing, Inc., an Umpqua Bank Company | 33 |
| Ascentium Capital LLC | 29 |
| BB&T Commercial Equipment Capital Corp. | 26 |
| U.S. Bank Equipment Finance | 26 |
| AP Equipment Financing | 24 |
| ECS Financial Services, Inc. | 18 |
| KLC Financial, Inc. | 14 |
| Oakmont Capital Services, LLC | 13 |
| International Decision Systems | 12 |
| Ivory Consulting Corporation | 12 |
| Stryker | 12 |
| Arvest Equipment Finance | 11 |
| Canon Financial Services, Inc. | 10 |
| Orion First Financial LLC | 10 |
| BMO Harris Equipment Finance Company | 9 |
| Great American Insurance | 9 |
| Northland Capital Financial Services, LLC | 9 |
| Wintrust Specialty Finance | 9 |
| BancorpSouth Equipment Finance | 8 |
| Beacon Funding Corporation | 7 |
| Celtic Commercial Finance | 7 |
| Tamarack Consulting, Inc. | 7 |
| GreatAmerica Financial Services | 6 |
| The Huntington National Bank | 6 |
| First Foundation Bank | 5 |
| Bank of the West | 4 |
| Commerce Bank | 4 |
| DLL | 4 |
| Marlin Capital Solutions | 4 |
| NCMIC Finance Corporation | 4 |
| Partners Capital Group, Inc. | 4 |
| UniFi Equipment Finance, Inc. | 4 |
| Alliance Funding Group | 3 |
| BSB Leasing, Inc. | 3 |
| First National Capital Corporation | 3 |
| FSG Capital, Inc. | 3 |
| Global Financial & Leasing Services LLC | 3 |
| Hanmi Bank | 3 |
| LTi Technology Solutions | 3 |
| Navitas Credit Corp. | 3 |
| Northpoint Commercial Credit, LLC | 3 |
| Odessa | 3 |
| Providence Capital Funding, Inc. | 3 |
| Quality Leasing Co., Inc. | 3 |
| Taycor Financial | 3 |
| Western Equipment Finance | 3 |
| 360 Equipment Finance | 2 |
| Alliance Capital Corporation | 2 |
| Centra Funding, LLC | 2 |
| CHG-MERIDIAN USA Corp. | 2 |
| Cisco Systems Capital Corporation | 2 |
| Clune & Company LC | 2 |
| ConnectedFi | 2 |
| Crossroads Equipment Lease & Finance LLC | 2 |
| Customers Bank Commercial Finance | 2 |
| Dakota Financial, LLC | 2 |
| Diversified Capital Credit Corporation | 2 |
| ENGS Commercial Finance Co. | 2 |
| Falcon Leasing | 2 |
| Finance Capital | 2 |
| First Utah Bank | 2 |
| Fleet Advantage, LLC | 2 |
| Innovation Finance | 2 |
| Key Equipment Finance | 2 |
| LendSpark | 2 |
| M&T Bank Corporation | 2 |
| Madison Capital, LLC | 2 |
| Maxim Commercial Capital, LLC | 2 |
| NFS Leasing, Inc. | 2 |
| OnPoint Capital, LLC | 2 |
| Pacifica Capital | 2 |
| Padco Financial Services, Inc. | 2 |
| Patriot Capital Corporation a Division of State Bank & Trust Company | 2 |
| Pinnacle Capital Partners, LLC | 2 |
| Provident Equipment Leasing | 2 |
| Smarter Equipment Finance, LLC | 2 |
| TCF Equipment Finance, a division of TCF National Bank | 2 |
| TEQLease, Inc. | 2 |
[headlines]
--------------------------------------------------------------
Classes for Lease & Finance Professionals
Attendance Update: Classes Scheduled plus Mentor Program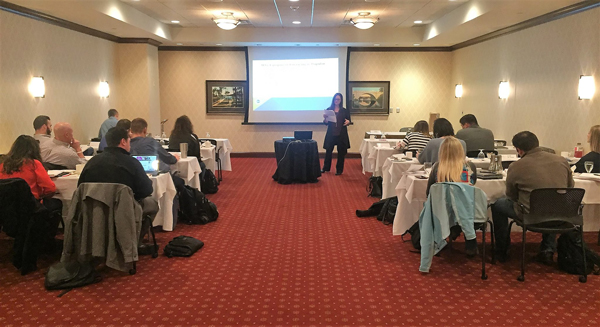 The Academy for Lease & Finance Professionals (ALFP) is a three-day event designed to fully prepare an individual to sit for the CLFP exam assuming the attendee has read and studied The Certified Lease & Finance Professionals' Handbook prior to attending.
On the first two days, all of the required sections of the CLFP exam are covered in-depth. On the third day, the exam is offered, but not mandatory. http://www.clfpfoundation.org/alfp.php
November 14, 2019
Hosted by Odessa
Start: Thursday, November 14
8:00AM (EST)
End: Saturday, November 16
4:00Pm (EST)
Location: Two Liberty Place, 50 S. 16th St.,
Suite 2300, Philadelphia, PA 19102
(For clarity on ease of access, entrance is on 16th Street between Chestnut and Market Streets)
Spaces Left: Sold Out
Registered: 30 Registrants
http://www.clfpfoundation.org/event-3242914

January 9 - 11
Private - Ascentium ALFP
Scottsdale, Arizona
Sold Out

February 06, 2020
Start: Thu, February 06, 2020
8:00am
End: Sat, February 08, 2020
Location: Hosted by Fleet Advantage, LLC.
Class Location: 401 East Las Olas Blvd
Fort Lauderdale, FL
Registered: 17
Spaces left: 20

Recommended Hotels: THE SUPERBOWL IS IN TOWN THE PRIOR WEEKEND. MAKE SURE HOTEL RESERVATIONS ARE MADE NOW!!!! Last-minute room availability will be very challenging.
Both hotels are within a couple of blocks. Car really isn't necessary as there are a lot of restaurants in the area, Starbucks across the street and airport is 10 minutes away.

Riverside Hotel
620 E Las Olas Blvd., Fort Lauderdale, FL 33301
www.riversidehotel.com
(954) 467-0671

Fairfield Inn & Suites, a Marriott Property
30 S Federal Hwy, Fort Lauderdale, FL 33301
https://www.marriott.com/hotels/travel/fllld-fairfield-inn-and-suites-fort-lauderdale-downtown-las-olas/?scid=bb1a189a-fec3-4d19-a255-54ba596febe2
(954) 713-0400

February 11 - 13
Private - 1st Source Bank ALFP
South Bend, Indiana

February 25 -27
Private - Key Bank ALFP
Denver, Colorado

April 23, 2020
8:00AM (CDT)
End: Sat., April 25, 2020
4:00PM (CDT_
Location: Co-hosed by
Arvest Bank and
LTi Technology
Solutions: Class
Location: 9401 W
135th St., Overland
Park, KS (2nd
Floor). Exam
Location: 9300 W.
110th St. Suite 270,
Overland Park, KS
6620
Spaces Left: 6
Register: 14 registrants

Recommended Hotels:
Townplace Suites by Marriott
7020 W. 133rd St.
Overland Park, KS
(913) 851-3100
Holiday Inn Express
7580 W 135th St.
Overland Park, KS
(913) 681-8400

Hampton Inn and Suites
7521 W. 135th Street
Overland Park, KS
(913) 681-6600

MENTOR PROGRAM
The Mentor Program was created to assist candidates in preparing to take the CLFP Exam. The Program is voluntary and is offered at no additional cost to the candidate.

A candidate will be assigned a Mentor upon request following formal application and receipt of fee for the CLFP Exam. Candidates are matched with a mentor who is knowledgeable in areas of the Body of Knowledge of interest to the candidate. Or, the candidate may request a specific individual.

All Mentors hold the CLFP designation and will answer questions about the conduct of the exam, assist the candidate in understanding and interpreting areas of the Body of Knowledge, and generally provide intellectual, experiential and moral support.

Mentors are not instructors or tutors. The candidate is expected to learn the required material on his or her own by studying written materials, by taking available industry courses, and through industry work experience. Mentors will provide clarification and interpretation for subjects the candidate has already studied. For instance, the Mentor will clarify Present Value Theory, but will not teach the Theory.
[headlines]
--------------------------------------------------------------
#### News Release ##############################
Chesswood Announces Results
for the Third Quarter 2019
TORONTO - Chesswood Group Limited ("Chesswood" or the "Company") (CHW.TO) is pleased to announce its results for the third quarter and nine-months ended September 30, 2019. The third quarter was an exceptionally busy time for Chesswood's treasury activities, culminating in October with the renewal of the Company's US$250 million revolving borrowing facility, the renewal of subsidiary Pawnee Leasing's US$250 million warehouse facility and completion of Pawnee Leasing's first marketed securitization transaction in the U.S. for US$254 million of receivables.
Free Cash Flow for the quarter continued to be strong, even after being reduced by Tandem Finance's net expenses from its start-up this year, and higher charge-offs. As well, while the quarter's originations of $100 million increased modestly over the third quarter of last year, October's originations at Pawnee Leasing reached another all-time high while Tandem Finance continues to grow, setting the table for a potentially strong fourth quarter of originations.

Barry Shafran , Chesswood's President and CEO, said, "In our opinion, our Free Cash Flow, a measure which eliminates the impact of non-cash charges and recoveries, results in a clearer view of our operational performance, and is consistent with measurements used by management.
"Chesswood continues to remain focused on maintaining the strategic approach and disciplines we believe will position us to maintain, and even strengthen, our competitive position through what we believe is the later stages of a cycle for our industry. Our markets continue to experience aggressive approaches to credit and pricing decisions by many competitors," added Shafran.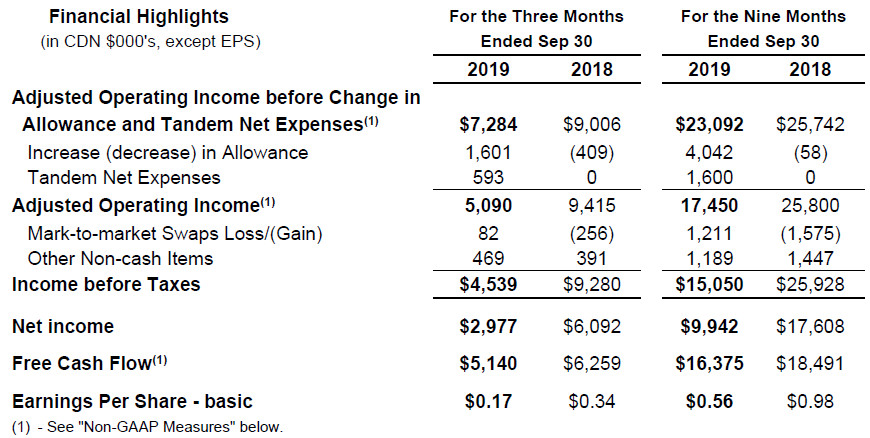 About Chesswood
Through three wholly-owned subsidiaries in the U.S. and Canada , Chesswood Group Limited is North America's only publicly-traded commercial equipment finance company focused on small and medium-sized businesses. Our Colorado -based Pawnee Leasing Corporation, founded in 1982, finances a highly diversified portfolio of commercial equipment leases and loans through relationships with over 600 independent brokers in the U.S. In Canada , Blue Chip Leasing Corporation has been originating and servicing commercial equipment leases and loans since 1996, and today operates through a nationwide network of more than 50 independent brokers. Located in Houston, Texas, Tandem Finance Inc. provides equipment financing to small and medium-sized businesses in the U.S. through the equipment vendor channel. Based in Toronto, Canada, Chesswood's shares trade on the Toronto Stock Exchange under the symbol CHW.
Learn more at: www.Chesswoodgroup.com www.PawneeLeasing.com www.BlueChipLeasing.com and www.TandemFinance.com
#### Press Release ##############################

[headlines]
--------------------------------------------------------------
#### Press Release ##############################
Federal Judge Rules OCC Lacks Authority
to Create National Fintech Charter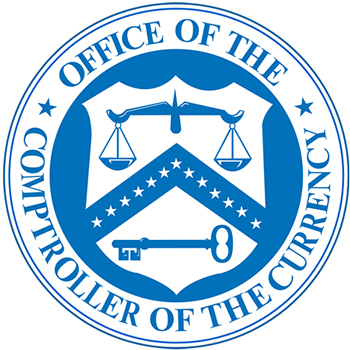 In a lawsuit brought by the New York Department of Financial Services, the U.S. District Court for the Southern District of New York has ruled that the Office of the Comptroller of the Currency (OCC) lacks the authority to create a federal nonbank charter.
On October 21, Judge Victor Marrero said in his decision that the National Bank Act's "business of banking" clause "unambiguously requires that, absent a statutory provision to the contrary, only depository institutions are eligible to receive national bank charters from the OCC."
##### Press Release #############################

[headlines]
--------------------------------------------------------------
##### Press Release #############################
DBO Forms Cannabis Banking Task Force
First Meeting November 20, DBO's Sacramento Office
The DBO on October 22 announced the formation of the Cannabis Banking Task Force (CBTF) to bring together regulators, banks and credit unions to answer the question: How can an existing DBO licensee bank a cannabis-related business in an environment of conflicting state and federal laws and be safe and sound? The task force's goal is to identify solutions for existing DBO licensees to engage in banking cannabis-related businesses.
The first meeting of the task force, scheduled to run from 10 a.m. to 3 p.m. November 20 at the DBO's Sacramento office, will include representatives of California cannabis licensing authorities who will discuss their licensing operations and related information available to DBO licensees.
DBO Main Office
1515 K Street, Suite 200
Sacramento, CA 95814-4052
(916) 445-7205
(866) 275-2677

##### Press Release ############################



[headlines]
--------------------------------------------------------------
##### Press Release ############################
Attorney General James' Statement on
Decision in 3D-Printed Guns Lawsuit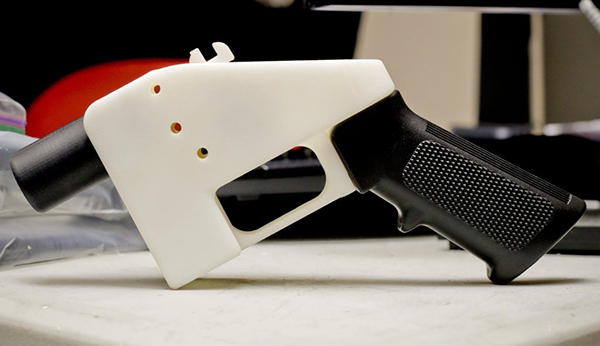 NEW YORK — Attorney General Letitia James today released the following statement regarding a federal judge's ruling that the Trump Administration violated federal law in its action allowing for 3D-printed gun files to be release on the internet:
"This ruling is a vindication of sound decision-making on matters that would have a profound impact on public safety. Without question, the release of step-by-step instructions for the production of untraceable and undetectable firearms would threaten the safety of not only our nation's residents, but people around the globe. The court ultimately found the Trump Administration acted arbitrarily and capriciously when it determined to move forward with such a plan, and we completely agree."
### Press Release ############################

[headlines]
--------------------------------------------------------------
Fernando's View
By Fernando F. Croce
An incisive drama ("Marriage Story") and a lyrical biopic ("Harriet") come to theaters, while DVD releases offer lusty laughs ("Good Boys"), imaginative frights ("Scary Stories to Tell in the Dark"), and a charming indie ("The Daytrippers").

In theaters: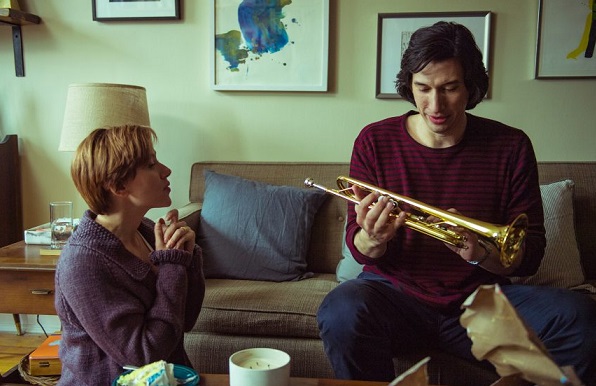 Marriage Story (Netflix): Director Noah Baumbach ("Frances Ha") scores his most critically acclaimed film yet with this personal, emotionally charged drama about the harrowing end of a marriage. Former actress Nicole (Scarlett Johansson) and theater director Charlie (Adam Driver), once happily married, have grown apart and are now going through divorce while heading to opposite sides of the country. She takes their young son (Azhy Robertson) to California and sets up with a shrewd lawyer (Laura Dern), while he stays in New York and alternates with attorneys both gentle (Alan Alda) and ferocious (Ray Liotta). With each side digging into the other's pain, the emotional war is afoot. Inviting comparison to classic dramas like "Kramer vs. Kramer," Baumbach's painfully incisive, cruelly humorous, and marvelously acted film brims with compassion.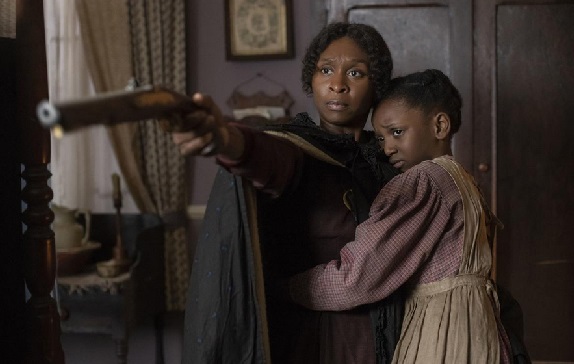 Harriet (Focus Features): Legendary abolitionist Harriet Tubman gets the uplifting biopic treatment in this long-awaited, historical drama from talented director Kasi Lemmons ("Eve's Bayou"). Cynthia Erivo delivers a compelling performance in the title role, first seen in the mid-1800s as a young slave who's convinced that her spells and trances are a divine sign of the things the future has in store for her. Having escaped bondage, she sets out to help other slaves by leading them to freedom in the Underground Railroad. Coming across key period figures such as Frederick Douglass and John Brown, Harriet also finds strength in her friendship with a boarding house owner (Janelle Monáe). Enriching conventional tropes with lyrical humanism, Lemmons turns a potential cinematic lecture into a stirring peek into an extraordinary woman's soul.

Nextflix: A character actor who could always be counted to inject hilarity in his roles, John Witherspoon (1942-2019) stole scenes and delivered laughs onscreen for decades. So check out Netflix for his best films, which include "Hollywood Shuffle" (1987), "Friday" (1995) and "Bulworth" (1998).

On DVD: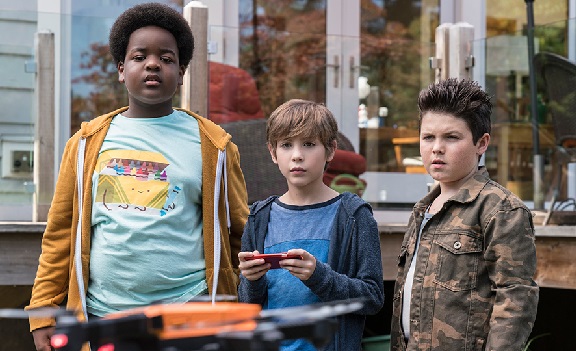 Good Boys (Universal Pictures): The raunchy-sweet spirit of "Superbad" hovers over this rollicking coming-of-age comedy, which marks the directorial debut of seasoned writer Gene Stupnitsky ("The Office"). At the onset of the hormonal minefield that is adolescence, 12-year-old Max (Jacob Tremblay) gets invited to what he hopes will be a "kissing party" attended by his crush (Millie Davis). Eager to try but terribly inexperienced, he asks for the help of his friends Lucas (Keith L. Williams) and Thor (Brady Noon) with figuring out the mystery of girls. Instead, the boys end up losing the drone belonging to Max's father and having to scramble to find a replacement before party time. Foul-mouthed and scatological yet also emotional and charming, the film aims for big laughs and for the most part scores.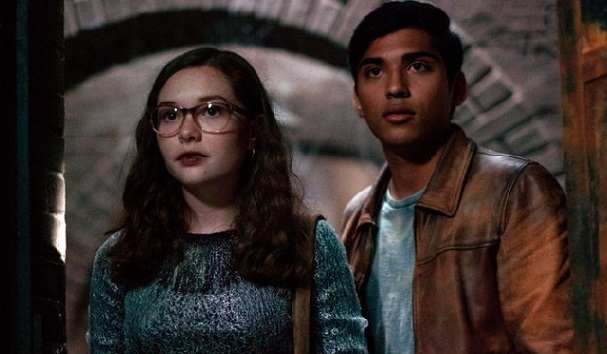 Scary Stories to Tell in the Dark (Lionsgate): Halloween may be over, but the fright ride continues this enjoyable version of Alvin Schwartz's children's horror stories. Set in 1968 Pennsylvania, the three-part story finds horror aficionado Stella (Zoe Margaret Colleti) and her friends, Auggie (Gabriel Rush) and Chuck (Austin Zajur), touring a supposedly haunted mansion with the help of a drifter named Ramon (Michael Garza). Faced with a series of spooky tales belonging to a certain Sarah Bellows (Kathleen Pollard), the gang discovers the thin line between fictitious and real fright as scarecrows and zombies come their way. Though a veteran of intense thrillers, director André Øvredal ("The Autopsy of Jane Doe") handles the material with a stylish yet light hand, serving up a winning, bittersweet ode to innocence and macabre imagination.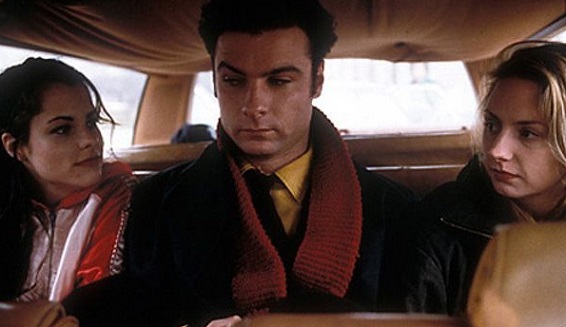 The Daytrippers (Criterion): Writer-director Greg Mottola ("Adventureland") made his debut with this charming indie comedy from 1996, set in New York City over the course of one day. Eliza (Hope Davis) and Louis (Stanley Tucci) live happily married, until one day she stumbles upon a mysterious love letter. Afraid that he's having an affair, Eliza takes the matter over to her brassy mother (Anne Meara), whose solution is to pack the whole family into a station wagon and track down Louis. So off they go, with her father (Pat McNamara), eccentric sister (Parker Posey), and pompous friend (Liev Schreiber) along for the ride. Deceptively modest in its scope, Mottola's film benefits from his deft touch and from the spirited ensemble cast, building to a satisfying romantic twist.
[headlines]
--------------------------------------------------------------
Rottweiller Mix
Sacramento, California Adopt a Dog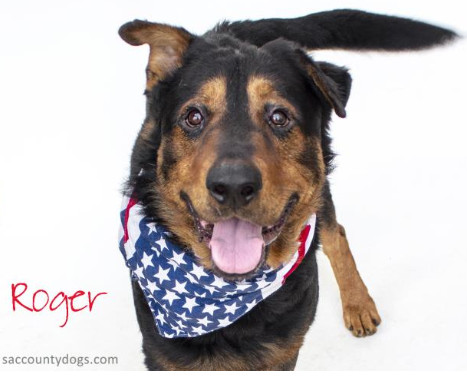 *ROGER - ID#A753623
Shelter staff named me ROGER.
I am a neutered male, black and tan Rottweiler mix.
The shelter staff think I am about 3 years old.
I weigh approximately 70.00 pounds.
I have been at the shelter since Aug 15, 2019.
Shelter Staff made the following comments about this animal:
Visit Roger's webpage http://saccountydogs.com/2019/01/02/roger/ for more photos and more!
Animal ID#: A753623
Dog Name: Roger
Dog Sex: Male
Approximate Age: 3 years
Dog Size: L
A Little About Me: I was made to please my people. I am one smart cookie and I really enjoy learning and working for treats! I would love a home looking for a dog that wants to be by their side, a loyal smart and very handsome boy. I am affectionate but totally down to sit by your side majestically as nothing makes me more proud than to be side by side with my people. Come and meet me today and please get me out of my kennel, I am not a happy guy when in my kennel, I belong in a home, asap!
I do not participate in shelter playgroups and would like to be your one and only canine pal in a home
Walk Rating: Dog walks well with a gentle leader
Snuggle Rating: Is ok sitting by your side rather than your lap
Type of Learner: Thrives on mental stimulation
Energy Level : Medium energy blend, needs some play prior to relaxation
Manner Level: I enjoy meeting new people and do so in a calm manner
My motivation is: Treat motivated
Known Skills: Sit, Watch Me
Personality: Smart cookie, eager to please
SSPA offers adoption counseling via email for large-breed dogs at sacramentocountydogs@gmail.com. To learn more, visit our adoption page, and to get started, fill out our adoption application and email it to us. Also, be sure to like us on Facebook!
For more information about this animal, call:
Sacramento County Animal Care and Regulation at (916) 368-7387
Ask for information about animal ID number A753623
Sacrmento County Dog Shleter
3839 Bradshaw Road, Sacramento
CA 95827
(1 mile south of Hwy 50 between Goethe and Kiefer)
​Shelter Hours:
Tu & Th 12:30-6:30 p.m.
W & F 12:30-5:30 p.m.
Sa-Su No​on-4:30 p.m.​
Closed Mondays and most holidays
General Information: (916) 368-7387 (PETS)
Live operators available M-F, 7 a.m.-7 p.m.
e-mail: CountyAnimalCare@SacCounty.net
**Contact for current adoption specials
[headlines]
--------------------------------------------------------------
Leasing News Policy Statement

Fairness and unbiased reporting always.
We will question any information we think is suspicious. We will try to substantiate it by contacting at least two reliable and unbiased people.
It is the editor's sole discretion as to what is printed. If an opinion or viewpoint is expressed, the writer or writers will be named in the byline of the article, unless anonymity is requested.
Major corrections will be posted in the next earliest edition at the beginning of the news edition, highlighted in bold, and in the current "online" news edition as early as possible. Typographical errors such as wrong dates and name corrections will be corrected online when noticed by the editor or reader(s), and if necessary, as determined by the editor, may be noted in the next edition as a "Clarification" or "Correction."
All press releases will be marked proceeding and after with #### Press Release #### to note the article did not originate at Leasing News.
All articles from The Leasing News may be reprinted with proper attribution. Copyrighted cartoons and other content may not be reprinted if it is noted that they originated in another medium. Permission to reprint those may come only from the copyright owner.
All advertising traded for writing or for support will be so noted below the advertising.
Leasing News follows "The Associated Press Stylebook and Briefing on Media Law" by Perseus Publishing, Cambridge, Massachusetts and "The Elements of Style" by William Strunk, Jr. and E.B. White, MacMillan Publishing, Co., Inc.
To be added to the mailing list, you must request it. We do not share our mailing list with anyone.
We follow Internet Netiquette at all times. Our sole purpose is to provide communication to improve the industry.
Christopher Menkin, editor
[headlines]
--------------------------------------------------------------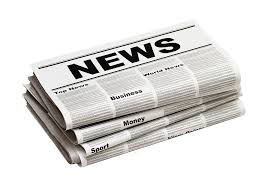 News Briefs----
U.S. Bancorp gets approval for additional
$2.5 Billion buyback
https://seekingalpha.com/news/3518663-u-s-bancorp-gets-approval-additional-2_5b-buyback
The Surprise Big Winner From GE's Earnings Report
Nasdaq
https://www.nasdaq.com/articles/the-surprise-big-winner-from-ges-earnings-report-2019-11-13
'Venice Is On Its Knees': Mayor Blames Worst Tides
In 50 Years on Climate Change
https://www.npr.org/2019/11/13/778812333/venice-is-on-its-knees-mayor-blames-worst-tides-in-50-years-on-climate-change
Is the Boeing 737 Max safe? 2 big reasons
the plane is still grounded by FAA after crashes
https://www.usatoday.com/story/news/nation/2019/11/12/faa-boeing-737-max-update-grounded-crash/2524603001/
Berkeley Farms owner files for Chapter 11
Bankruptcy protection
https://www.mercurynews.com/2019/11/12/berkeley-farms-owner-files-for-chapter-11-bankruptcy-protection/
Hackers Receive $500,000 in One Week via Bugcrowd
Find Many Hacks and Receive Awards
https://www.securityweek.com/hackers-receive-500000-one-week-bugcrowd
Subway Names Former Burger King Leader CEO
No Permanent CEO since June, 2018
https://www.qsrmagazine.com/fast-food/subway-names-former-burger-king-leader-ceo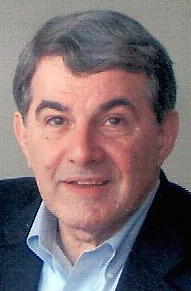 Assure the quality of your communication content…grammar, spelling, syntax, punctuation…hire an expert.
Whether website content, business or technical writings, take advantage of over forty years executive writing, proofreading and editing in the EFL industry…with the reader's time and comprehension in focus.

Ralph P. Mango
ralphmango@hotmail.com
Associate Editor Leasing News, responsible for proofreading and editing each news edition, as well as contributing content.



[headlines]
--------------------------------------------------------------


You May Have Missed---
These are the 10 sports cars that have the
best resale value 5 years after purchase
https://www.businessinsider.com/sports-cars-with-the-best-resale-value-years-after-purchase-2019-11
[headlines]
--------------------------------------------------------------
If you think you are beaten, you are.
If you think you dare not, you don't.
If you think you'd like to win, but you think you can't,
it's almost certain you won't.
If you think you'll lose, you've lost.
For out in the world you'll find,
success begins with a fellow's will.
It's all in the state of mind.
If you think you're outclassed, you are
You've got to think high to rise.
You've got to be sure of yourself,
before you can ever win a prize.
Life's battles don't always go,
to the stronger or faster man.
But sooner or later the man who wins,
is the man who thinks he can.

― Walter D. Wintle
[headlines]
--------------------------------------------------------------
U.S. Women's National Soccer Team wins
class certification in Equal Pay fight
https://www.natlawreview.com/article/us-women-s-national-soccer-team-wins-class-certification-equal-pay-fight
Farhan Zaidi addresses controversy around
hiring Gabe Kapler as new Giants manager
https://www.sfgate.com/giants/article/gabe-kapler-farhan-zaidi-giants-manager-14832182.php
Mets' Jacob deGrom wins second straight NL Cy Young
https://nypost.com/2019/11/13/mets-jacob-degrom-wins-second-straight-nl-cy-young/
Colin Kaepernick's NFL workout 'feels like a PR stunt,'
ex-teammate Eric Reid says
https://www.usatoday.com/story/sports/nfl/2019/11/13/colin-kaepernick-nfl-workout-eric-reid/4183196002/
Opinion: Rams are paying the true price
of their $134 million investment in QB Jared Goff
https://www.usatoday.com/story/sports/nfl/columnist/bell/2019/11/11/jared-goff-los-angeles-rams-extension-sean-mcvay/2567650001/
The Warriors Are in Last Place. You Read That Right.
https://www.nytimes.com/2019/11/13/sports/basketball/golden-state-warriors-kerr.html?action=click&module=Features&pgtype=Homepage
[headlines]
--------------------------------------------------------------


California Nuts Briefs---

California utilities commission votes 5-0 for investigation
of planned blackouts by PG&E, others
https://www.sacbee.com/news/local/article237327714.html?
Truckers sue California, say new gig economy law
would kill 70,000 jobs
https://www.foxbusiness.com/money/truckers-sue-california-say-new-gig-economy-law-would-kill-70000-jobs
'PG&E Can Make Or Break Us'
Say Struggling Sonoma County Restaurateurs
https://www.sonomamag.com/pge-can-make-or-break-us-say-struggling-sonoma-county-restaurateurs/

[headlines]
--------------------------------------------------------------



"Gimme that Wine"

http://www.youtube.com/watch?v=EJnQoi8DSE8
Alexander Valley Winegrowers Respond
to the Minimal Effects Caused by Kincade Fire
https://www.winebusiness.com/news/?go=getArticle&dataId=222248
No, the Kincade Fire Didn't Level Sonoma County.
So Go Visit!
https://www.afar.com/magazine/no-the-kincade-fire-didnt-level-sonoma-county-so-go-visit?fbclid=IwAR2BqjB96Tytrb-25WjCZA3mP-ibxslGvLPY_rfJ8Mq2lYbVnP1URm_B660
Oregon Wine Auction Raises More than
One Million Dollars for Vineyard Worker Healthcare
https://www.winebusiness.com/news/?go=getArticle&dataId=222341
Missouri Wine Pioneer Jim Held Dies
https://www.winebusiness.com/news/?go=getArticle&dataId=222264
Free Wine App
https://www.nataliemaclean.com/mobileapp/

Wine Prices by vintage
http://www.winezap.com
http://www.wine-searcher.com/
US/International Wine Events
http://www.localwineevents.com/
Leasing News Wine & Spirits Page
http://two.leasingnews.org/Recommendations/wnensprts.htm
[headlines]
----------------------------------------------------------------
This Day in History
1732-The Library Company of Philadelphia signed a contract with its first librarian. Founded by Benjamin Franklin and friends in November 1731, the library enrolled members for a fee of 40 shillings but had to wait for its books to arrive from England before beginning full operation.
1784-Samuel Seabury, 55, was consecrated Bishop of Connecticut and Rhode Island, the first bishop of the American Protestant Episcopal Church, and the first Anglican bishop in America.
1803 -- American author Jacob Abbott born Hallowell, Maine.Abbott wrote the first fictional series for children, introducing many of the key types and techniques of series books, popularizing the genre virtually single-handedly, and wrote some of the earliest American juveniles deserving of the term "children's literature"
http://www.readseries.com/auth-a/ab-bio.html
http://www.merrycoz.org/bib/ABBOTT.HTM
1832 - The first horse car (a streetcar drawn by horses) was displayed in New York City. The vehicle had room for 30 people in three compartments. The new service traveled Fourth Avenue between Prince and Fourteenth Streets.
1851 - "Call me Ishmael. Some years ago -- never mind how long precisely -- having little or no money in my purse, and nothing particular to interest me on shore, I thought I would sail about a little and see the watery part of the world..." Thus begins Herman Melville's book "Moby-Dick; or, The Whale", which was first published in New York City by Harper & Brothers on this day. The complex, but rousing sea story tells the tale of a sea captain's search for Moby Dick, the great white whale that had once crippled him. The story is told by sailor-narrator Ishmael. Through the pages of "Moby Dick", we meet Ishmael's bunkmate Queequeg, a whale harpooner from Polynesia; learn everything there is to know about whaling in the nineteenth century; and, of course, about Captain Ahab and his obsession with Moby Dick. In 1846, he published his first novel, Typee, based on his Polynesian adventures. His second book, Omoo (1847), also dealt with the South Seas. The two novels became popular, although his third, Mardi (1849), more experimental in nature, failed to catch on with the public. Melville bought a farm near Nathaniel Hawthorne's house in Massachusetts, and the two became close friends, although they later drifted apart. Melville wrote for journals and continued to publish novels. Moby Dick was coolly received, but his short stories were highly acclaimed. Putnam's Monthly published "Bartleby the Scrivener" in 1853 and "Benito Cereno" in 1855. In 1866, Melville won appointment as a customs inspector in New York, which brought him a stable income. He published several volumes of poetry. He continued to write until his death in 1891, and his last novel, Billy Budd, was not published until 1924.
1882-Gunslinger Franklin "Buckskin" Leslie shoots the Billy "The Kid" Claiborne dead in the streets of Tombstone, Arizona. (The name of one of Aaron Copland's work, who's birthday is today-1900)The town of Tombstone is best known today as the site of the infamous shootout at the O.K. Corral. In the 1880s, however, Tombstone was home to many gunmen who never achieved the enduring fame of Wyatt Earp or Doc Holliday. Franklin "Buckskin" Leslie was one of the most notorious of these largely forgotten outlaws. There are few surviving details about Leslie's early life. The first historical evidence of Leslie's life emerges in 1877, when he became a scout in Arizona. A few years later, Leslie was attracted to the moneymaking opportunities of the booming mining town of Tombstone, where he opened the Cosmopolitan Hotel in 1880. That same year he killed a man named Mike Killeen during a quarrel over Killeen's wife, and he married the woman shortly thereafter. Leslie's reputation as a cold-blooded killer brought him trouble after his drinking companion and fellow gunman John Ringo was found dead in July 1882. Some Tombstone citizens, including a young friend of Ringo's named Billy "The Kid" Claiborne, were convinced that Leslie had murdered Ringo, though they could not prove it. Probably seeking vengeance and the notoriety that would come from shooting a famous gunslinger, Claiborne unwisely decided to publicly challenge Leslie, who shot him dead. The remainder of Leslie's life was equally violent and senseless. After divorcing Killeen in 1887, he took up with a Tombstone prostitute, whom he murdered several years later during a drunken rage. Even by the loose standards of frontier law in Tombstone, the murder of an unarmed woman was unacceptable, and Leslie served nearly 10 years in prison before he was paroled in 1896. After his release, he married again and worked a variety of odd jobs around the West. He reportedly made a small fortune in the gold fields of the Klondike region before he disappeared forever from the historical record.
1861 -- Historian Frederick Jackson Turner
(The Frontier in American History) born Portage, Wisconsin.
http://www.bgsu.edu/departments/acs/1890s/turner/turner.html
http://www.pbs.org/weta/thewest/people/s_z/turner.htm
1900- birthday of American composer Aaron Copland , born at Brooklyn, NY. Incorporating American folk music and, later, the 12-tone system, he strove to create an American music style that was both popular and artistic. He composed ballets, film scores and orchestral works including Fanfare for the Common Man (1942), Appalachian Spring (1944) (for which he won the Pulitzer Prize) and the score for The Heiress (1948) (for which he won an Oscar) and "Billy the Kid."
He died Dec 2, 1990, at North Tarrytown, NY.
http://memory.loc.gov/ammem/today/nov14.html
1900-Ban Johnson, president of the minor Western League, announced his intention to upgrade its status to a major league and to change its name to the American League.
1903- The first football game was played in the first football stadium, Harvard Stadium, Cambridge, MA. It was specifically build for football, made of concrete and the largest steel re-enforced concrete structure in the world at the time of construction. The stadium had a seating capacity of 40,000.
1904 - Art Hodes Birthday
http://www.amazon.com/exec/obidos/ISBN%3D0252017536/107-7460879-4591723
1906 -- Actress Louise Brooks born Cherryvale, Kansas. She is the fourth most written about actress (in terms of major magazine articles) after Clara Bow, Joan Crawford and Colleen Moore.
http://www.pandorasbox.com/
1917- Storyville, also known as the District, New Orleans's red-light district, a series of honky-tonks and sporting house, was shut down by the U.S. Navy The closing tended to drive jazz musicians out of New Orleans, up the river, including the Original Dixieland Jass Band that opened at Reisenweber's Restaurant in New York City. In this year, the group made the first jazz recording, including " Tiger Rag," "Barnyard Blues, " Clarinet Marmalade, ": At the Jazz Band Ball, and "Reisenweber Rag."
1919-Birthday of Constance Frances Marie Ockleman, later known as Veronica Lake, born in Brooklyn, N.Y. Lake began appearing in films under the name Constance Keane in 1939; in 1941, she changed her name and was soon a major Hollywood draw, frequently starring opposite Alan Ladd in films like This Gun for Hire (1942), The Glass Key (1942), and The Blue Dahlia (1946). Her career took a nosedive in the late 1940s and early 1950s. She and her husband, director Andre de Toth, filed for bankruptcy. Lake stopped acting and allegedly drank heavily. In the 1960s, a reporter discovered her working at a hotel bar in New York. She later began acting again in small roles and published an autobiography in 1969. She died of hepatitis in 1973.
1934-Birthday of pianist Ellis Marsalis, New Orleans, LA
http://www.nathanielturner.com/ellismarsalis.htm
http://www.louisianamusic.org/ELMBioandDiscog.html
1934-Under the direction of Leopold Stokowski, who was conducting the Philadelphia Orchestra at the Academy of Music, Philadelphia, PA, the symphony No. 1, known as the Negro Folk Symphony, composed by the African-American conductor William Levi Dawson was presented.
http://www.africanpubs.com/Apps/bios/0759DawsonWilliam.asp?pic=none
1935 - President Roosevelt proclaimed the Philippine Islands a free commonwealth. Manuel Luis Quezon was sworn in as the first Filipino president, as the Commonwealth of Philippines was inaugurated.
1942 - Off the coast of Guadalcanal, Admiral Tanaka turns south with his destroyers and transports and comes under heavy air attack from both Henderson Field and planes from the USS Enterprise. Seven of the transports and two warships are lost. He continues his advance throughout the night and manages to sail his remaining transports to Tassafaronga. However, more of the Japanese troops are killed by air attack while disembarking. Meanwhile, the second battle of Guadalcanal gets underway shortly before midnight. The Japanese covering force supporting the convoy, led by Admiral Kondo ( with the battleship Kirishima, four cruisers and nine destroyers), encounters US Task Force 64, under the command of Admiral Lee ( with the battleships Washington and South Dakota and four destroyers). The battle begins with damage to the South Dakota. It is forced from the battle. A seven minute burst of fire from the USS Washington sinks the Kirishima. Control of the seas around Guadalcanal is passing to the Americans. Supply problems are mounting for the Japanese, who will now be forced to make considerable use of submarines to transport supplies. Already many of the Japanese troops are ill and hungry.
1942---BAUER, HAROLD WILLIAM Medal of Honor
Rank and organization: Lieutenant Colonel, U.S. Marine Corps. Born: 20 November 1908. Woodruff, Kans. Appointed from: Nebraska. Citation: For extraordinary heroism and conspicuous courage as Squadron Commander of Marine Fighting Squadron 212 in the South Pacific Area during the period 10 May to 14 November 1942. Volunteering to pilot a fighter plane in defense of our positions on Guadalcanal, Lt. Col. Bauer participated in 2 air battles against enemy bombers and fighters outnumbering our force more than 2 to 1, boldly engaged the enemy and destroyed 1 Japanese bomber in the engagement of 28 September and shot down 4 enemy fighter planes in flames on 3 October, leaving a fifth smoking badly. After successfully leading 26 planes on an over-water ferry flight of more than 600 miles on 16 October, Lt. Col. Bauer, while circling to land, sighted a squadron of enemy planes attacking the U.S.S. McFarland. Undaunted by the formidable opposition and with valor above and beyond the call of duty, he engaged the entire squadron and, although alone and his fuel supply nearly exhausted, fought his plane so brilliantly that 4 of the Japanese planes were destroyed before he was forced down by lack of fuel. His intrepid fighting spirit and distinctive ability as a leader and an airman, exemplified in his splendid record of combat achievement, were vital factors in the successful operations in the South Pacific Area.
1943 -- During World War II, President Franklin D. Roosevelt, Secretary of State Cordell Hull, and all of America's top military brass, narrowly escape disaster aboard the U.S. battleship Iowa, when a live torpedo is accidentally fired at them from a U.S. destroyer. To demonstrate to the president the defensive abilities of the Iowa, the battleship launches a series of weather balloons to use as anti-aircraft targets. Men on the nearby destroyer William D. Porter, under Captain Jesse Walker, are ordered to battle stations and begin shooting down the balloons that the Iowa had missed. Better yet, a simulated torpedo firing was ordered, and the torpedo room obliged. Unfortunately, torpedoer Lawton Dawson neglected to disarm torpedo tube #3, and an armed torpedo was fired at the Iowa. The Iowa rapidly began evasive maneuvers, as all guns were turned on the Porter. Word of the firing reached Roosevelt, who asked that his wheelchair be moved to the ship's railing so that he could watch the torpedo's approach. It exploded behind the ship's massive wake. The Porter is ordered to return to Bermuda, and Captain Walker and the entire crew are arrested by a force of Marines upon docking. President Roosevelt intervened and the ship was kidded throughout the fleet with signs saying, "Don't Shoot, We're Republicans." On 10 June 1945, the Porter's hard luck finally ran out. She was sunk by a plane which had (unintentionally) attacked underwater. A Japanese bomber almost made entirely of wood and canvas slipped through the Navy's defense. Having little in the way of metal surfaces, the plane didn't register on radar. A fully loaded kamikaze, it was headed for a ship near the Porter, but just at the last moment veered away and crashed along side the unlucky destroyer. There was a sigh of relief as the plane sunk out of sight, but then it blew up underneath the Porter, opening her hull in the worst possible location. Three hours later, after the last man was off board, the Captain jumped to the safety of a rescue vessel and the ship that almost changed world history slipped astern into 2400 feet of water. Not a single soul was lost in the sinking. After everything else that happened, it was almost as if the ship decided to let her crew off at the end.
http://bobrosssr.tripod.com/porterstory.html
1943-Sid Luckman of the Chicago Bears became the first professional quarterback to pass for more than 400 yards in a single game, throwing for 433 yards and seven touchdowns as the Bears walloped the New York Giants, 56-7.
1944 - An outstanding array of musicians gathered in Hollywood to record a classic. Tommy Dorsey and orchestra made "Opus No. 1", Victor record number 20-1608. Buddy Rich was the drummer in the session, Buddy DeFranco on sac and clarinet, and Nelson Riddle played trombone on the Sy Oliver arrangement.
1944-Birthday of pianist George Cables, Brooklyn, NY.
1945---Top Hits
It's Been a Long, Long Time - The Harry James Orchestra (vocal: Kitty Kallen)
Till the End of Time - Perry Como
I'll Buy that Dream - The Pied Pipers
With Tears in My Eyes - Wesley Tuttle
1953---Top Hits
Ebb Tide - The Frank Chacksfield Orchestra
Rags to Riches - Tony Bennett
Many Times - Eddie Fisher
There Stands the Glass - Webb Pierce
1954-Birthday of Condoleezza Rice, US National Security Adviser to President George Bush, Birmingham, AL.
1954-Birthday of new age composer Yanni, born Yanni Chrysomalis, Kalamata,
Greece. He made a big hit of musical cd's sold via television commercials.
1957 -- Twenty underworld kingpins stage "Crime Convention" in Appalachia, New York
1959 - The eruption of Kilauea Iki Crater (Nov 14-Dec 20, 1959) on the Big Island of Hawaii was a relatively brief event, but produced some of Kilauea's most spectacular lava fountains of the 20th century. (The current Pu`u `O`o-Kupaianaha eruption of Kilauea began in 1983).
1960--- Elvis Presley's latest single, "It's Now or Never," sells 780,000 copies in the UK during its first week of release, making it the fastest-selling song in the country's history.
1960--- Drummer Cozy Cole of "Topsy" fame is sent by the US State Department on a 20-week goodwill tour of Africa
1960- Ray Charles' "Georgia on My Mind" hits #1
1961---Top Hits
Big Bad John - Jimmy Dean
Fool #1 - Brenda Lee
Tower of Strength - Gene McDaniels
Walk on By - Leroy Van Dyke
1961 - The Elvis Presley film ``Blue Hawaii'' premieres.
1961 - President Kennedy increased the number of American advisors in Vietnam from 1,000 to 16,000.
1964 - Gordie Howe of the Detroit Red Wings set a National Hockey League record as he scored his 627th career goal in a game against Montreal.
1964 - With the help of a fresh three inch cover of snow, the temperature at Ely, NV, dipped to 15 degrees below zero to establish an all-time record low for the month of November. That record of -15 degrees was later equaled on the 19th of November in 1985.
1965--CAPTAIN ED W. FREEMAN Medal of Honor
United States Army; for conspicuous gallantry and intrepidity at the risk of his life above and beyond the call of duty: Captain Ed W. Freeman, United States Army, distinguished himself by numerous acts of conspicuous gallantry and extraordinary intrepidity on 14 November 1965 while serving with Company A, 229th Assault Helicopter Battalion, 1st Cavalry Division (Airmobile). As a flight leader and second in command of a 16-helicopter lift unit, he supported a heavily engaged American infantry battalion at Landing Zone X-Ray in the Ia Drang Valley, Republic of Vietnam. The unit was almost out of ammunition after taking some of the heaviest casualties of the war, fighting off a relentless attack from a highly motivated, heavily armed enemy force. When the infantry commander closed the helicopter landing zone due to intense direct enemy fire, Captain Freeman risked his own life by flying his unarmed helicopter through a gauntlet of enemy fire time after time, delivering critically needed ammunition, water and medical supplies to the besieged battalion. His flights had a direct impact on the battle's outcome by providing the engaged units with timely supplies of ammunition critical to their survival, without which they would almost surely have gone down, with much greater loss of life. After medical evacuation helicopters refused to fly into the area due to intense enemy fire, Captain Freeman flew 14 separate rescue missions, providing life-saving evacuation of an estimated 30 seriously wounded soldiers -- some of whom would not have survived had he not acted. All flights were made into a small emergency landing zone within 100 to 200 meters of the defensive perimeter where heavily committed units were perilously holding off the attacking elements. Captain Freeman's selfless acts of great valor, extraordinary perseverance and intrepidity were far above and beyond the call of duty or mission and set a superb example of leadership and courage for all of his peers. Captain Freeman's extraordinary heroism and devotion to duty are in keeping with the highest traditions of military service and reflect great credit upon himself, his unit and the United States Army.
1965-MARM, WALTER JOSEPH, JR. Medal of Honor
Rank and organization: First Lieutenant (then 2d Lt.), U.S. Army, Company A, 1st Battalion, 7th Cavalry, 1st Cavalry Division (Airmobile). place and date: Vicinity of la Drang Valley, Republic of Vietnam, 14 November 1965. Entered service at: Pittsburgh, Pa. Born: 20 November 1941, Washington, pa. G.O. No.: 7, 15 February 1967. Citation: For conspicuous gallantry and intrepidity at the risk of life above and beyond the call of duty. As a platoon leader in the 1st Cavalry Division (Airmobile), 1st Lt. Marm demonstrated indomitable courage during a combat operation. His company was moving through the valley to relieve a friendly unit surrounded by an enemy force of estimated regimental size. 1st Lt. Marm led his platoon through withering fire until they were finally forced to take cover. Realizing that his platoon could not hold very long, and seeing four enemy soldiers moving into his position, he moved quickly under heavy fire and annihilated all 4. Then, seeing that his platoon was receiving intense fire from a concealed machine gun, he deliberately exposed himself to draw its fire. Thus locating its position, he attempted to destroy it with an antitank weapon. Although he inflicted casualties, the weapon did not silence the enemy fire. Quickly, disregarding the intense fire directed on him and his platoon, he charged 30 meters across open ground, and hurled grenades into the enemy position, killing some of the 8 insurgents manning it. Although severely wounded, when his grenades were expended, armed with only a rifle, he continued the momentum of his assault on the position and killed the remainder of the enemy. 1st Lt. Marm's selfless actions reduced the fire on his platoon, broke the enemy assault, and rallied his unit to continue toward the accomplishment of this mission. 1st Lt. Marm's gallantry on the battlefield and his extraordinary intrepidity at the risk of his life are in the highest traditions of the U.S. Army and reflect great credit upon himself and the Armed Forces of his country.
1965 - US government sent 90,000 soldiers to Vietnam.
1965--CRANDALL, BRUCE P. Medal of Honor
Rank and Organization: Major, U.S. Army, Company A, 229th Assault Helicopter Battalion, 1st Cavalry Division (Airmobile). Place and dates: Ia Drang Valley, Republic of Vietnam, 14 November 1965. Place and date of birth: Olympia, Washington, 1933. Citation: For conspicuous gallantry and intrepidity at the risk of his life above and beyond the call of duty: Major Bruce P. Crandall distinguished himself by extraordinary heroism as a Flight Commander in the Republic of Vietnam, while serving with Company A, 229th Assault Helicopter Battalion, 1st Cavalry Division (Airmobile). On 14 November 1965, his flight of sixteen helicopters was lifting troops for a search and destroy mission from Plei Me, Vietnam, to Landing Zone X-Ray in the Ia Drang Valley. On the fourth troop lift, the airlift began to take enemy fire, and by the time the aircraft had refueled and returned for the next troop lift, the enemy had Landing Zone X-Ray targeted. As Major Crandall and the first eight helicopters landed to discharge troops on his fifth troop lift, his unarmed helicopter came under such intense enemy fire that the ground commander ordered the second flight of eight aircraft to abort their mission. As Major Crandall flew back to Plei Me, his base of operations, he determined that the ground commander of the besieged infantry batallion desperately needed more ammunition. Major Crandall then decided to adjust his base of operations to Artillery Firebase Falcon in order to shorten the flight distance to deliver ammunition and evacuate wounded soldiers. While medical evacuation was not his mission, he immediately sought volunteers and with complete disregard for his own personal safety, led the two aircraft to Landing Zone X-Ray. Despite the fact that the landing zone was still under relentless enemy fire, Major Crandall landed and proceeded to supervise the loading of seriously wounded soldiers aboard his aircraft. Major Crandall's voluntary decision to land under the most extreme fire instilled in the other pilots the will and spirit to continue to land their own aircraft, and in the ground forces the realization that they would be resupplied and that friendly wounded would be promptly evacuated. This greatly enhanced morale and the will to fight at a critical time. After his first medical evacuation, Major Crandall continued to fly into and out of the landing zone throughout the day and into the evening. That day he completed a total of 22 flights, most under intense enemy fire, retiring from the battlefield only after all possible service had been rendered to the Infantry battalion. His actions provided critical resupply of ammunition and evacuation of the wounded. Major Crandall's daring acts of bravery and courage in the face of an overwhelming and determined enemy are in keeping with the highest traditions of the military service and reflect great credit upon himself, his unit, and the United States Army.
1966 - Boxing's largest indoor crowd assembled in the Houston Astrodome to see Cassius Clay defeat Cleveland Williams -- by a TKO.
1967 - The Monkees received a gold record for "Daydream Believer".
1967-Brave and reportedly well-liked Major General Bruno Arthur Hochmuth, commander of the 3rd Marine Division, was killed at Hue, Vietnam, when ground fire downed the helicopter in which he was a passenger. Two American pilots, an American crew chief, and a Vietnamese interpreter were also killed in the crash.
1969- Apollo 12, a space milestone launched this date. This was the second manned lunar landing—in Ocean of Storms. First pinpoint landing. Astronauts Conrad, Bean and Gordon visited Surveyor 3 and took samples. Earth splashdown November 24.
1969---Top Hits
Wedding Bell Blues - The 5th Dimension
Come Together - The Beatles
Baby It's You - Smith
To See My Angel Cry - Conway Twitty
1970-Birthday of Dana William Stubblefield, San Francisco 49ers, born, Cleves.OH.
1970--Santana's "Black Magic Woman" is released.
1972- the Dow-Jones Index of 30 major industrial stocks topped the 1,000 mark for the first time.
1972 - No. 1 Billboard Pop Hit: ``I Can See Clearly Now,'' Johnny Nash.
1974 - A storm produced 15 inches of snow at the Buffalo, NY, airport, and 30 inches on the south shore of Lake Erie.
1975 - "They Just Can't Stop It (The Games People Play)" became a gold record for the Spinners. Their other hits include "Then Came You" (with Dionne Warwicke), "Could It Be I'm Falling in Love", "The Rubberband Man", "Working My Way Back to You", "Cupid", "It's a Shame" and "I'll Be Around" -- for Motown.
1977---Top Hits
You Light Up My Life - Debby Boone
Boogie Nights - Heatwave
It's Ecstasy When You Lay Down Next to Me - Barry White
More to Me - Charley Pride
1981 - Paul 'Bear' Bryant tied the record of Amos Alonzo Stagg for most football wins. The Alabama Crimson Tide notched win #314 for Coach Bryant. Alabama beat Penn State, 31-16.
1981 - For the second week in a row, Daryl Hall and John Oates owned the top spot on the pop music charts with "Private Eyes".
1982 - No. 1 Billboard Pop Hit: ``Up Where We Belong,'' Joe Cocker & Jennifer Warnes. The single wins an Oscar as the theme of ``An Officer and a Gentleman.'
1985—Top Hits
Miami Vice Theme - Jan Hammer
Head over Heels - Tears For Fears
You Belong to the City - Glenn Frey
Can't Keep a Good Man Down – Alabama
1986 - The U.S. Securities and Exchange Commission announced that Ivan Boesky would have to pay $100 million in fines and alleged profits to settle insider-trading charges against him. The settlement was just $6 million less than the entire S.E.C. budget for 1986. Until 1986, Ivan Boesky was one of wealthiest and most successful figures on Wall Street. But, after November 14, 1986, his name was inextricably linked with the scandal and corruption that engulfed the industry during the 1980s. After prison, Boesky divorced his wife and relocated to La Jolla, California. In contrast to Milken and others involved, Boesky has largely avoided public attention since the scandal, though he has surfaced to testify in still-unresolved legal proceedings. History is full of people who manipulated the system such as Enron, Worldcom, Kozlowski, to just a few recent ones.
1986 - An early season cold wave set more than 200 records from the northwestern U.S. to the east coast over a seven day period. For some places it proved to be the coldest weather of the winter season.
1986 - An early season cold wave set more than 200 records from the northwestern U.S. to the east coast over a seven day period. For some places it proved to be the coldest weather of the winter season.
1987--- In an initially awkward but eventually moving live event, David Letterman convinces guest Cher to sing "I Got You Babe" just one more time with embittered ex Sonny Bono on his NBC-TV Late Night program. Both Sonny and Cher are left in tears, though no reunion is forthcoming.
1987-- A major oldies revival crests today, when the soundtrack to the hit Patrick Swayze film Dirty Dancing -- set in 1963 and featuring many hits of the day -- rises to Number One on the Billboard charts.
1988- "Murphy Brown" premiered on television. The series lasted ten years. The show often blurred the lines between reality and fiction by dealing with topical issues and including real-life journalists as guests stars playing themselves. Former Vice-President Dan Quayle made a major issue about the character Murphy Brown being an un-married mother. Set in Washington, DC, starred Candice Bergen starred in the title role, as an egotistical, seasoned journalist working for the fictitious TV newsmagazine show "FYI." Also featured were Grant Shaud as the show's high-strung producer, Miles Silverberg (later replaced by Lily Tomlin), Faith Ford as the former Miss America, Corky Sherwood (and later Miles' bride), Joe Regalbuto as Murphy's neurotic friend, reporter Frank Fontana, Charles Kimbrough as "FYI"'s uptight anchorman, Jim Dial and Pat Corley as Phil, owner of the local watering hole. Colleen Dewhurst appeared as Murphy's mother and Robert Pastorelli appeared as Eldin Bernecky, perfectionist housepainter and aspiring artist (he left the series for his own show). The show often blurred the lines between reality and fiction by dealing with topical issues and by including real-life journalists as guest stars playing themselves. The series ended with the May 31,1998 episode.
1987 - The "Dirty Dancing" movie soundtrack was the number one album in the U.S. It was number one for a total of eighteen weeks. The remainder of the top-five that week: 2)-"Tunnel of Love" (Bruce Springsteen); 3)-"Bad" (Michael Jackson); 4)-"Whitesnake" (Whitesnake); 5)-"A Momentary Lapse of Reason" (Pink Floyd).
1988 - A massive storm produced snow and gusty winds in the western U.S., with heavy snow in some of the higher elevations. Winds gusted to 66 mph at Show Low AZ, and Donner Summit, located in the Sierra Nevada Range of California, was buried under 23 inches of snow. Heavy rain soaked parts of California, with 3.19 inches reported at Blue Canyon
1989 - Unseasonably warm weather prevailed east of the Rockies. Temperatures reached 70 degrees as far north as New England, and readings in the 80s were reported across the southeast quarter of the nation. Nineteen cities reported record high temperatures for the date. For the second time in the month Dallas/Fort Worth TX equalled their record for November with an afternoon high of 89 degrees. The high of 91 degrees at Waco TX was their warmest of record for so late in the season. Heavy snow blanketed parts of Wyoming overnight, with a foot of snow reported at Cody, and ten inches at Yellowstone Park.
1993- head coach Don Shula of the Miami Dolphins won the 325th game of his career as the Dolphins defeated the Philadelphia Eagles, 19-14. The victory moved Shula past George Halas as the "winningist" coach in NFL history. Shula concluded his coaching career in 1995 with a record of 347 wins, 173 losses and 6 ties.
1994-Bill Gates paid $30.8 million for a sixteenth-century Leonardo da Vinci manuscript, which depicted the motion of water and the principles of the steam engine. Gates' bid tripled the existing price for similar items. Beating out Italian bidders who had pledged to bring the treasure back to its home in Italy, Gates promised to leave the manuscript on public display at least fifty percent of the time. The manuscript, last sold to the Armand Hammer Museum of Art and Cultural Center, had fetched a mere $5.6 million in 1980.
2000 --Y2K countdown: 47 days, 2 hours, 43 minutes.
http://www.cpsr.org/program/y2k/
2001- For the second time in his career, Seattle skipper Lou Piniella is named the American League Manager of the Year. 'Sweet Lou', the only person to appear on every ballot, guided to the Mariners to an historical 116 victories which tied 1906 Cubs as the winningest team in major league history.
2002-Nancy Pelosi became the 1st woman to lead a party in the US Congress after Democrats voted 177-29 in support of the liberal from SF.
-------------------------------------------------------------

SuDoku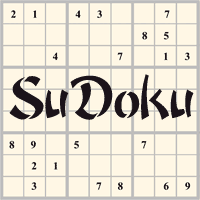 The object is to insert the numbers in the boxes to satisfy only one condition: each row, column and 3x3 box must contain the digits 1 through 9 exactly once. What could be simpler?
http://leasingnews.org/Soduku/soduko-main.htm
--------------------------------------------------------------

Daily Puzzle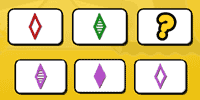 How to play:
http://www.setgame.com/set/puzzle_frame.htm
Refresh for current date:
http://www.setgame.com/set/puzzle_frame.htm
--------------------------------------------------------------


http://www.gasbuddy.com/
http://www.gasbuddy.com/GB_Map_Gas_Prices.aspx
http://www.gasbuddy.com/GB_Mobile_Instructions.aspx
--------------------------------------------------------------

Weather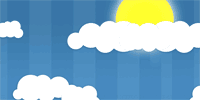 See USA map, click to specific area, no commercials
--------------------------------------------------------------

Traffic Live---
Real Time Traffic Information
You can save up to 20 different routes and check them out with one click,
or type in a new route to learn the traffic live
--------------------------------