Wednesday, November 4, 2020


Today's Leasing News Headlines

We Don't Have to Agree
Placard
Leasing News Mission
Our main goals
Leasing Industry Ads
---Help Wanted
Connecting the Dots
Sales Makes it Happen by Scott Wheeler, CLFP
Sales Commissions
During COVID-19
US Consumer Preferred Method for Ordering
Takeout and Delivering During the Pandemic
CLFP Company Membership Count
Two Employees or More - Total Membership 955
9.9 Million Americans May Miss Housing Payments
By Christina Hughes Babb, DS News and MReport
Balboa Capital Announces Completion
of $201 Million Securitization
North Mill Equipment Finance
Announces Five New Employees
German Shepherd Mix
San Jose, California Adopt a Dog
News Briefs---
Deutsche Bank plans to cut ties with Trump after the election
could seize his assets if he can't pay back his debts, Reuters reports
Cruise industry throws in the towel on 2020
looks to 2021

You May have Missed---
How to Ask Your Boss
for Full-Time Remote Work

Broker/Funder/Industry Lists | Features (wrilter's columns)
Top Ten Stories Chosen by Readers | Top Stories last six months
www.leasingcomplaints.com (Be Careful of Doing Business)
www.evergreenleasingnews.org
Leasing News Icon for Android Mobile Device
Sports Brief----
California Nuts Brief---
"Gimme that Wine"
This Day in History
SuDoku
Daily Puzzle
GasBuddy
Weather, USA or specific area
Traffic Live----
######## surrounding the article denotes it is a "press release," it was not written by Leasing News nor has the information been verified. The source noted. When an article is signed by the writer, it is considered a "byline." It reflects the opinion and research of the writer.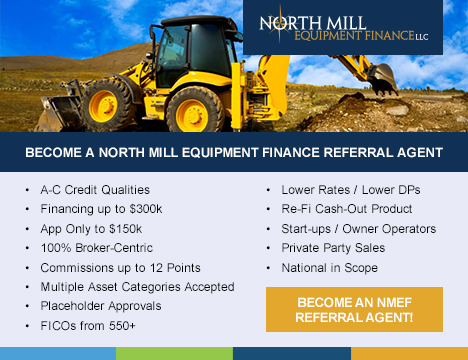 [headlines]
--------------------------------------------------------------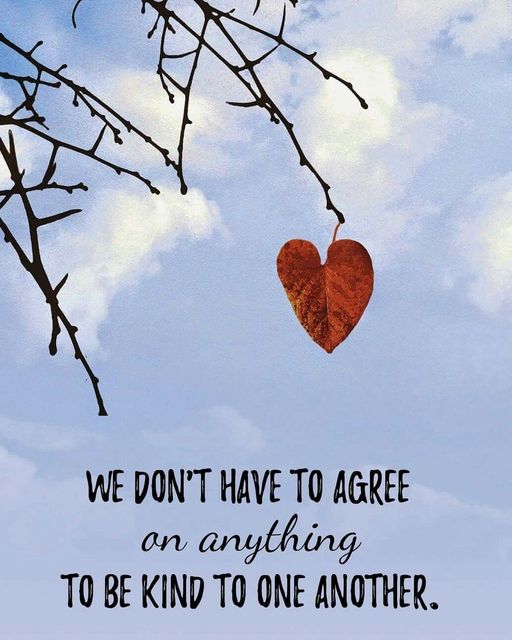 Election time.
Regardless of the outcome, I pledge to be kind.
I am tired of negativity all around.
[headlines]
--------------------------------------------------------------


Leasing News Mission
Our main goals:
Be a crusader of ideas and a provocateur of thought

Present all sides of an issue, following internet netiquette
We will continue as an ombudsman to help arbitrate, negotiate, or resolve complaints; answer readers' specific questions; help provide solutions, sources, contacts, tools, resources, and make available the truth of what is really happening in the leasing industry.
We will pursue the facts to find the truth behind the "spin" in a press release.
We strive to be first with the news and to follow-up until full conclusion.
We do not represent a "membership" or group whose interest is primarily promoting their membership and activities.
We are independent in spirit and in practice. We have written and will continue to write about advertisers, friends, leasing associations, and seek to present all sides' views equally.
We have placed advertisers in our complaint bulletin board, informing them that they may no longer advertise here.
Opinions and viewpoints in an article are allowed when the article is signed by the writer, as is the policy of Associated Press.
If a writer has a potential conflict of interest, a disclaimer will be included in any article.
All press releases, written by others will be so indicated with ##### surrounding.
We only will have an edition when there is sufficient equipment leasing news.
We will continue to help those seeking employment or who want to seek a better position. These ads are free. Our other classified ads, such as "outsourcing," and "attorney" ads will remain free.
The Leasing News Advisory Board is chosen by the publisher. They are not financially compensated. They participate in the overall direction of our electronic newspaper. As with a printed newspaper, it is the editor's sole discretion as to what is printed and the advisory board is not consulted for editorial content. The advisory board does not participate in the editorial decisions.
While we are in a different century, different time, and do not have the
circulation of "The World," Leasing News will strive to follow "The World's" editorial policy as expressed by its publisher Joseph Pulitzer.
Christopher "Kit" Menkin,
Publisher/ Editor-in-Chief
November 21, 2017
The Mission of "The World" newspaper
"An institution which should always fight for progress and reform; never tolerate injustice or corruption; always fight demagogues of all parties; never belong to any party; always oppose privileged classes and public plunder; never lack sympathy with the poor; always remain devoted to the public welfare; never be satisfied with merely printing the news; always be drastically independent; never be afraid to attack wrong, whether by predatory plutocracy or predatory poverty."
October 30, 1911: Frank J. Cobb, editor, "The World".
His statement is a quote from the publisher Joseph Pulitzer's retirement speech on April 10, 1907.
The policy and mission of Leasing News are available in each edition printed.
http://www.leasingnews.org/Mission_Statement.htm
http://www.leasingnews.org/policy.htm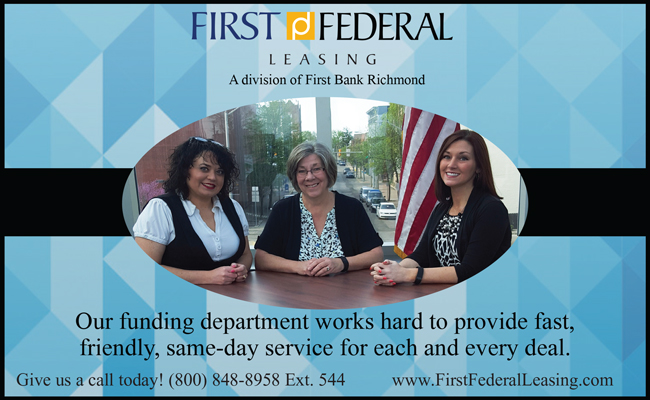 [headlines]
--------------------------------------------------------------
Leasing Industry Help Wanted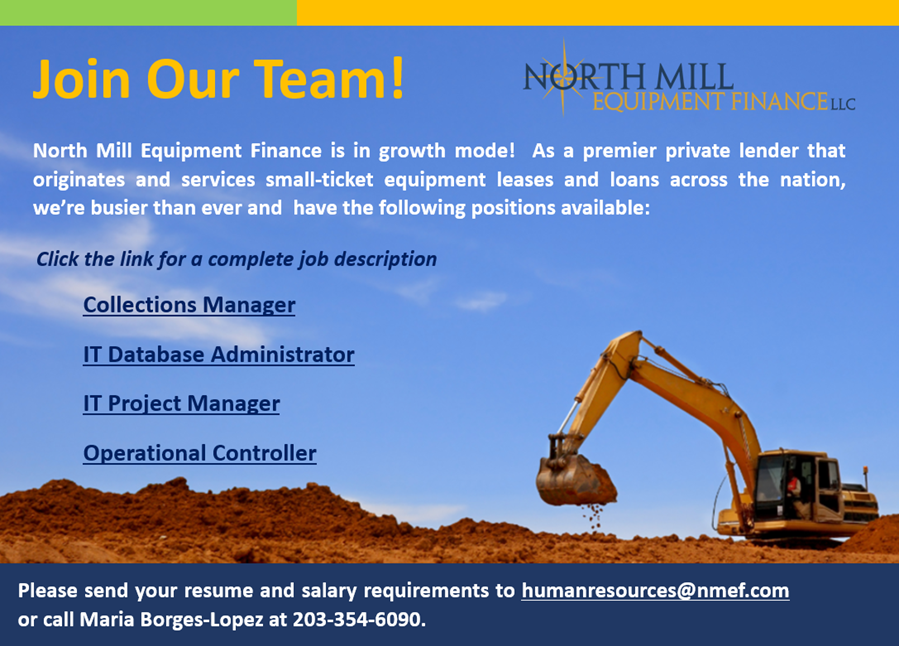 [headlines]
--------------------------------------------------------------
Connecting the Dots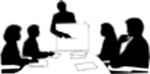 Sales Makes it Happen
by Scott Wheeler, CLFP
Top producers in the commercial equipment leasing and finance industry are building their post COVID-19 network.
They are determining their position within the market and building stronger networks and databases. There will be long-term winners and losers in every industry as top producing companies and originators adjust and quickly connect the dots for future business.
Every new prospect and customer lead to multiple new opportunities for the best originators. New vendor relationships refer new end-users and every end-user knows of other vendors that are potentially new relationships to be tapped for additional business. One of the benefits of the commercial equipment leasing and finance industry is the tremendous opportunity that exists to take new paths for business development. The vast opportunities and unlimited paths to success can be daunting.
here are so many options that originators often get overwhelmed, distracted, and confused. They become a jack of all trades, master of none. Their databases become disjointed, disconnected, and unworkable. Top producers connect the dots; their vendors and end-users are connected by similar attributes (industry, equipment type, geographic area, credit quality, etc.) Top producers are focused and deliberate when prospecting and driving new business opportunities. They are committed to growing a well-connected database.
Naysayers often claim that too much focus or niche concentration inhibits the development of new channels of business. The opposite actually occurs. An originator that is correctly focused on one (or just a few niches) has more opportunity to enter new channels of business with purpose. Top producers do not push into unknown areas of business aimlessly; they are pulled into new channels of business by their strong relationships with both vendors and end-users. They enter a new channel because it is interrelated with their past expertise. They enter a new channel because they are connecting the dots of past relationships with new potential. They enter a new channel more successfully because they have a well thought-out plan.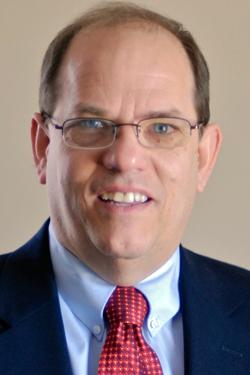 Visit Scott Wheeler, CLFP
Newly Designed Website:
https://www.wheelerbusinessconsulting.com/
Scott A. Wheeler, CLFP
Wheeler Business Consulting
1314 Marquis Ct.
Fallston, Maryland 21047
Phone: 410 877 0428
Fax: 410 877 8161
Email: scott@wheelerbusinessconsulting.com
Web: www.wheelerbusinessconsulting.com
Sales Makes it Happen articles:
http://www.leasingnews.org/Legacy/index.htm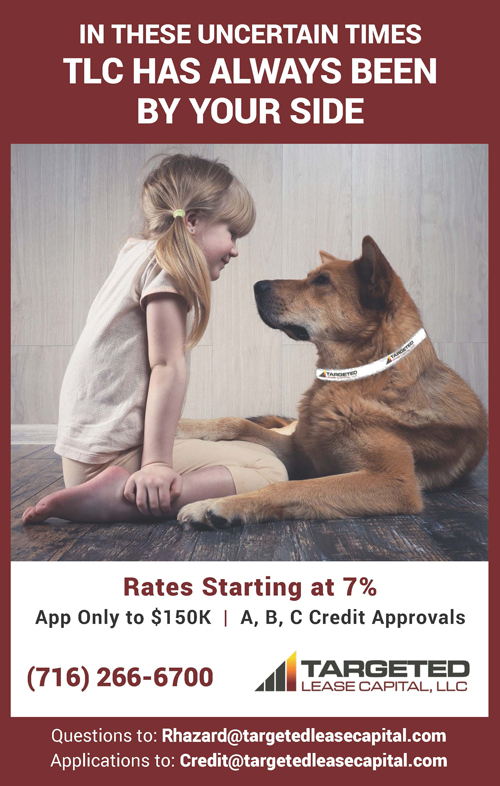 [headlines]
--------------------------------------------------------------
Sales Commissions
During COVID-19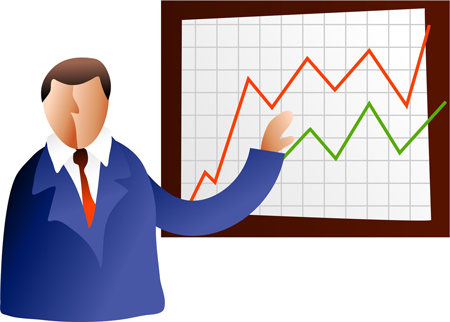 One of the most important subjects for lessors is how to compensate the sales force. The movement of banks and manufacturers into commercial leasing brought salaries with limited commissions. The thought of providing additional income for just doing the job did not sit well with many new leasing companies. However, the leasing companies that offered commissions based on performance produced higher rates on better credits. Salesmen who have their commission trimmed by the new bank taking over often leave for greener pastures.
Sales go down and things change such as when CIT Bank took over Direct Capital, Portsmouth, New Hampshire.
One of the most popular commission structures is based on a percentage of equipment cost. The trouble with this form of commission is its lack of margin control, so to achieve volume, the rates sold were low. Therefore, commissions need to be tied to term and margin. Some will add credit requirements to qualify for higher commissions but, while the sales person is in control of margin and term, the lessor is in charge of acceptable credit.
There are some programs that require the return of commissions when a transaction goes bad and charge offs occur. This penalizes the sales force for credit decisions that they do not control. The question of when to pay commissions is usually connected to when the transaction is booked and advanced payments received. If there are volume requirements to earn commissions, they should be monthly so shortfalls on volume may be made up in the near future.
Lessors who discount transactions often start out with a commission based on 30% of the yield, with volume changing the percentage. Some advertise in Leasing News with 60% commission and residuals. Often, the sales director or others involved will also get a percentage. It is not uncommon for the salesman to participate in the discounted residual, when earned, with the caveat that the salesman must still be employed by the company. I am told there have been instances where salesmen were approaching the qualification for compensation from these residuals, but were let go before the maturity dates.
It appears that when salaries represent the majority of the compensation for the sales force, the time for performance to become acceptable is very short. Some markets take longer to mature and are harder to penetrate when the sales force is constantly changing. A compensation plan with small salary plus a commission component of two thirds incents the sales staff to perform without it breaking the back of the lessor.
I have never understood lessors that put a cap on the amount a sales person can earn. So what if they make more that the president of the lessor? In my opinion, tell the president to return to the sales so he can earn just as much.
Commissions are a touchy subject with strong emotions on both sides. When it does work well, and the sales staff sticks around for the long haul, lessors begin to grow and are usually very successful.
Additionally, the industry has found that top sales people often leave a company to start their own leasing company, hire a back office to do the paperwork, and become an entrepreneur. So to offer vacations, retirement, health, and other assistance, plus a good commission--- many will find it more advantageous to stay than go out on their own.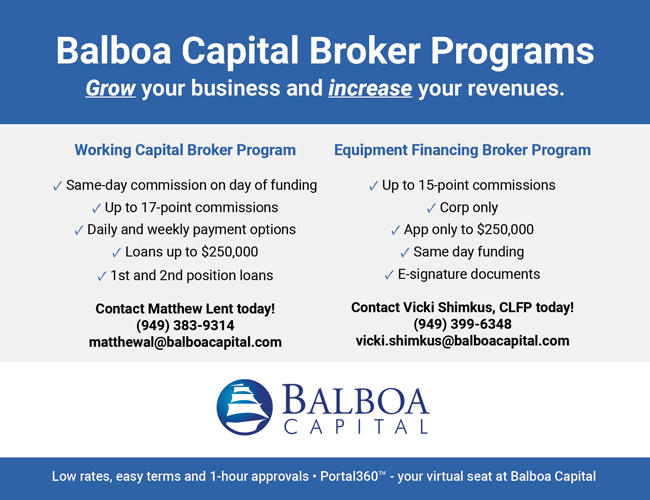 [headlines]
--------------------------------------------------------------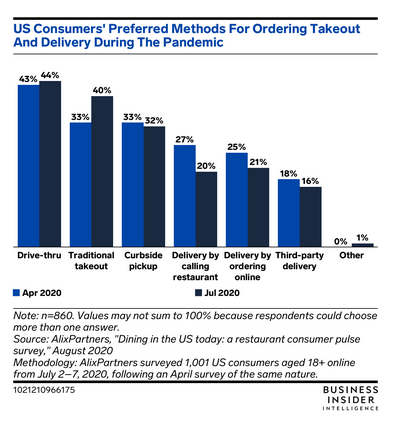 [headlines]
--------------------------------------------------------------
CLFP Company Membership Count
Two Employees or More - Total Membership 955
| | |
| --- | --- |
| Account | Number of CLFPs |
| First American Equipment Finance | 138 |
| Ascentium Capital LLC | 49 |
| U.S. Bank Equipment Finance | 39 |
| Financial Pacific Leasing, Inc. | 33 |
| Stearns Bank NA-Equipment Finance Division | 33 |
| Amur Equipment Finance | 26 |
| BB&T Commercial Equipment Capital Corp. | 25 |
| AP Equipment Financing | 22 |
| Oakmont Capital Services, LLC | 20 |
| Arvest Equipment Finance | 19 |
| ECS Financial Services, Inc. | 16 |
| Key Equipment Finance | 16 |
| 1st Source Bank | 14 |
| DLL | 13 |
| KLC Financial, Inc. | 13 |
| International Decision Systems | 12 |
| Stryker | 12 |
| Ivory Consulting Corporation | 11 |
| Canon Financial Services, Inc. | 10 |
| Fleet Advantage, LLC | 10 |
| Great American Insurance | 10 |
| Northland Capital Financial Services, LLC | 9 |
| Orion First Financial LLC | 9 |
| BMO Harris | 8 |
| Wintrust Specialty Finance | 8 |
| BancorpSouth Equipment Finance | 7 |
| Celtic Commercial Finance | 7 |
| The Huntington National Bank | 7 |
| Alliance Funding Group | 6 |
| Beacon Funding Corporation | 6 |
| Navitas Credit Corp. | 6 |
| Odessa | 6 |
| First Foundation Bank | 5 |
| GreatAmerica Financial Services | 5 |
| LTi Technology Solutions | 5 |
| Univest Capital, Inc. | 5 |
| Bank of the West | 4 |
| BankFinancial, NA | 4 |
| Commerce Bank | 4 |
| Marlin Capital Solutions | 4 |
| NCMIC Finance Corporation | 4 |
| NorthTeq, Inc. | 4 |
| UniFi Equipment Finance, Inc. | 4 |
| Western Equipment Finance | 4 |
| Commercial Capital Company, LLC | 3 |
| ENGS Commercial Finance Co. | 3 |
| First National Capital Corporation | 3 |
| FIS | 3 |
| FSG Capital, Inc. | 3 |
| Hanmi Bank | 3 |
| Lease Corporation of America | 3 |
| North Mill Equipment Finance | 3 |
| Providence Capital Funding, Inc. | 3 |
| Quality Leasing Co., Inc. | 3 |
| Taycor Financial | 3 |
| American Equipment Financial Services | 2 |
| Balboa Capital Corporation | 2 |
| Bryn Mawr Equipment Finance, Inc. | 2 |
| BSB Leasing, Inc. | 2 |
| Centra Funding, LLC | 2 |
| Cisco Systems Capital Corporation | 2 |
| Commercial Fleet Financing, Inc. | 2 |
| Crossroads Equipment Lease & Finance LLC | 2 |
| Customers Bank Commercial Finance | 2 |
| Dakota Financial, LLC | 2 |
| Dell Financial Services | 2 |
| Diversified Capital Credit Corporation | 2 |
| Falcon Leasing | 2 |
| First Utah Bank | 2 |
| FirstLease, Inc. | 2 |
| Global Financial & Leasing Services LLC | 2 |
| Koala Capital Group, LLC | 2 |
| Macquarie Group | 2 |
| Madison Capital LLC | 2 |
| Maxim Commercial Capital, LLC | 2 |
| Northpoint Commercial Credit, LLC | 2 |
| OnPoint Capital, LLC | 2 |
| Pacifica Capital | 2 |
| Padco Financial Services, Inc. | 2 |
| Partners Capital Group, Inc. | 2 |
| Patriot Capital Corporation | 2 |
| Smarter Equipment Finance, LLC | 2 |
| Tamarack Consulting, Inc. | 2 |
| TimePayment Corporation | 2 |
Academy for Certified Lease & Finance Professionals
Four Sessions, All Virtual Online
http://leasingnews.org/archives/Oct2020/10_26.htm#clfp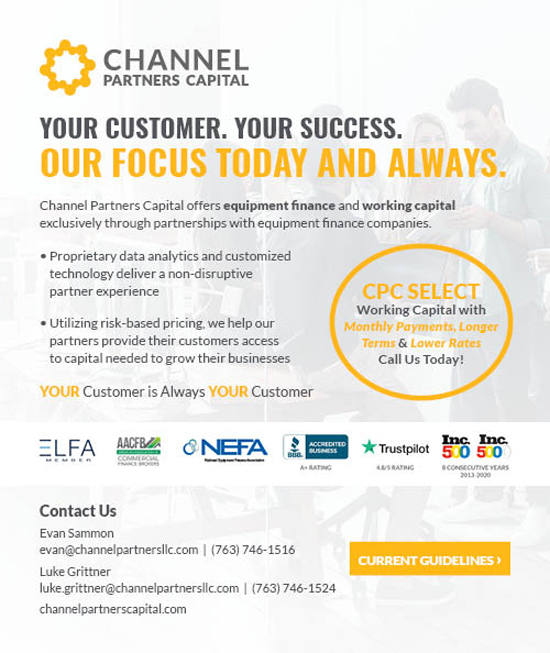 [headlines]
--------------------------------------------------------------
9.9 Million Americans May Miss Housing Payments
By Christina Hughes Babb, DS News and MReport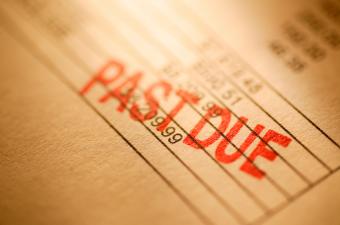 On the cusp of November, the United States Census Household Pulse Survey, which deploys real-time data on a range of ways in which people's lives have been impacted by the COVID-19 pandemic, showed some 9.9 million Americans had little to no confidence that their household would be able to afford next month's mortgage or rent payment.
The Census' survey breaks down COVID-related struggles by "expected employment loss," "food scarcity," housing insecurity," "likelihood of foreclosure or eviction," household expenses, and more. And it breaks down the data by state. So, for example, a glance at the most recent numbers show that likelihood of eviction and foreclosures are highest in the following regions: District of Columbia, Indiana, Florida, Iowa, Texas, Wyoming, Massachusetts, New Mexico, North Dakota, and Arizona.
As for unpaid mortgages and rent, the states with the highest numbers are: Mississippi, Louisiana, Rhode Island, South Carolina, Tennessee, Georgia, Arkansas, Connecticut, Missouri, and West Virginia.
The study also shows that homeowners in certain states—Mississippi, Louisiana, and Nevada, to name the top three—are having more trouble than others keeping up with household expenses beyond the mortgage or rent payment.
The purpose of the census study is to inform federal and state response and recovery planning. It is informing policymakers, journalists, and thereby the public as well, in a way that might lead to some measure of solution.
Housing advocates say that in order to understand the looming eviction crisis our country is facing, we must examine the state of the housing market before COVID-19 emerged.
Diane Yentel, President and CEO of the National Low-Income Housing Coalition (NLIHC) told CNN we were "in the midst of a severe affordable housing crisis."
The NLIHC Reports a shortage of 7 million affordable rental homes available to low-income renters. Yental explained that people struggling to pay for housing, or who have been evicted, suffer health wise.
"There's real, there's real harm done, to individual people, to families, to kids to communities, and really to our whole country, when we allow homelessness and housing poverty to persist," she told CNN, which used the survey data as a catalyst for providing a list of resources for anyone facing housing-related struggles (as part of its national disaster-related coverage "Impact The World").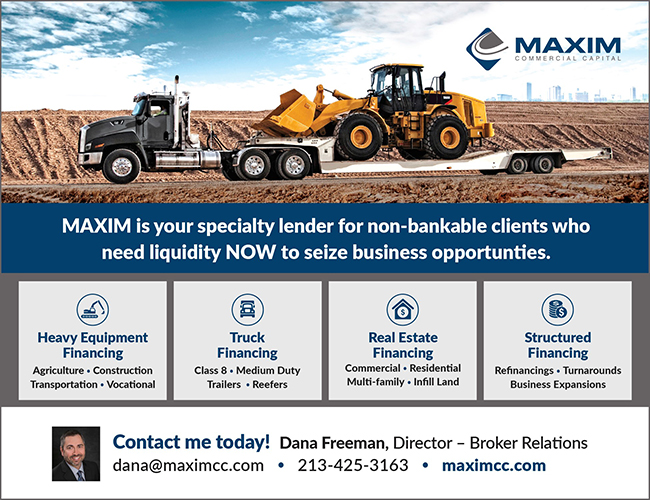 [headlines]
--------------------------------------------------------------
#### Press Release ##############################
Balboa Capital Announces Completion
of $201 Million Securitization

Leading direct lender closes the seventh equipment
asset-backed securitization in its history.

COSTA MESA, CALIFORNIA, - Balboa Capital, a leading direct lender that offers
equipment financing
and
small business loans,
today announced that it has closed its seventh equipment asset-backed securitization (ABS), a $201 million issuance. Truist Securities, Inc. served as structuring agent and was an initial purchaser of the notes and co-lead along with Credit Suisse Securities (USA) LLC. Capital One Securities, Inc. was an initial purchaser of the notes and co-manager. In this offering, Balboa Capital issued six classes of notes that were rated by DBRS Morningstar, Moody's Investors Service, Inc. and Kroll Bond Rating Agency (KBRA). The securitization included $68,770,000 of Class A1 notes, $71,944,000 of Class A2 notes, $38,088,000 of Class B notes, $8,464,000 of Class C notes, $8,464,000 of Class D notes and $5,290,000 of Class E notes.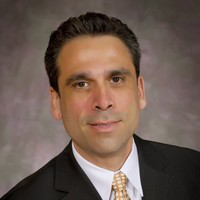 Matthew Goldenberg, Treasurer at Balboa Capital, commented, "We are pleased with the strong execution and expanded investor participation in our seventh ABS deal, despite today's challenging business environment.
"This successful transaction is an endorsement by investors and rating agencies, including an Aaa rating from Moody's on the Class A2 notes, which is a first in Balboa Capital's history. It substantiates the strong and consistent results of our portfolios, and reflects a strong testament to our investors' trust and confidence in our business model for more than three decades. This securitization will allow us to continue supporting small and medium-sized businesses that need access to growth capital."
About Balboa Capital
Balboa Capital is a technology-driven financing company that provides business owners with fast, hassle-free solutions to fuel their growth and success. The company specializes in small business loans, equipment financing, commercial financing, equipment vendor financing, and franchise financing. Balboa Capital developed an intuitive online platform that simplifies the entire financing process. Calculators provide instant estimates, applications can be completed and submitted in a matter of minutes, and sophisticated credit scoring technology provides instant decisions. To learn more, visit https://www.balboacapital.com.
### Press Release ############################



[headlines]
--------------------------------------------------------------
### Press Release ############################
North Mill Equipment Finance
Announces Five New Employees

NORWALK, CT – North Mill Equipment Finance, LLC ("North Mill"), a leading, independent commercial lender in Norwalk, CT, is pleased to announce the appointment of Jeffrey T. Schick as the company's Operational Controller.
Four additional employees have joined the organization including Elizabeth Arias-Hernandez as Portfolio Manager, Kimberly Merryfield as Account Manager, Yocasta Olivo as Title & Insurance Administrator and Maya Samad as Sales & Marketing Assistant.
Reporting to the company's Chief Financial Officer, Mr. Schick will have direct responsibility for a $300MM lease and loan portfolio. Managing a team of four portfolio accountants, he will oversee cash application and balancing, new originations, performance metrics and efficiency initiatives. Prior to joining North Mill, he was a consultant with Resources Global Professionals out of New York City. He also held various senior positions at GE Capital during which time he earned his Six Sigma Black Belt Certification. A graduate of Western Connecticut State University in Danbury, CT, he received a BBA in accounting and an MBA from the University of Massachusetts, Amherst, Amherst, MA.
Ms. Arias-Hernandez joins North Mill as Portfolio Manager reporting to the company's AVP of Legal. She will leverage her background in accounts receivable to help restructure payment plans for customers in need of alternative arrangements. Ms. Arias-Hernandez was with High Ridge Brands in Stamford, CT as a Trade Spend Financial Analyst and a Business Compliance Analyst with Mastercard in Purchase, NY before accepting her new role at North Mill. She earned a BA from Iona College in New Rochelle, NY.
Reporting to North Mill's VP of Customer Relations, Ms. Merryfield will use her financial services background as both an analyst and customer service representative to support North Mill's growth operation. Given the company's record-breaking year in originations, she was brought on to join an expanding team of account managers tasked with supporting the growing base of new referral agent partners and their customers. Prior to joining North Mill, she was an Account Analyst for Marlin Business Bank in Mt. Laurel, NJ where she helped manage client relationships along with overseeing the day-to-day operations of the bank's brokerage division. She earned her Associates Degree from Camden County College in Blackwood, NJ.
Two recent college graduates, Yocasta Olivo and Maya Samad join North Mill as Title/Insurance Administrator and Sales & Marketing Assistant, respectively. North Mill's tremendous growth in 2020 necessitated the creation of a hybrid role supporting both the title and insurance departments. Reporting to the AVP of Operations, Ms. Olivo will help manage the day-to-day operations of both departments. She earned her BS in International Business & Finance from Fairfield University in Fairfield, CT. Ms. Samad, reporting to North Mill's Chief Marketing Officer, will train in all facets of the organization. Her duties include performing market analytics, assisting in website development, and supporting the account and relationship management teams. A recent graduate of Bucknell University in Lewiston, PA, Ms. Samad earned a BS in Business Administration.
About North Mill Equipment Finance
Headquartered in Norwalk, Connecticut, North Mill Equipment Finance originates and services small-ticket equipment leases and loans, ranging from $15,000 to $300,000 in value. A broker-centric private lender, the company handles A – C credit qualities and finances transactions for numerous asset categories including medical, construction, transportation, vocational, franchise, manufacturing, and material handling equipment. North Mill is majority owned by an affiliate of Wafra Capital Partners, Inc. (WCP). For more information, visit www.nmef.com.
### Press Release ############################



[headlines]
--------------------------------------------------------------
German Shepherd Mix
San Jose, California Adopt a Dog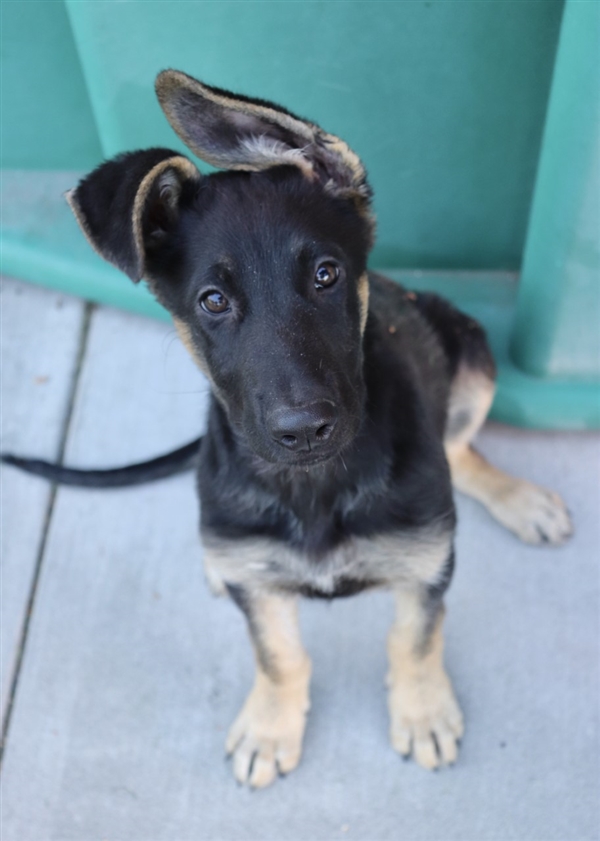 Abby

ID#182300
3Mths 2Wks old German Shepherd Mix
Size: Medium
Sex: Spayed Female
Location: Animal Community Center - Milpitas
"Hi! I'm Abby and I'm a confident, rowdy young girl looking for some experienced hands to guide me. I have lots of puppy energy to burn and love to get it out by wrestling with other dogs. If you are looking to help mold a fun pup into a great dog, then Abby could be the one! All of our adoptions are currently virtual and by appointment only, so please check out our website for information on how to sign up to meet me!"
Humane Society Adoption Center
Located in: Petco
500 El Paseo de Saratoga
San Jose, CA 95130
Phone: (408) 370-2732
[headlines]
--------------------------------------------------------------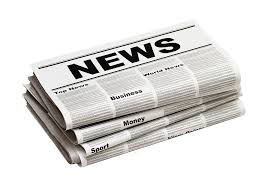 News Briefs---
Deutsche Bank plans to cut ties with Trump after the election
could seize his assets if he can't pay back his debts, Reuters reports
https://www.businessinsider.com/deutsche-bank-trump-ties-debts-after-election-reuters-2020-11
Cruise industry throws in the towel on 2020
looks to 2021
https://www.chicagotribune.com/business/ct-biz-coronavirus-cruise-ships-docked-20201103-oaotqevpibh3vkgbnedv2w4xje-story.html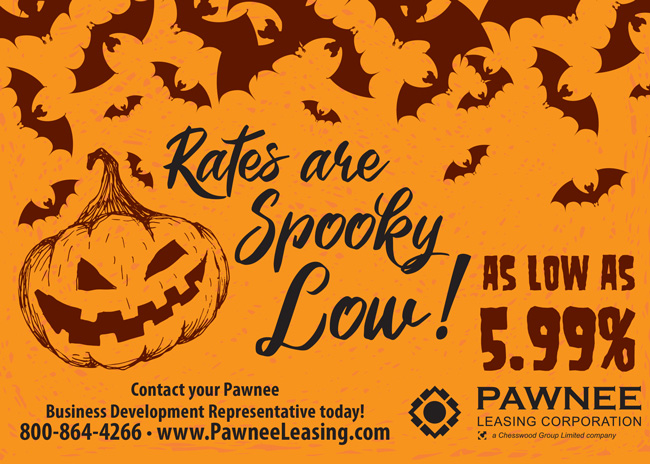 [headlines]
--------------------------------------------------------------


You May Have Missed---

How to Ask Your Boss
for Full-Time Remote Work
https://skillcrush.com/blog/first-worker-at-your-company-to-work-remote/
[headlines]
--------------------------------------------------------------
Tom Brady assures Antonio Brown will comply and
is fully invested in receiver's return with Buccaneers
https://www.cbssports.com/nfl/news/tom-brady-assures-antonio-brown-will-comply-and-is-fully-invested-in-receivers-return-with-buccaneers/
NFL trade deadline winners and losers: Avery Williamson
lands on a contender; no receiver help for Aaron Rodgers
https://www.espn.com/nfl/story/_/id/30251666/nfl-trade-deadline-winners-losers-avery-williamson-lands-contender-no-receiver-help-aaron-rodgers
[headlines]
--------------------------------------------------------------


California Nuts Briefs---

Judge limits California governor's powers during pandemic
https://www.usnews.com/news/best-states/california/articles/2020-11-02/judge-limits-california-governors-powers-during-pandemic

[headlines]
--------------------------------------------------------------



"Gimme that Wine"

http://www.youtube.com/watch?v=EJnQoi8DSE8
Wine of the week: Edna Valley,
2019 California Sauvignon Blanc
https://www.pressdemocrat.com/article/lifestyle/wine-of-the-week-edna-valley-2019-california-sauvignon-blanc/
Recurring Fires Raise Insurance Worries
https://www.winebusiness.com/news/?go=getArticle&dataId=238061
DTC: Wineries Do More With Less,
Paso Robles Wineries Lead DTC Growth in September
https://www.winebusiness.com/news/?go=getArticle&dataId=238008
Free Wine App
https://www.nataliemaclean.com/mobileapp/

Wine Prices by vintage
http://www.winezap.com
http://www.wine-searcher.com/
[headlines]
----------------------------------------------------------------
This Day in History
1646 - The Massachusetts Bay Colony passed a law making it a capital offense to deny that the Bible was the Word of God. Any person convicted of the offense was liable to the death penalty.
1791 - General Arthur St. Clair, governor of Northwest Territory, was badly defeated by a large Indian army. Miami Indian Chief Little Turtle led the powerful force of Miami, Wyandot, Iroquois, Shawnee, Delaware, Ojibwa and Potawatomi that inflicted the greatest defeat ever suffered by the U.S. Army at the hands of North American Indians. Some 623 regulars were killed and 258 wounded on the banks of the Wabash River near present day Fort Wayne, Indiana. The staggering defeat moved Congress to authorize a larger army in 1792.
1798 - Congress agreed to pay a yearly tribute to Tripoli, considering it the only way to protect U.S. shipping. The US has no appreciable Navy at this time. This is the most expedient and assured way to protect American shipping in the Mediterranean. Thus, the part of the Marine Corps hymn, "…to the shores of Tripoli…"
1856 - James Buchanan was elected President. Stephen A. Douglas coveted the Democratic nomination in 1856 but his reputation had been badly tarnished by ongoing violence in Kansas. In his place, the Democrats turned to James Buchanan, who had been the minister to Britain from 1853 to 1856 and was not linked to the Kansas issue. The Republicans ran their first presidential campaign in 1856, choosing noted Western explorer John C. Frémont, "The Pathfinder." Frémont had no political record (regarded as a plus), but held abolitionist views (a negative in the eyes of many moderates). The Republicans ran a campaign calling for repeal of the hated Kansas-Nebraska Act, opposition to the extension of slavery into the territories and support for internal improvement projects. They also took every opportunity to blame the Democrats for the horrors of "Bleeding Kansas." Buchanan emerged the victor, but failed to gain a majority of the popular vote. In fact, a shift of a small number of votes in several states would have tipped the electoral tally to the Republicans. Mirroring the sectional feelings of the day, the Democrats were strong in the South, the Republicans in the North. The election in 1856 brought a weak President to leadership in a badly divided nation.
1873 - Dentist John Beers of San Francisco patents the gold crown
1898 - The first church to bear the Pentecostal Holiness name was organized at Goldsboro, NC, under the leadership of Methodist evangelist Ambrose Blackman Crumpler, 35.
1864 - Battle of Johnsonville, Tennessee. In the summer of 1864, Sherman captured Atlanta, and by November, he was planning his march across Georgia. Meanwhile, the defeated Confederates hoped that destroying his line would draw Sherman out of the Deep South. Nobody was better at raiding than Confederate Gen. Nathan Bedford Forrest, but Union pursuit had kept him in Mississippi during the Atlanta campaign. Johnsonville was an important transfer point from boats on the Tennessee River to a rail line that connected with Nashville to the east. When Sherman sent part of his army back to Nashville to protect his supply lines, Forrest hoped to apply pressure to that force. Forrest began moving part of his force to Johnsonville on October 16, but most of his men were not in place until early November. Incredibly, the Union forces, which numbered about 2,000, seem to have been completely unaware of the Confederates just across the river. Forrest brought up artillery and began a barrage at 2 p.m. on November 5. The attack was devastating. One observer noted, "The wharf for nearly one mile up and down the river presented one solid sheet of flame." More than $6 million worth of supplies were destroyed, along with four gunboats, 14 transports, and 20 barges. General George Thomas, commander of the Union force at Nashville, had to divert troops to protect Johnsonville. After the raid, Forrest's reputation grew, but the raid did not deter Sherman from embarking on the March to the Sea, his devastating expedition across Georgia.
1879 - Birthday of Will Rogers (d. 1935) at Oologah, Indian Territory (now Oklahoma). American writer, actor, humorist and grassroots philosopher, he was killed in an airplane crash with aviator Wiley Post near Point Barrow, AK, August 15, 1935. "My forefathers," he said, "didn't come over on the Mayflower, but they met the boat."
1879 - African-American T. Elkins patents the refrigerating apparatus.
1884 - Grover Cleveland was elected President of the United States and Thomas A. Hendricks was elected Vice-President. The electoral vote was: Cleveland, 219; James G. Blaine, Republican of Maine, 182. The popular vote was: Cleveland 4,911,017; Blaine 4,848,334. In congressional elections, the Republicans gained five seats in the Senate to gain a 43-34 majority. In the House, the Republicans gained 22 seats, but the Democrats held a 183-140 majority. Robert M. La Follette, Republican of Wisconsin, was elected to his first term in the House of Representatives. A celebrated presidential campaign slogan aimed at Grover Cleveland was, "Ma, Ma, where's my Pa?"---a reference to Cleveland's admission that he fathered a child out of wedlock. To this query the Democrats would reply, "Gone to the White House, ha, ha, ha."
1889 - After a formal meeting of representatives from all National League chapters, the Brotherhood issued a "manifesto" in which it claimed that "players have been bought, sold and exchanged as though they were sheep instead of American citizens." This led to a declaration of war between the Brotherhood and Major League officials which soon exploded into the formation of the Players League. The Brotherhood of Professional Baseball Players represented the first serious effort to organize a labor union consisting of baseball players. It was launched in 1885 with the aim of raising player salaries in recognition of the growing popularity of professional baseball and the growth in revenues generated by the game. It also aimed to combat the reserve clause which restricted player movement and helped to keep salaries down. The organization gained official recognition when NL owners first met with the Brotherhood's representatives in 1887. However, relations between the two soon became difficult as owners were unwilling to make significant concessions. The impasse led to the creation of the Players League in 1890, which included many of the most famous stars of the time and which was owned and operated by the players themselves.
1897 - The first Library of Congress building opened its doors to the public. Previously, the Library had been housed in the Congressional Reading Room in the U.S. Capitol.
http://memory.loc.gov/ammem/today/nov01.html
1906 - Birthday of Robert Bernard "Bob" Considine (d. 1975), sportswriter and author, at Washington, DC. Considine parlayed some early success as a tennis player and a job as a federal government clerk into a career as a sportswriter. He covered baseball starting in 1933 and soon became a columnist for the Hearst newspapers. He branched out into politics and national affairs and served as a war correspondent during World War II. He wrote or coauthored more than 25 books, including the screenplay for "Pride of the Yankees," the film biography of Lou Gehrig.
1916 - Birthday of Walter Leland Cronkite, Jr., (d. 2009), St. Joseph, MO. Journalist, war correspondent, former anchor for "CBS Evening News." During the heyday of CBS News in the 1960s and 1970s, he was often cited as "the most trusted man in America" after being so named in an opinion poll. In mid-February 1968, Cronkite journeyed to Vietnam to cover the aftermath of the Tet Offensive. Upon return, Cronkite wrote an editorial report based on that trip. On February 27, 1968, Cronkite closed that editorial report: "We have been too often disappointed by the optimism of the American leaders, both in Vietnam and Washington, to have faith any longer in the silver linings they find in the darkest clouds…" Following Cronkite's editorial report, President Lyndon Johnson is claimed by some to have said, "If I've lost Cronkite, I've lost Middle America."
1918 - Birthday of Art Carney (d. 2003), Mount Vernon, NY.
An actor, he won an Oscar for "Harry and Tonto" and six Emmys for "The Honeymooners" as Ralph Kramden's (Jackie Gleason) sidekick, Ed Norton.
1919 - Birthday of bass player Joe Benjamin (d. 1974), Atlantic, City, NJ
http://www.jazzvalley.com/musician/joe.benjamin
http://shopping.yahoo.com/shop?d=product&id=1927041585
1920 - Women voted nationally for the first time, enabled by the 19th Amendment which prohibits any United States citizen from being denied the right to vote on the basis of sex.
1922 - Birthday of pianist Ralph Sutton (d. 2001), Hamburg, MO.
http://www.artistdirect.com/music/artist/bio/0,,499089,00
.html?artist=Ralph+Sutton
http://www.riverwalk.org/profiles/sutton.htm
http://www.jazzcanadiana.on.ca/_SUTTON.htm
1924 - Calvin Coolidge was elected to the top office of the United States. Coolidge was already in the office as President having to complete Warren G. Harding's term (Harding died in office). The electoral vote was Coolidge 382; John W. Davis, Democratic candidate, 13. The popular vote was Coolidge 15,725,016; Davis 8,385,503, La Follette, 4,822,856. The huge Republican victory in the presidential election was anticipated. The Democrats had torn themselves apart in a struggle for the nomination. Gov. Alfred E. Smith of New York represented the East and the big cities, and William G. McAdoo of Tennessee, the southern and western parts of the country. The eventual nominee was John W. Davis, an able man but almost unknown to the voters. The Republicans, on the other hand, could point with pride to Calvin Coolidge and a record of prosperity. The Democrats tried to make much of the scandals of the Harding administration but failed to stir the electorate. In fact, despite a strong third party in the field, only about half of those eligible to vote did so.
1924 - The first woman governor was Nellie Taylor Ross, Wyoming, elected to fill the unexpired term of her late husband, William Bradley Ross. From 1933 to 1935, she served as Director of the Mint, the first woman to do so.
1926 - Birthday of percussionist Carlos "Patato" Valdez (d. 2007), Havana, Cuba
http://www.jazzgalerie.de/galerieseiten/VC1.HTM
1927 - A great Vermont flood occurred. Tropical rains deluged the Green Mountain area of Vermont causing the worst flood in the history of the state. Torrential rains, up to 15 inches in the higher elevations, sent streams on a rampage devastating the Winooski Valley. Flooding claimed 200 lives and caused $40 million damage. The town of Vernon reported 84 deaths. Flooding left up to eight to ten feet of water in downtown Montpelier. (2nd-4th)
1928 - Arnold Rothstein, New York's most notorious gambler, is shot and killed during a poker game at the Park Central Hotel in Manhattan. After finding Rothstein bleeding profusely at the service entrance of the hotel, police followed his trail of blood back to a suite where a group of men were playing cards. Reportedly, Rothstein had nothing good in his final hand. In the 1920's, Rothstein began purchasing nightclubs, racehorses, and brothels. He had such a formidable presence in the criminal underworld that he was reportedly once paid half a million dollars to mediate a gang war. As Rothstein's fortune grew to an estimated $50 million, he became a high-level loan shark, liberally padding the pockets of police and judges to evade the law. He is fabled to have carried around $200,000 in pocket money at all times. Rothstein's luck finally ran out in 1928 when he encountered an unprecedented losing streak. At a poker game in September with "Hump" McManus, "Nigger Nate" Raymond, and "Titanic" Thompson, Rothstein lost a cool $320,000 and then refused to pay on the grounds that the game had been rigged. Two months later, McManus invited Rothstein to play what would be his final poker game. Police were never able to identify Rothstein's murderer. Asked who had shot him before dying, Rothstein reportedly put his finger to his lips and kept the gangsters' code of silence. Rothstein was widely reputed to have organized corruption in professional athletics, including conspiring to fix the 1919 World Series.
1928 - Birthday of drummer Larry Bunker (d. 2005), Long Beach, CA.
http://www.jazzvalley.com/musician/larry.bunker
http://shopping.yahoo.com/shop?d=product&id=1927046069
&clink=dmmu.artist&a=b
1935 - The so-called Yankee Hurricane hit Miami with winds of 95 mph. It was unusual in that it moved into the area from the northeast
1936 - Future U.S. Senate Chaplain Rev. Peter Marshall, 34, married Catherine Wood, 22. Following Peter's premature death at age 46, Catherine immortalized his name through her 1951 best-selling biography, "A Man Called Peter."
1939 - The Packard Motor Car Company, Detroit, publicly exhibited the first air-conditioned car at the 40th Automobile Show, Chicago, IL. Air in the car was cooled to the temperature desired, dehumidified, filtered, and circulated. The refrigerating coils were located behind the rear seat in an air duct, with heating coils into another compartment of the same duct. The capacity of the unit was equivalent to 1.5 tons of ice in 24 hours when the car was driven at 60 miles per hour, or 2 tons at 80 miles per hour. The invention was first offered to the Ford Motor Company, invented by the Greenberg Brothers. It was a sweltering August day when the three Greenberg Brothers entered the posh Dearborn, Michigan offices of the notoriously anti- Semitic carmaker, Henry Ford. "Mr. Ford," announced Hyman Greenberg, the eldest of the three, "we have a remarkable invention that will revolutionize the automobile industry."
Ford looked skeptical, but their threats to offer it to the competition kept his interest piqued. Hi Greenberg continued, "We would like to demonstrate it to you in person." After a little cajoling, they brought Mr. Ford outside and asked him to enter a black car that was parked in front of the building. Norman Greenberg, the middle brother, opened the door of the car. "Please step inside, Mr. Ford." "What!" shouted the tycoon, "are you crazy? It must be one hundred degrees in that car!" "It is," smiled the youngest brother, Max, "but sit down, Mr. Ford, and push the white button." Intrigued, Ford pushed the button. All of a sudden, a whoosh of freezing air started blowing from vents all around the car, and within seconds the automobile was not only comfortable, it was quite cool! "This is amazing!" exclaimed Ford. "How much do you want for the patent?" Norman spoke up. "The price is one million dollars." Then he paused, "And there is something else. We want the name 'Greenberg Brothers Air Conditioning' to be stamped right next to the Ford logo." "Money is no problem," retorted Ford, "but no way will I have a Jewish name next to my logo on my cars!" They haggled back and forth for a while and finally they settled. One and one half million dollars, and the name Greenberg would be left off. However, the first names of the Greenberg brothers would be forever emblazoned upon the console of every Ford air conditioning system. And that is why today, whenever you enter a Ford vehicle you will see those three names clearly defined on the air-conditioning control panel: Max-Hi-Norm
1946 - Birthday of Laura Bush, born Laura Lane Welch, Midland, TX. Former First Lady, wife of President George W. Bush, she attended Southern Methodist University in Dallas, Texas, where she earned a Bachelor of Science degree in education in 1968. After college, she worked as a teacher at Longfellow Elementary School in the Dallas Independent School District until 1969 and then moved to Houston, Texas, where she taught at John F. Kennedy Elementary School in the Houston Independent School District until 1972. Later, she enrolled at the University of Texas at Austin and earned a Master of Library Science degree in 1973. Afterward, she worked at the Houston Public Library, Kashmere Gardens Branch until she moved back to Austin in 1974. She worked as a librarian at Dawson Elementary School until 1977, when she met George Walker Bush at the home of mutual friends. They married in November, 1977 and made their home in Midland. In 1981, George and Laura Bush became the proud parents of twin girls, who are named Barbara and Jenna, after their grandmothers.
1946 - UNESCO, the United Nations Educational, Scientific and Cultural Organization formed.
1949 - "One Man's Family" premiered on TV and is the longest-running uninterrupted dramatic serial in the history of American radio. This series occurred at the same time as the popular radio drama of the same name. In the first season, the cast included Bert Lytell as Henry Barbour, a wealthy San Francisco stockbroker and Majorie Gateson as his wife, Fanny. Also included were Eva Maria Saint and Tony Randall. The second time the show came to TV it was a 15-minute serial and had an entirely new cast. It debuted as a radio series on April 29, 1932 in Los Angeles, Seattle and San Francisco, moving to the full West Coast NBC network the following month and ended in 1959.
1950 - *POYNTER, JAMES I., Medal of Honor
Rank and organization: Sergeant, U.S. Marine Corps Reserve, Company A, 1st Battalion, 7th Marines, 1st Marine Division (Rein.). Place and date: Near Sudong, Korea, 4 November 1950. Entered service at: Downey, Calif. Born: 1 December 1916, Bloomington, Ill. Citation: For conspicuous gallantry and intrepidity at the risk of his life above and beyond the call of duty while serving as a squad leader in a rifle platoon of Company A, in action against enemy aggressor forces during the defense of Hill 532, south of Sudong, Korea. When a vastly outnumbering, well-concealed hostile force launched a sudden, vicious counterattack against his platoon's hasty defensive position, Sgt. Poynter displayed superb skill and courage in leading his squad and directing its fire against the onrushing enemy. With his ranks critically depleted by casualties and being critically wounded himself, as the onslaught gained momentum and the hostile force surrounded his position, he seized his bayonet and engaged in bitter hand-to-hand combat as the breakthrough continued. Observing 3 machineguns closing in at a distance of 25 yards, he dashed from his position and, grasping hand grenades from fallen marines as he ran, charged the emplacements in rapid succession, killing the crews of 2 and putting the other out of action before he fell, mortally wounded. By his self-sacrificing and valiant conduct, Sgt. Poynter inspired the remaining members of his squad to heroic endeavor in bearing down upon and repelling the disorganized enemy, thereby enabling the platoon to move out of the trap to a more favorable tactical position. His indomitable fighting spirit, fortitude, and great personal valor maintained in the face of overwhelming odds sustain and enhance the finest traditions of the U.S. Naval Service. He gallantly gave his life for his country.
1951 - Top Hits
"Because of You" - Tony Bennett
"I Get Ideas" - Tony Martin
"Down Yonder" - Del Wood
"Slow Poke" - Pee Wee King
1952 - America said, "I Like Ike." The Dwight D. Eisenhower/Richard M. Nixon ticket won a sweeping (55%-44%) victory over Democrat Adlai E. Stevenson and running mate John J. Sparkman. Eisenhower became the 34th President of the U.S. The electoral vote was Eisenhower, 442-89. The popular vote was Eisenhower, 36,938,285; Stevenson 27,312,217; Vincent Hallinan, Progressive, 140,138. The Republicans gained one Senate seat for a 48-47 majority with one seat going to a minor party. In the House, they gained 22 seats for a 221-211 majority, one seating to a minority party. On Election Day, 1952, UNIVAC, the world's first commercially available electronic computer, predicted a landslide for Eisenhower. In a test televised by CBS, the computer used early returns from key states to predict the election, based on voting patterns from 1944 and 1948. However, the computer's predictions were radically different from polls taken by Gallup and Roper, which predicted a close race, and the computer's programmers made adjustments so that the computer's first broadcast prediction corresponded more closely to the polls. Only an hour after the polls had closed with less than ten percent of the votes had been counted, the CBS TV Network, which employed the computer, was able to predict Eisenhower's landslide victory, trumping human experts who had predicted a close race. Ironically, the computer's original prediction of 438 electoral votes for Eisenhower and 93 for Stevenson was only off by four votes. The nation watched with interest as a Republican administration took over the reins of government for the first time in 24 years. The most explosive internal problem was Joseph R. McCarthy. Republican of Wisconsin, charging Soviet espionage activities in the U.S. The administration's most outstanding success was a peace agreement in Korea. Pres. Eisenhower announced the agreement to a relieved country, but warned, "We have won armistice on a single battleground, but not peace in the world."
1953 - Hulan Jack elected first Black Borough President of Manhattan, NYC.
1953 - "How to Marry a Millionaire" premiered, starring Marilyn Monroe, Betty Grable and Lauren Bacall. One of the most popular films with the most beautiful women, it is about three women whose goal in life was to marry a rich man. The ending: love triumphs over all, and to the surprise of all, the richest man of the group.
1954 - Florence Henderson, who was all of 20 years old, joined with Ezio Pinza and Walter Slezak in "Fanny." The show lit up Broadway 888 times.
1954 - Philadelphia A's move to Kansas City. In 1901, the Western League had been renamed the American League and declared itself the second Major League. New franchises in the east were created and some franchises were eliminated in the West. Philadelphia had a new franchise created to compete with the National League's Phillies. Former catcher Connie Mack was recruited to manage the club. Mack, in turn, persuaded Phillies minority owner Ben Shibe and others to invest in the team called the Philadelphia Athletics. Mack himself bought a 25 percent interest. In the early years, the A's established themselves as one of the dominant teams in the new league, winning the A.L. pennant six times (1902, 1905, 1910, 1911, 1913 and 1914), and winning the World Series in 1910, 1911 and 1913. They won over 100 games in 1910 and 1911, and 99 games in 1914. In 1909, the A's moved into the Majors' first concrete-and-steel ballpark, named Shibe Park. Lean years followed but a 'second dynasty' emerged in 1927-33 when, in 1927 and 1928, the Athletics finished second to the Yankees, then won pennants in 1929, 1930 and 1931, winning the World Series in 1929 and 1930. In each of the three years, the A's won over 100 games. The Depression took its toll and many of the 'dynasty' players were sold off to reduce expense in an era of low attendance. This continued to decimate A's teams and finally forced the sale to Arnold Johnson, who moved the team to KC. They have been the Oakland A's since new owner Charlie Finley moved them there in 1968.
1956 - The top six songs on the pop and R&B charts are identical: Elvis Presley's "Jailhouse Rock," the Everly Brothers' "Wake Up Little Susie," Sam Cooke's "You Send Me," the Rays' "Silhouettes," Rickie Nelson's "Be-Bop Baby" and Jimmie Rodgers' "Honeycomb."
1958 - African-American Shirley Verrett, world renowned opera singer, makes her debut in New York City.
1958 - No. 1 Billboard Pop Hit: "It's Only Make Believe,'' Conway Twitty.
1959 – Cubs SS Ernie Banks won his second consecutive MVP award on the strength of his 45 home runs and 143 RBI.
1959 - Top Hits
"Mack the Knife" - Bobby Darin
"Mr. Blue" - The Fleetwoods
"Put Your Head on My Shoulder" - Paul Anka
"The Three Bells" - The Browns
1959 - After 17-year-old gang member Salvador Agron fatally stabbed two teens in New York, radio station WCBS banned the Bobby Darin hit "Mack the Knife."
1961 - Bob Dylan makes his debut at the Carnegie Chapter Hall in New York City. Most of the fifty people in attendance are his friends who paid two bucks to get in. Dylan was paid twenty dollars for the night.
1963 - The Beatles appear at the Royal Command Performances at the Prince of Wales Theatre in London. In attendance are the Queen Mother, Princess Margaret and Lord Snowden. It was here that John Lennon made his now famous announcement: "For our last number, I'd like to ask for your help. The people in the cheaper seats clap your hands and the rest of you, if you'd just rattle your jewelry. We'd like to sing a song called Twist and Shout."
1967 - Smokey Robinson and the Miracles' "I Second That Emotion" is released.
1967 - Top Hits
"To Sir with Love" - Lulu
"Soul Man" - Sam & Dave
"It Must Be Him" - Vikki Carr
"You Mean the World to Me" - David Houston
1968 - Shirley Chisholm became the first black woman elected to the House of Representatives.
http://www.africanamericans.com/ShirleyChisholm.htm
http://nh.essortment.com/shirleychisholm_ruol.htm
http://scriptorium.lib.duke.edu/wlm/equal/
1970 - King Peter II of Yugoslavia became the first European king to be buried in the United Sates. His Serbian name was Petar Karadjordjevic. He became King on October 11, 1934. He left Yugoslavia in 1941 after it was invaded by Germany and headed the exiled Yugoslav government during World War II. After 1945, when Yugoslavia became a republic, he lived in New York City.
1972 - "I Can See Clearly Now" by Johnny Nash topped the charts and stayed there for 4 weeks.
1973 - The Chicago Bears set a National Football League record by holding the Green Bay Packers to a minus 12 passing yards.
1973 - The De Franco Family enjoyed their biggest hit when "Heartbeat - It's a Lovebeat" topped out at #3 on the Billboard chart.
1975 - Top Hits
"Island Girl" - Elton John
"Lyin' Eyes" - The Eagles
"They Just Can't Stop It" ("Games People Play") - Spinners
("Turn Out the Lights And") "Love Me Tonight" - Don Williams
1975 – The Orioles' Jim Palmer won his second consecutive Cy Young award after pacing the AL in wins (23), shutouts (10), and ERA (2.09).
1976 - Major League baseball held its first draft of players who had declared themselves free agents. 24 players from 13 clubs were available for selection. Reggie Jackson eventually signed the most lucrative contract in this group, $2.9 million over five years, to play with the New York Yankees.
1978 - "You Needed Me" by Anne Murray topped the charts and stayed there for a week.
1979 - 500 Iranians seized the US Embassy in Teheran, taking some 90 hostages, of whom about 60 were Americans. They vowed to hold the hostages until the former Shah, Mohammed Reza Pahlavi, who was in the US for medical treatments, was returned to Iran for trial. The Shad died July 27, 1980, in an Egyptian military hospital near Cairo. The remaining 52 American hostages were released and left Teheran on January 20, 1981, after 444 days of captivity.
1980 - Republican Ronald Reagan won the White House defeating President Jimmy Carter. Reagan was the 40th President of the U.S., carrying 44 states winning by a landslide (489 electoral votes to Carter's 49). The popular vote was Reagan, 42,797,153; Carter 34, 424,100, John Anderson, independent candidate 5,533,927. In congressional elections, the Republicans picked up 12 Senate seats for a 53-46 majority, with one independent seat. In the House, the Democrats lost 33 seats but kept a majority of 242-192, with one seat going to an independent. On January 20, as Ronald Reagan was being inaugurated, Iran released the 52 captives seized at the U.S. embassy in Teheran, in Nov. 1979, thus ending the Iranian hostage crisis.
1980 - Japan's all-time HR hitter, Sadaharu Oh, retires from professional baseball. The Tokyo Yomiuri Giants' first baseman hit a record 868 home runs in his 22-year playing career.
1980 – Steve Carlton of the Philadelphia Phillies won his second consecutive Cy Young Award. He posted a 24-9 record with a 2.34 ERA and a league-leading 286 strikeouts. He joined Sandy Koufax, Tom Seaver and Jim Palmer as the only three-time Cy Young Award winners to that point.
1981 - "The Fall Guy" premiered on TV. An hour-long adventure series, the story centered around a Hollywood stuntman, Colt Seavers, played by Lee Majors, who also moonlighted as a bounty-hunter, catching bail-jumpers. It also starred Douglas Barr, Heather Thomas, Jo Ann Pflug, Markie Post and Negra Volz. Lee Majors also sang the theme song for the show.
1983 - Top Hits
"All Night Long" ("All Night") - Lionel Richie
"One Thing Leads to Another" - The Fixx
"Telefone" ("Long Distance Love Affair") - Sheena Easton
"Islands in the Stream" - Kenny Rogers with Dolly Parton
1983 - The temperature at Billings, MT soars to 77, a new record for the data and month
1984 - Seattle sets an NFL record by returning four interceptions for touchdowns in a 45-0 victory over Kansas City. Dave Brown scores twice while Kenny Easley and Keith Simpson also return interceptions for touchdowns. All of the scores are longer than 50 yards.
1987 - The NBA announces four new franchises; Charlotte (Hornets) and Miami (Heat) for 1988 and Minneapolis (Timberwolves) and Orlando (Magic) for 1989.
1987 - Thirty-two cities in the eastern and south central U.S. reported record high temperatures for the date. Highs of 74 degrees at Portland ME and 86 degrees at Fort Smith, AR equaled November records. It was the fourth day of record warmth for Beckley, WV, Memphis, TN and Paducah, KY. A cold front ushered much colder air into the north central U.S. Gale force winds lashed all five Great Lakes.
1989 - Snow and high winds plagued parts of Colorado and Wyoming. Winds gusted to 71 mph near Wheatland, WY, and reached 80 mph west of Fort Collins, CO. Up to five inches of snow blanketed Yellowstone Park, WY closing many roads. Snow also blanketed northern Minnesota, with seven inches reported at Baudette.
1991 - The Ronald Reagan Presidential Library & Museum was dedicated by five American presidents (the first gathering of five U.S. presidents). Reagan, President George Bush, and former presidents Jimmy Carter, Gerald R. Ford and Richard M. Nixon attended the ceremonies in Simi Valley, California.
1991 - Top Hits
"Romantic" - Karyn White
"Cream" - Prince & The N.P.G.
"Can't Stop This Thing We Started" - Bryan Adams
"Anymore" - Travis Tritt
1991 - Bobby "Blue" Bland, Booker T. & The M.G.s, Johnny Cash, Jimi Hendrix, The Isley Brothers, Sam & Dave and The Yardbirds are elected to the Rock and Roll Hall of Fame.
1992 - Elton John and his songwriting partner Bernie Taupin sign a $39 million publishing contract with Warner-Chappell music -- the largest music publishing firm.
1993 - The NBA Board of Governors accepted a recommendation from the Expansion Committee to award a franchise to a Toronto group headed by John Bitlove, Jr. The team, later named the Raptors, began play in the 1995-96 season.
1997 - After an 18-month delay, Capitol Records releases The Beach Boys' "The Pet Sounds Sessions," a 4-CD boxed set which details the creation of The Beach Boys' album "Pet Sounds." Overseen by producer Brian Wilson, the collection allows the listener to hear a capella vocals from the master tapes and alternate mixes of the songs.
2001 - In Game 7 of a classic World Series, Arizona rallies for two runs in the bottom of the ninth, defeating the Yankees and their usually unbeatable closer, Mariano Rivera, 3-2. The four-year old Diamondbacks, the youngest franchise to win a Fall Classic, end New York's string of three consecutive World Championships. This was also the first World Series to have been played in November, delayed out of deference to those who lost their lives on 9/11.
http://www.sportingnews.com/archives/worldseries/2001.html
2002 - Colorado Rockies right-hander Jason Jennings (16-6, 4.52) becomes first member of the Rockies to be selected by the BBWAA as the National League Rookie of the Year. The 24-year old right-hander receives 27 first-place votes from the 32 writers participating in the balloting.
2003 - Miami-Dade County Commissioners approved a plan committing $73 million in tax money toward a new Major League ballpark for the Marlins. The World Champions, who have agreed to change their name to the Miami Marlins if the city builds the ballpark, want to begin playing in the $325 million new park in 2007, but still doesn't have a plan for raising $137 million needed as part of their commitment.
2008 - Democrat Barack Obama was elected the first black President of the United States, defeating Republican John McCain; Democrats gained seats in the Senate and House.
2013 - A successor to the SR-71 Blackbird is being built by Lockheed Martin. The company's Advanced Development Programs, known by the alias Skunk Works, has taken on the challenge to build the SR-72, capable of flying at Mach 6 with expected delivery in 2023.
2013 - A private collection of 1,500 works of art plundered by the Nazi's and discovered in a Munich apartment in 2012, has an estimated worth of $1 billion; lost works include paintings by Matisse, Paul Klee, Marc Chagall and Picasso.
2014 - Tim Scott becomes the first African-American Senator in the south since the Reconstruction.

World Series Champions
2001 - Arizona Diamondbacks.
-------------------------------------------------------------

SuDoku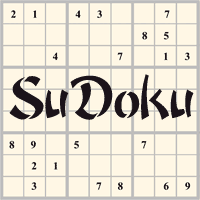 The object is to insert the numbers in the boxes to satisfy only one condition: each row, column and 3x3 box must contain the digits 1 through 9 exactly once. What could be simpler?
http://leasingnews.org/Soduku/soduko-main.htm
--------------------------------------------------------------

Daily Puzzle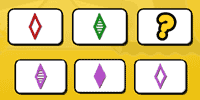 How to play:
http://www.setgame.com/set/puzzle_frame.htm
Refresh for current date:
http://www.setgame.com/set/puzzle_frame.htm
--------------------------------------------------------------


http://www.gasbuddy.com/
http://www.gasbuddy.com/GB_Map_Gas_Prices.aspx
http://www.gasbuddy.com/GB_Mobile_Instructions.aspx
--------------------------------------------------------------

Weather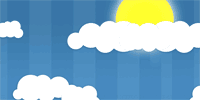 See USA map, click to specific area, no commercials
--------------------------------------------------------------

Traffic Live---
Real Time Traffic Information
You can save up to 20 different routes and check them out with one click,
or type in a new route to learn the traffic live
--------------------------------