Baltimore - Washington area
Lease Representative
M&T Bank is seeking an in-market lease representative to develop and maintain relationships with broker/lessors, equipment vendors, and direct lessees throughout Maryland and Northern Virginia. Must be knowledgeable small ticket leasing ($75K average ticket) and third-party lease/loan transactions. Please apply on-line at www.mandtbank.com and view posting #4044.
At M&T Bank, we provide and exciting and challenging work environment where performance and innovative thinking is encouraged at every level. With over 700 branches, your career can travel as far as you take it!

Wednesday, November 2, 2005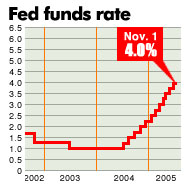 Headlines---
Impact 3 Hurricanes on the Leasing Industry
Correction: "typo"
---Should have read "past" not "present
ELA may Return Portion of Registration
Readers Comment on ELA's Postion
Classified Ads---Sales Manager
Leasing Assoc. Meetings Open to Non-Members
---Arizona Today-5pm w/Jeff Taylor, CLP
Ira Romoff: Sovereign Buys Indep. Bank
Sales Makes it Happen
---The New Sales Professional
Classified Ads-Help Wanted
Biz Up in September says 19 lessors
October "okay" says NACM Index
New Asset Deals On Pace for High This Year
Enborn,Houlahan,Patterson,Walker New CLPs
Bass/Bruce Travelers Financial Group
Leaseteam Hires 11, Promotes 2
News Briefs---
You May Have Missed
Sports Briefs---
"Gimme that Wine"
Today's Top Event in History
This Day in American History
American Football Poem
--- Ralph Waldo Emerson
######## surrounding the article denotes it is a "press release"

Impact of the three Hurricanes on the Leasing Industry
"I would like to see some news on the impact of hurricane Katrina and Rita and now Wilma on the leasing industry. I live in the New Orleans area and have experienced the devastation.
What is the business community saying about the impact on the leasing industry? Loss of equipment etc?"
Roxanne Melerine
Sr. VP Marketing
Newton and Associates, Inc.
1-985-727-3368
roxannemelerine@newton-associates.com
Katrina (end of August), Rita (Sept. 20), and Wilma (Oct. 19, NY Times calls " the most powerful storm ever recorded in the Atlantic Ocean basin.
Perhaps one of the indicators was the attendance of the Equipment Leasing Association Conference, the attendees, and the hotel itself. How many other such conferences and activities were affected? Will businesses come back to the hurricane area in the next seasons or book elsewhere such as Nashville, Chicago, Denver, Seattle, San Francisco, or Boston?
If readers have information they would like to share about how the hurricane has affected their leasing business, we would like to print it ( and if you like, we will with hold the name of you and your company, at your request. )
To date, indicators have show a positive, growing economy, and thus also why the Fed has raised its key rate again, and will apparently continue to do so.
Perhaps actual statistics must be lagging if the hurricane has affected the leasing industry, as evidenced by the both the Equipment Leasing Association index and National Association of Credit Managers ( please see reports in this edition.) Maybe the cost of rebuilding and money outlays for the emergency were good for the economy?
Christopher Menkin, Editor
--------------------------------------------------------------

Correction: "typo" Should have read "past" not "present"
"Kit...for the record so people don't think I am writing as a board member. I am NOT a board member of the ELA.
"I think you had a line in front that said "Current and present ELA Board members came to the rescue of the conference, too, such as our good friend Debbie Monosson: "meaning that I am a board member. If current and present members such as Debbie Monosson....then therefore people will think I am a board member. I just want people to know I was not writing this because of that. I wrote it because I meant it as an individual."
Deborah J. Monosson
President
Boston Financial & Equity Corporation
1260 Boylston Street
Boston, MA 02215
617-267-2900
http://www.bfec.com
The typo was corrected on the "on line version," in the archives and is hereby also brought to eaders' attention:
The Friday story:
http://www.leasingnews.org/archives/October%202005/10-31-05.htm#ela
--------------------------------------------------------------

ELA may Return Portion of Boca Raton Registration to Non-Attendees

ELTnews has announced the Equipment Leasing Association (ELA) is will consider changing its "hell and high water" registration policy regarding the Boca Raton October Conference:
" ELA intends to return a portion of the registration fee to each and every individual who registered for the convention. The amount will be determined in the next few weeks, once we have as ascertained the cost of ELA's various expenses for the convention."
Most of the readers who registered for the Equipment Leasing Association Boca Raton Conference from October 23-24, who did not attend, told us they were advised by the hotel itself not attend due to the hurricane.
The standard reservation policy of the hotel:
"October 1-December 20, 2005: Reservations must be canceled 7 days prior to arrival to avoid penalty of one night's room charge."
Sara Buzzannco of the Boca Raton Resort & Club sales office in Washington, DC, left this voice mail that she had no knowledge of the hotel personnel advising not to attend the ELA conference, but nevertheless they were returning all deposits to those who registered:
"I understand you called the resort yesterday regarding reservation and perhaps attribution or cancellations chargers on, please know we are not charging cancellation or attribution to any attendees or members equipment leasing association group at no point were we told; were we telling our customers thru reservations not to come. We accepted reservation up thru the last day of the program but non-the-less we will not be charging any cancellations penalties on deposits, etc ."
Others wrote Leasing News they did not attend because they could not reach anyone at the ELA office about the conference, from television reports, and information on the hurricane obtained from the internet, particularly announcements and warnings from the National Hurricane Center. Some noted they were from distances that required two connections. In all the cases, they were able to cancel their flights and receive either airline credit or credit card reimbursement at their choice, even though many did not have airline insurance.
It should be noted that Thursday October 20, the National Hurricane Center started informing that Florida may be a destination for Wilma, but it was not until Friday that they stated they would be issuing an official warning, which was done on Saturday, October 22, at 10:00am:
http://leasingnews.org/PDF/Hurricane%20WILMA.pdf
It is not uncommon for airlines, hotels, or other organizations to forgive "hell and high water" reservation policy cancellations due to a death in the immediate family, serious illness such as a heart attack or appendicitis, or an act of god, such as a hurricane or earthquake.
It should also be pointed out that none of the ELA members who requested reimbursement of their $1550 (reported by one who cancelled as his registration fee,) said they would resign or not renew their membership. All wanted to continue their support for the association, but thought the board of directors was being unfair, as under the circumstances of the hurricane, they were due reimbursement as both the airline and hotel volunteered to do.
In previous stories, ELA President Mike Fleming, CAE, and Joe Lane, former chairman and current chairman of the foundation, repeated the policy of cancellation, and they were not responsible for what the hotel, the television, or the internet reported about the hurricane and whether it was advisable to attend the conference, even though a hurricane warning had been issue.
The sales department at the hotel told Leasing News that ELA had reserved 400 rooms for members, and other organizations, such as GE Capital, reserved 25 rooms. The expect attendance was over 1200.
Leasing News has not been able to obtain any of the actual facts, although guesses are 800 who were registered did not attend. This may be fairly accurate, as Mike Fleming in an e-mail reportedly estimated the actual attendance was from 400 to 500.
Attendees have told Leasing New a difference number, but to date no actual head count, so it is all conjecture. Perhaps when the financial decision is made, these numbers will be made available to members.
These are facts that Leasing News found:
Monday, December 31, was the first day the Boca Raton Resort & Club, 501 East Camino Real Boca Raton, Florida was fully open, except for the Beach Club, which is expected to open until November 9th. according to the hotel.
Leasing News has one of its internet serves based out of Boca Raton, Florida (Verio.) During the storm, we were down. Verio "tech" Nelson Abreu says he drives by the Boca Raton on his way to work each day and it has been dark until today, confirming what the "front desk" at the Boca Raton told us. By the way, Abreu says he house has been without electricity and water for since the hurricane hit, in addition it takes him three times as long to get to work as only 10% of the traffic lights are working, so every intersection becomes a four way stop operation.
The Boca Raton Chamber of Commerce reports this day it is still without power or telephone operation, and the city announces the curfew (Palm Beach County south of Southern Boulevard) remains from 9:00pm until 5:00am. They do lift the precautionary boil water order this day. Florida Atlantic University notifies students they may return to their university residences and classes and normal operations will begin on Monday, November 7.
ELTnews issue on the statement of considering returning a portion of the $1550 registration fee:
http://leasingnews.org/PDF/ELT%20Enews%20Daily%20Issue%20October%2031,%202005.pdf
----------------------------------------------------------------------
Readers Comments on Leasing News ELA Conference Uproar
" I for one am definitely upset about how the conference was held, however, I have known Mike Fleming from back in the late 70's and let us not forget all the good he has done for the leasing industry and the AEL and now ELA. Just thought I would add this comment and let you know briefly my position.
"Keep up the good work and let's keep the news unbiased as you always have."
God Bless
Richard A. Galtelli CLP
EVP - Corporate Development
Heritage Pacific Leasing
3439 W. Shaw Ave.
Fresno, CA 93711-3204
559-252-7300 Fax 559-277-4201
Cell 214-213-9600
rickg@heritage-pacific.com
"$1,550 with ELA member discount. Honestly, I don't even care much about the fees. I just wish the organization would not have wasted everyone's time and put people in peril."
Christopher A. Enbom
CEO
Allegiant Partners Incorporated
999 5th Ave, Suite 300
San Rafael, CA 94960
Phone: 415 451 4041
Fax: 415 257 4201
www.allegiant-partners.com
cenbom@allegiant-partners.com
"You hit a home run today with your article on the uproar about the ELA convention in Boca Raton. This kind of article is what you do best, and what continues to bring readers to Leasing News. You went behind the press releases to get another side to the story, and you let attendees speak for themselves, making the story even more compelling.
"I can't wait for the next chapter!"
Bob Teichman, CLP
Teichman Financial Training
3030 Bridgeway, Suite 213
Sausalito, CA 94965
Tel: 415 331-6445
Fax: 415 331-6451
e-mail: BoTei@aol.com
"If the ELA refuses to return money, I think at a minimum, they should offer to credit peoples paid registration fees toward next years conference. That way they are not obligated to return large amounts of money and it gives them some time to make any necessary adjustments to next years event. This would hopefully please both the board and its members."
Todd Kaufman
Keystone Equipment Finance Corp
"As the Executive Director of an association whose annual conference and trade show contributes $1.23 million to my annual budget, going to a hurricane prone area during hurricane season certainly wouldn't be a destination choice for me!
"However, all the numbers aren't in on ELA's attendance, and you can be sure there will be lots of spin. I'm sure there's a cancellation policy that they can stick to when the demands for a refund come pouring in, but, when you piss off the members, they GO AWAY mad and you can kiss that life cycle revenue goodbye.
"This could be the birth of a new leasing splinter group."
James Purdy
james@prunty.com
Correspondence Address: 2552 New York Drive, Altadena, CA 91001 USA
Telephone 626/296-6982 · Facsimile 626/296-6987
http://james.prunty.com
"I am shocked, shocked that you report that the advanced fees for the Equipment Leasing Association meeting in Boca Raton are being retained as "earned." Those individuals who placed life and limb above attendance at the meeting must not have been aware of the added attraction of a hurricane the organizers must have thought would add interest to the meeting, if one could find a non-cancelled flight and a boat to get to the hotel once there.
"In this case the hurricane in Florida only proved that phrase applies to all in the industry. The wonderful parties at night might have been very nice in the candlelight, a little dark in the hallways getting back to your room but, hey, exciting. The organizers remind me of those brilliant and intrepid individuals that did not leave the low areas of southern Florida where a storm surge of as high as 17 feet was within expectations.
"It was only the vagaries of weather, and luck, that the surge was lower than expected otherwise the nation would have had many images of floating bodies on their TV screens and it was luck that no one was hurt at the meeting. Perhaps when or if a remake of Dumb and Dumber is made the organizers could provide some script input."
Jerry L. Bernardy
Commonwealth Capital
11119 E. Mission Lane, Scottsdale, AZ 85259 480-451-4583 Fax 480-451-4586
27 Norwood Avenue, #5, Manchester by the Sea, MA 978-526-9160 Fax 978-526-9161
Jerry@CommonwealthCap.com or jbernardy2@earthlink.net
--------------------------------------------------------------

Classified Ads---Sales Manager
Atlanta, GA
30 years in transportation Finance with strong management/ sales background. Represented company on national & region markets. Started two successful operations- produce profits and growth.
Email: pml@mindspring.com
Chicago, IL.
Successful sales manager has 15 years experience with captives and independents. Expertise in re-energizing existing sales teams and territories, also building teams from scratch. True Team Leader looking for new challenge.
email: Murph5553@aol.com
Chicago, IL
Senior sales manager seeks Chicago based sales management role with growing, creative, customer focused lessor. Extensive experience/documented results in all aspects of information technology leasing.
Email: belanger@dataflo.net
Dallas/Fort Worth, TX.
Domestic-int'l exp. Small to middle ticket. 24 yrs with Fortune 500 firms(2). Consistently achieves margin/ volume goals.
Email: dptr7300@sbcglobal.net
Marlton, NJ
25 years exper. Promoted to sales manager after attaining highest percentage of quota for 2 years. Increased business by 50% over two years as sales manager.
Email: Sjgaul@aol.com
New York, NY
I have over 25 years owning an independent leasing company that specialized in truck leasing. Tow trucks, Limos, ambulances, tractors, etc..
Email: rfleisher@rsrcapital.com
Pennsauken, NJ.
17 Years Leasing in all capacities from CSR and Collections to National Sales Management and Vice President Vendor Development. Exceptional People Skills. Many industry references.
email: cherfurth1@aol.com
Portland, OR.
18+ yrs w/bank leasing company. Supervised 14- 20 sales people. Willing to relocate for the proper position.
Email: pthygeson@netscape.net
Scottsdale, AZ
Have successfully built or rebuilt 3 national sales forces in 3 different industry niches. Strong credit and operations background compliment overall experience. Strong industry references.
Email: azlessor@cox.net
For a full listing of all "job wanted" ads, please go to:
http://216.66.242.252/AL/LeasingNews/JobPostings.htm
To place a free "job wanted" ad, please go to:
http://216.66.242.252/AL/LeasingNews/PostingForm.asp
-------------------------------------------------------------

Leasing Association Meetings Open to Non-Members
----Arizona Today at 5pm with Jeff Taylor, CLP
Leasing Association Meetings Open to Non-Members
Wednesday Nov. 2, 2005
Arizona Equipment Leasing Association
Time: 5:30 pm
Fee: $20 payable in advance or at the door. Price includes heavy hors oeuvres and one drink ticket and networking.
SPEAKER: Jeffrey Taylor (published author, "Selling Leasing in a Tough Economy"
RSVP/Registration form to: Nancy Rosenberg, Event Chairperson (480) 813-9386
Fax (480) 813 9387
11500 N. Hayden RD
Scottsdale AZ 85260
480-948-6000
More information on the meeting and about the association:
http://leasingnews.org/PDF/AZELA_Newsletter_Oct0705corr.pdf
-------------------------------------------------------------
November 4-5
Eastern Regional Meeting
National Association of Equipment Brokers Atlanta, Georgia
Sheraton Gateway
1900 Sullivan Road
College Park, GA 30274
Join us in Atlanta for networking, education, and fun.
Jim Buckles of Preferred Business Solutions will offer training on their alaQuote (on-line lease calculator, quote letter and application submittal tool) and Advantage 2.0 (upgrade from System 1 (2.5) Software that includes contact management, deal tracking, document processing and electronic file storage).
Please RSVP by emailing jim@pbs4u.com or calling (866) 352-8665.
For more information, please go to:
http://www.naelb.org/cde.cfm?event=73892
E-mail: mwilson@hqtrs.com
----------------------------------------------------------------------
Come and celebrate the Holiday Season
with your Bay Area colleagues at the Northern California UAEL
Christmas Party and Charity Event
The event will be held at Gaylord India Restaurant (Formerly Valhalla Restaurant). Located at 201 Bridgeway Sausalito, CA
A $30.00 cover includes appetizers and there is a cash bar.
Date: Thursday December 1st , 2005
Time: 5:30-7:30 PM
Please bring a new toy, unwrapped, and in its original packaging, for the Marin County Toys for Tots program. The toys will be collected and donated at the end of the evening.
Please RSVP to:
John Haenselman
Belvedere Equipment Finance
Phone (650) 616-1948
Fax (650) 616-1998
Or
Paul Knowlton
Bank of Walnut Creek
Phone (888) 278-1079 x 253
Fax (925) 932-6628
---------------------------------------------------------------------------
'Tis the Season ...
Mingle & Jingle at our 4th Annual UAEL Southern California
Holiday Cocktail Party & Charity Event
Date: Thursday, December 8th
Time: 5:30 PM to 8:30 PM
Location: Café Tu Tu Tango
20 City Blvd West
Orange , CA 92868
(714) 769-2222
www.cafetututango.com
Details:
Menu: Hors d'oeuvres, Dessert, No-Host Bar
Entertainment: Salsa Dancers will Spice up our Holiday Party!
Charity Event: Join us and bring an unwrapped toy that will be donated
(Information to follow)
Cost: $23.50 UAEL Member Price
$28.50 Non-UAEL Member Price
* Price will increase to $30.00 after 11/30/05
Reserve your ticket today by emailing Gina Iacono at giacono@westoverfinancial.com
A special Thank You to our Event Sponsors:
Allegiant Partners, Bank Of The West,
Belvedere Equipment Finance,
Financial Pacific Leasing, Orion First Financial,
Pacific Capital Bank, and PFF Bank & Trust
Event hosted by the UAEL Southern California Regional Committee
-------------------------------------------------------------
###Press Release############################


Ira Romoff: Sovereign Buys Independence Bank
"A lot happened at Independence last week and we are very excited about what it means for you and your lessees, as well as for our staff and shareholders of ICB.
"The agreement between Independence and Sovereign brings together two strong financial institutions to create a Northeast region powerhouse. Independence will be the Metro New York Market Division of Sovereign, which becomes the 18th largest bank in America. With $81 billion in assets and deposits of more than $47 billion, we will have a network of 800 branches, stretching from New England to New York to New Jersey to Philadelphia to eastern Pennsylvania.
"With the merger not expected to take place until July 2006, you can count on the ICB Leasing Team to continue to serve your financial needs with the same professionalism and commitment you have come to expect from us. Many questions have to be answered and will be resolved in the near future. For now, it's business as usual for us. While we always appreciate your business, we need to rely on you now more than ever to see that ICB Leasing continues to grow and prosper.
"Rates increased throughout the month, our next Fed Chairman was nominated, yet another hurricane (that cancelled my trip to Boca) wrecked the ELA convention, oil prices are down, inflation worries are up, etc. etc. Unfortunately, we can't hold rates, and have to move up 15 basis points this month. Each month we set rates for the approvals during the month. We then hold our credit approvals for 90 days and also lock the rate for 60 days. Call for app only rates."
### Press Release #######
Independence Community Bank Corp. to be Acquired by Sovereign Bancorp in Cash Transaction at $42 per Share
Independence President Alan H. Fishman to Become President and COO Of Sovereign Bank and Chairman and CEO of Sovereign Bank's Metro New York Market Division
BROOKLYN, NY, and PHILADELPHIA, PA, Monday, October 24, 2005 --- Independence Community Bank Corp. ("Independence") (NASDAQ: ICBC), and Sovereign Bancorp, Inc. ("Sovereign") (NYSE: SOV), parent company of Sovereign Bank, announced today they have reached a definitive agreement for Sovereign to acquire 100% of Independence Community Bank Corp. of Brooklyn, New York, for $42 per share in cash, representing an aggregate transaction value of $3.6 billion.
Independence has $18.5 billion in assets and is a leading community bank and multifamily lender in the Metro New York area. The combined company, with over $80 billion in assets, solidifies Sovereign's position among the top 10 banks in the northeastern United States and the top 20 banks in the entire country. This transaction gives Sovereign the No. 9 deposit market share in the very attractive Metro New York market.
Simultaneously, Sovereign announced that it has reached an agreement with Grupo Santander, the 9th largest bank in the world as ranked by market capitalization, whereby the Madrid, Spain-based banking group will become Sovereign's financial partner and largest shareholder through the purchase of approximately 90 million shares for $2.4 billion in cash at a purchase price of $27 per share.
Independence President & CEO Alan H. Fishman said, "Sovereign is an outstanding partner for our employees, customers and communities. They share our vision of unmatched customer service. With Sovereign's and Santander's support, this partnership will provide greater resources to expand our presence in our key markets and enhance our growth and profitability using our proven successful business model."
Jay Sidhu, Sovereign Bancorp's Chairman, President and Chief Executive Officer, said, "The acquisition of Independence is a logical next step, as it allows us to enter the last large market within our northeastern footprint where we did not previously have a presence. As the No. 9 bank in the New York metro market, we will be a leader in the most dynamic banking market in the United States. Our strengths, in consumer and commercial banking, can only add to the compelling franchise Independence has built and add to our revenue stream. We expect to execute long-term contractual relationships with the senior management of Independence to motivate them to continue to build the company profitably," added Sidhu.
Mr. Sidhu will continue to be Chairman, President and CEO of Sovereign Bancorp. Mr. Fishman, currently President and CEO of Independence, will become President and COO of Sovereign Bank and Chairman and CEO of the Metro New York Market. In addition, an Independence outside director is expected to join Sovereign's board.
The acquisition of Independence is subject to approval by the shareholders of Independence. Both transactions are also subject to approval by various regulatory authorities, and are expected to close on or about July 1, 2006.
Merrill Lynch & Co. was financial advisor and provided a fairness opinion to Independence. Lehman Brothers provided a fairness opinion to Independence. Simpson Thacher & Bartlett LLP acted as legal advisor.
Citigroup Corporate and Investment Banking acted as principal financial advisor to Sovereign. Sovereign used two additional financial advisors, Bear, Stearns & Co. Inc. and JP Morgan Chase, to provide advice on certain other aspects. Stevens & Lee acted as legal advisor.
Independence Community Bank Corp. ("Independence") (NASDAQ: ICBC), is the holding company for Independence Community Bank. The Bank, originally chartered in 1850, currently operates 123 branches located in the greater New York City metropolitan area, which includes the five boroughs of New York City, Nassau and Suffolk Counties and New Jersey. At its banking offices located on Staten Island, the Bank conducts business as SI Bank & Trust, a division of Independence Community Bank. The Bank has three key business divisions, Commercial Real Estate Lending, Consumer Banking and Business Banking, and actively targets small and mid-size businesses. The Bank maintains its community orientation by offering its diverse communities a wide range of financial products and by emphasizing customer service, superior value and convenience. The Bank's web address is http://www.myindependence.com.
Sovereign Bancorp, Inc., ("Sovereign") (NYSE: SOV), is the parent company of Sovereign Bank, a $60 billion financial institution with more than 650 community banking offices, over 1,000 ATMs and approximately 10,000 team members with principal markets in the Northeast United States. Sovereign offers a broad array of financial services and products including retail banking, business and corporate banking, cash management, capital markets, trust and wealth management and insurance. Sovereign is the 19th largest banking institution in the United States. For more information on Sovereign Bank, visit <http://www.sovereignbank.com> or call 1-877-SOV-BANK.
Santander (SAN.MC, STD.N) is the 9th largest bank in the world by market capitalization and the largest in the Euro Zone. Founded in 1857, Santander has 63 million customers, 10,099 offices and a presence in over 40 countries. It is the largest financial group in Spain and Latin America, and is a major player elsewhere in Europe, including the United Kingdom through its Abbey subsidiary and Portugal, where it is the third largest banking group. Through Santander Consumer it also operates a leading consumer finance franchise in Germany, Italy, Spain and nine other European countries. In 2004, Santander recorded 3.6 billion euro in net attributable profits. In Latin America, Santander manages over US$130 billion in business volumes (loans, deposits and off-balance sheet assets under management) through 4,100 offices in 10 countries.
For Information, Call Frank W. Baier, Chief Financial Officer, Independence Community Bank
(718) 923-3506
###Press Release############################

Sales Makes it Happen---The New Sales Professional
Sales Make it Happen
The New Sales Professional
Most companies expect their sales teams to identify prospects, provide product or service information, and persuade buyers to purchase. So, why pay to staff a marketing department? Isn't it the marketing department's job to identify bona fide prospects, build interest in the company's products or services, and generate sales?
The primary task of marketing in any organization is to know the customer so intimately that when she is exposed to the company's product or service, she immediately sees that it fits what she wants, and is willing to explore a purchase. If the marketing department, in the business-to-business sales world, does its job and fills a company's sales funnel with prospects and customers who are ready to buy, the role of the salesperson will change. No longer responsible for demand creation, the salesperson's role will evolve from persuader to facilitator, and with that evolution will come increased responsibilities and accountabilities.
Instead of selling, in the traditional sense, the new sales professional will manage expanded activities as an agent for both the company and the customer. These expanded activities will include interfacing with internal departments that impact the customer's purchasing experience, negotiating agreements that benefit all parties, and listening for opportunities to tailor products and services to customers' current and future needs. As the customer's agent, consultant, advisor and voice, the salesperson will work with the company and help figure out how to create and deliver what satisfies customers and keeps them loyal for as long as possible.
The expanded role of professional salespeople will make them increasingly more important in the company's revenue generation process. As the role of the salesperson evolves from persuader to facilitator, everyone benefits. The company is able to provide products and services that satisfy customer wants and needs, the customer gets what she wants when she wants it, and the sales professional enjoys enhanced status in the eyes of the customer and the company.
It's a great time to be a professional salesperson. If you remain in the game, you'll have an opportunity, soon, to grow your skills to levels you might not have previously imagined. Those skills will be valued by employers even more tomorrow than they are today, and one day you will be recognized, evaluated and compensated for your ability to drive customer satisfaction and retention.
--- from the desk of a retired, successful leasing company president.
--------------------------------------------------------------

Classified Ads---Help Wanted
Administration Manager
Administration Manager
Five Point Capital, a well established and growth oriented commercial equipment financing company, is seeking an Administration Manager to lead its Funding and Documentation departments. Seeking those with 5+ years management experience and skilled at leading, mentoring and retaining employees. Small ticket funding experience a plus. Proven ability to maintain and enhance lessor/funder relationships.
Location: San Diego, CA. Send resume and salary history to: HR@FivePointCapital.com

Lease Representative

Baltimore - Washington area
Lease Representative
M&T Bank is seeking an in-market lease representative to develop and maintain relationships with broker/lessors, equipment vendors, and direct lessees throughout Maryland and Northern Virginia. Must be knowledgeable small ticket leasing ($75K average ticket) and third-party lease/loan transactions. Please apply on-line at www.mandtbank.com and view posting #4044.
At M&T Bank, we provide and exciting and challenging work environment where performance and innovative thinking is encouraged at every level. With over 700 branches, your career can travel as far as you take it!

Leasing Sales Manager

Leasing Sales Manager
Develop & lead sales force in a fast track
company. Our phenomenal growth provides this great opportunity, 5+ years exper. working w/brokers. Relocate to beautiful
San Antonio, Texas. resumes@swcreditlender.com


National Account Manager

Truck/Trailer Industry
National Account Manager
5+ year proven track record, located in either Texas or upper Mid-West markets,
estab. relationships to produce min. $750k
a month, for more information, click here.
To apply click here.


-------------------------------------------------------------

19 Select Leasing Companies Report Business Up in September
In September, the Equipment Leasing Association ELA Monthly Leasing Index new business volume increased from Augusts' $4.28 billion to $5.06 billion, representing an 18.1 percent increase.
This is also the highest reported amount of new business volume for any month this year.
ELA Monthly Leasing Index Participants
ADP Credit Corporation
Amsouth Leasing Corporation
Bank of America
Caterpillar Financial Services Corporation
CIT
De Lage Landen Financial Services
First American Equipment Finance
GreatAmerica Leasing
Hitachi Credit America Corp.
HP Financial Services
John Deere Credit Corporation
Key Equipment Finance
LaSalle National Leasing Corporation
Marlin Leasing Corporation
RBS Asset Finance
Siemens Financial Services
U.S. Bancorp Leasing & Financial
Verizon Capital Corporation
Wells Fargo Equipment Finance
It should also be noted that comparing quarter to quarter, the third quarter is better than the first, but is relatively flat:
3.66 first quarter, 4.45 second quarter, 4.56 third quarter Normally from September to December are the better months for the leasing industry, almost following general increase in retail sales, as businesses gear up for their year-end, including taking tax deductions and procuring equipment or new technology. The trend indicates continued business improvement in the leasing industry.
Of concern, are the credit ratio approvals:
As well as the "charge offs:"
Ralph Petta, Vice President of Industry Services, states the strong September perhaps was not expected, "Despite the hiccup in portfolio quality, the September numbers show a robust leasing business, which is surprisingly strong given the weather events and high energy prices that occurred during the quarter."
The total number of employees increased slightly to 9,001 compared to 8,939 in August. Although off from April's high of 9,259, this puts total FTEs back over the 9,000 mark.
-------------------------------------------------------------

October "okay" says NACM Index
The National Association of Credit Manager Index remained unchanged in October, they reported; however, October levels, October 2005 finished ".... up 40 points over its October 2004 level, October 2005 ended at 56.6 percent. When comparing today's favorable factors to just one year ago, two areas of interest emerge. First, 70.1 percent of credit manager said that sales were higher, compared to only 63.3 percent a year ago; this is an increase of 680 points. Another area of interest was the higher level of credit extended. In October 2004, credit managers reported 63.7 percent, compared to 70 percent for October 2005."
"...Overall, the CMI remains at 56.6 versus 56.4 last year, demonstrating solid, if unexciting growth."
"The manufacturing sector remained virtually unchanged for October 2005. Overall it dropped 50 basis points, to finish at 56.0 percent. After a record high in September, sales ended at 68.9 percent, or down 520 points. There was also a comparable drop in new credit applications, which fell 540 points.
"Like manufacturing, the service sector also remained virtually unchanged in October 2005. Although small, there was positive growth in three of the four favorable factors, pushing the index of favorable factors up slightly to 67 percent. Unfavorable factors increased, but only faintly. Overall, the sector continued to remain strong, economically, with nine of the 10 factors above 50 percent."
The full report is available at:
http://www.nacm.org/resource/press_release/pressOct05.html
-------------------------------------------------------------

New Asset Deals On Pace For High This Year
ABSnet
New asset securitizations could hit a high of $20 billion this year if all transactions in the pipeline close on schedule. Ellen Welsher, managing director in Standard & Poor's new assets group, said the agency has already rated 40 deals worth $12 billion so far this year and could see 70 before year-end. The previous record was 63 deals totaling $18.1 billion in 2002. New assets include tobacco settlement revenues, stranded cost charges, as well as other assets not common enough to warrant consideration as a separate sector.
This year has also seen a high in the number of wrapped deals: 20% up from 8% five years ago. "With the increase in newer asset types, there's more of a learning curve for investors to get comfortable with [them]" Welsher said, noting bond insurers help provide that comfort.
At the same time, the number of new asset deals with the most senior tranche rated triple-B deals has soared to 24% from 3% just three years ago. Besides a number of tobacco deals, which are capped at a triple-B rating, one large deal skewed the market toward the rating, Welsher said.
-------------------------------------------------------------

Enborn, Houlahan, Patterson, Walker New CLPs
"The Board of Directors of the Certified Leasing Professional Foundation would like to extend its congratulations to our four newest Certified Lease Professionals:"
Christopher Enbom, CLP
Allegiant Partners Inc.
San Rafael, CA
Douglas Houlahan, CLP
Allegiant Partners Inc.
San Rafael, CA
Kirstin Patterson, CLP
OCF Financial Services LLC
Sandy, UT
Chris Walker, CLP
GreatAmerica Leasing Corporation
Cedar Rapids, IA
The letters "CLP" behind their names are visible recognition of their experience in the industry and their professional achievement in having passed the CLP Exam.
The CLP Foundation is the official governing body for the Certified Lease Professional ("CLP") Program. The CLP designation sets the standard for professionalism in the leasing industry. This designation identifies and recognizes individuals within the leasing industry who have demonstrated their competency through continued education, testing and conduct.
"We invite you to visit our web site -- www.clpfoundation.org for detailed information about the CLP Foundation and the CLP Program. For further information about our Mentor Program and Anonymous Test take Program please contact:"
Cynthia W. Spurdle
Executive Director
CLP Foundation
PH: 610/687-0213
FAX: 610/687-4111
E-mail: cindy@clpfoundation.org
http://www.clpfoundation.org
###Press Release############################

Travelers Financial Group
Travelers Financial Group, a Canadian leader in the provision of financial solutions and services in North America, is pleased to announce that James W. Bass and James Bruce have joined the Board of Directors of Travelers Leasing Corporation.
James Bass
In his role as Director, Mr. Bass enhances and strengthens the ability of the Board to guide the company on its path of consistent and vibrant growth. Jim's expertise in auto finance will reinforce our continued strong.
"I am looking forward to sharing my experience and industry insight to contribute to Travelers' goal to be the premier provider of alternative auto financing to Canadian automobile dealers and their clients", said Mr. Bass.
James Bass, CPA, is a highly regarded executive consultant and expert in the automotive finance industry, with more than three decades of experience in finance and insurance-related industries. Mr. Bass is the founder and former President and Chief Executive Officer of Autoeloan.com, Inc., and the founder and former President and Chief Operating Officer of Auto One Acceptance Corporation. Under his leadership, Auto One Acceptance was the first sub-prime auto finance company to securitize its loans with an S&P rating. Also under Mr. Bass' leadership, his firm was the first to use a credit default insurance policy for investor protection. He sold the firm to California Federal Bank in 1997, and was instrumental during the following two-year interim transition period in continuing Auto One's consistent and exceptional growth in originations.
Previous to1988, Mr. Bass held President, Executive Vice President, Chief Operating Officer and Vice President positions primarily in the property and casualty insurance industry, and the reinsurance industry for F & I management companies, Morris Temple & Company, Inc., Hamman & Bass Inc., and SCOR Reinsurance Company.
Mr. Bass holds a BS Industrial Management Degree from the University of Arkansas and is also a licensed Certified Public Accountant in the State of Texas.
Mr. Bass is a founder and the past Chairman and President and the present Treasurer of the Board of Directors of the National Automotive Finance Association. He is a frequent speaker at numerous conferences involving issuers and purchasers of automobile loan portfolios on a securitized or whole loan sales basis.
James Bruce
Mr. Bruce brings to Travelers a wealth of knowledge and experience gained over 25 years in finance and investment banking and as a highly regarded business advisor to corporations.
"We welcome Jamie Bruce's experience and ability to support us in identifying and developing opportunities for Travelers Leasing Corporation," said Travelers Financial Group CEO, Jim Case.
Mr. Bruce added, "I am delighted to serve on the Travelers Board and am confident that I can assist Travelers in continuing its explosive growth".
Mr. Bruce is a Partner of Capital West Partners, Western Canada's leading mid-market investment banker which provides Valuation, Capital Raising, Mergers and Acquisitions, Divestitures and a wide range of Business Advisory Services including Fairness Opinions.
Mr. Bruce's financial career includes senior management roles at Pemberton Securities, RBC Capital Markets and at TD Securities as head of Investment Banking and Corporate Credit for British Columbia. Mr. Bruce has led hundreds of transactions to successful completion including M&A assignments, IPO's, private equity issues, debt financings and numerous other advisory assignments.
Mr. Bruce is a Mechanical Engineer with an MBA. He is also a Certified Management Accountant and Chartered Business Valuator. Mr. Bruce presently serves, or has served, on a number of non-profit and corporate boards.
Travelers Financial Group is a leader in the provision of financial solutions and services to consumers, vendors and financial intermediaries in North America. Travelers focuses on the provision of financial choice and the generation of value through the application of experience, service and innovation. Travelers Leasing Corporation, a unit of Travelers Financial Group and the third largest non-prime auto finance company in Canada, provides leasing and financing solutions and services specifically tailored to automotive dealerships and their customers.
www.travelersfinancial.com
CORPORATE CONTACT
Travelers Financial Group
Bruce D. Wilson, C.A.
Chief Financial Officer
bwilson@travelersfinancial.com
877.293.0202
###Press Release############################

LEASETEAM, INC. ANNOUNCES THE APPOINTMENT OF 11
EXPERIENCED PROFESSIONALS, PROMOTES TWO
OMAHA, NEB., - LeaseTeam, Inc., the premier end-to-end software solution provider to the equipment finance industry, is pleased to announce the recent appointment of 11 professionals to the company and the promotion of two others.
Brent Dwerlkotte has joined LeaseTeam as a Quality Assurance Analyst. Brent received his Bachelor's Degree in Finance from Kansas State University. Prior to joining LeaseTeam, Brent worked in Customer Support/Installation at Information Technology, Inc. for six years.
Rino Srivastava, a native of India, has accepted a position as a Software Engineer. Rino received a Master's of Science in Hydraulics Engineering from the Indian Institute of Technology in Roorkee, India, as well as a Master's of Science in Environmental Engineering from the University of Akron in Ohio. Before joining LeaseTeam, Rino worked as a Software Developer for Software Engineering Services in Bellevue, Neb.
Terri Etherington has also joined the company as a Software Engineer. Terri brings 17 years experience in programming and management with Omni Hotels and has studied at Metropolitan Community College.
LeAndra Collins has joined the Human Resources Department. LeAndra graduated from the University of Nebraska-Omaha with a Bachelor's Degree in Human Resources and Business Management. She worked in the hospitality industry at Holiday Inn Central as the HR Coordinator prior to joining LeaseTeam.
Denise Gray has joined LeaseTeam as a Quality Assurance Analyst. Denise received her Bachelor's Degree in Accounting from UNO and is currently pursuing her Master's in Business Administration. Prior to joining LeaseTeam, Denise worked at InfoUSA as Controller in Corporate Services.
Kathleen Robison has also accepted a position as a Quality Assurance Analyst for LeaseTeam. Kathleen holds an Associate's Degree in Computer Programming from Metropolitan Community College and a Bachelor's Degree in Management Information Systems from Bellevue University. Currently she is pursuing a Master's Degree in Global Management. Before joining LeaseTeam, Kathleen worked as a Quality Assurance Analyst for Kawasaki Manufacturing Company and has more than 10 year's experience in programming of accounting applications.
Jennifer Peters has joined LeaseTeam as the Marketing Specialist. Jennifer received her Bachelor's Degree in Public Relations from UNO with an emphasis in Marketing. Most recently, Jennifer worked at Slosburg Company as a Marketing Specialist, and prior to that she worked at Goodwill Industries in the Marketing Department.
Dave Boster has accepted a Software Engineer position at LeaseTeam, Inc. Prior to joining LeaseTeam, Dave worked as the Web Systems Managing Lead for the Omaha Public Schools for five years. He is currently pursuing his Bachelor's Degree in Computer Sciences at UNO.
Val Astor has also joined LeaseTeam as a Software Engineer. Val received a Bachelor's Degree in Secondary Education at UNO. He worked at Omni Hotels for five years as a Programmer Analyst prior to joining LeaseTeam.
Patrick Green has accepted the position of Technical Quality Assurance Analyst. Patrick has an Associate's Degree in Computer Programming Technology from Metropolitan Community College and is currently pursuing his Bachelor's Degree in Business Information Systems at Bellevue University. For six years before joining LeaseTeam, Patrick worked for West Corporation in various programming and technical support roles. Most recently he served as COS Information Services Analyst.
Sheila Meink makes her return to LeaseTeam as a Client Services Account Manager. Sheila holds a Bachelor's Degree in Accounting from the University of South Dakota and is a Certified Management Accountant. Previously, Sheila worked for LeaseTeam for four years in accounting support and quality assurance. For the past three years she has done independent contract work in the areas of finance and software.
LeaseTeam is also pleased to say that Technical Support Specialist Marty Timberlake has returned to his employment at the company after serving in support of Operation Iraqi Freedom for the past 12 months. While in Iraq, Timberlake served as a truck driver in the Army.
"LeaseTeam continues to be the premier provider of lease and loan accounting software solutions, largely due to our outstanding team of employees," Randy Haug, LeaseTeam vice president said. "I'm very pleased with the quality of our newest hires. I couldn't ask for a better group to help guide LeaseTeam into the future."
Shannon McKain has been promoted to Business Analyst. Shannon, who received her Bachelor's Degree in Accounting from UNO, previously worked as a Quality Assurance Analyst since 2003. In her new position Shannon will work closely with LeaseTeam product managers to evaluate product function and design.
Dan O'Malley has recently been promoted to Programming Manager. Dan, who holds a Bachelor's Degree in Management Information Sciences from Miami University in Oxford, Ohio, has been with LeaseTeam for the past five years. Most recently, he served as Programming Team Lead for Lease Sales Manager, the company's front-end e-commerce software product. In his new capacity, Dan will manage the entire Programming department.
"These promotions are well-deserved, and we're excited to have Dan and Shannon working in these new and expanded roles." Haug said. "The skills they've demonstrated in their previous roles have contributed significantly to our success, and I know they will continue to be a valuable resource for the company."
LeaseTeam, Inc. is a privately held company incorporated in 1989 with headquarters based in Omaha, Neb. Key software products include Lease Sales Manager OneTM, LeasePlus OneTM, and a portfolio of reporting solution software. LeaseTeam products are the preferred software for hundreds of equipment leasing companies throughout the U.S. and Canada. For more information, visit our Web site at www.leaseteam.com or call 402.493.3445.
###Press Release############################
---------------------------------------------------------------

News Briefs----
Federal Reserve boosts key interest rate to highest level in more than four years
http://www.signonsandiego.com/news/business/20051101-1123-fed-interestrates.html
Inflation lifts new I Bond rate to 6.73%
http://www.usatoday.com/money/perfi/general/2005-11-01-ibonds-usat_x.htm
Big Drop in October for Detroit
http://www.nytimes.com/2005/11/02/business/02auto.html
Dell's Warning May Signal Change---Cuts 3rd Q Forecast
http://www.internetnews.com/bus-news/article.php/3560841
http://news.yahoo.com/s/nm/20051101/bs_nm/dell_outlook_dc;_ylt=AjC0tEyGg2VV4GP9pPYZLh
WyBhIF;_ylu=X3oDMTA5aHJvMDdwBHNlYwN5bmNhdA--
Overheated housing market is cooling off
http://www.usatoday.com/money/economy/housing/2005-11-01-real-estate-usat_x.htm
Holiday fliers to find full planes, high fares
http://www.ajc.com/business/content/business/1105/01bizfares.html
Tax panel calls for lower rates, fewer deductions
http://www.usatoday.com/money/perfi/taxes/2005-11-01-tax-overhaul_x.htm
In Michelin's 1st Ratings of N.Y. Dining, Some Surprises
http://www.nytimes.com/2005/11/01/dining/01cnd-michelin.html?incamp=article_popular_5
---------------------------------------------------------------


You May Have Missed
TV Newsman Is His Own News in the Leak Case
http://www.nytimes.com/2005/10/31/politics/31russert.html
---------------------------------------------------------------

Sports Briefs----
49ers acquire ex-Giants QB
Palmer possible backup against his old team
http://www.sfgate.com/cgi-bin/article.cgi?file=/c/a/2005/11/02/49ERS.TMP
The best game seats -- and beyond Boston
http://www.boston.com/business/articles/2005/11/02/the_best_game_seats____and_beyond/
----------------------------------------------------------------


"Gimme that Wine"
Where the Rhone Bends to the West---NY Times Eric Asimov
http://www.nytimes.com/2005/11/02/dining/02wine.html
Chile's Fresh Faces
http://www.winemag.com/ME2/dirmod.asp?sid=&nm=&type=Publishing&mod=Publications%3A
%3AArticle&mid=8F3A7027421841978F18BE895F87F791&tier=4&id=60DCFC4B425640209FF6A
00CC5A3B30B
California Wine grape bonanza for state's vineyards
Vintners juiced up over expected quality of 2nd-largest harvest
http://www.sfgate.com/cgi-bin/article.cgi?f=/c/a/2005/10/31/MNG28FGN031.DTL
THE CHRONICLE'S WINE SELECTIONS: Mendocino County Pinot Noir
http://sfgate.com/cgi-bin/article.cgi?f=/c/a/2005/10/27/WIGF0FDRE21.DTL
----------------------------------------------------------------

Today's Top Event in History
1862-Mary Todd Lincoln corresponded with her husband advising him of popular sentiment against cautious General in Chief of the Federal Army George B. McClellan. Contrary to popular belief, Mary Todd was a close confident and love of Lincoln's life. He was to let McClellan go in favor of U.S. Grant, which also led to McClellan running as the Democratic opponent against him for president.
( lower half: http://memory.loc.gov/ammem/today/nov02.html
----------------------------------------------------------------

This Day in American History
1734- birthday of Daniel Boone (Boon,) American frontiersman, explorer and militia officer, born at Berks County, near Reading, PA. He is credited with the exploration and growth of Kentucky, working for the Pennsylvania Company. February 1778, he was captured at Blue Licks, KY, by Shawnee Indians, under Chief Blackfish, who adopted Boone when he was inducted into the tribe as "Big Turtle." Boone escaped after five months, and in 1781 was captured briefly by the British. Depsite Walt Disney's version, he had no legal title to the lands he explored and he retired to Missouri. He experienced a series of personal and financial disasters during his life, but continued a rugged existence, hunting until his 80s. Boone died at St. Charles County, MO, Sept 26, 1820. The bodies of Daniel Boone and his wife, Rebecca, were moved to Frankfort, KY, in 1845. What made him popular in history was his autiobiography: " The Adventures of Colonel Daniel Boon ( that's the way he spelled his name,) formerly a hunter, containing a narrative of the Wars of Kentucky."
http://www.americanwest.com/pages/boone.htm
http://www.bocomo.org/dboone.htm
http://earlyamerica.com/lives/boone/
1776-William Demont (or Dement) ,Traitor to the American cause during the Revolutionary War, who enabled the British general Sir William Howe to conquer the fort with a force of 8,900 men on November 16, 1776. They captured 2,818 American officers and men, 43 guns, and 2,800 muskets. A member of the 5th Pennsylvania Battalion, who was appointed adjutant in Colo­nel Robert Magraw's battalion on February 29, 1776. He deserted on November 2, 1776, and notified the British of the position of Fort Washington (now a neighborhood in New York City).
http://www.geocities.com/nhfortress/Fort_Washington/history.html
http://theamericanrevolution.org/battles/bat_fwas.asp
http://www.thebattlefornewyork.com/walking_tour.php
1795- birthday of James Knox Polk, the 11th president of the US was born at Mecklenburg County, NC. His term of office: Mar 4, 1845-Mar 3,1849. A compromise candidate at the 1844 Democratic Party convention, Polk was awarded the nomination on the ninth ballot. He declined to be a candidate for a second term and declared himself to be "exceedingly relieved" at the completion of his presidency. He died shortly thereafter at Nashville, TN, June 15,1849.
1810 -a 7 inch snowfall in New York City permitted very early sleighing in the city streets.
1824-The first popular vote in a presidential election took place when 356,038 votes were cast for four candidates. This was also the first election in which the final decision was made by the House of Representatives because none of the candidates won a majority of electoral votes. Although Andrew Jackson received a greater share of both the popular and the electoral vote that the runner-up, John Quincy Adams, a deal was struck to give Adams the electoral votes of Henry Clay, another candidate. Adams thereby acquired enough votes to be declared the winner.
1861-- Captain Nathaniel Gordon becomes became the only person in U.S. history to be executed for slave-trading. He was also considered a pirate.
http://www.documentsonwheels.com/gordon/background.htm
http://www.correctionhistory.org/html/chronicl/tombs/gordon/whytombs1.htm
http://blackhistory.harpweek.com/7Illustrations/Slavery/ExecutionOfSlavetrader.htm
1862-Mary Todd Lincoln corresponded with her husband advising him of popular sentiment against cautious General in Chief of the Federal Army George B. McClellan. Contrary to popular belief, Mary Todd was a close confident and love of Lincoln's life. He was to let McClellan go in favor of U.S. Grant, which also led to McClellan running as the Democratic opponent against him for president.
(lower half: http://memory.loc.gov/ammem/today/nov02.html)
1865- Birthday of Warren Gamaliel Harding. Twenty-ninth president of the US was born at Corsica, OH. His term of office: Mar 4, 1 921-Aug 2,1923 (died in office). His undistinguished administration was tainted by the Teapot Dome scandal, and his sudden death while on a western speaking tour (San Francisco, CA, Aug 2,1923) prompted many rumors. He was a well-known womanizer of his time, and it was right after women were given the right to vote, and the saying in Washington, DC, " We gave the women the right to vote and they picked handsome Warren G. He was said to bring women into the White House, on trips, and died of heart attack that his wife was treating him for exhaustion with an electronic device they purchased in San Francisco.
1889- North Dakota and South Dakota were admitted into the Union, the 39th and 40th states, the first time that two states simultaneously became a part of the United States. President Benjamin Harrison had a problem with admitting the two states on the same day. Which one would be first? He decided it was easier to mix up the admissions papers so no one would know and just list the states alphabetically. That's why North Dakota is the 39th and South Dakota is the 40th of the United States of America. The Dakotas took their name from the Sioux Indian word for 'ally', although the settlers and the Sioux weren't always allies (Battle of Wounded Knee). Those searching for a route to the Pacific Ocean settled in South Dakota, Ft. Pierre being the first permanent white settlement. Pierre remains the capital of South Dakota. Bismarck is the capital of North Dakota. Both states are still essentially rural and agricultural. The western meadowlark and the ring-necked pheasant, the North and South Dakota state birds, respectively, still fly over the vast meadowlands. North Dakota's flower is the wild prairie rose, while the pasque flower holds that title in South Dakota. North Dakota, home of several major air bases and intercontinental ballistic missile sites, is known as the Peace Garden State, while its more southern counterpart is called the Coyote State.
http://memory.loc.gov/ammem/today/nov02.html
1902- San Francisco's China Town was amazed to see an 18-year-old petite girl give a rousing oration against the foot binding of women, their arranged marriages and forced illiteracy. Sien King King became a member of the Chinese bachelor society and continued her battle for feminism. She believed the repressive actions against women prevented the Chinese from advancing in the U.S. (and the world).
1908-Trumpet player Bunny Berigan birthday
http://user.tninet.se/~npt755v/bundisc.htm
1911-birthday of Johnny Richards in Schenectady, NY, jazz composer-arranger.
1931-- birthday of alto saxophonist Phil Woods.
1923-birthday of 1923. William Robert (Billy) Haughton, standard bred dri­ver and trainer born at Gloversville, NY. Haughton won nearly 4,900 races in his career. Along with Stanley Dancer, he dominated the New York trotting scene in the 1 950s and then moved on to a national career. He suf­fered severe head injuries in a three-horse accident at Yonkers Raceway and died at Valhalla, NY, July 15, 1986.
1926-The first Senate election in which neither candidate was seated after a recount was the election in Pennsylvania. William Bauchop Wilson, a Democrat, was narrowly defeated by William Scott Vare, a Republican who presented his credentials as senator-elect fro the term beginning March 4, 1927. The Senate, on December 6, 1929, decided by a vote of 58-22 that Vare was not entitled to the seat due to charges of corruption and fraud concerning his election Governor John Stuchell Fisher, appointed Joseph Ridway Grunday, a Republican, to the vacant seat. Grundy served from December 11,1929 to December 1, 1930. He was unsuccessful for the nomination of this office after being accused of contributing $400,000 to the former incumbent Senator Pepper, who had been defeated by Vare.
http://bioguide.congress.gov/scripts/biodisplay.pl?index=V000071
http://www.blossburg.org/wb_wilson/thestory_7.htm
http://bioguide.congress.gov/scripts/biodisplay.pl?index=G000510
1936-the Basie Band splits for Kansas City for points East and Worldwide fame. "Goin' to Chicago, Sorry I Can't Take You." Little Jimmy Rushing.
1946 -a three day snowstorm began at Denver, CO. By the time it ended had dropped 31 inches of snow on the city, the second greatest snowfall ever
1947-the mammoth flying boat Hercules, then the world's largest airplane, was designed, built and flown (once) by Howard Hughes on this day. Its first and only flight was about one mile and at an altitude of 70 feet over Long Beach Harbor, CA. The $25 million, 200-ton plywood craft was nicknamed the "Spruce Goose." It is now displayed near the Queen Mary at Long Beach, CA.
1948 - When Harry S Truman went to bed this day, he was losing the election for president of the United States (to Thomas E. Dewey). "Chicago Daily Tribune" printers were out on strike and getting the newspaper to readers was no simple task. To make a long story short, the editors had to guess at the outcome of the election and picked/printed the wrong person to win. Upon arising the next morning, Truman learned he had won. On a short train stop in St. Louis, he stepped onto the back platform of the train and was presented with one of the newspapers with the infamous headline, "DEWEY DEFEATS TRUMAN". It was at that moment that the famous photo of Truman holding up the paper was taken. When asked to comment, Truman said "This is for the books."
1949---Top Hits
That Lucky Old Sun - Frankie Laine
You're Breaking My Heart - Vic Damone
I Can Dream, Can't I? - The Tommy Dorsey Orchestra (vocal: Jack Leonard)
Slipping Around - Margaret Whiting & Jimmy Wakely
1954-the first US Senator elected by a write-in vote was James Strom Thurmond, Democrat of South Carolina, who was elected on November 2,1954, for the term ending January 3, 1961 . Thurmond received 139,106 votes, defeating Edgar Brown, the official candidate of the Democratic Party, who received 80,956 votes. Senator Thurmond, the oldest member of the Senate, recently announced he will not run for re-election.
1955 - Julie London's first pop song, a sultry version of "Cry Me a River," made its appearance on the charts. The song spent 5 months on the charts, but only reached #9 at its peak. Julie is the former wife of both Dragnet's Jack Webb and songwriter/ trumpeter Bobby Troup.
1955-Tennessee Ernie Ford's "Sixteen Tons" first appears on the charts. It will become one of the biggest selling singles of its time.
1957---Top Hits
Jailhouse Rock - Elvis Presley
You Send Me - Sam Cooke
Silhouettes - The Rays
Wake Up Little Susie - The Everly Brothers
1958-the Chicago Bears and the Los Angeles Rams set an NFL single-game attendance record as 90,833 fans watched the Rams beat the Bears, 41-35, at the Los Angeles Coliseum.
1958 - "Billboard" magazine introduced a new chart ranking top singles, in order, from number 1 to 100. Before this invention, only 30 records were on weekly hit lists.
1959 - Charles Van Doren, when questioned on this date about winning $129,000 on a television quiz show, told a congressional investigation committee that he was given the answers in advance by program staff members. His testimony was the most dramatic to date in the ongoing investigation of quiz show scandals. Van Doren had been a low-salaried college assistant professor who appeared on the show Twenty- One. It was revealed that rigging was prevalent on many television quiz shows during the early 1950s in order to boost viewer ship. Van Doren benefited from the rigging not only by receiving the huge amount of money, but by later earning a regular spot on the Today television show.
1961 - The temperature at Atlanta, GA, reached 84 degrees to establish a record for November.
1962-The missile bases in Cuba were being dismantled, President Kennedy reported to the nation, adding that "progress is now being made toward restoration of peace in the Caribbean."
1963-The Beach Boys' "Be True To Your School" is released.
1965---Top Hits
Yesterday - The Beatles
A Lover's Concerto - The Toys
Get Off of My Cloud - The Rolling Stones
Hello Vietnam - Johnny Wright
1968 - Another Stevie Wonder hit went on sale, "For Once in My Life" would reach #2 on the pop charts on December 28, 1968.
1973---Top Hits
Midnight Train to Georgia - Gladys Knight & The Pips
Keep on Truckin' - Eddie Kendricks
Paper Roses - Marie Osmond
We're Gonna Hold On - George Jones & Tammy Wynette
1974- "The Way We Were" by Barbra Streisand topped the charts and stayed there for 3 weeks.
1981---Top Hits
Arthur's Theme (Best That You Can Do) - Christopher Cross
Start Me Up - The Rolling Stones
Private Eyes - Daryl Hall & John Oates
Never Been So Loved (In All My Life) - Charley Pride
1985 - For the second time in television history,, a soundtrack LP from a television show topped the album charts. "Miami Vice", with a title track by Jan Hammer, spent 11 nonconsecutive weeks at #1. The only other television soundtrack to hit #1 was Henry Mancini's "Peter Gunn" in 1959.
1985- "I Want to Know What Love Is" by Foreigner topped the charts and stayed there for 2 weeks.
1989---Top Hits
Miss You Much - Janet Jackson
Sowing the Seeds of Love - Tears For Fears
Listen to Your Heart - Roxette
High Cotton - Alabama
1989 - Squalls in the Upper Great Lakes Region the first three days of the month buried Ironwood MI under 46 inches of snow, and produced 40 inches at Hurley WI. Arctic cold invaded the Southern Plains Region. Midland TX reported a record low of 22 degrees.
1991 - Karyn White's "Romantic" hit #1 for one week on the "Billboard Hot 100" chart.
1993 - Christine Todd Whitman was elected the first woman governor of New Jersey.
1994----Top Hits
I ll Make Love To You- Boyz II Men
All I Wann---Top Hits a Do- Sheryl Crow
Secret- Madonna
Another Night- Real McCoy
1995 - The immensely popular Seinfeld episode, "The Soup Nazi", first aired on NBC.
1997 - Denver QB John Elway reached two milestones this day. (1)He accounted for 276 total yards (in a 30-27 victory over the Seattle Seahawks) for 50,273 yards in his career. He was the third player in NFL history -- after Dan Marino and Fran Tarkenton -- to reach the 50,000 plateau. (2)And with 252 yards passing, Elway moved past Tarkenton into second place in career passing yardage with 47,019, trailing only Marino at that point. (All this during a 30-27 victory over the Seattle Seahawks.)
1999----Top Hits
Smooth- Santana Featuring Rob Thomas
Satisfy You- Puff Daddy Featuring R. Kelly
Heartbreaker- Mariah Carey Featuring Jay-Z
Mambo No. 5 (A Little Bit Of...)- Lou Bega
1999 - NBA.com TV, a 24-hour TV network, was launched by the National Basketball Association. Commissioner David J. Stern said, ""NBA.com TV represents the convergence of the Internet, television and basketball. By combining the immediacy and depth of information from NBA.com with current and historical television programming from the NBA, NBA.com TV will offer our fans complete, round-the-clock coverage of the league."
2000- Wrigley Field has been granted preliminary landmark status by the Commission on Chicago Landmarks. Any plans to refurbish or tear down Cubs' home since 1916 will have to be reviewed by this panel.
2003----Top Hits
Baby Boy, Beyonce-Featuring Sean Paul
Stand Up- Ludacris Featuring Shawnna
Holidae In- Chingy Featuring Ludacris & Snoop Dogg
Get Low- Lil Jon & The East Side Boyz Featuring Ying Yang Twins
-------------------------------------------------------------

American Football Poem
The mountain and the squirrel
Had a quarrel,
And the former called the latter "Little Prig";
Bun replied,
"You are doubtless very big;
But all sorts of things and weather
Must be taken in together,
To make up a year
And a sphere.
And I think it is no disgrace
To occupy my place.
If I'm not so large as you,
You are not so small as I,
And not half so spry.
I'll not deny you make
A very pretty squirrel track;
Talents differ; all is well and wisely put;
If I cannot carry forests on my back,
Neither can you crack a nut."
Ralph Waldo Emerson