Leasing Sales Manager
Develop & lead sales force in a fast track
company. Our phenomenal growth provides this great opportunity, 5+ years exper. working w/brokers. Relocate to beautiful
San Antonio, Texas. resumes@swcreditlender.com


Wednesday, November 9, 2005
Headlines---
Classified Ads---Credit
Would you Believe?
EFG is still in Business despite the Rumors
and Who is Steve Davis?
NAELB November 4-5 Conference
--by Fred St. Laurent
BSB Leasing Only "Super Broker" Listed Here
Sales Makes it Happen
-- "In Search of Closers"
Cartoon---"Good Dog"
Maglietta to attend Jurassic Lessors Meeting
You are invited to Christmas Parties
Classified Ads---Help Wanted
Amos,Byrne,Henneman Join Siemens
CIT Announces Initial 2006 Guidance
CIT Top SBA Volume Lender 6 Consecutive Yrs
ORIX Leasing Singapore goes w/NetSolCQ
Krug Joins Leasing Partners Capital
News Briefs---
You May Have Missed---
Sports Brief---
California Nuts Brief--
"Gimme that Wine"
Today's Top Event in History
This Day in American History
American Football Poem--Cheers
######## surrounding the article denotes it is a "press release"
--------------------------------------------------------------

Classified Ads---Credit
Atlanta, GA.
10 yrs experience in credit/collections/recovery/documentation in the leasing industry. P&L responsibility, team builder & strong portfolio mgnt skills.
email: mortimerga@adelphia.net
Boston Ma.
Challenging position where my skills, professional experience, organization, leadership, strategic thinking, creativity, energy, passion, competitive nature will enable me to define opportunities and personal development.
Email: bernd.janet@verizon.net
Corona, CA.
VP credit Consumer Credit prime/sub prime Auto lending/leasing/mortgages. 20+yrs exp. If you are looking for someone to affect the bottom line I am that person. Will relocate.
Email: amosca2000@yahoo.com
Fort Lee NJ
3 Years Experience. Looking in NJ/NY.
Email: angitravis@mail.com
Credit: Irvine, CA,
I have over 16 years of Credit/Collection experience in the finance industry. Prompt results, extremely effective and knowledgeable, professional, excellent manager and team player.
Email: newportresources@sbcglobal.net
Los Angeles, CA
Over 15 years experience in Credit/Operations with Small Ticket and transactions up to $500,000.00. CLP, with excellent relationships with most major lenders.
Email: jonbh123@earthlink.net
Credit: Mill Valley, CA
Senior corporate officer
with financial services credit background. M and A, fund raising and workout expertise.
Email: nywb@aol.com
New Jersey, NJ
Credit Analyst with 10+ years experience in small-ticket lending up to $500,000. Experience with both vendor-direct and with brokers.
Email: b.leavy@worldnet.att.net
New York, NY.
V.P. Credit & Collections w/23 years exp. looking for a situation where I can utilize my varied & extensive knowledge of credit/collections/risk-management & leasing.
Email: rcouzzi@yahoo.com
Orange, CA.
15 years exper., looking for a new home. Have handled both middle/ large ticket transaction, plus muni & international finance.
email: equiplender@aol.com
Senior Credit Officer
experienced in middle-market leasing; structured, vendor and 3rd party to the fortune 1000. Proactive team builder, originations capable with strong work ethic.
Email: kyletrust@hotmail.com
For a full listing of all "job wanted" ads, please go to:
http://216.66.242.252/AL/LeasingNews/JobPostings.htm
To place a free "job wanted" ad, please go to:
http://216.66.242.252/AL/LeasingNews/PostingForm.asp
--------------------------------------------------------------

Would you Believe?
EFG is still in Business despite the Rumors
and Who is Steve Davis?
by Kit Menkin
This regards Equipment Finance Group (EFG), Fresno, California,
officially EFG Leasing, Inc. Leasing News has been responding to those who say EFG is no longer in business or has not funded a lease and other news brought to our attention that they believe readers should learn, plus they are unable to reach "anyone."
There are other issues, but it should be noted that Leasing News has never had any difficulty in reaching Mr. Wheeler, who has agreed to resolve any legitimate complaint by any vendor or broker sent to Leasing News (and has done so to date.)
In a side note, the web site, http://www.efginc.net/index.html, shows EFG as a member of the Equipment Leasing Association, which they are listed at doing $20-$50 Million per year and with the United Association of Equipment Leasing confirms the company is a member.
The web site also shows the Inc magazine rating, stating:
"48th Fastest Growing
3 Year Growth 1,449%
2004 Revenue $14,988,648.00
Employees 186"
ELA does not have the record of employees, and according to several eye-witnesses, the office only has two people plus a part-time receptionist (sometimes full time, she explained to Leasing News. )
Eye-witnesses report there are two offices, but one is empty, but designed for telemarketing.
A Mr. Steve Davis, alleged the general manager, has been absent for quite some time, perhaps almost six months, primarily due to illness, Ken Wheeler has explained. Some believe Mr. Davis is his son Sean Wheeler, but both Sean (in telephone conversations from his home) and Ken have denied that. Leasing News has received e-mails from Mr. Davis, but in the last year or longer, has never spoken with him on the telephone.
Another issue brought to Leasing News concerns that EFG is suspended from the California Department of Corporation.
President Ken Wheeler states for tax purposes the corporation was moved to Nevada in 2004. He was not aware that California had suspended the corporation, nor that money was owed by the Franchise Tax Board. We were not able to find the specific reason from the state for the suspension, but it may involve the minimum California corporate fee of $800 not being paid.
Copy of Department of Corporation filing for Nevada:
http://leasingnews.org/PDF/EFG_Leasing_NV.PDF
Copy of Department of Corporation filing for California:
http://leasingnews.org/PDF/EFG_CA.PDF
The purported suspension may also have to do with the fact that EFG Leasing, Inc. is registered as a California Finance Lender still under the name Equipment Finance Group, Inc.:
http://leasingnews.org/PDF/Escrow.PDF
Another issue brought to Leasing News is the Better Business Bureau (BBB) has now rated them "unsatisfactory."
President Ken Wheeler says he resigned from BBB over a difference regarding a legal dispute, which was later resolved, and he felt that being a member for so many years that BBB should have waited for resolution, rather than complaints from brokers, sub-brokers, and their vendors.
Copy of Better Business Bureau report:
http://leasingnews.org/PDF/EFG_BBB.PDF
Leasing News recently reported the change in telephones as a reason callers could not reach EFG.
http://www.leasingnews.org/Conscious-Top%20Stories/EFG_Rumors2.htm
And the theft of 300 laptops that affected their cash flow for a time being.
http://www.leasingnews.org/Conscious-Top%20Stories/EFG_Hit_for_300.htm
EFG President Ken Wheeler states any current complaints center on several leases sent in by a broker who received them from a sub-broker and when the bank was doing their "due diligence" in funding, discovered other "subjects" that are being, or could not be resolved.
Another complaint involves a vendor who was paid by his American Express ( black ) credit card, who used the credit card for a lease that a purchase order was not sent or requested as it had not been approved, but since the vendor delivered and had the American Express ( black ) card number, charged to it. The charge has since been reversed, but a dispute has developed between all the parties stemming from the lessee refusal to supply additional information, it is claimed.
Ken Wheeler states he has been in the leasing business for 35 years and has never experienced what is happening today; that the leasing business has certainly changed since he
started in it.
--------------------------------------------------------------

NAELB November 4-5 Conference, Atlanta, Georgia
by Fred St. Laurent
Leasing News Advisory Board Member
The NAELB conference in Atlanta was an extremely positive experience for me and everyone I spoke with in attendance.
The Friday night reception was packed and the food was excellent. Saturday morning there was more than ample time for networking which is why we were all there. This conference as well attended by legitimate funding sources. most looking for small ticket; A-B credit and all were broker-only focused teams.
Some FACTS and figures: There were 180 in total attendance with a record setting 33 exhibitors. I reviewed my notes and unless I am in error there was not a single "Super Broker" in attendance.
NAELB President Heather von Bargen said:
"The positive energy at the conference captured the momentum of the growth of the NAELB. We had an unprecedented number of exhibitors and were thrilled to have the space to accommodate all of them. Feedback we received was that the networking opportunities were plentiful, the educational sessions were valuable, and the chance to see old friends (and make new ones) was enjoyed by all."
NAELB President-Elect Robert Otterbacher shared that the average member who takes advantage of the "Member Benefits" such as Office Depot discounts and over night mailing packages saves a little over $3,000 on average and did the math to show that if all members participated the entire membership would save over $2 million.
I brought my camera but did not find time to take pictures for you. There were just too many people to meet. The people I spoke with that attended the workshops told me that they were informative and well presented. The workshops were panels and geared towards a better understanding of proposals and application processes (how to get deals done); How to structure bigger deals (85% approval rate when presented correctly) this workshop then transitioned to understanding credit underwriting; and alaQuote training for those interested. Jim Buckles of Preferred Business Solutions shared with me that he did very well at the conference with the CRM software.
The networking times were crowded and there were relationships being established at every table. The tables were never empty!
The overall sense that I took away from the conference was one of hope and excitement. There is no doubt in my mind that there are many funding sources ready to finance good business and that there is a great deal of growth potential for third party Equipment Leasing in the near future.
We are on the verge of exciting times and all we have to do to make it happen is get out and find good deals!
One other point that I would like to make is that I really should have written this for you sooner. I was just so overwhelmed with the follow up after the conference that I didn't take the time to write it. It is unfortunate that the only report that was available to you was the one I read Tuesday morning which I feel was inaccurate. There was some truth to it in that there are now 700 members to the NAELB and I think that is a landmark for the organization as well as a statement of prosperity for the third party leasing world!
Overall the conference was a tremendous success and all of the people I spoke with felt that this was well worth the time and investment made in attending.
Kind Regards,
Fred St Laurent
CEO/ President
SFBI Recruiters
Phone: 678.455.5700 ext 214
Fax: 678.623.8283
Email: Fred@sfbirecruiter.com
"Impacting Companies one person at a time."
Website: http://www.sfbirecruiter.com/
Member of ELA
Member of NAELB
Member of the Leasing News Advisory Board
http://www.leasingnews.org/Advisory%20Board/Fred_St_Laurent.htm
( The report Fred is referring to came from a very well-known president of a well-established leasing company, in attendance, who preferred his name not used. It was edited, too. Fred's wrote the "official" report. Editor)
The Tuesday's "Odds and Ends" that Fred refers to:
http://www.leasingnews.org/Pages/NAELB_702_Members.htm
--------------------------------------------------------------

BSB Leasing is the Only "Super Broker" Listed Here
Leasing News has received six requests to be listed in the "Super Broker" section, but only one has cleared the requirements. The other five did not have good Better Business Bureau reports.
Super Brokers' List
( for "funder," please click here
for funders specializing in "Story Credits, " please click here )
For definition about "Super Broker," see the information below the list.
For those who want to be listed on this form, please fill out Super Brokers' Form
and fax to 408-374-3843.
A -Requires Broker be Licensed | B -Sub-Broker Program | C -Warehouse Line | D -Also a Lessor
Rank

Name
In Business Since
Contact
Website
Leasing Association

Employees

Geo
Area

Dollar
Amount

Broker Qualify

A

B

C

D

1

15

National

Application Only $5,000 - $100,000, Commercial $50,000 - $500,000

N

N

Y

Y
(A) BSB Leasing, Inc has been providing syndication services for brokers nationwide since 1982 and have been funding business directly since 2002 through BSB Direct Finance, LLC. We offer Brokers a complete internet solution for credit submission and tracking and document preparation.
---------------------------------------------
These companies basically function as a "broker," meaning most of their transactions are sent to other leasing companies or funders.They are not "lessors" or "funders." An additional description: the majority of their business comes from others, who are acting as a broker. These "deals" may come from an independent, a "company," or even a "lessor" or "funder."
Brokers come to them because they may not have the "volume" for the source the "super broker" may have; they may be "too new" in business to qualify for many sources: they may be looking for a better rate than their regular sources, or the transaction was originated by another broker and they need to acknowledge that the transaction comes from another broker, called "sub broker," in the trade (most funders will not accept business from that has been "re-brokered." ." As important, the sender may not have a regular source for the specific transaction they want to place, such as a young privately held company wanted the lease as "corporate only."
The transactions may come from a lessor that wants to satisfy their client, and they have a "minimum" that the transaction does not meet; or perhaps their client is to the maximum amount of exposure for them.
For whatever reason, they come to a "super broker" to place the deal on their behalf.
In the question of sub-broker business, we take for granted that the "super broker" not only has a written agreement with the sub-broker but informs the lessor when submitting an application it has come from a sub-broker. A violation of this will have the company removed from the list.
This list is not does not include leasing companies who "fund" the majority of the transactions they receive.
In addition to the above qualifications, the "Super Broker" must have a "clean" Better Business Bureau rating, no Leasing News Bulletin Board complaints or a poor record, and must belong to a national leasing association, as we view this that they are professional and abide by their association standards and code of ethics.
We also will be verifying warehouse lines or "lessor" lines with their bankers (as done with those on the Story Credit List.)
Leasing News reserves the right not to list any company it believes does not meet the qualifications as stated above.
--------------------------------------------------------------

Sales Makes it Happen ---- "In Search of Closers"
Sales Make it Happen
In Search Of Closers
Most sales managers dream of managing a team of "closers" While the ability to close sales is a prerequisite for the professional salesperson, a sales team full of closers can be disastrous for the sales manager and for his or her company.
When a company first begins operations, or when an established company launches new products or services, evangelizers, or visionaries are required to spread the company's message. This type of salesperson possesses boundless energy and enthusiasm, and is in turn energized by new challenges and opportunities. Primarily concerned with bringing orders in the door, and much less concerned about holding the customer's hand after the sale is made, she is a "closer." Strong closers are fiercely independent. They know how to sell, have their own individual styles, and resist micromanagement.
A sales team populated only with strong closers may be thoroughly lacking in the ability to nurture, develop and retain valuable customers. Their sales managers and senior executives might begin to wonder why customers drop in the top of the company's sales funnel, visit for only a short time, and drop out the bottom of the funnel, never to be seen again.
An enterprise's best customers, for example, may resent attempts to continually "close" them on new products and services. They may not require the constant emotional energy transmitted by the "closer." They may, instead, want thoughtful, non-emotional counseling and guidance on trends and opportunities from the sales team and from other departments in the seller's company. Once they've been closed, they may want and need more than continual product and service sales pitches.
Most companies need a variety of sales talents to help sustain long-term business. Closers are always required, since all companies need to continually attract new customers, if for no other reason than normal customer attrition accounts for the loss of about twenty percent of a company's customers each year. The experienced sales manager recognizes the value of talented closers, and is also aware of their limitations.
To be successful, an NFL football team needs an effective quarterback; but a team of quarterbacks would be anything but effective playing against a traditionally-balanced NFL team. It's the same for most sales organizations.
--- from the desk of a retired, successful leasing company president.
--------------------------------------------------------------

Cartoon---"Good Dog"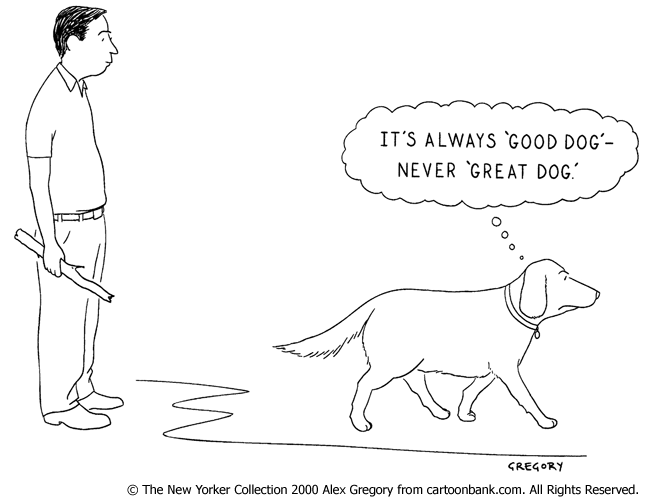 --------------------------------------------------------------

Maglietta to attend Jurassic Lessors Association Meeting Tonight
Maglietta with the Havana cigar given to him by his close friend Senator Hillary Clinton
(from her trip to Cuba)
Sal Maglietta , president and CEO of U.S. Bancorp Equipment Finance ,will be attending today The Jurassic Lessors Association is at 6 pm, Wednesday, at McKendricks Steak House Bar - 4505 Ashford Dunwoody Road, Atlanta, GA for adult beverages, unprecedented story telling and exaggerated bragging. Invitation is extended to all leasing professionals in the Atlanta area.
Among other more socially accepted endeavors, the Jurassic Lessors Association (JLA) is dedicated to the pursuit of ego protection and enhancement for those men and women (identified by the JLA Executive Committee) who are single-handedly responsible (e.g., JLA members) for the equipment leasing & finance industry, as we know it today.
These "masters of the universe" ("JLA Members") built and continue to manage the leasing industry's phenomenal growth with greatness, brilliance and genius. Proving no sacrifice (livers and/or marriages) to great, JLA members have willingly spent physical, mental and emotional capital (employer's expense accounts, etc.) enduring endless days/nights of legendary "one on one" negotiations (golf, drinking, dancing, dinning, etc.) while away from loved ones (wives/husbands, girl/boy friends) often under deplorable working conditions (e.g., four star hotels, private country clubs and dimly lit taverns).
About The JLA
While "Charter Membership" was only available to those persons having attended the first JLA meeting in Atlanta, new applicants wishing to join this prestigious group of necromancers (nec.ro.man.cy - The practice of communicating with the spirits in order to predict the future) are invited to submit their application in person via the appropriate JLA Chapter. For additional information, visit http://www.lessors.com/JLA/home.html .
--------------------------------------------------------------

You are invited to Christmas Parties
Leasing Association Meetings Open to Non-Members
Come and celebrate the Holiday Season
with your Bay Area colleagues at the Northern California UAEL
Christmas Party and Charity Event
The event will be held at Gaylord India Restaurant (Formerly Valhalla Restaurant). Located at 201 Bridgeway Sausalito, CA
A $30.00 cover includes appetizers and there is a cash bar.
Date: Thursday December 1st , 2005
Time: 5:30-7:30 PM
Please bring a new toy, unwrapped, and in its original packaging, for the Marin County Toys for Tots program. The toys will be collected and donated at the end of the evening.
Please RSVP to:
John Haenselman
Belvedere Equipment Finance
Phone (650) 616-1948
Fax (650) 616-1998
Or
Paul Knowlton
Bank of Walnut Creek
Phone (888) 278-1079 x 253
Fax (925) 932-6628
---------------------------------------------------------------------------
'Tis the Season ...
Mingle & Jingle at our 4th Annual UAEL Southern California
Holiday Cocktail Party & Charity Event
Date: Thursday, December 8th
Time: 5:30 PM to 8:30 PM
Location: Café Tu Tu Tango
20 City Blvd West
Orange , CA 92868
(714) 769-2222
www.cafetututango.com
Details:
Menu: Hors d'oeuvres, Dessert, No-Host Bar
Entertainment: Salsa Dancers will Spice up our Holiday Party!
Charity Event: Join us and bring an unwrapped toy that will be donated
(Information to follow)
Cost: $23.50 UAEL Member Price
$28.50 Non-UAEL Member Price
* Price will increase to $30.00 after 11/30/05
Reserve your ticket today by emailing Gina Iacono at
giacono@westoverfinancial.com
A special Thank You to our Event Sponsors:
Allegiant Partners, Bank Of The West,
Belvedere Equipment Finance,
Financial Pacific Leasing, Orion First Financial,
Pacific Capital Bank, and PFF Bank & Trust
Event hosted by the UAEL Southern California Regional Committee
---------------------------------------------------------------------------
3rd Annual Midwest Regional Holiday Party
Date: Thursday, December 15 th , 2005
Time: 6:00 PM to 9:00 PM
Cost: $62.00 (spouses and non-members welcome)
* Price will increase to $68.00 after 11/30/05
Location:
Mike Ditka's Chicago
100 E. Chestnut
Chicago, IL 60611
Phone: 312-587-8980
www.mikeditkaschicago.com
Reserve your ticket today by emailing Bill Griffith at Bgriffith@PadcoLease.com. All checks should be made payable to UAEL and remitted to Bill Griffith, Padco Lease Corp., 100 W. Monroe Street, Suite 706, Chicago, IL 60603-1901 to insure received no later than November 30, 2005.
Menu:
Hors d"oeuvres - Fruit & Cheese Platter, Mini Quiche, Poached Salmon with Cucumber Dill Sauce
Roasted Roma Tomato with Basil Soup and Grilled Salad w/Vinaigrette

Choice - Da Pork Chop w/Peppercorn Sauce, Grilled Chicken w/Marinated Portobello Mushrooms or Grilled Filet Mignon
Desert - Assorted Brownies and Cookies
Freshly Brewed Coffee and Teas
Dinner also includes 2 hours of open Premium Bar
A special "Thank You" to this year's event sponsors:
Law Offices of Swanson, Martin & Bell, LLP
IFC Credit Corporation / Pioneer Capital Corporation
Beacon Funding / ECS Financial Services, Inc.
LeaseTeam, Inc.
Padco Lease Corp.
This year's event should be a truly memorable one. Ditka's is located on Chestnut just 1 block west of "The Magnificent Mile" shopping district (Michigan Avenue) and 1 block east of Chicago's famous "Rush Street" nightclubs, restaurants and shopping.
This year we are also having a United States Marine Corp "Toys for Tots" drive. All attendees (1 per couple) are asked to bring a toy (unwrapped).
I look forward to seeing everyone at Ditka's on December 15th.
Sincerely,
Bill Griffith
--------------------------------------------------------------

Classified Ads---Help Wanted
Administration Manager
Administration Manager
Five Point Capital, a well established and growth oriented commercial equipment financing company, is seeking an Administration Manager to lead its Funding and Documentation departments. Seeking those with 5+ years management experience and skilled at leading, mentoring and retaining employees. Small ticket funding experience a plus. Proven ability to maintain and enhance lessor/funder relationships.
Location: San Diego, CA. Send resume and salary history to: HR@FivePointCapital.com

Leasing Sales Manager

Leasing Sales Manager
Develop & lead sales force in a fast track
company. Our phenomenal growth provides this great opportunity, 5+ years exper. working w/brokers. Relocate to beautiful
San Antonio, Texas. resumes@swcreditlender.com


National Account Manager

Truck/Trailer Industry
National Account Manager
5+ year proven track record, located in either Texas or upper Mid-West markets,
estab. relationships to produce min. $750k
a month, for more information, click here.
To apply click here.


These ads were designed by Maria-Martinez Wong. Let her construct and design your ad with the goal to keep your costs down.
maria@leasingnews.org
### Press Release ###########################

SIemens Financial Services Announces New Hires
Appointments Expand Sales Force for Multiple Product Lines
ISELIN, NJ, - Siemens Financial Services, Inc. (SFS), the U.S. financial services arm of Siemens AG, today announced that Gary Amos, Mike Byrne and Dave Henneman have joined the company. Amos joins as V.P. of Direct Sales within Healthcare Finance, Byrne as V.P and Senior Business Development Officer of Asset-Based Lending, and Henneman as V.P. of Equipment Finance Sales.
"These new team members all have extensive experience and expertise in each of their areas of competency and will be valuable additions to SFS," said Roland Chalons-Browne, President and CEO, SFS. "As we continue to grow our business, it is vital to have knowledgeable and highly seasoned professionals on board to provide our customers with complete financial solutions."
Gary Amos brings over 15 years experience to SFS, having worked in sales, national accounts, business development and sales management for leading financial service organizations. Based in Malvern, PA, he will be responsible for managing all structured and project finance transactions including tax-exempt hospitals for SFS' Healthcare finance group. He was formerly part of GE Commercial Finance where he held various leadership roles, including national accounts, business development and, most recently, was part of their healthcare financial services group. Prior to that organization, Amos managed key national account and sales relationships for DLL (formerly Tokai Financial Services).
With three decades of experience in asset-based lending, Mike Byrne brings a wealth of knowledge to SFS and will greatly contribute to the success of the Asset-Based Lending team. Working in SFS' Iselin, NJ headquarters, Byrne is responsible for sourcing and structuring new asset-based transactions. Prior to joining SFS, he worked at several financial services organizations, including Citizens Business Capital, Bank of America/Fleet, First Union/Corestates, Mellon, and CIT Financial and also spent three years as Treasurer/Controller of a sporting goods manufacturing company.
Dave Henneman has over ten years experience in commercial and corporate finance, most recently direct originations at GE Commercial Finance. Based near Philadelphia, he will be focusing on the large ticket equipment marketplace including financing of corporate air, rail, maritime, transportation, IT and manufacturing assets for SFS. He will be originating transactions throughout the Mid-Atlantic and Northeastern U.S. (Washington, D.C. to Maine).
About Siemens Financial Services
With some 1,600 employees and an international network of financial companies coordinated by Siemens Financial Services GmbH, Munich, the Siemens Financial Services Group offers a broad range of financial services. This covers activities from sales and investment financing to treasury services, fund management and insurance brokerage. Siemens Financial Services' key customers are primarily internationally active industrial and services companies, as well as public-sector operators. Siemens Financial Services supervises 21 leasing companies worldwide. Further information: www.siemens.com/sfs
Siemens Financial Services, Inc. is one of Siemens' operating companies in the United States. The people of Siemens Financial Services, Inc. build relationships to deliver customized commercial financing solutions. SFS is led by industry veterans who work to ensure quick, quality financing. With expertise in Asset-Based Lending, Equipment Financing, Commercial Trade Finance and Vendor Financing, each transaction is tailored to fit the specific borrowing needs of the client. Further information: www.usa.siemens.com/financial
About Siemens
Siemens AG (NYSE:SI) is one of the largest global electronics and engineering companies with reported worldwide sales of $91.5 billion in fiscal 2004. Founded more than 155 years ago, the company is a leader in the areas of Medical, Power, Automation and Control, Transportation, Information and Communications, Lighting, Building Technologies, Water Technologies and Services and Home Appliances. With its U.S. corporate headquarters in New York City, Siemens in the USA has sales of $16.6 billion and employs 70,000 people throughout all 50 states and Puerto Rico. Thirteen of Siemens' worldwide businesses are based in the United States. With its global headquarters in Munich, Siemens AG and its subsidiaries employ 440,000 people in 190 countries. For more information on Siemens in the United States: www.usa.siemens.com.
### Press Release ###########################

CIT Announces Initial 2006 Guidance
NEW YORK, -- CIT Group Inc. (NYSE: CIT), a
leading provider of commercial and consumer finance solutions, today announced initial financial guidance for 2006.
Speaking at the company's Investor Day conference in New York, Chairman and Chief Executive Officer, Jeffrey M. Peek provided guidance for 2006 of mid-teens EPS growth. Mr. Peek announced that the company is transitioning to return on equity as its new performance metric, and that its target for 2006 is 15%. Historically, CIT has measured its performance using return on tangible equity.
For more information and a complete recording of the Investor Day presentations, a web cast of the presentation is available on CIT's Investor Relations web site at
http://ir.cit.com until 11:59pm EST on November 30, 2005.
### Press Release ###########################

CIT Secures Top SBA Volume Lender Ranking For Six Consecutive Years
LIVINGSTON, N.J., -- CIT Small Business Lending Corporation, a subsidiary of CIT Group Inc. (NYSE: CIT - News) and an operating company of CIT Specialty Finance, announced today that it is the nation's top Small Business Administration (SBA) volume lender for the sixth consecutive year, according to year-end figures released by the federal agency.
The ranking is based on SBA 7(a) loan program fundings for the 2005 SBA fiscal year, which ran from October 1, 2004 to September 30, 2005. The SBA credits CIT with over $800 million in SBA 7(a) loan approvals to 1,460 small businesses nationwide.
"We're honored to receive this recognition from the SBA," said Tom Hallman, Vice Chairman of CIT Specialty Finance. "Small business drives economic growth. We're proud to participate in a program that is effective in stimulating investment, creating jobs, and providing financial support for the small business community."
The 7(a) loan program is the most popular SBA program, and offers up to 25-year, fully amortized loans. Loan proceeds may be used for most business purposes, including the purchase of commercial real estate; construction, renovation or leasehold improvements, acquisition of an existing business or, purchase of equipment or inventory, and working capital.
"At CIT, we take pride in fulfilling a critical role in helping U.S. small businesses," commented John Canning, President of CIT Small Business Lending Corporation. "From providing start-up funds to assist an entrepreneur with a new venture, to helping more established firms grow and expand, we're dedicated to helping small businesses contribute to the vitality, revival, and growth of their communities."
About CIT Small Business Lending Corporation
CIT Small Business Lending Corporation offers Small Business Administration (SBA) loans to finance business acquisitions, owner-occupied real estate purchases, and franchise and medical practice start-ups through a network of field representatives. The nation's No. 1 SBA lender, CIT Small Business Lending has been designated a "Preferred Lender" by the SBA and can provide quick credit decisions and loan closings. The company's website and online SBA loan application are located at http://www.smallbizlending.com.
About CIT
CIT Group Inc. (NYSE: CIT - News), a leading commercial and consumer finance company, provides clients with financing and leasing products and advisory services. Founded in 1908, CIT has nearly $60 billion in assets under management and possesses the financial resources, industry expertise and product knowledge to serve the needs of clients across approximately 30 industries. CIT, a Fortune 500 company and a component of the S&P 500 Index, holds leading positions in vendor financing, factoring, equipment and transportation financing, Small Business Administration loans, and asset-based lending. With its Global Headquarters in New York City and Corporate Offices in Livingston, New Jersey, CIT has approximately 6,000 employees in locations throughout North America, Europe, Latin and South America, and the Pacific Rim. For more information, visit http://www.cit.com.
### Press Release ###########################

ORIX Leasing Singapore Limited goes fully live with NetSolCQ's LeaseSoft Asset
NetSolCQ, the UK subsidiary of NetSol Technologies Inc, and ORIX Leasing Singapore Limited are delighted to announce the successful completion of the project to completely replace ORIX's ageing systems with NetSolCQ's fully integrated LeaseSoft Asset application.
ORIX Leasing Singapore selected the NetSolCQ solution after extensive evaluation of other product offerings from Prospective Asia Pacific and International suppliers.
"Having had some unpleasant experiences with other suppliers, we were determined to find a solution that provided the breadth of functionality required by our business together with the flexibility and technical architecture to support our company on future years," said Mr. See Meng Wong, Managing Director of ORIX Leasing Singapore.
He added: "In addition to the technical and functional qualities of the system, we were also impressed by the 'ease of use' of Net SolCQ's system. Moreover, the professionalism, domain knowledge and understanding that all of the NetSolCQ team exhibited both in the evaluation process and in project execution were impressive."
Paul Grace, NetSolCQ Project Director, added: "Apart from the product evaluation, the ORIX management needed to be confident that the geographical distance and time zone gap would not be issues. Our track record of always delivering to requirements within contracted budget, as confirmed by in-depth interviews between ORIX and existing customers, helped overcome this concern."
Both Mr. Wong and Grace praised the vital contributions made by each other's project team throughout the duration of the project. "In projects of this magnitude that are so critically important to the business, there are always highs and lows," confirmed Mr. Wong, "The successful result is a tribute to all the hard work, determination and patience everyone involved and to both companies' project management and leadership qualities," added Grace.
Paul Grace highlighted the strategic importance of NetSolCQ winning this prestigious ORIX contract. "It is our first contract in the SE Asia region where ORIX is extensive represented and we are delighted to have such high profile client. With our new office in Beijing, we are fully committed to expanding our operations in this region and building on this success."
Editors notes:
About Orix Leasing Singapore Limited
Orix Leasing Singapore Limited is a joint venture between ORIX Corporation, the Development Bank of Singapore Limited and the United Overseas Bank Limited.
About NetSolCQ
Established in 1986 and now part of the NetSol Technologies, Inc. group NetSolCQ provides software and services to the financial services industry. NetSolCQ is recognized as a premium provider of software solutions to the asset, motor, consumer, wholesale and premium finance sectors with 75 banking, independent and captive finance house clients in the UK, Europe, Africa and Asia. Please visit the company's website at www.netsolcq.com
For more information, please contact:
NetSolCQ
Paul Grace
China Representative Office
Level 15, NCI Tower
12A Jingoumenwai Ave.
Chaoyang District
Beijing 100022
China
tel:- +86 10 8523 3031
Fax:- +86 10 8523 3001
Email: pgrace@netsolcq.com
Website: www.netsolcq.com
### Press Release ###########################

Leasing Partners Capital Inc. expands headquarters operation.
WAYNE, NJ., - Jeffrey B. Krug has been named Inside Territory Manager at the firms Northern New Jersey headquarters location. Krug, a 25 year sales and marketing veteran, is a business administration graduate of The University of Southern California - Los Angeles. Mr. Krug has held key sales, sales management and finance positions in the technology, automotive and professional sports industries.
"The finance aspect of business sales has always been my strongest area - I'm happy to be in a position to offer financial products and services for Leasing Partners growing base of clients." Says Krug.
"2005 is shaping up as a record year for Leasing Partners, we have seen a 100% increase in transactions to date. Our growing base of clients and vendors demand frequent professional interaction with our team. Jeff's skills and experience will enable us to continue to drive growth in vendor and individual transaction business" says Duane E. Rouba, managing partner at Leasing Partners Capital's Northern New Jersey Headquarters.
About Leasing Partners Capital Inc.
Leasing Partners Capital Inc. is a leading equipment and technology leasing company based in Northern New Jersey. The company operates 21 field offices throughout the United States.
Leasing Partners Capital has been offering financial and operating lease products to businesses and vendors in the Commercial, and Government Market sectors for more than 20 years.
The firm is known as a leader in the vendor leasing program arena as a result of excellent marketing execution, outstanding responsiveness and client service levels.
Contact:
Robert T. Mayer
Director, Vendor Development
Leasing Partners Capital Inc.
1211 Hamburg Turnpike - Suite 306
Wayne, NJ 07470
800-848-7210
973-709-9286 fax
rmayer@leasingpartnerscapital.com
www.leasingpartnerscapital.com
### Press Release ###########################


News Briefs----
Treasuries Rise; Three-Year Sale Draws Highest Yield Since 1998
http://www.bloomberg.com/apps/news?pid=71000001&refer=us&sid=al6wGK_jVGqM
Dollar Hits 2-Year High Against Euro
http://www.nytimes.com/2005/11/09/business/09place.html
Investor lets loose on Sovereign Bancorp
http://www.boston.com/business/articles/2005/11/09/investor_lets_loose_on_sovereign/
Google Automat to Spew Classifieds?
http://www.internetnews.com/bus-news/article.php/3562691
Democrats Win Gov. Races in N.J., Va.
http://www.sfgate.com/cgi-bin/article.cgi?f=/n/a/2005/11/08/politics/p183441S05.DTL
Ex-police chief Jerry Sanders elected mayor of San Diego
http://www.sfgate.com/cgi-bin/article.cgi?f=/n/a/2005/11/08/state/n230008S79.DTL
Texas Voters Approve Ban on Gay Marriage
http://www.sfgate.com/cgi-bin/article.cgi?f=/n/a/2005/11/08/politics/p180217S90.DTL
Mayor Bloomberg Romps to Win in New York
http://www.sfgate.com/cgi-bin/article.cgi?f=/n/a/2005/11/08/politics/p191101S93.DTL
'Jingle Bells' misses beat with shoppers
http://www.ajc.com/business/content/holidayguide/shopping/stories/08bizseason.html
---------------------------------------------------------------


You May Have Missed
Scientist are studying how animals slumber in hopes of understand a fundamental question, why sleep exits. Here is chart of how many hours many animals require from a little pocket mouse, 20.1 hours a day, to a Giraffe, 1.9 hours a day.
http://leasingnews.org/PDF/Tired.pdf
Here is the full story from the NY Times : Down for the Count
http://www.nytimes.com/2005/11/08/science/08slee.html
---------------------------------------------------------------

Sports Briefs----
Pistons Clobber Kings 102 - 88
http://www.nytimes.com/aponline/sports/AP-BKN-Pistons-Kings.html
----------------------------------------------------------------


California News Briefs---
Schwarzenegger loses key initiative votes
http://www.usatoday.com/news/nation/2005-11-08-ballot-measures_x.htm
----------------------------------------------------------------


"Gimme that Wine"
French AOC wine prices collapsing
http://www.beveragedaily.com/news/ng.asp?n=63749-french-wine-wine-sector-wine-makers
Wine's New Address Is Far From Stodgy-NY Times Eric Asimov
http://www.nytimes.com/2005/11/09/dining/09pour.html
Winemaker's suit rattles horse industry
http://www.kentucky.com/mld/kentucky/business/13101420.htm
If you want to know if you got a value for your wine, or what the wine price is today, go to www.winezap.com Type in the vintage (year) and name of the producer with wine type or geographic area, such as 1995 Chateau Lynch Bages Pauillac. Even 1995 Lynch Bages will work, or 1998 Viader
----------------------------------------------------------------

Today's Top Event in History
1913 -the 'Freshwater Fury', one of the greatest windstorms ever in the Great Lakes produced sustained winds of 62 mph at Port Huron, MI, gusts to 80 mph at Buffalo, NY and 79 mph at Cleveland, OH. 17 ships were sunk and 270 sailors lost. 22.2 inches of snow fell at Cleveland. Pickens, WV had 36 inches
This Day in American History
1731-Birthday of Benjamin Banneker: American astronomer, mathematician clockmaker, surveyor and almanac author, called "first black man of science." He was instrumental in the original survey of city of Washington. Banneker's Almanac was published 1792-97. Born at Elliott's Mills, MD, he died at Baltimore, MD, Oct 9, 1806. A fire that started during his funeral destroyed his home, library, notebooks, almanac calculations, clocks and virtually all belongings and documents related to his life.
http://memory.loc.gov/ammem/today/nov09.html
1756-Travel was generally by horse or walking before this date when the first intercity stagecoach service was inaugurated between Philadelphia, PA, and New York City by John Butler, Francis Holman, John Thompson, and William Walter.
1800--- Birth of Asa Mahan, American educator and Congregational clergyman. President of Oberlin College in Ohio from 1835_1850, Mahan was instrumental in establishing interracial college enrollment and in the granting of college degrees to women.
1802-Birthday of Elijah P. Lovejoy, American newspaper publisher and abolitionist, born at Albion, ME. Died Nov. 7, 1837 in a fire started by a mob angry about his anti-slavery views.
http://www.altonweb.com/history/lovejoy/
http://www.state.il.us/hpa/lovejoy/table.htm
http://www.greatriverroad.com/Cities/Alton/Lovejoy.htm
1815- Reverend Leonard Grimes was born at Leesburg, VA, to parents who were free. A free black man living at Washington, DC, he despised slavery and became active in assisting fugitive slaves to escape. He was caught and imprisoned at Richmond, VA. After his release he founded and became the first minister of the Twelfth Street Baptist Church at Boston, MA, where he served until his death Mar 14, 1874.
1836-The first state police were formed when G.W. Davis was commissioned to raise 20 Texas Ranger. Texas was a province of Mexico at the time. The General Council of the Provisional Government of Texas authorized the organization of three Ranger companies. Texas was admitted to the Union in 1845. The first African-American officer to serve as a Texas Ranger was Lee Roy Young, who joined the force in 1988.
1836--- Birth of Christian business traveler Samuel Hill. In 1899 Hill, John Nicholson and W.J. Knights co founded the Gideons, a Christian organization that ministers through distribution of the Scriptures. To date, the Gideons have placed over 12 million Bibles and 100 million New Testaments.
1857 - The new magazine, the "Atlantic Monthly", featured the first installment "The Autocrat of the Breakfast Table" by Oliver Wendell Holmes
1861- Tennessee votes against secession
http://www.newadvent.org/cathen/14508a.htm
http://www.roanetnheritage.com/research/military/civil%20war/06.htm
http://www.tngenweb.org/scott/fnb_v7n3_the_civil_war.htm
1868- Medical School at Howard University opened with eight students
1872-The Boston Fire: though Boston had experienced several damaging fires, the worst one started on this Saturday evening in a dry-goods warehouse. Spreading rapidly in windy weather, it devastated several blocks of the business district, destroying nearing 800 buildings. Damage was estimated at more than $75 million. It was said that the fire caused a bright red glare in the sky that could be seen from nearly 100 miles away. The Boston fire came one year, one month, and one day after the Great Chicago Fire of October 8, 1871.
1876-Birthday of Archibald Wright (Moonlight" Graham, baseball player born at Fayetteville, NC. Graham's brief major league career (one game and no at-bats) was fictionalized in "Field of Dreams." Died at Chisholm, MN, August 25, 1965.
1899-Clarinetist Mezz Mezzrow born Chicago, ILL. His autiobiography about Chicago jazz days is still considered a classic, written in 1946, "Really the Blues." Ben Pollock, the drummer says Mezz was "not too smart, and he ran errands for us mostly." Ben at the time owned a Pizza joint on Sunset Blvd that we often went to listen to the Dixieland music.
1906 - United States President Theodore Roosevelt left for Panama on the first overseas trip by a United States president.
1906-Trumpet player Muggsy Spanier birthday
http://www.redhotjazz.com/muggsy.html
1906 -Alto sax player Peter Brown born, Baltimore, MD.
1912- West Point cadet Dwight D. Eisenhower broke his kneecap in a football game against Tufts University and gave up the sport forever.
1913 -the 'Freshwater Fury', one of the greatest windstorms ever in the Great Lakes produced sustained winds of 62 mph at Port Huron, MI, gusts to 80 mph at Buffalo, NY and 79 mph at Cleveland, OH. 17 ships were sunk and 270 sailors lost. 22.2 inches of snow fell at Cleveland. Pickens, WV had 36 inches
1918-Birthday of Spiro Theodore Agnew, 39 th vice president of the US, born at Baltimore, MD. Twice elected vice president (1968 and1972), Agnew became the second person to resign that office October 10, 1973. Agnew entered a plea of no contest to a charge of income tax evasion ( on contract kickbacks received while he was governor of Maryland , and after he became vice president) He died Sept. 17, 1996, at Berlin, MD. John Calhoun was the first to resign, 1832, over many issues with President John Quincy Adams, the last of states rights, where Adams continued to believe states had the right to over rule federal authority and decided he had had it.
1918-Birthday of swimmer Florence May Chadwick, San Diego, CA. Chadwick never won a national title and failed to qualify for the US Olympic team in 1936, but she won enduring fame by becoming the first woman to swim the English Channel in both directions. She swam from France to England on August 8, 1950, and from England to France a year later. She made other long-distance swims as well, including the Bristol Channel, the Catalina Island-to California swim and the Strait of Gibraltar. Died at San Diego, March 15, 1995.
1923- Birthday of Actress and singer Dorothy Dandridge. She was a child star, born at Cleveland, OH, who toured with her sisters, Vivian and Etta Jones, as The Dandridge Sisters. They played at the Cotton Club, sharing the stage with artists such as Cab Calloway and W.C. Handy. Dandridge went solo in 1941 to perform in Hollywood movies and on stage with the Desi Arnaz Band. Her big break came with the lead role in Otto Preminger's musical, Carmen Jones. Dandridge received an Oscar nomination for her performance. Unfortunately, Dandridge could not overcome Hollywood's racism and tendency to typecast and her career foundered. She died at West Hollywood, CA, Sept 8,1965.
1926 - A F3 tornado struck a small school near La Plata, MD killing 14 students. The school was lifted, thrown into a grove of trees and blown apart. The body of one child was found in a tree 300 feet away
1934-Birthday of Carl Sagan, astronomer, biologist, author, born at New York, NY. Died at Seattle, WA. Dec. 20, 1996.
1938- 24-year-old Mary Martin made her Broadway stage debut in the musical comedy "Leave It to Me". She brought down the house as she sang My Heart Belongs to Daddy. And the critics raved about New York's bright new star. The following year brought Martin a top-ten hit with the same song. Martin suddenly found herself singing duets with Bing Crosby; starring on "Broadway in One Touch of Venus" in 1943; "Lute Song" in 1946; touring in "Annie Get Your Gun"; and then taking on what would become her immortal role, that of Nellie in "South Pacific". South Pacific was one of Broadway's biggest hits and the cast album was one of the first of its kind, also a big seller. Then came Mary's stage and TV performances as Peter Pan. This would become her signature role, a memorable moment as the petite actress flew through the air with Tinkerbell and fought the dangerous Captain Hook. Broadway called to Mary Martin again in 1959 for "The Sound of Music" and once more in 1966 for "I Do, I Do". Back in 1951, Mary Martin recorded a duet with a young man who was also destined for instant and long-term stardom. The song they sang together was Get out Those Old Records. The twenty-year-old was her son, Larry Hagman, who later played J.R. Ewing.
1946- Thousands of African-Americans fought in WWII, but after the war the same old injustices and hatred prevailed. In Philadelphia Margaret Roselle Hawkins and Sarah Strickland Scott founded a nonpartisan, volunteer organization called The Links, "linking" their friendship and resources in an effort to better the lives of disadvantaged African-Americans. From the first group of nine, The Links has grown to an incorporated organization of 8,000 women in 240 local chapters in 40 states plus the District of Columbia and two foreign countries. The Links promotes educational, cultural and community activities through a variety of projects here and in Africa. In May of 1985 The Links became an official
1948-Top Hits
Buttons and Bows - Dinah Shore
Hair of Gold, Eyes of Blue - Gordon MacRae
On a Slow Boat to China - The Kay Kaiser Orchestra (vocal: Harry Babbitt & Gloria Wood
One Has My Name (The Other Has My Heart) - Jimmy Wakely
1948 - On NBC radio, "This is Your Life" debuted. the host for that first episode was Ralph Edwards who hosted the radio show for two years before giving the show nine more years from 1952 to 1961 on television.
1952- "Omnibus" premiered on television. This eclectic series deserved its name, offering a variety of presentations, including dramas, documentaries and musicals. Alistair Cooke hosted the program, which was the first major TV project to be underwritten by the Ford Foundation. Notable presentations included: James Agee's "Mr. Lincoln"; "Die Fledermaus," with Eugene Ormandy conducting the Metropolitan Opera Orchestra; Agnes DeMille's ballet "Three Virgins and the Devil" (presented as "Three Maidens and the Devil"); and documentaries from underwater explorer Jacques Cousteau.
1955 - For RCA Victor, Harry Belafonte recorded "Jamaica Farewell" and "Come Back Liza", completing the "Calypso" album that led to Belafonte's nickname, "Calypso King".
1956-Top Hits
Love Me Tender - Elvis Presley
The Green Door - Jim Lowe
True Love - Bing Crosby & Grace Kelly
Hound Dog/Don't Be Cruel - Elvis Presley
1960- the New York Yankees fired their manager, Casey Stengel, despite his having won 10 pennants and seven World Series in 12 years. Stengel returned to baseball in 1962 as first manager of the New York Mets.
1961 --PGA eliminates Caucasians only rule.
1964-Top Hits
Baby Love - The Supremes
Last Kiss - J. Frank Wilson & The Cavaliers
Leader of the Pack - The Shangri-Las
I Don't Care (Just as Long as You Love Me) - Buck Owens
1965- Massive electric power failure starting in western New York State at 5:16 PM, cut electric power to much of northeastern US and Ontario and Quebec in Canada. More than 30 million persons in an area of 80,000 square miles were affected. The experience provoked studies of the vulnerability of 20 th century technology.
1967 - With John Lennon on the cover, the first issue of "Rolling Stone" was published. The magazine said it was not just a music magazine but was also about "...the things and attitudes that music embraces."
1969--The occupation of Alcatrazwas planned by Richard Oakes, a group of Indian students, and a group of urban Indians from the Bay Area. Since many different tribes were represented, the name "Indians of All Tribes" was adopted for the group. They claimed the island in the name of Indians of all tribes and left the island to return later that same evening. In meetings following the November 9th occupation, Oakes and his fellow American Indian students realized that a prolonged occupation was possible. --Alcatraz Indian Occupation
1972-Top Hits
I Can See Clearly Now - Johnny Nash
Nights in White Satin - The Moody Blues
Freddie's Dead (Theme from "Superfly") - Curtis Mayfield
It's Not Love (But It's Not Bad) - Merle Haggard
1974-"You Ain't Seen Nothing Yet" by Bachman-Turner Overdrive topped the charts and stayed there for a week.
1980-Top Hits
Woman in Love - Barbra Streisand
Lady - Kenny Rogers
The Wanderer - Donna Summer
On the Road Again - Willie Nelson
1982 - An unusual California outbreak of tornadoes with 7 tornadoes setting down in the Los Angeles area. 2 of the storms reached F2 striking Long Beach and Van Nuys
1984- The Vietnam Veterans Memorial was completed by the addition of a statue, "Three Servicemen" (sculpted by Frederick Hart), which was unveiled on this date. The statue faces the black granite wall on which are inscribed the names of more than 58,000 Americans who were killed or missing in action in the Vietnam War.
1985-"Miami Vice Theme" by Jan Hammer topped the charts and stayed there for a week.
1988-Top Hits
Kokomo - The Beach Boys
Wild, Wild West - The Escape Club
The Loco-Motion - Kylie Minogue
Darlene - T. Graham Brown
1991 - Champaign, IL shivered at 9 degrees, Calico Rock, AR dropped to 13 degrees, just two of 70 record lows for the date
1991- "Cream" by Prince & the N.P.G. topped the charts and stayed there for 2 weeks
1996-"No Diggity" by Blackstreet topped the charts and stayed there for 4 weeks.
2000--- After posting the best record in baseball this season, Giant manager Dusty Baker is named by the BBWAA as the National League Manager of the Year. He joins Tony LaRussa (White Sox '83 and A's '88 and 92) as the only three-time winner of the award.
2004 ---After coming out of retirement to pitch for his home town team, Roger Clemens (18-4, 218, and 2.98) becomes the oldest hurler to win the Cy Young Award. The 42-year old 'Rocket' has received the honor a record seven times and becomes the first to win the award with four different teams; Red Sox (1986-87, 1991), Blue Jays (1997-98), Yankees (2001) and the Astros (2004).
-------------------------------------------------------------

American Football Poem
"You got to want it to win it and we want it more. You got to want it to win it and we want it more. Go Niners."
"We're headed for the top, We're solid as a rock, We can't be stopped, Because we're HOT HOT HOT!!!"
"Clap your hands, And stomp your feet, And jam to the rhythm of the Grizzly beat, It goes (stomp, clap, stomp stomp, clap, stomp clap), Do it "
"Its time, to cheer, Seahawks are here, Seahawks, Seahawks, Yeah, This is our year!!!"
IF YOU WANT TO WIN THIS GAME ...
YOU HAVE TO SHOUT WITH ALL YOUR MIGHT!!!
WE SAY "GO"
YOU SAY...FIGHT!!
GO...FIGHT!
GO...FIGHT!
Everyone together yell: WIN