Niche Market Sales Reps.
Not limited to, but includes:
- Dry cleaning
- Phone systems for small business
- Dental office
- Physicians office
- Laundry/dry cleaning equipment
Send your resume to sclerc@highlinecapital.com EOE.
Wednesday, November 1, 2006
Headlines---
Dedicated to Donald B. Pooley
Classified Ads---Asset Management
Marlin Business Services Stock
Lawyer: Dell Settles Class Action
Dell Testimonial--by C. Menkin
NAELB Nov. 3-4 Atlanta Reg. Meeting
Top Stories---October 23-27
Cartoon—Sidney Harris/Sales Meeting
"Get Your New Reps Off To a Great Start"
Sales makes it Happen---by L.P. Kester
Classified Ads---Help Wanted
Mortgage rates hit 5 Week high
ABSnet Report: Innovations
NAELB: "Best Practices Broker" Testing
Five Point Hires Christine DiDonato
News Briefs---
You May have Missed---
California Nuts Brief---
Sports Briefs---
"Gimme that Wine"
Calendar Events
Snapple Real Facts
Today's Top Event in History
This Day in American History
Football Poem
######## surrounding the article denotes it is a "press release"
----------------------------------------------------------------

Dedicated to Donald B. Pooley
This issue is dedicated to Donald B. Pooley, my Sue's father who died Sunday in Dana Point, California, at the age of 88, following complications of a series of heart seizures. He leaves his wife of 65 years, Nancy, a son Donald B. Jr. with wife Nancy, and Sue, three grand daughters, Sara, Gretchen, Katie, three great grandchildren, Brock, Sam, and Justin. He was president of Willamette Industries, Portland, Oregon, now part of Weyerhaeuser, vice-president and sales manager at Georgia Pacific. He graduated UC Berkeley, where he was a track star, rose to Captain in the US Navy in World War II; and was an avid golfer; past president of the El Dorado Country Club, Indian Wells, the Bob Hope Golf Classic, where he also served as treasurer, and on the board for many years, past president of the Corrugated Box Industry, and a great guy with a tremendous sense of humor; a "salesman's salesman," always entertaining with many stories---never wanted anyone to pay for dinner. We played tricks on each other as to who was going to pay and it was a big charge for me to out fox him, which did not happen very often. He was generous to his kids and grand kids, who he and his wife took to Europe and Hawaii more times, more than I can count. Many very fond memories. As I said, I never got tired of the stories he would tell how he got started in the paper business and the people he met along the way. He will be greatly missed.
----------------------------------------------------------------

Classified Ads---Asset Management

Tefft Cellars, Outlook, Washington *
These job-wanted ads are free. We also recommend to both those seeking a position and those searching for a new hire to also go to other e-mail posting sites:
http://64.125.68.91/AL/LeasingNews/Classified.htm
In addition, those seeking employment should go to the human resource departments on company web sites for funders, captive lessors, and perhaps "broker-lessors."
To place a free "job wanted" ad here, please go to:
http://64.125.68.91/AL/LeasingNews/PostingForm.asp
Bloomfield Township, MI
15+ yrs experience asset management and credit analyst. Leadership and training skills. Audited returns, max residual, lease end and resale negotiator.
E-mail: cmcozzolino@msn.com
Boston, MA
10yrs exp structuring/modeling sophisticated lease/ loan products. Expert programmer: customized portfolio mgmt, securitization, economic capital & pricing applications. Available for contract work.
E-mail: lease_structuring@yahoo.com
Chicago, IL
MBA, 15+ years exp. Long history of success in maximizing residual position through outstanding negotiation skills & lease contract management. Third party re-marketing, forecasting etc...
email: jgambla@aol.com
Chicago, IL
2+ Years Exp. Asset Remarketing Transportation/ Medical/Cosmetic Equipment; Superior End Of Lease Negotiation Skills; Comprehensive Buyer Contacts; Available Immediately For Assignment
Email: Lonnie0168@comcast.net
Princeton, NJ
Asset management/credit/collection
20+ years experience in equipment financing. Last five years in Asset Management including remarketing, end of lease negotiations, equipment and market evaluations
E-mail: bgaffrey@earthlink.net
Sausalito, CA
Sr. Corp. officer, presently serving as consultant, fin. service background, M&A, fund raising, great workout expertise, references
Email: nywb@aol.com
Sonoma, CA
20+ years managing/ maximizing residual values, exp. computers/ hi-tech mfg. Excellent negotiation skills. Outstanding 3rd party contacts/buyers. Created deal winning structures-established residual values.
Email: dfeltman@yahoo.com
Wilton, CT
18 years exp. in IT and High Tech leasing industry. Residual forecasting, workouts, off-lease sales, mid-term restructures, auctions, all aspects of remarketing and equipment management.
Email: charrer@hotmail.com
For a full listing of all "job wanted" ads, please go to:
http://64.125.68.91/AL/LeasingNews/JobPostings.htm
* http://www.tefftcellars.com
Take the wine puzzle:
http://www.tefftcellars.com/events/puzzle1.htm
----------------------------------------------------------------

Marlin Business Services Stock
http://ichart.finance.yahoo.com/t?s=MRLN
source: yahoo.com
----------------------------------------------------------------

Lawyer: Dell Settles Class Action over Financing Practices

(Photograph of my new lap top, please see story that follows)
A settlement between computer manufacturer Dell Inc. and a group of customers alleging that Dell failed to disclose important information about its financing agreements for computers has been reached in a federal court in Tacoma, Wash. The $17 million settlement came with an agreement by Dell to change some sales and financing practices, although Dell does not acknowledge any wrongdoing in the case.
The complaint centered on Dell uses multi-media advertising, bait-and-switch marketing tactics and false promises of low-cost financing to lure and defraud purchasers with installment payment schemes offered by Dell Financial Services (DFS), a joint venture between Dell and CIT Bank, the suit alleges.
Lerach Coughlin Stoia Geller Rudman & Robbins LLP filed a class action suit in Superior Court for San Francisco County against Dell, DFS and CIT on behalf of Dell customers who are victims of the giant global company and its lending service.
"We received too many complaints to ignore," said Reed R. Kathrein, a Lerach partner who filed the suit Feb. 14, before President Bush signed legislation restricting class actions.
"Dell offers one low-priced product and then substitutes a higher cost or lower quality item. Dell promises 'easy' credit but no one qualifies. It then charges unconscionable high interest and other credit charges. These practices must stop."
The case was filed on behalf of a San Francisco nurse who had limited experience with computers when she responded in 2003 to a Dell ad and bought a notebook computer listed at $599, along with an $89 printer. She was billed $1,352 for her order and, at the urging of Dell's sales person, financed her purchase through DFS at an undisclosed interest rate that turned out to be 27.74 to 38.82 percent.
A second plaintiff responded to a Dell email offer by ordering computer products online at http://www.dell.com. He received a confirmation of his order and billing rate, but the products that arrived were of a lesser quality. Efforts to reach Dell and resolve the matter were frustrating and unsuccessful, the attorneys said.
Because Dell equipment and services are sold exclusively by telephone and through Dell's Web site, customers view only pictures of the products prior to sale - never the product itself.
In 2004 Dell spent $300 million advertising its products on TV, in newspapers and catalogues and on the Internet. It shipped 5.4 million personal computers in the United States and generated $6 billion in revenue from U.S. consumers that year.
"Knowing that these consumers are not sophisticated, Dell nonetheless inundates them with a dizzying array of advertisements for Dell products," the complaint says. While the names of the computers, model numbers and pictures are usually consistent, the details of Dell offers vary from one ad to another and even from day to day or hour to hour, with "small print" disclaimers, the suit charges.
The complaint alleges that Dell preys on unsuspecting consumers with its scripted sales force, ever-changing ad offers and highly promoted "preferred" rates and "easy" financing packages which, without notice, then are changed to include much higher interest rates and hidden charges.
Dell did not return telephone calls to Leasing News.
----------------------------------------------------------------

Dell Testimonial
by Christopher Menkin
With all the features, rapid changes in technology, dealing with so many people, I certainly can understand there would be confusion and complaints. Every company gets complaints. The good ones have departments that face them, find the errors, correct them, and strive for repeat customer and customer satisfaction.
In the many years in dealing with Dell Computer for our leasing customers, we have had complaints, all which have been satisfied. It happens to the best of companies. This is not uncommon, especially in the rapidly changing technology field.
I just purchased a Dell XPS 17" laptop, top of the line, exactly what I wanted in it. I should note Dell has advertised in Leasing News, which did influence me, but the key reason to choose this company was I found Dell to have the fastest and best priced laptop on the internet. I also really liked the concept of customizing it for my use.
It was to take ten days plus to get here, but got it within four days. I told that to the UPS driver when he surprised me with the quick delivery. He said he delivers a lot of Dell computers. The receivers always tell him the same thing, how early it arrived. Works great. Wrote the previous issues of Leasing News on it while in New York and New Jersey. Love it. Automated CIT contract gives me 60 days to pay, no interest. I configured on line, but talked to a salesman to make sure I was choosing the right accessories. Even though I have purchased or been involved in the purchase of many computer sales, the options and what is available often makes it a difficult decision.
I found the salesman at Dell very helpful.
Please send to a colleague as we are trying to build up our circulation.
---------------------------------------------------------------

We have informed you about the record number of exhibitors, the educational round table topics and the fun networking activities at this year's Eastern Regional Meeting but don't forget the optional sessions being offered on Friday, Nov. 3rd!
Friday, November 3
9:00 a.m. – 12:00 p.m.
Introduction to alaQuote & Advantage
Jim Buckles, Preferred Business Solutions
Jim Buckles will offer an introductory session on their two lease automation products; alaQuote (on-line lease calculator, quote letter, application submittal and credit release authorization tool) and Advantage 2.0 (upgrade from System 1 Software), which includes contact management, deal tracking, document processing and paperless file storage. This session is geared towards companies considering upgrading their lease management tools and new users that want an overview of these products.
1:00 p.m. – 4:00 p.m.
CONCURRENT WORKSHOPS
alaQuote and Advantage Advanced Training
Jim Buckles, Preferred Business Solutions
Jim Buckles will demonstrate the latest features of their lease automation products (alaQuote & Advantage 2.0). This session is geared towards existing customers who would like to get the most out of their technology investments. This will also be an excellent opportunity to share ideas on specific uses of these products with your peers.
Why Should I Become a CLP and What Will It Do for Me?
This workshop will not only answer those two important questions, but it will give you valuable insight into the steps necessary to become a Certified Lease Professional. It will explain the materials and special programs available to assist you with your studies and review the subjects covered in the exam. Test your leasing knowledge by taking a short exam covering the subjects in the Body of Knowledge and then review your answers with CLP's.
For those members who have not yet redeemed their $50 Member Benefit Voucher, this would be a great time to redeem it with your registration before it expires on December 31, 2006. If you haven't registered yet – Send It In Today! Don't miss out on your chance to meet with all of these exhibitors!
2006 Eastern Regional Exhibitors
ABCO Leasing
ACC Capital Corporation
AdvanceMe, Inc.
Allegiant Partners Incorporated
Always Funding
Amerisource Funding
Balboa Capital
Bank of the West
Baystone Financial Group
Bibby Financial Services, Inc.
Blackstone Equipment Financing L.P.
Bryn Mawr Funding
CFC Investment Company
Creative Capital
Credit Union Services, Inc.
Dakota Financial, LLC
DataFax, Inc.
Enterprise Funding Group
Equipment Finance Partners
Evans National Leasing, Inc.
Financial Pacific Leasing
FirstLease, Inc.
First Prime Capital, LLC
Fortran Group International, Inc.
Government Leasing Company
Greystone Equipment Finance Corporation
Key Credit Corporation
Leaf Financial Corporation
M & T Bank
Marlin Leasing Corp.
NetBank Business Finance
Padco Lease Corp.
Pawnee Leasing Corporation
Pentech Financial Services, Inc.
Performance Capital Corporation
Pinnacle Business Finance
Pioneer Capital Corp.
Preferred Business Solutions
Standard Professional Services, LLC
SunBridge Capital, Inc.
TEAM Equipment Leasing, Inc
Tetra Financial Group, LLC
TimePayment Corporation
U.S. Bancorp Manifest Funding Services
Union Capital Partners
Don't miss the fun at the Hawaiian themed opening reception with prizes for the best Hawaiian shirt and the limbo contest !
And...NEW MEMBERS who join the NAELB and attend the regional, get the rest of this year's membership free plus a $50 credit towards their 2007 dues.
ROUND TABLE DISCUSSION TOPICS
Round Table Discussions have been added to this year's agenda in lieu of educational sessions. Below is a list of possible topics for these round tables. Please select 10 discussion topics you would like to have on the agenda for the Western Regional. The top selections will be discussed at the meeting.
_ Adding Value to Client and Vendor
Relationships
_ Additional Sources of Income
_ Advertising: The Good, the Bad, and the
Really Bad
_ Building a Non-Vendor Based Brokerage
_ Business Networking Ideas That Work
_ Commitment Fees: When Are They Earned
and When Are They Not
_ Competing with the Banks, Captives and
Large Lessors
_ Direct Mail and E-mail Marketing
_ Do They Pass the Smell Test: Quick Due
Diligence
_ Establishing Broker/Funder Relationships with
Local Banks
_ From Brokering to Discounting: Is It Right For
You?
_ Marketing Techniques That Work
_ Marketing to Your Existing Base
_ Niche vs. Generalization/Local vs. National
_ Office Automation
_ Overcoming the Rate Issue
_ Pre Qualify or Disqualify Potential Prospects
_ Recognizing Fraud
_ Recruiting, Hiring & Training Sales People
_ Referral Fees to Vendors
_ Sales Rep Compensation
_ Structuring Deals to Enhance Profits
_ Successful Trade Shows: What Works, What
Doesn't
_ Telemarketing: Success and Failure Stories
_ Uncovering New Market Niches
_ Using Trade Shows to Generate Business
_ Vendor Agreements: Do They Work or Are
They Worthless
_ What Every Broker Should Know About the
Internet
_ Winding Down the Business: Sell, Merge or
Close
Registration form, click here: |
http://leasingnews.org/PDF/2006EasternRegionalRegistrationForm.pdf

--------------------------------------------------------------

Top Stories---October 23-27
Here are the top ten stories most "opened" by readers last week.
(1) Female Leasing Association Presidents
http://www.leasingnews.org/archives/October%202006/10-27-06.htm
(2) What sets Leasing Companies apart?
http://www.leasingnews.org/archives/October%202006/10-23-06.htm#what
(3) Get well, Ted Parker, CLP
http://www.leasingnews.org/archives/October%202006/10-23-06.htm#getl
(4) Friday Stock Close
Key/Marlin/NetBank/Pawnee
http://www.leasingnews.org/archives/October%202006/10-23-06.htm#friday
(5) Another Alignment at Key, this time: Larkin
http://www.leasingnews.org/archives/October%202006/10-25-06.htm#alignment
(6) Nigerian eMail Conference
http://www.leasingnews.org/archives/October%202006/10-25-06.htm#nigerian
(7) "Dancing with the ELFA"
(ELFA Convention from our Advisory Chairman)
by Bob Teichman, CLP
http://www.leasingnews.org/archives/October%202006/10-27-06.htm#elfa
(8) Sales makes it Happen---"Communication"
by Linda P. Kester
http://www.leasingnews.org/archives/October%202006/10-25-06.htm#happen
(9) Selling Up by Steve Chriest
"Rising To Your Default Level"
http://www.leasingnews.org/archives/October%202006/10-27-06.htm#sell
(10) Cartoon---Three Glasses of Water
http://www.leasingnews.org/archives/October%202006/10-25-06.htm#cartoon
----------------------------------------------------------------

----------------------------------------------------------------

Sales Make it Happen
by Linda P. Kester
Get Your New Reps Off To a Great Start
This is from Linda Kester book to be published soon. The advance copy received by Leasing News was the size of a "pocket book" and spiral bound, with the articles numbered, as reproduced below.
The purpose was not only to use the information in the book, but as a "reference." To me it is like "one day at a time:" you open it each business day at random or using the numbers as a date of the day. It gives you a nugget each time you open it. You not only learn but get reminded by using it "one day at a time."
It should be a "best seller."
Kit Menkin, editor
115
Get Your New Reps Off To a Great Start
New reps are the future of your sales force. Use these tips to set up a program that eases them into your team and lets them start contributing right away.
Expedite the paperwork. Instead of wasting time on the first day of work, send new-hire paperwork to employees two weeks before they start and let them complete it at home. They will make important decisions—about medical, dental, 401(k) and other benefits—that are easier to consider at home. On their first day, they can turn in paperwork and then move right to work.
Let them add value from their very first day. Remember that all new salespeople bring all of their background onto your team. Ask new hires who they know. For example, maybe they have a cousin who works for a company you've been trying to get into. Encourage them to step outside their job description and seize every opportunity to boost revenues.
Take the load off. You shouldn't have to do all the day-to-day sales training—it should be a companywide effort where every department shares the load. Example: Let the credit department teach about credit, and let customer service explain about invoicing.
Plan rep-to-rep training. Let more experienced salespeople contribute to new hires' training. They can explain unfamiliar software, take new reps out on calls and introduce them to key internal personnel. Each new hire should accompany a few different sales reps on calls to see presentations first hand.
Create a 90-day action plan. Have your new hires put together a plan for their first 90 days. Help them fine-tune their ideas so they meet the company's needs, are properly prioritized and seem realistic.
Keep track. Tell them how you will track their commissions, forecasts and activities—including sales calls, demonstrations and proposals. During the first week, they should start filling out any forms you require. Weekly conferences or one-on-one meetings with you are essential to help new hires get off the ground quickly.
Linda Kester helps leasing companies increase volume. For more information visit www.lindakester.com . Questions, contact: Linda@lindakester.com

----------------------------------------------------------------

Classified Ads---Help Wanted
Operations Manager


Operations Manager
Minneapolis,MN
Coordinates lease process from inception through pay off. 3+ years proven leasing account management exper.
For more info, click here

Sales

Niche Market Sales Reps.
Not limited to, but includes:
- Dry cleaning
- Phone systems for small business
- Dental office
- Physicians office
- Laundry/dry cleaning equipment
Send your resume to sclerc@highlinecapital.com EOE.
National Machine Tool Financial Corporation
|
National Tel-Med Capital
|
National Business Finance

Sales Reps
Machine tools, construction, medical equip. Top competitive comp. package Fax resume: 847-871-4209 e-mail: chris@netlease.com

www.netlease.com
National has operated as an indirect lessor for over 25 years. They are expanding three of their divisions.
--------------------------------------------------------------

Mortgage rates hit 5 Week high
While the Federal Reserve Board did not change the key rate, Freddie Mac reported last week that 30-year, fixed-rate mortgages increased to 6.40%.
It was 6.36% the previous week. The last high of 6.4% the week of Sept. 21.
This did not help the construction industry, or housing market which saw a 9.6% decline in prices, not including the lengthy time houses are now staying on the market before being sold, not to mention the increase in cost of apartment renting. Rates, by the way, have been
lower then the end of June high of 6.78%.
It has been predicted, as reported here in Leasing News, from a USA Poll as well as Fitch that inflation is under control, as evidenced by the slowing economy, which the Fed key rate will be cut the first quarter of 2007.
Car sales are off so what is keeping the economy going so far is the consumer is still spending and retailers are holding their own.
• Rates on 15-year, fixed-rate mortgages, a popular choice for refinancing, averaged 6.10 %, up from 6.06% the previous week.
• Rates on one-year adjustable-rate mortgages edged up to 5.60%, compared to 5.57% the previous week.
• Rates on five-year adjustable-rate mortgages rose to 6.14%, up from the previous week of 6.11%.
Weekly History of Mortgage rates:
http://leasingnews.org/PDF/Weekly_rates.pdf
--------------------------------------------------------------

EARNING CURVE® RMBS Innovations Aim to Help Investors Manage Risk
ABSnet
In the midst of the high issuance and changing economic climate of 2006, the residential mortgage-backed securities industry continues to expand and evolve. Market participants develop mortgage innovations to help diversify risk and appeal to new types of investors. New classes of borrowers and investors, who only a year or two ago would have been precluded from the U.S. RMBS market, are now becoming active participants. Highlighted below are two examples of this ongoing evolution, which will undoubtedly impact the market well into 2007 and beyond.
Affordability Mortgage Products Achieve Mass Appeal
Over time, borrowers' attitudes toward their residential mortgage debt have moved beyond viewing mortgages merely as home acquisition tools. Specifically, borrowers are increasingly using affordability residential mortgage products to extract equity from their homes, manage their cash flow needs through the choice of monthly payment, and become more opportunistic in refinancing their primary residences. The evolution of mortgages over time has increasingly enabled borrowers to become more demanding in their residential financing decision making.
First came the hybrid adjustable-rate mortgage (ARM) loans, which allow originators to price loans off the short end of the yield curve. Hybrid ARMs were soon followed by interest-only (IO) loans, which lower the borrower's payments in the early years while often allowing them to extract equity from their homes. Pay option ARM loans became popular during 2005, as home price appreciation in many parts of the country required borrowers to stretch their budgets.
In the process, consumers shifted their position on residential mortgage loans away from solely interest rate concerns and toward increased payment flexibility and the use of "no-doc" loan underwriting, where borrowers aren't required to submit supporting evidence verifying their stated income and wages.
The next big thing
Recently, regulatory scrutiny of the these "affordability" products intensified, as evidenced in the interagency guidance published at the end of September and the negative headlines about pay option ARM loans that dominated the popular press. This followed the realization that minimum payments for option ARM loans could be recasting into full principal and interest payments on an accelerated timetable following the Federal Reserve's series of federal funds rate increases, as negative-amortization ceilings were in danger of being reached earlier than expected.
In the second and third quarters of 2006, originators introduced the latest product--hybrid pay option ARM loans. Although many originators are rushing to leave their imprint on the new product's features, hybrid pay option ARMs share some common traits of existing pay option ARM products, including:
* Their minimum payment is set below the interest-only payment, often as a percentage or a set amount reduction off the note rate;
* Their initial interest rate remains fixed for a period of three to seven years (as opposed to the interest rate for typical pay option ARM loans, which resets monthly);
* After the initial fixed period, they may be indexed off six-month LIBOR, one-year LIBOR.
* Moving Treasury Average (MTA), and may be subject to periodic interest rate caps and an annual payment cap of 7.5%;
* As with a typical option ARM loan, each month, the borrower can choose from several payment options, including 15-year fully amortizing, 30-year fully amortizing, IO, and minimum payments; and
* Once the negative-amortization ceiling is reached, the borrower can no longer make the minimum payment, but can continue to choose from payment options including 15-year fully amortizing, 30-year fully amortizing, and IO payments until month 121. After the 10th year, the borrower is required to make full amortizing payments based on the loan's remaining amortization term.
The hybrid pay option ARM loan provides greater certainty of the timing and magnitude of potential payment shock than does a monthly reset option ARM, since the borrower typically enjoys an initial three- to seven-year period of interest rate stability. For approved programs, Standard & Poor's Ratings Services' criteria allow some benefit for the interest rate stability by applying the negative-amortization loss coverage level adjustment to a "base case" foreclosure frequency. This base case foreclosure frequency is computed off the hybrid period instead of the ARM IO foreclosure frequency of the typical monthly reset pay option ARM loans.
The further along in time the borrower's payment resets, as the negative-amortization ceiling is reached, the less risky the outcome is perceived to be as the borrower has more time to build equity in her home and gradually increase her income. The timing and magnitude of payment resets for pay option ARMs vary more as interest rates become more volatile. In addition, the pricing of the loans, the length of the hybrid period, and the loan's negative-amortization ceiling play an important role in the ultimate timing and magnitude of hybrid pay option ARM loans' payment shocks.
A New World For Covered Bonds
Covered bonds, which are senior debt obligations of an issuing entity that are also backed by a portfolio of specific assets, have been issued in certain European countries for centuries. They have enjoyed a recent renaissance in Europe as issuers have innovatively adapted and evolved the security type. Now, the covered bond has made its way to the U.S. On Sept. 27, 2006, Standard & Poor's assigned its 'AAA' rating to WM Covered Bond Program, the first ever covered bond program by a U.S. issuer using U.S. RMBS collateral. This landmark deal reinforced the rapid global expansion of this debt instrument and presented the U.S. capital markets with a new funding path.
The covered bonds are secured by mortgage bonds issued by Washington Mutual Bank, and are collateralized by residential mortgage loans originated to U.S. borrowers. The covered bond issuer is obligated to pay the interest and principal on the covered bonds, and, upon issuer insolvency, the mortgage bonds and the assets in the cover pool are available to repay the covered bond investors.
Covered bonds are an attractive form of funding for financial institutions. They provide on-balance-sheet financing at a rate that's typically more attractive than the rate available through senior unsecured funding. In addition, as the rating on the covered bonds relies on the assets instead of the rating of the institution, it is de-linked from the rating of WAMU. Covered bonds also offer increased diversity to an institution's investor base. Issuing covered bonds also gives the bank/originator added flexibility in doing business with its customers. It allows the bank to change the terms of the mortgages, which isn't possible when they're instead pledged to the Federal Home Loan Banking (FHLB) system or sold through a securitization.
The issuance of covered bonds marks a significant departure from the more traditional funding sources, notably the FHLB system, that issuers have enjoyed. However, most issuers see covered bonds as an alternative funding source for their balance sheet rather than as a replacement for securitization. Nevertheless, increased covered bond volume could restrict the availability of loans for securitization.
The legal framework
This first covered bond transaction was structured under U.S. banking law, using existing structured finance legal technology, including the policy statements issued by the Federal Deposit Insurance Corp. (the FDIC). Important structural features are likely to be replicated in future covered bond programs that must also comply with U.S. banking law:
The mortgage bond issuer will grant a first-priority perfected security interest in the cover asset pool to the mortgage bond indenture trustee for the benefit of the holders of the mortgage bonds and others; and
The counsel for the mortgage bond issuer will deliver an opinion to the effect that, subject to certain assumptions and qualifications, in the event of the insolvency of the mortgage bond issuer, the security interest of the mortgage bond indenture trustee would be enforceable against the FDIC as receiver or conservator of the mortgage bond issuer.
The U.S., like the U.K. and the Netherlands, has no explicit legal framework for covered bonds. In these jurisdictions, so-called "structured" covered bonds have been issued, borrowing structuring techniques from the securitization market. Many European jurisdictions, such as Germany, Spain, Ireland, Sweden, Denmark, Norway, Finland, France, Portugal, and Italy, have enacted, or are in the process of enacting, specific new legislation that provides for asset segregation upon an issuer's insolvency without having to transfer the assets off-balance-sheet.
U.S. issuers can issue covered bonds in both the European and Asian markets, where investors are more familiar with the product and where demand for covered bonds, particularly by central Asian banks, has been high. In both markets, covered bonds allow issuers to better match the terms of their assets and liabilities since the bonds are longer dated instruments--up to 50 years in the case of one French jumbo covered bond. Nevertheless, we expect the U.S. issues to contain approximately 10-year bullet maturity dates.
Covered bond offerings have given U.S. issuers yet another financing option, among other benefits. We expect several other large money center banks to tap the covered bond market within the next year. New mortgage products and bond structures provide an essential risk management tool for a broad range of investors. As market participants develop new product innovations, RMBS should continue to thrive, in spite of any deterioration in the economy.
This week's Learning Curve was written by Mark Goldenberg and Todd Niemy, analysts at Standard & Poor's in New York.
--------------------------------------------------------------
### Press Release ###########################

NAELB Announces "Best Practices Broker" Testing
LOUISVILLE, KY – The National Association of Equipment Leasing Brokers (NAELB) Board of Directors is proud to announce, as part of it's commitment as the Association by Brokers, for Brokers, the launch of a Best Practices Broker ethics examination.
The examination will test only one area…ethics. The test will be given once a year, at the NAELB annual conference. The exam will consist of two parts, the first being multiple choice and the second being essays. The multiple choice section will focus on the NAELB Code of Ethics and the second part will consist of essays where the test taker will be presented with ethical conflicts and be asked to discuss the proper ethical resolution of those conflicts. The successful candidate will achieve a score of at least 90% on the multiple-choice part of the test and 80% on the essay portion of the test. The test may be passed in parts.
The passing candidate will be entitled to use the designation "Best Practices Broker" on their company business cards, letterhead, stationary, marketing materials, and the like. The designation may be used in any manner seen appropriate, including informing the broker's customers, vendors, and funders, of the designation. The exam and subsequent designation is only open to NAELB Broker members. Those wishing to sit for the Best Practices exam must be approved by the NAELB to be of good ethical character.
About the National Association of Equipment Leasing Brokers
The NAELB is an organization formed to promote the interests of equipment leasing brokers through education, advocacy, improved communication with funders and programs designed to upgrade the professionalism and profitability of brokers, funders and others engaged in the business of equipment lease financing. For more information about NAELB, please visit www.naelb.org.
### Press Release ###########################

Five Point Capital Hires Christine DiDonato as Training Director
SAN DIEGO San Diego-based equipment leasing firm, Five Point Capital has hired Christine DiDonato as Training Director. She will direct entry-level and advanced training programs designed for the sales and operations departments. "With over 160 employees, Five Point Capital is poised and ready for an advanced training director to come on board. Christine's programs will have a positive impact on entry through mid and executive level management," said president, Dan Feder. To accommodate the firm's growth projections, DiDonato will also hire and develop a team of training and development specialists.
With 10 years of training experience in the financial services industry, DiDonato has honed an engaging facilitation and communication style. She is responsible for assessing the needs of FPC employees and designing training solutions to meet those requirements. She will create and manage a new hire orientation program, as well as a career progression program. In her most recent position with Thornton Financial Services, Inc., DiDonato served as vice president of corporate development and training. During her tenure, she reduced annualized attrition from 65% in 2004 to less than 36% in 2005. Other firms DiDonato has helped create and implement training initiatives for are: Household (HSBC) San Diego and Executive Counterparts of San Francisco. Feder added, "Christine exhibits an ability to communicate effectively with diverse audiences at all levels. We believe Christine is an excellent match for our fast-paced, high performance company culture."
DiDonato received a B.A. in Speech Communication with an emphasis in Intercultural Communication along with a M.A. in Speech Communication with an emphasis in Organizational Development from San Francisco State University. She is a member of the American Society of Training and Development (ASTD) and the National Speaker's Association (NSA). DiDonato volunteers as a writer for the Jobing.com website and newsletter. She is a frequent guest speaker at job seeker training workshops. DiDonato lives in Hillcrest.
About Five Point Capital
Emerging as one of the nation's leaders in small ticket leasing, Five Point Capital (FPC) was founded by Dave Gilbert and Dan Feder in 1999 under the principle that "leasing can help any company grow." Currently the San Diego-based firm employs over 160 and occupies 37,000 sq. ft. at 10525 Vista Sorrento Parkway in San Diego. Five Point Capital currently serves thousands of businesses nationwide, and has doubled revenues annually since its inception. Small businesses benefit with their high performance customer service and personal attention. Each client is assigned an account executive who has specific industry knowledge about the client's business. Five Point Capital leases almost every type of new and used equipment for a wide diversity of businesses including, but not limited to: trucking, restaurants, automotive repair, construction, excavation, multimedia, manufacturing, telecommunications, printing, packaging, waste management, and more. FPC ranked #82 on the 2006 Inc.500 America's Fastest Growing Private Companies. FPC placed #9 on the 2006 San Diego Business Journal's List of San Diego's Top 100 Fastest Growing Privately-Held Companies. FPC is a member of the Equipment Leasing Association and the United Association of Equipment Leasing. Visit www.fivepointcapital.com. For more information, call (888) 576-4685.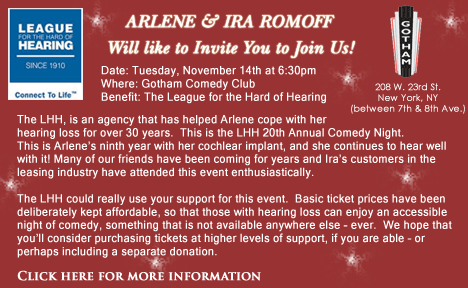 ### Press Release ###########################
--------------------------------------------------------------

News Briefs----
Consumer Confidence at a High Since 2004
http://www.washingtonpost.com/wp-dyn/content/article/
2006/10/31/AR2006103100936.html
Retailers scare up sales for newest shopping season
http://seattletimes.nwsource.com/html/businesstechnology/
2003332197_halloweenspend31.html
Israel Discount Bank of New York paying $12 million fine involving money-laundering controls on $2.2 billion Brazilian money
http://www.signonsandiego.com/news/business/20061031-1430-israel
discountbankfined.html
Oakland Arena to Oracle Arena, the Golden State Warriors already have plastered the new name all over the facility.
http://www.insidebayarea.com/trivalleyherald/localnews/ci_4579168
Welch Read to Buy Boston Globe Newspaper
http://www.nypost.com/seven/10312006/business/
welch_ready_to_buy_globe_business_paul_tharp.htm
---------------------------------------------------------------


You May have Missed---
Newspaper Circulation Falls Sharply/Internet Usage Up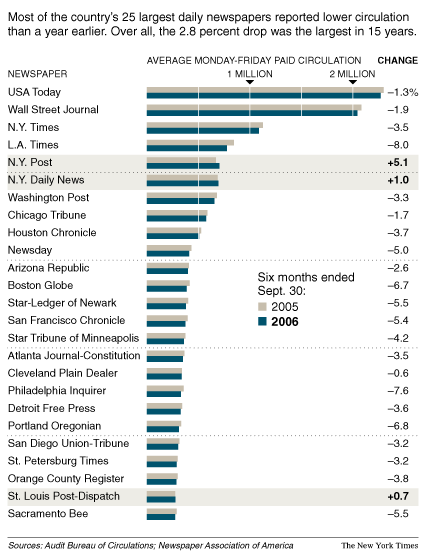 http://www.nytimes.com/2006/10/31/business/media/31paper.html?ref=business
---------------------------------------------------------------

Sports Briefs----
Barry Bonds' agent set for offers
http://www.sfgate.com/cgi-bin/article.cgi?f=/chronicle/archive/
2006/10/31/SPG6NM2U711.DTL
----------------------------------------------------------------


California Nuts Briefs---
Alec Baldwin tries to walk away from 'Running with Arnold'
http://www.contracostatimes.com/mld/cctimes/15896408.htm
FCC rules against Angelides complaint regarding Leno show
The Federal Communications Commission on Thursday ruled that Gov. Arnold Schwarzenegger did not violate "equal time" rules when he appeared last month on "The Tonight Show with Jay Leno." Democratic gubernatorial candidate Phil Angelides had submitted a complaint to the FCC, but the agency said Leno's show was exempt and that the NBC program was not motivated by partisanship.
"We are disappointed but not surprised that the Bush-controlled FCC has made a political decision over the use of our public airwaves," Angelides spokesman Steve Maviglio said in a statement.
Ruling:
http://www.sacbee.com/111/story/46129.html
----------------------------------------------------------------


"Gimme that Wine"
North stars
Washington wines reach for the stratosphere
http://www.sfgate.com/cgi-bin/article.cgi?f=/c/a/2006/10/27/WIGDNLSOFJ1.DTL
Harvest Update: Oregon, Washington and British Columbia
http://www.winebusiness.com/news/dailynewsarticle.cfm?dataId=45210
Grape crop draws raves in Oregon
http://seattletimes.nwsource.com/html/localnews/2003330369_grapes30m.html
Liquids ban is a headache for wine industry travelers
http://www.iht.com/articles/2006/10/30/business/wine.php
A Master of Wine but a Lover First—Eric Asimov
http://www.nytimes.com/2006/11/01/dining/01janc.html?_r=1&ref=dining&oref=login
Wine Prices by vintage
http://www.winezap.com
http://www.wine-searcher.com/
US/International Wine Events
http://www.localwineevents.com/
Winery Atlas
http://www.carterhouse.com/atlas/\
Leasing News Wine & Spirits Page
http://two.leasingnews.org/Recommendations/wnensprts.htm
The London International Vintners Exchange (Liv-ex)
is an electronic exchange for fine wine.
http://www.liv-ex.com/
----------------------------------------------------------------

Calendar Events This Day
Algeria: Revolution Day.
National holiday. Commemorates beginning of revolt against France in 1954.
All Hallows or All Saints' Day
Roman Catholic Holy Day of Obligation. Commemorates the blessed, especially those who have no special feast days. Observed on November 1 since Pope Gregory IV set the date of recognition in 835. All Saints Day is a legal holiday in Louisiana. Halloween is the evening before All Hallows Day.
http://www.americancatholic.org/Features/Halloween/default.asp
http://www.catholicgreetings.org/holiday/halloweenallsaints.asp
Cake Appreciation Day
Kite Festival (Guatemala)
Mexico: Day of the Dead
Observance begins during the last days of October when "dead men's bread" is sold in bakeries---round loaves, decorated with sugar skulls. Departed souls are remembered not with mourning but with a spirit of friendliness and good humor. Cemeteries are visited and graves are decorated.
http://www.public.iastate.edu/~rjsalvad/scmfaq/muertos.html
National Authors Day
This observance was adopted by the General Federal of Women's Clubs in 1929 and in 1949 was given a place on the list of special days, weeks and months prepared by the US Department of Commerce. Te resolution states," by celebrating Authors Day as a nation, we would not only show patriotism, loyalty, and appreciation of the men and women who have made American literature possible, but would also encourage and inspire others to give of themselves in making a better America."
Nutty Pecan Day
http://www.ncpecans.org/educationActivities.htm
Play a Game of Chess Day
US Virgin Island Liberty Day
Officially "D. Hamilton Jackson Memorial Day." commemorating establishment of the first press in the Virgin Islands.
World Vegan Day
Not to eat any animal products (e.g. meat, poultry, seafood, dairy products, eggs, gelatin, leather, fur, etc.)
----------------------------------------------------------------

"The average human will eat an average of 8 spiders while sleeping."
Yes, this is one of Snapple "Real Facts."
Research on the internet says it is not true:
A. I think it would be highly unlikely that spiders would crawl into a person's mouth or nose while they sleeping. For one thing we move around a lot while we are sleeping and this would deter a spider from even crawling on you, let alone enter any orifice, especially one which is wet and dark. Breathing through your mouth or nose would also deter a spider from entering and most house spiders are too big to fit into a nose in any case. Spiders, like virtually all arthropods, flee from breath. After all, there are lots of vertebrates that eat arthropods, and if you're an arthropod and something is breathing on you, it's not a good idea to stick around.
For a spider to get into your mouth while you're sleeping, (a) you must have your mouth open when you sleep, which is certainly not something that everyone does, so there's a big chunk of people who can never swallow anything; (b) there has to be a wandering spider in your immediate vicinity, also something which--for most people in the civilized world, at least--is a fairly rare occurrence; (c) the spider has to either jump or fall into your mouth from a long distance, because they won't go near your mouth otherwise (they're not suicidal), and the odds are pretty astronomical of a spider randomly dropping into your mouth from the ceiling.
There is a story about humans eating eight spiders a year in our sleep without knowing it and that it was supposedly tested by filming people in their sleep for a year. It is hard to believe that a group of people in different sleeping situations would have been filmed for a year or more to validate this statement. It is possible for a spider to walk into your mouth and trigger the swallowing mechanism at the back of the throat and this could in fact occur on a rare occasion. It may even be true that there are a few people out there who have unknowingly eaten eight spiders in the last twelve months. This still would not make such a generalization be considered as true. I certainly wouldn't lose any sleep worrying about spiders while you sleep!!
http://www.spiderzrule.com/answers.htm
Also in Snopes.com:
http://www.snopes.com/science/stats/spiders.htm
----------------------------------------------------------------

Today's Top Event in History
1824- The first presidential election in which the most popular president lost due to electoral votes. It was also the first election where electoral votes were used. Andrew Jackson received 153,544 popular and 99 electoral votes, John Quincy Adams received 108,740 popular and 84 electoral votes, and William Harris Crawford and Henry Clay received 42 and 37 electoral votes respectively. Since no candidate had a majority of the electoral votes, the House of Representatives was called down to exercise it constitutional responsibility to choose from the highest three. In the meantime, Crawford became ill and was practically eliminated, and Clay agreed to use his influence to have Adams elected, provided that Adams promised to appoint him secretary of state. The balloting in the House of Representatives was 13 states for Adams, seven for Jackson, and four for Crawford.
----------------------------------------------------------------

This Day in American History
1765-Defense of the American colonies in the French and Indian War (1754-63) and Pontiac's Rebellion (1763-64) were costly affairs for Great Britain, and Prime Minister George Grenville hoped to recover some of these costs by taxing the colonists. In 1764, the Sugar Act was enacted, putting a high duty on refined sugar. Although resented, the Sugar Act tax was hidden in the cost of import duties, and most colonists accepted it. The Stamp Act, however, was a direct tax on the colonists and led to an uproar in America over an issue that was to be a major cause of the Revolution: taxation without representation. Passed without debate by Parliament in March 1765, the Stamp Act was designed to force colonists to use special stamped paper in the printing of newspapers, pamphlets, almanacs, and playing cards, and to have a stamp embossed on all commercial and legal papers. The stamp itself displayed an image of a Tudor rose framed by the word "America" and the Latin phrase Honi soit qui mal y pense--"Shame to him who thinks evil of it." Outrage was immediate and this day the "Stamp Riot" broke out in New York City coincide ding with preparations for celebration of Guy Fawkes Day. Colonists executed and buried "Liberty" and then proceeded to break windows, burn an effigy of the governor, mock soldiers, and loot homes of officials. the riot was gradually quelled by fearful citizens. The Stamp Act was repealed by Parliament on March 17, but the next day passed the Declaratory Act stating that Parliament had the power to pass laws binding the colonies. Thus began a series of import duties, export duties, and other such taxes. Various Colonies such as Virginia, while protesting loyalty to the king, entered into an agreement not to import goods on which Parliament raised revenues, and after a certain date, to stop buying a long list of embargoed items
1776- the Mission at San Juan Capistrano, California was founded. The original collapsed during the 1812 earthquake. The swallows of Capistrano nest in the ruins of the old mission church, departing each year on Oct 23, and returning the following year on or near St. Joseph's Day (Mar 19).
1781-The first bank charted by Congress was the Bank of North America in Philadelphia, PA. It began business on January 7, 1782, with a total capital of $400,000, of which the government subscribed $250,000. Thomas Willing was elected president and Tench Francis cashier. Later the bank entered the National Banking System.
1784-The General Assembly of Maryland awarded by special grant citizenship to the Marquis de Lafayette, Washington's French ally in the Revolutionary War. It provided that " the Marquis de Lafayette and his heirs male for ever, shall be, and they and each of them are hereby deemed, adjudged, and taken to be, natural born citizens of this state, and shall henceforth be entitled to all the immunities, rights and privileges of natural born citizens thereof."
1800- Until this date, Philadelphia had served as the nation's capital from 1790 to 1800- President John Adams and his family moved into the newly-completed White House, as Washington, DC, became the new capital.
1824- The first presidential election in which the most popular president lost due to electoral votes. It was also the first election where electoral votes were used. Andrew Jackson received 153,544 popular and 99 electoral votes, John Quincy Adams received 108,740 popular and 84 electoral votes, and William Harris Crawford and Henry Clay received 42 and 37 electoral votes respectively. Since no candidate had a majority of the electoral votes, the House of Representatives was called down to exercise it constitutional responsibility to choose from the highest three. In the meantime, Crawford became ill and was practically eliminated, and Clay agreed to use his influence to have Adams elected, provided that Adams promised to appoint him secretary of state. The balloting in the House of Representatives was 13 states for Adams, seven for Jackson, and four for Crawford.
1834--First published reference to poker (as Mississippi riverboat game).
http://www.pokerpages.com/historypoker.htm
http://www.poker.uk.co/indexhistory.html
1846 - the Donner Pass tragedy - 87 pioneers were trapped in the Sierra Nevada when 5 feet of snow with drifts to 30 to 40 feet, only 47 survived
1848- The first medical school for women opened at Boston, MA. Founded by Samuel Gregory, a pioneer in medical education for women, the Boston Female Medical School opened as the first medical school exclusively for women. The original enrollment was 12 students. In 1874, the school merged with the Boston University School of Medicine and formed one of the first coed medical schools in the world.
1863-Fortifications built on Angel Island (San Francisco Bay) by troops from a plan to defend the City, especially its harbors from attack by the Confederate navy and army.
http://www.militarymuseum.org/Ring.html
(Other true facts about the Civil War; US Gen Ulysses S. Grant was introduced to his wife, Julia Dent, by her cousin, CS Gen James Longstreet US Gen Philip St. George Cooke was father-in-law of CS Gen James Ewell Brown 'Jeb' Stuart and father of CS Gen John Rogers Cooke.
1871-Birthday of Stephen Crane, American author ( The Red Badge of Courage), born at Newark, NJ. After the novel's success, the newspaper syndicate sent Crane to cover the West and Mexico. In 1897, he went to Cuba to write about the insurrection against Spain. On the way there, he stayed at a dingy hotel where he met Cora Howard Taylor, who became his lifelong companion. In 1897, his boat to Cuba sank, and he barely survived. His short story "The Open Boat" is based on his experiences in a lifeboat with the captain and cook. Crane later covered the war between Greece and Turkey, and settled in England, where he made friends with Joseph Conrad, H.G. Wells, and Henry James. Crane contracted tuberculosis in his late 20s. Cora Howard Taylor nursed him while he wrote furiously in an attempt to pay off his debts. He exhausted himself and exacerbated his condition. He died June 5, June 1900, Badenweiller, Germany at the age of 28.
1872-- Susan B. Anthony, her three sisters, and fifteen other Rochester women registered to vote after persuading the election inspectors that the Fourteenth Amendment gave them that right. Four days later they cast their ballots, and on November 18, Anthony was arrested for illegal voting. She was tried the following June. The judge refused to allow SBA to testify in her own defense. She insisted on speaking anyway and when she refused to be quiet, he dismissed the jury, found her guilty, and fined her $100. She refused to pay hoping to appeal the case to a higher court but the judge allowed the case to languish instead, never prosecuting her for contempt.
1873- Joseph Farwell Glidden of De Kalb, IL, started commercial production of barbed wire. The barbs were cut from sheet metal and were inserted between two twisted wires. This invention supposedly not only enhanced the raising of cattle, but eventually ended the feuding between cowboys and farmers by the end of the
century.
1897—The first Library of Congress opened its doors.
http://memory.loc.gov/ammem/today/nov01.html
1910-W.E.B. DuBois, activist, begins publication of the NAACP monthly magazine "Crisis."
1913-In the first football game between two emerging gridiron powers, Notre Dame upset Army, 35-13, surprising the Cadets with an unprecedented barrage of forward passes. Quarterback Gus Dorais completed 140 of 17 passages for 243 yards. His frequent target was end Knute Rockne.
1913-In the first football game between two emerging gridiron powers, Notre Dame upset Army 35-13, surprising the Cadets with an unprecedented barrage of forward passes. Quarterback Gus Dorais completed 14 of 17 passes for 243 years. He frequent target was end Knute Rockne.
1919-Birthday of Louis Lorillard, founder of the Newport Jazz Festival, Newport, Rhode Island.
1926-Birthday of pianist Consuela Moorehead, Tallahasse, FL
1926—Birthday of Alto Sax Player Lou Donaldson
http://www.blacksuccessfoundation.org/lou_donaldson.htm
http://www.members.tripod.com/~hardbop/loudon.html
1938-In a special match race at Pimlico, Seabiscutit, ridden by George Wolff, defeated favored War Admiral before a crowd of 40,000. Seabiscuit captured the winner-take-all purse of $15,000.
1939-Birhday of pianist Roger Kellaway, Newton,MA
1940- Stan Kenton records his first sides with eight-piece band, at a Hollywood
music store ( Reed Rapture, 'Etude for Saxophones).
1943-The U.S. Marines invaded Bougainville, the largest of the Solomon Islands. The attack, called Operation Goodtime, was part of a larger Allied plan (Operation Cartwheel) to wipe out Rabaul, the mammoth Japanese base on the eastern end of New Britain Island. Bougainville was 200 miles away from Rabaul, close enough to provide fighter escorts for Rabaul-bound bombers. When the 1st Marine Amphibious Corps, commanded by General Alexander A. Vandegrifft, landed on Bougainville's western coast, they faced heavy Japanese artillery. Resistance dwindled quickly, though, and by nightfall about 14,000 Marines and 6,200 tons of supplies were ashore. The next night, after a day of wading through swamps, U.S. Marines faced Japanese counter-invaders from the then-vacant beachhead. The 475 Japanese soldiers were completely wiped out. Among the participants in Operation Goodtime was a young John Fitzgerald Kennedy. Lieutenant Kennedy commanded a PT boat sent in to rescue members of a Marine patrol trapped on a Bougainville river bank. Lieutenant Orville Freeman, Kennedy's future secretary of agriculture, was also wounded.
1944 - The whimsical tale about an invisible rabbit named "Harvey" opened in New York City. One year later, the play by Mary Chase won the Pulitzer Prize for Drama. Movie fans remember the classic film, starring Jimmy Stewart in one of his most famous rol1es.
1945-John H. Johnson publishes the first issue of Ebony Magazine.
1945-Stan Kenton with his future wife June Christy records "Shoo Fly Pie ( and Apple Pan Dowdy).
1947 - The famous racehorse, Man o' War, died. His funeral was attended by over 2,500 people. Man o' War was so famous that, while a stud in retirement, his guest book listed over 2,000,000 names!
1947 - Eddy Arnold began a 21-week run at #1 on U.S. country music charts with "I'll Hold You in My Heart (Till I Can Hold You in My Arms)". It was the biggest hit of Arnold's illustrious career.
1950 - Two Puerto Rican nationalists attempted to assassinate President Harry S Truman at Blair House, Washington, DC (where the Truman's were living during a three-year renovation of the White House). One of the gunman and one White House policemen were killed. Truman, who had avoided an attempt on his life from the right-wing Israeli Stern Gang a few years earlier, escaped unscathed.
In the autumn of 1950, the White House was being renovated and President Truman and his family were living in the nearby Blair House on Pennsylvania Avenue. On the afternoon of November 1, Truman and his wife were upstairs when they heard a commotion on the front steps of the house. Alerted by the sound of gunshots, Bess Truman glanced out the window and exclaimed, "Harry, someone's shooting our policemen!" Indeed, the pair of would-be assassins (Massac Griselio Torresola and Oscar Collazo)had strolled up to the front door of Blair House and opened fire. They never made it past the entry steps, however, due to the quick reaction of police officers and guards. Secret Service Agent Leslie Coffelt was mortally wounded in the ensuing melee, but not before he managed to kill Torresola. Collazo later revealed to police just how poorly planned the assassination attempt was: the assailants were unsure if Truman would even be in the house when they launched their attack at 2 o'clock in the afternoon.
Torresola and Collazo were political activists and members of the extremist Puerto Rican Nationalist Party, a group fighting for full independence from the United States. The "Independistas," as they were commonly called, targeted Truman despite his support of greater Puerto Rican autonomy. Apparently unfazed by the attempt on his life, Truman kept his scheduled appointments for the day. "A President has to expect these things," he remarked dryly. Oscar Collazo was sentenced to death, but in an admirable act of forgiveness on July 24, 1952, Truman commuted the sentence to life imprisonment.
1948---Top Hits
A Tree in the Meadow - Margaret Whiting
Buttons and Bows - Dinah Shore
Hair of Gold, Eyes of Blue - Gordon MacRae
Just a Little Lovin' (Will Go a Long, Long Way) - Eddy Arnold
1952-Birthday of guitarist Lee Ritenour, Hollywood, CA
http://www.leeritenour.net/servlet/RitServer?width=1024&page=Main
1956---Top Hits
Love Me Tender - Elvis Presley
The Green Door - Jim Lowe
Blueberry Hill - Fats Domino
Hound Dog/Don't Be Cruel - Elvis Presley
1957 - The Mackinac Straits Bridge, between Michigan's upper and lower peninsulas, opened to traffic. At the time, it was the world's longest suspension bridge -- and is still in the top ten -- at five miles long, with a main span of 3,800 feet/1,158 meters.
1959- Tired of stopping hockey pucks with his face, Montreal Canadians goalie Jacques Plante, having received another wound, reemerged from the locker room with seven new stitches—and a plastic face mask he had made from fiberglass and . Although Cliff Benedict had tried a leather mask back in the '20s, the idea didn't catch on but after Plante wore his, goalies throughout the NHL began wearing protective plastic face shields. Plante is credited with inventing the Hockey mask.
1959-The Spacemen's "The Clouds" enters the R&B chart at #24. Their only chart entry will make it to the top spot and remain on the R&B charts for 18 weeks.
1962 - No. 1 Billboard Pop Hit: "He's a Rebel," The Crystals. The actual singers on the record aren't the Crystals, but a trio of backing singers known as the Blossoms.
1964---Top Hits
Baby Love - The Supremes
Last Kiss - J. Frank Wilson & The Cavaliers
Let It Be Me - Betty Everett & Jerry Butler
I Don't Care (Just as Long as You Love Me) - Buck Owens
1964-The Free Speech Movement was launched at the University of California at Berkeley. Mario Savio (1943-1996), UC Berkeley physics student, began the Free Speech Movement to fight prohibitions against students distributing political brochures and other materials such as civil rights. The incident began when police arrested Jack Weinberg for setting up an unauthorized table in Sproul Plaza. Students surrounded the police car in a standoff that lasted 32 hours. The crowd of protestors, growing to 3000, attempted to blocks police car carrying Weinberg away. The stand-off lasted 32 hours. This was the start of the protests that I covered for KFRC News, San Francisco. There was a hard core, but most of the followers reacted as if it were a party to gather and meet girls.
1966- The National Football League awarded a franchise to New Orleans. The team, nicknamed the Saints, began play in 1967 but did not finish a season at .500 until 1979.
1966 - Santa Anna winds fanned fires, and brought record November heat to parts of coastal California. November records included 86 degrees at San Francisco, 97 degrees at San Diego, and 101 degrees at the International airport in Los Angeles. Fires claimed the lives of at least sixteen firefighters
1966-On All Saints Day, the National Football League awarded a franchise to New Orleans. The team, nicknamed the Saints, began play in 1967 but did not finish a season at .500 until 1979.
1966-Three Elvis Presley albums are certified gold this day: his 1956 debut album, "Elvis Presley," "Elvis' Golden Records, Vol. 2" and "Elvis' Golden Records, Vol. 3."
1969-The forerunner of the Internet began when Bolt, Beranek and Newman (BBN), a small consulting firm in Cambridge, Massachusetts, delivered an Interface Message Processor (IMP) to the University of California at Santa Barbara . IMP connected UCSB to UCLA, the Stanford Research Institute, and the University of Utah, forming the first links in the fledgling ARPANET, precursor to the Internet. ARPANET, conceived by the Pentagon's Advanced Research Projects Agency (ARPA), was designed to provide a communications network that did not depend on a single hub to transmit messages. ARPANET evolved into the Internet in the early 1970s, when Dr. Vinton Cerf and Robert Kahn were commissioned by the federal government to extend the network for military, government, and academic use.
1969 - "Abbey Road", by The Beatles, was #1 on U.S. album charts. Although "Let It Be" was the last Beatles album of new material to be released, "Abbey Road" was, in fact, the last album The Beatles recorded. The album, number one for eleven weeks, consisted of: "Come Together", "Something", "Maxwell's Silver Hammer", "Oh! Darling", "Octopus's Garden", "I Want You (She's So Heavy)", "Here Comes the Sun", "Because", "You Never Give Me Your Money". "Sun King", "Mean Mr. Mustard", "Polythene Pam", "She Came in Through the Bathroom Window", "Golden Slumbers", "Carry That Weight", "The End", "Her Majesty".
1971 - The first Eisenhower dollar coins were put into circulation by the U.S. Mint. The coins were minted from 1971 to 1978.
1972-----Top Hits
My Ding-A-Ling - Chuck Berry
Burning Love - Elvis Presley
Nights in White Satin - The Moody Blues
Funny Face - Donna Fargo
1974 - No. 1 Billboard Pop Hit: "You Haven't Done Nothin'," Stevie Wonder. The Jackson Five sing backup vocals on the song.
1975 - Elton John's "Island Girl" hit number one on the "Billboard Hot 100" chart. The song parked itself at the top of the hit heap for 3 weeks.
1975- Sony Corporation of Japan started selling in the United Sates a video cassette recorder for home use, the "Betamax." It was built into a console that also contained a Sony color television set. The tape was contained in a plastic cassette to make it easy to handle. Sony had marketed the first open-reel video tape recorder for home use, the TCV-2010, beginning in 1966, which was designed to be used with a separate video recorder and separate microphone to record sound.
1979 -Edward Bennett Williams buys the Orioles for a reported $12.3 million from Jerold Hoffberger.
1980---Top Hits
Woman in Love - Barbra Streisand
He's So Shy - Pointer Sisters
Real Love - The Doobie Brothers
Theme from The Dukes of Hazzard (Good Ol' Boys) - Waylon Jennings
1983- IBM introduced its long-awaited home computer, the PC Jr., starting at $669. The PC Jr. was doomed to a short life: the company discontinued the model in March 1985. They had chosen another operating system, including what Bill Gates was to purchase the rights to that began the Microsoft Corporation.
1984 - No. 1 Billboard Pop Hit: "Caribbean Queen (No More Love on the Run)," Billy Ocean. The song is first released as "European Queen" in the U.K.
1985 - Microsoft released Windows 1.01 (on five 360kb 5.25 inch floppy disks). It ran on MS-DOS v5.0 (called MS-DOS Executive in Windows).
1985-The birth of AOL: Q-Link, a proprietary online service for users of Commodore's Amiga computers, launched on this day in 1985. A newly-formed company called Quantum Computer Services, run by twenty-six-year-old Steve Case, created the service. Q-Link offered news, soap opera updates, games, and chat for $9.95 per month. Quantum later created an online system for Apple, called Applelink. When Apple abandoned the system in October 1989, Quantum decided to run the system itself under the name America Online.
1986 - Boston's "Third Stage" album hit the big time this day as it became the number one album in the U.S. Memorable (and not so memorable) tracks on the album: "Amanda", "We're Ready", "The Launch", "Cool the Engines", "My Destination", "A New World", "To Be a Man", "I Think I Like It", "Can'tcha Say", "Still in Love" and "Hollyann".
1987 - Tom Watson won the first Nabisco Championship (later named the Tour Championship) of Golf by two strokes over Chip Beck. Watson scooped up $384,000 in prize money -- the biggest payoff in golf to that day.
1988---Top Hits
Groovy Kind of Love - Phil Collins
Kokomo - The Beach Boys
Wild, Wild West - The Escape Club
Gonna Take a Lot of River - The Oak Ridge Boys
1988 - Low pressure brought gales and locally heavy rain to the northeastern U.S. The rainfall total of 1.46 inches at Newark NJ was a record for the date. New York City was soaked with more than two inches of rain.
1993 -a series of storms dumps heavy snows over the Ohio Valley and the northeast. 10.3 inches fell at Mansfield, OH, the greatest so early in the season
1994 - The Chicago Bulls retired Michael Jordan's uniform (No. 23) and put it on display at the United Center.
1998 - Steve Young and Jerry Rice connected for their 80th career touchdown. That TD broke an NFL record, previously held by the Miami duo of Dan Marino and Mark Clayton.
2001-- The first major league game ever started in the month of November is a memorable one as the Yankees, for the second consecutive night, make a dramatic comeback in the bottom of the ninth to tie the game and go on to victory in extra innings. Tonight's heroes are Scot Brosius, who hits a game-tying two out two-run homer to knot the game at 2-2, and Alfonso Soriano, who singles in Chuck Knoblach in the 12th giving the Yankees a 3-2 victory and 3-2 lead in the Series over the Diamondbacks.
--------------------------------------------------------------

Gabe
Witty, intelligent, funny, skinny
Son of Audrey and Steve
Lover of sports, video games, and candy
Who feels sad, mad, and happy
Who needs, TV, friends, and sports
Who gives his humor, his help, his courage
Who fears murderers, the dark, shots
Who likes to wear sunglasses, shirts, and jerseys
Who would like to see the Denver Broncos win the Super bowl again,
Randy Moss up close, and Disney World
again
Resident of Briarcliff
Mrs. Sbarra's 3rd grade class
--------------------------------------------------------------

SuDoku
The object is to insert the numbers in the boxes to satisfy only one condition: each row, column and 3x3 box must contain the digits 1 through 9 exactly once. What could be simpler?
http://leasingnews.org/Soduku/soduko-main.htm

--------------------------------------------------