Sales Reps
Location open. Requires previous leasing sales experience. Unequaled commissions. For full description & contact info click here.


Wednesday, October 8, 2006
Duck walks into a pharmacy, waddles up to the
counter and says, "Chapstick, please."
"Will that be cash or charge?" asks the clerk.
"Just put it on my bill," says the duck.
Headlines---
Classified Ads
Doc.Mngr./ Finance / Legal
Le Nature BK up-date
NAELB Atlanta Meeting Reports
Leasing Assoc. Meeting Open to All
Classified Ads---Help Wanted
"Telling is not Selling"
Sales makes it Happen---by L.Kester
Cartoon---Dog and oranges
Nov. 15 webcast—speed up funding
CF Pending Sale of Ten Branches
Fifth Third Promotes James A. Merz
El Camino Resources Mexico Success
CapitalSource Reports 3rd Q Results
News Briefs---
You May have Missed---
California Nuts Brief---
"Gimme that Wine"
Calendar Events
Snapple Real Facts
Today's Top Event in History
This Day in American History
American Football Poem
######## surrounding the article denotes it is a "press release"
-------------------------------------------------------------------------------
-------------------------------------------------------------------------------

Classified Ads
Documentation Manager / Finance / Legal
Winemakers Curt and Charles Johnson
Ward Johnson Winery, Seattle, Washington*
These job-wanted ads are free. We also recommend to both those seeking a position and those searching for a new hire to also go to other e-mail posting sites:
http://64.125.68.91/AL/LeasingNews/Classified.htm
In addition, those seeking employment should go to the human resource departments on company web sites for funders, captive lessors, and perhaps "broker-lessors."
To place a free "job wanted" ad here, please go to:
http://64.125.68.91/AL/LeasingNews/PostingForm.asp
Documentation Manager: New York, NY
10+ years in equipment leasing/secured lending. Skilled in management & training, documentation, policy and procedure development & implementation, portfolio reporting. Strong work ethic.
Email: dln1031@nyc.rr.com

Documentation Manager: Phoenix, AZ
Lease Administrator with exp. in lease administration, doc. & porfolio management for $200M in IT assets. Additional experience financial analysis process improvement/development.
Email: jeg3894@cox.net

Finance: Austin, TX
20+ years all facets of lease/finance. Collection and credit management. Equipment & rolling stock structuring. $150k credit authority, $100 million portfolio management.
Email: texmartin@juno.com


Finance: Chicago, IL
Experienced in big ticket origination, syndication, valuation and workout.
Twenty five years, MBA, CPA,

JD, LLM (Tax), structuring specialist. Inbound and outbound transactions. Email: pal108381@comcast.net
Transaction Summary | The Lechner Group
Website: www.tlgattorneycpa.com
Finance: Sausalito, CA
Sr. Corp. officer, presently serving as consultant, fin. service background, M&A, fund raising, great workout expertise, references
Email: nywb@aol.com
Finance: Toronto
Long diverse career financial services industry. Executed billions of dollars of leases over 20 years; structuring, executing and pricing US/Canadian transactions. Per Diem or full time.
E-mail: eslavens@eol.ca


Legal: Los Angeles, CA
Experienced in-house corporate and financial services attorney seeks position as managing or transactional counsel. Willing to relocate. Email: sandidq@msn.com
For a full listing of all "job wanted" ads, please go to:
http://64.125.68.91/AL/LeasingNews/JobPostings.htm
* "Ward Johnson is a small urban winery whose mission is to produce premium wines for Seattle. We are family owned and plan to maintain a small presence, focusing on quality wines from the Red Mountain appellation of Eastern Washington."
www.wardjohnsonwinery.com
----------------------------------------------------------------

Le Nature BK up-date
by Christopher Menkin
According to the Houston, Chronicle, "Le-Nature's is believed to have more than $278 million in bank debt, about $150 million in bond debt, capital lease obligations of about $300 million and various other liabilities." Other newspapers are reporting the same thing, but Leasing News has not been able to verify these numbers.
The actual Western District of Pennsylvania United States Bankruptcy Court filings of the well-known beverage manufacturer and tea distributor do not indicate, at this time, this information.
Claims that "AIG Financing, which loaned LeNature's the money to lease equipment, is owed $26 million while CIT Equipment Leasing, which provided the bottling equipment, is seeking $132 million"
could not be confirmed.
According to the actual filing documents," Salvatore LoBiondo, Jr. of Kroll Zolfo Cooper LCC, Responsible Officer (the 'Responsible Officer') in control of Le Nature's, Inc, a Delaware corporation and in such capacity has taken control of the board of directors of Le-Nature's Holding (Inc ) the assets are ":0 to $10,000," creditors "200-999" with "Estimated liabilities 'more than $100 million'."
While the filing is list as "le-Nature's Inc., et. al, it also specifically names "Tea Systems International."
Listed as part of the 30 largest unsecured claims are:
Manufacturers & Traders Trust, subordinated notes due 2013:
$155,250,000
The Leasing Companies:
The CIT Group,EF: $615,478
Orix Financial Services $429,433
AIG Commercial Equipment Finance $209,032
Creekridge Capital LLC-WELB $192,752

There are two others, but may not be equipment leasing:
Merrill Lynch Capital $400,236
Wells Fargo Bank Northwest $189,787
Here is a copy of the "30 Largest Unsecured Claims:"
http://leasingnews.org/PDF/Le%20Nature%20list%20of%20creditors.pdf
Equity Security Holders:
http://leasingnews.org/PDF/Le%20Nature%20secured%20creditors.pdf
Again, while other media are reporting $300 million in leasing company debt, it was not listed on the actual filing at this time.
The Houston Chronicle reports: "A Le-Nature's Inc. plant in Phoenix, Ariz., is closing, resulting in 85 layoffs, a spokeswoman for the bankrupt bottled-water maker said Monday.
"Kroll Zolfo Cooper LLC, the turnaround firm appointed to run Le-Nature's, will continue to operate a plant that employs about 239 people at Le-Nature's headquarters in Latrobe, Pa., said Brenda Adrian, a spokeswoman for the two firms."
Last week lead creditors forced Le-Nature's into Chapter 7 bankruptcy, which typically leads to liquidation. But Kroll Zolfo Cooper later was allowed to seek protection under Chapter 11 rules, giving it time to reorganize its finances.
The problem centers on the allegation that documents and financial statements have been falsified, with many back-up records unavailable, perhaps destroyed or never existed, it is being said.
Kroll Zolfo Cooper LLC, the turnaround firm appointed to run Le-Nature's, will continue to operate a plant that employs about 239 people at Le-Nature's headquarters in Latrobe, Pa., said Brenda Adrian, a spokeswoman for the two firms.
A Delaware judge appointed Kroll Zolfo Cooper custodian of Le-Nature's, after finding the beverage company had engaged in potentially criminal activity, according to court documents. Former executives have been accused of offenses including fraud, and a federal probe has been launched.
--------------------------------------------------------------

NAELB Atlanta Meeting Reports
Report
Fred St Laurent
CEO and President
SFBI Professional Recruiting
The NAELB Eastern conference was a tremendous success!
By far the best Regional Conference I have ever attended.
There were over 232 attendees (a record) and 45 exhibitors.
Neil Roth of Key Credit told me that his time slots were "sold out" at his booth. Every one of the funding sources I spoke with; were extremely happy with the exposure to brokers and the overall conference results.
NAELB the second largest Leasing Association with 838 active members, has a formula for success based on offering benefits to brokers, funding sources and associate members that are worth more than the membership costs on any scale. Discounts on overnight packages, on office supplies through a deal cut with Office Depot, and many others are all important benefits offered but the most effective of all is the networking opportunities that are created.
The conferences such as the Eastern Regional are designed for networking and mentoring. The latest networking tool utilized- the "Round Table" discussion format which is going to be popular.
Sitting around the table were new brokers, seeking advice and training, learning from Seasoned Professionals who were there to help by sharing from their experiences.
This format is similar to the interactive "chats" hosted on the list server, where questions are asked and answered in real time, 24-7.
The true soul of the NAELB is one of Mentorship. The heart of the professional broker and funding source member is to help as many people to become successful as possible. I am so impressed with this association because the true desire to help one another also extends to the Associate Members!
The Limbo contest was a blast and Hawaiian Shirt contest certainly "broke the ice" Friday night.
The food was better than it has ever been. Of course the Renaissance in Atlanta has always been a favorite hotel of mine.
Bob Bell, Heather Von Bargen and Brian Montgomery as well as a short list of dedicated volunteers did an awesome job of putting together a seamless, productive and entertaining experience for all. I intend on registering for the National Conference to be held in Nashville as soon as I can and I recommend that "first timers" considering joining NAELB check out the $99 special this year in May.

Kind Regards,

Fred St Laurent
CEO and President
SFBI Professional Recruiting
Phone: 678.455.5700 ext 214
Fax: 678.623.8283
Email: Fred@sfbirecruiter.com
"Impacting Companies one person at a time."
Website: http://www.sfbirecruiter.com/
Member of ELA
Member of NAELB (Membership Committee)
Member of UAEL
Member of EAEL
Member of the Leasing News Advisory Board
http://www.leasingnews.org/Advisory%20Board/Fred_St_Laurent.htm
Second Report from:
Brian Montgomery
Express Funding Solutions
President-Elect, NAELB
Dear Leasing News,
cc: Board of Directors
Members
I have a riddle for you!
What is the significance of the number 99?
No, it has nothing to do with bottles of beer on a wall or even that vixen Barbara Feldon's role as Agent 99 on the TV show "Get Smart."
It happens to be the number of bank owned and independent funders across this country that have learned that it pays to join the NAELB!
Yes, 99 funders know one thing about our group and that is that the brokers of the NAELB are very capable of originating lease transactions. Good quality business originated by independent sources that have agreed to abide by a code of ethics AND add nothing to a funders payroll? That is what we like to call a win-win situation! 24 of those funders have joined in 2006 alone. 45 of those funder and associate members spent this past weekend at the Renaissance Hotel in Atlanta for the NAELB Eastern Regional meeting. With attendance at an all time high with over 232 attendees, it was an easy decision not to miss this opportunity to network with brokers and funders from across the country. Call me old fashioned but when you can look a person in the eye and shake their hand, it means so much more than a blind email and that is exactly what our brokers and funders were doing this weekend!
On a personal note, I have to say that I always enjoy attending an NAELB meeting. Whether it is an annual conference or one of the regional meetings, I am reminded that I am not alone and this is a great industry to be a part of. When I attend these meetings, the people I meet are amazing. Brokers and funders, both new to the industry and seasoned veterans, all check their egos at the door and walk in with a smile and an attitude that says "we are here to learn and share." This was evident as members took advantage of the round table format to discuss topics that ranged from Marketing Techniques that Work to Overcoming the Rate Issue. The great thing about this format was that there was something for everyone. Know everything already? Great, come sit at my table and share it with us. Know a little but want to learn more? We had a seat for you at the table also. Something for everyone and in the end we were all better for making the investment to attend, share and learn.
I would like to thank everyone who attended the event for bringing such a high level of professionalism to our organization. One OLG, (Old Leasing Guy) told me that watching the NAELB blossom was like watching one of his kids grow up. Another executive of a bank owned funder who was new to our group put it like this, "you guys have a first class operation!" That first class operation would not be possible were it not for the efforts of volunteers such as our regional meeting co-chairmen, Bob Bell and Mike Parker, and the input of Heather Von Bargen, Immediate Past President. As the NAELB continues to grow, we have made the commitment to support the CLP program and that was evidenced by their half day class entitled "Why should I become a CLP." Dwight Galloway of Netbank Business Finance taught many of those in attendance exactly what happens to your lessee after a deal is funded! Yes ladies and gentlemen, these things matter for those looking to build long term
relationships!

To conclude and in keeping with my promise and subsequent "hush money" I received, I can say that we had a limbo contest at the Friday night Luau and the pictures of said event are currently "In Limbo!" The food was great, the company even better, and I am so looking forward to seeing everyone again in May of 07 at our annual conference in Nashville, TN at the Opryland Hotel.
PS: To all of those funding sources and brokers who are reading this highlight but are not NAELB members; there is no reason why you can't move to make the decision today to come see what we are all about and stop missing out on all of the fun.

Warmest regards,

Brian Montgomery
Express Funding Solutions
President-Elect, NAELB

Brian Montgomery
Express Funding Solutions
Expressfunding@bellsouth.net
678-583-4100 Phone
678-583-4200 Fax
(sent to members:)
Please join me in welcoming these new funding sources and thanking them and those who have been members for years for their support of the NAELB!

2006 New Funding Source Members

Altec Capital Services, LLC
Always Funding
Anchor Capital Services, Inc.
Axis Capital Inc.
Bibby Financial Services, Inc.
Brandywine Capital Associates, Inc.
Bryn Mawr Funding
Court Square Leasing Corporation
FirstLease, Inc.
Gonor Funding, Inc.
GreatAmerica Leasing
Greystone Equipment Finance Corporation
High Street Funding, LLC
Hillcrest Bank
Leaseback Lending
LFC Capital, Inc.
Liberty Leasing
People's Capital and Leasing Corp.
Pinnacle Business Finance, Inc
Podium Financial Group, Inc.
Puget Sound Leasing
Star Capital Group
Studebaker-Worthington Leasing Corp.
Summit Financial Resources
Summit Leasing, Inc.
Union Capital Partners
Western Finance & Lease, Inc.

Funding Source Members Who Joined Prior to 2006
ABCO Leasing, Inc.
ACC Capital Corporation
AdvanceMe, Inc.
Allegiant Partners Incorporated
American Bank Leasing Corp.
Balboa Capital
Bank of the West
Bankers Healthcare Group, Inc.
Baystone Financial Group
Belvedere Equipment Finance
Blackstone Equipment Financing L.P.
BSB Leasing, Inc.
Butler Capital Corporation
BWC Equipment Leasing
Centennial Bank
CFC Investment Company
CIT Technology Financing Services, Inc.
Commonwealth Capital Corp
Creative Capital Leasing Group
Credit Union Services, Inc.
Dakota Financial, LLC
Dolphin Capital
Dolsen Leasing Company
Dumac Leasing-Division of Exchange Bank
Enterprise Funding Group
Evans National Leasing, Inc.
Facteon
Financial Pacific Leasing, LLC
First Credit Corporation
First Federal Leasing
First National Equipment Financing
First Prime Capital, LLC
Fortran Group International, Inc.
Forum Financial Services, Inc.
Government Leasing Company
HTLF Capital Corp.
Insight Financial Corp.
Key Credit Corporation
Leaf Financial Corporation
Leasing Technologies Int'l Inc.
M&T Bank - M&T Credit Services, LLC
Madison Capital, LLC
Main Street Bank
Marlin Leasing Corp.
Mesa Leasing, Inc.
Municipal Asset Management, Inc.
NetBank Business Finance
OFC Capital
Omni Funding
Orion First Financial, LLC
Padco Lease Corp.
Pawnee Leasing Corporation
Pentech Financial Services, Inc.
Performance Capital Corporation
PFF Bank & Trust
Pioneer Capital Corp.
Quail Capital
Real Lease, Inc.
Resource Lenders Leasing, Inc.
Southwest Credit
Standard Professional Services, LLC
SunBridge Capital, Inc.
Tatonka Capital Corporation
TCF Equipment Finance
TEAM Equipment Leasing, Inc
Tetra Financial Group, LLC
The National Companies
TimePayment Corporation
U.S. Bancorp Equipment Finance, Inc.
U.S. Bancorp Manifest Funding Services
Universal Equipment Leasing Company LLC
USA Financial Services LLC
--------------------------------------------------------------

Leasing Association Events-Meetings Open to All
November 8, 2006
Arizona Equipment Leasing Association
Join Us For
Bowling With The Leasing Pros
Meet Your Funders: Each Funder Will Have The Floor For
5 Minutes To Cover Their Unique Programs
WHEN: Wednesday November 8, 2006

WHERE: AMF CHRIS CHRISTOWN LANES
TOWN 1919 West Bethany Home Road
(SW Corner of 19 19th th Ave. & Bethany Home Road)
Phoenix, AZ 85015
602 602-249 249-1715

TIME: 5 5-6 PM Meeting and Networking
6 PM Bowling, Pizza and Beer

Cost: $20.00
Includes: Meeting, 3 games, Shoe Rental, Pizza,
Beverage and Awards
To RSVP your spot and for additional information, click here.
---------------------------------------------------------------
EAEL Baltimore Meet & Greet Gathering
Tuesday, November 14, 2006
The Greene Turtle, Columbia, MD
5 to 8PM
Contact Lynn Logan 443 796 7326 for additional information
---------------------------------------------------------------
UAEL North Atlantic Area Event
UAEL New England Region
Networking Event

Wednesday, November 15, 2006
6:00 PM - 8:00 PM Eastern

All Star Bar & Grill
Best Western Royal Plaza Hotel and Trade Center
181 Boston Post Road West
Marlborough, MA 01752-1883

Networking event with funding sources, service providers and broker/lessors. In addition to networking, you'll be provided appetizers and good times. Cash bar. Conveniently located off of I-495 and the Mass Pike.
REGISTER NOW:
$30.00 per UAEL member attendee
$40.00 per UAEL non-member attendee
Register Online at the UAEL website
To opt out of UAEL promotional emails please reply back to this email address info@uael.org
UAEL
78120 Calle Estado #201
La Quinta, CA 92253
---------------------------------------------------------------
UAEL Pacific Area Event
Northern California Region
Holiday Networking Event

Thursday, November 30, 2006
5:30 - 8:00PM

Pyramid Alehouse
1410 Locust St.
Walnut Creek, CA 94596
925-946-1520
A GREAT opportunity to network with Industry peers after work,
so come join us and see how UAEL throws a holiday party.
REGISTER NOW:
$20.00 per attendee
(non-members welcome!)
Register Online at the UAEL website
Please contact John Haenselman, Belvedere Equipment Finance
for more information about the event.
Phone 650-616-1948 or Email jhaenselman@befcfinance.com .
To opt out of UAEL promotional emails please reply back to this email address info@uael.org
---------------------------------------------------------------
UAEL Nort Atlantic Regional Event
UAEL Northeast Region
Networking Lunch

Friday, December 1, 2006
12:30 PM

Cafe Italiano Ristorante
14 Sylvan Avenue
Englewood Cliffs, NJ 07632
201-461-5041

A GREAT Opportunity to Network with Industry Peers - Join us for lunch!

REGISTER NOW:
This is a no host lunch
Register Online at the UAEL website
Please contact Gina Iacono, Westover Financial, Inc.
Phone 718-728-0684 or Email gina@westoverfinancial.com .
To opt out of UAEL promotional emails please reply back to this email address info@uael.org
UAEL
78120 Calle Estado #201
La Quinta, CA 92253
---------------------------------------------------------------
UAEL North Central Regional Event
Chicago Christmas Party
"Mingle and Jingle"
Thursday, December 7, 2006
6:00 PM CST
Maggiano's
111 West Grand Avenue
Chicago, IL 60610
2nd floor - Rubesco Room
Maggiano's Chicago is a well know Italian Eatery located in Beautiful Downtown Chicago. Come and Join us "Mingle and Jingle" in this years holiday season. There will be a 50/50 raffle to benefit The United States Marine Corp, "Toys For Tots" in honor of all our brave men and women that have and are serving in our armed forces. Ticket will be sold for $1.00 each. This year we will also have "Door Prizes." Each attendee will receive (1) ticket/chance to win upon their arrival compliments of UAEL and our sponsors. This was well received in previous years and all we can say is, "Good Luck!!!!!"
Cost to Attend
$64.00 per attendee
(Non-members and guests are welcome)
Register Online Deadline is 12-4-2006
Menu

6:00 APPETIZER BUFFET
Mozzarella Marinara
Calamari Fritte
6:45 FIRST COURSE
Assortment of Freshly Baked Breads.
Maggiano's Salad
Chopped Salad
SECOND COURSE
Rigatoni, Marinara Sauce
Chicken & Spinach Manicotti, "Maggiano's Style"
Salmon, Lemon and Herbs
Oven Roasted Pork Loin, Portabella Mushroom Sauce
THIRD COURSE
Tiramisu
Apple Crostada
Freshly Ground Regular and Decaffeinated Coffee, Hot Tea
Selection and Iced Tea
I would like to take this opportunity to extend a Happy Holiday and a great big "Thank You" to all our sponsors on behalf of the "United Association of Equipment Leasing" for all your support over the years. Without your continued support, events such as this would not be possible. I look forward to seeing you all soon at the "4th Annual Midwest Holiday Party" to "Mingle and Jingle...
Happy Holidays,
Bill Griffith
Midwest Regional Director
Credit Manager PadcoLease Corp.
100 W. Monroe Street, Suite 706
Chicago, IL 60603-1901
Phone (800) 347-5884 Ext. 231
Direct Fax (312) 236-8424
List on Sponsors:
Swanson, Martin & Bell, LLP - Joseph P. Kincaid, Esq.
Padco Lease Corp.
Standard Professional Services, LLC
Law Offices of Jorge M. Abril
Premier Lease & Loan Services
Beacon Funding Corporation
ECS Financial Services
LeaseTeam
--------------------------------------------------------------------------
UAEL South Central Area Event
UAEL North Texas Region
Holiday Mixer

Thursday, December 7, 2006
6:00 PM - 9:00 PM

Terilli's Restaurant
(Private Room)
4226 Preston Road
Frisco, TX 75035
214-387-4600

A GREAT opportunity to network with musical entertainment, hors d'oeuvres, no host bar, complimentary valet parking, and a possible appearance by Santa Claus!

REGISTER NOW:
$20.00 per attendee
$15.00 for Guest / Spouse
(Non-members welcome)
Register Online at the UAEL website
Please contact Ron Mitchell, Heritage Pacific Leasing, for more info.
Phone 972-219-0223 ext. 31, 800-994-1672 ext. 31
or Email ronm@heritage-pacific.com
To opt out of UAEL promotional emails please reply back to this email address info@uael.org
UAEL
78120 Calle Estado #201
La Quinta, CA 92253
--------------------------------------------------------------------------
Eastern Association of Equipment Lessors
Holiday Party, Monday, December 11, 2006
Warwick Hotel, 65 West 54 Street, New York, NY
For Information Contact the EAEL office at 212 809 1602
------------------------------------------------------------
UAEL Pacific Area Event
Northwestern Regional Holiday Networking Event

Wednesday, December 13, 2006
The event starts at 6:00 PM

C.J. Brennan's
201 Williams Ave. S
Renton, WA 98057

We will be doing a food drive for Northwest Harvest, so we want everyone to bring canned food.
The individual with the most canned food will be the lucky winner of a holiday prize!
REGISTER NOW:
$20.00 per attendee
$10.00 per attendee (With Food Donation)
Non-Members welcome!
Register Online at the UAEL website
Please contact Tara Aasand, Premier Lease & Loan Services,
for more information about the event.
Phone 425-649-6077 or Email taasand@plls.com .
To opt out of UAEL promotional emails please reply back to this email address info@uael.org
UAEL
78120 Calle Estado #201
La Quinta, CA 92253
----------------------------------------------------------------

Classified Ads---Help Wanted
Sales

Sales Reps
Location open. Requires previous leasing sales experience. Unequaled commissions. For full description & contact info click here.



Niche Market Sales Reps.
Not limited to, but includes:
- Dry cleaning
- Phone systems for small business
- Dental office
- Physicians office
- Laundry/dry cleaning equipment
Send your resume to sclerc@highlinecapital.com EOE.
National Machine Tool Financial Corporation
|
National Tel-Med Capital
|
National Business Finance

Sales Reps
Machine tools, construction, medical equip. Top competitive comp. package Fax resume: 847-871-4209 e-mail: chris@netlease.com

www.netlease.com
National has operated as an indirect lessor for over 25 years. They are expanding three of their divisions.
--------------------------------------------------------------

Sales Make it Happen
by Linda P. Kester
Telling is Not Selling
This is from Linda Kester book to be published soon. The advance copy received by Leasing News was the size of a "pocket book" and spiral bound, with the articles numbered, as reproduced below.
The purpose was not only to use the information in the book, but as a "reference." To me it is like "one day at a time:" you open it each business day at random or using the numbers as a date of the day. It gives you a nugget each time you open it. You not only learn but get reminded by using it "one day at a time."
It should be a "best seller."
Kit Menkin, editor
134
Telling is Not Selling
Some prospects will say to you, "Tell me about your leasing company," particularly when they call you. I've concluded that the more skilled a salesperson becomes, the more he or she is confused by that question, not knowing exactly how to respond.
That's right. My reasoning is that leasing sales professionals only make a presentation when they know what the listener is interested in. Making a blind pitch is "pitching" out descriptions of products/services, and hoping that something will be of interest to the listener. Best Strategy: Turn around their question with a value statement to justify your own questioning.
"I'll be happy to tell you how we might be able to help you. So I can focus on what you'd likely be most interested in, please explain how. .."
Or, "We have quite a few programs here, and so I can talk about just the ones you'd likely get the most value from, let's start by talking about your ..." Here's your very valuable lesson in this brief tip:
Right now, write out what you will say the next time someone hits you with, "Tell me what you have."
Turn it around, giving them a good reason to tell you what they're interested in. You'll create fewer objections, and obtain more applications.
Linda Kester helps leasing companies increase volume. For more information visit www.lindakester.com . Questions, contact: Linda@lindakester.com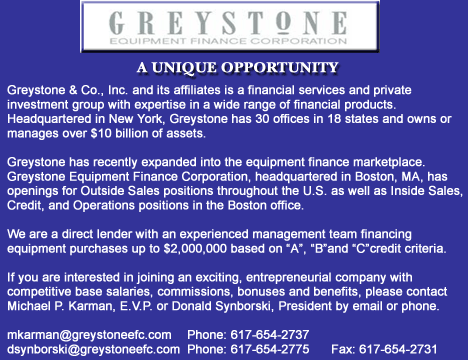 ----------------------------------------------------------------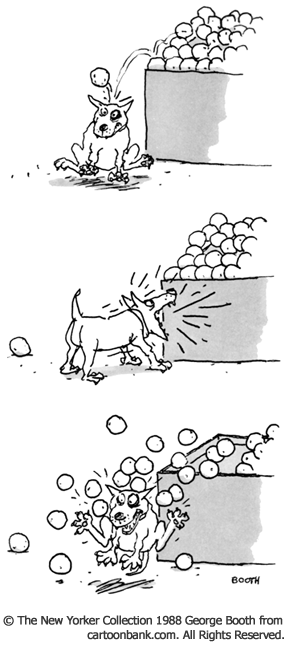 --------------------------------------------------------------
### Press Release ###########################

Nov. 15 webcast—speed up funding
Premier Lease & Loan Services to Conduct @Request LeaseProtection Webcast


Bellevue, WA – – Premier Lease & Loan Services announces it will conduct an @Request LeaseProtection webcast November 15, 2006, at 11 a.m. PST. The webcast will educate equipment lessors about the important benefits and features of @Request LeaseProtection. According to Jina Clarke, Premier's business markets manager, "Our @Request LeaseProtection program helps lessors speed up funding and protect assets, and provides them with an insurance solution to enroll lessees quickly."
Premier's @Request LeaseProtection product is a convenient Web-based application accessible 24 hours a day at leaseprotection.com and can be used for self-service quotes, coverage placement, and claim submission.
About Premier Lease & Loan Services
A member of Great American Insurance Group, Premier Lease & Loan Services specializes in providing lease- and loan-related insurance products for financial institutions, focusing on commercial equipment lessors and vehicle lenders and lessors. Premier's creative and flexible programs provide risk management, fee income and product enhancement benefits. Headquartered in Cincinnati, Ohio, Premier has offices in Seattle, San Diego, Toronto and the United Kingdom.
About Great American Insurance Group
Great American Insurance Group's roots go back to 1872 with the founding of its flagship company, Great American Insurance Company. Based in Cincinnati, Ohio, the operations of Great American Insurance Group are engaged primarily in property and casualty insurance, focusing on specialty commercial products for businesses, and in the sale of annuities, life and supplemental health insurance products. The members of Great American Insurance Group are subsidiaries of American Financial Group, Inc. (AFG) also based in Cincinnati. AFG's common stock is listed and traded on the New York Stock Exchange and NASDAQ under the symbol ("AFG").
Learn more and sign up contact:
Tara Aasand
Business Markets Associate
Great American Insurance Group
Premier Lease & Loan Services
425-649-6077
taasand@plls.com
Web Sites: www.GreatAmericanInsurance.com; www.plls.com
### Press Release ###########################

CF Announces Pending Sale of Ten Branches to Independent Bank Corporation
ANN ARBOR, Mich.--)--TCF Bank Michigan, a subsidiary of TCF Financial Corporation (NYSE:TCB), and Independent Bank Corporation (NASDAQ:IBCP) announced the execution of a definitive agreement for Independent Bank to acquire ten of TCF's outstate branches in Battle Creek, Bay City and Saginaw, Michigan that have current total deposits of approximately $235 million. It is anticipated that the transaction will be completed sometime during March 2007, pending regulatory approvals and the completion of other customary closing conditions.
Bob Scott, president of TCF Bank Michigan, said that this transaction is mutually beneficial for both banks as TCF's branch expansion initiatives are primarily focused on larger urban demographics, while Independent Bank primarily serves rural and suburban communities.
"As we look to our future branching objectives in Michigan, our greatest opportunities for expansion are in the Southeast areas of the state," said Scott. "Independent Bank has a strong statewide branch expansion program and we are confident that existing customers in these ten branches will continue to be well-served by Independent Bank."
Following the sale of the ten outstate branches, TCF Bank Michigan will have approximately 55 branches all in Southeast Michigan.
Michael Magee, President and CEO of Independent Bank Corporation, commented "The addition of these branches will be a very good fit within our existing branch network. This transaction will solidify our number one market share presence in Bay City, move our market share presence in the Battle Creek area to number two and to number four in the Saginaw area. We are excited to welcome these new customers and employees to Independent Bank."
Following the purchase, Independent Bank Corporation will have over 120 offices in Michigan.
About TCF Bank
TCF Bank is a subsidiary of TCF Financial Corporation (NYSE:TCB), a $14.3 billion Wayzata, Minnesota-based national financial holding company. TCF Bank Michigan offers convenient deposit products, consumer lending and corporate, business and campus banking services. Other TCF lines of business offer leasing and equipment finance, and investments and insurance sales.
About Independent Bank Corporation
Independent Bank Corporation (Nasdaq:IBCP) is a Michigan-based bank holding company with total assets of over $3 billion. Founded as First National Bank of Ionia in 1864, Independent Bank Corporation operates over 100 offices across Michigan's Lower Peninsula through four state-chartered bank subsidiaries. These subsidiaries provide a full range of financial services, including commercial banking, mortgage lending, investments and title services. Financing for insurance premiums and extended automobile warranties is also available through Mepco Insurance Premium Financing, Inc., a wholly owned subsidiary of Independent Bank. Independent Bank Corporation is committed to providing exceptional personal service and value to its customers, stockholders and the communities it serves. For more information, please visit our website at: www.ibcp.com
### Press Release ###########################

Fifth Third Bancorp Promotes James A. Merz to Vice President
Cincinnati – Fifth Third Bancorp is pleased to report that its Board of Directors recently promoted James A. Merz to vice president:
Mr. Merz joined Fifth Third in October 1991 and serves as Equipment Management Group Team Lead. In this position he is responsible for overseeing the direction of The Fifth Third Leasing Company's Equipment Management Group.
James earned a bachelor's degree in Economics from the University of Cincinnati. He resides in Loveland with his wife, Jennifer, and their son, Broderick.
Fifth Third Bancorp is a diversified financial services company headquartered in Cincinnati, Ohio. The Company has $105.8 billion in assets, operates 19 affiliates with 1,148 full-service Banking Centers, including 115 Bank Mart® locations open seven days a week inside select grocery stores and 2,123 Jeanie® ATMs in Ohio, Kentucky, Indiana, Michigan, Illinois, Florida, Tennessee, West Virginia, Pennsylvania and Missouri. Fifth Third operates five main businesses: Commercial Banking, Branch Banking, Consumer Lending, Investment Advisors and Fifth Third Processing Solutions.
Fifth Third is among the largest money managers in the Midwest and, as of September 30, 2006, has $215 billion in assets under care, of which it manages $32 billion for individuals, corporations and not-for-profit organizations. Investor information and press releases can be viewed at www.53.com. Fifth Third's common stock is traded through the NASDAQ® National Global Select Market System under the symbol "FITB."
### Press Release ###########################

El Camino Resources Moves to Finance Mexican Equipment
Through Public Funding of Leases
WOODLAND HILLS, Calif.-- --El Camino Resources, Ltd. reported that its subsidiary in Mexico has recently been audited by Fitch and Standard & Poor's and has received an investment grade reading by each of them. Fitch issued a rating of A-(mex) & F2(mex) while Standard & Poor's issued a rating of mxA- & mxA-2. These ratings are accomplished on an annual basis in concert with the issuance of public debt instruments by El Camino Resources Mexico in Mexico via the Mexican BOLSA. El Camino Resources Mexico has raised in the last six months $150 million of peso dominated bonds the proceeds of which are used to finance equipment leasing contracts in Mexico.
El Camino continues to benefit from strong leasing demand in Mexico with total bookings in the range of $80 million on an annual basis. The issuance of public bonds in Mexico has added to El Camino Resources Mexico considerable flexibility in its financing capabilities. "During this year we have reached out to many new clients in Mexico as a result of marketing partnerships with financial institutions. The lease origination that we have attained for the year in Mexico is running above our planned goals for this year with a four year goal of accomplishing $500 million in new leasing looking very attainable," noted David E. Harmon, president and chief executive officer of the California-based lessor and technology services provider.
El Camino Resources Mexico has continued to service Mexican lessees since the early 1990's. It continues to be well received in the market leasing a wide variety of equipment, and is now a leader in independent leasing, enjoying strong relationships with a number of leading Mexican banks. El Camino is focused on multinational companies located in Mexico, as well as companies listed on the country's stock exchange (BOLSA). Its largest account is a recognized leader in Mexican retailing.
Harmon also noted that El Camino is in the process of rebuilding its United States leasing business after El Camino suffered a loss as a victim in the Cyberco Holdings leasing fraud. Cyberco was forced into bankruptcy after an FBI raid disclosed that the Cyberco's business operations were fraudulent. Harmon also noted that El Camino has surmounted these difficulties by reaching a resolution with all of the banks that provided funding for the Cyberco leases.
Harmon stated that "While we are very unhappy about the circumstances surrounding the Cyberco financing events and the fact that it cost El Camino a considerable amount, El Camino is pleased to have the defense of its business practices settled. The breadth and scope of the Cyberco fraud, and the sophisticated falsification of data, misled many major banks and leasing companies. Cyberco's President, James Horton, has been indicted and pled guilty, and the business community is expecting further indictments based on Horton's guilty plea to violating federal laws relating to bank fraud, mail fraud, and money laundering."
Harmon has seen the best and the worst of the high tech leasing in the US. He states, "The environment is now totally different from just ten years ago when there was still some residual value in the equipment at the end of a lease. There is not much left in three year equipment anymore either as machines or of the inside parts. So we have to be close to the client and work with those customers where we can mutually solve their financing and technology issues but not count much on remarketing."
About El Camino Resources International, Inc.
El Camino Resources International, Ltd. (ECR) was founded in 1979 to provide technology equipment leasing/financing and computer trade-in opportunities for businesses and organizations. ECR specializes in mainframes, workstations, client/servers, storage devices and peripheral equipment from such industry leaders as IBM, Sun, and other selected manufacturers. El Camino's sister company Infinite Computer Group unit provides a range of maintenance and information technology services to US companies. ECR's Mexican subsidiary is a general lessor leasing equipment over a broad range varying from high tech computer equipment to low tech material handling equipment.
El Camino Resources is qualified and prepared to offer quotations for the sale, purchase or lease of new and used information technology equipment. The Company has a strong commitment to customer satisfaction and has enjoyed long-standing relationships with companies of all sizes and types.
El Camino Resources is headquartered at 21300 Superior Street, Chatsworth CA 91311, and can be reached by telephone at 818.226.6600.
### Press Release ###########################

CapitalSource Reports Third Quarter 2006 Operating Results
* $0.71 adjusted earnings per diluted share on $122.9 million adjusted
earnings
* $14.5 billion in total assets; $7.6 billion in total Commercial
Lending & Investment assets
* $1.5 billion term debt securitization completed on September 28, 2006
* Direct Real Estate Investments: Entered into definitive agreements to acquire 106 long-term care facilities and leasehold interests from three sellers. Total transaction size exceeding $660 million.
CHEVY CHASE, Md., -- CapitalSource Inc. (NYSE: CSE) today reported net income for the quarter ended September 30, 2006 of $80.9 million, or $0.47 per diluted share, compared with net income of $72.8 million, or $0.43 per diluted share, for the quarter ended June 30, 2006. This compares to net income of $28.1 million, or $0.24 per diluted share, for the quarter ended September 30, 2005. Adjusted earnings were $122.9 million, or $0.71 per diluted share, for the quarter ended September 30, 2006 compared to $97.1 million, or $0.57 per diluted share, for the quarter ended June 30, 2006.
Net investment income for the quarter ended September 30, 2006 increased 18% to $171.8 million, from $145.4 million for the quarter ended June 30, 2006, primarily a result of strong yields in our Commercial Lending & Investment segment. Net investment income represents interest, fee and operating lease income, less interest expense.
Gain on investments, net was $7.2 million for the quarter ended September 30, 2006 reflecting dividends received and realized and unrealized gains on equity investments.
"Our broad-based diversified platform continues to generate superior returns as evidenced by a 27% increase in adjusted earnings this quarter compared to the second quarter. Our performance in the third quarter validated our expectation for a strong second half of 2006 and our decision to increase our 2006 full year dividend guidance to at least $2.00 per share," said John K. Delaney, Chairman and Chief Executive Officer.
Full press release at:
http://investor.capitalsource.com/phoenix.zhtml?c=114643&p=irol-news
Article&ID=927826&highlight=

### Press Release ###########################
--------------------------------------------------------------

News Briefs----
Greenspan Unconcerned About Housing
http://www.washingtonpost.com/wp-dyn/content/article/
2006/11/06/AR2006110600588.html
Consumer borrowing down in September by biggest amount since early 1990s
http://www.signonsandiego.com/news/business/20061107-1439-consumercredit.html
Home builder Toll Brothers sees no end to housing slump
http://www.usatoday.com/money/economy/housing/2006-11-07-toll-bros_x.htm
Treasury bill rates mixed
http://www.boston.com/business/globe/articles/2006/11/07/treasury_bill_rates_mixed/
---------------------------------------------------------------


You May have Missed---
Microsoft debuts Google Earth killer
http://www.siliconvalley.com/mld/siliconvalley/15950101.htm
----------------------------------------------------------------


California Nuts Briefs---
Schwarzenegger coasts to second term on promise to rebuild California: 'I love doing sequels'
http://www.signonsandiego.com/news/politics/20061107-2252-eln-california.html
----------------------------------------------------------------


"Gimme that Wine"
Lodi Harvest Update, plus other specific regions
http://www.winebusiness.com/news/dailynewsarticle.cfm?dataId=45326
History Casts a Vote for Beaulieu Vineyard(R) Georges de Latour(R)
(mine was 1955—what a superb vintage—Ritz Old Poodle Dog)
http://www.prnewswire.com/cgi-bin/stories.pl?ACCT=104&STORY=
/www/story/11-06-2006/0004468065&EDATE=
Bizarre Vines, Old Roots Make Fine Wine
http://www.nytimes.com/2006/11/08/dining/08aspr.html?_r=1&ref=dining&oref=slogin
Wine Prices by vintage
http://www.winezap.com
http://www.wine-searcher.com/
US/International Wine Events
http://www.localwineevents.com/
Winery Atlas
http://www.carterhouse.com/atlas/\
Leasing News Wine & Spirits Page
http://two.leasingnews.org/Recommendations/wnensprts.htm
The London International Vintners Exchange (Liv-ex)
is an electronic exchange for fine wine.
http://www.liv-ex.com/
----------------------------------------------------------------

Calendar Events This Day
Abet and Aid Punsters Day
Laugh instead of groan at incredibly dreadful puns. All-time greatest triple pun: " Through he's not very humble, there's no police like Holmes."from the register of worst puns of Punsters Unlimited ( originated by Earl Harris, retired and the late William Rabe)
Cook Something Bold and Pungent Day
Especially for those of us who have tightly closed up the house against chill weather now is the time to create the heavenly, homey odor of pungently, bold cooking. www.wellcat.com
Montana: Admission Day. Anniversary
Became 41st state in 1889.
X-Ray Discover Day
Physicist Wilhelm Conrad Roentgen (q.v.) discovered X-rays beginning a new era in physics and medicine./ Although X-rays had been observed previously, it was Roentgen, a professor at the University of Wuzburg (Germany), who successfully repeated X-ray experimentation and who is credit with the discover.
----------------------------------------------------------------

Theodore Roosevelt was the only president who was blind in one eye
Here is a site of "Presidential infirmities:"
http://www.healthinplainenglish.com/presidential-diseases/index.htm
----------------------------------------------------------------

Today's Top Event in History
While many presidential elections---
1966- The first US Senator who was African-American to be elected by popular vote was Edward William Brooke, the attorney general of Massachusetts, who was elected by a popularity of 439,000 votes. A graduate of Howard University and Boston University Law School, the liberal Republican Brooke served in the Senate for twelve years, until he was defeated by Paul Tsongas in 1978. Brooke was instrumental in developing the legislation that would become the 1970 Housing and Urban Development Act. He now lives in Miami, Florida.
http://bioguide.congress.gov/scripts/biodisplay.pl?index=B000871
[headlines]
----------------------------------------------------------------

This Day in American History
1519- After landing on the Yucatan peninsula in April, Spaniard Hernan Cortés and his troops marched into the interior of Mexico to the Aztec capital and took the Aztec emperor Montezuma hostage. Going against the governor's orders, he took 800 Spaniards on eleven ships, landing on what is now Vera Cruz on the east coast of Mexico., Marching to meet the Aztecs, he persuaded thousands of Indians to join his forces. He had horses, muskets, pistols, steel swords, and armor. The Indians
thought he was from God, or maybe he was God. His military triumphs led to 300 years of Spanish domination of Mexico and Central America. He brought horses to our continent (more on that when we write about Coronado ) and his troops were the first to "invade" what is now the United States, actually exploring parts of what we now call New Mexico. In one village, after an uprising against their visit, he cut off the right foot of every male adult so they would not attach them again.
1775- Mail franking privilege allowing free use of the mail was granted to members of Congress and private soldiers in service. Regulations of January 9, 1776, provided that soldiers' mail was to be franked by the officer in charge. On April 3, 1800, free franking of mail during her natural life was granted to Martha Washington.
1837- The first college for women in the United States was founded as Mt. Holyoke Seminary in
South Hadley, Massachusetts. While many colleges for women became coeducational institutions in the 1970's and 1980s, Mt. Holyoke remains a women's college.
1861-The Trent Affair. The United States almost went to war over the capture of a British
ship supposedly bringing supplies to the confederacy.
http://memory.loc.gov/ammem/today/nov08.html
1870 - The first storm warning was issued by the U.S. Signal Corps Weather Service
1883 – Birthday of painter Charles Demuth (1883-1935)
http://www.artchive.com/artchive/D/demuth.html
http://www.artcyclopedia.com/artists/demuth_charles.html
http://www.demuth.org/
1884 - Samuel Sidney McClure established McClure's Syndicate in New York City, the first newspaper syndicate.
1887- Gas lighting brought many fires the end of this century. Though Boston had experienced several damaging fires, the worst one started on this Saturday evening in a dry-goods warehouse. Spreading rapidly in windy weather, it devastated several blocks of the business district, destroying nearly 800 buildings. Damage was estimated at more than $75 million. It was said that the fire caused a bright red glare in the sky that could be seen from nearly 100 miles away. The Boston fire came one year, one month and one day after the Great Chicago Fire of Oct 8, 1871.
1889 - Montana became the 41st state in the United States. Helena is the capital of Montana; the western meadowlark is the state bird and the bitterroot is the state flower. Of course, this has nothing to do with some of Montana's bitter history, its most notorious event: The Battle of Little Big Horn (Custer's Last Stand).
1889 --Birth of Oswald J. Smith, Canadian clergyman. Founder of the People's Church of Toronto, Smith also authored a number of books and composed more than 1,200 hymns, including "The Song of the Soul Set Free."
1900- birthday of Margaret Mitchell, American novelist who won a Pulitzer Prize (1937) for her only book, Gone with the Wind, a romantic novel about the Civil War and Reconstruction. Gone with the Wind sold about 10,000,000 copies and was translated into 30 languages. Born at Atlanta, GA, Mitchell died there after being struck by an automobile Aug 16,1949.
1900 - Theodore Dreiser's first novel, Sister Carrie, a realistic book, was published by Doubleday & Company. Worried about the immorality of the book, and suffering public pressure, the publisher pulled the book off the stands. Depressed, Dreiser was unable to write another novel for over a decade.
1904-Theodore Roosevelt was reelected president of the United Sates. Charles W. Fairbanks was elected vice president. The electoral vote was Roosevelt, 336; Alton B. Parker, Democratic candidate, 140. The popular vote was Roosevelt 7,628,834; Parker, 5,884, 401; Eugene V. Debs, Socialist candidate, 402,460; Dr. Silas C. Swallow, Prohibition Party, 259,257; Thomas E. Watson, People's Party, 114,752. The Republicans carried Missouri for the first time since the Civil War in what was the biggest election victory since 1872. They maintained a 57-33 majority over the Democrats in the senate and picked up 43 seats in the House for a 250-136 majority.
1906-Cameraman Fred A. Dobson began filming The Skyscrapers of New York atop an uncompleted skyscraper at Broadway and 12th Street, the first documentary of the changing of a metropolitan landscape due to the innovation of steel girders.
( lower half of: http://memory.loc.gov/ammem/today/nov08.html )
1907-Birthday of actress Katherine Hepburn,. Academy Awards for Morning Glory (1932), Guess Who's Coming to Dinner? (1967), The Lion in Winter (1968) and On Golden Pond (1981). Nominated eight more times for her work in such movies as The Philadelphia Story (1940), and The African Queen (1951).
1927-singer Chris Connor birthday http://www.ddg.com/LIS/InfoDesignF96/Ismael/jazz/1950/Connor.html
1929 -- Museum of Modern Art (MOMA) opens, New York City.
http://www.moma.org/about_moma/
1932-Franklin D. Roosevelt was elected president of the United Sates in a Democratic landslide. John Nance Garner was elected vice president. Roosevelt carried all by seven states with 472 electoral votes to 58 for Herbert Hoover. The popular vote was Roosevelt, 22,821,857; Hoover 15,761,841. Norman Thomas, Socialist, 881,9951; William Z Foster, Communist, 102,785; Verne L. Reynolds, Socialist Labor 33,276; William D. Upshaw, Prohibition, 81,869; Jacob S. Coxey, Farmer Labor, 7309. In congressional elections the Democrats gained 13 Senate seats for a 60-35 majority. In the House the Democrats gained 90 seats for a 310-117 majority, with five seats going to minor parties.
1938-The first state legislator who was an African-American woman was Crystal Bird Fauset of Philadelphia, PA, elected to the Pennsylvania House of Representatives. Her term of office began on December 1,1938 and she was sworn in and assumed her seat on January 3, 1939. She later became Assistant Director for the Works Progress Administration in Pennsylvania and served as a race relations advisor to First Lady Eleanor Roosevelt and New York City Mayor Fiorello La Guardia.
She chairperson of the Philadelphia Negro Woman's Democratic League and a member of the board of trustees of Cheyney State Teachers College and the board of directors of the Small Business Opportunities Corporation of Philadelphia. She died on March 27, 1965
http://www.afsc.org/about/hist/2003/crystal_bird_fauset.htm
1939 - Frank Sinatra had his last recording session with the Harry James Band. "Every Day of My Life" and "Ciribiribin" were recorded. If you listen to these records today, you will not be able to identify Sinatra as he sounded more a "crooner" without the phrasing or rhythm in the 1950's and forward.
1949-Birthday of Bonnie Raitt, singer, songwriter. Grammy award winner. Her mother was a pianist. Daughter of actor, John Raitt
1950-The first pilot of a jet fighter to win a dogfight in the Korean War was First Lieutenant Russell John Brown of Pasadena, CA, the pilot of an Air Force F-80, who destroyed a MiG-15 over Northern Korean in jet-versus-jet combat.
1952-Maurice "Rocket" Richard of the Montereal Canadiens became the leading career goal scorer in the National Hockey League with his 325th career goal in a 6-4 win over the Chicago Blackhawks.
1953 - Residents of New York City suffered through ten days of smog resulting in 200 deaths.
1954- Dave Brubeck makes "Mime" Magazine cover for "Take Five." Louis Armstrong was
the first jazz musician to make Time's front page in 1947.
1954 - The American League approved transferring the baseball's Philadelphia Athletics team to Kansas City, Missouri. Charles O. Finley of Chicago, Illinois would eventually tire of Kansas City and relocate the A's to Oakland, California.
1955---Top Hits
Autumn Leaves - Roger Williams
Moments to Remember - The Four Lads
I Hear You Knocking - Gale Storm
That Do Make It Nice - Eddy Arnold
1956 - Cecil B. DeMille's cinema classic, The Ten Commandments, starring Charlton Heston and Yul Brynner, premiered in New York. It later won an Oscar for Best Special Effects, and received a Best Picture nomination.
1959 - Elgin Baylor, the Minneapolis Lakers' "Big E", scored 64 points to set a National Basketball Association scoring mark. The Lakers defeated Boston 136-115.
1960 – John Fitzgerald Kennedy was elected president of the United States. Sen. Kennedy, Democrat of Massachusetts, was the second youngest man ever to win the nation's highest office. Sen. Lyndon Baines Johnson, Democrat from Texas, was elected vice president. The electoral vote was Kennedy, 303, Nixon, 219, and Senator Harry F. Byrd, 15. Kennedy won 49.7% and Nixon $49.6% of the popular vote making the election one of the closest in U.S. history. In congressional elections the Democrats took a 65-35 majority in the senate. In the House they lost 20 seats but kept a majority of 263-174.
1963---Top Hits
Sugar Shack - Jimmy Gilmer & The Fireballs
Deep Purple - Nino Tempo & April Stevens
Washington Square - The Village Stompers
Love's Gonna Live Here - Buck Owens
1963-Dick Clark's traveling Caravan of Stars opens its fall 1963 tour in Teaneck, New Jersey. The bill features Bobby Vee, Brian Hyland, the Ronettes, Little Eva and the Dovells among others.
1964 - Judy Garland and daughter, Liza Minnelli gave a joint appearance at the London Palladium. The program was shown on television in the United States, and was recorded on the LP, "Live at the London Palladium" that became a classic for Capitol Records.
1965 - The daytime soap opera, Days of Our Lives, starring MacDonald Carey as Dr. Tom Horton, premiered.
1965- "Days of Our Lives" premiered on television. This popular daytime serial, like many others, has gone through many changes throughout its run. It expanded from 30 minutes to an hour; it went to number one in the ratings and slipped to nine out of 12 in the 1980s; and it dropped or de-emphasized older characters, which angered its audience. The soap is set in Salem and centers around the Horton and Brady families. Notable cast members included Mary Frann, Joan Van Ark, Susan Oliver, Mike Farrell, Kristian Alfonso, Carry Marshall, John Aniston, Josh Taylor, Wayne Northrop, John DeLancie, Andrea Barber, Deidre Hall, Thaao Penghlis, Jason Bernard, Marilyn McCoo, Charles Shaughnessy, Peter Reckell, Francis Reid, Patsy Pease and Genie Francis.
1966- The first US Senator who was African-American to be elected by popular vote was Edward William Brooke, the attorney general of Massachusetts, who was elected by a popularity of 439,000 votes. A graduate of Howard University and Boston University Law School, the liberal Republican Brooke served in the Senate for twelve years, until he was defeated by Paul Tsongas in 1978. Brooke was instrumental in developing the legislation that would become the 1970 Housing and Urban Development Act. He now lives in Miami, Florida.
http://bioguide.congress.gov/scripts/biodisplay.pl?index=B000871
1966 - Actor and future United States President Ronald Reagan was elected governor of California, beating incumbent Governor Pat Brown, former District Attorney of San Francisco. When he first heard Reagan was going to run against him, Brown was noted to say, "Hey, we got a shoo in as they are going to run an actor from Hollywood against me."
1966 - The temperature in downtown San Francisco reached a November record of 86 degrees.
1969- "Wedding Bell Blues" by 5th Dimension topped the charts and stayed there for 3 weeks.
1970---Tom Dempsey of the New Orleans Saints set an NFL record by kicking a 63-yard field goal to give the Saints a 19-17 victory of the Detroit Lions.
1970-im Morrison records the poetry that the other members of the Doors would set to music after his death and issue on the 1978 album, "An American Prayer."
1971---Top Hits
Gypsys, Tramps & Thieves - Cher
Theme from Shaft - Isaac Hayes
Imagine - John Lennon Plastic Ono Band
Here Comes Honey Again - Sonny James
1971-Sly & the Family Stone have huge hits with "Family Affair" and "There's a Riot Goin' On". The album's title could well describe some of Sly's concerts during this time. Much to his fans' dismay, he's a frequent no-show. Of eighty concerts booked in 1970, he canceled 26 and has ducked out of 12 of forty shows in '71.
1973 - No. 1 Billboard Pop Hit: "Keep on Truckin' (Part 1)," Eddie Kendricks.
1973-The first golfer to earn $100,000 in a contest was Miller Barber of Texas, who won the first prize of $100,000 in 144 strokes in the World Open at Pinehurst, NC, on November 8-17.
1974 -- Lt. William Calley is paroled after serving about three years in "prison" (under house arrest in his apartment) for overseeing the murder of Vietnamese civilians (possibly as high as 500 or more) at My Lai
http://www.fortunecity.com/tinpan/parton/2/mylai1.html
1978-A bizarre NBA game happened during the Philadelphia 76ers and the New Jersey Nets, when an official assessed three technical fouls against Nets coach Kevin Loughery and player Bernard King The league office ruled that the official had acted in error and ordered the game replayed. It was on March 23, 1979, and Philadelphia won, 137-133. On February 7, however, the 76ers traded Ralph Simpson to New Jersey for Erick Money and Harvey Catchings. So these three wound up finishing
the game on March 23rd as members of the team they had originally opposed.
1979---Top Hits
Pop Muzik - M
Heartache Tonight - Eagles
Dim All the Lights - Donna Summer
You Decorated My Life - Kenny Rogers
1979-The Grateful Dead's "Shakedown Street" LP is released.
1983- Dale Murphy (.302, 36, 121) joins Ernie Banks, Joe Morgan and Mike Schmidt as one of the players who has won the MVP award in consecutive years. The soft-spoken Braves' outfielder receives 21 of the 24 votes cast.
1983 - No. 1 Billboard Pop Hit: "All Night Long (All Night)," Lionel Richie. Richie sings the song at the closing ceremonies of the 1984 Olympic Games in Los Angeles.
1986 -a new Utah record for wind was set when a wind gust of 124 mph was recorded on 11,000 foot Hidden peak in the Snowbird area
1987---Top Hits
I Think We're Alone Now - Tiffany
Causing a Commotion - Madonna
Mony Mony "Live" - Billy Idol
Am I Blue - George Strait
1988-George Bush was elected president of the United States, carrying 40 states. He defeated Governor Michael Dukakis of Massachusetts, the Democratic candidate. The electoral vote was Bush,
426, Dukakis 112. The popular vote was Bush, 47,917,341, Dukakis, 41,013,030. In congressional elections the Democrats gained one Senate seat for a 55-45 majority; in the House they gained 3 seats for a 260-175 majority.
1990- the Gender Gap at the voting booth succeeded in electing Ann Richards as Texas Governor (with 61% of the women's vote) and Barbara Roberts as Oregon Governor with 30% more of the women's vote than her opponent got. Sharon Pratt Dixon was elected the first black woman to head the Washington, D.C. government. Joan Finney who opposed abortion was elected governor of Kansas. Of 85 women who ran for statewide offices, 57 won... all with significant Gender Gap margins...
1991- The new Carol Burnette Show premieres on CBS-TV
Her first run on TV lasted from September 11, 1967 - March 29, 1978.
My good friend Warren Luening played lead trumpet for her TV show and toured with her. He said he enjoyed every minute as she was a wonderful person to work for and always thoughtful of those around her. What you saw on TV was the way she really was in life, he commented.
http://www.tvtome.com/tvtome/servlet/PersonDetail/personid-1025
http://timvp.com/carolb.html
http://us.imdb.com/title/tt0302389/
1991 -the first week of November ended in Iowa with the average temperature for the state of 18.3 degrees, a full 24.7 degrees below normal. Easily this was the coldest first week of November ever.
1993 - Microsoft Windows for Workgroups 3.11 was released. The operating system boasted improved support for NetWare and Windows NT, and slipped in numerous architectural changes to improve performance and stability (changes that later found their way into Windows 95).
1994---Top Hits
I ll Make Love To You- Boyz II Men
All I Wanna Do- Sheryl Crow
Another Night- Real McCoy
Here Comes The Hotstepper (From "Ready To Wear")- Ini Kamoze
2004-- Receiving 27 of 28 first-place votes, Bobby Crosby (.239, 22, 64) wins the American League Rookie of the Year Award. The Oakland shortstop, who is the son of former big leaguer infielder Ed Crosby, joins Harry Byrd (1952), Jose Canseco (1986), Mark McGwire (1987), Walt Weiss (1988) and Ben Grieve (1998) as the sixth A's freshman to be honored by BBWAA.
--------------------------------------------------------------

American Football Poem
Man in the Glass
( The poem Bill Parcells is reportedly read often to his players. )
When you get what you want in your struggle for self
And the world makes you king for a day
Just go to a mirror and look at yourself
And see what that man has to say
For it isn't your father, mother or wife
Whose judgment upon you must pass
The fellow whose verdict counts most in your life
Is the one staring back from the glass
Some people may think you're a straight-shootin' chum
And call you a wonderful guy
But the man in the glass says you're only a bum
If you can't look him straight in the eye
He's the fellow to please, never mind all the rest
For he's with you clear up to the end
And you've passed your most dangerous, difficult test
If the man in the glass is your friend
You may fool the whole world down the pathway of life
And get pats on the back as you pass
But your final reward will be heartaches and tears
If you've cheated the man in the glass
--------------------------------------------------------------

SuDoku
The object is to insert the numbers in the boxes to satisfy only one condition: each row, column and 3x3 box must contain the digits 1 through 9 exactly once. What could be simpler?
http://leasingnews.org/Soduku/soduko-main.htm

--------------------------------------------------