Niche Market Sales Reps.
Not limited to, but includes:
- Dry cleaning
- Phone systems for small business
- Dental office
- Physicians office
- Laundry/dry cleaning equipment
Send your resume to sclerc@highlinecapital.com EOE.
Monday, November 27, 2006
Headlines---
For our Web Site and New Readers
Classified ads---Asset Management
LeNature's closing may be permanent
Leasing 102-by Mr. Terry Winders, CLP
"Economic/Useful Life of Leased Assets"
6 Sentenced for $16MM CIT Leasing Fraud
Holiday Celebrations Open to all
Classified Ads---Help Wanted
Cartoon---Welcome to California
Holiday Special---Help Wanted Ads
Top Stories----November 20-25
Placard "Wise Old Owl"
Wirth Business Credit/Franchise
Fitch Rates CIT Equipment Collateral
News Briefs---
You May have Missed---
California Nuts Brief---
Sports Briefs---
"Gimme that Wine"
Calendar Events
Snapple Real Facts
Today's Top Event in History
This Day in American History
American Football Poem(s)
######## surrounding the article denotes it is a "press release"
--------------------------------------------------------------------

For our Web Site and New Readers
New readers, welcome aboard.
We recommend all readers join our mailing list to get notified when a new edition is "on line," or to receive "extra's," such as the notification of the Fed rate increase or "breaking news stories" that concern the industry. Our Web Trend indicates most of our readers "bookmark" our web site, which is a good idea, but if not on the mailing list, they won't get the extras or when we have an edition.
We try to have five a week, Monday through Friday, but most often only have three, sometimes four a week. While our goal is to be a daily, we don't print unless there is enough equipment leasing news.
We look forward to your comments and try to produce an edition that is worth your time to find an article or two you are interested in reading.
For new readers, our best information comes from our "readers" who send us information "on" or "off the record."
Christopher Menkin, Editor
--------------------------------------------------------------

Classified ads---Asset Management
Cheers! Warre's Warrior Port, is a 30" x 22" original lithograph hand printed in 6 colors in a limited edition of 100 impressions. Like the Salut! La Vieille Ferme lithograph, the Warre's lithograph was created by Cornel Rubino, published by Vineyard Brands and printed at Rolling Stone Press in Atlanta, Georgia in collaboration with Tamarind Master Printer Wayne Kline.
Wayne Kline is the founder and owner of Rolling Stone Press, a fine art lithograph studio and gallery, and adjunct lithography professor at the Atlanta College of Art.
Bloomfield Township, MI
15+ yrs experience asset management and credit analyst. Leadership and training skills. Audited returns, max residual, lease end and resale negotiator.
E-mail: cmcozzolino@msn.com
Boston, MA
10yrs exp structuring/modeling sophisticated lease/ loan products. Expert programmer: customized portfolio mgmt, securitization, economic capital & pricing applications. Available for contract work.
E-mail: lease_structuring@yahoo.com
Chicago, IL
MBA, 15+ years exp. Long history of success in maximizing residual position through outstanding negotiation skills & lease contract management. Third party re-marketing, forecasting etc...
email: jgambla@aol.com
Chicago, IL
2+ Years Exp. Asset Remarketing Transportation/ Medical/Cosmetic Equipment; Superior End Of Lease Negotiation Skills; Comprehensive Buyer Contacts; Available Immediately For Assignment
Email: Lonnie0168@comcast.net
Princeton, NJ
Asset management/credit/collection
20+ years experience in equipment financing. Last five years in Asset Management including remarketing, end of lease negotiations, equipment and market evaluations
E-mail: bgaffrey@earthlink.net
Sausalito, CA
Sr. Corp. officer, presently serving as consultant, fin. service background, M&A, fund raising, great workout expertise, references
Email: nywb@aol.com
Sonoma, CA
20+ years managing/ maximizing residual values, exp. computers/ hi-tech mfg. Excellent negotiation skills. Outstanding 3rd party contacts/buyers. Created deal winning structures-established residual values.
Email: dfeltman@yahoo.com
Wilton, CT
18 years exp. in IT and High Tech leasing industry. Residual forecasting, workouts, off-lease sales, mid-term restructures, auctions, all aspects of remarketing and equipment management.
Email: charrer@hotmail.com
These job-wanted ads are free.
To place a free "job wanted" ad here, please go to:
http://64.125.68.91/AL/LeasingNews/PostingForm.asp
For a full listing of all "job wanted" ads, please go to:
http://64.125.68.91/AL/LeasingNews/JobPostings.htm
* from Vineyard Brands:
http://www.vineyardbrands.com/default.asp?id=9
--------------------------------------------------------------

LeNature's closing may be permanent

By Richard Gazarik
TRIBUNE-REVIEW
www.pittsburglive.com
There are indications that the temporary production shutdown at bankrupt LeNature's Inc. in Latrobe could be permanent.
On Tuesday, the court-appointed custodian running the now-closed company will deliver his financial prognosis for the company to U.S. Bankruptcy Court Judge M. Bruce McCullough in Pittsburgh.
The news may not be good.
Debtwire, a New York financial news service, reported that Wachovia Bank, which made loans to LeNature's, told secured creditors in a private conference call that the company had no business to reorganize and liquidation was likely.

LeNature's is mired in $728 million in debt, according to bankruptcy records, that involves $278 million owed to banks, $150 million in junk bonds and $300 million in lease payments for equipment and other liabilities.
LeNature's was forced into Chapter 7 bankruptcy Nov. 1 by creditors who could have forced the company to liquidate its assets in order to pay its debts. Two days later, the case was converted to Chapter 11 to give the custodian a chance to reorganize the company.
On Wednesday, Pennsylvania CareerLink -- part of the state Department of Labor and Industry -- will hold a meeting for 238 laid-off workers at Founders Hall Amphitheater at Westmoreland County Community College in Youngwood. Officials could not be reached for comment because state offices were closed Friday.
The meeting is to explain options to workers who may file for unemployment compensation, seek job training, need help writing a resume or help finding another job.
Earlier this month, LeNature's notified the state of the pending shutdown as required by the Workers Adjustment and Retraining Notification Act. In the notice, the custodian said the shutdown "is expected to be permanent and affect the entire facility" if a buyer for the company can't be found.
Attorney Douglas Campbell, of Pittsburgh, who represents LeNature's, and Brenda Adrian, a spokeswoman for custodian Salvatore LoBiondo, could not be reached for comment yesterday.
Employees reporting for work Nov. 13 were sent home and told the plant would be shut down at least until Nov. 29. The Phoenix plant also was closed.
Earlier this month, LoBiondo reported to the bankruptcy court that the company's financial situation was precarious.
They discovered that former CEO Gregory Podlucky inflated sales figures for 2005 to $275 million when actual numbers were $32 million.
Richard Gazarik can be reached at rgazarik@tribweb.com or (724) 830-6292.

--------------------------------------------------------------

Leasing 102
Economic/Useful Life of Leased Assets
by Mr. Terry Winders, CLP
Both the Federal Income Tax requirements and the definition of a legal lease for Article 2A of the Uniform Commercial Code require that the maximum term of a commercial equipment lease is 80% of the economic/useful life (useful life) of the leased asset based on the "use" by the Lessee. Both of these requirements put the "burden of proof" on the Lessor, if the nature of the lease is challenged, in either tax court or bankruptcy court. Therefore, the question is, how does the Lessor prove useful life? What information exists in the file folder that can prove to a judge that the Lessor knew how the equipment was going to be used by the Lessee (at the conception of the lease) and what impact it had on the useful life?
Equipment Description and Use
It begins with a proper and complete description of the equipment. Remember, you only get back what you describe. Then, if possible, discover how the Lessee plans to use the equipment and a standard for that use. A standard is miles, rotations, shifts of use, hours of use, or something that establishes a loss of value or time of use that can be measured. Everything has a finite life and you must investigate the equipment with the same interest that you investigate the credit. You use the same skills that you use on credit investigations. Check with the vendor, the manufacturer, guide books, and secondary market sellers and compare the results based on expected use and then record your findings.
Useful life is not tied to fair market value. An example would be a computer that after three years of use has a limited purchase price but can still be used by some business somewhere to create a profit for over ten years making its useful life ten years. It is the total term of useful life that must be discovered and recorded in the lease folder.
Actual Useful Life
One note of caution, you can not use the Federal deprecation guidelines or in many cases GAAP depreciation because they are not a true test of the actual useful life. Useful life is unique to each piece of equipment based on that equipments use. This poses a difficult problem when obtaining leases from vendors where communication with the lessee may be limited. The excuse that your contact with the Lessee is limited is no excuse for tax or legal reasons so you must create a questionnaire on equipment use to accompany the credit application. This need not be elaborate but it must extract some measure of its use.
Many questionnaires combine a full description with questions for location of use and type of instillation, if required. Then some measure of its use or what is required for its operation. Are the operators trained, licensed, or just regular employees? On occasion the leasing program you establish with the vendor can have different factors based on "use". Then a statement from the vendor that they had questioned the lessee about the use in order to determine the correct equipment will give you information and support for your assumption of useful life.
A lot of equipment like data processing equipment is tied to technological change and therefore its true useful life is questionable but still some attempt must be made to determine your best guess (with some recorded facts) to show your attempt to prove its useful life.
Multiple Use
It stands to reason that if a leasing company wants to assume a residual then the equipment investigation to determine equipments value at lease termination gives you some information towards the goal of determining useful life. But once again useful life is not a value issue. Also if equipment is permanently installed you must control the space it resides in to have a multiple use to help prove that it has additional life pass its current use. If not, then only the lessee can use it and that means you have exceeded the 80% limit.
Accelerator Clause's
The courts are beginning to question why, as equipment Lessor's, we do not have accelerators or additional rent in our leases to accommodate the "over use" of the asset. For example, a Lessee indicates in the application that they intend to use the equipment only one shift a day, and the lease reflects this use. Then business improves and the equipment may be used two or three shifts a day and there is nothing in the lease that calls for increased rent…. Is the Lessor acting like a money lender? Or, are they interested in how there equipment is being used? Without concern for the equipment "use" and its impact on the lease you look like a money lender when you could have done something to protect the lease, this is another red flag that helps the court decide the true nature of the transaction.
If you are truly in equipment leasing you should be very concerned about the equipments "use" and that use needs to be recorded and acted upon to be considered a true lease.
Mr. Terry Winders has been a teacher, consultant, expert witness for the leasing industry for thirty years and can be reached at leaseconsulting@msn.com or 502-327-8666.
He invites your questions and queries.
--------------------------------------------------------------
### Press Release ###########################

Six Sentenced for $16MM CIT Leasing Fraud
BOSTON -- Six men were sentenced yesterday in federal court for their roles in a $16 million scheme to obtain fraudulent construction equipment loans from eleven commercial lenders.
United States Attorney Michael J. Sullivan and Sharon E. Ormsby, Acting Special Agent in Charge of the Federal Bureau of Investigation in New England, announced that U.S. Chief District Judge Mark L. Wolf sentenced the following defendants:
1) PETER V. MAGGIO, age 41, formerly of Wenham, Massachusetts, was sentenced to serve an additional 8 years and 2 months in prison, to be followed by 3 years of supervised release. He was also ordered to pay $15,731,860 in restitution. Today's sentence will be served consecutive to a 4 year and 3 month sentence MAGGIO is currently serving for a prior federal conviction. MAGGIO pleaded guilty on April 19, 2006, to Conspiracy, 4 counts of Wire Fraud, 3 counts of Mail Fraud and 3 counts of Interstate Transportation of Stolen Property.
2) MICHAEL O'NEILL, age 50, of 807 Cobblestone Court, West Chester, Pennsylvania, was sentenced to 1 year and 9 months in prison, followed by 3 years of supervised release. He was ordered to immediately begin payment of $1,813,820 in restitution to The CIT Group, O'NEIIL's former employer until he was terminated for his participation in the frauds. He was also ordered to pay a fine of $7,500. O'NEILL pleaded guilty on June 23, 2006, to Conspiracy, 2 counts of Wire Fraud and 1 count of Mail Fraud.
3) WILLIAM HOWE, age 65, of 53 Garfield Road, Melrose, Massachusetts, was sentenced to 1 year and 9 months in prison, to be followed by 3 years of supervised release. He was ordered to pay restitution in the amount of $4,282,200. HOWE pleaded guilty on June 23, 2006, to Conspiracy, 4 counts of Wire Fraud and 3 counts of Mail Fraud.
4) MATT HAVEY, age 35, of 130 Russell Street in Malden, Massachusetts, was sentenced to serve 1 year and 3 months in prison, to be followed by 3 years of supervised release. He was also ordered to pay $437,104 in restitution. HAVEY pleaded guilty on June 15, 2006, to Conspiracy, 1 count of Wire Fraud and 1 count of Mail Fraud.
5) LOUIS PARADISO, age 34, of 1739 Revere Beach Parkway in Everett, Massachusetts, was sentenced to 1 year and 1 day in prison, to be followed by 3 years of supervised release. He was ordered to pay $1,792,849 in restitution. PARADISO pleaded guilty on June 15, 2006, to Conspiracy, 3 counts of Wire Fraud and 1 count of Mail Fraud.
6) SEAN SACCO, age 32, of 21 Frost Avenue in Dorchester, Massachusetts, was sentenced to 2 years' probation. He was also ordered to pay restitution in the amount of $420,878. SACCO pleaded guilty on June 15, 2006, to Conspiracy and 1 count of Mail Fraud.
A seventh co-defendant, JEFFREY DEVEAU, was sentenced by a U.S. District Judge in Syracuse, New York on April 6, 2006, to 1 year and 1 day in prison, to be followed by 3 years of supervised release. He was ordered to pay $15,655,337 in restitution.
At the earlier plea hearings, the prosecutor told the Court that, had the case proceeded to trial, the Government's evidence would have proven that from January 1998 to May 2000, the seven defendants participated in a scheme using fraudulent loan applications, fictitious financial records and "straw" borrowers to obtain commercial loans for the purchase and lease of heavy duty equipment for MAGGIO's companies operating in Medford, Massachusetts under the names Earth Site & Utility Corporation and Earth Management & Equipment Co., Inc. The evidence at trial would have shown that DEVEAU, who operated a construction equipment dealership in Syracuse, helped MAGGIO obtain fraudulent loans for both real and fictitious purchases of construction equipment through Deveau Tractor, Inc.
The evidence would also have proven that O'NEILL, who had been the district sales manager for one of the commercial lenders, received kickbacks and helped get more than $4.5 million in the fraudulent loans approved by his company. Additional evidence at trial would have proven that HOWE, an accountant, prepared fictitious financial documents for submission to the lenders. The government's evidence would have included proof that SACCO, PARADISO and HAVEY were "straw" borrowers paid by MAGGIO to sign fraudulent loan documents in their names when they had neither the ability nor the intention to repay the loans.
The case was investigated by the Federal Bureau of Investigation. It was prosecuted by Assistant U.S. Attorney Victor A. Wild in Sullivan's Economic Crimes Unit.
### Press Release ###########################

Holiday Celebrations Open to all in the Industry
Leasing Association Events-Meetings Open to All
UAEL Pacific Area Event
Northern California Region
Holiday Networking Event

Thursday, November 30, 2006
5:30 - 8:00PM

Pyramid Alehouse
1410 Locust St.
Walnut Creek, CA 94596
925-946-1520
A GREAT opportunity to network with Industry peers after work,
so come join us and see how UAEL throws a holiday party.
REGISTER NOW:
$20.00 per attendee
(non-members welcome!)
Register Online at the UAEL website
Please contact John Haenselman, Belvedere Equipment Finance
for more information about the event.
Phone 650-616-1948 or Email jhaenselman@befcfinance.com .
---------------------------------------------------------------
UAEL Nort Atlantic Regional Event
UAEL Northeast Region
Networking Lunch

Friday, December 1, 2006
12:30 PM

Cafe Italiano Ristorante
14 Sylvan Avenue
Englewood Cliffs, NJ 07632
201-461-5041

A GREAT Opportunity to Network with Industry Peers - Join us for lunch!
REGISTER NOW:
This is a no host lunch
Register Online at the UAEL website
Please contact Gina Iacono, Westover Financial, Inc.
Phone 718-728-0684 or Email gina@westoverfinancial.com .
UAEL
78120 Calle Estado #201
La Quinta, CA 92253
---------------------------------------------------------------

UAEL Pacific Area Event
Southern California Region
Holiday Networking Event

Thursday, December 7, 2006
5:30 - 8:30PM

Café Tu Tu Tango
"The Block" in Orange
20 City Blvd West
Orange, CA 92868

A GREAT opportunity to network with industry peers after work, and we will be donating to the Fountain Valley #1 fire station so bring a unwrapped toy.
REGISTER NOW:
$25.00 per attendee
Register Online at the UAEL website
Also, enjoy a surprise guest as we all cheer this 2006 holiday season.
A special thank you to: ABCO Leasing, Mesa Leasing, Pacific Capital Bank,
PFF Bank & Trust for your contribution and support!
Please contact Barbara Griffith, Southern California Leasing Inc.
for more information about the event.
Phone 714-573-9804 or Email bgriffith@socalleasing.com .
To opt out of UAEL promotional emails please reply back to this email address info@uael.org
UAEL
78120 Calle Estado #201
La Quinta, CA 92253
---------------------------------------------------------------
UAEL North Central Regional Event
Chicago Christmas Party
"Mingle and Jingle"
Thursday, December 7, 2006
6:00 PM CST
Maggiano's
111 West Grand Avenue
Chicago, IL 60610
2nd floor - Rubesco Room
Maggiano's Chicago is a well know Italian Eatery located in Beautiful Downtown Chicago. Come and Join us "Mingle and Jingle" in this years holiday season. There will be a 50/50 raffle to benefit The United States Marine Corp, "Toys For Tots" in honor of all our brave men and women that have and are serving in our armed forces. Ticket will be sold for $1.00 each. This year we will also have "Door Prizes." Each attendee will receive (1) ticket/chance to win upon their arrival compliments of UAEL and our sponsors. This was well received in previous years and all we can say is, "Good Luck!!!!!"
Cost to Attend
$64.00 per attendee
(Non-members and guests are welcome)
Register Online Deadline is 12-4-2006
Menu

6:00 APPETIZER BUFFET
Mozzarella Marinara
Calamari Fritte
6:45 FIRST COURSE
Assortment of Freshly Baked Breads.
Maggiano's Salad
Chopped Salad
SECOND COURSE
Rigatoni, Marinara Sauce
Chicken & Spinach Manicotti, "Maggiano's Style"
Salmon, Lemon and Herbs
Oven Roasted Pork Loin, Portabella Mushroom Sauce
THIRD COURSE
Tiramisu
Apple Crostada
Freshly Ground Regular and Decaffeinated Coffee, Hot Tea
Selection and Iced Tea
I would like to take this opportunity to extend a Happy Holiday and a great big "Thank You" to all our sponsors on behalf of the "United Association of Equipment Leasing" for all your support over the years. Without your continued support, events such as this would not be possible. I look forward to seeing you all soon at the "4th Annual Midwest Holiday Party" to "Mingle and Jingle...
Happy Holidays,
Bill Griffith
Midwest Regional Director
Credit Manager PadcoLease Corp.
100 W. Monroe Street, Suite 706
Chicago, IL 60603-1901
Phone (800) 347-5884 Ext. 231
Direct Fax (312) 236-8424
List on Sponsors:
Swanson, Martin & Bell, LLP - Joseph P. Kincaid, Esq.
Padco Lease Corp.
Standard Professional Services, LLC
Law Offices of Jorge M. Abril
Premier Lease & Loan Services
Beacon Funding Corporation
ECS Financial Services
LeaseTeam
--------------------------------------------------------------------------
UAEL South Central Area Event
UAEL North Texas Region
Holiday Mixer

Thursday, December 7, 2006
6:00 PM - 9:00 PM

Terilli's Restaurant
(Private Room)
4226 Preston Road
Frisco, TX 75035
214-387-4600

A GREAT opportunity to network with musical entertainment, hors d'oeuvres, no host bar, complimentary valet parking, and a possible appearance by Santa Claus!
REGISTER NOW:
$20.00 per attendee
$15.00 for Guest / Spouse
(Non-members welcome)
Register Online at the UAEL website
Please contact Ron Mitchell, Heritage Pacific Leasing, for more info.
Phone 972-219-0223 ext. 31, 800-994-1672 ext. 31
or Email ronm@heritage-pacific.com
UAEL
78120 Calle Estado #201
La Quinta, CA 92253
--------------------------------------------------------------------------
Eastern Association of Equipment Lessors
Holiday Party, Monday, December 11, 2006
Warwick Hotel, 65 West 54 Street, New York, NY
For Information Contact the EAEL office at 212 809 1602
------------------------------------------------------------
UAEL Pacific Area Event
Northwestern Regional Holiday Networking Event

Wednesday, December 13, 2006
The event starts at 6:00 PM

C.J. Brennan's
201 Williams Ave. S
Renton, WA 98057

We will be doing a food drive for Northwest Harvest, so we want everyone to bring canned food.
The individual with the most canned food will be the lucky winner of a holiday prize!
REGISTER NOW:
$20.00 per attendee
$10.00 per attendee (With Food Donation)
Non-Members welcome!
Register Online at the UAEL website
Please contact Tara Aasand, Premier Lease & Loan Services,
for more information about the event.
Phone 425-649-6077 or Email taasand@plls.com .
UAEL
78120 Calle Estado #201
La Quinta, CA 92253
--------------------------------------------------------------

Classified Ads---Help Wanted
Controller

Requirements:
- BA/BS in Finance or Accounting
- CPA Required
- Current working knowledge of Tax Laws
- Prior leasing experience preferred
- Proficient with Great Plains and Excel
- Strength in LeasePlus and Access are preferred.
About us: Nationwide Funding, LLC is a leading provider of equipment financing and leasing solutions for businesses nationwide, and the vendors who serve them. With its prime location in Southern California and offices in Chicago's downtown financial district, Nationwide Funding, LLC has been able to secure specialized credit facilities and create funding partnerships with a wide variety of financial institutions.


Funding Specialist


Funding Specialist, Irvine, Ca
Small ticket exp., min 2+ years with plenty of energy. Bachelor's Degree preferably in Finance or other Business discipline.
Contact: pstuber@nationwidefunding.com
About Us: Nationwide Funding, L.L.C. is a financial services company offering equipment financing and business capital to small business owners and municipalities in all 50 states.


Sales

Sales Reps
Location open. Requires previous leasing sales experience. Unequaled commissions. For full description & contact info click here.



Niche Market Sales Reps.
Not limited to, but includes:
- Dry cleaning
- Phone systems for small business
- Dental office
- Physicians office
- Laundry/dry cleaning equipment
Send your resume to sclerc@highlinecapital.com EOE.
--------------------------------------------------------------

--------------------------------------------------------------

Lease a "Help Wanted" Ad
Reach more readers at a lower price than any other equipment leasing internet publication. These are experienced individuals, well-informed as they read Leasing News to keep up-to-date.
Christmas Special
31 Days
(Extra ten days)
You can't beat this low "lease rate" and reach more of the audience you are seeking than at Leasing News!!!
Help Wanted Ad Pricing Criteria
$500.00 minimum for four lines
$75.00 each additional line
- Design work to help create the ad is free.

- Description of your company is free
(company description cannot have more lines than your ad)
Cost Per Day (based on ad price)
$500.00 - $16.13 per day
$600.00 - $19.35 per day
$700.00 - $22.58 per day
$800.00 - $25.81 per day
$900.00 - $29.03 per day

All rates are subject to change.
Three month, Six month and One year contracts available with a discount.
To see sample size of ads, please go here
If you prefer a " non-employment" ad, we sell a banner ad, please click here
for pricing.
--------------------------------------------------------------

Top Stories----November 20-25
Here are the top ten stories most "opened" by readers last week.
(1) Leasing #102--by Mr. Terry Winders
"Personal Guarantees"
http://www.leasingnews.org/archives/November%202006/11-20-06.htm#102
(2) "Operating Leases
—A Broker's Forgotten Friend"
Sales make it Happen---by Reg Lindholm
http://www.leasingnews.org/archives/November%202006/11-22-06.htm#sales
(3) GE Announces Exec. Appointments
http://www.leasingnews.org/archives/November%202006/11-22-06.htm#gec
(4) Note: "Add me" and "Contact Me"
http://www.leasingnews.org/archives/November%202006/11-20-06.htm#note
(5) Super Broker List
http://www.leasingnews.org/archives/November%202006/11-20-06.htm#sblist
(6) Liberty acquires First Penn Leasing
http://www.leasingnews.org/archives/November%202006/11-22-06.htm#lfg
(7) Cartoon---"Bad Dog"
http://www.leasingnews.org/archives/November%202006/11-22-06.htm#toon
(8) Story Credit Lessor Up-Date
http://www.leasingnews.org/archives/November%202006/11-20-06.htm#story
(9) USXL Closes $325MM Term Securitization
http://www.leasingnews.org/archives/November%202006/11-22-06.htm#usxl
(10) Creekridge Capital w/M&I Bank
http://www.leasingnews.org/archives/November%202006/11-22-06.htm#creek
--------------------------------------------------------------

--------------------------------------------------------------

Wirth Business Credit provides capital for companies that need to lease equipment
hwww.gbj.com
When entrepreneur Debbie Haas needed $30,000 of industrial restaurant equipment for the business she's opening in Port St. Lucie, Fla., her Atlanta-based supplier suggested she turn to the Gwinnett branch of Wirth Business Credit to finance a lease.
"Wirth completed the whole transaction in two days," says Haas, who is opening a Dinner A'fare franchise that provides people with prepared meals they simply heat up at home. "It was amazingly quick. I couldn't be happier."
Neither could Wirth's local operator Tim McLean, who recently became the fourth franchisee of a system focused on helping small-business owners finance their growth. The veteran businessman provides equipment leasing for entrepreneurs such as Haas that enables them to finance a vast array of items including telephone systems, office equipment and furniture, computers, restaurant equipment, landscaping machines - just about anything in the range of $5,000 to $300,000. Leases range from 24 to 60 months in length.
"We provide an alternate source of financing," McLean says. "We do a lot of things that institutional finance won't do. For our clients, leasing involves a relatively simple application process, a low down payment, and no collateral other than the equipment." He adds that clients are also able to buy the equipment when their leases expire.
According to the Small Business Administration, 80 percent of businesses lease equipment - a figure representing an annual U.S. volume of $280 billion.
McLean says Wirth's leasing programs provide several major benefits. They help businesses:
Maintain cash availability. Leases require little cash up front and allow entrepreneurs to invest in their businesses rather than in depreciable assets.
Preserve borrowing capacity. Leasing doesn't limit future ability to borrow and Wirth does not require security interests in business or personal assets.
Hedge against inflation. Leases are fixed-rate products, removing concerns relating to rising interest rates.
Leasing finance providers including Wirth Business Credit are also a plus for product and equipment vendors - especially those without their own in-house financing department. "I'd say 75 percent of our business is from financing," says Chuck Stephens, general manager of Jordan Outdoor Power Equipment in Duluth. "Without people like Tim (McLean), we'd be out of business."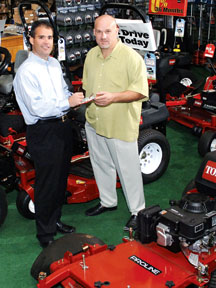 For his part, McLean finds his latest venture a perfect fit for this stage of his career. He currently owns an antique shop in Cumming and has operated several restaurants over the years. He has also worked as a sales manager for Performance Food Group, based in Oakwood, Ga.
"I know what small businesses need with financing," he says, "especially leasing." McLean decided to open a Wirth Business Credit franchise because of the training and back-office support it offers him, and the financing strength it provides for his clients. Wirth Business Credit is a unit of Winmark Corporation, a Minneapolis-based firm that runs other franchises including Play It Again Sports, Once Upon a Child, Plato's Closet, and Music Go Round.
"I enjoy helping small business succeed," he says. "It's very satisfying life when you see people start their own businesses. They put in a lot of hard work and overcome challenges - and financing is one of them."
John Morgan, Winmark CEO
http://www.leasingnews.org/archives/July%202006/07-26-06.htm#profit
--------------------------------------------------------------
### Press Release ###########################

Fitch Rates CIT Equipment Collateral 2006-VT2
CHICAGO---Fitch has assigned ratings to the CIT Equipment Collateral 2006-VT2 (CITEC 2006-VT2) notes as follows:
$258,000,000 class A-1 notes 'F1+';
$144,000,000 class A-2 notes 'AAA';
$180,000,000 class A-3 notes 'AAA';
$100,524,000 class A-4 notes 'AAA';
$16,689,000 class B notes 'AA';
$20,397,000 class C notes 'A';
$22,264,116 class D notes 'BBB'.
The underlying pool of contracts backing the CITEC 2006-VT2 notes consists of equipment lease contracts on new and used technology and other small-ticket equipment originated or acquired by the commercial business units of the Specialty Finance segment of CIT Group Inc (CIT). The initial contract principal balance is approximately $741.9 million. The pool contains 51,828 contracts with major equipment types being computers, telecommunications and office equipment.
The CITEC 2006-VT2 ratings are based on the following:
Historical delinquency and loss performance of the selected portfolios;
Origination, underwriting and servicing experience and procedures of CIT;
The role of CIT Financial USA, Inc. as servicer;
Collateral pool characteristics;
Available credit enhancement for the class A, B, C and D notes;
Sound legal and cash flow structure of the transaction.
The class A ratings reflect credit enhancement provided by the subordination of the class B (2.25%), C (2.75%), and D notes (3.00%) and the initial cash collateral account (6.25%). The class B rating reflects credit enhancement provided by the subordination of the class C and D notes, and the cash collateral account. The class C rating reflects credit enhancement provided by the subordination of the class D notes and the cash collateral account. The class D rating reflects credit enhancement provided by the cash collateral account. The ratings address the payment of interest and principal in accordance with the terms of the legal documents.
In determining credit enhancement levels, Fitch took into consideration performance of CIT's past securitizations, as well as its total managed portfolio. Through this analysis, Fitch was able to isolate the historical performance of collateral types relevant to the CITEC 2006-VT2 transaction, while taking into account CIT's low level of annualized losses. Ultimately, credit enhancement levels were sized to withstand multiples of historical losses at each rating level over the life of the transaction.
CIT Group Inc. is a leading diversified finance company engaging in vendor, equipment, commercial, consumer and structured financing, and leasing activities. CIT is rated 'A' by Fitch's Financial Institutions group.
Fitch's rating definitions and the terms of use of such ratings are available on the agency's public site, www.fitchratings.com. Published ratings, criteria and methodologies are available from this site, at all times. Fitch's code of conduct, confidentiality, conflicts of interest, affiliate firewall, compliance and other relevant policies and procedures are also available from the 'Code of Conduct' section of this site.
Contact:
Fitch Ratings
Joseph Tuczak, +1-312-368-2083 (Chicago)
Du Trieu, +1-312-368-2091 (Chicago)
Peter Manofsky +1-312-368-2068 (Chicago)
Media Relations:
Sandro Scenga, +1-212-908-0278 (New York)
### Press Release ###########################
--------------------------------------------------------------

News Briefs----
Cities race for wireless status
http://www.siliconvalley.com/mld/siliconvalley/16104627.htm
Retailers have a good start to the holiday season, but will momentum continue?
http://www.signonsandiego.com/news/business/20061126-1314-holidayshopping.html
The day may be coming when cell phones will replace credit cards, cash and checks
http://www.mercurynews.com/mld/mercurynews/business/16101773.htm
Spyware Operators Settles With FTC
http://www.internetnews.com/bus-news/article.php/3645466
Seattle Rain Record may break 1933 High
http://www.nytimes.com/2006/11/27/us/27rain.html?hp&ex=1164690000&en=
0e3f8ac0d3eaa20f&ei=5094&partner=homepage
---------------------------------------------------------------


You May have Missed---
Gender Shopping Myth Dispelled? Men Actually Report Spending More for the Holidays, Visa USA Survey Finds
http://www.prnewswire.com/cgi-bin/stories.pl?ACCT=104&STORY=/www/story/
11-21-2006/0004478784&EDATE=
---------------------------------------------------------------

Sports Briefs----
Shanahan planning to bench Plummer, go with rookie QB
http://www.denverpost.com/sports/ci_4722797
New life for Rams
http://www.stltoday.com/stltoday/sports/stories.nsf/rams/story/
6330DE24282E60D78625723300138B39?OpenDocument
http://www.sfgate.com/cgi-bin/article.cgi?f=/c/a/2006/11/27/49ERS.TMP
Romo's in tune with T.O.
http://www.dallasnews.com/sharedcontent/dws/spt/football/nfl/stories/
112506dnspomosley.1e7c0b58.html
LT carries Chargers past Raiders 21-14
http://www.mercurynews.com/mld/mercurynews/sports/football/nfl/
oakland_raiders/16103893.htm
Playing Catch and Release, Giants Fail Again
http://www.nytimes.com/2006/11/27/sports/football/27giants.html?ref=sports
Sigh of Relief After Pennington Shakes Off Hard Hit
http://www.nytimes.com/2006/11/27/sports/football/27jets.html
Bears come up short
http://www.chicagotribune.com/sports/football/bears/cs-061126bearsgamer,
1,2664304.story?coll=chi-news-hed
http://www.boston.com/sports/football/patriots/articles/2006/11/26/
patriots_make_five_turnovers_but_somehow_claw_a_victory_from_chicago/
4th loss in a row puts Falcons below .500
http://www.ajc.com/sports/content/sports/falcons/stories/2006/11/26/1127falcons.html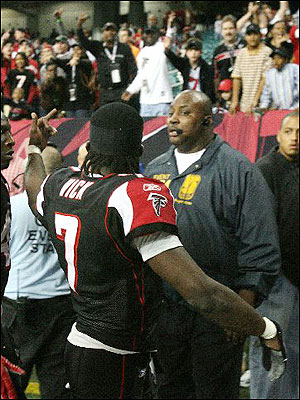 Michael Vick let his fingers do the talking to jeering fans as he left the Georgia Dome field Sunday.
Vick apologizes for obscene gesture
http://www.ajc.com/sports/content/sports/falcons/stories/
2006/11/26/1127gesture.html
----------------------------------------------------------------


California Nuts Briefs---
Gov. Arnold Schwarzenegger of California talks about his vision of being a Republican with Tim Russert of NBC's "Meet the Press."
http://www.msnbc.msn.com/id/15850729/
[headlines]
----------------------------------------------------------------


"Gimme that Wine"
Winemaker Robert Keenan passes away
http://www.sfgate.com/cgi-bin/article.cgi?f=/c/a/2006/11/26/
MNKEENANRO22.DTL&hw=wine&sn=007&sc=150
Sommelier Shortage---Eric Asimov
http://www.nytimes.com/2006/11/22/dining/22somm.html?_r=1&ref=dining&oref=slogin
#1 RATED California Cabernet
Wine Spectator 11/15/2006
Beringer Vineyards
2002 Napa Valley Cabernet Sauvignon
('03 Araujo 91pts, '03 Dalla Valle 91pts, '03 Colgin 90pts, '03 Hundred Acre 89pts, '03 Screaming Eagle 88pts)
[92 WS] $35 CalWine Price: $29.95
"Rich extracted and layered with dark roast espresso. Exotic toffee, brown sugar and mocha join rich blueberry and blackberry flavors. Intense and very ripe, pushing the envelope at all points. Fans of this style will love it. Drink now through 2009."
5100 cases made.
James Laube Nov 15, 2006
<http://www.nexternal.com/calwine/Product2651>
Beringer Vineyards is the oldest continuously operating winery in the Napa Valley . In 2001, the estate was placed on the National Register for Historic Places as a Historic District. Jacob Beringer's foresight in recognizing the quality and potential of grape growing in the Napa Valley is part of the living heritage of Beringer Vineyards . With the present use of state-of-the-art technology applied to age-old traditions, Beringer Vineyards wines continue to reflect a single-minded dedication to the making of memorable wines from great Napa Valley vineyards.
Wine Prices by vintage
http://www.winezap.com
http://www.wine-searcher.com/
US/International Wine Events
http://www.localwineevents.com/
Winery Atlas
http://www.carterhouse.com/atlas/\
Leasing News Wine & Spirits Page
http://two.leasingnews.org/Recommendations/wnensprts.htm
The London International Vintners Exchange (Liv-ex)
is an electronic exchange for fine wine.
http://www.liv-ex.com/
----------------------------------------------------------------

Calendar Events This Day
Leftovers Day
[headlines]
----------------------------------------------------------------

49.6% of US residents live in Eastern time zone, 29.3% live in the Central time zone, 5.3% live in the Mountain time zone, 15.0% live in the Pacific time zone and .8% live in any other time zone.
----------------------------------------------------------------

Today's Top Event in History
1965-The Pentagon informs President Johnson that if General Westmoreland is to conduct the major sweep operations necessary to destroy enemy forces during the coming year, U.S. troop strength should be increased from 120,000 to 400,000 men. In Washington, nearly 35,000 war protestors circle the White House for two hours before moving on to the Washington Monument. Dr. Benjamin Spock, Coretta Scott King, and activist Norman Thomas were among those who gave speeches.
[headlines]
----------------------------------------------------------------

This Day in American History
1676-The first fire of serious consequences record when there " burned down to the ground 46 dwelling houses, besides other buildings, meeting houses, etc." in Boston, MA. Three years later on August 8,1679, another Boston fire destroyed 80 dwellings and 70 commercial buildings, the damage amounting to almost $1 million.
1703-Birthday of James Delancey, England. He presided over the 1733 libel suit brought by Governor William Cosby against journalist Peter Zenger. This case is a major landmark in establishing freedom of the press in America.
http://memory.loc.gov/ammem/today/nov27.html
1746- Birthday of Robert B. Livingston was a very respected member of the Continental Congress, farmer, diplomat, and jurist, who was born in New York City, New York. It was Livingston who administered the oath of office to President George Washington in 1798. He was a lawyer and a member of the Continental Congress from 1775 to 1777 and from 1779 to 1781. During his first term he was also one of five members of the committee that drew up the Declaration of Independence. He was chancellor of New York State from 1777 to 1801, U.S. secretary of foreign affairs under the Articles of Confederation from 1781 to 1783, and minister to France from 1801 to 1804. In the last-named post he successfully negotiated the Louisiana Purchase by the United States. He financed the American engineer Robert Fulton in the building of his steamboat and for some time held a monopoly on Hudson River navigation.
(lower part of: http://memory.loc.gov/ammem/today/nov27.html )
1755 -Land for the first Jewish settlement in America was purchased by Joseph Salvador, who bought 10,000 acres near Fort Ninety_Six, in the southern part of the Carolina Colony.
http://www.ajhs.org/publications/chapters/chapter.cfm?documentID=253
http://users.commkey.net/fussichen/otdJews.htm
1841—Thirty-five Amistad survivors return to Africa
http://www.sun.ac.za/forlang/bergman/real/amistad/history/msp/t_amistad.htm
http://www.law.umkc.edu/faculty/projects/ftrials/amistad/AMI_ACT.HTM
http://memory.loc.gov/ammem/today/mar09.html
http://afgen.com/slaveshp.html
http://www.spartacus.schoolnet.co.uk/USASamistad.htm
http://www2.h-net.msu.edu/mmreviews/showrev.cgi?path=49
http://www.cc.oberlin.edu/~EOG/Kinson/Kinson.html
1853-Birthday of Bat Masterson, Old American West gambler, saloonkeeper, lawman and news writer/editor. A popular television show from 1958 to 1961, 107 episodes in black and white, starring Gene Barry. My father Lawrence Menkin wrote several of the episodes. While it is a known fact he was quite the gentlemen, it was never promoted that he was a Canadian, born at Henryville, Quebec, Canada; died Oct 25, 1921, at New York, NY.
1863-Confederate cavalry raider John Hunt Morgan and several of his men break out of the Ohio state prison and escape safely to the South. Morgan became a hero in the South when he made four daring raids on northern-held territory in 1862 and 1863. Though these raids were of limited strategic value, they boosted Southern morale and kept thousands of Federal troops occupied trying to hunt down Morgan. He and his men also robbed banks, farm houses, and were considered "bandits" by the North. On his last raid, however, his reach exceeded his grasp. He took a large band and headed into Kentucky, Indiana, and Ohio. After riding past Cincinnati, Morgan and his men tried to cross the Ohio River back into Kentucky, but they were surprised and routed by a larger Federal force at Buffington Island, Ohio. With his escape blocked, Morgan turned into northeastern Ohio but was finally surrounded by pursuing Yankee cavalry at Salineville on July 26, 1863. Below the cell was a crawl space for ventilation and they tunneled to the outside and journeyed safely to Confederate territory. Morgan returned to his cavalry activities in Tennessee after his escape. At Greeneville, Tennessee, in 1864, Morgan fell victim to the same kind of raid that he so often conducted and Yankee cavalry captured his troops, Morgan fatally wounded in the "final raid."
1868-Without bothering to identify the village or do any reconnaissance, Lieutenant Colonel George Armstrong Custer leads an early morning attack on a band of peaceful Cheyenne living with Chief Black Kettle. Convicted of desertion and mistreatment of soldiers earlier that year in a military court, the government had suspended Custer from rank and command for one year. Ten months into his punishment, in September 1868, General Philip Sheridan reinstated Custer to lead a campaign against Cheyenne Indians who had been making raids in Kansas and Oklahoma that summer. Sheridan was frustrated by the inability of his other officers to find and engage the enemy, and despite his poor record and unpopularity with the men of the 7th Cavalry, Custer was a good fighter.
Sheridan determined that a campaign in winter might prove more effective, since the Indians could be caught off guard while in their permanent camps. On November 26, Custer located a large village of Cheyenne encamped near the Washita River, just outside of present-day Cheyenne, Oklahoma. Custer did not attempt to identify which group of Cheyenne was in the village, or to make even a cursory reconnaissance of the situation. Had he done so, Custer would have discovered that they were peaceful people and the village was on reservation soil, where the commander of Fort Cobb had guaranteed them safety. There was even a white flag flying from one of the main dwellings, indicating that the tribe was actively avoiding conflict.
Having surrounded the village the night before, at dawn Custer called for the regimental band to play "Garry Owen," which signaled for four columns of soldiers to charge into the sleeping village. Outnumbered and caught unaware, scores of Cheyenne were killed in the first 15 minutes of the "battle," though a small number of the warriors managed to escape to the trees and return fire. Within a few hours, the village was destroyed--the soldiers had killed 103 Cheyenne, including the peaceful Black Kettle and many women and children.
Hailed as the first substantial American victory in the Indian wars, the Battle of the Washita helped to restore Custer's reputation and succeeded in persuading many Cheyenne to move to the reservation. However, Custer's habit of boldly charging Indian encampments of unknown strength would eventually lead him to his death at the Battle of the Little Bighorn.
1874-Birthday of American historian Charles Austin Beard who wrote many books in collaboration with his wife, Mary R. Beard, was born near Knightstown, IN. He died at New Haven, CT, Sept 1,1948.
1888- Edward Bellamy's book "Looking Backwards" was published, a novel about a futuristic society in which each citizen was given a year "credit card." It was issued by the government and entitled the holder to all necessary goods and services. In 1900, several U. S. hotels issued " cards of credit" to their best customers. by 1914, department stores and chains of gasoline stations had entered the picture. Diners Club introduced the first " restaurant card" in 1950. In 1951, the " bank card, " today's most popular type of card, was introduced by the Franklin National Bank of New York.
1890-The first signal box for San Francisco Police Department goes into operation. The Fire Department had set up a telegraph communication in 1877.
http://www.sfmuseum.org/sffd/alarm.html
1904 Eddie South Birthday
http://www.manumba.com/E/Eddie_South.html
1898 - The "Portland" storm raged across New England producing gale force winds along the coast and heavy snow inland. A foot of snow blanketed Boston MA, and 27 inches fell at New London CT. Winds at Boston gusted to 72 mph, and wind gusts to 98 mph were estimated at Block Island RI. A passenger ship, the S. S. Portland, sank off Cape Cod with the loss of all 191 persons aboard, and Boston Harbor was filled with wrecked ships. The storm wrecked 56 vessels resulting in a total of 456 casualties.
http://www.redhotjazz.com/alabamians.html
http://musicfinder.yahoo.com/shop?d=hc&id=1800121849&cf=11&intl=us
1907-Birthday of arranger/pianist Eddie Wilcox, Method, NC
http://www.allmusic.com/cg/amg.dll?p=amg&sql=1EDDIE|WILCOX
1909- birthday of James Agee, poet, novelist (Let Us Now Praise Famous Men), scriptwriter (A Death in the Family), born at Knoxville, TN. Died at New York, NY, May 16, 1955.
1910 - Pennsylvania Station, or Penn Station, was opened to traffic. In those days of the early 1900s, the 28-acre train and transportation facility was the largest railway station in the world. Penn Station is still the busiest Amtrak rail station in the U.S. There is a plan to turn the James A. Farley U.S. Post Office Building (across the street from the original Penn Station) into a new Pennsylvania Station, in the great public building style of its predecessor. Not so coincidentally, the post office was designed by the architectural firm which designed the original Penn Station. 1907-Birthday of arranger/pianist Eddie Wilcox, Method, NC
http://www.allmusic.com/cg/amg.dll?p=amg&sql=1EDDIE|WILCOX
1924-The first Macy's Thanksgiving Day Parade was held in New York City along a two-mile stretch of Broadway from Central Park West to Herald Square. the event was intended to boost holiday sales and bring customers to R.H. Macy's recently expanded flagship store at Herald Square.
1926 - Louis 'Satchmo' Armstrong recorded "You Made Me Love You" on Okeh Records
1933- Billie Holiday, 17, debuts with Benny Goodman on " Your Mother's Son-In-Law", Columbia 2856
1938 - The second heavy snow in three days dropped up to 14 inches in New York and 12 inches in New Jersey
1939-First Bob Eberly-Helen O'Connell duet, " Do It Again".
1940 - Bruce Lee (Lee Jun Fan) (actor: martial arts cult star; The Green Hornet, Game of Death, Return of the Dragon, Fists of Fury, Enter the Dragon, Chinese Connection, Marlowe; subject of the movie, Dragon; died July 20, 1973)
1942-Birthday of American musician and songwriter Jimi Hendrix was born at Seattle, WA. One of the greatest rock guitarists in history, he revolutionized the guitar sound with heavy use of feedback and incredible fretwork. His success first came in England, then in the US after his appearance at the Monterey Pop Festival (1967). His albums included Are You Experienced?, Electric Ladyland, Axis: Bold as Love (all 1968) and Band of Gypsys (1970). He died Sept 18, 1970, at London, England.
1945-Birthday of trumpet player Randy Brecker, Philadelphia, PA
http://www.randybrecker.com/ http://shopping.yahoo.com/shop?d=product&id=
1927044601&clink=dmmu.artist&a=b
http://www.amazon.com/exec/obidos/ASIN/0793527953/inktomi-bkasin-20/
002-5410374-3716044
1947-Birthday of drummer Robert Conti, Brooklyn, NY
http://www.robertconti.com/photogal/80s/J-Ville%20Jazz%20Festival%201986/
Jax%20Jazz%2086.htm
1947 --Triple Crown winner Ted Williams (.343, 32,162) is edged out by the Yankee Clipper Joe DiMaggio (.315, 20, 97) for the American League MVP by one point.
1950---Top Hits
Harbor Lights - The Sammy Kaye Orchestra (vocal: Tony Alamo)
Nevertheless - Jack Denny
All My Love - Patti Page
I'm Moving On - Hank Snow
1950 - A moderately severe freeze occurred in Florida with Tallahassee reaching 20 degrees, a record for November
1951 - The first black horse-racing jockey was licensed in Florida. He was Hosea Richardson and was sixteen years old at the time.
1951-"The Dinah Shore Show" premiered on TV. Dinah Shore hosted a successful 15-minute musical show until 1957 and then an hour variety show from 1957 to 1962, one of the few females to have done so. The music show was sponsored by Chevrolet( and was officially known as "The Dinah Shore Chevy Show") and featured a backup ground called the Skylarks. Shore also starred in specials and hosted a variety series with a guest host filling in for her every fourth week. She later moved on to hosting a talk show.
1958---Top Hits
It's Only Make Believe - Conway Twitty
To Know Him, is to Love Him - The Teddy Bears
One Night - Elvis Presley
City Lights - Ray Price
1960- right wing Gordie Howe of the Detroit Red Wings scored the 1,000 point o f his NHL career, tallying an assist in a Red Wings victory over the Toronto Maple Leafs. Howe finished his 26 year
career with 1,850 points.
1965-The Pentagon informs President Johnson that if General Westmoreland is to conduct the major sweep operations necessary to destroy enemy forces during the coming year, U.S. troop strength should be increased from 120,000 to 400,000 men. In Washington, nearly 35,000 war protestors circle the White House for two hours before moving on to the Washington Monument. Dr. Benjamin Spock, Coretta Scott King, and activist Norman Thomas were among those who gave speeches.
1965-The Lovin' Spoonful's "You Didn't Have To Be So Nice" is released.
1965-First Acid Test.The first Acid Test was staged by the Merry Pranksters at Ken Babbs' book store in Santa Cruz. It featured a light show and projections of some of the forty hours of film shot on the 1964 bus excursion (Augustus Owlsley Stanley III had been introduced to Ken Kesey in September 1965.
1966---Top Hits
You Keep Me Hangin' On - The Supremes
Good Vibrations - The Beach Boys
Devil with a Blue Dress On & Good Golly Miss Molly - Mitch Ryder & The Detroit Wheels
Somebody Like Me - Eddy Arnold
1966 - "Winchester Cathedral" starts to climb the charts; The New Vaudeville Band. Composer Geoff Stephens sings the song through a megaphone, giving it a 1930s vaudeville style.
1967 - The Association, a California group, earned a gold record for the hit "Never My Love", on Warner Bros. Records. The group also earned worldwide fame for other hits including "Windy", "Cherish" and "Along Comes Mary".
1967 - The Beatles released their "Magical Mystery Tour." One side contains the songs from the movie of the same name, ("I Am the Walrus," "Fool on the Hill," "Blue Jay Way," & "Your Mother Should Know") The other side features singles previously unavailable on a long player ("Penny Lane," "Strawberry Fields Forever," "Hello Goodbye," "Baby You're A Rich Man," & "All You Need Is Love") On December 8, EMI will release a double-EP containing only the songs from the film. Both the American LP and the British EP are big sellers, the film however, is not.
1968-Steppenwolf's eponymous first album, which includes its biggest hits, "Born to Be Wild" and "Magic Carpet Ride," is certified gold.
1969 - The Rolling Stones used portions of their stint at New York's Madison Square Garden this day for their live album "Get Yer Ya-Yas Out" (released in 1970). Tracks on the album: "Jumpin' Jack Flash", "Carol", "Stray Cat Blues", "Love in Vain", "Midnight Rambler", "Sympathy for the Devil", "Live with Me", "Little Queenie", "Honky Tonk Women" and "Street Fighting Man".
1970-George Harrison releases his solo album "All Things Must Pass," produced by Phil Spector and featuring lots of noted players like Eric Clapton, Dave Mason, Ringo Starr and Jim Gordon.
1973 - No. 1 Billboard Pop Hit: "Top of the World," Carpenters. Richard Carpenter writes the song with John Bettis, who also writes the lyrics for such Carpenter hits as "Goodbye to Love" and "Yesterday Once More."
1974---Top Hits
I Can Help - Billy Swan
Do It ('Til You're Satisfied) - B.T. Express
Longfellow Serenade - Neil Diamond
Trouble in Paradise - Loretta Lynn
1974-Carl Douglas' "Kung Fu Fighting," which turns gold on this date. He tries a follow-up with "Dance the Kung Fu."
1976-Queen's "Somebody To Love" is released.
1977 - It was a big day for sweat hog Vinnie Barbarino, formerly of TV's "Welcome Back Kotter". His new character, Tony Manero, set box office records as "Saturday Night Fever" made a superstar of John Travolta. The soundtrack album, by the Bee Gees and others, sold more than 11 million copies.
1978- Dan White shot and killed Mayor George Moscone and also Harvey Milk , San Francisco City Supervisor. A candlelight vigil was held at Market and Castro. Joan Baez (in person) began singing AMAZING GRACE. Tears flowed freely as the crowd joined in. Chills ran down our collective spine.
1982 - The #1 song in the U.S. was former Commodore Lionel Richie's "Truly". The love song stayed at the top of the charts for two weeks. The song was his first solo hit and followed "Endless Love", a duet with Diana Ross (1981).
Other top 1982---Top Hits
Gloria - Laura Branigan
Mickey - Toni Basil
It Ain't Easy Bein' Easy - Janie Fricke
1986 - Lou Holtz signed a five-year pact to lead the Fighting Irish of Notre Dame. Holtz left the head coaching job with the Golden Gophers of the University of Minnesota to take the new position.
1986 - No. 1 Billboard Pop Hit: "You Give Love a Bad Name," Bon Jovi.
1989- Unseasonably warm weather prevailed ahead of the cold front. Twenty-three cities from the Gulf coast to the Ohio Valley and the Mid Mississippi Valley reported record high temperatures for the date, including Saint Louis MO with a reading of 76 degrees.
1990---Top Hits
Love Takes Time - Mariah Carey
More Than Words Can Say - Alias
I'm Your Baby Tonight - Whitney Houston
Come Next Monday - K.T. Oslin
1991-Both houses of Congress approved legislation authorizing $70 billion in additional borrowing authority for the Federal Deposit Insurance Corporation (FDIC) because of the record number of savings and loan failures.
1995- Prodigy announced it would open an Internet shopping outpost called the "Virtual Mall," including offerings from J.C. Penney, Lands End, Hammacher Schlemmer, and Sears, Roebuck & Co. The new system promised to include "personal sales assistant" software to make recommendations based on users' profiles. It did not catch on, primarily because the sites were set up for fast connections and the majority of users were still at 28,000 baud speed.
1995 - "One Sweet Day," Mariah Carey's duet with Boyz II Men enters the Billboard Hot 100 Singles Chart at No. 1. Carey becomes the first recording artist in history to have two consecutive singles debut at No. 1 following "Fantasy," also from her No. 1 album "Daydream."
1966- In highest-scoring NFL game, Washington Redskins defeat New York Giants 72-41. The Redskins' also establish a new record for points by one team in a regular season game.
2000 - The Beatles return to No. 1 on the Billboard 200 with a collection of their 27 chart-topping hits, appropriately titled "1." The collection, which debuts at No. 1 in the U.K. a week earlier, sells nearly 595,000 copies in the U.S. during its first week.
--------------------------------------------------------------

American Football Poem
http://home.comcast.net/~midimusic2000/mp3/big12/
Oklahoma__Boomer_Sooner.mp3
http://home.comcast.net/~midimusic2000/mp3/big12/
Oklahoma__Nine_and_Swing.mp3
Boomer Sooner, Boomer Sooner,
Boomer Sooner, Boomer Sooner,
Boomer Sooner, Boomer Sooner,
Boomer Sooner, O-K-U.
Oklahoma, Oklahoma,
Oklahoma, Oklahoma,
Oklahoma, Oklahoma,
Oklahoma, O-K-U.
I'm a Sooner born and a Sooner bred
And when I die I'll be a Sooner dead!
Rah Oklahoma, Rah Oklahoma,
Rah Oklahoma, O-K-U!
Arthur M. Alden, a student of history and
physiology and the son of a Norman
jeweler, wrote the lyrics to the Oklahoma's
"Boomer Sooner" in 1905. He borrowed the
tune from Yale University's "Boola Boola,"
but improvised the words. A year later, an
addition was made to the song that was
roughly based on North Carolina 's "Tarheels are Great."
The combination of these two forms Oklahoma's battle
song as Sooners know it today.
[First Verse]
From the hillsides, from the prairies,
Comes a song that never wearies
Loyalty that never varies.
Oklahoma, hail!
Ivied walls and stately towers,
Campus fair 'neath sun or showers,
All the love we bear thee flowers
And will never fail.
[Chorus]
Shout the chorus loudly
Bear the emblem proudly
Army vast, we march at last
And lift our voices stoutly.
On we march for Alma Mater,
On we march nor ever falter
Singing loud, each son and daughter,
Oklahoma, hail!
[Second Verse]
From thy gracious font of learning,
We will quench our thirst so burning
Kindly Mother to thee turning.
Oklahoma, hail!
Wisdom brought from out the ages,
Truth of saints and laws of sages
Ours to take from glitt'ring pages,
Never growing stale.
[Chorus]
"Oklahoma Hail!" is the original Oklahoma alma mater song. Louise B. Adams wrote the words and music, R. H. Richards arranged the tune, which is a Welsh air called "Men of Harlech." It was performed as early as 1928.
The most famous---Oklahoma!!!
Oklahoma, where the wind comes sweepin' down the plain
And the wavin' wheat can sure smell sweet
When the wind comes right behind the rain.
Oklahoma, ev'ry night my honey lamb and I
Sit alone and talk and watch a hawk
Makin' lazy circles in the sky.
We know we belong to the land
And the land we belong to is grand!
And when we say
Yeeow! A-yip-i-o-ee-ay!
We're only sayin'
You're doin' fine, Oklahoma!
Oklahoma O-K-L-A-H-O-M-A
OKLAHOMA!
To create the musical Oklahoma!, Rodgers and Hammerstein added lyrics, music and dance to a play written by Lynn Riggs, who was a native of Claremore, Oklahoma and an O.U. graduate. The title song of the revolutionary musical was adopted by the State of Oklahoma
as its official song and anthem on May 6th, 1953.
--------------------------------------------------------------

SuDoku
The object is to insert the numbers in the boxes to satisfy only one condition: each row, column and 3x3 box must contain the digits 1 through 9 exactly once. What could be simpler?
http://leasingnews.org/Soduku/soduko-main.htm

--------------------------------------------------