EFD Direct Lease
Sr. Lease Contract Specialist
Walnut Creek, CA
You will create all necessary lease and loan documentation for complex direct equipment leases. Requires a BA or equivalent & 6+ years of leasing and contract experience. CLICK HERE for a detailed description and resume submission info.
Visit www.bankofthewest.com , for more information. Bank of the West and its subsidiaries are equal opportunity/affirmative action employers.
Wednesday, November 7, 2007
Headlines---
New Feature---
News on Line---Internet Newspapers
Classified Ads---Asset Management
Marlin Board $15 MM Stock Repurchase Plan
Marlin exits Factoring Biz/3rd Q Profit
NAELB Eastern Regional Meeting
by Rosanne Wilson, CLP
Classified Ads---Help Wanted
Letters!---We get eMail
Share Inter. Deals on The Lease Blog
Cartoon---Greg McIntosh and his dog
Sales makes it Happen—by Doug Dawkins, CLP
"Purchase Orders"
Standard & Poor's 1,600 More Downgrades
CIT's Edgeview Acquisition Deal Flow
MicroFinancial wins Legal Case
Greenspan, Soros see more economic pain ahead
Within the Fed-Resistance to Further Rate Cuts
Newspaper circulation still on decline
News Briefs---
You May have Missed---
California Nuts Brief---
"Gimme that Wine"
Calendar Events
Snapple Real Facts
Today's Top Event in History
This Day in American History
Football Poem
SuDoku
Daily Puzzle
News on Line---Internet Newspapers
Seattle, Washington
######## surrounding the article denotes it is a "press release"
------------------------------------------------------------------

New Feature---
News on Line---Internet Newspapers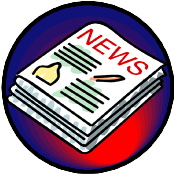 A recent story has 80% of America "on line." The change in the news media is evident with printed newspapers on the decline, letting reports go, and more and more stories are Associated Press, not written by local reporters.
What Leasing News readers may not be aware is the many local "news on line," and for better use now, local "newspapers." It is a growing development, just as the first major browser Netscape was, then Yahoo and Google, then Craig's list, MySpace, and really the first of all of these was AOL with
their specific chat rooms and free web sites.
Each week Leasing News will feature a local "News on Line." If you have one that you read and would like to share, please pass it on to kitmenkin@leasingnews.org
--------------------------------------------------------------

Classified Ads---Asset Management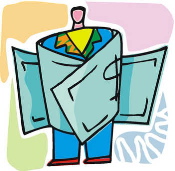 New York, NY
10+ years in equipment leasing/secured lending. Skilled in management & training, documentation, policy and procedure development & implementation, portfolio reporting. Strong work ethic.
Email: dln1031@nyc.rr.com

Seattle, WA
20 years combined experience in Asset Management and Collections. History of successfully maximizing the residual position through superior negotiation skills and remarketing.
Email: gcsprings@comcast.net
To place a free "job wanted" ad here, please go to:
http://www.leasingnews.org/Classified/Jwanted/Jwanted-post.htm
For a full listing of all "job wanted" ads, please go to:
http://www.leasingnews.org/Classified/Jwanted/Jwanted.htm
--------------------------------------------------------------

Marlin Business Services Board of Directors Authorizes $15 Million Stock Repurchase Plan
Marlin Business Services Corp. , Mount Laurel, NJ (Nasdaq:MRLN) yesterday announced that its Board of Directors has authorized a stock repurchase program of up to $15 million of its outstanding shares of common stock.
"This authority may be exercised from time to time and in such amounts as market conditions warrant," the press release stated. "The Board has authorized this Stock Repurchase Plan as it does not believe the Company's current share price fully reflects the value of the Company's business or prospects."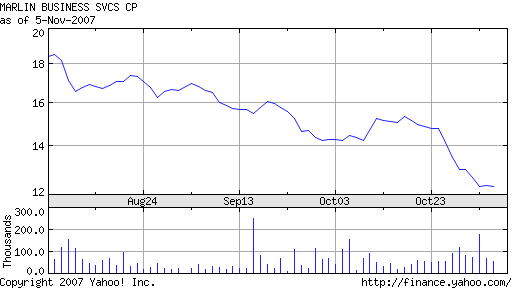 "This share repurchase authorization demonstrates our commitment to drive long-term value for our shareholders while maintaining our flexibility to make both operational and strategic investments in our Company," said Daniel P. Dyer, Chairman and Chief Executive Officer of Marlin Business Services Corp. "Our Board of Directors believes that buying back shares of the Company's common stock is not only an excellent investment opportunity, but is also consistent with our goal of using our excess cash resources to enhance shareholder value."
"The repurchase may be made on the open market, in block trades, or otherwise in accordance with applicable laws, rules and regulations," the press release explained. "No time limit has been set for the completion of the program. The stock repurchase will be funded using the Company's working capital. Any shares purchased under this program will be returned to the status of authorized but unissued shares of common stock."
Last Trade: 12.48
Trade Time: 3:59PM ET
Prev Close: 12.32
Open: 12.35
Day's Range: 12.30 - 12.49
52wk Range: 12.00 - 24.40
--------------------------------------------------------------

Marlin exits Factoring Business, Declares 3rd Quarter Profit
Third Quarter Net Income Increases 6.4% Compared to Third Quarter of 2006
Lease and Loan Portfolio Grows 17.4% over Past Year
New Warehouse Financing Agreements, Securitization Support Portfolio Growth Plans
MOUNT LAUREL, N.J.-- Marlin Business Services Corp., Mount Laurel, NJ yesterday reported net income of $5.0 million for the third quarter ending September 30, 2007
"Marlin's strong performance this quarter demonstrates the strength and resilience of our business model as we were able to quickly adjust to industry challenges," declared Daniel P. Dyer, Chairman and Chief Executive Officer of Marlin Business Services Corp." We made progress along all of our key operating metrics, including portfolio growth, margins, and funding, while also investing in our infrastructure to support our growth objectives. Our value proposition -- quick turnaround, simplified documentation and competitive terms -- is increasingly meeting the business financing needs of the small business market and creating value for shareholders.''
The company has been without a president since December, 2007, when Gary Shivers was reportedly forced to "retire." In recent months, those fired or quit have been replaced in key positions.
"Credit quality remained strong," declared the Marlin press release.
" For the third quarter, charge-offs were $3.4 million, or 1.85% of average total finance receivables on an annualized basis, a ratio that is essentially in line with both the preceding quarter and with the third quarter of 2006. Leases over 60 days delinquent rose 23 basis points on a sequential basis, primarily due to higher delinquencies in select industries and fewer processing days in September. As of September 30, 2007, the Company's allowance for credit losses was $9.4 million, or 1.27% of total finance receivables.
"Effective November, 2007, the Company is discontinuing the origination of new factoring agreements, and plans to withdraw from the factoring business that was in the pilot phase. At September 30, 2007, factoring-related financings totaled approximately $540,000, consisting of $95,000 of factoring receivables and a $445,000 term loan resulting from the refinance of a real estate related factoring receivable."
The full press release with financial statement is available here:
http://leasingnews.org/PDF/Marlin_Quarterly.pdf
--------------------------------------------------------------

NAELB Eastern Regional Meeting
by Rosanne Wilson, CLP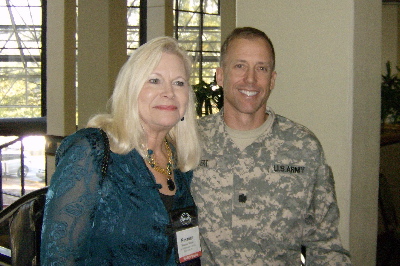 Rosanne Wilson, CLP, w/Army Lieutenant Colonel Tom Weikert
Two special guests among 56 exhibitors
The National Association of Equipment Leasing Brokers (NAELB) Eastern Regional Meeting November 2 – 3, 2007 in Atlanta, Georgia was a huge success with over 250 in attendance. The mood was upbeat and positive in spite of some discussions occasionally of the volatile economy and what lies ahead. There was certainly no gloom and doom here at this NAELB meeting.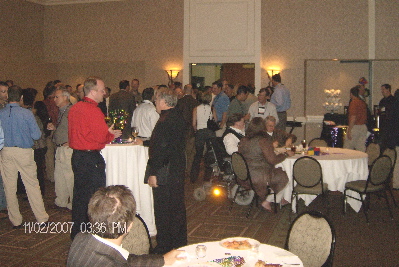 The Friday night reception was packed. The setting involved a Mardi Gras theme to promote our 2008 Annual Conference in New Orleans on April 10 – 12, 2008. The food selections featured authentic Cajun specialties and regional cuisine from the South. Everyone commented on how wonderful and plentiful the food was. There was no shortage of folks going back to the food stations for more! There were plenty of Mardi Gras beads to go around for everyone and the room was alive with networking. You could feel the spirit of this Association in that room. I witnessed plenty of Brokers and Funders getting together to cement relationships and brand new NAELB members reaching out to talk to the old timers. I can definitely tell you that new friends were made that evening.
The exhibit hall was packed with 56 exhibitors anxious to speak to brokers. As I cruised around the room, the tables were all busy with folks taking advantage of meeting with Funders and Associates to learn more about them, or to just stop by and thank them for their great service. I got the sense that the exhibitors were enthused by the attendance.
Neil Roth of Key Credit Corp. had two special guests in his booth. Army Lieutenant Colonel Tom Weikert came to observe what Lease brokers are all about and meet with Funders and brokers.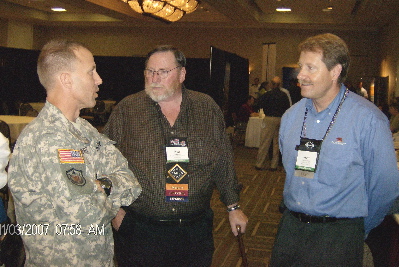 Ltl Weiker, Neil Roth, Key Credit Corp., Steve Crane, Bank of the West
Lt. Col. Weikert goal was to see how leasing careers might fit for the wounded veterans who return from battle and have lost limbs or other physical abilities due to the conflict in the Middle East. Leasing can provide a great career opportunity for these men when they are rehabilitated. The other guest was Mr. Shell Hestvedt, a decorated Purple Heart recipient from the Vietnam conflict. He was there to lend his support as well. They were well received by the attendees.

The President, Brian Montgomery addressed the crowd at the Luncheon on Saturday and thanked all of the wonderful sponsors who supported this conference. He also thanked the Meeting Committee for planning such a great event and asked them to stand up and be acknowledged. Brian Montgomery teased the crowd about the water shortage in Atlanta that has reached a crisis stage, but fortunately there was plenty of water for showers in the hotel!
Brian introduced Jim Blumberg, the Chair of the Benefits Committee , who then came to the podium and discussed all of the unique NAELB benefits that come with membership in the NAELB, including the CBA Program with $2.11 credit reports, the discounted overnight envelope program, the Office Depot discounts, and much more.
Chris Fielder of Team Funding Solutions was introduced as the Chair of the New Orleans 2008 conference and given the microphone. This is the second time Chris has been our chair for an annual event and we thanked him for his tireless dedication. It is more work than most folks are willing to do. Chris spoke about the wonderful events planned for New Orleans and great speakers that will be there to help us all improve our skills. He has planned an amazing off site reception at the New Orleans event. Stay tuned for more details coming soon. You won't want to miss this conference.
Paul Nibarger, CLP then rose to the Podium and introduced Chris Cooper of Alternative Capital, Apollo Beach, Florida who is the newest member to pass the CLP exam. There was a round of applause to recognize Chris for his efforts in achieving this highest certification in our industry.
As always, the Roundtable discussions were a big hit with some real "pros" in marketing at each table. The attendees were full of hope and enthusiasm for tackling the market place with new fervor. There was a strong focus in the workshops on Marketing techniques that work in today's world and hundreds of ideas were shared. Whether you were a brand new attendee or a long time member, everyone left with new ideas to start using in their own businesses when they get home. I personally could not write them down fast enough and I know I will be able to increase sales in my own company just using a few of the techniques that I picked up there.
In closing, I wish to thank our President, Brian Montgomery who has truly shown leadership in the office of President. He spent a great amount of time making the rounds to say hello to as many attendees as he could. He cares deeply about this association, as do I, and he demonstrates that daily. NAELB is approaching 1,000 members and we have a great Captain steering this boat. We look forward to seeing all of you in New Orleans, April 10-12, 2008.
Success by Association does pay off for each of us who participate.
Your humble Treasurer,
Rosanne Wilson, CLP
1st Independent Leasing, Inc.
Rosanne@1stindependentleasing
Photographs by Richard Wilson
--------------------------------------------------------------

Leasing Industry Help Wanted
Sr. Lease Contract Specialist


EFD Direct Lease
Sr. Lease Contract Specialist
Walnut Creek, CA
You will create all necessary lease and loan documentation for complex direct equipment leases. Requires a BA or equivalent & 6+ years of leasing and contract experience. CLICK HERE for a detailed description and resume submission info.
Visit www.bankofthewest.com , for more information. Bank of the West and its subsidiaries are equal opportunity/affirmative action employers.
Sales Professional

Sales Professional
San Francisco, CA
Mid to large ticket market/Fortune 1000-- prefer min. 5 yrs. sales exp. in finance. Will consider all applicants w/equip. finance exper. click here.


--------------------------------------------------------------

Letters!---We get eMail

Christopher "Kit" Menkin/ editor

I have sued CapitalWerks Leasing of Santa Ana for violating the "deceptive trade practices act" and I have won.
They are being served with papers, by a sheriff to demand payment of the judgment. I have created two (2) websites, in which I am collecting numerous consumer complaints about the following companies and individuals:
CapitalWerks Leasing
Preferred Lease
Foundation Capital Partners
Greenbridge Financial Group
ISystems
Micro SystemAS
James Raeder
Shane Jangi
Ziya Arik
Andy Petty
Bill Hamilton
Dionysius Fiumano
Chant Vartanian
Sarkis Vartanian
My website(s) are:
http:CapitalWerksLeasing.com
http:LeasingCompanyFraud.com
I have purchased advertising on both Yahoo and Google to publicize my websites.
I realize, after reading your publication that you seem to be "in bed" with James Raeder and CapitalWerks. But if, as you claim, you are an unbiased source of news, then you should publish this information.
Several consumers, who complained to me, said they entered into lease agreements based on information they believed was truthful on your site. Your glowing biography of James Raeder was particularly despicable journalism, because you knew (or should have known based on a cursory check) that the BBB had given his company an "F" rating and was generating numerous consumer complaints.
When/if I post those letters, critical of your newsletter, I will offer you a chance to offer a rebuttal on my website, which has obtained #2 ranking on Google.
Bob North Smithfield
bobnsri@mac.com
(Leasing News has seen both sites. Leasing News cannot run unsubstantiated claims. We are not a "blog." We need to have documentation to substantiate claims, and then need to get the other side. While we are independent, we are also fair to all sides.

(While you may think him a cute guy, Jim Raeder is not my type and I am not in bed with him.
(Seriously, in all the complaints that we have received about CapitalWerks, they have all been resolved by co-founder Jim Raeder. Several he put together as a lease, and the rest he returned all the money, as verified by the people who sent us the original complaint.
(Leasing News would need copies of documents to substantiate what you have on your site, as there are too many liabilities to print something without confirming it. If a person with a complaint does not provide these documents, we cannot print accusations as it is not only not responsible journalism, nor being fair, we would also be subject to liable.

(We have printed the stories you mentioned that appeared in the New York Times, other court cases, and CapitalWerks BBB report. I think you will find some of these stories up there in Google, Yahoo, Copernic, Ask Jeeves, and many others, too.
(We have a specific procedure for investigating all complaints, and have a great record in getting money back to those who have made claims; over $7 million to date. Editor)
----
From Rick Wilbur:
"I believe I have communicated with you about a problem one of our very good customers is having with ********.
"In summary, our customer did a $150k lease with ******** several years ago. I believe the first or first and last rentals were paid in advance as was a 10% security deposit which was equal to the agreed upon purchase option. After reviewing the documentation, the lessee was unclear about how to confirm their intent to exercise their purchase option and sent ******** a letter explaining their uncertainty and asking for better instructions from ********. There was no response.
"Our lessee made all of their payments, ******** claims there were several late payments but given our experience (71 separate leases with this company over a five year period) we believe if there were any delinquencies they would have been very insignificant, perhaps a few days. ******** claims the letter the lessee sent was not certified and was not within the proper timeframe and therefore did not meet their requirements for notification. So despite receiving all of the contracted rental payments and a 10% deposit which they seem to have forgotten about, ******** has now made demand for an additional $137,000.00 consisting of 12 extended rents, late fees, fair market value of the equipment and $600 to file a UCC termination. Despite my attempts to intercede with ******** they have filed suit and we referred our customer to Jim Coston (Coston & Rademacher Law Firm, Chicago, IL ., editor (who has accepted their case and has filed a response.))
" Kit, my issue is the behavior of ********. They are a funding source and through their acquisitions of ****** and ******* they acquire significant broker originations. Their behavior is, in my opinion, as close to criminal as one can get and simply unacceptable for a funding source or any other legitimate business. I want to bring it to the attention of the industry in general. Maybe I am naive but I think they should lose their right to membership in UAEL and NAELB because their conduct is, in my eyes, a blatant violation of the very essence of those organizations.
" Bottom line is that I'd like to write a piece for the Leasing News detailing this situation. If you agree to publish it I will seek advise of counsel before I do so to insure that I will not be violating any legal boundary and leaving Charter exposed to revenge litigation.
"Let me know your thoughts."

Rick Wilbur
Managing Partner
CHARTERCAPITAL
Office 480-874-5400
Fax 480-874-5440
www.charteraz.com

Equipment Financing Since 1977
(Leasing News would prefer to have the lessee file a complaint with us, send us copies of the lease, correspondence, or other documents involved; let us understand it and then contact the lessor for
their side of the story. Unfortunately, Evergreen Leases are legal in most states, but there are extenuating circumstances and perhaps we may be of assistance as an ombudsman. editor)
---
"Isn't this the poem that Timothy McVeigh read or had read before he was executed for the Oklahoma City bombing of the Federal building?"
David
David M. Rothenberg
Lease One Systems
7305 Manchester, Suite C-1
St. Louis, MO 63143-3109
Tel. 314-645-4440
Fax 314-645-2663
david@lease-one.com
www.lease-one.com
(Well, I'll be! You are correct:
Willian Ernest Henley (1875) .
This poem is often read to players before a football game,
as it is one of the favorites of many football coaches:
Out of the night that covers me,
Black as a Pit from pole to pole,
I thank whatever gods may be
For my unconquerable soul.

In the fell clutch of circumstance
I have not winced nor cried aloud,
Under the bludgeoning of chance
My head is bloody, but unbowed.

Beyond this place of wrath and tears
Looms but the horror of the shade,
And yet the menace of the years
Finds, and shall find me, unafraid.

It matters not how straight the gate,
How charged with punishments the scroll,
I am the master of my fate:
I am the Captain of my soul.
(The story goes the poet wrote "Invictus" right before he had his foot amputated. He was very well known to writers of his era, also became an editor, and Rodin even did a bust. His daughter was the model for "Peter Pan." A fascinating person. Editor)
http://k4a4.com//invictus.htm
http://k4a4.com//invictus.htm
----
"You do a good job posting economic data reports for your readers. Have you ever considered posting the fed reserve beige book reports?
www.federalreserve.gov/fomc/beigebook.
" I think many of your readers would enjoy reading what the Fed thinks of economic activity in different regions.
"Take care,"
Eric Desmond
Atlantic Funding Corp
210 733 8681 x101
edesmond@atlanticfundingco.com
(For over four years we ran the Beige report, the synopsis and then links to each of the 12 districts for readers to go to. Our web trend kept letting us know they were not visited very often, and when it got down to less people than our baseball poems, I decided it wasn't worth the space.
(I thought the Beige report had a great deal of information, but I basically believe the readers didn't have the time to get into it.
(They also didn't like the Housing Reports we did for years, as I thought the economy was greatly reflected in these numbers and how the suppliers were reacting, as it gave a pulse. Readers complained about it, so after writing several articles last year about the subprime mortgages about to hit, I stopped publishing them as I thought this information is soon going to be in the daily printed newspapers, and the readers here didn't like the series anyway.
(Let me think about it, as perhaps I should try these two features again. editor)
Editor
----
"I have been a viewer of your website for a few years now and would like to share my thoughts on your site with you, as I think you would want to know.
"I first heard of your website through others in the industry. Early on the content of your site included breaking news on leasing such as mergers, buyouts and acquisitions. Relevant information on fraudulent deals and legal cases were covered. However, over the course of time, you have been involved in many conflicts over the accuracy of your stories and this is expected when reported negative news. In my opinion, the number of conflicts over accuracy and validity of your stories are far too many.
"I've often wondered why so many stories are disputed and I think it is primarily due to your reporting style. You are aggressive and take it personal when a company or a spokes person refused to speak with Leasing News. When you have a story you want to report on and don't get cooperation, you go into personal attacks which lose the focus of the story and you find yourself in conflict. I'm not sure you realize you do this but this drama and retractions take away from the purpose and content of Leasing News. I would suggest you count to 10 and continue your hard work reporting on leasing news and avoid the drama."
(name with held)
(I'll stand on our record about being accurate about NetBank, NetBank Business Finance, Pacific Capital, MSM Capital, Unicapital, First Sierra, Orix USA, American Express Business Finance and the list is pretty long. In the beginning, they all said we were wrong, not accurate, had the wrong information. We did not.
Why is Leasing News accurate? We get the information from insiders, from readers, and then we substantiate it. While I would like to take the credit for the very high batting average, it really goes to the readers. Thank you.
(As to the corrections, yes we make mistakes and have too many typo's. When we do, they are placed at the top of our news edition, not buried or ignored.
(I get calls from attorneys threatening to sue us all the time, demand letters, some have sued us, and if I were to name some of the ones who continually write us and don't like us, most readers would know their name. Some are now in jail, as mentioned in the response to the first letter
(such as Barry Drayer, the Parkers... )
(The story you are referring to information came from the companies own web site, and a good portion was in quotation marks as it came from their SEC report. How can this be inaccurate?
("In July 2007, the Company learned that each of the following five individuals, Robert B. Pollock, President and Chief Executive Officer, Philip Bruce Camacho, Executive Vice President and Chief Financial Officer, Adam Lamnin, Executive Vice President and Chief Financial Officer of Assurant Solutions/Assurant Specialty Property, Michael Steinman, Senior Vice President and Chief Actuary of Assurant Solutions/Assurant Specialty Property and Dan Folse, Vice President-Risk Management of Assurant Solutions/Assurant Specialty Property, received Wells notices from the SEC... "On July 17, 2007, the Company announced that the Board of Directors had placed all five employees on administrative leave, pending further review of this matter. On July 18, the Board of Directors appointed J. Kerry Clayton as interim President and Chief Executive Officer and Michael J. Peninger as interim Chief Financial Officer of the Company. On August 9, 2007, Messrs. Steinman and Folse's employment with the Company was terminated. Messrs. Pollock, Camacho, and Lamnin remain on administrative leave."
http://leasingnews.org/PDF/Assurant11.pdf
(page 40, Form 10Q, Filed 8/9/2007 For Period Ending 6/30/2007 Assurant SEC filing

(Thank you for being a viewer and hope you continue to read us. Editor)

--
I use a shareware HP12C type program on my Palm Pilot called Abacus. Not sure if it is still available as the original provider's web-site is "for sale". That was www.dovesoftware.com <http://www.dovesoftware.com> . I originally downloaded the application in 1997. The last release I have is 2.2 (circa 2003). I have ported this application from my original Palm (US Robotics) Palm Pilot to the Zire 71 I still carry.
I hardly ever use my 12C anymore (I also still have my original HP80, but the small red LEDs are tough on these aging eyes). If anyone wants a copy I'll be glad to email the application as an attachment.
Ron Bannerman
Tier 2 Finance
San Francisco
ron@tier2finance.com <ron@tier2finance.com>
--
I would just like to let you know that I have found several of the resources listed on
http://two.leasingnews.org/Recommendations/lease-finance.htm
quite useful, and I would like to thank you for the effort and time invested so far; thanks!
I'm not sure if you are interested in suggestions or not, but I thought that I would try to contribute something to further improve the resource for other visitors.
In addition to the websites that you have already listed, I would like to suggest www.mortgageloan.com/calculator/
- which features over one hundred (by the looks of it) finance-related calculators.
It's a resource I use myself quite often.
I think it would make a pretty good addition. What do you think?
Keep up the good work!
Regards,
Emily Hill
emily.hill@inbox.com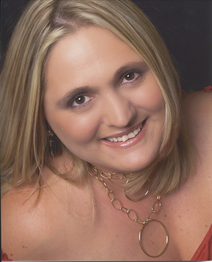 ...is this a "real" picture of Ms. Ronel Uys from TEAM Funding Solutions? Just curious...
Thank you.
(name with held)
(Yes, it is a "real" picture of Ms. Ronel Uys, new Marketing & Client Services Director for
Team Funding Solutions.
http://www.leasingnews.org/archives/October%202007/10-24-07.htm#team
Editor.)
--------------------------------------------------------------

Share International Deals on The Lease Blog
"I want to create a worldwide network of leasing professionals who can participate in discussion and best practice sharing with peers from all markets and all geographies, " said Brian Whelan, Director,
Interimus Limited
"That is why I set up theLeaseBlog.com (and made every member a fellow editor) and that is why I am excited to announce that in parallel with theLeaseBlog.com, I have now set up a complementary Member Group at Linked-In the business professionals networking site."
The LeaseBlog-Linked_in community now boasts members from 18 different countries worldwide,
( UK, US, Germany, France, Austria, Netherlands, Belgium, Denmark, Norway, Singapore, Italy, Sweden, Swizerland, Russia, Romania, Greece, Mexico and China) and is growing by the hour, according to Whelan.
"By joining the Linked-in group: theLeaseBlog, you will get to widen your network and industry knowledge with a community of people who are dedicated to the world of leasing, " he said. "Joining is easy, simply click on the link below and follow the instructions. Membership of the group is only available for members of theLeaseBlog.com, so if you forward the link on to your peers, please make them aware that they will need to firstly sign up as a member.
" Get connected yourself and pass the details on to your colleagues and industry peers to do likewise. If they identify you as the referrer on theLeaseBlog.com you could win a Fortnum & Masons hamper in time for Christmas.
(full details available on the www.theleaseblog.com)"
http://www.linkedin.com/e/gis/37058/2CD6E376144A
If for some reason the link is not visible above,
please visit www.theLeaseBlog.com
and access the link in the blog section.
Brian Whelan
Director
Interimus Limited
Telephone: +44 (0) 7768 467 413
E-mail: brian.whelan@interimus.co.uk
Web: http://www.interimus.co.uk
Blog: http://www.theleaseblog.com
--------------------------------------------------------------

Cartoon---Greg McIntosh and his dog
*Greg also claims that he has trained his dog to go out to the front of the house, get the newspaper, and bring it to him so he can read it in bed---every morning.
--------------------------------------------------------------

Sales Make it Happen --- by Doug Dawkins, CLP
Purchase Orders
(By the way, Doug will soon be available
for employment, as his present company
is moving to another state.)
Your vendor is calling. He just received your purchase order. "Great, the deal's done", you're thinking.
Maybe not. Have you ever read your purchase order? Do you know how many contingencies you place in your order? Do you know how many times a manufacturer has accepted a purchase order from a leasing company, shipped the equipment, and then not been paid? It has happened to us too many times, and I have had to take steps to prevent it from happening again. I can tell you, from my own experience, there are few things more awkward than trying to collect from a customer, who themselves had not issued a purchase order, and never intended to pay cash for the equipment that was ordered by the lessor. They'll tell you it's the leasing company's responsibility to pay.
In my past 5 years of working for a medical equipment manufacturer, I have probably seen over 2000 PO's, coming from as many as 50 different leasing companies.
Most are very straightforward. Usually, the only contingency is for the customer to "accept" the equipment. I think most manufacturers understand and accept that.
Over the years, I have seen some PO's that have as many as a dozen different contingencies, most of which we found unacceptable. Let me give you some examples:
1) "Subject to no adverse material change in the financial condition of lessee" this needs to be much more specific. The lessor should be able to define the risk the vendor is taking by accepting this PO, or explain the area of concern the lessor has about this lessee. This contingency may leave the vendor wondering what derogatory information the lessor has about the customer, but isn't willing to disclose.
2) "Buyer shall have no liability unless…Lessee shall have made payment to lessor of all advance payments or security deposits due in conjunction with the lease". This one seems so obvious to me…don't issue the PO until you have all the funds required. Why issue the PO, and put the vendor is a position of guessing if the lessee has paid all required funds? This is clearly the responsibility of the lessor.
3) "Subject to receipt of all original equipment lease documents, signed by lessee and guarantor(s)". Again, why issue a PO if you don't have all the necessary documents? If the vendor ships the equipment, and the lessee never does sign the PG, or the bank won't sign the subordination agreement, what is the manufacturer to do? The acceptance document should be the only missing document.
4) "If company uses an outside funding source to pay for the equipment, such funding source shall have final approval of all lease documentation". My response to this, then, is, to let the funding source issue the PO. If there is a 4th party in the deal, and they can say "no" after the equipment is shipped, the risk to the vendor is unacceptable.
These are some of the more common contingencies I have seen. There are many others. We have a "lease partner" who saw nothing wrong with just e-mailing us, to tell us their PO was "rescinded", after the customer had the received equipment. No explanation. We had to get on the phone to find out if we had a dispute, or the lease deal went bad, or what? This is not the basis for a strong working relationship.
More than once, I was forced to generate a side document, asking the lessee to guarantee payment of the invoice, if their chosen lessor didn't pay us within the 30 days.
When accepting a Purchase Order from a lessor, there should be no surprises. If the lessor is unsure of the creditworthiness of the lessee, then do more due diligence. Or, price the risk differently. If the document package is incomplete, don't issue the PO until it is complete. But don't ask the vendor to take the risk by putting contingencies in your PO.
Doug Dawkins CLP
707-580-1431 cell
Doug Dawkins is an old friend of Kit Menkin, who has survived many companies that were sold, merged, or closed down by the parent company. His story is unfortunately typical of our industry. He started his leasing career with Commonwealth Financial, in Oakland, in 1978. After changes there, he went to Equico Lessors, who also were bought out, so he moved to Litton Industries Credit Corp in early mid 80's. They consolidated, and he went to work in 1986 at Potomac Leasing, which soon became Dana Commercial Credit (Camelot). After this consolidation, he joined Orin Hall at Heritage, who eventually became part of Sierra Cities, then moved to Bell Atlantic TriCon, who decided to get out of the leasing business, as Doug also decided to do as he was tired of the musical chairs. But he missed the "action," so re-entered the leasing industry with Tokai Financial Services, then joined AT&T Capital (VP Sales west coast). That soon became Newcourt Financial, and then CIT. "CIT closed down our group, so I moved to HPSC, then to GE Capital, in the Sun Computer group. From GE/Sun, I came to Tyco Healthcare. He has been with Tyco for more than 4 years, where he enjoyed it very much, but they are in the process of moving the operation to another state. Doug wants to stay in the San Francisco Bay Area, and is "available."
Call him at 707-580-1431 or contact him at: drdawkins@mac.com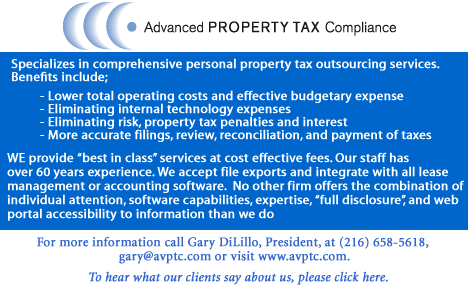 --------------------------------------------------------------

Standard & Poor's 1,600 More Downgrades
ABSnet
By Terry Peters
Standard & Poor's Ratings Services has downgraded 1,413 classes of U.S. residential mortgage-backed securities (with an original par value of $22 billion). In all, S&P and Fitch Ratings took more than 1,600 negative rating actions recently.
The classes notched down by S&P were backed by first-lien subprime mortgage loans issued from the fourth quarter of 2005 through the fourth quarter of 2006.
S&P also affirmed its ratings on securities representing $531.6 billion of original par value of such RMBS from the same period.
S&P said the rating actions were based on expected further delinquencies and losses on the underlying loans, resulting reductions in credit support and continued declines in home values. "While cumulative losses to date remain low, they have increased since our July 2007 review and we expect them to increase further," the rating agency said.
For the downgraded transactions, overall delinquencies averaged 15.7% and serious delinquencies (loans that are delinquent by more than 90 days, in foreclosure, or real estate-owned) averaged 23.3%, according to S&P.
The rating agency said it expects the downgraded securities to be especially vulnerable to greater losses because 60%-70% of the loans backing them are subject to some type of payment adjustment in the near future.
FITCH DOWNGRADES MORE MBS
NEW YORK-Seventy-eight more classes of mortgage- and asset-backed securities have been downgraded by Fitch Ratings as a result of changes to its subprime loss forecasting assumptions.
Fitch also placed two classes on Rating Watch Negative and affirmed the ratings on classes with outstanding balances of more than $8 billion.
Among the securities affected by the latest downgrades were 26 classes from four issues of IndyMac INABS certificates, 18 classes from three issues of IXIS Real Estate Capital mortgage pass-through certificates, 14 classes from four issues of Asset Backed Funding Corp. mortgage pass-throughs, eight classes from one issue of Ameriquest mortgage pass-throughs and seven classes from one issue of ACE mortgage pass-throughs.
The rating actions were attributed to changes to Fitch's subprime loss forecasting assumptions that "better capture the deteriorating performance of pools from 2006 and late 2005 with regard to continued poor loan performance and home price weakness."
(c) 2007 National Mortgage News and SourceMedia, Inc. All Rights Reserved.
http://www.nationalmortgagenews.com/
http://www.sourcemedia.com/
---------------------------------------------------------------
### Press Release ###########################

CIT's Edgeview Acquisition Accelerates Deal Flow
Successful Integration Yields Six Transactions Totaling $630 Million
NEW YORK and CHARLOTTE, NC – CIT Group Inc . (NYSE:CIT), a leading global commercial finance company, announced that following its successful integration of Edgeview Partners , a leading independent M&A middle market advisory firm, it has closed six transactions totaling approximately $630 million in enterprise value. CIT acquired Edgeview Partners, now a division of CIT Investment Banking Services , in July 2007.
CIT Investment Banking Services also announced the appointments of Drew Quartapella and Matt Salisbury as Co-Heads of Edgeview Partners and Bob Kreidler as Chief Operating Officer for CIT Investment Banking Services. Quartapella and Salisbury are founding members of Edgeview Partners.
"Our successful integration of Edgeview Partners is already yielding results and serves as a key differentiator of CIT in the M&A middle market," said Walter Owens , President of CIT Corporate Finance. "The addition of Edgeview, now under the leadership of Drew and Matt, further enhances our competitive position as a leading provider of middle market financing and has enabled us to create a best-in-class operations platform for CIT Investment Banking Services."
Since July, Edgeview Partners has closed transactions that include: Comfort Keepers, an in-home non-medical aid provider for seniors; Royston, a manufacturer of checkout counters; Dimensions Holdings, a manufacturer of craft supplies; Inscape Publishing, a supplier of corporate training solutions; and American Furniture, a U.S. furniture manufacturer.
"Edgeview Partners' deep relationships within the private equity sponsor community have proven to be an excellent complement to our existing financing and advisory capabilities," said Gregg Smith, Senior Managing Director and Group Head of CIT Investment Banking Services. "These transactions highlight the success of our rapid integration of the Edgeview team, and I look forward to our continued growth."
Prior to Edgeview, Quartapella and Salisbury were officers at Bowles Hollowell Conner & Co. Quartapella earned a BS in finance from the University of Houston and an MBA from the J.L. Kellogg Graduate School of Management at Northwestern University. Salisbury earned a BA, cum laude, from Williams College and an MBA from the Harvard Graduate School of Business Administration.
About CIT
Founded in 1908, CIT (NYSE: CIT) is a global commercial finance company that provides financial products and advisory services to more than one million customers in over 50 countries across 30 industries. A leader in middle market financing, CIT has more than $80 billion in managed assets and provides financial solutions for more than half of the Fortune 1000. A member of the S&P 500 and Fortune 500, it maintains leading positions in asset-based, cash flow and small business administration lending, equipment leasing, vendor financing and factoring. The CIT brand platform, Capital Redefined, articulates its value proposition of providing its customers with the relationship, intellectual and financial capital to yield infinite possibilities. www.cit.com .
### Press Release ###########################

MicroFinancial Incorporated Announces That Leasecomm Has
Received A Favorable Decision on Akpaffiong Appeal
WOBURN, Mass.--)--MicroFinancial Incorporated (AMEX-MFI), a financial intermediary specializing in vendor-based leasing and finance programs for microticket transactions, announced that by decision dated October 31, 2007, the Appellate Division of the District Court reversed the District Court's judgment awarding Akpaffiong $187,225.63, and remanded the case to the District Court for an assessment of damages in favor of Leasecomm. Leasecomm Corporation v. Idorenyin E. Akpaffiong, a/k/a Eme Akpaffiong, d/b/a Sahara Sunrise, Appellate Division of the District Court, Northern District, No. 10018. As a result of this favorable decision on appeal, Leasecomm will pay nothing to Akpaffiong, and will receive a money judgment in its favor against Akpaffiong.
Leasecomm filed a Complaint against Akpaffiong on October 8, 2002 in the Salem Division of the District Court alleging two claims, for breach of contract and breach of written guaranty, because Akpaffiong had failed to make the payments due under the equipment lease after the end of the initial 24 month lease term while she continued to use the leased equipment rather than return it to Leasecomm. Akpaffiong denied the allegations, asserting various affirmative defenses and filing counterclaims alleging violation of G.L. c. 93A §§ 2, 9 and 11, fraud, defamation, unjust enrichment, and negligence.
On June 7, 2006, the trial court issued Findings of Fact and Rulings of Law finding against Leasecomm on its complaint and for Akpaffiong on her counterclaims, concluding that the lease was unconscionable and therefore, unenforceable. The court assessed nominal damages of $1.00 for the fraud and defamation claims but assessed a damage award of $49,963.37 for the alleged Chapter 93A violations, which it then trebled, and awarded attorney fees. The total judgment entered by the court on June 19, 2006 was $187,225.63.
In its decision, dated October 31, 2007, reversing the trial court Findings of Fact and Rulings of Law, the Appellate Division of the District Court Department, Northern Division, concluded that neither the lease nor the circumstances at the time the lease was signed were unconscionable. Specifically, the Appellate Division ruled that the trial court erred in finding that the product vendor was acting as Leasecomm's agent, and that the trial court also erred in finding that it was unconscionable for Leasecomm to require a personal guaranty for the lease, as is commonly done in commercial transactions.
The Appellate Division reasoned that Akpaffiong's failure to read the documents and her resulting unfamiliarity with their terms did not absolve her of her contractual obligations to comply with those terms. Further, the lease's provision for an automatic extension of the lease in the absence of any contrary notice from the lessee is a common term in an equipment lease, and is not unconscionable.
The case will now be sent back to the District Court for a hearing to determine the amount of money to be paid to Leasecomm.
About the Company
MicroFinancial Inc. (AMEX: MFI), is a financial intermediary specializing in microticket leasing and financing. MicroFinancial has been operating since 1986, and is headquartered in Woburn, Massachusetts.
### Press Release ###########################
--------------------------------------------------------------

News Briefs----
Greenspan, Soros see more economic pain ahead
http://www.usatoday.com/money/economy/2007-11-06-greenspan-soros-economy_N.htm
Within the Fed, Resistance to Further Rate Cuts http://www.nytimes.com/2007/11/07/business/07fed.html?_r=1&ref=business&oref=slogin
Newspaper circulation still on decline
http://www.boston.com/business/globe/articles/2007/11/06/
newspaper_circulation_still_on_decline/
Oil Rises to Record above $98 a Barrel
http://www.chicagotribune.com/business/sns-ap-oil-prices,0,6226038.story
Appeals court upholds State Farm policy language used to deny coverage in Katrina case
http://www.signonsandiego.com/news/business/20071106-1145-katrina-insurance.html
Google alliance may stop wireless firms' gouging of users
http://www.mercurynews.com/business/ci_7382833?nclick_check=1
---------------------------------------------------------------


You May have Missed---
Citigroup and Prince: Too-Risky Business
http://www.washingtonpost.com/wp-dyn/content/article/2007/11/06/
AR2007110602145.html
----------------------------------------------------------------


California Nuts Briefs---
San Francisco Mayor wins re-election
http://www.sfgate.com/cgi-bin/article.cgi?f=/c/a/2007/11/06/
MN8OT5JCH.DTL&type=politics
----------------------------------------------------------------


"Gimme that Wine"
Long harvest winds down in Sonoma County
http://www1.pressdemocrat.com/article/20071106/NEWS/711060387/1033/NEWS01
Napa Valley: Milder weather, lower yield lead to profitable predictions
http://www.napavalleyregister.com/articles/2007/11/02/news/local/
doc472ac9e8df6be917860502.txt
Spring Mountain AVA Keeps Marketing Focus Close to Home
http://winebusiness.com/news/DailyNewsArticle.cfm?dataid=51189
Placer County grapples with growth of small wineries
http://www.sacbee.com/101/story/474086.html
Wine Prices by vintage
http://www.winezap.com
http://www.wine-searcher.com/
US/International Wine Events
http://www.localwineevents.com/
Winery Atlas
http://www.carterhouse.com/atlas
Leasing News Wine & Spirits Page
http://two.leasingnews.org/Recommendations/wnensprts.htm
The London International Vintners Exchange (Liv-ex) is an electronic exchange for fine wine.
http://www.liv-ex.com/
----------------------------------------------------------------

Restaurant Review
(for other reviews: please go here:
http://two.leasingnews.org/Recommendations/rstrnt.htm
----------------------------------------------------------------

Calendar Events This Day
Bangladesh: Solidarity Day
National holiday. Commemorates a coup in 1975
Bittersweet Chocolate with Almonds Day
http://holidayinsights.com/moreholidays/November/bittersweetchocolateday.htm
Hug a Bear Day
Notary Public Day
http://homeschooling.about.com/gi/dynamic/offsite.htm?zi=1/XJ&sdn=homeschooling&cdn
=education&tm=9&gps=88_1136_1011_1000&f=00&su=p554.2.150.ip_&tt=2&bt=1&bts=1&
zu=http%3A//www.kids.net.au/encyclopedia-wiki/no/Notary_public
Russia: October Revolution.
National holiday in Russia and Ukraine. Commemorates the Great Socialist Revolution which occurred in October 1917 under the Old Style calendar. In 1997, the holiday was renamed the "Day of National Reconciliation and Agreement."
Saint feast Days
http://www.catholic.org/saints/f_day/nov.php
----------------------------------------------------------------

The dot over the letter i is called a "tittle"
http://dictionary.reference.com/browse/tittle
----------------------------------------------------------------

Today's Top Event in History
1950- Voters in the United States Hawaii Territory ratified a state constitution, a major step in becoming the 50th state on August 21, 1959.
(Lower half: http://memory.loc.gov/ammem/today/nov07.html
[headlines]
----------------------------------------------------------------

This Day in American History
1637 - Anne Hutchinson, the first female religious leader in the American colonies, was banished from the Massachusetts Bay Colony for heresy, preaching that fait alone was sufficient for salvation, a belief that contradicted Puritan orthodoxy. She was condemned by an ecclesiastical synod at Newton, Mass, and fled to Rhode Island. She and her family were later massacred by Indians in
the wild, "untamed" part of New England.
http://www.annehutchinson.com/
http://www.forerunner.com/forerunner/X0193_Anne_Hutchinson.html
http://www.buy.com/retail/product.asp?sku=33955947
1700-The population of the colonies was sparsely scattered over the large area. Below the Delaware River an isolated farm was the usual settlement, save for Charleston, which had about 250 families. Philadelphia had approximately 700 houses. New York about 5000 inhabitants. Newport less than 200, and Boston, the largest city, about 7000. There were approximately 275,000 inhabitants n the colonies. In 1701, the naming of streets was authorized by the Boston Town Meeting. Previously, only Newport and Philadelphia had officially assigned street names. At the end of seven years 109 names were submitted for ratification.
1805 - Lewis and Clark reached the Pacific Ocean. Their survival over the '04-'05 winter was attributed to the help of the Nez Perce Indians.
1811 – William Henry Harrison, commander of 800 U.S. soldiers fighting marauding Indians organized by Tecumseh, beat off a surprise attack led by Tecumseh's brother Tenskwatawa, called the Prophet, at Tippecannoe River in north central Indiana. The toll of U.S. soldiers was 61 dead, 127 wounded. Subsequently, Harrison's troops destroyed the Indian confederacy. Tecumseh and many of his followers crossed over into Canada and joined British forces in the War of 1812.
The fame for this feat later helps him gain the U.S. presidency.
1837 - United States abolitionist Elijah Lovejoy was attacked and killed by a pro- slavery mob at his printing works in Alton, Illinois.
http://memory.loc.gov/ammem/today/nov07.html
1845-The first presidential voting nationwide took place. January 23,1845, "an act to establish a uniform time for holding elections for electors of President and Vice President in all the states of the Union." The day selected for voting was "the Tuesday next after the first Monday in the month of November of the year in which they are to be appointed." Zachary Taylor was elected president of the United States. Millard Fillmore was elected vice president. The electoral vote was Taylor, 163, Lewis Cass, Democratic candidate, 127. The popular vote was Taylor, 1,370,101: Cass, 1,220,544: Martin Van Buren, Free-Soil and Barnburners candidate, 291,263. Taylor, the second and last Whig president, died after 16 months in office. He died of cholera at the age of 55. Vice-President Millard Fillmore was sworn in on July 10,1850, as the 13th president of the United States.
1847- Lotta Crabtree birthday, taught by the legendary Lola Montez, she was the rage of the English and American stage, leaving a fortune of $4 million. Lotta's Fountain, an ornate drinking fountain which miraculously survived the 1906 San Francisco earthquake, still stands at Market Street near Kearny; her gift to a city she always loved and returned to frequently.
http://www.sfmuseum.org/bio/lotta.html
http://www.standingstones.com/crabtree.html
http://www.ncgold.com/History/LottaCrabtree/lotta.html
1874 - The Republican Party elephant was born on this date. It was created by Thomas Nast's political cartoon in Harper's Weekly, attacking a possible third term for Republican President Ulysses S. Grant.
1876 - Albert H. Hook of New York City patented the cigarette manufacturing machine.
1876-The presidential election gave Samuel J. Tilden, the Democratic candidate, a popular vote plurality of 250,000, but Republicans refused to concede on the grounds that returns from Florida, Louisiana, South Carolina, and Oregon were in dispute. Hayes needed the electoral votes of those states to win. On December 6 two different sets of electoral returns were reported from the four states. The electoral vote ultimately was determined by a special 15—member electoral commission. The nation had never faced a dispute over the results of a presidential election. The commission was divided by party lines, and deals were made it was said, as Rutherford B. Hayes, received 185 electoral votes to Tilden's 184. Historians' state
Hayes made a bargain with Southern Democrats. It is recorded the new president showed a conciliatory attitude toward the South: the last federal troops were withdrawn and there was no further effort to protect the rights of blacks. Reconstruction was over.
1885-At 9:30 AM the last spike was driven at Craigellachie, British Columbia, completing the Canadian Pacific Railway's 2,980-mile transcontinental railroad track between Montreal, Quebec, in the east and Port Moody, British Columbia, in the west.
1889- Montana becomes the 41st state.
1893 - The state of Colorado granted women residents the right to vote.
1916 - Woodrow Wilson, 28th U.S. President, was reelected. The outcome of the election was one of the few in U.S. history that hinged on foreign affairs. Europe was fighting a world war, and so far, President Wilson had kept the U.S. neutral. Running with the slogan, "He Kept Us Out of War," Wilson was re-elected by a narrow margin. The very next year, Wilson's neutrality in the European war ended. The Germans refused to curtail their submarine warfare after 120 Americans were killed aboard the British liner, Lusitania. Congress voted overwhelmingly to go to war and Wilson proclaimed American entrance into World War I a crusade to make the world "safe for democracy." Thomas R. Marshall was reelected vice president. The election was so close that the outcome was uncertain for three days, when it became clear that Wilson had carried California, but by fewer than 4000 votes. The electoral vote was Wilson, 277: Charles Evans Hughes, Republican candidate, 254. The popular vote was Wilson, 9,128,837: Hughes 8,536,380. In congressional elections the Democrats lost three seats in the Senate but maintained a 53-42 majority, with one seat going to a minor party. In the House the Democrats again narrowed their majority over the Republicans, 216-210, with six seats held by minor parties.
1917- Bassist Howard Rumsey born, Brawley, CA.
http://members.tripod.com/~hardbop/rumsey.html
1918-Birthday of evangelist Billy Graham
http://www.billygraham.org/mediaRelations/bios.asp?p=1
1922-New Orleans trumpet player Al Hirt birthday http://www.epluri.com/NOTfolder/Acts/AlHirtFolder/AlHirtSalute.html
1929 - The Museum of Modern Art in New York City was opened to the public.
1930 - Wayne King recorded what would become his theme song, "The Waltz You Save for Me", on Victor records.
1932 - CBS radio first aired "Buck Rogers in the 25th Century". Between 1932 to 1947, Matt Crowley, Curtis Arnall, Carl Frank and John Larkin played Buck over the years.
1937- Mary Travers birthday, author, composer, singer, of Peter, Paul, and Mary fame.
1940-Duke Ellington records at Crystal Ballroom, Fargo, ND.
1940 - 'Galloping Gertie' Bridge at Tacoma, WA collapsed in winds of only gale force, resulting in a $6 million loss. The bridge opened 4 weeks early. The winds caused the evenly spaced spans of the bridge to vibrate until the central one finally collapsed. From that time on, bridges were constructed with spans of varying length.
1943-Folk singer Joni Mitchell born Fort Macleod, Alberta, Canada
1943 - Early snowstorm from South Dakota to Minnesota and Wisconsin. 22 inches fell at Faribault and Marshall, MN, 20 inches at Redwood Falls, MN and 10.1 inches at Minneapolis, MN. Snow drifts 15 feet high were reported in Cottonwood County. Up to 2 feet of snow fell in eastern South Dakota smothering a million thanksgiving turkeys
1944- President Roosevelt won an unprecedented fourth term in office, defeating Thomas E. Dewey. Roosevelt only lived long enough to serve 53 days of this fourth term. Harry S. Truman was elected vice-president. The electoral vote was Roosevelt, 432: Gov. Thomas E. Dewey, Republican, 99. The popular vote was Roosevelt 25,602,504, Dewey 22,006,285. In congressional elections the Democrats lost two senate seats but held a 56-38 majority. In the House, they gained 24 seats for a 242-190 lead, with two seats held by minor parties.
1944---*NISHIMOTO, JOE M. Medal of Honor
Private First Class Joe M. Nishimoto distinguished himself by extraordinary heroism in action on 7 November 1944, near La Houssiere, France. After three days of unsuccessful attempts by his company to dislodge the enemy from a strongly defended ridge, Private First Class Nishimoto, as acting squad leader, boldly crawled forward through a heavily mined and booby-trapped area. Spotting a machine gun nest, he hurled a grenade and destroyed the emplacement. Then, circling to the rear of another machine gun position, he fired his submachine gun at point-blank range, killing one gunner and wounding another. Pursuing two enemy riflemen, Private First Class Nishimoto killed one, while the other hastily retreated. Continuing his determined assault, he drove another machine gun crew from its position. The enemy, with their key strong points taken, were forced to withdraw from this sector. Private First Class Nishimoto's extraordinary heroism and devotion to duty are in keeping with the highest traditions of military service and reflect great credit on him, his unit, and the United States Army.
1946—Top Hits
Five Minutes More - Frank Sinatra
South America, Take It Away - Bing Crosby & The Andrews Sisters
You Keep Coming Back like a Song - Dinah Shore
Divorce Me C.O.D. - Merle Travis
1954- "Face the Nation" premiered on TV. The CBS counterpart to NBC's "Meet the Press," this show employed a similar format: panelists interviewed a well-known guest. In 1983 the panel was changed to include experts in addition to journalists when Lesley Stahl succeeded George Herman as moderator. Though usually produced at Washington, DC, the show occasionally interviewed people elsewhere (such as Khrushchev in Moscow in 1957).
1950- Voters in the United States Hawaii Territory ratified a state constitution, a major step in becoming the 50th state on August 21, 1959.
(Lower half: http://memory.loc.gov/ammem/today/nov07.html)
1952-- 1952---Birthday of American Composer Ken Hedgecock, Montcello, AR
1962- Richard M. Nixon, having been narrowly defeated in his bid for the presidency by John F. Kennedy in the 1960 election, returned to politics two years later as a candidate for governor of California in the election of Nov 6, 1962. Defeated again (this time by incumbent governor Edmund G. Brown, who built the public university and college system in California), Nixon held his "last" press conference with assembled reporters in Los Angeles at mid-morning the next day at which he said: ". Just think how much you're going to be missing. You won't have Nixon to kick around any more, because, gentlemen, this is my last press conference.'
1954—Top Hits
I Need You Now - Eddie Fisher
This Ole House - Rosemary Clooney
Papa Loves Mambo - Perry Como
More and More - Webb Pierce
1956 - Elvis Presley hit the charts with "Love Me", the first million-seller to chart without being a single. It was an EP (extended play) 45 rpm, with three other songs: "Rip It Up", "Paralyzed" and "When My Blue Moon Turns to Gold Again" all on RCA Victor.
1962—Top Hits
He's a Rebel - The Crystals
Only Love Can Break a Heart - Gene Pitney
All Alone Am I - Brenda Lee
Mama Sang a Song - Bill Anderson
1963 - New York Yankee Elston Howard, was named the American League's Most Valuable Player making him the first black player to receive the award.
1964-The Braves, for the second time in eleven years, receive permission to shift their franchise to another city. Hank Aaron and company will move from Milwaukee to Atlanta after the 1965 season.
1967- The first mayor of a major city who was African-America was Carl Stokes, a Democrat, elected this day by the citizens of Cleveland, OH.
1970—Top Hits
I'll Be There - The Jackson 5
We've Only Just Begun - Carpenters
Fire and Rain - James Taylor
I Can't Believe That You've Stopped Loving Me - Charley Pride
1972 - United States President Richard Nixon was re-elected for a second term, in the greatest Republican landslide, defeating Democrat George McGovern. He became the first president to resign office. Spiro T. Agnew was reelected vice president. The electoral vote was Nixon, 521: Sen. George S. McGovern, Democrat, 17. The popular vote was Nixon 45,767,218: McGovern 28,357,668. The Democrats picked up two Senate seats for a 57-43 majority. The Republicans gained 13 seats in the House, but the Democrats still led 255-179, with one seat going to an independent.
1973 - New Jersey became the first state in the United States that allowed girls to play on Little League baseball teams.
1976 - Gone With the Wind was aired (over two nights) on NBC-TV. The showing was the highest-rated TV show in history. 65 percent of all viewers turned on their sets to watch Scarlet O'Hara and Rhett Butler.
1976 - No. 1 Billboard Pop Hit: ``Tonight's the Night (Gonna Be Alright),'' Rod Stewart.
1978—Top Hits
You Needed Me - Anne Murray
MacArthur Park - Donna Summer
Double Vision - Foreigner
Sleeping Single in a Double Bed - Barbara Mandrell
1979 - The Rose, starring Bette Midler, got star treatment with a world premiere in Los Angeles. The movie was modeled after the life of Janis Joplin.
1979 - No. 1 Billboard Pop Hit: ``Pop Muzik,'' M. The performer's real name is Robin Scott. This is his only song to make the Hot 100.
1981- "Private Eyes" by Daryl Hall & John Oates topped the charts and stayed there for 2 weeks.
1985- Former middleweight boxer Rubin "Hurricane" Carter was released from Rahway (NY) State Prison after serving 19 years for a triple murder committed in a Paterson, NJ, bar in 1966. US District Court Judge J. Lee Sorokin ruled that prosecution had violated the civil rights of Carter and a codefendant during their trials in 1967 and 1976. Denzel Washington starred in a movie about his life.
1986 - Temperatures reached a daily record 86 at New Orleans, LA. It equaled the highest ever for November
1986 - The longest high school football winning streak to date ended. Canyon High, of Canyon Country, California, lost to Antelope Valley High 21-20. Canyon High racked up 46 consecutive wins before this.
1986—Top Hits
True Colors - Cyndi Lauper
Typical Male - Tina Turner
I Didn't Mean to Turn You On - Robert Palmer
It'll Be Me – Exile
1987-I Think We're Alone Now" by Tiffany topped the charts and stayed there for 2 weeks.
1987 - Bruce Springsteen's "Tunnel of Love" was the #1 album in the U.S. The rest of the top-five for the week: 2)-"Bad" (Michael Jackson); 3)-"Dirty Dancing" (soundtrack); 4)-"Whitesnake" (Whitesnake); 5)-"A Memory Lapse of Reason" (Pink Floyd).
1989-L. Douglas Wilder was elected governor of Virginia, becoming the first elected black governor in US history. Wilder had previously served as lieutenant governor of Virginia.
1989 - Judge Douglas H. Ginsburg asked President Reagan to withdraw his nomination to the United States Supreme Court, citing the clamor that arose over Ginsburg's admission that he had smoked marijuana on occasion. President Roosevelt won an unprecedented fourth term in office, defeating Thomas E. Dewey. Roosevelt only lived long enough to serve 53 days of this fourth term.
1989- The first Mayor of New York City was African-America was David N. Dinkins, 63, the Manhattan borough president, who was elected this day as a Democrat. He served one term. He was defeated in his 1993 bid for reelection by Republican candidate Rudolph Giuliani, whom he had beaten in 1989.
1989 - Shortly after daybreak, strong thunderstorms developed in an east-west band across New Orleans and southeastern LA. Rains of 8 to 12 inches deluged a 5 county area from 9 am and 6 pm. The two-day total ending 7 am on the 8th ranged up to 19.78 inches between Lake Lexy and Lake Borgne. 6000 homes reported water damage. The rainfall of 19.81 inches at New Orleans for the month was a record for any month.
1991- Ervin "Magic"Johnson of the Los Angeles Lakers retires from basketball after announcing that he had tested positive for HIV. Despite his retirement, Johnson played in the 1992 NBA All-Star game and in the 1992 Olympics as a member of the first US Dream Team. He coached the Lakers for part of the 1993-94 season and played part of the 1995-96 season before retiring again.
1994 - "The Electrical Engineering Times" ran a cover story about flaws in Intel's Pentium computer chip. The bug, an obscure flaw that caused extremely rare computation errors when performing certain types of mathematical calculations, eventually caused Intel to replace any Pentium processor affected by the flaw, regardless of whether the user was a mathematician or not. Intel took a $475 million charge against earnings for the quarter to cover the expense of replacing all of those chips.
1995 — The Carolina Panthers win an expansion record fourth game in a row, defeating the San Francisco 49ers 13-7 at 3Com Park. It is the first time in league history that an expansion team defeats the defending world champion.
1998 – Mayor Willie Brown was hit with 3 pastry pies by the Biotic Baking Brigade in protest for "skyrocketing evictions" and his "collusion with big business to perform an economic cleansing of SF." In Feb 1999 Gerard Livernois, Rahula Janowski and Justin Gross were sentenced to 6 months in County Jail for battery after the 3 refused to accept 3 years probation.
http://www.bioticbakingbrigade.org/willie_pieing_lg.jpg
http://www.bioticbakingbrigade.org/willie_pieing_after_lg.jpg
--------------------------------------------------------------

Football Poem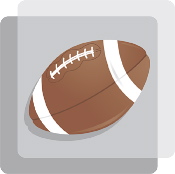 Hey nonny no!
Men are fools that wish to die!
Is't not fine to dance and sing
When the bells of death do ring?
Is't not fine to swim in wine,
And turn upon the toe
And sing hey nonny no,
When the winds blow and the seas flow?
Hey nonny no!
-Anonymous (17th century)-
--------------------------------------------------------------

SuDoku
The object is to insert the numbers in the boxes to satisfy only one condition: each row, column and 3x3 box must contain the digits 1 through 9 exactly once. What could be simpler?
http://leasingnews.org/Soduku/soduko-main.htm
--------------------------------------------------------------

Daily Puzzle
How to play:
http://www.setgame.com/set/puzzle_frame.htm
Refresh for current date:
http://www.setgame.com/set/puzzle_frame.htm
--------------------------------------------------------------

News on Line---Internet Newspapers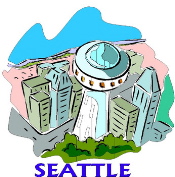 --------------------------------