Friday, November 14, 2008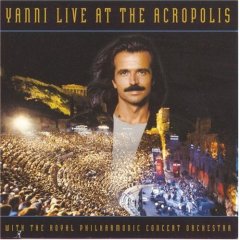 Headlines---
Classified Ads---Sales Managers
ePlus Leasing Revenue down $31 MM
Another Leasing Company Closes Their Doors
Placard---Stress
SunBridge Capital down for the count?
New Competition: Government Backed CIT, GE, Marlin…
Classified Ads---Help Wanted
Cartoon---Retirement
"Happy-Go-Lucky"/ "Madagascar: Escape 2 Africa"
"Get Smart"/"Kung Fu Panda"/"The General"
Fernando's View By Fernando F. Croce
Classified Ads---Collectors/Consultants
ELFA Announces New Board of Directors
NEFA Announces New Board of Directors
ATEL Leasing/Kalakane Capital $55MM for WalMart
NetSol Technologies First Quarter Results
Bailout Lacks Oversight Despite Billions Pledged
Gilroy: Don't Laugh: Your hometown next
Chances Dwindle on Bailout Plan for Automakers
AIG to Pay Millions To Top Workers
U.S. foreclosure rates up 25% year-over-year
Nordstrom profit falls 57%
Retail sales expected to slip further
$1.6 Bn Hartsfield-Jackson Int. Airport to halt?
News Briefs---
You May have Missed---
"In my next life, I'm coming back as a bank"
"Gimme that Wine"
Today's Top Event in History
This Day in American History
SuDoku
Daily Puzzle
GasBuddy
Weather, USA or specific area
Traffic Live----
######## surrounding the article denotes it is a "press release"
------------------------------------------------------------------

Classified Ads---Sales Managers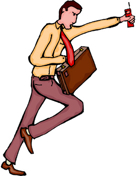 Atlanta, GA
Strong sales and leadership skills; demonstrated with sales training and sales performance. Lead team in both regional and national operations and developed marketing programs.
Email: mll1946@comcast.net
[Resume]
Chicago, IL
Sales Executive or Senior Manager, with responsibility for leasing capital equipment in support of transactions based on current market values, market potential and economic trends.
tomvolk53@hotmail.com
Phoenix , AZ
(will relocate)
Vendor leasing expert, last 6 years working on vendor side.
Open to getting back to lessor side.
Imaginative, ambitious, hungry. Will move anywhere for right position.
Email: vendorlease@hotmail.com
For a full listing of all "job wanted" ads, please go to:
http://www.leasingnews.org/Classified/Jwanted/Jwanted.htm
To place a free "job wanted" Leasing News ad:
http://www.leasingnews.org/Classified/Jwanted/Jwanted-post.htm
ELFA Career Center: Job Seekers (free):
http://careers.elfaonline.org/search.cfm
--------------------------------------------------------------

ePlus Leasing Revenue down $31 MM

ePlus, Herdon, Virginia reported total revenues for the six months ended September 30, 2008 decreased 18.2% to $379.1 million from $463.7 million in the comparable six-month period last year. This decline was primarily due to lower sales of leased equipment, in addition to a 12.9% decline in sales of products and services to $345.3 million compared to $396.2 million in the prior year period. Leasing segment revenue totaled $30.1 million, compared to $61.2 million in the prior year period, primarily due to higher sales of leased equipment in the prior year.
Net income totaled $6.4 million for the third quarter of 2008, an increase of 32.3% compared to $4.9 million in the prior year quarter. Revenues totaled $196.9 million, a decrease of 12.5% from $225.0 million in the prior year quarter.
Sales of product and services decreased 5.4% to $179.5 million, from $189.7 million in the prior year quarter, primarily due to reduced or delayed customer purchases in the soft economy.
"While we expect current economic conditions will continue to affect our customers' purchasing decisions, the challenges in the credit markets also present us with an opportunity to grow our business with existing customers and expand our client base through lease financing," said Phillip G. Norton, chairman, president and CEO. "We believe that our differentiated business model, which offers solutions and services throughout the entire IT lifecycle, makes us well positioned to gain market share."
Full Press Release at:
http://www.eplus.com/BaseRenderer.aspx?ItemId=3746
--------------------------------------------------------------

Another Leasing Company Closes Their Doors

C and J Leasing Corp, Des Moines, Iowa, in business since 1982 has let go its 18 employees, stopped funding, and is not taking on any new business, according to its president C. Allen Rice. He says he has been in the business for over 26 years and has never seen anything like today's financing marketplace.
"C and J Leasing Corp. is a Midwestern, independently-owned leasing company that finances all types of business equipment. We have been operating successfully since 1982. We believe this success is due to the ability to close deals. Our credit philosophy is not to lump our customers together but to make credit decisions on a deal-by-deal basis. We do not have mapped-out credit guidelines for each customer to meet, we just try to make it happen.
"We are not a broker but an end-of-the-line funding source. Once we approve a deal, our customers remain ours to service for the term of the lease. One of our biggest assets are repeat customers because they have already proven themselves. We set all of our customers up on lines of credit so they can acquire new equipment with ease. We want to be low maintenance financing."
http://www.candjleasing.com/default.html
There are reports about security deposits that were taken and now not given credit... The vendors that did not get paid... The leasing portfolio that was replevined by Liberty Bank Iowa... The servicing that was reportedly taken over by Frontier Leasing, Urbandale, Iowa. Steve Frederick of Frontier Leasing did not return a telephone call to confirm or deny.
Mr. Rice states the company telephone number will remain active, that he is participating in the winding down of the company. He is looking to remain in the leasing business "in a meaningful way."
Leasing News was unable to verify that a bank Suspicious Activity Report was filed by Liberty Bank Iowa. This may include: "A transaction includes a deposit; a withdrawal; a transfer between accounts; an exchange of currency; an extension of credit; a purchase or sale of any stock, bond, certificate of deposit, or other monetary instrument or investment security; or any other payment, transfer, or delivery by, through, or to a bank," commonly referred to as a "SAR."
"Liberty Bank, headquartered in West Des Moines, Iowa, when combined with its affiliate Liberty Bank, Florida, operates a total of 34 branches, with total assets exceeding $1.3 billion and equity of nearly $136 million as of September 30, 2008."
https://www.libertybankiowa.com/about/statement-of-condition.aspx
Liberty Bank did not return telephone calls for a comment.
--------------------------------------------------------------

--------------------------------------------------------------
--------------------------------------------------------------

SunBridge Capital down for the count?
Too many brokers, discounters, lessors are reporting to Leasing News that fundings again have stopped at SunBridge Capital, Fairway, Kansas, and they are being told no new business until after the first of the year; SunBridge is concentrating on its "Trucks on Hold." This is their returned trucks and repro's.
SunBridge did not return calls to confirm or deny reports they were not funding any new transactions until January, or it may be they will be entering a wind down mode.
The recent story on Global Funding, Clearwater, Florida, indicates other company difficulties with SunBridge Capital.
In the last reporting of their funding shut down that they issued a statement would be temporary, one of their main funders, perhaps their main funder since their bank backed out of the investment into the company, New World Equipment Funding, LLC, Lake Success, New York, denied any problems.
New World President John Martella told Leasing News July 1, 2008,
they had cut back brokers, plus had told companies such as Equilease, no more trucks. Equilease President Martin Zwick confirmed that his company had reached their $40 million line in truck leases. A report that that Martella had visited SunBridge and said the repossessions were too high was denied. He said they were still funding deals for SunBridge.
Martella then told Leasing News, ""SunBridge is a value client run by responsible professional people.
"We have not cut them off."
"My relationship with SunBridge goes back to 2000. Once again SunBridge is a valued client. The senior management and investment group are responsible operators.
"We have never had a problem with SunBridge honoring any of their obligations.
"You should be a little more carefully about selecting your sources of information."
Requesting a comment for today's news edition regarding SunBridge, Martella said he would not discuss it.
Previous New World Equipment Funding article:
http://www.leasingnews.org/archives/July%202008/07-01-08.htm#nwef
--------------------------------------------------------------

New Competition: Government Backed CIT, GE, Marlin…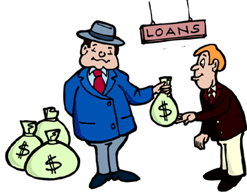 "Concurrently, CIT Bank, our Utah-based wholly-owned subsidiary, also filed an application to convert its charter from an industrial bank to a Utah State Bank. CIT has also submitted an application to participate in the U.S. Treasury's Capital Purchase Program (TARP), conditional upon being granted status as a bank holding company by the Federal Reserve.
"CIT is a significant source of liquidity for small and mid-sized businesses who are struggling to survive in today's challenging environment. As a bank holding company CIT would be well-positioned to ensure the continued flow of liquidity directly to main street businesses and entrepreneurs.
"These actions are intended to provide CIT with expanded opportunities for funding and greater access to capital. They will permit CIT to continue its current business activities and increase its deposit-taking capabilities, which will provide further diversity to our long-term funding model.
"By way of background, CIT has been the #1 Small Business Administration (SBA) 7(a) volume lender for nine consecutive years and the #1 SBA 7(a) volume lender to women-, veteran- and minority owned businesses for five consecutive years.
"If you want to learn more about the vital roles the Middle Market and Small Business sectors play in the U.S. economy please click on the related links below.
Curtis Ritter
Vice President
Director of External Communications & Media Relations ]
CIT Group
Middle Market Overview http://tinyurl.com/middle-market-influence-cit
Middle market companies employ almost 32 million Americans, four times the number of employees in the Dow Jones Industrial Average (DJIA). They create more than $6 trillion in annual sales and account for more than twice the revenues than the companies that make up the DJIA.
Small Business Sector Overview
http://tinyurl.com/small-business-impact
U.S. small businesses employ nearly 59 million Americans – approximately half of all private-sector jobs. In 2006, they constituted approximately 97% of all identified exporters and produce approximately 29% of the known export value. Further, small businesses collectively account for more than half of the United States' non-farm private gross domestic product.
### Press Release #######
FOR IMMEDIATE RELEASE
CIT APPLIES TO BECOME A BANK HOLDING COMPANY
Converting Its Utah Industrial Bank to a Utah State Bank
NEW YORK – – CIT Group Inc. (NYSE: CIT), a leading commercial finance company, today announced that it has applied with the U.S. Federal Reserve Board of Governors to become a bank holding company. Concurrently, CIT Bank, a Utah-based wholly-owned subsidiary of CIT, filed an application to convert its charter from an industrial bank to a Utah State Bank. CIT has also submitted an application to participate in the U.S. Treasury's Capital Purchase Program (TARP), conditional upon being granted status as a bank holding company by the Federal Reserve.
These actions are intended to provide CIT with expanded opportunities for funding and greater access to capital. They will permit CIT to continue its current business activities and increase its deposit-taking capabilities, which will provide further stability and diversity to CIT's long-term funding model.
"As the bridge between Wall Street and Main Street, CIT remains one of the few significant sources of liquidity for small and mid-sized businesses who are struggling to survive in today's challenging environment," said Jeffrey M. Peek, Chairman and CEO. "Our commitment to the success and continued viability of middle market businesses has not wavered throughout our 100 year history. The middle market is the cornerstone of the U.S. economy, providing more than 32 million jobs nationwide and generating more than $6 trillion in annual revenue. As a bank holding company CIT would be well-positioned to ensure the continued flow of liquidity directly to main street businesses and entrepreneurs."
While CIT has been engaged in discussions with Federal and State regulators for several weeks,
CIT cannot assure that it will become a bank holding company or that it will participate in the TARP program.
About CIT
CIT (NYSE: CIT) is a global commercial finance company that provides financial products and advisory services to more than one million customers in over 50 countries across 30 industries. A leader in middle market financing, CIT has more than $70 billion in managed assets and provides financial solutions for more than half of the Fortune 1000. A member of the S&P 500 and Fortune 500, it maintains leading positions in asset-based, cash flow and Small Business Administration lending, equipment leasing, vendor financing and factoring. The CIT brand platform, Capital Redefined, articulates its value proposition of providing its customers with the relationship, intellectual and financial capital to yield infinite possibilities. Founded in 1908, CIT is celebrating its Centennial throughout 2008. www.cit.com
--------------------------------------------------------------

Leasing Industry Help Wanted
Burbank , California
Credit Analyst
Strong understanding of small ticket leasing; Minimum 2 years experience. Compensation plan $45-$75K salary, full benefits & 401K .
Funding Manager
Small ticket minimum 2 years experience, brokering and discounting leasing transactions. Compensation plan $45-$75K salary, full benefits & 401K .
Contact :Jason Downs: jdowns@capnetusa.com 877.980.0558 EXT. 125
Sales


VENDOR SALES SPECIALISTS
LEASING SALES PROFESSIONALS
Like selling vendor programs and large transactions?
Enjoy international financing programs?
Prefer the advantages of a commission only environment with the security of health and welfare benefits?
CLICK HERE to find out how to have fun again.
Please see our Job Wanted section for possible new employees.
-------------------------------------------------------------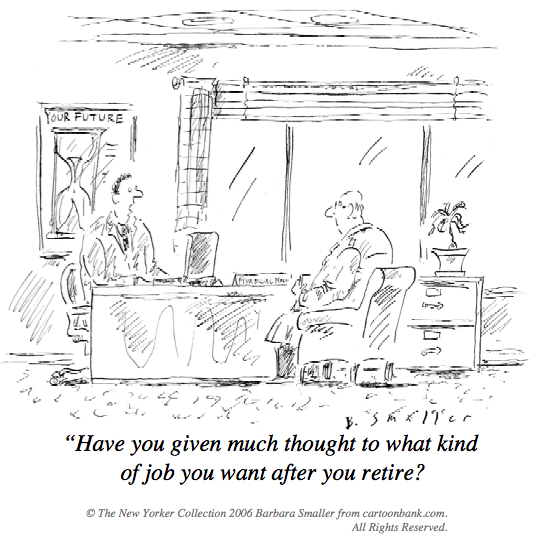 --------------------------------------------------------------

Happy-Go-Lucky/ Madagascar: Escape 2 Africa
Get Smart/Kung Fu Panda/The General
Fernando's View By Fernando F. Croce
In Theaters: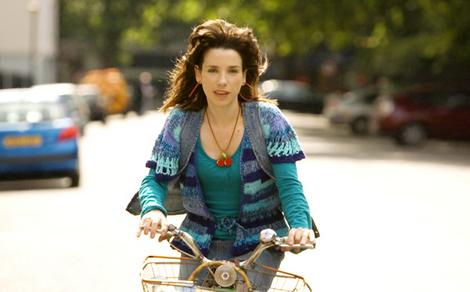 Happy-Go-Lucky (Miramax Films): Mike Leigh, best known for his bleak portraits of British life ("Secrets & Lies," "Vera Drake"), lightens up for this comedy-drama about an irrepressibly cheery schoolteacher nicknamed Poppy (Sally Hawkins). Bobbing through London as if in a bubble of optimism, she's always looking on the bright side of life, even when stuck inside a car with a frowning driving instructor (Eddie Marsan). As with Leigh's other movies, there's a wonderful sense of grittiness mixed with humor, filled with beautifully etched characters who seem to live on even when they're not on screen. Blending sunshine and seriousness, it may be Leigh's most appealing movie since "Topsy-Turvy."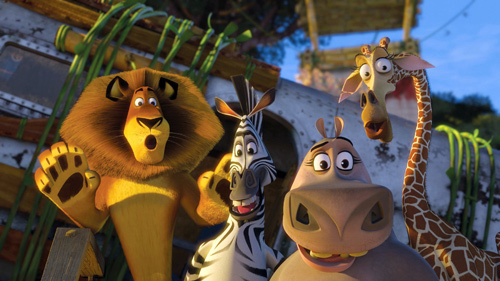 Madagascar: Escape 2 Africa (Dreamworks): Last seen trying to escape Madagascar's jungles and return to their beloved New York City zoo, the four animals from the 2005 animated hit (lion Alex, zebra Marty, hippo Gloria and giraffe Melman) return for more laughs in this endearing sequel. With the help of gung-ho penguins, the quartet manages to fly a plane off the island, only to crash it in a wild kingdom belonging to none other than Alex's leonine parents. "Borat's" Sacha Baron Cohen and the late Bernie Mac join Ben Stiller, Chris Rock, Jada Pinkett-Smith and David Schwimmer in this hilarious, family-friendly feature, which manages to reconcile lessons about tolerance with "Survivor" parodies.
New on DVD: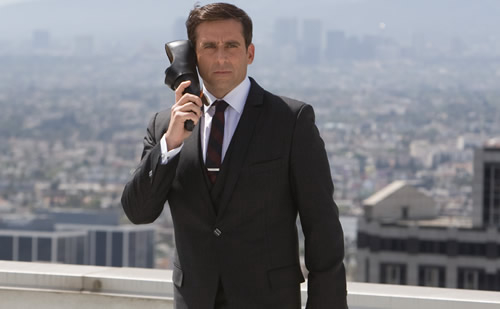 Get Smart (Warner Bros.): Fans of the original '60s show about bumbling secret agent Maxwell Smart will be relieved to see much of Don Adams's unique brand of humor intact in this big-screen adaptation. Steve Carell, with his clueless deadpan demeanor, is an inspired choice to fill the character's shoes, but the most pleasant surprise may be Anne Hathaway's sexy and funny turn as the foxy Agent 99. Seasoned comic filmmaker Peter Segal ("Tommy Boy," "The Nutty Professor 2") directs for both laughs and thrills, and the game supporting cast includes Dwayne "The Rock" Johnson, Alan Arkin, and Terence Stamp. (Keep an eye out for a Bill Murray cameo.)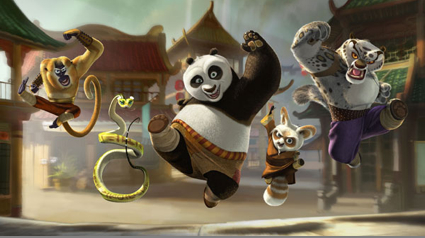 Kung-Fu Panda (Dreamworks): The idea of a martial-arts film featuring talking animals may not sound too promising, but this Dreamworks blast is actually funnier and more exhilarating than your average animated feature. Set in ancient China, the plot follows the adventures of the rambunctious panda Po (voiced by Jack Black), whose fantasies of becoming a hero may finally come true once he is selected to join a group of warriors led by Master Shifu (Dustin Hoffman) in defending their village against a villainous tiger. The thrilling choreography (on par with the best kung-fu fight sequences) is enhanced by an exceptional cast that includes Angelina Jolie, Ian McShane, Lucy Liu and Jackie Chan.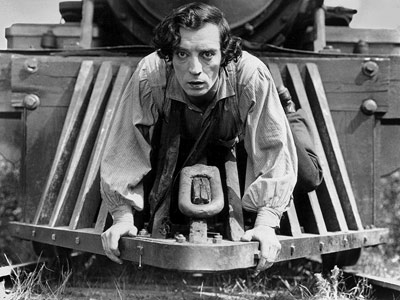 The General (Kino): Though not as beloved as Charlie Chaplin, Buster Keaton was his equal as an artist during the heyday of great silent comics, and many historians today would argue that he's the better filmmaker of the two. This sublime silent comedy surely supports their point, as it follows train conductor Johnny Gray (the hilariously deadpan Keaton himself) racing through the South during the Civil War to rescue his beloved fiancée (Marion Mack). With breathtaking gags set up like clockwork and a fascinatingly modern attitude, this is not just one of the greatest comedies ever but also one of the greatest movies ever.
--------------------------------------------------------------

Classified Ads---Collectors/Consultants
Leasing Industry Outsourcing
(Providing Services and Products)
Collector: Atlanta, GA
Asset Recovery Specialist. We get your money or we get your > equipment back for you. Physical Asset Recovery Experts!
E-mail: mcrouse911@joimail.com
Collector: Cleveland, OH
Huntley Capital & Associates is your solution to late payments, no payments, and asset recovery. Call 216-337-7075.
Email: ghpatey@msn.com

Collector: Los Angeles, CA
Expert skiptracers covering Southern California. We locate skips, judgment debtors and collateral. When you can't get the job done in house, give us a call at
1-800-778-0794.
E-mail: ceo@interagencyLA.com
Collector: Louisville, KY
We are a full service collection agency with attorney network. 21 years experience. Please call Jon Floyd, VP at 1-800-264-6850
email: jfloyd@collectcsg.com
Collector: Louisville, KY
Euler Hermes/UMA 92 year old Global Receivables Outsourcing. Presence in 143 Countries. Work w/ 4 out of 5 Fortune 500 firms. Contingency Fee Structure.
20% off first time clients.!
Andrew.Newton@eulerhermes.com
1-800-237-9386 x 205.



Collector: Mandeville, MI
International commercial collection services all fees are on contingency on line access.
E-mail: rmelerine@collect-now.com
www.drspay.com
www.collect-now.com

Collector: Milwaukee, WI
We specialize in ATM machine reposession and remarketing. We can get you top dollar for your inventory.
E-mail: bdperry1@yahoo.com

Collector: Nationwide
End of lease negotiations & enforcement. Third-party collections. Skip-tracing. Background checks. Credit & asset investigations. 15+ years in leasing industry. Providing services to clients nationwide.
800-824-0234
john.kenny6@worldnet.att.net
Collector: Saint Louis, MO
Complete commercial collection agency. Licensed bonded in all states and will out performed any other agency!
Call 1-800-659-7199 ext.315
E-mail: jfloyd@lindquistandtrudeau.com
Consultant: Burlington, CT
We provide our clients with a full range of consulting services such as portfolio conversions, reconciliation, custom programming and leasing operations utilizing InfoLease.
Email: info@new-millennium-assoc.com
Consultant: Henderson, NV
Focus on new business development and process efficiencies to create incremental revenue and profitability. Executive level vendor experience, and satisfied outsourcing clients. Incredible track record.
E-mail: rbutzek@cox.net

Consultant: Sausalito, CA
Lease trainer and consultant. 38 years in equipment leasing. Expert in transaction analysis, financial statement analysis, credit, packaging, structuring. Presents highly popular classes and workshops.
E-mail:BoTei@aol.com

Consultant: North of Detroit, MI
INFOLEASE EXPERT - 18 years experience. Since being downsized in 2002, working as a consultant for several leasing companies. Seeking consulting projects nationwide.
E-mail: darwint@prodigy.net

Consultant: Ridgefield CT.
Lisa Lersner w/20 years exp. specializing in leasing technology now providinglessor selection andmanagement services, includingthe securing of debt and equity and acquisition guidance services.
Email: LLersner@leasefinanceconsulting.com Go to www.leasefinanceconsulting.com

Consultant
15 years doing deals/running own technology leasing company – looking to advise/ lead new entrants to take advantage the European market opportunity.
www.clearcape.co.uk or kevin.kennedy@clearcape.co.uk

Communications: Chassell, MI

Cartoons on business, finance & computers. Use for your presentations, website, newletter, direct

mail projects etc. Fees are negotiable.
Email: dan@danscartoons.com
Go to http://www.danscartoons.com
All "Outsourcing" Classified ads
(advertisers are both requested and responsible to keep their free ads up to date):
http://www.leasingnews.org/Classified/Outsourcing/Outsourcing.htm
How to Post a free "Outsourcing" classified ad:
http://www.leasingnews.org/Classified/Outsourcing/Outsourcing-post.htm
---------------------------------------------------------------
### Press Release ###########################

Equipment Leasing and Finance Association
Announces New Board of Directors
James J. Ambrose
President, Equipment Finance, GE Healthcare Financial Services
Elected Chair

Washington, DC, --- The Equipment Leasing and Finance Association (ELFA) announces its new Board of Directors and Officers, who will serve during the next 12 months.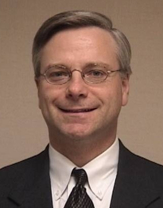 James J. Ambrose, President, Equipment Finance, GE Healthcare Financial Services
is the Chairman of the Board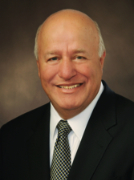 Kenneth R. Collins, Jr., Chairman, President and CEO, Susquehanna Commercial Finance, Inc.
is now Chairman-elect.
The Chairman-elect and new board members were recommended by ELFA's nominating committee and approved by a vote of the general membership.
"The equipment finance industry faces significant challenges resulting from the unprecedented combination of recent macroeconomic events and we will continue to face pressure over the next several quarters from the fallout in the financial markets," said James J. Ambrose, President, Equipment Finance, GE Healthcare Financial Services. "The Association's president, Ken Bentsen and ELFA staff have made great strides to keep our members and the larger financial community aware and informed about how these critical issues will impact our industry. The ELFA is positioned not only to respond to this challenge, but to affect it as well on our behalf," said Ambrose.
"During my tenure as ELFA Chairman, I look forward to driving broader and deeper engagement of our member companies with the ELFA staff, standing committees, business councils as well as with the board to best position our industry to weather this economic storm and bring opportunities for growth to our membership," said Ambrose.
"We are extremely pleased to have Jim Ambrose to chair the Association at a time of tremendous upheaval in the capital markets and the economy," said ELFA president, Kenneth E. Bentsen, Jr. "As the equipment finance sector weathers these uncertainties, association members and the industry at large will benefit from his leadership and global financial experience and that of our strong Board of Directors and Officers. ELFA is prepared to confront the challenges ahead," said Bentsen.
Mr. Ambrose has over 26 years of experience within the GE business community, where he has held several leadership positions in marketing, product management and sales. His current position is president of the global Equipment Finance organization within GE Healthcare Financial Services (HFS). HFS Equipment Finance includes: GE Healthcare equipment financing, vendor program financing, healthcare and dental practice financing and has operations in the U.S. Europe, Asia and Latin America. He holds a Bachelor's degree from Boston College and an MBA in Finance from New York University.
Mr. Ambrose has been an active member for over seven years and has held previous leadership positions with the ELFA as Chairman-elect, Vice Chairman, Director and as a member of the Finance Committee of the Board.
The new members of the ELFA Board of Directors include:
Justin Cooper, President, CHP Consulting
John W. Heist, Jr., Vice President – Syndications, CCA Financial, LLC
David T. Schaefer, President, Orion First Financial, LLC
Larry A. Smilie, Managing Director, Banc of America Leasing
Kris A. Snow, President - CIT Vendor Finance
William F. Stephenson, Global Chief Commercial Officer, De Lage Landen Financial Services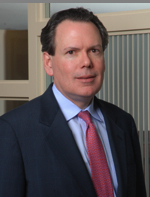 Kenneth E Bentsen, Jr. continues to serve as President.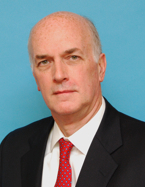 John M. Butler, President and CEO, John Hancock Leasing Corporation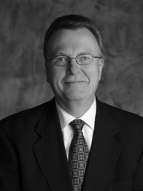 Curt F. Glenn, Senior Vice President – Portfolio Management, GATX Corporation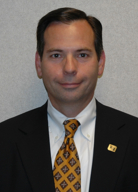 David A. Merrill, President, Fifth Third Leasing Company was
elected by the Board of Directors to serve as ELFA Vice Chairs.
Edward A. Groobert, Esq., Dykema Gossett, continues to serve as secretary and Thomas M. Jaschik, President, BB&T Equipment Finance, is elected by the Board of Directors to serve as treasurer.
William H. Verhelle, CEO of First American Equipment Finance is immediate past chair. In addition to Mr. Cooper, Mr. Heist, Mr. Schaefer, Mr. Smilie, Ms. Snow and Mr. Stephenson, the following are also members of the ELFA Board of Directors:
Kent M. Adams, President, Caterpillar Financial Services Corporation
George K. Booth, Managing Director, Black Rock Capital LLC
Aylin N. Cankardes, President, Rockwell Financial Group
Edward Castagna, President, Nassau Asset Management
Glenn P. Davis, Vice President, NorLease, Inc.
Crit DeMent, Chairman, CEO, LEAF Financial Corporation
Christa Hemans, President, Court Square Leasing Corporation
James McGrane, President & CEO, US Express Leasing, Inc.
Richard Remiker, Chief Administrative Officer, RBS Asset Finance
Robert J. Rinaldi, Executive Vice President, National City
Commercial Capital Company, LLC "NC4"
Philip R. Rosenblatt, Partner, Nutter, McClennen & Fish, LLP
Frederick S. Summers, Chairman & CEO, Vision Financial Group, Inc.
Adam D. Warner, President, Key Equipment Finance
About the Equipment Leasing and Finance Association
The Equipment Leasing and Finance Association is the trade association that represents companies in the $650 billion equipment finance sector which includes financial services companies and manufacturers engaged in financing capital goods. Its more than 700 members include independent and captive leasing and finance companies, banks, financial services corporations, broker/packagers and investment banks, as well as manufacturers and service providers.
For more information, please visit www.elfaonline.org
The ELFA is also the premier source for statistics and analyses covering the equipment finance sector. To access ELFA's comprehensive industry information, please visit
http://www.elfaonline.org/ind/research/
### Press Release ###########################

NEFA Announces Formation and 2009 Board of Directors

ATLANTA, GEORGIA – - The National Equipment Finance Association (NEFA) held its first Board meeting on November 4, 2008 in Atlanta. The NEFA formation was recently approved by the merger of the Eastern Association of Equipment Lessors (EAEL) and the United Association of Equipment Leasing (UAEL). The first order of business was the historic signing of the association's charter by the founding Board members. "It was really a special feeling to be involved with the new beginning of an "old" association", said Brent Hall of Pinnacle Business Finance, the NEFA's first President. "We have an excellent Board of Directors that is well suited for the hard work of merging the two associations. It is a pleasure to work with this very smart and capable group of people".
The Board agenda was very full and progress is being made on a fast pace on a variety of fronts. The association's new website is in formation and will be up and running shortly. Membership renewal invoices will be going out to members at the beginning of December. Plans are also well along for NEFA's 2009 Spring Leadership Conference in Orlando on April 23-26.
Bruce Winter of FSG Leasing, serving on NEFA's Executive Committee, said, "The progress and momentum we have made in such a short time is remarkable. It is an indication that this is a continuation of the best of both associations and not a start up organization at all. We are looking forward to continuing to provide excellent membership benefits to our current members and attract a lot of new members to this truly national organization."
Joe Woodley and Alison Pryor serving as Membership Directors are already busy communicating with current and prospective members and coordinating numerous year end regional functions. Committees for 2009 are in formation and members should contact Joe jwoodley@uael.org and Alison Alison@eael.org or NEFA Board members to learn about ways to be involved in NEFA.
2009 NEFA Board of Directors:
Brent Hall, CLP - Pinnacle Business Finance, Inc.
Brian Bjella - Grandview Financial, Inc.
George Parker - Leasing Technologies International, Inc.
Randy Haug - LeaseTeam, Inc.
Bruce Winter, CLP - FSG Leasing, Inc.
Jim Merrilees, CLP - Quiktrak, Inc.
Chris Enbom, CLP - Allegiant Partners, Inc.
Brad Kissler - Strada Capital Corporation
Chris Walker, CLP - GreatAmerica Leasing Corporation
Hugh Swandel - Swandel & Associates
Valerie Jester - Brandywine Capital Associates
Frank Peretore - Peretore & Peretore, P.C.
Scott Wheeler, CLP - The Equipment Leasing Company
Chris Santy - Patriot Capital Corp.
Nancy Geary, CLP - ECS Financial Service, Inc.
Curt Kovash - U.S. Bancorp Manifest Funding Services
Steven R. Hughes
For NEFA
(404) 760 – 4236 Shughes@meetingexpectations.com
(This ad is a "trade" for the writing of this column. Opinions
contained in the column are those of Mr. Terry Winders, CLP)
### Press Release ###########################

ATEL Leasing Corporation and Kalakane Capital,
LLC Complete $55 Million Operating Lease for
Wal-Mart Transportation, LLC and Wal-Mart Stores, Inc.

SAN FRANCISCO----ATEL Leasing Corporation and its affiliate, Kalakane Capital, LLC, are pleased to announce the successful funding of a $55 million operating lease with Wal-Mart Transportation, LLC and Wal-Mart Stores, Inc. The leased equipment was comprised of over (900) new refrigerated trailers used at regional Wal-Mart distribution centers.

"We are extremely proud of our relationship with Wal-Mart Stores. In light of the difficulties that exist in the current financing environment, it is quite an accomplishment to successfully provide this level of competitive lease financing," said William Bullock, Senior Vice President at ATEL Leasing Corporation. "The transaction with Wal-Mart furthers our mandate of partnering with the strongest companies in the United States to provide leases for long-lived capital equipment."
About ATEL Leasing Corporation
For information about ATEL Leasing Corporation, contact Bill Bullock, Senior Vice President at
415-616-3493, or visit their website at www.atel.com.
About Kalakane Capital, LLC
For information about Kalakane Capital, contact Becky Hanley, Vice President and Director of Syndications at 303-221-6645, or visit their website at www.kalakane.com.
About Wal-Mart Transportation, LLC & Wal-Mart Stores, Inc. (NYSE: WMT - News)
Wal-Mart Transportation is the logistics arm of Wal-Mart Stores, Inc. Wal-Mart is the largest company in the world based on annual revenues. Every week, millions of customers visit Wal-Mart Stores, Supercenters, Neighborhood Markets, and Sam's Club locations across America or log on to its online store at www.walmart.com
### Press Release ###########################

NetSol Technologies Reports Fiscal First Quarter 2009 Financial Results
Revenue, GAAP Net Income and EBITDA Increase Year-Over-Year,
Supported by a 33% Rise in License Fees

EMERYVILLE, CA-- -- NetSol Technologies Inc. "NetSol" (NTWK - News) (DIFX: NTWK), a U.S. corporation providing global business services and enterprise application solutions to private and public sector organizations worldwide, today announced fiscal first quarter 2009 financial results for period ended September 30, 2008.
Fiscal First Quarter 2009 Consolidated Financial Highlights
-- Revenues increased 7.5% year-over-year to $9.3 million
-- Service fees year-over-year were level at $5.2 million
-- License fees increased 33% to $2.5 million
-- Maintenance fees year-over-year were level at $1.6 million
-- GAAP net income increased to $1.0 million, or $0.04 per fully diluted
share, versus $844,000, or $0.04 per fully diluted share, in the year
ago period
-- EBITDA increased to $2.3 million, or $0.08 per diluted share,
representing a 25% EBITDA margin, versus EBITDA of $1.9 million, or
$0.08 per diluted share, in the year ago period
-- Based on the current global economic climate, NetSol is adjusting
fiscal year 2009 financial guidance to annual revenue growth between
20% to 25% over fiscal year 2008 levels and diluted earnings per share
between $0.25 to $0.30
ADVERTISEMENT
Najeeb Ghauri, NetSol Technologies chairman and chief executive officer, commented, "Our year-over-year growth in fiscal first quarter 2009 revenue, net income and EBITDA are based on the strength offered by our comprehensive range of cost effective IT solutions as well as the geographic diversity of our global customer base and client delivery platform. NetSol experienced solid growth in license fees within our core NetSol Financial Suite (NFS) as well as rising interest for our Global Business Services, in what is historically our seasonally slowest quarter of the fiscal year, and despite a challenging global economic environment. During the quarter, we secured and expanded a number of high value customer relationships including Nissan Financial Services and a new global frame agreement with Daimler Financial Services, extending NetSol's relationship with its longest standing customer to additional international markets.
"We have also made significant progress in terms of establishing additional business drivers to help fuel our growth strategy for fiscal 2009 and beyond. The recent acquisition of Ciena Solutions, a U.S. based SAP systems consulting firm, and the launch of our new global Business Process Outsourcing (BPO) practice group add new high level IT services that can be offered to our global customer base as complementary solutions. We are also continuing to explore additional joint venture opportunities to further leverage our CMMI Maturity Level 5 'Center of Excellence' to its fullest.
"In analyzing the impact of the current global economic downturn we believe it is prudent at this time to make some adjustment in our guidance for fiscal 2009. Despite taking a more conservative approach with regards to the potential influence of the current global economic downturn on our business outlook, we continue to anticipate double-digit year-over-year growth in revenue and improved profitability in fiscal 2009. Our growth projections are based on the addition of our new SAP and BPO solutions, a healthy global pipeline and increasing traction in America, Asia and the Middle East.
"While I am disappointed that it was necessary to restate certain historical financial information as filed on November 10, we have moved expeditiously with a range of strategic actions to remedy the situation and ensure the company is employing the most stringent financial controls. I am committed more than ever to building on the momentum we have established in growing NetSol into a leading global IT services provider and ultimately moving forward to build shareholder value. NetSol is healthy and strong and I am dedicated to restoring confidence in this dynamic global growth story we have built. To these ends, our recently extended one million share repurchase program and frequent senior management buying reflect our belief, that based on the current value we see in our shares, NetSol represents one of the best investments we can make," concluded Mr. Ghauri.
NetSol reported consolidated revenues of $9.3 million for the first quarter of fiscal year 2009, a 7.5% increase compared to the $8.7 million in revenues reported for the same period a year ago. Consolidated gross profit for the fourth quarter was approximately $4.7 million, or 51% of total revenues.
Full Press Release:
http://biz.yahoo.com/iw/081113/0452233.html
### Press Release ###########################
--------------------------------------------------------------


(Leasing News provides this ad "gratis" as a means
to help support the growth of Lease Police)
News Briefs----
Bailout Lacks Oversight Despite Billions Pledged
http://www.washingtonpost.com/wp-dyn/content/article/2008/11/12/
AR2008111202846_pf.html
Gilroy: Don't Laugh: Your hometown next
http://www.mercurynews.com/ci_10968380
Chances Dwindle on Bailout Plan for Automakers
http://www.nytimes.com/2008/11/14/business/14auto.html?_r=1&ref=business&oref=slogin
AIG to Pay Millions To Top Workers
http://www.washingtonpost.com/wp-dyn/content/article/2008/11/13/
AR2008111304446.html
U.S. foreclosure rates up 25 percent year-over-year
http://seattletimes.nwsource.com/html/businesstechnology/2008385981
_apforeclosurerates.html
Nordstrom profit falls 57%
http://seattletimes.nwsource.com/html/businesstechnology/2008387794
_webnordstrom13.html
Retail sales expected to slip as consumers battle with tidal wave of bad economic news
http://www.chicagotribune.com/business/sns-ap-financial-meltdown,0,455671.story
$1.6 Bn Hartsfield-Jackson Int. Airport to halt?
http://www.ajc.com/business/content/business/stories/2008/11/13/
hartsfield_international_terminal.html
AAA releases 2009 list of 'Five Diamond' hotels and restaurants
http://www.usatoday.com/travel/hotels/2008-11-13-aaa-five-diamond-list_N.
htm?loc=interstitialskip
---------------------------------------------------------------


You May have Missed---
"In my next life, I'm coming back as a bank"
http://www.foxnews.com/story/0,2933,451088,00.html
----------------------------------------------------------------


"Gimme that Wine"
Eric Asimov on Thanksgiving Wine
http://www.nytimes.com/interactive/2008/11/11/dining/20081112_TASTING_FEATURE.html
Dunne on Wine: Value wine can offer quality, too
http://www.sacbee.com/161/story/1389241.html
Vintners give away $7.26 million
http://www.sthelenastar.com/articles/2008/11/13/news/local/doc491b96ca40ff9395862371.txt
Kendall-Jackson first to woo Obama
http://www.decanter.com/news/271935.html
Book details rise of Veuve Clicquot worldwide champagne empire
http://canadianpress.google.com/article/ALeqM5jxYpJYrOxue7WjRmgvzDtUh5_0CQ
(This is a free "ad" for our good friends the Bateman's,
proprietors of Thunder Mountain Kona coffee)
Wine Prices by vintage
http://www.winezap.com
http://www.wine-searcher.com/
US/International Wine Events
http://www.localwineevents.com/
Winery Atlas
http://www.carterhouse.com/atlas
Leasing News Wine & Spirits Page
http://two.leasingnews.org/Recommendations/wnensprts.htm
The London International Vintners Exchange (Liv-ex) is an electronic exchange for fine wine.
http://www.liv-ex.com/
----------------------------------------------------------------

Today's Top Event in History
1900- Birthday of American composer Aaron Copland , born at Brooklyn, NY. Incorporating American folk music and, later, the 12-tone system, he strove to create an American music style that was both popular and artistic. He composed ballets, film scores and orchestral works including Fanfare for the Common Man (1942), Appalachian Spring (1944) (for which he won the Pulitzer Prize) and the score for The Heiress (1948) (for which he won an Oscar) and "Billy the Kid."
He died Dec 2, 1990, at North Tarrytown, NY.
http://memory.loc.gov/ammem/today/nov14.html
[headlines]
----------------------------------------------------------------

This Day in American History
1732-The Library Company of Philadelphia signed a contract with its first librarian. Founded by Benjamin Franklin and friends in November 1731, the library enrolled members for a fee of 40 shillings but had to wait for its books to arrive from England before beginning full operation.
1784-Samuel Seabury, 55, was consecrated Bishop of Connecticut and Rhode Island, the first bishop of the American Protestant Episcopal Church, and the first Anglican bishop in America.
1803 -- American author Jacob Abbott born Hallowell, Maine.Abbott wrote the first fictional series for children, introducing many of the key types and techniques of series books, popularizing the genre virtually single-handedly, and wrote some of the earliest American juveniles deserving of the term "children's literature"
http://www.readseries.com/auth-a/ab-bio.html
http://www.merrycoz.org/bib/ABBOTT.HTM
1832 - The first horse car (a streetcar drawn by horses) was displayed in New York City. The vehicle had room for 30 people in three compartments. The new service traveled Fourth Avenue between Prince and Fourteenth Streets.
1851 - "Call me Ishmael. Some years ago -- never mind how long precisely -- having little or no money in my purse, and nothing particular to interest me on shore, I thought I would sail about a little and see the watery part of the world..." Thus begins Herman Melville's book "Moby-Dick; or, The Whale", which was first published in New York City by Harper & Brothers on this day. The complex, but rousing sea story tells the tale of a sea captain's search for Moby Dick, the great white whale that had once crippled him. The story is told by sailor-narrator Ishmael. Through the pages of "Moby Dick", we meet Ishmael's bunkmate Queequeg, a whale harpooner from Polynesia; learn everything there is to know about whaling in the nineteenth century; and, of course, about Captain Ahab and his obsession with Moby Dick.  In 1846, he published his first novel, Typee, based on his Polynesian adventures. His second book, Omoo (1847), also dealt with the South Seas. The two novels became popular, although his third, Mardi (1849), more experimental in nature, failed to catch on with the public. Melville bought a farm near Nathaniel Hawthorne's house in Massachusetts, and the two became close friends, although they later drifted apart. Melville wrote for journals and continued to publish novels. Moby Dick was coolly received, but his short stories were highly acclaimed. Putnam's Monthly published "Bartleby the Scrivener" in 1853 and "Benito Cereno" in 1855. In 1866, Melville won appointment as a customs inspector in New York, which brought him a stable income. He published several volumes of poetry. He continued to write until his death in 1891, and his last novel, Billy Budd, was not published until 1924.
1882-Gunslinger Franklin "Buckskin" Leslie shoots the Billy "The Kid" Claiborne dead in the streets of Tombstone, Arizona. (The name of one of Aaron Copland's work, who's birthday is today-1900)The town of Tombstone is best known today as the site of the infamous shootout at the O.K. Corral. In the 1880s, however, Tombstone was home to many gunmen who never achieved the enduring fame of Wyatt Earp or Doc Holliday. Franklin "Buckskin" Leslie was one of the most notorious of these largely forgotten outlaws. There are few surviving details about Leslie's early life. The first historical evidence of Leslie's life emerges in 1877, when he became a scout in Arizona. A few years later, Leslie was attracted to the moneymaking opportunities of the booming mining town of Tombstone, where he opened the Cosmopolitan Hotel in 1880. That same year he killed a man named Mike Killeen during a quarrel over Killeen's wife, and he married the woman shortly thereafter. Leslie's reputation as a cold-blooded killer brought him trouble after his drinking companion and fellow gunman John Ringo was found dead in July 1882. Some Tombstone citizens, including a young friend of Ringo's named Billy "The Kid" Claiborne, were convinced that Leslie had murdered Ringo, though they could not prove it. Probably seeking vengeance and the notoriety that would come from shooting a famous gunslinger, Claiborne unwisely decided to publicly challenge Leslie, who shot him dead. The remainder of Leslie's life was equally violent and senseless. After divorcing Killeen in 1887, he took up with a Tombstone prostitute, whom he murdered several years later during a drunken rage. Even by the loose standards of frontier law in Tombstone, the murder of an unarmed woman was unacceptable, and Leslie served nearly 10 years in prison before he was paroled in 1896. After his release, he married again and worked a variety of odd jobs around the West. He reportedly made a small fortune in the gold fields of the Klondike region before he disappeared forever from the historical record.
1861 -- Historian Frederick Jackson Turner (The Frontier in American History) born Portage, Wisconsin.
http://www.bgsu.edu/departments/acs/1890s/turner/turner.html
http://www.pbs.org/weta/thewest/people/s_z/turner.htm
1900- birthday of American composer Aaron Copland , born at Brooklyn, NY. Incorporating American folk music and, later, the 12-tone system, he strove to create an American music style that was both popular and artistic. He composed ballets, film scores and orchestral works including Fanfare for the Common Man (1942), Appalachian Spring (1944) (for which he won the Pulitzer Prize) and the score for The Heiress (1948) (for which he won an Oscar) and "Billy the Kid." He died Dec 2, 1990, at North Tarrytown, NY.
http://memory.loc.gov/ammem/today/nov14.html
1900-Ban Johnson, president of the minor Western League, announced his intention to upgrade its status to a major league and to change its name to the American League.
1903- The first football game was played in the first football stadium, Harvard Stadium, Cambridge, MA. It was specifically build for football, made of concrete and the largest steel re-enforced concrete structure in the world at the time of construction. The stadium had a seating capacity of 40,000.
1904-Pianist Art Hodes Birthday
http://www.duke.edu/~ads4/select.htm
http://www.amazon.com/exec/obidos/ISBN%3D0252017536/107-7460879-4591723
1906 -- Actress Louise Brooks born Cherryvale, Kansas. She is the fourth most written about actress (in terms of major magazine articles) after Clara Bow, Joan Crawford and Colleen Moore.
http://www.pandorasbox.com/
1917- Storyville, also known as the District, New Orleans's red-light district, a series of honky-tonks and sporting house, was shut down by the U.S. Navy The closing tended to drive jazz musicians out of New Orleans, up the river, including the Original Dixieland Jass Band that opened at Reisenweber's Restaurant in New York City. In this year, the group made the first jazz recording, including " Tiger Rag," "Barnyard Blues, " Clarinet Marmalade, ": At the Jazz Band Ball, and "Reisenweber Rag."
1919-Birthday of Constance Frances Marie Ockleman, later known as Veronica Lake, born in Brooklyn, N.Y. Lake began appearing in films under the name Constance Keane in 1939; in 1941, she changed her name and was soon a major Hollywood draw, frequently starring opposite Alan Ladd in films like This Gun for Hire (1942), The Glass Key (1942), and The Blue Dahlia (1946). Her career took a nosedive in the late 1940s and early 1950s. She and her husband, director Andre de Toth, filed for bankruptcy. Lake stopped acting and allegedly drank heavily. In the 1960s, a reporter discovered her working at a hotel bar in New York. She later began acting again in small roles and published an autobiography in 1969. She died of hepatitis in 1973.
1934-Birthday of pianist Ellis Marsalis, New Orleans, LA
http://www.nathanielturner.com/ellismarsalis.htm
http://www.louisianamusic.org/ELMBioandDiscog.html
1934-Under the direction of Leopold Stokowski, who was conducting the Philadelphia Orchestra at the Academy of Music, Philadelphia, PA, the symphony No. 1, known as the Negro Folk Symphony, composed by the African-American conductor William Levi Dawson was presented.
http://www.africanpubs.com/Apps/bios/0759DawsonWilliam.asp?pic=none
1941--*BAUER, HAROLD WILLIAM Medal of Honor
Rank and organization: Lieutenant Colonel, U.S. Marine Corps. Born: 20 November 1908. Woodruff, Kans. Appointed from: Nebraska. Citation: For extraordinary heroism and conspicuous courage as Squadron Commander of Marine Fighting Squadron 212 in the South Pacific Area during the period 10 May to 14 November 1942. Volunteering to pilot a fighter plane in defense of our positions on Guadalcanal, Lt. Col. Bauer participated in 2 air battles against enemy bombers and fighters outnumbering our force more than 2 to 1, boldly engaged the enemy and destroyed 1 Japanese bomber in the engagement of 28 September and shot down 4 enemy fighter planes in flames on 3 October, leaving a fifth smoking badly. After successfully leading 26 planes on an over-water ferry flight of more than 600 miles on 16 October, Lt. Col. Bauer, while circling to land, sighted a squadron of enemy planes attacking the U.S.S. McFarland. Undaunted by the formidable opposition and with valor above and beyond the call of duty, he engaged the entire squadron and, although alone and his fuel supply nearly exhausted, fought his plane so brilliantly that 4 of the Japanese planes were destroyed before he was forced down by lack of fuel. His intrepid fighting spirit and distinctive ability as a leader and an airman, exemplified in his splendid record of combat achievement, were vital factors in the successful operations in the South Pacific Area.
1942 - Off the coast of Guadalcanal, Admiral Tanaka turns south with his destroyers and transports and comes under heavy air attack from both Henderson Field and planes from the USS Enterprise. Seven of the transports and two warships are lost. He continues his advance throughout the night and manages to sail his remaining transports to Tassafaronga. However, more of the Japanese troops are killed by air attack while disembarking. Meanwhile, the second battle of Guadalcanal gets underway shortly before midnight. The Japanese covering force supporting the convoy, led by Admiral Kondo (with the battleship Kirishima, four cruisers and nine destroyers), encounters US Task Force 64, under the command of Admiral Lee (with the battleships Washington and South Dakota and four destroyers). The battle begins with damage to the South Dakota. It is forced from the battle. A seven minute burst of fire from the USS Washington sinks the Kirishima. Control of the seas around Guadalcanal is passing to the Americans. Supply problems are mounting for the Japanese, who will now be forced to make considerable use of submarines to transport supplies. Already many of the Japanese troops are ill and hungry.
1943 -- During World War II, President Franklin D. Roosevelt, Secretary of State Cordell Hull, and all of America's top military brass, narrowly escape disaster aboard the U.S. battleship Iowa, when a live torpedo is accidentally fired at them from a U.S. destroyer. To demonstrate to the president the defensive abilities of the Iowa, the battleship launches a series of weather balloons to use as anti-aircraft targets. Men on the nearby destroyer William D. Porter, under Captain Jesse Walker, are ordered to battle stations and begin shooting down the balloons that the Iowa had missed. Better yet, a simulated torpedo firing was ordered, and the torpedo room obliged. Unfortunately, torpedoer Lawton Dawson neglected to disarm torpedo tube #3, and an armed torpedo was fired at the Iowa. The Iowa rapidly began evasive maneuvers, as all guns were turned on the Porter. Word of the firing reached Roosevelt, who asked that his wheelchair be moved to the ship's railing so that he could watch the torpedo's approach. It exploded behind the ship's massive wake. The Porter is ordered to return to Bermuda, and Captain Walker and the entire crew are arrested by a force of Marines upon docking. President Roosevelt intervened and the ship was kidded throughout the fleet with signs saying, "Don't Shoot, We're Republicans." On 10 June 1945, the Porter's hard luck finally ran out. She was sunk by a plane which had (unintentionally) attacked underwater. A Japanese bomber almost made entirely of wood and canvas slipped through the Navy's defense. Having little in the way of metal surfaces, the plane didn't register on radar. A fully loaded kamikaze, it was headed for a ship near the Porter, but just at the last moment veered away and crashed along side the unlucky destroyer. There was a sigh of relief as the plane sunk out of sight, but then it blew up underneath the Porter, opening her hull in the worst possible location. Three hours later, after the last man was off board, the Captain jumped to the safety of a rescue vessel and the ship that almost changed world history slipped astern into 2400 feet of water. Not a single soul was lost in the sinking. After everything else that happened, it was almost as if the ship decided to let her crew off at the end.
http://bobrosssr.tripod.com/porterstory.html
1943-Sid Luckman of the Chicago Bears became the first professional quarterback to pass for more than 400 yards in a single game, throwing for 433 yards and seven touchdowns as the Bears walloped the New York Giants, 56-7.
1944 - An outstanding array of musicians gathered in Hollywood to record a classic. Tommy Dorsey and orchestra made "Opus No. 1", Victor record number 20-1608. Buddy Rich was the drummer in the session, Buddy DeFranco on sac and clarinet, and Nelson Riddle played trombone on the Sy Oliver arrangement.
1944-Birthday of pianist George Cables, Brooklyn, NY.
1945---Top Hits
It's Been a Long, Long Time - The Harry James Orchestra (vocal: Kitty Kallen)
Till the End of Time - Perry Como
I'll Buy that Dream - The Pied Pipers
With Tears in My Eyes - Wesley Tuttle
1953---Top Hits
Ebb Tide - The Frank Chacksfield Orchestra
Rags to Riches - Tony Bennett
Many Times - Eddie Fisher
There Stands the Glass - Webb Pierce
1954-Birthday of Condoleezza Rice, US National Security Adviser to President George Bush, Birmingham, AL.
1954-Birthday of new age composer Yanni, born Yanni Chrysomalis, Kalamata, Greece. He made a big hit of musical cd's sold via television commercials.
http://www.homestead.com/yannigr/katsekala.html
1957 -- Twenty underworld kingpins stage "Crime Convention" in Appalachia, New York
1959 - The eruption of Kilauea Iki Crater (Nov 14-Dec 20, 1959) on the Big Island of Hawaii was a relatively brief event, but produced some of Kilauea's most spectacular lava fountains of the 20th century. (The current Pu`u `O`o-Kupaianaha eruption of Kilauea began in 1983).
1959--After spending seven weeks atop the Cashbox Best Sellers list, Bobby Darin's "Mack The Knife" is finally unseated by The Fleetwoods' "Mr. Blue".
1960--Ray Charles' version of Hoagy Carmichael's 1930's standard "Georgia On My Mind" becomes the first of his three, US number one records.
1961 - President Kennedy increased the number of American advisors in Vietnam from 1,000 to 16,000.
1961-The Everly Brothers recorded "Crying In The Rain", which will make it to #6 in the US, becoming their twenty-fourth Top 40 hit.
1961---Top Hits
Big Bad John - Jimmy Dean
Fool #1 - Brenda Lee
Tower of Strength - Gene McDaniels
Walk on By - Leroy Van Dyke
1964 - Gordie Howe of the Detroit Red Wings set a National Hockey League record as he scored his 627th career goal in a game against Montreal.
1965---CRANDALL, BRUCE P. Medal of Honor
Rank and Organization: Major, U.S. Army, Company A, 229th Assault Helicopter Battalion, 1st Cavalry Division (Airmobile). Place and dates: Ia Drang Valley, Republic of Vietnam, 14 November 1965. Place and date of birth: Olympia, Washington, 1933. Citation: For conspicuous gallantry and intrepidity at the risk of his life above and beyond the call of duty: Major Bruce P. Crandall distinguished himself by extraordinary heroism as a Flight Commander in the Republic of Vietnam, while serving with Company A, 229th Assault Helicopter Battalion, 1st Cavalry Division (Airmobile). On 14 November 1965, his flight of sixteen helicopters was lifting troops for a search and destroy mission from Plei Me, Vietnam, to Landing Zone X-Ray in the Ia Drang Valley. On the fourth troop lift, the airlift began to take enemy fire, and by the time the aircraft had refueled and returned for the next troop lift, the enemy had Landing Zone X-Ray targeted. As Major Crandall and the first eight helicopters landed to discharge troops on his fifth troop lift, his unarmed helicopter came under such intense enemy fire that the ground commander ordered the second flight of eight aircraft to abort their mission. As Major Crandall flew back to Plei Me, his base of operations, he determined that the ground commander of the besieged infantry batallion desperately needed more ammunition. Major Crandall then decided to adjust his base of operations to Artillery Firebase Falcon in order to shorten the flight distance to deliver ammunition and evacuate wounded soldiers. While medical evacuation was not his mission, he immediately sought volunteers and with complete disregard for his own personal safety, led the two aircraft to Landing Zone X-Ray. Despite the fact that the landing zone was still under relentless enemy fire, Major Crandall landed and proceeded to supervise the loading of seriously wounded soldiers aboard his aircraft. Major Crandall's voluntary decision to land under the most extreme fire instilled in the other pilots the will and spirit to continue to land their own aircraft, and in the ground forces the realization that they would be resupplied and that friendly wounded would be promptly evacuated. This greatly enhanced morale and the will to fight at a critical time. After his first medical evacuation, Major Crandall continued to fly into and out of the landing zone throughout the day and into the evening. That day he completed a total of 22 flights, most under intense enemy fire, retiring from the battlefield only after all possible service had been rendered to the Infantry battalion. His actions provided critical resupply of ammunition and evacuation of the wounded. Major Crandall's daring acts of bravery and courage in the face of an overwhelming and determined enemy are in keeping with the highest traditions of the military service and reflect great credit upon himself, his unit, and the United States Army.
1966 - Boxing's largest indoor crowd assembled in the Houston Astrodome to see Cassius Clay defeat Cleveland Williams -- by a TKO.
1967 - The Monkees received a gold record for "Daydream Believer".
1967-Brave and reportedly well-liked Major General Bruno Arthur Hochmuth, commander of the 3rd Marine Division, was killed at Hue, Vietnam, when ground fire downed the helicopter in which he was a passenger. Two American pilots, an American crew chief, and a Vietnamese interpreter were also killed in the crash.
1969- Apollo 12, a space milestone launched this date. This was the second manned lunar landing—in Ocean of Storms. First pinpoint landing. Astronauts Conrad, Bean and Gordon visited Surveyor 3 and took samples. Earth splashdown November 24.
1969---Top Hits
Wedding Bell Blues - The 5th Dimension
Come Together - The Beatles
Baby It's You - Smith
To See My Angel Cry - Conway Twitty
1970-Santana's "Black Magic Woman" is released. It will rise to number 4 in the US during a three month stay on the singles chart.
1970-Birthday of Dana William Stubblefield, San Francisco 49ers, born, Cleves.OH.
1972- the Dow-Jones Index of 30 major industrial stocks topped the 1,000 mark for the first time.
1975 - "They Just Can't Stop It (The Games People Play)" became a gold record for the Spinners. Their other hits include "Then Came You" (with Dionne Warwicke), "Could It Be I'm Falling in Love", "The Rubberband Man", "Working My Way Back to You", "Cupid", "It's a Shame" and "I'll Be Around" -- for Motown.
1977---Top Hits
You Light Up My Life - Debby Boone
Boogie Nights - Heatwave
It's Ecstasy When You Lay Down Next to Me - Barry White
More to Me - Charley Pride
1981 - Paul 'Bear' Bryant tied the record of Amos Alonzo Stagg for most football wins. The Alabama Crimson Tide notched win #314 for Coach Bryant. Alabama beat Penn State, 31-16.
1981 - For the second week in a row, Daryl Hall and John Oates owned the top spot on the pop music charts with "Private Eyes".
1985Top Hits
Miami Vice Theme - Jan Hammer
Head over Heels - Tears For Fears
You Belong to the City - Glenn Frey
Can't Keep a Good Man Down – Alabama
1986 - The U.S. Securities and Exchange Commission announced that Ivan Boesky would have to pay $100 million in fines and alleged profits to settle insider-trading charges against him. The settlement was just $6 million less than the entire S.E.C. budget for 1986. Until 1986, Ivan Boesky was one of wealthiest and most successful figures on Wall Street. But, after November 14, 1986, his name was inextricably linked with the scandal and corruption that engulfed the industry during the 1980s. After prison, Boesky divorced his wife and relocated to La Jolla, California. In contrast to Milken and others involved, Boesky has largely avoided public attention since the scandal, though he has surfaced to testify in still-unresolved legal proceedings. History is full of people who manipulated the system such as Enron, Worldcom, Kozlowski, to just a few recent ones.
1988- "Murphy Brown" premiered on television. The series lasted ten years. The show often blurred the lines between reality and fiction by dealing with topical issues and including real-life journalists as guests stars playing themselves. Former Vice-President Dan Quayle made a major issue about the character Murphy Brown being an un-married mother. Set in Washington, DC, starred Candice Bergen starred in the title role, as an egotistical, seasoned journalist working for the fictitious TV newsmagazine show "FYI." Also featured were Grant Shaud as the show's high-strung producer, Miles Silverberg (later replaced by Lily Tomlin), Faith Ford as the former Miss America, Corky Sherwood (and later Miles' bride), Joe Regalbuto as Murphy's neurotic friend, reporter Frank Fontana, Charles Kimbrough as "FYI"'s uptight anchorman, Jim Dial and Pat Corley as Phil, owner of the local watering hole. Colleen Dewhurst appeared as Murphy's mother and Robert Pastorelli appeared as Eldin Bernecky, perfectionist housepainter and aspiring artist (he left the series for his own show). The show often blurred the lines between reality and fiction by dealing with topical issues and by including real-life journalists as guest stars playing themselves. The series ended with the May 31,1998 episode.
1987 - The "Dirty Dancing" movie soundtrack was the number one album in the U.S. It was number one for a total of eighteen weeks. The remainder of the top-five that week: 2)-"Tunnel of Love" (Bruce Springsteen); 3)-"Bad" (Michael Jackson); 4)-"Whitesnake" (Whitesnake); 5)-"A Momentary Lapse of Reason" (Pink Floyd).
1987--Although they had been divorced for years, Sonny & Cher appear together on The Late Show, where they are coaxed by David Letterman into singing "I Got You Babe".
1993- head coach Don Shula of the Miami Dolphins won the 325th game of his career as the Dolphins defeated the Philadelphia Eagles, 19-14. The victory moved Shula past George Halas as the "winningist" coach in NFL history. Shula concluded his coaching career in 1995 with a record of 347 wins, 173 losses and 6 ties.
1994-Bill Gates paid $30.8 million for a sixteenth-century Leonardo da Vinci manuscript, which depicted the motion of water and the principles of the steam engine. Gates' bid tripled the existing price for similar items. Beating out Italian bidders who had pledged to bring the treasure back to its home in Italy, Gates promised to leave the manuscript on public display at least fifty percent of the time. The manuscript, last sold to the Armand Hammer Museum of Art and Cultural Center, had fetched a mere $5.6 million in 1980.
2000 --Y2K countdown: 47 days, 2 hours, 43 minutes.
http://www.cpsr.org/program/y2k/
2001- For the second time in his career, Seattle skipper Lou Piniella is named the American League Manager of the Year. 'Sweet Lou', the only person to appear on every ballot, guided to the Mariners to an historical 116 victories which tied 1906 Cubs as the winningest team in major league history.
--------------------------------------------------------------

SuDoku
The object is to insert the numbers in the boxes to satisfy only one condition: each row, column and 3x3 box must contain the digits 1 through 9 exactly once. What could be simpler?
http://leasingnews.org/Soduku/soduko-main.htm
--------------------------------------------------------------

Daily Puzzle
How to play:
http://www.setgame.com/set/puzzle_frame.htm
Refresh for current date:
http://www.setgame.com/set/puzzle_frame.htm
--------------------------------------------------------------


http://www.gasbuddy.com/
http://www.gasbuddy.com/GB_Map_Gas_Prices.aspx
http://www.gasbuddy.com/GB_Mobile_Instructions.aspx
--------------------------------------------------------------

Weather
See USA map, click to specific area, no commercials
--------------------------------------------------------------

Traffic Live---
Real Time Traffic Information
You can save up to 20 different routes and check them out
with one click, or type in a new route to learn the traffic live.
--------------------------------