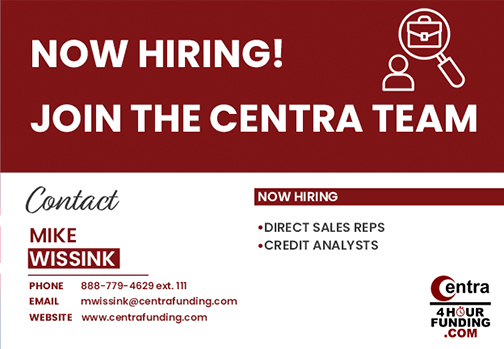 Friday, October 12, 2018


Today's Leasing News Headlines
Record Attendance for October 16 - 18 NACLB Conference
Shervin Rashti, CLFP, SlimCapital, to Cover Event for Leasing News
Sales Makes it Happen by Scott Wheeler, CLFP
What about....
New Hires/Promotions in the Leasing Business
and Related Industries
Leasing Industry Ads---Help Wanted
Centra Funding Now Hiring
The Benefits of a Clean Address List
for Your Email Marketing
FinTech #102 by Alex Vasilakos
The $80 Trillion World Economy in One Chart
By Jeff Desjardins, Visual Capitalist
Securcor Financial Group Completes $50 Million
Securitization for Geneva Capital, LLC.
Ascentium Capital Surpasses $2 Billion
in Managed Assets
NEFA's 2018 Funding Symposium
Breaks Multiple Records with 310 Attendance
Private Life/The Great Buster: A Celebration
Solo: A Star Wars Story/Manhunt/Andrei Rublev
Film/Digital Reviews by Leasing News' Fernando Croce
Collie Mix
Ballston Spa, New York Adopt-a-Dog
Latin American Leasing Conference
Slated Nov. 7-8 in Miami at the Intercontinental
News Briefs---
Wintrust Commercial Finance leases
19,000 square feet at Hall Park
Leaseurope index: Q2 shows €29bn in leasing
business volumes, up 4.6% in the Quarter
Call 'em crazy, but Fed officials likely to keep raising rates
pace of price increases remained under control
CA Housing Headed For Slowdown: Forecast
predicts sales will slow in 2019 for the first time in years
Mortgage rates soar to seven-year high
30-year fixed-rate average jumped to 4.90 percent
A Sears BK could cause one of the biggest pension defaults
ever, but the government would protect 90,000 retirees
Broker/Funder/Industry Lists | Features (wrilter's columns)
Top Ten Stories Chosen by Readers | Top Stories last six months
www.leasingcomplaints.com (Be Careful of Doing Business)
www.evergreenleasingnews.org
Leasing News Icon for Android Mobile Device
You May have Missed---
Poem
This Day in History
SuDoku
Daily Puzzle
GasBuddy
Weather, USA or specific area
Traffic Live----
######## surrounding the article denotes it is a "press release," it was not written by Leasing News nor has the information been verified. The source noted. When an article is signed by the writer, it is considered a "byline." It reflects the opinion and research of the writer.

Please send a colleague and ask them to subscribe. We are free
Email kitmenkin@leasingnews.org and in subject line: subscribe


[headlines]
--------------------------------------------------------------
Record Attendance for October 16 - 18 NACLB Conference
Shervin Rashti, CLFP, SlimCapital, to Cover Event for Leasing News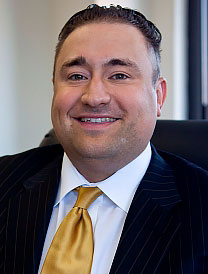 Kris D. Roglieri, co-founder of the conference reports, "We broke the record from last year. Over 800 will be in attendance this year. We are very very excited for this year conference. We will be making some excited announcements for this year's conference including services offered to brokers for NACLB and announcing next year's date and conference."
To Register:
https://www.eventbrite.com/e/naclb-2018-registration-39232925737
To Learn more, click here:
https://www.naclb.org/exhibitors-sponsors/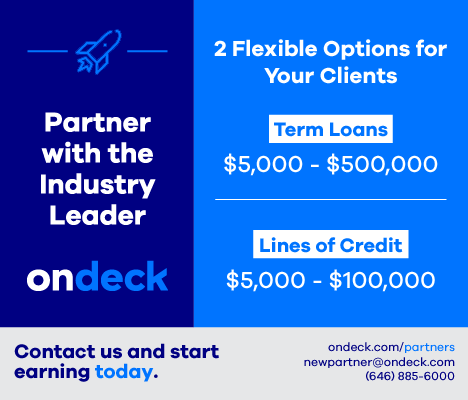 [headlines]
--------------------------------------------------------------
Sales Makes it Happen by Scott Wheeler, CLFP
What about....
A young leasing originator takes his manager to visit his #1 vendor. They have a meeting with the sales manager and a top sales rep. They discuss several transactions that are in the process of being approved and funded. The vendor sales rep explains how he is delighted to work with the originator and how the originator has been extremely helpful in closing more transactions for him as an equipment supplier. The four go to lunch and celebrate the strong relationship between the originator and the vendor sales rep.
After the successful meeting, the originator and his manager go back to the car. The originator has his chest pumped-out and head swollen as he waits for his manager's praise. The manager agreed that it was a great meeting. But,
"What about the other 10 reps that were in the office? Do you have a relationship with them?"
"No."
"What about the other three offices less than 25 miles away? Do you have a relationship with those offices?"
"No."
"Then you are leaving money on the table."
The young originator pulled back into the parking space.
He went back into the vendor's office and asked his contact to introduce him to the other reps. That vendor developed into a long-term "key" account for the originator and his company. He gained a relationship with multiple contacts within all four vendor offices and maximized the relationship.
This is a lesson learned that I have never forgotten. Know as many contacts as possible if you want to build a strong relationship with your clients.
Meet Everyone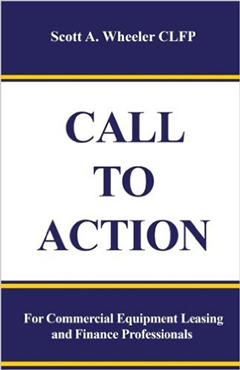 Order via Amazon: https://www.createspace.com/5355516

Scott A. Wheeler, CLFP
Wheeler Business Consulting
1314 Marquis Ct.
Fallston, Maryland 21047
Phone: 410 877 0428
Fax: 410 877 8161
Email: scott@wheelerbusinessconsulting.com
Web: www.wheelerbusinessconsulting.com
Sales Makes it Happen articles:
http://www.leasingnews.org/Legacy/index.html


[headlines]
--------------------------------------------------------------
New Hires/Promotions in the Leasing Business
and Related Industries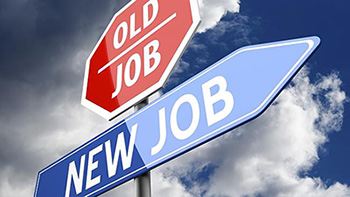 Lou Altobelli was hired as National Sales Manager, Direct and Retail at Dext Capital, Portland, Oregon. He is located in Roselle, Illinois. Previously, he was Vice President of Sales, Healthcare Finance, Siemens Financial Services (December, 2013 - August, 2018); Director, Sales Market Leader Healthcare, CIT (November, 2011 - December, 2013); VP, Business Development, US Bank Equipment Finance (April, 2007 - November, 2011); Relationship Manager, GE Healthcare, GE Healthcare Financial Services (March, 2003 - April, 2007); National Sales Manager, Healthcare, HPSC, Inc. (June, 2002 - March, 2003); VP, Director of Sales Healthcare, American Express Business Finance (April, 1999 - June, 2002); Director of Sales & business Development (Healthcare Group), GE Vendor Financial Services (January, 1997 - April, 1999); Vice President of Sales, Healthcare, Trans Leasing (March, 1981 - March, 1996). Education: Northern Illinois University, BS, Management (1978 - 1980). Activities and Societies: Delta Upsilon Fraternity. https://www.linkedin.com/in/lou-altobelli-a9b4929/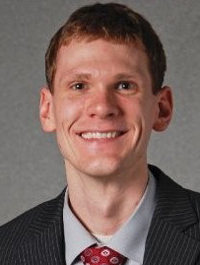 Dan Borngraeber was hired as Vice President, Vendor Sales, ClickLease LLC, Cedar Rapids, Iowa. He joined GreatAmerica Financial Services, April, 2011, as Vendor Relationship Manager; promoted, April, 2016, as Director, Vendor Relationship Development, Telecommunications; promoted August, 2016, as National Account Manager. Financial Services (August, 2016 - September, 2018). Community Service, Volunteer: Big Brother, Big Brothers Big Sisters of Cedar Rapids & East Central Iowa (April, 2012 - Present). Education: Coe College. Bachelor of Business Administration (BBA), Business Administration and Management, General (2007 - 2011). Activities and Societies: Basketball (07-11), Student Senate (10-11), Greene Board of Directors (07-09); Apartment Advisory Committee (10-11). https://www.linkedin.com/in/dan-borngraeber-2439a637/

Mark Brandt was hired as Senior Vice President, Equipment Finance Officer, Commerce Bank, Dallas/Fort Worth Area. Previously, he was Vice President, Key Equipment Finance (June, 2013 - September, 2018); SVP, GE Capital (February, 2005 - May, 2013); District Manager, Citigroup (November, 2000 - February, 2004); District Manager, Associates Commercial Corporation (February, 1999 - November, 200), Director, Credit Administration, Associates Leasing (1990 - 1999); Credit Analyst, Heller Financial-Factoring (1988 - 1990). The University of Texas at Austin, BBA, Finance (1981 – 1986). https://www.linkedin.com/in/markbrandtmb/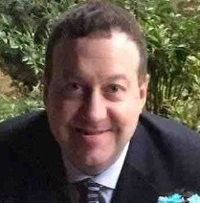 Scott Eshleman was hired as Chief Risk Officer, DEXT Capital, Portland, Oregon. Previously, he was Vice President, Credit Manager, Financial Pacific Leasing (November, 2013 - October, 2018). He started at US Bank Equipment Finance April, 2002, as Credit Officer; promoted April, 2006, Credit Manager. Prior, he was Credit Officer, GE Capital Colonial Pacific Leasing (November, 1999 - April, 2002); Sales Associated, Key Bank (January, 1998 - November, 1999). Education: Portland State University, School of Business, MBA, General (2001 - 2004). Activities and Societies: Beta Gamma Sigma. University of Oregon, Charles H. Lundquist College of Business. BS, Finance & Management (1990 - 1995). https://www.linkedin.com/in/scott-eshleman-20aaa826/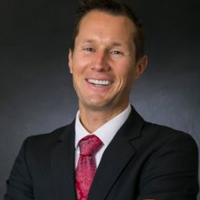 Christopher Gittens was promoted to Executive Vice President, Element Fleet Managing, Toronto, Ontario, Canada. He joined the firm July, 2013, as Chief Commercial Officer; promoted President, October, 2017. Previously, he was Vice President and Commercial Leader, GE Capital Canada Fleet Services (February, 2010 - June, 2013). He joined GE Capital Solutions, May, 2004, as Structuring Manager; promoted 2006, Senior Manager. Prior he was at TD Commercial Banking, starting May, 1998, as Financial Analyst; promoted, 2000, Relationship Manager. Education: Universiteit van Amsterdam, International Marketing Exchange Program, International Marketing. University Exchange program through Wilfrid Laurier University specializing in Marketing. Wilfrid Laurier University, HBA, Honors Economics with Financial Management (1994 - 1998).
https://www.linkedin.com/in/christophergittens/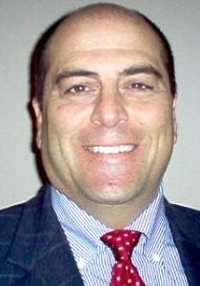 Eric Gross was hired as Chief Operating Officer, Dext Capital, Portland, Oregon. Previously, he was Senior Vice President, Director Managed Services, Bank of the West (February, 2007 - September, 2018); Director of Sales and Marketing, Portfolio Financial Servicing Company (2002 - 2007); Senior Vice President, Director, Morgan Premium Finance, Inc., a Subsidiary of ORIX Financial Services (1998 - 2002); VP, ORIX Financial Services (1992 - 2002). Education: Washington State University, College of Business and Economics, BA, Economics (1978 - 1983). Activities and Societies: Pi Kappa Alpha. Roosevelt High School, Washington State University. https://www.linkedin.com/in/eric-gross-9192649/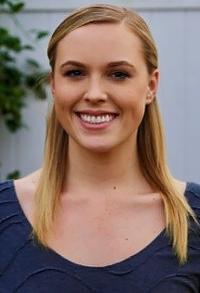 Claireliese Kennedy was hired as Account Executive, Partners Capital Group, Santa Ana, California. Previously, she was Account Executive II, Balboa Capital (January, 2018 - September, 2018); Personal Assistant, Flawless Faces, Inc. (May, 2017 - January, 2018). Education: Orange Coast College. Political Science and Government. Activities and Societies: Orange Coast College Women's Crew Team. https://www.linkedin.com/in/claireliese-kennedy-089b87b6/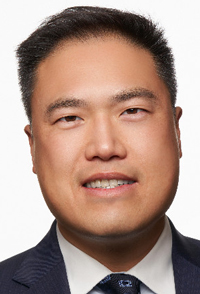 Kyin Lok announced as President and Chief Executive Office of Dext Capital, Portland, Oregon, July, 2018. Previously, he was at TCF Bank, starting August, 2013, as Senior Vice President; promoted January, 2016, Chief Corporate, Capital Markets and SBD Officer. Prior, Senior Vice President and Business Unit Manager, U.S. Bank Technology Finance Group (January, 2005 - May, 2013); Senior Vice President and Business Unit Manager, U.S. Bank Equipment Finance (January, 2005 - May, 2013); Region Leader, Asia Pacific, GE Healthcare Financial Services, GE Healthcare Financial Services (2002 - 2004); Vice- President, GE Commercial Finance (1995 - 2004); Vice President, GE Capital Solutions (1995 - 2004); Vice President, GE Capital (1996 - 2001). Community Experience: Volunteer: Member of the Board, Urban Boatbuilders (August, 2016). Education: Columbia University, Columbia Business School, Masters, Business Administration). Columbia University, Columbia Business School (Masters, Business Administration (1999 - 2001); Boston Latin School, High School Diploma. https://www.linkedin.com/in/kyin-lok-19a6504/

David Normandin, CLFP, was hired as President and Chief Executive Officer, Wintrust Specialty Finance, a division of Wintrust Asset Finance, a subsidiary funded by Wintrust Finance, Irvine, California. Previously, he was Managing Director, Senior Vice President, Hanmi Bank (October, 2016 - September, 2018); Senior Vice President, Banc of California (2012 - October, 2016); Managing Member, ENvision Capital Group (February, 2007 - May, 2011); Vice President, Sales, Balboa Capital (June, 1995 - February, 2007). Education: San Diego State University, BS., Business Administration, Management (1995). Certified Leasing and Finance Professional (2008); Six Sigma, Green Belt (2005).
https://www.linkedin.com/in/davidnormandin/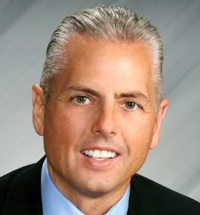 Jeff Rathjen was hired as Senior Vice President, Vendor/Business Development Manager at Dext Capital, Portland, Oregon. He is located in Cedar Falls, Iowa. Previously, he was at TCF Equipment Finance starting September, 2005, Business Development Officer; Promoted, May, 2013, Vice President, National Program Manager, Healthcare Division; Director of Golf, VGM Financial Services (September, 2002 - September, 2005); VP Operations, Western Finance & Lease (May, 1997 - September, 2002); Regional Sales Manager, Amerus Leasing (1994-1996). Education: University of Iowa, Bachelor of Science, Liberal Arts/Business. https://www.linkedin.com/in/jeff-rathjen-a8460a46/
[headlines]
--------------------------------------------------------------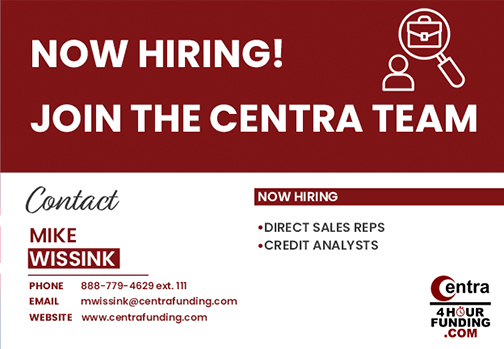 [headlines]
--------------------------------------------------------------
The Benefits of a Clean Address List
for Your Email Marketing
FinTech #102 by Alex Vasilakos
As the New Year is just around the corner and new marketing initiatives and marketing discussions are starting to happen for 2019, now is the perfect time to review your email list that you have been using all year. Now is a perfect time to review your marketing plan and a great time to do some cleaning of your email lists that you manage. If you realize this or not, there's a price tag attached to every email address you have in your email marketing database.
How well you manage your email address means the difference between:
Satisfied customers
Blocked or Blacklisted Domain
Costly lawsuit
A profit and loss on your email marketing efforts
Lucrative campaigns and referral partners or missed sales goals

What Can Poor Email List Management and Old Data Mean For Your Business?
Negative Impact on Delivery
Just because you have an address that is deliverable doesn't mean that you should send to it. Internet Service Providers (ISPs) look at both the positive and negative metrics to evaluate inbox placement. What does that mean? Deliverable but unengaged addresses can hinder your access to the inbox. When you start seeing engagement drop, your ability to avoid the junk folder will change for the worse.
Security Factors
There is a small liability risk with every email address you have on file if there is ever a data breach that occurs. Old, unresponsive email addresses create unnecessary risk to your list and to you. Purging any dormant addresses from your database will help minimize this risk.
Throwing Money Out the Window
Every email address has a price tag to it. Your email service provider (Constant Contact, Aweber, MailChimp, etc.) most likely is billing you on the size of your email list. Another place you might be throwing money away is your acquisition sources. Are you targeting the right audience and are these new acquisitions engaging with your emails? If you do not take the time to properly adjust your email list, you are practically driving down the highway throwing money out the window.
You Get Blocked or Blacklisted
The scenario we all fear and wish never happens. It can happen even to the most cautious and careful companies. Companies that do not follow a regular, periodic scrubbing on their database can cause issues down the road. When you are blocked or blacklisted from delivering emails, it can take sometimes 90 days (if not more) to clear it up with the ISPs. In turn, it can cost you lost sales during critical times of the season or lost referrals from potential people that read your emails and bring your business.
So What Am I Trying to Say?
Protect yourself and your customers with unnecessary risk by practicing good email list management and data hygiene. Your goal here is to make it so that you have an engaged list and are reaching the right people at the right time.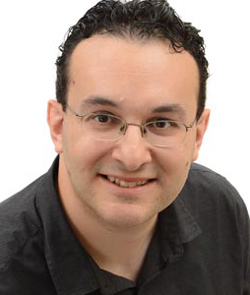 Alex Vasilakos
Director of Marketing
The Finance Marketing Group
Alex@financemarketing.com
Office: 518-591-4645x102 / Fax: 518-677-1071
90 State Street, Suite 1500, Albany, NY 12207

Currently, Alex works exclusively with financial services companies but his depth of knowledge and experience can help design and implement long-reaching strategies for businesses across all industries.

Previous Financial Technology Articles
http://www.leasingnews.org/Conscious-Top%20Stories/fintech.html
[headlines]
--------------------------------------------------------------
The $80 Trillion World Economy in One Chart
By Jeff Desjardins, Visual Capitalist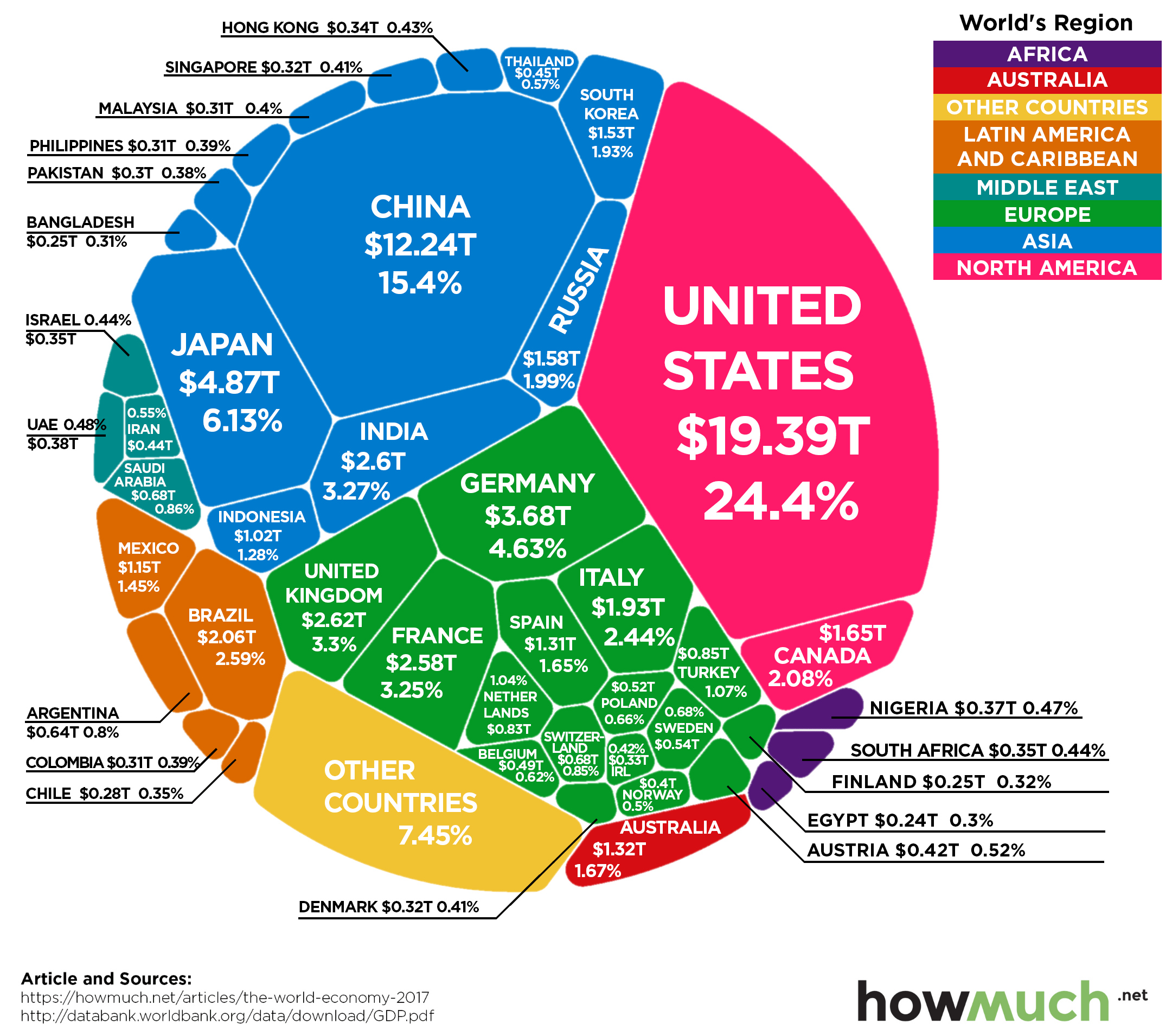 The latest estimate from the World Bank puts global GDP at roughly $80 trillion in nominal terms for 2017.
Today's chart from HowMuch.net uses this data to show all major economies in a visualization called a Voronoi diagram – let's dive into the stats to learn more.
The World's Top 10 Economies
Here are the world's top 10 economies, which together combine for a whopping two-thirds of global GDP.
| | | | |
| --- | --- | --- | --- |
| Rank | Country | GDP | % of Global GDP |
| #1 | United States | $19.4 trillion | 24.4% |
| #2 | China | $12.2 trillion | 15.4% |
| #3 | Japan | $4.87 trillion | 6.1% |
| #4 | Germany | $3.68 trillion | 4.6% |
| #5 | United Kingdom | $2.62 trillion | 3.3% |
| #6 | India | $2.60 trillion | 3.3% |
| #7 | France | $2.58 trillion | 3.3% |
| #8 | Brazil | $2.06 trillion | 2.6% |
| #9 | Italy | $1.93 trillion | 2.4% |
| #10 | Canada | $1.65 trillion | 2.1% |
In nominal terms, the U.S. still has the largest GDP at $19.4 trillion, making up 24.4% of the world economy.
While China's economy is far behind in nominal terms at $12.2 trillion, you may recall that the Chinese economy has been the world's largest when adjusted for purchasing power parity (PPP) since 2016.
The next two largest economies are Japan ($4.9 trillion) and Germany ($4.6 trillion) – and when added to the U.S. and China, the top four economies combined account for over 50% of the world economy.
Movers and Shakers
Over recent years, the list of top economies hasn't changed much – and in a similar visualization we posted 18 months ago, the four aforementioned top economies all fell in the exact same order.
However, look outside of these incumbents, and you'll see that the major forces shaping the future of the global economy are in full swing, especially when it comes to emerging markets.

Here are some of the most important movements:
India has now passed France in nominal terms with a $2.6 trillion economy, which is about 3.3% of the global total. In the most recent quarter, Indian GDP growth saw its highest growth rate in two years at about 8.2%.
Brazil, despite its very recent economic woes, surpassed Italy in GDP rankings to take the #8 spot overall.
Turkey has surpassed The Netherlands to become the world's 17th largest economy, and Saudi Arabia has jumped past Switzerland to claim the 19th spot.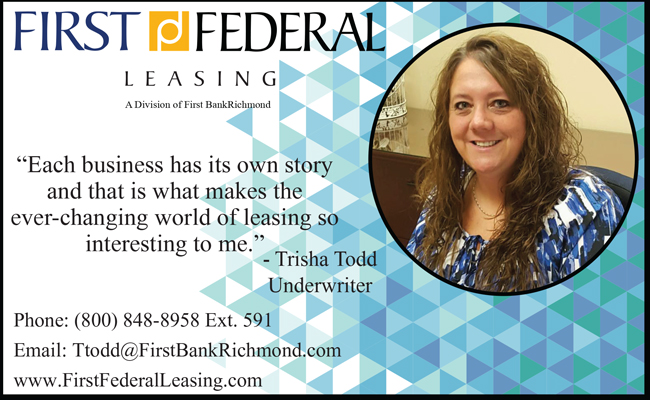 [headlines]
--------------------------------------------------------------
### Press Release##############################
Securcor Financial Group Completes $50 Million
Securitization for Geneva Capital, LLC.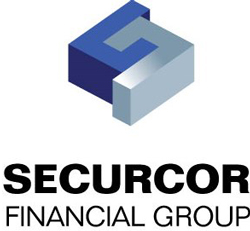 Alexandria, MN and New York, NY, - Securcor Financial Group announced the funding of a US$49.5 million securitization for Geneva Capital, LLC. The securitization required a single A rating and was funded privately by an established U.S. based insurance company.

Geneva Capital, LLC, a leading commercial equipment finance company, has successfully completed an initial funding of US$49.5 million. This facility will be used to further expand their existing vendor-based equipment finance business in the United States.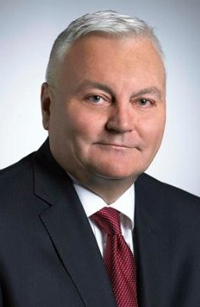 Brian Rodd, President & CEO of Securcor Financial Group, said, "Geneva is an excellent example of the type of equipment finance company Securcor Financial Group supports – an independent finance company operating with a great track record of growth, profitability and portfolio performance.
"Our privately rated and funded structure provides finance companies of all sizes with access to a market-alternative source of funding," added Mr. Rodd.

"This private ABS facility through Securcor Financial Group provides the leverage, terms and diversification needed to fuel our long term growth plans" said Mark Watkins, President of Geneva Capital, LLC.

About Geneva Capital, LLC Geneva Capital is a leading provider of financing solutions to the graphic arts, fitness, sign, and municipal market places. Geneva is a niche lender that has successfully grown profit and originations since 2000. The company prides itself on operating with integrity, innovation, excellence and service. https://www.gogc.com

About Securcor Financial Group Securcor Financial Group provides customized securitization, receivable and structured financing programs to clients across North America. Securcor has established strong funding alliances with several leading financial institutions and since inception has originated in excess of $6.0 billion in automobile financing, equipment leases and consumer finance contracts. Securcor Financial Group offers an alternative to traditional sources of lending and the opportunity for reduced financing costs. http://www.securcor.com
##### Press Release ############################



[headlines]
--------------------------------------------------------------
##### Press Release ############################
Ascentium Capital Surpasses $2 Billion
in Managed Assets

Ascentium Capital
, the nation's largest private-independent finance company, reached $2.0 billion in managed assets during third quarter and obtained a 22% increase in funded volume over the same period last year.

Tom Depping, Chief Executive Officer at Ascentium Capital, said, "We had another strong quarter of growth with performance driven by the diversity of our equipment vendors and repeat business efforts.
"Due to the strong demand for our offering, we continue to expand our direct sales division with recruitment efforts for our offices in Texas, California and New Hampshire as well as expansion of our vendor-specialized sales personnel in Arizona, Michigan and across the nation. This lays the groundwork to ensure momentum continues next year."

Richard Baccaro, Chief Sales and Marketing Officer, commented, "Ascentium recently enhanced its vendor finance program to further help equipment providers capture sales with greater flexibility and heightened efficiency.
"This is helping drive high organic sales activity. The right expertise, the ability to listen to clients, our award-winning platform and customized offering are our competitive cornerstones," remarked.
As a direct lender, Ascentium Capital LLC specializes in providing a broad range of financing, leasing and small business loans. The company's offering benefits equipment manufacturers and distributors as well as direct to businesses nationwide. Ascentium Capital is backed by the strength of leading investment firm Warburg Pincus LLC. For more information, please visit www.AscentiumCapital.com
### Press Release ############################



[headlines]
--------------------------------------------------------------

### Press Release ############################
NEFA's 2018 Funding Symposium
Breaks Multiple Records with 310 Attendance

Charlotte, NC – Over 310 equipment finance professionals and service providers from across the U.S., Canada and as far as Australia attended the National Equipment Finance Association (NEFA) 2018 Funding Symposium on Wednesday, October 3rd through Friday, October 5th in Charlotte, NC – setting a new Symposium attendance record. New records were also set for the greatest number of first-time attendees and exhibitors – with over 90 first-time attendees and 50 exhibitors.

Attendees of the Funding Symposium enjoyed valuable and productive networking time, engaging and informative educational breakout sessions, opportunities to meet with broker/lessor, funding source, and service provider exhibitors, and a spirited general session presentation by economist Dr. Elliot Eisenberg, Ph.D.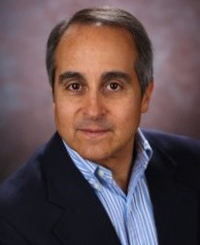 This year's Funding Symposium Chairperson, Bob Hanna of Weltman, Weinberg & Reis Co., L.P.A. assembled a top-notch slate of educational sessions. "What I learned over the past three years since chairing the 2015 event is there are no limits on the program. If the content is relevant, we are all in, and that is what we experienced this time around. We came up with new and provocative subjects and brought in the subject matter experts for the presentations. The result was an explosive agenda from start to finish, and the people have spoken! It was by far the best NEFA event to date setting new benchmarks in quality education and networking, and I am proud of the teamwork across the board," said, Hanna.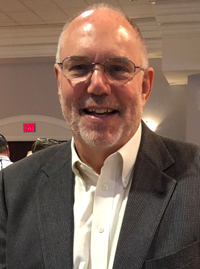 Tis year's Funding Symposium also marked the retirement of NEFA's longtime Executive Director, Gerry Egan, and an introduction to NEFA's newly appointed Executive Director, Michael Toglia.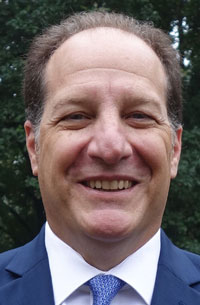 Toglia said, "To say the event was a success would be a gross understatement. The mood and enthusiasm throughout the event were electrifying. We are very pleased with the record turnout and thank all our sponsors, exhibitors, educational program presenters, fundraiser volunteers and attendees for making this year's Symposium such a tremendous success," added Toglia.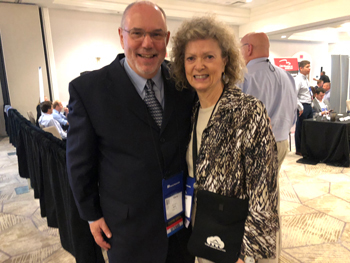 While at the event, attendees expressed their gratitude to Gerry and Jamie Egan for their longtime dedication and service to NEFA with a special champagne toast and the presentation of a leather-bound book of letters from NEFA members.

The Funding Symposium also serves as the Annual Business meeting for the National Equipment Finance Association, and Officers and Directors for the next twelve months were elected during the conference.

NEFA's new President & Chairman of the Board is Marc Keepman, CLFP, of KLC Financial, Inc., and he is joined on the Executive Committee by Dennis Dressler, of Dressler Peters, LLC as Vice President; Daryn Lecy, CLFP, of Oakmont Capital Services, LLC, as Treasurer; and Laura Carini, CLFP, of Financial Pacific Leasing, Inc. as Secretary. Mike Coon, of North Star Leasing Company, will remain on the Executive Committee as Immediate Past President.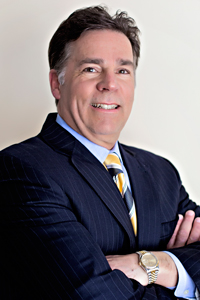 Marc Keepman, CLFP, New President and Chairman of the Board said, "The National Funding Symposium is always a wonderful event to meet with our fellow equipment financing partners, and this year was no exception. The economy has been strong this year and this looks likely to continue into next year and beyond. This bodes well for all in our industry." Keepman added, "I am delighted to be chosen to serve as the President and Chairman of NEFA during this coming 12-month period. The opportunities to grow and build our businesses have perhaps never been better. The combination of ample capital availability, good pricing, along with vendors offering top-level service and technology components necessary to achieve great levels of success, are at an all-time high. If you are involved with NEFA your support is much appreciated. If you are viewing the glory from the sidelines, it's time to jump into the action. I have found that the more I participate, the greater the benefits of membership. Please, come join the NEFA team and prepare to receive amazing joy and experience outstanding success." Directors of the association were also announced at this year's Funding Symposium and include James Jackson, of The Alta Group; Guy Selinka, CLFP, of Streamline Financial Services; Scott Lipka, of FirstLease, Inc.; Adam Peterson, of Channel Partners Capital; Anne Dalgaard, CLFP, of ECS Financial Services, Inc.; Scott Wheeler, CLFP, of Wheeler Business Consulting; Lori Littleford, CLFP, of Hanmi Bank; and Robert Hornby, of Chiesa Shahinian & Giantomasi PC.

During the business luncheon, outgoing Officers and Directors including Stephanie Hall, CLFP, of BlackRiver Business Capital; Eric Alley, of LTi Technology Solutions, Joe Leonard, CLFP, of Oakmont Capital Services; and Kristian Dolan, CLFP of Tamarack were all honored for their service.

The CLFP Foundation also presented awards during the Funding Symposium business luncheon.
This year's Funding Symposium also included two fundraising events. On Wednesday night a large group headed to 204 North Kitchen Cocktails for an event benefitting the Love Life Now Foundation and on Thursday night, a record number of conference attendees made their way to Howl at the Moon for a fun dinner and a night of music and games that raised funds for NEFA's Chris Walker Education Fund.


About National Equipment Finance Association

The National Equipment Finance Association (NEFA) is a national association serving small to mid-sized independent equipment finance companies, lessors and brokers. NEFA is a strong association offering enhanced educational programs and premium networking opportunities with broad geographic and industry segment diversity. The mission of NEFA is to provide a forum for members to pursue personal and professional growth and promote ethical business practices through advocacy, networking and industry involvement. For more information, visit: www.NEFAssociation.org or call: 847-380-5050.
#### Press Release #############################


[headlines]
--------------------------------------------------------------
Fernando's View
By Fernando F. Croce
New releases include a bittersweet comedy-drama ("Private Life") and an affectionate documentary ("The Great Buster: A Celebration"), while slam-bang action ("Solo," "Manhunt") and a spiritual epic ("Andrei Rublev") come to DVD.
In theaters: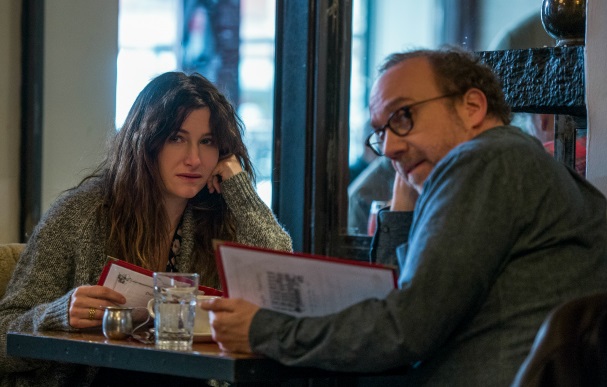 Private Life (Netflix): Indie filmmaker Tamara Jenkins ("The Slums of Beverly Hills") returns after a decade-long absence with this sharp and compassionate comedy-drama set in New York's bohemian East Village. Kathryn Hahn and Paul Giamatti are terrific as Rachel and Richard, a quarrelsome couple trying to start a family and running into the roadblock of infertility. Their marriage gets a shot of hope from their step-niece Sadie (Kayli Carter), a neurotic dropout who grows close to them after she escapes her disapproving parents by moving into their apartment. But will their bond suffer when Rachel and Richard ask her to donor an egg for their search for a baby? Mixing raw honesty with intelligent humor as in Jenkins' best work, this is an expansive and empathetic look at unpredictable human emotions.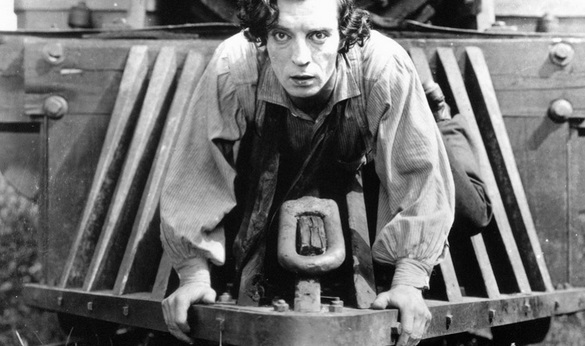 The Great Buster: A Celebration (Cohen Media Group): One of the original American movie-buffs turned directors, Peter Bogdanovich ("The Last Picture Show") pays loving tribute to one of the screen's geniuses in this affectionate documentary on Buster Keaton. A contemporary of Charlie Chaplin, Keaton (1895-1966) was a deadpan clown with a remarkable sense of cinematic geometry, amply visible in such classics as "Sherlock Jr." and "The General." Famous for doing his own often dangerous stunts, he was responsible for some of the silent era's most breathtaking moments. His bravura is illustrated via a rich collection of clips, while his legacy is exalted via interviews with a wide array of fans, from Quentin Tarantino to Werner Herzog. Light and knowledgeable, Bogdanovich's film is a delight to both connoisseurs and beginners.

Nextflix: Though forever remembered as France's premier golden-voiced singer, Charles Arznavour (1924-2018) was also a marvelous presence in several films. So check out Netflix for some of his best roles, which include "Shoot the Piano Player" (1960), "The Tin Drum" (1979), "Ararat" (2002), and "The Truth About Charlie" (2002).
On DVD: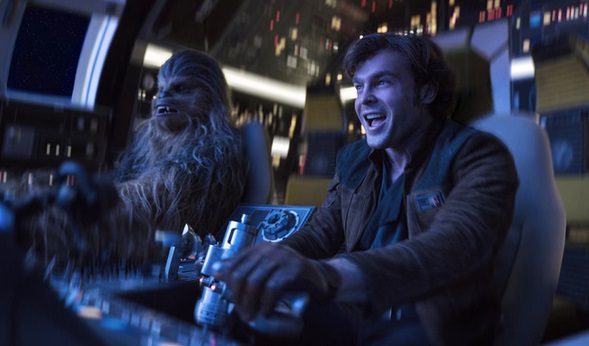 Solo: A Star Wars Story(Walt Disney Studios): Divering from the new "Star Wars" installments by flashing back to the origin of one of the series' beloved characters, the new entry in the blockbuster series gives fans a peek into the early life of space adventurer Han Solo. Played by Alden Ehrenreich, young Solo enters by losing his girlfriend Qi'ra (Emilia Clarke) and joining the Imperial Navy. When they meet again years later, he's become part of a gang of smugglers and she's become involved with a merciless crime boss. Facing a dangerous new mission, Solo makes the acquaintance of some notable characters, including suave smuggler Lando Cairissian (Donald Glover) and a towering Wookie named Chewbacca. Directed by veteran Oscar-winner Ron Howard ("A Beautiful Mind"), this cosmic swashbuckler breezily expands "Star Wars" iconography.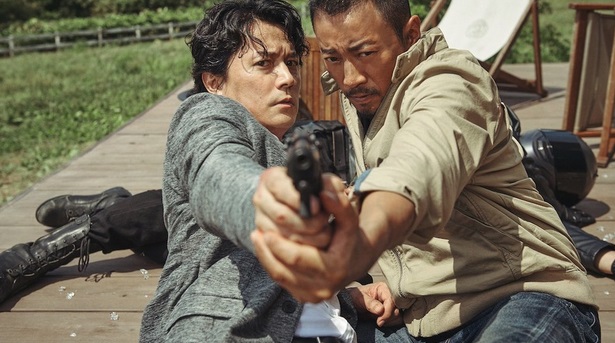 Manhunt (Netflix): After years of silence, Hong Kong action master John Woo ("The Killer") strikes a delirious comeback with this breathless cyclone of a thriller. The story kicks off as Du Qiu (Zhang Hanyu), a Chinese lawyer involved with a powerful pharmaceutical organization, finds himself framed for the murder of a young woman. On his trail is intrepid Detective Yamura (Masaharu Fukuyama), who, after a chase or two, joins the fugitive in searching for the real killer. What they uncover is a vast conspiracy of institutional corruption, nefarious experiments, and hired killers. As in his best movies, Woo lets his imagination run wild—turning showdowns and bullet confrontations into wild balletic displays. As with "Mad Max: Fury Road," this is a veteran delivering an eye-popping cinematic masterclass. With subtitles.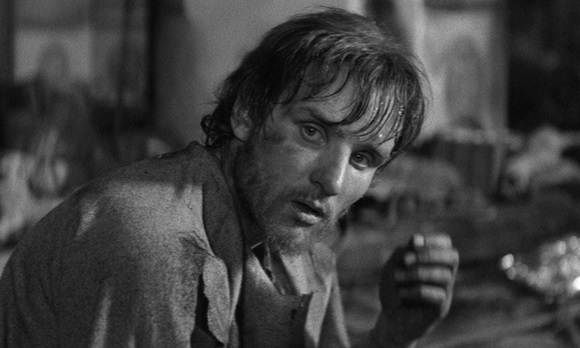 Andrei Rublev (Criterion): Revered by cinema lovers as one of the medium's great spiritual artists, Russian master Andrei Tarkovsky ("Solaris") delivered his most ambitious vision in this sprawling epic from 1966, which follows the turbulent life and times of the eponymous medieval painter. Played by Anatoly Solonitsyn, Rublev is depicted as a humble and driven artist in an era of often brutal upheaval, enduring frigid weather and barbaric violence to continue his trade of painting religious icons. Always struggling to reconcile the sublimity of his art with the human misery he sees around him, he goes through several periods that try his faith, experiencing bizarre events and meeting unforgettable people. Though challenging in its length and approach, Tarkovsky's film pulls the viewer in through the sheer power of its emotions and images. With subtitles.
[headlines]
--------------------------------------------------------------
Collie Mix
Ballston Spa, New York Adopt-a-Dog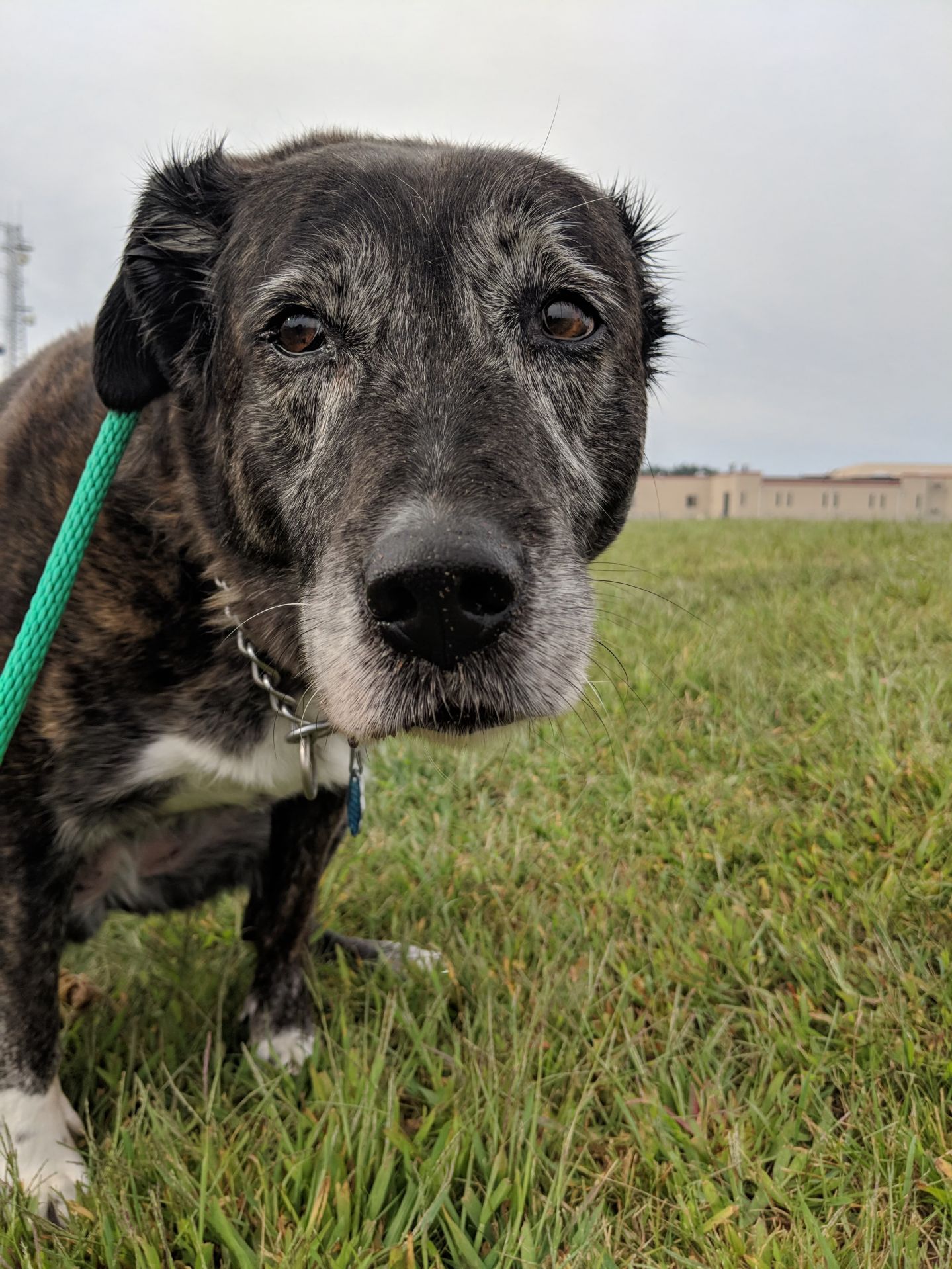 Sadie
Female
Medium
12 years old
Vaccinations up-to-date
Spayed
Prefers a Home without
other dogs, cats, children
Meet Sadie
Looking to adopt a quiet older pup in need of a retirement home? Sadie might just be the girl for you! This sweet 12 year old Collie Mix can be a little shy at first, but once she warms up she is loyal as can be and has a heart of gold! Sadie would prefer a calm family with no kids or older kids. Since she loves to spend her days lounging around, she would like to have a home with no other animals in the house that may disturb her beauty sleep. Sadie is waiting to find her furever home at the Saratoga County Animal Shelter. If you think you have the perfect home for this older gal to live out her Golden Years visit her Monday-Saturday 10am-4pm.
Saratoga County Animal Shelter
Ballston Spa, NY
cswan@saratogacountyny.gov
(518) 885-4113
Adopt-a-Pet by Leasing Co. State/City
http://www.leasingnews.org/Conscious-Top%20Stories/Adopt_Pet.htm

Adopt a Pet
http://www.adoptapet.com/
[headlines]
--------------------------------------------------------------
Latin American Leasing Conference
Slated Nov. 7-8 in Miami at the Intercontinental

The XVI Latin American Leasing Conference Nov. 7-8 in Miami will cover the impact of rising interest rates, geopolitical changes and industry developments on equipment finance in Mexico and countries in Central America, South America and the Caribbean.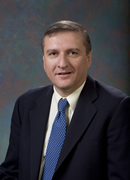 Rafael Castillo-Triana, CEO
The Alta Group Latin American Region
The Alta Group Latin American Region (LAR), which coordinates the conference, will also release some advance highlights of its annual report on equipment leasing trends in the region, noted Alta LAR CEO Rafael Castillo-Triana.
See the full agenda with all information in both English and Spanish at https://www.thealtaconferencias.com/
The event draws investors, directors and managers of leasing companies with interests or operations in Latin America. In keeping with the event theme, "2019: Apocalypses or Genesis," the program will look at expectations for the year ahead.
An opening session will include an analysis and debate on portfolio quality. This will be followed by sessions concerning originations and capital markets.
Other topics will include managed services, FinTech and the new accounting standards.
The conference will be followed Nov. 9 by a digital forum and legal forum. All three events will be held at the Intercontinental at Doral Miami.
About The Alta Group
The Alta Group is the leading global consultancy dedicated exclusively to the business of equipment leasing and asset finance. Since 1992, Alta has represented equipment leasing and finance companies, financial institutions, manufacturers and service providers, offering counsel on strategy and competitive alignment, expertise in global market entry, vendor and captive finance, professional development, legal services, asset management, mergers and acquisitions, and digital business transformations.
For information on the group's services in the United States and Canada, Latin America, Europe, the Middle East and Africa, China, and Asia Pacific, visit http://www.thealtagroup.com and follow on Twitter @thealtagroupllc.
[headlines]
--------------------------------------------------------------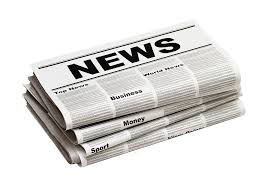 News Briefs----
Wintrust Commercial Finance leases
19,000 square feet at Hall Park
https://communityimpact.com/local-news/dallas-fort-worth/features/business/2018/10/10/wintrust-commercial-finance-leases-19000-square-feet-at-hall-park/
Leaseurope index: Q2 shows €29bn in leasing
business volumes, up 4.6% in the Quarter
https://www.verdict.co.uk/leasing-life/news/leaseurope-index-q2-shows-e29bn-in-leasing-volumes/
Call 'em crazy, but Fed officials likely to keep raising rates
pace of price increases remained under control
https://www.reuters.com/article/us-usa-fed-policy/call-em-crazy-but-fed-officials-likely-to-keep-raising-rates-idUSKCN1ML2KM
CA Housing Headed For Slowdown: Forecast
predicts sales will slow in 2019 for the first time in years
https://patch.com/california/losgatos/s/gj3kq/ca-housing-headed-for-slowdown-forecast
Mortgage rates soar to seven-year high
30-year fixed-rate average jumped to 4.90 percent
http://www.chicagotribune.com/business/ct-mortgage-rates-highs-20181011-story.html
A Sears BK could cause one of the biggest pension defaults
ever, but the government would protect 90,000 retirees
http://www.chicagotribune.com/business/ct-biz-sears-bankruptcy-pension-default-20181011-story.html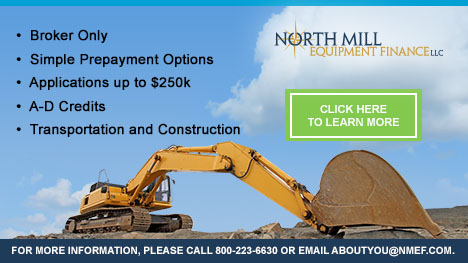 [headlines]
--------------------------------------------------------------


You May Have Missed---
Who doomed Sears? It wasn't just Lampert.
https://www.chicagobusiness.com/joe-cahill-business/who-doomed-sears-it-wasnt-just-lampert


[headlines]
--------------------------------------------------------------
Baseball
Written by Don Angel © in 08-1997
Published: Baseball Almanac (08-2003)
The sun is shining bright
No clouds are in sight
Pitching would be the key
Innings one, two and three
Inning four
Visitors strike a 1-0 score
Inning five
Bats come alive
Eight batters would come to the plate
Three runs being the fate
Being down by four
The home team needs to score
A single to left
Eyeing a base running threat
The pitcher's attention is slow
So off to second the runner goes
On the catcher's attempted throw
Sailing into the shortstop to low
Line drive up the middle
Another run is whittled
As a result of a homerun
Now entering the sixth, down one
Visitors still winning
Sixth, seventh and eighth inning
At the start of inning nine
It is up to the relief to shine
A strikeout of the side
Brings the bottom of the ninth in stride
As the closer comes into put out the fire
Team members are asked to show their desire
The batter takes his stance
Giving the third base coach a glance
Three balls, two strikes
Hoping for one he likes
An umpire's call
"A ball"
First base on a walk
Second base on a balk
With runner intact, the crowd reacts
When a feared slugger comes to bat
Wishing for a seventh game remembrance
Broadcasters giving those not in attendance
"It's a long fly,
and Aloha, means good-bye"!
[headlines]
--------------------------------------------------------------

Sports Briefs---

Nine questions for NFL Week 6:
Will unbeaten Rams, Chiefs finally fall?
https://www.usatoday.com/story/sports/nfl/2018/10/11/nfl-week-6-questions-patriots-chiefs-cowboys/1576200002/
Aaron Rodgers may need bigger brace after setback
http://www.theredzone.org/Blog-Description/EntryId/72825/Aaron-Rodgers-may-need-bigger-brace-after-setback
49ers demoted from 'Sunday Night Football' appearance
https://www.pressdemocrat.com/sports/8829620-181/49ers-demoted-from-sunday-night
Steve Kerr joins USA Basketball as assistant coach
https://www.sfchronicle.com/warriors/article/Steve-Kerr-joins-USA-Basketball-as-assistant-coach-13299549.php
[headlines]
--------------------------------------------------------------


California Nuts Briefs---
San Francisco Bay Area exodus?
Region's business leaders say not so fast
https://www.bizjournals.com/sanfrancisco/news/2018/10/09/bay-area-exod
us-headquarters-move.html
California to Ban Weak Passwords
https://www.securityweek.com/california-ban-weak-passwords

[headlines]
--------------------------------------------------------------



"Gimme that Wine"

http://www.youtube.com/watch?v=EJnQoi8DSE8
Larger California North Coast wine grape crop
has fewer buying excess tonnage
https://www.northbaybusinessjournal.com/northbay/sonomacounty/8810151-181/north-coast-wine-grape-harveset
California Report/Ciatti Global Wine & Grape Brookes
http://www.ciatti.com/sites/default/files/california_report_october_2018_0.pdf
A Brief History of California Wine - Tasting With Michael Mondavi
https://www.forbes.com/sites/tomhyland/2018/10/11/a-brief-history-of-california-wine-tasting-with-michael-mondavi/#687afd853e7d
Chef Tyler Florence taps into Wine Country fires
with 'Uncrushable' documentary
https://www.sfchronicle.com/travel/article/Chef-Tyler-Florence-taps-into-Wine-Country-fires-13284807.php
Wine Prices by vintage
http://www.winezap.com
http://www.wine-searcher.com/
US/International Wine Events
http://www.localwineevents.com/
Leasing News Wine & Spirits Page
http://two.leasingnews.org/Recommendations/wnensprts.htm
[headlines]
----------------------------------------------------------------
This Day in History
1492 – Believing he had reached the Indies, Christopher Columbus' expedition arrived in the Bahamas. Columbus was not the first European explorer to reach the Americas, having been preceded by the Viking expedition led by Leif Erikson in the 11th century, but his voyages led to the first lasting European contact with the Americas, inaugurating a period of exploration, conquest, and colonization that lasted several centuries. These voyages thus had an enormous effect on the historical development of the modern Western world. He spearheaded the transatlantic slave trade and has been accused by several historians of initiating the genocide of the Hispaniola natives. Columbus himself saw his accomplishments primarily in the light of spreading the Christian religion. Columbus never admitted that he had reached a continent previously unknown to Europeans, rather than the East Indies for which he had set course. He called the inhabitants of the lands that he visited indios (Spanish for "Indians"). His strained relationship with the Spanish crown and its appointed colonial administrators in America led to his arrest and dismissal as governor of the settlements on the island of Hispaniola in 1500, and later to protracted litigation over the benefits that he and his heirs claimed were owed to them by the crown.
1692 – The Salem Witch Trials are ended by a letter from Massachusetts Governor Sir William Phips.
1710 - Birthday of Jonathan Trumbull (d. 1785) at Lebanon, CT. American patriot, counselor and friend of George Washington, governor of Connecticut Colony.
1773 – The first insane asylum in the American Colonies, known as Eastern State Hospital, opened, in Williamsburg, VA.
1792 – The first celebration of Columbus Day was held, in NYC.
1802 - The first West Point graduates were Joseph Gardner Swift of Massachusetts and Simon Magruder Levy of Maryland, also the first graduate of the Jewish religion. They graduated as second lieutenants. They were the only students to graduate of the original class of 10, which consisted of 5 men from Massachusetts, and 1 each from Connecticut, Maryland, Missouri, New York and Virginia. Levy resigned from the army in 1805 because he contracted the measles, quite serious in its day. Swift was brevetted a brigadier general on November 11, 1813 for his heroism in the battle at Chrysler's Field in Upper Canada. On February 19, 1814, he was promoted to brigadier general for her meritorious service in the defense of New York in the War of 1812. He became head of the Military Academy in 1816 and retired from the Army in 1818. He died in 1865.
1843 - The B'Nai B'rith (Sons of the Covenant) was founded in New York City by Henry Jones and 11 others.
1854 - Lincoln University of the Commonwealth of Pennsylvania was chartered in April 1854 as Ashmun Institute. Since its inception, Lincoln has attracted an interracial and international enrollment from the surrounding community, region, and around the world. Its alumni include: Langston Hughes, '29, world-acclaimed poet; Thurgood Marshall, '30, first African-American Justice of the US Supreme Court;
1882 - The first hotel to install electric lights was the Prospect House, Blue Mountain Lake, NY. In 1881, the electricity was installed, but the lights were not entirely dependable. In 1882, the Duke of Beranga and his party arrived after dark to celebrate Columbus Day. As they were shown to their rooms the lights went out, but after a slight delay the lights went on again. History records this event and states the name of the hotel was later changed to the Eutowana.
1892 – Commemorating the 400th anniversary of Columbus' discovery of America, the Pledge of Allegiance was first recited by students in many US public schools. Originally composed by Rear Adm. George Balch in 1887, later revised by Francis Bellamy in 1892, it was formally adopted by Congress as the pledge in 1942. The official name of The Pledge of Allegiance was adopted in 1945. The last change in language came on Flag Day 1954 when the words "under God" were added.
1901 – President Theodore Roosevelt officially change the name of the Executive Mansion to The White House.
1911 - Birthday of Ann Petry (d. 1997), Old Saybrook, CT. U.S. journalist and novelist. She is best known work for "The Street," a novel about a Harlem mother surrounded by inescapable violence and limitations.
1914 - Annette Abbott Adams became the first female U.S. federal prosecutor when she was sworn in an Attorney General in California.
http://www.law.stanford.edu/library/wlhbp/papers/aaahtml.html#lifetime
1918 - HERIOT, JAMES D., Medal of Honor
Rank and organization: Corporal, U.S. Army, Company I, 118th Infantry, 30th Division. Place and date: At Vaux-Andigny, France, 12 October 1918. Entered service at: Providence, S.C. Birth: Providence, S.C. G.O. No.: 13, W.D., 1919. Citation: Cpl. Heriot, with 4 other soldiers, organized a combat group and attacked an enemy machine-gun nest which had been inflicting heavy casualties on his company. In the advance 2 of his men were killed, and because of the heavy fire from all sides the remaining 2 sought shelter. Unmindful of the hazard attached to his mission, Cpl. Heriot, with fixed bayonet, alone charged the machinegun, making his way through the fire for a distance of 30 yards and forcing the enemy to surrender. During this exploit he received several wounds in the arm, and later in the same day, while charging another nest, he was killed.
1918 - WOODFILL, SAMUEL, Medal of Honor
Rank and organization: First Lieutenant, U.S. Army, 60th Infantry, 5th Division. Place and date: At Cunel, France, 12 October 1918. Entered service at: Bryantsburg, Ind. Birth: Jefferson County, Ind. G.O. No.: 16, W.D., 1919. Citation: While he was leading his company against the enemy, his line came under heavy machinegun fire, which threatened to hold up the advance. Followed by 2 soldiers at 25 yards, this officer went out ahead of his first line toward a machinegun nest and worked his way around its flank, leaving the 2 soldiers in front. When he got within 10 yards of the gun it ceased firing, and 4 of the enemy appeared, 3 of whom were shot by 1st Lt. Woodfill. The fourth, an officer, rushed at 1st Lt. Woodfill, who attempted to club the officer with his rifle. After a hand-to-hand struggle, 1st Lt. Woodfill killed the officer with his pistol. His company thereupon continued to advance, until shortly afterwards another machinegun nest was encountered. Calling on his men to follow, 1st Lt. Woodfill rushed ahead of his line in the face of heavy fire from the nest, and when several of the enemy appeared above the nest he shot them, capturing 3 other members of the crew and silencing the gun. A few minutes later this officer for the third time demonstrated conspicuous daring by charging another machinegun position, killing 5 men in one machinegun pit with his rifle. He then drew his revolver and started to jump into the pit, when 2 other gunners only a few yards away turned their gun on him. Failing to kill them with his revolver, he grabbed a pick lying nearby and killed both of them. Inspired by the exceptional courage displayed by this officer, his men pressed on to their objective under severe shell and machinegun fire.
1918 - Forest fires ravaged parts of Minnesota from the Duluth area northeastward, claiming the lives of 600 persons. Smoke with a smell of burnt wood spread to Albany, NY and Washington, D.C. in 24 hours. Smoke was noted at Charleston, SC on the 14th, and by the 15th was reported in northeastern Texas.
1920 - Construction of the Holland Tunnel got underway. The tunnel would provide a direct link between Twelfth Street in Jersey City, NJ and Canal Street in New York City. The tunnel has two tubes more than 8,000 feet (2,400 meters) long. It opened to traffic on November 13, 1927. Oh, and one more thing: The Holland Tunnel was named for Clifford Milburn Holland (1883-1924), the civil engineer who died while directing the tunnel's construction.
1922 – Col. Jacob Ruppert agreed to buy out his partner Col. Tillinghast L'Hommedieu Huston, thereby gaining full control of the New York Yankees.
1923 - In front of the largest crowd in baseball history, 62,430 fans are on hand to see Casey Stengel hit his second home run of the Series. The round-tripper proves to be the difference as Giants hurler Art Neff outduels Sam Jones and the Bronx Bombers in Game 3 of the Fall Classic, 1-0.
1930 – Among several rule changes, the Rules Committee of Major League Baseball abolished the sacrifice rule and the rule awarding a home runs when the ball bounces into the stands. "Bounce homers" will now be doubles. This had already been in effect in the American league but not the National League.
1932 - Comedian, social activist, social critic, writer Dick Gregory, born Richard Claxton Gregory (d. 2017), in St. Louis, Missouri. Dick Gregory's first TV appearance was on the "Tonight Show" with Jack Paar. He soon began appearing nationally and on television and his 1964 autobiography, "Nigger," has sold ten million copies. At the same time, he became more involved in struggles for civil rights, activism against the Vietnam War, economic reform, anti-drug issues, conspiracy theories, and become more political than a stand-up comedian.
http://www.hermenaut.com/a52.shtml
http://www.math.buffalo.edu/~sww/gregory/gregory_dick.html
1933 – Reeling from the impact of the Great Depression on attendance and his finances, Philadelphia Athletics owner Connie Mack continued the sell-off of major stars of the team, even after winning back-to-back World Series. First to go was Lefty Grove, the A's top winner in each of the past five seasons, along with Max bishop and George Walberg. Then catcher Mickey Cochrane and George Earnshaw in what is known in Philadelphia as Black Tuesday.
1935 – Italian tenor Luciano Pavarotti (d. 2007) was born in Modeno, Italy. An operatic tenor who also crossed over into popular music, he eventually became one of the most commercially successful tenors of all time. He made numerous recordings of complete operas and individual arias, gaining worldwide fame for the quality of his tone, and eventually established himself as one of the finest tenors of the 20th century.
1937 - The longest-running detective show on radio debuted. "Mr. Keen, Tracer of Lost Persons" lasted until 1955. Three different actors played the title role, Bennett Kilpack was Mr. Keen the longest, and Arthur Hughes saw the final show.
1939 - Pianist Mary Lou Williams records "Little Joe from Chicago."
1942 - SCOTT, NORMAN, Medal of Honor
Rank and organization: Rear Admiral, U.S. Navy. Born: 10 August 1889, Indianapolis, Ind. Appointed from: Indiana. Citation: For extraordinary heroism and conspicuous intrepidity above and beyond the call of duty during action against enemy Japanese forces off Savo Island on the night of 11-12 October and again on the night of 12-13 November 1942. In the earlier action, intercepting a Japanese Task Force intent upon storming our island positions and landing reinforcements at Guadalcanal, Rear Adm. Scott, with courageous skill and superb coordination of the units under his command, destroyed 8 hostile vessels and put the others to flight. Again challenged, a month later, by the return of a stubborn and persistent foe, he led his force into a desperate battle against tremendous odds, directing close-range operations against the invading enemy until he himself was killed in the furious bombardment by their superior firepower. On each of these occasions his dauntless initiative, inspiring leadership and judicious foresight in a crisis of grave responsibility contributed decisively to the rout of a powerful invasion fleet and to the consequent frustration of a formidable Japanese offensive. He gallantly gave his life in the service of his country.
1942 - WEST, ERNEST E., Medal of Honor
Rank and organization: Private First Class, U.S. Army, Company L, 14th Infantry Regiment, 25th Infantry Division. Place and date: Near Sataeri, Korea, 12 October 1952. Entered service at: Wurtland Ky. Born: 2 September 1931, Russell, Ky. G.O. No.: 7, 29 January i954. Citation: Pfc. West distinguished himself by conspicuous gallantry above and beyond the call of duty in action against the enemy. He voluntarily accompanied a contingent to locate and destroy a reported enemy outpost. Nearing the objective, the patrol was ambushed and suffered numerous casualties. Observing his wounded leader lying in an exposed position, Pfc. West ordered the troops to withdraw, then braved intense fire to reach and assist him. While attempting evacuation, he was attacked by 3 hostile soldiers employing grenades and small-arms fire. Quickly shifting his body to shelter the officer, he killed the assailants with his rifle, then carried the helpless man to safety. He was critically wounded and lost an eye in this action. but courageously returned through withering fire and bursting shells to assist the wounded. While evacuating 2 comrades, he closed with and killed 3 more of the foe. Pfc. West's indomitable spirit, consummate valor, and intrepid actions inspired all who observed him, reflect the highest credit on himself, and uphold the honored traditions of the military service.
1944 - Frank Sinatra made his triumphant return to the famed Paramount Theatre in Times Square (he had played there for eight weeks starting on December 30, 1942). In what was called the 'Columbus Day Riot,' 25,000 teenagers, mostly young women, blocked the streets, screaming and swooning for Frankie. Sinatra later explained, "It was the war years, and there was a great loneliness. And I was the boy in every corner drug store ... who'd gone off, drafted to the war. That was all."
1944 - Top Hits
"I'll Walk Alone" - Dinah Shore
"Is You Is or is You Ain't" - Bing Crosby & The Andrews Sisters
"Together" - Helen Forrest & Dick Haymes
"Smoke on the Water" - Red Foley
1944 - PENDLETON, JACK J., Medal of Honor
Rank and organization: Staff Sergeant, U.S. Army, Company I, 120th Infantry, 30th Infantry Division. Place and date: Bardenberg, Germany, 12 October 1944. Entered service at: Yakima, Wash. Birth: Sentinel Butte, N. Dak. G.O. No.: 24, 6 April 1945. Citation: For conspicuous gallantry and intrepidity at the risk of his life above and beyond the call of duty on 12 October 1944. When Company I was advancing on the town of Bardenberg, Germany, they reached a point approximately two-thirds of the distance through the town when they were pinned down by fire from a nest of enemy machineguns. This enemy strong point was protected by a lone machinegun strategically placed at an intersection and firing down a street which offered little or no cover or concealment for the advancing troops. The elimination of this protecting machinegun was imperative in order that the stronger position it protected could be neutralized. After repeated and unsuccessful attempts had been made to knock out this position, S/Sgt. Pendleton volunteered to lead his squad in an attempt to neutralize this strongpoint. S/Sgt. Pendleton started his squad slowly forward, crawling about 10 yards in front of his men in the advance toward the enemy gun. After advancing approximately 130 yards under the withering fire, S/Sgt. Pendleton was seriously wounded in the leg by a burst from the gun he was assaulting. Disregarding his grievous wound, he ordered his men to remain where they were, and with a supply of hand grenades he slowly and painfully worked his way forward alone. With no hope of surviving the veritable hail of machinegun fire which he deliberately drew onto himself, he succeeded in advancing to within 10 yards of the enemy position when he was instantly killed by a burst from the enemy gun. By deliberately diverting the attention of the enemy machine gunners upon himself, a second squad was able to advance, undetected, and with the help of S/Sgt. Pendleton's squad, neutralized the lone machinegun, while another platoon of his company advanced up the intersecting street and knocked out the machinegun nest which the first gun had been covering. S/Sgt. Pendleton's sacrifice enabled the entire company to continue the advance and complete their mission at a critical phase of the action.
1945 – Desmond Doss became the first conscientious objector to be awarded the Medal of Honor. He served as a combat medic with an infantry company in World War II. He distinguished himself in the Battle of Okinawa for actions above and beyond the call of duty, aiding wounded soldiers under fire. He saved the lives of 75 wounded infantrymen atop the area known by the 96th Division as the Maeda Escarpment or Hacksaw Ridge. Doss was wounded four times in Okinawa and was evacuated on May 21, 1945. He is also the only conscientious objector to receive the medal during World War II.
1950 - Verve Records cuts "Getz Meets Mulligan" in HiFi.
1950 - The Kefauver Crime Commission convened in New York to investigate interstate organized crime. TV was there the following year, showing Frank Costello's hands for a long, long time on screen. Mr. Costello told Senator Estes Kefauver's committee that he would refuse to testify on TV if his face was shown. So, viewers were shown his hands instead.
1950 - "The George Burns and Gracie Allen Show" premiered. The comedic husband and wife duo of George Burns and Gracie Allen starred as themselves in this comedy series in which Burns was the straight man and Allen was known for her "ditziness." The show employed the technique of speaking directly to the camera ("breaking the fourth wall"); Burns often commented on the plot, told jokes or tried to make sense of Allen's actions and statements. Also on the show were their real-life son, Ronnie Burns, Hal March, John Brown (until blacklisted by McCarthyites in the "red scare"), Fred Clark, Larry Keating, Bill Goodwin and Harry von Zell. The show was done live for the first two seasons and included vaudeville scenes at the end of each episode.
1952 - Top Hits
"You Belong to Me" - Jo Stafford
"Wish You Were Here" - Eddie Fisher
"Jambalaya" ("On the Bayou") - Jo Stafford
"Jambalaya" ("On the Bayou") - Hank Williams
1953 - "The Bob Hope Show" premiered on TV. This was a monthly television show and sometimes every other week. During the first season, he hosted "The Colgate Comedy Hour," and during the later seasons his show was seen replacing and then alternating with Milton Berle (and in 1955-56 with Martha Raye and Dinah Shore). Leo Robin and Ralph Rainger wrote Hope's trademark show-closing song, "Thanks for the Memory."
1954 - Although a group comes forward to keep the team in Philadelphia, the American League owners approve the sale of the A's to Arnold Johnson, a Chicago business man, who will shift the team to Kansas City next season. The last minute-deal to keep the franchise in the 'City of Brotherly Love' includes future owner, Charlie O. Finley, who will buy the team after it goes to KC and then will move it to Oakland in 1968.
1955 - The Chrysler Corporation introduces high fidelity record players for their 1956 line-up of cars. The unit measured about four inches high and less than a foot wide and mounted under the instrument panel. The seven inch discs spun at 16 2/3 rpm and required almost three times the number of grooves per inch as an LP. A set of 35 classical recordings were available that provided between 45 and 60 minutes of uninterrupted music. The players would be discontinued in 1961.
1956 - A motion picture called "Don't Knock the Rock," featuring Little Richard and Bill Haley and His Comets, opens in US theatres. The movie tells the story of a disc jockey, Alan Freed, who tries to prove to teenagers' parents that Rock 'n' Roll is harmless and won't turn their kids into juvenile delinquents.
1960 - Top Hits
"Mr. Custer" - Larry Verne
"Chain Gang" - Sam Cooke
"Save the Last Dance for Me" - The Drifters
"Alabam" - Cowboy Copas
1961 - The first video memoirs to be created by a United States president were made when CBS showed a three-hour discussion with former President Dwight D. Eisenhower. Reportedly, 11 hours of film were taken, but were later edited down to the final print. Walter Cronkite was the interviewer.
1962 - The "Columbus Day Big Blow" occurred in the Pacific Northwest. It was probably the most damaging windstorm of record west of the Cascade Mountains. Winds reached hurricane force, with gusts above 100 mph. More than 3.5 billion board feet of timber were blown down, and communications were severely disrupted due to downed power lines. The storm claimed 48 lives, and caused $210 million damage.
1963 - In the first and final Hispanic American Major League all-star game' the National League beats their AL rivals, 5-2. With future Hall of Famers Roberto Clemente' Orlando Cepeda' Juan Marichal, and Luis Aparicio looking on' Twins first baseman Vic Power, a native of Puerto Rico, receives the award as the number-one Latin American player during a pregame ceremony at the Polo Grounds.
1963 - "Sugar Shack" by Jimmy Gilmer and the Fireballs hit the top of the Billboard Hot 100. It would go on to be the best selling single of the year.
1967 - The St. Louis Cardinals beat the Boston Red Sox, 4 games to 3 in the World Series. A few stats worth remembering: In 27 innings, Bob Gibson allowed three runs and 14 hits to notch St. Louis' eighth title. Although he and Boston's Jim Lonborg pitched spectacularly, the series tied the record for most pitchers used (20). St. Louis' Lou Brock collected 12 hits for a .414 average and a Series-record seven stolen bases. He also tied a Series mark with eight runs. Roger Maris batted .385, collecting ten hits. Julian Javier batted .360. Boston's Carl Yastrzemski batted .400 with three homers. Dalton Jones batted .389.
1967 - PERKINS, WILLIAM THOMAS, JR., Medal of Honor
Rank and organization: Corporal, U.S. Marine Corps, Company C, 1st Battalion, 1st Marines, 1st Marine Division. Place and date: Quang Tri Province, Republic of Vietnam, 12 October 1967. Entered service at: San Francisco, Calif. Born: 10 August 1947, Rochester, N.Y. Citation: For conspicuous gallantry and intrepidity at the risk of his life above and beyond the call of duty while serving as a combat photographer attached to Company C. During Operation MEDINA, a major reconnaissance in force southwest of Quang Tri, Company C made heavy combat contact with a numerically superior North Vietnamese Army force estimated at from 2 to 3 companies. The focal point of the intense fighting was a helicopter landing zone which was also serving as the Command Post of Company C. In the course of a strong hostile attack, an enemy grenade landed in the immediate area occupied by Cpl. Perkins and 3 other marines. Realizing the inherent danger, he shouted the warning, "Incoming Grenade" to his fellow marines, and in a valiant act of heroism, hurled himself upon the grenade absorbing the impact of the explosion with his body, thereby saving the lives of his comrades at the cost of his life. Through his exceptional courage and inspiring valor in the face of certain death, Cpl. Perkins reflected great credit upon himself and the Marine Corps and upheld the highest traditions of the U.S. Naval Service. He gallantly gave his life for his country.
1968 - Top Hits
"Hey Jude" - The Beatles
"Fire" - The Crazy World of Arthur Brown
"Little Green Apples" - O.C. Smith
"Harper Valley P.T.A." - Jeannie C. Riley
1968 - "Cheap Thrills," the album by Big Brother and the Holding Company, started an eight-week run as number one in the U.S. It was the first and only album (for a major label) Janis Joplin made with Big Brother and the Holding Company. The album's tracks: "Combination of the Two," "I Need a Man to Love," "Summertime," "Piece of My Heart," "Turtle Blues," "Oh, Sweet Mary," "Ball and Chain."
1968 - The games of the XIX Olympiad were opened in Mexico City by Mexican President Gustavo Diaz Ordaz. Norma Enriqueta Basilio de Sotelo became first woman to light the Olympic flame. The high-altitude (2,240 meters or 7,573 feet above sea level) and polluted air in Mexico City, put the athletes to a real test. Black Americans Tommie Smith and John Carlos gave the black power salute during the national anthem as a protest against racism in the U.S. They were expelled from the Olympic Village and thrown off the team by the USOC.
1968 - In San Francisco, GI's and Vets marched for peace from Golden Gate Park to Civic Center.
1970 - The musical "Jesus Christ Superstar," already a huge stage hit in the UK and on LP, opens on Broadway at the Mark Hellinger Theatre. Some folks weren't pleased because of the controversial content of the musical. Before the show opened, some 2.5 million copies of the album were sold to the curious. The Tim Rice/Andrew Lloyd Weber collaboration would become a big hit. "Jesus Christ Superstar" would run on Broadway for 720 shows and spawn several hit songs, including "I Don't Know How to Love Him" (Helen Reddy) and the title song, "Jesus Christ Superstar" (Murray Head).
1971 - It was a blessing in disguise when Rick Nelson played the seventh annual Rock 'n' Roll Revival Show in New York. He thought he was being booed for not playing his old hits and came away with the inspiration to write what would be his last Top Ten hit, "Garden Party," which would climb to number six in 1972. It was later revealed that the crowd was booing some trouble makers who had started a fight and were being escorted out of the building. "…if you gotta play a garden party, I wish you a lotta luck…if memories are all I sing, I'd rather drive a truck…"
1972 – The movie "Lady Sings The Blues," a musical biopic of singer Billie Holiday that launches the movie career of star Diana Ross, opens in New York.
1973 - Elton John is awarded a Gold record for his two disc set, "Goodbye Yellow Brick Road", his third straight number one album.
1974 - Olivia Newton-John's LP "If You Love Me, Let Me Know," hits #1
1976 - Top Hits
A Fifth of Beethoven - Walter Murphy & The Big Apple Band
Lowdown - Boz Scaggs
Disco Duck (Part 1) - Rick Dees & His Cast of Idiots
The Games That Daddies Play - Conway Twitty
1977 - Debbie Boone's first single, "You Light Up My Life" reaches #1 on the Billboard Pop chart, where it will stay for 10 weeks. It would go on to win a Grammy Award for Best Song and 21-year-old Debbie is named Best New Artist. The record only made it to #48 in the UK. In the 1980s, she focused on Country music, resulting in the #1 hit, "Are You on the Road to Lovin' Me Again." She later recorded Christian music, which garnered her four Top 10 Contemporary Christian albums as well as two more Grammys. She is the daughter of early rock 'n' roller, Pat Boone.
1979 - "Siskel & Ebert" première as "Sneak Previews" with film critics Gene Siskel and Roger Ebert, who originally got their start on public television in Chicago in 1975. In 1978, it went national on PBS. In 1981, the program moved to network TV and the name was changed to "At the Movies." After Siskel's death in 1999, rotating panel of critics joined Ebert and, in 2000, journalist Richard Roeper was named the permanent co-host. The title was then changed to "Ebert & Roeper and the Movies."
1979 - After an All-American career at Indiana State, forward Larry Bird made his professional debut with the Boston Celtics. He scored 14 points and had five assists in 28 minutes and the Celtics beat the Houston Rockets, 114-108. Bird soon proved his ability to shoot, pass and rebound. He led the Celtics to 32 more victories than they had the previous season and won the league's Rookie of the Year Award.
1981 - Barbara Mandrell walked away with the Country Music Association's Entertainer of the Year honor for the second year in a row.
1983 - Genesis' self-titled LP became their third consecutive number one album in the UK. It included the single "Mama," the band's biggest commercial UK success, which reached #4, but was less popular in the US where it climbed to #73.
1984 - Top Hits
"Let's Go Crazy" - Prince & The Revolution
"I Just Called to Say I Love You" - Stevie Wonder
"Hard Habit to Break" - Chicago
"Everyday" - The Oak Ridge Boys
1986 - The California Angels are one strike away from the World Series, when Dave Henderson, who had earlier watched Bobby Grich's fly ball bounce over the center field fence off the heel of his glove giving California the lead, hits a two-run homer off of Donnie Moore to put the Red Sox ahead, 6-5. California will tie the game in the bottom of the frame, but Boston will prevail scoring the deciding run in the 11th inning on a Henderson sac fly.
1991 - Mariah Carey breaks the Jackson 5's record of four straight number one hits when "Emotions" becomes the fifth of her first five singles to reach the top of the Billboard chart. In April, 2008, she would pass Elvis Presley's record when she achieved her 18th Billboard chart topper, second only to The Beatles 20.
1992 - Washington wide receiver Art Monk becomes the NFL's all-time leading receiver when he makes his 820th career reception in a 34-3 victory over the Broncos.
1996 - Though they've refused to release it on video for 27 years, largely due to dissatisfaction over their own performance, the Rolling Stones finally release their landmark 1968 all-star BBC television special, "The Rolling Stones' Rock And Roll Circus."
1997 - Singer/songwriter John Denver, piloting an experimental, amateur- built Long-EZ airplane, crashed into Monterey Bay, California. Witnesses said the plane, made of fiberglass with a single engine and two seats, was flying about at about 500 feet "when it just sort of dropped unexpectedly into the ocean. When it hit the water, it broke into numerous parts." Denver, age 53 and the only occupant of the plane, was killed.
1999 - According to the United Nations, the population of the world reached six billion on this date. More than one-third of the world's people live in China and India. It wasn't until 1804 that the world's population reached one billion; now a billion people are added to the population about every 12 years.
2000 - A US Navy destroyer, the USS Cole, refueling in Yemen suffered an enormous explosion in a terrorist attack. Initial reports had at least 6 sailors killed with 11 missing. The death toll was revised to 17.
2003 - Thirty-five years after an anthem dispute, Jose Feliciano sings the Star-Spangled Banner at the Marlins' NLCS game against the Cubs at Pro Player Stadium. During Game 5 of the 1968 World Series played in Detroit, his nontraditional gospelized rendition of the song at Tiger Stadium caused such flap that some radio stations stopped playing the blind singer's records on the air.
http://www.youtube.com/watch?v=jrY9RVfVkws&feature=player_embedded#
2009 - The Chicago Cubs file for Chapter 11 bankruptcy protection in Wilmington Delaware. The anticipated short-term move will allow the club's owner, the Tribune Company, to sell the team in an $845 million deal to the family of TD Ameritrade Holding Corp.'s founder, Joe Ricketts.
2011 - The 'underwear bomber', Nigerian Umar Farouk Abdulmutallab, pleads guilty to attempting to blow up an airplane on Christmas, 2009.
2011 - The U.S. has its deadliest foodborne illness outbreak in 25 years; the listeriosis outbreak totals 23 dead, with 116 affected.
2017 - The United States announced its decision to withdraw from UNESCO (United Nations Educational, Scientific and Cultural Organization) and is immediately followed by Israel. Laws passed in the United States in 1990 and 1994 mean that it cannot contribute financially to any UN organization that accepts Palestine as a full member. As a result, it withdrew its funding which accounted for about 22% of UNESCO's budget.

World Series Champions:
1907 - Chicago Cubs
1916 - Boston Red Sox
1920 - Cleveland Indians
1967 - St. Louis Cardinals
-------------------------------------------------------------

SuDoku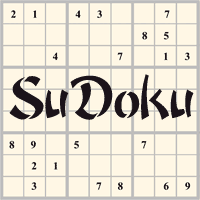 The object is to insert the numbers in the boxes to satisfy only one condition: each row, column and 3x3 box must contain the digits 1 through 9 exactly once. What could be simpler?
http://leasingnews.org/Soduku/soduko-main.htm
--------------------------------------------------------------

Daily Puzzle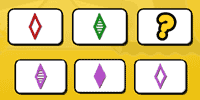 How to play:
http://www.setgame.com/set/puzzle_frame.htm
Refresh for current date:
http://www.setgame.com/set/puzzle_frame.htm
--------------------------------------------------------------


http://www.gasbuddy.com/
http://www.gasbuddy.com/GB_Map_Gas_Prices.aspx
http://www.gasbuddy.com/GB_Mobile_Instructions.aspx
--------------------------------------------------------------

Weather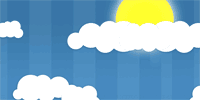 See USA map, click to specific area, no commercials
--------------------------------------------------------------

Traffic Live---
Real Time Traffic Information
You can save up to 20 different routes and check them out with one click,
or type in a new route to learn the traffic live
--------------------------------