National Machine Tool Financial Corporation
|
National Tel-Med Capital
|
National Business Finance

Sales Reps
Machine tools, construction, medical equip. Top competitive comp. package Fax resume: 847-871-4209 e-mail: chris@netlease.com

www.netlease.com
National has operated as an indirect lessor for over 25 years. They are expanding three of their divisions.
Friday, October 27, 2006
Headlines---
Female Leasing Association Presidents
Classified Ads---Other Sites
Feds may lower rate in three months
"Dancing with the ELFA"
by Bob Teichman, CLP
Placard—Ask Alan Lakien's Question
Selling Up by Steve Chriest
"Rising To Your Default Level"
Classified Ads---Help Wanted
Ginnie: Securitize Reverse Mortgages
ELFF Reports now available online
Pacific Capital 3rd Q $16.8 Million
Radiance Cap. Michael G. Helm new CM
Omni Financial Services 81.5% earnings
Microfinancial 3rd Q $0.9 million
GATX 3rd Quarter Explained
Alliance Financial Announces 3rd Q
CIT Named #1 SBA 7th Time in a row
News Briefs---
You May have Missed---
Sports Briefs
"Gimme that Wine"
Calendar Events
Snapple Real Facts
Today's Top Event in History
This Day in American History
Baseball Poem---Tim Peeler
######## surrounding the article denotes it is a "press release"
----------------------------------------------------------------

Female Leasing Association Presidents
June Sciotto, Regal Finance, Charlotte, North Carolina, 1994-1996, First female president of a Leasing Association, National Association of Equipment Leasing Brokers formed in 1990, today the largest company membership with over 800 with a goal of serving 1,000.
2000
Bette Kerhoulas, CLP
Pacifica Capital
("Winner of Closest to the Pin")
UAEL Elects First Female President--Oct. 7, 2002, Leasing News
"Oren Hall, emeritus member, former president of the United Association of Equipment Leasing (UAEL), made the motion from the floor, and President Bob Fisher, CLP, made the announcement, " In the first 26 years of our association, we now have a female president, Bette Kerhoulas, CLP. "
Donna Cole, 2004-2005, second female president of the National Association of Equipment Leasing Brokers.
2005: Nancy Pistorio, CLP, Executive Vice President, Madison Capital, Baltimore, Maryland, April 25, elected to two year term as president of the Eastern Association of Equipment Lessors (EAEL.) The first woman elected president in the 25-year history of the EAEL.
2005: Heather von Bargen, Caladesi Capital, Inc.
New Port Richey, Florida, president of the National
Association of Equipment Leasing Brokers, May 2005 - April 2006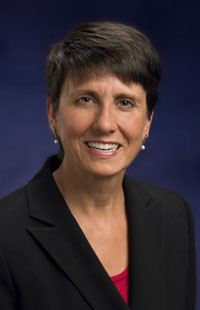 2007: Valerie Hayes Jester, President of Brandywine Capital Associates, West Chester, PA. The first female president of the Equipment Leasing and Finance Association, founded in 1961.
----------------------------------------------------------------

Classified Ads---Other Sites
St. Hilaire Cellars, owned by Gary L. Jackson, is the Northwest's leader in the production of private label wines. Does not sell to individuals. "We're happy to have those interested in private label wines, visit our farm in Yakima. St. Hillarie is also home to Desert Wine, earner of 1.6 million, who ran 2nd in the Kentucky derby." *
These job-wanted ads are free. We also recommend to both those seeking a position and those searching for a new hire to also go to other e-mail posting sites:
http://64.125.68.91/AL/LeasingNews/Classified.htm
In addition, those seeking employment should go to the human resource departments on company web sites for funders, captive lessors, and perhaps "broker-lessors."
To place a free "job wanted" ad here, please go to:
http://64.125.68.91/AL/LeasingNews/PostingForm.asp
Right now the leader in posting an ad for employment is Craig's List, if your town is listed in their format. You will get results. Of course, if you are senior management or an attorney, this may not be
the best for you. Leasing News "help wanted" has worked for three attorneys, who have found full time employment at leasing companies, one CEO of a major leasing company (he told us the lead came from Leasing News,) several operation managers, so we know it works.
One of the purposes of the "Funder" and "Captive Lessors" list was to give those seeking employment knowledge that these companies exist, and you can go to their web site and to their human resources department. They have openings not only at their home offices, but throughout the world.
http://www.leasingnews.org/Funders_Only/Funders.htm
http://www.leasingnews.org/Funders_Only/Funders_B.htm
http://www.leasingnews.org/Captive/Captive_lessors.htm
In addition to the Leasing News site, which is free to those seeking employment, here are other sites, some "free," some a "fee."
For a full listing of all "job wanted" ads, please go to:
http://64.125.68.91/AL/LeasingNews/JobPostings.htm
* No Web Site
Hours: private appointment
Address: 1340 St. Hilaire Road
Yakima, WA 98901
Phone: (509) 453-5987
Fax: (509) 457-5582
Email: garyjackson98901@yahoo.com
----------------------------------------------------------------

Prediction: Feds may lower rate within three months
Wednesday the Federal Reserve Board of Directors kept their best rate the same, as they have done in their last three meetings. Fitch, USA Today poll, and major economist predict the Feds may lower the best rate as early as the beginning of the year. The cause: falling home prices, construction industry, unemployment and other woes now looking over their shoulder.
----------------------------------------------------------------

Dancing with the ELFA
by Bob Teichman, CLP
Robert Teichman, CLP
Chairman, Leasing News Advisory Board
Among the thousand or so people attending the Equipment Leasing & Finance Association meeting at the J.W. Marriott Desert Springs Resort & Spa in Palm Desert, California Sunday through Tuesday this week were a number wearing a curious little pin. It showed a wildly windblown palm tree superimposed on a map of Florida with the legend "ELA 2005". The wearers were all "survivors" of last year's ELA convention held in Boca Raton, Florida in the middle of Hurricane Wilma. The hotel lost power to the elevators, causing the attendees to get a little unexpected exercise in the high-rise hotel. But enough power came from generators to run the kitchen, provide lighting and keep the convention going through the worst of the storm. Those who stayed said the food was great, there was an unlimited supply of bottled water and all the convention events were held, albeit sometimes with borrowed speakers.
What at first appeared to be a disaster, with cancellations and the prospect of a power-starved and dark hotel, turned out to be the experience of a lifetime and, for many, the best convention they had ever attended. What resulted was a close-knit and tightly-bonded group.
Talk about networking!
That spirit and level of enthusiasm carried over to this year's convention, the Association's 45th. While the Association, formerly the Equipment Leasing Association and now the Equipment Leasing & Finance Association, did not have to weather a literal Hurricane Wilma, it was presented with a number of challenges. Long-time President Mike Fleming retired, industry margins were thinning, cases such as the NorVergence debacle threw a bad light on the leasing industry, the industry was, and is, faced with regulatory and accounting changes.
The 770-member association has long been viewed by the industry as the association of big lessors. And, while large lessors are prominent, by numbers of employees, most of the membership is made up of small companies. Given the challenges, the temptation may have been to "circle the wagons" and try to keep a low profile, but the opposite is true. The Association has begun a process of reaching out; to members, to regulators, to other associations, and to the rest of the world, hence the theme of this year's convention, "Reputation, Innovation, Regulation".
The process involved three major changes; new leadership, new strategic planning and a new name.

ELFA President Kenneth E. Bentsen, Jr.
The first action taken was engaging former Congressman Kenneth E. Bentsen, Jr. as President. It was a brilliant choice. Bentsen is personable, professional and passionate, and is well-known on Capitol Hill. In fifteen trips around the country he met with members to learn what challenges and opportunities faced them. He quickly realized what we in the industry have known for years; that equipment leasing and financing is a major source of capital, providing financing for almost a third of capital equipment expenditures, and yet it is not well-understood by the outside world.
The ensuing decision was to 1) establish the sector's brand, 2) upgrade advocacy, 3) review and revise professional and business standards, and 4) meet member's expectations and demands through communications, research, outreach to members and programming.
The most notable example of the Association's external change is management's interest in working with other associations, both outside and inside the industry. For instance, in May, 2007, Mr. Bentsen will address a meeting of the Eastern Association of Equipment Lessors.
2007 Chair-elect Valerie Hayes Jester was involved with this decision.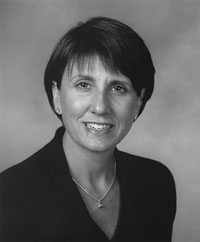 Valerie Hayes Jester, chairman-elect, ELFA
She is President of Brandywine Capital Associates, a small company in West Chester, PA, and typifies much of the Association; small lessors, seriously involved with the industry and active volunteers in the running of the ELFA. Recently, it appears that members are becoming more active in all the associations. UAEL, for instance, has 80 members in six committees. ELFA has 23 named committees, staffed by volunteers. Other leasing associations seem to be seeing corresponding increases in volunteer activity.
Ms. Jester is proud of her status as a small company and said, "My background as a smaller independent company provides a unique perspective in the leadership and direction of the Association" She spoke highly of Chairman Paul Larkins' efforts in all the changes that took place in the past year, and said that she was looking forward to moving the plan forward.
All convention events were well-attended, especially the reception on Sunday night, held in the exhibition hall with all the booths open, and Tuesday night's party, held by the lake (it was way too large to be called a "pool") at the hotel.
There were numerous workshops, roundtables and meetings, with subjects ranging from "The Use and Abuse of New Marketing Techniques" to "Developing Profitable Leasing Portfolios in Developing Countries" to sessions on new accounting changes, funding leasing companies, cross-border leasing, reviews of various studies; in short, far more than any individual could attend. In fact, there were 29 sessions, in addition to the general sessions and luncheons. Only a few companies could send employees to all sessions, but some seemed to try. One company sent 45 people to the conference; another sent 20.
Exhibitors seemed pleased with the traffic. At this convention, only service providers had booths. Funders have their own event in April, in Chicago.
It seemed particularly appropriate that the hotel was undergoing renovations during the conference. The year started with a natural disaster and ended with remodeling, just like the Association itself. Ken Bentsen said that the Association had to institute external changes because the members have changed, the world has changed, policy makers, public views and technology has changed, and we have to change with it.
"This is a new, public world", he said.
----------------------------------------------------------------

----------------------------------------------------------------

by Steve Chriest
"Rising To Your Default Level"
Naturally talented salespeople are, among other things, confident. Most of them actually believe that they can use their native intelligence and interpersonal skills to rise to the occasion in dealing with even the most difficult selling situations. Unfortunately, nothing is further from the truth.
It was widely reported, recently, that a five foot, four inches tall female police officer apprehended and handcuffed a seven foot tall male offender. Incredulous that a small, female officer could place handcuffs on an angry, seven foot tall male, reporters asked her how she managed to do it. She replied, "My training took over and I just acted as I've been trained to act in this type of situation."
I think it's the same for sales professionals. Although sales people often think they will rise to the occasion in difficult selling situations, that's not what happens. What happens is that they rise to the level of their training. If they are generally disorganized, and if they rarely plan ahead for important sales calls, this is the default behavior that shows itself in difficult selling situations.
When a leasing prospect asks about the interest rate charged in a lease, the leasing salesperson who is unprepared to discuss the value he and his company brings to the prospect's business probably pulls out his HP 17BII calculator and begins the attempt to impress the prospect with how to calculate the twenty-four ways of looking at interest rates in a lease. He defaults to his level of training and usually leaves the prospect confused, uncertain, unsatisfied and uncommitted!
If, instead, the salesperson has been taught to articulate the relative importance of interest rates in borrowing, vis-à-vis the other important considerations that impact a borrowing decision, he will default to this method of explanation when confronted with the dreaded interest rate question from prospects and customers.
Sales managers who teach their salespeople how important it is to impress customers with their use of the HP 17BII calculator shouldn't be surprised when the salespeople use their calculators as their default method of responding to tough questions posed by customers in a tough sales call.
Don't expect sales professionals, even superstars, to rise to the occasion in all selling situations. If salespeople are trained well, they will generally respond well to tough selling situations. The reality is that a salesperson's performance always defaults to his level of training.
Copyright © 2006 Selling Up TM . All Rights Reserved.
About the author: Steve Chriest is the founder of Selling Up TM (www.selling-up.com), a sales consulting firm specializing in sales improvement for organizations of all types and sizes in a variety of industries. He is the author of Selling Up , The Proven System For Reaching and Selling Senior Executives , and Five Minute Financial Analyst , an online workshop teaching basic financial analysis. You can reach Steve at schriest@selling-up.com .

----------------------------------------------------------------

Classified Ads---Help Wanted
Operations Manager


Operations Manager
Minneapolis,MN
Coordinates lease process from inception through pay off. 3+ years proven leasing account management exper.
For more info, click here

Sales

Niche Market Sales Reps.
Not limited to, but includes:
- Dry cleaning
- Phone systems for small business
- Dental office
- Physicians office
- Laundry/dry cleaning equipment
Send your resume to sclerc@highlinecapital.com EOE.
National Machine Tool Financial Corporation
|
National Tel-Med Capital
|
National Business Finance

Sales Reps
Machine tools, construction, medical equip. Top competitive comp. package Fax resume: 847-871-4209 e-mail: chris@netlease.com

www.netlease.com
National has operated as an indirect lessor for over 25 years. They are expanding three of their divisions.
Buy a "Help Wanted" Ad
Alexa Ranks Leasing News #1
Help Wanted Ad Pricing Criteria
$500.00 minimum for four lines
$75.00 each additional line
- Design work to help create the ad is free.

-Company logo is not included in the linage count; company logo is $50.00

-Description of your company is $100.00
(company description cannot have more lines than your ad)
Cost Per Day (based on ad price)
$500.00 - $23.81 per day
$600.00 - $28.57 per day
$700.00 - $33.33 per day
$800.00 - $38.10 per day
$900.00 - $42.86 per day

All rates are subject to change.
To obtain more information and/or to submit an ad, please click here.
If you prefer a " non-employment" ad, we sell a banner ad, please click here
for pricing.
--------------------------------------------------------------

Ginnie Set To Securitize Reverse Mortgages
ABSnet
Ginnie Mae is creating a new type of mortgage-backed security entirely backed by reverse mortgages, the first of which will be issued in September next year. While there have been some private placements of similar deals, the Ginnie Mae Home Equity Conversion Mortgage-Backed Security will be the first standardized transaction in the market, said Ted Foster, senior v.p. of MBS. "Our new product...is simply an extension of our existing mission to expand access to affordable housing opportunities in America by linking the global capital markets to the nation's housing markets," said Robert Couch, president. The MBS may also eventually be used as collateral for REMICs.
Reverse mortgages allow borrowers 62 years and older to convert some of their home's equity into tax-free income and/or lines of credit. When those loans are paid back, the money is passed through to MBS investors. The loans are considered due if the last living mortgagor dies, the borrower sells the property, if the property stops being the borrower's main residence or if he has not lived there for more than a year. Also, if the borrower does not fulfill some obligation required under the mortgage, the loan becomes due.
The deals are viewed through more of an actuarial lens than traditional mortgages. Because deals do not have a pre-set life, repayments are modeled taking into account the borrowers' age, gender, marital status and amount already drawn on the loans, among other factors.
Foster did not have specific volumes of how much could be securitized but estimated more than 225,000 of the loans have been originated. The growth of the program will also depend on how many reverse mortgages can be insured by the Federal Housing Administration, which control 95% of the reverse mortgage market. Ginnie can only guarantee FHA-insured mortgages. While FHA is currently capped at 275,000, the Expanding American Homeownership Act of 2006 seeks to remove that cap. The act has already passed the House of Representatives. --Olivia Thetgyi
--------------------------------------------------------------

Business Differentiation; What makes select leasing companies consistently outperform their peers?
Now on line. Free to donors. $200 otherwise.
http://www.leasefoundation.org/store/index.cfm?fuseaction=
product.display&Product_ID=390
Review of report:
http://www.leasingnews.org/archives/October%202006/10-23-06.htm#what
--------------------------------------------------------------
### Press Release ###########################

Pacific Capital Third Quarter $16.8 Million
9/30/06 6/30/06 3/31/06
Leases $305,015 $ 300,101 $ 293,027
Pacific Capital Bancorp (Nasdaq:PCBC), a community bank holding company with $7.2 billion in assets, today announced financial results for the third quarter ended September 30, 2006.
Net income for the third quarter was $16.8 million, compared with $14.4 million reported for the third quarter of 2005. Earnings per share for the third quarter of 2006 were $0.36, compared with $0.31 reported for the third quarter of 2005. The strong results in the third quarter of 2006 were primarily attributable to larger than expected collections of Refund Anticipation Loans (RALs) in October, related to tax refunds that required additional review by the IRS. To reflect the collections received in October, the Company increased its tax refund loans receivable as of September 30, 2006, which resulted in a reduction in the provision for loan loss expense and contributed an additional $0.11 in earnings per share. Pursuant to Generally Accepted Accounting Principles (GAAP), it was determined that the adjustment to the receivable and the loan loss provision expense should be recorded in the third quarter of 2006.
Commenting on the third quarter results, William S. Thomas, Jr., President and Chief Executive Officer of Pacific Capital Bancorp, said, "From a core bank perspective, our business development efforts during the third quarter remained strong, particularly in the construction and residential real estate segments, which helped drive annualized loan growth of approximately 9% during the quarter. However, the competitive deposit pricing environment and higher borrowing costs continue to drive compression in our net interest margin and present challenges to generating earnings growth. We are pleased to have partially offset this through implementation of the expense management initiatives that we announced last quarter. Our operating efficiency ratio improved nearly 400 basis points from the second quarter of 2006, and we are focused on making continued progress in this area."
Full Press Release at:
http://www.snl.com/irweblinkx/file.aspx?IID=100652&FID=2952875
### Press Release ###########################

Radiance Capital appoints veteran Michael G. Helm as Credit Manager
Tacoma, Wash. – Radiance Capital LLC, a premier equipment financing company, is pleased to announce that Michael G. Helm has joined their team as Credit Manager. In this position, he will be responsible for providing brokers with flexible equipment financing solutions and managing the company's loan portfolio, including underwriting and risk management.
"As a former broker, Michael understands the need and the immediacy for a flexible payment structure where the lease can be customized to best fit the customer's needs," says Meryl Newman, Radiance's Chief Financial and Operations Officer. "With his strong background in credit analysis and risk management in the small ticket arena, Michael is a great addition to our team."
Helm has 25 years of experience in the lease and finance industry, most recently as a broker. His extensive background includes managing loan portfolio credit quality, establishing and authorizing credit limits and deal structures, and developing relationships with outside vendors and funding sources.
"Radiance has already gained a proven track record in evaluating the risk and successfully financing small ticket B credit leases," says Helm. "Because Radiance is a small and flexible organization, it is willing to evaluate each lease on its individual merit and propose a structure that best fits the customer's needs. I'm thrilled to join Radiance Capital and be a part of continuing this tradition."
Helm joined Radiance Capital on October 10, 2006 and can be contacted at
mhelm@radiance-capital.com or (866) 702-2748 ext. 17.
About Radiance Capital
Radiance Capital LLC is a privately held "B Credit" finance company based in Tacoma, Washington. Radiance provides equipment financing through a broker channel for transactions ranging from $5,000 to $50,000 for companies based in Washington, Oregon, Idaho, California, Alaska, Arizona and Colorado. Radiance's management team has over 80 years combined experience in commercial leasing with an emphasis on underwriting and servicing a wide range of credits. For more information about Radiance, please visit the company's website at www.radiance-capital.com.
### Press Release ###########################

Omni Financial Services, Inc. Reports Third Quarter Earnings Growth of 81.5%
ATLANTA----Omni Financial Services, Inc. (NASDAQ: OFSI - News):
Third Quarter Diluted EPS Up 58% and Year to Date Diluted EPS Up 49%
Annual Loan Portfolio Growth of 49%
Continued Strong Credit Quality: 0.14% Year to Date Net Charge Offs
Dividend of $0.04 per Share Declared
Omni Financial Services, Inc. (NASDAQ: OFSI - News) today announced net income for the third quarter of 2006 of $1.44 million or $0.19 diluted earnings per share, an increase of 81.5% from $791,000 or $0.12 diluted earnings per share for the same quarter in 2005 on a "pro forma" basis. Net income for the quarter ended September 30, 2005 has been adjusted to reflect a combined federal and state tax expense of 38% for the period assuming the Company operated as a C Corporation. Net income for the nine month period ended September 30, 2006 totaled $4.16 million or $0.55 diluted earnings per share on a pro forma basis compared to $2.47 million or $0.37 diluted earnings per share during the same period in 2005, an increase of 68.8%. For comparison purposes, net income for the nine months ended September 2006 has been reduced by a $3.69 million tax credit recorded on January 1, 2006 upon conversion from an S Corporation to a C Corporation and for the nine months ending September 30, 2005 net income has been adjusted to reflect a combined federal and state tax expense of 38% for the period assuming the Company operated as a C Corporation.
The Company priced an initial public stock offering on September 28, 2006 and consummated the offering on October 4, 2006 issuing 3,350,000 common shares. On October 12, 2006 the Company issued an additional 502,500 common shares pursuant to the underwriters' exercise of their over-allotment option. Proceeds net of underwriters' fees and offering costs approximated $33.0 million and were received in October 2006 and as a result had no effect on total assets or equity as of September 30, 2006.
Full press release:
http://biz.yahoo.com/bw/061026/20061026005568.html?.v=1
### Press Release ###########################

Microfinancial Third Quarter $0.9 million
WOBURN, Mass.----MicroFinancial Incorporated (AMEX-MFI), a financial intermediary specializing in vendor based leasing and finance programs for transactions in the $500 to $15,000 range, today announced financial results for the third quarter and the nine months ended September 30, 2006.
Net income for the quarter was $0.9 million or $0.06 per diluted share based upon 13,942,572 shares, compared to net income of $0.4 million, or $0.03 per diluted share based on 13,910,948 shares in the third quarter of 2005.
Revenue in the third quarter of 2006 was $7.8 million compared to $9.4 million in the third quarter of 2005. Revenue from leases was $1.0 million, rental income was $5.1 million, income on service contracts was $0.4 million and other revenue components contributed $1.3 million for the current quarter.
Full Press Release at:
http://phx.corporate-ir.net/phoenix.zhtml?c=119119&p=irol-newsArticle&ID=
921400&highlight=
### Press Release ###########################

Alliance Financial Announces Third Quarter
SYRACUSE, N.Y., -- Alliance Financial Corporation ALNC, the holding company for Alliance Bank, N.A., announced today its net income for the third quarter of 2006 was $1.82 million, or $0.51 per diluted share, a decrease of 8.2% compared with $1.98 million, or $0.54 per diluted share in the year-ago quarter. Net interest income decreased in the third quarter compared with the year-ago period as the flat treasury yield curve and competition for deposits in our market continued to push up our cost of funds, offsetting the positive impact on interest income that resulted from growth in our loan and lease portfolio.
Full press release here:
http://news.moneycentral.msn.com/provider/providerarticle.asp?feed=
PR&Date=20061026&ID=6141844
### Press Release ###########################

GATX 3rd Quarter Explained
In the third quarter of 2006, GATX signed an agreement to sell the majority of its aircraft leasing business to Macquarie Aircraft Leasing Limited (MALL). As a result, the prior aircraft leasing segment is reported as a discontinued operation and prior periods have been restated to conform to the current presentation.
In the 2006 third quarter, net income from continuing operations was $42.6 million or $.74 per diluted share compared to net income of $31.7 million or $.57 per diluted share in the third quarter of 2005. Net income from continuing operations for the first nine months of 2006 was $122.8 million or $2.14 per diluted share, compared to $96.2 million or $1.74 per diluted share in the comparable prior year period.
Highlights for the 2006 third quarter include:
Utilization of Rail's North American fleet remained at 99% and lease renewal rates increased 19% over expiring rates on a basket of common car types. During the quarter, Rail signed a purchase agreement with American Railcar Industries, Inc. for delivery, beginning in 2008, of up to a total of 4,000 newly manufactured railcars.
Specialty continued to grow lease income and take advantage of asset remarketing opportunities.
In September, GATX signed a definitive agreement to sell the majority of its aircraft leasing business to MALL. Previously, GATX signed agreements and letters of intent for the sale of 27 aircraft targeted for sale and completed the sale of GATX's share of the Pembroke joint venture.
American Steamship Company (ASC) completed its first full quarter of operations following the acquisition of six vessels from Oglebay Norton in June. Integration proceeded smoothly amid continued strong demand and favorable operating conditions on the Great Lakes.
Brian A. Kenney, president and CEO of GATX, stated, "Results in the third quarter and year-to-date 2006 demonstrate continued strength in our markets. We are achieving longer lease terms on railcar renewals at improving rates and we acquired more than 1,900 cars in the quarter. While below the record levels achieved in 2005, income from marine joint ventures at Specialty remains solid. The signing of the definitive agreement with MALL to sell the aircraft leasing business reflects our strategy of focusing on our higher return businesses and improving risk adjusted returns.
"Our 2006 operating results continue to improve despite signs of increased speculation in certain segments of the rail market by other equipment lessors, as well as indications that near-term delivery opportunities have materialized in railcar manufacturers' production backlogs. We are monitoring this closely and we remain committed to meeting our customers' railcar needs while earning the appropriate return for our shareholders."
Mr. Kenney concluded, "We previously provided 2006 GAAP earnings guidance of $3.10 to $3.20 per diluted share. This included income of approximately $.40 per diluted share from the aircraft leasing business, which is now reported as a discontinued operation. On a continuing operations basis, we therefore continue to expect earnings of $2.70 - $2.80 per diluted share in 2006, which includes $.25 per diluted share of benefits from tax items and a gain recorded at an affiliate related to hedging activities."
Full Press Release at:
http://ir.gatx.com/phoenix.zhtml?c=70051&p=irol-newsArticle&ID=921939&highlight=
### Press Release ###########################

CIT Named #1 SBA Lender for Seventh Consecutive Year
Provides More Than $872 Million in SBA Loans to Small Businesses Nationwide Over Past 12 Months
NEW YORK, -- CIT Small Business Lending Corporation, a unit of CIT Group Inc. (NYSE: CIT) a leading global provider of commercial and consumer finance solutions, announced today that for the
seventh consecutive year it has been recognized as the #1 Small Business Administration (SBA) 7(a) volume lender.
"I am very pleased that for the seventh consecutive year CIT has distinguished itself as the preeminent financing partner to U.S. small businesses," said Thomas B. Hallman, CIT Vice Chairman, Specialty Finance. "Small businesses are the economic backbone of the U.S. economy and our loans provide them the financing they need to grow and expand."
Christine Reilly, President of CIT Small Business Lending Corporation, said, "We're proud of this recognition by the SBA which highlights CIT's continued commitment to financing small businesses. As noted in our recent Small Business Outlook Survey, small business owners are expected to continue to invest in their organizations in 2007 as they seek to grow their businesses. We're pleased to serve as their financing partner as these investments will create jobs and stimulate local economic growth around the country."
The ranking is based on SBA 7(a) loan volume for the 2006 SBA fiscal year (October 1, 2005 to September 30, 2006). According to the SBA, CITvprovided $872,595,495 in SBA 7(a) loans to 1,487 small businesses nationwide.
The 7(a) loan program is the most popular SBA program, and offers up to 25-year, fully amortized loans, which means lower monthly payments for the borrower. Proceeds from the 7(a) program may be used for most business purposes, including the purchase of commercial real estate, equipment and inventory, construction, renovation or leasehold improvements, and working capital
About CIT Small Business Lending Corporation
CIT Small Business Lending Corporation has been the nation's #1 SBA 7(a) lender for the last seven consecutive years. Designated as a "Preferred Lender" by the SBA due to its strong historical record, CIT Small Business Lending Corporation offers loans to finance business acquisitions, owner-occupied real estate purchases, franchises, and medical and professional practice start-ups.
http://www.smallbizlending.com

About CIT
CIT Group Inc. (NYSE: CIT), a leading commercial and consumer finance company, provides clients with financing and leasing products and advisory services. Founded in 1908, CIT has more than $70 billion in managed assets and possesses the financial resources, industry expertise and product knowledge to serve the needs of clients across approximately 30 industries worldwide. CIT, a Fortune 500 company and a member of the S&P 500 Index, holds leading positions in vendor financing, factoring, equipment and transportation financing, Small Business Administration loans, and asset-based lending. With its global headquarters in New York City, CIT has more than 7,200 employees in locations throughout North America, Europe, Latin America, and Asia Pacific.
http://www.CIT.com.

### Press Release ###########################
--------------------------------------------------------------

News Briefs----
Developers Slash Prices to Increase Home Sales
http://www.nytimes.com/2006/10/26/business/27econcnd.html?hp&ex=
1161921600&en=a5b703fa4ee569ba&ei=5094&partner=homepage
Exxon Posts $10.49B Profit
http://www.chicagotribune.com/business/sns-ap-earns-exxon-mobil,0,1730686.
story?coll=chi-business-hed
Microsoft says quarterly earnings rise, beat estimates
http://seattletimes.nwsource.com/html/businesstechnology/
2003324649_webmicrosoft26.html
No longer constrained, Greenspan shares a piece of his mind
http://www.signonsandiego.com/news/business/20061026-1302-green
spanunvarnished.html
4 firefighters killed by arson wildfire near Palm Springs
http://www.signonsandiego.com/news/state/20061026-2036-wst-socalwildfire.html
---------------------------------------------------------------


You May have Missed---
Study shows 39 million gallons of fuel are used each year for every extra pound of passenger weight
http://news.yahoo.com/s/ap/20061025/ap_on_re_us/obesity_gas_consumption
----------------------------------------------------------------


California Nuts Briefs---
Governor hangs on to double-digit lead over Angelides
http://www.contracostatimes.com/mld/cctimes/15852469.htm
Success Motivates Schwarzenegger
http://www.contracostatimes.com/mld/cctimes/15852516.htm
---------------------------------------------------------------

Sports Briefs----
Eckstein the hero; Cardinals take Game 4
http://hosted.ap.org/dynamic/stories/B/BBO_WORLD_SERIES?SITE=
MOSTP&SECTION=SPORTS
Porter's back -- Shell vague on playing status
http://www.sfgate.com/cgi-bin/article.cgi?f=/chronicle/archive/
2006/10/26/SPGF9M08T21.DTL
----------------------------------------------------------------


"Gimme that Wine"
Duo reunites in Wine Country
http://www.sfgate.com/cgi-bin/article.cgi?f=/c/a/2006/10/25/
FDGDNLSCS31.DTL&hw=wine&sn=017&sc=586
In Australia, Lessons at a Winery
http://www.nytimes.com/2006/10/25/dining/25aussie.html?_r=1&ref=dining&oref=slogin
Wine Prices by vintage
http://www.winezap.com
http://www.wine-searcher.com/
US/International Wine Events
http://www.localwineevents.com/
Winery Atlas
http://www.carterhouse.com/atlas/\
Leasing News Wine & Spirits Page
http://two.leasingnews.org/Recommendations/wnensprts.htm
The London International Vintners Exchange (Liv-ex)
is an electronic exchange for fine wine.
http://www.liv-ex.com/
----------------------------------------------------------------

Calendar Events This Day
Boxer Shorts Day
http://en.wikipedia.org/wiki/Boxer_shorts
Frankenstein Friday
This holiday has been designed to honor and celebrate the "mother" and "Father" of Frankenstein. Mary Shelly and Boris Karloff. Every year a difference venue will be used to celebrate this occasion. In years past it has included a torch lighting ceremony, film festival and awarding of the Franky. A special celebration is planned to commemorate the 75th anniversary of the original film.
Navy Day
Established in 1922 to honor the "past and present services" of the US Navy to the nation. Also honored Theodore Roosevelt, who birth day is October 17 (and who had been assistant secretary of the Navy early in his public career). Not a national holiday, it was last observed in 1949.
Saint Vincent and the Grenadines: Independence Day
National Day commemorating independence from Britain in 1970.
http://www.svgtourism.com/channels/1.asp?id=4
http://www.svgtourism.com/channels/1.asp?id=60
Turkmenistan: Independence Day
National holiday. Commemorates independence from the Soviet Union in 1991.
----------------------------------------------------------------

Woodward Avenue in Detroit, Michigan, carries the designation M-1, named so because it was the first paved road anywhere.
http://www.woodwardavenue.us/home/

----------------------------------------------------------------

Today's Top Event in History
1865-It is estimated 65,000 Blacks served in the Confederate army, with an estimated 13,000 actually facing the Union Army in combat.
http://www.37thtexas.org/html/BlkHist.html
----------------------------------------------------------------

This Day in American History
1659-William Robinson and Marmadue Stevenson, English Quakers who had come to America in 1656, were executed for their religious beliefs, hanged from an elm tree on Boston Common, Boston MA. They were condemned by the Massachusetts General Court under a law passed on October 19,1658 that banished Quakers from the colony under pain of death. Also condemned, but reprieved at the last moment, was Mary Dyer, who returned to Boston the following year and was hanged on June 1, 1660.
1771- Landing at Philadelphia, pioneer bishop Francis Asbury, 26, first arrived in America. He had been sent from England by John Wesley to oversee Methodism in the American colonies, and stayed all of his remaining 45 years, till his death in 1816.
http://www.cantonbaptist.org/halloffame/asbury.htm
http://www.victorshepherd.on.ca/Heritage/francis.htm
1787-The first of the 85 "Federalist" papers appeared in print in a New York City newspaper, Oct 27, 1787. These essays, written by Alexander Hamilton, James Madison and John Jay, argued in favor of adoption of the new Constitution and the new form of federal government. The last of the essays was completed Apr 4, 1788.
http://memory.loc.gov/ammem/today/oct27.html
1795 - Pinckney's Treaty between Spain and the United States was signed. It established the former southern boundary of the United States at the 31st parallel and gave Americans the right to send goods down the Mississippi without paying duty to Spain.
1810- US annexes West Florida from Spain
1812-The first Naval vessel to display the American flag around Cape Horn was the Essex, a frigate commanded by Captain David Porte which left the Delaware capes this day with a crew of 287 and 32 marines, and arrived at Valparasio, Chile, on March 14, 1813. The ship had been launched on September 30,1799, by Enos Briggs, Salem, MA. The flag was presented to the United States and on December 17,1799, accepted by Captain Edward Preble (my son Dash serves on the ship named after this American hero.) The flag was sold at public auction on June 6, 1837, according to naval records.
1842-Birthday of Anna Elizabeth, considered in her century the Joan of Arc of the Abolition in America.
http://www.npg.si.edu/exh/brady/gallery/84gal.html
1858-Birthday of Theodore Roosevelt: Twenty-sixth president of the US, succeeded to the presidency on the death of William McKinley. His term of office: Sept 14, 1901-Mar 3, 1909. Roosevelt was the first president to ride in an automobile (1902), to submerge in a submarine (1905) and to fly in an airplane (1910). Although his best-remembered quote was perhaps, "Speak softly and carry a big stick," he also said: "The first requisite of a good citizen in this Republic of ours is that he shall be able and willing to pull his weight." Born at New York, NY, Roosevelt died at Oyster Bay, NY, Jan 6, 1919. His last words: "Put out the light."
1858 -RH Macy and Co opens 1st store, (6th Ave-NYC) Gross receipts $1106
http://www.federated-fds.com/company/his_2_7.asp
http://www.haverhillusa.com/whereishaverhill.html
http://www.nycvisit.com/content/index.cfm?pagePkey=803
http://ads.smni.com/RequestImpression.aspx?po=1525499422
1862-In an attempt to reinforce and re-supply the besieged Union troops at Chattanooga, TN, General Ulysses S. Grant ordered that a river route to Bridgeport, AL, be opened. In the early morning of Oct 27 Federal troops drifted down the Tennessee River on pontoons to Brown's Ferry. The troops reached their destination, and reinforcements and supplies crossed the bridge formed by the pontoons, opening "The Cracker Line," into Chattanooga, negating some of the Southern army's advantage in the siege. It was a very important battle as the Union Army had been living on hard tack, or what they were known in those days as "crackers" and this opened the supply lines to feed the troops and allowed them to continue their campaign.
http://ngeorgia.com/history/crackerline.html
http://www.civilwarhome.com/crackerline.htm
1865-It is estimated 65,000 Blacks served in the Confederate army, with an estimated 13,000 actually facing the Union Army in combat.
http://www.37thtexas.org/html/BlkHist.html
1867-Maimondies College, Philadelphia, PA became the first theological college for Jews. It was sponsored by the Hebrew Education Society of Philadelphia and the Board of Delegates of American Israelites. The founder and first president was Rabbie Isaac Leeser, who also served as professor of homiletics, belles lettres, and comparative theology. It offered a five-year course leading to the Bachelor's and Doctor of Divinity degrees. Tuition was $100, and board and lodging $200 per year. Dr. Marcus Jastrow was provost. The college closed in 1873.
1871- Boss Tweed (William Macy Tweed), Democratic leader of Tammany Hall, arrested after NY Times exposed his corruption
http://7-12educators.about.com/blabosstweed.htm
http://www.smithsonianmag.si.edu/smithsonian/issues02/feb02/boss.html
1878- Mabel Wheeler Daniels was born in Swampscott, Massachusetts, and graduated from Radcliffe College, magna cum laude, in 1900. She studied composition with George Chadwick of Boston, and with Ludwig Thuille in Munich, where she was the first woman ever to enroll in the conservatory's score reading class. She wrote a lively memoir of her studies abroad, An American Girl in Munich (Boston: Little, Brown and Co., 1905), and was director of music at Simmons College from 1913 to 1918. Her larger choral and orchestral works were performed by the Harvard Glee Club and the Radcliffe Choral Society with the Boston Symphony, at the Worcester Festival, and by orchestras and choruses throughout the United States. American composer, specialized in choral music, the only American composer played at the Carnegie Hall Festival in 1939, the only woman to have three works played by the Boston Symphony 1929, 1934, and 1954.
http://www.harvardsquarelibrary.org/unitarians/daniels.html
1904-New York subway: Running from City Hall to West 145th Street, the New York City subway began operation. It was privately operated by the Interborough Rapid Transit Company and later became part of the system operated by the New York City Transit Authority.
(second part: http://memory.loc.gov/ammem/today/oct27.html )
1909 -- Blues guitarist/pianist, Henry Townsend born near Cairo, Illinois.
http://www.stlouiswalkoffame.org/inductees/henry-townsend.html
http://www.genesiscoffeehouse.com/celebrities/TU/HenryTownsend/
http://centerstage.net/music/whoswho/HenryTownsend.html
http://stl-music.com/henrytownsend/bindex.htm
1913-Last great bandleader of the era: Boyd Raeburn born Faith, SD.
http://www.hepjazz.com/bios/boydr.html
http://www.musicweb.uk.net/encyclopaedia/r/R4.HTM
http://artists.spun.com/boyd_raeburn
http://launch.yahoo.com/artist/?artistID=1021919
http://www.pricegrabber.com/search_music2.php/music_id=381807/
ut=0cea047573c75653
1917 - Jascha Heifetz made his debut at Carnegie Hall in New York City. Heifetz was a 16-year-old sensation who had played the violin since age 5.
1920 - Marconi, Fessenden, and De Forest were the catalysts. However, it was an engineer for Westinghouse Electric who, in 1916, was broadcasting music from his garage (in Wilkinsburg, PA, a suburb of Pittsburgh) over a wireless -- amateur radio station 8XK -- that really got the whole thing started. A newspaper article about the broadcasts caused such interest that the head honchos at Westinghouse decided to build a real radio station. It took until this day in 1920 for the Westinghouse radio station to receive a license to broadcast. The license for KDKA, Pittsburgh came from the U.S. Department of Commerce. Although the license was officially issued on this day, KDKA did not start their broadcast operations for a week (they had to wait until the license was posted in the station). On November 2, 1920, the station aired the returns of the Harding/Cox election ... the first radio programming to reach an audience of any size ... approximately 1,000 people. And so we salute this day as the official birthday of mass appeal radio.
1922-Navy Day was first celebrated, the anniversary of the birth of President Roosevelt. Celebrations were held in various parts of the United States. The idea was suggested by Mrs. William Hamilton to the Secretary of the Navy.
http://www.defenselink.mil/afd/military/navy.html
1923-Roy Lichenstien birthday-Pop artist who used comic strips and other elements of pop culture in his paintings. Born at New York City, he died there Sept 29, 1997.
http://www.spaz.org/gage/pages/roy%20lichenstien.html
http://www.artcyclopedia.com/artists/lichtenstein_roy.html
1927- Bix Biederbeck and Frankie Trumbauer join the Paul Whiteman Band in Indianapolis, IN.
1932- "Brother, Can You Spare A Dime?" Rudy Vallee., Only days after the debut of the short-lived 1932 musical, Americana, Bing Crosby was in a NY studio to record the show's outstanding song, "Brother, Can You Spare A Dime?" Two days later, rival crooner Rudy Vallee waxed this version, and both 1932 recordings enjoyed considerable popularity in a year when few Americans were buying records.
1932 -- American poet Sylvia Plath born Boston, Massachusetts. Died 1963.
http://www.kirjasto.sci.fi/splath.htm
1944 -- October 27-30, 1944 The 442nd Regimental Combat Team (Japanese Americans) rescues an American battalion which had been cut off and surrounded by the enemy. Eight hundred casualties are suffered to rescue 211 men. After this rescue, the 442nd is ordered to keep advancing in the forest; they would push ahead without relief or rest until November 9. The Unit was the most decorated in US military history...
http://library.thinkquest.org/CR0210341/442nd/splash442nd.htm
http://www.katonk.com/442nd/Bibli/morefacts.htm
http://www.homeofheroes.com/moh/nisei/index3_442nd.html
1947 - "You Bet Your Life," starring Groucho Marx, premiered on ABC Radio. It later became a television show on NBC.
1948 - On ABC radio, Groucho Marx made his first appearance as quizmaster on "You Bet Your Life" with George Fenneman as his eternal straight man. Fenneman stayed with Marx during both the program's run on radio from 1948 to 1959 and on television from 1950 to 1961.
1951-Top Hits
Because of You - Tony Bennett
I Get Ideas - Tony Martin
The World is Waiting for the Sunrise - Les Paul and Mary Ford
Always Late (With Your Kisses) - Lefty Frizzell
1954-"The Walt Disney Show" premiered on TV. This highly successful and long-running show appeared on different networks under different names but was essentially the same show. It was the first ABC series to break the Nielsen's Top Twenty and the first prime-time anthology series for kids. "Walt Disney" was originally titled "Disneyland" to promote the park and upcoming Disney releases. Later the title was changed to "Walt Disney Presents"; when it switched networks, it was called "Walt Disney's Wonderful World of Color" to highlight its being broadcast in color. Later titles included "The Wonderful World of Disney," "Disney's Wonderful World," "The Disney Sunday Movie" and "The Magical World of Disney." Presentations included edited versions of previously released Disney films and original productions (including natural history documentaries, behind-the-scenes at Disney shows and dramatic shows, including the popular Davy Crockett segments that were the first TV.
1954-Benjamin Oliver, Davis, Jr., of Washington, DC, a pioneering military officer who was the leader of the fabled Tuskegee Airmen during World War II, who became director of operations and training of the Far East Air Force, was named brigadier general, becoming the first US Air Force general who was African-American. In 1970, after retiring from the Air Force, he supervised the federal sky marshal program that was designed to quell a rash of airliner hijackings. In 1971, he was named an assistant secretary of transportation.
At the time he left the Air Force as a Lieutenant General, wearing three stars, he was the senior black officer in the armed forces. In 1998, President Bill Clinton awarded General Davis his fourth star, advancing him to full general. He was the son of Brigadier General Benjamin Oliver Davis of the US Army. Died July 4, 2002
http://www.hill.af.mil/museum/history/bodavis.htm
http://www.army.mil/cmh-pg/topics/afam/davis.htm
http://www.arlingtoncemetery.net/bodavisjr.htm
1955- Miles Davis Quintet cuts first session. 1993-The NFL awarded the 29th franchise to the Carolina Panthers, who began play in the 1995 season.
1959-Top Hits
Mack the Knife - Bobby Darin
Mr. Blue - The Fleetwoods
Don't You Know - Della Reese
The Three Bells - The Browns
1963 - Peter, Paul and Mary were sitting pretty at #1 and #2 on the U.S. album chart with "Peter, Paul and Mary" and "In the Wind".
1966 -- New San Francisco "alternative" weekly newspaper, "The Guardian," debuts. Edited and published by Bruce Brugman. Editors at the Chronicle, Examiner and News-Call-Bulletin give it little chance for survival, Guess what? It still publishes.
http://www.sfbg.com/
1967-Top Hits
To Sir with Love - Lulu
How Can I Be Sure - The Young Rascals
Expressway to Your Heart - Soul Survivors
I Don't Wanna Play House - Tammy Wynette
1975 - Rock musician Bruce Springsteen grace the covers of both "TIME" and "Newsweek".
1975-Top Hits
Bad Blood - Neil Sedaka
Calypso/I'm Sorry - John Denver
Miracles - Jefferson Starship
San Antonio Stroll - Tanya Tucker
1975 -- Bruce Springsteen simultaneously makes the cover of Time and Newsweek, a move which reportedly embarrasses the two news weeklies.
http://www.time.com/time/magazine/archive/covers/0,16641,27-10-1975,00.html
1981 - Game 6, the final game of the Fall Classic, saw the LA Dodgers beat the New York Yankees 9-2 after losing the first two games. The Dodgers stormed back to win their fourth straight World Series. There was genuine concern that snow might interfere with the Series, since it was being played so late in the season.
1983-Top Hits
Total Eclipse of the Heart - Bonnie Tyler
Islands in the Stream - Kenny Rogers and Dolly Parton
All Night Long (All Night) - Lionel Richie
Lady Down on Love – Alabama
1985—Kansas City Royals beat the St. Louis Cardinals in Game 7 to win
the World Series.
http://mlb.mlb.com/NASApp/mlb/mlb/history/postseason/mlb_ws_recaps.jsp?feature=1985
1986 - The "Mighty" New York Mets became world champions of baseball again when they defeated the Boston Red Sox in game seven,
http://mlb.mlb.com/NASApp/mlb/mlb/history/postseason/mlb_ws_recaps.jsp?feature=19865.
1989- After a ten day delay due to the earthquake, the World Series resumes with the A's beating the Giants in Game 3, 13-7. Oakland used the long ball hitting five HRs in securing the victory.
1989 - Wintry weather invaded the northwestern U.S. A storm crossing the Central Rockies produced up to 23 inches of snow in the mountains east of Salt Lake City UT. "Indian Summer" continued in the Lower Ohio Valley and the Upper Great Lakes Region. Afternoon highs of 71 degrees at Marquette MI and 72 degrees at Sault Ste Marie MI were records for the date.
1991 - In what is considered by the experts (Bob and Jim down at the bar), the seventh game of the World Series, played this day, was one of the greatest ever. Minnesota Twins' pinch-hitter Gene Larkin's tenth-inning bases-loaded single beat the Atlanta Braves 1-0 in the seventh game the World Series. The Twins captured their second World Championship in five years during a tight series that included three extra-inning games and five one-runners. And, for only the second time in history, the home team won all seven games (the first time it happened was 1987, a series that also featured the Twins.)
1991-Top Hits
Emotions - Mariah Carey
Do Anything - Natural Selection
Romantic - Karyn White
Anymore - Travis Tritt
1993-Top Hits
Dreamlover- Mariah Carey
I d Do Anything For Love (But I Won t Do That)- Meat Loaf
All That She Wants- Ace Of Base
Just Kickin It- Xscape
The River Of Dreams- Billy Joel
1963-Peter, Paul and Mary, the folksinging trio who along with Joan Baez, have introduced songwriters like Bob Dylan to mainstream audiences, hold the top two positions on the pop album chart with "In the Win" and "Don't Think Twice, It's Alright.
1991-- In Game 7 of the 'worst to first' World Series, the Twins beat the Braves in ten innings, 1-0. Both Atlanta and Minnesota had finished last in their respective divisions last year.
http://mlb.mlb.com/NASApp/mlb/mlb/history/postseason/mlb_ws_recaps.jsp?feature=1991
1994-The prison population exceeded 1 million, according to an announcement made by the Justice Department. The increase in prisoners made the United States second in the world to Russia with regard to incarceration rates.
1998-Top Hits
The First Night- Monica
One Week- Barenaked Ladies
How Deep Is Your Love- Dru Hill Featuring Redman
Crush- Jennifer Paige
1999 - Roger Clemens pitched the New York Yankees to their second straight World Series sweep, shutting down the Atlanta Braves, 4-1. This ended Clemens' quest for the prize that had eluded him. Clemens and the Yankees shut out Atlanta into the eighth out dueling John Smoltz. Pitcher Mariano Rivera who had two saves and a win in the Series was selected as MVP.
2000- New York City Mayor Rudolph Giuliani thinks it is okay for children to take a day off from school to watch the Yankees' ticker-tape parade. His Honor, believing baseball can be an educational experience, has allowed his own kids, Andrew and Caroline, to miss classes in the past to watch the Bronx Bombers' post-season celebrations.
2002-- In the team's 42nd season, the Angels finally win a World Series title by beating the Giants, 4-1, in Game 7 at Edison Field . Garret Anderson's three-run double provides enough offense for John Lackey to become the first rookie to win a seventh game since 1909 when Babe Adams accomplished the feat for the Pirates.
http://mlb.mlb.com/NASApp/mlb/mlb/ps/y2002/mlb_ws.jsp
2002-Top Hits
Lose Yourself- Eminem
Hey Ma- Cam'ron Featuring Juelz Santana, Freekey Zekey and Toya
Work It- Missy "Misdemeanor" Elliott
A Moment Like This- Kelly Clarkson
World Series Champions This Date
1985- Kansas City Royals
http://www.sportingnews.com/archives/worldseries/1985.html
1986 - New York Mets
http://www.sportingnews.com/archives/worldseries/1986.html
1991 -Minnesota Twins
http://www.sportingnews.com/archives/worldseries/1991.html
2002- Anaheim Angels
http://www.sportingnews.com/archives/worldseries/2002.html
--------------------------------------------------------------


Baseball Poem
The Catcher Learns the Motion
by Tim Peeler
and is often the hub of the movements,
he reads the Morse code of the pitcher
and returns the speech of the dumb,
he loves the sphere and its ridges,
rips it from the tight mitt
with or against the seams
whistles it from a frog squat.
the catcher learns
he is the hat of the hat dance,
the pitcher may think himself
the center of gravity,
but the catcher
waits at the apex of the great angles,
slaps the leather trap
on the errant razor
as it spits up from the dust.
the catcher imprints the motions of the hitters,
checks the rhythm of their passages,
knows he must slip an extra measure
at the end of their cha-cha-cha,
the catcher is the great disturber,
can cock twice on his return throw,
spit on the plate, call for the "buzzer"
block the ump's clear visage,
bilingual kamikaze
chattering like a wired chimp,
muttering with silent busted digits,
sacrificing legs
to the varicose crouch and
the ruinous crunch
of the few that get through
to thin armor.
--
Touching All Bases
Poems from Baseball
Tim Peeler
www.mcfarlandpub.com
--------------------------------------------------------------

SuDoku
The object is to insert the numbers in the boxes to satisfy only one condition: each row, column and 3x3 box must contain the digits 1 through 9 exactly once. What could be simpler?
http://leasingnews.org/Soduku/soduko-main.htm

--------------------------------------------------