Sales Professional
San Francisco, CA
Mid to large ticket market/Fortune 1000-- prefer min. 5 yrs. sales exp. in finance. Will consider all applicants w/equip. finance exper. click here.


Wednesday, October 24, 2007
Headlines---
Classified Ads---Controller
Fires in Southern California
Prescription help notice
NetBank Business Finance bids closed
Placard---Grant me Patience
Leasing Industry Survey: "trick or treat?"
Shawn Halladay to cover ELFA Conf.
Gerry Oestreich joins Charter Capital
Sales makes it Happen-by Linda P. Kester
"Making Progress"
Classified Ads---Help Wanted
TCF profits down/but Leasing Up
ABS, MBS Plummet in 3Q
Rating Pressure Continues Dealer Floorplan
Huntington Equip. Finance w/ ALI Insurance
Deloitte rates NetSol Number 19 in L.A.
TEAM Funding Solutions New Marketing
Calif. Car sales will fall below 5-year
Merrill Lynch to Report $2.5 B in Added Loss
Countywide to re-work $16 billion in loans
SBA Loans rise nationally and locally
News Briefs---
You May have Missed---
"Gimme that Wine"
Calendar Events
Snapple Real Facts
Today's Top Event in History
This Day in American History
Baseball Poem
SuDoku
Daily Puzzle
######## surrounding the article denotes it is a "press release"
------------------------------------------------------------------

Fires in Southern California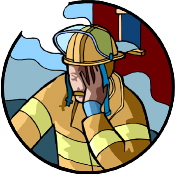 Leasing News has been attempting to contact leasing companies and brokers in the Southern California area who may be affected by the raging fires. Reports from friends in the area, as well as friends who have adult children in the area, repeat the news how quite serious the situation is. We have personal friends whose adult children have lost their homes.
It is not only the displacement that may be affecting companies and employees, but the entire disaster resulting in severe business disruption, in addition to the catastrophe of losing your home with its personal belongings and memories.
Any reader who can share information, please send to:
kitmenkin@leasingnews.org
Breaking News from San Diego Union Tribune:
http://sosdfireblog.blogspot.com/
Latest information:
http://www.signonsandiego.com/index.html
--------------------------------------------------------------

****Announcement**************************************
Help For California Fire Evacuees Possible
Through Partnership for Prescription Assistance
Washington, D.C. — Pharmaceutical Research and Manufacturers of America (PhRMA) President and CEO Billy Tauzin issued the following statement regarding the California wildfires:
"Californians who have been affected by the recent wildfires -- and who are uninsured or underinsured -- should know that help getting the medicines they need may be available through the Partnership for Prescription Assistance. The PPA, sponsored by America's pharmaceutical research companies, is dedicated to helping Americans who lack adequate health care coverage. Now, as residents of southern California face the destruction being caused by these wildfires, the PPA is offering to help qualified patients get assistance even faster.
"Struggling Californians who are having trouble getting the medicines they need may find expedited help through PPA's disaster relief program by calling the PPA's toll-free number, 1-888-4-PPA-NOW (1-888-477-2669), or user-friendly Web site, available at www.pparx.org .
"Since April 2005, the PPA has helped more than 4.3 million uninsured or underinsured Americans – including 250,000 in California – find programs that provide prescription medicines for free or nearly free. It helps patients in need obtain access to more than 475 public and private patient assistance programs, including 180 programs offered by pharmaceutical companies. The PPA can also help Californians find out about programs offered by the state, such as Medi-Cal, Healthy Families and Access for Infants and Mothers.
"In addition, the PPA provides information on nearly 10,000 free healthcare clinics and has connected more than 163,340 patients with clinics and healthcare providers in their communities.
"Through the PPA, America's pharmaceutical research companies are continuing to make tremendous inroads by assisting struggling Americans who need it most, and this is especially true during California's time of need."
More than 1,300 national and local organizations, including the American Academy of Family Physicians, American Cancer Society, Easter Seals, National Urban League and the National Association of Chain Drug Stores, are working with America's pharmaceutical research companies to help spread the word about the PPA.
The Pharmaceutical Research and Manufacturers of America (PhRMA) represents the country's leading pharmaceutical research and biotechnology companies, which are devoted to inventing medicines that allow patients to live longer, healthier, and more productive lives. PhRMA companies are leading the way in the search for new cures. PhRMA members alone invested an estimated $43 billion in 2006 in discovering and developing new medicines. Industry-wide research and investment reached a record $55.2 billion in 2006.
PhRMA Internet Address: http://www.phrma.org
For information on how innovative medicines save lives, visit:
http://www.innovation.org
For information on the Partnership for Prescription Assistance, visit:
http://www.pparx.org
For information on the danger of imported drugs, visit:
http://www.buysafedrugs.info
****Announcement***************************************
[headlines]
--------------------------------------------------------------

Classified Ads --- Controller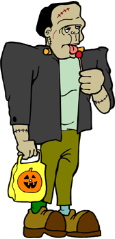 Boca Raton, FL
CPA w/ Sarbanes Oxley/ 15 years management exp. as CFO/ Controller/5 yrs w/ PWC Extensive exp providing accounting/ tax guidance for the equipment lease industry. Willing to relocate.
Email: bltushin@hotmail.com

Chicago, IL
experienced in lease accounting, operations, management, and Sarbanes-Oxley. Seeking position with equipment lessor. Would consider contract assignments or relocating.
Email: leasecontroller@comcast.net

Southeastern, MI
Controller & Management experience w/ equip lessors &broker. MBA, CPA w/ extensive accounting, management, securitization experience with public and private companies. Willing to relocate.
Email: Leasebusiness@aol.com
West Palm Beach, FL
CPA/CFO/Controller/Due Diligence Officer/SOX Lead seeking position.
Email: obrienhowardj@aol.com
To place a free "job wanted" ad here, please go to:
http://www.leasingnews.org/Classified/Jwanted/Jwanted-post.htm
For a full listing of all "job wanted" ads, please go to:
http://www.leasingnews.org/Classified/Jwanted/Jwanted.htm
--------------------------------------------------------------

NetBank Business Finance sealed bids closed

ING Bank has taken over deposits and New South Federal Savings Bank, Birmingham, Alabama, has bought the nine internet NetBank, Alpharetta, GA offices.
New South Federal now has loan production offices in Peachtree City, Ga., Oklahoma City, Okla.; Brentwood, Tenn; Savannah, Ga.; Rome, Ga.; Baton Rouge, La.; Yuma, Ariz.; Hot Springs, Ariz.; and Killeen, Texas, said the bank's marketing coordinator Stephanie Juneau.
Bids closed yesterday for NetBank Business Finance, the successful leasing operation in Columbia, South Carolina. The "winner" will not be announced before November 4th, according to the FDIC.
Leasing News inquired as to how many "sealed bids" were received, and received this response:
"We hold off releasing any bid information until after a sale closes. I believe that we are looking at a Nov. 2 close date. So, maybe on Monday, Nov. 5 data will be available. Yes, this is even for the number of bids received. Closing dates can be fluid, too. There are times when there is some back and forth between us and the highest bidder, that takes time, which may push the close date back. Nothing's an exact science in this business."
Looks like then NetBank Business Finance CEO Dwight Galloway will not know until next month whether he is getting a turkey or a Christmas present.
Previous story:
http://www.leasingnews.org/archives/October%202007/10-19-07.htm#netbank
--------------------------------------------------------------

--------------------------------------------------------------

Latest Leasing Industry survey by ELFA
by Christopher Menkin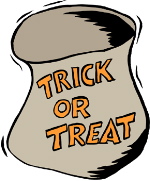 The equipment leasing industry is holding its own, according to the latest Equipment Leasing and Finance Association's 1/ (ELFA) Monthly Leasing and Finance Index (MLFI-25.) The quarterly numbers show a drop, but the comparative to the previous month shows an increase from $6.9 billion to $7.2 billion, but a drop from September, 2006, which was $7.7 billion.
The monthly comparison may be an adjustment from the high in June, which pushed the second quarter up.
Despite the tightening of credit by banks and large financial institutions due to the subprime mortgage problems (they say we have not seen the end,) the equipment leasing and finance industry, according to the 25 leasing companies surveyed, should be considered doing very well.
Leasing and finance credit analyst always prefer year-end statements over interim, and then quarterly over monthly, as it gives them an indication of a trend of the company sending credit. Here I would think they would find the industry "healthy," particularly since banks and larger financial institutions are reporting either losses or their profits are down, some considerably.
According to ELFA Enews Daily, "Portfolio quality remained relatively unchanged in September. Delinquencies improved across the board, with aging of receivables in the over 90-day category declining significantly when compared to the prior month.
"In addition, receivables under 30 days in age increased dramatically over August. Losses were flat over the prior month and year earlier period. "
Credit approvals were soft, but not out of line with previous figures.
Depending if you are an employer or an employee, the employment chart showed almost a ten percent decline from the previous period last year. There is almost a loss of a thousand employees. Either the computer systems are getting better, the staff is becoming more productive, portfolio's purchased are not requiring additional personnel or companies to increase profits are not replacing people who are retiring, resigned, or perhaps even let go.
ELFA MLFI-25 Participants
ADP Credit Corporation
Bank of America
Bank of the West
Canon Financial Services
Caterpillar Financial Services Corporation
CIT
Citicapital
De Lage Landen Financial Services
First American Equipment Finance
GreatAmerica
Hitachi Credit America
HP Financial Services
Irwin Financial
John Deere Credit Corporation
Key Equipment Finance
LaSalle National Leasing Corporation
Marlin Leasing Corporation
National City Commercial Corp.
RBS Asset Finance
Regions Equipment Finance
Siemens Financial Services
US Bancorp
US Express Leasing
Verizon Capital Corp
Volvo Financial Services
Wells Fargo Equipment Finance
--------------------------------------------------------------

Shawn Halladay to cover ELFA October 28 Conference
Shawn D. Halladay, Managing Principal, Alta Group, his office out of Salt Lake City, Utah, also a member of the Leasing News Advisory Board, will be reporting exclusively for Leasing News from the Equipment Leasing and Finance Association Conference "Capital for a Changing World," October 28 to 30 at the Walt Disney World Dolphin in Orlando, Florida.
According to EFLA eNews Daily, the 46th Annual Convention will feature more than 30 nuts-and-bolts conference sessions on a broad range equipment finance industry issues. They expect over a 1,000
to attend, with many registering at the site.
"We're very excited about the upcoming event and combined with the good sessions and the information about the industry from new study the Foundation will be releasing," Diane Helyne Zyats,Vice President, Communications, " said. "We think our members will be finding that attending the convention will be of great value to them."
"The speaker sessions, panel presentations and roundtable discussions will cover issues at the forefront of the industry and from a range of industry perspectives from small businesses to funding sources. The ELFA convention provides thought leadership and information that equipment finance industry participants from all functions can use to enhance their professional expertise.
"Among the sessions is the Small Ticket Business Council Breakfast Meeting, which will highlight trends and enable participants to validate or adapt their current strategies. Group polling questions will focus on new business development, stakeholder expectations, recruiting and developing talent, pricing, and portfolio performance.
"'You won't want to miss the Small Ticket Business Council breakfast where participants will learn about the current small ticket landscape and what's in store for us over the coming year,' said session moderator James McGrane, president and CEO, US Express Leasing, Inc. and chairman of ELFA's Small Ticket Business Council Steering Committee. 'This is a unique perspective from the Business Council members, enabled by real-time polling technology,' he said.
"Another session, "Lessons from the Past—Positioning Your Capital Strategy for the Next Down Cycle," will provide strategic information that can help attendees weather a market downturn. It will explore the current state of funding and provide commentary by equipment finance executives and equity sponsors on the plusses and minuses of the various funding alternatives.
"'Negative economic pressures can have a significant impact on how an equipment leasing company finances itself. The availability of cheap and easy liquidity has been curtailed over the past few months with selective availability and general pricing and structure rationality reintroduced into the capital markets,' said session moderator Evan Wilkoff, Vice President, Wachovia Securities. 'This cross-sectional panel will explore the issues specialty finance companies face as they position their capital structure in advance of a potential economic downturn."
For more information on the ELFA 46th Annual Convention, including a downloadable convention schedule and registration form, visit
http://www.elfaonline.org/events/2007/ac/
Registration for conference is available at the site:
Those attending—
by name:
http://leasingnews.org/PDF/ELFA%2046th%20Annual%20Convention_name_order.pdf
by company:
http://leasingnews.org/PDF/ELFA%2046th%20Annual%20Convention.pdf
22 Sponsors:
http://www.elfaonline.org/pub/events/2007/AC/sponsor.cfm
Shawn's Biography
http://www.thealtagroup.com/bios-halladay.php
--------------------------------------------------------------

Gerry Oestreich joins Charter Capital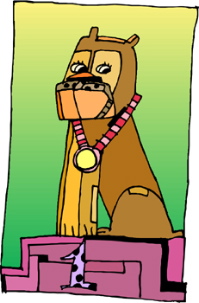 Champion
Long time leasing industry leader Gerry Oestreich has joined Charter Capital, Scottsdale, Arizona. Oestreich is now regional manager for the Northeast for the firm, with a branch office located at 66 Walden Fields Drive, Delmar, New York, 12054. His e-mail address is Goestreich@charteraz.com and his phone number is (518) 618-0033 (voice) or (518) 677-1888 (fax).
Oestreich is a charter member of The National Association of Equipment Leasing Brokers, and served on the Board of Directors for six years and as President for two years.
He has been in the equipment leasing industry since 1979. In 1983 he founded Adirondack Leasing Associates Ltd and successfully managed that company until 2004 when he sold it to First Niagara Bank. He was retained by the bank after the acquisition and served as the Regional Leasing Executive of the Eastern NY Region, for First Niagara Bank, until accepting the position with Charter Capital.
"I have known Gerry for many years and have had the pleasure of working with him on several transactions, "said Charter Capital Managing Partner, also a very long time active member and leasing
industry leader." I've always considered him one of the 'good guys' in the equipment leasing industry and have been impressed with his broad knowledge and professionalism.
"Gerry will initially focus on expanding Charter's presence in the Northeast U.S. in their core markets; which are the general rental equipment, home health care equipment, media production and technology industries," Wilbur added." I am quite confident that Charter will benefit from his vast experience."
--------------------------------------------------------------

Sales Make it Happen
by Linda P. Kester
Linda Kester is nationally recognized as an outstanding equipment leasing sales trainer, and professional speaker. She has twenty years of experience in leasing sales and marketing equipment. Her teachings make a tremendous positive impact on company's sales--from start-up firms to corporate giants.
Making Progress
Are you making progress? You know. Progress? Like closing deals and getting new business?
Be sure you don't mistake activity for progress.
I have seen organizations measure number of calls, track people's time in and out of the office, track sales calls while on the road—yet miss the point of understanding that good salesmanship is not just about doing an activity.
One leasing company I worked with required their sales reps to make 75 dials per day. I monitored their sales calls and discovered one rep was calling the same automated attendant over and over, just to increase his "dials." Duh.
Corollary to the "Measure Everything" tip:
Be careful what you measure. You just might get it!
It is all about uncovering and understanding the complexities of the sales process and the customers' business needs, and doing the right things to win new business and maintain relationships.
Some companies distinguish between managing for resources vs. managing for results. The goal is to close business. Are you dialing to dial or dialing to close?
Linda Kester is the author of 366 Marketing Tips for Equipment Leasing. For additional articles visit www.lindakester.com Questions, contact: Linda@lindakester.com.
Previous "Sales makes it Happen" columns at:
http://www.leasingnews.org/Legacy/index.html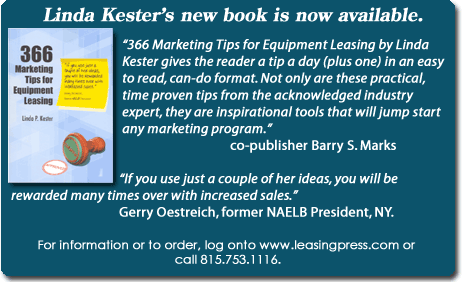 --------------------------------------------------------------

Leasing Industry Help Wanted
Sr. Lease Contract Specialist


EFD Direct Lease
Sr. Lease Contract Specialist
Walnut Creek, CA
You will create all necessary lease and loan documentation for complex direct equipment leases. Requires a BA or equivalent & 6+ years of leasing and contract experience. CLICK HERE for a detailed description and resume submission info.
Visit www.bankofthewest.com , for more information. Bank of the West and its subsidiaries are equal opportunity/affirmative action employers.
Sales Professional

Sales Professional
San Francisco, CA
Mid to large ticket market/Fortune 1000-- prefer min. 5 yrs. sales exp. in finance. Will consider all applicants w/equip. finance exper. click here.


----------------------------------------------------------------

TCF profits down/Leasing Up
Leasing and equipment finance third quarter was up compared to the previous year third quarter, $15,110,000 to $13,372,000; $1,738,000 or 13.0% for TCF Financial, WAYZATA, Minn., while the banks third quarter was down $59.1 million, down 10.3 percent from $65.9 million for the third quarter of 2006 .
The leasing companies part of TCF include Winthrop Resources Corporation, TCF Equipment Finance, and VGM Financial Services.
"The operating environment for all banks continues to be difficult in many areas: a flat or inverted yield curve, a slowdown in the housing market and rising credit costs," said Lynn A. Nagorske, CEO, TCF Financial Corporation. "However, TCF experienced good Power Asset growth and non-interest expenses continue to be very well controlled."
Full press release at:
http://phx.corporate-ir.net/phoenix.zhtml?c=95289&p=irol-newsArticle&ID=
1066066&highlight=
--------------------------------------------------------------

ABS, MBS Plummet in 3Q
By Terry Peters
ABSnet.com
The volume of mortgage-backed security deals in the third quarter totaled $168.82 billion, down about 33% from the $252.25 billion recorded in the third quarter of 2006, according to preliminary figures from Thomson Financial. Asset--backeds" plummeted even farther, by more than half. The figures are preliminary because the numbers are revised upward - often significantly - as additional deals are reported after the end of each quarter.
Lehman Brothers maintained its lead in the rankings of MBS underwriters in the third quarter and Bear Stearns & Co. held on to second place, the Thomson data indicate.
Lehman led the league with a 10.5% market share, compared with 12.1% in the third quarter of 2006. Deals managed by Lehman totaled $17.69 billion, far lower than the $30.55 billion recorded a year earlier.
Bear Stearns' market share stood at 10.3%, up from 9.8% in the third quarter of 2006, and its volume totaled $17.41 billion, down from $24.65 billion a year earlier.
Morgan Stanley came in third with a 10.2% market share. Its volume totaled $17.28 billion, up from $16.81 billion a year earlier.
Rounding out the top 10 for the third quarter were Banc of America Securities LLC, with a 7.2% market share; Royal Bank of Scotland Group, with 6.5%; JPMorgan, with 6.4%; Citi, with 5.8%; Deutsche Bank AG, with 5.3%; Merrill Lynch, with 5%; and Credit Suisse, with 5%.
The Thomson Financial data for underwriters of mortgage-backed debt are compiled for securities pools that are at least 50% backed by first-lien mortgages and at least 50% by mortgages with a principal balance of $300,000 or more.
The company also ranks managers of asset-backed securities, which include those backed by real estate-related debt such as second-lien loans, home-equity lines of credit, manufactured housing contracts and home improvement loans.
The volume of ABS deals plummeted in the third quarter from the $311.77 billion recorded a year earlier to $125.96 billion, according to Thomson's numbers.
Citi once again ranked No. 1 in the ABS category with a 15.2% market share, ahead of JPMorgan, which came in with a 12% share. Deals managed by Citi totaled $19.13 billion, down from the $28.14 billion recorded a year earlier, while JPMorgan's volume totaled $15.05 billion, down from $23.88 billion. They were followed by BoA Securities, with 9.7%; and Lehman Brothers, with 7.3%.
(c) 2007 National Mortgage News and SourceMedia, Inc. All Rights Reserved.
http://www.nationalmortgagenews.com/
http://www.sourcemedia.com/
--------------------------------------------------------------

Fitch: Rating Pressure Continues for U.S. Dealer Floorplan ABS
Fitch Ratings-New York- While the performance of U.S. dealer floorplan ABS continues to be within expectations through third quarter-2007, the highly competitive U.S. vehicle sales market, weaker corporate ratings of U.S. manufacturers, and less profitable dealership networks will continue to constrain the sector, according to a new report by Fitch Ratings.
'Dealer floorplan ABS transactions continue to experience marginal volatility, though the outlook for asset performance is declining due to concerns surrounding the credit profile of U.S. auto manufacturers and their support for their dealerships,' said Hylton Heard, Director, Fitch Ratings. 'Slow auto sales in 2007 and rising dealer costs are pressuring dealership profitability, which means that Fitch's expectations for rating volatility are negative for this year, though the outlook is confined to the auto floorplan space as diversified equipment floorplan receivables (non auto-related) are expected to continue demonstrating rating stability.'
Fitch's new Monthly Payment Rate (MPR) Index tracks the MPR performance of the sector as a whole, and individually for the auto-rated and diversified equipment floorplan transactions. The Index demonstrates the continued declining MPR trend within the auto-related floorplan sector while the diversified sector is exhibiting a certain amount of MPR stability.
Fitch's new research report details its comprehensive, annual portfolio review of the dealer floorplan ABS sector providing commentary on the lifetime performance of 22 transactions rated by Fitch. Furthermore, the report provides an overview of the dealer floorplan mechanics, describes key performance variables, and summarizes performance trends through the third quarter of 2007.
'Dealer Floorplan ABS-A Performance Review' is available on the Fitch Ratings web site at 'www.fitchratings.com'.
---------------------------------------------------------------
### Press Release ###########################

Huntington Equipment Finance Adds Value with American Leasing Insurance

(Leasing and finance companies such as Huntington can easily take advantage of the American Leasing Insurance (ALI) program, thanks to the integration module developed by Tamarack, which enables InfoLease users to link seamlessly with ALI.)
INCINNATI, OH – Huntington Equipment Finance (Huntington) is providing customers additional value with American Lease Insurance (ALI). "By joining with American Lease Insurance, we can give our customers a critical service at the point of leasing," said Rob Allanson, president of Huntington Equipment Finance. "The insurance also gives our customers peace of mind that their expensive leased equipment is insured with a company that has designed insurance with the lessee in mind."
Huntington benefits from a new integration module that joins ALI's Integrity software with International Decision Systems' InfoLease®, the most widely used lease accounting software program in the lease and finance industry. Tamarack Consulting (Tamarack) developed the interface to completely automate data exchange between InfoLease and the ALI Program. Daniel Nelson, president of Tamarack, summed up: "ALI affords lessors and finance companies relief from insurance tracking and the ability to offer lessees coverage at a competitive rate, as well as the facility to earn revenue from this service. The Tamarack interface is a seamless integration between Integrity and InfoLease with built-in flexibility that eliminates any need for manual intervention."
The American Lease Insurance Program provides comprehensive portfolio protection, placing property and liability coverage on all eligible equipment from the date each lease or finance agreement is signed, as well as tracking insurance coverage for lessees who choose to obtain their own insurance. ALI's superior coverage, competitive pricing, and meticulous collections and claims processing have resulted in the highest acceptance rates in the industry. "American Lease Insurance gives our customers an insurance product that is competitive and comprehensive," said Herb Reeder, vice president of Huntington Equipment Finance. "Our customers need an insurance product that can protect their equipment and ultimately their business."
Huntington Equipment Finance, a division of The Huntington National Bank, provides a variety of equipment financing products to business customers nationwide, from small, family-owned businesses to Fortune 500 companies. The Huntington National Bank is a subsidiary of Huntington Bancshares Incorporated, a $54 billion regional bank holding company headquartered in Columbus, Ohio. For more information, visit www.huntington.com.
American Lease Insurance was founded in 2000 by licensed insurance producer Steve Dinkelaker. From its headquarters in Sunderland, Massachusetts, ALI provides a comprehensive insurance program to an expanding list of clients. An active member of all major equipment leasing associations, ALI has been the corporate sponsor of the Equipment Leasing and Financing Foundation's annual Industry Future Council since 2003. For more information, go to www.aliac.net.
Tamarack Consulting, based in Woodbury, Minnesota, provides consulting, training, support and product development to the leasing and finance industry, enabling customers to achieve additional functionality from enterprise applications. For more information,
visit www.tamarackconsulting.com.
### Press Release ###########################

NetSol Technologies Ranked Number 19 in Deloitte's Technology Fast
50 Program for Los Angeles
NetSol Credits Record Demand for LeasePak, LeaseSoft and IT Services for 422% Revenue Growth
Calabasas, CA NetSol Technologies, Inc.(NASDAQ: NTWK), a multinational provider of IT services and enterprise solutions, has been named to Deloitte's prestigious Technology Fast 50 Program for Los Angeles, a ranking of the 50 fastest growing technology, media, telecommunications, and life sciences companies in the area by Deloitte & Touche USA LLP, one of the nation's leading professional services organizations. Rankings are based on the percentage revenue growth over five years from 2002 to 2006.
NetSol Technologies President of North American Operations John McCue commented on the recognition, stating, "As the newest component of the global NetSol Technologies team, we in the company's US operations are proud to be listed in Deloitte's Fast 50 list of the region's fastest growing companies. We are glad to see both the investor and the technology communities rewarding the outstanding achievement of the NetSol Technologies team."
NetSol Technologies' increase in revenues of 422 percent from 2002 to 2006 resulted in its ranking 19th in the Technology Fast 50 for Los Angeles.
Tony Buzzelli, Vice Chairman and Regional Managing Partner, Deloitte & Touche LLP, stated, "Sustaining high revenue growth over five years is an exceptional accomplishment. We commend NetSol Technologies for making the commitment to technology and delivering on the promise of market longevity. We are proud to welcome NetSol Technologies to Deloitte's Technology Fast 50."
To qualify for the Technology Fast 50, companies must have had operating revenues of at least $50,000 in 2002 and $5,000,000 in 2006, be headquartered in North America, and be a company that owns proprietary technology or proprietary intellectual property that contributes to a significant portion of the company's operating revenues; or devotes a significant proportion of revenues to the research and development of technology. Using other companies' technology or intellectual property in a unique way does not qualify.
Companies from the 16 regional Technology Fast 50 programs in the United States and Canada are automatically entered in Deloitte's Technology Fast 500 program, which ranks North America's top 500 fastest growing technology, media, telecommunications and life sciences companies. For more information on Deloitte's Technology Fast 50 or Technology Fast 500 programs, visit www.fast500.com.
About NetSol Technologies Inc.
NetSol Technologies is a multinational provider of IT services and enterprise solutions to the financial services industry. NetSol helps clients to identify, evaluate and implement technology solutions to meet their strategic business challenges and maximize their bottom line. By utilizing its worldwide resources, NetSol delivers high-quality, cost-effective equipment and vehicle finance portfolio management solutions. The Company also delivers managed IT services ranging from consulting and application development to systems integration and development outsourcing. NetSol's commitment to quality is demonstrated by its achievement of both ISO 9001 and SEI (Software Engineering Institute) CMMi (Capability Maturity Model) Level 5 assessment, a distinction shared by only 94 companies worldwide. The Company's clients include global automakers, financial institutions, technology companies and governmental agencies. Headquartered in Calabasas, CA, NetSol Technologies also has operations and/or offices in London, San Francisco, Adelaide, Beijing, Bangkok, and Lahore, Pakistan.
To learn more about NetSol Technologies, visit www.netsoltek.com.
Contact:
Andrew Lea – VP, Marketing
NetSol Technologies Inc.
111 Anza Blvd - Suite 310 Burlingame, CA 94010 USA
+ 1-650-576-1635
andrew.lea@netsoltek.com
### Press Release ###########################

New Marketing & Client Services Director Joins
TEAM Funding Solutions
Austin TX, - TEAM Funding Solutions, a national funding
company announced it has acquired Ronel Uys as Director Marketing & Client Services. In this position, Uys will oversee marketing, advertising and branding initiatives for TEAM Funding Solutions as well as training and client services, nationwide.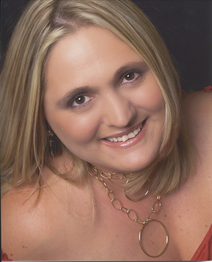 Prior to joining TEAM Funding Solutions, Uys specialized and is still specializing in online marketing, brand building and corporate website development as CEO and President of Website Geeks Inc. With more than 18 years extensive experience in various business sectors, she concentrated the last 7 years in creative marketing - both online and direct. Ronel managed the marketing portfolios of various companies and industries in America, Europe and South Africa, ensuring a conglomerate of experience in the corporate business development and marketing field.
Winner of various networking awards during this time, she is also an experienced public speaker and appeared as special guest on a local television network series, discussing online marketing strategies. Receiving her diploma from Wits University with a major in Small Business Development Ronel is a certified ISO 9002 Internal Quality Auditor and received a diploma Cum Laude from Stratford College in Internet Development and Website Strategies.
"I strongly believe in building relationships as the main focus of any marketing strategy" Ronel said "employees, clients, vendors and business partners, truly forms an extended circle in building trust and recommendations. Relationships are the mortar of our industry -our services and expert knowledge in the leasing industry will be the building blocks; we're going to build a Skyscraper in TEAM!"
Uys plans to focus aggressively on TEAM's public relations and marketing efforts and to maximize the company's marketing potential within the industry based on its outstanding record of services, reputation, and leasing experience.
"She's an incredible talent with a proven track record. We believe she'll help take us to the next level," says TEAM President Ted Reynolds."
TEAM Funding Solutions is a leading national direct funding source dedicated to funding new business start-ups and older businesses with weaker credit. A unique alternative to credit scoring makes TEAM a winner in the field of equipment lease funding solutions to the broker community.
For additional information on this release, please contact:
TEAM Funding Solutions Website - www.TEAMFundingSolutions.com
TEAM Contact Directory
888-457-6700 x 109 /
marketing@teamfundingsolutions.com
### Press Release ###########################
--------------------------------------------------------------

News Briefs----
Calif. Car sales will fall below 5-year benchmark in '07
http://www.mercurynews.com/businessheadlines/ci_7255765?nclick_check=1
Merrill Lynch to Report $2.5 Billion in Added Loss
http://www.nytimes.com/2007/10/24/business/24merrill.html?_r=1&hp&oref=slogin
Countrywide Financial, the nation's largest mortgage lender, will offer to refinance or modify about $16 billion in home loans
http://www.washingtonpost.com/wp-dyn/content/article/2007/10/23/
AR2007102300479.html
SBA Loans rise nationally and locally
http://www.stltoday.com/stltoday/business/stories.nsf/story/2555E443A72A56788
625737E000C69F6?OpenDocument
Amazon's 3rd-quarter profit more than quadruples
http://seattletimes.nwsource.com/html/businesstechnology/200396975
9_webamazon23.html
JetBlue posts first profit in 2 years
http://www.ajc.com/business/content/business/delta/stories/2007/10/23/
Earns_JetBlue.html
AT&T reports $3.1 billion in net income for third quarter, with mergers boosting performance
http://www.signonsandiego.com/news/business/20071023-1437-earns-at&t.html
---------------------------------------------------------------


You May have Missed---
Apple a day keeps the calories at bay
http://www.usatoday.com/news/health/2007-10-23-apple-diet_N.htm?loc=interstitialskip
----------------------------------------------------------------


"Gimme that Wine"
Vincent DeDomenico passes away, grand Chaine des Rotisseur, best known for the Napa Valley Wine Train and inventing Rice-A-Roni
He was active to the end. I have been to several dinners and lunches at his Napa Valley house.
He will be greatly missed by many.
http://www.sfgate.com/cgi-bin/article.cgi?f=/c/a/2007/10/22/BAAESTS4I.DTL&hw=
wine&sn=001&sc=376
French Laundry, Yountville, CA: 3 starts: Six S.F. Bay Area restaurants received a two-star rating: two in San Francisco (Aqua and Michael Mina), two in Wine Country (Cyrus and the Restaurant at Meadowood), and two in Silicon Valley (Chez TJ in Mountain View and Manresa in Los Gatos). Ame, Coi, Cortez and One Market, all in San Francisco; Redd in Yountville; Madrona Manor in Healdsburg; and Martini House in St. Helena received a one-star rating for the first time this year.
http://www.contracostatimes.com/ci_7255110?nclick_check=1
Oregon regulators ease rules for wine labeling
http://seattletimes.nwsource.com/html/localnews/2003968574_oregonwine23m.html
Wine notable Gary Vierra Dies
http://www.winebusiness.com/news/DailyNewsArticle.cfm?dataid=50925
The Power in the Cask: Old Ways, New Beer
http://www.nytimes.com/2007/10/24/dining/24pour.html?ref=dining
Wine Prices by vintage
http://www.winezap.com
http://www.wine-searcher.com/
US/International Wine Events
http://www.localwineevents.com/
Winery Atlas
http://www.carterhouse.com/atlas
Leasing News Wine & Spirits Page
http://two.leasingnews.org/Recommendations/wnensprts.htm
The London International Vintners Exchange (Liv-ex) is an electronic exchange for fine wine.
http://www.liv-ex.com/
----------------------------------------------------------------

Calendar Events This Day
National Bologna Day
http://holidayinsights.com/moreholidays/October/nationalbolognaday.htm
United Nations Day
http://holidayinsights.com/other/unday.htm
Today is United Nations Day, by presidential proclamation, commemorating the founding of the United Nations and effective date of the United Nations Charter in San Francisco, California.
Saint feast Days
http://www.catholic.org/saints/f_day/oct.php
----------------------------------------------------------------

Beavers have orange teeth. #436
http://www.vetmed.wsu.edu/features/baileyMay06.asp
----------------------------------------------------------------

Today's Top Event in History
"There was a desert wind blowing that night. It was one of those hot, dry, Santa Ana's that come down through the mountain passes and curl your hair and make your nerves jump and your skin itch. On nights like that, every booze party ends in a fight. Meek little wives feel the edge of the carving knife and study their husbands' necks. Anything can happen."
1958-One of my favorite mystery writers, Raymond Chandler, starts working on his last novel this day, The Poodle Springs Story, but he will die before completing it. Chandler was born in 1888 in Chicago. He was raised in England, where he went to college and worked as a freelance journalist for several newspapers. During World War I, Chandler served in the Royal Flying Corps. After the war, he moved to California, where he eventually became the director of several independent oil companies. He lost his job during the Depression and turned to writing to support himself at the age of 45. He published his first stories in the early 1930s in the pulp magazine Black Mask and published his first novel, The Big Sleep, in 1939. He published only seven novels, among them Farewell My Lovely (1946) and The Long Goodbye (1953), all featuring tough, cynical detective Philip Marlowe. William Faulkner wrote the screen version of The Big Sleep, which starred Humphrey Bogart as Philip Marlow. Chandler also wrote Hollywood screenplays in the 1940s and early 50s, including Double Indemnity (1949) and Strangers on a Train (1951). He died in March 1959.
http://www.kirjasto.sci.fi/rchandle.htm
http://www.bookreporter.com/authors/au-chandler-raymond.asp
http://www.usatoday.com/weather/wsanta.htm
http://www.britannica.com/eb/article?eu=114902&tocid=10134&query=
seth%20carlo%20chandler
[headlines]
----------------------------------------------------------------

This Day in American History
1619 America's 2nd Thanksgiving Day (Va) [First was in San Elizario, Texas]
1674 French Jesuit missionary Jacques Marquette erected a mission on the shores of Lake Michigan, in present_day Illinois. His log cabin became the first building of a settlement that afterward grew to become the city of Chicago.
1783 --General Washington bids his officers farewell at Fraunce's Tavern, New York NY. You can visit the tavern today as a historic place, even have a beer.
1788-- (date estimated)Birthday of Sarah Josepha Hale, for 40 years coedited the fashion and literary magazine Godey's Lady's Book, 150,000 circulation, which vigorously promoted women's causes, particularly college for women and women doctors.
1839-Biurthday of Belva A. Lockwood, an educator, lawyer and advocate for women's rights, born at Royalton, NY. In 1879, she was admitted to practice before the US Supreme Court—the first woman to do so. While practicing law at Washington, DC, she secured equal property rights for women. By adding amendments to statehood bills, Lockwood helped to provide voting rights for women in Oklahoma, New Mexico and Arizona. In 1884, she was the first woman formally nominated for the US presidency. Died May 19, 1917, at Washingotn, DC.
1861-Transcontinental telegraph line was placed in operation when Stephen Johnson Field, chief justice of California, sent a message to President Abraham Lincoln. On October 25, 1861, telegrams were exchanged between Mayor Fernando Wood of New York City and Mayor H.F. Teschemacher of San Francisco, CA. Rates during the first week were $1 a word between San Francisco and the Missouri River. Later the rates were reduced: 10 words from San Francisco to New York City cost $6, and each additional word cost 75 cents. The obstacles to building the line over the sparsely populated and isolated western plains and mountains were huge. Wire and glass insulators had to be shipped by sea to San Francisco and carried eastward by horse-drawn wagons over the Sierra Nevada. Supplying the thousands of telegraph poles needed was an equally daunting challenge in the largely treeless Plains country, and these too had to be shipped from the western mountains. Indians also proved a problem. In the summer of 1861, a party of Sioux warriors cut part of the line that had been completed and took a long section of wire for making bracelets. Later, however, some of the Sioux wearing the telegraph-wire bracelets became sick, and a Sioux medicine man convinced them that the great spirit of the "talking wire" had avenged its desecration. Thereafter, the Sioux left the line alone, and the Western Union was able to connect the East and West Coasts of the nation much earlier than anyone had expected and a full eight years before the transcontinental railroad would be completed.
http://memory.loc.gov/ammem/today/oct24.html
1863 - General Ulysses S. Grant arrives in Chattanooga, Tennessee to find the Union Army there starving.
1892-Black workers strike in New Orleans, LA.
1897- The first comic strip appears in the Sunday color supplement of the New York Journal called the 'Yellow Kid.'
1908 -Baseball's anthem, Take Me Out to the Ballgame, is introduced by Bill Murray. The song writing team of Albert Von Tilzer (music) and Jack Norworth (words) who created the immortal tune have never seen a game. The story goes Jack Norworth one was riding a New York City subway train, he spotted a sign that said "Ballgame Today at the Polo Grounds." Some baseball-related lyrics popped into his head, that were later set to some music by Albert Von Tilzer, to become the well known baseball song, "Take Me Out To The Ballgame." Despite the fact that neither Norworth or Tilzer had ever been to a baseball game at the time the song was written, it is one of the most widely sung songs in America. Here is the most adopted 1927 version:
http://www.niehs.nih.gov/kids/lyrics/ballgame.htm
http://www.discoverynet.com/~ajsnead/alpcond/alpha_20/midi/ballgame.mid
1914-birthday of alto sax player Jimmie Powell, New York City, NY
1920- bassist Wendell Marshall born St. Louis, Mo, with Duke Ellington 1948-1955.
1926 – Birthday of Y.A. (Yelberton Abraham) Tittle, Jr. , born Marshall, TX. (Pro Football Hall of Famer: NY Giants, San Francisco 49ers, Baltimore Colts: quarterback; UPI Player of the Year [1957, 1962]; AP Player of the Year [1963])
1929- Black Thursday---after several weeks of a downward trend in stock prices, investors began panic selling on Black Thursday, October 24, 1929. More than 13 million shares were dumped. Desperate attempts to support the market brought a brief rally. By December 1 stocks on the New York Stock Exchange had dropped in value by $26,000,000. the day after the crash, Pres. Herbert Hoover said, " The fundamental business of the country...is on a sound and prosperous basis." In actuality, the Great Depression of the 1930's began. 1931 - The George Washington Bridge was opened, linking New York City with New Jersey. The bridge became a famous New York landmark and has been featured in many movies and TV shows. The toll to cross the bridge was to be temporary -- just to cover costs. But it costs and costs and costs when you have to keep repairing and painting a bridge that big -- so, the bridge toll continues. And the bridge is still being painted.
1929---Birthday of American composer George (Henry) Crumb, born Charleston, NC.
1930—Big Bopper ( J.P. Richardson) birthday
http://www.fiftiesweb.com/crash.htm
http://www.geocities.com/SunsetStrip/Stage/5867/mainpage.html
1931- Alphonse Capone, better known as "Scarface" , was sentenced in a federal court in Chicago for 11 years imprisonment and a $50,000 fine for failing to pay $231,000 in federal income taxes. After years of local and state alleged efforts to get this mobster, the feds were able to collect enough accounting information to sentence him. Capone, who ruled Chicago's illicit beer and liquor trade during Prohibition had a crime organization netting him an estimated $100 million a year in the late 20's, little of which he declared to the government.
1935- Mike Riley-Eddie Farley record " The Music Goes Round and Round," Decca.
1935-Langston Hughes' "Mulatto" opens, the first Black-authored play to become
a long-run Broadway hit.
1937-Birthday of sax player/composer Odean Pope, Ninety-Six, SC
http://www.odeanpope.com/
1939 - Women's nylon hosiery went on sale for the first time -- at Wilmington Dry Goods in Wilmington, DE. Why Wilmington? The Dupont Company, the inventor of nylon, is based there.
1941-- US carrier sails away from Pearl Harbor, not knowing how lucky it is.
The US aircraft carrier Lexington departed Pearl Harbor, Hawaii, to deliver aircraft to Midway Island. Because of this mission, the Lexington inadvertently avoided the Japanese attack on Pearl Harbor on 07 December. It was later to play a pivotal role in the Japanese defeat at Midway. Other US ships were not as lucky. Japanese carrier-based planes attacked the bulk of the US Pacific fleet moored in Pearl Harbor, sinking or severely damaging nineteen naval vessels, including eight battleships.
1944 - "Ace of Aces" David McCampbell (1910-1996) and one other fighter faced 60 planes approaching US forces. He shot down 9 "Zekes" and with his comrade managed to scatter the remaining 51 planes at the battle of Leyte Gulf. During a major fleet engagement with the enemy on 24 October, Comdr. McCampbell, assisted by but l plane, intercepted and daringly attacked a formation of 60 hostile land-based craft approaching our forces. Fighting desperately but with superb skill against such overwhelming airpower, he shot down 9 Japanese planes and, completely disorganizing the enemy group, forced the remainder to abandon the attack before a single aircraft could reach the fleet. His great personal valor and indomitable spirit of aggression under extremely perilous combat conditions reflect the highest credit upon Comdr. McCampbell and the U.S. Naval Service.
1944--O'KANE, RICHARD HETHERINGTON--Medal of Honor
Rank and organization: Commander, U.S. Navy, commanding U.S.S. Tang. Place and date: Vicinity Philippine Islands, 23 and 24 October 1944. Entered service at: New Hampshire. Born: 2 February 1911, Dover, N.H. Citation: For conspicuous gallantry and intrepidity at the risk of his life above and beyond the call of duty as commanding officer of the U.S.S. Tang operating against 2 enemy Japanese convoys on 23 and 24 October 1944, during her fifth and last war patrol. Boldly maneuvering on the surface into the midst of a heavily escorted convoy, Comdr. O'Kane stood in the fusillade of bullets and shells from all directions to launch smashing hits on 3 tankers, coolly swung his ship to fire at a freighter and, in a split-second decision, shot out of the path of an onrushing transport, missing it by inches. Boxed in by blazing tankers, a freighter, transport, and several destroyers, he blasted 2 of the targets with his remaining torpedoes and, with pyrotechnics bursting on all sides, cleared the area. Twenty-four hours later, he again made contact with a heavily escorted convoy steaming to support the Leyte campaign with reinforcements and supplies and with crated planes piled high on each unit. In defiance of the enemy's relentless fire, he closed the concentration of ship and in quick succession sent 2 torpedoes each into the first and second transports and an adjacent tanker, finding his mark with each torpedo in a series of violent explosions at less than l,000-yard range. With ships bearing down from all sides, he charged the enemy at high speed, exploding the tanker in a burst of flame, smashing the transport dead in the water, and blasting the destroyer with a mighty roar which rocked the Tang from stem to stern. Expending his last 2 torpedoes into the remnants of a once powerful convoy before his own ship went down, Comdr. O'Kane, aided by his gallant command, achieved an illustrious record of heroism in combat, enhancing the finest traditions of the U.S. Naval Service.
1945 - The United Nations charter took effect on this day -- at the San Francisco Conference -- establishing the United Nations. 51 countries came together determined to save succeeding generations from the scourge of war; to reaffirm faith in human rights; to promote social progress and better standards of life; to practice tolerance and live together in peace and unite their strength to maintain international peace and security. Since 1971, by unanimous request of the U.N. General Assembly (the world's forum for discussing matters affecting world peace and security), this day has been observed throughout all UN member nations as a public holiday, United Nations Day.
( lower half of: http://memory.loc.gov/ammem/today/oct24.html )
1951---Birthday of American Composer George Tsontakis.
1952 - Gen. Dwight D. Eisenhower in Detroit, delivered his famous speech about Korea. He promised to go to Korea and seek "an early settlement to the war" if elected President. He was -- and he did.
1953---Birthday of American composer James Guthrie, born Portsmith, VA.
1956-the first Presbyterian female minister, the Reverent Margaret Ellen Towner, was ordained in her home church in Syracuse, NY. She was appointed minister of Christian education of the First Presbytery Church, Allentown, PA. She had received a Bachelor of Divinity degree form Union Theological Seminary, New York City, in 1954.
1956---Top Hits
Honky Tonk (Parts 1 & 2) - Bill Doggett
Love Me Tender - Elvis Presley
The Green Door - Jim Lowe
Hound Dog/Don't Be Cruel - Elvis Presley
1958-One of my favorite mystery writers, Raymond Chandler, starts working on his last novel this day, The Poodle Springs Story, but he will die before completing it. Chandler was born in 1888 in Chicago. He was raised in England, where he went to college and worked as a freelance journalist for several newspapers. During World War I, Chandler served in the Royal Flying Corps. After the war, he moved to California, where he eventually became the director of several independent oil companies. He lost his job during the Depression and turned to writing to support himself at the age of 45. He published his first stories in the early 1930s in the pulp magazine Black Mask and published his first novel, The Big Sleep, in 1939. He published only seven novels, among them Farewell My Lovely (1946) and The Long Goodbye (1953), all featuring tough, cynical detective Philip Marlowe. William Faulkner wrote the screen version of The Big Sleep, which starred Humphrey Bogart as Philip Marlow. Chandler also wrote Hollywood screenplays in the 1940s and early 50s, including Double Indemnity (1949) and Strangers on a Train (1951). He died in March 1959.
"There was a desert wind blowing that night. It was one of those hot, dry, Santa Ana's that come down through the mountain passes and curl your hair and make your nerves jump and your skin itch. On nights like that, every booze party ends in a fight. Meek little wives feel the edge of the carving knife and study their husbands' necks. Anything can happen."
http://www.kirjasto.sci.fi/rchandle.htm
http://www.america.net/~davdmock/chandler.htm
http://www.bookreporter.com/authors/au-chandler-raymond.asp
http://www.usatoday.com/weather/wsanta.htm
http://www.britannica.com/eb/article?eu=114902&tocid=10134&query=
seth%20carlo%20chandler
1960 - Brenda Lee hit #1 for the second time in the year with "I Want to Be Wanted". 1960 was a very good year for the young (age 15) songstress. In addition to her first #1 smash, "I'm Sorry" (July 18), Lee had two other songs on the charts: "Sweet Nothin's" (#4, April 18) and "That's All You Gotta Do" (#6, July 4).
1962 - The U.S. blockade of Cuba during the missile crisis officially began under a proclamation signed by President Kennedy. Atlantic Fleet begins quarantine operations to force Soviet Union to agree to remove ballistic missiles and long range bombers from Cuba. The Commander in Chief, Atlantic, established the surface quarantine line on an arc 500 miles from Cape Maysi between 27-30N, 75W and 20N, 65W. The line thus established was out of range of Soviet IL-28 "Beagle" bombers based in Cuba. The line was to be manned by 12 destroyers from Task Force 136.
1962 - James Brown records the landmark soul album ``Live at the Apollo.''
1963---Birthday of American composer John Reager, born Claremont, CA.
1964—Top Hits
Do Wah Diddy Diddy - Manfred Mann
Last Kiss - J. Frank Wilson & The Cavaliers
We'll Sing in the Sunshine - Gale Garnett
I Don't Care (Just as Long as You Love Me) - Buck Owens
1965 -Family Dog Dance at the San Francisco Longshoremen's Hall -Charlitans and Lovin' Spoonful played. A new era of music and lifestyle was about to begin.
1967 - No. 1 Billboard Pop Hit: ``To Sir with Love,'' Lulu. The single is the title song to the movie starring Sidney Poitier and the singer.
1972—Top Hits
My Ding-A-Ling - Chuck Berry
Burning Love - Elvis Presley
Nights in White Satin - The Moody Blues
Funny Face - Donna Fargo
1977- the first jockey to win more than $5 million in purses in one year was Steve Cauthen of Kentucky, whose purses this day amounted to $5,009,692.
1980—Top Hits
Another One Bites the Dust - Queen
Woman in Love - Barbra Streisand
He's So Shy - Pointer Sisters1988
Groovy Kind of Love - Phil Collins
What's on Your Mind (Pure Energy) - Information Society
Wild, Wild West - The Escape Club
Gonna Take a Lot of River - The Oak Ridge Boys
I Believe in You - Don Williams
1987 - Snow fell across northeast Minnesota and northwest Wisconsin overnight, with five inches reported at Poplar Lake MN and Gunflint Trail MN. Thunderstorm rains caused flash flooding in south central Arizona, with street flooding reported around Las Vegas NV. Strong northwesterly winds gusting to 50 mph downed some trees and power lines in western Pennsylvania and the northern panhandle of West Virginia.
1989 - A storm in the western U.S. produced up to three feet of snow in the mountains around Lake Tahoe, with 21 inches reported at Donner Summit. Thunderstorms in northern California produced 3.36 inches of rain at Redding to establish a 24 hour record for October, and bring their rainfall total for the month to a record 5.11 inches. Chiefly "Indian Summer" type weather prevailed across the rest of the nation. Fifteen cities in the north central U.S. reported record high temperatures for the date as readings soared into the 70s and 80s. Record highs included 74 degrees at International Falls MN, and 86 degrees at Yankton SD.
1991- The final frontier for Gene Roddenberry, writer, best known for the creation of "Star Trek."
1992-- The Toronto Blue Jays defeated the Atlanta Braves, 4-2, in 11 innings in Game 6 to become the first non-US-based team to win the World Series. Forty-one year old Dave Winfield's 11th inning double is the key hit in Toronto's victory.
1992 - ``End of the Road'' by Boyz II Men logs its 11th week at No. 1 on the Billboard Hot 100 singles chart, tying a record for the rock era set in 1956 by Elvis Presley with the two-sided hit ``Don't Be Cruel/Hound Dog.'' Boyz II Men holds the top spot for two more weeks, establishing the new record at 13 weeks. The group is displaced three months later by Whitney Houston's ``I Will Always Love You.'' In 1995, Boyz II Men ties Houston's 14-week record with ``I'll Make Love to You.''
1995 - New York City declares Oct. 24 Tony Bennett Day. The crooner celebrates the occasion with a concert at the city's famous Radio City Music Hall.
1996 - Motown founder Berry Gordy is honored with a star on Hollywood's Walk of Fame. In the '60's, Gordy made household names of artists like Diana Ross, Smokey Robinson, and Stevie Wonder.
2000- Orlando Hernandez (8-0, 1.90) losses his first postseason game as the Mets defeat the Yankees on a tie breaking eight inning double by Benny Agbayani, 4-2. New York native John Franco gets the win ending the Yankees' record 14-game World Series winning streak.
2006 --Seven month after negotiations began, the Players' Association and MLB officials announce a five-year collective bargaining agreement has been reached. The longest accord in baseball history, which will end in 2011, assures the game will have a span of 16 years without a work stoppage.
World Series Champions This Date
1992 Toronto Blue Jays.
--------------------------------------------------------------

Baseball Poem
For Junior Gilliam (1928-1978)
by B.H. Fairchild ©
Published: The Little Magazine (1978)
In the bleak, bleacherless corner
of my rightfield American youth,
I killed time with bubble gum
and baseball cards and read the stats
and saw a sign: your birthday was mine.
And so I dreamed: to rise far
from Kansas skies and fenceless outfields
where flies vanished in the summer sun.
To wake up black in Brooklyn,
to be a Bum and have folks call me Junior
and almost errorless hit .280 every year
and on the field, like you, dance double plays,
make flawless moves, amaze the baseball masses.
You would turn, take the toss from Reese,
lean back and, leaping past the runner's cleats,
wing the ball along a line reeled out
from home and suddenly drawn taut
with a soft pop in Hodges' crablike glove.
And we went wild in Kansas living rooms.
The inning's over. You're in the shadows now.
But summers past you taught us how to play
the pivot (or how to dream of it).
And when one day they put me in at second,
I dropped four easy ones behind your ghost,
who plays a perfect game.
For Junior Gilliam (1928-1978) by B.H. Fairchild ©
--------------------------------------------------------------

SuDoku
The object is to insert the numbers in the boxes to satisfy only one condition: each row, column and 3x3 box must contain the digits 1 through 9 exactly once. What could be simpler?
http://leasingnews.org/Soduku/soduko-main.htm
--------------------------------------------------------------

Daily Puzzle
How to play:
http://www.setgame.com/set/puzzle_frame.htm
Refresh for current date:
http://www.setgame.com/set/puzzle_frame.htm
--------------------------------