Wednesday, October 15, 2008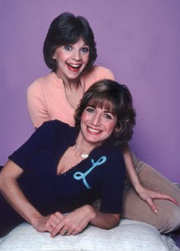 TV roommates Cindy Williams as Shirley Feeney and Penny Marshall as Laverne De Fazio in "Lavern & Shirley."Actress, director, writer, producer Carole Penelope "Penny" Marshall born the Bronx, New York , October 15, 1942. "Big," "A League of Their Own," TV series "Lavern & Shirley (126 episodes, 1976-1983)." http://penny-marshall.com/index.html
Headlines---
Classified Ads---Operations
GE Capital Rumors Confirmed
Is GE Becoming More Conservative? Comment
Shawn Halladay ELFA Conference Report
Numbers Down, but not Spirits
Leasing Business is strong for many---
Sovereign reports $981 million loss
Weiss says Ship Building not in trouble?
Classified Ads---Help Wanted
Thanksgiving Special: Half-0ff
Sales makes it Happen---by Linda P. Kester
"Lease Platform Review"
Irwin Financial Up-Date
CIT Declares Common Dividend
EU leaders seek upper hand on financial crisis
Smaller Banks Resist Federal Cash Infusions
Bombardier wins $101-million Danish contract
Pemex Oil Tanker Financing by ICP Capital
Federal deficit hits record $455 billion
Joseph P. Campbell retires Royal Bank America
News Briefs---
You May have Missed---
Sports Briefs---
"Gimme that Wine"
Today's Top Event in History
This Day in American History
SuDoku
Daily Puzzle
GasBuddy
Weather , USA or specific area
Traffic Live----
######## surrounding the article denotes it is a "press release"
---------------------
-------------------------------------------------------------------

Classified Ads---Operations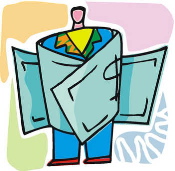 Santa Barbara , CA
Former LEAF & Santa Barbara Bank & Trust employee with 5 years of credit and operations experience available to work remotely. Willing to occasionally travel.
Email: sb.leasing@live.com
For a full listing of all "job wanted" ads, please go to:
http://www.leasingnews.org/Classified/Jwanted/Jwanted.htm
To place a free "job wanted" Leasing News ad:
http://www.leasingnews.org/Classified/Jwanted/Jwanted-post.htm
ELFA Career Center : Job Seekers ( free ):
http://careers.elfaonline.org/search.cfm
--------------------------------------------------------------

GE Capital Rumors Confirmed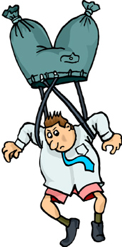 First, the layoffs at GE Capital Healthcare have been confirmed by seven sources at this time, several known to Leasing News, including this one:
"...In addition Patterson Dental brought on Matsco a second preferred lender. They were worried that GE wasn't in position to help them close year-end business. Two months or so ago GE management arrogantly seemed to think they'd be able to keep both Patterson and Henry Schein. In the last two weeks they basically lost the two biggest dental accounts in the industry. I seem to remember a leasing news report comparing this situation to the Yankees and Red Sox having the same manager. It's funny that everybody seemed to know this was a bad idea except management."
Several of the sources believe there are more cuts to follow. It also appears that the "confusion" is correct in that there are several divisions, each with their own missions. It seems the departments not involved in financing GE products seem to have different rates and instructions, quite different that previous differences.
According to one source, not only were rates raised, but as well as credit criteria, but several thirty party sources cut off. No one is talking, particularly since GE Capital employees have specifically been told not to talk with Leasing News. In fact, several reported several were called out on the issue.
In Monday's article, it was noted that both GE Chief Executive Jeff Immelt and GE CFO Keith Sherin had made public comments about GE Capital becoming "more conservative."
Immelt was proud of the fact, quoted by the news media
"We thought it was smart to have suspenders on suspenders on suspenders in this cycle."
--------------------------------------------------------------

Is GE Becoming More Conservative? Comment
"GE is a remarkable company that has not only survived, an accomplishment in itself, but PROSPERED... all the current management needs to do is learn from ITS OWN PAST LEADERS and ADAPTATION to major changes and it will continue its heritage.
"However, the company is much more COMPLEX and this is one of the reasons that it is having CREDIBILITY problems... it is very difficult to keep track with the changes it has CREATED ON ITS OWN...and not just the complexity of the world today.
"I hope that the GE Leaders have learned from its own history."
Bill Rothschild, author of the only comprehensive, objective and insightful GE Strategic HISTORY and INSIGHTS...THE SECRET TO GE's SUCCESS
http://www.amazon.com/Secret-GEs-Success-Leadership-Competitive/dp/0071475931
GE becoming more "conservative"
http://www.leasingnews.org/archives/October%202008/10-13-08.htm#ge
--------------------------------------------------------------

Shawn Halladay ELFA Conference Report
Numbers Down, but not Spirits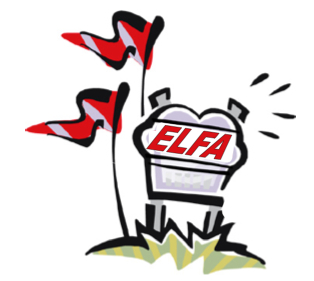 The Equipment Leasing and Finance Association (ELFA) 47 th Annual Convention held at the Hilton New Orleans Riverside New Orleans, Louisiana, kicked off over the weekend in an environment of financial turmoil and uncertainty that has not been seen for decades. And, as was expected, the numbers were down from previous years. According to ELFA, the final count was around 800 people although the company representation was fairly constant from last year – these companies just ended up sending fewer people. The numbers, although lower, did make it easier for everyone to network, as you were able to see through the crowd and find the people for whom you were looking.
The agenda contained much of the usual activities such as networking opportunities, business council meetings, and breakout sessions. What everyone was seeking, though, were answers as to how others were handling their business. Should we be panicking, should we sell everything, is there any hope for future funding? The theme was constant, the questions diverse. The mood of the convention, however, was surprisingly positive.
Yes, there were concerns about funding, especially among the smaller independents, but there also were plenty of success stories. Many of the people I spoke with were having great years. Some were above plan, others were achieving high volumes, and several were even fairly unaffected from a loss perspective. In this respect, lessors at the ELFA conference are experiencing the same environment as those previously reported by Leasing News.
Others, as expected, were less sanguine about conditions. There appear to be several bank leasing companies being offered around, most likely in a bid to shore up balance sheets and create cash. Buyers, however, are in short supply. The same can be said for individual deals and portfolios, as funders are scaling back and, in some cases, pulling out of markets altogether.
This trend, if it continues, has the potential to create a fundamental shift in the market place. John Deane, of the Alta Group, sees a significant shortfall of available funding dollars for lessees if several of the larger bank leasing companies go away and GE continues to adjust its balance sheet through reduced originations. What this will mean is a greater role for independents, and, in particular, captive finance companies.
So, why the positive mood? One of the reasons is that, political jabs aside, other areas of the economy are not in the dire straits the financial sector finds itself, as one of the luncheon speakers (an economist) pointed out. Lessors I spoke with noted that companies still need equipment and, in particular, financing for that equipment. There are lessors with money available – it is a matter of choosing which deals make the most sense. The deals must be right, though.
What I think is driving the mood, based on numerous discussions with convention attendees, is, in many respects, the challenge of the times. Lessors traditionally have been entrepreneurial, although this has become less evident over the past decade. What the current economic situation has done is clearly identify challenges and we are ready to go out and find solutions for them – and, in a way, quite enjoying it. This bodes well for the future. Now, if lessors can combine this attitude with the value-added component of the product, i.e., residual, there are opportunities for growth and profitability, not just survival.
Now to more mundane issues, although they certainly are critical to the overall convention experience. This year the convention was its traditional length, which gave attendees more opportunities to do business. The standard components of the convention were there, of course, and the ELFA staff performed exceptionally well. The sessions appeared to be fairly well-attended, although I did hear some comments that there have been better options in prior years. And yes, it was New Orleans and the traditional last night's party lived up to expectations, particularly given the venue. All in all, I believe the convention was successful and met expectations for all who attended. Ride Sally, ride.
Shawn Halladay is managing principal of The Alta Group's Professional Development Division and has authored or co-authored eight books on equipment leasing, including "A Guide to Equipment Leasing," "An Introduction to Leasing" and "The Handbook of Equipment Leasing." A member of the Equipment Leasing and Finance Association, Shawn serves on the editorial board for the Journal of Equipment Lease Financing and is a member of the Leasing News Advisory Board.
--------------------------------------------------------------

Leasing Business is strong for many---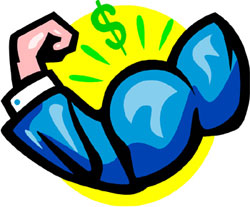 Despite what you may read in the major newspapers, there is a lot of money available for equipment leasing and financing.
Many companies and banks, such as Bank of the West, US Bank, Wells Fargo, to name a few, are doing very well in granting loans and leases. There are also banks and other leasing companies entering the market place that Leasing News has written about in the last six months such as Mechanics Bank and Commerce Commercial, both in California .
Many leasing companies are reporting business is up, while there are brokers in the "application only" market that report business is down or that leases are being lost to those using Trigger Data ( Direct Capital is mentioned the most to Leasing News.)
As reported in Bank Beat on Monday, 15 banks have failed this year, with the FDIC taking over, with other banks assuming the operations with no loses to any depositors or bank customers.
Yes, there are changes in criteria, meaning more due diligence and other requirements on certain industries such as restaurants, trucking or "start-ups." There is a trend back toward financial statements and tax returns.
Here is a very good example sent out by email by Allegiant-Partners, seeking more business: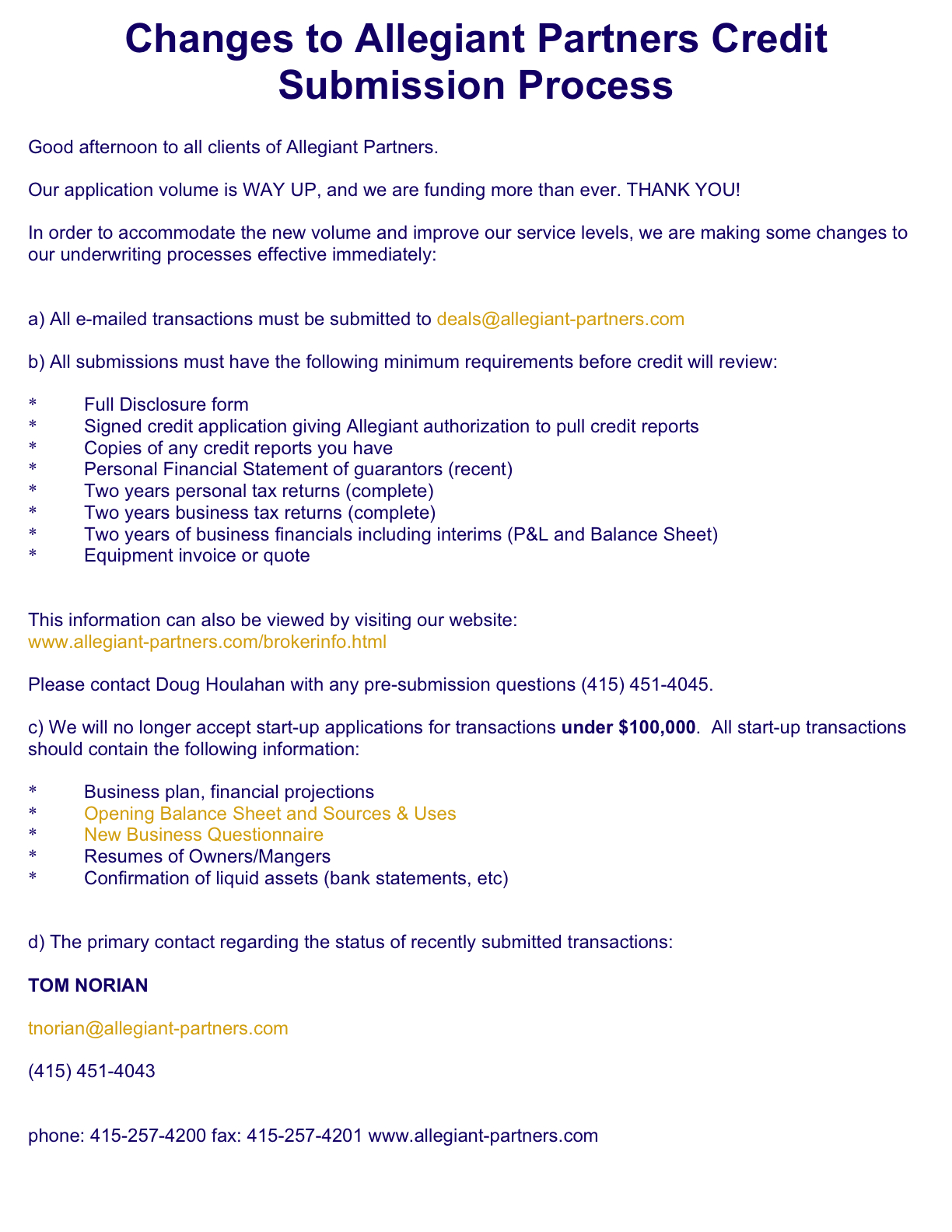 --------------------------------------------------------------

Sovereign reports $981 million loss
Banco Santander, S.A. and Sovereign Bancorp Inc., parent company of Sovereign Bank, Philadelphia, PA. , announced yesterday that Banco Santander will acquire Sovereign in a stock-for-stock transaction.
Banco Santander SA said Oct. 13 that it would acquire the remaining 75.65% of Sovereign Bancorp Inc. it does not already own for approximately $1.9 billion in an all-stock transaction.
This announcement follows Sovereign Bancorp Inc., SEC filing disclosing a third-quarter net loss of $981.6 million, compared to net income of $58.2 million the previous year period; subprime mortgages plus involvement with Fannie Mae and Freddie Mac was the prime reason for their financial difficulties.
Their press release stated: " Included in this loss was the previously announced impairment charge on Sovereign's Fannie Mae and Freddie Mac perpetual preferred stock of $575 million and a loss of $602 million related to the sale of its entire portfolio of collateralized debt obligations (CDO's). Excluding the after-tax impact of the aforementioned investment losses, Sovereign still generated net income of $41.3 million even after recording a provision for credit losses of $304 million, an increase of $141.5 million from the same period a year ago. This compares to net income of $58.2 million or $.11 per diluted share in the third quarter of 2007."
Sovereign Bancorp has increased its allowance for credit losses to $1.0 billion, a $175 million increase from June 30, mainly because of deterioration in the commercial loan portfolio and increases in its reserve levels to reflect a higher risk from the current economic environment. Sovereign's allowance for credit losses to total loans at Sept. 30 was 1.79%, up from 1.47% at June 30 and 1.14% at Sept. 30, 2007.
The "merger" by Banco Santander SA certainly brings more liquidity and assets to Sovereign.
" Banco Santander Central Hispano (Grupo Santander) is the leader in the running of Spanish banks. The company offers retail banking and consumer finance in Spain , Portugal , the UK , and other parts of Europe . Subsidiaries such as Banco Santander Chile , Banco Río de la Plata in Argentina , and Mexico 's Grupo Financiero Santander make it a top banking group in Latin America , where it has operations in about 15 countries. Through other subsidiaries, Grupo Santander offers asset management, private banking, corporate and investment banking, and insurance. All told, Grupo Santander has more than 69 million customers and some 13,750 locations in more than 40 countries."
Hoover 's Profile: Banco Santander Central Hispano, S.A.
Full press release with financial statements:
http://www1.snl.com/InteractiveX/file.aspx?Id=6819665&KeyFileFormat=XML
--------------------------------------------------------------

Weiss says Ship Building not in trouble?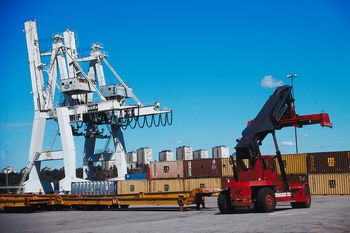 "Ship owners will…find it more expensive to get funding," according to Marc Faber, managing director of Marc Faber Ltd. and publisher of the "Gloom, Boom & Doom" report.
"This is an industry that could be hit harder than what has been expected," Faber, who predicted the 1987 stock-market crash, said in an interview Monday in Singapore, as reported in Business Mirror Online. "We are really at the very beginning of an economic slump, and it could last for quite sometime."
The magazine reports: The Baltic Dry index, a measure of commodities-shipping costs, has plunged 82 percent in the past year as Chinese steelmakers have cut iron-ore imports on slower demand. Container rates have also fallen because US and European consumers are buying less Asian-made furniture, toys and clothes.
The credit crunch may also impact shipping by making it harder for traders to secure letters of credit, the financing notes that are to key to many transactions.
"The banks don't trust each other," Faber said. "Some shipments may be delayed because of fears the letter of credit won't be accepted by another bank." -- Bloomberg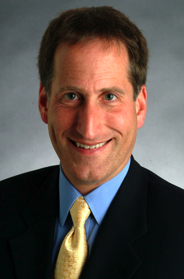 Paul B. Weiss, Chairman of the Investment Committee of Pacific Rim Partners, a San Francisco based investment and merchant bank with offices in Tokyo and Dubai, as well as Chairman and Chief Executive Officer of Sunrise Tankers, an oceangoing tanker investment concern with a focus on Liquefied Natural Gas transport vessels, also a member of the Leasing News Adv isory Board, when requested for a comment, responded:
"The threat of bankruptcy of shipping companies and like players is in some ways a non-issue. The lenders that lent into these deals were already on their butts, this is just another crumbling block on the Great Wall of Banking Collapse (2008 Edition). In spite of possible cases of bankruptcy, however, all of the world fleet will be employed for decades to come (there will be cyclical swings in employment of vessels, perpetually). I wouldn't want to own stocks of the shipping companies, but if you have a way to play directly it is a fine time to acquire newest technology ships. Everyone close in knows that you buy when the Baltic Index has crashed, then wait. unfortunately, for those who leveraged their bets at the wrong time in the wrong amount, the wait is about to be over in the worst way.
"All capital intensive industries such as airlines, marine shipping, rail carriers and even infrastructure operators can be susceptible to cheap credit pneumonia. Each must be in an absolute position to generate revenues that cover fixed and variable costs. During normal economic times, that isn't so hard to achieve, as industry pricing can adjust within reason to keep the company "cash flowing". Recession lowers revenues and tends to remove pricing power... higher fuel costs matter here too... and now we need to factor in the fact that these players got the chance to expand by rapidly adding fleet with large loans and low rates. It's the exact same strain of flu that was fatal to real estate markets. personally, I never met a ship owner that would not gladly own more fleet if given the chance with cheapo financing... each would gladly pay Tuesday for a hamburger today (J. Wellington Wimpy).
"In all of these industries, the leaders had sophisticated treasury functions and exercised discretion, planning for the inevitable downturn. Others were more reckless in their desire to create personal fortune with other people's money... a very familiar story."
--------------------------------------------------------------

Classified Ads---Help Wanted
Vendor Sales Specialists

About the company: Located on the water in
beautiful Newport Beach, California.The environment is positive.

Growing vendor based equipment leasing company
Learn our value proposition
2 Years Sales or Related Exp.
College Degree Preferred
You will work with people
that you can trust and respect
Click here to learn more


--------------------------------------------------------------

Thanksgiving Special: Half-0ff on all "help wanted" ads
--------------------------------------------------------------

Sales Make it Happen --- by Linda P. Kester
"Lease Platform Review"
Here is an idea to help your lessees, it's called a Lease Platform Review .
Begin by asking yourself the question:
What are the biggest mistakes lessees are making?
Are they not getting their purchase option in writing?
Are they not aware of when their lease ends?
Do they have too many leases spread out among different lessors?
Are they missing out on tax advantages?
I suggest that you meet with your lessees (either on the phone or face-to-face) and offer to review the lease they have with your company, then offer to help with their other leases. The intention is to go beyond reacting to a customer's problems. Anticipate problems before they occur.
Try to understand your customer's situation so you can make recommendations that will be valuable to them in the future.
Another idea is to write a short article entitled "The Biggest Mistakes Lessees Make". Send it out to your prospects and you will be truly helping your customers.
The goal is not to act like a salesperson. No one wants to buy from a person who is interested in selling them something. We want to buy from people who are concerned with what is best for us.
I'm concerned with what is best for you. Give the Lease Platform Review a try, it will help your lessees.
Linda Kester helps leasing companies obtain more volume.
For more information please visit www.lindakester.com
Sales Makes it Happen articles:
http://www.leasingnews.org/Legacy/index.html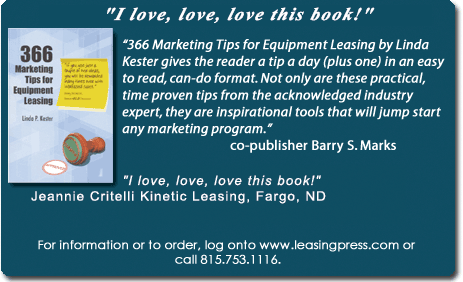 (This ad is a "trade" for the writing of this column.)
---------------------------------------------------------------
### Press Release ###########################

Irwin Financial Up-Date

Irwin Financial (NYSE: IFC), and its subsidiary banks have also entered into written agreements with the Indiana Department of Financial Institutions, the Federal Reserve Bank of Chicago, and the Office of Thrift Supervision. In the current environment of uncertainty in the banking and financial industry, the agreements outline a number of steps that have been agreed upon among the parties, including submission of plans regarding revised business strategies, liquidity and funds management, and capital levels; improvements in credit administration, accounting, and Board oversight; an assessment of and specific additions to management; and certain restrictions applicable only to its savings bank, which holds about 13% of the Corporation's assets.
"We do not expect these agreements to have a significant impact our normal banking operations," Mr. Miller said. "It is business as usual for our clients. The actions we will take under these agreements are consistent with the actions we announced earlier this year to initiate our strategic restructuring and improve our risk management processes. Because these agreements in part formalize actions underway to improve the Corporation's financial condition, we have already completed the majority of them and have action plans under way to address the remainder. We have a common goal to maintain the financial soundness of the Corporation, Irwin Union Bank and Trust Company, and Irwin Union Bank, F.S.B."
Irwin Financial Corporation (NYSE: IFC), a bank holding company, today announced the filing of a registration statement in connection with a planned $50 million rights offering to shareholders. This rights offering will help the Corporation maintain and enhance capital strength while completing its previously announced strategic restructuring efforts to re-focus on small business and community banking. The Corporation has entered into various "standby" purchase agreements with five investors to purchase up to $31 million of common shares after shareholders have been given the first opportunity to invest in the offering.
"We continue to make progress executing our strategic restructuring plan to reduce our exposure to the national mortgage lending industry and return to our traditional focus on delivering banking services to small businesses and local communities where we have branches," said Will Miller, Chairman and CEO of Irwin Financial. "Our restructuring process, while costly in the current difficult economic environment, is critical to our plan to restore profitability. The capital raised by this rights offering will help us continue to maintain required capital levels while we complete this initiative.
"Each member of our Board of Directors has individually committed to invest through the rights offering. In addition, five investors have agreed to invest up to $31 million through the exercise of rights received and by buying shares of stock representing rights potentially unexercised by our shareholders," Mr. Miller continued. "Our headquarters community neighbor, Cummins Inc., has provided up to $25 million of the commitment. The remainder of the standby commitment is being provided by me, members of my family, and Henry B. Schacht, a former Chairman and CEO of Cummins and Lucent Technologies Inc. The standby investors believe this opportunity to purchase shares of the Corporation is an attractive investment." The standby agreements are subject to certain conditions. The company plans to continue discussions with other investors to provide additional standby commitments at a later date.
### Press Release ###########################

CIT Declares Common Dividend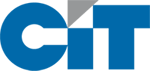 NEW YORK----CIT Group Inc. (NYSE: CIT), a leading global commercial finance company, today announced that its Board of Directors has declared a regular quarterly cash dividend of $0.10 per share on its outstanding common stock. The common stock dividend is payable on November 28, 2008, to shareholders of record on November 14, 2008.
CIT also announced its intention to sell approximately $8 million of common equity to facilitate the payment of quarterly dividends on the Company's preferred stock in December.
(The company will issue its financial results for the quarter ending September 30, 2008, before the market opens on Thursday, October 16, 2008. CIT will hold a conference call and audio webcast to discuss the results at 9:00 AM EDT.)
About CIT
CIT (NYSE: CIT) is a global commercial finance company that provides financial products and advisory services to more than one million customers in over 50 countries across 30 industries. A leader in middle market financing, CIT has more than $70 billion in managed assets and provides financial solutions for more than half of the Fortune 1000. A member of the S&P 500 and Fortune 500, it maintains leading positions in asset-based, cash flow and Small Business Administration lending, equipment leasing, vendor financing and factoring. The CIT brand platform, Capital Redefined, articulates its value proposition of providing its customers with the relationship, intellectual and financial capital to yield infinite possibilities. Founded in 1908, CIT is celebrating its Centennial throughout 2008. www.cit.com
### Press Release ###########################
--------------------------------------------------------------

News Briefs----
EU leaders seek upper hand on financial crisis at summit
http://www.afp.com/english/news/stories/newsmlmmd.e476e8108b993304e
d4d0aca91a2a889.c1.html
Smaller Banks Resist Federal Cash Infusions
http://www.washingtonpost.com/wp-dyn/content/article/2008/10/14/
AR2008101403378.html
Bombardier wins $101-million Danish contract, shares soar
http://www.globeinvestor.com/servlet/story/RTGAM.20081014.wbbd1014/GIStory/
Pemex Oil Tanker Lease Financing Completed by ICP Capital
http://www.marketwatch.com/news/story/pemex-oil-tanker-lease-financing/story.aspx
?guid=%7B3C44C159-DAD9-4428-A3E8-6337AC3CD7D1%7D&dist=hppr
Federal deficit hits record $455 billion
http://www.latimes.com/news/politics/la-na-deficit15-2008oct15,0,2519168.story
Joseph P. Campbell to Retire From Royal Bank America
http://www.marketwatch.com/news/story/joseph-p-campbell-retire-royal/story.aspx
?guid=%7B7246136A-9ABD-4F14-ADD6-C735CD4CBE08%7D&dist=hppr
---------------------------------------------------------------


You May have Missed---
Dancing' gets too hot for Chef Rocco
http://www.accessatlanta.com/entertainment/content/entertainment/stories/
2008/10/14/dancing_stars_tv.html
---------------------------------------------------------------

Sports Briefs----
Rays pin Red Sox against the wall
http://www.sfgate.com/cgi-bin/article.cgi?f=/c/a/2008/10/14/SPJP13H34L.DTL
Blank wants Vick back in NFL, but not with Falcons
http://www.ajc.com/sports/content/sports/falcons/stories/2008/10/14/blank_vick_falcons.html
(This ad is a "trade" for the writing of this column. Opinions
contained in the column are those of Mr. Terry Winders, CLP)
----------------------------------------------------------------


"Gimme that Wine"
Search Party Roams Paso Robles
http://www.nytimes.com/2008/10/15/dining/15wine.html?_r=1&ref=dining&oref=slogin
$1.35 billion economic impact uncorked for Texas Wine Month
http://www.hpj.com/archives/2008/oct08/oct13/135billioneconomicimpactunc.cfm?title=
$1.35%20billion%20economic%20impact%20uncorked%20for%20Texas%20Wine%20Month
Dunne on wine: Big Crush has become just that
http://pubsys.sacbee.com/161/story/1296073.html
Southern Illinois has nearly two dozen wineries
http://www.post-gazette.com/pg/08288/916281-37.stm
Wine Prices by vintage
http://www.winezap.com
http://www.wine-searcher.com/
US/International Wine Events
http://www.localwineevents.com/
Winery Atlas
http://www.carterhouse.com/atlas
Leasing News Wine & Spirits Page
http://two.leasingnews.org/Recommendations/wnensprts.htm
The London International Vintners Exchange (Liv-ex) is an electronic exchange for fine wine.
http://www.liv-ex.com/
----------------------------------------------------------------

Today's Top Event in History
1959 - Van Johnson was originally slated to play Eliot Ness, but he backed out in a dispute over money the weekend before filming was to begin. Robert Stack was hastily recruited for the starring role in "The Untouchables" on a Sunday morning. He was fitted for costumes in the afternoon, and started filming the first episode, "The Empty Chair", on Monday morning. "The Untouchables", with the chatter of machine-gun fire and the squeal of tires on the streets of Chicago , began a four-year run this day on ABC-TV. With Stack, as G-man Ness, were Nick Georgiade (as Enrico Rossi), Jerry Paris (as Martin Flaherty), Abel Fernandez (as William Youngfellow), Anthony George (as Cam Allison), Paul Percerni (as Lee Hobson), Steve London (as Agent Rossman) and Bruce Gordon (as Frank Nitti). The unforgettable narrator was radio's famous Walter Winchell.
http://www.tvparty.com/untouch.html
http://www.tvtome.com/tvtome/servlet/ShowMainServlet/showid-674/
[headlines]
----------------------------------------------------------------

This Day in American History
1565-Florida: the French surrendered under the terms of a truce that guaranteed them amnesty to Pedro Menendez de Aviles, the Spanish navigator, who had captured the French Huguenot colony at Fort Caroline, near present-day Jacksonville, FL. However, after they surrendered, Mendendez hanged them, putting a sign over the bodies that read: " I do this not to Frenchmen but to Lutherans." In 1568, the fort was recaptured by a Huguenot corsair, Dominque de Gourges, who took his revenge by killing all his prisoners. His sing read: "I do this not to Spaniards...but as to traitors, robbers, and murderers."
1790 -Ann Teresa Mathews (aka Mother Bernardina) and Frances Dickinson founded a convent of Discalced Carmelites (a contemplative working order) in Port Tobacco, Maryland. It was the first Catholic convent founded in the United States.
1840 -In Melville, Missouri, the Evangelical Synod of North America was founded. It later became one of the branches of today's United Church of Christ.
1858-Birthday of John L. Sullivan, boxer born at Roxbury, MA " The Great John L" was one of America's first sports heroes. He captured the world's bare-knuckle heavyweight championship on Feb 7, 1882, and went six years without defending the tile. He won the last bare-knuckle fight in 1889 and then lost the title to James J. Corbett in 1892. This was the first fight in which the boxers used gloves and were governed by the Marquess of Queensberry rules. Died at Abindon, MA, Fe 2, 1918.
1863-The C.S.S. Hunley, the first successful submarine, sinks during a test run, killing its inventor and seven crewmembers. Horace Lawson Hunley developed the submarine from a cylinder boiler. It was operated by a crew of eight--one person steered while the other seven turned a crank that drove the ship's propeller. The Hunley could dive, but it required calm seas for safe operations. It was tested successfully in Alabama's Mobile Bay in the summer of 1863, and Confederate commander General Pierre G.T. Beauregard recognized that the vessel might be useful to ram Union ships and break the blockade of Charleston Harbor. The Hunley was placed on a railcar and shipped to South Carolina. The submarine experienced problems upon its arrival. During a test run, a crewmember became tangled in part of the craft's machinery and the craft dove with its hatch open; only two men survived the accident. The ship was raised and repaired, but it was difficult to find another crew that was willing to assume the risk of operating the submarine. Its inventor and namesake stepped forward to restore confidence in his creation. On October 15, he took the submarine into Charleston Harbor for another test. In front of a crowd of spectators, the Hunley slipped below the surface and did not reappear. Horace Hunley and his entire crew perished. Surprisingly, another willing crew was assembled and the Hunley went back into the water. On February 17, 1864, the ship headed out of Charleston Harbor and approached the U.S.S. Housatanic. The Hunley stuck a torpedo into the Yankee ship and then backed away before the explosion. The Housatanic sank in shallow water, and the Hunley became the first submarine to sink a ship in battle. Unfortunately, its first successful mission was also its last--the Hunley sank before it returned to Charleston, taking yet another crew down with it. The vessel was raised on August 8, 2000, and will now reside in an exhibit at the Charleston History Museum.
1878- Edison starts the General Electric Company: this day he opened the doors to the Edison Electric Company at 65 Fifth Avenue, New York City.Three thousand shares with a par value of $100 each were issued for the express purpose of financing Thomas Alva Edison's work on the incandescent lamp. J.P. Morgan and his friends were enthusiastic investors. Though commercial electric light had eluded inventors for over fifty years, Edison had vowed that he would create the first incandescent lamp, and as important, build a plant to support the electricity to run the lights. He quickly made good on his promise. His company was soon flush with profits, and competitors hoping to cash in on the burgeoning market were springing up everywhere. Reportedly learning quickly from his investors, Edison adopted the aggressive tactics of vertical integration, buying his rivals and transforming his company into a model modern enterprise, re-christening it : the General Electric Company.
1892- by Presidential Proclamation 1.8 million acres of Crow Indian reservation were opened to settlers. The government had induced the Crow to give up a portion of their land in the mountainous western area in the state of Montana, for which they received 50 cents per acre.
1900- Pentecostal evangelist Charles Fox Parham opened Bethel Bible Institute in Topeka, Kansas. It was here on January 1, 1901 that the first Christian in modern times was reported to have spoken in tongues: student Agnes Ozman.
1904- birthday of Marty Mann, American social activist and author was born at Chicago, IL. She was founder in 1944 of the National Committee for Education on Alcoholism and author of A New Primer on Alcoholism. She died at Bridgeport, CT, July 22, 1980.
1909-The first apartment house to occupy a square city block was the Belnord Apartment House, a 12-story building in New York City. It was bounded by 86th street on the south, 87th street on the north. Broadway on the west and Amsterdam Avenue on the east. At the time, it was the largest apartment house in the world. Its area was 64,614 square feet with an interior court of 22,033 square feet. It contained six separate passenger elevators and 178 suites, each with 7 to 11 rooms and two to four baths. Every room was an outside room. Annual rentals ranged from $2,100 upwards. Philip Hiss and H. Hobart Weekes were the architects.
1915-Birthday of pianist Nellie Lutcher, Lake Charles, LA.
1916-Birthday of trumpet player Al Killian.
( most notably for playing with Basie '40-'44, Ellington '47-'50)
1918-The leading film studios announce they will stop releasing films temporarily because of the influenza epidemic. Many theaters had been closed by cities throughout the country to prevent the spread of the deadly virus. Two years earlier, New York City had banned children from theaters in an attempt to halt the spread of polio.
1920 –Novelist Mario Puzo born, best known for his "Godfather" trilogy, made more famous by director-producer Francis Ford Coppola
http://www.kirjasto.sci.fi/mpuzo.htm
http://www.mariopuzo.com/biography.shtml
1925-Birthday of guitarist/singer Mickey Baker ( Mickey and Sylvia), Louisville, KY
1937 -- One time New Christy Minstrels member, gravelly voiced singer of "Eve of Destruction," Barry McGuire born in Oklahoma City, OK. One of the things that set them apart from the other folk groups of their time was the concept of signing new players, like all pro-sports teams. New blood was always being added to the group, while seasoned musicians went off to make careers of their own. Famed alumni include: Kenny Rogers, The "First Edition", Karen Black, John Denver, Roger McGuinn and Gene Clark, Kim Carnes and many, many more.
http://www.tsimon.com/mcguire.htm
1937 -- Ernest Hemingway novel "To Have and Have Not" is published.
http://www.hemingwaysociety.org/
http://www.imdb.com/title/tt0037382/
http://www.culturevulture.net/Movies/ToHave.htm
1946 - With two outs, and St. Louis Cardinals' Enos Slaughter on first, Harry Walker hit a line drive to left-center. Slaughter got an early jump as Boston Red Sox pitcher Bob Klinger failed to hold him on the bag. Leon Culberson (in center) bobbled Walker's single and shortstop Johnny Pesky hesitated on the cutoff (checking the runner on first instead of throwing home). Ignoring third base coach Mike Gonzalez, Slaughter rounded third and scored. Pitcher Harry Brecheen shut down the Red Sox in the ninth and St. Louis won the game, 4-3, and the World Series, four games to three. The '46 Series will always be remembered in Red Sox lore as the one in which "Pesky held the ball."
1947---Top Hits
I Wish I Didn't Love You So - Vaughn Monroe
Feudin' and Fightin' - Dorothy Shay
Near You - The Francis Craig Orchestra (vocal: Bob Lamm)
Smoke! Smoke! Smoke! (That Cigarette) - Tex Williams
1950- the first radio paging service was instituted in New York City area by Aircall The first call was for a doctor who was on a golf course 25 miles away. Subscribers equipped with six-ounce Aircall pocket radio receivers could hear their call numbers repeated in numerical sequence on the air at least once per minute within a 30-mile area.
1951- "I Love Lucy" premiers on television.. This enormously popular sitcom, TV's first smash hit, starred the real-life husband and wife team of Cuban actor/bandleader Desi Arnaz and talented redheaded actress/comedienne Lucille Ball. They played Ricky and Lucy Ricardo, a New York bandleader and his aspiring actress/home­maker wife who was always scheming to get on stage. Costarring were William Frawley and Vivian Vance as Fred and Ethel Mertz, the Ricardos' landlords and good friends who participated in the escapades and dealt with the consequences of Lucy's often well-intentioned plans. Famous actors guest-starred on the show, including Harpo Marx, Rock Hudson, William Holden, Hedda Hopper and John Wayne. This was the first sitcom to be filmed live before a studio audience, and it did extremely well in the rat­ings both the first time around and in reruns. The last telecast ran Sept 24, 1961.
1954- Hurricane Hazel made landfall near Cape Fear, NC with winds near 150 mph, a category 4 storm. Tides reached 18 feet above normal with extreme destruction along the North Carolina coast. At Long Beach, 300 homes vanished, no debris remained. Every fishing pier from Myrtle Beach, SC to Cedar Island, NC, a total of 170 miles, was destroyed. As the storm came inland it quickly transformed into a powerful extra tropical storm and raced north northwestward though the mid-Atlantic states. Washington, D.C. had a record sustained wind of 78 mph with gusts to 98 mph. Hazel killed 98 and caused $251 million in damages
1955- "Fury" premiers This popular series starred Bobby Diamond as Joey Newton, an orphan living on the streets. He is relocated to a ranch owned by recent widower Jim Newton (Peter Graves), who eventually adopts Joey. Joey's friend is a black horse given to him by Newton, called Fury. Also featured were William Fawcett, Roger Mobley and Jimmy Baird. In syndication, the series was retiled "Brave Stal­lion."
1955—Top Hits
Love is a Many-Splendored Thing - The Four Aces
Autumn Leaves - Roger Williams
Black Denim Trousers - The Cheers
The Cattle Call - Eddy Arnold
1959 - Van Johnson was originally slated to play Eliot Ness, but he backed out in a dispute over money the weekend before filming was to begin. Robert Stack was hastily recruited for the starring role in "The Untouchables" on a Sunday morning. He was fitted for costumes in the afternoon, and started filming the first episode, "The Empty Chair", on Monday morning. "The Untouchables", with the chatter of machine-gun fire and the squeal of tires on the streets of Chicago, began a four-year run this day on ABC-TV. With Stack, as G-man Ness, were Nick Georgiade (as Enrico Rossi), Jerry Paris (as Martin Flaherty), Abel Fernandez (as William Youngfellow), Anthony George (as Cam Allison), Paul Percerni (as Lee Hobson), Steve London (as Agent Rossman) and Bruce Gordon (as Frank Nitti). The unforgettable narrator was radio's famous Walter Winchell.
http://www.tvparty.com/untouch.html
http://www.tvtome.com/tvtome/servlet/ShowMainServlet/showid-674/
1963---Top Hits
Sugar Shack - Jimmy Gilmer and The Fireballs
Be My Baby - The Ronettes
Cry Baby - Garnet Mimms and The Enchanters
Talk Back Trembling Lips - Ernest Ashworth
1964 - For St. Louis, it was the first time a Cardinal team had appeared in the World Series since 1946 (see above), and the first of three Series appearances in the 1960s. For the Yankees, it was their last Series appearance for 12 years, and the last hurrah in a long string of Fall Classics for legendary players Whitey Ford and Mickey Mantle. The Cards won the Series in seven games, with Bob Gibson's complete game, nine strike-out performance in game seven. Lou Brock's fifth-inning home run triggered a second 3-run inning and a 6-0 lead for Gibson. Mickey Mantle, Clete Boyer, and Phil Linz homered for New York, but it wasn't enough. The Cards won the game, 7-5, and the series, four games to three.
1966-A bill creating the Department of Transportation, the 12th Cabinet department , was signed by President Lyndon B. Johnson.
1966- Bill Russell made his debut as the first black coach in the NBA as his Boston Celtics defeated the San Francisco Warriors, 121-113, at Boston Garden. Russell served as the Celtics' player-coach for three seasons and won two NBA tittles.
1966--Although they would continue to crank out the hits into the 1980s, The Four Tops enjoyed their last US number 1 song with "Reach Out I'll Be There".
1968-Wyomia Tyus becomes the first person to win a gold medal in the 100 meter race in two consecutive Olympiads.
1971 - Rick Nelson was booed off the stage when he didn't stick to all oldies at the seventh Annual Rock 'n' Roll Revival show at Madison Square Garden, New York. He tried to slip in some of his new material and the crowd did not approve. The negative reaction to his performance inspired Nelson to write his last top-40 hit, "Garden Party", which hit the top-ten about a year after the Madison Square Garden debacle. "Garden Party", ironically, was Nelson's biggest hit in years, "...If you gotta play at garden parties, I wish you a lotta luck; But if memories were all I sang, I rather drive a truck."
1971---Top Hits
Maggie Mae/Reason to Believe - Rod Stewart
Superstar - Carpenters
Yo-Yo - The Osmonds
How Can I Unlove You - Lynn Anderson
1971-It was a blessing in disguise when Rick Nelson played the seventh annual Rock 'n' Roll Revival Show in New York . He thought he was being booed for not playing his old hits and came away with the inspiration to write what would be his last Top Ten hit, "Garden Party", which would climb to number six in 1972. It was later revealed that the crowd was booing some trouble makers who had started a fight and were being escorted out of the building.
1972- Jackie Robinson threw out the ceremonial first pitch at the second game of the
World Series commemorating the twenty-fifth anniversary of his becoming the first African-American to play in modern Major League Baseball. (Blacks played with white baseball players after the Civil War, during reconstruction.)
http://memory.loc.gov/ammem/today/oct15.html
1973 - "Sweet dreams." Tom Snyder would use this phrase to close his late-night show, "Tomorrow", which debuted on NBC-TV this night. Tom would yuk it up with some of TV's most interesting chatter -- right after the "Tonight" show. NBC would later add critic Rona Barrett to the show. "Tomorrow" ran until January of 1982.
1974- Watergate trial begins. The eyes of the world were focused on the United States as the trial of H.R. Haldeman, John Erlichman, John Mitchell, Robert Mardian, and Kenneth Parkinson began. Nixon had resigned, and the Watergate co-conspirators had to answer to the court for their alleged involvement in the break-in and cover-up. The trial lasted until January 1, 1975. The defendants were sentenced in February 1975.
1976--Ike and Tina Turner split as a musical act.
1977- Debbie Boone's "You Light Up My Life," goes #1 and stays #1 for 10 weeks.
1979---Top Hits
Don't Stop 'Til You Get Enough - Michael Jackson
Rise - Herb Alpert
Sail On - Commodores
Last Cheater's Waltz - T.G. Sheppard
1982-Lionel Richie of the Commodores fuels rumors that he'll be leaving the group as his solo song, "Truly" is on the RandB chart at #28. The song does rise to the Top Ten on both the RandB singles and pop singles charts.
1986-Trailing 3-0, Ray Knight of the New York Mets keyed a three-run rally in the ninth inning to tie the score in the sixth game of the National League Championship Series against the Houston Astros. The Mets won the game, 7-6, in 16 innings, to win the longest postseason game ever and the series as well (4 hours and 42 minutes) in the sixteen innings at the Astrodome.
1986- After being down three games to one in the ALCS, the Red Sox pull off one the greatest comebacks in playoff history by defeating the California Angels 8-1 to win the American League pennant.
1986- Grateful Dead leader Jerry Garcia opens a sold-out two-week run of solo shows on Broadway.
1987—Top Hits
Here I Go Again - Whitesnake
Lost in Emotion - Lisa Lisa and Cult Jam
Carrie - Europe
The Way We Make a Broken Heart - Rosanne Cash
1987-The National Football League Players Association ordered its members to return to work without a contract, effectively ending a 24-day strike against the NFL. The players reported after the owners' deadline and were told they would not play or be paid for the upcoming Sunday's game.
1987 Unseasonably cold weather continued in the eastern U.S., with thirteen cities reporting record low temperatures for the date. The low of 34 degrees at Montgomery AL was their coldest reading of record for so early in the season. Lows of 32 degrees at Harrisburg PA and 34 degrees at Parkersburg WV marked their third straight morning of record cold.
1988 - "Red Red Wine", by UB40, was the first reggae hit to make it to number one in the U.S. From the album "Labour of Love", "Red Red Wine" was #1 for only one week, but turned out to be UB40's signature song.
1988-Kirk Gibson hit a two-run, pinch-hit home run with two out n the bottom of the ninth inning to give the Los Angeles Dodgers a 5-4 win over the Oakland A's in the first game of the world Series. Gibson, hampered by a strained left knee, hobbled around the bases pumping his arm in jubilation. The Dodgers won the Series, four games to one.
1989- Wayne Gretsky passes Gordie Howes as NHL's all time top scorer.
1989-- Hurricane Jerry made landfall on the upper Texas coast, the latest ever for a storm in this region. The center of this very small storm passed closest to Galveston, TX which reported sustained winds of 75 mph with gusts to 100 mph. Tides along the island were six to eight feet, and rainfall totals ranged up to slightly more than six inches north of Beaumont. Three persons were killed when their vehicle was blown off the Galveston seawall into the pounding surf. Total damage along the Upper Texas Coast was estimated at fifteen million dollars.
1991-After three days of Senate Judiciary Committee hearings on charges of sexual harassment made against Judge Clarence Thomas by a former aide, Anita F. Hill, the Senate confirmed Thomas as the 106th US Supreme Court Justice with a 52-48 vote. The vote was the closed for a 20th-century justice and made Thomas, who would replace retired Justice Thurgood Marshall, the second African American to sit on the Supreme Court.
1993—Top Hits
Dreamlover- Mariah Carey
Right Here (Human Nature)/Downtown- SWV
The River Of Dreams, Billy Joel
Whoomp! (There It Is)- Tag Team
1998-Top Hits
One Week- Barenaked Ladies
The First Night- Monica
I Don t Want To Miss A Thing- Aerosmith
How Deep Is Your Love- Dru Hill Featuring Redman
World Series Champions This Date
1917 Chicago White Sox
1923 New York Yankees
1925 Pittsburgh Pirates
1946 St. Louis Cardinals
1964 St. Louis Cardinals
1970 Baltimore Orioles
--------------------------------------------------------------

SuDoku
The object is to insert the numbers in the boxes to satisfy only one condition: each row, column and 3x3 box must contain the digits 1 through 9 exactly once. What could be simpler?
http://leasingnews.org/Soduku/soduko-main.htm
--------------------------------------------------------------

Daily Puzzle
How to play:
http://www.setgame.com/set/puzzle_frame.htm
Refresh for current date:
http://www.setgame.com/set/puzzle_frame.htm
--------------------------------------------------------------


http://www.gasbuddy.com/
http://www.gasbuddy.com/GB_Map_Gas_Prices.aspx
http://www.gasbuddy.com/GB_Mobile_Instructions.aspx
--------------------------------------------------------------

Weather
See USA map, click to specific area, no commercials
--------------------------------------------------------------

Traffic Live---
Real Time Traffic Information
You can save up to 20 different routes and check them out
with one click, or type in a new route to learn the traffic live.
--------------------------------