Wednesday, October 21, 2009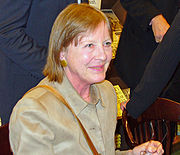 Journalist/Author Frances FitzGerald born October 21, 1940. She is best known for her book, "Fire in the Lake: The Vietnamese and the Americans in Vietnam" (1972), which was met with great acclaim when it was published and remains one of the most notable books about the Vietnam War. She was awarded both a Pulitzer Prize and the National Book Award for the book. She writes for the New Yorker, New York Times, and has written several other well-received books.
http://wapedia.mobi/en/Frances_FitzGerald_%28journalist%29
Headlines---
Archives-October 21, 2002
Trinity Capital sold to Bank of the West
Classified Ads---Syndicator
Fifth Third Bank joins Sheldon Player Fray
Sales make it Happen---by Ken Goodman, CLP
What Else Can You Do for Me?
Cartoon---Organic Food Store
Services for Ted Pritchard, CLP
Breast Cancer Awareness Month
Leasing Association Meetings Open to All
Columbia, South Carolina---"Adopt a Pet"
Unlicensed Stock Promoter Guilty Tax Charges
IBM Offers Deferred Pay, Zero % Financing
News Briefs----
ILFC gets a $2-billion lifeline
Worlds Largest Shipping Container Lease Co.
Zions Bancorp shares fall on 3Q report
Caterpillar looking to Asia for economic lift
Lawsuit details Madoff's bottom-bunk prison life
NY Times lays off another 100 journalists
Failed bank auction leaves out profits
Boeing shares drop on analyst's downgrade
SoCal man pleads guilty in Swiss bank case
Seafood guide combines human and ocean health
You May have Missed---
Sports Brief---
"Gimme that Wine"
Today's Top Event in History
This Day in American History
California Nuts Brief---
Baseball Poem
SuDoku
Daily Puzzle
GasBuddy
Weather, USA or specific area
Traffic Live----
######## surrounding the article denotes it is a "press release"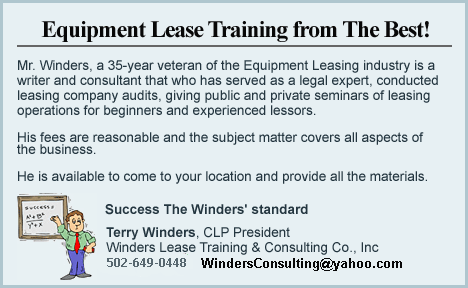 (This ad is a "trade" for the writing of this column. Opinions
contained in the column are those of Mr. Terry Winders, CLP)
--------------------------------------------------------------

--------------------------------------------------------------

--------------------------------------------------------------

--------------------------------------------------------------

--------------------------------------------------------------

--------------------------------------------------------------

--------------------------------------------------------------

--------------------------------------------------------------

--------------------------------------------------------------

--------------------------------------------------------------

--------------------------------------------------------------

--------------------------------------------------------------

--------------------------------------------------------------

-------------------------------------------------------------

News Briefs----
---------------------------------------------------------------

You May have Missed---
----------------------------------------------------------------

Sports Briefs----
----------------------------------------------------------------


California Nuts Briefs---
----------------------------------------------------------------


"Gimme that Wine"
Wine Prices by vintage
http://www.winezap.com
US/International Wine Events
http://www.localwineevents.com/
http://www.wine-searcher.com/
Winery Atlas
http://www.carterhouse.com/atlas/
Leasing News Wine & Spirits Page
http://two.leasingnews.org/Recommendations/wnensprts.htm
The London International Vintners Exchange (Liv-ex) is an electronic exchange for fine wine.
http://www.liv-ex.com/
----------------------------------------------------------------

Today's Top Event in History
[headlines]
----------------------------------------------------------------

This Day in American History

1520- Magellan entered the strait which bears his name.
http://www.mariner.org/age/ma http://www.skittler.demon.co.uk/magellan.htm gellan.html
1692- William Penn was deposed as Governor of Pennsylvania. His overtures of gratefulness to James II for permitting religious freedom for dissenters of the Church of England led William and Mary to charge Penn with being a papist: A Roman catholic; one who adheres to the Church of Rome and the authority of the pope; -- an offensive designation applied to Roman Catholics by their opponents. He was not.
http://xroads.virginia.edu/~CAP/PENN/pnintro.html .
1751- The first Baptist association in the American South was organized at Charleston, SC. It was formed under the initiative of Oliver Hart, who had left the Philadelphia area to become pastor of the Charleston Baptist Church in 1749.
1805 -- Battle of Trafalgar, where Nelson defeats Spain and France, establishes British naval supremacy for the next centuries, including trying to re-take its colonies now united in North America.
http://www.nelsonsnavy.co.uk/battle-of-trafalgar.html
1808- Birth of American Baptist clergyman Samuel Francis Smith. Credited with writing over 100 hymns, Smith is best remembered as the author of "America" ("My Country, 'Tis of Thee"), written at age 23, while a student at Andover Seminary.
1837 - Under a flag of truce during peace talks, U.S. troops sieged the Indian Seminole Chief Osceola in Florida. Osceola, who was sick with malaria, knew the Indians could fight no more. He went to the General's fort at St. Augustine with a white flag. When Osceola went to General Jesup the General had his men surround Osceola. They threw the white flag to the ground and put chains on his hands and feet. The Seminoles were so angry with Osceola's capture that they continued to fight for the next five years.
1845-Birthday of Will Carleton, American poet, born Michigan. Michigan schools will honor his anniversary (by 1919 statue) bye reading his poems on this day. Best known of his poems: "Over the Hill to the Poorhouse." Carleton died 1912.
1861-Union troops suffer a devastating defeat in the second major engagement of the war. The Battle of Ball's Bluff produced the war's first martyr and led to the creation of a Congressional committee to monitor the conduct of the war. General Charles Stone to watch the nearby town of Leesburg, Virginia, while McCall's men were moving. Stone sent a detachment across the river on the night of October 20, and the inexperienced soldiers reported seeing a Rebel camp that turned out to be shadows. Stone decided to move more men over until a force of 1,600, under the command of Colonel Edward Baker, was poised for an attack the next morning. Baker was a close friend of President Lincoln, and Lincoln had named his second son after him. Baker placed his men in a dangerous position. They were in a clearing with their backs to the edge of Ball's Bluff, a 100-foot high cliff above the Potomac. They faced a wooded ridge that was rapidly filling with Southerners. The Confederates launched an attack at 3 p.m., and Baker's command was in trouble. Baker was killed, and many of his men jumped from the bluff to their deaths or scrambled down a narrow trail only to find their boats swamped in the river. Less than half made it back to the other side of the Potomac. The Union suffered 49 killed, 158 wounded, and 714 missing and captured, while the Confederates suffered 33 killed, 115 wounded, and one missing. Lincoln was stunned by the loss of his friend Baker, who became a Northern martyr despite his ineptitude in conducting the battle. The political fallout was swift. Angry Republicans were highly suspicious of McClellan, a Democrat, and other generals. The Joint Committee on the Conduct of the War was formed in December. This group was stacked with Radical Republicans who favored tougher treatment of the South and slaveholders. The committee's first investigation was the disaster at Ball's Bluff, and General Stone became the scapegoat. He was arrested for treason soon after and was jailed for six months.
1864-Battle of Westport, MO (Kansas City) A major union victory as after the loss of this battle, the rebels were in retreat in this area until the end of the Civil War. It is called the "last great rebel raid" and a popular song to the tune of "The Yellow Rose of Texas" was often sun at Confederate camps.
http://www2.cr.nps.gov/abpp/battles/mo027.htm
http://bartonpara.com/civilwar/jw/rebraid.htm
1865-George William Gordon, Jamaican national hero, is unfairly arrested and sentenced to death.
http://www.moec.gov.jm/heroes/george.htm
http://www.jnht.com/jamaica/gordon.html
http://www.famousamericans.net/georgewilliamgordon
1868- Severe earthquake at 7:53 AM, centered in Hayward, Calif. Magnitude was 7.
http://www.seismo.berkeley.edu/seismo/faq/1868_0.html
1879-Thomas A. Edison demonstrated the first incandescent lamp that could be used economically for domestic purposes. the prototype, developed at his Menlo Park, NJ, laboratory, could burn for 13 ½ hours.
1891-Birthdy of Ted Shawn, born Kansas City, MO. Partially paralyzed by diphtheria, Shawn was introduced to ballet for the therapeutic purposes and became a professional dancer by the age of 21. The Denishawn School of Dancing was established with the help of his wife, Ruth St. Denis, and became the epicenter of much innovation in 20t-century dance and choreography. Among his many achievements is Jacob's Pillow Dance Festival, which he inaugurated and directed for the remainder of his years, and such modern ballets as "Invocation to the Thunderbird," "Osage-Pawnee," "Labor Symphony" and " John Brown. " He died January 8,1972. 1892- Birth of James L Kelso, American Presbyterian archaeologist. He participated in digs at the biblical sites of Debir, Bethel and Jericho, and authored the text "Ceramic Vocabulary of the O.T."
http://members.tripod.com/~hardbop/byas.html
1912-Tenor Saxophone player Don Byas born, Muskogee, OK. Died August 24, 1972.
http://www.oklahomajazz.com/byas.htm
1912-Birthday of Comedian Minnie Pearl, destined to become a longtime fixture of Nashville's Grand Ole Opry Pearl was famous for her comic monologues about hillbilly life and was featured on the long-running syndicated show Hee Haw from 1970 to 1990. Pearl died in 1996.
http://www.cnn.com/SHOWBIZ/misc/9603/pearl_obit/index.html
http://www.150.si.edu/150trav/remember/r1117.htm
1916-Birthday of Floyd Clifford "Bill" Bevens, baseball player born at Hubbard, OR. Bevens nearly pitched the first no-hitter in World Series history, pitching for the New York Yankees against the Brooklyn Dodgers. In Game 4 of the1947 Series, he carried his no-hitter into the ninth inning. With two out and two on, Cookie Lavagetto doubled home both runners, spoiling the no-hitter and winning the game, 3-2.Died at Salem, Or. Oct. 26,1991
1917—Birthday of John Birks " Dizzy" Gillespie, trumpet player, composer, bandleader, presidential candidate ( I voted for him as "start of stage, screen, and outer space" Mad Magazine)---one of the founding fathers of modern jazz, born at Cheraw, SC. In the early 1940s, Gillespie and alto saxophonist Charlie (Yardbird) Parker created be-bop. In the late 40s, he created a second music revolution by incorporating Afro-Cuban music into jazz. In 1953 someone fell on Gillespie's trumpet and bent it. Finding he could hear the sound better, he kept it that way; his puffed cheeks and bent trumpet became his trademarks. He won a Grammy in 1975 for "Oscar Peterson and Dizzy Gillespie" and again in 1991 for "Live at the Royal Festival Hall." He died January 6, 1993, Englewood, NJ.
1928-Birthday of Edward Charles "Whitey" Ford, Baseball Hall of Fame pitcher, born New York, NY.
http://www.duke.edu/~jrw5/
http://www.cosmopolis.ch/english/cosmo2/dizzy.htm
http://www.downbeat.com/artists/window.asp?aid=161&aname=Dizzy+Gillespie
http://www.geocities.com/BourbonStreet/8446/
http://www.harlem.org/people/gillespie.html
1932-Birthday of poet Michael McClure born in Marysville, Kansas. "When a man does not admit that he is an animal, he is less than an animal. Not more but less."
1934 - A severe windstorm lashed the northern Pacific coast. In Washington State, the storm claimed the lives of 22 persons, and caused 1.7 million dollars damage, mostly to timber. Winds, gusting to 87 mph at North Head WA, produced waves twenty feet high.
1937-Birthday of Norman Wright, lead singer with the Del Vikings, born Philadelphia, PA
http://www.destinationdoowop.com/delvikings.htm
1938-Jan Savitt records "Quaker City Jazz.
1940-Birthday of Jimmy Beaumont, lead singer with the Skyliners, born Pittsburgh, PA."
http://www.vocalhalloffame.com/skyliners.htm
http://www.theskyliners.com/
http://www.amazon.com/exec/obidos/ASIN/B00000EP1O/ref=ase_avsearch-musicasin-20/
103-0570268-6906239#product-details
1941-Benny Goodman, the "King of Swing," cuts " Clarinet Ala King."
1942-Birthday of guitarist Elvin Bishop, Glendale, CA.
1943-Birthday of Brian Piccolo, born Pittsfield, MA. He played running back at Wake Forest and with the Chicago Bears. His interracial friendship with Gale Sayers earned him a certain fame, but at age 26 he was stricken with embryonal cell carcinoma, a virulent form of cancer that took his life seven months later. Died at New York, NY. June 16, 1970. His life became the subject of a book, Brian Piccolo: A Short Season, and a made-for television movie, "Brian's Song."
1944 - Organized Japanese resistance on Angaur, Palau Islands ends. A total of 1300 Japanese are killed and 45 are captured. American forces have suffered 265 dead and 1335 wounded. US heavy bombers are operating from the airfield. The Japanese garrisons on the remaining islands in the group are left isolated.
1944--MOON, HAROLD H., JR. Medal of Honor Rank and organization: Private, U.S. Army, Company G, 34th Infantry, 24th Infantry Division. Place and date: Pawig, Leyte, Philippine Islands, 21 October 1944. Entered service at: Gardena, Calif. Birth: Albuquerque, N. Mex. G.O. No.: 104, 15 November 1945. Citation: He fought with conspicuous gallantry and intrepidity when powerful Japanese counterblows were being struck in a desperate effort to annihilate a newly won beachhead. In a forward position, armed with a submachinegun, he met the brunt of a strong, well-supported night attack which quickly enveloped his platoon's flanks. Many men in nearby positions were killed or injured, and Pvt. Moon was wounded as his foxhole became the immediate object of a concentration of mortar and machinegun fire. Nevertheless, he maintained his stand, poured deadly fire into the enemy, daringly exposed himself to hostile fire time after time to exhort and inspire what American troops were left in the immediate area. A Japanese officer, covered by machinegun fire and hidden by an embankment, attempted to knock out his position with grenades, but Pvt. Moon, after protracted and skillful maneuvering, killed him. When the enemy advanced a light machinegun to within 20 yards of the shattered perimeter and fired with telling effects on the remnants of the platoon, he stood up to locate the gun and remained exposed while calling back range corrections to friendly mortars which knocked out the weapon. A little later he killed 2 Japanese as they charged an aid man. By dawn his position, the focal point of the attack for more than 4 hours, was virtually surrounded. In a fanatical effort to reduce it and kill its defender, an entire platoon charged with fixed bayonets. Firing from a sitting position, Pvt. Moon calmly emptied his magazine into the advancing horde, killing 18 and repulsing the attack. In a final display of bravery, he stood up to throw a grenade at a machinegun which had opened fire on the right flank. He was hit and instantly killed, falling in the position from which he had not been driven by the fiercest enemy action. Nearly 200 dead Japanese were found within 100 yards of his foxhole. The continued tenacity, combat sagacity, and magnificent heroism with which Pvt. Moon fought on against overwhelming odds contributed in a large measure to breaking up a powerful enemy threat and did much to insure our initial successes during a most important operation.
1945—Top Hits
I'll Buy That Dream - The Pied Pipers
Till the End of Time - Perry Como
On the Atchison, Topeka and Santa Fe - Johnny Mercer
You Two Timed Me One Time Too Often - Tex Ritter
1948-Birthday of William Ellis "Bill" Russell, former baseball manager and player, born Pittsburgh, KS.
1950-WILSON, RICHARD G. Medal of Honor Rank and organization: Private First Class, U.S. Army, Co. 1, Medical Company, 187th Airborne Infantry Regiment. Place and date: Opari, Korea, 21 October 1950. Entered service at: Cape Girardeau Mo. Born: 19 August 1931, Marion, Ill. G.O. No.: 64, 2 August 1951. Citation: Pfc. Wilson distinguished himself by conspicuous gallantry and intrepidity above and beyond the call of duty in action. As medical aid man attached to Company I, he accompanied the unit during a reconnaissance in force through the hilly country near Opari. The main body of the company was passing through a narrow valley flanked on 3 sides by high hills when the enemy laid down a barrage of mortar, automatic-weapons and small-arms fire. The company suffered a large number of casualties from the intense hostile fire while fighting its way out of the ambush. Pfc. Wilson proceeded at once to move among the wounded and administered aid to them oblivious of the danger to himself, constantly exposing himself to hostile fire. The company commander ordered a withdrawal as the enemy threatened to encircle and isolate the company. As his unit withdrew Private Wilson assisted wounded men to safety and assured himself that none were left behind. After the company had pulled back he learned that a comrade previously thought dead had been seen to be moving and attempting to crawl to safety. Despite the protests of his comrades, unarmed and facing a merciless enemy, Pfc. Wilson returned to the dangerous position in search of his comrade. Two days later a patrol found him lying beside the man he returned to aid. He had been shot several times while trying to shield and administer aid to the wounded man. Pfc. Wilson's superb personal bravery, consummate courage and willing self-sacrifice for his comrades reflect untold glory upon himself and uphold the esteemed traditions of the military service.
1950-Earl Lloyd, first NBA Black Assistant Coach and the first Black chief scout, becomes the first Black person to play in an NBA game ( beating out Charles cooper and Nat Clifton by a day.)
1950-"The Stu Erwin Show." This often-imitated sitcom was one of the first of its kind and immensely popular. Stu Erwin starred as himself, a bumbling high school principal; June Collyer ( his real-life wife) as his level-headed wife, June; Ann Todd and Merry Anders as their daughter, Joyce; Shelia James Kuehl as younger daughter, Jackie; Martin Milner as Joyce's boyfriend and alter husband, Jimmy Clark; and Willie Best as Willie, the handyman. The show was also called, " Life with the Erwin's," "the New Stu Erwin Show," and "The Trouble with Father."
1953—Top Hits
Vaya Con Dios - Les Paul & Mary Ford
You, You, You - The Ames Brothers
Crying in the Chapel - June Valli
I Forgot More Than You'll Ever Know - The Davis Sisters
1954 - - Ian Fleming's aristocratic spy, James Bond, made his film debut when first portrayed by actor Barry Nelson in an episode of the television series Climax, titled "Casino Royale" in 1954. Peter Sellers and David Niven play in the 1967 movie.
http://www.all-reviews.com/videos-2/casino-royale.htm
1956-Quarterback and place-kicker George Blanda of the Chicago Bears missed his first extra-point attempt after a record-setting 156 in a row. His kick sailed off to the left, but it hardly mattered as the Bears defeated the Baltimore Colts, 58=27.
1957-"Jailhouse Rock" becomes Elvis Presley's ninth Billboard chart topper in the last year and a half.
1957 - The Elvis Presley movie, "Jailhouse Rock", opened in U.S. theatres. The flick also starred Judy Tyler, Mickey Shaughnessy, Vaughn Taylor, Jennifer Holden, Dean Jones and Anne Neyland. Elvis Presley fans consider it to be his favorite. It was not Elvis's favorite, as he wanted to do "serious acting," rather than just appear in "costumes and sing," he said often.
1958 - Orchestral strings were used for the first time in a rock and roll tune. Buddy Holly recorded "It Doesn't Matter Anymore", written by Paul Anka. Sadly, it would be Holly's last studio session. The song wasn't released until after his death in February of 1959.
1959 - Dr. Werner Von Braun started work at NASA. By the late 1960s his rockets were taking men to the moon. At age 25 he had masterminded the V-2 rocket for Nazi Germany.
1959— The Solomon R. Guggenheim Museum of modern and contemporary art opened in New York City.
(lower half of: http://memory.loc.gov/ammem/today/oct21.html )
1960 - The fourth -- and last -- debate preceding the presidential election between U.S. Senator John F. Kennedy and U.S. Vice President Richard M. Nixon was televised from New York City. Kennedy would go on to win with an electoral vote of 303; Nixon 219, and Sen. Harry F. Byrd, 15. Kennedy won 94.7% and Nixon 49.6% of the popular vote, making the election one of the closest in U.S. history at the time. In congressional elections, the Democrats took a 65-35 majority in the Senate. In the House, they lost 20 seats but kept a majority of 263-174.
http://memory.loc.gov/ammem/today/oct21.html
1960-The Accutron, the world's first electronic watch, went on sale. The watch, produced by Bulova Watch Company in Jackson Heights, New York, used transistorized electronic circuits and a miniature power cell, instead of a spring and gears, to move the watch's hands.
1961—Top Hits
Hit the Road Jack - Ray Charles
Runaround Sue - Dion
Bristol Stomp - The Dovells
Walk on By - Leroy Van Dyke.
1961 -- Bob Dylan records his first album, "Bob Dylan," for Columbia Records. The albums presents the 20-year old singer accompanied by his guitar & harmonica. The recording is done in a day & productions costs run $400. Filling out his income-tax form, Dylan gives his name as Blind Boy Grunt.
http://www.rockmine.music.co.uk/BobBooks.html
1963-Michigan Bell Telephone, Detroit, MI, at Jackson, MI, placed into service the4 first "trimline telephone." The dial was mounted in the receiver midway between the mouth and the ear pierces, eliminating the need to reach for the base when dialing. It introduced the telephone to its entire territory on learning its popularly on August 2, 1965, at a monthly charge of $1.00.
1964- The Rolling Stones appear on Ed Sullivan's TV variety show. It was the first time American audiences had seen the Stones. Founding Stones Mick Jagger and Keith Richards met during grade school and ran into each other when Jagger was studying at the London School of Economics and Richards was at art school. They formed the Rolling Stones in 1962 and were soon playing a steady series of nightclubs and bars in London. They released their first single in Britain in 1963. Before long, the Stones became known as the anti-Beatles: They were long-haired, grungy, and wild, while the Beatles seemed wholesome and safe. A string of drug-related arrests plagued various band members--Brian Jones' drug problems probably led to his death in 1969, and Keith Richards struggled with heroin addiction before getting clean in 1977. They are on another tour. I can personally testify they are still quite the performers. "I Can't Get No Satisfaction" has been voted by Billboard magazine as still the most popular rock and roll song.
1966 -- Grateful Dead, Lightnin' Hopkins & Loading Zone at the Fillmore, with dancing & strobe light show, San Francisco
1969—Top Hits
I Can't Get Next to You - The Temptations
Hot Fun in the Summertime - Sly & The Family Stone
Suspicious Minds - Elvis Presley
Since I Met You, Baby - Sonny James
1967-Over 250 protestors were arrested when thousands of the 50,000 participants in a rally against the Vietnam War at Washington, DC, crossed the Potomac River and stormed the Pentagon. No shots were fired, but many demonstrators were struck with nightsticks and rifle butts.
1972-John H. Conyers becomes the first African-American to enter the US Naval Academy.
1972 - Chuck Berry's "My Ding-a-Ling" hit #1 in the U.S. It was number one for two weeks.
1973-Fred Dryer, defensive end for the Los Angeles Rams, became the first player in NFL history to score two safeties in the same game in the Rams' 24-7 victory over the green Bay Packers.
1975-Catcher Calrton Fisk of the Boston Red Sox hit a home run in the 12 th inning to defeat the Cincinnati Reds, 7-6, in the sixth game of the world Series. Fisk's dramatic homer forced a seventh game in the what is generally considered one of the best World Series ever.
1976 - The Cincinnati Reds beat the New York Yankees in the World Series four games to zip. In game four, played this day, with Johnny Bench slugging two home runs for five RBIs, the Reds rang up a 7-2 victory. It was the Red's second straight World Series championship.
1977---Top Hits
You Light Up My Life - Debby Boone
Nobody Does It Better - Carly Simon
That's Rock 'n' Roll - Shaun Cassidy
Heaven's Just a Sin Away - The Kendalls
1980 – After failing short in 1915 and 1951, The Phillies won their first World Series title. Mike Schmidt knocked in two runs and Tug McGraw stopped Kansas City's hitters, 4-1, in Philadelphia. The Phils won the Series, 4 games to 2.
1983 - The United States sent a ten-ship task force to Grenada, one of the smallest independent nations in the Western Hemisphere and one of the southernmost Caribbean islands in the Windward chain. The Cuban government had decided to utilize the former British colony as a holding place for arms and military equipment, complete with a major airport. Eastern Caribbean nations fully understood the implication of the communist threat and called upon the United States for help. The response was Operation Urgent Fury, a multinational, multiservice effort. Commanding officers of the US Navy ships have not yet been told what the mission in Grenada--to evacuate U.S. citizens, neutralize any resistance, stabilize the situation and maintain the peace-will be.
1985 - William 'The Refrigerator' Perry of the Chicago Bears led his team to a 23-7 win over the Green Bay Packers. Perry, weighing in at 325 pounds (more than some Frigidaires), became a folk hero as he cut a path for Walter Payton's two TDs. He then plodded over the goal line himself for another score.
1985-A television special called The Carl Perkins and Friends Show, marked the 30th anniversary of the song "Blue Suede Shoes". The event featured Carl Perkins, the song's writer, along with Dave Edmunds, Eric Clapton, George Harrison and Ringo Starr.
1985—Top Hits
Take on Me - a-ha
Saving All My Love for You - Whitney Houston
Part-Time Lover - Stevie Wonder
You Make Me Want to Make You Mine - Juice Newton
1988 - Joan, the last hurricane of the season, neared the coast of Nicaragua packing 125 mph winds. Joan claimed more than 200 lives as she moved over Central America, and total damage approached 1.5 billion dollars. Crossing more than 40 degrees of longitude, Hurricane Joan never strayed even one degree from the 12 degree north parallel.
1989 -First black owners (Betram Lee and Peter Bynoe) to own a major sports team, purchasing Denver Nuggets for $65 million.
http://www.piperrudnick.com/lawyers/AttorneyBio.asp?id=20881
http://www.geocities.com/~arthurh/Denver-Nuggets.html
http://www.nba.com/nuggets/
1989 - Unseasonably cold weather continued to grip the south central and southeastern U.S. Twenty cities reported record low temperatures for the date, including Calico AR with a reading of 26 degrees, and Daytona Beach FL with a low of 41 degrees. Squalls in the Great Lakes Region finally came to an end, but not before leaving Marquette MI buried under 12.7 inches of snow, a record 24 hour total for October.
1989 - Unseasonably cold weather continued to grip the south central and southeastern U.S. Twenty cities reported record low temperatures for the date, including Calico AR with a reading of 26 degrees, and Daytona Beach FL with a low of 41 degrees. Squalls in the Great Lakes Region finally came to an end, but not before leaving Marquette MI buried under 12.7 inches of snow, a record 24 hour total for October.
1995 - Mariah Carey's "Daydream" was the number one album in the U.S. The album featured the smash hits "Fantasy" and "One Sweet Day" (both debuted on the singles chart at #1).
1997-The Guinness Book Of Records announced that Elton John's "Candle In The Wind" (Princess Diana version) was now the biggest selling single record of all time, with 31.8 million sales in the first 40 days after its release.
1997 - Elton John's tribute to Princess Diana, "Candle in the Wind 1997", was declared by "The Guinness Book of Records" to be the biggest-selling single record of all time. In 37 days, the single reached 31.8 million copies sold, eclipsing the previous record held by Bing Crosby's "White Christmas". The Crosby song sold an estimated 30 million copies worldwide -- in 55 years.
1998 - Patch Adams, starring Robin Williams, opened in the United States. The film was based on the '70s true story of a man who wanted desperately to be a doctor and help people, but spurned the melancholy protocol of medical school in favor of clowning and making a personal connection with patients. Williams and the film were both nominated for Golden Globes.
1998 - The invincible New York Yankees won their 24th World Series. They beat the San Diego Padres 3-0 this day to take the Series 4-0. It was New York's second title in three years and its first sweep since 1950. Scott Brosius was MVP after finishing with a .471 batting average, eight hits, two home runs and six runs batted in. Mariano Rivera and Jeff Nelson both pitched in three Yankee games and both finished with a 0.00 ERA.
2000- In the longest World Series game ever played, the Yankees take Game 1 of the Subway Series, thanks to Jose Vizcaino's 12th inning two-out single, defeating the Mets, 4-3 in four hours and fifty-one minutes. The victory surpasses the streak established by the Murderers' Row clubs as the present Bronx Bombers win their 13th consecutive World Series game.
2002- Florida team president David Samson, in an effort to get fans "falling back in love with the Marlins,'' announces plans which includes free hot dogs and a cozier atmosphere at Pro Player Stadium. The average crowd of 10,038 per home game, more than a third less than the previous season, was next-to-last in the major leagues in attendance this year.

World Series Champions This Date

1973 Oakland Athletics
1976 Cincinnati Reds
1980 Philadelphia Phillies

2006-After hosting Super Bowl XL at Ford Field in February, Detroit becomes just the second city to host both a Super Bowl and a World Series in the same calendar year. San Diego was the site of the NFL Championship game and Fall Classic in 1998.


--------------------------------------------------------------


Baseball Poem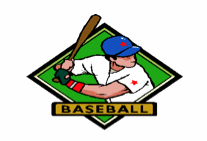 Lawrence Ferlinghetti, "Baseball Canto"
Watching baseball, sitting in the sun, eating popcorn,
reading Ezra Pound,
and wishing that Juan Marichal would hit a hole right through the
Anglo-Saxon tradition in the first Canto
and demolish the barbarian invaders.
When the San Francisco Giants take the field
and everybody stands up for the National Anthem,
with some Irish tenor's voice piped over the loudspeakers,
with all the players struck dead in their places
and the white umpires like Irish cops in their black suits and little
black caps pressed over their hearts,
Standing straight and still like at some funeral of a blarney bartender,
and all facing east,
as if expecting some Great White Hope or the Founding Fathers to
appear on the horizon like 1066 or 1776.
But Willie Mays appears instead,
in the bottom of the first,
and a roar goes up as he clouts the first one into the sun and takes
off, like a foot runner from Thebes.
The ball is lost in the sun and maidens wail after him
as he keeps running through the Anglo-Saxon epic.
And Tito Fuentes comes up looking like a bullfighter
in his tight pants and small pointy shoes.
And the right field bleachers go mad with Chicanos and blacks
and Brooklyn beer-drinkers,
"Tito! Sock it to him, sweet Tito!"
And sweet Tito puts his foot in the bucket
and smacks one that don't come back at all,
and flees around the bases
like he's escaping from the United Fruit Company.
As the gringo dollar beats out the pound.
And sweet Tito beats it out like he's beating out usury,
not to mention fascism and anti-Semitism.
And Juan Marichal comes up,
and the Chicano bleachers go loco again,
as Juan belts the first ball out of sight,
and rounds first and keeps going
and rounds second and rounds third,
and keeps going and hits pay dirt
to the roars of the grungy populace.
As some nut presses the backstage panic button
for the tape-recorded National Anthem again,
to save the situation.
But it don't stop nobody this time,
in their revolution round the loaded white bases,
in this last of the great Anglo-Saxon epics,
in the territorio libre of Baseball.
--------------------------------------------------------------

SuDoku
The object is to insert the numbers in the boxes to satisfy only one condition: each row, column and 3x3 box must contain the digits 1 through 9 exactly once. What could be simpler?
http://leasingnews.org/Soduku/soduko-main.htm
--------------------------------------------------------------

Daily Puzzle
How to play:
http://www.setgame.com/set/puzzle_frame.htm
Refresh for current date:
http://www.setgame.com/set/puzzle_frame.htm
--------------------------------------------------------------


http://www.gasbuddy.com/
http://www.gasbuddy.com/GB_Map_Gas_Prices.aspx
http://www.gasbuddy.com/GB_Mobile_Instructions.aspx
--------------------------------------------------------------

Weather
See USA map, click to specific area, no commercials
--------------------------------------------------------------

Traffic Live---
Real Time Traffic Information
You can save up to 20 different routes and check them out with one click,
or type in a new route to learn the traffic live
--------------------------------