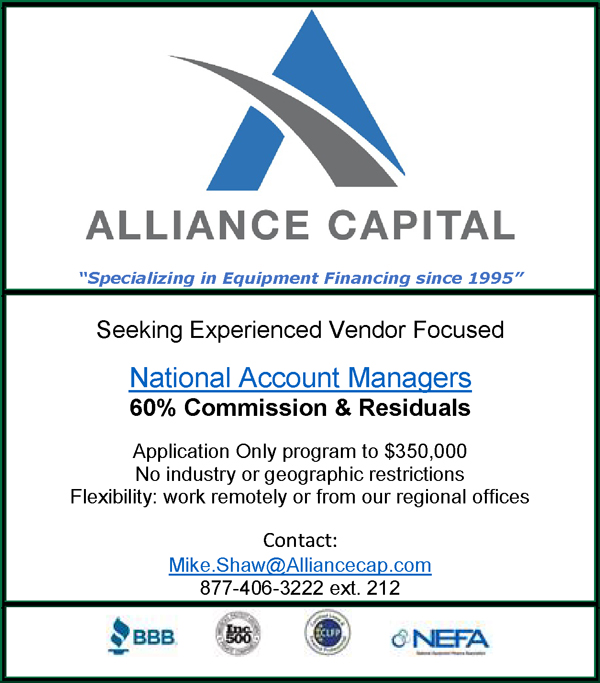 Friday, September 13, 2019


Today's Leasing News Headlines
Lessors.com Offline
Last Post April 10
Meridian Credit Union Appoints Hugh Swandel President
for Meridian OneCap Credit Corporation
New Hires/Promotions in the Leasing Business
and Related Industries
Leasing Industry Ads---Help Wanted
Credit Analyst with Franchise Experience
$10,000 Signing Bonus/Excellent Sales Position Open
Two Originators -- Which Do You Want to Be?
Sales Makes it Happen by Scott Wheeler, CLFP
Close the Sale This Year with Section 179
increased to $1,000,000 for 2019
The Universities Churning Out Millionaires - Chart
Est. UHNW Alumni Population and Collective Wealth
Types of Fraud
By Bernie Boettigheimer, CLFP
Balboa Capital Reports Continued Accelerated Growth,
Adds 125 New Employees in First Half of 2019
Blinded by the Light/Ready or Not
Booksmart/Charlies Says/Fists in the Pocket
Film/Digital Reviews by Leasing News' Fernando Croce
Bullmastiff
Toronto, Ontario, Canada Adopt-a-Dog
61 Top Exhibitors AACFB Commercial Financing Expo
September 19-20, Gaylord Palms Resort, Orlando, FL
Not too Late to Attend
News Briefs---
The true story behind the 9/11 Budweiser commercial
that only aired one time
GE Plans $5 Billion Debt Buyback to Help Tame Balance Sheet
"seeks to cut its debt load as part of its turnaround"
Peer-To-Peer Truck Sharing Platform COOP Expands To Orlando
"to connect truck owners with unused vehicles"
Exclusive: Ahead of trade talks, China makes biggest
U.S. soybean purchases since June - traders
Amazon Has 30,000 Open Jobs
Yes, You Read That Right
California's Contractor Law Stirs Confusion
Beyond the Gig Economy

Broker/Funder/Industry Lists | Features (wrilter's columns)
Top Ten Stories Chosen by Readers | Top Stories last six months
www.leasingcomplaints.com (Be Careful of Doing Business)
www.evergreenleasingnews.org
Leasing News Icon for Android Mobile Device

You May have Missed---
Poem
Sports Brief----
California Nuts Brief---
"Gimme that Wine"
This Day in History
SuDoku
Daily Puzzle
GasBuddy
Weather, USA or specific area
Traffic Live----
######## surrounding the article denotes it is a "press release," it was not written by Leasing News nor has the information been verified. The source noted. When an article is signed by the writer, it is considered a "byline." It reflects the opinion and research of the writer.


Please send a colleague and ask them to subscribe. We are free
Email kitmenkin@leasingnews.org and in subject line: subscribe

[headlines]
--------------------------------------------------------------
Lessors.com Offline
Last Post April 10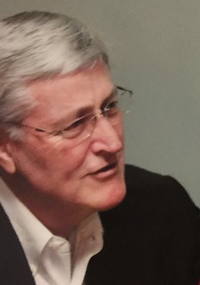 John O. Semon
Founder
Leasing News reported since April 10, 2109 no new stories have been posted on "The Lessors Network." There are two April 10th press releases and the rest April 9th. Each day Leasing News has been checking to see if the site was active or updating. It has been running the same news until September 12, 2019, when the site was taken offline.
Leasing News learned founder John O. Semon was ill. The family asked a spokesperson to ask Leasing News not to write any more on this subject. This was honored until the website was obviously taken down.
According to Semon's biography online, "The website was formed in 1998 when its founder John O. Semon was also active in syndication and education conferences. His biography states he...began his career in the equipment lease finance markets in 1968 working for Litton Industries Credit Corporation, AVCO Financial Services, ITEL Capital Corp. and Chase Manhattan Bank N.A.
"Prior to launching "The Lessors Network," Mr. Semon served as a member of the Chase Manhattan Bank, N.A., Asset, and Liability & Management Committee and was responsible for Chase Manhattan Leasing Company's "Government Finance Unit" where he built and managed the first bank-owned private placement syndication program for tax-exempt leases.
"In 1989, Mr. Semon founded Semon Associates, Inc., providing professional consulting and tax-exempt portfolio syndication services exclusively to the public finance markets.
"In 1998, Mr. Semon founded the Lessors Network, recognizing the need and opportunity for an Internet platform to showcase and link equipment lease finance resources.
"For a decade the Lessors Network produced upscale, professionally intimate showcase events at the Ritz-Carlton hotel in Atlanta for an exclusive audience of equipment finance executives. With the crash of 2008, the Lessors Network discontinued hosting events and refocused all resources on Internet based platforms resulting in the largest equipment lease finance community on the Web.
"Mr. Semon's past services as president and chairman of The Association for Governmental Leasing & Finance, a member of the Equipment Leasing Association's "Municipal Forum," co-founder and chairman of the Jurassic Lessors Association and, as an industry spokesperson for the United States Congress, has provided additional critical experience and national acceptance as a speaker, author and industry advocate."
[headlines]
--------------------------------------------------------------
Meridian Credit Union Appoints Hugh Swandel President
for Meridian OneCap Credit Corporation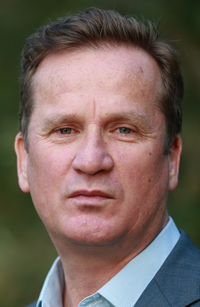 Toronto ––Meridian, Ontario's largest credit union and third largest in Canada, is pleased to announce the appointment of Hugh Swandel as President of Meridian OneCap Credit Corporation. He formerly representing Canada for The Alta Group. Hugh has reported on many events and conferences for Leasing News and is an active participant on the Leasing News Advisory Board.
Among his distinctions, he is Past President, National Equipment Finance Committee. He also serves on the boards of directors of the Canadian Finance and Leasing Association (CFLA), is Chairman of the CFLA research committee. He also is a member of the Equipment Leasing and Finance Association of America (ELFA).
In 2006, 2010 and in 2018, Hugh received the Canadian leasing industry's highest honor when he was named "CFLA Member of the Year." He is the only person in the Canadian industry to receive the award on three separate occasions.
He also is one of the very few to know Bruce Kropschot's picture is in the Baseball Hall of Fame, along with a bat with his name on it. Editor. (1)

OneCap, a fully owned subsidiary of Meridian, provides customized equipment financing solutions both through vendors and brokers across the country. As a leading supplier of customized commercial equipment leasing solutions, Meridian OneCap has one of Canada's most successful direct sales teams.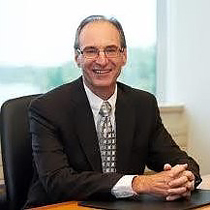 Bill Maurin, President and CEO of Meridian, said, "After an extensive national search, we are very pleased to welcome Hugh. OneCap has established a strong market presence across the country and is known and respected for its personalized service and customized solutions.
"We see significant potential for further growth in the Canadian equipment finance space and we are delighted to have Hugh on board to seize upon that opportunity. Hugh has 29 years of extensive experience across the North American equipment finance and leasing industry and will bring significant value to our organization."

Hugh has contributed to the success of many top industry firms across Canada and the United States. Hugh's work experience has included optimizing business models, organic growth strategies, numerous M&A transactions and operational efficiency. His industry experience has also included contributions to the Canadian Finance and Leasing Association as a long serving board member.

Hugh Swandel commented, "I'm looking forward to joining the team and working with both colleagues and business partners. OneCap's potential for more growth, coupled with its outstanding reputation as a Canadian leader in this sector are just two of the motivating factors that drew me to this opportunity."

Swandel takes the role of President of OneCap Credit Corporation on September 23 and will be based out of Burnaby, B.C.

Acquired by Meridian in April 2016, OneCap currently has 125 employees with assets of $1.37 billion (at March 31, 2019).

###

About Meridian:
With more than 75 years of banking history, Meridian is Ontario's largest credit union and the third largest in Canada, helping to grow the lives of its 350,000 Members. Meridian has $22 billion in assets under management and delivers a full range of financial services online, by phone, by mobile and through a network of 91 branches across Ontario, and business banking services in 13 locations. Meridian Members also have access to THE EXCHANGE® Network, with 3,700 no-fee ABMs across Canada and 500,000 ABMs in the United States. Meridian also offers retail banking services nationally through its recently launched subsidiary, motusbank. For more information, please visit: meridiancu.ca.
"The shared experience of winning the College World Series was a special event," 1962 team manager Bruce Kropschot said. "We've enjoyed these reunions we've had for many years."
https://www.record-eagle.com/sports/local_sports/national-champs-take-in-tc/article
[headlines]
--------------------------------------------------------------
New Hires/Promotions in the Leasing Business
and Related Industries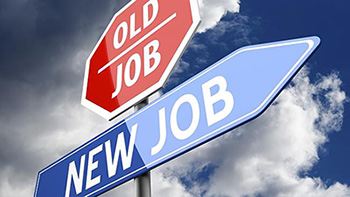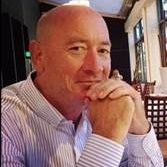 Tor Bowen has joined Asset Finance Consulting and Services partnership Invigors EMEA LLP, the European arm of The Alta Group, as Associate, based in the UK. He continues as Managing Director, Tor Bowen Consulting Pty, Ltd, Sydney, Australia (2003 - Present). Managing Director and Shareholder, Hervey Bay Capital (February, 2012 - Present). Group GEO, Credit Corporation (PNG) Limited (July, 2016 - December, 2017); Corporate Finance Consultant, Prevost (October, 2002 - April, 2005); Managing Director, Volvo Financial Services (October, 1995 - March, 2003); General Manager, Asia Pacific, Data General Leasing (October, 1993 - October, 1995); Marketing Manager, Credit Agricole CIB (January, 1986 - August, 1990); Various, Barclays Bank Group (June, 1982 - January, 1986). Education: Australia. https://www.linkedin.com/in/tor-bowen-642b76127/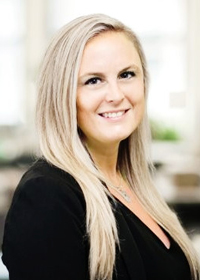 Gabriella Cafaro was promoted to Regional Sales Manager, Ascentium Capital, Kingwood, Texas. She is located in Morristown, New Jersey. She joined the firm October, 2018 as Relationship Manger. Previously, she was at GSG Financial, starting July, 2014, Transaction Manger; promoted January, 2017 as Sales Representative; PR Intern, Atlantic Records (April 2013 – August 2013); Intern, Core Services (May 2012–August 2012); Receptionist, Salon K (April 2011 –August 2011). Volunteer: Zeta Tau Alpha Representative, Susan G. Komen (February, 2013). Education: Florida Southern College, Bachelor of Arts (B.A.), Public Relations, Advertising, and Applied Communication (2010 – 2014). (Open) 9 courses. Morristown High School. https://www.linkedin.com/in/gabriella-cafaro-a7945751/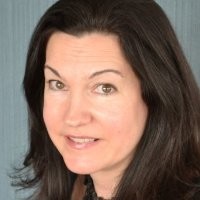 Collen Daly-Tinkham was hired as a Marketing Consultant, Susan Carol Creative, Fredericksburg, Virginia. She resides in Providence, Rhode Island. "(She)...joins a team of public relations and media specialists, writers, designers, web, and video producers focused in business-to-business markets such as financial services, technology and healthcare." Previously, she was Vice President of Marketing, Key Equipment Finance (November, 2004 - June, 2019); Marketing Director, American Express Business Finance (2000 - 2004); Director of Marketing, American Express (2000 - 2004). Volunteer: PAL, Horizons for Homeless Children (August, 2000 - August, 2017). Advancement Committee. Books Are Wings. (June, 2019 - Present). Education: University of New Hampshire. BS, Business Administration/Marketing. https://www.linkedin.com/in/colleendalytinkham-9000b67/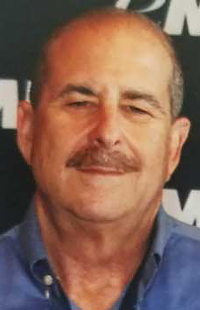 John Dondey was hired as Managing Director, Dimension Funding, Irvine, California. He is located in Coral Springs, Florida. Previously, he was National Business Development Officer, Summit Funding Group, Inc. (January, 2013 - July, 2019); National Sales Manager, American Express Business Finance (1999 - 2005). Education: Nova Southeastern University. Master of Business Administration (M.B.A.), Finance. University of Maryland College Park. Bachelor of Business Administration (B.B.A), Business with a minor in Government Politics. https://www.linkedin.com/in/john-dondey-22b39164/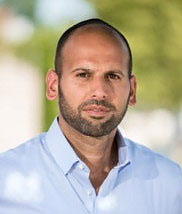 Ron Elimelekh was hired as Head of Capital Markets, OakNorth Bank, UK. He is located in Greater New York City Area. Previously, was at OnDeck, starting January, 2014, Senior Director of Legal Affairs, Capital Markets; promoted August, 2015, VP, Legal Affairs; promoted February, 2017, VP, Capital Markets; promoted June, 2017, VP, Head of Capital Markets; promoted August, 2019, SVP, Head of Capital Markets. Prior, he was at FSI Capital, starting July, 2007, Director and Counsel; promoted, January, 2010, General Counsel. Associate, Weil, Gotshal & Manages, LLP (September, 2004 - June, 2007). Education: New York University School of Law, Juris Doctorate (2001 - 2004). Binghamton University. https://www.linkedin.com/in/relimelekh/


Anthony Holland was hired as Vice President, Operations, Customers Commercial Finance, LLC., Portsmouth, New Hampshire. He is located in Livingston, New Jersey. Previously, he was Vice President, CIT (February, 2006 - June, 2019); Manager, CitiCapital (2004 - 2006); Vice President, ORIX Financial Services (2003 - 2005); Director, Contract Administration, FINOVA Capital Corporation (1986 - 2003). https://www.linkedin.com/in/anthony-holland-280a60b/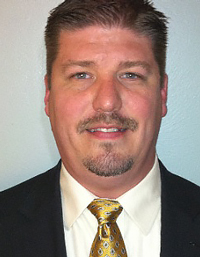 Brian Howell was hired as Managing Director, Sales, Utica Equipment Finance, LLC., Rochester Hills, Michigan. He is located in Sarasota, Florida. Previously, he was Vice President, Regional Sales Manager, Triumph Commercial Finance, Dallas, Texas. Previously, he was District Manager, Equify, LLC (June, 2013 - September, 2017); Regional Sales Manager, Commercial Credit Group (November, 2012 - June, 2013); National Accounts Manager, AssetNation (November, 2011 - November, 2012); Territory Manager, IronPlanet (October, 2007 - November, 2011); National Accounts Manager, Siemens Energy (April, 2005 - July, 2006). Volunteer Experience: Board Member Salvation Army Charters Valley, PA (November, 2013 - Present). https://www.linkedin.com/in/byron-howell-4ab14511/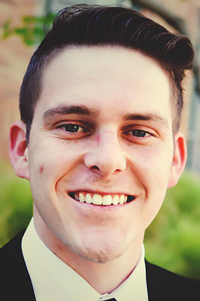 Connor McKeeve was hired as Credit Analyst, Wintrust Specialty Finance, Irvine, California. Previously, he was Credit Analyst, Providence Capital Funding, Inc. (June, 2018 - August, 2019); Private Wealth Management Intern, UBS (March, 2018 - May, 2018); Equity Analyst, Chapman University, Janes Financial Center Residency Group (January, 2018 - May, 2018); Summer/Fall Intern, Whittier Trust Company (June, 2017 - November, 2017); Account Intern, Regents Capital Corporation (February, 2017 - May, 2017); Financial Intern, Acquisition Group, Inc. (June, 2016 - September, 2016); Finance and Operations, J. McKeeve Plumbing, Inc. (September, 2012 - September, 2016). Volunteer: Member at Large, Theta Psi Chapter, Pi Kappa Alpha Fraternity (May, 2016 - December, 2016). Internal Vice President, Theta Psi Chapter, Pi Kappa Alpha Fraternity (May, 2016 - December, 2016). Camp Escapades Counselor, Pediatric Therapy Network (August, 2010 - August, 2014). Education: Chapman University. Bachelor's Degree, Business Finance, Minor Data Analytics (Argyros School of Business and Economics) (2014 - 2018). Activities and Societies: Pi Kappa Alpha Theta Psi Chapter, Internal Vice President, Fall, 2016; Member at Large, Fall, 2018. Palos Verdes High School, Diploma. (2010 - 2014) Activities and Societies: Varsity Basketball, California Federal, National Honors Society. https://www.linkedin.com/in/connor-robertson-mckeeve/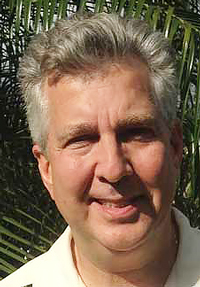 Dean Morrison was hired as Managing Director, Dimension Funding, Irvine, California. He is located in their Coral Sprints, Florida office. Previously, he was National Business Development Manager, Summitt Funding Group, Inc. (January, 2013 - August, 2019). Education: New York Institute of Technology, MBA, Sales Management (1990 - 1992). Lunn University, Campus, Boca Raton, Florida. Syracuse University, BS, Policy Studies (1975 - 1979). https://www.linkedin.com/in/deanmorrison/


Kevin Nash was hired as Vice President and Area Manager, Key Equipment Finance, Superior, Colorado. He is located in the Detroit, Michigan area. Previously, he was Vice President, PNC Equipment Finance (January, 2016 - August, 2019); Vice President, Commercial Banker, PNC (April, 2012 - January, 2016); President, One Source Capital, Inc. (February, 1994 - February, 2012); Account Executive, O/E Systems dba M/C Leasing (February, 1993 - February, 1994); Vice President, Manufacturers National Bank/Comerica Bank (January, 1982 - January, 1993). Education: Wayne State University. B.S. /, Finance (1979 – 1984). Southfield Christian School, Diploma. (1973 - 1979). https://www.linkedin.com/in/kevin-nash-699a0811/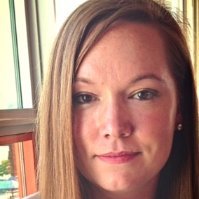 Keely Newcomer was hired as BBLC Specialty Portfolio Management Credit Analyst, U.S. Bank, Portland, Oregon. Previously, she was Senior Credit Analyst at Umpqua Bank Equipment Leasing and Finance; Credit Analyst, U.S. Bank, Practice Finance (February, 2014 - April, 2017); Credit Officer, US Bancorp Equipment Finance (August, 2006 - January, 2014). Education: University of Oregon, Political Science (1998-2002).
https://www.linkedin.com/in/keely-newcomer-1496751/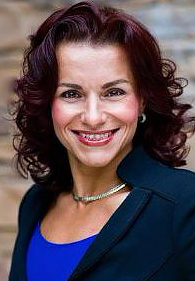 Jennifer Specht was hired as Regional Vice President, ATEL Capital Group, San Francisco, California. Previously, she was Vice President, Technology Financing, Key Equipment Finance ( April, 2016 - September, 2018); Financing Sales Executive, IBM (April, 2007 - February, 2016); Financial Solutions Manager, Cisco Systems (October, 2011 – October, 2012); Vice President of Sourcing, Supply Chain Management, Bank of America (October, 2001 – April, 2007); Project Manager/Consultant, Comdisco (2000 – 2001); Asset Manager/Software Specialist, PricewaterhouseCoopers (1998 – 2000); Languages: German, Spanish. Volunteer: Technology, San Rafael City Schools (January, 2015 – Present). Children, Teaching and mentoring K-5 students on internet based applications and websites (such as Wikipedia, Google Maps, Mathematics and Grammar learning based websites. Education: Drexel University, Computer Science, West Chester, PA. University of Pennsylvania, Bachelor's Degree, Business Administration and Marketing. https://www.linkedin.com/in/jennifer-specht-8ab3144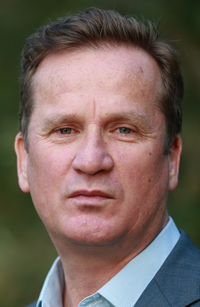 Hugh Swandel was hired as President, Meridian OneCap Credit Corporation Vancouver, Canada. Previously, he was Senior Managing Director, Canada, The Alta Group (September, 2009 - September, 2019); Vice President, Business Development, National Leasing Group (1989 - 1999): President, Electronic Financial Group (1999 - 2001); Manager/Adviser, Jeff Hatcher Etc. (1983 - Present). Associations: Former Board Member and Past President, National Equipment Finance Association (2008 - 2012); Board Member, Canadian Finance & Leasing Association, Association canadienne de financement & de location (2009 - Present) Chairman CFLA Research Committee (September, 2017 - Present); Advisory Board Member, Leasing News (2011 - Present). Volunteer: Fundraiser Winnipeg. Heroes Are Human Post Traumatic Stress Disorder Charity (www.terna.ca) (December, 2014 - Present). Co-Founder, Chris Walker Education Fund (January, 2011). Education: University of Manitopa. B. Comm. Hons. Business. (1986 - 1989). The University of Winnipeg. BA Hons, History/Political Science (1982 - 1986). Graduated as a Student of Distinction.
https://www.linkedin.com/in/hughswandel1/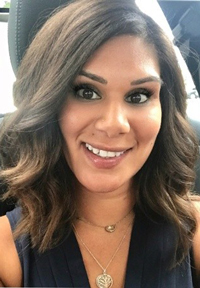 Amy (Kumar) Taylor was hired as Senior Account Manager II, LoanDepot, Orange County. Previously, she was Jr. Funder/VSR, Balboa Capital, Costa Mesa, California. Previously, she was Senior Processor, AHL Funding dba American Home Loans (March, 2017 - April, 2019); Credit Analyst, US Business Funding (July, 2018 - November, 2018); Senior Processor, New American Funding (April, 2016 - February, 2017); Closing Coordinator, Greenlight Loans (March, 2015 - April, 2016). She joined SunTrust December, 2010, as Assistant Branch Manager; promoted March, 2012, Consumer Loan Processing Specialist; promoted Personal Lines Underwriter, February, 2013; Personal Banker, Wells Fargo (December, 2009 - December, 2010). She joined Bank of America, July, 2006, as Customer Marketing Lead Associate; promoted October, 2007, Senior Collector. Prior, she was Senior Teller, Regions Financial Corporation (October, 2004 - June, 2006). Education: Georgia Tech, Industrial Engineering (1999 - 2003). Woodward Academy (1986 - 1999).
https://www.linkedin.com/in/amykumartaylor/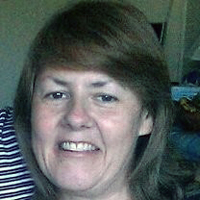 Anna Tolley was hired as Senior Credit Analyst, Hitachi Capital (UK) PLC, Twickenham, United Kingdom. Previously, she was Risk Manager, Societe Generale Equipment Finance (November, 2017 - August, 2019); Credit Manager, Lombard (August, 2016 - August, 2017); Credit Risk Manager, RBS (December, 2014 - August, 2016). Licenses & Certifications. Applied Diploma Corporate Banking. Education: Chichele School. https://www.linkedin.com/in/anna-tolley-21214592/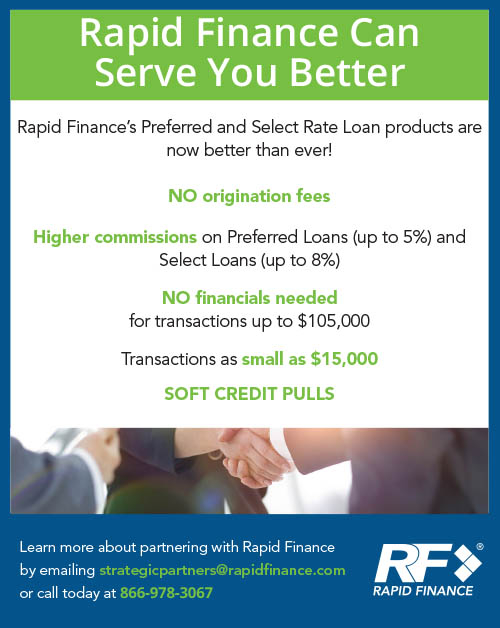 [headlines]
--------------------------------------------------------------
Help Wanted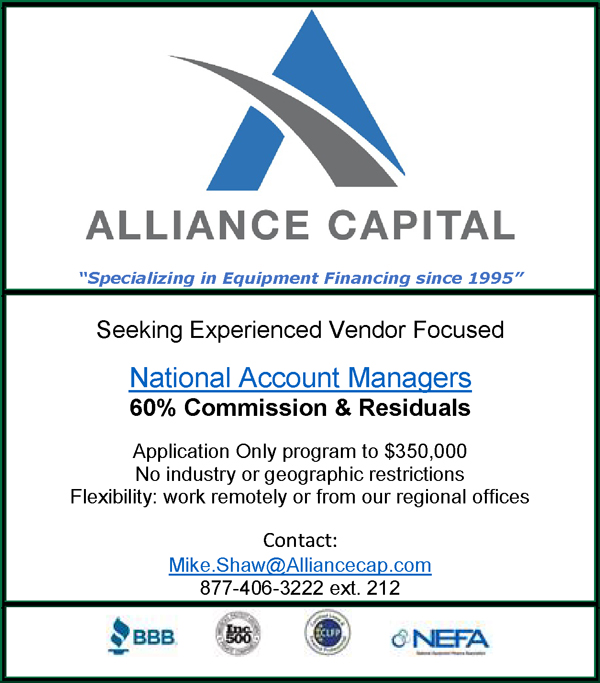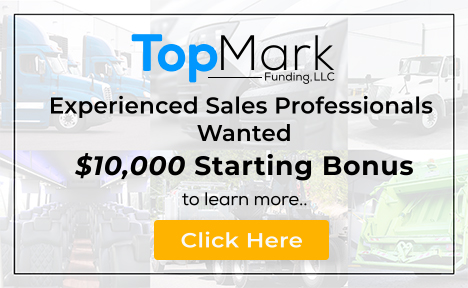 [headlines]
--------------------------------------------------------------
Two Originators -- Which Do You Want to Be?
Sales Makes it Happen by Scott Wheeler, CLFP
Let's make a comparison between two originators who are both very active, but their results are very different:
Tom: Tom works extremely hard. He is usually the first to arrive in the morning, last to leave, and is constantly on the phone or out visiting new customers. Tom leads the team in applications every month. He is high energy and a team player. The challenge for Tom is that his approval ratio is lower than most on the sales team, but still ends up with more actual transactions and dollars approved. However, he and the company grind through a lot to get to that approval number. Tom's second challenge is that his close ratio is even lower. Therefore, although he is the busiest in the office his funded transactions end-up in the middle of the team. Tom is an average producer.
Josh: Josh is also a hard worker. He arrives at his desk before 9:00, rarely takes a lunch break, and is out the door right at 5:00. Josh only receives about 75% of the applications that Tom receives. Josh consistently has an approval rate in the 70% to 85% range. Josh's closing rate is in the 90% range. Josh is always the leader in production for the company and more importantly, in margins. Josh is also a team leader. He mentors younger team members. Josh understands credit and is excellent at pre-qualifying his leads. Josh has the highest rate of repeat business in the company. He delivers the most to the bottom line for the company because he works efficiently. He knows the capabilities of his company and he sells to his strengths.
Are you a Tom or a Josh?
Who do you aspire to be? A Tom or a Josh?
What actions are you taking to work smarter, be more efficient, be a top producer, and deliver the greatest results?

Efficiencies Produce Results
Order via Amazon: https://www.createspace.com/5355516

Scott A. Wheeler, CLFP
Wheeler Business Consulting
1314 Marquis Ct.
Fallston, Maryland 21047
Phone: 410 877 0428
Fax: 410 877 8161
Email: scott@wheelerbusinessconsulting.com
Web: www.wheelerbusinessconsulting.com

Sales Makes it Happen articles:
http://www.leasingnews.org/Legacy/index.html
[headlines]
--------------------------------------------------------------
Close the Sale This Year with Section 179
increased to $1,000,000 for 2019

2019 Section 179
Equipment Purchases: $1,150,000.00
First Year Write Off: $1,000,000.00
100% Bonus First Year Depreciation: $ 150,000.00
Normal First Year Depreciation $ 0.00
Total First Year Deduction: $1,150,000.00
($1,000,000 + $150,000 +0)
Cash Savings: $402,500.00
($1,150,000 x 35% tax rate)
Equipment Cost after Tax: $747,500.00
(assuming a 35% tax bracket)
Here's How Section 179 works:
In years past, when your business bought qualifying equipment, it typically wrote it off a little at a time through depreciation. For example, if your company spends $50,000 on a machine, it gets to write off (say) $10,000 a year for 5 years.
Now, most business owners prefer to write off the entire equipment purchase price for the year they buy it. The Section 179 does exact that – it allows your business to write off the entire purchase price of qualifying equipment for the current tax year. This has made a big difference for many companies (and the economy in general).
Businesses have used Section 179 to purchase needed equipment right now, instead of waiting. For most small businesses, the entire cost of qualifying equipment can be written-off on the 2019 tax return (up to $1,000,000). Equipment must be delivered this year.
(Posted in LinkedIn.com)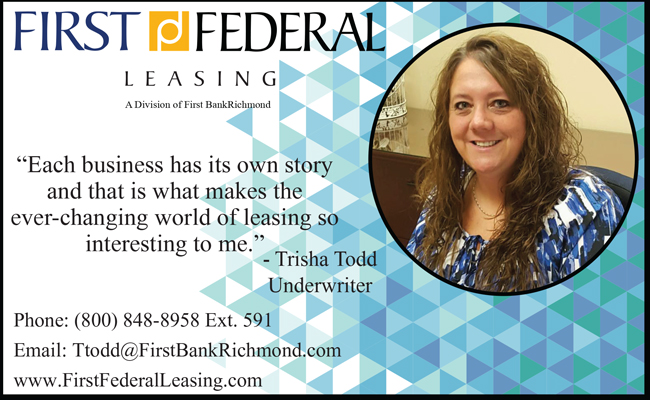 [headlines]
-------------------------------------------------------------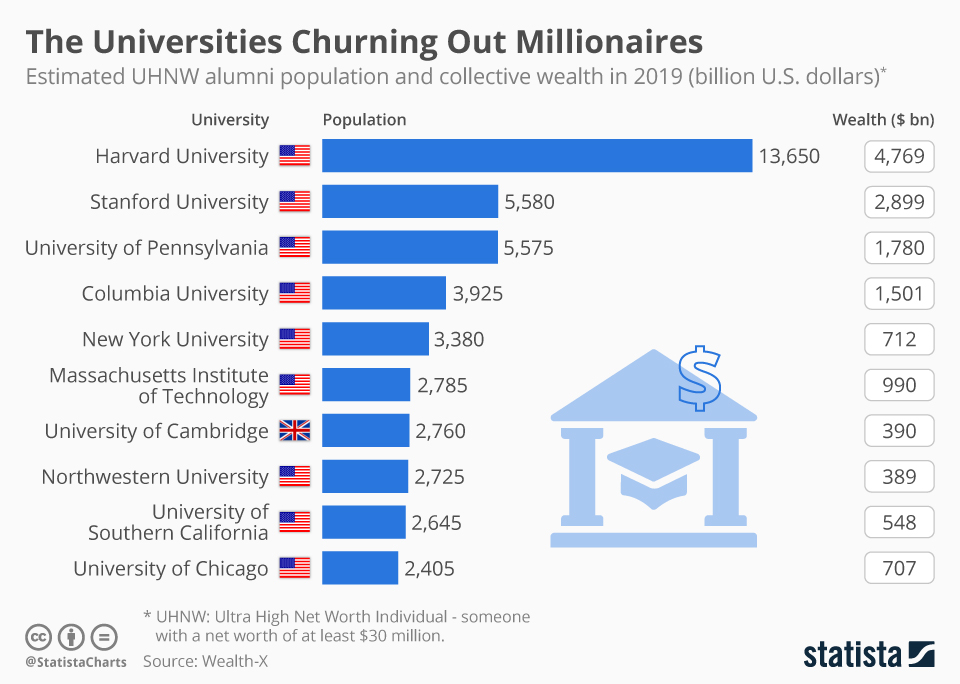 Over the years, many universities forged their reputations on the achievements of their students, whether that means Nobel laureates, Pulitzer Prize winners or Olympic athletes. Despite the prestige such accomplishments certainly bring to an institution, the number of super rich alumni is another good way of gauging a university's academic prowess and reputation. Wealth-X looked into that topic and released its University Ultra High Net Worth Alumni Rankings that compared the number of wealthy alumni from different universities around the world.
Out of the top-10 universities with the highest number of UHNW alumni (ultra-high net worth individual means someone with a net worth of at least $30 million), nine are American. The exception on the list is the University of Cambridge in which comes seventh with an estimated 2,760 super rich alumni who have a collective net worth of $390 billion. Even though those numbers sound impressive, they are dwarfed by Harvard University. It boasts an estimated 13,650 UHNWs who have amassed a collective fortune of $4.8 trillion.
Harvard is in a league of its own and its population is more than double Stanford University and the University of Pennsylvania in second and third, respectively, with around 5,580 super rich alumni each. Wealth-X's report mentions that the vast majority of the wealthy alumni from U.S. universities are actually self-made. For example, 79 percent of wealthy alumni from Harvard are self-made, 15 percent have mixed sources for their fortunes and only 6 percent inherited it.
By Niall McCarthy
https://www.statista.com/chart/19299/estimated-uhnw-alumni-population-and-collective-wealth/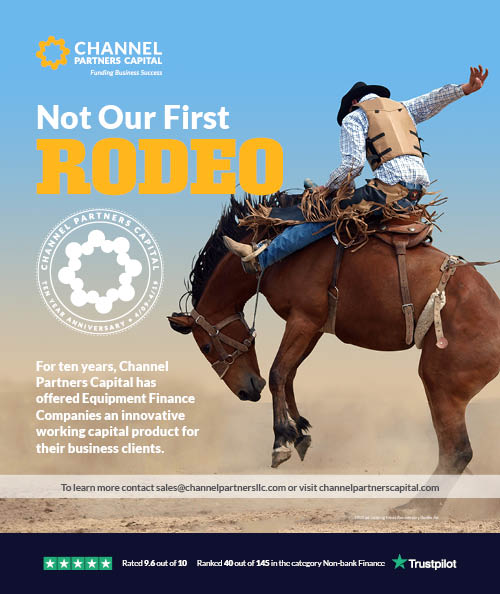 [headlines]
-------------------------------------------------------------
Types of Fraud
By Bernie Boettigheimer, CLFP
Methods of lease fraud are constantly evolving. Individuals perpetrating these frauds have studied our industry's practices and methods. Many of these frauds involve Vendors and Lessees who meet most of the screening criteria utilized by leasing companies - directory assistance listing, time in business, and physical storefronts. Lease Police, Inc. has identified the following general types of lease fraud:
Disguised Working Capital Fraud - In this scenario, a vendor presents himself as a legitimate seller of equipment; however, he is nothing other than someone soliciting working capital loans. He will take a customer's current equipment and disguise it as his equipment and lease it back to the customer (the lessee). The vendor will keep 30% to 50% of the lease proceeds and will give the remainder to the lessee. This type of fraud can be very damaging and hard to detect, as many of the re-liquefied lessees will make payments for a while after funding. Most funders will experience a default rate between 10% to 40% with these transactions. Many of these vendors will "spread their paper" among several sources to further conceal their detection. Using LeasePolice.com, detecting these vendors is easy - just take note of excessive early termination activity.

Overpriced Equipment Working Capital Fraud - A vendor will overprice a piece of equipment and offer the debtor or lessee money back. For example, a vendor will lease a $5,000 computer for $30,000 and give the debtor or lessee $15,000 as an inducement to enter into the lease. This type of fraud will have higher loss rates over the portfolio life, but because the debtor/lessee has just received a "lump sum" from the vendor, they will make payments for a while. Using LeasePolice.com, detecting these vendors is easy - just take note of excessive early termination activity.
Product Representation Fraud - In this scenario, the vendor may offer a deal that is "too good to be true." It may involve a 100% money back guarantee, inflated promises on the equipment, or a "promise and disappear" scheme. These vendors appear to be tremendous engines of new leases. They can produce hundreds of new leases per month from the beginning of their existence. In most of these cases, the vendor is gone after one to two years, leaving funders an endless stream of litigation. Using LeasePolice.com, detecting these vendors is easy - just take note of a high number of recent inquiries for a newer vendor.
"Broken Up" Transaction Fraud - This type of fraud includes activity by Vendors and Debtors/Lessees who break up a larger deal into smaller pieces to avoid financial disclosure (without disclosing their other requests to the lenders). In most cases, those involved are aware of the application-only limits and apply for a large number of smaller transactions due to poor financial information. Imagine a $350,000 deal that is achieved by "splitting the transaction into five $70,000 transactions with five different funders. Some of these deals are further disguised by applying for corporation-only signatures - with no credit bureaus reports reviewed. In many cases, the debtor/lessee is already in distress and they fold under the higher debt levels. Using LeasePolice.com, detecting these lessees is easy - just take note of a high number of recent inquiries. Even corporation only transactions are shown in LeasePolice.com.
Past Due Account "Layoff" Fraud - This is one of the oldest and least reported types of fraud in the industry. A Vendor has an internal delinquent open account with a customer. They usually threaten the customer to either pay the past due balance or they will pick up the equipment. As an option, they offer the past due customer the option to convert their account into a lease. By converting the delinquent customer into a lease, they get paid by the equipment leasing company and the leasing company gets an almost instantaneous delinquency. Many of these deals show up as first payment defaults. All participants are legitimate companies and fraud is almost never suspected! Using LeasePolice.com, detecting these Vendors is easy - just take note of a high number of early terminations/defaults using the LeasePolice.com system.
General Misrepresentations By Vendors and Lessees - This general category includes activities such as submitting altered financial statements, hiding prior bankruptcies, hiding ownership, false references, misrepresenting used equipment as new, falsifying actual date of sale or delivery, equipment being sent to other locations without disclosure, concealing large judgments or liens, and leasing the same collateral twice. Using LeasePolice.com, detecting these transactions is easy. LeasePolice.com subscribers can report any suspicious activities and they will be posted in our data files for future review.
https://www.LeasePolicePlus.com/infosite/product.html

Bernie Boettigheimer CLFP
President
Lease Police, Inc.
24 Glenmeadow Pl.
Dallas, Texas 75225
www.leasepoliceplus.com
214-549-3426

[headlines]
-------------------------------------------------------------
##### Press Release ############################
Balboa Capital Reports Continued Accelerated Growth,
Adds 125 New Employees in First Half of 2019

Leading online lender responds to strong demand for equipment financing and small business loans by expanding staff in all departments.
COSTA MESA, Calif., - Balboa Capital, a leading online lender that specializes in equipment financing and small business loans, hired 125 new employees during the first six months of 2019 to accommodate the company's rapid increase in new business and acquisition of several new strategic partners.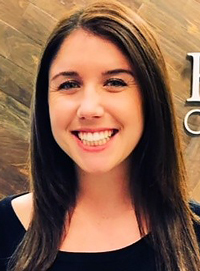 Jessica Parker, Senior Corporate Recruiter at Balboa Capital, said, "It's all about growth for our company. During the first half of 2019, there has been an increased demand among small business owners for the fast, easy financing products we provide, and we have taken the steps necessary to deliver on their expectations. We've added 125 new employees to our sales and operations divisions during the first six months of the year, and these talented individuals have the knowledge, experience and professionalism that our valued customers truly appreciate."
Balboa Capital is anticipating robust growth during the final months of the year, and Ms. Parker said the company will maintain its forward-thinking recruitment strategy with an additional emphasis on sales management. "We are the choice of countless small businesses, middle market companies, franchises, and equipment vendors nationwide that need growth capital in a timely manner. We will expand each of our sales divisions, and hire more remote sales managers, so we can continue providing unparalleled service to both new and existing customers throughout the country."
About Balboa Capital
Balboa Capital is a technology-driven financing company that provides small business owners with fast, hassle-free solutions to fuel their growth and success. The company specializes in small business loans, equipment financing, commercial financing, equipment vendor financing, and franchise financing. Balboa Capital developed an intuitive online platform that simplifies the entire financing process. Calculators provide instant estimates, applications can be completed and submitted in a matter of minutes, and sophisticated credit scoring technology provides instant decisions. To learn more, visit http://www.balboacapital.com
### Press Release ############################
(Note: Balboa Capital listed in Leasing News Bulletin Board Complaints from 2007 (http://leasingnews.org/bulletin_board.htm) as well many times in Leasing Cases by Tom McCurnin (http://leasingnews.org/bulletin_board.htm) Editor

[headlines]
-------------------------------------------------------------
Fernando's View
By Fernando F. Croce
A coming-of-age crowd-pleaser ("Blinded by the Light") and a giddy black comedy ("Ready or Not") come to theaters, while DVD releases include ribald humor ("Booksmart"), thoughtful drama ("Charlie Says"), and a subversive classic ("Fists in the Pocket").
In theaters: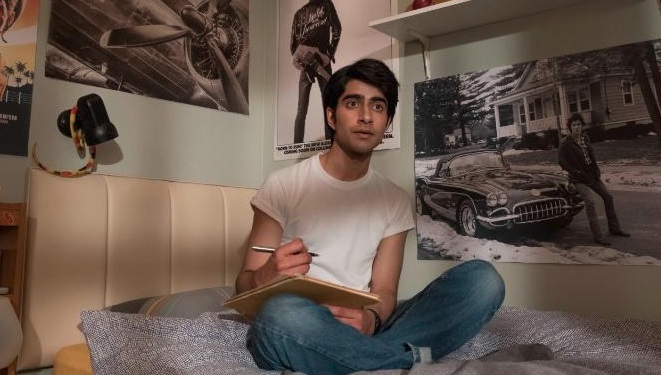 Blinded by the Light (New Line Cinema): Bruce Springsteen gets a touch of Bollywood in this crowd-pleasing musical comedy from director Gurinder Chadha ("Bend It Like Beckham"). Set during the 1980s in England, it focuses on Javed (Viveik Kalra), a Pakistani-British teenager who takes to poetry to escape the double-whammy of local prejudice and the often-oppressive traditions of his family. A revelation comes when he discovers the grit and hope of Springsteen's music, which inspire him to make his own voice heard in this unfriendly environment. Though the narrative beats will be familiar to anyone who's seen a coming-of-age tale, the film compensates with a surplus of brightness and unashamed optimism. Taking her lead from Springsteen's heartfelt lyrics, Chadha offers a portrait of youthful perseverance and horizons joyously expanded.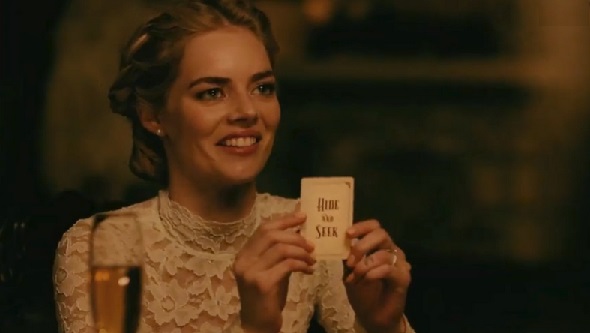 Ready or Not (Fox Searchlight Pictures): Marriage turns out to be the most dangerous game in this outrageous blend of gruesome suspense and giddy satire. Grace (Samara Weaving) is the newest addition to the Le Domas clan, having just married young scion Alex (Mark O'Brien) and been welcomed to their gaming empire. Alex's parents (Andie MacDowell, Henry Czerny) carry on the family tradition of staging a hide-and-seek game in their mansion, with the newlyweds along with Alex's brother Daniel (Adam Brody) in for the ride. Gradually, Grace realizes that the guns and crossbows and traps used in this contest are more real than she expected. Directed by Matt Bettinelli-Olpin and Tyler Gillett, this Grand Guignol blast teasingly lures the viewer deeper and deeper into the characters' outlandish bloodlust.

Nextflix: A distinctive animator for decades, Richard Williams (1933-2019) was behind some of the most beloved cartoons in pop culture, from the Pink Panther to Roger Rabbit. In tribute, check out those plus his labor of love, the truncated but striking "The Princess and the Cobbler" (1993).
On DVD: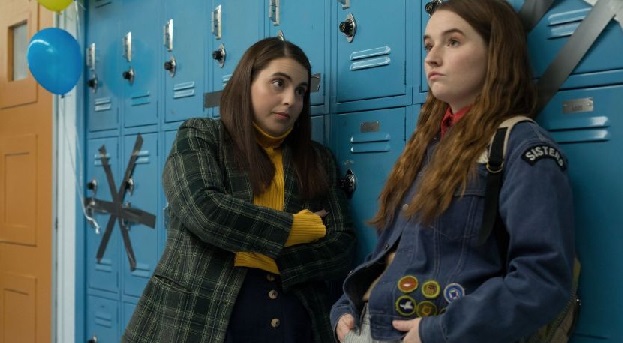 Booksmart (Annapurna Pictures): In the recent tradition of "Lady Bird" and "Edge of Seventeen," here's another critically acclaimed directorial debut depicting the highs and lows of high-school protagonists. Amy (Kaitlyn Dever) and Molly (Beanie Feldestein) are best friends who, as their senior year comes to an end, are looking forward to getting into good colleges. When they're hit by the realization that their studious ways may have gotten in the way of their fun, the two become determined to make it for it by going to a no-holds-barred party. Getting there proves to be easier said than done, however, as the girls discover over one night filled with comic misadventures. Directed by Olivia Wilde and elevated by the appealing leads, the film's mix of raunchiness and sentimentality has reminded reviewers of "Superbad."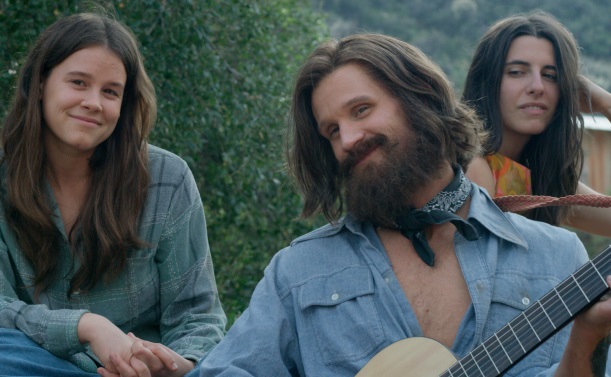 Charlie Says (IFC Films): "American Psycho" director Mary Harron serves up another intelligent exploration of the nightmarish side of history with this lucid account of the Manson family. Unfolding in the wake of the grisly murders that brought the cult infamy, the story follows Karlene Faith (Merritt Weaver), a feminist activist who, determined to get to the bottom of the tragedy, interviewed a trio of "Manson girls" in jail. As she talks to Leslie Van Houten (Hannah Murray), Patricia Krenwinkel (Sosie Bacon) and Susan Atkins (Marianne Rendon), a complex view of their toxic bond with Charles Manson (played by Matt Smith) gradually emerges. Can her inquiry break through their brainwashed façade? Keeping a tone of thoughtful, compassionate calm, Harron's film takes a humanistic look at a volatile era.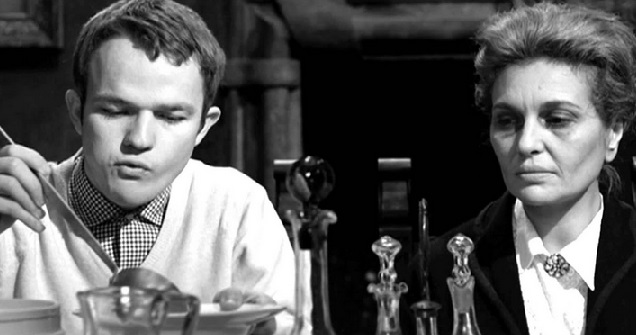 Fists in the Pocket (Criterion): Though not as famous as his fellow 1960s Italian auteurs, Marco Bellocchio made just as big a splash with his 1965 debut, which is still as electrifying and provocative as when it first came out. Taking place in an Italian villa, the story centers on Alessandro (Lou Castel), an epileptic young man who decides the only way to help out his overworked older brother Augusto (Marino Mase) would be to kill off the rest of the family. While dreaming up ways of dispatching the dysfunctional clan, Alessandro grows close to his sister Giulia (Paola Pitagora). But will he realize his scabrous plan? Claustrophobic, vivid and startlingly raw, Bellocchio's film unfolds as a very dark satire, building in intensity on its way to an unforgettable conclusion. With subtitles.
[headlines]
--------------------------------------------------------------
Bullmastiff
Toronto, Ontario, Canada Adopt-a-Dog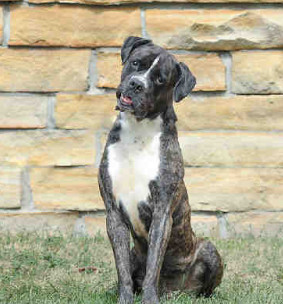 MAGNUS - ID#A841358
I am a neutered male, brown brindle Bullmastiff. The shelter staff thinks I am about 6 years old. I have been at the shelter since Aug 11, 2019.

Shelter Staff made the following comments about this animal:
Meet Magnus! Magnus is a 6 year old male neutered Bullmastiff mix. He came into the shelter about a month ago as a stray.
Magnus came into the shelter weighing 76lbs, a little thin for his build. He is currently on his way to a healthier body weight, weighing in at 83lbs! Magnus will need an owner who has a good relationship with their veterinarian, as he will need veterinary support with his weight gain journey.
Magnus is a very sweet boy who would love to be your friend! He seems to know how to sit, but does pull on leash. It would be beneficial for his new owner to do some basic obedience with Magnus.
Magnus does not seem to mind other dogs, so he could go to a home with another dog who is similar in size. He would have to meet him/her first.
It is recommended that Magnus goes to a home with no small children due to his size and strength!
If you are interested in meeting Magnus, he is at the North Shelter. Please bring ALL members of the family, including any Dogs.
For more information about this animal, call:
City of Toronto Animal Services North Region at (416) 338-7297
Ask for information about animal ID number A841358
[headlines]
--------------------------------------------------------------
61 Top Exhibitors AACFB Commercial Financing Expo
September 19-20, Gaylord Palms Resort, Orlando, FL
Not too Late to Attend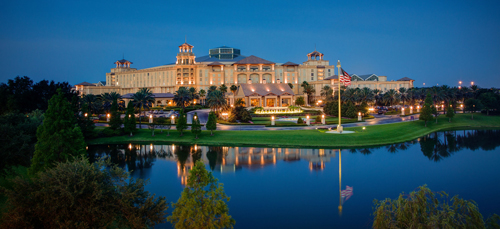 The number of exhibitors at the American Association of Commercial Finance Broker this conference is one of the largest gatherings of equipment leasing funders plus business loan providers than other annual conferences. A chance to meet them face-to-face. An opportunity to CONNECT and GROW your business and professional networks.
All registrations must be received by the office no later than September 16, 2019. After this date, you must register on-site. All fees must be paid in advance. Sorry, AACFB cannot bill you. Printable form: https://higherlogicdownload.s3.amazonaws.com/NAELB/fbb03000-0c39-4320-98d2-289ea6e51632/UploadedImages/AACFB_2019_Expo_Reg_Form.pdf
List of Exhibitors
1st Commercial Credit
4 Hour Funding
360 Equipment Finance
American Lease Insurance Agency
Amur Equipment Finance
Ascentium Capital LLC
Bankers Capital
Banleaco
Baystone Government Finance/KS StateBank
Beneficial Equipment Finance Corporation
BlueVine
Bryn Mawr Funding
BSB Leasing, Inc.
C.H. Brown Co. LLC
Channel Partners Capital
CLFP Foundation
Commercial Funding Partners, LLC
ConnectedFi
Crestmark Vendor Finance, a Division of MetaBank
Dedicated Funding
Equipment Leasing Group of America (ELGA)
Expansion Capital Group
Financial Pacific Leasing, Inc.
First Federal Leasing
Fleet Evaluator
Fora Financial, LLC
Fountainhead Commercial Capital
Gateway Commercial Finance
Global Financial & Leasing Services, LLC
Gulf Coast Business Credit
instaCOVER
JB&B Capital LLC
LenderKiosk by Tamarack
Marlin Capital Solutions
Maxim Commercial Capital LLC
Maynards Capital Services
Monitor
Navitas Credit Corp.
NCMIC/Professional Solutions
NFS Leasing
North Avenue Capital
North Mill Equipment Finance LLC
Orange Commercial Credit
Orion First Financial LLC
Paradigm Equipment Finance
Pawnee Leasing Corporation
Pacific Premier Bank
Providence Equipment Finance, a Division of Providence Bank & Trust
Q2 Business Capital
Quality Leasing Co., Inc.
Rapid Finance
SLIM Capital LLC
Targeted Lease Capital
TBS Capital Funding
TEAM Funding Solutions
The Hamilton Group
TradeRiver USA, Inc.
UPS Capital Corporation
VFI Corporate Finance
Visio Lending
YES Leasing
Full Information:
http://expo.aacfb.org/home

[headlines]
--------------------------------------------------------------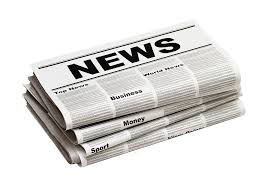 News Briefs----
The true story behind the 9/11 Budweiser commercial
that only aired one time
https://fox2now.com/2019/09/11/the-true-story-behind-the-9-11-budweiser-commercial-that-only-aired-one-time/
GE Plans $5 Billion Debt Buyback to Help Tame Balance Sheet
"seeks to cut its debt load as part of its turnaround"
https://www.bloomberg.com/news/articles/2019-09-12/ge-plans-5-billion-debt-buyback-to-help-tame-balance-sheet
Peer-To-Peer Truck Sharing Platform COOP Expands To Orlando
"to connect truck owners with unused vehicles"
https://finance.yahoo.com/news/peer-peer-truck-sharing-platform-144356959.html
Exclusive: Ahead of trade talks, China makes biggest
U.S. soybean purchases since June - traders
https://finance.yahoo.com/news/exclusive-ahead-trade-talks-china-174943840.html
Amazon Has 30,000 Open Jobs.
Yes, You Read That Right.
https://www.sfgate.com/business/article/Amazon-Has-30-000-Open-Jobs-Yes-You-Read-That-14425883.php
California's Contractor Law Stirs Confusion
Beyond the Gig Economy
https://www.nytimes.com/2019/09/11/business/economy/uber-california-bill.html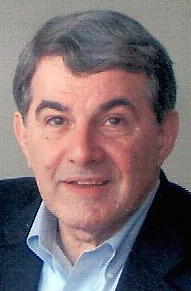 Ralph Mango

Editor/writer of diverse business content: business plans, policy/process, and training. GM delivers results above plan.
Associate Editor Leasing News, responsible for proofreading and editing each news edition, as well as contributing content.
Available for Projects
ralphmango@hotmail.com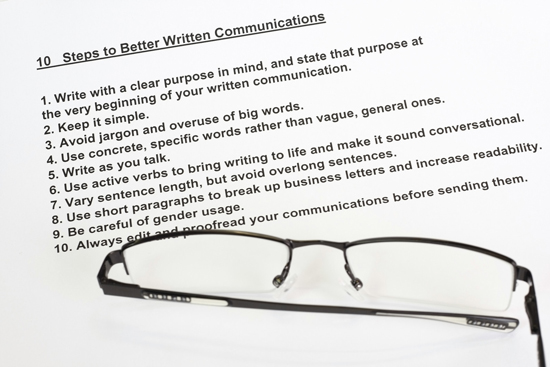 [headlines]
--------------------------------------------------------------


You May Have Missed---
The Big Show Never Ends: How Dan and Keith's 'SportsCenter' Changed TV Forever
https://www.theringer.com/2019/9/4/20848656/sportscenter-dan-patrick-keith-olbermann-espn-40-anniversary
[headlines]
--------------------------------------------------------------
How It All Started
Anonymous
It all started
when Pedro threw a no-hitter on Opening Day.
Nomar backed him up
with a triple play deep in the hole
and Manny Ramirez smashed
the first of 90 home runs.
Suddenly things got brighter.
Flowers sprang whole from the earth
and the cod swarmed to George's Bank.
The war ended. U.S. Marines
danced in the streets with handsome Fedayeen.
(Jerry Falwell married them off
while the Pope and the imams cheered.)
Israel and Palestine agreed
to share everything: beds, cities, streets,
temples and mosques,
falafel and coffee and tea.
Air pollution stopped
along with global warming and gum disease.
The Sox won it all of course,
beating the Yankees in three
and the Yankees in four
and the Yankees in five
(they lost one just to keep the Series alive).
Mia Hamm hit a grand slam
to put it away in the ninth.

Boston exploded with joy.
Babe Ruth signed the game-winning ball
and nobody sold it on E-bay.
That's how it all started.
[headlines]
--------------------------------------------------------------

Sports Briefs---

Anthony Brown accused of assault in civil suit
https://sports.yahoo.com/report-antonio-brown-accused-his-former-trainer-003725076.html
Behind Antonio Brown's bizarre video
— and Jon Gruden's role in it
https://nypost.com/2019/09/09/behind-antonio-browns-bizarre-video-and-jon-grudens-role-in-it/
There's a $20 million wrinkle in Antonio Brown's Patriots contract
https://nypost.com/2019/09/09/theres-a-20-million-wrinkle-in-antonio-browns-patriots-contract/
Patriots may soon have to deal with their first Antonio Brown
issue and it has to do with his number
https://www.cbssports.com/nfl/news/patriots-may-soon-have-to-deal-with-their-first-antonio-brown-issue-and-it-has-to-do-with-his-number/
Bill Belichick on Antonio Brown: The same was said about Randy Moss
http://www.theredzone.org/Blog-Description/EntryId/78126/Bill-Belichick-on-Antonio-Brown--The-same-was-said-about-Randy-Moss
Raiders report card: Big night for Jon Gruden, Derek Carr, defense
https://www.eastbaytimes.com/2019/09/10/raiders-report-card-big-night-for-jon-gruden-derek-carr-defense/
[headlines]
--------------------------------------------------------------


California Nuts Briefs---

California cannabis banking bill shelved — for now
https://www.northbaybusinessjournal.com/industrynews/cannabis/10024078-181/california-cannabis-banking-regulation
'Blob' of warm Pacific water is back
— could be trouble for marine life and weather
https://www.sfchronicle.com/environment/article/Blob-of-warm-Pacific-water-is-back-14426451.php?psid=lUaSJ
Mysterious underground fire has been burning
near Yosemite for 5 years
https://www.sfgate.com/bayarea/article/Mysterious-underground-fire-Yosemite-Stanislaus-14428686.php
SFO: More than 1,200 flights delayed, canceled in 4 days
— and more expected
https://www.sfchronicle.com/bayarea/article/SFO-More-than-1-200-flights-delayed-canceled-in-14427737.php

[headlines]
--------------------------------------------------------------



"Gimme that Wine"

http://www.youtube.com/watch?v=EJnQoi8DSE8
Get hands-on this harvest season at these California wineries
https://thepress.sfchronicle.com/article/get-hands-on-this-harvest-season-california-wineries/
Wine in cans soars in stores: Research hints
at why it's more than a millennial movement
https://www.northbaybusinessjournal.com/northbay/napacounty/10006181-181/wine-can-business-packaging
Steven Spurrier joins 39th Annual San Francisco International
Wine Competition as Chief Judge/Man behind Paris Wine Tasting of 1976
https://www.winebusiness.com/people/?go=getPeopleArticle&dataId=219289
Al Gore on Climate Change and the Wine Industry
https://www.winemag.com/2019/09/09/al-gore-climate-change-wine-industry/
Free Wine App
https://www.nataliemaclean.com/mobileapp/

Wine Prices by vintage
http://www.winezap.com
http://www.wine-searcher.com/
US/International Wine Events
http://www.localwineevents.com/
Leasing News Wine & Spirits Page
http://two.leasingnews.org/Recommendations/wnensprts.htm
[headlines]
----------------------------------------------------------------
This Day in History
1663 - The first major conspiracy between slaves and indentured servants occurs in Gloucester County, Virginia. The plot was betrayed to the authorities. Several plotters were beheaded.
1635 - The Massachusetts General Court banished Separatist preacher Roger Williams, 32, for criticizing the Massachusetts Bay Company charter and for perpetually advocating a separation of church and state.
1759 - General Wolfe defeats General Montcalm on the Plains of Abraham outside Quebec City. Canada becomes English. End of the 7 Years' War, King George's War: English (in New Canada) and French (in New France) duke it out with Indian allies on each side. Both sides build forts or fortify trading posts in Indian country. Choctaw, Tuscarora, Yamasee, Cherokee, some Creeks, fight for the French; Mohawks, Chickasaw fight for the English.
1778 - Congress picked New York, NY, as the location of the new US government in place of Philadelphia, which had served as the capital up until this time. In 1790, the capital moved back to Philadelphia for ten years, before moving permanently to Washington, D.C. They also authorized a Federal election, "resolved that the first Wednesday in January next be the day for appointing electors in several states, which, before the said day, shall have ratified the said Constitution; that the first Wednesday in February next be the day for the electors to assemble in their respective states, and vote for a President; and that the first Wednesday in March next be the time, and the present seat of Congress the place for commencing the preceding under the said Constitution."
1814 - Francis Scott Key was aboard a ship that was delayed in Baltimore Harbor by the British unsuccessful bombardment on Fort McHenry. Key had no choice but to anxiously watch the battle. That experience and seeing the American flag still flying over the fort the next morning inspired him to pen the verses that, coupled with the tune of a British musician's popular drinking song, "Anacreon in Heaven," became our official national anthem in 1931, 117 years after the words were written. The commander of the Fort knew the British would be attacking and had a second flag made by Betsy Ross that was ten times the size of the fort's flag so it could be seen from far away as a sign of defiance to the British and to show the people of the land the resolve not to surrender the fort.
(lower half of: http://memory.loc.gov/ammem/today/sep13.html )
This battle became a major turning point in halting the British, who for the first time, were beginning to retreat and trying to re-group. The Americans were now organized and if not winning battles, were pushing back British troops.
1845 – Alexander Joy Cartwright presents the first set of baseball rules, 20 in total.
1851 - Birthday of Walter Reed (d. 1902), at Gloucester County, VA. American army physician especially known for his Yellow Fever Research. This insight gave impetus to the new fields of epidemiology and biomedicine, and most immediately allowed the resumption and completion of work on the Panama Canal (1904–1914) by the United States. He served as an army surgeon for more than 20 years and as a professor at the Army Medical College. The US Army's general hospital at Washington, DC, is named in his honor.
1857 – Milton S. Hershey (d. 1945) was born in Derry Twp, PA. He founded the Hershey Chocolate Company and the "company town" of Hershey, PA, eventually becoming a great success. As he and his wife had no children, they turned to philanthropy.
1860 – General of the Armies John J. "Black Jack" Pershing (d. 1948) was born in Laclede, MO. He is most famous as the commander of the American Expeditionary Force (AEF) in World War I, 1917–18. He rejected British and French demands that American forces be integrated with their armies, and insisted that the AEF would operate as a single unit under his command, although some American divisions fought under British command, and he also allowed all-black units to be integrated with the French army. Pershing is the only American to be promoted in his own lifetime to General of the Armies, the highest possible rank in the United States Army; an act was passed in 1976 retroactively promoting George Washington to the same rank but with higher seniority, ensuring that he would always be considered the senior ranking officer in the United States Army.
1862 - Perhaps this one event changes the Civil War most dramatically. It ended General Robert E. Lee's plan to invade Washington, D.C. and win over the growing demand for "peace" with the Confederates. Not only was Lee surprised that McClellan could muster his troops in such short notice, but outmaneuvered his plans. McClellan had obtained a copy of General Lee's surprise battle plans. "According to the records, the XII Corps, 1st division of General Alpheus Williams, was bivouacked about a mile southeast of Frederick, Maryland, on a meadow occupied the day before by Confederate General D. H. Hill's command. Around 10 a.m. on the 13th of September, 1862, Private Barton W. Mitchell of the 27th Indiana, along with Sergeant John M. Bloss, discovered an envelope containing three cigars wrapped in a piece of paper lying in the grass. The document turned out to be a copy of Confederate General Robert E. Lee's orders for the Invasion of Maryland. The dispatch was addressed to Confederate General Hill. Passed up through the chain of command, the captured order gave Union General George B. McClellan advance notice of his enemy's movements. Holding the paper, McClellan exclaimed, 'Here is a paper with which, if I cannot whip Bobby Lee, I will be willing to go home'." What was to follows was the first major Civil War engagement on Northern soil and the bloodiest single day battle in American History on September 17. This was just 18 days after the Confederate victory at Second Manassas, 40 miles to the southeast in Virginia. General Lee's overall strategy would not have only won the battle but perhaps ended the war politically, except for the finding on an envelope containing three cigars wrapped in a piece of paper lying in the grass.
http://www.nps.gov/anti/ordr_191.htm
http://www.nps.gov/anti/battle.htm
1867 - Gen E. R. S. Canby orders South Carolina courts to impanel black jurors, part of the Freedman Bureau. When President Tyler is installed, much of the reconstruction effort comes to an end, including allowing Blacks to serve on juries.
http://www.tsha.utexas.edu/handbook/online/articles/view/CC/fca39.html
1876 - Birthday of Sherwood Anderson (d. 1941), Camden, OH. Author and newspaper publisher, he is best remembered for his book, "Winesburg, Ohio."
http://memory.loc.gov/ammem/today/sep13.html
1881 - African-American Louis Latimer patents an electric lamp with a carbon filament.
1881 - The famous "Yellow Day" in the northeast caused by Michigan forest fires where 20 villages were burned and 500 killed. The smoke filtered out most of the light and left a brassy tinge on everything
1886 - Birthday of Alain L. Locke (d. 1954), Philadelphia. Philosopher and first Black Rhodes Scholar, 1907.
1900 - At the Polo Grounds, Christy Mathewson made his first start, pitching a complete game 6-5 loss to the Chicago Orphans.
1902 – The Orphans' Joe Tinker, Johnny Evers and Frank Chance played their first game as the double play combo that would become famous.
1905 - Birthday of Meade Lux Lewis (d. 1964), Chicago, IL. One of my favorite pianists and boogie woogie master.
1909 – Little-known fact: Ty Cobb clinched the AL home run title with his 9th, an inside-the-park drive against the Browns. In fact, all his nine home runs this season were inside-the-park. Only Wahoo Sam Crawford (12 in 1901) has hit more inside-the-park homers in a year than Cobb.
1910 - Tenor sax player Chu Berry (d. 1941) was born Leon Brown Berry, Wheeling, W.Va.
1916 - Birthday of singer Dick Haymes (d. 1980), born Buenos Aires, Argentina to British parents. He was one of the most popular male vocalists of the 1940s and early 1950s.
1922 - The mercury climbed to 136 degrees (Fahrenheit) in Azizia, Libya, the highest temperature ever recorded on Earth. We sure hope they had plenty of lemonade on hand.
1925 - Birthday of "The Velvet Fog," singer, drummer, actor, composer Mel Torme (d. 1999), Chicago. A child prodigy, he first performed professionally at age 4, singing "You're Driving Me Crazy" at Chicago's Blackhawk restaurant. Tormé wrote more than 250 songs, several of which became standards. He often wrote the arrangements for the songs he sang. He collaborated with Bob Wells on his most popular composition, "The Christmas Song" (1946), which was recorded first by Nat King Cole. Tormé said that he wrote the music in 45 minutes. http://www.spaceagepop.com/torme.htm
1925 – Years before Johnny Vander Meer finally did it, Brooklyn's Dazzy Vance nearly threw consecutive no-hitters, pitching a 10-1 no-hitter five days after a 1-0 one-hitter.
1931 - Vaudeville star Eddie Cantor was heard for the first time -- on NBC radio. "The Chase and Sanborn Hour" became one of the most popular radio shows of the 1930s. He also made the early transition to television and his variety show was very popular until he retired.
1936 – Indians' teenage pitching phenom Bob Feller tied the Major League record and set a new AL record by striking out 17 batters as he two-hit the Philadelphia A's, 5-2. After the season, "Bullet Bob" returned to his Van Meter, IA home to graduate from high school.
1948 - Margaret Chase Smith (R-Me) was elected senator, the first woman to serve in both houses of Congress.
http://www.umaine.edu/mcsc/AboutUs/Bio.htm
http://www.biddle-audenreed.com/MagSmith.html
1949 - The Ladies Professional Golf Association was formed in New York City. Patty Berg became the first president of the LPGA.
1954 - The cover of "LIFE" magazine was adorned with Judy Garland's picture, with the caption, "Judy Garland takes off after an Oscar." Garland had been nominated for her role in "A Star is Born."
1955 - Top Hits
"The Yellow Rose of Texas" - Mitch Miller
"Maybellene" - Chuck Berry
"Autumn Leaves" - Roger Williams
"I Don't Care" - Webb Pierce
1956 - Birthday of Joni Sledge (d. 2017), Philadelphia, PA, vocalist (Sister Sledge-"We are Family").
http://www.lustigtalent.com/html/sledge.htm
http://www.entertainment-net.com/sister_sledge.html
http://www.ebceleb.com/soul/kevsweb34/sister.htm
http://www.marstalent.com/bio_sister_sledge.htm
1960 - The U.S. Federal Communications Commission banned payola. A scandal, investigated by a Congressional committee, involved some of the biggest names in radio, including popular New York DJ Alan Freed. He lost his job at WABC for allegedly accepting gifts and money for playing certain records. There was substantial evidence to prove that the practice was quite widespread in the industry. Tickets, dinners, trips, are still commonplace gifts by record and entertainment promoters. In addition, DJs often demanded and received songwriting credits on the releases to receive royalties as the songs gained popularity and play time on the air. Cash is now a "no-no."
1962 - No. 1 Billboard Pop Hit: "Sherry," The Four Seasons.
1963 - Top Hits
"My Boyfriend's Back" - The Angels
"Hello Mudduh, Hello Fadduh!" - Allan Sherman
"Blue Velvet" - Bobby Vinton
"Ring of Fire" - Johnny Cash
1964 - New York DJ Murray the K hosts the conclusion of the ten-day rock 'n' roll extravaganza at Brooklyn's Fox Theatre, held to compete against the Animals ten-day run at Brooklyn's Paramount Theatre. Acts on the Fox bill include Marvin Gaye, the Miracles, Martha & the Vandellas, the Contours, the Supremes, the Searchers, the Temptations, Jay & the Americans, the Dovells, the Newbeats, Little Anthony & the Imperials, the Shangri-las and the Ronettes. The Fox show outdraws the concurrent Paramount show.
1965 - Willie Mays hits his 500th home run. Connecting against Don Nottebart of the Houston Astros, Mays becomes only the fifth player to reach the milestone. Mays' blast helps the San Francisco Giants to a 5-1 win. Mays finished his Hall of Fame career with 660 which, at the time he retired, was third all-time behind Babe Ruth and Henry Aaron…and without PEDs.
http://www.baseballprimer.com/daily/daily2001-09-13.shtml
http://www.baseball-reference.com/m/mayswi01.shtml
1965 - The Beatles release the single, "Yesterday/Act Naturally." This is also the day they win their first Grammy -- for Best Group and for their "A Hard Day's Night" LP.
1968 - Clarence Carter received a gold record for his million-selling hit "Slip Away." Carter earned two other gold records for "Too Weak to Fight" and "Patches." The singer from Montgomery, Alabama had been blind since age one and taught himself to play guitar by age 11.
1969 - John Lennon and his wife, Yoko Ono, presented the Plastic Ono Band in concert for the first time. The appearance at the Toronto Peace Festival was Lennon's first in four years. The first hit by the new group, "Give Peace a Chance," made it to number 14 on the charts.
1969 - In a 6-4 defeat to the Reds, Bobby Bonds becomes the fourth player in Major League history steal at least 30 bases and hit at least thirty home runs in the same season. The other members of the 30/30 club include Ken Williams (1922-Browns), Willie Mays (1956 & 1957-Giants) and Hank Aaron (1963-Braves).
1969 - Santana's debut album enters the LP chart.
1970 - The first New York City marathon drew 126 runners, 55 of whom finished the course. Queens fireman Gary Muhrcke won the race with a time of 2:31:38.2
1970 - IBM brings out the System 370 computer; the first with a rational data base. Intel, later in the year, introduces the ROM chip, where the memory stays on the chip when the electricity is turned off. Gene Amdahl spins off a new company and the start of the modern computer can be linked to this introduction by IBM.
1971 - The World Hockey Association was formed. It was announced that play would commence in October, 1972. The charter teams: Alberta Oilers, Chicago Cougars, Calgary Broncos became the Cleveland Crusaders by Opening Day, Dayton Arrows became the Houston Aeros by Opening Day, LA Sharks, Minnesota Fighting Saints, New England Whalers, New York Raiders, Ottawa Nationals, Miami Screaming Eagles became the Philadelphia Blazers by opening Day, San Francisco Sharks became the Quebec Nordiques by opening Day, Winnipeg Jets. Beset by financial difficulties from the start, the league managed to last until 1979, when a merger with the NHL took the Edmonton Oilers, New England Whalers, Quebec Nordiques, and Winnipeg Jets, after which the WHA disappeared.
1971 - Top Hits
"Go Away Little Girl" - Donny Osmond
"Spanish Harlem" - Aretha Franklin
"Ain't No Sunshine" - Bill Withers
"Easy Loving" - Freddie Hart
http://www.thocp.net/timeline/1970.htm
1971 - Nine hostages and 28 prisoners die in take over at Attica State Prison by authorities.
http://abcnews.go.com/sections/us/DailyNews/attica000104.html
http://www.cpa.eku.edu/attica.htm
http://www.amadist3.com/attica.htm
http://www.nationalcops.org
1971 - Frank Robinson hits his 500th home run.
http://www.thediamondangle.com/archive/april01/fivec.html
1974 - "Chico and the Man" premiered on TV. This sitcom starred Jack Albertson as Ed Brown, a cranky garage owner, and Freddie Prinze as Chico Rodriguez, his Mexican-American employee. It was set in the bar­rio of East Los Angeles. However, the show was widely criticized for its use of the term "Chico," which was derogatory to many Chicanos, and for the lack of Mexican-Americans in the cast or crew. To remedy this, the cast was expanded to include Issac Ruiz as Chico's friend, Reman and Rodolfo Hoyos as Ed's friend, Rudy. It was the first U.S. television series set in a Mexican-American neighborhood and lasted until July, 1978.
1975 - Bruce Springsteen's "Born to Run" LP enters the chart.
1976 - "The Muppet Show." This comedy variety show was hosted by Kermit the Frog of 'Sesame Street." The new Jim Henson puppet characters included Miss Piggy, Fozzie Bear and The Great Gonzo. Many celebrities appeared as guests on the show, which was broadcast in more than 100 countries. The show ran until 1981. "Muppet Babies" was a Saturday morning cartoon that ran from 1984 until 1992. The Muppet Movie (1979) was the first of five films based on "The Muppet Show." In 1996 a new show, Muppets Tonight!, was created.
1976 - Peter Frampton's fourth solo album, "Frampton", goes gold. It's his commercial breakthrough album containing the hits "Show Me the Way" and "Baby I Love Your Way."
1977 - The first diesel cars to be mass-produced were the Oldsmobile 88 and 98-diesel-engine models introduced by General Motors.
1977 - "Soap" was a prime-time comedy that parodied soap operas. It had plots that were funny (e.g. Corinne's baby is possessed by the devil), controversial (e.g. Billy joins a cult) and downright bizarre (e.g. Burt is abducted by aliens). The show focused on two families, the wealthy Tates and the middle-class Campbells. It starred Katherine Helmond, Robert Mandan, Jennifer Salt, Diana Canova, Jimmy Baio, Robert Guillaume, Cathryn Damon, Richard Mulligan, Ted Wass, Billy Crystal, Richard Libertini, Kathryn Reynolds, Robert Urich, Arthur Peterson, Roscoe Lee Browne and Jay Johnson. Rod Roddy was the announcer who recapped what had happened on the previous episode
1979 - "Benson" premiered on TV. This half-hour sitcom was a spin-off from the popular series "Soap." Benson, played by Robert Guillaume, went to work for Jessica's Tate's widowed cousin Governor James Gatling, played by James Noble. The series centered around Benson trying to keep the household intact while the governor performed his duties for the state. The last telecast aired Aug 30, 1986. Other cast members included Missy Gold, Rene Auberjonois, Ethan Phillips, Didi Conn, Caroline McWilliams, Inga Swenson and Lewis J. Stadlen.
1979 - Abba's first North American tour opens in Edmonton, Alberta.
1979 - Top Hits
"My Sharona" - The Knack
"After the Love Has Gone" - Earth, Wind & Fire
"The Devil Went Down to Georgia" - The Charlie Daniels Band
"I May Never Get to Heaven" - Conway Twitty
1980 - Jackson Browne has the first Number One album of his career with the platinum "Hold Out," his first LP in well over two years.
1983 - Huey Lewis and the News' "Sports" LP is released.
1983- United States mint strikes first gold coin in 50 years (Olympic Eagle)
http://www.iccoin.com/usmin19lossi.html
1984 - Hurricane Diana made landfall near Wilmington, NC after meandering for two days off the coast. On the 11th, the Oak Island Coast Guard station recorded sustained winds of 104 mph with gusts over 115 mph. Wilmington recorded over 13.72 inches of rain. Damage was set at $78 million.
1985 - Sting begins his first solo tour in San Diego.
1986 - "Captain EO," a 17-minute, three-dimensional, musical, science-fiction flick starring Michael Jackson, made its gala premiere at Disneyland in Anaheim, CA and at Disney's Epcot Center in Orlando, FL this day. The innovative movie cost approximately $1,000,000 a minute to produce.
1986 - Miss America-1987 was crowned in Atlantic City, NJ. Kellye Cash was the grandniece of singer Johnny Cash. It was the first year that the contestants' measurements were not publicized. Women's groups had been protesting the Miss America Pageant, especially the judging of contestants in swim suits, saying it was humiliating and demeaning to women.
1987 - The New England Patriots became the first NFL team to broadcast its games on a regular basis on a French-Canadian radio network. Pierre Donais handled the play-by-play in French with radio station KCLM, a 50,000-watt station in Laval, Quebec, serving as the flagship.
1987 - Top Hits
"La Bamba" - Los Lobos
"I Just Can't Stop Loving You" - Michael Jackson with Siedah Garrett
"Didn't We Almost Have It All" - Whitney Houston
"Make No Mistake, She's Mine" - Ronnie Milsap & Kenny Rogers
1988 - Hurricane Gilbert smashed into the Cayman Islands, and as it headed for the Yucatan peninsula of Mexico strengthened into a monster hurricane, packing winds of 175 mph. The barometric pressure at the center of Gilbert reached 26.13 inches (888 mb), an all-time record for any hurricane in the Caribbean, Gulf of Mexico, or the Atlantic Ocean. Gilbert covered much of the Gulf of Mexico, producing rain as far away as the Florida Keys.
1989 - Jockey Pat Day rode eight winners in nine races at Arlington Park in Illinois, breaking the record for most winners in a single day of racing at one track. Day finished second in the other race.
1989 - Bruce Springsteen records "Viva Las Vegas" for the Elvis Presley tribute album, "The Last Temptation of Elvis."
1990 - "Law & Order" premiered on TV. This hour-long series was filmed on location at New York City. Each episode shows the interaction between the police and the district attorney's office in dealing with a crime. Almost the entire cast has changed over the life of this program; Steven Hill as District Attorney Adam Schiff had been the only constant and was replaced in season 11 by Dianne Wiest and Fred Thompson followed in season 13. Michael Moriarty as Assistant District Attorney Benjamin Stone was followed by Sam Waterston as ADA Jack McCoy. Richard Brooks as ADA Paul Robinette was replaced by Jill Hennessy as ADA Claire Kincaid who was replaced by Carey Lowell as ADA Jamie Ross followed by Angie Harmon as ADA Abbie Carmichael. The police have been represented by George Dzundza as Detec­tive Max Greevey, followed by Paul Sorvino as Detective Phil Cerreta, followed by Jerry Orbach as Detective Lennie Briscoe. Christopher Noth playing Detective Mike Logan was replaced by Benjamin Bratt as Detective Reynaldo Curtis followed by Jesse L. Martin as Detective Edward Green. Dann Florek as Captain Donald Cragen was followed by S. Epatha Merkerson as Lieu­tenant Anita Van Buren. The entire "Law and Order" franchise, including "Law and Order: Special Victims Unit," "Law and Order: Criminal Intent," "Law and Order: Trial by Jury," "Law and Order: True Crime," and "Law and Order: You the Jury" constitute over 1,000 hours of programming and 1,096 original episodes. They currently enjoy the entertainment afterlife in syndication and eternal annuities for creator Dick Wolf.
1992 - The first punt less game in NFL history saw the Bills beat the 49ers 34-31. The Buffalo Bills (quarterback Jim Kelly: 403 yards and three TDs) and San Francisco 49ers (QB Steve Young: 449 yards and three touchdowns) combined for 1,086 yards of total offense -- without punting the ball once. And they have the nerve to call it football...
1993 - There was hope that the 45 years of war between Arabs and Jews would come to an end. PLO Chairman Yasser Arafat and Israeli Prime Minister Yitzhak Rabin came together in Washington, DC to sign an agreement to make peace, not war. They signed the Oslo Accords, granting limited Palestinian autonomy.
1993 - A strong winter type storm moved through the Rockies and western high plains producing record early snows. Denver, CO recorded 5.4 inches for its greatest snowstorm for so early in the season after reaching 92 degrees the day before. Records were also set at Cheyenne, WY with 5.5 inches and Scottsbluff, Nebraska with 2.5 inches.
1993 - "Late Night with Conan O'Brien" makes its premiere on NBC. E Street Band drummer Max Weinberg is the show's band leader with the Max Weinberg 7.
1997 - Oscar De La Hoya was awarded a unanimous decision after 12 rounds against Hector 'Macho' Camacho in Las Vegas. This was the second time De La Hoya, unbeaten in 26 bouts, had successfully defended his WBC welterweight boxing title. "He earned it," the bruised and battered Camacho said following the loss. "He did everything he said he was going to do, except he didn't knock me out."
1997 - "I like that ooh, ooh; Come on, come on MC, MC ooh, ooh..." Mariah Carey's "Honey" debuted on the "Hot 100" at number one -- her third single to do so. The others were "Fantasy" (Sep 30, 1995) and "One Sweet Day" (Dec 2, 1995). Carey was the first artist to have three singles debut at #1.
1999 - Country music newcomers the Wilkinsons sweep the 1999 Canadian Country Music Awards by gathering five trophies. Close behind is Canadian-born country music sensation Shania Twain with four awards.
2001 - Due the terrorist attacks on the World Trade Center and the Pentagon, Major League Baseball postpones all games through September 17. The 91 missed games, the most regular-season contests not played since World War I forced the cancellation of the final month of the 1918 season, have been re-scheduled for the week after the regular season ends meaning the World Series is likely to extend into November for the first time in history.
2001 – Civilian air traffic resumed after the September 11 attacks closed US airspace for several days.
2008 – Hurricane Ike made landfall on the Texas Gulf Coast causing heavy damage to Galveston Island, Houston, and surrounding areas.
2009 - Ichiro reached the 200 hit mark for the 9th straight year, a first in Major League history.
2013 – Insurgents attacked the US consulate in Herat, Afghanistan, with two members of the Afghan National Police reported dead and about 20 civilians injured.
2018 – The Merrimack Valley gas explosions: excessive natural gas pressure caused fires and explosions in pipelines owned by Columbia Gas of Massachusetts caused a series of explosions and fires to occur in as many as 40 homes, with over 80 individual fires, in the towns of Lawrence, Andover, and North Andover. One person was killed and 30,000 were forced to evacuate their homes.
-------------------------------------------------------------

SuDoku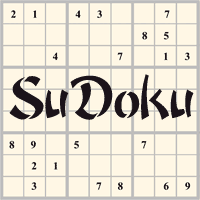 The object is to insert the numbers in the boxes to satisfy only one condition: each row, column and 3x3 box must contain the digits 1 through 9 exactly once. What could be simpler?
http://leasingnews.org/Soduku/soduko-main.htm
--------------------------------------------------------------

Daily Puzzle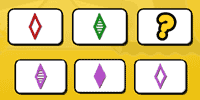 How to play:
http://www.setgame.com/set/puzzle_frame.htm
Refresh for current date:
http://www.setgame.com/set/puzzle_frame.htm
--------------------------------------------------------------


http://www.gasbuddy.com/
http://www.gasbuddy.com/GB_Map_Gas_Prices.aspx
http://www.gasbuddy.com/GB_Mobile_Instructions.aspx
--------------------------------------------------------------

Weather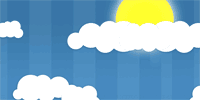 See USA map, click to specific area, no commercials
--------------------------------------------------------------

Traffic Live---
Real Time Traffic Information
You can save up to 20 different routes and check them out with one click,
or type in a new route to learn the traffic live
--------------------------------