Credit Analyst
Campbell, CA. Credit Analyst for middle market commercial/venture leases. Performs financial statement analysis/assesses qualifications w/underwriting criteria. Assists portfolio management. Requires excellent analytical and writing skills. College degree finance/accounting. Prior exper. financial services industry required.
E-mail resume to: pentech@pentechfinancial.com

Tuesday, September 6, 2005

Headlines---
Flag Upside Down
Welcome New Readers
Classified Ads---Operations
Oh, No, Mr. Bill... Not CIT again???
New Industrial Banks in Utah/One offering Leasing
Classified Ads---Help Wanted
ICB Leasing latest on "Funder Only" list
Leasing Assoc. Meetings Open to Non-Members
ELA Exec. Committee Sets Sites on Best Practices
Fitch Rates GE Equipment Small Ticket
News Briefs---
You May Have Missed---
Sports Briefs---
Top Event in Today's History
This Day in American History
Baseball Poem-Tim Peeler
######## surrounding the article denotes it is a "press release"

CITIGROUP $3MM plus Employee Matching
"I just wanted you to know that Citigroup will donate $3MM including matching all employee contributions to the American Red Cross to help in the relief efforts from Hurricane Katrina. In addition to these efforts, Citigroup is committed to working with affected customers to alleviate the temporary financial impact of this disaster through extension of grace periods, waiver of fees and other solutions as appropriate."
Ross Guilford
CitiCapital
Portland, OR.
ross.guilford@citigroup.com
Flag Upside Down
" I enjoyed the ragged flag wav file you sent and as a patriot myself; it was a joy to listen to. I get the sense you also share my beliefs as an American having a son in the navy and serving in the military yourself. My only question is why is the flag upside down on your website? Are you criticizing the leadership?"
The only time the American flag may be flown up-side down is for distress. This is a military designation primarily, for a ship in trouble, or a fort or army base. It was used in Viet Nam when your unit was in trouble and you wanted others to know, particularly in the air.
Hurricane Katrina has put the State of Louisiana in great distress. Neighboring states also. It has greatly affected us all, not just economically, and many have volunteered to go down and help others; have sent money, many have volunteered to house those who have been displaced and are without a place to live.
The other flag, below the date, which we ran last Friday, September 02, 2005 and waving, is the Louisiana State Flag.
If you look closely, it is also flying up-side down.

Here is the State Flag of Louisiana up-right: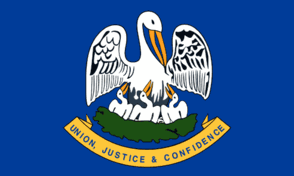 I thought it was time to fly both flags upside down last week on our Leasing News masthead our country was in distress. Help was needed. It still is.
I was hoping with the Citicapital message from Ross Guilford that others in the industry would take up the cause, too.
Kit Menkin, Editor/Publisher
---------------------------------------------------------------

Welcome New Readers
While most who read Leasing News go to the web site first, many still join our mailing list. Our goal is to print daily from Monday to Friday, but most often it is only three or four times a week, so when you are on the mailing list, you are informed that the new edition is available.
We go to "press" when we think there is enough equipment leasing news to do so.
Readers on our mailing list also get notices of major events from time to time.
We welcome the new readers and hope you enjoy and find informative Leasing News.
----------------------------------------------------------------

Classified Ads---Operations
Orange County, CA .
Operations/Credit Manager with 15 Years Experience, Middle & Large Ticket, initiated policies for Patriot Act and Sarbanes Oxley, Team Motivator.
E-mail: equiplender@aol.com
East Windsor, NJ.
Skilled Manager in credit, collections, training, documentation, policy and procedure, lease and finance operations. Get results and keep the customer coming back.
Email: rgmorrill@comcast.net
Resume
http://216.66.242.252/AL/LeasingNews/Resumes/Richard_Morrill.pdf
New York, NY.
10+ years in equipment leasing/secured lending. Skilled in management & training, documentation, policy and procedure development & implementation, portfolio reporting. Strong work ethic.
Email: dln1031@nyc.rr.com
Wayne, NJ
20+ heavily experienced collection/recovery VP looking to improve someone's bottom line. Proven, verifiable track record. Knowledge of all types of portfolio. Will relocate
Email: cmate@nac.net
For a full listing of all "job wanted" ads, please go to:
http://216.66.242.252/AL/LeasingNews/JobPostings.htm
To place a free "job wanted" ad, please go to:
http://216.66.242.252/AL/LeasingNews/PostingForm.asp
----------------------------------------------------------------

Oh, No, Mr. Bill... Not CIT again???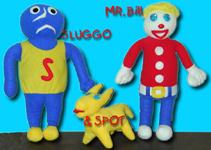 by Kit Menkin
As CIT Financial has grown since divorcing itself from Tyco, moving into Europe and making plans for expansion into India, its main base of American vendor business appears to be slipping, not concerned about collateral.
One of my former partners was Jim Kalinski at American Leasing, who originally came from CIT, San Francisco. He was perhaps one of the best credit man in the business, and others, like Bob Fisher, now at Main Street Bank were the pick of the pack when it came to understanding credit situations, especially looking at the collateral---
almost a sixth sense.
Jim said he was trained by being thrown at the desk with a bunch of applications and told he could approve any under $25,000, and over that, he had to get his boss's okay. He was told point blank, don't ask me any questions, unless you have to, as it is your job to approve or turn them down.
The more he processed, the more he got. He said he used his common sense, and was promoted when he was told he was approving more than he was turning down. Later his boss said credit was so complex, he had to learn it the hard way, as each application was different. And that was the approach Jim had taken. He had approval in the old days up to $250,000 by himself, and with another, up to a $1 million, 1972. That's the way I remember the story, that it was easy to turn a deal down, but you got more authority when you understood that you could take a better chance if you knew what you were doing. Unfortunately, they don't seem to do it that way today as credit scoring and "processing time" appears to be the guideline.
Not only should CIT have learned this with the NorVergence leases, with $500 matrix boxes for $20,000 and $120,000 leases ( yes, just one Matrix box was the equipment description,) but it appears CIT is doing it again, this time with credit clearing machines that allegedly cost $350 but the contract calls for $7,000 plus as "cost to lessor."
Leasing News has received several complaints from lessees, and was also told that the Federal Trade Commission is looking into the contracts.
Here is how the scam works. A merchant pays a few percentage points in a credit card transaction, plus enters into a contract of service, plus obtains the dial-up hardware to process the transactions.
"I own a small mail order company called RTG Parts," he wrote. "In late June we received a phone call from a woman claiming to work for Chase Manhattan Bank. We were told we could save money if we switched to their credit card Merchant service. I agreed to meet with a representative and discus this.
"On July 7 th I met with a man and his trainee from "NPMG Registered ISP/MSP of JP Morgan Chase' ...Several times I asked what this would cost me and he always answered 2.2% of my credit card sales. He said there were no other fees. The 2.2% was good for any transaction and it was guaranteed for 60 months.
"While signing I was confused by many items...He assured me that the charge for this equipment would come out of the 2.2%...I was told the $99 a month for the machine would be paid by NPMG. That it would come out of my 2.2% and I would never have to pay anything above 2.2%.
"...Instead of signing a simple service contract as promised I instead signed a lease for equipment owned by 'CIT Financial USA., d/b/a Lease Finance Group.' (233 North Michigan Avenue, Suite 1800, Chicago, IL 60601-5519) I have contracted this company but I believe they are organized with the fraud. I can not talk to a real person and the recording says I owe more than $5500 just to cancel the lease (this is a$250 piece of equipment as advertised on line.) Then to cancel the draconian service contract I would have to pay another $1000 cancellation fee to NPMG."
The contract was for 48 months with an estimated 10% residual.
He concluded his letter to Leasing News, "I feel like quite the fool.
I got nailed big time...hard to believe I could be so foolish."
Leasing News was unable to get a comment from any of the other parties involved, but here is a copy of the letter from the owner of RTG Parts as well as the contracts he signed:
http://leasingnews.org/PDF/NPMG2.pdf
Leasing News has received calls regarding how to break the contract with CIT because the service was slow with the provider, and then when they found out the "buy out," they never realized it was a contract based on a $350 dollar machine.
In addition, a salesman was offered a job with a company in Silicon Valley that sells these programs, using CIT Financial, as their funding source. The question we were asked was how could a $300 (the number he gave us) turn into a $7,000 contract, and weren't leasing companies concerned about the collateral. This was not only a humorous question, but it came from a former copier salesman who said he was trained to give full disclosure to the customer to what they were signing. He said the commissions were also too good to be true, and that's why he came to visit us, as it didn't seem to jive, but CIT Financial was funding the leases, so it gave creditability to the transaction, he thought. Should he take the job? No way, we told him, as he could wind up in court for many days, plus also may have personal liabilities in how he sold the transaction.
As to collateral, the owner of RTG Parts said he had a credit score over 800, and had good cash in the bank, too. I bet there was very little credit investigation or even much human time spent on this under $10,000 lease--- wasn't worth the time.
The old Jim Kalinski or Bob Fisher would have never gotten into this situation as they would have seen through the collateral. Perhaps the new Jim or Bob would have not had the time, but let the credit score and alleged "hell and high water" contract run pell mell in putting the deal on the books. This certainly looks like another NorVergence situation or perhaps even Leasecomm. I don't think Jim or Bob would have fallen for it.
---------------------------------------------------------------

New Industrial Banks in Utah/One offering Leasing
The Salt Lake Tribune writes that Wal-Mart Stores Inc.'s controversial application to open a Utah-based industrial bank may be getting all the attention lately, but Daimler Chrysler, Sallie Mae, CapitalSource Inc. and Lease Corp. of America also have made application. Lehman Brothers and the Utah-based Leavitt Insurance Group, successfully opened their own industrial banks last month. Merrill Lynch, Target Corp., and American Express already have industrial banks established in the state.
Reportedly there are currently are 31 industrial banks operating in Utah. Combined, those financial institutions have assets of more than $115 billion.
Steven Oberbeck writes in the Salt Lake Tribune, " Regardless, if all the pending applications are approved by the end of 2005, this will be the busiest year for industrial bank formation in Utah history."
SLM Corp., better known as Sallie Mae, plans to offer student and education loans through its bank. "The industrial bank will allow us to fund and originate, in our own name, private credit education loans that we offer nationwide to students and families," said a statement from Sallie Mae executive vice president Marianne Keler.
CapitalSource will offer commercial loans. Daimler Chrysler will provide automobile loans and Leasing Corp. of America Bank will offer equipment leasing.
Lehman Bros. Bank was set up to provide commercial real estate loans and warehouse lines of credit. "We'll have no retail presence," Julie Boyle, the bank's president, told the Salt Lake Tribune. "Our smallest loan will be in the $5 million range."
Utah is one of the few states that allows industrial loan corporations. It was created in 1987 by congress that allows brokers and retailers to own a federally insured, deposit-taking financial institution. In California, many banks are located in large grocery stores and drug stores. Many retailers have also gone direct to forming their own banks out of state to be able to issue credit cards direct, plus use their cash flow, cutting out the "middle-man."
---------------------------------------------------------------

Classified Ads---Help Wanted
Account Executives

Account Executives
Positions are available for remote Account Executives with 7+ yrs Equipment Leasing Sales exp. Work directly with CFOs, CIOs, CEOs and other high-level executives. Please send resume indicating where you saw this ad to: US_DFS_Staffing@dell.com.

About the Company: At Dell Financial Services, we aspire to fuel your potential with the kind of challenging opportunities and hands-on support you need to grow. We're the exclusive provider of leasing and finance services for Dell technology systems worldwide.

Credit Analyst

Credit Analyst
Campbell, CA. Credit Analyst for middle market commercial/venture leases. Performs financial statement analysis/assesses qualifications w/underwriting criteria. Assists portfolio management. Requires excellent analytical and writing skills. College degree finance/accounting. Prior exper. financial services industry required.
E-mail resume to: pentech@pentechfinancial.com

Lease Representatives

Baltimore - Washington area
Lease Representative
M&T Bank is seeking an in-market lease representative to develop and maintain relationships with broker/lessors, equipment vendors, and direct lessees throughout Maryland and Northern Virginia. Must be knowledgeable small ticket leasing ($75K average ticket) and third-party lease/loan transactions. Please apply on-line at www.mandtbank.com and view posting #4044.
At M&T Bank, we provide and exciting and challenging work environment where performance and innovative thinking is encouraged at every level. With over 700 branches, your career can travel as far as you take it!

MIS/Business Analyst
MIS/Business Analyst
Campbell, CA. Business Analyst needed to assist Ops Department in production and development of business segment reporting, liquidity management; systems integration. College degree/related experience in financial services industry required.
E-mail resume to: pentech@pentechfinancial.com

National Account Manager

National Account Manager
Position located/based anywhere in the U.S.
3-5 years vendor finance/sales experience
For a full description and how to apply,
click here.

Vendor Relationship

Director, Vendor Relationship Development: Office Equipment Group.
Accountable for originating/ maintaining volume from large Office Equipment dealers. Preferred locations - SW and Mid-Atlantic. Full descrip/to Apply, Click here
GreatAmerica is a highly successful entrepreneurial company providing equipment financing to businesses across the United States.
---------------------------------------------------------------

ICB Leasing latest on "Funder Only" list
Funder's Only - Update
A -Accepts Broker Business | B -Requires Broker be Licensed | C -Sub-Broker Program
| D -"Private label Program" | E - Also "in house" salesmen
Rank

Name
In Business Since
Contact
Website
Leasing Association

Employees

Geo
Area

Dollar
Amount

Equipment Restrictions

A

B

C

D

E

4

ICB Leasing Corp.,
2004 (Our parent, Independence Community Bank, was established in 1850.)
Ira Romoff at 212-209-9177,
e-mail: iromoff@icbny.com or
Jean Cutting at 212-209-9178
e-mail: jcutting@icbny.com
EAEL, ELA (F)

17

Nationwide

$75,000 to $5 million

No aircarft or marine vessels

Y

Y

N

Y

Y
(F) ICB Leasing - Business is conducted only with approved brokers. In addition, Brokers must not only be approved by ICB but licensed where appropriate. We will permit use of ICB Leasing Corp. lease docs in approved originators name and purchase/take assignment of lease.
September 1, 2005
To our Lessors and Brokers:
The financial headlines have changed from interest rates/inflation to the possible effects of the Gulf Coast devastation and the price of the oil on the US economy, short and long term. As a result, for the first time in quite a while, the interest rate/Fed intention is uncertain and therefore we will just keep our rates the same for September.
While we anticipate a slow down in applications and funding in August due to vacations, seasonality and the horrible hot wather, ICBL happily had its best month ever. Operations are running smoothly as evidenced by good communications with our lessors and continued quick accurate fundings. Carol Wilson Joined Susan Jaskoloski's operations staff bringing additional experience to our team.
Our portfolio is growing daily and I'm very pleased with credit quality, turn around time and the good rapport we enjoy with our lessors and brokers. To further support Andrew Corsi's credit shop we are expecting a new lender to start with us at the end of this month.
Showing its support for ICBL and leasing in general, Independence Community Bank, our parent bank, has built a beautiful new office for us on the 4 th floor of our building. We will be moving in September 16 th . All fax and phone numbers will stay the same. With room for 38 people, we hope to grow into it quickly to support you properly and meet our growth plans. Once again, we thank you for your support and business, without which none of our success would be possible. Visit us in NYC or at the EAEL FALL EXPO in NJ on Sept. 19 th .
Each month we set rates for the approvals during the month. We then hold our credit approvals for 90 days and also lock the rate for 60 days. Call for app only rates.
24 - 60 months Rate = 7.30%
This rate is for transactions above $100K. Doc fees are $100.00 to $100k, $150.00 to $200K and $250.00 above $200K. Lessors and brokers must be pre-approved.
IRA ROMOFF
212 209-9177
IRomoff@icbny.com
ANDREW CORSI
212 209-9170
ACorsi@icbny.com
SUSAN JASKOLSKI
212 209-9172
SJaskolski@icbny.com
JEAN CUTTING
212 209-9178
JCutting@icbny.com
BILL WIDDOWSON
212 209-9171
BWiddowson@icbny.com
PAUL FRASER
212 209-9175
PFraser@icbny.com
DANIE NOEL-PERICLES
212 209 9174
DPericle@icbny.com
MARK CHIN
212 209-9173
MChin@icbny.com
CAROL WILSON
212 209-9124
Cwilson@icbny.com
FAX #
212 209-9179
www.icbny.com
ICB LEASING CORP. 551 5 TH AVENUE NYC, N.Y. 10176
To view the full "Funder Only" list, please go here:
http://www.leasingnews.org/Funders_Only/Funders.htm
---------------------------------------------------------------

Leasing Association Meetings Open to Non-Members
The UAEL Golf Tournament deadline closes tomorrow.
The new location for the ELA September 19-21 Lease Accountants Conference is the Renaissance Harborplace Hotel, 202 East Pratt Street, Baltimore, Md.
UAEL Oregon Region Presents
"Annual Golf Tournament"
Call UAEL at 760-564-2227 to REGISTER NOW (before September 7th) as this is a first come, first serve event, as we have tee times reserved for 40 players!!
When: Thursday, September 15, 2005
Where: Eastmoreland Golf Course
2425 SE Bybee Blvd
Portland OR 97202
503-775-2900
(review www.eastmorelandgolfcourse.com for directions)
Event: This will be a scramble format, and is open to both members and non-members. We will have both contests and drawings.
Time: Check in will be at 10:00 a.m., and the first start time will be at 10:30 a.m.
Cost: $40.00 for members, and $55.00 for non-members.
Registration: Simply call UAEL at 760-564-2227 to make payment arrangements. As mentioned, this is first come, first serve, so please REGISTER NOW (deadline is September 7 th ). UAEL can take your credit card information over the phone or they can invoice you as well. Please also make sure to provide us with your handicap, and let us know if you would like to be partnered with anyone.
Final Comments: The Oregon Annual Golf Tournament has been held for many years now, and has always been a huge success. We have always had an excellent mix of funding sources, brokers and lessors, and vendors. We also encourage non-golfers to come out and meet us for beverages, as all players should be coming off the course between 3:00 and 4:00 p.m.
For additional information: Please contact Gary Parker, Commercial Equipment Lease, at
800-234-1884 or email gparker@commlease.com .
---------------------------------------------------
September 19-21 ELA Lease Accountants Conference
New location for the ELA Lease Accountants Conference is the Renaissance Harborplace Hotel, Baltimore, MD
Hotel Accommodations:
If you have a reservation at the JW Marriott in New Orleans, DO NOT cancel it! Your reservation will be transferred over to the Renaissance Harborplace automatically for you. The group rate of $209 will remain the same. Renaissance will be sending you a new email confirmation.
If you need to make a change in your reservation, please wait to receive this confirmation and then call 800-468-3571 to make the change.

IMPORTANT: If you did NOT have a reservation at the JW Marriott, but were staying at another hotel in New Orleans, you need to call the Renaissance Harborplace at 800-468-3571 and make a new reservation there. Be sure and tell the reservations clerk you are attending the ELA Lease Accountants Conference in order to get the group rate. Please take care of making your reservations by Friday, September 9.
We have increased the block of rooms, so you should have no trouble securing a reservation at the Renaissance.
Note: You should also cancel the reservation you made at the other New Orleans Hotel.
Any questions, contact Sally Maloney at smaloney@elamail.com
Benefits of Attending:
- Pre-conference workshops on accounting for Commercial Vehicle Fleet and Real Estate
- Doing business in a changing corporate environment: understanding the regulatory, tax and accounting impact
- Learn about current & emerging developments at the FASB and how they impact lease accounting
- Understand the impact of the SEC report on off-balance sheet arrangements on leasing
- Assess the current status and outlook of proposed FASB standards related to offbalance sheet accounting and financial reporting for securitization implementation and interpretive questions
- Receive an update on the latest developments in accounting for cross-border transactions
- Understand the changes in the accounting treatment of tax benefits in leveraged leases
- Participate in unmatched networking activities!
Who Should Attend?
Accountants, CFOs, controllers, tax managers, treasurers, finance directors and others responsible for financial reporting activities, plus any business professional or advisor who must be familiar with the impact of accounting on their transactions or activities.
Conference brochure:
http://www.elaonline.com/events/2005/LeaseAccts/LAC05_Brochure.pdf
--------------------------------------------------------------
Oct. 21-22, 2005
Western Regional Meeting
National Association of Equipment Brokers
Hilton Irvine Irvine, California
Join us in sunny Irvine for networking, education, and to
meet new funding sources.
For more information, please go to:
http://www.naelb.org/cde.cfm?event=40117
E-mail: mwilson@hqtrs.com
---------------------------------------------------------------------
November 4-5
Eastern Regional Meeting
National Association of Equipment Brokers Atlanta, Georgia
Join us in Atlanta for networking, education, and fun.
For more information, please go to:
http://www.naelb.org/cde.cfm?event=73892
E-mail: mwilson@hqtrs.com
----------------------------------------------------------------

ELA Executive Committee Sets Sites on Best Practices
ELTnews
At its recent annual planning meeting, the Equipment Leasing Association Executive Committee addressed the issue of "reputational" risk for the equipment leasing and finance business. Association members and elected leaders alike have been raising concerns about how various groups, including customers, legislators, regulators and the business media perceive leasing company business practices. The lengthy discussion revolved around two issues. The first deals with customers and the growing importance to the business of good customer relations, satisfaction and repeat business. Do current practices actually encourage customer satisfaction and high reputation?
The second issue involves potential increases in government regulation either through laws or regulations. Regulatory bodies, including state legislatures, Attorneys General and the Federal Trade Commission are actively looking at practices in the industry.
In the discussion of practices, most discussion focused on end of lease provisions and the transparency of documents.
The Executive Committee will recommend that a Task Force on best practices be established to address the subject of best and fair practices and how to build greater awareness among member companies of the impact of practices on reputation and business success. The Task Force would address among other things:
. Establishing a clear industry philosophy related to the importance of the customer, important principles and standards of practice to use as a guide in addressing specific issues and questions.
. The source and nature of practices giving rise to reputational problems.
. What other industry organizations do to encourage / establish ethical behavior, best practices and high quality of standards in dealing with customers.
. Potential activities such as development of Best Practices Guidelines.
. Changes to the Code of Fair Business Practices--content and/or process of enforcement.
. Activities to educate/build greater awareness of the impact of practices on customer relations/satisfaction.
. Activities to focus on lessons learned from business situations or practices that exposed member companies to legal action or increased regulation.
In other action, the Executive Committee took steps to increase resources for Advocacy programs and programs to provide more business development opportunities. Members of the committee believe that an expanded government affairs and legal effort, including more member involvement, will be critical in the next several years as legislation related to changing tax systems and certain consumer oriented legislation increases.
--Michael J. Fleming, ELA president
----------------------------------------------------------------
### Press Release ############################

Fitch Rates GE Equipment Small Ticket LLC, Series 2005-1
CHICAGO---Fitch rates the GE Equipment Small Ticket LLC, series 2005-1 (GE EST 2005-1) as follows:
-- $180,000,000 class A-1 notes 'F1+';
-- $120,000,000 class A-2 notes 'AAA';
-- $277,000,000 class A-3 notes 'AAA';
-- $110,269,000 class A-4 notes 'AAA';
-- $63,845,000 class B notes 'A'.
The $751 million of notes are backed by a pool of receivables originated or acquired by the North American Leasing (NAL) and Healthcare Financial Services (HFS) operating segments of General Electric Capital Corporation (GECC). GE EST 2005-1 is General Electric Company's (GE) second securitization of primarily small ticket vendor-based originations.
The GE EST 2005-1 ratings are based on the following:
-- Historical delinquency and loss performance of the selected portfolios;
-- Origination, underwriting and servicing experience and procedures of GECC;
-- The role of GECC as servicer;
-- Collateral pool characteristics;
-- Available credit enhancement for the class A and B notes; and
-- Sound legal and cash flow structure of the transaction.
The 'AAA' rating on the senior notes reflects the credit enhancement (CE) provided by the subordination of the class B notes (8.50%), the initial reserve account (0.75%), available excess spread, overcollateralization (OC) created by a partial turbo, and available residual realizations related to the leases in the pool. The 'A' rating on the class B notes reflects the CE provided by the reserve account, available excess spread, OC created by a partial turbo, and available residual realizations. The ratings address the likelihood that noteholders will receive full payments of interest and principal in accordance with the terms of the transaction documents.
The receivables consist of loans and leases originated or acquired by the NAL (approximately 94%) and HFS (approximately 6%) segments of GECC. The largest equipment concentrations (as a percentage of the final cut-off date pool balance) include office (52.18%), technology and telecommunications (13.99%), printing presses (9.14%), medical (6.37%), and industrial equipment (5.07%).
Noteworthy obligor industry exposures are services (46.53%), printing and publishing (12.00%), and health care (11.26%). The overall pool is diversified geographically, with the top five states as follows: California (11.44%); Florida (8.96%), New York (8.13%), Texas (7.89%), and Illinois (6.44%). The highest single obligor concentration is 0.87% of the initial pool balance, with the five largest obligors constituting 3.19%.
Fitch considered both quantitative and qualitative factors in evaluating the CE structure of the GE EST 2005-1 transaction. Fitch reviewed the business segments' annual and static loss histories, projecting cumulative losses on pools that have not fully paid down using segment specific loss curves. Ultimately, in determining the cumulative net-loss proxy for the GE EST 2005-1 portfolio, Fitch weighted the individual segment's projected losses by its portfolio proportions.
Stresses were applied to Fitch's expected loss rate within the cash flow model to simulate deteriorating asset performance. To replicate a reduced amount of excess spread available to cover losses and turbo principal to the notes, Fitch also implemented a higher servicing fee within cash flow models. Supplementary stress on the classes A and B notes was initiated by reducing credit to residual realizations, limiting 'AAA' and 'A' access to 50% and 55% of the booked amount, respectively. Surveying the performance of the structure under different loss timing scenarios, the cash flow model was analyzed under front-end, back-end, and a more even distribution of losses. The break-even losses sustained by the enhancement structure were then compared with Fitch's cumulative net-loss proxy stressed by a multiplier consistent with the rating being sought. Under stress scenarios consistent with 'AAA' and 'A' ratings and minimum multiples of 5.0 times (x) and 3x, respectively, the CE structure was sufficient to ensure payment of the classes A and B notes by the legal maturity date.
Fitch's rating definitions and the terms of use of such ratings are available on the agency's public site, www.fitchratings.com. Published ratings, criteria and methodologies are available from this site, at all times. Fitch's code of conduct, confidentiality, conflicts of interest, affiliate firewall, compliance and other relevant policies and procedures are also available from the 'Code of Conduct' section of this site.
### Press Release ###########################
---------------------------------------------------------------

News Briefs----
Storm may stem rates
Strategists see Fed taking break from increases
http://www.ajc.com/news/content/business/0905/03bizdow.html
States waive weight, height regs for hurricane relief trucks
http://www.landlinemag.com/Special_Reports/2005/Katrina/
090105_hurricane_ht_wt_waivers.htm
Top Restaurants in New Orleans May be Lost
http://www.chicagotribune.com/news/nationworld/chi-0509020189sep02,1,2571957.story?
coll=chi-newsnationworld-hed&ctrack=1&cset=true
http://www.nytimes.com/2005/09/06/business/06restaurant.html?pagewanted=all
----------------------------------------------------------------

You May Have Missed
Home prices increase at their fastest rate in 25 years
http://www.usatoday.com/money/economy/housing/2005-09-02-housing-usat_x.htm
Top 265 metro areas of Housing Growth
http://www.usatoday.com/money/perfi/housing/2005-09-02-housing-price-chart.htm
----------------------------------------------------------------

Sports Briefs----
Jerry Rice retires---the full story
http://sfgate.com/cgi-bin/article.cgi?file=/c/a/2005/09/06/RICE.TMP
NFL's Q rating, revenue continue to climb
http://www.usatoday.com/money/industries/2005-09-02-forbes-revenues_x.htm
---------------------------------------------------------------

Today's Top Event in History
1877-Birthday of legendary New Orleans trumpet player Buddy Bolden ***
http://www.redhotjazz.com/buddy.html
http://www.redhotjazz.com/buddyinfo.html
http://www.pbs.org/jazz/biography/artist_id_bolden_buddy.htm
http://www.nathanielturner.com/buddybolden2.htm
****
"...thought I heard Buddy Bolden say,
Dirty, nasty stinky butt, take it away,
Dirty, nasty stinky butt, take it away,
And let Mister Bolden play . . ."
Jelly Roll Morton
This Day in American History
1620--- Pilgrims set sail from Plymouth England to the New World
http://www.internet-at-work.com/hos_mcgrane/holidays/becky.html
http://www.plimoth.org/Education/piltriv.htm
1667--a "Dreadful hurricane" hit Virginia with 12 inches of rain. It overturned houses, stripped the fields of crops and pushed tides 12 feet above normal
1757- Birthday of French general and aristocrat, Marquis de Lafayette, whose full name was Marie-Joseph-Paul-Yves-Roch-Gilbert du Motier, came to America to assist in the revolutionary cause and volunteered to serve without compensation. He was awarded a major-generalship and began a lasting friendship with the Amer­ican commander-in-chief, George Washington. After an alliance was signed with France, he returned to his native country and persuaded Louis XVI to send a 6,000-man force to assist the Americans. On his return, he was given command of an army at Virginia and was instrumental in forcing the surrender of Lord Cornwallis at Yorktown, leading to the end of the war and Amer­ican independence. He was hailed as "The Hero of Two Worlds" and was appointed a brigadier general on his return to France in 1782. He became a leader of the liberal aristocrats during the early days of the French revolution, presenting to the National Assembly his draft of "A Declaration of the Rights of Man and of the Citizen." As the commander of the newly formed national guard of Paris, he rescued Louis XVI and Marie-Antoinette from a crowd that stormed Versailles Oct 6, 1789-Returning them to Paris where they became hostages of the revolution. His popu­larity waned after his guards opened fire on angry demonstrators demanding abdication of the king in 1791. He fled to Austria with the overthrow of the monarchy in 1792, returning when Napoleon Bonaparte came to power. Born at Chavaniac, he died at Paris, May 20, 1834.
1800-Birthday of Catharine Beecher, born at East Hampton, NY, in addition to teaching herself mathematics, philosophy and Latin, Beecher had been formally educated in art and music. An early advocate for equal education for women, she founded the Hartford Female Seminary, which was widely recognized for its advanced curriculum. She was also instrumental in the founding of women's colleges in Iowa, Illinois and Wisconsin. Beecher died May 12,1878 at Elmira, NY.
1819- Thomas Blanchard of Middlebury, CT obtained a patent for a machine for fashioning irregular forms and called it a "profile lathe, a machine for manufacturing gun stocks." the lathe did the work of 13 operators and made possible a great reduction in woodworking prices.
1837-- Known today as Oberlin College, the Oberlin Collegiate Institute of Ohio formally opened its doors to women as four women joined 30 men for college educations.
1860-Birthday of Jane Addams, American worker for peace, social welfare, rights of women, co-winner of Nobel Prize, 1931. Born at Cedarville, IL, she died May 21, 1935 at Chicago, IL. She and her life partner Ellen Gates Starr founded Hull House in Chicago, Illinois. The networking that Hull House enabled changed the social conscience of the United States - and taught women they could accomplish just about anything, plus helped many disadvantage people gain a better life. Jane Adams is studied in high school history today, perhaps one of the most influential women in American history
1862 Stonewall Jackson occupies Fredrick, Maryland
http://www.mdenvirothon.00server.com/countyfacts.htm
http://www.nps.gov/hafe/jackson.htm
http://www.nps.gov/hafe/maps/surround.htm
http://www.bbonline.com/md/middletown.html
http://www.civilwar-va.com/maryland/fred-wash.html
1862-Did Barbara Fritchie wave the Union flag at "Stonewall" Jackson and dare her to shoot her but not the flag or was it John Greenleaf Whittier poem?
http://www.women.eb.com/women/pri/Q00175.html
http://www2.froggernet.com/captain/fritchie.htm
http://www.awod.com/gallery/probono/cwchas/wagner.html
1866-The first delegate to a national political convention who was an African-America was Frederick Douglass (1) of Rochester, NY, who attended the National Loyalists' Loyal Union Convention at Philadelphia, PA.
1869-One of the worst coal mine disaster; 110 men and boys perished in Avondale, PA. A fire broke out in the mineshaft, cutting off the miners' escape route and their own source of air. the trapped miners tried to keep toxic fumes out of the tunnel by building a wall of boxes, barrels, and their own clothing, but the effort was hopeless. This was the conditions in the mines until after the turn of the century and unionization.
1876 -Southern Pacific railroad line from Los Angeles to San Francisco completed
http://www.linecamp.com/museums/americanwest/western_clubs/southern_pacific_railroad/
southern_pacific_railroad.html
1877-Birthday of legendary New Orleans trumpet player Buddy Bolden ***
http://www.redhotjazz.com/buddy.html
http://www.redhotjazz.com/buddyinfo.html
http://www.pbs.org/jazz/biography/artist_id_bolden_buddy.htm
http://www.nathanielturner.com/buddybolden2.htm
1881-The famous "Yellow Day" in the northeast caused by Michigan forest fires where 20 villages were burned and 500 killed. The smoke filtered out most of the light and left a brassy tinge on everything
1892- John Froelich of Froelich,IA, shipped out one of his first gasoline tractors to Landford, SD, where it was employed from September 24 to November 16 in threasing. It had a Van Duzen vertical single-cylinder gasoline engine mounted on wooden beams to operate a J.I. Case threshing machine. In 1893, Froelich formed the Waterloo Gasoline Traction Engine Company, Waterloo, IA, which was lager acquired by the John Deere Plow Company.
1899-Carnation processes its first can of evaporated milk, Kent, WA.
http://www.historylink.org/output.CFM?file_ID=1608
1901-For the third time in the nation's history a president was assassinated. President William McKinley was visiting the Pan-American Exposition in Buffalo, NY. While greeting visitors he was shot twice in the abdomen by a young anarchist, Leon Czolgosz, who was carrying a concealed pistol in a handkerchief. For a few days McKinley seemed to be recovering, but he took a turn for the worse and died on September 14 at 2:15am. McKinley, 58, was succeeded by Vice-President Theodore Roosevelt, who became the 26 th president of the United States. Roosevelt took the presidential oath in the same house in Buffalo where the boy of McKinley awaited transportation to Canton, Ohio, for burial. Roosevelt was not quite 43 years old and so was the youngest person to hold the office of president. Conservative Republicans, who had been happy with McKinley, were appalled. As governor of New York, Roosevelt had shown liberal tendencies. He had gained the vice president nomination in 1900 partly because republican leaders sought to keep him in a harmless post.
(lower half of:. http://memory.loc.gov/ammem/today/sep06.html
1905-Birthday of singer Chippie Hill, Charleston, SC.
1909-Topeka, KS is drenched with 8.08 inches of rain in 24 hours to establish an all-time record for that city
1912-Birthday of Vincent Paul DiMaggio, baseball player born at Martinez, CA. The oldest of the three major league DiMaggio brothers, played ten years in the National League. Died at North Hollywood, CA. October 3, 1966.
1925-Birthday of guitarist Eddie Duran, San Francisco, CA.
1937-Benny Goodman bad records " Sugar Foot Stomp."
1938 The movie "Boys Town" was first released by MGM studios. Starring Spencer Tracy, the award-winning film depicted the founding of the famous vocational institution in Nebraska in 1917 by parish priest Father Edward J. Flanagan, 31.
1952---"Wish You Were Here" by Eddie Fisher topped the charts and stayed there for a week
1956---Top Hits
Hound Dog/Don't Be Cruel - Elvis Presley
Canadian Sunset - Hugo Winterhalter & Eddie Heywood
Tonight You Belong to Me - Patience & Prudence
I Walk the Line - Johnny Cash
1954-Integraton begins in Washington, DC, and Baltimore, MD.
1955- "Wyatt Earp" premiered on television starring Hugh O'Brien. My father Lawrence Menkin wrote several episodes.
1958 - Actor Steve McQueen starred on the CBS-TV series, "Wanted: Dead or Alive". McQueen played bounty hunter Josh Randall. Randall was a man of few words but sure knew how to use his .30-.40 sawed-off carbine on the bad guys. My late father Lawrence Menkin wrote many of the episodes.
1958 - Georgia Gibbs sang "The Hula-Hoop Song" on "The Ed Sullivan Show". It was the first national exposure for the Hula-Hoop craze. Many people recorded the song to capitalize on the fad, including Teresa Brewer and Betty Johnson. Like sometimes happens with fads, these songs didn't become very popular. The Hula-Hoop craze lasted a bit longer...
1959 - The first Barbie Doll was sold by Mattel Toy Corporation. The original Barbie, along with her pals, Ken and Skipper, are now collectors items, although new versions are continually being produced.
1961 - Bob Dylan gave one of his first performances at the Gaslight Cafe in Greenwich Village. The Gaslight was originally a 'basket house', where performers were paid from the contents of a basket that had been passed around.
1964---Top Hits
The House of the Rising Sun - The Animals
Because - The Dave Clark Five
Bread and Butter - The Newbeats
I Guess I'm Crazy - Jim Reeves
1969 - Singer, songwriter David Bowie debuted on U.K. charts with "Space Oddity". You remember, "Ground Control to Major Tom, Ground Control to Major Tom ... Check ignition and may God's love be with you, Three, Two, One, Liftoff..." "Space Oddity" peaked at #5 in the U.K. The song's release was timed for the U.S. moon landing, but didn't make the U.S. charts until its re-release in 1973 (it reached #15).
1972 - Rick DeMont lost the gold medal he received in a 400-meter swimming event because a banned drug was found in his system during routine drug testing.
1972---Top Hits
Alone Again (Naturally) - Gilbert O'Sullivan
Long Cool Woman (In a Black Dress) - The Hollies
I'm Still in Love with You - Al Green
Woman (Sensuous Woman) - Don Gibson
1973 - Avenging the loss of his gold medal one year earlier, swimmer Rick DeMont captured the 400-meter freestyle event with a world record time of 3:58.18 ... without drugs.
1975 - Glen Campbell hit #1 on the "Billboard" pop music chart with "Rhinestone Cowboy". It had reached the top position on the country chart on August 23rd.
1975-Chris Evert won the first of her six US Open women's singles titles by defeating Evonne Goolagong, 5-7, 6-4, 6-2.
1976 - Dean Martin and Jerry Lewis were reunited by Frank Sinatra -- after 20 years of going their separate ways. The former comedy team warmly met each other again during a surprise visit by Martin to Lewis's annual "Labor Day Telethon" for Muscular Dystrophy.
1976- Los Angeles Dodgers catcher Steve Yeager, waiting in the on deck circle, was seriously injured when he was struck in the neck by a shattered bat. The injury caused Yeager to introduce a new piece of baseball equipment, the neck protector, a flag attached to his catcher's mask.
1980 - Miss Oklahoma, Susan Powell, was crowned Miss America in Atlantic City, NJ. It was the first time in 25 years that Bert Parks had not served as master of ceremonies for the show. He had been dismissed because the pageant committee considered him to be too old. Former TV "Tarzan", Ron Ely, was chosen to host the festivities.
1980- "Upside Down" by Diana Ross topped the charts and stayed there for 4 weeks.
1980---Top Hits
Upside Down - Diana Ross
Emotional Rescue - The Rolling Stones
All Out of Love - Air Supply
Lookin' for Love - Johnny Lee
1986 - Bananarama hit the top spot on the pop music charts with "Venus". The tune had also been a number one hit for the Dutch group, The Shocking Blue (2/07/70).
1985- Michael Jackson buys ATV Music (every Beatle songs) for $47« million
http://www.mjcafe.net/the%20legend%20speeches%20&%20faq/b4.htm
1986-- Barbra Streisand's first live concert in 20 years. Taped on Sept. 6, 1986, before 500 invited guests at her California home, the concert was called "Barbra Streisand: One Voice" and aired on HBO on Dec. 27, 1986 to enormous acclaim.
http://www.sing365.com/music/lyric.nsf/singerUnid/BF2922C921C98836482568670012BA4C
1988---Top Hits
Monkey - George Michael
Sweet Child o' Mine - Guns N' Roses
Simply Irresistible - Robert Palmer
I Couldn't Leave You if I Tried - Rodney Crowell
1988- the Hispanic population of the US increased 34% since the 1980 census, the Census Bureau reported. There were now approximately 19,400,000 people of Hispanic background, and they represented 8.1% of the total population. More than half of them lived in California and Texas. The 2000 Census showed California had over 41% population Hispanic.
1995-Cal Ripken, Jr. of the Baltimore Orioles played in his 2,131 st consecutive game, thus breaking Lou Gehrig's mark. Ripken hit a home run as the O's defeated the California Angeles, 4-2.
1996- Eddie Murray of the Baltimore Orioles hit the 500 th home run of his career, joining Willie Mays and Henry Aaron as the only ballplayers to retire with at lest 500 homes and 30,000 hits. Murray homered in the 7 th inning against Felipe Lira of the Detroit Tigers. The orioles lost the game, 5-4, in 12 innings
1997 - The Westminster Abbey funeral for Diana, Princess of Wales, was an extraordinary event, marked by numerous poignant moments: The people sobbing and throwing flowers at the funeral cortege winding through the streets of London. Her sons, walking behind her casket with their heads bowed. And Diana's brother, who during his funeral oration took aim at the media, who he said made the princess "the most hunted person of the modern age." Elton John sang a rewritten version of "Candle in the Wind" to "England's rose". The song was originally a tribute to film legend Marilyn Monroe, whose own tragic life, like Diana's, ended at the age of just 36.
****
thought I heard Buddy Bolden say,
Dirty, nasty stinky butt, take it away,
Dirty, nasty stinky butt, take it away,
And let Mister Bolden play . . .
Jelly Roll Morton
*** http://www.geocities.com/BourbonStreet/5135/Bolden.html
(1) http://www.frederickdouglass.org/
----------------------------------------------------------------


Baseball Poem
whiskey moon
frank says the full moon
is for whiskey,
spits tobacco to punctuate
his short sentences,
hours sipping, replaying
his career in slow motion,
oiling the first baseman's mitt,
then spreading it carefully
to catch the milky light,
frank says it softens the leather,
I say it embalms the memory.
from Tim Peeler, from his book
"Touching All the Bases." He has given us permission
to reproduce them.
These come from a soft cover 128 pages
with index published by www.mcfarlandpub.com
( they take two weeks to send, but you are helping
He is a unique American poet.
He lives in Hickory, North Carolina.