National Program Skills, San Francisco
Daily management national program accounts/support V.P. National Programs Min. 3 yrs leasing exp. understand credit/financial/tax returns w/strong follow-up, great opportunity to grow, to learn more, click here.

Friday, September 23, 2005
Headlines---
Classified Ads---Doc. Manager / Finance / Legal
Gary McLaughlin passes away
Gulf States' Leasing Companies Hunker Down
Classified Ads---Help Wanted
The Original Dave Murray is back
ELA Municipal Conference---Disasters
Housing Starts Remain "Strong
News Briefs---
You May Have Missed
"Gimme that Wine"
Today's Top Event in History
This Day in American History
Baseball Poem---Tim Peeler
######## surrounding the article denotes it is a "press release"
Classified Ads---Documentation Manager / Finance / Legal
10/1/2000 Thomas J. Depping Looking at Houston from his Sierra Cities office
Documentation Manager / Finance / Legal
Documentation Manager: New York, NY
10+ years in equipment leasing/secured lending. Skilled in management & training, documentation, policy and procedure development & implementation, portfolio reporting. Strong work ethic.
Email: dln1031@nyc.rr.com

Documentation Manager: Phoenix, AZ
Lease Administrator with exp. in lease administration, doc. & porfolio management for $200M in IT assets. Additional experience financial analysis process improvement/development.
Email: jeg3894@cox.net

Finance: Austin, TX.
20+ years all facets of lease/finance. Collection and credit management. Equipment & rolling stock structuring. $150k credit authority, $100 million portfolio management.
Email: texmartin@juno.com


Finance: Chicago, IL
Experienced in big ticket origination, syndication, valuation and workout.
Twenty five years, MBA, CPA,

JD, LLM (Tax), structuring specialist. Inbound and outbound transactions.
Email: pal108381@comcast.net
Transaction Summary
Website: www.tlgattorneycpa.com

Finance: Orange County, CA
25+ years experience large ticket and mid-market commercial finance. Senior manager in operations, documentation, legal, credit, workouts, portfolio management. $2+Billion portfolio. MBA Finance. Juris Doctor.
Email: finance1000@cox.net


Finance: San Jose, CA.
15+ years sourcing debt, managing cash and receivables and other treasury functions. Strong background in credit, contract
administration and bankruptcy litigation experience. MBA Finance.
Email: raycis@comcast.net
Finance: Toronto
Long diverse career financial services industry. Executed billions of dollars of leases over 20 years; structuring, executing and pricing US/Canadian transactions. Per Diem or full time.
E-mail: eslavens@eol.ca
Legal: Los Angeles, CA
Experienced in-house corporate and financial services attorney seeks position as managing or transactional counsel. Willing to relocate.
Email: sandidq@msn.com
For a full listing of all "job wanted" ads, please go to:
http://216.66.242.252/AL/LeasingNews/JobPostings.htm
To place a free "job wanted" ad, please go to:
http://216.66.242.252/AL/LeasingNews/PostingForm.asp
------------------------------------------------------------

Gary McLaughlin passes away
A friend of Gary McLaughlin, owner-broker of GCA Financial Services in the Fresno-Madera area, reportedly has died. A specialist in the agriculture business, primarily vegetable equipment, he was reportedly well known to Bank of the West Leasing and Farm Credit.
The web site (http://www.gcafin.com/about_gca.htm) states the company was in business for 15 years, and Mr. McLaughlin had over 35 years experience in the financing industry.
The logo on the site of a bucking horse was reportedly from his favorite hobby of "breaking" and training horses.
"GCA FINANCIAL SERVICES is proud to be the financing source of choice for many of California and Arizona's largest and most successful farming, packing and shipping operations, as well as leading irrigation, tractor/implement, and vineyard equipment dealers."
Reportedly the company will continue. As soon as an obituary is avaiable, Leasing News will print it for his friends in the equipment leasing industry.
------------------------------------------------------------

Gulf States' Leasing Companies Hunker Down
The media has been covering Hurricane Rita very well as it moves along. Here is USA Today tracking information, as well as other related sites:
http://www.usatoday.com/weather/graphics/hurricane/rita/flash_leader.htm?
Leasing companies in the area started to inform employees in the middle of the week to close down, giving them time to leave their residential area, if they wanted, or to prepare for Hurricane Rita. Adam Warner, president and COO of Key Equipment Finance Express Leasing Services made the decision to close the Houston office on Wednesday, telling everyone at this office
by memo not to come into work until at least Monday. He also provided several hot lines for employees to learn more and offered other assistance, if need be.
"This is in anticipation of any impact from Huricane Rita, currently located in the Gulf of Mexico and likely to make landfall on the Texas coast late Friday or early Saturday morning," Warner said in his memo. Employees were also to call the hot line to determine whether the office will be open on Monday and going forward.
"We want to reiterate that our employee safety is our primarily concern, " he stated. " If you are located in an impacted area, please make sure you follow all local;/state and federal advisories."
"Hopefully the impact will not be severe and business can return to normal in the coming week."
Leasing News attempted to reach other leasing companies in the area, but was unable to get confirmation that their offices were closing or closed. Certainly those closer to the actual coast evacuated the region.
Each day in "This Day in America History" weather is included, and during the Hurricane season, there have been many cities seriously affected, including the East Coast, too. It does seem the general climate is changing and coastal communities are experiencing more incliminate weather.
------------------------------------------------------------

Classified Ads---Help Wanted
National Program Skills

National Program Skills, San Francisco
Daily management national program accounts/support V.P. National Programs Min. 3 yrs leasing exp. understand credit/financial/tax returns w/strong follow-up, great opportunity to grow, to learn more, click here.

Salesperson

"Tired of working for a broker or discounter at inflated buy rates?"
We are a direct nationwide funder.
Decisions are made here on "application only" up to $125,000. We are fast, too, and we will keep your vendors and customers happy with our efficient staff.
Contact Jim Doster sales@abanklease.com

"We want you to make as much money as you can."

------------------------------------------------------------

The Original Dave Murray is back
"Dave Murray ( Founder of PreferredLease in Lake Tahoe) has started another leasing company. Denali Capital Corporation, located in San Clemente, CA. Rumor has it he has brought back some of the old employees from PreferredLease. Does this mean another mass mailer of pre-approved credit cards?"
Name witheld
( highly reliable source)
Last we heard David Murray was in management with Venserve/SalesStream until the change in the program. They also were a company that sent out approvals with plastic credit cards, as Preferred Lease of Lake Tahoe did in the "old" days of the late 1990's.
There were reports of sales ethics and other types of activities at the time at Venserve/Salesstream. He reportedly left because of this, Leasing News was told, but never verified as neither party would confirm or deny anything. There were ex-salesmen who talked about splitting "advance rentals" and "deposits" not returned or "dirty tricks," as one called it, plus contests for who could get the highest "document fee." These techniques were reportedly common at the original PreferredLease of Tahoe run by Mssrs. Murray and Schneider.
March 10, 2003, Leasing News archive:
"Warburg Pincus is selling it's interest in SaleStream Capital to Texas Equity Holdings (TEH, LLC) a company owned and operated by Lighthouse Investments. There has been a large injection of capital, around $3M I hear, to promote the vendor driven business model that the company was originally structured to support. There will be no more B2C activity.
"I have been directed to hire an additional 5-8 salespeople in the next 30 days to ramp things up. This will create a need for new office space shortly but we will be staying in the area. I will notify you when this is official.
"The Venserv name, email and contact info was changed almost a year ago to SaleStream Capital. The new investors are currently redoing the entire website and it will re-appear in a format more to their liking.
Tony Watson
Vice President Business Development
SaleStream Capital Corporation
Archives, December 20,2000 Preferred Capital, Tahoe City, California
( also known as Preferred Lease, one of the first companies to for mass telemarketing and mailing of credit approvals to attract business, considered the "daddy" of them all. They hit the Perfect Storm, as did many of their major buyers from Advanta on up. Here is the story: )
In June they closed all their branch offices ( Crystal Bay, Nevada, San Diego, California, Dover, New Hampshire), it was reported. They were heavy in the mail marketing and telephone solicitation with the "Pre-approved" approach, selling mini-paper to GE/Colonial Pacific, Manifest, Commerce Security, up to over $10 million a month in their "hay day." Negative Cash Flow that has hit many others in the industry was reportedly the reason for the downsizing or consolidation, depending on your viewpoint.
David Murray and Louis Schneider were the principals. They considered themselves marketers, not brokers or lessors, and even treated their tax returns as they were a marketing company. ( David Murray is no longer with the company, according to the their receptionist---he was listed as the President in the UAEL directory ). They would promote their young account reps into various management positions. There were no"leasing veterans".
Preferred DID generate a fair amount of loyalty to their employees due to some of the percs: free season pass to skiing, various company-paid outings (i.e. white water rafting) and bonuses (gave away a snowmobile once...) Their former employees are not talking much as everyone was very happy.
This was the premier "application only" operation. It was not basically "internet," but by telephone and mail where there was no relationship selling, just low quote, get the customer approved, change the rate or terms, a "boiler room" operation similar to one as by Republic Leasing of Anaheim, but not as "intense," but more "turn the application around" and move on to the next one.
The approach was the same that was used by some of the salespeople at the Republic Group and Corporate Capital before they were acquired by First Sierra. Corporate Capital even issued a "credit card" to the end user, but did not check their credit for approval until an actual application was received.
The building in Tahoe City was full of little cubicles, each with a recent college graduate, none of whom knew anything about leasing, or sales for that matter. The sales program was very clever. The company bought mailing lists from D&B and other sources and sent solicitations to the prospects. The solicitation included what appeared to be a credit card and the prospect was informed that he/she had been "pre-approved" for up to $75,000. All that it would take to activate the credit line was a call to an 800 number. The system was taken almost directly from the type of letter you get from credit card companies. Naturally, when the prospect called, he had to provide a "little" additional information (again, a la credit card solicitations). Of course, there was never a "pre-approval". The prospect was "pre-qualified".
We received a Plastic Card almost every week at the various companies here at American Leasing. I am sure everyone in California has at one time or other received one of Preferred's mailers. All our advisors are aware of this company, and most said they have received the card.
The company recruited their salespeople directly from colleges, using as a lure the Tahoe ski and fun lifestyle. They did little or no selling, but followed closely the company "line". They were simply order-takers, responding to incoming calls rather than making outgoing sales calls.
About a year ago the company moved into larger quarters on or close to the lake front. In June, the Tahoe City Newspaper noted they had closed their branch offices. The web site makes no mention of this and calls to the current president have gone unanswered.
We have verified that the company is for sale, is in the process of being purchased or maybe purchased. We are not at liberty to give the details as we are unable to confirm some of them, including bank problems and up-side down cash flow---these are rumors and unsubstantiated at this time---but from several sources as we had with Metrolease, Unicapital, and others in the early beginning. Our "readers" give us the information we have here.
Jan 4, 2001, Leasing News had an exclusive interview with attorney Mark Self:
Preferred Capital is for sale, according to their general counsel Mark Seif. Last November, 1999, they did $17 million in capital equipment cost. That was their best month. They had been doing anywhere from $14 to $15 million each month, according to informed sources. Not any more.
Peferred Capital was very heavy in the mail marketing and telephone solicitation with the "Pre-approved" approach, selling mini-paper to GE/Colonial Pacific, Advanta, Manifest, Commerce Security, among others. With the changes of policy at their funders, placing business started to decline and warehouse lines could not find take-outs, resulting in serious cash flow problems, especially in October and November of last year, it was reported.
" Yes, we have not been sold, " Seif said in an exclusive interview. They have had many offers, but the two original principals could not agree on the selling price, and from a high of 270 employees, closed their branches, and are now down to one-quarter their original size with their main facility in Tahoe City, according to Seif.
" We have 42 sales reps now, " he says. " The commissions are now based on rewards. We have cut the boats, cars, and all the frills...We are aggressive, but not what we used to be. Right now, we are actively talking to investors, strategic partners."
He blames credit tightening, more competition, more sources for the dramatic change in the small ticket market.
" It is not the internet, " he explains. " We are with Live Capital, get leads off our web site, but the business is very small. Not much is being done on the world wide web. We are going to weather the storm with a tight budget, running lean and mean, taking very good care of all our funding sources."
He and Louis Schneider are basically managing the company. David Murray left on November 7, 2000.
"Basically David didn't like laying off his friends, facing the financial difficulties of a downsized company, closing offices, and didn't want to remain in the leasing business any more, " Seif explains. " It wasn't fun... And yes, the small ticket market is no longer what it used to be. "
Archives, November 7, 2003: "Louis Schneider, former partner of Preferred Capital, is into his second year oflaw school, apparently in New England " ...and apparently loves it. He is in semi-hiding while attending school so nobody knows which school he's attending. He is enjoying his time away from leasing."
Jim Raeder of Capitlwerks LLC has claimed on several occasions to Leasing that his Better Business Bureau report comes from their company purchase of Preferred Lease and he has been trying to get it corrected for quite some time.
http://www.leasingnews.org/Pages/Company%20Report.htm
------------------------------------------------------------
****Announcement**********************************

ELA Municipal Conference---Disasters
Disasters such as hurricanes, earthquakes, and terrorist attacks can strike our customers without warning. These disasters often destroy equipment under lease and create a demand for new equipment to be leased.
At the 2005 ELA Municipal Leasing Forum, scheduled for September 26-28 at the Trump International Sonesta Beach Resort in Sunny Isle Beach (Miami), Florida, our session will look at the key factors Non-members may attend one ELA meeting, such as this one, Leasing News is told.
Lessors consider in developing disaster response plans for affected customers, such as:
*How should existing leases on destroyed equipment be handled? What happens when a customer is self-insured? What if their self-insurance proves insufficient in the wake of massive destruction?
*How do we evaluate new credit applications from affected customers, given that their tax revenues may be significantly affected in the wake of the disaster?
*Are there particular types of leases that will be in greater demand following a disaster?
*Should we reach out to these customers to offer support, or wait for them to contact us?
ELA says you still have the opportunity to register on-site at the conference registration desk. The registering on line may be closed by the time you read this, but give it a try by going to the url below, as that gives them a "head count" of who is coming.
For the complete agenda and to register for the conference please go
here:
http://www.elaonline.com/events/2005/municipal/
Racquel Codling
Conference Program Manager
Equipment Leasing Association (ELA)
4301 N. Fairfax Drive, Suite 550
Arlington, VA 22203
Tel: (703) 516-8366
Fax: (703) 522-7099
Email: rcodling@elamail.com
Website: www.elaonline.com
****Announcement****************************************
----------------------------------------------------------------

Housing Starts Remain "Strong"
Despite other newspaper reports, the Department of Agriculture,
who keeps track of this industry reports:
Housing starts remained strong in August, even though they fell 1.3% to 2.009(SAAR). This is the fifth consecutive month they have been above the 2 million level. The single family sector was flat (1.709 million SAAR), while multi family was down 8.5%.
Analysis and outlook: Near term, the housing market should remain strong and is expected to remain so for the rest of 2005.
Near term housing demand may drop initially ( September and maybe November) due to Katrina impact on LA, MS, and AL. The housing market is expected to remain relatively strong through the rest of this year, but as I mentioned last month, modest inflation and dollar problems will push mortgage rates upward through 2006 and this means the housing market is expected to pull back sometime in 2006. House price appreciation may encourage some improvement in multi family demand next year as some potential single family buyers are forced out of the market.
Regionally, Katrina contributed to a 6.6% pullback in the South which accounts for almost half of the residential activity. The NE and MW were down 4.1% and 5.2% respectively while the West, up 13.3%, was the only region with an increase. Permits were down 2.2%, and Katrina will probably result in a further drop next month as rebuilding in MS, LA, and AL will take some time to show up in housing starts.
According to the most recent Red Cross Report on Disaster Operations, 416,894 homes were destroyed in MS, LA and AL, most of which were single family. In addition, there were another 320,000 that received partial damage, ranging from "Major", "Minor", to "Affected". That bulk of that rebuilding effort will have to wait until the infrastructure is repaired, but longer term, it means the equivalent of 25% of last years' single family housing starts were destroyed and will need to be replaced eventually.
The port of New Orleans was major destination for cement imports, as well as plywood from Brazil. In addition, there was significant damage to timber lands in the three states. Furthermore, costs for food processing, transportation, and many other goods and services will be impacted by rising energy costs.
Longer term concerns remain the same as last month - the dollar continues to weaken as the budget deficit grows in response to costs related to Katrina, and rapid house price appreciation in some regions will curb demand from some potential buyers. Housing bubbles are still a concern in some regions of the country. Finally, the consensus is that energy costs will continue to increase - not just oil, but natural gas, and coal will also increase. The big question is the net impact on the economy and interest rates - inflation versus slowing economy.
To follow impacts of Katrina on the housing sector and building materials, the National Association of Homebuilders website -NAHB - (http://www.nahb.org ) is good. Also try the National Association of Realtors ( http://www.nahb.org). Also, some of the wood product associations may offer assistance: APA (http://www.apawood.org/), and SFPA (http://www.sfpa.org/) are two good examples. As previously mentioned the American Red Cross produces a report on disaster damage (houses destroyed, etc.) and is available by contacting Erik Jones at: joneser@usa.redcross.org .
( information from Craig Adair - APA).
Courtesy of:
Carl Villella, CLP
Acceptance Leasing and Financing Service, Inc.
894 Beaver Grade Rd.
Moon Township, Pa. 15108
Phone: 412-262-3225
Fax: 412-262-1154
acceptlease@acceptlease.com
---------------------------------------------------------------

News Briefs----
Rita draws closer to Texas coast, turns away from Houston
http://www.usatoday.com/weather/stormcenter/2005-09-22-rita-main_x.htm
200,000 out of work because of Katrina
http://www.signonsandiego.com/news/business/20050922-1357-economy.html
Jobless claims related to Katrina surge
http://www.usatoday.com/money/economy/employment/2005-09-22-jobless-katrina_x.htm
Sony Plans 10,000 Job Cuts
http://www.nytimes.com/2005/09/23/business/23sony.html
Credit card court ba
http://www.signonsandiego.com/news/business/20050922-1351-ca-creditcards-breach.html
the tests scope of consumer protection law
----------------------------------------------------------------

You May Have Missed
Money tight? Give time, give miles, and give vacation
http://www.usatoday.com/money/perfi/columnist/block/
2005-09-19-hurricane-relief-charity_x.htm
----------------------------------------------------------------


"Gimme that Wine"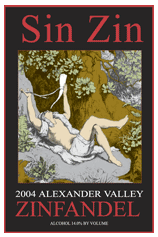 Alexander Valley Vineyards announces the release of the 2004 Sin Zin!
They invite you to a special release on Saturday, October 8, 2005 from 12noon - 4pm and be the first to try the 2004 Sin Zin!
AVV is located at 8644 Highway 128, Healdsburg, CA 95448.
Chef Jeff Young will be on hand to pair Duck Tostados with this ever popular wine. For more information please call Cheri Yokoi at 800-888-7209 ext 116 or email at cy@avvwine.com .
I have a case of the Sin Zin plus My Friends Zin, only available at the winery, 125 cases made, their Cab reserve is available to Wine Club members who also receive discounts from 25% to 30%, one of the reasons I belong. Their Pinot Noir is the best priced in California for the quality in my opinion. I have many cases of their 2002 vintage.
This is a free event, no reservations required. Bring a friend and experience a Wicked Weekend in Wine Country.
Forecast looks excellent for Walla Walla growers
http://seattletimes.nwsource.com/html/foodwine/2002508767_winecol21.html
Uncork New York
Californians can now buy New York wines directly from the wineries. The state's unique climate makes it worth doing.
http://www.sfgate.com/cgi-bin/article.cgi?f=/c/a/2005/09/22/WIG9IEOI511.DTL
----------------------------------------------------------------

This Day in American History
1957- Nine black students at Little Rock Central High School in Arkansas are forced to withdraw because a white mob had formed outside. The following day racial violence in Little Rock prompted Pres. Eisenhower to send a force of some 1000 U.S. Army paratroopers to enforce the desegregation of Central High School. The president said that violence had caused the removal of nine black stduents in the newly integrated school. The students eventually entered the guarded school on September 25.
----------------------------------------------------------------

This Day in American History
1595- Spain launched an intensive missionary campaign in the American Southeast. During the next two years, about 1,500 American Indians were converted to the Catholic faith.
1779-John Paul Jones, commanding the "Bonhomme Richard," defeated and captured the "Serapis," a British man-of-war commanded by Capt. Richard Pearson. It was during the engagement that Jones, when asked if he had struck his colors, (surrendered), replied," I have not yet begun to fight." After three hours of brutal fighting, Pearson surrendered to Jones. The Americans transferred the Serapis from their own ship, which sank a day later.
1800-Birthday of William Homes McGuffy, American educator and author of the famous, "McGuffey Readers," born at Washington County, PA. died at Charlottesville, VA. May 4, 1873.
1806- Lewis & Clark return to St Louis from the Pacific Northwest
http://www.seanet.com/Users/pamur/l&c.html
1815---The Great September Gale moved through New England on a path similar but just east of the Great 1938 Hurricane. The storm made landfall on Long Island and again at Old Saybrook, CT. Extensive structural damage was done. Providence, RI was flooded and 6 people were killed. This hurricane is rivaled only by the 1938 hurricane in New England History.
1838- Birthday of Victoria Chaflin Woodhull, American feminist, reformer and first female candidate for the presidency of the US. Born at Homer, OH. She died at Norton Park, Bremmons, Worcestshire, England, June 10,1927.
1845- the Knickerbocker Club of New York was officially organized by Alexander Joy Cartwright, the man who laid out the diamond-shaped baseball field and gave the game its modern form. Duncan F. Curry was the club's first president. the club played its first game in June, 1846, losing 23-1. A previous team that played an earlier form of baseball was the Olympic Club of Philadelphia, PA, which played "cat ball", also known as town ball, from July 4, 1833, to the year 1860, when they changed to standard baseball. Town ball, a game similar to the British game of rounders, was the immediate forerunner of regular baseball in the United States.
1846-Discovery of the planet Neptune, 2,796,700,000 miles from the sun (about 30 times as far from the sun as Earth). Eight planets from the sun. Neptune takes 165.8 years to revolve around the sun. Diameter is about 31,000 miles compared to earth at 7,927 miles. Discovered by German astronomer Johann Galle.
1862- Lincoln's Emancipation is published in Northern Newspapers. He issued the day before to take effect on January 1, 1863. It declared that "all persons held as Slaves" in all the Confederate states, excepting a number of counties under federal control, were considered "forever free." It also enjoined members of the federal armed forces from returning fugitive slaves to their owners. The Emancipation Proclamation in its final form was signed on January 1, 1863.
http://www.collectorsnet.com/cwtimes/chattano.htm
1863-Birthday of Mary Church Terrell--educator, political activist, and first president of the National Association of Colored Women , born Memphis , Tennessee.
http://memory.loc.gov/ammem/today/sep23.html
1870-Birthday of John Lomax, American folk-song collector and founder of the American Folklore Society at the Library of Congress
1879- Richard S. Rhodes of River Park, IL, received a patent for the Audiphone, a hearing aid other than ear trumpets. It was a fanlike device held against the teeth.
1901-Birthday of piano player Albert Ammons, Chicago, IL
1908- In the decisive game between the Chicago Cubs and the New York Giants, the National League pennant race erupted in controversy during the bottom of the ninth with the score tied 1-1, at the Polo Grounds, New York, NY. New York was at bat with two men on. The batter hit safely to center field, scoring the winning run. Chicago claimed that the runner on first, Fred Merkle, seeing the winning run scored, headed toward the dugout without advancing to second base, thus invalidating the play. The Chicago second baseman, Johnny Evers, attempted to get the ball and tag Merkle out, but was prevented by the fans streaming onto the field. Days later Harry C. Pulliam, head of the National Commission of Organized Baseball], decided to call the game a tie. The teams were forced to play a post-season playoff game. which the Cubs won 4-2. Fans invented the terms "boner" and "bonehead" in reference to the play and it has gone down in baseball history as "Merkle's Boner."
1926-Birthday of Tenor Saxophone player John Coltrane
1928-Birthday of Tenor-composer Frank Foster, born Cincinnati, Ohio, with Basie, wrong "Shiny Stockings," "Blues Backstage."
1930-Birthday of singer/piano player Ray Charles (Robinson), Albany, GA: died June 10, 2004.
http://www.raycharles.com/
http://www.history-of-rock.com/ray_charles.htm
1935-Birthday of jazz piano/organ player Les McCann, Lexington, KY.
He was very popular in the late 1950's and early 1960's, and my friends and I saw him often in jazz clubs in Hollywood. My trumpet friend Warren Luening could listen once and play his music with solo's on the piano the next day. I remember it added to our enthusiasm to go see him and Mose Allison more often.
http://www.lesmccann-officialwebsite.com/biography.html
1939-Jan Savitt records "720 in the Books" (Decca 2771).
1943-Brithday of singer Julio Iglesias, born Madrid, Spain, Spanish professional soccer goalie
1943-Birthday of Martin Edward "Marty" Schottenheimer, football coach and former player, born Canonsburg, PA.
1946-Al Couture recorded the quickest knockout in boxing history, flooring Ralph Walton with only half a second gone in the first round. Couture threw the knockout punch while Walton was still sitting in his corner adjusting his mouthpiece.
1949-Top Hits
You're Breaking My Heart - Vic Damone
Let's Take an Old Fashioned Walk - Perry Como
Someday - Vaughn Monroe
Slipping Around - Ernest Tubb
1949-Brithday of singer/songwriter Bruce Springsteen, Freehold, NJ. ('The Boss': singer: group: E-Street Band: Born in the U.S.A., Born to Run, Hungry Heart, Dancing in the Dark, Cover Me, I'm on Fire, Glory Days, My Hometown, War; songwriter: Blinded by the Light [Manfred Mann's Earth Band], Fire [The Pointer Sisters]; inducted into the Rock and Roll Hall of Fame [3-15-99])
1952 - Rocky Marciano became the world heavyweight boxing champion by knocking out Jersey Joe Walcott in the 13th round in Philadelphia PA. It was Rocky's 43rd consecutive victory. He is the only heavyweight boxing champ to go undefeated, with a pro record of 49 bouts and 49 victories, including 43 by knockout.
1952 - Pay Television for sporting events began with the Marciano-Walcott fight, coast to coast, in 49 theatres in 31 cities.
1952-The first use of television in a national campaign, when vice-president and presidential candidate Richard M. Nixon gave his famous "Checkers Speech." Nixon was found "clean as a hound's tooth" in connection with a private fund for political expenses, and he declared he would never give back the cocker spaniel dog, Checkers, which had been a gift to his daughters. Other dogs prominent in American politics: Abraham Lincoln's dog, Fido; Franklin 0. Roosevelt's much-traveled terrier, Fala; Harry S. Truman's dogs, Mike and Feller; Dwight D. Eisenhower's dog, Heidi; Lyndon Johnson's beagles, Him and Her; Ronald Reagan's dogs, Lucky and Rex; and George Bush's dog, Millie.
1955-The firsts World heavyweight boxing champion to retire undefeated was Rocky Marciano, who won all his 49 professional bouts, notably the heavyweight championship in Philadelphia, PA. Marciano retired following the sixth defense of his heavyweight title, in which he knocked out Archie Moore at Yankee Stadium on September 21, 1955.
1957- Nine black students at Little Rock Central High School in Arkansas are forced to withdraw because a white mob had formed outside. The following day racial violence in Little Rock prompted Pres. Eisenhower to send a force of some 1000 U.S. Army paratroopers to enforce the desegregation of Central High School. The president said that violence had caused the removal of nine black stduents in the newly integrated school. The students eventually entered the guarded school on September 25.
1957-Top Hits
Tammy - Debbie Reynolds
Diana - Paul Anka
Mr. Lee - The Bobbettes
My Shoes Keep Walking Back to You - Ray Price
1962- Maury Wills of the Los Angeles Dodgers stole his 96 th and 97 th bases of the season to tie and then break Ty Cobb's record for most stolen bases in a season, set in 1915. Wills finished the year with 104 stolen bases and won the National Leagues Most Valuable Player award.
1962- "The Jetsons" premiered on television. " Meet George Jetson, His boy Elroy, Daughter Judy, Jane his wife..." These words introduced us to the Jetson, a cartoon family living in the twenty-first century, The Flintstones of the Space Age. We followed the exploits of George and his family, as well as his work relationship with his greedy, ruthless boss Cosmo Spacely. and who can forget Astro, the family dog. New episodes were created in 1985, which also introduced a new pet ,Orbity.
1965-Top Hits
Help! - The Beatles
Eve of Destruction - Barry McGuire
You Were on My Mind - We Five
Is It Really Over? - Jim Reeves
1967 - The Box Tops from Memphis hit #1 with "The Letter". Though the song was #1 for four weeks and remained on the charts for 13 weeks. The Box Tops reorganized right after that first hit and never made it to #1 again.
1970-The first New York City Marathon was held. Queens fireman Gary Muhrcke won the race, which consisted of four laps around Central Park. The course was later changed to run from Staten Island to Central Park.
1972- It was announced that for the first time in U.S. history, the birth rate dropped to 2.1 children per family.
1972- "Baby Don't Get Hooked on Me" by Mac Davis topped the charts and stayed there for 3 weeks.
1973-Top Hits
Let's Get It On - Marvin Gaye
We're an American Band - Grand Funk
Loves Me like a Rock - Paul Simon
You've Never Been This Far Before - Conway Twitty
1975-Hurricane Eloise made landfall between Fort Walton Beach and Panama City, FL with sustained winds of 125 mph and a peak gust of 155 mph. This was the first direct hit by a storm in that area this century. Tides were 12 to 16 feet above normal. A total of 21 people were killed and damages mounted to $490 million. The remains of Hurricane Eloise merged with a stationary front over New York, Pennsylvania and Maryland producing major flooding.
1976-The first presidential election debate between an incumbent president a challenger to be television as three networks pooled their efforts to telecast a debate between President Gerald Rudolph Ford, a Republican, and Jimmy Carter, the Democratic candidate, at the Walnut Street Theatre, Philadelphia, PA. The debate, limed to domestic issues, was sponsored by the League of Women Voters. TA second debate took place on October 6,1976, from the Palace of Fine Arts Theatre, San Francisco, CA. A third from the stage of Phi Beta Kappa Hal on the campus of the College of William and Marry, Williamsburg, VA. Each confrontation was 90 minutes long.
1981-Top Hits Today:
Endless Love - Diana Ross & Lionel Richie
Queen of Hearts - Juice Newton
Stop Draggin' My Heart Around - Stevie Nicks with Tom Petty & The Heartbreakers
You Don't Know Me - Mickey Gilley
1983-he earliest report of measurable snow at Snowshoe, WV.
1984-San Francisco SF 49er Joe Montana misses his 1st start in 49 games
1986 - NBC-TV won the ratings race for the 52-week season (1985-1986). "The Cosby Show" and "Family Ties" rated #1 and #2 respectively that year. NBC repeated the feat the following year and "The Cosby Show" remained number one through the 1989-1990 season.
1988- Jose Canseco of the Oakland A''s became the first player ever to hit 40 home runs and steal 40 bases in the same season. In a game against the Milwaukee Brewers, he hit his 41 st homer of the season an stole tow bases., Nos 39 and 40. The A's won, 9-8, in 14 innings.
1989- "Girl I'm Gonna Miss You" by Milli Vanilli topped the charts and stayed there for 2 weeks.
1989-Top Hits
Girl I'm Gonna Miss You - Milli Vanilli
Heaven - Warrant
If I Could Turn Back Time - Cher
Above and Beyond - Rodney Crowell
1990- PBS begins an 11 hour miniseries on The Civil War.
1992-20-year-old Manon Rheaume became the first woman to play in an NHL game when the Tampa Bay Lightning took on the St. Louis Blues in an exhibition. Rheaume led the Lightning onto the ice, made seven saves in one period of action and left with the game tied, 2-2.
1996-Montreal Expos outfielder Moises Alou flied out to right field against the Atlanta Braves to make the final out in the final regular season game ever played at Atlanta-Fulton County Stadium. The Braves won,3-1. Alou's out completed an unusual family coincidence. In the first game played at the same park on April 12, 1966, Moise's uncle Matty Alou, was the first batter for the visiting Pittsburgh Pirates. His father, Felipe Alou, was the Brave's first batter. Pittsburgh won that game, 3-2, in 13 innings.
2001 Hitting his 66th round tripper of rookie Jason Middlebrow, Barry Bonds ties Sammy Sosa for the second-most home runs in a season. The Giants' left fielder also sets a major league record with 34 road homers passing Babe Ruth (1927) and Mark McGwire (1998) , who both had 32 dingers away from home.
2001 --Hitting #'s 56, 57, and 58 off Astros' rookie Tim Redding, Sammy Sosa sets a major league record with his third three-homer game of the season. Salmon' Sammy also accomplished the feat against August 9 (Rockies) and August 22 (Brewers).
2001--- Alex Rodriguez 48th home run breaks Ernie Banks' major league record for most in a season by a shortstop which 'Mr. Cub' established in 1957. The homer also tied A-Rod with Frank Howard (1969 as a Senator) for the franchise record for home runs in a season.
2001-- By saving New York's 5-4, 10-inning win over the Orioles at Cepeda Yards, Yankee closer Marino Rivera establishes a franchise single-season record with his 47th save. The previous record was held by Dave Righetti who has 46 saves in 1986.
2002-- In the last public event in 32-year old Cinergy Field, over 40,000 fans attend a softball game featuring Reds greats of the 'Big Red Machine' against an all-star team of players made up from the same era. Because the game is not affiliated with major league baseball, Pete Rose is allowed to play and he receives a tremendous ovation from the Cincinnati fans.
----------------------------------------------------------------


Baseball Poem
Linear History
He comes at the pitch
Like a lion with red mane,
On a line
You could diagram,
With his back foot
The stationary leg of a compass,
He sweeps through
With the full power
Of the perfect circle,
Sending the spheres
Into an orbit of flashes.
They line up
Just to see him practice,
Lines of articles
Intersect with reality
Sometime in September.
In another sixty years
The grass will go brown
On his grave.
Written by Tim Peeler,
"Touching all the Bases"
poems from Baseball
Published by McFarland & Company