Relationship Manager
Minneapolis, MN
Primary contact for brokers/lessors. Coordinates development and execution of programs, represents Company at trade association conferences, implements strategy to best serve the brokers/lessor marketplace. Requires 4 year degree or equivalent industry experience.
To apply e-mail resumes attention of Brad Peterson bpeterson@predictifund.com and careers@advanceme.com. Background Checks are required. EOE
Predictifund, a subsidiary of Capital Access Network, Inc. (CAN) providing equipment financing and working capital options to brokers.

Wednesday , September 5, 2007
Headlines---
Bill Waddell resigns from Marlin Leasing
Archives, September 5, 2001- Part II
Charlie Lester: AmX and Private Label Programs
Classified Ads---Operations
Letters—We get eMail!!!
Classified Ads---Help Wanted
Sales makes it Happen---Gerry Egan: Video
The Treasure on Top…And how to find more of it
August Credit Managers Survey: NACM
U.S. is most productive: because we work more
Credit card woo struggling mortgage-holders
Economists divided on recession
News Briefs---
You May have Missed---
"Gimme that Wine"
Calendar Events
Snapple Real Facts
Today's Top Event in History
This Day in American History
Baseball Poem
SuDoku
Daily Puzzle
######## surrounding the article denotes it is a "press release"
Gerry Egan—Video: The Treasure on Top
…And how to find more of it.
--------------------------------------------------------------

Bill Waddell resigns from Marlin Leasing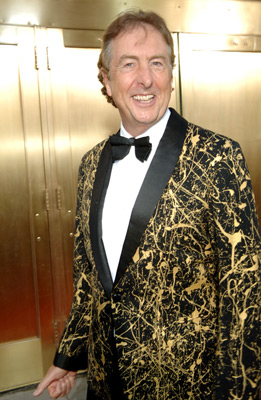 Col. Bill Waddel
Make that Dan Dyer is the only founder left at Marlin Business Services. Confirmed by three highly reliable sources, Bill Waddell, National Sales Manager, Broker Services Division, has resigned.
Waddell reportedly works from home and is rarely seen in the office. His main role, Leasing News is told is to build relationships with large accounts to get Marlin endorsed as the lessor of choice. He is one
of the key founders who established the "corporate personality."
He now joins the list:
Gary Shivers, former president of Marlin.
Gary Kester, former VP of credit services.
Mike Bennie, former VP in charge of broker services.
Mike Witt, former director of legal.
Mark King, former director of credit.
Brian Cornell, former director of sales.
John Forsyth, former jack of all trades. (Sales, syndications, major accounts, etc)
Marcel Gilbert, former VP of IT (considered one of the best in the business)
Dominic Janney, former VP in charge of retail sales.
Tom Mancini, former VP in charge of copier sales and residuals.
Bill Waddell, National Sales Manager, Broker Service Division
Reminds one of the Agatha Christie movie, "And then there were none;" Agatha Christie tale of 10 people invited to an isolated place only to find that an unseen person is killing them one by one. Is
Dan Dyer next to resign??? Remember, you read it first here
at Leasing News.
--------------------------------------------------------------

Archives, September 5, 2001- Part II
Charlie Lester: American Express and Private Label Programs.
The Leasing News "The List" was in the same edition, and perhaps sums up Part 1
Leasing News List
Chronological
118 changes
American Express/ SierraCities
(8/2001) Discovers up to $20 million write-off with RW Leasing portfolio, other portfolio's, alleged stock fraud, AmX declares they are investigating ( 7/2001 ) pretax write-down of $826 million that will pummel second-quarter profits. The company also unveiled plans to cut as many as 5,000 more jobs because of the weak economy. Rumors abound about portfolio performance and major problems in the woodpile/going the way Rockford Industries went.
(5/2001) New Name: "American Express Business Finance"
(4/2001) Merger complete, Depping resigns as "gazelle" (3/31/2001) American Express completes purchase/merger (3/2001) Sierra Cities-Amex Merger Gets Green Light (2/2001) offer by American Express for $5.68 per share in cash. We predicted this last week, naming the company and floor price. American Express active in equipment leasing, likes what it sees, and Sierra Cities is the vehicle, not Advanta or others that it has viewed to purchase. (1/2001 VerticalNet Merger falls apart (1/16/01) Sells Off UK Assets, (7/2000_ 2nd quarter loss,
see report
http://www.leasingnews.org/articles.doc/newsletter3.htm
CL:... the two people most responsible for making the Private Label Recourse Program successful were Bob Quinn and Peter Smith. After they were forced out, the program quickly deteriorated by top manager.
The discounters bought by First Sierra and the Private Label Recourse Program were two separate and distinct programs at First Sierra. Although the discounters acquired continued to operate under their old names for a number of months, any recourse liability shifted to First Sierra on date of acquisition. The Private Label Recourse Program I was addressing is the one with large brokers like RW Professional who continued to fund deals under recourse into the year 2000. As I understand, this program has been cutback, but is still in operation today.
LN: It sounds like the Private Label Recourse Program could be taken to a community bank or to any lender so interested, in a recourse or non recourse manner. The broker is a "discounter". How does the recourse program work?
CL: Private Label Recourse Programs—the recourse part is critical since American Express does have non-recourse private label and they are totally different.
In a recourse program, the broker is given a credit window by the funding source that commits to buy the lease paper if deals fit the window. The broker does the entire credit workup, makes the credit decision and documents all leases in its name. The broker also pays all vendors and sub-brokers. Periodically, the broker forwards the leases to the funding source where an analyst verifies the deals do in fact fit the credit window and the broker is then paid. Part of the broker proceeds is usually withheld as a loss reserve.
After the deal is booked, the monthly payments are billed in the name of the broker with payments going to a lock box. Normally, the broker also receives 50% of all late fees.
LN: What are the major advantages and risks to brokers and funding sources in a recourse program?
CL: The overriding advantage for everyone is higher volume and higher profits. In addition, the broker has more name recognition since the broker's name is on everything received by the lessee with the funding source being the silent partner.
The major risk for the broker is the possible failure of the funding source to provide timely delinquency reports so problem accounts can be spotted early and collection efforts stepped up. Another broker risk occurs if the funding source picks and chooses deals to buy instead of honoring the credit window provided. In this case, the broker has to find another funding source or fund the deal out of his own pocket.
The funding source has a number of risks including the possibility that the broker will not have the financial strength to repurchase deals in default. Undisclosed split deals are another major risk. In addition, there is dependence on the broker not to manipulate the portfolio delinquencies.
LN: How does the broker know when the funding source has failed to provide timely data?
CL. Unfortunately, it can take 6-24 months before problems become apparent. The ATT fiasco in the mid-90's is a classic example of a funding source that had so many computer platforms and data bases that reports were full of errors and corrections almost impossible to fix. In some cases, personal property taxes were not billed for a two-year period and when they were billed, the responsibility to collect them fell back on the recourse broker. In cases like the one with ATT, it is almost impossible to determine how many additional deals went into default as a result of poor quality delinquency reports, but common sense says the damage has to be high.
LN: How does a funding source know when they have problems with a recourse broker and how do they verify them?
CL: Again, it can take time and constant monitoring before problems surface. Most recourse brokers are strong financially and honest to a fault, but they do have a much larger window of opportunity to cheat the system. This window includes hidden early payoffs, sales taxes not paid, split deals and monthly payments made for lessees in default to prevent a repurchase.
Once a funding source has serious questions about the honesty of a recourse broker, the normal procedure would be to "drop the corporate veil". This is a drastic step since it means converting all monthly invoices to the name of the funding source instead of the recourse broker. The funding source then waits to see what if any complaints are received from the lessees. They also compare monthly invoices with checks received to see if there is a match. In addition, UCC filings may be audited to see if deals have been split or duplicated. Last, but not least, the deals and financial statements of the broker are audited to see if the required reserves have been maintained and contract terms have been honored.
LN: To your fellow brokers, would you recommend they pursue recourse relationships?
CL: No. In my opinion based on ten years experience as a recourse broker with ATT, CIT and First Sierra, the extra upfront profit and name recognition is not worth it. Being on recourse is like making love to a gorilla, you stop when the gorilla wants to, not when you want to. No matter how much you plan and reserve for losses, even the strongest broker will have a hard time meeting it repurchase obligations in a down economy. A poor economy with a few bad credit decisions can bankrupt any recourse broker unless they have a strong parent bank or just happen to be the favorite relative of Bill Gates. Being a non-recourse broker is three tranquilizers a day, but recourse is ten per day with a bottle of Tums for dessert.
LN: Sounds like there are a lot of pitfalls.
CL: Everything can go wrong at both the funding source and broker levels if, either side is incompetent, dishonest or if either one does not live up to its commitments.
The funding source must honor the credit window they assign and not pick and choose what they will buy on a subjective basis outside the window. The funding source must also have adequate computer systems that keep the recourse broker updated on almost a real time basis as to what is happening in his portfolio so problem accounts can be spotted early on and cured. The longer it takes to detect a problem account, the greater the odds that the broker will have to repurchase the entire contract and legal recoveries after the repurchase average less than 30% of the repurchase amount. Only the collection attorneys who charge 30-45% of the amounts recovered love a repurchase.
To protect itself, the funding source must have high quality people to
monitor the recourse brokers for financial strength, honesty and operating practices. Unfortunately, the relationship between the funding source and broker can get so warm and personal that reserves are reduced, PG's are released and company financial statements are not closely monitored on a timely basis to see if there are changes in financial strength. They also must have very competent analysts to assure that all deals bought are in the credit window and free of fraud.
Everyone loves a good war story--so here is one I know first hand from 1991 when Lease Pro, Inc. signed the first recourse agreement with Denrich until August 30, 2001 when we received our check for late fees from CIT and closed the portfolio. Due to long recourse period, I have always compared recourse to making love to a gorilla--you stop when the gorilla wants to, not when you want to. The gorilla is now gone and I am slowly beginning to heal.
A good example of a funding source failing to meet it commitments to its recourse brokers was the ATT fiasco in the mid-90's. A situation that did not get much better as the portfolio moved to Newcourt and then to CIT. With each move, fewer and fewer people knew how to manage the recourse relationships. A simple payoff request could take 3-5 days to receive.
After ATT had purchased Denrich Leasing and the qualified portfolio managers like Bob Quinn and Pete Smith had resigned, recourse brokers had to live with delayed and incorrect reporting caused by inexperienced personnel hampered by the ATT data bases being on three different computer platforms.
Misapplication of monthly payments was a common occurrence and getting corrections made was like trying to make the sun rise in the west. The real disaster came when the ATT system failed to bill for personal property taxes for as much as two years and the burden of collecting the back taxes was placed back on the broker. As you might guess, the broker paid most of these taxes without going back to the lessee.
As you can see, funding sources have responsibilities that could bankrupt a good recourse broker if they do not live up to there part of the bargain. I did not go bankrupt due to the ATT problems, but I sure bled a lot.

(Part III Friday)
In case you missed Part I:
http://www.leasingnews.org/archives/September%202007/09-03-07.htm#correct
--------------------------------------------------------------
Classified Ads---Operations
East Windsor, NJ
Skilled Manager in credit, collections, training, documentation, policy and procedure, lease and finance operations. Get results and keep the customer coming back.
Email: rgmorrill@comcast.net
Resume
http://www.leasingnews.org/Classified/Resumes/Richard_Morrill.pdf

Boulder, CO
A proven Director acknowledged for the ability to creatively troubleshoot situations, and to develop/implement turn around programs in both start-up and established operations.
E-mail: scottroessler@comcast.net
Resume
http://www.leasingnews.org/Classified/Resumes/ROESSLER_RESUME_05302007.pdf

To place a free "job wanted" ad here, please go to:
http://www.leasingnews.org/Classified/Jwanted/Jwanted-post.htm
For a full listing of all "job wanted" ads, please go to:
http://www.leasingnews.org/Classified/Jwanted/Jwanted.htm
--------------------------------------------------------------

Letters—We get eMail!!!

Christopher "Kit" Menkin, editor
Chronological order received:
Terry Winders, CLP Poker Table
"I have made 5 of them...they are solid walnut with leather... I do not make the chairs...I sell them for $2,995 plus shipping. I have not had to ship any because friends buy them as fast as I can make one. Looks like a good retirement hobby..."
Besides lease training, audits, seminars, Terry Winders, CLP is an avid poker player. As a hobby, he does woodworking in his spare time. He made a solid walnut poker table for his regular poker group and the word spread from there.
leaseconsulting@msn.com or 502-327-8666
--
From Brij Patel, Alliance Funding Group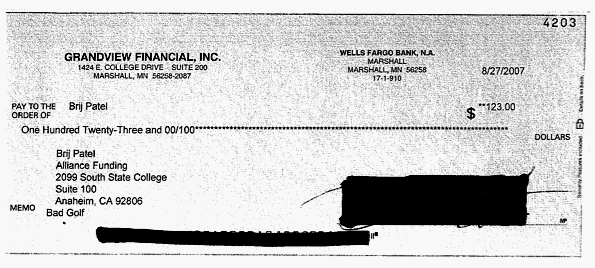 "Mr. Golfer (Brian Bjella of Clearview Financial) who is a 8 handicap lost $123 to me in golf. I'm a 25 handicap. Would you be willing to post the copy of the check (w/out the account #'s etc) on your news letter to add some humor.

"I think everyone would enjoy it!

"Let me know."

Brij Patel
Alliance Funding Group
2099 S. State College Blvd., Ste. 100
Anaheim, CA 92806
Ph. 800.978.8817 ext. 502
Fx. 714.704.1448
Em. bpatel@alliancefunds.com
URL. www.alliancefunds.com
(You bet…Brian Bjella and I go way back, too; when he started in the leasing business. I hate to tell you this, but he must have lost to get more of your business. These Minnesota kids
are pretty smart. Kit )
---
From: Debbie Monosson, Boston Financial & Equity
"Re: Anonymous.."does anyone care".

"Wow...get a life. There are some of us who care...many of us although we don't do business together have become friends through these associations. We have learned from each other and taught each other. Working out of a fishbowl in your house making money doesn't sound compelling to me. No..you don't need a CLP...but you do need other people...to feed you deals...fund your deals....You genuinely have missed the point of associations. Your tone is so bitter than I think you may be jealous of those of us who enjoy the conferences and the friendships we have made. Paul Menzel...I do care about where you are!"

Deborah J. Monosson
President & CEO
Boston Financial & Equity Corporation
1260 Boylston Street/Boston MA/02215
T:617-267-2900x121 F:617-437-7601
www.bfec.com
---
from Brian Montgomery, NAELB President
"While reading the August 17th edition of your newsletter, I was surprised by the attitude represented by Mr. Anonymous in his email to you concerning leasing associations. While I have no doubt in his ability to earn a very comfortable living watching TV and drinking iced tea in his house while selling leases, I did feel a little sorry for him. Don't get me wrong Kit, I believe the message he was trying to convey is that one can make a nice living as an independent broker without having to work for a large corporation and in that regard, we agree completely. I am after all, an independent broker!
"I think where the writer and I differ most was when he seemed to imply, at least in my interpretation, that joining a leasing association brought no value to his business. While I can't speak for every association, I can speak for the NAELB. There are many reasons that people decide to join an association. For some it is a matter of simple economics, in which I will explain more in a moment. For others, it is a sense of camaraderie with other independent and like minded individuals in your industry. There are even some who join because there is simply no better way to get in front of 120 funding sources gathered in one place and see them face to face.
"For this conversation with Mr. Anonymous and all of his like minded anonymous brethren out there, we will assume that they have no need or desire to commune with others in this industry. We will assume that they already know how to handle every possible objection to their selling proposition and they have no desire for an open communication forum via the web that allows them to posts request for funding or "has anyone ever heard of". We will assume that these folks have nothing to learn; so the question becomes, do they have the ability to teach what they know? For this conversation we will assume that Mr. Anonymous is not interested in teaching others in our industry how to make the industry a better one for everyone. I hope my assumptions are wrong but for this conversation, these assumptions will allow us to concentrate purely on the economic benefits of association membership.
"For this conversation, I want to highlight the fiscal benefits of membership in the National Association of Equipment Leasing Brokers. Mr. Anonymous, for this exercise, I would ask that you gather your invoices for a couple of key services I am sure that you utilize. Let's begin with the cost of the credit reports that you pull. If you are currently paying more than $2.11 for a report and/or an annual fee, please make a note of it and do the math outlining the difference and write that number down. If you utilize the Advantage software, note that you can also add the $200 you saved with membership and the matching CBR export feature that allows simple keystroke exporting/importing of credit reports, saving time and money. If you pay more than $8.95 for overnight deliveries, I would ask that you add those savings up also. Our prepaid overnight program is a huge success, saving our members a lot of money each year.
"I assume you might need office supplies every now and then? With our Office Depot program, you can save from 5 to 15% on various items throughout the store. Ever make long distance calls? We have a plan for that also. One of the newest benefits is our LexisNexis/Accurint account where you are able to order reports and searches for minimal costs and discounted pricing. This benefit alone has made me money this week as I confirmed easily the home ownership of a client. If you did want to spend some money in creating marketing materials, we have that available also with discounted promotional items. In the case that you have a legal question or need some advice and the ability to pick up the phone and speak with a lawyer; that is included in your membership also. You are still adding right?
"I mention all of the items above because they speak to the economics of the situation and I know you will be able to compute the savings easily. Have I mentioned that membership for a broker is only $295? Did I also mention that for the last two years, the board has voted to give all of the members a $50.00 voucher to use toward any of our benefits? So in reality, we are talking an investment of $245 for access to everything and more that I mentioned above. To put it simply, there is simply no reason not to join! As we like to say, this is no time to go it alone.
"I would like to end my response on a positive note with Mr. Anonymous. It is obvious that you know your stuff and you probably fit right in with the rest of our members because to be frank, the people in our industry can be bright and bullish in the same breath. I have said that working with brokers sometimes is like trying to herd cats, everyone has a different idea of who they are and where they want to go but this is what makes our membership great. You don't lose your independence by joining an association, you gain a valuable resource full of tools that are there when you need them and as demonstrated above, it might just help you keep more of that money that you make!
"Yes, I am not just the President of the National Association of Equipment Leasing Brokers………
"I am a member too."
Warm Regards,
Brian Montgomery, NAELB President
--------------------------------------------------------------

Leasing Industry Help Wanted
Business Developement Specialist

Business Development Specialist
(2 Positions)
Clearwater , Florida
Two years sales exp. 1-2 years leasing exp. For more info, please click here. Please email text resume to
h-r@ccclease.com .
No attachments please.
Founded in 1978, Commonwealth Capital Corp. has been helping lessors grow their equipment-leasing business. We offer true operating leases for in-demand information technology and medical equipment.
Credit Officer

Credit Officer
Mentor, Ohio
Small firm, 125 deals a month, help us grow, place leases, secure approvals. E-mail us to MattWelly@1acg.com or give us a call to
(800) 830-0084 ext. 203.
ACG Equipment Finance is a full service specialty finance and leasing company with an eye fixed firmly on the future.

EFD Credit Officer


EFD Credit Officer III
Walnut Creek, CA
You will underwrite equipment finance and lease transactions primarily using credit scoring systems. Requires 5 years lending experience including underwriting.
CLICK HERE for a detailed description and resume submission info.

Visit www.bankofthewest.com, for more information. Bank of the West and its subsidiaries are equal opportunity/affirmative action employers.


Relationship Manager

Relationship Manager
Minneapolis, MN
Primary contact for brokers/lessors. Coordinates development and execution of programs, represents Company at trade association conferences, implements strategy to best serve the brokers/lessor marketplace. Requires 4 year degree or equivalent industry experience.
To apply e-mail resumes attention of Brad Peterson bpeterson@predictifund.com and careers@advanceme.com. Background Checks are required. EOE
Predictifund, a subsidiary of Capital Access Network, Inc. (CAN) providing equipment financing and working capital options to brokers.

----------------------------------------------------------------

Sales makes it Happen---Gerry Egan: Video
The Treasure on Top
…And how to find more of it.
In this Leasing News exclusive, our first-ever video Sales Make It Happen, Gerry Egan builds on a theme discussed here earlier and offers an entirely different view on how much time to invest in those middle-of-the-pack, average sales performers on your team. Gerry tells you why you should spend more time with your top performers; and how to find more of them.
If the above does not work due to a Codec problem, either opens all proxy autodetect,
or please go direct to:
http://forequipmentleasing.com/SalesMakeItHappen/GerryEganSalesMakeItHappen1.wmv
Gerry Egan since 1981 has been involved in Equipment Leasing training, education, and has written many articles. He is unique in his consulting profession as " We broker leases, hold our own leases and discount leases to local banks in addition to managing and servicing the leasing programs for a couple of small banks."
About Gerry Egan: http://www.realworldsalestraining.com/
Gerry Egan
President
TecSource, Inc.
5621 Departure Drive, Suite 113
Raleigh, NC 27616
Phone: 919-790-1266
Fax: 919-790-2262
E-Mail: mailto:GerryEgan@ForEquipmentLeasing.com
Internet: www.ForEquipmentLeasing.com
---------------------------------------------------------------
### Press Release ###########################

August CMI: Holding Out Against Housing and Mortgage Market Woes
Columbia, Maryland: — The seasonally adjusted Credit Manager's Index (CMI) crept up 0.2% in August even though six of 10 components fell. The manufacturing sector rose 0.4 points, but the service sector slipped 0.1. "The data in the survey doesn't provide a compelling picture of current business conditions, which is backed by comments from the survey respondents," commented Dan North, chief economist with credit insurer Euler Hermes ACI.
"Some trade credit managers seem to be experiencing the same difficulties currently seen in virtually all credit markets," North said. He noted that the rapid rise in delinquencies and defaults in the subprime mortgage market have sent a contagion of fear into other mortgage-backed securities, corporate bonds, leveraged buy-out financings and now even the safest of commercial paper markets. "If the highest quality credits are having difficulty securing financing, then smaller businesses will be even more strapped to find financing of any kind, including financing of trade credit as suggested by the respondents to this survey," he said. "Conditions in the credit markets are likely to force the Fed's hand at the September meeting when a new cycle of monetary easing is likely to begin."
"The manufacturing sector rose 0.4 points (0.7%) in August, but a declining housing market combined with poor weather in parts of the country weighed heavily on the construction industry," North said. "Bankruptcies in other industries such as the auto sector continue to take their toll," he continued. As one respondent reported, "Customer's (sic) just walking away from failed business…closing the door and letting the bank or secured creditor take it all."
North noted that the service sector index fell 0.2% on a seasonally adjusted basis as seven of 10 components fell.
"Not surprisingly, the housing market continues to be the greatest source of pain," he noted. Respondents said that the housing and mortgage market woes are "killing residential subcontractors." North reported that survey participants from other industries made similar doleful observations, stating that credit demand appears to be weakening, money is still tight and hard to get, there's an increase in number of clients with cash flow problems and small customers are having problems with their bank loans. As well, lending conditions appear to be tightening in the trade credit market as much as in other credit markets and participants responded that the credit review process is tighter and lower credit limits are being established.
"The Credit Manager's index has crept lower over the past 12 months from 57.3 to 55.1," said North. "The service sector fell from 58.2 to 55.3 as eight of its 10 components declined. The manufacturing sector also fell, but not as much, dropping from 56.3 to 55.0." All three indexes still remain above the 50 level indicating economic expansion.
The CMI, a monthly survey of the business economy from the standpoint of commercial credit and collections, was launched in January 2003 to provide financial analysts with another strong economic indicator.
The National Association of Credit Management (NACM), headquartered in Columbia, Maryland supports more than 22,000 business credit and financial professionals worldwide with premier industry services, tools and information. NACM and its network of Affiliated Associations are the leading resource for credit and financial management information and education, delivering products and services which improve the management of business credit and accounts receivable. NACM's collective voice has influenced legislative results concerning commercial business and trade credit to our nation's policy makers for more than 100 years, and continues to play an active part in legislative issues pertaining to business credit and corporate bankruptcy. www.nacm.org
### Press Release ###########################
--------------------------------------------------------------

News Briefs----
U.S. is most productive in part because we work more
http://www.usatoday.com/money/economy/2007-09-04-productivity_N.htm
Credit card companies woo struggling mortgage-holders
http://www.boston.com/business/personalfinance/articles/2007/09/04/
credit_card_companies_woo_struggling_mortgage_holders/
Economists divided on recession
http://www.usatoday.com/money/economy/2007-09-04-jackson-hole_N.htm?csp=34
---------------------------------------------------------------


You May have Missed---
Feldstein Warns of U.S. Recession, Urges Fed Rate Cut
http://www.bloomberg.com/apps/news?pid=20601103&sid=agrcjp4O4M6Y
----------------------------------------------------------------


"Gimme that Wine"
What to drink with tomatoes an acid test
http://www1.pressdemocrat.com/article/20070829/NEWS04/708290303/-1/
SPECIAL&THEMES=FOODWINE
Hurried Harvest in Sonoma County
http://www1.pressdemocrat.com/article/20070904/NEWS/709040321/1033/NEWS01
Chaptalisation expected for Bordeaux 2007
http://www.decanter.com/news/140985.html
Wine Prices by vintage
http://www.winezap.com
http://www.wine-searcher.com/
US/International Wine Events
http://www.localwineevents.com/
Winery Atlas
http://www.carterhouse.com/atlas
Leasing News Wine & Spirits Page
http://two.leasingnews.org/Recommendations/wnensprts.htm
The London International Vintners Exchange (Liv-ex) is an electronic exchange for fine wine.
http://www.liv-ex.com/
----------------------------------------------------------------

Calendar Events This Day
Be Late for Something Day
Newspaper Carrier Day
http://holidayinsights.com/moreholidays/September/newspapercarrier.htm
Saint feast Days
http://www.catholic.org/saints/f_day/sep.php
----------------------------------------------------------------

The number of times a cricket chirps in 15 seconds, plus 37, will give you the current air temperature.
(lots of luck in counting.)
----------------------------------------------------------------

Today's Top Event in History
1867-The most famous cow town was Abilene, Kansas. In the late 1860's, Abilene was the terminus of the Kansas Pacific Railway. In 1867, Illinois cattleman Joseph Geating McCoy bought the entire town for $2,400 and turned it into a central shipping depot for cattle driven north from rural Texas along the Chisholm Trail. The first rail shipping took place this day in 1867, when 30 Kansas Pacific Railway cars full of Texas longhorns embarked for slaughterhouses in Kansas City and Chicago. The first year, 35,000 head of cattle were shipped through Abilene.
[headlines]
----------------------------------------------------------------

This Day in American History
1664 - After days of negotiation, the Dutch settlement of New Amsterdam surrendered to the British, who would rename it New York. The citizens of New Amsterdam petitioned Peter Stuyvesant to surrender to the English.
1692-The first divinity degree conferred in the American colonies was given to Increase Mather, sixth president of Harvard College. Mather received a Doctor of Divinity degree from Harvard under a new charter just granted by William and Mary, the English sovereigns.
1774- The first assembly of this fore­runner of the US Congress took place at Carpenters' Hall, Philadelphia, PA. Pey­ton Randolph, delegate from Virginia, was elected president. The participants were 44 delegates from 11 colonies. Delegates from Georgia and North Carolina did not attend until later sessions. The Congress adjourned on October 26, 1774, recommending another session to beginning on May 10, 1775, in Philadelphia, Pa. Continental Congress's first President Peyton Randolph, resigned on October 22, 1775, to attend the Virginia State Legislature, and his place was taken on the same day by Henry Middleton of South Carolina
1776-Navy "standardized" uniforms were adopted by the Marine committee. Officers were to have blue coats with red lapels. The sailors were to have green coats and green shirts (if they can be procured), with shirt collars turned back and white waistcoats and breeches edged with green, black gaiters and garters.
1781- Battle of Virginia Capes, French defeat British, traps Cornwallis This naval engagement on Chesapeake Bay was fought between a French fleet under Adm. de Grasse, which had Cornwallis bottled up at Yorktown and a British relief fleet under Adm. Thomas Graves. De Grasse drove the British back to New York City, precluding aid to Cornwalis.
1804 - In a daring night raid, American sailors under Lieutenant Stephen Decatur, board the captured USS Philadelphia and burn the ship to keep it out of the hands of the Barbary pirates who captured her.
1836- Sam Houston was elected president of the Republic of Texas. He was reelected and upon admission of Texas to the United States as the 29 th state, he remained president, and then was elected as a Democrat to the Senate, where he served until 1859.
1846-Birthday of John W. Cromwell, Secretary of the American Negro Academy.
http://docsouth.unc.edu/church/cromwell/bio.html
1847-Western legend and bandit Jesse Woodson James were born at Centerville (Now Kearney), MO. His criminal exploits were glorified and romanticized by writers for Eastern readers looking for stories of Western adventure and heroism. Many of them were women, who never left New York City, and worked for very low wages turning out Western novels. After the Civil War, James and his brother, Frank, formed a group of eight outlaws who robbed banks, stagecoaches and stores. In 1873 the James gang began holding up trains. The original James gang was put of out business September 7, 1876, while attempting to rob a bank at Northfield, MN. Every member of the gang except for the James brothers was killed or captured; pictures of the men in coffins was on the front pages of national newspapers. The brothers formed a new gang and resumed their criminal careers in 1879. Two years late, the governor of Missouri offered at $10,000 reward for their capture, dead or alive (that was a real considerable amount of money in those days.) On April 3, 1882 at St. Joseph, MO. Robert Ford, a member of the gang shot 34-year-old Jesse in the back of the head as he was hanging a picture and claimed the reward.
(lower half of http://memory.loc.gov/ammem/today/sep05.html )
1859 -- "Our Nig or Sketches From the Life of A Free Black" by Harriet Wilson is published. The first novel published in the US by an African-American woman. Lost to readers for years until reprinted with a critical essay by noted African-American scholar Henry Louis Gates, Jr. in 1983.
http://www.harrietwilsonproject.org/
1867-The most famous cow town was Abilene, Kansas. In the late 1860's, Abilene was the terminus of the Kansas Pacific Railway. In 1867, Illinois cattleman Joseph Geating McCoy bought the entire town for $2,400 and turned it into a central shipping depot for cattle driven north from rural Texas along the Chisholm Trail. The first rail shipping took place this day in 1867, when 30 Kansas Pacific Railway cars full of Texas longhorns embarked for slaughterhouses in Kansas City and Chicago. The first year, 35,000 head of cattle were shipped through Abilene.
1870-- Three Roman Catholic universities were founded in the United States on this exact same date: St. John's in New York City, Loyola in Chicago, and Canisius in Buffalo, New York.
1877- Southern blacks led by Benjamin "Pap" Singleton settle in Kansas.
http://www.tnstate.edu/library/digital/single.htm
1881-Great Michigan Fire: According to Michigan Historical Commission, "Small fires were burning in the forests of the 'Thumb area of Michigan,' tinder-dry after a long, hot summer, when a gale swept in from the southwest on Sept 5, 1881. Fanned into an inferno, the fire raged for three days. A million acres were devastated in Sanilac and Huron counties alone. At least 125 persons died, and thousands more were left destitute. The new American Red Cross won support for its prompt aid to the fire victims. This was the first disaster relief furnished by this great organization.
1882—The First Labor Day.
http://memory.loc.gov/ammem/today/sep05.html
1888-American baseball player-turned-evangelist Billy Sunday, 26, married Helen Thompson, 20. In later years she became affectionately known as "Ma Sunday," and became his evangelistic campaign advisor. She survived Billy (d.1935) by 22 years.
1895-African-American George Washington Murray elected to US Congress from South Carolina.
1897-Birthday of Arthur Charles Nielsen, marketing research engineer, founder of AC Nielsen Company, in 1923, known for radio and TV audience surveys, changing programming, born at Chicago, IL, and died there June 1, 1980.
1905- Slyvanus F. Bowser of Fort Wayne, IN, introduced a "self-measuring Gasoline Storage Pump." The design, which was based on Bowser's earlier design for a kerosene pump, consisted of ventilated wooden box containing a 50 gallon metal tank. The gasoline was suction-pumped by hand through a hose. It called it a "gas pump."
1914-Babe Ruth hit his first home run as a professional while playing for Providence in the International League, a type of minor league affiliate of the Boston Red Sox. He pitched a one-hit shutout against Toronto.
1912-Birthday of avant-garde American composer John Cage, born at Los Angeles, CA. He pioneered the experimental music and perfor­mance art schools. He used non-traditional instruments such as flower pots and cowbells in innovative situations, such as per­formances governed by chance, in which the I Ching was con­sulted to determine the direction of the performance. In 1978 he was elected to the American Academy of Arts and Sciences, and in 1982 was awarded France's highest honor for cultural contri­butions, Commandeur de I'Ordre des Arts et des Lettres. He died Aug 12, 1992, at New York, NY.
1925 - The temperature at Centerville, AL, soars to 112 degrees to establish a state record. Every reporting station in Alabama was 100 degrees or above that afternoon.
1929-Comedian Bob Newhart was born Chicago, Il. 1929.
1931-Birthday of pianist Richie Power
http://www.cleveland.oh.us/wmv_news/jazz37.htm
http://www.jazzvalley.com/musician/richie.powell/section=discography
1933 - A hurricane hit Brownsville, TX, killing forty persons and causing 12 million dollars damage.
1939- Lester Young records "Lester Leaps IN" with Count Basie Kansas City 7.
1940-Duke Ellington records, " In a Mellotone."
1944--MERLI, GINO J. Medal of Honor
Rank and organization: Private First Class, U.S. Army, 18th Infantry, 1st Infantry Division. Place and date: Near Sars la Bruyere, Belgium, 4-5 September 1944. Entered service at: Peckville, Pa. Birth: Scranton, Pa. G.O. No.: 64, 4 August 1945. Citation: He was serving as a machine gunner in the vicinity of Sars la Bruyere, Belgium, on the night of 4-5 1944, when his company was attacked by a superior German force Its position was overrun and he was surrounded when our troops were driven back by overwhelming numbers and firepower. Disregarding the fury of the enemy fire concentrated on him he maintained his position, covering the withdrawal of our riflemen and breaking the force of the enemy pressure. His assistant machine gunner was killed and the position captured; the other 8 members of the section were forced to surrender. Pfc. Merli slumped down beside the dead assistant gunner and feigned death. No sooner had the enemy group withdrawn then he was up and firing in all directions. Once more his position was taken and the captors found 2 apparently lifeless bodies. Throughout the night Pfc. Merli stayed at his weapon. By daybreak the enemy had suffered heavy losses, and as our troops launched an assault, asked for a truce. Our negotiating party, who accepted the German surrender, found Pfc. Merli still at his gun. On the battlefield lay 52 enemy dead, 19 of whom were directly in front of the gun. Pfc. Merli's gallantry and courage, and the losses and confusion that he caused the enemy, contributed materially to our victory .
1946 - Jazz and R&B singer, drummer, and bandleader Buddy Miles is born.
1950-Baptist Bible College was founded in Springfield, MO, under auspices of the Baptist Bible Fellowship. With an enrollment of over 2,000, it is today one of the largest Bible colleges in America.
1950 - Hurricane Easy produced the greatest 24 hour rainfall in U.S. weather records. The hurricane deluged Yankeetown, on the upper west coast of Florida, with 38.7 inches of rain.
1952-McLAUGHLIN, ALFORD L. Medal of Honor
Rank and organization: Private First Class, U.S. Marine Corps Company L, 3d Battalion, 5th Marines, 1st Marine Division (Rein.) Place and date: Korea, 4 and 5 September 1952. Entered service at: Leeds, Ala. Born: 18 March 1928, Leeds, Ala. Citation: For conspicuous gallantry and intrepidity at the risk of his life above and beyond the call of duty while serving as a machine gunner of Company L, in action against enemy aggressor forces on the night of 4-5 September 1952. Volunteering for his second continuous tour of duty on a strategic combat outpost far in advance of the main line of resistance, Pfc. McLaughlin, although operating under a barrage of enemy artillery and mortar fire, set up plans for the defense of his position which proved decisive in the successful defense of the outpost. When hostile forces attacked in battalion strength during the night, he maintained a constant flow of devastating fire upon the enemy, alternately employing 2 machineguns, a carbine, and handgrenades. Although painfully wounded, he bravely fired the machineguns from the hip until his hands became blistered by the extreme heat from the weapons and, placing the guns on the ground to allow them to cool, continued to defend the position with his carbine and grenades. Standing up in full view, he shouted words of encouragement to his comrades above the din of battle and, throughout a series of fanatical enemy attacks, sprayed the surrounding area with deadly fire, accounting for an estimated 150 enemy dead and 50 wounded. By his indomitable courage, superb leadership, and valiant fighting spirit in the face of overwhelming odds, Pfc. McLaughlin served to inspire his fellow marines in their gallant stand against the enemy and was directly instrumental in preventing the vital outpost from falling into the hands of a determined and numerically superior hostile force. His outstanding heroism and unwavering devotion to duty reflect the highest credit upon himself and enhance the finest traditions of the U.S. Naval Service.
1956 - Johnny Cash hit the record charts running with "I Walk the Line". Cash's debut hit song climbed to #17 on the pop music charts.
1955---Top Hits
Rock Around the Clock - Bill Haley & His Comets
The Yellow Rose of Texas - Mitch Miller
Autumn Leaves - Roger Williams
I Don't Care - Webb Pierce
1957 -- Jack Kerouac's "On the Road," depicting a generation of restless spirits, is published. "Regarded as the foundation text for the Beat movement, the book was written on a single scroll of paper, made up of 12-foot long sheets of tracing paper taped together and fed through a typewriter continuously, so Kerouac would not have to pause his train of thought. He wrote in fits of inspiration that lasted for days, fueled by amphetamine binges and lack of sleep. The entire process took 20 days and ended with a single spaced, 120-foot long scroll."
1958 Martin Luther King is arrested in an Alabama protest for loitering and fined $14 for refusing to obey police.
1960 - Cassius Clay of Louisville, KY won the gold medal in light heavyweight boxing at the Olympic Games in Rome, Italy. Clay would later change his name to Muhammad Ali and become one of the great boxing champions in the world. In 1996, at the Olympic Games in Atlanta, GA, Muhammad Ali was given the honor of lighting the Olympic flame.
1961-President John F. Kennedy signed the skyjacking law enacted by Congress. It made hijacking punishable by death or not less than 20 years imprisonment. Carrying a concealed or dangerous weapon was subject to a fine of 42,000 or imprisonment of not more than one year or both. It did not provide for inspection of carry on baggage, or persons, or any other implementation except for making it against the law. It was in reaction to a string of hijackings that followed the May 1, 1961 hijacking of an airplane by gun and knife to Havana. The press called them " skyjackings" and thus a new word was also born.
1963---Top Hits
My Boyfriend's Back - The Angels
Hello Mudduh, Hello Fadduh! - Allan Sherman
Blowin' in the Wind - Peter, Paul & Mary
Ring of Fire - Johnny Cash
1964 - The Animal's "House of the Rising Sun" made it to #1. It stayed at the top until it was replaced three weeks later by Roy Orbison's "Oh, Pretty Woman". Orbison's smash was just entering the pop charts on this day, for a 14-week run.
1964-"And I Love Her" by The Beatles peaks at #12 on the pop singles chart while "If I Fell" peaks at #53.
1964- Manfred Mann's "Do Wah Diddy Diddy" is released.
1965 -- San Francisco Examiner writer Michael Fallon applies the term "hippie" to the SF counterculture in an article about the Blue Unicorn coffeehouse where LEMAR (Legalize Marijuana) and the Sexual Freedom League meet, & hippie houses, declares the Beat movement is alive in the Haight-Ashley district ( this was a white area of town where rent was very cheap, many people lived in the same flat, and the low cost or no cost is why they lived in this section. It is a flashback to the derogatory term of a "would be" hipster used in Harlem. It primarily referred to white would be hipsters who tried to be "black and hip," but were not.
http://www.journalofantiques.com/May02/featuremay02.htm
http://wild-bohemian.com/named.htm
1965-The Rolling Stones fly to Los Angeles to record "Get Off My Cloud" and other tunes.
1966-Labor Day opening of Martha and The Vandellas at the San Franisco Fillmore Auditorium.
1970 -Estimated 15 cm (6") of rainfall, Bug Point, Utah (state record)
1970-Joe Cocker's "Mad Dogs and Englishmen" enters the LP charts.
1971--Top Hits
Uncle Albert/Admiral Halsey - Paul & Linda McCartney
Smiling Faces Sometimes - The Undisputed Truth
Spanish Harlem - Aretha Franklin
Easy Loving - Freddie Hart
1972 - Roberta Flack and Donny Hathaway won a gold record for their duet, "Where is the Love". The song got to number five on the pop music charts and was one of two songs that earned gold for the duo. The other was "The Closer I Get To You" (1978).
1975-Lynette A. "Squeaky" Fromme, a follower of convicted murdered Charles Manson, attempted to shoot President Gerald Ford. On September 22 of the same year, another attempt on Ford's life occurred when Sara Jane Moore shot at him.
1975 - Strong winds reduced visibilities to near zero in blowing dust resulting in a 22-car chain reaction accident on Interstate 10 near Toltec AZ. Two persons were killed, and 14 others were injured.
1976 - No. 1 Billboard Pop Hit: "(Shake, Shake, Shake) Shake Your Booty," KC & the Sunshine Band.
1979---Top Hits
My Sharona - The Knack
After the Love Has Gone - Earth, Wind & Fire
Don't Bring Me Down - Electric Light Orchestra
Heartbreak Hotel - Willie Nelson & Leon Russell
1979- Anne Myers, All-American basketball player from UCLA, made history by signing a contract with the Indiana Pacers of the NBA, the first woman to do so. Meyers worked out with the team throughout training camp but was cut before the season began.
1981-"Stop Draggin' My Heart Around" by Tom Petty and Stevie Nicks peaks at #3 on the singles chart; The Greg Kihn Band's "The Breakup Song (They Don't Write 'Em)" peaks at #15 and Foreigner's "Urgent" peaks at #4.
1983-Originally, this PBS news show was called "The MacNeil-Lehrer Report" and was on every weeknight for a half hour starting in 1976. Robert MacNeil and Jim Lehrer were joined by Charlayne Hunter-Gault and Judy Woodruff. In 1983 the show was expanded to an hour and became TV's first regularly scheduled daily hour news show. The show has been praised for its depth and objectivity. In 1995 Robert MacNeil retired and the show was retiled "The News hour with Jim Lehrer."
1986-Dire Straits' "Money For Nothing" wins and MTV award for Best Video.
1987-"American Bandstand" was cancelled after 30 years on the air.
1987---Top Hits
La Bamba - Los Lobos
I Just Can't Stop Loving You - Michael Jackson with Siedah Garrett
Only in My Dreams - Debbie Gibson
She's Too Good to Be True – Exile
1988 - Five days of heavy rain commenced in west central Florida. Up to 20 inches of rain in four days resulted in extensive urban flooding, and evacuation of 1000 homes. Flooding claimed four lives, and caused more than five million dollars property damage.
1991-R.E.M. wins 5 MTV Video Music awards, including video of the year for "Losing My Religion."
1997-Space Milestone: Voyager I. launched, setting a new distance record when after more than 20 years in space it reached 6.5 billion miles from Earth.
1989-Chris Evert's tennis career came to an end in the quarterfinals of the US Open when she was defeated, 7-6, 6-2 by Zina Garrison.
1998 - Aerosmith's "I Don't Want to Miss a Thing" debuted at #1 on U.S. music charts. The song, from the movie, "Armageddon", was the first single by Aerosmith to reach number one. It stayed at the top through the entire month of September.
*** Randolph, Peyton (1721?-1775), was an American lawyer who served as president of both the First and the Second Continental Congresses in 1774 and 1775. Those two meetings of colonial leaders at first sought fair treatment from Britain for the American Colonies but eventually declared independence. Randolph himself held moderate political views. He persuaded extreme patriots and those with more cautious views to work together.
Randolph was born in Williamsburg into one of Virginia's most respected families. He graduated from the College of William and Mary and then studied law at the Inns of Court in London. In 1748, Randolph became attorney general of Virginia. That year, he won election to the House of Burgesses, Virginia's legislature. In 1766, he became speaker of the House.
The British governor of Virginia dissolved the House of Burgesses in 1774. Its members then met in a series of revolutionary conventions. Randolph was elected to preside over the conventions in 1774 and 1775. He headed Virginia's delegates to the First and Second Continental Congresses. He was elected as the first president of both meetings. He died in October 1775, five months after the Second Continental Congress began.
--------------------------------------------------------------

Baseball Poem
Three Strikes, Yer Out
..... written by Greg Salts, Chula Vista, Calif.
The first pitch was heat that looked more like meat.
You swung awful fast but it fouled off my mask.
You looked far too long at the base coach's face.
Your task here is simple, just get to first base.
You step in the box and shuffle your feet.
"O-2 on the batter," I said,
and was glad I glanced at him then and he really looked mad.
The catcher laid down number three as a sign
A change-up it was and it looked mighty fine.
I can't figure out why you stood there and looked.
But now there's a backward K in the book.
--------------------------------------------------------------

SuDoku
The object is to insert the numbers in the boxes to satisfy only one condition: each row, column and 3x3 box must contain the digits 1 through 9 exactly once. What could be simpler?
http://leasingnews.org/Soduku/soduko-main.htm
--------------------------------------------------------------

Daily Puzzle
How to play:
http://www.setgame.com/set/puzzle_frame.htm
Refresh for current date:
http://www.setgame.com/set/puzzle_frame.htm
--------------------------------