VENDOR SALES SPECIALISTS
LEASING SALES PROFESSIONALS
Like selling vendor programs and large transactions?
Enjoy international financing programs?
Prefer the advantages of a commission only environment with the security of health and welfare benefits?
CLICK HERE to find out how to have fun again.
Wednesday, September 3, 2008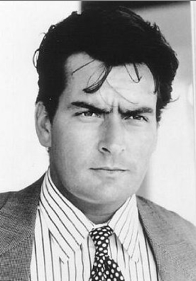 Headlines---
Archives September 1, 2000
--US Bank buys Manifest
What the Sale Means--Brian Bjella
Classified Ads---Senior Management
Bank Round-Up/Main Street Bank
Payments Beyond Terms Are Increasing
"Complaint" Bulletin Board
New Hires---Promotions
Classified Ads---Help Wanted
Top Stories --August 25--August 29
Leasing 102 by Mr. Terry Winders, CLP
"End of the Lease Options"
Affiliated Investment Group New Office
NY Fed banker warns against rapid credit growth
Credit unions weather tough market
Korea Development Bank may buy Lehman Bros.
Kozlowski, Swartz Seek End to Jail Terms
News Briefs---
You May have Missed---
"Gimme that Wine"
Calendar Events
Snapple Real Facts
Today's Top Event in History
This Day in American History
Baseball Poem
SuDoku
Daily Puzzle
GasBuddy
Weather, USA or specific area
Traffic Live----
News on Line---Internet Newspapers
Waterbury, Connecticut
Sales and all executives should not miss
Terry Winders, CLP, "End of the Lease Options"
######## surrounding the article denotes it is a "press release"
------------------------------------------------------------------

Archives September 1, 2000
--US Bank buys Manifest
What the Sale Means--Brian Bjella
"I think the letter we sent summarizes our position. I would like to go on record as saying this partnership with U.S. Bancorp is a win for all the parties involved. The size and growth of Lyon Financial and The Manifest Group requires a tremendous amount of capital and resources. Couple this with Schwan's pursuit of growing their multi-billion dollar food business and they were faced with a very interesting strategic decision. The Manifest Group is in the best financial and portfolio condition ever.
"At no time was Lyon Financial Services or The Manifest Group up for sale. The President of U.S. Bank resides on the Schwan's Board of Directors and approached the board with this solution. We all agreed that it was a great direction for us to take and allows U.S. Bancorp to diversify into small ticket leasing. The Manifest Group will remain the same, they are looking to build or find a 50,000 - 60,000 square foot building in Marshall (not many unoccupied buildings of this size in Marshall). The management, employees, values and philosophy will all remain intact. We are excited about the potential product offerings we can leverage from U.S. Bancorp and offer to the broker/lessor community. U.S. Bancorp is very supportive of our business model and stands behind our stated insurance policy from 1987:
"Your lessee and vendor lists will remain confidential to The Manifest Group. At no time will this information be shared with anyone outside The Manifest Group. This policy holds true even if your company is no longer doing business with The Manifest Group."
"We have held true to this for 13 years and will remain the same - your database is secure.
"We are extremely excited for what the future holds for all of us. Business and usual and appreciate everyone's support during the transition over the next few months."
Brian Bjella
Executive Director of Sales
The Manifest Group

1995
Brian Bjella
Manifest Funding Services
(UAEL Newsline photo)
In April, 2002, Brian Bjella became General Manager of Manifest Funding Services.
"For the past four years Brian has helped lead the sales efforts of Manifest as the Executive Director of Sales in the eastern half of the United States. Prior to that, Brian was instrumental in the start-up of' Stellar Financial Services (currently U.S. Bancorp Portfolio Services) serving as General Manager of that company from 1994 to early 1998."
Press Release, 2002
In 2004, he started Grandview Financial, Inc., Marshall, MN, growing to 24 employees and reporting originations in excess of $50 million per year. The company has two subsidiaries, Quest Resources and HLC Capital, who specialize in small ticket vendor financing programs.
--------------------------------------------------------------

Classified Ads---Senior Management
Atlanta, GA
Strong sales and leadership skills; demonstrated with sales training and sales performance. Lead team in both regional and national operations and developed marking programs.
Email: mll1946@comcast.net

Europe
25+ yrs exper. management roles Chase, AT&T Capital, Heller Financial, SFS. Develop biz from "scratch to success". Looking for challenging & pioneering job.
Email: frans@alliedproperty.net
Philadelphia, PA
27 yrs. exp. sales, ops., credit, strategy, P&L mngmet. Most recently created & executed the biz plans for 2 highly successful Bank-owned small ticket leasing subsidiaries.
email: mccarthy2020@comcast.net
Salt Lake City, UT
Exp. in financial documentation, contract negotiations, residual analysis, marketing, credit/collections, contract drafting, and asset remarketing. Position held VP of Remarketing. dlynn71@gmail.com
For a full listing of all "job wanted" ads, please go to:
http://www.leasingnews.org/Classified/Jwanted/Jwanted.htm
Leasing Recruiters:
http://www.leasingnews.org/Recruits/index.htm
To place a free "job wanted" ad here, please go to:
http://www.leasingnews.org/Classified/Jwanted/Jwanted-post.htm
--------------------------------------------------------------

Bank Round-Up/Main Street Bank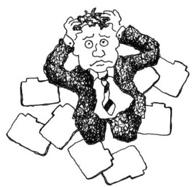 Main Street Bank, Northville, Michigan (not to be confused with Main Street National Bank in Kingwood, Texas, founded by Tom Depping) has been ordered by the Michigan Office of Financial and Insurance. to stop making loans, obtain "qualified" management and improve its capital ratios. The regulators declared the bank was engaging in "hazardous" lending and operating with "detrimental" management. The bank was told to bring itself up to a Tier 1 capital ratio of 6%.Once at this level, the bank can then make loans but with restrictions. (Again, this bank is not related in any way with Main Street National Bank, Kingwood, Texas, founded by Tom Depping.)
Integrity Bancshares Inc. unit Integrity Bank ($1.11 billion), Alpharetta, Georgia was closed August 29th by the Georgia Department of Banking and Finance.
Integrity is the 10th bank to fail this year. They had five branches in the Atlanta-Sandy Springs area, which will re-open under FDIC supervision on September 2 as a region bank. It has been reported in the news media the bank made $83 million in 14 real estate loans guaranteed by the same investor. Allegedly the person is Guy Mitchell of Florida. All 14 loans were in default and contributed to the bank's failure.
Shares of Regions Financial Corp., Alabama's largest bank, rose 19 percent Tuesday after it took over the deposits and offices of Integrity Bank of Alpharetta in a transaction arranged by regulators.
Meridian Bank, Alton, Illinois, was issued a issued a cease and desist order by the Illinois Department of Financial and Professional Regulation naming "hazardous" lending under "detrimental" management and inadequate board oversight. The bank must now name "qualified" management within 90 days, plus obtain a Tier 1 capital ratio of at least 8%, and no longer is permitted to make new loans to existing borrowers.
Timberland Bank, El Dorado, Arizona was issued a "cease and desist order," ordering the bank to have "have and retain qualified management," develop "an adequate allowance for loan and lease losses. and to raise boost its Tier 1 capital ratio to at least 8%, its Tier 1 risk-based capital ratio to at least 10%, and its total risk-based capital ratio to 11.5%.
Topeka, Kansas based Columbian Bank & Trust Company opened August 25 as branches of as branches of Citizens Bank & Trust. They were the ninth bank to fail this year. When they were placed into receivership by the FDIC on August 22, it was reported they had total deposits of $622 million, of which an estimated $46 million was uninsured and held in 610 accounts that potentially exceeded the insurance limits, on June 30th. The bank also had approximately $268 million in brokered deposits. The FDIC will pay the brokers directly for the amount of their insured funds. Citizens Bank & Trust assumed the deposits for a 1.125% premium, plus purchased $85.5 million of Columbian Bank & Trust's assets, composed mainly of cash, cash equivalents and securities.
Other Banks closed this year:
First Priority Bank of Bradenton, Florida, on Aug. 1; Reno-based First National Bank of Nevada and Newport Beach, California-based First Heritage Bank in July; Staples, Minnesota-based First Integrity Bank and ANB Financial in Bentonville, Arkansas, in May; Hume Bank in Hume, Missouri, in March; and Douglass National Bank in Kansas City, Missouri, in January.
List of Failed banks since October, 2000:
http://www.fdic.gov/bank/individual/failed/banklist.html
--------------------------------------------------------------

Payments Beyond Terms Are Increasing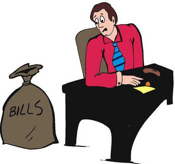 The Institute for Supply Management reported yesterday that on its scale the nation's manufacturers fell to 49.9 from 50 in July. A reading below 50 signals contraction.
The seasonally adjusted National Association of Credit Manager's Index also finds the same figures from its 19,000 members as its index has moved to 50.7%. Service kept it from falling further.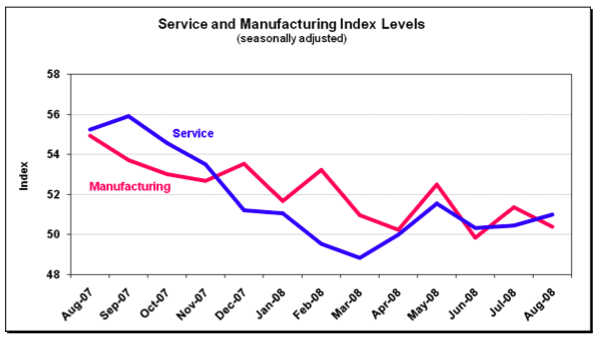 The manufacturing sector index slipped a full percentage point to 50.4%, as only four of its 10 components rose. The service sector index fared better, gaining half a percentage point, rounding out at 51.0% as six of its 10 components rose. All three indexes have six components at or below the 50% level.
"Overall, there were no dramatic changes from July's report," said Daniel North, chief economist for credit insurer Euler Hermes ACI, who evaluates the data and prepares the report for the National Association of Credit Management. "However, in both manufacturing and service, dollar collections and the dollar amount beyond terms worsened," he continued. "The data suggest that tough economic conditions are strangling buyers' cash flow. Buyers are stretching their payment terms beyond normal and even after that, it appears that they still cannot pay their bills."
"Slow pay seems to be the biggest problem." North noted that a manufacturer of valves and pipes reported, "Customers are looking for ways to slow payments." A plastics producer replied, "We are having to exert more effort to get payment for receivables," while a sheet metal firm reported, "We have some of the bigger customers attempting to extend terms." North said, "On the flip side, international business seems strong, probably due to the weaker dollar, which makes U.S. goods more competitive abroad." A food manufacturer responded that "international sales are increasing very fast," a furniture manufacturer noted, "Our sales are up on the international side," while a producer of carpeting reported, "…sales to Latin and South America…have increased."
"Providers of HVAC and electrical equipment services noted that they are seeing more NSF checks than ever before," he said. Other survey responses that stood out include a supplier of transportation services that said, "Customers that have never been a problem are going beyond terms." A repair service stated, "Many customers are expecting us to be their bank!" And reflecting on the "credit crunch," a participant in the plastics industry reported, "We are seeing more companies close due to lack of bank funding."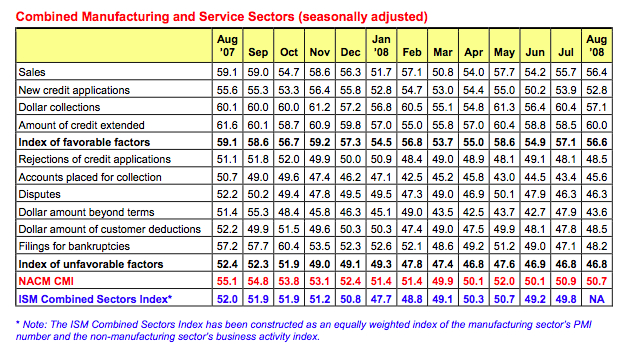 "On a seasonally adjusted basis, the year-over-year comparisons for both the manufacturing and service sector indexes show a definitive downward trend, reflecting the deterioration in the overall economy," said North. "All 10 of the components in the manufacturing sector index fell, pushing the index down 4.6% to 50.4%. The service sector hardly fared better as all 10 components fell, driving the index down 4.2% to 51.0%. Both indexes hover just above the 50% dividing line between economic expansion and contraction."
The CMI, a monthly survey of the business economy from the standpoint of commercial credit and collections, was launched in January 2003 to provide financial analysts with another strong economic indicator.
The National Association of Credit Management (NACM), headquartered in Columbia, Maryland, supports more than 19,000 business credit and financial professionals worldwide with premier industry services, tools and information.
--------------------------------------------------------------

"Complaints" Bulletin Board
Customer Complaints ( These are postings for informational purposes. Any response, correction, addition, will be posted. We reserve the right to edit or delete any opinion that is not in good taste)
Balboa Capital, Irvine, California
Balboa Capital, Irvine, California
Alliance Funding Group, Orange, California
Omega Capital Partners, Austin, Texas
Southwest Credit, San Antonio, TX
Balboa Capital, Irvine, CA
William J. "Bill" Weldon dba Production Finance
Balboa Capital, Irvine, California
American Equipment Finance, Warren , NJ

Ramsgate Leasing Systems, Bergenfield, NJ
Bridge Capital Leasing, Mission Viejo, CA

YEAR 2004
2nd Bulletin Board Complaint --- Phoenix Alliance, Dana point, Ca.
Alert---Harold Bishop, Inc. Summerville, Georgia
Lease *Alliance, Bloonfield Hills, MI. 10/4/2004
Titus Holding, Eureka, Montana 9/21/2004
Phoenix Alliance, Dana Point, Ca 9/16/2004
Union Capital, Irvine, California
Dimension Funding, Irvine, California
Bridge Capital, Lake Forest, California --- Third Bulletin Board Complaint
Bridge Capital, Lake Forest, California---Two Complaints
YEAR 2003
Avalon Southwest, Ken Hartley, Dallas Texas
Aventura Funding Corp. Dania, Florida 11/11/2003
Abacus Leasing --- 2/10/2003
YEAR 2002
Triangle Financial Services 12/3/2002
Precom "Rescinds" Acquisition of Saddleback Financial's Assets 8/21/2002
The Funding Tree Stories---also see Bad Boys
Photoshop Owner: Open Complaint 7/16/2002
Saddleback Financial, Orange, CA-Salesmen/ Vendors Not Paid 7/3/2002
MSM Capital, Irvine, California 5/23/02---also see Bad Boys
Molloy and Associates/MonitorDaily Complaint 5/20/2002
Flex Lease, Plano, Texas Complaint 1/10/2002
YEAR 2001
Tribex Capital Resume Fraud 11/05/2001
Regional Sales Manager for Saddleback Financial 11/05/2001
Parker Leasing, Ft. Lauderdale,FL 10/08/2001
Fraud Alert Telecom Management Washington Communications 7/20/01
Ted Pierce---Colonial Pacific/GE Lament 7/11/01
Fraud Alert: Vector Services, Granite Bay, Ca. 7/3/01
U.S. Capital, Santa Barbara, California 2/14/2001
Lease Capital/Martin J. Barteske Complaint 1/06/2001
YEAR 2000
NAELB Expels Lease Capital Corporation/Principal Martin J. Barteske 11/16/2000
FMC Leasing Confirms Gibraltor Financial Complaint 10/05/2000
Gibraltor Financial Complaint 10/04/2000
Leasing Network Purchase Option Problems 7/26/2000
Universal Capital reported by Citation Financial 7/19/2000
Universal Capital Service 7/5/2000
Universal Finance/Manufacturing 6/12/2000
Metropolitan Group Question 6/1/2000
--------------------------------------------------------------

New Hires---Promotions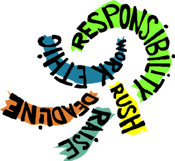 Pascal Bouillon, Deputy Chief Executive Officer at SG Equipment Finance in France, was promoted to CEO of SG Equipment Finance USA. He has been with the company for 18 years, including eight years in the U.S., first as a member of the M&A group in New York and then later launching a corporate venture activity in San Francisco.
Education: Ecole Polytechnique and Ecole des Mines de Paris.
Matt Ganes has been appointed to "Major Account Manager" at the New York City office for Graphic Savings Group LLC, Brooklyn, NY. " Matt Ganes was a business development manager at an independent funding source, New World Equipment Funding, LLC. There he developed the broker division, overseeing transactions and relationships. Matt also worked as a commodities trader on the floor of the New York Mercantile Exchange making markets in the Gold Options Ring. Matt grew up on Long Island and now resides in Greenwich Village, where he is able to enjoy the always thriving music scene and city life. Matt received a BA from Duke University in Sociology & Marketing."
Walter F. Greenfield was promoted to president and chief operating officer of equipment financing Center Capital Corporation, a subsidiary Webster Financial Corporation, a holding company for Webster Bank, Waterbury, Conn., with $17.5 billion assets services through 181 banking offices. Webster Bank owns the asset-based lending firm Webster Business Credit Corporation, the insurance premium finance company Budget Installment Corp., Center Capital Corporation, an equipment finance company headquartered in Farmington, Conn., and provides health savings account trustee and administrative services through HSA Bank, a division of Webster Bank. Greenfield joined Center Capital in October 2005 from Daimler Chrysler Capital Services, where he was senior manager-structured equity, and had been responsible for all credit operations and asset management activities of Chrysler's $4.3 billion leveraged lease portfolio. Prior to joining Daimler in 1988 he was employed by Scientific Leasing, and before that held management positions at the Society for Savings and The Travelers Corporation.
He is filling a position held by Center Capital CEO Mitchell D. Weiss, October 1, 2008, who is retiring. Greenfield is currently the company's senior vice president. Weiss will continue work with Webster's commercial banking division and credit risk management on a broad range of projects. He joined Center Capital Corporation as senior vice president - operations in 1992 and became its chief executive officer in 1995. He organized a leveraged buyout of Center Capital in 1996 and sold the company to Webster Bank in March 2001. He has served as its CEO since then.
Chris Lucas has been appointed to "Major Account Manager" at the New York City office for Graphic Savings Group LLC, Brooklyn, NY. "Before joining the GSG team, Chris was the Office Manager at Ardor New York Real Estate in New York, NY. He was responsible for overseeing 100+ agents in both the rental and sales divisions and assisting the Closing Manager with rental and sales deals. He also was an Office Assistant at Ideal Properties Group, LLC in Brooklyn, New York, where he was able to oversee an upstart real estate company grow into one of the more popular firms in the borough. In his spare time, Chris utilizes his background in audio and video production by freelancing as an audio engineer and film editor. Notably, Chris is an avid—one might say die-hard—Cubs fan, and also hails from "The Windy City".
Elaine D. Marion has been promoted from Vice President of Accounting to Chief Financial Officer, ePlus, Hendon, VA. She joined the company in 1998. Phillip G. Norton, chairman, president and CEO stated, "We are extremely pleased that the Board of Directors has appointed Elaine as CFO. While serving as our Vice President of Accounting, she has played a critical role in the company's accounting and finance functions."
Steven J. Mencarini has been promoted from CFO to Senior Vice President of Business Operations, ePlus, Hendon, VA. Phillip G. Norton, chairman, president and CEO stated, "Steve has been a tremendous asset to the company. He played an important role in the company's growth from less than $100 million in revenues in fiscal year 1997 to more than $800 million in fiscal year 2008, including several capital raises and multiple acquisitions. We are pleased that Steve has agreed to take on these important operating responsibilities which are critical for our future success."
--------------------------------------------------------------

Classified Ads---Help Wanted
Vendor Sales Specialists


VENDOR SALES SPECIALISTS
LEASING SALES PROFESSIONALS
Like selling vendor programs and large transactions?
Enjoy international financing programs?
Prefer the advantages of a commission only environment with the security of health and welfare benefits?
CLICK HERE to find out how to have fun again.
[headlines]
--------------------------------------------------------------

Top Stories --August 25--August 29
Here are the top ten stories most "opened" by readers last week:
(1) Ex-Leaf employees now available
http://www.leasingnews.org/archives/August%202008/08-27-08.htm#emp
(2) Correction: Ex-Leaf Employee List
http://www.leasingnews.org/archives/August%202008/08-29-08.htm#error
(3) Balboa Capital, Irvine, California
Bulletin Board Complaint
http://www.leasingnews.org/archives/August%202008/08-25-08.htm#bbc
(4) Five Point Exits "Trigger Data"
http://www.leasingnews.org/archives/August%202008/08-25-08.htm#5pt
(5) At the Fed, a Debate Over Countering Inflation Grows Louder
http://www.nytimes.com/2008/08/25/business/economy/25fed.html?ref=business
(6) Operation Lease Fleece: What are they doing today?
http://www.leasingnews.org/archives/August%202008/08-27-08.htm#ops
(7) Rates to Go Up/Credit to Continue to Tighten
http://www.leasingnews.org/archives/August%202008/08-29-08.htm#rates
(8) Leasing 102 by Mr. Terry Winders, CLP
"Residuals"
http://www.leasingnews.org/archives/August%202008/08-25-08.htm#102
(9) Lease Police New Feature---Up-Date
http://www.leasingnews.org/archives/August%202008/08-29-08.htm#update
(10) Fed Hints It Will Raise Benchmark Rate
http://www.nytimes.com/2008/08/27/business/economy/27fomc.html?_r=
1&ref=business&oref=slogin
--------------------------------------------------------------

Leasing 102
by Mr. Terry Winders, CLP
"End of the Lease Options"
If you believe you are in the finance business then it is necessary to offer your customer some end of the lease options. However, if you are in the leasing business then any end of the lease options other than an extended rental option is just getting in the way of a real lease. If and I only mean "if" the customer asks for some additional options then the sales cycle can begin.
The main reason for leasing is to put cash, book expense, and tax expense in tandem for a term that matches the customer's term of use so all expenses stop when the equipment stops, and the lease payment can be arranged to meet cash flow and revenue projections. If you do not understand how to do this you better get some training!
The discussion about end of the lease options will help you determine what the customer has in mind. Perhaps they do not understand the current account requirement for capital leases, with bargain purchase options, that requires them to straight line the depreciation, as if they owned it, which usually is longer that your term of lease. This means they still have an expense to take after your lease terminates creating an expense barrier against replacing the equipment. Bad for you and bad for the lessee's business, if they need replacement equipment.
The benefits of leasing need to be explained and sold to the lessee.
If you start with a requirement to return the equipment or only offer an extended rental period it may stimulate the customer to ask for different arrangements and allow you to question their true needs and explain how the proper lease can meets those needs. If you do this not only do you become a professional but you develop a relationship with the lessee and a true advisor that they will call on again.
If has been my experience that customers that ask for bargain options at lease termination do not understand leasing or are just looking for equipment finance. There is nothing wrong with complying with their request so long as you know that they understand why a lease may be better. Remember it is the use of equipment that makes money not the ownership of that equipment. If you are working through a vendor it is best to contact the customer, if possible, because this discussion may save a deal that otherwise may have been lost to a local personal contact.
"If" the customer requires additional options at lease termination it should be a sign that you have not asked the correct questions! Did you ask "How long do you plan to use it" or did you ask "how many years do you need?" Most customers are brain washed (including you) that financing usually lasts for 36, 48, or 60 months and once in a while 84 months. A "lease" is for "use" not ownership so the term of use is the important question. On occasion you should ask "is there a month during the year that would be best to terminate this lease so replacing it would be the least disruptive to your business?" Their answer will give you a lot of insight as to their current thoughts about what will happen at termination. If they chose a month, then you know exactly when a new deal will be needed and that they plan to return it. If they do not care what month it terminates, then they probably plan to purchase the equipment and keep it which is why they have asked for termination options.
Leasing is not lending and the changes headed our way are going to drive a large wedge between the two so you had better get busy learning how to sell leasing or join the multitude of money lenders offering low rates.
Mr. Terry Winders, CLP, has been a teacher, consultant, expert witness for the leasing industry for thirty years and can be reached at leaseconsulting@msn.com or 502-327-8666.
He invites your questions and queries.
Previous #102 Columns:
http://www.leasingnews.org/Conscious-Top%20Stories/Leasing_102/Index.htm
(This ad is a "trade" for the writing of this column. Opinions
contained in the column are those of Mr. Terry Winders, CLP)
---------------------------------------------------------------
### Press Release ###########################

Affiliated Investment Group New Office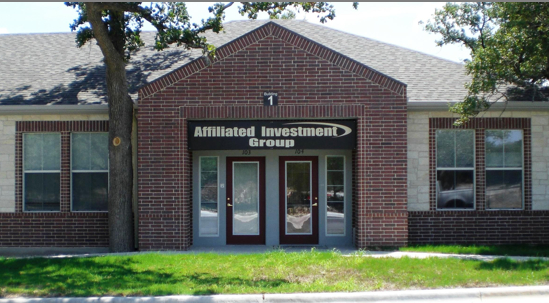 Affiliated Investment Group, Inc., an equipment finance company known as "The Flexible Funding Source", announces the move to their new commercial office building in Cedar Park, Texas.
All the phone and fax numbers will remain the same.
"In just over 2 years in being in the Austin area, we've doubled our sales volume, added four new employees and have already grown out of our previous office building. Even in these difficult economic times our consistent approach and differentiation of being "all about the credit" is working for us. We look forward to our continued growth in our new building" stated Jim Lahti – President.
Affiliated Investment Group Inc is a 17 year old broker funding source that resided in Dallas for 14 years before moving to Cedar Park. They can finance "any equipment, for any lessee, anywhere in the country".
James R. Lahti, CLP
Affiliated Investment Group, Inc.
201 Lakeline Blvd., Suite 104
Cedar Park, TX 78613
(512) 336-7335, Fax: 512-336-7336
Email: jrl@affiliatedinvestment.com
### Press Release ###########################
--------------------------------------------------------------

News Briefs----
NY Fed banker warns against rapid credit growth
http://www.signonsandiego.com/news/business/20080902-1225-argentina
-usfederalreserve.html
Credit unions weather tough market
http://www.bankrate.com/brm/news/cu/20080902-credit-union-tight-market-a1.asp
Korea Development Bank may buy Lehman Bros.
http://www.usatoday.com/money/industries/brokerage/2008-09-02
-korea-bank-lehman_N.htm
Kozlowski, Swartz Seek End to Jail Terms
http://www.cfo.com/article.cfm/12039158/c_12033281?f=home_todayinfinance
---------------------------------------------------------------


You May have Missed---
Insurers estimate Gustav claims as high as $10 billion
http://seattletimes.nwsource.com/html/businesstechnology/2008153149_web
insurersgustav02.html
(Leasing News provides this ad "gratis" as a means
to help support the growth of Lease Police)
----------------------------------------------------------------


"Gimme that Wine"
California winemakers brace for smaller supply of grapes
http://www.latimes.com/business/la-fi-grape1-2008sep01,0,5193284.story
Napa Valley Harvest Report
Harvest report: It's just around the corner
More than 400 winemakers offer tastings at 18th annual event
http://www.winesandvines.com/template.cfm?section=news&content=58148
Grgich celebrates 50 years of making wine - and history - the Napa Valley
http://www.napavalleyregister.com/articles/2008/08/29/wine/
doc48b764f6aaf6d173993541.txt
Grand Valley-based enologist tracks, promotes Colorado wines
http://www.gjfreepress.com/article/20080902/COMMUNITY_NEWS/809019997/
1076&parentprofile=-1
Nova Scotia wineries are getting it right
http://www.canada.com/ottawacitizen/news/story.html?id=fea1072d-e633-4
721-9c0e-883e31cc7882
Meticulous, Modern and Very French ---by Eric Asimov
http://events.nytimes.com/2008/09/03/dining/reviews/03wine.html?ref=dining
Sonoma Wine Country Weekend raises $1.5 million
http://www.pressdemocrat.com/article/20080902/LIFESTYLE/809020251/1350&title=
Wine_Country_Weekend_raises__1_5_million
(This is a free "ad" for our good friends the Bateman's,
proprietors of Thunder Mountain Kona coffee)
Wine Prices by vintage
http://www.winezap.com
http://www.wine-searcher.com/
US/International Wine Events
http://www.localwineevents.com/
Winery Atlas
http://www.carterhouse.com/atlas
Leasing News Wine & Spirits Page
http://two.leasingnews.org/Recommendations/wnensprts.htm
The London International Vintners Exchange (Liv-ex) is an electronic exchange for fine wine.
http://www.liv-ex.com/
----------------------------------------------------------------

Calendar Events This Day
Qatar: Independence Day
National holiday. Commemorates the serving in 1971 of treaty with Britain, which had handled Qatar's foreign relations. As of 2007, oil and natural gas revenues had enabled Qatar to attain the highest per capita income in the world.
https://www.cia.gov/library/publications/the-world-factbook/geos/qa.html
San Marino: National Day
Public holiday. Honors St. Marinus, the traditional founder of San Marino.
https://www.cia.gov/library/publications/the-world-factbook/geos/sm.html
Saint feast Days
http://www.catholic.org/saints/f_day/sep.php
----------------------------------------------------------------

Dismal first-year sales of famous products:
1. VW Beetle (U.S.)--sold 330 first year.
2. Liquid Paper--sold 1,200 bottles first year
3. Cuisinart--sold 200 first year.
4. Remington typewriter--sold 8 first year.
5. Scrabble--sold 532 first year.
6. Coca-Cola--sold 25 bottles first year.
----------------------------------------------------------------

Today's Top Event in History
1939 - "Flying Home" was recorded by Benny Goodman and his six-man-band -- for Columbia Records. It became his "signature" tune. He had two black musicians, Teddy Wilson on piano and Lionel Hampton on vibraphone. Goodman was the first to break the white-black musician barrier in the early 1930's and the first major band and group to include both black and white musicians playing together, especially in lead positions.
[headlines]
----------------------------------------------------------------

This Day in American History
1721-The Boston Gazette advertised a Camel would be exhibit for sale" African camel...7 feet high and 12 feet long."
1780- British intelligence officer Major John André was hanged as a spy in Tappan , New York . Captured on his return to New York City by American militiamen fighting in the War of Independence, Major André was found to have papers hidden in his boot concerning West Point, New York . General George Washington designated a board of officers to hear the case which, after finding André guilty of spying, sentenced him to death. More disturbing news was uncovered during the process of the investigation. The papers carried by the British officer had been given to him by Brigadier General Benedict Arnold of the Continental Army, recently appointed commandant of the fort at
West Point . Since May 1779, Arnold, motivated by greed, by his opposition to the French alliance of 1778, and by his resentment towards authorities who had reprimanded him for irregularities during his command in Philadelphia , had maintained a secret correspondence with Major André. On September 21, Arnold had agreed to surrender West Point to the British in exchange for 20,000 pounds. West Point , at the time, was a major fort, plus defended the major water transportation for the area.
(lower half of: http://memory.loc.gov/ammem/today/oct02.html )
1800 – Birthday of Nat Turner Virginia, leader of major slave rebellion
1864- Battle of Saltville
A Union cavalry column strikes Saltville in southwestern Virginia , but is defeated by a force patched together from several reserve units. The Confederacy's main source of salt, used as a preservative for army rations, was secured as the war entered its final phase. With nearly 8,000 soldiers, the two Union forces converged on the area; the Confederates had barely 1,000 men to stop them. Some of those were used to slow Gillem's advance, but only a few hundred men under the command of Colonel Henry Giltner were available to face Burbridge. On October 1, Giltner delayed the Yankees at Clinch Mountain , but by October 2 the Yankees had reached the outskirts of Saltville. Confederate General John Williams arrived just in time with cavalry reinforcements, and Burbridge suddenly faced more than 2,500 Rebels. The determined Confederates dug in and repulsed a series of attacks. By nightfall, Burbridge's men were running low on ammunition. The Yankees withdrew during the night, and the Confederates pursued them to the Kentucky border. The glory of the victory was tarnished, however, when the Confederates massacred wounded Union soldiers from the 5th and 6th Colored Cavalry. The Union suffered 329 men killed, wounded, or missing at Saltville, while the Confederates lost 190 men. It was a stunning victory for the Confederates, since they were vastly outnumbered. Winning the Battle of Saltville did little to delay the collapse of the Confederacy, however, which was complete just six months later.
1866-J.Osterhoudt of New York City , obtained a patent for an "improved method of opening tin cans." The can had a projecting lip and a key could open it.
1871-Birthday of Cordell Hull, American statesman who served in both houses of the Congress and as secretary of state , born Pickett County , TN. Noted for his contributions to the "Good Neighbor" policies of the US with regard to countries of the Americas and to the establishment of the United Nations. Hull died at Bethesda , MD July 23, 1955.
1874-Birthday of Edward H. Crump, Holly Springs , MS "Boss Crump" -- of Memphis , Shelby County , Tenn. Born near Holly Springs , Marshall County , Miss. , October 2 , 1874 . Democrat. Mayor of Memphis, Tenn. , 1910-16, 1939; delegate to Democratic National Convention from Tennessee, 1928 , 1936 , 1940 , 1944 ; U.S. Representative from Tennessee , 1931-35 (10th District 1931-33, 9th District 1933-35); member of Democratic National Committee from Tennessee , 1936-45. Died in Memphis , Shelby County , Tenn. , October 16 , 1954 . Interment at Elmwood Cemetery , Memphis
http://www.bartleby.com/65/e-/E-Crump-Ed.html
http://bioguide.congress.gov/scripts/biodisplay.pl?index=C000955
1890, birthday of Groucho Mark. Born Julius Henry Marx at New York , NY . Comedian, who along with his brothers, constituted the famous Marx Brothers. The Marx Brothers began as a singing group and then acted in such movies as Duck Soup and Animal Crackers. During the '40s and '50s, Groucho was the host of the television and radio show "You Bet Your Life." Died at Los Angeles , CA , Aug 19, 1977.
1885- Ruth Bryan Owen Rohde birthday, a remarkable woman from Florida - U.S. statesperson. RBOR was a former United States Ambassador to Denmark ; member of the House of Representatives from 1929-1933, and first woman elected from the deep South ( Florida ). Her accomplishments as U.S. Representative include the farsighted proposals to designate the Florida Everglades as a national park and to establish a cabinet-level department to oversee the health and welfare of families and children. She lost her reelection in 1932 because she favored prohibition - although later she voted for its repeal because that was what her constituents wanted. Rohde was appointed U.S. Minister to Denmark in 1933 by President Franklin D. Roosevelt. She resigned from the foreign service (1936) to marry a second time, a Danish citizen. Her marriage to a Dane gave her duel citizenship according to Danish law and an impossible conflict as a U.S. ambassador. President Harry Truman appointed her alternate U.S. delegate (1949) to the U.N. General Assembly where she chaired the executive committee of the UN Speakers Research Committee. RBOR received the Distinguished Service Medal from King Frederik of Denmark (1954). RBOR authored six books. Politically, she is best known, however for the grueling 10,000 mile campaign up and down the coast of Florida in her winning campaign for the Fourth District Congressional seat in 1928. After she won election, her opponents challenged her by claiming that she had forfeited her American citizenship under a law passed in 1907 when she married a British subject, Reginald Owen in 1910. The 1922 Cable Act, one of a series to right the wrongs of the 1907 law, enabled her to be renaturalized, but her opponents claimed it did not meet the seven year PRIOR citizenship requirement for a congressional representative. The 1907 law stripped a native-born U.S. woman of her citizenship if she married a citizen of another nation. No such outrageous actions were taken against men who married foreign women - in fact, their marriage conferred U.S. citizenship on their wives! The House ethics committee allowed her to be seated after an emotional appeal and a LOGICAL one. She was, after all, BORN an American. Her case focused national attention on the grossly unfair laws affecting women. The law had been changed but even such people as heiress Barbara Hutton and renowned news correspondent Dorothy Thompson had lost their citizenship because of the appalling law and were unable to regain it because there was no retroactive elimination. By the way, Rohde was the eldest daughter of William Jennings Bryan, noted U.S. political figure and a candidate for the presidency. A daughter but not his clone. While serving as U.S. Representative, she astonished pundits by voting for tariffs on imports, a policy her father had vehemently opposed.
1895-Birthday of comedian Bud Abbott Asbury Park, NJ
1928 – African-American DeFord Bailey cut eight masters at Victor Records Studios in Nashville . Three songs were issued, marking the first studio recording sessions in the place now known as Music City , USA . On December 6, 1925, DeFord won second place with his rendition of "It Ain't Gonna Rain No More" in a French harp contest on radio station WDAD. Soon after, Bailey made his first appearance on WSM Radio, after overcoming some racial opposition from the station's director. The young black performer was given the title "Harmonica Wizard." Bailey played a role in the naming of the "Grand Ole Opry." In 1926, the WSM Barn Dance followed an hour of symphonic music, and one evening its programming concluded with a selection by a young composer from Iowa reproducing the sound of a train. Bailey opened the country music program with his rendition of "Pan American Blues." The difference in the musical genres caused the director, George D. "Judge" Hay, to observe, "For the past hour we have been listening to music taken largely from grand opera; from now on we will present 'The Grand Ole Opry.'" Bailey toured with other stars of the Opry, including Roy Acuff, Uncle Dave Macon, Bill Monroe, and others. During his travels throughout the South in the 1930s, he was well received by the country music public, although racial segregation laws caused Bailey problems in hotels and restaurants. To get a hotel room, on some occasions either he posed as a baggage boy for the white performers or pretended to be Uncle Dave Macon's valet. In April of 1927, Bailey teamed with the black Golden Echo Quartet to make his first recordings of "Pan American Express" and "Hesitation" for Columbia Records in Atlanta . The Columbia recordings were never released. Two weeks later he recorded eight titles for Brunswick label in New York . On October 2, 1928, DeFord recorded for Victor records during a Nashville session. "Ice Water Blues/Davidson County Blues" became so popular that the Victor label released it three times.
http://www.tnstate.edu/library/digital/bailey.htm
1928-Birthday of George "Spanky" McFarland actor.
http://www.classicmoviekids.com/mcfarland.htm
http://us.imdb.com/Name?McFarland,+George+'Spanky
1929-October 2, Guitarist Howard Roberts Birthday
http://www.riffinteractive.com/expguitar/HowardRoberts1.htm
1929- birthday of Moses Gunn.. The 1981 winner of the NAACP Image Award for his performance as Booker T. Washington in the film Ragtime was born at St. Louis , MO. His appearances on stage ranged from the title role in Oth­ello to Jean Genet's The Blacks. He received an Emmy nomina­tion for his role in Roots and was awarded several Obies for off-Broadway performances. On film he appeared in Shaft and The Great White Hope. He died Dec 17, 1993, at Guilford , CT.
1929 - "The National Farm and Home Hour", which gave rural Americans information about farm products, growing crops, farm animal care and useful household tips, debuted on NBC radio. "The Stars and Stripes Forever" opened the show. Don Ameche and Raymond Edward Johnson were featured, along with music and entertainment by The Cadets male quartet, Jack Baus and The Cornbusters and Mirandy of Persimmons Holler. "The National Farm and Home Hour" was sponsored by Montgomery Ward (or, Monkey Ward's, as we used to call it).
1933 - "Red Adams" was heard for the first time on NBC radio. Later, the program was retiled, "Red Davis" (starring Burgess Meredith), "Forever Young" and, finally, "Pepper Young's Family" (starring Mason Adams). Radio listeners kept listening through all the changes until 1959.
1932-Birthday of former baseball manager and player Maurice Morning "Maury" Wills, born Washington , DC.1935-Birthday of Robert H. Lawrence, Jr. He was named the first black astronaut when he was selected by the Air Force for space flight training in 1966. Born in 1935 on Chicago 's South Side, Lawrence graduated from Englewood High School and earned a B.S in chemistry from Bradley University in 1956. He joined the Air Force and completed a doctorate in physical chemistry at Ohio State University . He died in a plane crash on Dec. 8, 1967, at Edwards Air Force Base in California before the start of his space mission. On August 30, 1983, Guion (Guy) S. Bluford, Jr. became the first black American astronaut to make a space flight. Robert H. Lawrence School in Chicago 's Jeffrey Manor neighborhood is named in his memory . 966. Born, Jr.
http://stargate.1usa.com/stamps/articles/artic006.htm
1937 - Ronald Reagan, just 26 years old, made his acting debut with the Warner Brothers release of "Love is in the Air".
1939 - "Flying Home" was recorded by Benny Goodman and his six-man-band -- for Columbia Records. It became his "signature" tune. He had two black musicians, Teddy Wilson on piano and Lionel Hampton on vibraphone. Goodman was the first to break the white-black musician barrier in the early 1930's and the first major band and group to include both black and white musicians playing together, especially in lead positions.
1945-Birthday of singer/songwriter Don McLean, New Rochelle , NY .
http://www.don-mclean.com/
http://rupertsrecords.tripod.com/intro.htm
1946-Birthday of singer Freddie Jackson, Harlem , NY .
http://www.delafont.com/music_acts/freddie-jackson.htm
1946-Birthday of accordion player Jo-EL Sonner, Rayne , LA
http://www.texas-sounds.com/artists/joelsonnier/joelsonnier.htm
http://www.louisianamusicfactory.com/showoneprod.asp?ProductID=185
1947- Yogi Berra becomes first to pinch hit a world series homer.
http://www.sportingnews.com/archives/worldseries/1947.html
http://rinkworks.com/said/yogiberra.shtml
1948- Donna Karan born Forest Hills , NY - U.S. fashion designer, responsible for the Murphy Brown look - the mix and match wear in soft fabrics in muted colors that allowed an active woman to move comfortably and stay neat all day. She had two terms as chief designer for the Anne Klein line before breaking off to form her own line. Her first stock offering topped $160 million.
http://www.hkbu.edu.hk/~samho/bba/chan-joa/designer.htm
http://aolsvc.aol.teachervision.fen.com/ipa/A0762321.html
http://www.donnakaran.com/
1949 - "Hennnnnnreeeeee! Henry Aldrich!" "Coming, Mother!" The popular radio program, "The Aldrich Family", became one of TV's first hits, as the longtime radio show appeared on NBC-TV for the first time. In addition to being a successful radio transplant, "The Aldrich Family" scored another distinction -- being the very first TV sitcom (situation comedy).
1950—Top Hits
Goodnight Irene - The Weavers
La Vie En Rose - Tony Martin
All My Love - Patti Page
Goodnight Irene - Red Foley-Ernest Tubb
1950-*WATKINS, TRAVIS E. Medal of Honor
Rank and organization: Master Sergeant, U.S. Army, Company H, 9th Infantry Regiment, 2d Infantry Division Place and date: Near Yongsan, Korea, 31 August through 3 September 1950. Entered service at: Texas. Birth: Waldo, Ark. G.O. No.: 9, 16 February 1951. Citation: M/Sgt. Watkins distinguished himself by conspicuous gallantry and intrepidity above and beyond the call of duty in action against the enemy. When an overwhelming enemy force broke through and isolated 30 men of his unit, he took command, established a perimeter defense and directed action which repelled continuous, fanatical enemy assaults. With his group completely surrounded and cut off, he moved from foxhole to foxhole exposing himself to enemy fire, giving instructions and offering encouragement to his men. Later when the need for ammunition and grenades became critical he shot 2 enemy soldiers 50 yards outside the perimeter and went out alone for their ammunition and weapons. As he picked up their weapons he was attacked by 3 others and wounded. Returning their fire he killed all 3 and gathering up the weapons of the 5 enemy dead returned to his amazed comrades. During a later assault, 6 enemy soldiers gained a defiladed spot and began to throw grenades into the perimeter making it untenable. Realizing the desperate situation and disregarding his wound he rose from his foxhole to engage them with rifle fire. Although immediately hit by a burst from an enemy machine gun he continued to fire until he had killed the grenade throwers. With this threat eliminated he collapsed and despite being paralyzed from the waist down, encouraged his men to hold on. He refused all food, saving it for his comrades, and when it became apparent that help would not arrive in time to hold the position ordered his men to escape to friendly lines. Refusing evacuation as his hopeless condition would burden his comrades, he remained in his position and cheerfully wished them luck. Through his aggressive leadership and intrepid actions, this small force destroyed nearly 500 of the enemy before abandoning their position. M/Sgt. Watkins' sustained personal bravery and noble self-sacrifice reflect the highest glory upon himself and is in keeping with the esteemed traditions of the U.S. Army.
1950- This comic strip featured Charlie Brown, Lucy, Linus, Sally, Peppermint Patty and Charlie's dog Snoopy. The last new Peanuts strip was published Feb 13, 2000.
1950- "Lux Video Theater," James Mason, Otto Kruger and Gordon MacRae hosted this half-hour dramatic anthology series that aired for seven years on both CBS and NBC. Its famed guest stars included: Robert Stack in "Inside Story" (1951); Peter Lorre in "The Taste" (1952); Grace Kelly in "A Message for Janice" (1952); Edward G. Robinson in "Witness for the Prosecution" (1953) and Esther Williams in "The Armed Venus" (1957). 1953- Brooklyn Dodger Carl Erskine strikes out 14 Yankees in the 50 th World Series.
http://www.baseball-almanac.com/players/player.php?p=erskica01
1954- "The Jimmy Durante Show" premiered on TV. Affectionately known as "The Schnozz," Durante hosted a Saturday night variety show with his former vaudeville partner, Eddie Jackson, pianist Jules Baffano and drummer Jack Roth. It alternated with "The Donald O'Connor Show" on NBC and aired for two years.
1954-"The George Gobel Show" premiers on TV. George Gobel hosted this comedy-variety show for five years on NBC. Chanteuse Peggy King and Jeff Donnell were also on the show, with Eddie Fisher as "permanent guest star." In 1959 Gobel switched networks to CBS and appeared for a year with Joe Flynn, Anita Bryant and Harry von Zell. He played Las Vegas , Nevada very often.
1955- "Alfred Hitchcock Presents" premiered on TV.. Alfred Hitchcock was already an acclaimed director when he began hosting this mystery anthology series that aired on CBS and NBC for 10 years. Each episode began with an introduction by Hitchcock, the man with the world's most recognized profile. Hitchcock directed about 22 episodes of the series. Robert Altman was also a director for the series. Among the many stars who appeared on the show are: Barbara Bel Geddes, Brian Keith, Gena Rowlands, Dick York, Claris Leachman, Joanne Woodward, Steve McQueen, Peter Lorre, Dick Van Dyke, Robert Redford and Katherine Ross.
1958—Top Hits
It's All in the Game - Tommy Edwards
Rock-in Robin - Bobby Day
Tears on My Pillow - Little Anthony & The Imperials
Bird Dog - The Everly Brothers
1959- "The Twilight Zone" went on the air with these now-familiar words: "There is a fifth dimension, beyond that which is known to man. It is a dimension as vast as space and as timeless as infinity. It is the middle ground between light and shadow, between science and superstition, and it lies between the pit of man's fear and the summit of his knowledge. This is the dimension of imagination. It is an area which we call ' The Twilight Zone'." The anthology program ran five seasons for 154 installments, with a one-year hiatus between the third and fourth seasons. It now is considered to have been one of the best dramas to appear on television. It was created and hosted by Rod Sterling . He lived down the street from us in the Pacific Palisades. My father Lawrence Menkin wrote several of the episodes. He used to give Rod Sterling a hard time, calling him a "hog" for writing most of them. Sterling would get a kick out of this from my father who was six foot four and Sterling was thin and about five foot four tall. The last episode was telecast on Sept 31, 1965. 1961- Robbie Nevil rocker
http://www.radio101.it/soul/arnvl.html
http://www.robbienevil.com/
1961 "Ben Casey" premieres on television, competing with Dr. Kildare, starring Richard Chamberlain . The second year, it overtook Dr. Kildare in ratings, running for five years and 153 episodes starring Vince Edwards as Dr. Ben Casey, Sam Jaffe as Dr. David Zorba, Franchot Tone as Dr. Freeland and Bettie Ackerman as Dr. Maggie Graham. He was a friend of my father's very good friend and actor ( can't remember his name right now), who found himself "typecast" as an actor, tried singing, and had gone from nobody to a great TV star, and then back to a "nobody," he felt; brooding about it, almost obsessed, as I remember. He died of cancer March 12, 1996
http://timvp.com/bencasey.html
http://www.meninmovies.com/vince_edwards.html
1962- Frank Sinatra records with Count Basie, Los Angeles , Reprise Records FS 1008
1963---Birthday of American composer Steve Markowitz, Santa Monica, CA.
1965- Pope Paul VI named the Very Reverend Bishop Harold Robert Perry of Lake Charles , LA , as the auxiliary bishop of the Archdiocese of New Orleans. He was the very first Catholic bishop who was an African-American . He was consecrated in the Basilica of St. Louis, New Orleans , LA , on January 6, 1966, and was the pastor of the New Orleans Parish of St. Theresa of the Child of Jesus, Society of the Divine Word.
1965 - The McCoys' "Hang on Sloopy" hit #1 in the U.S. The song snuck in at number one for one week, between "Eve of Destruction", by Barry McGuire and "Yesterday", by The Beatles.
1966--A New Jersey quartet called The Happenings saw their first Billboard chart entry "See You In September" peak at #3.
1966-Top Hits
Cherish - The Association
Beauty is Only Skin Deep - The Temptations
Black is Black - Los Bravos
Almost Persuaded - David Houston
1966 - Sandy Koufax, in great pain from an arthritic elbow, won 27 games and, for the third time in four years, led the Los Angeles Dodgers to the National League pennant. However, the Baltimore Orioles swept the Dodgers 4-0 in the World Series that year.
1967- Thurgood Marshall, appointed by President Lyndon B. Johnson, was sworn in as associate justice of the U.S. Supreme Court. Marshall was the first black Supreme Court justice and served until his retirement on June 27, 1991, at the age of 82. He had served in the U.S. Second Circuit Court of Appeals (1961-1965) and as U.S. Solicitor General (1965-1967). Justice Marshall died on January 24, 1993.
1930 Mr. Marshall graduates with honors from Lincoln U. (cum laude)
1933 Receives law degree from Howard U. (magna cum laude); begins private practice in Baltimore
1934 Begins to work for Baltimore branch of NAACP
1935 With Charles Houston, wins first major civil rights case, Murray v. Pearson
1936 Becomes assistant special counsel for NAACP in New York
1940 Wins first of 29 Supreme Court victories (Chambers v. Florida )
1944 Successfully argues Smith v. Allwright, overthrowing the South's "white primary"
1948 Wins Shelley v. Kraemer, in which Supreme Court strikes down legality of racially restrictive covenants
1950 Wins Supreme Court victories in two graduate-school integration cases, Sweatt v. Painter and McLaurin v. Oklahoma State Regents
1951 Visits South Korea and Japan to investigate charges of racism in U.S. armed forces. He reported that the general practice was one of "rigid segregation".
1954 Wins Brown v. Board of Education of Topeka, landmark case that demolishes legal basis for segregation in America
1961 Defends civil rights demonstrators, winning Supreme Circuit Court victory in Garner v. Louisiana ; nominated to Second Court of Appeals by President J.F. Kennedy
1961 Appointed circuit judge, makes 112 rulings, all of them later upheld by Supreme Court (1961-1965)
1965 Appointed U.S. solicitor general by President Lyndon Johnson; wins 14 of the 19 cases he argues for the government (1965-1967)
http://memory.loc.gov/ammem/today/oct02.html
http://chnm.gmu.edu/courses/122/hill/marshall.htm
1968- Bob Gibson of the St. Louis Cardinals struck out 17 Detroit Tigers, a record, in the first game of the World Series. The Tigers recovered to win the Series in seven games.
1968-Redwood National Park established.
1968--After a two week absence, Ringo Starr rejoins The Beatles. He had quit the band when he found out that Paul McCartney had been erasing drum tracks and replacing them with his own. Upon Ringo's return to the studio, he found his drum kit covered with flowers to welcome him back.
1974-Top Hits
Rock Me Gently - Andy Kim
I Honestly Love You - Olivia Newton-John
Nothing from Nothing - Billy Preston
I'm a Ramblin' Man - Waylon Jennings
1975-W.T.Grant files for bankrupcy. After a year of desperately trying to revive its flagging fortunes, the once-mighty retailer W.T. Grant filed for bankruptcy on this day. Seeds of the company's collapse were planted in the mid-1960s, when management embarked on an ambitious growth program. The company decided to open a fleet of new stores and, after five years of rapid expansion, 410 super-sized Grant outlets had been built around the country. At the same time, Grant, which had traditionally stocked mainly inexpensive products, began to offer more of the pricier items usually sold at department stores. Unfortunately, the retail makeover only served to alienate Grant's clientele, who had relied on the stores for cheap goods. When a recession hit in 1974, the company was left with little in the way of customers or earnings. At the time it went belly-up, W.T. Grant was saddled with over $1 billion in debt, making it the nation's single biggest retailing failure.
1977- When Dusty Baker hits his 30th homer of the season against the Astros' J.R. Richard, the Dodgers become the first team in major league history to have four players hit 30 or more home runs. He joins with Steve Garvey (33), Reggie Smith (32) and Ron Cey (30) to complete the foursome.
1980- Larry Holmes retains WBC heavyweight title defeating Muhammad Ali
1981--The Techno-Pop duo of Marc Almond and David Ball, who call themselves Soft Cell, perform their current UK #1 hit "Tainted Love" on Top Of The Pops. In the US, the tune will reach #8 and spend a total of 43 weeks on the charts.
1982---Top Hits
Jack & Diane - John Cougar
Eye in the Sky - The Alan Parsons Project
Somebody's Baby - Jackson Browne
Put Your Dreams Away - Mickey Gilley
1988 - The games of the XXIV Olympiad closed at Seoul , Korea . The Soviet Union topped the medals tally with 132 (55 gold) against 102 medals for East Germany (37 gold) and 94 for the United States (36 gold). The Olympics were also profitable, with a surplus of $288 million. And the Games helped open new avenues of foreign trade and commerce to the isolated, but burgeoning, South Korean economy.
1990-Top Hits
(Can't Live Without Your) Love and Affection - Nelson
Close to You - Maxi Priest
Praying for Time - George Michael
Jukebox in My Mind - Alabama
2001- Slugging Sammy Sosa becomes the first player in baseball history to slug 60 home runs in three seasons. The Cubs' outfielder connects off Reds starter Lance Davis to reach the milestone.
2002- Former Diamondback Alex Cabrera slams his 55th home run to tie the Japanese single-season home run mark. The 31-year-old Seibu Lion joins Sadaharu Oh (1964) Tuffy Rhodes (2001) in the record book.
World Series This Date
1932 New York Yankees
1954 New York Giant
--------------------------------------------------------------

Baseball Poem

Baseball Poem---
When someone asks you your favorite sport
And you answer Baseball in a blink
There are certain qualities you must possess
And you're more attached than you think.
In the frozen grip of winter
I'm sure you'll agree with me
Not a day goes by without someone
Talking baseball to some degree.
The calendar flips on New Year's Day
The Super Bowl comes and it goes
Get the other sports out of the way
The green grass and the fever grows.
It's time to pack a bag and take a trip
To Arizona or the Sunshine State
Perhaps you can't go, but there's the radio
So you listen-you root-you wait.
They start the campaign, pomp and pageantry reign
You claim the pennant on Opening Day
From April till fall
You follow the bouncing white ball
Your team is set to go all the way.
They fall short of the series
You have a case of the "wearies"
And need as break from the game
But when Christmas bells jingle
You feel that old tingle
And you're ready for more of the same.
It will be hot dogs for dinner
Six months of heaven, a winner
Yes, Baseball has always been it.
You would amaze all your friends
If they knew to what ends
You'd go for a little old hit.
The best times you're had
Have been with your Mom and your Dad
And a bat and a ball and a glove.
From the first time you played
Till the last time you prayed
It's been a simple matter of love.
--------------------------------------------------------------

SuDoku
The object is to insert the numbers in the boxes to satisfy only one condition: each row, column and 3x3 box must contain the digits 1 through 9 exactly once. What could be simpler?
http://leasingnews.org/Soduku/soduko-main.htm
--------------------------------------------------------------

Daily Puzzle
How to play:
http://www.setgame.com/set/puzzle_frame.htm
Refresh for current date:
http://www.setgame.com/set/puzzle_frame.htm
--------------------------------------------------------------


http://www.gasbuddy.com/
http://www.gasbuddy.com/GB_Map_Gas_Prices.aspx
http://www.gasbuddy.com/GB_Mobile_Instructions.aspx
--------------------------------------------------------------

Weather
See USA map, click to specific area, no commercials
--------------------------------------------------------------

Traffic Live---
Real Time Traffic Information
You can save up to 20 different routes and check them out
with one click, or type in a new route to learn the traffic live.
--------------------------------------------------------------

News on Line---Internet Newspapers
Waterbury, Connecticut
*Other on line newspapers:
http://www.leasingnews.org/Newspapers.htm
--------------------------------