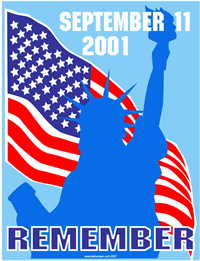 Wednesday, September 10, 2008


VENDOR SALES SPECIALISTS
LEASING SALES PROFESSIONALS
Like selling vendor programs and large transactions?
Enjoy international financing programs?
Prefer the advantages of a commission only environment with the security of health and welfare benefits?
CLICK HERE to find out how to have fun again.
Joseph Harry Fowler Connick, Jr. born 11 September 1967 New Orleans, Louisiana; actor, pianist, singer.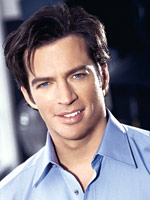 http://www.imdb.com/name/nm0001065/bio
Headlines---
Welcome Aboard
Classified Ads---Controller
20% increase in Executive Hiring index for August
"Have we found a bottom to the market?"
ZRG Executive Hiring Index
Linda P. Kester big hit at NAELB Costa Mesa
Balboa Capital, Irvine, California
Bulletin Board Complaint
Key is Number Two-but No.#1 to Mrs. Larkins
Classified ads---Help Wanted
Cartoon—Not voting this year?
Sales makes it Happen—by Steve Chriest
"Don't Bother Me!"
Bank Beat by Christopher Menkin
Alta Group Forms Alliance with LeaseOne (Beijing)
Texas officials weigh evacuations as Ike nears
Middle East to control 10% of International Leasing
Budget Deficit Likely Doubled for Fiscal '08
Almost half of large companies cutting IT spending
News Briefs---
You May have Missed---
California Nuts Brief---
"Gimme that Wine"
Today's Top Event in History
This Day in American History
Baseball Poem
SuDoku
Daily Puzzle
GasBuddy
Weather, USA or specific area
Traffic Live----
######## surrounding the article denotes it is a "press release"
--------------------------------------------------------------------

Welcome Aboard
New readers by email, and those not on our email mailing list, may have missed Monday's story on Wells Fargo Finance. Leasing News had been trying to develop the story for print since Friday and was able to bring it to readers on Monday as an extra.
Most readers go to our web site to view the latest news, although we do have "extra's" and breaking stories from time to time sent out by email.
To new readers: Welcome!

To readers who did not catch the inside story
(Matsco was reportedly opening Champagne:)
Wells Fargo Finance story
http://www.leasingnews.org/archives/September%202008/09-08-08a.htm
Kit Menkin, editor
--------------------------------------------------------------

Classified Ads---Controller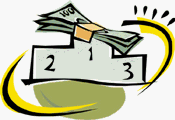 Boca Raton, FL
CPA w/ Sarbanes Oxley/ 15 years management exp. as CFO/ Controller/5 yrs w/ PWC Extensive exp providing accounting/ tax guidance for the equipment lease industry. Willing to relocate.
Email: bltushin@hotmail.com

Chicago, IL
experienced in lease accounting, operations, management, and Sarbanes-Oxley. Seeking position with equipment lessor. Would consider contract assignments or relocating.
Email: leasecontroller@comcast.net

Southeastern, MI
Controller & Management experience w/ equip lessors &broker. MBA, CPA w/ extensive accounting, management, securitization experience with public and private companies. Willing to relocate.
Email: Leasebusiness@aol.com
West Palm Beach, FL
CPA/CFO/Controller/Due Diligence Officer/SOX Lead seeking position.
Email: obrienhowardj@aol.com
For a full listing of all "job wanted" ads, please go to:
http://www.leasingnews.org/Classified/Jwanted/Jwanted.htm
Leasing Recruiters:
http://www.leasingnews.org/Recruits/index.htm
To place a free "job wanted" ad here, please go to:
http://www.leasingnews.org/Classified/Jwanted/Jwanted-post.htm
--------------------------------------------------------------

20% increase in Executive Hiring index for August
"Have we found a bottom to the market?"
ZRG Executive Hiring Index
ZRG predicts the fourth quarter could bring more demand as firms staff to execute on 2009 plans.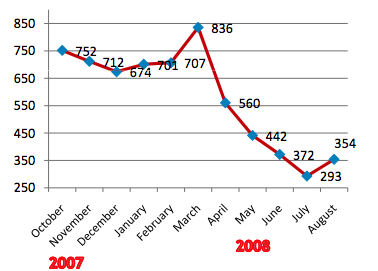 The ZRG Executive Hiring Index while optimistic, continued to show weakness---but rebounded nicely from the low water mark reached in July, according to Managing Partner Ken Vancini.

Kenneth Vancini, managing partner
"Does this signal a bottom has been reached and the outlook could be on the rise?" he asks. "In looking closer at the underlying data, the increase in hiring comes primarily in the sales and business development area.
"It could be that opportunistic banks and independents feel there are quality originations teams and individuals that are negatively impacted by RIF's and funding RIF s constraints that are available. Trolling for such talent through the industry help wanted ads seems to be a part of the index jump. VP Level and Senior level hiring continues to be soft with much lower levels of activity in the index."
Summer found pause:
"Summer brought a major pause in executive hiring and overall retained search in the financial services arena, "The ZRG Executive Hiring Index reports." The mood of the industry seemed to be more about right-sizing the current business to match the new paradigm of changing cost of funds and originations capacity. General increases in borrowings and higher credit forced many firms to eliminate marginally profitable business lines and reduce business units and divisions.
"Captives continued to become even more relevant to customers in this market, leading to captive representing more of the open roles than in typical times.
"New Sales hiring was spotty. For sales people with an established book of business in a quality asset type, finding a suitable home was still competitive and robust. Excessive supply of historically
successful sales talent seems to exist with construction and transportation with limited lessors to service these segments. For many roles companies are first trying the find their talent through the "help wanted" approach, feeling demand for talent has caused a unique industry supply and demand imbalance.
"Q4 could bring more demand as firms staff to execute on 2009 plans."
About the ZRG index:
The index is published quarterly and is based on several key proprietary data sources. These data sources include hiring data that comes directly from equipment finance and leasing companies, over 20 different National Job Boards and several leasing industry specific job sites. The sample group includes banks, captives and independents. These data points are weighted by relevance of senior level significance against overall hiring indicators in the industry to calculate the score.
The index is for U.S. hiring.
The next update will be in November 2008.
Corporate Offices
69 Milk St Third Floor
Westborough, MA 01581
508-366-5800
www.zrgroup.com
Regional Offices
USA: New York City * New Jersey *
California* Colorado * Florida * North Carolina* Washington, DC*
Canada: Toronto
Asia Pacific: Shanghai, China
--------------------------------------------------------------

Linda P. Kester big hit at NAELB Costa Mesa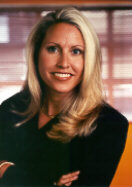 Author, lecturer, sales trainer and mother (yes, it is again popular to say a woman is a "mother"),
our Linda P. Kester attended the National Association of Equipment Leasing Brokers
(NAELB) Western Regional Conference in Costa Mesa, California last Friday and Saturday.
She also writes for several publications, including Leasing News, so we asked her for a report:
Despite a tough economic climate there were approximately 237 attendees and 45 exhibitors in beautiful southern California. The NAELB kept morale high with a slew of giveaways including i-pods and spa gift certificates. I have attended many regional meetings and conferences, holding workshops, for longer than I would like to admit. I especially enjoy these association meetings and hope other associations don't mind me saying that as they are filled with hard working entrepreneurs who are looking to constantly improve their skills.
This group has education as number one.
I spoke with many brokers and funders. I am not going to name names just for the sake of doing that. I think Teri Oster of Greyhawk Financial summed it up best for me: "It was good opportunity to pick up new funding sources, network, meet new people and with old friends and colleagues."
The exhibits were busy both days. However, I had some concern that people might not stick around for the last workshops on a bright shiny Saturday day in southern California. I thought they would play
golf, go to the beach, or visit the many places to see that were not that far away.
I was pleasantly surprised to see the workshops were filled to capacity. The consensus was that business is slow right now. Transactions are harder to attain and credit departments are tightening their parameters. The brokers were eager to bounce new strategies and ideas off one another. They were serious. They wanted to learn, to re-tool, and wanting to compete in the marketplace with whatever they could bring back by attending this regional meeting.
For the "Hell or High Water Marketing" workshop, attendees said their primary objective was to get the biggest bang for their marketing buck.
The majority opinion was that a consistent and steady approach of phone calls, e-mails, newsletters, broadcast fax, and handwritten notes with value added follow-up is the way to keep sales moving forward due to vendors and lessees acting skittish right now.
One broker shared that she teamed up with a vendor and put equipment that he wanted to move on her web site. He was grateful for the help and exposure and he sent more deals her way because of it.
I understand the next NAELB regional meeting will be November 14th and 15th in Atlanta, Georgia.
I am looking forward to that, and to next year's annual meeting in Las Vegas April 30 to May 2,
2009--that meeting will ROCK!
--------------------------------------------------------------

Balboa Capital, Irvine, California
Bulletin Board Complaint
Numerous emails and telephone calls to Balboa Capital executives were not returned.
Joe Albanese of Arizona All American Telephone Technologies originally contacted Leasing News on July 17, 2008. Leasing News has been trying to understand the complaint since that date, plus has also investigated Mr. Albanese Company as well as had Lease Police look into the situation.
There were several situations it appeared to Leasing News and it was hoped to get both sides of the complaint. Our role was to find out if the complaint was legitimate, which it appears to be, and then to print both sides so readers could make their own determination. This statement from Mr. Albanese may also indicate to those in the leasing industry the viewpoint of the lessor (This was not edited:)
AZ All American – Sales of business telephone systems & related equipment.
98% of the time we install and service equipment we have sold to the end user. In this particular case, we acted as a re-seller of equipment and software that was designed for a specific application requested by our customer. We bought the equipment at wholesale and sold to the customer at retail. The manufacture designed, wrote the software, installed the server and interfaced it with the customer's server. We acted as a liaison between the customer and the manufacture. Our customer needed leasing and an agent for Balboa had contacted us asking for our business, and to our regret we let him work this deal. Since Balboa is in California, we did all the leg work to gather the info from the client, get the papers signed etc. After Balboa supposedly approved the loan, they continued to ask for more supporting information on a frequent basis from both the customer and of us. After asking the agent why they didn't ask for this information up-front, he said there is a lot of fraud going on and they are covering all bases. Now we have been in business for many years, the manufacture was in business for many years and we had been doing business with the customer for about five years, but every time they asked for more information; the agent said they needed the verification because there is so much fraud going on.
The manufacture required us to put a 50% deposit down, so we asked Balboa to Pre-Fund us 50% of the sales price to the customer. They made the customer sign personals and we had to sign personals as well so as to guarantee that the equipment would get installed.
Balboa pre-funded $29,484.50 on May 7, 2008.
The equipment was in and running on June 20th.
Balboa sent inspectors out to the customer site about June 27th and the customer signed off on it.
The inspectors said they did not see 40 employees as was reported to them. We had explained to the agent that this is a service company that provides services for clients of home warranty companies and has employees in a number of states. The person who approves the deal thought there were 40 people in the office. They then wanted the client to prove he had 40 employees. On July 8th the customer provided a list with the first initial and last name of the employee plus the state they lived in. He would not provide anymore information as he felt it would not be legal to provide more than that.
In a letter dated July 18th, Balboa demanded that we pay them the $29K that they pre-funded us. The letter (incorrectly) quoted a provision in the Vendor Prefund Agreement that states:
In the event Vendor has not delivered and installed all of the Equipment to the satisfaction of the Lessee, and the Lessee has not provided Balboa Capital Corporation with a duly executed Delivery and Acceptance Certificate within Thirty (30) days of the date of initial payment by Balboa Capital Corporation, then Vendor shall refund all amounts paid by Balboa Capital Corporation by the close of business on the thirty-first (31st) day following such payment, without demand therefore.
The Vendor Prefund Agreement stated within forty five (45) days. If my calculations are correct, it was 52 days from pre-fund to acceptance.

The Demand letter said that unless the total sum of $29,484.50 was paid by July 25th, Balboa will take the action necessary to enforce the Agreement. Of course we had paid the manufacture their half which was the majority of the $29K. We then had to scramble to get another leasing company to fund the entire amount so we could pay Balboa back and the balance due the manufacture.
Balboa filed a Breach of Contract suit dated July 28th with the Superior court of California. Again they incorrectly stated the 30 day clause in the Prefund agreement as the reason. (The agent for Balboa said it was because the customer's credit score went down).
We succeeded in securing another lease for the customer, paid Balboa back and the balance due the manufacture.
Besides all of the headaches that Balboa caused and even though they were the ones that backed out of the deal, they still demanded interest on the pre-funded money to the tune of $2,266 of which they subtracted from the customers deposit. We had to pay Balboa the amount they demanded or go to California to fight it. The customer feels they should have gotten the entire deposit back. So now Balboa not only caused us great grief but has also strained our relationship with our customer.
Az All American Telephone
4635 N. Black Canyon Hwy.
Phoenix, Arizona Az All American Telephone
Address = 4635 N. Black Canyon Hwy.
Phoenix, Arizona 95015
Phone = 602-336-9446
jjalbanese@azallamerican.com
http://azallamerican.com/
--------------------------------------------------------------

Key is Number Two-- but No.#1 to Mrs. Larkins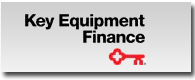 SUPERIOR - Key Equipment Finance moved from the third-largest bank-held equipment finance company in the U.S. in 2007 to the second in 2008, the company announced Monday.
Each year, The Monitor magazine collects data from about 150 leasing companies throughout the U.S. regarding the companies' year-end net assets. Banc of America Leasing was at the top of the list.
The Superior-based company, which is an affiliate of KeyCorp (NYSE: KEY), reported net assets of $14.9 billion in 2007 - the year from which the rankings are based, according to a press release.


Paul A. Larkins, CEO Key, 2006 Leasing News Person of the Year
"I'm pleased to see that Key Equipment Finance continues to outperform the competition, in this case improving our industry ranking in terms of new business volume for the bank-held sector even in one of the most challenging economic climates," said Paul Larkins, Key's chief executive officer, in a statement.
Last year Key expanded its Colorado presence by taking more than 4,000 square feet of office space in the building that houses its headquarters, and an additional 30,000-square-foot operations center in Westminster.
--------------------------------------------------------------

Classified Ads---Help Wanted
Credit Professional
Credit Professional
Long Beach, California
Ground floor opportunity to join new and emerging powerhouse in the equipment finance and leasing industry; to play an integral role in our growth!
To learn more, click here.
We are an asset-based finance company specializing in business equipment leases ranging from $500 to $5,000,000.

Vendor Sales Specialists


VENDOR SALES SPECIALISTS
LEASING SALES PROFESSIONALS
Like selling vendor programs and large transactions?
Enjoy international financing programs?
Prefer the advantages of a commission only environment with the security of health and welfare benefits?
CLICK HERE to find out how to have fun again.
[headlines]
--------------------------------------------------------------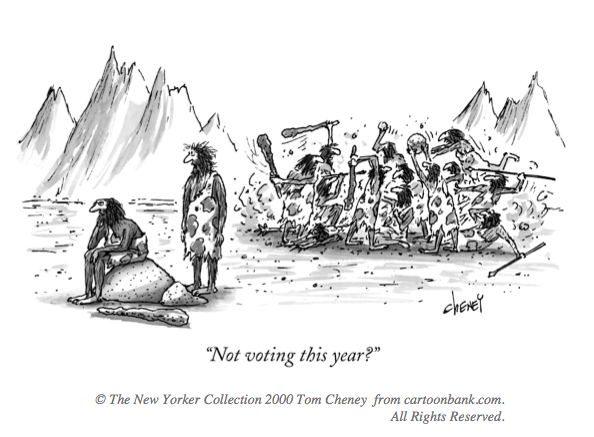 --------------------------------------------------------------

Sales Make it Happen --- by Steve Chriest
Don't Bother Me!
Our business development director, Gary Tarolli, recently told me a story that reminded me of a cartoon I had seen on a customer's wall over twenty years ago: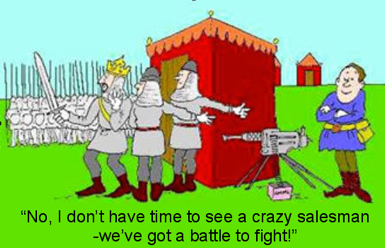 The army leader in this cartoon is so focused on fighting a battle, and so unwilling to allow any distractions, that he misses an opportunity to grasp the decided advantage a Gatling Gun would give his army against an enemy carrying swords and shields.
Gary 's story involved an executive named Bill who must have been a medieval general in a previous life. Overwhelmed by phone calls, voice mail messages and emails, Bill decided to erect a fortress around his office and slam his office door shut. He appointed his trusted, capable assistant Mary as gatekeeper to guard his time against all intruders, including customers who might want to talk to him for any reason.
Armed with a short list of people whose calls or emails Bill would accept, Mary developed a routine designed to discourage even the most persistent callers who were not on Bill's list. When someone would phone to speak to Bill she would ask, "Who is calling?" This was of course followed by "What company are you with?" And that question was followed by the inevitable "May I ask what this is about?"
It quickly became clear to most callers that getting past Bill's gatekeeper would be a formidable, if not impossible task. Most callers gave up the attempt, and many were annoyed and offended by Mary's intrusive grilling.
Bill's new fortress protected him from interruptions, just like he envisioned. Except for his boss, his wife and a few other business associates, no one got through the gatekeeper to distract Bill from his important work. Bill was one happy camper.
One day while Bill was having lunch at his favorite restaurant he ran into Dave, an old customer. After exchanging the normal pleasantries, Dave mentioned that he was sorry Bill couldn't bid on the largest order for product Dave's company had ever placed.
Shocked, Bill said "What order?" Why didn't you tell me about it?" "I tried to contact you," said Dave, "but I couldn't get past your assistant. She didn't know me, or my company, and she didn't think you'd be interested. I would have called you at home, but I didn't want to bother you."
"But why didn't you call someone in our sales department?" asked Bill. "I tried," Fred replied. "Navigating their voice mail system was almost impossible, and when I finally reached a secretary she wouldn't let me talk to anyone. She told me someone would get back to me, but no one ever called."
Visibly shaken, Bill offered Dave a meek, embarrassed apology, vowing to get to the bottom of why his people failed to respond to a great business opportunity with Dave's company.
Is there any way for busy executives like Bill to keep distractions to a minimum while ensuring that they don't miss out on great opportunities or ideas and solutions that might help them manage their businesses better?
We think there is a simple solution: Busy executives can arm their administrative assistants with a tool that allows the assistants to efficiently mange solicitation calls and voice mail messages without disturbing their bosses.
When the executive assistant answers a call from a salesperson, the assistant could forward the caller to a recorded message that provides instructions for leaving a voice mail message. The simple recorded message might sound something like this:
"Thank you for contacting us. We are always interested to hear great ideas and learn about solutions that can help us manage our business. Because there just aren't enough hours in a day to talk with everyone who calls us, please feel free to leave a voice message if you have an idea or solution that might help us 1) increase revenue, 2) reduce costs, 3) improve efficiencies, 4) impact our business strategy or 5) enhance our brand.
If your idea or solution can help us, please clearly explain how your idea or solution might impact one of these key areas. Be assured that we will respond to all messages that offer ideas or solutions for which we have an immediate or future need. If you aren't able to help us at this time, please feel free to contact us again when you have information you would like to share that might help us with our business."
A competent, trained administrative assistant could sift through voice mail messages, forwarding only those messages that might impact issues of concern to the executive. It is possible for busy executives to limit outside distractions while reducing the risk of missing out on the next, great idea or solution that might help them better manage their businesses.
About the author: Steve Chriest is the founder of Selling UpTM (www.selling-up.com), a sales consulting firm specializing in sales improvement for organizations of all types and sizes in a variety of industries. He is also the author of Selling The E-Suite, The Proven System For Reaching and Selling Senior Executives and Five Minute Financial Analyst, Basic Finance & Analysis Tools for Non-Accountants. You can reach Steve at schriest@selling-up.com.
Sales Makes it Happen articles:
http://www.leasingnews.org/Legacy/index.html
--------------------------------------------------------------

Bank Beat

by Christopher Menkin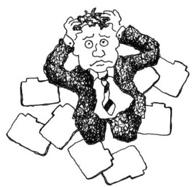 As the OTS warned institutions on Monday about the government taking over Fannie Mae--Fannie Mac, others jumped in with even stronger words. Most notably was Hamilton "Tony" James, president and COO of Blackstone Group LP, who spoke at a conference hosted by Lehman Brothers. Lehman Brothers shares themselves fell almost 45%, creating a run on the stock market yesterday. The deal for cash from a Korean Bank reportedly fell out of bed.
James at the Lehman conference brought direct words to the OTS notice that many local and regional banks are "very heavily loaded up" on asset classes that have not yet been hit by the market, including construction loans, subprime auto loans and home equity loans."
The OTS announced, "The Federal Reserve Board, the Federal Deposit Insurance Corporation, the Office of the Comptroller of the Currency, and the Office of Thrift Supervision are prepared to work with these institutions to develop capital-restoration plans pursuant to the capital regulations and the prompt corrective action provisions of the Federal Deposit Insurance Corporation Improvement Act."
Among the many problems are many banks unwillingness to acknowledge their situation. Staff on the other hand reads the media, sees the layoffs, resignations, and doesn't appear to want to wake up any sleeping dogs. The are avoiding the upper floor as no one seems to know who is going to be next.
A key to the OTS announcement was: "All institutions are reminded that investments in preferred stock and common stock with readily determinable fair value should be reported as available-for-sale equity security holdings, and that any net unrealized losses on these securities are deducted from regulatory capital."
The key then is tier capital. This means not borrowing, but attracting new capital. Not lending, but acquiring. There are many solid bank investments out there. Bank. Get it?
---------------------------------------------------------------
### Press Release ###########################

The Alta Group Forms Alliance with LeaseOne (Beijing)

LAKE TAHOE, NEV.,– The Alta Group today announced a new business alliance created to fill the growing demand for equipment leasing and financing consulting services in China.
Alta is the only global provider of consulting services exclusively focused on equipment leasing and finance. The group has entered into a working agreement with LeaseOne (Beijing) Management Consultants Co., Ltd., which is based in Beijing and employs more than 30 partners, consultants, and analysts. Together, the companies will offer consulting, professional development, and financial advisory services, including strategies for funding and mergers and acquisitions, to businesses inside and outside China that are seeking to expand their leasing presence there.
"Alta principals have been active in China for more than 10 years, providing consulting, professional development, and risk management structuring to Western manufacturers interested in growing their vendor finance businesses," said John C. Deane, founding principal of The Alta Group.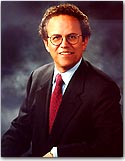 John C. Dean, Founding Principal
"Now, increasing numbers of clients are transacting business in China or seeing the potential for growth there. Our new business alliance will allow Alta to expand service, with more personnel on the ground in and around the major centers of business in China," Deane added.
LeaseOne (Beijing) professionals are located in Beijing, Shanghai and Shenzhen. Jason Zhou, managing partner of LeaseOne (Beijing) and a former executive with Caterpillar Financial China, said: "The equipment leasing market in China has tripled since 2004; we are expecting another triple reaching more than a $20 billion portfolio by end of 2009. The business environment is not perfect, but it is improving very fast."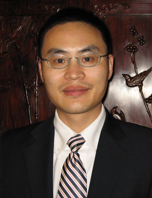 Jason Zhou, managing partner of LeaseOne (Beijing)
"LeaseOne is extremely excited to set up alliances with The Alta Group. With Alta's experiences and global presence, we believe that the alliance will help China equipment manufacturers and leasing companies expand business globally, and also help multi-national companies grow in the unique China market successfully," Zhou added.
About The Alta Group
The Alta Group is a global consultancy serving equipment leasing and finance companies, investment professionals, manufacturers, banks, and government organizations. Founded in 1992, Alta provides counsel and implementation for change, growth, and best practices to clients in North America; Latin America; Western, Central and Eastern Europe; Australia; and China.
For more information, please visit http://www.thealtagroup.com.
About LeaseOne (Beijing) Management Consultants Co., Ltd.
LeaseOne (Beijing) is the world class solution provider focused on the China equipment leasing and financing industry, including consulting, professional development, financial advisory, technology and outsourcing services. Founded in 2007, LeaseOne (Beijing) combines international experience with a Chinese business environment. It is also the exclusive partner for International Decision Systems Inc. in the Great China region.
For more information, please visit http://www.leaseone.com.cn
### Press Release ###########################
--------------------------------------------------------------

News Briefs----
Texas officials weigh evacuations as Ike nears
http://news.yahoo.com/s/ap/ike_texas
Middle East to control 10% of International Leasing
http://www.menafn.com/qn_news_story_s.asp?StoryId=1093211213
Budget Deficit Likely Doubled for Fiscal '08
http://online.wsj.com/article/SB122100526189017309.html?mod=googlenews_wsj
Almost half of large companies cutting IT spending, report says
http://www.usatoday.com/money/industries/technology/2008-09-09-it-spending_N.htm
$7.2 Billion Approved for Enron Shareholders
http://www.cfo.com/article.cfm/12081456/c_12079931?f=home_todayinfinance
---------------------------------------------------------------


You May have Missed---
Fannie, Freddie Get Tax Pass, Too
http://www.cfo.com/article.cfm/12079734?f=alerts
---------------------------------------------------------------

Sports Briefs----
Give the 49ers' and Raiders' owners an earful
http://www.sfgate.com/cgi-bin/article.cgi?f=/c/a/2008/09/09/SP8L12QPVC.DTL
----------------------------------------------------------------


California Nuts Briefs---
Powerful California Union Seeks to Recall Governor
http://www.nytimes.com/2008/09/10/us/10recall.html?ref=politics
(This ad is a "trade" for the writing of this column. Opinions
contained in the column are those of Mr. Terry Winders, CLP)
----------------------------------------------------------------


"Gimme that Wine"
Bad news for French wine harvest
http://afp.google.com/article/ALeqM5iv2BrFFURc2ExY_d4TmQynRWgVzA
A Thinking Man's Wine in Napa--Eric Asimov
http://www.nytimes.com/2008/09/10/dining/10pour.html?ref=dining
Self-guided at Hop Kiln Winery, Napa Valley
http://www.sfgate.com/cgi-bin/article.cgi?f=/c/a/2008/09/05/
WI1612KS8T.DTL&hw=wine&sn=007&sc=417
Wine Prices by vintage
http://www.winezap.com
http://www.wine-searcher.com/
US/International Wine Events
http://www.localwineevents.com/
Winery Atlas
http://www.carterhouse.com/atlas
Leasing News Wine & Spirits Page
http://two.leasingnews.org/Recommendations/wnensprts.htm
The London International Vintners Exchange (Liv-ex) is an electronic exchange for fine wine.
http://www.liv-ex.com/
----------------------------------------------------------------

Today's Top Event in History
1971-The Ford Pinto made its debut; at a cost of less than $2,000, designed to compete with an influx of compact imports. But it was not the Pinto's low cost that grabbed headlines. Ford's new best-selling compact contained a fatal design flaw: because of the placement of the gas tank, the tank was likely to rupture and explode when the car was involved in a rear end collision of over 20 mph. In addition, it was eventually revealed that Ford knew about the design flaw before the Pinto was released. An internal cost- benefit analysis prepared by Ford calculated that it would take $11 per car to correct the flaw at a total cost of $137 million for the company. When compared to the lowly estimate of $49.5 million in potential lawsuits from the mistake, the report deemed it "inefficient" to go ahead with the correction. The infamous report assigned a value of $200,000 for each death predicted to result from the flaw. Ford's irresponsibility caused a public uproar, and it 1978, a California jury awarded a record-breaking $128 million to a claimant in the Ford Pinto case.
http://www.fordpinto.com/blowup.htm
http://www.me.utexas.edu/~me179/topics/lessons/case3.html
[headlines]
----------------------------------------------------------------

This Day in American History
This Day in American History
1743- Sarah Franklin Bache birthday, took over the collecting of money to provide clothing for Gen. Washington's army during the American Revolution. In order to make the money go further, she took part of it to buy raw linen cloth. She then had the material cut into shirt patterns at her own home, and she and her friends (and servants) hand-sewed 2,005 shirts themselves - a prodigious accomplishment that would have warranted the highest military awards had it been done by men. From before her marriage and throughout (along with having seven children) she also served as host for her father, Benjamin Franklin. In writing about Sarah Franklin Bache in the past, several readers noted that they were taught in school that Franklin was unmarried. Well, technically, yes, he was unmarried under the law - and absolutely, he was not single. Deborah Read was unable to find her husband to divorce him after meeting Franklin. Therefore, in the ways of that time, she and Benjamin Franklin lived together as husband and wife and were accepted in society as a married couple. Deborah Read Franklin died in 1774, just before the Revolutionary War. Franklin is buried next to her in the famed Christ Church cemetery as is Sarah Franklin Bache, who was devoted to her father throughout his later life. In Franklin's will, he gives "his daughter" Sarah most of his estate. Her portrait by John Hoppuer is on display in the Metropolitan Museum of Art, New York City.
http://www.amphilsoc.org/library/mole/b/bachesf.htm
http://sln.fi.edu/franklin/family/sarah.html
http://sln.fi.edu/franklin/family/lastwill.html
1773- Benjamin Franklin writes "There never was a good war or bad peace."
1777- The largest engagement of the American Revolution, between the Continental Army led by General George Washing­ton and British troops led by General William Howe. General Howe was marching to take Philadelphia when Washington chose to try and stop the British advance at the Brandywine River near Chadds Ford, PA. The American forces under General George Washington were defeated and the British went on to take Philadelphia on September 26th. They spent the win­ter in the city while Washington's troops suffered at their encamp­ment at Valley Forge, PA. Only the weather prevented General Howe from following up his series of victories, while the Americans trained, held on, and not only tried to keep men from deserting, but recruit more experienced riflemen, who owned a rifle.
1786-Twelve delegates from New York, New Jersey, Delaware, Pennsylvania and Georgia met at Annapolis, MD for four days to discuss commercial matters of mutual interest. The delegates voted on September 14 th to adopt a resolution prepared by Alexander Hamilton asking all states to send representatives to a convention at Philadelphia, PA, in May 1787 "to render the constitution of the Federal Government adequate to the exigencies of the Union."
1841-In protest of President John Tyler's veto of the Banking Bill all of his cabined except Secretary of State Daniel Webster resigned on this day. Tyler had become president in an electoral commission vote, allegedly by making promises to Southern senators for their votes, including the end of reconstruction and other changes, He was beholding to the Southern "Dixiecrats," who ruled the Senate, perhaps even to this day with their collation of interest.
1847 - Stephen Foster performed his "Oh! Susanna" for the very first time. The performance, for a crowd at the Eagle Saloon in Pittsburgh, Pennsylvania, earned Foster a bottle of whiskey.
1850 - Jenny Lind sang at the Castle Garden Theatre in New York City. It was her first performance in America. Lind's voice was so sweet that she was nicknamed 'The Swedish Nightingale'. Theater ticket scalpers began plying their trade in New York City prior to the first appearance of the Swedish singer and celebrity Jenny Lind at Castle Garden. The seats were auctioned by Phineas Taylor "P.T." Barnum, who charged 25 cents admission to the auction. The first ticket was sold to John Nicholas Genin for $225. One thousand tickets sold for a total of $10,141. Some ticket holders resold their tickets at high premiums. Gross receipts for the performance were $17864. Jenny Lind donated her share of the gross to New York charities.
http://memory.loc.gov/ammem/today/sep11.html
1850- A park in New York City large enough to provide a healthy atmosphere for all the citizens was proposed. Here began the concept of a central park.
1857- Mormon fanatic John D. Lee, angered over President Buchanan's order to remove Brigham Young from governorship of the Utah Territory, incited a band of Mormons and Indians to massacre a California-bound wagon train of 135 (mostly Methodists) in Mountain Meadows, Utah. Reportedly the Mormon Church changed its position on polygamy and agreed to further reforms in the governing of Utah.
http://www.onlineutah.com/historylee.shtml
http://www.geraldgrimmett.com/
1862-Birthday of William S. Porter, known by his pen name "O.Henry," a famous American author, born at Greensboro, NC. Best known for his short stories, including "Gift of the Magi." Died at New York, NY, June 5, 1910.
1875 - "Professor Tigwissel's Burglar Alarm" appeared in the New York "Daily Graphics" newspaper. 17 successive pictures that filled a full page made up the first comic strip to be published in a newspaper. The "comic strip" is an American creation.
1892 The Scarritt Bible and Training School in Nashville, TN, was dedicated, primarily as the result of the conception, urging and fund-raising of southern Methodist mission's leader and social reformer, Belle Harris Bennett (1852-1922).
1902-Birthday of guitarist Jimmie Governor Davis, Quitman, LA
1904-Birthday of harmonica player Jazz Gillum, Indianola, MS
1910- The first trackless trolley system was built by Charles Mann and placed in operation between "Bungalow Land" in Laurel Canyon, CA and the terminal point of the Los Angeles Pacific Electric Railway Company, a distance of 1.5 miles. Two automobile buses were used. On top of the buses were trolley poles making contact with overhead wires.
1925-Birthday of piano player Tommy Lee Russell, Vienna, GA
1927-- Babe Ruth hits 50th of 60 homers.
1929--- San Francisco Mayor James Rolph inaugurates new pedestrian traffic light system, the first in the country.
http://www.sfmuseum.org/hist1/rolph.html
1934- Fletcher Henderson band records "Big John's Special."
1941- Stan Kenton Band makes first commercial recordings, LA, Decca.
1941- Aviator and American hero Charles Lindbergh, charges "the British, the Jewish & the Roosevelt administration" are trying to get the US into WW II.
1945---Top Hits
Till the End of Time - Perry Como
On the Atchison, Topeka and Santa Fe - Johnny Mercer
If I Loved You - Perry Como
You Two Timed Me One Time Too Often - Tex Ritter
1949-Helena, MT had a snowfall of 7.5 inches, the earliest snow fell. The following day, 22 more inches followed.
1953---Top Hits
Vaya Con Dios - Les Paul & Mary Ford
No Other Love - Perry Como
You, You, You - The Ames Brothers
A Dear John Letter - Jean Shepard & Ferlin Huskey
1954-before it fully recovered from devastating Hurricane Carol, New England was blasted by Hurricane Edna. Winds on Martha's Vineyard gusted to 120 mph. Boston reported sustained winds of 74 mph with gusts to 87 mph. Over 8 inches of rain fell at Portland, ME. 21 people were killed and damage was estimated at $40 million.
1955- The first Southern Baptist church to be established in Nebraska was organized at Lincoln, with 34 charter members. Founded by Southern Baptist U.S. Air Force personnel who had been stationed in Lincoln, the congregation first met for worship on Easter Sunday of this year.
1956- Art Tatum/Ben Webster Quarter, records for Verve.
1956-Singer Blossom Dearie cuts first Verve session.
1959- Congress passed a bill authorizing food stamps for low income Americans.
1959-"Duke" Ellington wins Spingarn Medal for his musical achievements. The award is presented each year by the NAACP for outstand achievements by a black American.
http://www.infoplease.com/ipa/A0002290.html
1961---Top Hits
Michael - The Highwaymen
Take Good Care of My Baby - Bobby Vee
My True Story - The Jive Five
Tender Years - George Jones
1961 - Very large and slow moving Hurricane Carla made landfall near Port Lavaca TX. Carla battered the central Texas coast with wind gusts to 175 mph, and up to 16 inches of rain, and spawned a vicious tornado which swept across Galveston Island killing eight persons. The hurricane claimed 45 lives, and caused 300 million dollars damage. The remnants of Carla produced heavy rain in the Lower Missouri Valley and southern sections of the Upper Great Lakes Region.
1962--The Beatles return to Abbey Road Studios where they record "P.S., I Love You". Producer George Martin is concerned with Ringo Starr's ability and hires session drummer Andy White to re-record "Love Me Do", on which Ringo played maracas and tambourine.
1964 - The last of the "Friday Night Fights" was seen on free, home TV. The Gillette Safety Razor Company, Madison Square Garden and ABC-TV televised a fight between Dick Tiger and Don Fullmer from Cleveland, OH. Tiger beat Fullmer to wrap up the 20-year TV series. Boxing soon went to closed-circuit TV in theatres and to cable and pay-per-view TV.
1964 - Rod Stewart records his first single, ``Good Morning Little Schoolgirl.''
1965-The Gentry's "Keep on Dancing" enters the Hot 100 where it stays for 13 weeks. It gets up to #4. It will be the group's biggest hit.
1965-The Beatles' LP, "Help!" hits #1 -- a position it will hold for 9 weeks.
1965-The Rolling Stones hit #1 in England with "(I Can't Get No) Satisfaction."
1966--The Beatles receive a gold record for the single, "Yellow Submarine".
1966 -Benefit for BOTH/AND jazz club at the San Francisco Fillmore with Big Mama Thornton, The Airplane, Elvin Jones, Jon Hendricks Trio and the Joe Henderson Quartet.
1966- Johnny Miller became the 1st Yank to hit a HR on his 1st at bat
1967-September 11, Singer Harry Connick, Jr., Birthday
http://www.harryconnickjr.com/connick/index.cfm
http://www.hconnickjr.com/
1967- "Carol Burnett Show premiered. This popular comedy/vari­ety show starred comedienne Carol Burnett, who started the show by taking questions from the audience and ended with an ear tug. Sketches and spoofs included recurring characters like "The Family" (later to be spun off as "Mama's Family") and "As the Stomach Turns." Regular cast members included Harvey Kor­man, Lyle Waggoner and Vicki Lawrence. Later, Tim Conway joined the cast. Dick Van Dyke briefly joined after Korman left in 1977.
1967--The Beatles' "All You Need Is Love" is certified as a million-seller. The boys also begin filming the movie, Magical Mystery Tour. The idea was to cruise the English countryside in a bus "just to see what would happen". Unfortunately, nothing did and the film was a disaster. Songs from the movie would be released later on an album of the same name.
1967-The Beatles's "All You Need Is Love" is certified as a million-seller.
1969---Top Hits
Honky Tonk Women - The Rolling Stones
Sugar, Sugar - The Archies
Green River - Creedence Clearwater Revival
A Boy Named Sue - Johnny Cash
1970 - "Would you believe?" The last of the "Get Smart" series on CBS-TV was aired. This spoof spy-thriller appeared on both NBC (1965-69) and CBS (1969-70). Don Adams starred as bumbling CONTROL Agent 86, Maxwell Smart. His mission was to thwart the evildoings of KAOS organization. Agent Smart was usually successful with the help of his friends Barbara Feldon as Agent 99(whom Smart eventually married), Deward Platt as The Chief, Robert Karvelas as Agent Larrabee, Dick Gautier as Hymie the Robot and David Ketchum as Agent 13. Max's shoe phone was worn on his right foot.
1971-"The Rookies" premiered on TV. This hour-long crime show focused on three young police recruits: Michael Ortkean as Willie Gates, George Stanford Brown as Terry Webster and Sam Melville as Mike Danko. Also featured were Gerald S. O'Loughlin as Lieutenant Ed Ryker, Kate Jackson as nurse Jill Danko, Mike's wife and Bruce Fairbairn as Chris Owens. The show as produced by Aaron Spelling and Leonard Goldberg.
1971-The Ford Pinto made its debut; at a cost of less than $2,000, designed to compete with an influx of compact imports. But it was not the Pinto's low cost that grabbed headlines. Ford's new best-selling compact contained a fatal design flaw: because of the placement of the gas tank, the tank was likely to rupture and explode when the car was involved in a rear end collision of over 20 mph. In addition, it was eventually revealed that Ford knew about the design flaw before the Pinto was released. An internal cost- benefit analysis prepared by Ford calculated that it would take $11 per car to correct the flaw at a total cost of $137 million for the company. When compared to the lowly estimate of $49.5 million in potential lawsuits from the mistake, the report deemed it "inefficient" to go ahead with the correction. The infamous report assigned a value of $200,000 for each death predicted to result from the flaw. Ford's irresponsibility caused a public uproar, and it 1978, a California jury awarded a record-breaking $128 million to a claimant in the Ford Pinto case.
http://www.fordpinto.com/blowup.htm
http://www.me.utexas.edu/~me179/topics/lessons/case3.html
1971-Donny Osmond's "Go Away Little Girl" hits Number One. The song was Number One for Steve Lawrence in 1963 and peaked at #12 for the Happenings in 1966.
1972 - No. 1 Billboard Pop Hit: "Black & White," Three Dog Night.
1973 - No. 1 Billboard Pop Hit: ``Delta Dawn,'' Helen Reddy. Reddy is the fifth female vocalist to record the song.
1974- "Little House of the Prairie". This hour-long family drama was based on books by Laura Ingalls Wilder. It focused on the Ingalls family and their neighbors living at Walnut Grove, MN: Michael Landon as Charles (Pa), Karen Grassle as Caroline (Ma), Melissa Sue Anderson as daughter Mary, Melissa Gilbert as daughter Laura, from whose point of view the stories were told, Lindsay and Sidney Greenbush as daughter Carrie and Wendi and Brenda Turnbaugh as daughter Grace. Others featured were:
Victor French, Bonnie Bartlett, Richard Bull, Katherine Mac­Gregor, Jonathan Gilbert, Alison Arngrim, Charlotte Stewart, Dabbs Greer, Merlin Olsen, Patrick Laborteaux. The series spent one season at Winoka, Dakota. In its last season (1982), the show's name was changed to "Little House: A New Beginning." Landon appeared less often and the show centered around Laura and her husband
1974 - The St. Louis Cardinals took seven hours, four minutes and 25 innings to beat the New York Mets 4-3 at Shea Stadium in Flushing, NY. The game set a National League record for innings played in a night game. It was the second-longest game in professional baseball history. Fans went home at 3:10 a.m.
1975-Janis Ian earns her first gold record for the album "Between the Lines." The album contains her single "At Seventeen," which is climbing the charts and will peak at Number Three.
1976-In the third race at Latonia, jockeys John Oldham and Suzanne Picou became the first husband and wife to ride against each other in a US pari-mutuel race. Oldham finished second riding Harvey's Hope. Picou finished 11 th aboard My Girl Carla.
1977---Top Hits
Best of My Love - Emotions
(Your Love Has Lifted Me) Higher and Higher - Rita Coolidge
Handy Man - James Taylor
Don't It Make My Brown Eyes Blue - Crystal Gayle
1982-"Valley Girl" by Frank Zappa and his daughter Moon Unit peaks at #32 on the singles chart.
1983-John Cougar's "American Fool" LP tops the chart. Cougar thus becomes the first artist in over a year and a half to have the Number One album, "American Fool," and two singles in the Top Ten, "Jack & Diane" and "Hurt So Good," in the same week. Michael Jackson accomplished the feat in 1981 with two hits off his "Off the Wall" LP.
1984 - Bruce Springsteen broke the attendance record at the Spectrum in Philadelphia. The Boss entertained 16,800 fans for the first of six sold-out shows. Springsteen broke his own record; one he set during a visit to Philly in 1981.
1985---Top Hits
St. Elmo's Fire (Man in Motion) - John Parr
We Don't Need Another Hero (Thunderdome) - Tina Turner
Money for Nothing - Dire Straits
I Don't Know Why You Don't Want Me - Rosanne Cash
1986-heavy rains over Michigan set a new 24 hour rainfall record at Muskegon. 6 inches of rain fell in a 24 hour period. 7.52 inches fell at Saginaw and 4.21 inches at Grand Rapids. On the 12th, rivers overflowed their banks and several earthen dams gave way causing record flooding on many rivers. The southbound bridge on U.S. route 31 washed out near the town of Hart.
1988 - Snow blanketed parts of the Central Rocky Mountain Region and the Central Plateau, with ten inches reported at Mount Evans in Colorado. Smoke from forest fires in the northwestern U.S. reached Pennsylvania and New York State. Hurricane Gilbert, moving westward over the Caribbean, was packing winds of 100 mph by the end of the day.
1990-the high temperature at Phoenix reached 112, the highest ever for the date and for so late in the season
1993-Top Hits
Dreamlover- Mariah Carey
Can t Help Falling In Love (From "Sliver")- UB40
Whoomp! (There It Is)- Tag Team
If- Janet Jackson
1994 - Andre Agassi won the men's title at the U.S. Open tennis tournament, defeating Michael Stich 6-1, 7-6 (7-5), 7-5.
1995 - Janet Jackson's "Runaway" makes history by becoming the first single by a woman to make its debut in the top 10 of Billboard's Hot 100. The single, which debuted at No. 6, is off Jackson's greatest hits album.
1995 - No. 1 Billboard Pop Hit: "Gangsta's Paradise (from `Dangerous Minds')," Coolio featuring L.V.
1996 - For the first time ever, a new single by a major recording artist is released exclusively on the Internet. David Bowie's "Telling Lies" is released on Bowie's Website
(www.davidbowie.com), where it can be played and downloaded; the song does not appear anywhere on CD, record or cassette and is not to be heard on the radio.
1998—Top Hits
I Don't Want To Miss A Thing- Aerosmith
The First Night- Monica
Crush- Jennifer Paige
My Way- Usher
1999 - Serena Williams won the U.S. Open women's title at age 17 in only her second year as a pro. Williams beat top-seeded Martina Hingis, 6-3, 7-6 (7-4).
2001- At 8:48 a.m. EDT a passenger jet crashed into the North Tower of the World Trade Center in New York City. Flames and smoke at 9:06 a.m. Another plane hit the WTC's South Tower. At 9:43 a.m. the Pentagon in Washington DC was hit by another jet airliner. A few minutes later, a fourth jet airliner crashed in a field in Shanksville, PA, some 80 miles southeast of Pittsburgh. For the first time, terrorists had struck on U.S. soil. Air traffic to and from U.S. airports was halted. 19 Muslim militants, all men, all in their 20s and 30s, members of Osama Bin Laden's al-Qaeda, had hijacked at least four planes all in the name of their religion: Islam. Almost 3,000 people died at the World Trade Center, including 385+ firefighters and police who valiantly attempted to save the thousands in the towers. One jet destroyed a section of the Pentagon, killing 189 people. On the plane in Pennsylvania, the brave souls aboard tried to regain control from their hijackers. Their plane crashed in a field. There were no survivors. The 19 Islamic religious fanatics of Middle Eastern descent wanted to destroy what Americans stand for. They died in vain. But, the people they murdered did not. Americans are now prouder, more committed to stand together; united from Maine to Hawaii, from Alaska to Florida, determined not to let any country, religion, or people steal our freedoms. Americans will fight all evil-doers for our inalienable right to live in our democracy. The battle cry of the United States against terrorists: "Let's roll!" (Todd Beamer's last words as heard by an Airfone operator minutes before Flight 93 crashed.)
2001- In the wake of terrorist attacks on New York City's World Trade Center and the Pentagon, Major League Baseball cancels all games for security reasons and for the deep mourning for all the lives that have been lost. Yankee Stadium is evacuated as a precautionary measure.
2002 -Yankee legends Whitey Ford and Phil Rizzuto unveil a monument dedicated to the victims of the September 11th terrorist attacks. The team also has a ceremonial tree planting in Monument Park in honor the of heroes and victims of horrific events of a year ago.
2004-- As 36,887 Bank One Ballpark fans hope to see Barry Bonds hits his 699th and perhaps 700th career homer, they watch the Giant left fielder reach a different milestone. The San Francisco slugger receives three base-on-balls from Diamondback pitchers to break his own record and becomes the first major leaguer to walk over 200 times in a single season.
--------------------------------------------------------------

Baseball Poem

First Time At Third

b

y Jacqueline Sweeney ©




Published: At The Crack Of The Bat (1992)

First time at third
nothing but nerves.
He fist-whomps his glove,
tucks in his shirt,
kicks up the dirt
for the twenty-fifth time.

Gets in position
pumped up to win,
jump sweeps the plate.
Will it ever begin?

A quick-line drive!
He leaps for the sky.
His body's an arrow,
glove aimed high.

What's this?
He stumbles,
he tumbles to earth.
His glove is still empty,
face red as his shirt.

The game hasn't started?
"Play Ball!" can be heard
and he's tried to snag
a lowflying bird;
fastflying, linedriving
feathers and all.

How could he think




that a bird was a ball!
--------------------------------------------------------------

SuDoku
The object is to insert the numbers in the boxes to satisfy only one condition: each row, column and 3x3 box must contain the digits 1 through 9 exactly once. What could be simpler?
http://leasingnews.org/Soduku/soduko-main.htm
--------------------------------------------------------------

Daily Puzzle
How to play:
http://www.setgame.com/set/puzzle_frame.htm
Refresh for current date:
http://www.setgame.com/set/puzzle_frame.htm
--------------------------------------------------------------


http://www.gasbuddy.com/
http://www.gasbuddy.com/GB_Map_Gas_Prices.aspx
http://www.gasbuddy.com/GB_Mobile_Instructions.aspx
--------------------------------------------------------------

Weather
See USA map, click to specific area, no commercials
--------------------------------------------------------------

Traffic Live---
Real Time Traffic Information
You can save up to 20 different routes and check them out
with one click, or type in a new route to learn the traffic live.
--------------------------------