Sales positions in the Western United States
5 years+ small ticket or mid market experience
Established customer/vendor relationships a plus. Draw/Base
plus commission. Submit resume to: jobs@TEQlease.com
TEQlease provides customized equipment leasing solutions for businesses.
www.TEQlease.com
Wednesday, September 16, 2009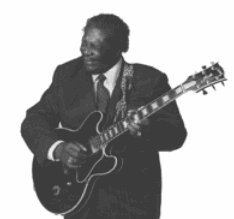 Singer/guitarist B.B. King born Riley B. King September 16, 1925
Itta Bena, Mississippi (still performing!)
In the 1950s, B.B. King became one of the most important names in R&B music, amassing an impressive list of hits including "You Know I Love You," "Woke Up This Morning," "Please Love Me," "When My Heart Beats like a Hammer," "Whole Lotta Love," "You Upset Me Baby," "Every Day I Have the Blues," "Sneakin' Around," "Ten Long Years," "Bad Luck," "Sweet Little Angel," "On My Word of Honor," and "Please Accept My Love." He won a Grammy Award for a tune called "The Thrill Is Gone."
http://www.youtube.com/watch?v=Qtm66Z3lebc&feature=fvw
http://www.youtube.com/watch?v=4Ny5ajCn0xw
Headlines---
Classified Ads---Controller
NAELB Eastern Regional Meeting Report
Cartoon---NAELB Leasing Brokers
Sales Make it Happen by Steve Chriest
Learn to Read and Understand FS
IFC Credit Bankruptcy-Up-date
Classified Ads---Help Wanted
Placard-Women seeking to be equal
GE Capital Introduces Rebate Lease
News Briefs----
Genesis Lease says it's in merger talks
Steven Udvar-Hazy wants to buy back ILFC
NetSol Technologies Slips to Loss in Q2
NetSol Technologies Earnings Call Transcript
U.S. Credit-Card Defaults Resume Ascent
Asian stocks hit 2009 highs, US dollar slips
Consumers Present Growing Credit Risk
Blockerbuster to close up to 960 stores
You May have Missed---
Public defender for Stanford
California Nuts Brief---
Sports Brief---
"Gimme that Wine"
Today's Top Event in History
This Day in American History
Baseball Poem
SuDoku
Daily Puzzle
GasBuddy
Weather, USA or specific area
Traffic Live----
######## surrounding the article denotes it is a "press release"
--------------------------------------------------------------

--------------------------------------------------------------

--------------------------------------------------------------

--------------------------------------------------------------

--------------------------------------------------------------

--------------------------------------------------------------

Classified Ads---Help Wanted

Lease Corporation of America is seeking a select group of business development professionals to participate in our Independent Sales Associate program.
This is a commission only program that can lead to permanent employ with base salary, commission and benefits.
John Martella
LCA Financial, llc
President
Phone: 800.800.8098 ext. 5209
Direct: 248.743.5209
jmartella@leasecorp.com
2 years+ small ticket ($150k and under) experience
We offer the ability to structure and fund Vendor Programs, great
commission splits; friendly support staff in beautiful Carlsbad, CA.
Remote office work is acceptable for the right candidate.
More Info: click here or Email resumes@ilslease.com
ILS is a direct lender specializing in
Vendor Program business.
www.ilslease.com

Sales positions in the Western United States
5 years+ small ticket or mid market experience
Established customer/vendor relationships a plus. Draw/Base
plus commission. Submit resume to: jobs@TEQlease.com
TEQlease provides customized equipment leasing solutions for businesses.
www.TEQlease.com
Wanted
Managing Director Origination - Middle East & Africa
http://business.maktoob.com/20090000250818/JobArticle.htm
--------------------------------------------------------------

--------------------------------------------------------------

-------------------------------------------------------------

News Briefs----
---------------------------------------------------------------

You May have Missed---
----------------------------------------------------------------


California Nuts Briefs---
----------------------------------------------------------------

Sports Briefs----
----------------------------------------------------------------


"Gimme that Wine"
Wine Prices by vintage
http://www.winezap.com
US/International Wine Events
http://www.localwineevents.com/
http://www.wine-searcher.com/
Winery Atlas
http://www.carterhouse.com/atlas/
Leasing News Wine & Spirits Page
http://two.leasingnews.org/Recommendations/wnensprts.htm
The London International Vintners Exchange (Liv-ex) is an electronic exchange for fine wine.
http://www.liv-ex.com/
----------------------------------------------------------------

Today's Top Event in History
[headlines]
----------------------------------------------------------------

This Day in American History
1620- the Mayflower departs from Plymouth, England with 102 passengers and a small crew. On board were 48 crew members and 101 colonists (including 35 Separatists from Leiden, Holland, known afterward as the Pilgrims). During the three-month voyage, two passengers died and two babies were born. Vicious storms were encountered en route which caused serious doubt about the wisdom of continuing, but she reached Provincetown, MA, Nov21, and discharged the Pilgrims at Plymouth, MA, Dec 26.1620.
1672-While her actual birthday is not known, this is the official date proclaimed by the governor of the Commonwealth of Massachusetts to honor Anne Bradstreet, America's first poet who is also recognized as the first published woman poet in the English language. Anne Bradstreet was born in 1612 in England and came to America in 1630. Unbeknownst to Anne, her brother-in-law took some of her poetry back to England where it was published in 1630 as Te Tenth Muse Lately Sprung Up in America. Subsequent editions were also published in Boston. She died at Andover, MA.
1782- Continental Congress President John Hanson along with Secretary Charles Thomson made the first impression of the Great Seal of the United States on a document authorizing General George Washington to negotiate and sign an agreement with the British for the exchange, subsistence, and better treatment of prisoners of war.
1810-Mexican Independence Day. Father Miguel Hidalgo y Costilla summoned the largely Indian and mestizo congregation of his small Dolores parish church and urged them to take up arms and fight for Mexico's independence from Spain.
( lower half of: http://memory.loc.gov/ammem/today/sep16.html )
1881-an early snowfall across northwestern Iowa and southern Minnesota dropped up to 6 inches (at Stuart, Iowa)
1887---Birthday of Louise Arner Boyd, American geographer who led eight arctic expeditions. A part of Greenland was named after her. In 1960 became the first woman councilor in the 108-year history of the American Geographical Society. During World War II she became a valued, and irreplaceable technical expert with the War Department by utilizing her encyclopedic scientific knowledge, her experiences, and her thousands of maps, and photographs of the entire Arctic region from Greenland to Scandinavia. She was indispensable in locating little-known fjords which had became safe havens for German U-boats. LAB was the first woman to fly over the North Pole. LAB wrote several authoritative books on the arctic.
1889-Birthday of Claude A. Barnett, founder of the Associated Negro Press. ranked by Ebony magazine as among the one hundred most influential black Americans, founded the Associated Negro Press (ANP) in 1919 and remained its director through nearly half a century of social change. By providing its member newspapers with coverage of activities within black communities across the country and current national trends and events, the ANP helped create a national black culture and increased black awareness of national news. Died, 1967
http://newswatch.sfsu.edu/milestones/decade1910_barnett.html
http://www.amazon.com/exec/obidos/ASIN/0838631371/inktomi-bkasin-20/
104-1488333-3847140
1893 - The largest land run in history begins with more than 100,000 people pouring into the Cherokee Strip of Oklahoma to claim valuable land that had once belonged to Native Americans. No more eager than the whites to leave their green and well-watered lands for the arid plains, some Indians resisted and had to be removed by force-most tragically, the 4,000 Cherokee who died during the brutal overland march known appropriately as the "Trail of Tears." Pressure steadily increased to open the Indian lands to settlement, and in 1889, President Benjamin Harrison succumbed and threw open large areas of unoccupied Indian lands to white settlement. The giant Cherokee Strip rush was only the largest of a series of massive "land runs" that began in the 1890s, with thousands of immigrants stampeding into Oklahoma Territory and establishing towns like Norman and Oklahoma City almost overnight.
1903-Birthday of Buck McFarland (Barrelhouse Buck),Alton, IL
1903-Birthday of violinist Joe Venuti, Philadelphia, PA
1908-the giant automobile manufacturing company called General Motors was founded by William Crapo "Billy" Durant, a Flint, Ml, entrepreneur.
http://www.libertyhaven.com/thinkers/billydurant/billy.html
1921-Birthday of singer/composer Jon Hendricks, Newark,OH
http://www.jazzter.nl/jon.html
http://www.harmonyware.com/JonHendricks/
1925 Singer/guitarist Riley "BB" King birthday
http://www.bbking.com/
1925-Birthday of jazz guitarist Charlie Byrd.
http://www.gfmusic.com/newcharlie99.html
http://www.classicjazzguitar.com/artists/artists_page.jsp?artist=54
1928 -the San Felipe hurricane struck Palm Beach, FL with enormous damage, Peak winds were near 150 mph. the high winds and storm waves broke the eastern dike on Lake Okeechobee, inundating flat farmland. 1836 people drowned and damage exceeded $25 million
1933 -- Emperor Jones, starring Paul Robeson as Brutus Jones, is released by United Artists. It is Robeson's first starring movie role and the first major Hollywood production starring an African-American with whites in supporting roles.
1933--"Are You Makin' Any Money?" by Chick Bullock & His Levee Loungers. This pervasive question of the era was first sung in the film, Moonlight & Pretzels. The clever Herman Hupfeld wrote the tune two years after 1931's "As Time Goes By." Vocalist Chick Bullock was featured on over 500 titles in the 1930s, often accompanied by New York's finest jazzmen. Worthy of note in this performance are trumpeter Manny Weinstock and Jimmy Dorsey on clarinet.
http://recollectionbooks.com/siml/library/mirror/Depressionmusic2.html
http://www.authentichistory.com/audio/1930s/music/1930s_music_01.html
1933-the Carolina-Virginia hurricane hit Cape Hatteras with winds to 76 mph. Great winds damage was done in Virginia and Maryland. 21 died.
1938- Dorsey Band records "Boogie Woogie"
1940- The Burke-Wadsworth Act is passed by Congress, by wide margins in both houses, and the first peacetime draft in the history of the United States is imposed. Selective Service was born. The registration of men between the ages of 21 and 36 began exactly one month later, as Secretary of War Henry L. Stimson, who had been a key player in moving the Roosevelt administration away from a foreign policy of strict neutrality, began drawing draft numbers out of a glass bowl. The numbers were handed to the president, who read them aloud for public announcement. There were some 20 million eligible young men-50 percent were rejected the very first year, either for health reasons or illiteracy (20 percent of those who registered were illiterate). In November 1942, with the United States now a participant in the war, and not merely a neutral bystander, the draft ages expanded; men 18 to 37 were now eligible. Blacks were passed over for the draft because of racist assumptions about their abilities and the viability of a mixed-race military. But this changed in 1943, when a "quota" was imposed, meant to limit the numbers of blacks drafted to reflect their numbers in the overall population, roughly 10.6 percent of the whole.
1944--PRESTON, ARTHUR MURRAY Medal of Honor
Rank and organization: Lieutenant, U.S. Navy Reserve, Torpedo Boat Squadron 33. Place and date. Wasile Bay, Halmahera Island, 16 September 1944. Entered service at: Maryland. Born: 1 November 1913, Washington, D.C. Citation: For conspicuous gallantry and intrepidity at the risk of his life above and beyond the call of duty as commander, Motor Torpedo Boat Squadron 33, while effecting the rescue of a Navy pilot shot down in Wasile Bay, Halmahera Island, less than 200 yards from a strongly defended Japanese dock and supply area, 16 September 1944. Volunteering for a perilous mission unsuccessfully attempted by the pilot's squadron mates and a PBY plane, Lt. Comdr. (then Lieutenant) Preston led PT-489 and PT-363 through 60 miles of restricted, heavily mined waters. Twice turned back while running the gauntlet of fire from powerful coastal defense guns guarding the 11-mile strait at the entrance to the bay, he was again turned back by furious fire in the immediate area of the downed airman. Aided by an aircraft smokescreen, he finally succeeded in reaching his objective and, under vicious fire delivered at 150-yard range, took the pilot aboard and cleared the area, sinking a small hostile cargo vessel with 40-mm. fire during retirement. Increasingly vulnerable when covering aircraft were forced to leave because of insufficient fuel, Lt. Comdr. Preston raced PT boats 489 and 363 at high speed for 20 minutes through shell-splashed water and across minefields to safety. Under continuous fire for 2l/2 hours, Lt. Comdr. Preston successfully achieved a mission considered suicidal in its tremendous hazards, and brought his boats through without personnel casualties and with but superficial damage from shrapnel. His exceptional daring and great personal valor enhance the finest traditions of the U.S. Naval Service.
1946-Les Brown cuts " I've Got My Love to Keep Me Warm."
1946-Banjoist Earl Scruggs first recorded with Bill Monroe and his Blue Grass Boys. His three-fingered picking style became one of the trademarks of bluegrass music. Scruggs and guitarist Lester Flatt left Monroe in 1948 to form their own group, the Foggy Mountain Boys. Flatt and Scruggs's partnership lasted for more than 20 years.
1948- Joe DiMaggio hits his 300th career home run joining Babe Ruth, Lou Gehrig, Mel Ott, Jimmie Foxx, Rogers Hornsby, Chuck Klein and Hank Greenberg as the only major leaguers to reach this milestone.
1950—Birthday of Author/Outstanding Critic Henry Louis Gates Jr.
http://www.neh.fed.us/whoweare/gates/biography.html
http://www.fas.harvard.edu/~afroam/Faculty/Henry_Louis_Gates__Jr_/
henry_louis_gates__jr_.html
1950---Top Hits
Mona Lisa - Nat King Cole
Goodnight Irene - The Weavers
Tzena, Tzena, Tzena - The Weavers
Goodnight Irene - Red Foley-Ernest Tubb
1951--VITTORI, JOSEPH Medal of Honor
Rank and organization: Corporal, U.S. Marine Corps Reserve, Company F, 2d Battalion, 1st Marines, 1st Marine Division (Rein.). Place and date: Hill 749, Korea, 15 and 16 September 1951. Entered service at: Beverly, Mass. Born: 1 August 1929, Beverly, Mass. Citation: For conspicuous gallantry and intrepidity at the risk of his life above and beyond the call of duty while serving as an automatic-rifleman in Company F, in action against enemy aggressor forces. With a forward platoon suffering heavy casualties and forced to withdraw under a vicious enemy counterattack as his company assaulted strong hostile forces entrenched on Hill 749, Cpl. Vittori boldly rushed through the withdrawing troops with 2 other volunteers from his reserve platoon and plunged directly into the midst of the enemy. Overwhelming them in a fierce hand-to-hand struggle, he enabled his company to consolidate its positions to meet further imminent onslaughts. Quick to respond to an urgent call for a rifleman to defend a heavy machine gun positioned on the extreme point of the northern flank and virtually isolated from the remainder of the unit when the enemy again struck in force during the night, he assumed position under the devastating barrage and, fighting a single-handed battle, leaped from 1 flank to the other, covering each foxhole in turn as casualties continued to mount manning a machine gun when the gunner was struck down and making repeated trips through the heaviest shellfire to replenish ammunition. With the situation becoming extremely critical, reinforcing units to the rear pinned down under the blistering attack and foxholes left practically void by dead and wounded for a distance of 100 yards, Cpl. Vittori continued his valiant stand, refusing to give ground as the enemy penetrated to within feet of his position, simulating strength in the line and denying the foe physical occupation of the ground. Mortally wounded by the enemy machine gun and rifle bullets while persisting in his magnificent defense of the sector where approximately 200 enemy dead were found the following morning, Cpl. Vittori, by his fortitude, stouthearted courage, and great personal valor, had kept the point position intact despite the tremendous odds and undoubtedly prevented the entire battalion position from collapsing. His extraordinary heroism throughout the furious nightlong battle reflects the highest credit upon himself and the U.S. Naval Service. He gallantly gave his life for his country.
1951-"Sky King" TV premiere. This half-hour children's adventure series began on radio in 1947. Kirby Grant starred as Schuyler J. (Sky) King, owner of the Flying Crown.
1954-Birthday of guitarist Earl Klugh, Detroit, MI
1955-The United States Auto Club (USAC) was formed to supervise four major categories of auto racing.
1958---Top Hits
Nel Blu Dipinto Di Blu (Volare) - Domenico Modugno
It's All in the Game - Tommy Edwards
Rock-in Robin - Bobby Day
Bird Dog - The Everly Brothers
1960-Johnny Burnette records the original version of "You're 16", which will rise to #8 in the US. Fourteen years later, Ringo Starr would take the same song to #1.
1960-College football coach Amos Alonzo Stagg age 95 (1864-1965) announced his retirement after seventy-one years on the field. Stagg's career coincided with the evolution of the game from an amalgam of soccer and rugby into American football as we know it.
http://memory.loc.gov/ammem/today/sep16.html
1963 - "She Loves You" was recorded by The Beatles on the Swan label. It was the first record recorded by The Beatles; but the second single by the 'Fab Four' to hit #1. "I Want to Hold Your Hand", was the group's first #1 song and million seller (on Capitol). It beat "She Loves You" to the top spot by just a few weeks. Other Beatles hits were also recorded on Capitol (Capitol had rejected "She Loves You") and Swan labels; but the Beatles liked variety -- so add these record companies to the Beatles list of recording labels: Vee-Jay, MGM, Tollie, United Artists, Atco, E.M.I., Parlaphone and Apple.
1964-Concord, NH drops to 27 degrees ending the shortest growing season on record (100 days.)
1964- the rock 'n' roll TV show "Shindig" premiered on ABC. Guests on the first show were Sam Cooke, Bobby Sherman, the Everly Brothers and the Righteous Brothers. The house band, the Shindogs, included such musicians as Leon Russell and Delaney Bramlett. And among the Shindig Dancers was future actress Teri Garr. Such was the drawing power of the show that the Beatles were paid only $1,400 to appear during the first season - at the height of Beatlemania. "Shindig" began its second season with a bang, snagging the Rolling Stones for the first show and expanding to two nights a week. But it was downhill after that, with such guest hosts as Zsa Zsa Gabor, Hedy Lamarr and Boris Karloff. "Shindig" was cancelled in January 1966.
1965- Duke Ellington gives sacred concert in San Francisco.
1965 - San Francisco's Grace Cathedral became the site of the first concert of sacred music presented by Duke Ellington.
1965 - "The Dean Martin Show" debuted on NBC-TV. It was a weekly variety show that continued on the network for nine years. Regulars over the years were The Goldiggers, Ken Lane, The Ding-a-Ling Sisters, Tom Bosley, Dom DeLuise, Nipsey Russell, Rodney Dangerfield and Les Brown and His Band. The theme song? "Everybody Loves Somebody".
1966-Grateful Dead and Oxford Circle play @ The Avalon Ballroom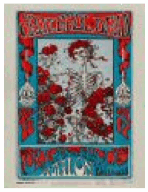 Poster Artists: Stanley Mouse, and Alton Kelley
1966--Grateful Dead at the Avalon Ballroom in S.F.
1966---Top Hits
You Can't Hurry Love - The Supremes
Yellow Submarine - The Beatles
Land of 1000 Dances - Wilson Pickett
Almost Persuaded - David Houston
967-Jimi Hendrix's debut LP, "Are You Experienced?" enters the Billboard Hot 200 album chart, where it will stay for 106 weeks, including 77 weeks in the Top 40.
1967- "Mannix "premiers on TV. Mike Connors starred as Joe Mannix - a Los Angeles private investigator working for the computer organization Intertect, in this long-running CBS crime series. Joseph Campanella played his boss, Lou Wickersham, during the first season. The show then changed format with Mannix setting up his own agency. The new cast members were Gail Fisher as Peggy Fair, his secretary, Robert Reed as Lieutenant Adam Tobias and Ward Wood as Lieutenant Art Malcolm.
1968- Richard Nixon appears on "Laugh-in". In "Who Wants to be a Millionaire?" television show, this was a $1 million question. The contestant got it right, by the way.
http://www.tvtome.com/tvtome/servlet/GuidePageServlet/showid-1351/epid-74122/
1970-- Jimi Hendrix makes his final public appearance, jamming with Eric Burdon & War at Ronnie Scott's club in London.
http://www.jimi-hendrix.com/jimihendrix.html
1971-The first Technical school for Native Americans was the Southwestern Indian Polytechnic Institute, Albuquerque, NM, a coeducational school that opened with 700 Native American students from 64 tribes. It comprised 12 buildings on a 164-acre campus and cost $13 million. John L. Peterson was the first superintendent.
http://www.sipi.bia.edu/
http://icpac.indiana.edu/education/college_profiles/188216.xml
http://www.humboldt.edu/~hsuitepp/college.html
http://www.sipi.bia.edu/residencespec.htm
1971- "Owen Marshall" premieres an hour-long ABC drama with Arthur Hill as the title character, a widowed attorney in Santa Barbara. Lee Majors, Reni Santoni and David Soul played his associates. Also featured were Joan Darling as Marshall's secretary and Christine Matchett as his daughter.
1972--"Black & White" by Three Dog Night topped the charts and stayed there for a week.
1974 - President Ford announced a conditional amnesty program for Vietnam War deserters and draft-evaders. Limited amnesty was offered to Vietnam-era draft resisters who would now swear allegiance to the United States and perform two years of public service.
1974---Top Hits
I Shot the Sheriff - Eric Clapton
Rock Me Gently - Andy Kim
I'm Leavin It (All) Up to You - Donny & Marie Osmond
Please Don't Tell Me How the Story Ends - Ronnie Milsap
1974-- BART begins regular transbay service. In 1962, Marin and San Mateo County withdrew from the plan to raise funds with taxes. Santa Clara County was not included as the Bay Area master plan not only included Marin, but Napa County, where the population growth was to grow. When the cities and county of Napa read the plan, they started enacting laws and prohibitions for growth. Construction began in 1965. The 3.2-mile bore through the hard rock of the Berkeley Hills was completed in February, 1967, after 466 work days, to become the fourth longest vehicular tunnel in the U.S. 1969 the state legislature authorized another tax to finish the project. In subsequent years, the line moved from Daly City (in San Mateo County without a tax initiative) to the San Francisco International Airport, located in Millbrae (San Mateo County). Recently monies were granted for a line to continued from Fremont to San Jose and Santa Clara in the near future. The original idea was to circle the entire San Francisco Bay. One of the key opponents in San Mateo who changed the course of history is Les Kelting, still alive in San Bruno, California. He was against raising any taxes to pay for rapid transit, which he claimed would help the San Francisco Airport more than the residents of San Mateo County.
1976-In Minneapolis, the 65th Triennial General Convention of the Episcopal Church officially approved ordination of women to the priesthood
1978--After years of condemnation, the Episcopal Church officially recognized the ordination of the 15 women priests who had previously been ordained by consecrated bishops without the hierarchy's official approval.
1978-The Grateful Dead played a concert in front of the Egyptian Pyramids. The show was recorded but has never been released.
1979- At Yankee Stadium, the Bronx Bombers hold Catfish Hunter Day to honor their future Hall of Fame pitcher who will be retiring at the end of the season at the age of 33. A 20-year-old left-hander named Dave Righetti makes his major league debut for the home town team.
1979-What is generally considered to be the first rap record, "Rapper's Delight" by the Sugar Hill Gang, was released. Rap developed in the black ghettos of New York City, and consists of rhymed and rhythmical verses chanted over pre-recorded instrumental dance tracks. "Rapper's Delight" confounded the prevailing industry view that rap was an amateur fad with no commercial appeal. The record sold two-million copies.
1980-Louise M. Davies Symphony Hall officially opened in S.F.
1981 - Boxer 'Sugar' Ray Leonard, at age 25, knocked out Thomas 'The Hit Man' Hearns. Leonard won the welterweight boxing championship -- and the richest payday in boxing history.
1982---Top Hits
Hard to Say I'm Sorry - Chicago
Jack & Diane - John Cougar
You Should Hear How She Talks About You - Melissa Manchester
She Got the Goldmine (I Got the Shaft) - Jerry Reed 1984 -"Miami Vice" premiers on TV.
http://harley.pcl.ox.ac.uk/~mark/miami/
http://us.imdb.com/Title?0086759
1983- Arnold Schwarzenegger becomes a US citizen.
1987- Stealing his 30th base, a career-high, Indian Joe Carter becomes the ninth major leaguer to hit 30 home runs and to swipe 30 bases in the same season.
1988- Reds' Tom Browning pitches a perfect game against the Dodgers striking out eight and allowing only eight balls to be hit out of the infield in his 1-0 victory. Over three starts including the perfect game he retires 40 consecutive batters - one shy of a major league record.
1988-(12 th -16 th ) Hurricane Gilbert tore through the Caribbean. On the 12th, it cut through Jamaica with Kingston recording 116 mph sustained winds and gust to 140. 45 people were killed and damage topped $2 billion. Despite 7000 foot mountains, Gilbert didn't weaken at all and after exiting Jamaica, underwent incredible deepening - 72 Mb in 24 hours to 888 Mb (26.22 inches). Sustained winds were recorded at 185 mph with gusts over 200 mph in the Caribbean west of Jamaica. On the 16th the storm came ashore near Las Pesca, Mexico about 125 miles south of Brownsville. Mexico was hard hit with 202 killed and 60,000 homes destroyed. Total damage reached 2 billion dollars. In the U.S. the damage of $50 million was mostly from tornadoes spun off by Gilbert, two in San Antonio and one at Kelly AFB which did $28 million dollars in damage.
1989-- "Don't Wanna Lose You" by Gloria Estefan topped the charts and stayed there for a week.
1990---Top Hits
Release Me - Wilson Phillips
Do Me! - Bell Biv DeVoe
Have You Seen Her - M.C. Hammer
Jukebox in My Mind – Alabama
1993- The TV premiere of "Frasier." In this spin-off of "Cheers," psychiatrist Dr. Frasier Crane (Kelsey Grammer) has moved to Seattle where he dispenses advice on the radio. He lives with his father Martin (John Mahoney) and Martin's physical therapist Daphne Moon (Jane Leeves). His brother, Dr. Niles Crane (David Hyde Pierce), frequently asks for Frasier's advice about his love life. Roz Doyle, the producer of Frasier's show, is played by Pen Gilpin.
1993—Top Hits
Dreamlover, Mariah Carey
Whoomp! (There It Is)- Tag Team
cant Help Falling In Love (From "Sliver")- UB40
If- Janet Jackson
1996- Paul Molitor of the Minnesota Twins got the 3,000 th hit of his career, a triple against Jose Rosado of the Kansas City Royals. the Twins lost, 6-5, Molitor became either the 20 th or 21 st player to reach the 3,000-hit plateau ( depending on whether the list includes Adrian "Cap" Anson, who statistics are in dispute. He was the first to triple for No. 3000.
1998- In front of 49,891 patrons at San Diego's Jack Murphy Stadium, Sammy Sosa ties Mark McGwire by hitting his record-setting 63rd home run. The 434-foot eighth inning two-out blast off Brian Boehringer is a tie-breaking grand slam as 'Slammin' Sammy collects all six RBIs as the Cubs beat the Padres, 6-3.
1998-Top Hits
I Don't Want To Miss A Thing- Aerosmith
The First Night- Monica
Crush- Jennifer Paige
My Way- Usher
1999 - Hurricane Floyd stormed ashore, pounding North Carolina with 110 mph winds, dumping more than a foot of rain, damaging 12,000 homes and claiming more than 50 lives. Floyd also caused the largest peacetime evacuation in U.S. history, with 2.6 million people ordered away from the shores in the hurricane's path.
2000- Cub outfielder Sammy Sosa joins Mark McGwire (1997-99) as the only major leaguer to hit 50HRs three consecutive seasons.
2002- Giant left fielder Barry Bonds walks three times breaking his own record for base on balls in a season with 178. Approximately one-third of the free passes given to the San Francisco slugger have been intentional (60 out of 178)
2006-Sixty-Five year old Bob Dylan held the #1 spot on the US album chart with "Modern Times", making him the oldest living musician to ever top the Billboard album chart.
--------------------------------------------------------------

Baseball Poem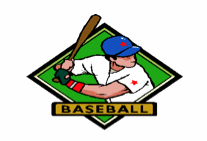 John W. Knight
The game was tied in the bottom of nine
A runner on third and two out
In the dead still air a mosquito's whine
Was all you could hear, then a shout
"Do something Ben, murder the ball,
For crying out loud get a hit."
Ben strode to the plate to answer the call
The now restless fans knew this was it
He dug in his right foot then positioned his left
And tapped the plate twice with his bat
Then he pulled it back slowly as to measure its heft
And tensed his whole frame like a cat
The pitcher glared in, the Ump hunkered down
Then the ball on its way like a shot
Ben pulled the trigger, his body unwound
And the ball hit the bat with a "Thock"
This is the sum that the game's all about
This instant is not just a dream
The split second physics, a hit or an out?
Each player and fan poised to scream
--------------------------------------------------------------

SuDoku
The object is to insert the numbers in the boxes to satisfy only one condition: each row, column and 3x3 box must contain the digits 1 through 9 exactly once. What could be simpler?
http://leasingnews.org/Soduku/soduko-main.htm
--------------------------------------------------------------

Daily Puzzle
How to play:
http://www.setgame.com/set/puzzle_frame.htm
Refresh for current date:
http://www.setgame.com/set/puzzle_frame.htm
--------------------------------------------------------------


http://www.gasbuddy.com/
http://www.gasbuddy.com/GB_Map_Gas_Prices.aspx
http://www.gasbuddy.com/GB_Mobile_Instructions.aspx
--------------------------------------------------------------

Weather
See USA map, click to specific area, no commercials
--------------------------------------------------------------

Traffic Live---
Real Time Traffic Information
You can save up to 20 different routes and check them out with one click,
or type in a new route to learn the traffic live
--------------------------------