Equipment Leasing Marketing Specialist,
Walnut Creek, CA. College Degree plus
equipment leasing experience required.
For a full job description: click here.
Email resume to sgreen@bankofthewest.com
At Bank of the West, we take pride in what we do. From contributing to nonprofits and volunteering in our communities to making a point to get to know our customers by name, we aim to stand apart. While many things have changed over our bank's long history, one thing has remained the same: commitment to our customers and our community.
Friday, April 29,2005
Headlines---
Classified Ads---Credit
April 27, 2000 Archives—Menzel Speaks Out
"What Lessors Are Saying About...The State of Funding"
Classified Ads---Help Wanted
UAEL Scottsdale, Arizona Conference
KeyCorp/Alogent's Corporate-Deposit Automation Tool
Streamline Sales Tax Report, Dennis Brown, ELA
Balboa Launches On-Line Lease Processing System
Cartoon---Balboa Capital On-Line Leasing
Greater Bay Bancorp Net Income of $21.5MM
Pacific Capital Bancorp Reports 39% Increase
ORIX Announces Net Income Up 69%
Leasing Partners Hispanic Jaime Granda
Jay Zwerling Joins Hahn & Hessen LLP as Partner
Alta Group Expands Expertise and Influence to China
MicroFinancial 1Q Net Loss $2.7MM/last year $4.7MM
AmSouth Small Business Internet No. 2 of 20 Top Banks
TCF Shareholders Approve Proposals at Annual Meeting
Synovus Reports 12.1% Increase in Net Income
News Briefs----
Sports Briefs---
"Gimme that Wine"
This Day in American History
Baseball Poem
######## surrounding the article denotes it is a "press release"
May 1st ---Saratoga Art Show, West Valley College, California
http://www.saratogarotary.org/artshow/
Stan Beckman will be exhibiting both his originals and prints

----------------------------------------------------------------

Classified Ads---Credit
Credit
Atlanta, GA.
VP Credit/Operations/Sr. Credit Officer. 15yrs exp. in equipment leasing. Strong financial analysis and management skills. Experience developing and maintaining profitable customer/vendor relationships.
Email: credops@msn.com
Atlanta, GA.
Senior Credit Officer in middle-market equip. finance, vendor, 3rd party, specialty, flow credit to the fortune 1000. Team builder, originations capable, strong work ethic, ability to multi-task.
Email: kyletrust@hotmail.com
Atlanta, GA.
10 yrs experience in credit/collections/recovery/documentation in the leasing industry. P&L responsibility, team builder & strong portfolio mgnt skills.
email: mortimerga@adelphia.net
Boston Ma.
Challenging position where my skills, professional experience, organization, leadership, strategic thinking, creativity, energy, passion, competitive nature will enable me to define opportunities and personal development.
Email: bernd.janet@verizon.net
Corona, CA.
VP credit Consumer Credit prime/sub prime Auto lending/leasing/mortgages. 20+yrs exp. If you are looking for someone to affect the bottom line I am that person. Will relocate.
Email: amosca2000@yahoo.com
Fairfield, CT.
Diversified background in credit, operations and portfolio management. Demonstrated success in creative structuring of deals, problem solving & providing tactical guidance.
Email: sailer0102@aol.com
Fort Lee NJ
Credit/Documentation 3 Years Experience. Looking in NJ/NY.
Email: angitravis@mail.com
Irvine, CA,
I have over 16 years of Credit/Collection experience in the finance industry. Prompt results, extremely effective and knowledgeable, professional, excellent manager and team player.
Email: newportresources@sbcglobal.net
Los Angeles, CA
Over 15 years experience in Credit/Operations with Small Ticket and transactions up to $500,000.00. CLP, with excellent relationships with most major lenders.
Email: jonbh123@earthlink.net
Mill Valley, CA
Senior corporate officer with financial services credit background. M and A, fund raising and workout expertise.
Email: nywb@aol.com
New Jersey, NJ
Credit Analyst with 10+ years experience in small-ticket lending up to $500,000. Experience with both vendor-direct and with brokers.
Email: b.leavy@worldnet.att.net
New York, NY.
V.P. Credit & Collections w/23 years exp.looking for a situation where I can utilize my varied & extensive knowledge of credit/collections/risk-management & leasing.
Email: rcouzzi@yahoo.com
New York, NY
3+ years of leasing credit / contracts experience. Currently in the leasing industry and moving to NY! Exp. working at both funding source and broker. Email: lease4you@mail.com
Orange, CA.
15 years exper., looking for a new home. Have handled both middle/ large ticket transaction, plus muni & international finance.
email: equiplender@aol.com
Portland, OR.
Well known Equipment Leasing Industry Professional (Credit Analyst) with 17 years experience working in the Portland, Oregon area for three major Fortune 500 Funding Sources.
Email: jimmyfrank@verizon.net
| RESUME |
http://216.66.242.252/AL/LeasingNews/Resumes/Jimmy%20Frank-Resume.pdf
Senior Credit Officer experienced in middle-market leasing; structured, vendor and 3rd party to the fortune 1000. Proactive team builder, originations capable with strong work ethic. Email: kyletrust@hotmail.com
Full listing of all 99 "Job Wanted ads at:
http://216.66.242.252/AL/LeasingNews/JobPostings.htm
----------------------------------------------------------------

April 27, 2000 Archives—Menzel Speaks Out
Paul Menzel of Santa Barbara Bank and Trust, agrees with Mike Bennie's of Marlin Leasing assessment:
" Brokers should consider high quality, stable companies that have a strong track record when it comes to supporting the broker community. In choosing a funding source, choose one that is growing, even when other sources are pulling out of the broker marketplace. Ask your funding sources about their commitment to broker business, and get them to prove it."
Paul is kind enough to give us an "early edition" of his latest newsletter, coming out soon, he adds, germane to the topic:
SURVIVAL OF THE FITTEST
Pick Your Funding Partners Carefully
"Over the last eight years, the Leasing Industry has enjoyed the strongest supply of capital it has ever seen. This is a result of the growth and acceptance of equipment backed securities, combined with the most robust economy in our history. We are experiencing a very fundamental lesson of supply & demand economics. The consumer, sharing the benefits with financial intermediaries, has reaped the rewards of a significant incremental increase in the supply of leasing capital.
"The consequences, and consumer benefits, of such an imbalance has caused funding sources to climb over each other to compete for assets. The increased competition has come in the form of relaxed credit standards and skinnier spreads. The unprecedented growth we have all enjoyed, however, does not come without risk.
"The recent spate of funding sources consolidating or exiting the leasing business is a disturbing manifestation of aggressive credit policies, driven by keen competition and fueled by a torrential flow of capital. The disturbing aspect of this phenomenon is that the deterioration of portfolio quality is occurring when business expansion and employment are at all-time highs.
"The next challenge to our industry will likely come from those capital markets that have been developed over the last decade.
"Unfortunately, the capital markets for equipment backed securities are extremely efficient, causing the supply to be very fickle and reactionary. Any fear of credit quality deterioration or economic contraction will quickly result in higher costs and scarcer funds to the Leasing Industry
"I am sincerely hopeful that this scenario does not play out, but we mustn't bury our heads in the sand. It is important for our Industry to recognize, appreciate, and support the responsible deployment of capital. Our success is dependent upon the fitness of our Industry's funding sources. Reasonable credit risk at reasonable rates is a responsibility we all share * or there won't be enough to share. "
*************************************************
Paul J. Menzel, CLP
Senior Vice President / General Manager
Leasing Division SANTA BARBARA BANK & TRUST
P.O. Box 1199
Santa Barbara, CA 93102-1199
1 South Los Carneros Road Goleta, CA 93117
(805)560-1650
PaulM@sbbt.com
----------------------------------------------------------------

"What Lessors Are Saying About...The State of Funding"
ELTnews
The Equipment Leasing Association hosted its National Funding Exhibition earlier in April where more than 500 lessors convened to find capital for their leasing deals or to find deals in which to invest.
David Merrill, Senior Vice President, Fifth Third Leasing Company, was chairman of this year's conference, which he said was successful due to strong attendance, an improved layout of the exhibition floor and a more positive mood among attendees.
Merrill said, "The Funding Exhibition is one of the most productive meetings of ELA, in terms of transactions and deals being discussed."
ELT E-News contacted a number of conference attendees to follow up on the status of lease funding. We found that the ample availability of funds has created a complex environment for lessors in this market.
At AIG Commercial Equipment Finance, Inc., Dave Fate, Executive Vice President and Chief Operating Officer, said, "The absence of quality deals throughout the entire credit spectrum has compressed margins to the point where the risk does not match the rewards on the transactions that are available. The magnitude of funds available to be deployed in the revolving credit markets as well as the high yield unsecured markets with structures much more attractive than the typical loan or lease has made the funding environment for traditional lessors extremely difficult."
Fate's colleague at AIG, Joe Thompson, Senior Vice President, Capital Markets, said that in all parts of the capital markets, funds available for investment exceed deal flow, which have led to rate compression and weakening of credit discipline.
Thompson said, "Additionally, the search for viable investment opportunities has led many investors, particularly hedge funds, to attempt to invest in non-traditional or niche markets including primary and secondary market equipment finance transactions." He said that lastly, secondary market activity is heavily impacted by these factors, combined with the need of originators of paper to hold their investment instead of bringing deals to the secondary market.
Also at AIG, Mark Gibson, Vice President, Capital Markets, said, "Term loan facilities coupled with mezzanine and second lien facilities fueled by cash rich hedge funds are encroaching on traditional equipment financing, simply rolling the capex requirements into a large and long term facility, often with little or no amortization."
Fate summed up by saying, "Excessive liquidity in the market continues to pressure rates and margins, with risk /return ratios differing from traditional levels."
Merrill reiterated the volume of liquidity in the marketplace, calling it "more than ample," and resulting in compressed margins.
He anticipates a gradual improvement in deal flow. He said, "Capital spending has been slow, but we're getting into forced replacement of equipment as users are finding they can no longer put off replacing worn and outdated equipment."
Jeffry Elliott, Senior Vice President, Equipment Finance for Huntington Bank Equipment Finance, agrees that overall availability of funds is good and that competition for new deals is fierce.
He said, "In the small and middle ticket markets, lessors aren't writing as much business, due to a number of factors, including a low interest rate environment and bonus depreciation, which incent lessees to use lines of credit or retain ownership."
Elliott said that not only do lower interest rate levels hurt leasing deals, but he finds that until the rising rates get to a consistent higher level, people tend to avoid signing new deals.
In terms of the future of funding, Elliott doesn't have a sense of when the funding market will pick up. He noted that the technology and telecom segments, for instance, haven't come back to previous levels of activity and may not since there isn't as much growth in these sectors and the equipment costs continue to go down, thus volume may be permanently reduced.
He believes further consolidation will occur with funding sources exiting the small and middle markets, leaving more deals for lessors like Huntington Bank.
Claude Elmore, Director of Broker Marketing, NetBank Business Finance, believes the "too much money" phenomenon relates mostly to the larger, investment grade transactions and that lessors have looked to small ticket and lower middle market in order to diversify their business and to better serve their customers.
Elmore said, "As a funding source for third party originators, we at NetBank Business Finance see our market niche, good credits (not investment grade) in the lower mid-ticket range, doing very well as is our franchise lending in that range."
Lawrence Tardy, Vice President, M&I First National Leasing Corp., said that since his firm has been in the syndications market for a relatively short time, he can't offer a comparison of the level of market optimism.
He said, "In the time M&I has been actively pursuing this market, margins have definitely been squeezed, even since late last year. We are seeing a lot of opportunities, however."
----------------------------------------------------------------

Classified Ads---Help Wanted
Account Representatives & Sales Coaches

Account Representatives & Sales Coaches are needed in Nashville, TN & Austin, TX locations with exp. in finance and sales with a successful track record of sales leasing. Positions are available for remote Account Executives with 8+ yrs Equipment Leasing Sales exp. Work directly with CFOs, CIOs, CEOs and other high-level executives. Please send resume indicating position of interest and location: US_DFS_Staffing@dell.com.

About the Company: At Dell Financial Services, we aspire to fuel your potential with the kind of challenging opportunities and hands-on support you need to grow. We're the exclusive provider of leasing and finance services for Dell technology systems worldwide.
Asset Management

Asset Management: Long Island City, NY
seeking an experienced off lease and repossession manager. Successful candidates should have prior experience. Email resume to ekaye@advantagefunding.us or fax to 718 392 5427.
About the Company: Advantage Funding is a leading commercial and consumer vehicle and equipment financing and leasing company, Long Island City, NY.
Equipment Leasing Marketing Specialist
Equipment Leasing Marketing Specialist,
Walnut Creek, CA. College Degree plus
equipment leasing experience required.
For a full job description: click here.
Email resume to sgreen@bankofthewest.com
At Bank of the West, we take pride in what we do. From contributing to nonprofits and volunteering in our communities to making a point to get to know our customers by name, we aim to stand apart. While many things have changed over our bank's long history, one thing has remained the same: commitment to our customers and our community.
Sales / Sales Representative

Motivated sales pro for expanding healthcare marketplace. Prior healthcare exper. a plus. Competitive comp plan & benefits.
Contact: jverbeerst@variantleasing.com
Variant Leasing is a rapidly growing nationwide independent lessor located in south Orange County, CA, specializing in the healthcare & commercial marketplace.

Sales: seeking energetic, exper; sales prof/ work Newport Beach CA & Deerfield IL Vendor Services Division offices/middle to large ticket resellers/orig. equip. mfg. Requirement/Apply click here
About the Company : CG Commercial Funding is a rapidly growing industry leader in middle/large ticket lease finance.
Sales Representatives:
Well-established leasing company seeks veteran sales professionals in the small and middle ticket equipment marketplace. Stay where you are and share in the profit of each deal you book with ACC. Fax resume: 801-733-2358.
About the Company: ACC (ACC Capital Corporation) is a diversified middle-market financial services company that specializes in structuring, origination, servicing and syndication of a broad array of lease products.
----------------------------------------------------------------

UAEL Scottsdale, Arizona Conference
United Association Spring Conference
"The theme, "1000+ year of experience, share it and learn from it" was certainly the case, as the conference was well attended and there was well over a thousand years of experience and that is not counting Joe Woodley nor Bill Grohe.
"Roger Dawson presented "The Secrets of Power Negotiating" to a full room. His presentation was not only informative but also very entertaining. In summary, we have had Mr. Dawson as a speaker in the past and would invite him back in the future. All the panels and eight of the nine roundtables were well attended.
"The Texas Hold 'em was a success. The winner was Tal Kennedy from Kenco, and he walked away with a thousand dollars in cash. Paul Knowlton came in second and received two hundred and fifty dollars for an afternoon of fun. We attended an exciting Diamondback's game Saturday evening as the home team scored the winning run in the bottom of the ninth. Those who attended were glad they did.
"2005 Officers: Terey Jennings, CLP, Financial Pacific Leasing, LLC, President; Attorney Victor Harris, vice-president and Chris Canavati, CLP of Lease Service Center, as secretary treasurer. Immediate past president Jim Coston, CLP, Coston & Rademacher, also serves on the executive board.
The 2005 UAEL Board of Directors consists of Neal Freeman, Heritage Pacific Leasing; Randy Haug, LeaseTeam, Inc.;Paul Knowlton, CLP, Bank of Walnut Creek; Evan Lang, Nationwide Funding, LLC; Ron Lear,PFF Bank & Trust; im Merrilees, CLP, Pacific Capital Bank; Tom Mulally Szabo, Spencer & Mulally; Brad Peterson, Manifest Funding Services; David Schaefer, CLP, Orion First Financial, LLC;
Rudy Trebels, CLP, IFC Credit Corp.; William "Skip" Wehner,BSB Leasing, Inc.
"Randy Haug of LeaseTeam, Inc.( randy@leaseteam.com )is the fall conference chair. It will be held at Caesars Tahoe, Lake
Tahoe, Nevada, September 22-25, 2005."
Steve Reid, CLP
VP Marketing, Leasing Division
Pacific Capital Bank
2230 W. Chapman Ave #200
Orange, Ca 92868
800-700-9858
714-938-0288 (fax)
email: steve.reid@pcbancorp.com
----------------------------------------------------------------

KeyCorp Implements Alogent's Corporate-Deposit Automation Tool
Bank Technology News
Alogent Corp. announced that KeyCorp has successfully implemented one of the company's Remote Deposit Automation for automation of corporate check deposits.
KeyCorp customers can capture images and data and transmit balanced deposits directly to the bank without leaving their businesses. Benefits of this remote capture solution include improved deposit preparation, fewer trips to the bank, extended deposit windows and the potential for better funds availability.
To date, KeyCorp customers have processed about 3,500 items on the system, according to Alogent. The solution includes Alogent's Sierra Xpedite Remote Deposit at remote business locations integrated with Sierra Xchange at KeyCorp processing centers for straight-through processing.
----------------------------------------------------------------

Streamline Sales Tax Report
from Dennis Brown, Equipment Leasing Association
The Coalition for Appropriate Sales Tax Law Enactment (CASTLE) is a Texas based organization managed by the Celero Group that is among those representing local governments at Streamlined Sales Tax meetings. Often what business views as change to modernize sales tax processes, the CASTLE organization envisions as infringement on the authority of local government.
Although business at times finds positions taken by CASTLE as barriers impeding advancement toward streamlining, local governments see the organization as among those fighting for their continued autonomy of pursuits regarding the business community. Presented below is the unedited report sent by CASTLE to local governments following the recent meeting in Washington, D.C. John Kroll has kindly made this report available for distribution. It provides a view of the process in the words of an organization representing local governments. Circulation of this report does not signify concurrence with the views expressed.
Full Report here:
http://www.leasingnews.org/items/CASTLE.htm
#### Press Release #####################

BALBOA CAPITAL LAUNCHES ON-LINE LEASE PROCESSING SYSTEM
(Irvine, CA) Balboa Capital has launched Compass, the company's on-line lease application and processing system for channel partners across the United States. Using Compass, equipment vendors and brokers can submit applications, obtain credit decisions, view status, and download documents securely over the internet on a 24/7 basis.
Balboa launched Compass to provide partners with a complete user-centric lease management tool. By automating the application process and delivering it on-line, Balboa expects to provide faster, more efficient processing of transactions, better communication and greater customer service.
Says Balboa Capital CEO, Patrick Byrne, "We pride ourselves on developing and delivering innovative service solutions to our clients. Compass is designed to enhance all aspects of the user experience, resulting in greater interconnectivity and efficiency for our national network of partners."
Partners can register with Balboa Capital and receive personal user credentials either over the phone or by filling out a web site form. Users log on to Compass at Balboa Capital's web site, wwww.balboacapital.com. All data is transmitted securely to a dedicated server. Once logged-in, users can enter applications, obtain credit decisions, receive status updates, generate and send documents, and track and report on-line. Compass also contains updates on Balboa Capital news, new programs, products, promotions, rates and tax information.
Compass was put into general release in April and is now being actively used company wide and by several of Balboa Capital's channels partners across the United States.
About Balboa Capital
Balboa Capital provides equipment leasing and financing to small and mid-sized business in the United States. The company markets its products through its direct sales force, vendor channel, and broker partnerships. The company offers leases in the range of $ 5,000 to $5,000,000. Balboa Capital is privately held and based in Irvine, CA.
#### Press Release ######################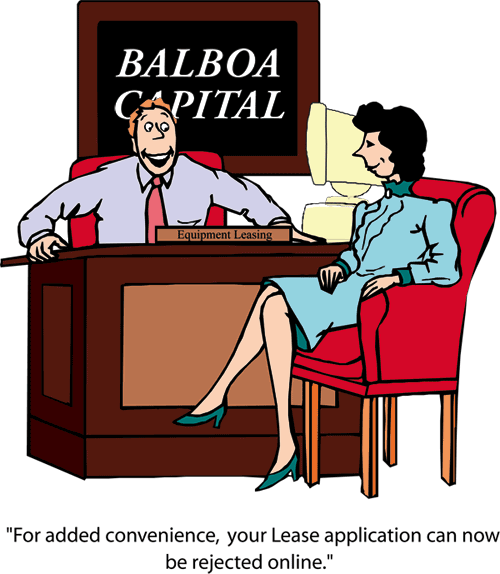 ---------------------------------------------------------
#### Press Release #####################

Greater Bay Bancorp Reports Net Income of $21.5 Million for the First Quarter of 2005
Perhaps Matsco:
| | | | | | |
| --- | --- | --- | --- | --- | --- |
| | 1q05 | 4qo4 | 3rdQ04 | 2ndQ04 | 1Q04 |
| " Rental Revenue on Operating Leases | 4,032 | 3,500 | 3,067 | 2,665 | 2,317 |
| Service Charges and Other | | | | | |
Operating Expenses
"Operating expenses increased by $3.7 million during the first quarter of 2005 from the first quarter of 2004. The increase was largely attributable to an increase in legal and professional fees of $1.5 million and increased charge for depreciation on equipment leased to others of $1.5 million. Excluding severance-related expenses taken during the first quarter of 2005, total compensation expenses declined by $1.1 million compared to the first quarter of 2004. "
PALO ALTO, Calif.--(BUSINESS WIRE)----Greater Bay Bancorp (Nasdaq:GBBK), a $7.0 billion in assets financial services holding company, today announced results for the first quarter of 2005.
For the first quarter of 2005, Greater Bay Bancorp's net income was $21.5 million, or $0.34 per diluted share, compared to $24.9 million, or $0.42 per diluted share for the first quarter of 2004, and $21.1 million, or $0.33 per diluted share for the fourth quarter of 2004. For the first quarter of 2005, the Company's return on average common equity was 13.03% and its return on average assets was 1.26% as compared to a return on average common equity of 14.82% and a return on average assets of 1.32% for the first quarter of 2004 and a return on average common equity of 12.69% and a return on average assets of 1.18% for the fourth quarter of 2004.
Mr. Scordelis commented, "While balance sheet changes remain modest, the underlying shift in loan mix is both consistent with our stated focus and with the quality-oriented opportunities being afforded by our regional markets. Our core deposit results reflect the continued cyclical volatility of large title company, venture fund, and other specialty deposits. We continue to focus on pricing disciplines on both sides of our balance sheet to optimize the mix of yield and growth."
Full press release at:
http://phx.corporate-ir.net/phoenix.zhtml?c=66674&p=
irol-newArticle&ID=701641&highlight =
### Press Release ######################

Pacific Capital Bancorp Reports 39% Increase in
First Quarter Earnings Per Share
| | | | |
| --- | --- | --- | --- |
| Perhaps Pacific Capital Leasing | | | |
| in millions assets | 3/31/04 | 12/31/04 | 3/31/04 |
| Leasing | 253,471 | 234,189 | 165,998 |
SANTA BARBARA, Calif.------Pacific Capital Bancorp (Nasdaq:PCBC):
Highlights
-- Earnings per share of $1.29, compared with $0.93 in Q1 2004
-- Annualized core loan growth of 13.5% during the first quarter
-- Core non-interest income increases 5% over prior year
-- Full year 2005 EPS guidance increased to $2.30 to $2.38
Pacific Capital Bancorp (Nasdaq:PCBC), a community bank holding company with $6.2 billion in assets, announced financial results for the first quarter ended March 31, 2005.
Net income for the first quarter was $59.4 million, a 39% increase from $42.6 million in net income reported for the first quarter of 2004. Earnings per share for the first quarter of 2005 were $1.29, also a 39% increase from earnings per share of $0.93 reported for the first quarter of 2004.
Pacific Capital Bancorp's return on average equity (ROE) and return on average assets (ROA) for the first quarter of 2005 were 50.78% and 3.69%, respectively, compared to 42.15% and 3.09%, respectively, for the first quarter of 2004. Excluding the impact of the Refund Anticipation Loan (RAL) and Refund Transfer (RT) programs, the Company's ROE and ROA for the first quarter of 2005 were 25.39% and 1.56%, respectively, compared to 21.89% and 1.54%, respectively, for the first quarter of 2004.
"Our significant year-over-year EPS growth reflects strong performances by both the core bank and our seasonal RAL/RT business," said William S. Thomas, Jr., President and Chief Executive Officer of Pacific Capital Bancorp. "Consumer demand for RALs and RTs remains very healthy, which helped drive a 58% increase in our pre-tax income from these programs during the first quarter. However, the expected shift of a larger portion of our RAL/RT income into the second quarter did not occur. As a result, we believe the first quarter will contain all of the RAL/RT income that we will recognize for 2005.
"Within the core bank operations, we saw a continuation of the key trends that drove our strong performance in 2004 -- solid loan growth and excellent asset quality. Excluding short-term holiday loans and RALs, our core loan portfolio increased at an annualized rate of 13.5% during the first quarter, while our non-performing assets remained well within our targeted levels. In addition, we saw a solid increase in our core non-interest income, driven by growth in our Trust division and more customers utilizing the debit card features on their checking accounts," said Thomas.
"We are taking a number of steps to extend our franchise and gain exposure to larger numbers of commercial and retail customers that fall within our targeted demographics. These include opening our third branch in the Salinas area, expanding the sales territory for our Commercial Banking Group to include the adjacent markets of the San Fernando Valley and San Jose, and increasing our presence in the San Luis Obispo market with our acquisition of First Bancshares, Inc. Collectively, we believe these efforts will positively impact our ability to maintain strong rates of loan, deposit and non-interest income growth in the future and achieve our long-term goal of 12% EPS growth per year," said Thomas.
Full Press Release at:
http://www.snl.com/Interactive/IR/file.asp?IID=100652&FID=
1780957&OSID=9
### Press Release ######################

ORIX Announces Net Income Up 69% in the Year Ended March 31, 2005
TOKYO-----ORIX Corporation (TOKYO:8591); (NYSE:IX), a leading integrated financial services group, announced that revenues for the fiscal year ended March 31, 2005 increased 21% year on year to 916,950 million yen, income before income taxes(1) rose 51% to 154,347 million yen, and net income grew 69% to 91,496 million yen.
Revenues from "direct financing leases," "operating leases," "interest on loans and investment securities," "brokerage commissions and net gains on investment securities," "life insurance premiums and related investment income," "real estate sales" and "other operating revenues" were up compared to the previous fiscal year. On the other hand, expenses for "interest expense," "provision for doubtful receivables and probable loan losses," "write-downs of long-lived assets" and "write-downs of securities" were down year on year. Furthermore, "equity in net income of affiliates" and "gains on sales of affiliates" contributed to the large increase in earnings.
Full Press release at:
http://www.orix.co.jp/grp/ir_e/data/index.htm
#### Press Release #####################

Citing a 30% growth in Hispanic Owned U.S. Firms, Leasing Partners Capital Inc. expands to meet challenge.
WAYNE, NJ., – Jaime Granda has been named Market Development Manager at the firms South Florida location. Granda, a business school graduate of the University of Lima, Peru, has over 15 years experience in finance and sales positions with fortune 500 corporations, leadership positions with global corporations in the export/import business and management of commodities trading. Granda will lead the firms marketing and sales strategies targeted at Hispanic owned and operated businesses across the United States.
"I'm pleased to have the opportunity to put my many years of experience to work in expanding the market for Leasing Partners Capital Inc. products and services to a growing base of companies, many of which are in my backyard" says Granda.
"According to US Economic Census data, almost 15% of all Florida business enterprises are owned by Hispanics, with over 120,000 firms in Dade County alone. With Jaime leading the charge we now have two professionals that are uniquely skilled to meet the demands of this critical market segment from a financial and cultural perspective" says Duane E. Rouba, managing partner at Leasing Partners Capital's Northern New Jersey Headquarters.
About Leasing Partners Capital Inc.
Leasing Partners Capital Inc. is a leading equipment and technology leasing company based in Northern New Jersey. The company operates 21 field offices throughout the United States.
Leasing Partners Capital has been offering financial and operating lease products to businesses and vendors in the Commercial, and Government Market sectors for more than 20 years.
The firm is known as a leader in the vendor leasing program arena as a result of excellent marketing execution, outstanding responsiveness and client service levels.
Contact:
Robert T. Mayer
Director, Vendor Development
Leasing Partners Capital Inc.
1211 Hamburg Turnpike – Suite 306
Wayne, NJ 07470
800-848-7210
973-709-9286 fax
rmayer@leasingpartnerscapital.com
www.leasingpartnerscapital.com
#### Press Release ###############

JAY ZWERLING JOINS HAHN & HESSEN LLP AS PARTNER
Firm Continues to Grow Equipment Leasing Practice
Jay Zwerling
New York, New York - Hahn & Hessen LLP announced today that Jay Zwerling has been named a partner in the Firm and Co-head of its Equipment Finance Practice Group, as of April 18, 2005. Mr. Zwerling was most recently a Director of Global Capital Finance Americas LLC.
"Jay's experience in the finance and related securities industries as well as his representation of lenders in nearly every type of financing transaction, give him a unique perspective. He will play an important role in continuing the Firm's work in complex lease financing transactions, both domestically and on behalf of international clients," said Steven J. Seif, Managing Partner of Hahn & Hessen.
Jay structures, negotiates and documents equipment finance transactions on behalf of commercial banks, finance and equipment leasing companies. He also advises equity and credit providers in connection with equipment lease transactions and single lender/single borrower equipment-based transactions and multi-lender/multi-borrower equipment based transactions. He has broad experience representing lenders, lessors and investors in large ticket and middle market equipment leasing transactions; commercial and corporate aircraft, rolling stock and all other type of transportation related assets and equipment backed acquisitions and dispositions; portfolio acquisitions and dispositions; and secured and unsecured syndicated credit facilities.
Prior to joining Hahn & Hessen, Jay was a Director of Global Capital Finance Americas LLC. He has also been an Associate Director of Macquarie Securities (USA) Inc., and an Associate in the Transportation and Equipment Finance Practice Group of the law firm of Milbank, Tweed, Hadley & McCloy LLP.
Jay graduated from Benjamin N. Cardozo School of Law, magna cum laude, in 1995, and received his Bachelor's degree from the State University of New York at Albany in 1989. He is a member of the Equipment Leasing Association as well as the New York State and American Bar Associations.
About Hahn & Hessen
Founded in 1931, Hahn & Hessen LLP (www.hahnhessen.com) delivers sophisticated financial and commercial legal services. Many of the firm's clients are major financial institutions. It has received substantial recognition for its unique capabilities in those situations where the creditworthiness of a client's existing or potential borrower, counterparty or customer is of concern. Among the Firm's core practice areas are: insolvency and restructurings; commercial finance transactions, including working capital and acquisition lines of credit, asset based lending, structured finance, equipment leasing and finance, aviation finance, repurchase and derivatives transactions; mergers, acquisitions, securities offerings and IPOs; tax; litigation and arbitration; the purchase, lease, financing and disposition of real estate; and trusts and estates.
#### Press Release #####################

Alta Group Expands Expertise and Influence to China
LONDON—
Daye International Leasing Co., Ltd. ("Daye Leasing"), a joint venture leasing company in Beijing, has signed a co-operation agreement with The Alta Group and become its Associate for the China Region. The Alta Group, an international consultancy serving the equipment leasing and finance industry, covers Europe, North America, Latin America and the Middle East as well as Asia Pacific.
Pictured in front are Don Chan, General Manager, Daye International Leasing Co. and Derek Soper, Principal, The Alta Group. Behind are Hu Jie, Marketing Director; Hu Lingjie, Sales Director; Zhu Yongchun, Deputy General Manager; Li Xingping, Structured Finance Director (The Lady).
Daye Leasing is jointly owned by Canada International Investments Limited and Zhejiang Yunsheng Investments Group Co., Ltd, a port operating company in Shanghai. Its General Manager, Don Chan, previously the CFO of AT&T Capital for the Asia Pacific Region and General Manager of the AT&T Capital joint venture in Beijing, said: "We are delighted with the arrangements between The Alta Group and Daye Leasing as they will extend the range of expertise available to our Chinese customers as well as giving The Alta Group additional product offerings in the Region."
Daye Leasing was the former GE Capital joint venture leasing company which was sold following GE Capital receiving a 100% owned leasing license. Daye Leasing offers a leasing platform to new entrants who may wish to take a cautious approach to entry into the China market. Derek Soper, a Principal in The Alta Group's European region, said: "We have been seeking to extend our consultancy business into the Asia Pacific Region and into China in particular. We are confident that our relationship with Daye Leasing will bring benefits to both companies and in particular to our clients."
Soper added: "The China market is exciting great interest amongst vendors of all types of equipment and the emerging equipment leasing market is setting out its stall to serve those vendors. Additionally, the major Chinese manufacturers of equipment, now selling into the rest of the world, will need support for sales financing. These are all our customers and potential customers."
Pictured in front are Don Chan, General Manager, Daye International Leasing Co. and Derek Soper, Principal, The Alta Group. Behind are Hu Jie, Marketing Director; Hu Lingjie, Sales Director; Zhu Yongchun, Deputy General Manager; Li Xingping, Structured Finance Director (The Lady).
ABOUT THE ALTA GROUP
The Alta Group, established in 1992, provides a broad array of strategic consulting and advisory services, education and training programmes, merger and acquisition and dispute resolution services for companies in the global equipment leasing and asset finance industries. Its clients include manufacturers, banks, and independent lessors of various sizes and others in the industry. The Alta team is made up of more than 25 seasoned international professionals committed to the asset finance business, including former CEOs, company founders and industry thought leaders. They collaborate and share their in-depth knowledge and insights with today's business leaders who face a range of challenges, both old and new. The firm has built a reputation on creative thinking, trust and professionalism. The Alta Group supports clients in North America, Latin America, Western, Central and Eastern Europe, Asia, the Middle East and Australia. For more information, visit
www.thealtagroup.com .
#### Press Release #####################

MicroFinancial 1Q Net Loss $2.7 million/last year $4.7MM
WOBURN, Mass., -- MicroFinancial Incorporated (NYSE-MFI) a financial intermediary specializing in vendor based leasing and finance programs for transactions in the $500 to $15,000 range, today announced financial results for the first quarter ended March 31, 2005.
The net loss for the quarter was $2.7 million, or $0.20 per share, compared to a loss of $4.7 million, or $0.36 per share, in the first quarter of 2004.
Revenue in the first quarter of 2005 was $10.9 million compared to $18.0 million in the first quarter of 2004. Revenue from leases and loans was $1.5 million, rental income was $6.4 million, and other revenue components contributed $3.0 million for the quarter.
Total operating expenses for the quarter declined 42.5% to $14.8 million from $25.8 million in the first quarter of 2004, driven by ongoing cost rationalization initiatives implemented in the past several quarters. Interest expense was $0.2 million, a result of lower debt balances. Selling, general and administrative expenses decreased $1.0 million to $6.3 million from $7.3 million in the first quarter of last year, reflecting a continued reduction in personnel-related expenses.
Depreciation and amortization expense declined 42.2% to $2.5 million for the quarter, reflecting the decline in the number of rental and service contracts from the first quarter of 2004. The first quarter provision for credit losses decreased to $5.8 million from $13.4 million in the first quarter of 2004, while net charge offs decreased to $10.1 million versus $19.6 million.
Richard Latour, President and Chief Executive Officer said, "As part of our plan to rebuild the origination business of our subsidiary, TimePayment Corporation, we are actively increasing our industry presence with more focused and targeted sales and marketing. We continue to invest capital to build the infrastructure to support these plans, and have brought in new leadership to spearhead the effort. In order to add new vendor relationships and provide new revenue sources to drive our growth, we are attending multiple trade shows, increasing advertising in trade publications, and developing new sales and marketing materials."
As part of this new business development effort, in the first quarter of 2005, the Company approved 67 new vendors to bring the total number approved since July 1, 2004 to 105. During the first quarter, the Company sourced from this core group of vendors approximately 500 applications which resulted in $1.1 million in new originations. In addition, more than 70% of the applications were processed utilizing the Company's proprietary internet based credit approval system.
Recent company initiatives include:
-- Bolstering the sales and marketing infrastructure to support the launch of new originations in 2005, including the appointment of Tom Herlihy to Vice President of Sales & Marketing.
-- Reinstating a dividend policy and approval of a dividend payment of $0.05 per share payable on May 13, 2005. The dividend policy will be reviewed by the board on a quarterly basis.
Balance Sheet
Sequentially, amounts greater than 31 days delinquent on March 31, 2005 decreased to $23.6 million from $33.3 million on December 31, 2004. Cash received from customers for the quarter was $16.1 million compared to $25.2 million during the same period in 2004. Sequentially, cash and cash equivalents improved to $18.0 million at March 31, 2005, compared to $9.7 million at December 31, 2004.
Full press release here:
http://www.corporate-ir.net/ireye/ir_site.zhtml?ticker=MFI&script=
410&layout=7&item_id=702195
###### Press Release ##################

AmSouth Small Business Internet Ranked No.2 of 20 Top Banks
BIRMINGHAM, Ala.--(BUSINESS WIRE)----AmSouth Bank's (NYSE:ASO) web-based small business online banking offerings rank number two among 20 top U.S. banks, according to small business online customer research released recently by New York-based Change Sciences Group. The ranking is for the quality of AmSouth's online customer experience and ease of starting a relationship. The research Q1- 2005 compares the online tasks most often conducted by small businesses on their banks' websites and identifies how banks can improve their sites to make it easier for small businesses.
"Acquiring small business customers online means showing your prospects that you understand them, and it requires bank websites to make getting to the small business area of your site easy," said Steve Ellis, a Change Sciences partner. "Once you get them to that part of your site, making it easy to compare available products that meet their needs, providing tools to easily switch their accounts to your bank, and providing simple applications for service are paramount."
Change Sciences defines the three most important elements of a good online customer experience as low effort, low friction and high delight. The research highlights how processes are experienced by customers thought by thought and keystroke by keystroke making the more streamlined and simplified processes the most satisfying.
"Small business is one of AmSouth's key customer segments, and serving the small business customer well requires online services that are easy to understand, easy to use, and that save the customer time and money," said Greg Miles, senior vice president and manager of electronic banking. "It's nice to be recognized for something we have been committed to for some time and something that our customers tell us regularly is a valuable tool for their success."
Miles says the bank took web hosting and development in-house two years ago to improve quality and the ability to update the site more efficiently. Small business customers can easily open accounts, transfer funds, pay bills, apply for loans and much more.
AmSouth's site provides small business customers access to a library of small business information and publications, a monthly online newsletter from the bank, and template forms for activities from hiring or termination to frequently used IRS tax forms. AmSouth's web-based banking also offers electronic statements for both personal and small business accounts, a service recognized as a deterrent to identity theft.
"The web is an important alternative channel for customers to access AmSouth," said Miles. "Our experience mirrors that of the industry in that customers who regularly use internet banking are more likely to bring us more of their business and to stay with us longer. Although it's unlikely to replace branches, it is certainly a channel of choice for our customers."
Small businesses are the fastest growing segment of the U.S. economy with more than 25 million of them posting revenues of up to $10 million or more. The even larger universe of small businesses operating from entrepreneurs' homes and shared office space have increasingly turned to the web for everything from purchasing supplies and shipping products to banking and other financial services. Online bill payment is among one of the most important tools small businesses depend on from their bank and the research indicates that more than two-thirds of banks surveyed could make this service easier to understand.
About AmSouth
AmSouth is a regional bank holding company with $50 billion in assets, more than 685 branch banking offices and 1,240 ATMs. AmSouth operates in Florida, Tennessee, Alabama, Mississippi, Louisiana and Georgia. AmSouth is a leader among regional banks in the Southeast in several key business segments, including consumer and commercial banking, small business banking, mortgage lending, equipment leasing, annuity and mutual fund sales, and trust and investment management services. AmSouth also offers a complete line of banking products and services at its web site, www.amsouth.com.
AmSouth, Birmingham Jerri Franz, 904-281-7675 or David Webster, 205-581-7494 or Mary Catherine Coats, 205-801-0443
#### Press Release #####################

TCF Shareholders Approve Proposals at Annual Meeting
WAYZATA, Minn.-----TCF Financial Corporation (TCF) (NYSE:TCB) announced that at it's annual meeting the shareholders elected five directors, re-approved the directors stock program for ten more years, and voted in favor of the appointment of KPMG LLP as independent registered public accountants for the fiscal year ending December 31, 2005.
TCF is a Wayzata, Minnesota-based national financial holding company with $12.7 billion in assets. TCF has 430 banking offices in Minnesota, Illinois, Michigan, Wisconsin, Colorado and Indiana. Other TCF affiliates provide leasing and equipment finance, securities brokerage, and investments and insurance sales.
TCF Financial Corporation, Wayzata Jason Korstange, 952-745-2755 www.TCFExpress.com
#### Press Release #####################

Synovus Reports 12.1% Increase in Net Income for First Quarter 2005; TSYS' Growth Exceeds Expectations with Largest Quarterly Increase in Five Years; Financial Services Segment's Fundamental Growth
Continues at an Excellent Pace
COLUMBUS, Ga.----Synovus' first quarter earnings grew 12.1% over the first quarter 2004 to $116.7 million, which represented earnings per share growth of 9.6% to $.37 per share, Synovus' Chief Executive Officer James H. Blanchard announced today.
"We started 2005 with both the Synovus Financial Services segment and TSYS providing the key drivers for an impressive first quarter," said Blanchard. "Excellent credit quality, strong loan growth and a stable margin drove the earnings momentum in the quarter for the Financial Services segment. TSYS' performance exceeded expectations with a great start toward another record year."
Return on assets for the quarter was 1.86% and return on equity was 17.52% for the first quarter 2005, compared to 1.91% and 18.00%, respectively, in the same period last year. Shareholders' equity at March 31, 2005, was $2.70 billion, which represented a very strong 10.44% of quarter-end assets. Total assets ended the quarter at $25.9 billion, an increase of 16.0% from the same period last year.
Asset quality continued the excellent trend that began last year. The net charge-off ratio was 0.23% compared to 0.27% last quarter and 0.16% for the first quarter of last year. The ratio of nonperforming assets to loans and other real estate was 0.52%, the same as last quarter, and down from 0.56% in the first quarter last year. The allowance for loan losses was 1.36% of loans, which provides coverage of 354% of nonperforming loans and the provision for loan losses covered net charge-offs by 1.71x for the quarter.
Net interest income grew 11.9% over last year as total loans grew 17.9% (15.8% excluding acquisitions). The net interest margin before fees was 3.98%, the same as last quarter, and up from 3.91% in the first quarter of last year. The net interest margin after fees for the first quarter was 4.11% down from 4.24% in the same period last year. This decrease was primarily due to the change in methodology for loan origination fees and costs that was implemented in the fourth quarter of last year.
Net income for the Synovus Financial Services segment increased 2.1% over last year. In the first quarter last year, Synovus recorded an after-tax gain of $9.7 million from the sale of banking operations in Quincy, Florida. Excluding this gain, Financial Services segment's fundamental net income growth was 16.6% compared to the same period last year. Return on assets for the quarter was 1.33% and return on equity was 16.19%, compared to 1.49% and 18.18%, respectively, in the same period last year. These comparisons are also affected by the previously mentioned gain from last year. Financial Services' non-interest income was down 17.6% as compared to last year. Excluding last year's $15.8 million pre-tax gain from the aforementioned bank sale, Financial Services non-interest income would have been essentially flat with increases in credit card fees of 27%, brokerage revenue of 9%, and fiduciary and asset management fees - which include trust, financial planning and asset management fees - of 3%. Mortgage banking revenue was down 14% and service charges on deposit accounts were down 5% compared to the first quarter last year. Financial Services' non-interest expense was up 1.2% compared to last year and the efficiency ratio was 52.2% versus 52.9% last year.
Full Press Release at:
http://www.synovus.com/index.cfm?catid=newsrelease&
set=Synovus&nrid=515
### Press Release ######################
----------------------------------------------------------------

News Briefs---
Economy Surprises Experts With Sudden Slowdown
http://www.washingtonpost.com/wp-dyn/content/article/
2005/04/28/AR2005042800365.html
Early Easter skews earnings, Experts Blame the Bunny
http://www.usatoday.com/money/companies/earnings/
2005-04-27-easter-usat_x.htm
Bringing the Internet to the Whole World
http://www.washingtonpost.com/wp-dyn/content/article/
2005/04/28/AR2005042801673.html
Prosecutors in Tyco Case Press Ex-Chief on Loans
http://www.nytimes.com/2005/04/29/business/
29tyco.html?pagewanted=all
http://www.usatoday.com/money/industries/manufacturing/
2005-04-28-tyco-kozlowski-cross-exam_x.htm
Wynn Las Vegas is an eyeful
World's most expensive casino-resort -- at $2.7 billion -- impresses visitors in a city not shy about going over the top
http://www.sfgate.com/cgi-bin/article.cgi?file=/c/a/
2005/04/29/VEGAS.TMP
Networks Bump Bush for Trump; Paris Hilton
http://www.drudgereport.com/flash3bpc.htm
Report: 'Idol' Finalist Faced Drug Charges
LOS ANGELES — "American Idol" finalist Bo Bice was arrested twice in the past four years on drug charges, a Web site reported Thursday — but Fox TV is standing by the long-haired rocker.
"From the beginning, Bo was honest and forthcoming in revealing his previous indiscretions and their outcome," the network said in response to the report on thesmokinggun.com. He will continue in the contest. Here is a full report:
http://www.thesmokinggun.com/archive/
0427051_bo_bice_american_idol_1.html
----------------------------------------------------------------

Sports Briefs---
Nets Try, Try Again but Sink Deeper
http://www.nytimes.com/2005/04/29/sports/basketball/29nets.html
Will T.O. be a no-show?
http://theredzone.org/news/showarticle.asp?ArticleID=2640
Els among leaders after first round of Asian Open
http://www.usatoday.com/sports/golf/euro/2005-04-28-asian-open_x.htm
----------------------------------------------------------------

"Gimme that Wine"
'Keep prices down': Parker on 2004
http://www.decanter.com/news/63480.html
As others master Pinot Noir, Burgundy's mystique evaporates
http://sfgate.com/cgi-bin/article.cgi?file=/c/a/
2005/04/28/WIGFVCFP5E1.DTL
Beringer Blass Wine Estates Introduces Premium Wine Tailor-Made for Women, by Women
http://www.prnewswire.com/cgi-bin/stories.pl?ACCT=109&STORY=
/www/story/04-27-2005/0003488985&EDATE=
Napa Auction inches toward sellout
http://www.sthelenastar.com/templates/index.cfm?template=
story_full&id=6519D09F-2B65-47D6-BB07-837CF2936A04
Australia Wine Market Exposed to "Oversupply"
http://finance.news.com.au/story/0,10166,15112227-31037,00.html
Sommelier, Fromager, Make Me a Match
http://www.nytimes.com/2005/04/27/dining/27pour.html?pagewanted=all
----------------------------------------------------------------

This Day in American History
1749- Benjamin Franklin on the banks of the Shuylkill River, Philadelphia, PA, became the first person to cook by electricity. In a letter dated this day in 1749, he wrote: A turkey is to be killed for our dinner by the electrical shock and roasted by the electrical jack, before a fire kindled by the electrified bottle.
1754- controversial Pierre L'Enfant, designer of Washington, DC
http://www.arlingtoncemetery.com/l-enfant.htm
http://www.cnn.com/2000/STYLE/design/05/22/major.lenfant.ap/
1845-Macon B. Allen becomes the first African-American lawyer
admitted to the bar in Massachusetts.
http://www.jtbf.org/inter_fed_jud.htm
1854- the first college for African-American students was the Ashmun Institute, Chester County ,PA. It was named after Jeshudi Ashmun, the reorganizer of the colony of Liberia. In 1966, the college name was changed to Lincoln University.
http://www.lincoln.edu/
1873-Eli Hamilton Janney of Alexandria, VA, obtained a patent on an "improvement in car-couplings." Eventually every railroad coupler with which every railroad car in the United States, Canada, and Mexico was equipment with his invention.'`
http://www.sdrm.org/history/timeline/
1901-for the first and only time, the Kentucky Derby was run in April instead of May. The winning cold was "His Eminence," ridden by Jimmy Winkfeld. Sannazarro finished second, a length-and-a-half back.
1899—Birthday of band leader/composer/Pianist Edward Kennedy
"Duke" Ellington
http://memory.loc.gov/ammem/today/apr29.html
http://www.dukeellington.com/
1910 - The temperature at Kansas City, MO, soared to 95 degrees to establish a record for the month of April. Four days earlier the afternoon high in Kansas City was 44 degrees, following a record cold morning low of 34 degrees.
1913-the zipper was invented about 1906 by Gideon Sundback of Hoboken, NJ, an inventor of Swedish ancestry, who obtained a patent on this day for his "separable fasteners." His design consisted of two flexible tapes, each of which carried a row of metal teeth with tiny hooks, and a slider that locked the two rows of hooks together. This fastener was improved upon by later patents on March 20 and October 16, 1917, which were assigned to the Hookless Fastener Company of Meadville, PA, under the name "Talon ." The first manufactured garments to incorporate zippers were rubber boots made by the B.F. Goodrich Company in 1923. Prior to this all clothes used buttons exclusively. The term "zipper" was coined by the English novelist Gilbert Frankau, who saw the device at a promotional luncheon and explained "Zip! It's Open! Zip! It's closed!" The first fashion designer to use zippers was Elsa Schiaparelli, who added them to garments in her 1930 collection.
http://inventors.about.com/library/weekly/aa082497.htm
1918-Ace of Aces Captain Edward Vernon Rickenbacker of Columbus, OH first victory took place in the Baussant region, in the Toul sector, France. He was credited with 26 victories, including 22 airplanes and four balloons. http://www.lib.auburn.edu/archive/flyhy/101/eddie.htm
1927-birthday of tenor saxophone Big Jay McNeely, Watts Ca
http://www.electricearl.com/dws/bigjay.html
http://www.soul-patrol.com/randbfoundation/jay.htm
http://www.123posters.com/bigjay.htm
http://www.greenmanreview.com/rawblues.html
1931- British skiffle musician Lonnie Donegan birthday. His biggest North American hit was 1961's "Does Your Chewing Gum Lose Its Flavor (On the Bedpost Over Night)." Died November 3,2002.
http://www.vh1.com/artists/az/donegan_lonnie/bio.jhtml
1933-birthday of guitarist Willie Nelson, Abbott, TX.
http://www.willienelson.com/
1934-guitarist Otis Rush birthday, born Neshoba, MS
http://www.blueflamecafe.com/index.html
http://www.concertedefforts.com/Otis%20Rush.htm
1941 - The Boston Bees agreed to rename the National League team the Braves, the name they used prior to 1935.
1945 - The 522nd Field Artillery Battalion, part of the most decorated regiment in the history of the U.S. military (the 442nd regimental combat team), added another first to the history books. They liberated the remaining prisoners of the infamous Nazi death camp, Dachau. The 522nd was made up entirely of second generation Japanese-Americans (Nisei).
1951-Marguerite Higgins won the Pulitzer Prize for international reporting. journalism. Her book, "War in Korea," became a best-seller Among the many the many newspaper articles she wrote were the first report of the German death camps at the end of World War II, won the Pulitzer Prize for journalism in 1951. She was the first American to enter the Dachau death camp on 04-29-1945, in advance of military troops. From her dispatch filed that day: "Tattered, emaciated men, weeping, yelling and shouting `Long Live America' (in about 16 languages) swept toward the gate in a mob. Those who could not walk limped or crawled... at least a thousand prisoners were killed the night before... the barracks like those at Buchenwald (which she had also entered early) had the stench of death and sickness... the starving and dying lay virtually on top of each other in quarters where 1,200 men occupied a space intended for 200...in the crematorium itself were hooks on which the S.S. men hung their victims when they wished to flog them or to use any of the other torture instruments... Many of the living were so frail it seemed impossible they could still be holding on to life." More women were killed by the Germans in the concentration camps than men - and women were subjected to rape and other sexual tortures as well. So many of the Nazi doctors seemed fascinated by women's reproductive abilities and performed unspeakable horrors on pregnant women. She died in Washington, D.C. on January 3, 1966 of a disease which she apparently contracted while in Vietnam. September 14,2002 a stamp was issued to commemorate her life.
http://www.spartacus.schoolnet.co.uk/USAhigginsM.htm
http://www.arlingtoncemetery.com/mhiggins.htm
http://www.unicover.com/EA1CCJH8.HTM
http://www.unicover.com/EA1CCJH8.HTM
1951--Top Hits
If - Perry Como
Mockingbird Hill -Patti Page
Would I Love You - Patti Page
The Rhumba Boogie - Hank Snow
1952-birthday of Dale Earnhardt, stock car racer, born Kannapolis, NC, Apr 29, 1952. He was one of NASCAR's most popular personalities, winning the Winston Cup seven times. He was killed while driving in the Daytona 500 at Daytona Beach, FL, Feb 18, 2001
http://www.daleearnhardt.net/
1953 - "Coke Time with Eddie Fisher" began its TV and radio run on NBC-TV and Mutual radio. Fisher, a popular performer, was seen and heard on more TV and radio stations in 1954 than any other entertainer. Oh, my! (Papa)
1953 Little-Bigger League changes its name to the Babe Ruth League.
1954 - Ernest Borgnine made his network television debut in "Night Visitor" on "Ford Theatre" on NBC-TV. The versatile film ("Marty") star would later become a sitcom sensation in "McHale's Navy" with comedian Tim Conway on CBS and, later, as a helicopter owner in "Airwolf".
http://us.imdb.com/Name?Borgnine,+Ernest
1954-Miles Davis Sextet records "Walkin'" (Prestige)
http://www.milesdavis.com/
http://www.geocities.com/Heartland/Valley/2822/miles_davis.html
http://www.wam.umd.edu/~losinp/music/miles_ahead.html
http://www.jan-lohmann.com/
http://home.snafu.de/miles/music/missing.htm
1958 -Ted Williams becomes the tenth major league player to get 1,000 extra-base hits.
1958-"The Witch Doctor" goes to No. 1 on Billboard's pop charts. The singer's voice was recorded at various speeds, mainly very Fast. Songwriter and singer Ross Bagdasarian (who recorded under the name David Seville) topped the charts again at the end of the year with "The Chipmunk Song," sung by his dubbed voice at very fast speed, and this time the singers were: the Chipmunks.
1959--Top Hits
Come Softly to Me - The Fleetwoods
(Now and Then There's) A Fool Such as I - Elvis Presley
Guitar Boogie Shuffle - The Virtues
White Lightning - George Jones
1959 - UNIVAC, the electronic computer that was the size of a house, actually picked four out of six winners at Churchill Downs in Louisville, KY. The electronic brain set a record for right choices in horse races. Of course, the winners all paid 2-1 or even odds, so it didn't win much. But, most of us don't...
1960 - Dick Clark told a House of Representatives investigating committee looking into the payola scandal that he, the host of "American Bandstand", never took payola for records featured on his daily TV show. Clark would, however, relinquish rights to music publishing that he owned. The value of those rights, Clark indicated 30 years later, amounted to about $80 million.
http://www.history-of-rock.com/clark.htm
http://www.dickclarkproductions.com/
1961 - "Spanning the globe ... to bring you the constant variety of sport, the constant variety of human competition, the thrill of victory and the agony of defeat. This is ABC's Wide World of Sports." A Saturday afternoon sports program began its long run on ABC-TV. The show, featuring Jim McKay as host, along with Howard Cosell, Frank Gifford, Al Michaels, Jack Whitaker, Heywood Hale Brun and others, was not an immediate hit. Although Roone Arledge's vision of a worldwide window on televised sports got off to a slow start, "ABC's Wide World of Sports" became one of TV's most popular and enduring programs.
1963-Andrew Loog Oldham signed the Rolling Stones to a management contract. He had seen them perform the previous night at the Crawdaddy Club in Richmond, England.
1967--Top Hits
Somethin' Stupid - Nancy Sinatra & Frank Sinatra
A Little Bit Me, A Little Bit You - The Monkees
Sweet Soul Music - Arthur Conley
Need You - Sonny James
1967- Aretha Franklin's "Respect" is released.
1967-Muhammad Ai was stripped of his world heavyweight boxing championship when he refused to be inducted into military service. Said Au, "I have searched my conscience, and I find I cannot be true to my belief in my religion by accepting such a call." He had claimed exemption as a minister of the Black Muslim religion. Convicted of violating the Selective Service Act but the Supreme Court reversed this decision in 1971
http://www.nytimes.com/books/98/10/25/specials/ali.html
1968 - "Hair" made its way from Greenwich Village to Broadway. The show certainly opened eyes. It was the first time that actors appeared nude in a Broadway musical. "Hair" ran for 1,844 shows on and off Broadway. It was even more successful in its London run later. Big songs from the show: "Hair" (The Cowsills) and "Aquarius/Let the Sunshine In" (The 5th Dimension). http://www.cowsill.com/cowsills/discography/music-hair.html
http://www.orlok.com/hairpages/hairfaq.html
1969 - Sir Duke, Duke Ellington, celebrated his 70th birthday. He was honored with the presentation of the Medal of Freedom, the U.S. government's highest civilian honor.
1973 - The Mississippi River reached a crest of 43.4 feet, breaking the previous record of 42 feet established in 1785.
1974 - Phil Donahue's TV show was on the move. "Donahue" was moving to Chicago, IL, where it would remain until 1985. The show was originally based in Dayton, OH. Following more than a decade in the Windy City, the show again moved, this time to New York City. During its stay in Chicago, "Donahue" earned nine Emmy Awards.
1975--Top Hits
(Hey Won't You Play) Another Somebody Done Somebody Wrong Song - B.J. Thomas
He Don't Love You (Like I Love You) - Tony Orlando & Dawn
Supernatural Thing - Ben E. King
Blanket on the Ground - Billie Jo Spears
1979- Van Halen's "Dance The Night Away" single is released
1981 - Steve Carlton, the Philadelphia Phillies pitcher, became the first left hander in the major leagues to get 3,000 career strikeouts. He fanned Montreal Expos's Tim Wallach in the first inning of a game that saw the Phillies beat the Expos 6-2. Carlton was only the sixth major leaguer to strikeout 3,000 batters. He finished with 4,136.
1983 -- Harold Washington sworn in as Chicago's first black mayor. He won reelection but died Nov 25 1987 of a heart attack.
http://www.graveyards.com/oakwoods/washington.html
http://www.chipublib.org/digital/hw/harold.html
1983--Top Hits
Come on Eileen - Dexys Midnight Runners
Beat It - Michael Jackson
Der Kommissar - After the Fire
American Made - The Oak Ridge Boys
1985-"Challenger" was launched from Kennedy Space Center, Florida, piloted by the first African-American to enter outer space, Col. Frederick Gregory, who became a veteran of three space missions, logging in 455 hours. This flight had a crew of seven and a full animal menagerie of monkeys and other animals to learn about the effects of space. After 111 orbits of Earth, Challenger landed on May 6, 1985, at Edwards Air Force Base, Ca.
http://www.jsc.nasa.gov/Bios/htmlbios/gregory-fd.html
1985 - George Steinbrenner, owner of the New York Yankees, fired manager Yogi Berra. Berra was canned after only 16 games into the young baseball season. In his place, Steinbrenner brought Billy Martin back ... for the fourth time.
1986 - Roger Clemens of the Boston Red Sox set a major-league baseball record by striking out 20 Seattle Mariner batters on the way to a 3-1 win. This record for the Red Sox hurler surpassed the 19 strikeouts for a nine-inning game held by Nolan Ryan when he pitched for the California Angels. Tom Seaver of the New York Mets and Steve Carlton of the St. Louis Cardinals also held a piece of the previous 19-KO record.
1987 - A storm off the southeast coast of Massachusetts blanketed southern New England with heavy snow. Totals of three inches at Boston MA, 11 inches at Milton MA, and 17 inches at Worcester MA, were records for so late in the season. Princeton MA was buried under 25 inches of snow.
1988--Top Hits
Wishing Well- Terence Trent D Arby
Anything For You- Gloria Estefan
Angel- Aerosmith
Where Do Broken Hearts Go- Whitney Houston
Pink Cadillac- Natalie Cole
1988-the 1988 Baltimore Orioles finally won a game after losing the first 21 games of the season. They beat the Chicago White Sox, 9-0, on a combined four-hitter by pitchers Mark Williamson and Dave Schmidt. The Orioles' streak, lasting from April 4 to 28, set an American League record but fell two losses short of the National League mark.
1988 -thunderstorms produced large hail and damaging winds throughout central Texas with baseball size hail reported at Nixon, Texas and wind gusts to 70 mph recorded at Cotulla, Texas. In contrast, a late winter storm dropped up to a foot of snow over northern West Virginia and western Maryland.
1989- Porter Wagoner joined Dolly Parton on stage for the first time since Parton split with her mentor in 1976. The duet sold out four shows at Parton's Dollywood theme park in Pigeon Forge, Tennessee.
http://www.porterwagoner.com/
1990 - A storm system crossing northern New Mexico blanketed parts of the Rocky Mountain Region and the Northern High Plains with heavy snow, and produced blizzard conditions in central Montana. Much of southern Colorado was buried under one to three feet of snow. Pueblo tied an April record with 16.8 inches of snow in 24 hours. Strong canyon winds in New Mexico, enhanced by local showers, gusted to 65 mph at Albuquerque. Afternoon temperatures across the Great Plains Region ranged from the 20s in North Dakota to 107 degrees at Laredo TX
1991--Top Hits
Baby Baby - Amy Grant
Joyride - Roxette
I Like the Way (The Kissing Game) - Hi-Five
Down Home – Alabama
1992-a jury in Simi Valley, CA, failed to convict four Los Angeles police officers accused in the videotaped beating of Rodney King, providing the spark that set off rioting, looting and burning at South Central Los Angeles, CA, and other areas across the country. The anger unleashed during and after the violence was attributed to widespread racism, lack of job opportunities and the resulting hopelessness of inner-city poverty.
http://www.nytimes.com/learning/general/onthisday/big/0429.html#article
1992- State Farm Insurance was ordered to pay $157 million to hundreds of California women who were not offered or given jobs as State Farm agents because of their sex. It was the largest sex-discrimination settlement in US history to that time. The settlement was shared by more than 814 women. The case that began in June, 1979 when Muriel Kraszewski sued because she was turned down repeatedly for agent jobs at State Farm offices in South California because she was a woman. As a result of the suit, the ratio of women agents with State Farm has increased from less than 1% in 1979 to more than 50% today. Women make up more than 50% of the population.
1992- singer Paula Abdul and actor Emilio Estevez were married in a judge's chambers in Santa Monica, California. One of Abdul's managers and Estevez's mother witnessed the ceremony. Abdul filed for divorce two years later.
1995 -severe thunderstorms moved across Tarrant County in Texas. Hail up to 3.5 inches in diameter did an enormous amount of damage. 100 aircraft were damaged at DFW airport. Damages in the county totaled $220 million. This was the second major hailstorm to hit the area in a month.
1997- the US House of Representatives voted to bestow Congress's highest civilian award, the Congressional Gold Medal, on Frank Sinatra. In 1985, President Ronald Reagan had presented the singer with the Medal of Freedom, the highest civilian award in the US.
1997-Craig MacIavish, the last player to go without a helmet, retired from the National Hockey League,. The NHL mandated helmets at the start of the 1979-80 season but allowed players then active to refrain by signing a waiver absolving the league of responsibility in case of head injury. MacIavish was the last remaining player of those who signed the waiver. He retired from the St. Louis Blues after a 16-year career during which he scored 213 goals. Despite his personal choice, he admitted, "Certainly, it's very dangerous out there without a helmet. "
1998--Top Hits
Too Close- Next
You re Still The One- Shania Twain
Let s Rid-, Montell Jordan Feat. Master P
All My Life- K-Ci
2000 --For the first time in seven tries, the Giants win at Pacific Bell Park as San Francisco becomes the first franchise to lose six games to start a season in a newly constructed ballpark. Barry Bonds' eighth inning home run proves to be the difference in a 2-1 victory over the Expos.
To truly be the first must be a wonderful moment when the event is of a great magnitude. This terrific poem pays tribute to the first Hispanic baseball player in major league history and one can only imagine what that moment must have been like when he stepped up to the plate...
Beisbol's Arrival
by Michael J. Bielawa ©
Published: Baseball Almanac (2000)
how did baseball first
arrive
in these southern worlds
and then return North
reinvented rich aromatic coffee dark fresh as rain
beisbol
before visas & passports
an Americano wading through jungle
under a panama hat
during gold rush daze or
aboard ship
unloaded at hazy evening dockside
flambeaux illuminated
clipper's crew on
drunken leave
swinging beer and denuded
banana stalk in jest
jostling warped dock boards
below bare feet running
to an imaginary first base
the game actually stops with each hit
(experienced fielders reminding a batter
who'd never played before
to...
RUN!)
imagine the thoughts
in the eyes of this first
Latino youth
stepping from damp shadows of a
curtained doorway
somewhere a baby crying at his back
striding toward
an unfamiliar sailor or would-be forty-niner
taking the makeshift bat (maybe a pick-ax handle)
in calloused hands
squinting at the blonde pitcher
summoning future spirits
Adolfo Luque
Minnie Minoso
Cepada, Cookie, Clemente
Carew, Valenzuela
rubbing the bat with such small hands
unknowingly molding the future