Documentation Processor
New York, NY.
Mid-Town New York office seeking Documentation Processor with approximately 3 years experience. Click here for details.
Friday, April 4, 2008
Headlines---
Classified Ads—Senior Management
Studebaker-Worthington sale in "escrow"
Resource America—Parent of LEAF
Leasing Conference Attendance report
Classified Ads---Help Wanted
No Surprise about CIT
Credit is turning down more leasing deals
Placards---Credit Rules!
Take the Barry Mark's Challenge
Former IBMer Michael Falco Charts a New Path
Jobless claims gain 38,000 on week
Dell to cut more than 8,000 job cuts
Late payments at 16-year high
ATA Airlines, Hawaii, strands many
Investment firms tap Fed for billions
News Briefs---
You May have Missed---
"Gimme that Wine"
Calendar Events
Snapple Real Facts
Today's Top Event in History
This Day in American History
Poem for Today
SuDoku
Daily Puzzle
GasBuddy
Provence, France-Vacation
News on Line---Internet Newspapers
Huntsville, Texas
######## surrounding the article denotes it is a "press release"
-------------------------------------------------------------------

Classified Ads—Senior Management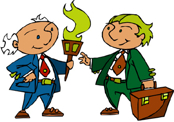 Atlanta, GA
Strong sales and leadership skills; demonstrated with sales training and sales performance. Lead team in both regional and national operations and developed marking programs.
Email: mll1946@comcast.net

Europe
25+ yrs exper. management roles Chase, AT&T Capital, Heller Financial, SFS. Develop biz from "scratch to success". Looking for challenging & pioneering job.
Email: frans@alliedproperty.net
Northern California
CLP - Director of Customer Finance for Fortune 500 manufacturer. Program development, credit, closing, sales training, portfolio mgt.
email: drdawkins@mac.com "
Philadelphia, PA
27 yrs. exp. sales, ops., credit, strategy, P&L mngmet. Most recently created & executed the biz plans for 2 highly successful Bank-owned small ticket leasing subsidiaries.
email: mccarthy2020@comcast.net
For a full listing of all "job wanted" ads, please go to:
http://www.leasingnews.org/Classified/Jwanted/Jwanted.htm
To place a free "job wanted" ad here, please go to:
http://www.leasingnews.org/Classified/Jwanted/Jwanted-post.htm
--------------------------------------------------------------

Studebaker-Worthington sale in "escrow"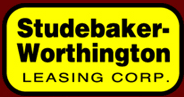 In February, 2008, State Bank of Long Island, announced it was selling its leasing division:
"Our decision to divest the Studebaker-Worthington leasing subsidiary represents the final phase of our corporate restructuring and sets the stage for the Bank to redeploy the capital resources formerly committed to the leasing operation towards our core business competencies. This divestiture, expected to be completed late in the first quarter of 2008, will result in an annual cost savings to the Bank of approximately $3.0 million in cash operating expense."
According to an inside source, the transaction has not taken place, although all employees were assured they would continue in their present capacity. In fact, Studebaker-Worthington is active seeking new business, new brokers, and president Ken Paston appears to be
out of his office when we call, attending conferences, meetings, working with national sales for new vendors, and renewed in his efforts to increase business.
It appears many of the employees know the succeeding company, but are not talking. Outsiders are guessing it is LEAF, and others say LEAF has not been able to put it together
(Please see story that follows. Editor.)
--------------------------------------------------------------

Resource America—Parent of LEAF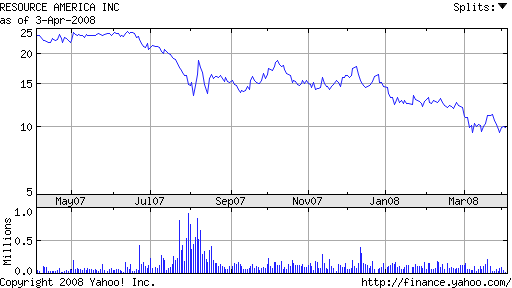 Over the last year Resource American has gone from $25 to its present $9.93, close to its all time low of $9.27 on March 17, 2008. Why? Comments on the Yahoo Blog:
"large insider buying by the CEO, close above $11/share), here we are at a new low again... The good news: Jonathan Cohen bought more on 3/28
On March 10th:
"1 - Recently, REXI had to bail out of two CDOs it sponsored (Resource Europe II and Apidos VII) and had to write off roughly $18.3mm in related cash deposits. In addition, REXI had to close a third CDO prematurely, and in order to prevent its cash deposit with the warehouse lenders from being swept, REXI took the full $21mm equity position (1st loss position) in the CDO. They probably thought the loss would amount to less if they simply took on the equity risk - but if the CDO sneezes, they could lose 100% of this investment.
"After a closer look, their financial fund management business has next to zero growth prospects going forward (unless investors warm to CDOs and other structured finance products - ABS, CMBS, TRUPS, Credit default Swaps, and Bank Loans - not likely in the near term). This business is essentially in run-off mode as REXI continues to collect management fees for existing CDOs. However, much of these management fees are subordinated to debt payments, and if there are any hiccups, REXI takes a hit to its annuity. The company notes that it no longer collects subordinated management fees on at least one Trapeza and three Ischus CDO issuers. Also, REXI has some direct exposure through its equity and LP ownership interests in these structured vehicles that is at risk.
"2 - It real estate business is struggling. Commercial RE values are projected to take a big hit as the credit crisis continues (see several recent WSJ articles), which will impair new growth opportunities. This business generated less than $1mm in operating income in the latest quarter and its margins declined significantly from the prior quarter. With the negative sentiment around the RE space, it is hard to see this business improving markedly in the near term.
"3 - The only bright spot for REXI has been its leasing business which it has grown aggressively through 3 recent acquisitions. The problem is that the company took out a large bridge facility ($380mm) to purchase the NetBank lease portfolio which is collateralized by the LEAF's assets. The bridge loan expires in November '08, and if the company can't pull together a deal to sell this to its limited partnerships, it could be in a liquidity crunch and be forced to fire sale assets into a very weak market. That would wipe out a good portion of the crown jewel of the company.
"I now better understand the risks involved with REXI in the near term, and believe this stock could go significantly lower before improving."
(The sender was correct, stock went lower. Editor)
--------------------------------------------------------------

Leasing Conference Attendance report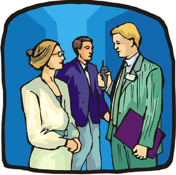 It appears both the association and other conferences report not much change from the previous year. While in a receding market it may be a good idea to network, renew old contacts, make new ones, budgets are also a consideration.
Monica Harper, Executive Administrator for the National Association of Equipment Leasing Brokers says the New Orleans event next week may reach 550 in attendance. Right now they have over 500. In 2007, 571 attended and in 2006 it was 426. Last year they had 72 exhibitors and 66 exhibitors
this year.

The Seventh Annual Investors Conference of Equipment Finance with Rick Wolfert, formerly with CIT, now Aquiline Capital Partners, John Callies, IBM Global Financing, along other leading leasing
individuals, such as Hal Hayden, Agility Ventures, had an attendance of 415. Last year it was 490. The previous year: 343.
The NVLA Annual Conference & Exposition to be held June 11th - June 14th in Scottsdale, Arizona is expected from 250 to 300 attendees, according to NVLA Account Manager Marques Silva. Last year they had 200, but expect more this year as it is "our 40th Anniversary."
"We have very loyal and dynamic members," he said. "Our theme is 'Looking Backwards and Moving Forward.' I think in these times members want to get together, meet people, and this gives them
an opportunity to get together."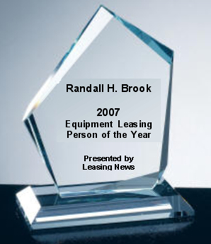 It should also be mentioned that Christopher Menkin, editor/publisher of Leasing News will be presenting retired Federal Trade Commission Senior Attorney Randy Brook with the Leasing Person of the Year Award for 2007.
Diane Helyne Zyats, Vice President / Communications for the Equipment Leasing and Finance Association (ELFA) said their National Funding Exhibition to be held in Chicago, April 16-17, said there was no change in attendance indicated from last year:
"As of this time, we are predicting we'll have close to or the same number of attendees for this meeting in April as we have in the past. This is quite a unique meeting and with challenges in the economy it could be that it's become even more attractive to our members than ever."
On March 7, 2008, there were 25 funders signed up, but the recent press release reports "over 40."
At the time, Ms. Zyats told Leasing News, "We know from experience to expect many more, since ELFA has held this meeting annually for the last 20 years. As you know, several hundred members of the equipment finance sector attend this meeting."
Bill Grohe, membership chairman and active in conferences for the United Association of Equipment Leasing, says they budgeted for an attendance of 150, and are exceeding that, including all the sponsorships have been sold out for their Sonoma, California meeting. The spring conference is generally for principals, he adds, whereas the fall conference is for exhibitors with a much larger
attendance. He says any talk of a recession doesn't seem to have affected their attendance.
Allison Pryor, Executive Director of the Eastern Association of Equipment Lessors, says they stopped advertising, sending out e-mail a month ago, as the hotel for the Spring Conference at the Ritz Carlton, Amelia Island, Florida, would not let them have any additional rooms. They cut the attendance at 70, and she notes, there are also 20 spouses coming, too. She added the large conference is in the Fall.
Why attend a Leasing Conference?
by Brian Montgomery/Gerry Egan
http://www.leasingnews.org/archives/March%202008/03-31-08.htm#naelb
--------------------------------------------------------------

Leasing Industry Help Wanted
Collector

Collector
Lake Success, NY
Full time, entry or jr. level collector, auto and/or equip collection exp. preferred. Resume: fax 718-392-5427
attn: Ed Kaye/Eric Coolbaugh
About the Company: Advantage Funding is the leader in automotive and equipment lease financing, Lake Success, NY.


Document Processor

Documentation Processor
New York, NY.
Mid-Town New York office seeking Documentation Processor with approximately 3 years experience. Click here for details.
Special Assets Workout Officer

Special Assets Workout Officer,
San Francisco, CA
5+ years collection experience work-out commercial accts. equip. finance/leasing-
click here for more info
About the Company: Bank of the West and its subsidiaries are equal opportunity/affirmative
action employers.


--------------------------------------------------------------

No Surprise about CIT
by Christopher Menkin
First, it should be noted the CIT stock is on the rebound.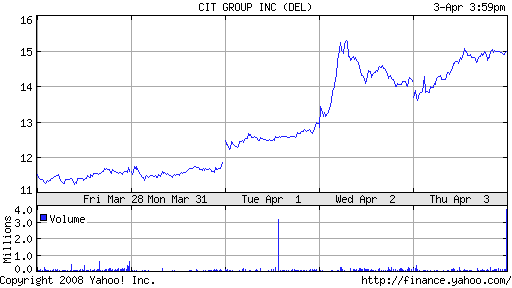 It also should be no surprise to Leasing News readers that CIT announced that it would "...stop originating all government guaranteed student loans effective immediately.
"This step follows the Company's decision in late 2007 to stop originating private student loans. CIT's servicing platform will remain unaffected.
"This decision enables the Company to concentrate on its core commercial finance franchises while operating a more focused organization.
"CIT will retain and continue to service its existing $11.6 billion student loan portfolio, 95% of which is composed of loans that carry a 97% federal government guarantee against default.
"CIT will record a pretax charge of approximately $20 million for severance and other closing costs, of which approximately $15 million will be recognized in the second quarter."
Leasing News readers hopefully remember the analysis of the CIT SEC filings by other leasing company presidents and vice-presidents, as well as the questions brought up by Leasing News, the only media to catch the two items:
"What was not highlighted, and someone confusing, until you worked out the numbers on a calculator, were the 'Finance Receivables Past Due 60 days or more' that revealed both home lending and student loans were $881 million.
"The Non-Performing Assets, which were $892 million."
In addition, CIT was already on the increase in their non-recourse borrowings, which no other media mentioned:
"First, I think significant were the differences in cash and cash equivalents, going from $4,458 million in 2006 to $6,792 million along with $4,398 in non-recourse, secured borrowings to $17,430 in 2007. Management was stretching for more liquidly and willing to pay a higher price for it."
"There were two items I think "hidden," as I had to use a calculator to get to them, and in the remaining 16 pages I considered them hidden. I don't think the SEC would say that nor CIT, but from analyzing financial statements, I would say the numbers were there, but you had to work to find them. (the student loans and non-recourse bank borrowing.)"
"What was originally misleading was the note in the press release that total new business volume grew 22% over last year "driven by international operations."
"The unaudited consolidated income statement revealed in the millions (rounded off) 2006 year end $823, but $1.041 in 2007 as well as credit losses of $68 million in 2006, but $385.5 in 2007 year-end."
April 17 CIT is to announce their first quarter, but what they have not answered is the change in top executives they started making, particularly executives who had started a branding move overseas, where they stated in the SEC filing: "...22% over last year 'driven by international operations.' "
This was a solid company when Al Gamper was running it, but the ex-Merrill Jeffrey Peek steered the commercial lender into more consumer financial business.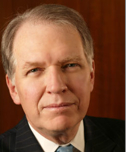 Jeffrey Peek, CEO
The SEC filings did not have bank information, which this major leasing company president suggested Leasing News visit:
"Question: interest rate on "unsecured bank credit facilities" must be way higher than commercial paper and debt maturing 2008. I believe this can only mean they were NOT ABLE to refinance CP or LTDebt, so this is a borrowing of last resort to fund their "core commercial franchises" and pay off maturing paper. What is the maturity of the unsecured bank credit facilities and what are the covenants? Probably exhibits to their SEC filings lay out the terms of the "facilities". What is the profit margin on their "core commercial franchises" and how does that margin compare to the rate on the facilities + allocated overhead? I would guess (uniformed) that it's a negative spread, i.e. I see a last ditch attempt to stay in business. I suspect that if they cannot next take out the facilities lenders they are gone."
President of a major leasing company
Leasing News hopes CIT survives, even though they sold their Dell finance enterprise and appear to be loosing vendors ( "You are only as good as your last deal, especially when you let the executives go who set up these programs.") My guess is too many GE trained executives who learned when the tough gets going, cut out the division and move to another. You can't knock that success as GE is doing great, growing in a down marketplace. What CIT and perhaps many others have not learned, there is only one GE. You can't imitate them, as you can only be yourself.
Maybe the CIT Group Headquarters will soon be available for sub-lease as they move the New York operation back to New Jersey, where rent is cheaper.
CIT Exposed article:
http://www.leasingnews.org/archives/March%202008/03-24-08.htm#cit
--------------------------------------------------------------

Credit is turning down more leasing deals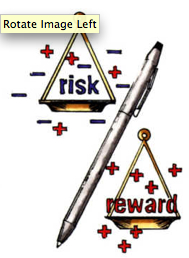 Perhaps the most revealing statistics came from the Equipment Leasing and Finance Association about the tightening down of credit; February, 2008: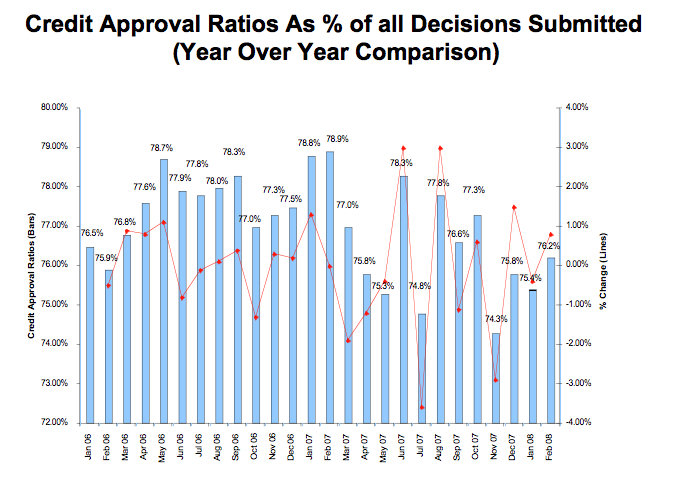 For the first time since the seasonally adjusted Credit Manager's Index (CMI) was calculated in February 2002, the March 2008 combined index has fallen below the crucial 50 level, indicating an economic contraction. It was the sixth decline in seven months, and a record six of 10 components fell. The service sector fell below 50 for the second consecutive month, while the manufacturing sector tied a record low of 51.0.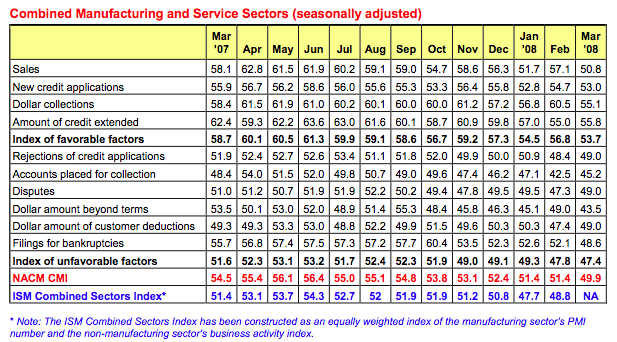 Both credit granted and credit extended continue down.
Bank, finance, and leasing company appetites for risk appears seems not to be affected by the Federal Reserve lowering even though the benchmark short-term interest rate is seven times lower since September, three percentage points, to 2.25 percent. In addition the Federal Reserve has made tens of billions of dollars available to Wall Street banks at low rates.
Credit manager obviously are backing off any margin consideration in making more positive decisions, being more "careful," more "due diligence" and as the volume drops, they also find more time to
look further into applications.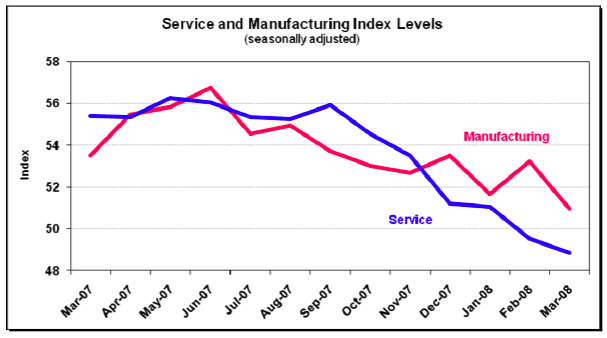 Of the NACM survey responses, a supplier of heating and plumbing equipment reported "Sending more notice letters and filing more liens," a furniture vendor noted that "…collecting receivables is becoming more and more difficult!" and a grocery supplier simply said "Customers just don't want to pay current bills."
"Both the service and combined indexes are below the 50 level indicating economic contraction," Daniel North, chief economist for credit insurer Euler Hermes ACI, said. "The data tell a definitive story of a shrinking economy and the significant challenges facing credit managers."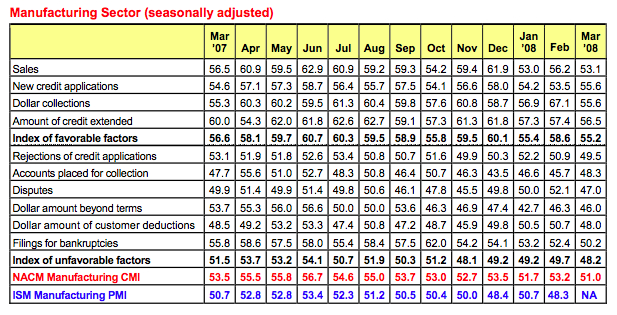 Eight out of 10 components fell (in the manufacturing sector), and there are now five components below 50.
"It's no surprise that the housing market is the main culprit, but some respondents are pointing towards the economy in general," North said.
A manufacturer of steel pipe reported that "Companies are asking for extended terms...," while a packaging manufacturer noted a "Higher number of accounts being converted to cash-in-advance payment." North said, "It would appear that trade credit conditions in the manufacturing sector are beginning to succumb to the weight of the economy."
Meanwhile Federal Reserve Chairman Ben Bernanke is mincing words about a recession, and hints there may be a "contraction," but maybe a "recession." It appears to many he does not know not only what to do, but what to say.
Democrats, Republicans, financers and economist seem to be in rare agreement that the proposals from the White House to change financial regulation not only do not go far enough, but are aimed at the future and do not address the current turmoil.
Many add say there are regulations enough on the books, but there is no staff available to enforce them.
It should be noted the National Association of Credit Management (NACM), headquartered in Columbia, Maryland supports more than 22,000 business credit and financial professionals worldwide.
--------------------------------------------------------------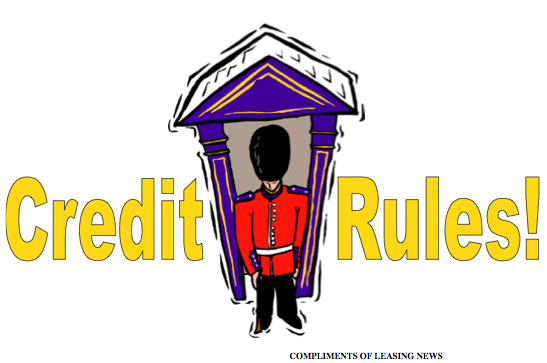 --------------------------------------------------------------

Take the Barry Mark's Challenge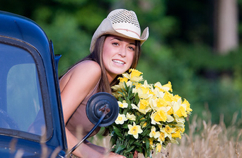 It's great to see so many geezer (as opposed to Weezer) music fans out there!
So….trivia challenge... who wrote/performed:
"If I worked my hands in wood would you still find me?"
"There but for fortune go you or I"
"Thanks for the trouble you took from her eye/I thought it was there for good/So I never tried"
"Couple in the next room is bound to win a prize"
"The green dark forests were too silent to be real"
"You stole my soul and that's a pain I can do without" (my nominee for WORST music line ever)
Hints: the first 2 are old folkies. The 3d is a new R & R hall of Famer who had a famous one night stand with Janis Joplin. Y'all know the 4th guy. The 5th wrote a song about a ghost from a wishing well. The 6th is a rocker with a history of model behavior. You won't get the bonus unless you are extremely odd and old and should be ashamed of yourself for your past bad habits.
BONUS QUESTION: "Well my dog died yesterday and left me all alone/The finance company stopped by today and repossessed my home/But that's just a drop in the bucket gal, compared to losing you"
BARRY S. MARKS
MARKS & WEINBERG, P.C.
Suite 525, 2001 Park Place North
Birmingham, Alabama 35202
P. O. Box 11386
Birmingham, Alabama 35203
bmarks@marksweinberg.com
www.leaselawyer.com
205.251.8303
fax 251.8305
--------------------------------------------------------------

News Briefs----
Former IBMer Michael Falco Charts a New Path
http://www.dotmed.com/news/story/5720/
Jobless claims gain 38,000 on week
http://www.politicalgateway.com/news/read/140178
Dell CEO says computer maker is committed to reducing costs, will exceed 8,000 job cuts
http://www.signonsandiego.com/news/business/20080403-1133-dell-ceo.html
Late payments on consumer loans at 16-year high
http://www.usatoday.com/money/perfi/credit/2008-04-03-late-payments-loans_N.htm
ATA Airlines, Hawaii, strands many
http://www.sfgate.com/cgi-bin/article.cgi?f=/c/a/2008/04/03/MNP8VVGGQ.DTL
http://leasingnews.org/PDF/ATA.pdf
Investment firms tap Fed for billions in emergency loans
http://www.signonsandiego.com/news/business/20080403-1412-fed-creditcrisis.html
Fed adds temporary bank reserves via 7-day repos
http://www.reuters.com/article/bondsNews/idUSNYG00100720080403
Citigroup settles gender discrimination suit for $33 Million
http://www1.pressdemocrat.com/article/20080403/NEWS/326828632/1036/BUSINESS01
Inspectors Say F.A.A. Ignored Violations
http://www.nytimes.com/2008/04/04/business/04plane.html?_r=1&ref=business&oref=slogin
Apple's iTunes the No. 1 music seller, besting Wal-Mart
http://featuresblogs.chicagotribune.com/eric2_0/2008/04/is-itunes-the-n.html
---------------------------------------------------------------


You May have Missed---
The SAR of Wonder—Eliot Spitzer
http://businessfinancemag.com/article/sar-wonder-0402
----------------------------------------------------------------


"Gimme that Wine"
Industry survey finds that 21- to 35-year-olds prefer wine to beer
http://www.projo.com/food/content/wk-gen_y_picks_wine_04-03-08_919G4T
M_v7.1ca596e.html
2007 California Wine Sales up 2%
http://www.wineinstitute.org/resources/statistics/article122
Constellation Brands Slips To Loss In Q4; Expects Turnaround In FY09
http://www.rttnews.com/sp/todaystop.asp?date=04/03/2008&item=37
New Oregon Wine Country Maps Detail Vineyards, Wineries In State's Winegrowing Regions
http://www.earthtimes.org/articles/show/new-oregon-wine-country-maps,337364.shtml
UC Davis Releases Pest-Resistant Rootstocks
http://www.winesandvines.com/template.cfm?section=news&content=54452
Let's celebrate fine Michigan wines
http://www.nilesstar.com/articles/2008/04/02/columnists/ndcolumn02.txt
Wine Prices by vintage
http://www.winezap.com
http://www.wine-searcher.com/
US/International Wine Events
http://www.localwineevents.com/
Winery Atlas
http://www.carterhouse.com/atlas
Leasing News Wine & Spirits Page
http://two.leasingnews.org/Recommendations/wnensprts.htm
The London International Vintners Exchange (Liv-ex) is an electronic exchange for fine wine.
http://www.liv-ex.com/
----------------------------------------------------------------

Calendar Events This Day
Alcohol-Free Weekend
Observant to increase public awareness of the problems associated with drinking alcoholic beverages by asking Americans to refrain from drinking them for this weekend.
www.ncadd.org
Bonza Bottler Day
To celebrate when the number of the day is the same as the number of the month. Bonza Bottle is an excuse to have a party once a month.
This time, without alcohol.
www.bonzabottlerday.com
Hug a Newsman Day
http://holidayinsights.com/moreholidays/April/huganewsmanday.htm
National Cordon Bleu Day
http://southernfood.about.com/od/skilletchicken/r/blbb23.htm
National Walk to Work Day
http://holidayinsights.com/other/walk.htm
School Librarian Day
http://holidayinsights.com/moreholidays/April/schoollibrarian.htm
Senegal: Independence Day
National holiday. Commemorates independence from France in 1960.
https://www.cia.gov/library/publications/the-world-factbook/geos/sg.html
Student Government Day in Massachusetts.
Annually, the first Friday of April
Walk Around Things Day
http://holidayinsights.com/moreholidays/April/walkaroundthings.htm
Saint feast Days
http://www.catholic.org/saints/f_day/apr.php
----------------------------------------------------------------

In 1905, 18 men died from injuries sustained on the football field. President Theodore Roosevelt stepped in and instituted safety measures to make the game safer.
----------------------------------------------------------------

Today's Top Event in History
1968-Martin Luther King, Jr., born on 15 January 1929, is shot and killed by a sniper while standing on the balcony outside his second-story room at the Lorraine Motel in Memphis TN. On this night,April 4, presidential candidate Robert F. Kennedy, just two months away from his own assassination, announced King's death at a political rally in Indianapolis. Urging calm, Kennedy fell into quoting the Ancient Greek tragedian Aeschylus in an effort to articulate the inexplicable tragedy of King's murder: "In our sleep, pain that cannot forget falls drop by drop upon the heart until, in our own despair, against our will, comes wisdom through the awful grace of God." As word of the assassination spread, riots broke out in several major cities, and in Washington, D.C., fires set by enraged protestors devastated portions of the downtown area. The National Guard was subsequently called in, and for several days the armed troops patrolled the streets of the nation's capital. James Earl Ray was convicted of his assassination, but King's family to this day believe he was killed by others.
[headlines]
----------------------------------------------------------------

This Day in American History
1800- Congress enacted the Bankruptcy Act. It did not permit voluntary bankruptcy and applied to traders only. It was repealed three years later.
1802- Birthday of Dorthea Dix, American social reformer and author, born at Hampden, ME. Left home at age 10, was teaching at age 14 and founded a home for girls at Boston while still in her teens. In spite of frail health, she was a vigorous crusader for humane conditions in insane asylums, jails and almshouses and for the establishment of state-supported institutions to serve those needs. Named superintendent of women nurses during the Civil War. Died at Trenton, NJ, July 17, 1887.
http://www.dhhs.state.nc.us/mhddsas/DIX/dorothea.html
http://www.nursingadvocacy.org/press/pioneers/dix.html
1804 -a large tornado crossed 6 counties in Georgia and killed 11 people near Augusta.
1812 - The territory of Orleans became the 18th state and later became known as Louisiana.
1818—Congress approves the U.S. flag with 13 stripes. On admission of each new state to the Union, another star would be added to the flag, the number and pattern of stripes remaining the same.
1859-" I Wish I Was in Dixie's Land" (better known as "Dixie" was introduced by Daniel DeCatur Emmett at Mechanics Hall, New York city, and was published by Firth Pond and Company, New York city. It was written and composed by Emmett, a Northerner, expressly for Bryant's Minstrels, who performed at 472 Broadway, New York City. It was announced as a plantation song an dance.According to some sources, it was based on a song of lament sung by the slaves of a Dutch planter named Dixye, who sold them away to a farmer in Piedmont County, South Carolina, after tryingunsuccessfully to grow tobacco in Harlem, New Amsterdam( the future New York City). African-Americans in Knox County , Ohio, have long claimed that Daniel D. Emmett learned the song "Dixie" from the Snowdens, an African-American family of musicians who performed banjo and fiddle tunes and sang popular songs for black and white audiences throughout rural central Ohio from the 1850s to the early twentieth century.
It was sung at the inauguration of Jefferson Davis as president of the Confederate States on
February 18, 1861.
http://civilwarhome.com/dixie.htm
1865 - President Abraham Lincoln visits the Confederate capital a day after Union forces capture it. Lincoln had been in the area for nearly two weeks. He left Washington at the invitation of general-in-chief Ulysses S. Grant to visit Grant's headquarters at City Point, near the lines at Petersburg south of Richmond. The trip was exhilarating for the exhausted president. Worn out by four years of war and stifled by the pressures of Washington, Lincoln enjoyed himself immensely. He conferred with Grant and General William T. Sherman, who took a break from his campaign in North Carolina. He visited soldiers, and even picked up an axe to chop logs in front of the troops. He stayed at City Point, sensing that the final push was near. Grant's forces overran the Petersburg line on April 2, and the Confederate government fled the capital later that day. Union forces occupied Richmond on April 3, and Lincoln sailed up the James River to see the spoils of war. His ship could not pass some obstructions that had been placed in the river by the Confederates so 12 soldiers rowed him to shore. He landed without fanfare but was soon recognized by some black workmen who ran to him and bowed. The modest Lincoln told them to "...kneel to God only, and thank him for the liberty you will hereafter enjoy." Lincoln, accompanied by a small group of soldiers and a growing entourage of freed slaves, walked to the Confederate White House and sat in President Jefferson Davis's chair. He walked to the Virginia statehouse and saw the chambers of the Confederate Congress. Lincoln even visited Libby Prison, where thousands of Union officers were held during the war. Lincoln remained a few more days in hopes that Robert E. Lee's army would surrender, but on April 8 he headed back to Washington. Six days later, Lincoln was shot as he watched a play at Ford's Theater.
1873-Carrie S. Burnham began her argument, made before the Supreme Court of Pennsylvania. She had been stopped from voting in the October, 1871 and appealed to the Supreme Court, who told her she could not vote because she was a woman and the right to vote only applied to men. http://memory.loc.gov/ammem/today/apr04.html
1887- The first woman elected mayor in the US was Susanna Medora Salter, who was elected mayor of Argonia, Kansas. Her name had been submitted for election without her knowledge by the Women's Christian Temperance Union, and she did not know she was a candidate until she went to the polls to vote. She received a two-thirds majority vote. Argonia is a city located in Sumner County, Kansas. She received a two-thirds majority vote and served for one year for a salary of $1. As of the 2000 census, the city had a total population of 534. Although her term was uneventful, her election generated worldwide interest from the press, sparking a debate regarding the feasibility of other towns following Argonia's lead, which ranged from objections to a "petticoat rule" to a "wait-and-see" attitude. After only a year in office, she declined to seek reelection. In 1893 she moved to Alva, Oklahoma with her husband and family.
She lived until she was 101. The house she lived in during her tenure as mayor was added to the National Register of Historic Places in September, 1971.
1898-the first musical comedy written by African-Americans for African-American performers was " A Trip to Coontown," a musical comedy in two acts by Bob Cole and Billy Johnson, produced a the Third Avenue Theatre at 31st Street in New York City. Cole played the part of the tramp Willie Waysie, and Johnson played Jim Flimflammer, the bunco steerer.
1906--Birthday of trumpet player Frankie Newton, Emory, VA.
1913-bassist Gene Ramey born, Austin, TX
1915-Mobile telephone one-way communication was established by Bell System engineers from Montauk Point, NY, to Wilmington, DE, a distance of 250 miles.
1915-bluesman Muddy Waters, whose real name was McKinley Morganfield, was born in Rolling Fork, Mississippi. He began recording in 1941, and his 1948 hit "I Can't Be Satisfied" helped bring the amplified guitar to the fore in blues music. His Chicago-based band included such notables as James Cotton, Buddy Guy, Willie Dixon and Otis Spann. Muddy Waters played a significant part in developing modern rhythm and blues that came to be known as Chicago or urban blues. It was predominantly from this music that later forms such as rock and roll and soul sprang. Waters' style had a profound effect on pop music in the 1950s and '60s, and he influenced such musicians as Jimi Hendrix and the Rolling Stones. In fact the Stones took their name from a Waters' recording, "Rollin' Stone." And Waters was the one who brought Chuck Berry to the attention of Chess Records in 1955. Muddy Waters died in 1983.
1917-birthday of singer Big Chief Jolley ( George Landry ) New Orleans, LA
1922—Birthday of motion picture composer Elmer Bernstein, perhaps best known for 'The Man with the Golden Arm."
http://www.classical-composers.org/comp/bernstein_elmer
1923 - an F4 tornado killed 15 people and injured 150 at Alexandria and Pineville, Louisiana. 142 homes and businesses in Pineville were destroyed.
1924-Gibert Ray "Gil" Hodges, baseball player and manager, born at Princeton, IN. Hodges was the first baseman on the famous Brooklyn Dodgers" Boys of Summer" teams. ( I got his autograph on a baseball when I was a kid.). He managed the New York Mets to the 1969 World Series title. Died at West Palm Beach, FL, April 2, 1972.
1928- -- Birthday of Maya Angelou born Louis, Missouri. African-American poet whose autobiographical work explores economic, racial, & sexual oppression themes. Her first work, I Know Why the Caged Bird Sings (1970), is followed by Gather Together in My Name (1974), The Heart of a Woman (1981), & All God's Children Need Traveling Shoes.
1932-Vitamin C was first isolated by C.C. King at the University of Pittsburgh.
1933 - Pigeon River Bridge, MN, reported 28 inches of snow, which established the state 24 hour snowfall record.
1935- Benny Goodman cuts his first Victor record session.
1939-Glenn Miller records his theme " Moonlight Serenade) Bluebird 19214)
1939-trumpet player Hugh Masakela born Witbank, So. Africa
1943-the nine-man crew of the World War II American Liberator bomber Lady Be Good bailed out 200 miles off course over the Sahara Desert and disappeared this day. They were returning to their base in Libya after a raid over southern Italy. On Nov 9,1958,15 years after the plane went down and more than 13 years after the war had ended, a pilot flying across the Sahara south of Tobruck sighted wreckage of an aircraft in the sand. Five skeletons and a diary describing the final days of the crew were recovered. The radio, guns and ammunition in the plane were in working order. Life Magazine devoted a full issue to this discovery.
1946---Birthday of the "coach," Craig T. Nelson, actor, born Spokane, Washington.
1950- Birthday of Judith Resnik, astronaut. The 36-year-old electrical engineer mission specialist was the second US woman in space. She perished in the Challenger explosion, Jan. 28, 1986.
http://www.jsc.nasa.gov/Bios/htmlbios/resnik.html
1952- "Police Story" premiers on TV. Produced by Jerome Robinson, directed by David Rich and narrated by Norman Rose, "Police Story" was an early anthology series on CBS depicting incidents from real-life police files.
1950—Birthday of Jim Lahti's sister, Christine, acrtress (Emmys for "chicago Hope," "Swing Shfit, director (Oscar for "LIberman in Love), born Birmingham, MI.
1951—Birthday of Steve Gatlin of country's Gatlin Brothers Band.
1953-the first scholastic fraternity chapter established at an African-American university was the Phi Beta Kappa, at Fisk University, Nashville, TN.
1957--Birthday of American composer Jeffery Cotton,San Fernando, CA.
1960 - Elvis Presley records ``Are You Lonesome Tonight.''
1960 - Eleven Academy Awards were presented to one movie at the 32nd Annual Academy Awards at the RKO Pantages Theater, Los Angeles. "Ben-Hur", the Best Picture of 1959, was the first motion picture to receive that many Oscars. The other categories for which the MGM film, produced by Sam Zimbalist, was honored were: Best Director (William Wyler); Best Actor (Charlton Heston); Best Supporting Actor (Hugh Griffith); Best Cinematography/Color (Robert L. Surtees); Best Art Direction-Set Direction/Color (Edward Carfagno, William A. Horning, Hugh Hunt); Best Costume Design/Color (Elizabeth Haffenden); Best Sound (Metro-Goldwyn-Mayer Studio Sound Department, Franklin E. Milton, Sound Director); Best Film Editing (John D. Dunning, Ralph E. Winters); Best Effects/Special Effects (visual-A. Arnold Gillespie, Robert MacDonald III; audible-Milo B. Lory); and Best Music/Scoring of a Dramatic or Comedy Picture (Miklos Rozsa). "Ben-Hur" lost only one nomination: Best Writing/Screenplay Based on Material from Another Medium. "Room at the Top" (Neil Paterson) took that Oscar home and the Best Actress award, too (Simone Signoret). The Best Supporting Actress award went to Shelley Winters for her performance in "The Diary of Anne Frank", her second Oscar. The moviemakers of "Anatomy of a Murder" had high hopes with six nominations in the ring; but that's all they were. However, the Best Music/Song Oscar went to "High Hopes" (James Van Heusen-music, Sammy Cahn-lyrics) from "A Hole in the Head". It would be 38 years and a lot of high hopes before one film won 11 Academy Awards again ("Titanic"). And who knows how long before the host is an Award recipient again! (Bob Hope received the Jean Hersholt Humanitarian Award.)
http://www.infoplease.com/ipa/A0148797.html
1963 - No. 1 Billboard Pop Hit: ``He's So Fine,'' The Chiffons. In 1976 the estate of songwriter Ronnie Mack wins a lawsuit against former Beatle George Harrison. A judge rules that Harrison subconsciously copied his No. 1 song ``My Sweet Lord'' from ``He's So Fine.''
1964 - The Beatles set an all-time record on the Top 100 chart of "Billboard" magazine this day. All five of the top songs were by the British rock group. In addition, The Beatles also had the number one album as "Meet the Beatles" continued to lead all others. The LP was the top album from February 15 through May 2, when it was replaced by "The Beatles Second Album". It was estimated at the time that The Beatles accounted for 60 percent of the entire singles record business during the first three months of 1964. The top five singles by The Beatles this day were:
1) Can't Buy Me Love
2) Twist and Shout
3) She Loves You
4) I Want to Hold Your Hand
5) Please Please Me
1965 - Actor Robert Downey Jr. is born in New York, NY. Downey Jr. has penned more than 30 original songs, and his version of Charley Chaplin's theme song, "Smile," is included on the soundtrack to the film "Chaplin."
1967 - Johnny Carson quit "The Tonight Show". He returned three weeks later with an additional $30,000 a week! Here's Johnnnnnnny!!!
http://www.jonnycarson.com/carson4.htm
1967-speaking before the Overseas Press Club at New York City, Reverend Dr. Martin Luther King, Jr, announced his opposition to the Vietnam War. That same day, at the Riverside Church at Harlem, King suggested that those who saw the war as dishonorable and unjust should avoid military service. He proposed that the US take new initiatives to conclude the war.
1968-Martin Luther King, Jr., born on 15 January 1929, is shot and killed by a sniper while standing on the balcony outside his second-story room at the Lorraine Motel in Memphis TN. On this night,April 4, presidential candidate Robert F. Kennedy, just two months away from his own assassination, announced King's death at a political rally in Indianapolis. Urging calm, Kennedy fell into quoting the Ancient Greek tragedian Aeschylus in an effort to articulate the inexplicable tragedy of King's murder: "In our sleep, pain that cannot forget falls drop by drop upon the heart until, in our own despair, against our will, comes wisdom through the awful grace of God." As word of the assassination spread, riots broke out in several major cities, and in Washington, D.C., fires set by enraged protestors devastated portions of the downtown area. The National Guard was subsequently called in, and for several days the armed troops patrolled the streets of the nation's capital. James Earl Ray was convicted of his assassination, but King's family to this day believe he was killed by others.
1968- Bobby Goldsboro was awarded a gold record for "Honey." The record sold one-million copies within three weeks, and eventually sales were over three-million. "Honey" topped the Billboard Hot 100 chart for five weeks.
1969-CBS canceled the "Smothers Brothers" comedy series. The hour-long show strongly influenced television humor during the two years it aired. Tom and Dick, however, frequently found themselves at odds with the censors over material that would be considered tame today. Guests and cast members frequently knocked the Vietnam War and the Nixon Administration. Acts featuring antiwar protestors such as Harry Belafonte were often cut.
1969-the first heart transplant using an artificial heart took place at St. Luke's Episcopal Hospital in Houston, Texas ( an exhibit is now at Herman Hospital, University of Texas at Houston ). Dr. Denton A. Cooley ( still in practice), implanted the world's first entirely artificial heart into Haskell Karpk, age 49, from Skokie, IL. The prosthetic heart was made of Dacron and plastic. Karp lived with the hear for three days, when it was replaced by a transplanted heart. He died on April 8.
1971 - Veterans stadium in Philadelphia, PA was dedicated this day. It was the largest baseball park in the National League. A total of 56,371 fans could come out to see the Phillies play baseball or the Eagles play football. The stadium has been nicknamed the Vet. Seating was later increased to 63,000.
1973 - Sandia Crest, NM, reported a snow depth of 95 inches, a record for the state of New Mexico.
1973 - No. 1 Billboard Pop Hit: ``The Night the Lights Went out in Georgia,'' Vicki Lawrence. Lawrence is probably best known as the look-alike to the star of ``The Carol Burnett Show.'' The song debuts at No. 100 on the Hot 100.
1978--Birthday of American composer Kevin Ure.
1981-first mayor of a major city of Mexican descent was Henry Gabriel Cisnernos, San Antonio, Texas.
1983 -a snowstorm in the midwest left 11 inches of snow on the ground at Liberal, Kansas and 14 inches at Trousdale, Kansas. Further to the west in Colorado, the storm was in its 2nd day and by the time it was all over on the 5th, 21 inches of new snow was recorded at Fort Collins and Buckhorn Mountain, not to far from Fort Collins, was buried under 64.4 inches.
1984 - Bob Bell retired as Bozo the Clown on WGN-TV in Chicago, IL. Bell was an institution in the Windy City since making his first appearance in 1960. Pinto Colvig was the original Bozo.
1987-Denis Potvin of the New York Islander, the highest-scoring defenseman in NHL history at the time, scored the 1,000th point of his career. Potvin entered the Hockey Hall of Fame in 1991.
1987-- one of the most famous record companies in the world, RCA Records, officially became the Bertelsmann Music Group - BMG for short - upon its takeover by the giant West German publishing, broadcasting and recording company. The new owners said Nipper, the famous Radio Corporation of America dog, would continue as the new firm's logo, and the names RCA, Arista and Red Seal would still appear on BMG record labels.
1987 -New England was in the middle of its second heavy rainstorm in 5 days. Ten persons were killed in a bridge collapse over Schoharie Creek. This was the same storm that produced record snows in the Appalachians. This storm dumped 4 to 7 inches of rain over the area and this, combined with snowmelt and rivers already at bankfull, produced record flooding, especially in Maine. 2300 homes were flooded in Maine with 215 totally destroyed. Record water levels were reached at many dams. Damage in the state alone reached 100 million dollars.
1990 - A deep low pressure system in northern New York State brought heavy snow to parts of western and central New York during the day. The snowfall total of 5.8 inches at Buffalo was a record for the date, and 9.5 inches was reported at Rochester. Snowfall totals ranged up to 11 inches at Warsaw.
1996- Jerry Garcia's widow, Deborah, and Grateful Dead guitarist Bob Weir sprinkled a small portion of Garcia's ashes into India's holy Ganges River. Deborah Garcia kept her plans secret because she feared thousands of fans might have travelled to India and disrupted the ceremony. The rest of Garcia's ashes were released off San Francisco later that month. The Grateful Dead leader had died of a heart attack following a drug overdose in a rehabilitation facility, Forrest Farm, in Marin County.
1996-- The former general manager of Daiwa Bank's New York branch pleaded guilty to aiding a $1.1 billion cover-up.
1996-- In its IPO, just two days after Lycos and a week before Yahoo!, Search engine Excite's stock opens at $17 and closen at $20.
2000-Michigan State beats Florida 89-76 to win NCAA Title.
http://sportsillustrated.cnn.com/basketball/college/2001/ncaa_tourney/news/
2001/04/02/final_gamer_ap/
2003 -- SMITH, PAUL RAY Medal of Honor
Rank and Organization: Sergeant First Class, 2nd Platoon, B Company, 11th Engineer Battalion, 1st Brigade, 3rd Infantry Division. Place and Date: At Baghdad, Iraq, 4 April 2003. Citation: Sergeant First Class Paul R. Smith distinguished himself by acts of gallantry and intrepidity above and beyond the call of duty in action with an armed enemy near Baghdad International Airport, Baghdad, Iraq on 4 April 2003. On that day, Sergeant First Class Smith was engaged in the construction of a prisoner of war holding area when his Task Force was violently attacked by a company-sized enemy force. Realizing the vulnerability of over 100 fellow soldiers, Sergeant First Class Smith quickly organized a hasty defense consisting of two platoons of soldiers, one Bradley Fighting Vehicle and three armored personnel carriers. As the fight developed, Sergeant First Class Smith braved hostile enemy fire to personally engage the enemy with hand grenades and anti-tank weapons, and organized the evacuation of three wounded soldiers from an armored personnel carrier struck by a rocket propelled grenade and a 60mm mortar round. Fearing the enemy would overrun their defenses, Sergeant First Class Smith moved under withering enemy fire to man a .50 caliber machine gun mounted on a damaged armored personnel carrier. In total disregard for his own life, he maintained his exposed position in order to engage the attacking enemy force. During this action, he was mortally wounded. His courageous actions helped defeat the enemy attack, and resulted in as many as 50 enemy soldiers killed, while allowing the safe withdrawal of numerous wounded soldiers. Sergeant First Class Smith's extraordinary heroism and uncommon valor are in keeping with the highest traditions of the military service and reflect great credit upon himself, the Third Infantry Division "Rock of the Marne," and the United States Army.
NCAA Basketball Champions This Date
1983---North Carolina State
1988---Kansas
1994---Arkansas
2000---Michigan State
--------------------------------------------------------------

Poem
Poem for Today
O Captain! My Captain!
O CAPTAIN! my Captain! our fearful trip is done;
The ship has weather'd every rack, the prize we sought is won;
The port is near, the bells I hear, the people all exulting,
While follow eyes the steady keel, the vessel grim and daring:
But O heart! heart! heart!
O the bleeding drops of red,
Where on the deck my Captain lies,
Fallen cold and dead.
O Captain! my Captain! rise up and hear the bells;
Rise up--for you the flag is flung--for you the bugle trills; 10
For you bouquets and ribbon'd wreaths--for you the shores a-crowding;
For you they call, the swaying mass, their eager faces turning;
Here Captain! dear father!
This arm beneath your head;
It is some dream that on the deck,
You've fallen cold and dead.
My Captain does not answer, his lips are pale and still;
My father does not feel my arm, he has no pulse nor will;
The ship is anchor'd safe and sound, its voyage closed and done;
From fearful trip, the victor ship, comes in with object won; 20
Exult, O shores, and ring, O bells!
But I, with mournful tread,
Walk the deck my Captain lies,
Fallen cold and dead.
Walt Whitman
--------------------------------------------------------------

SuDoku
The object is to insert the numbers in the boxes to satisfy only one condition: each row, column and 3x3 box must contain the digits 1 through 9 exactly once. What could be simpler?
http://leasingnews.org/Soduku/soduko-main.htm
--------------------------------------------------------------

Daily Puzzle
How to play:
http://www.setgame.com/set/puzzle_frame.htm
Refresh for current date:
http://www.setgame.com/set/puzzle_frame.htm
--------------------------------------------------------------


http://www.gasbuddy.com/
http://www.gasbuddy.com/GB_Map_Gas_Prices.aspx
http://www.gasbuddy.com/GB_Mobile_Instructions.aspx
--------------------------------------------------------------

Provence, France-Vacation
http://le-monastier.site.voila.fr/
--------------------------------------------------------------

News on Line---Internet Newspapers
Huntsville, Texas
--------------------------------