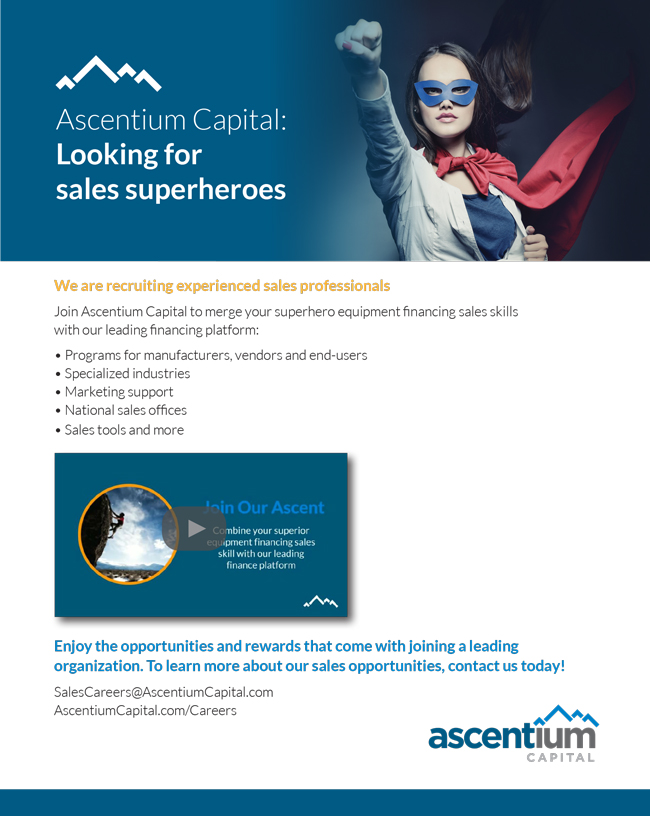 Friday, February 17, 2017


Today's Equipment Leasing Headlines

Leasing/Finance Conferences – Updated Information
See LendIt Forum Schedule –Three Examples Posted
New Hires---Promotions in the Leasing Business
and Related Industries
North Mill Equipment Finance Announces Promotions
Promotes Seven
Leasing Industry Ads---Help Wanted
Join a Leading Organization
How To Solve Your Biggest Marketing Problems
FinTech #102 by Brittney Holcomb
Saluting Leasing News Advisor
Bruce Kropschot
Federal Courts Seek Consolidation of Districts
Including Bankruptcy Courts with District Courts
By Tom McCurnin, Leasing News Legal Editor
No, Leasing News Did Not Forget
Len Baccaro
CCG Completes Acquisition of Machine Tool Finance Business
The Alta Group Was an Advisor to the Transaction
Fernando Reviews
Leasing News Movie Reviews
Labrador Retriever/Hound Mix
Brick, New Jersey Adopt a Dog
Leasing News Free Classified Ads
Collector / Collections / Consultant / Communications
News Briefs---
ELFF Reports Industry Confidence Near All-Time High
February is 72.2 Compared to January All time High of 73.4
Layoffs, Big Losses for OnDeck in Q4
loan losses increased to $55.7 million, up from $20.0 million
Lending Club Reveals Q4, $146 Million Loss for the Year
$32 million of which can be attributed to Q4
New York seeks to expand authority over FinTechs
To cover all involved with the loan process
Brandeis University launches online master's program
in financial technology
Broker/Funder/Industry Lists | Features (writer's columns)
Top Ten Stories Chosen by Readers | Top Stories last six months
www.leasingcomplaints.com (Be Careful of Doing Business)
www.evergreenleasingnews.org
Leasing News Icon for Android Mobile Device
You May have Missed---
Banks Look to Cellphones to Replace A.T.M. Cards
Winter Poem
Sports Brief----
California Nuts Brief---
"Gimme that Wine"
This Day in American History
SuDoku
Daily Puzzle
GasBuddy
Weather, USA or specific area
Traffic Live----
######## surrounding the article denotes it is a "press release" and was not written by Leasing News nor information verified, but from the source noted. When an article is signed by the writer, it is considered a "by line." It reflects the opinion and research of the writer.

Please send a colleague and ask them to subscribe. We are free.
Email kitmenkin@leasingnews.org and in subject line: subscribe

[headlines]
--------------------------------------------------------------
Leasing/Finance Conferences 2017
Save the Dates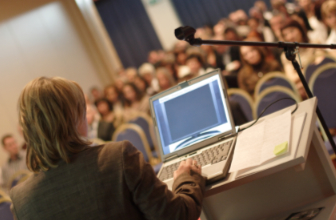 ---

March 6-7
LendIt USA
Javits Convention Center
New York, NY
Registration
https://register.lendit.com/events/lendit-usa-2017/registration-2524df4551b143b6bafa14778d6b73d7.aspx?ct=96a6325c-3567-4ebc-9d29-6bcbae1279d3
Please use the code "Yodlee17VIP" at checkout to receive a 25% discount.
Pricing Increases to $2995 after February 10th, $500 Increase
Finalists for First Annual LendIt Industry Awards
https://s3-us-west-2.amazonaws.com/lendit/usa/2017/LendIt+Finalist+
Press+Release+1.19.17.pdf
LendIt Forum Schedule
http://www.lendit.com/forums?_ga=1.117931276.481458787.1487277764
Includes, "Learn how the world of lending is being transformed by partnerships between banks and marketplace lending platforms. Discover how these platforms are using technology and big data to expand their underwriting capabilities. This webinar will be valuable for commercial and regional banking executives, bank analysts and emerging platforms."
"Since the first P2P securitization in 2013, over 40 securitizations totaling roughly $8.5 billion have occurred. The loan originators have been a mix of FinTech companies like Lending Club, Prosper, SoFi, OnDeck, and Kabbage. The issuers have been institutional fund managers, who have purchased loans off these origination platforms, converted them into securities, and subsequently sold the securities to insurance companies and pension funds -- thereby providing institutional access to this new asset class."
"High yield, short duration and low volatility are a great mix offered by marketplace lending platforms. Learn how technology and finance come together to open a new asset class for financial advisors and their clients."
---
March 15, 2017 - March 17, 2017
2017 National Equipment Finance Summit
Renaissance Long Beach Hotel
Long Beach, California
Conference Chairperson: Frank Pretore, Esq.
Chiesa Shahinian & Giantomasi, PC
Agenda
https://eventmobi.com/summit2017/agenda/209134/day/all
Speakers
https://eventmobi.com/summit2017/speakers/209136
Exhibitors
https://eventmobi.com/summit2017/companies/211879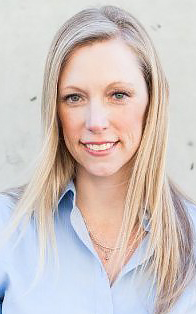 Reid Raykovich, CLFP, Exec. Dir. CLFP Foundation, to receive
Leasing News Person of the Year 2016 Award
Announcement from Women in Leasing
The Women in Leasing LinkedIn Group would like to cordially invite you to our March luncheon at Parker's Lighthouse in Long Beach, California on Wednesday, March 15th from 11:30pm – 2:30pm.
The lunch is being co-hosted by ECS Financial Services and Financial Pacific Leasing, an Umpqua Bank company.
The restaurant is located within walking distance from the 2017 NEFA Spring Summit host hotel.
You'll Find Everything Your Need to Know
Electronic Docs & Implementation
Current Market Trends and Changes
Marketing -5 Need-to-Know Tips
Collections - Best Practices
Cyber Security- Prevention is Key
Top Sales Training Techniques
Backend Operations - Untapped Revenue
Transitioning from Broker to Lessor
Transportation Financing & State Regulation
T-Value Software & Capabilities
You'll Find it All at the Finance Summit
Early Bird Pricing Available

Details:
http://www.nefassociation.org/events/EventDetails.
aspx?id=827092&group=


---
March 22, 2017
16th Annual IMN/ELFA
Investor Conference
New York, New York
Agenda
https://www.imn.org/structured-finance/conference/Investors-Conference-on-Equipment-Finance-2017/Agenda.html
Registration
https://www.imn.org/structured-finance/conference/Investors-Conference-on-Equipment-Finance-2017/Register.html

Speakers
https://www.imn.org/structured-finance/conference/Investors-Conference-on-Equipment-Finance-2017/Speakers.html
---
April 4 - April 6, 2017
29th Annual National Funding Conference
Swissotel
Chicago, Illinois

PLEASE NOTE: As of 01-24-2017 all new registrations for Funding Source Suites will be placed in hotel meeting rooms. Actual hotel suites at the Swissotel for funding sources are sold out.
Brochure:
http://www.elfaonline.org/cvweb_elfa/cgi-bin/documentdll.dll/view?DOCUMENTNUM=1499
---
April 5, 2017 – April 7, 2017
National Vehicle Leasing Association
Hilton Nashville Downtown
121 Fourth Avenue South
Nashville, Tennessee 37201
Contact: Elizabeth Schlicht
eschlicht@nvla.org
414-533-3300
---
April 27, 2017 - April 29, 2017
NAELB 2017 Annual Conferences
Sheraton Memphis Downtown Hotel
& Memphis Cook Convention Center
Memphis, Tennessee
Conference Information
http://iwantmy.naelb.org/events/event-description?CalendarEventKey=d1aee2bb-e740-4e78-8967-eac8da75e4fe&Home=%2fhome
---
May 3, 2017 - May 5, 2017
37th Annual AGLF Conference
Omni Interlocken Resort
Broomfield, Colorado
---
October 4, 2017 - October, 6
2017 Funding Symposium
JW Marriott Buckhead
Atlanta, Georgia
---
October 11, 2017 - October 13, 2017
Lend360
Fairmount Dallas, Texas
http://www.lend360.org/
---
October 17, 2017 - October 19, 2017
Third Annual Conference
---
October 22, 2017 - October 24, 2017
2017 56th Annual Convention
Orlando, Florida
---

October 22, 2017 - October, 26, 2017
The Palazzo and Sands Convention Center
Venetian Hotel & Casino
Las Vegas, Nevada



[headlines]
--------------------------------------------------------------
New Hires---Promotions in the Leasing Business
and Related Industries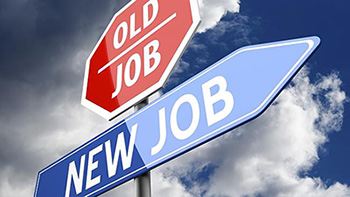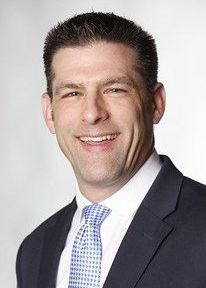 Allen Brady was hired by ZRG Partners, Boston, Massachusetts. He is based in Seattle. Previously, he was Corporate Director, Talent Acquisition, Sierra Nevada Corporation (2015 – 2016); Director, Talent Acquisition, Waggener Edstrom (2013 – 2015); Director, Talent Acquisition, Bombardier Aerospace (2011 – 2013); Executive Recruiter, Microsoft (2009 – 2011); Client Partner, Korn/Ferry International (2005 – 2009).
https://www.linkedin.com/in/allen-brady-7351578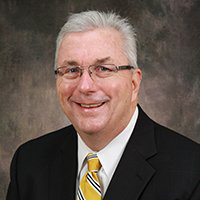 Jim Brady was hired as Enterprise Account Manager, Windstream Communications. Chester Springs, Pennsylvania. Previously, he was National Account Manager, Univest Capital (December, 2014 – February, 2017); Business Development Manager, Marlin Business Bank (August, 2013 – December, 2014); Option Trader, Self Employed (March, 2012 – August, 2014); Enterprise Account Manager, XO Communications (March, 2010 – March, 2012); Senior Account Manager, Verizon Business (June, 2006 – February, 2010); Senior Account Manager, SBC/AT&T (2003 – 2006); Senior Account Manager, XO Communications (2003 – 2004); Commercial Account Executive, MCI (2000 – 2003); Option Broker, Perbon Yamane, Inc. (1999 – 2000); Option Broker, Tullett & Tokyo (1995 – 1999); Broker, TFS (1990 – 1995); Option Trader-Philadelphia Stock Exchange, Drexel Burnham Lambert (1985 – 1990); A Team, Van R Dental (1984 – 1985); Operations, Thompson McKinnon (1982 – 1984). Associations: Volunteer, Anchor House Foundation (March, 2005 – Present), Social Services. Education: Lebanon Valley College, BS, Accounting (1979 – 1982); Biscayne College / St Thomas University
(1978 – 1979); Archbishop Ryan High School (1974 – 1978).
https://www.linkedin.com/in/jimbrady23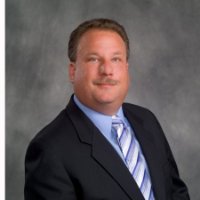 Howard Golden was hired as Vice President of Recruiting at Ascentium Capital, Kingwood, Texas. He is based out of Rochelle Park, New Jersey. Previously, he was Senior Director, KLM Bryant Research (January, 2015 – February, 2017); Vice President, Recruiter, Rainmaker Associates (November, 2009 – March, 2014); Senior Consultant, ZRG Partners (May, 2008 – August, 2009); Executive Recruiter, The Madison Davis Group (April, 1995 – May, 2008). Organizations: Equipment Leasing and Finance Association. Manager/Owner, Equipment Leasing Professional Group, LinkedIn.
Education: State University of New York at New Paltz, BS, Marketing.
Ramapo High school.
https://www.linkedin.com/in/howardgolden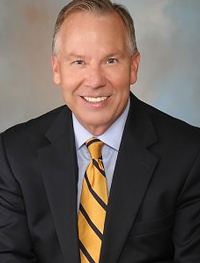 Mark Haley was hired as Practice Development Manager at Marcum LLP, Greater Boston Area. Previously, he was Managing Director, Business Development, Winthrop Capital Advisors (April, 2015 –January, 2017); Vice President of Business Development at North Mill Capital LLC, (August, 2014 - February, 2014); Business Development Officer, Bibby Financial Services (July, 2013 – July, 2014); Founder/Director of Business Development, Bay Colony Capital (June, 2008 – June, 2013). Organizations: Commercial Finance Association, Board of Directors, Starting February, 2012. Education: Union College, BA, Economics. Activities and Societies: Captain, Varsity Ice Hockey; Chi Psi Fraternity.
https://www.linkedin.com/in/mark-haley-57165812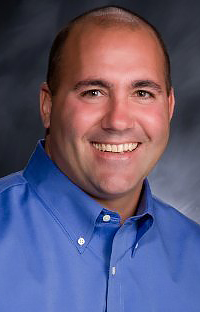 Brian Hunt was promoted to Vice President Sales & Marketing, LeaseTeam, Inc., Omaha, Nebraska. He joined the firm May, 2006, as Regional Sales Manager; promoted, March, 2009, Director of Sales. Prior, he was District Manager, United Rentals (November, 1999 – March, 2006). Organizations: Canadian Lease and Finance Association. Education: Huntingdon College, BA, Marketing (1992 – 1996).
https://www.linkedin.com/in/bryan-hunt-202061a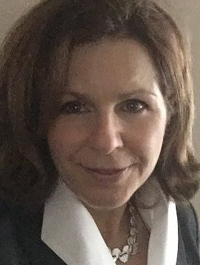 Lisa (Cereghini) Lersner was hired as President and CEO at Advantage Funding, Lake Success, New York. Previously, she was Principal, FocusCap Consulting (December, 2015 – February, 2017); Chief Financial Officer, CapitalSpring Finance Company, CapitalSpring, Private Equity (July, 2011 – November, 2015); Chief Financial Officer, R4 Technologies (2008 – September, 2011); Chief Financial Officer, Putnam Leasing Company, LLC (2007 – 2008); Principal, Lease & Finance Consulting, LLC (2004 – 2007); CFO, COO, President Golden Eagle Leasing Inc., Sub of Hypercom (1996 – 2003); Lease & Finance Consultant, LLC, Consulting (1991 – 1995); Manager of Field Accounting, Chrysler Capital Corporation (1988 – 1990); Accounting Operations Officer, Citicorp North America (1986 – 1988). Volunteer:
Past Board Member, Dispute Resolution Center. Education: University of Utah, BS, Accounting (1982 – 1986). Amembal & Isom Equipment Leasing. Moody's Commercial Lending, UE.
https://www.linkedin.com/in/lisa-lersner-9064312


Brian L. Lucas was hired as Business Banking Officer II, BBVA Compass, Birmingham, Alabama. Previously, he was Vice President - Business Banker, PNC Bank (January, 2014 – January, 2017). He began his banking lending career August, 2011 at Regions Bank, starting as a Special Assets Officer; promoted, September, 2012, as Relationship Manager. Prior he was a sergeant, United States Marine Corps (July, 2001 -July, 2007). Organizations: Veterans of Foreign Wars.
https://www.linkedin.com/in/bryan-l-lucas-99b9309

Mike O'Hare was hired as SVP Sales, Ameris Bank Equipment Financing, Jacksonville, Florida Area. Previously, he was Vice President, Fleet Advantage (April, 2016 – January, 2017); Senior Vice President, SunTrust Equipment Finance & Leasing (December, 2010 – December, 2015); Senior Vice-President, Winthrop Resources (September, 2009-July, 2011); Chief Operating Officer, Fidelity National Capital (July, 2004-September, 2009); Regional Sales Manager, GATX (November, 1995-June, 2004); Regional Sales Manager, Sun Financial Group (April, 1987-November, 1995); Regional Sales Manager, U S Leasing Corp, (December, 1982-Apri, 1987). BS, University of Florida, Warrington College of Business (1977-1979). State University of New York College at Oswego, Business Management (1974-1977). Clarence Central High School (1970-1974).
http://www.linkedin.com/in/mikeohare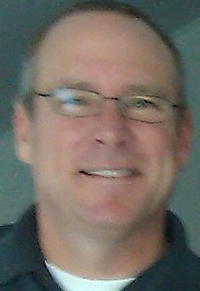 Bill Raglow was hired as Deployment Specialist, First Energy, Akron, Ohio. Previously, he was Cleveland Clinic/Pomeroy/Win 7 (May, 2014 – February, 2017); Consultant, Avery Dennison/Pomeroy (August, 2013 – February, 2014); Account Manager, ACG Equipment Finance, LLC (February, 2002 – December, 2008); Account Manager, American Express Business Finance (January, 2000 – January, 2002); Account Manager, First Sierra Financial (February, 1998 – December, 2000); Account Manager, North Coast Capital Leasing (February, 1996 – December, 1997); General Contractor, Capital Builders & Supply (January, 1983 – January, 1996). Education: Techskills (2010 – 2011); Activities and Societies: CompTia A+, Network+ Certified.
Walsh University, Accounting (1980 – 1982); Mentor High School,
General Studies (1978 – 1980). Activities and Societies: Track Team.
Lake Catholic High School (1976 – 1978). Activities and Societies: Track Team.
https://www.linkedin.com/in/bill-raglow-95403829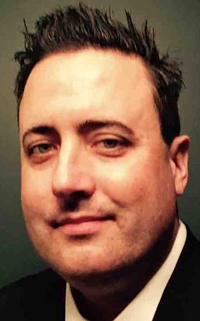 Chad Resech was hired as Business Development Manager, Engs Commercial Finance Co., Greater Minneapolis-St. Paul Area. Previously, he was Equipment Finance Associate, CR Financial Services (2011 – February, 2017); Sales Executive, Transworld Systems (2009 – 2010); Owner/CEO, Financial Mortgage Group (April, 1999 – October, 2009). Education: North Hennepin College (1991 – 1993). Examfx, Insurance License, Insurance, Kaplan University Banking, Corporate, Finance, and Securities Law.
https://www.linkedin.com/in/chad-resech-a6647519


Lee Ritter was rejoined Lease Corporation of America as Vice President, Business Development Officer. Previously, he was Business Development Executive, LSG Insurance Partners (September, 2016 – January, 2017). He originally joined LCA in October, 2012, as Account Executive; promoted January, 2015, as Vice President, Business Development Officer. Prior, he was Aerospace Propulsion Craftsman, Air National Guard (April, 2002 – March, 2014); Business Development Manager, Complete Capital Services, Inc. (April, 2012 – September, 2012); Assistant Branch Manager, Huntington National Bank (2009 – April, 2012); Account Executive/Recruiter, Pulsar IT Consulting (June, 2008 – August, 2009); Financial Services Associate, Prudential Financial (October, 2007 – May, 2008); President/Owner, World Lending Inc. (May, 2006 – September, 2007); First Officer, Gulfstream International Airlines (2004 – 2005). Certifications: Commercial Pilot Airplane Single and Multi-Engine, Federal Aviation Administration, Starting December, 2004. Life, Health, Property and Casualty Insurance Agent. Education:
Siena Heights University, B.S., Aeronautical Science (2004). Rochester Adams.
https://www.linkedin.com/in/lee-ritter-6078868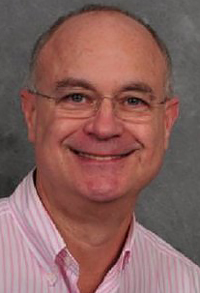 Jeffrey Schlesinger was hired as President and CEO, LeasePlan USA, Alpharetta, Georgia. Previously, he was Owner, JS Consulting
November, 2015 – January, 2017). He joined GE Capital, June, 1996 as Managing Director, Capital Markets; promoted, January, 2005, Managing Director, GE Capital Water & Technology; promoted, November, 2008, Managing Director, GE Capital Global Sponsor; promoted, August, 2008, Managing Director, GE Capital Fleet Financial Services; promoted April, 2009, Sr. Vice President and Managing Director, Sr. Vice President & Managing Director, GE Capital Fleet Financial Services (Purchased by Element in September 2015) Prior, he was Managing Director, WestLB (1993 – 1996); Managing Director, CIT (1987 – 1993); Managing Director, Chase (1983 – 1987). Education: The University of Chicago Booth School of Business,
Master of Business Administration (M.B.A.), International Finance and Statistics, Georgetown University, Bachelor of Arts (B.A.), Economics.
Activities and Societies: Baker Scholar.
https://www.linkedin.com/in/jeffschlesinger1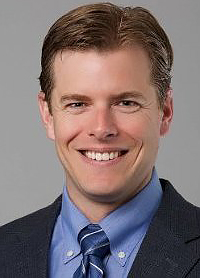 Mike Sedlak was promoted to Senior Vice President, GE Capital. He is based in Baltimore, Maryland. He joined the firm June, 2005 as Junior Credit Analyst; promoted January, 2007, Assistant Vice President; promoted June, 2010, Vice President. Prior, he was Equity Trader Support, Wachovia Equity Capital Markets (June, 2003 – June, 2005). Certifications: Series 7 - General Securities Representative Exam, Starting February, 2013. Series 63 - Uniform Securities Agent State Law Exam, Starting August, 2010. Series 79 - Limited Representative - Investment Banking Exam, Starting, August 2010. Education: Loyola College in Maryland, MBA, Finance (2007 – 2010); Salisbury University - Perdue School of Business (1999 – 2003).
https://www.linkedin.com/in/mike-sedlak-mba-76b9592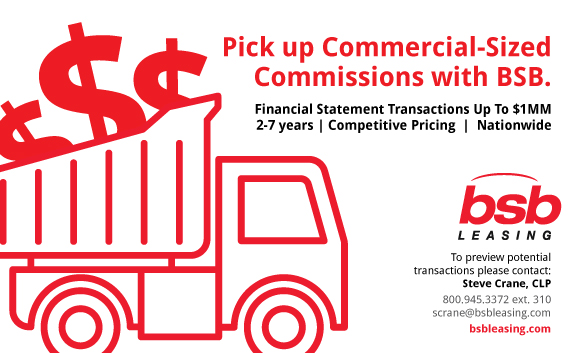 [headlines]
--------------------------------------------------------------
#### Press Release #############################
North Mill Equipment Finance Announces Promotions
Promotes Seven

North Mill Equipment Finance, a private lender based in Norwalk, CT, announced several executive and management promotions.


David Lee has been named as Chairman and CEO of North Mill Equipment Finance. Mr. Lee is also CEO of Colford Capital, North Mill's parent company. Mr. Lee has over 30 years of financial services experience. Previously, Mr. Lee served as President of D.B. Zwirn & Co., a $6.5 billion AUM alternative asset manager and was the founding Managing Partner of Saturn Venture Partners and a Partner with the private equity firm of Sandler Capital. Mr. Lee began his career as an investment banker, most recently serving as a Managing Director at Lazard. He graduated magna cum laude from the Wharton School of the University of Pennsylvania.

Josh Rothman has been promoted to Executive Vice President and Chief Operating Officer. In his new capacity, Mr. Rothman will be responsible for directing North Mill's daily operations, including marketing, credit, and technology infrastructure. Mr. Rothman joined North Mill's predecessor company, Equilease, in 2003 as an analyst and has been involved in all aspects of the company's management and operations, including marketing program development, credit policy & procedures, asset management, capital markets, financial reporting, portfolio management, documentation, restructuring, insurance, titling, and portfolio acquisition. He was educated at St. Lawrence University.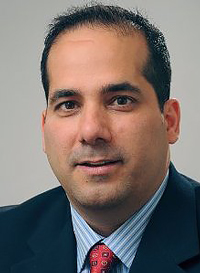 Mark Bonanno has been promoted to Executive Vice President and Chief Financial Officer. Prior to joining North Mill in the summer of 2016 as the company's CFO, he was Chief Financial Officer at Advantage Funding and previously spent sixteen years at General Electric in various financial management roles, including Finance Manager of the Corporate Initiatives Group, CFO of Xerox Capital Services and Operational Controller of GE Energy Financial Services. Mr. Bonanno was educated at the University of Massachusetts and is a Certified Black Belt, Six Sigma. He is also a CPA and a graduate of the GE Management Development Course.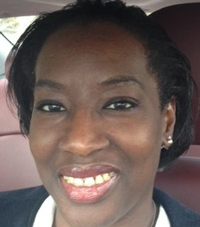 Dana Bowman has been promoted to Vice President of Portfolio Accounting. Reporting to the company's Chief Financial Officer, Ms. Bowman is responsible for managing a team that handles the process of booking and accounting for new lease and loan transactions, monitoring the status of all portfolio accounts and processing their monthly payments. She joined North Mill's predecessor company, Equilease, in 1997 as a staff accountant and has been involved in all aspects of the company's portfolio accounting. She was educated at the University of New Haven.
Patricia Matthews has been promoted to Assistant Vice President, Portfolio Management, responsible for leading a team of Portfolio Managers. She joined North Mill's predecessor company, Equilease, in 2004 in the remarketing department as the administrative coordinator and a remarketer. She then worked in marketing for several years, becoming one of the top salespeople in the company, and subsequently worked in the company's legal collections and enforcement division. Patty's previous experience in the leasing industry was with Neptune Computer Group and HBSC. She was educated at the University of Bridgeport.
Anthony Pontonio was promoted to assistant vice president of Sales, Marketing and Customer Relationship Management responsible for managing North Mill's business referral flow programs, the account management team and the customer service group. He is also responsible for developing, maintaining and marketing relationships with the company's third-party referral sources. Prior to joining North Mill in 2015, Anthony held various positions in the equipment finance industry with GE Capital, IBM Global Financing and Pitney Bowes.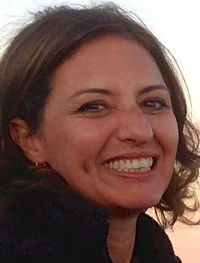 Aroub Bayazid was promoted to manager of Restructuring – Portfolio Management, responsible for assisting and resolving customer issues related to their equipment finance contracts. She joined North Mill's predecessor company, Equilease, in 2007, as a credit analyst and assistant portfolio manager. She also spent two years as a Credit Analyst at Citicapital.


#### Press Release ##############################

(Leasing News provides this ad as a trade for appraisals and equipment valuations provided by Ed Castagna)
[headlines]
--------------------------------------------------------------
Leasing Industry Ads---Help Wanted
Join a Company Utilizing Latest Advantages of Financial Technology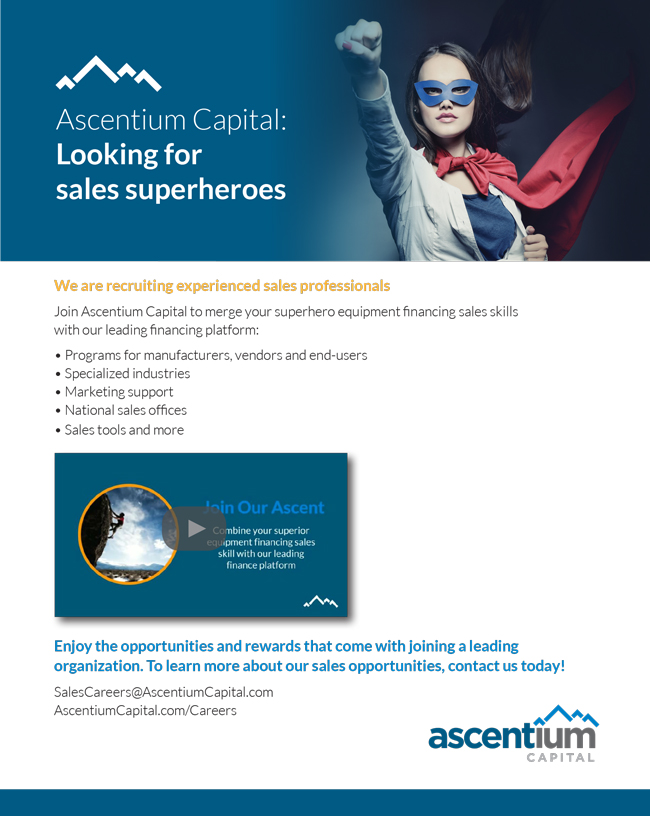 [headlines]
--------------------------------------------------------------
How To Solve Your Biggest Marketing Problems
FinTech #102 by Brittney Holcomb
In the financial industry, we spend so much time focusing on solving the financial problems our clients face that we don't give attention to the problems our own businesses face, especially when it comes to marketing. The size of your business doesn't matter - big, small, new or established - most business owners find themselves running into the same marketing obstacles.
Sometimes we may even have trouble identifying issues in our marketing campaigns, therefore making it difficult to find a solution. With digital marketing constantly updating and changing, problems may arise every day. While that can seem exhausting to think about, there are simple quick fixes that small business owners can apply that may solve some of the biggest marketing problems.
Problem: You Have Hit A Conversion Plateau
Solution: First and foremost, finding where the drop off is happening is going to be the most vital part of the solution. Reviewing past sales data will give insight on whether there are seasonal demand changes you should be aware of or changes in user behavior throughout the industry. For the alternative financing industry, commercial real estate funding searches always seem to slow between November to February. Knowing seasonal demands will help you better target your campaign in different areas when you know conversions will be slower than usual.
Also, keeping track of when you make changes to your marketing campaign will help you identify if a certain adjustment made a dramatic difference in your conversions or not. A few other simple fixes include removing all distractions that deter the user away from completing the conversion you are looking for. Keep in mind that most consumers use their mobile devices to complete conversion and online experiences. Having too much on your site may be too distracting for them to get to the action they are meaning to take. Lastly, Are you retargeting your users? Some users require 8 different interactions with a business before they convert. Just because they don't make the conversion on the first site visit doesn't mean they are a lost cause.
Problem: Coming Up With Content Ideas That Aren't Boring
Solution: Get visual and change it up. You can no longer rely on text heavy blog posts to get your point across. Consumers need quick, digestible and meaningful experiences. Going the extra mile to create more interactive and visual content displays to the consumer that you value their time and are more focused on their needs than where your site is ranking in the search engine results. Infographics are easy to create and display content in a more visually appealing manner.
Problem: Your SEO Campaign Isn't Generating Leads
Solution: Stop expecting immediate results from long term strategies. This is a problem that every marketer struggles to get across. SEO is commonly mistaken for a short-term marketing strategy. That is most certainly not true. In fact, most SEO campaigns take 6 months to a year to gain traction and once you start to rank for your target keywords, there is no guarantee of increased conversions.
There is a lot more that plays into converting a web visitor into a client, including website design, content formatting, calls to action, page load time, etc. Expecting a huge ROI within the first couple months from your SEO strategy is just going to lead to disappointment. Set realistic expectations for your marketing campaigns, and don't stretch your budget across so many different strategies right out of the gate. Start small, learn the channels and strategies that work best for you and then devise a plan to focus in those areas.
When larger companies seem to have endless marketing funds, it can be discouraging having to keep testing, fixing, and re-testing your marketing campaigns. Marketing is not an automated process nor will it ever be. Accepting the fact that you must make constant adjustments each week is the first step to running a successful marketing campaign.

Brittney Holcomb is the Director of Paid Search at The Finance Marketing Group. She works exclusively with finance companies and banks to help better develop their business online through digital marketing strategies. Brittney has been trained by some of the top leaders in the industry giving her a vast knowledge she is able to pass along to her client base.
eMail: brittney@financemarketing.com
https://www.linkedin.com/in/brittney-holcomb-02101834
Previous Financial Technology Articles
http://www.leasingnews.org/Conscious-Top%20Stories/fintech.html
[headlines]
--------------------------------------------------------------
Leasing News Advisor
Bruce Kropschot

Bruce Kropschot
Senior Managing Director
The Alta Group
7448 Treeline Drive
Naples, FL 34119
(239) 260-4405
bkropschot@thealtagroup.com
www.thealtagroup.com
Bruce Kropschot is one of the first asked to join the advisory board and he has been active since September 6, 2000. He was named Leasing Person of the Year for 2015.
Bruce Kropschot has been active in the equipment leasing industry since 1972 and has been a senior executive of three large leasing companies. In 1986 he founded Kropschot Financial Services, a firm he developed into the leading provider of merger and acquisition advisory services for equipment leasing companies. In 2008 Kropschot Financial Services became a part of The Alta Group, the leading worldwide consulting firm for the leasing industry. Bruce heads Alta's M&A advisory practice, which also arranges debt and equity capital and provides valuation services for leasing companies. He has played a major role representing sellers or buyers in the sale of about 200 equipment leasing and financing companies.
After 44 years in the equipment leasing industry, Bruce shows no signs of slowing down. He says that his business is his favorite hobby. When asked what have been the keys to his success, he stated, "Obviously a thorough knowledge of many types of leasing companies is essential in the M&A advisory business. However, of utmost importance is maintaining the highest level of integrity. The Alta Group's reputation depends upon always treating as confidential any information we receive in confidence from potential buyers and sellers of leasing companies."
Bruce has served on the Board of Directors of the Equipment Leasing and Finance Association, the Equipment Leasing and Finance Foundation, Eastern Association of Equipment Lessors, United Association of Equipment Leasing and International Network of Merger & Acquisition Partners. He has served on the Leasing News Advisory Board since 2000, and he also served on the alumni advisory board of the Ross School of Business at the University of Michigan. He has BBA and MBA degrees (with honors) in Accounting and Finance from the University of Michigan and is a CPA.
Bruce's favorite recreational activity has long been skiing. Now that knee problems have curtailed his ski trips, Bruce and his wife Barbara spend their vacations with international travel.
[headlines]
--------------------------------------------------------------
Federal Courts Seek Consolidation of Districts
Including Bankruptcy Courts with District Courts
By Tom McCurnin
Leasing News Legal Editor
Budget Sequestration Has Forced Federal Judicial Conference to Seek Consolidation of Bankruptcy and District Courts Into One Court
Report of Federal Judicial Conference March 16, 2016
http://www.uscourts.gov/sites/default/files/2016-03_0.pdf
President Donald J. Trump has a blank easel for the Federal Court system at his feet this year. He will have one Supreme Court Justice and a handful of District Court and Court of Appeal judges that have been delayed in the last year. But even more interesting is the proposal to combine District Courts and Bankruptcy Courts into a single courthouse with a single clerk of court. Also under consideration will be the break-up of the Ninth Circuit, long considered to be too large of an appellate district.
Under the proposal made by the Judicial Conference, certain states are slated for "horizontal consolidation" which combines, by way of example, the various districts in the state into a single district, with a single presiding judge and a single clerk of court. Currently, Iowa is engaging in a pilot program to do exactly that.
Under a second proposal made by the Judicial Conference, certain states are slated for "vertical consolidation" which collapses the District Courts and the Bankruptcy Courts into one Court system. Obviously, for civil cases, a District Court Judge would be assigned to preside over the matter, because Bankruptcy Judges are Constitutionally prohibited from presiding over civil cases. Conversely, Bankruptcy Judges will remain in charge of the various insolvency proceedings, except if the case is appealed to the District Court.
States like New York, Florida, and California are so enormous that they are probably not going to be considered for any form of horizontal consolidation, although collapsing the Bankruptcy Courts into the District Court umbrella may make sense. Nevertheless, those states are so big, that any such consolidation will create some bureaucratic challenges. Of while districts are being consolidated by the Judicial Conference, having a proposal to split the Ninth Circuit seems to be philosophically antithetical to consolidation. But that will also be on plate of the Judicial Conference and President Trump will undoubtedly weigh in.
Certainly, President Trump has not expressed any deep reverence for Federal Judicial system (if you can recall the missive about Judge Gonzalo Curiel), so many court-watchers are expecting a wholesale change in the Federal Court system during President Trump's first year.
Buckle your seat belt, it's going to be a bumpy ride.
Consolidation of Federal Courts (27 pages)
http://leasingnews.org/images/ConsolidationCourts.pdf
Tom McCurnin is a partner at Barton, Klugman & Oetting
in Los Angeles, California.
Tom McCurnin
Barton, Klugman & Oetting
350 South Grand Ave.
Suite 2200
Los Angeles, CA 90071
Direct Phone: (213) 617-6129
Cell (213) 268-8291
Email: tmccurnin@bkolaw.com
Visit our web site at www.bkolaw.com
Previous Tom McCurnin Articles:
http://www.leasingnews.org
Previous Tom McCurnin Articles:
http://www.leasingnews.org/Conscious-Top%20Stories/leasing_cases.html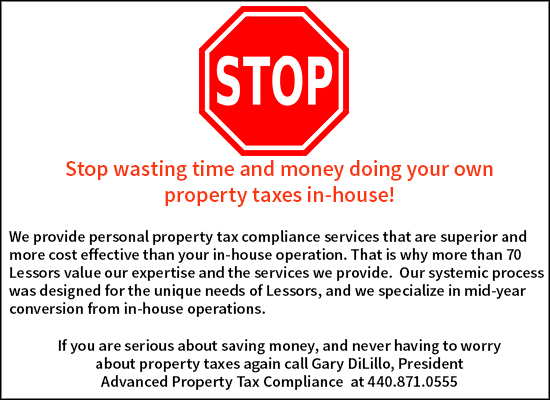 [headlines]
--------------------------------------------------------------
No, Leasing News Did Not Forget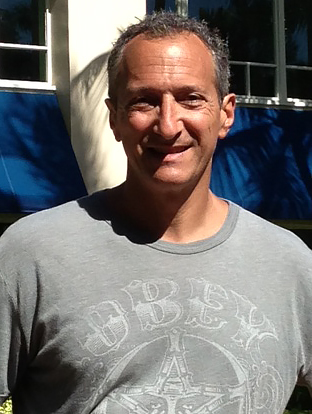 Len Baccaro
Senior Vice President - Sales
Ascentium Capital
Leasing News ran an Archive on Wednesday from February 15, 2002: "Where is Richard Baccaro? Scottsdale, Arizona. Rich responded, "Seriously?"
Well, his older brother took it seriously, and asked why we didn't mention him. It really was a matter that Leasing News didn't have any photos, especially 15 years old. So Len sent a photo, as well one with Samantha and their two children, Jessica and James, at the Jersey Shore.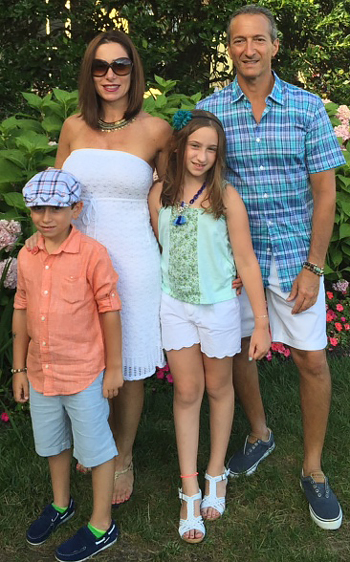 Archives---February 15, 2002 Where is Richard Baccaro? Scottsdale, Arizona - Former Executive Vice-President of American Express Business Finance
http://leasingnews.org/archives/Feb2017/02_15.htm#archives
[headlines]
--------------------------------------------------------------
#### Press Release ##############################
CCG Completes Acquisition of Machine Tool Finance Business
The Alta Group Was an Advisor to the Transaction

Commercial Credit Group Inc. (CCG), a leading independent commercial equipment finance company, today announced the purchase of the machine tool finance business of Manufacturers Capital, LLC., thus expanding into the machine tool and manufacturing industry. With the closing of the transaction, the Manufacturers Capital team will operate as a division of CCG and will continue to provide outstanding service to the machine tool and manufacturing industries.
(The Alta Group initiated this transaction and acted as exclusive financial advisor to Manufacturers Capital).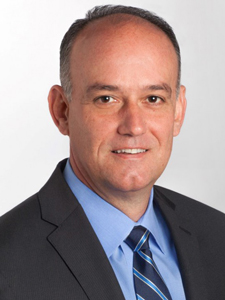 Dan McDonough
CCG Co-founder/CEO
"The acquisition of Manufacturers Capital, an independent, industry leader, allows us to expand into a new, yet similarly structured market to our existing business, led by a very accomplished group of professionals," notes CCG Co-founder and CEO, Dan McDonough. "Many senior managers of CCG have previously worked with Mr. Goose and the Manufacturers Capital team and I cannot think of a better cultural fit to further enhance our growth opportunities."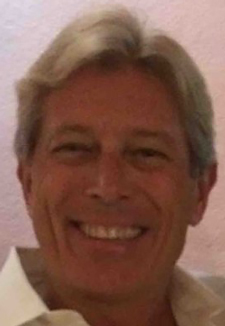 David Goose
President
Manufacturers Capital Associations
"CCG's significant funding capabilities and operating scale enable us to enhance our industry-leading customer experience by offering an extensive selection of financing options. The similarities in our cultures and senior management provides for a seamless transition to our new partner. The entire Manufacturers Capital team is excited to become part of the CCG family." said Manufacturers Capital President David Goose.
MANUFACTURERS CAPITAL provides commercial loans and leases for machine tool and fabrication equipment to manufacturing companies located throughout the United States. The Manufacturers Capital team uses its knowledge of the machine tool market to develop close relationships with equipment vendors in order to deliver custom tailored finance solutions to end-user manufacturing customers.
#### Press Release ##############################

[headlines]
--------------------------------------------------------------
Fernando's View
By Fernando F. Croce
A pair of powerful Oscar nominees ("The Salesman," "The Red Turtle") make for a poetic double-bill at the box-office, while new DVDs include a darkly playful storybook ("Miss Peregrine's Home for Peculiar Children"), a rousing documentary ("Miss Sharon Jones!"), and a devastating drama ("Black Girl").
In theaters: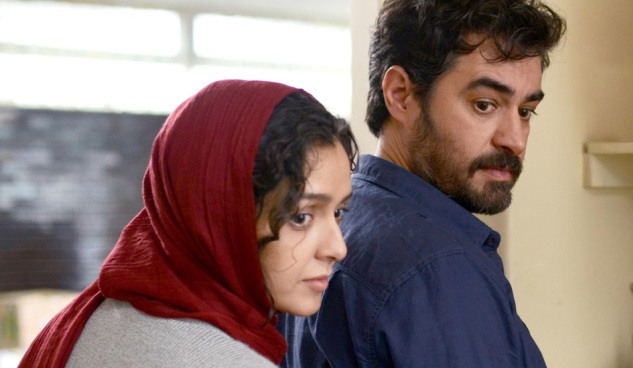 The Salesman (Cohen Media Group): Oscar-winning Iranian director Asghar Farhadi ("A Separation") serves up another absorbing humanistic portrait in this acclaimed drama set in Tehran. Taking its title from Arthur Miller's play "Death of a Salesman," which has a pivotal role in the plot, it focuses on two theater actors, Emad (Shahab Hosseini) and Rana (Taraneh Alidoosti), whose relationship is tested by a series of events. As they move to a new apartment that's redolent of its previous owner's troubles, the couple soon find their comfortable lives taking a sharp turn into past trauma and revenge. With a subtly tense camera, Farhadi weaves the characters' lives and art while revealing how swiftly chaos can intrude upon our lives. The results are suspenseful, emotional, and universal. With subtitles.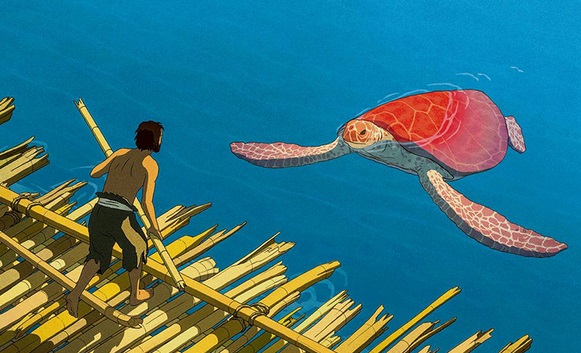 The Red Turtle (Sony Pictures Classics): Beloved Japanese animation studio Ghibli teams up with European artists for this poetic, Oscar-nominated fable, directed by Michael Dukok de Wit. The setting is a lush desert island, where the nameless protagonist finds himself in the wake of a stormy shipwreck. Though he tries to escape by building a raft, his attempts are thwarted by one of the local creatures, a large red turtle. Plotting revenge on the animal, the man takes action and sets in motion a series of increasingly magical events, leading to a lyrical and time-spanning conclusion. Using traditional hand-drawn animation rather than digital pixels, the movie uses symbolic sounds and images to weave a simple yet spellbinding tale of grace found in the strangest of nature's corners.

Netflix Tip: A consummate veteran of stage and screen, John Hurt (1941-2017) left behind a vast and varied gallery of splendid performances. So check out Netflix for this masterful actor's finest roles, which include "Midnight Express" (1978), "Alien" (1979), "1984" (1984), "Melancholia" (2011), and the Harry Potter movies.
On DVD: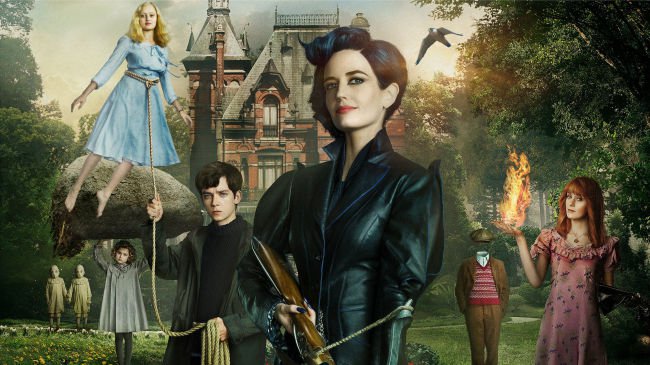 Miss Peregrine's Home for Peculiar Children (Fox): Director Tim Burton ("Edward Scissorhands") adds to his unique gallery of cinematic outcasts with this lustrous adaptation of Ransom Rigg's popular novel. Eva Green stars as Miss Peregrine, an outwardly severe yet loving headmistress who runs the titular sanctuary for young outsiders in Wales. Her latest visitor is Jake (Asa Butterfield), a teenaged traveler who, equipped with an enigmatic clue given by his late grandfather, seeks the truth about tragic events back home. What he finds is a slew of students with fanciful powers, whose friendly magic stands in stark contrast with the dark powers of the Wigths—scary humanoids who feast on children's eyes, led by the shapeshifting Mr. Barron (Samuel L. Jackson). With his blend of dark quirk and playfulness, Burton brings this storybook to shimmering, idiosyncratic life.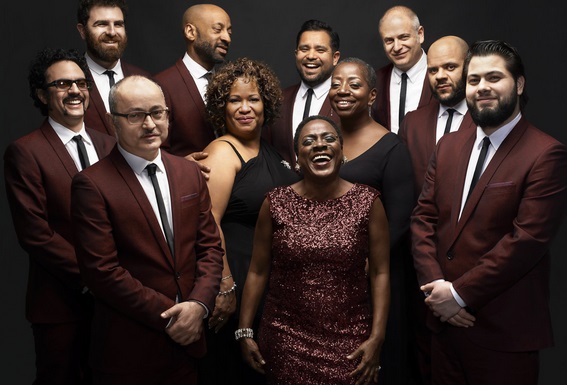 Miss Sharon Jones! (Starz Digital Media): A veteran documentarian known for impassionedly political projects ("Harlan County U.S.A.," "American Dream"), Barbara Kopple turns to a less weighty but no less inspiring subject in this intimate account of soul singer Sharon Jones. Born in Georgia and raised in New York City, Jones' challenging early years gave little indication of her showbiz future, yet her perseverance paid off as she and her band The Dap Kings would go on to release several acclaimed albums. In a life full of obstacles, including being diagnosed with cancer, it's genuinely uplifting to witness her courage and high spirits. Following the singer as she works on her recent comeback, Kopple's film mixes revealing glimpses into Jones' personal beliefs and concerns with rousing footage of her performances.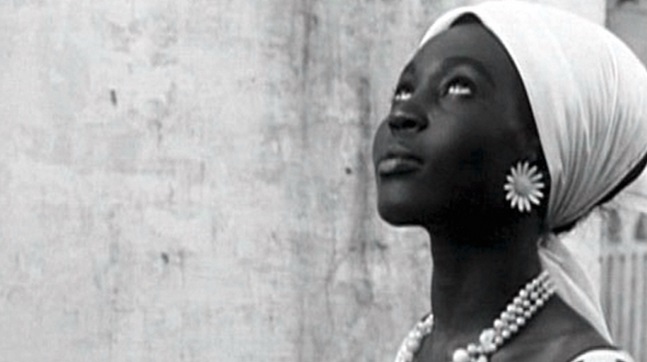 Black Girl (Criterion): The late, great Senegalese filmmaker Ousmane Sembene scored his international breakthrough with this observant, quietly devastating drama from 1966. The eponymous girl is Diouana (Mbissine Therese Diop), a young African woman who dreams of moving from her impoverished village in Dakar. She gets her wish when she's hired as a servant to a rich French family, but her hope and happiness quickly dissolve when her employers begin to treat her like a slave. In a harsh and indifferent environment, for how long can her sense of self and culture survive? Structured as a series of flashbacks skipping between the two nations, Sembene's film is an angry yet graceful study of identity and how it is affected by the many forms of colonialism. A perfect introduction to this important director. With subtitles.
[headlines]
--------------------------------------------------------------
Labrador Retriever/Hound Mix
Brick, New Jersey Adopt-a-Dog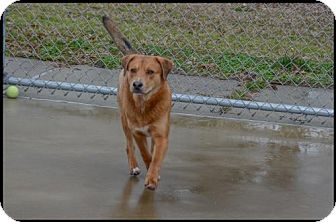 Gibby
ID# 11088456
Male
Age: Young
Size: Medium
"I am already neutered, up to date with shots, good with kids, good with dogs, and good with cats."
Jersey Shore Animal Shelter
185 Brick Blvd.
Brick, NJ 08723
Phone: (732) 920-1600
Fax: (732) 920-3706
E-mail: info@jerseyshoreanimalcenter.org
Website: http://www.jerseyshoreanimalcenter.org
Hours 1:00 - 4:00 P.M. Tuesday through Sunday
Closed to the public on Mondays
Adoption Fees:
Dogs $250.00
Adopt a Pet
http://www.adoptapet.com/
[headlines]
--------------------------------------------------------------

Collector / Collections / Consultant / Communications
Collector: Atlanta, GA
Asset Recovery Specialist. We get your money or we get your > equipment back for you. Physical Asset Recovery Experts!
E-mail: mcrouse911@joimail.com
Collector: Cleveland, OH
Huntley Capital & Associates is your solution to late payments, no payments, and asset recovery. Call 216-337-7075.
Email: ghpatey@msn.com

Collections: Dallas, Texas
Contingency Fee basis. Receivables Outsourcing. We are a fully bonded nationwide licensed agency. We collect for nationally known banks and leasing companies.
800-886-8088.
Collector: Los Angeles, CA
Expert skiptracers covering Southern California. We locate skips, judgment debtors and collateral. When you can't get the job done in house, give us a call at
1-800-778-0794.
E-mail: ceo@interagencyLA.com
Collector: Louisville, KY
We are a full service collection agency with attorney network. 21 years experience. Please call Jon Floyd, VP at 1-800-264-6850
email: jfloyd@collectcsg.com
Collector: Louisville, KY
Euler Hermes/UMA 92 year old Global Receivables Outsourcing. Presence in 143 Countries. Work w/ 4 out of 5 Fortune 500 firms. Contingency Fee Structure.
20% off first time clients.!
Andrew.Newton@eulerhermes.com
1-800-237-9386 x 205.





Collector: Milwaukee, WI
We specialize in ATM machine reposession and remarketing. We can get you top dollar for your inventory.
E-mail: bdperry1@yahoo.com

Collector: Nationwide
End of lease negotiations & enforcement. Third-party collections. Skip-tracing. Background checks. Credit & asset investigations. 15+ years in leasing industry. Providing services to clients nationwide.
800-824-0234
johnkenny2@verizon.net

Collector: Saint Louis, MO
Complete commercial collection agency. Licensed bonded in all states and will out performed any other agency!
Call 1-800-659-7199 ext.315
E-mail: jfloyd@lindquistandtrudeau.com
Consultant: Nationwide
25 yrs. experience: Creating/Refining Business Plans to raise capital· Credit Underwriting support/policy/procedure development · Operations Support/policy/procedure development.
Call: 610-246-2178, McCarthy Financial, LLC, David.mccarthy@mccarthy-financial.com
Consultant: Burlington, CT
We provide our clients with a full range of consulting services such as portfolio conversions, reconciliation, custom programming and leasing operations utilizing InfoLease.
Email: info@new-millennium-assoc.com
Consultant: Europe
15 years doing deals/running own technology leasing company – looking to advise/ lead new entrants to take advantage the European market opportunity.
www.clearcape.co.uk or
kevin.kennedy@clearcape.co.uk

Consultant: Henderson, NV
Focus on new business development and process efficiencies to create incremental revenue and profitability. Executive level vendor experience, and satisfied outsourcing clients. Incredible track record.
E-mail: rbutzek@cox.net

Consultant: Sausalito, CA
Lease trainer and consultant. 50 years in equipment leasing. Expert in transaction analysis, financial statement analysis, credit, packaging, structuring. Presents highly popular classes and workshops.
E-mail:BoTei@aol.com

Consultant: North of Detroit, MI
INFOLEASE EXPERT - 18 years experience. Since being downsized in 2002, working as a consultant for several leasing companies. Seeking consulting projects nationwide.
E-mail: darwint@prodigy.net

Consultant: Ridgefield CT.
Lisa Lersner w/20 years exp. specializing in leasing technology now providinglessor selection andmanagement services, includingthe securing of debt and equity and acquisition guidance services.
Email:
www.leasefinanceconsulting.com

Communications: Chassell, MI

Cartoons on business, finance & computers. Use for your presentations, website, newletter, direct

mail projects etc. Fees are negotiable.
Email: dan@danscartoons.com
Go to http://www.danscartoons.com
[headlines]
--------------------------------------------------------------

News Briefs---
ELFF Reports Industry Confidence Near All-Time High
February is 72.2 Compared to January All time High of 73.4
http://www.elfaonline.org/news/press-room/press-releases/details/2017/02/16/equipment-leasing-and-finance-industry-confidence-levels-near-all-time-high-in-february
Layoffs, Big Losses for OnDeck in Q4
loan losses increased to $55.7 million, up from $20.0 million
http://debanked.com/2017/02/layoffs-big-losses-for-ondeck-in-q4/
Lending Club Reveals Q4, $146 Million Loss for the Year
$32 million of which can be attributed to Q4
http://debanked.com/2017/02/lending-club-reveals-q4-figures-146-million-loss-for-the-year/
New York seeks to expand authority over FinTechs
To cover all involved with the loan process
https://www.americanbanker.com/news/new-york-seeks-to-expand-authority-over-fintechs
Brandeis University launches online master's program
in financial technology
https://digiday.com/brands/brandeis-university-launches-online-financial-technology-masters-program/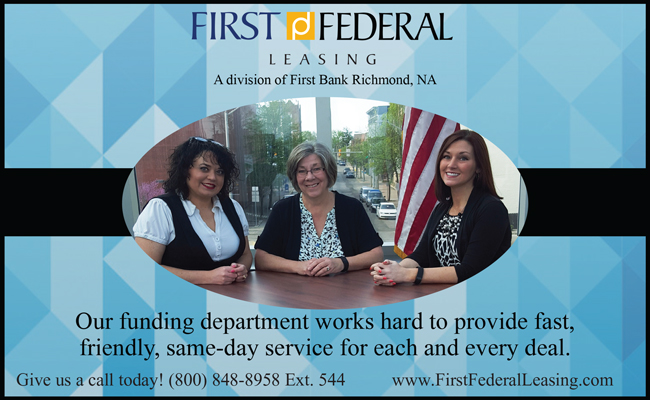 [headlines]
--------------------------------------------------------------

You May Have Missed---
Banks Look to Cellphones to Replace A.T.M. Cards
https://www.nytimes.com/2017/02/13/business/dealbook/banks-look-to-cellphones-to-replace-atm-cards.html
[headlines]
--------------------------------------------------------------
Winter Poem
President George Washington
14 September 1789
Boston Gazette
An Acrostic--

G REAT Hero! whose illustrious actions claim
E ternal blessings and an endless fame--
O f every virtue and each gift possess
R eligion reigns triumphant in his breast.
G rant him, almighty God! thy aid and health
E ver to rule these states and guard their wealth.
W hat power of Language can enough extoll
A Son of Liberty and friend to all--
S aviour and patron of Columbia!
H er sons revere thee and exult this day--
I n thee, their Favourite and firm support--
N ations applaud thee and thy friendship court.
G enerous deliverer of thy Country's right!
T hou hast prov'd victor over lawless might.
O f all the Conquerors in the historic page,
N one have surpass'd this Phœnix of the age.
[headlines]
--------------------------------------------------------------

Sports Briefs----
Tony Romo reportedly expects release from Cowboys,
believes he can start for 2-3 more years
http://sportsday.dallasnews.com/dallas-cowboys/cowboys/2017/02/16/tony-romo-reportedly-expects-release-cowboys-believes-can-start-2-3-years
[headlines]
--------------------------------------------------------------


California Nuts Briefs---
High-altitude photos show water and its threat
to communities near Oroville Dam
http://www.sacbee.com/news/state/california/water-and-drought/article133195329.html
California lawmaker resurrects his effort to end daylight saving time
http://www.sacbee.com/news/politics-government/capitol-alert/article133166914.html
[headlines]
--------------------------------------------------------------



"Gimme that Wine"

http://www.youtube.com/watch?v=EJnQoi8DSE8
Top Wine Brands Reveal Market's Momentum
https://www.winesandvines.com/template.cfm?
section=news&content=180636
Wine exports set record, led by California labels
http://www.latimes.com/business/la-fi-wine-exports-20170213-story.html
Jay Z's Champagne Goes Flat
http://www.wine-searcher.com/m/2017/02/jay-z-s-champagne-goes-flat
Wine packaging competition getting keener
http://www.capitalpress.com/Orchards/20170214/wine-packaging-competition-getting-keener
Free Mobile Wine Program
http://leasingnews.org/archives/Feb2010/2_26.htm#mobile
Wine Prices by vintage
http://www.winezap.com
http://www.wine-searcher.com/
US/International Wine Events
http://www.localwineevents.com/
Leasing News Wine & Spirits Page
http://two.leasingnews.org/Recommendations/wnensprts.htm

[headlines]
----------------------------------------------------------------
This Day in American History
1621 - Miles Standish was appointed first commander of Plymouth colony.
1755 - Birthday of Catherine Littlefield Greene in New Shoreham, RI. She is, perhaps, the actual inventor of the cotton gin but every book on the subject differs as to the extent of her contribution. At the very least, she had the detailed idea of how it worked but it was Eli Whitney who filed for the patent. Some say he improved upon the original. He lived on the Greene's plantation. She showed Whitney how to clear the device of seeds and how the machine worked. Another said it was her idea and she had Whitney, a mechanic, make the device and he patented it because a woman couldn't hold a patent at the time. Despite the social and economic impact of the invention, Whitney lost his profits in legal battles over patent infringement as his original intention was to form a business to clean cotton, not produce machines. He died at age 59 of prostate cancer on January 8, 1825, in New Haven, CT, leaving a widow and four children. Greene was the wife of Revolutionary War general Nathanael Greene known for his successful command in the Southern Campaign, forcing British general Charles Cornwallis to abandon the Carolinas and head for Virginia toward defeat. She died in 1814.
1761 - Still surviving today in some East Coast communities, and considered landmarks as they exist today are "milestones" between cities. There were stone blocks with mileage to mark the highways. Originally they were set by the directors of an insurance company known as the Philadelphia Contributionship for the Insurance of Houses from Loss by Fire. On this day, they agreed "to apply their fines (a forfeiture of one shilling for not meeting precisely at the hour appointed, and two shillings for total absence) in purchasing Stones to be erected on the Road leading from Philadelphia toward Trenton, the distance of a mile from another with the Number of miles from Philadelphia, to be cut in each stone, and Thos, Wharton and Jacob Lewis are requested to Contract for the same." On May 15, 1764, at five o'clock in the morning, the two men starting out from front and Market streets, taking with them the Surveyor General of the Province, and plated a stone at the end of every mile. They planted the 29th milestone near the edge of the Delaware River, and gave their two remaining stones to be planted on the Jersey side of the road to New York.
http://www.route40.net/history/milestones/index.shtml
http://www.societe-jersiaise.org/alexgle/stonejsymilestones.html
http://www.geocities.com/jphistoricalsociety/markers.html
1801 – The House of Representatives broke an Electoral College tie vote and Presidential candidate Thomas Jefferson won support of a majority of congressional Representatives, displacing incumbent John Adams. Jefferson's triumph brought an end to one of the most acrimonious presidential campaigns in U.S. history and resolved a serious Constitutional crisis. Republican Jefferson
(an offshoot of the Democrat-Republican party) defeated Federalist John Adams by a margin of 73 to 65 electoral votes. When presidential electors cast their votes, however, they failed to distinguish between the office of president and vice president on their ballots. Jefferson and his running mate Aaron Burr each received 73 votes. With the votes tied, the election was thrown to the House of Representatives. There, each state voted as a unit to decide the election. Burr publicly professed support for Jefferson, is fellow Republican, but did nothing to take himself out of the race, even though the Republicans intended that Burr become vice-president. Many Federalists favored Burr for president, but Alexander Hamilton, the leading Federalist, detested Burr and worked behind the scenes on Jefferson's behalf, despite his disagreement with Jefferson's policies. For six days, Jefferson and Burr essentially ran against each other in the House. Votes were tallied over thirty times, yet neither man captured the necessary majority of nine states. Eventually, a small group of Federalists, led by James A. Bayard of Delaware, reasoned that a peaceful transfer of power required the majority choose the President, and a deal was struck in Jefferson's favor. On the 36th ballot, barely two weeks before a new president was to be inaugurated, Jefferson received a majority vote when certain Federalists gave up their support of Burr. Burr was elected Vice-President. Jefferson was inaugurated on March 4, 1801. Adopted in 1804, the Twelfth Amendment to the Constitution provides that electors "name in their ballots the person voted for as president, and in distinct ballots the person voted for as vice president." Just three years after his vice-presidential inauguration, Aaron Burr shot and fatally wounded Alexander Hamilton in a duel. Hamilton, a longtime political antagonist of Burr, played a key role in breaking the congressional stalemate in Jefferson's favor.
http://memory.loc.gov/ammem/today/feb17.html
1817 - The first gas street lights through a city were installed in Baltimore, MD by the Gas Light Company. On June 19, 1816, the mayor and council authorized the company, whose officers included the artist Rembrandt Peale, to lay pipes for the manufacture and distribution of gas "to provide for more effectually lighting the streets, squares, lanes and alleys of the city of Baltimore." Coal gas was used. The first engineer of the company was David Pugh.
1819 – The House of Representatives passed the Missouri Compromise for the first time.
1844 – Aaron Montgomery Ward was born in Chatham, NJ. Ward was an entrepreneur based in Chicago who made his fortune through the use of mail order for retail sales of general merchandise to rural customers. In 1872, he founded Montgomery Ward & Company, which became nationally known and grew into a department store.
1864 - The Confederate hand-propelled submarine Huntley, armed with a ram torpedo, attacked the USS Housatonic in the Charleston Harbor. Its torpedo was a mine placed onto the end of a long pole. When the Huntley hit the Housatonic with the mine, the resulting explosion sank both vessels. This was the first time in US warfare that a submarine successfully sank another ship.
1865 - After a siege that lasted almost a year and a half, Fort Sumter in South Carolina returned to Union hands. The site of the first shots fired in the American Civil War, the fort had become a symbol for both sides during the war. As Union attempts to retake it by shelling diminished the fort's capacity with large bombardments, Southern forces managed to hold out with few casualties.
1865 - Columbia, South Carolina was set afire while being entered by federal troops under General William Tecumseh Sherman. Bales of cotton were put to the torch, perhaps by Confederates, to prevent their falling into federal hands. Strong winds scattered the burning cotton across most of the city. On 11 February 1865, Sherman learned that only a cavalry unit was between him and Columbia. This was ample proof that his strategy of indirect approach was effective since the Confederates were more concerned about protecting Augusta and Charleston than the state capital. Sherman occupied Columbia on 18 February 1865. When Sherman's forces entered the city, they found it littered with broken furniture and other household items left by the pillaging Confederate soldiers and civilians. The railroad depot and a large storage building had been burned to the ground. Bales of cotton piled in the middle of many streets had been torn open, and lint was flying around. Fires were still burning when the initial troops entered the city and they turned to putting out the fires. That night, the smoldering cotton bales, fanned by the high winds and possibly fueled by drunken soldiers and civilians, spread a great fire. Union soldiers attempting to put out the fire could only look on in misery as it consumed building after building. The next morning, the population looked out on their city and saw vast destruction. While two-thirds of the city remained standing that morning, churches, most stores, and many of the most expensive houses were in ruins. Although Sherman did not order the city burned, the simple fact that he was there when the city was burnt placed the blame clearly on his shoulders to many Southerners. When Sherman left Columbia on 20 February 1865, Sherman's soldiers again acted on Sherman's total war policy and put to torch anything of military value. It was his goal to stop all modes of supply transportation which started with blocking traffic up the Mississippi and Atlantic Ocean ports, with an emphasis on destroying railroad junctions and the tracks themselves.
http://memory.loc.gov/cgi-bin/query/I?cwar:1:./temp/~ammem_V8LM::displayType=
1:m856sd=cwpb:m856sf=03379:@@@
http://memory.loc.gov/cgi-bin/query/I?cwar:3:./temp/~ammem_V8LM::displayType=
1:m856sd=cwp:m856sf=4a40429:@@@
http://dlg.galileo.usg.edu/hargrett/barnard/jpgs/plate53.jpg
http://dlg.galileo.usg.edu/hargrett/barnard/jpgs/plate54.jpg
http://www.archives.nd.edu/barnard/sbio.html
http://members.aol.com/x69xer/odds.html#therailroads
1870 - Esther Morris was appointed to be the first female judge. She was made Justice of the Peace in South Pass City, WT.
1870 - Mississippi became the ninth state readmitted to US after Civil War
1874 – Thomas J. Watson was born in Campbell, NY. He served as the chairman and CEO of IBM and oversaw the company's growth into an international force from 1914 to 1956.
1876 - In Eastport, Maine, Julius Wolff was credited as the first person to can sardines in metal. Although the canning of sardines in bottles began in Europe in 1834, it was not until the Franco-Prussian War of the early 1870s cut off the supply to America that the opportunity was provided to can sardines in America. In 1875, the commission house of Wolff and Reising, under the direction of Julius Wolff, began its first successful American sardine cannery in Eastport. At its height, there were 22 sardine factories in Eastport at one time. The cans were soldered together in three pieces, a time consuming process. In 1903, machine-made and machine- sealed cans replaced the three-piece soldered cans.
http://www.qbyv.com/history_of_can.htm
http://www.port-louis.org/en/_fishing.html
http://www.worldandi.com/specialreport/2002/april/Sa22204.htm
http://www.stavanger.museum.no/Eng/Hermetikk/hermhist.htm
http://www.mtycounty.com/pgs-misc/cannery-row.html
http://www.kosherquest.org/html/Condiments%20&%20
Cannd%20Goods%202001.htm
http://www.photolib.noaa.gov/historic/nmfs/herr1.html
http://www.mainepreservation.com/dayswork/images/SARDINE1_000.jpg
http://www.mainepreservation.com/dayswork/images/Eastprt_000.gif
1878 – The first telephone exchange opened in San Francisco with 18 phones.
1893 – Wally Pipp was born in Chicago. Pipp played in the Majors for the Detroit Tigers, New York Yankees, and Cincinnati Reds between 1913 and 1928, and he was considered to be one of the best power hitters of the dead ball era. Pipp is now best remembered as the man who lost his starting job to Lou Gehrig at the beginning of Gehrig's streak of 2,130 consecutive games. According to a popular legend, Pipp asked to sit due to a headache. Now, whenever a player sits out and is replaced, he is said to be "Pipped".
1897 - The Parent-Teacher Association (national) was organized as the National Congress of Mothers in Washington DC, by Alice McLellan Birney and Phoebe Apperson Hearst at a meeting attended by 2,000 persons. At the annual meeting of March 9, 1908, the name was changed to the National Congress of Mothers and Parent-Teacher Associations. On May 9, 1924, the name was changed to the National Congress of Parents and Teachers.
1899 - The first six-day bicycle race, featuring two-man teams, came to an end at New York's Madison Square Garden. The race finished in a blizzard that was sweeping the entire Northeast and Southeast of the United States. The winning team of Charles Miller and Frank Waller rode a combined distance of 2,733 miles.
1902 - Birthday of Marian Anderson in Philadelphia. Considered to be the greatest voice of the 20th century, she was the first woman of color to sing with the Metropolitan Opera. She sang with the major orchestras and opera companies of the world and performed before major heads of state. She was awarded the Presidential Medal of Freedom in 1963. In 1939, when the Daughters of American Revolution (DAR) refused to allow her to sing in their hall because of her race, Eleanor Roosevelt, among others, quit the organization and organized an outdoor concert at the Lincoln Memorial instead.
1908 - Walter Lanier "Red" Barber's birthday at Columbus, MS. One of the first broadcasters inducted into the Baseball Hall of Fame, "The Ole Redhead's" first professional play-by-play experience was announcing the Cincinnati Reds opening day on radio in 1934. That game was also the first major league game he had ever seen. Barber brought a casual, southern tone to the game and is known for several phrases that are repeated today: "Rhubarb", "sittin' in the catbird's seat", "wo-ho doctor". He broadcast baseball's first night game (in Brooklyn) on Aug 26, 1939; Jackie Robinson's first game in the Majors, breaking the color line in 1947; and while a Yankee radio announcer, he called Roger Maris's 61st home run in 1961, that broke Babe Ruth's single season HR record. Later in his career he had a radio program on NPR called "Fridays with Red". Barber died Oct 22, 1992, at Tallahassee, FL.
1908 - Birthday of Flash Gordon, also known as Clarence Lindon "Buster" Crabbe, Olympic gold medal swimmer, at Oakland, CA. Crabbe's first-place finish in the 400-meter freestyle was the only swimming medal won by an American at the 1932 Olympic Games in Los Angeles. After his swimming career was over, he played Tarzan, Flash Gordon and Buck Rogers in the movies. These appeared on early television, and I very well remember both Buck Rogers and Flash Gordon. By the way, there were no residuals for any of the actors, writers, directors of any movies until 1960. Residuals for "made for TV" shows were limited to five payments until 1979 when it went to nine payments. There were other minor changes, but it was not until 2001 that expanded this. Buster Crabbe died at Scottsdale, AZ, 1983 and never received any residuals for his movies on TV.
1911 – The first hydroplane flight to and from a ship was completed by Glenn Curtiss in San Diego.
1911 - The first electric self-starter was installed in a Cadillac by General Motors. Until this time, all cars needed to be started by cranking a starting handle which was hard work and caused multiple minor injuries when the car backfired during the starting process.
1913 - The first Modern art exhibition of importance opened at the 69th Regiment Armory in New York City. The controversial exhibition, organized chiefly by the American modernist painter Arthur Bowen Davies, scandalized the public with such avant-garde works as Marcel Duchamp's "Nude Descending a Spiral Staircase." More than 250,000 visitors received their first look at paintings by Paul Cezanne, Paul Gauguin, Vincent van Gogh, Edward Hopper, Henri Matisse, John Marin, Charles Scheeler, and others.
1915 - Edward Stone, the first US combatant to die in World War I, is mortally wounded
1923 – The first minimum wage law took effect, in Oregon.
1923 - Birthday of clarinet player Buddy DeFranco, born Bonifacio Ferdinando Leonardo Defranco, Camden, NJ
http://www.artistdirect.com/music/artist/bio/0,,421834,00.
html?artist=Buddy+DeFranco
http://www.npr.org/programs/jazzprofiles/archive/defranco.html
http://www.buddydefranco.com/
1923 – A. W. Clausen was born Alden Winship Clausen in Hamilton, IL. He was President and CEO of Bank of America in 1970 and again in 1986, and he was President of the World Bank, 1981 to 1986. During his time at B of A, he helped it grow into the biggest commercial bank in the US.
1924 – Margaret Truman was born in Independence, MO, the only child of Harry Truman and First Lady Bess Truman. She was "a witty, hard-working Midwestern girl with singing talent who was neither particularly pretty nor terribly plain." Later, she became the successful author of a series of murder mysteries and a number of works on U.S. First Ladies and First Families, including a biography of her father. After operatic vocal training, Truman's singing career began with a debut radio recital in March 1947. Reviewers were not always kind, but her father was fiercely protective: when in 1950, Washington Post music critic Paul Hume wrote that Truman was "extremely attractive on the stage... [but] cannot sing very well. She is flat a good deal of the time. And still cannot sing with anything approaching professional finish," President Truman wrote to Hume, "Someday, I hope to meet you. When that happens you'll need a new nose, a lot of beefsteak for black eyes, and perhaps a supporter below!" She died in 2008.
1925 - Harold Ross and Jane Grant founded The New Yorker magazine; the debut issue was dated February 21, 1925.
1925 – Actor Hal Holbrook was born in Cleveland, OH.
1926 - Lee Holby birthday, composer, concert pianist, born Madison, WI.
1930 - Eureka, CA, reported an all-time record high of 85 degrees, a record which lasted until September of 1983.
1933 – The Blaine Act ended Prohibition.
1933 – Bobby Lewis was born in Indianapolis. In July 1961, his "Tossin' and Turnin'" was #1 for seven weeks on the Billboard chart, sold over one million copies, and was awarded a gold disk. Later that year, he had a second Top Ten song, "One Track Mind", his only other major hit record, at #9 Pop.
1933 – Newsweek magazine was first published.
1934 – The first driving course to be offered in a high school, State College, PA.
1936 - James Nathaniel "Jim" Brown's birthday in St. Simons Island, GA. Pro Football Hall of Famer in his first year of eligibility in 1971. In 2002, he was named by The Sporting News as the greatest professional football player ever. He is widely considered to be one of the greatest professional athletes in the history of the United States. Brown was raised in Manhasset, NY where he held the Long Island record by averaging 38 points per game in basketball, a record that was broken by Carl Yastrzemski, later of the Boston Red Sox. At Syracuse University, he achieved an All-American football career and also was considered one of the best lacrosse players in the US, as well as excelling in track and basketball. His senior year was considered by many to have earned the Heisman Trophy that went instead to Notre Dame's Paul Hornung whose team finished 2-8. Brown was taken in the first round of the 1957 draft by the Cleveland Browns. He departed after the 1965 season as the NFL record holder for both single-season (1,863 in 1963) and career rushing (12,312) yards, as well as the all-time leader in rushing touchdowns (106), total touchdowns (126), and all-purpose yards (15,549). He was the first player ever to reach the 100-rushing-touchdowns milestone, and only a few others have done so since, despite the league's expansion to a 16-game season in 1978. Brown's first four seasons were only 12 games, and his last five were 14 games. Brown's record of scoring 100 touchdowns in only 93 games stood until 2006, 40 years after his retirement. Brown holds the record for total seasons leading the NFL in all-purpose yards (5), and is the only rusher in NFL history to average over 100 yards per game for a career. His career average per rush is 5.2 yards. Post-retirement, Brown had a modest acting career, including films, "The Dirty Dozen" and "1000 Rifles". He has also been an activist, founding the Amer-I-can program for inner city gang youths that has been successful in acclimating them to responsible self-accountability and life skills. Approaching his 80th birthday, he still looks like he could run over people in the NFL.
1936 - The temperature at McIntosh, SD plunged to 58 degrees below zero to establish a state record
1938 - Slim Gaillard and Slam Stewart cut "Flat Foot Gloogie."
1938 – In London, the first public experimental demonstration of Baird color TV.
1940 - British destroyers board German Altmark off neutral Norway (at that time) and free Allied POW's
1941 - Singer Gene Pitney was born in Hartford, Connecticut. He first gained fame as a songwriter, penning "Hello Mary Lou" for Ricky Nelson and "He's a Rebel" for the Crystals. In 1961, Pitney went into the recording studio himself, playing and overdubbing every instrument and multi-tracking his vocals. The result was his first hit, "(I Wanna) Love My Life Away." Gene Pitney had more than 20 chart singles during the '60s, including "(The Man Who Shot) Liberty Valance," "Only Love Can Break a Heart" and "It Hurts to Be in Love."
1942 – African-American political and urban activist Huey Newton was born in Monroe, LA. With Bobby Seale, he co-founded the Black Panther Party in 1966. Newton had a long series of confrontations with law enforcement, including several convictions, while he participated in political activism. He continued to pursue an education, eventually earning a Ph.D. in Social Science. Newton spent time in prison for manslaughter due to his alleged involvement in a shooting that killed a police officer, but was later acquitted. In 1989 he was shot and killed in Oakland, CA by Tyrone "Double R" Robinson, a member of the Black Guerilla Family.
1943 – The Yankees' Joe DiMaggio enlisted in the Army.
1944 - JOHNSTON, WILLIAM J., Medal of Honor
Rank and organization: Private First Class, U.S. Army, Company G, 180th Infantry, 45th Infantry Division. Place and date: Near Padiglione, Italy, 1719 February 1944. Entered service at: Colchester, Conn. Birth: Trenton, N.J. G.O. No.: 73, 6 September 1944. Citation: For conspicuous gallantry and intrepidity at risk of life above and beyond the call of duty in action against the enemy. On 17 February 1944, near Padiglione, Italy, he observed and fired upon an attacking force of approximately 80 Germans, causing at least 25 casualties and forcing withdrawal of the remainder. All that day he manned his gun without relief, subject to mortar, artillery, and sniper fire. Two Germans individually worked so close to his position that his machinegun was ineffective, whereupon he killed 1 with his pistol, the second with a rifle taken from another soldier. When a rifleman protecting his gun position was killed by a sniper, he immediately moved the body and relocated the machinegun in that spot in order to obtain a better field of fire. He volunteered to cover the platoon's withdrawal and was the last man to leave that night. In his new position he maintained an all-night vigil, the next day causing 7 German casualties. On the afternoon of the 18th, the organization on the left flank having been forced to withdraw, he again covered the withdrawal of his own organization. Shortly thereafter, he was seriously wounded over the heart, and a passing soldier saw him trying to crawl up the embankment. The soldier aided him to resume his position behind the machinegun which was soon heard in action for about 10 minutes. Though reported killed, Pfc. Johnston was seen returning to the American lines on the morning of 19 February slowly and painfully working his way back from his overrun position through enemy lines. He gave valuable information of new enemy dispositions. His heroic determination to destroy the enemy and his disregard of his own safety aided immeasurably in halting a strong enemy attack, caused an enormous amount of enemy casualties, and so inspired his fellow soldiers that they fought for and held a vitally important position against greatly superior forces.
1944 - The Japanese naval base at Truk, Caroline Islands, was bombed by Allied aircraft destroying 201 planes.
http://www.ecophotoexplorers.com/chuuk.asp
http://www.saipan1.com/phm/maps/truk/index.htm
http://www.mansell.com/pow_resources/camplists/other/truk.html
1945 - *HAMMERBERG, OWEN FRANCIS PATRICK, Medal of Honor
Rank and organization: Boatswain's Mate Second Class, U.S. Navy. Born: 31 May 1920, Daggett, Mich. Accredited to: Michigan. Citation: For conspicuous gallantry and intrepidity at the risk of his life above and beyond the call of duty as a diver engaged in rescue operations at West Loch, Pearl Harbor, 17 February 1945. Aware of the danger when 2 fellow divers were hopelessly trapped in a cave-in of steel wreckage while tunneling with jet nozzles under an LST sunk in 40 feet of water and 20 feet of mud. Hammerberg unhesitatingly went overboard in a valiant attempt to effect their rescue despite the certain hazard of additional cave-ins and the risk of fouling his lifeline on jagged pieces of steel imbedded in the shifting mud. Washing a passage through the original excavation, he reached the first of the trapped men, freed him from the wreckage and, working desperately in pitch-black darkness, finally effected his release from fouled lines, thereby enabling him to reach the surface. Wearied but undaunted after several hours of arduous labor, Hammerberg resolved to continue his struggle to wash through the oozing submarine, subterranean mud in a determined effort to save the second diver. Venturing still farther under the buried hulk, he held tenaciously to his purpose, reaching a place immediately above the other man just as another cave-in occurred and a heavy piece of steel pinned him crosswise over his shipmate in a position which protected the man beneath from further injury while placing the full brunt of terrific pressure on himself. Although he succumbed in agony 18 hours after he had gone to the aid of his fellow divers, Hammerberg, by his cool judgment, unfaltering professional skill and consistent disregard of all personal danger in the face of tremendous odds, had contributed effectively to the saving of his 2 comrades. His heroic spirit of self-sacrifice throughout enhanced and sustained the highest traditions of the U.S. Naval Service. He gallantly gave his life in the service of his country.
1945 - HERRING, RUFUS G., Medal of Honor
Rank and organization: Lieutenant, U.S. Naval Reserve, LCI (G) 449. Place and date: Iwo Jima, 17 February 1945. Entered service at: North Carolina. Born: 11 June 1921, Roseboro, N.C. Citation: For conspicuous gallantry and intrepidity at the risk of his life above and beyond the call of duty as commanding officer of LCI (G) 449 operating as a unit of LCI (G) Group 8, during the pre-invasion attack on Iwo Jima on 17 February 1945. Boldly closing the strongly fortified shores under the devastating fire of Japanese coastal defense guns, Lt. (then Lt. (j.g.)) Herring directed shattering barrages of 40mm. and 20mm. gunfire against hostile beaches until struck down by the enemy's savage counter fire which blasted the 449's heavy guns and whipped her decks into sheets of flame. Regaining consciousness despite profuse bleeding he was again critically wounded when a Japanese mortar crashed the conning station, instantly killing or fatally wounding most of the officers and leaving the ship wallowing without navigational control. Upon recovering the second time, Lt. Herring resolutely climbed down to the pilothouse and, fighting against his rapidly waning strength, took over the helm, established communication with the engine room, and carried on valiantly until relief could be obtained. When no longer able to stand, he propped himself against empty shell cases and rallied his men to the aid of the wounded; he maintained position in the firing line with his 20mm. guns in action in the face of sustained enemy fire, and conned his crippled ship to safety. His unwavering fortitude, aggressive perseverance, and indomitable spirit against terrific odds reflect the highest credit upon Lt. Herring and uphold the highest traditions of the U.S. Naval Service.
1946 – Dodie Stevens was born Geraldine Ann Pasquale in Chicago. She is best known for her 1959 song "Pink Shoe Laces", which she performed at 13 years old…"I gotta guy and his name is Dooley. He's my guy and I love him truly…"
1947 – The Voice of America began broadcasting to the Soviet Union.
1949 - Richard (Dick) Button beat his competitors in Paris, France, to hold onto the men's figure skating championship world title. Button is now a figure skating commentator at events around the world for American television, including Olympics competition.
1949 - Pianist George Shearing records "September in the Rain."
1952 - Top Hits
"Slowpoke" - Pee Wee King
"Cry" - Johnnie Ray
"Anytime" - Eddie Fisher
"Give Me More, More, More (Of Your Kisses)" - Lefty Frizzell
1953 – Red Sox star and Marine Corps pilot Ted Williams was uninjured as his plane was shot down in Korea. Moments after he ran from the burning plane, it exploded.
1954 - In the United States, Doris Day's single, "Secret Love", became the #1 song. From the motion picture, "Calamity Jane", the song spent 3 weeks at the top of the music charts.
1955 - At the recommendation of R&B artist Lloyd Price, Richard Penniman, who was leading an ensemble called Little Richard and The Upsetters, sent a demo tape to Specialty Records founder Art Rupe. After some initial reluctance, Rupe signed Penniman to a contract that will pay the singer a half cent for every record sold.
1958 - The greatest snowstorm of the mid-20th century struck the northeastern U.S. The storm produced 30 inches of snow in interior New England, including more than 19 inches in 24 hours at the Boston Airport. The same storm produced up to three feet of snow in the Middle Atlantic Coast Region, with 14 inches at Washington, D.C., and 15.5 inches at Baltimore, MD. The storm resulted in 43 deaths and 500 million dollars damage over the Middle Atlantic Coast States
1958 – Still at the height of his NFL career, the star of the New York Giants football team, Frank Gifford, signed a seven-year film contract with Warner Brothers, which did not make him a movie star despite the studio's expectations. Gifford then went into broadcasting. His first job was as a sportscaster for New York's WCBS-TV, before he moved to WABC-TV in New York, then went to network television as the primary play-by-play announcer. Eventually Gifford became color commentator on ABC's "Monday Night Football". Gifford also was the victim of one of the game's most vicious…and legal…hits when, in 1960, after catching a short pass over the middle, he was clothes-lined by Eagles LB and future Hall of Famer, Chuck Bednarik. Gifford was knocked unconscious and many of his teammates, when they saw him on the stretcher, thought he was dead. He remained sidelined for the remainder of that season and all of 1961. When they appear together…like Thompson and Branca, and Mookie Wilson and Bill Buckner did, Bednarik had the event sponsors shut off all the lights in the room, then yell, "Hey, Frank, look familiar?"
1960 - After achieving more than 15 million in sales with Cadence Records, The Everly Brothers sign a ten year, $1 million contract with Warner Brothers records.
1960 - Elvis Presley received his first gold album for "Elvis," which included such songs as "Rip It Up," "Old Shep" and "Ready Teddy."
1960 - Top Hits
"Teen Angel" - Mark Dinning
"Handy Man" - Jimmy Jones
"The Theme from 'A Summer Place' " - Percy Faith
"He'll Have to Go" - Jim Reeves
1962 - The Beach Boys first hit, "Surfin", swept California. They had a national hit in the United States when "Surfin' Safari" hit the music charts in August of this same year.
1962 - Gene Chandler took the #1 spot with "Duke of Earl" for a three week stay. The song also hit #1 on the rhythm & blues charts. Out of the 6 songs Chandler recorded, "Duke of Earl" was his biggest hit. His only million seller was 1970's "Groovy Situation". Curtis Mayfield wrote several hits for Chandler, such as: "Just Be True", "What Now" and "Nothing Can Stop Me". Chandler's real name is Eugene Dixon. From 1969 to 1973, he owned his own record label, Mr. Chand, but his million seller was recorded for Mercury Records in 1970.
1962 – Wilt Chamberlain of the Philadelphia Warriors scored 67 against the St. Louis Hawks.
1963 - Michael Jeffrey Jordan birthday, former basketball player, former minor league baseball player, born Brooklyn. Arguably the NBAs greatest player, Jordan was the leader of six NBA championships with the Chicago Bulls, and might have won more if it were not for his decision to retire in mid-career to play baseball.
1964 - Herb Alpert and The Tijuana Brass appear in their first major concert in Los Angeles. Over the next three years, they will become one of the most successful instrumental acts in history, achieving twelve Billboard Top 40 hits.
1964 - In Wesberry v. Sanders, the Supreme Court ruled that congressional districts must be approximately equal in population.
1965 - Comedienne Joan Rivers' first guest appearances on NBC-TV's "The Tonight Show starring Johnny Carson". Later she became Carson's permanent guest host until, in 1986, signing for a late-night show deal with FOX television as the first woman to host a late night network television talk show. Johnny was offended and banned her permanently from the show. She returned to "The Tonight Show Starring Jimmy Fallon" in Feb, 2014 for the first time in nearly 30 years. Rivers unfortunately passed away in surgery on September 4, 2014.
1965 - "The Tennessee Waltz" was declared Tennessee's state song. The tune provided hit records for Patti Page, Cowboy Copas and its composer, Pee Wee King. Page's recording featured one of the first uses of multi-tracking in which the singer appeared to sing harmony with herself.
1965 - The Ranger 8 probe launched on its mission to photograph the Mare Tranquillitatis region of the Moon in preparation for the manned Apollo missions. Mare Tranquillitatis or the "Sea of Tranquility" would become the site chosen for the Apollo 11 lunar landing.
1966 - RCA Victor awarded Staff Sergeant Barry Sadler a gold record, for the album and the single of "The Ballad of the Green Berets". Sadler recorded one other single, "The "A" Team", for the label. He served in Vietnam until a leg injury from a Viet Cong booby trap sent him home. In 1988, Sadler was shot in the head during an attempted robbery at his Guatemala home. He suffered brain damage and at 49 years old, died of heart failure in November, 1989 in Tennessee.
1966 - The Beach Boys begin recording sessions for Brian Wilson's masterpiece, "Good Vibrations". Multiple layered overdubs spread out over eleven sessions would make this the most expensive single ever recorded to date. Although the record would top charts around the world and sell millions of copies, it would be The Beach Boys' last to reach the Billboard Top 10 for ten years.
1966 – The UK's #1 hit: Nancy Sinatra – "These Boots Are Made for Walking"
1967 - The Beatles release the double A-sided single in the United States with "Penny Lane" (Paul McCartney) on one side and "Strawberry Fields Forever" (John Lennon) on the other side.
1968 - Top Hits
"Love is Blue" - Paul Mauriat
"I Wish It Would Rain" - The Temptations
"(Theme From) Valley of the Dolls" - Dionne Warwick
"Skip a Rope" - Henson Cargill
1968 - In Springfield, Massachusetts, the Naismith Memorial Basketball Hall of Fame opened.
1968 - Big Brother and the Holding Company, featuring singer Janis Joplin, are signed by Columbia after a performance at the Anderson Theatre in New York City.
1969 - Bob Dylan began recording at Columbia Studios in Nashville with Johnny Cash. Few of the tracks laid down were ever released officially, although a bootleg album "The Dylan-Cash Session" made its appearance.
1971 - James Taylor made his prime time television debut on ABC's "The Johnny Cash Show", singing "Fire and Rain" and "Carolina on My Mind". A few channels over, Cash is the guest of honor on NBC-TV's "This Is Your Life".
1971 - Elton John's U.S. debut goes gold. His first U.K. LP, "Empty Sky" is not issued in the States until 1975, by which time John has become a rock star of the first magnitude. He arrived in the States under much publicity in the summer of '70 and was hailed by Robert Hilburn of the Los Angeles Times as the first Superstar of the Seventies. "Elton John" hit #4
1972 - Pink Floyd premiered "Dark Side of the Moon" in concert at London's Rainbow Theatre. When the album of the same title was released a year later, it made Pink Floyd one of rock's biggest acts. "Dark Side of the Moon" sold more than four-million copies. In 1980, it became the longest-charting rock LP in Billboard's history at 303 weeks. It was still on the album charts eight years later.
1972 - Jonathan Edwards is awarded a gold record for "Sunshine," the lone hit for the Virginia folkie. He handles his brief fame in typical laid-back fashion. Instead of buying himself a fancy Porsche, he got himself a fancy truck
1972 - Green Day singer/guitarist Billie Joe Armstrong is born.
1972 - President Richard Nixon left the White House to visit Red China. He was the first President to visit a nation not recognized by the federal government. This was also the first trip to China, the world's most populous nation, by any American President. Accompanied by a small army of journalists, he arrived in Beijing on February 21 for talks with Chairman Mao Zedong and Premier Zhou Enlai. Later that year, Nixon became the first President to visit the Soviet Union when he arrived in Moscow on May 22 for a summit with Soviet leaders. Among the agreements that were reached during the visit was the Strategic Arms Limitations Treaty, signed by President Nixon and the Soviet leader Leonid I. Brezhnev on May 26, which limited both nations to 200 anti-ballistic missiles each, divided between two defensive systems.
1972 – Sales of the popular VW Beetle surpassed those of the Ford Model T.
1972 - KDAY in Los Angeles played two new Rolling Stones songs on the air, after getting their hands on tapes stolen from producer Jimmy Miller's home.
1975 - John Lennon releases "Rock n' Roll," his final record before a self-imposed five year exile from the music business. It reaches #6 on the chart and doesn't stay for long, falling fast.
1976 - Top Hits
"50 Ways to Leave Your Lover" - Paul Simon
"Love to Love You Baby" - Donna Summer
"You Sexy Thing" - Hot Chocolate
"The White Knight" - Cledus Maggard & the Citizen's Band
1976 - The Eagles "Their Greatest Hits" album was released. It would eventually sell more than 22 million copies in the US, second only to Michael Jackson's "Thriller."
1976 - Harvard University's Hasty Pudding Theatrical society gives its annual "Women of the Year" award to Bette Midler. Upon accepting, she comments: "This award characterizes what the American male wants in a woman--brains, talents and gorgeous tits." Saw her recently at the San Jose Compaq Arena, "Kiss My Brass," and she was better than ever, more topical than ever, and just plain terrific.
1979 - "A Prairie Home Companion" premieres on radio. This popular live variety show debuted locally on Minnesota Public Radio in 1974 and was first broadcast nationally on Feb 17, 1979 as part of National Public Radio's Folk Festival USA. It became a regular Saturday night program in early 1980. Host Garrison Keillor's monologues about the mythical Lake Wobegon and his humorous ads for local businesses such as Bertha's Kitty Boutique, Powdermilk Biscuits and the Chatterbox Cafe were accompanied by various musical groups. Broadcast from the World Theater in St. Paul, MN, the show went off the air in 1986. A series of programs was done for cable TV, and Keillor continues to write works of fiction ("Lake Wobegon Days"). In 1994, "A Prairie Home Companion" went back on the air on Public Radio International.
1981 – Chrysler recorded the largest loss in US history.
1983 - Linda Ronstadt, Nicolette Larson, Chaka Khan, Dave Mason and Helen Reddy were the hosts of a skating party in Los Angeles to raise campaign funds for California Governor Jerry Brown's presidential campaign. He then began to date Linda Ronstadt, and it is said their trip, while not married, to Africa together was the down fall of his candidacy for President.
1984 - Top Hits
"Karma Chameleon" - Culture Club
"Joanna" - Kool & The Gang
"Jump" - Van Halen
"That's the Way Love Goes" - Merle Haggard
1987 – The Yankees' Don Mattingly won the highest arbitration award to date, $1,975,000 per year
1989 - Chicago Flag Display Controversy. An exhibit at the School of the Art Institute of Chicago, titled 'What is the Proper Way to Display a US Flag?', consisted of a ledger for viewers to write their impressions but required the viewers to stand on a US flag mounted on the floor to reach the ledger. The exhibit by art student Scott Tyler prompted protests from veterans' groups, a failed lawsuit and an introduction of legislation by Senator Bob Dole to make displaying a US flag on the floor or ground a crime. Although that legislation didn't pass, Congress continues to introduce legislation against flag desecration, most recently in 1999.
1989 - Top Hits
"Straight Up" - Paula Abdul
"Lost In Your Eyes" - Debbie Gibson
"Wild Thing" - Tone-Loc 2
"The Lover In Me" - Sheena Easton
1990 - Aerosmith appears on Saturday Night Live where they perform a version of the Wayne's World theme song during a skit in which they appeared as themselves.
1990 - The biggest winter storm of the season hit the Pacific Coast Region. In northern California, snow fell along the coast, and two day totals in the mountains ranged up to 67 inches at Echo Summit. Snowfall totals in the mountains of southern California ranged up to 48 inches at Green Valley, with 46 inches reported at Big Bear. Up to two feet of snow blanketed the southern Cascade Mountains of Oregon, and 20 to 35 inches were reported in the northern Cascades of Oregon. Up to ten inches of snow blanketed Seattle, WA.
1990 - "Opposites Attract", by Paula Abdul with The Wild Pair, was #1 in the U.S. for the second of three weeks. On the Country chart, "On Second Thought", by Eddie Rabbitt, was #1 for the first of two weeks.
1990 – Notre Dame became NBC-TV obtained the television rights to all of Notre Dame's home football games for the next five years, the first school to sell its games to a major TV network.
1992 - Jeffrey Dahmer was sentenced today to 15 consecutive life sentences and will never be eligible for parole by a Wisconsin court, for necrophilia and cannibalism on 15 young men and boys. On November 28, 1994, he was murdered by a fellow inmate, who bludgeoned him to death with a metal bar.
1994 - Top Hits
"The Power Of Love" - Celine Dion
"All For Love" - Bryan Adams/Rod Stewart/Sting
"The Sign" - Ace Of Base
"Breathe Again" - Toni Braxton
1995 - Colin Ferguson was convicted of six counts of murder in the December, 1993 Long Island Rail Road shootings that also wounded 19 people.
1995 – A Federal judge allowed a lawsuit to proceed claiming US tobacco makers knew nicotine was addictive and manipulated its levels to keep customers hooked
1996 - "One Sweet Day", by Mariah Carey and Boyz II Men, was number one for the 12th of 16 weeks. Now that's what we call a smash! "Bigger than the Beatles", by Joe Diffie was beginning a 2-week run at #1 on the Country music chart.
1996 – In Philadelphia, Garry Kasparov defeated the Deep Blue supercomputer in a chess match.
1998 - The US won the first Olympic gold medal ever awarded in women's hockey, defeating Canada in the final, 3-1, in the Nagano Winter Olympics. The American team was led by Captain Cammi Granto and goalie Sarah Tueting.
1998 - US Naval Academy cadet Diane Zamora, 20, was convicted of capital murder
1999 - Top Hits
"Angel of Mine" - Monica
"...Baby One More Time" - Britney Spears
"Believe" - Cher
Heartbreak Hotel - Whitney Houston
"Feat" - Faith Evans
2000 - Windows 2000 Professional Edition was released. Windows 2000 was a "the next generation NT operating system" that Microsoft said took four years and cost over $1 billion to develop.
2001 - It was announced the Kelly Ripa would be Regis Philbin's co-host. The show was renamed to "Live! With Regis and Kelly."
2006 - Washington has asked the Palestinian Authority to return $50 million of American aid. The State Department has said that it is unhappy with the aid going to the Hamas-led government that refuses to recognize Israel. The State Department later said that Mahmoud Abbas' caretaker government had agreed to return the money, which was given for infrastructure projects in the light of Israel's withdrawal from Gaza and parts of the West Bank.
2008 - Little Richard (Richard Penniman got a standing ovation from a crowd of 2,400 at the Ryman Auditorium in Nashville without playing a single note. The 75 year old Rock 'n Roll pioneer was seated at the rear of the auditorium during a concert by The Temptations and The Four Tops when he was introduced by The Temp's Otis Williams.
2009 - President Obama signed the $787 billion American Recovery and Reinvestment Act (ARRA) into law in Denver, Colorado. The plan is aimed at saving or creating 3.5 million jobs, boosting consumer spending and rebuilding the economy's infrastructure. Republicans have said that its tax cuts are insufficient, and that the economy will be saddled with debt for years to come.
2014 – "The Tonight Show Starring Jimmy Fallon" premiered on NBC
-------------------------------------------------------------

SuDoku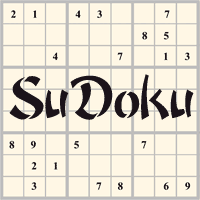 The object is to insert the numbers in the boxes to satisfy only one condition: each row, column and 3x3 box must contain the digits 1 through 9 exactly once. What could be simpler?
http://leasingnews.org/Soduku/soduko-main.htm
--------------------------------------------------------------

Daily Puzzle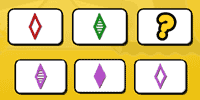 How to play:
http://www.setgame.com/set/puzzle_frame.htm
Refresh for current date:
http://www.setgame.com/set/puzzle_frame.htm
--------------------------------------------------------------


http://www.gasbuddy.com/
http://www.gasbuddy.com/GB_Map_Gas_Prices.aspx
http://www.gasbuddy.com/GB_Mobile_Instructions.aspx
--------------------------------------------------------------

Weather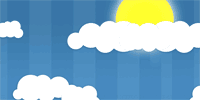 See USA map, click to specific area, no commercials
--------------------------------------------------------------

Traffic Live---
Real Time Traffic Information
You can save up to 20 different routes and check them out with one click,
or type in a new route to learn the traffic live
--------------------------------