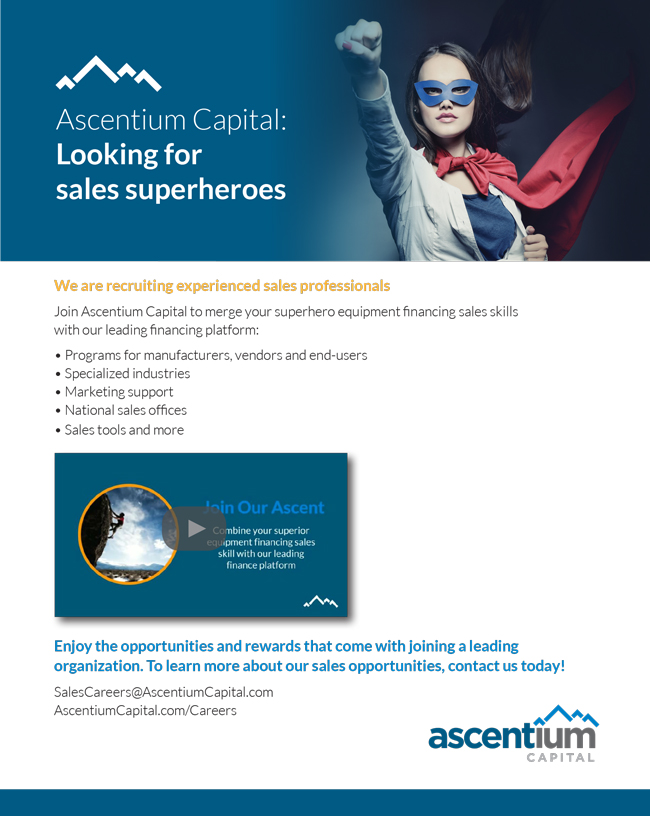 Monday, January 30, 2017


Today's Equipment Leasing Headlines

Job Wanted – Collections
Work Remotely or Relocate for Right Opportunity
South Side Chicago, Two Black Owned Banks Closed
Remaining One Bailed Out Last Year
Financial Broker Agreements: Details Matter
By Tom McCurnin, Leasing News Legal Editor
Current Regulations in United States
Not Official, Compiled from Many Sources
Leasing Industry Ads---Help Wanted
Join a Leading Organization
Soft Skills
Career Crossroad---By Emily Fitzpatrick/RII
Marlin Business Service Earning Call Transcript
Highlights Q4 2016 Results
Leasing News Advisor
Steve Crane, CLFP
Online Equipment Auction List
Updated
Australian Cattle Dog/Mix
Chicago, Illinois Adopt-a-Dog
Leasing News Free Classified Ads
Collector/Collections/Consultant/Communications
News Briefs---
Citigroup Quietly Launches Business Lending Website
Loans Up to $1 Million, Run by Biz2Credit
Broker/Funder/Industry Lists | Features (writer's columns)
Top Ten Stories Chosen by Readers | Top Stories last six months
www.leasingcomplaints.com (Be Careful of Doing Business)
www.evergreenleasingnews.org
Leasing News Icon for Android Mobile Device
You May have Missed---
Sports Brief----
California Nuts Brief---
"Gimme that Wine"
This Day in American History
SuDoku
Daily Puzzle
GasBuddy
Weather, USA or specific area
Traffic Live----
######## surrounding the article denotes it is a "press release" and was not written by Leasing News nor information verified, but from the source noted. When an article is signed by the writer, it is considered a "by line." It reflects the opinion and research of the writer.


Please send a colleague and ask them to subscribe. We are free.
Email kitmenkin@leasingnews.org and in subject line: subscribe

[headlines]
--------------------------------------------------------------
Job Wanted – Collections
Work Remotely or Relocate for Right Opportunity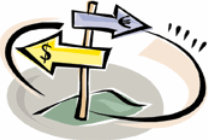 Each Week Leasing News is pleased, as a service to its readership, to offer completely free ads placed by candidates for jobs in the industry. These ads also can be accessed directly on the website at:
http://www.leasingnews.org/Classified/Jwanted/Jwanted.htm

Each ad is limited to (100) words and ads repeat for up to 6 months unless the candidate tells us to stop. Your submissions should be received here by the end of each week.

Collections
Chicago, Illinois
Highly knowledgeable and analytical Equipment Leasing Executive; leveraging 25 years in Portfolio Management, Operations, Credit, and Collections within Banking environment and Commercial Equipment Leasing Industry; proven track record, developing/ implementing strategies, sound operational excellence and process improvement, while maximizing revenues and positioning organizations for greater success. wgriffith61@yahoo.com
Resume



Work Remotely from Portland, Oregon
Experienced commercial banker and former commercial equipment leasing industry professional seeking full-time or part-time work out of my home in Portland, Oregon. Over twenty years' experience in credit analysis, underwriting, sales and collections. Known for creative problem solving and strong quantitative & qualitative analytical skills. Demonstrated ability to gather information, evaluate and make informed strategic business decisions to maximize profit and mitigate risk. Well known for ability to develop strong business relationships with Clients and large list of national equipment leasing Brokers. Please see attached resume and contact me below if interested.
Resume
JFrank@BL-Solutions.com

Sometimes Growing Your Profits
Means Thinking Out of the Box
Receivables Management LLC has built their reputation spanning two decades with unmatched Professionalism, Honesty, Integrity and the ability to earn its Equipment Leasing clients an average of 30% on residual income

• End of Lease Negotiations & Enforcement
• Third-Party Commercial Collections
john@jkrmdirect.com | ph 315-866-1167
www.jkrmdirect.com


(Leasing News provides this ad as a trade for investigative
reporting provided by John Kenny)
[headlines]
--------------------------------------------------------------
South Side Chicago, Two Black Owned Banks Closed
Remaining One Bailed Out Last Year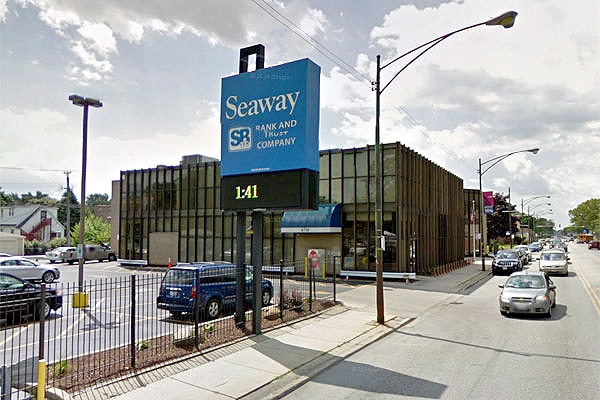 The ten branches of Seaway Bank and Trust Company, Chicago, Illinois, reportedly the largest black-owned bank in the Midwest, were closed with State Bank of Texas, Dallas, Texas, to assume all of the deposits. Branches were located at Broadview, six in Chicago, Maywood, Midlothian, and Milwaukee. The bank was established January 2, 1965. December, 2012 had 294 full time employees; as of September 30, 2016, had 181 full time employees; Tier 1 Risk-based capital ratio 3.27%.
The acquiring bank, "State Bank of Texas was founded in 1987 by Chan Patel," according to a company press release, "and continues to be owned and operated by the Patel family. As the largest Indian-American-owned bank in the United States, SBT focuses heavily on lending within the hospitality industry. (Mainly motels. Editor)." In 2014, his bank purchase the largest bank failure in 2014, fourth Indian-American Bank to fail in Chicago.
http://leasingnews.org/archives/Oct2014/10_28.htm#bank_beat

Crain's Chicago Business Reports, "Chicago has been losing black-owned banks, with two failing in recent years. Another on the verge of failure—South Side Thrift Illinois Service Federal, formed during the Great Migration of blacks to Chicago from the South—recently was rescued with $9 million from a Ghanaian-American family.
"But none of those banks rivals the symbolic importance of Seaway, which for decades has been Chicago's largest black-owned bank and one of the biggest in the country, lending to businesses, commercial borrowers and homebuyers in Chatham, where it's based, and nearby neighborhoods."
The first of the three Chicago South Side Banks, the three offices of Highland Community Bank, Chicago, Illinois, closed January 23, 2015. At the time, the two remaining were Seaway Bank & Trust Co. and Illinois Service Federal Savings & Loan Association of Chicago, both on the South Side.
In April, Illinois Service was saved with a $9 million equity infusion,
keeping it under black ownership. Crain's Chicago Business Reports, "The new owners are members of the Nduom family whose patriarch, Paa Kwesi Nduom, 63, was one of the first African-American partners of Deloitte & Touche, working in Milwaukee, before relocating to Ghana in West Africa in the 1990s. There he invested in hotels and other enterprises, eventually turning the family's disparate holdings into Groupe Nduom."
At the approximate time, Illinois Service had 31 full time employees and had 13.4% of loans in serious delinquency. The bank had $101 million in assets with $42.3 million in loans. Reportedly nearly two-thirds of the loans were for one-to-four family homes.
There have been other minority owned banks in Chicago and elsewhere that have failed in the last few years as they struggle as their neighborhoods have been hit hard and have had great difficulty in recovering economically.
It is surprising that Seaway Bank and Trust did not close earlier. For its size, the bank had a high dollar amount of non-current loans, $58.2 million in 2012:

(In millions, unless otherwise)
Non-Current Loans
2006
$4.0
2007
$1.9
2008
$10.8
2009
$17.6
2010
$26.9
2011
$57.9
2012
$58.2
2013
$52.1
2014
$56.3
2015
$51.0
9/16
$20.5
Profit Fell
(In millions, unless otherwise)
| | |
| --- | --- |
| Profit | |
| | |
| 2006 | $2.8 |
| 2007 | $3.2 |
| 2008 | $3.3 |
| 2009 | $1.09 |
| 2010 | $5.7 |
| 2011 | $4.3 |
| 2012 | $4.4 |
| 2013 | $970,000 |
| 2014 | -$2.0 |
| 2015 | -$11.5 |
| 9/16 | -$12.5 |
As did equity
(In millions, unless otherwise)
| | |
| --- | --- |
| Net Equity | |
| | |
| 2006 | $32.5 |
| 2007 | $35.2 |
| 2008 | $36.2 |
| 2009 | $33.4 |
| 2010 | $36.0 |
| 2011 | $44.9 |
| 2012 | $46.6 |
| 2013 | $38.2 |
| 2014 | $42.5 |
| 2015 | $28.9 |
| 9/16 | $7.4 |
Charge offs were high for its size, starting in 2010 at $3.5 million, hitting $12.4 million in 2015: (in million, unless otherwise)
Construction and Land, 1-4 family multiple residential, Multiple Family Residential, Non-Farm Non-Residential loans (non-owner occupied).
2006 $530,000 ($541,000 nonfarm/nonresidential, $29,000 1-4
Family, $-$35,000 commercial/industrial, -$5,000 multifamily)
2007 -$25,000 ($84,000 commercial/industrial, $45,000 loans to
individuals, $-155,000 construction/land development)
2008 $674,000 ($502,000 construction/land, $75,000 loans to
individuals, $61,000 multifamily, $40,000 commercial/ industrial, -
$4,000 1-4 family)
2009 $636,000 ($387,000 commercial/industrial, $186,000 1-4
family, $60,000 multifamily, $3,000 loans to individuals)
2010 $3.5 ($2.3 construction/land, $633,000 commercial/industrial,
$545,000 1-4 family, $18,000 loans to individuals)
2011 $1.8 ($1.0 commercial/industrial, $798,000 construction/land, $28,000 1-4 family, $25,000 loans to individuals)
2012 $1.9 ($750,000 1-4 family, $661,000 loans to individuals,
$510,000 commercial/industrial, -$10,000 construction/land)
2013 -$1.5 ($3.0 construction/land, $269,000 multifamily, $206,000
1-4 family, $120,000 individuals, -$5.2 commercial/industrial loans)
2014 $2.1 (1.6 1-4 family, $1.4 construction/land, $$734,000
multifamily, $306,000 loans to individuals, $127,000
nonfarm/nonresidential, $127,000 nonfarm owner/occupied, -$2.2
commercial/industrial)
2015 $12.4 ($5.8 nonfarm/nonres., $5.7 1-4 family, $4.5 owner-
occupied nonfarm nonresidential, $1.2 other nonfarm,
nonresidential, $496,000 multifamily, $295,000 commercial/
industrial, $34,000 loans to individuals.
9/16 $2.2 ($1.2 1-4 family, $657,000 other nonfarm/norres.,
$542,000 nonfarm/nonres., $424,000 commercial/industrial/
$73,000 multifamily,-24,000 construction/land,-$16,000 other
consumer loans, -$9,000 loans to indivudals)
As of September 30, 2016, Seaway Bank and Trust Company had approximately $361.2 million in total assets and $307.1 million in total deposits. In addition to assuming all of the deposits of the failed bank, State Bank of Texas agreed to purchase $309.0 million of the failed bank's assets. The FDIC will retain the remaining assets for later disposition.
The FDIC estimates that the cost to the Deposit Insurance Fund (DIF) will be $57.2 million.
FDIC Press Release:
https://www.fdic.gov/news/news/press/2017/pr17009.html

List of Bank Failures:
http://www.fdic.gov/bank/individual/failed/banklist.html

Leasing News Bank Beat:
http://www.leasingnews.org/Conscious-Top%20Stories/Bank_Beat.htm
[headlines]
--------------------------------------------------------------
Financial Broker Agreements: Details Matter
By Tom McCurnin
Leasing News Legal Editor
With Recent Holdings by the California Department of Business Oversight, Should You Be Revisiting Your Broker Agreement
Financial Broker Agreements are pretty standard stuff, and most provide for the essentials. However, in light of two rulings in favor of the California Department of Business Oversight, it is probably time to re-evaluate some specific terms in your broker agreement.
I reported on the case involving Pioneer Capital a few weeks ago. [1]. The case held that an unlicensed leasing broker was actually making loans (whether or not it was brokering them or actually funding them was of no distinction), and was therefore subject to a cease and desist order. In addition, I also reported on the California Supreme Court shutting down an unlicensed loan broker for using an Indian tribe as an ostensible source of a licensing exemption. [2].
From a practical matter, lenders should not want to have their brokers be subject to regulatory complaints. Therefore, at least from the prospective of your broker agreement, lenders need to dust them off and examine whether the agreement addresses unlicensed brokers.
I won't address the customary provisions of a broker agreement, which is beyond the scope of this article. Suffice to say that the lender's agreement should have pricing, an annual termination clause, termination for cause, and a good choice of law provision. If there is enough interest in discussing the general provisions of a good broker agreement, I'll revisit those. However, today's article will concern only the status of unlicensed brokers.
Typically, the status of the lender's brokers will be in two provisions of the contract, the representations and warranties section, and the choice of law section.
Reps and Warranties of Broker
I am not much of a fan of tying the hands of broker with nonsensical "reps and warranties" relative to things the broker cannot control, such as signatures, a first lien, or enforceability of the lease, all of which are generally under control of the equipment lessor or lender. That said, any equipment lessor should consider reps and warranties for the following:
• Proper Licenses. The contract should contain a generic representation that the broker is licensed in all states that require licenses for brokerage or lending activity. To my knowledge the states of California, Alaska, Delaware, Nevada, New York, South Dakota, and Vermont require licenses, but I haven't updated my list in about two years. The lender should engage competent counsel to go through the states where the lender is doing business to see if a license is required. Many states only require licenses for loans under a certain ceiling, so whether a license is required will depend on the deal size and the state. For the brokers, this clause must be specific—that the broker has lender or broker licenses for states in which it is doing business, e.g., for those states in which the borrowers reside.
• Good Standing. The contract should require that the broker shall at all times remain in good standing both in the state of its incorporation and that its lending or brokerage license is also in good standing.
• Tax Liens, Judgments. The contract should provide that the broker shall not have any judgments, tax liens of any amount rendered against it, nor may the broker have any regulatory complaints rendered against it in any state in which it is doing business.
• No Sub-Brokers. The broker should represent that any deals submitted by the broker are submitted directly by the broker and that there is no sub-broker involved. Assuming the lender is, or does business with a bank, OFAC comes into play, and all players need to be disclosed and approved by the lender in writing. Unlicensed brokers will often hide behind another broker. This stuff has to be disclosed.
Choice of Law.
This is especially important in those states in which a license is required. If the lender is located in one of those states, the payment of brokerage fees may be impacted by the lack of license of the broker. Therefore, there should be a choice of law for the lenders states, but a further representation that the broker has complied with all licensing statutes of any state in which any license is required.
Parol Evidence, Estoppel.
The broker will of course complain that it was verbally told that the licensing requirement was not a big deal and that it could ignore the provision. Any such agreement should contain a strong parol evidence clause with another non-estoppel clause that failure to undertake enforcement or termination is not a waiver or estoppel of the terms of the agreement.
Breach.
At the risk of re-stating the obvious, any breach or violation of the terms of the broker agreement is grounds for immediate termination. Whether or not the lender wants to give a short cure period to the broker is up to the lender. In addition, because the broker's problems may spill over to the lender, consider whether the agreement should have a claw back for all commissions paid to the broker while the broker was out of compliance with the terms of the agreement.
Annual Review.
About 30 days before the annual renewal date, the broker should be required to state (1) What states it does business in, e.g., the location of its borrowers; (2) Its current financial status (financial statement); (3) A representation that no breach of any provision of the broker agreement has existed during the past year. Assuming this short renewal application is reviewed and is deemed accurate, the lender may renew the broker agreement.
What are the takeaways here?
• First, Licensing is Now a Big Deal. States are taking a proactive role in supervising non-traditional loans and thus requiring licenses. The lender does not want to get caught up in legal difficulties as a result of doing business with an unlicensed broker. Fix your agreement!
• Second, Set Up an Annual Review. Just like a credit line, brokers should be required to submit a short renewal application 30 days prior to the renewal date. Of course, it should be reviewed by the lender prior to renewal.
The bottom line is that States are now taking action against unlicensed brokers and it is now time to look at your broker agreement.
California DBO Cracking Down on Unlicensed Companies
December Bulletin States the Chargehttp://leasingnews.org/archives/Dec2016/12_21.htm#dbo
California Supreme Court Scalps Pay Day Lenders
Using Indian Tribes as Surrogate Lenders
http://leasingnews.org/archives/Jan2017/01_17.htm#california
Tom McCurnin is a partner at Barton, Klugman & Oetting in Los Angeles, California.
Tom McCurnin
Barton, Klugman & Oetting
350 South Grand Ave.
Suite 2200
Los Angeles, CA 90071
Direct Phone: (213) 617-6129
Cell (213) 268-8291
Email: tmccurnin@bkolaw.com
Visit our web site at www.bkolaw.com
Previous Tom McCurnin Articles:
http://www.leasingnews.org
Previous Tom McCurnin Articles:
http://www.leasingnews.org/Conscious-Top%20Stories/leasing_cases.html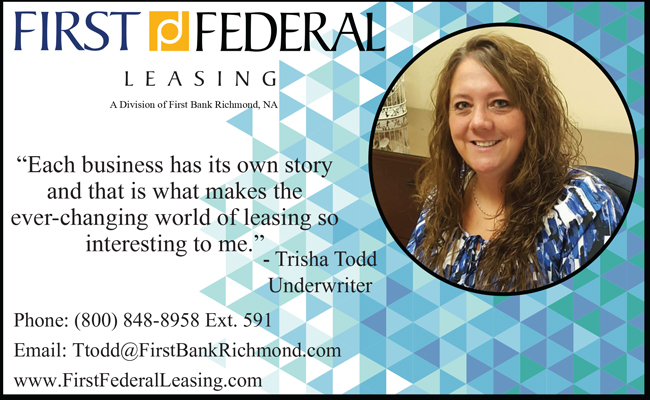 [headlines]
--------------------------------------------------------------
Current Regulations in United States
Not Official, Compiled from Many Sources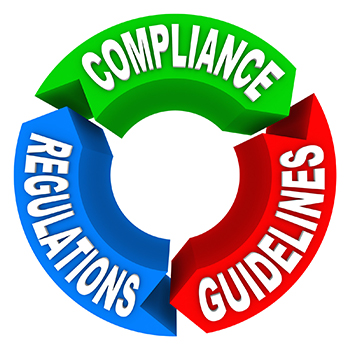 Please see your financial attorney for a legal opinion.
Any up-dates or additions, please send to kitmenkin@leasingnews.org

Alaska: Money Service License. License required to have exemption from usury rates for loans of $10,000 to $25,000, and 24% rate for $850 to $10,000
http://commerce.state.ak.us/dnn/Portals/3/pub/MoneyservicesStatutes.pdf
Arizona: All "advance fee loan brokers" must register annually with the state. Includes "commitment fees." Stiff penalty and on line form for a complaint for the state to investigate. Arizona Revised Statutes, sec. 06-1303-1310 (1996)
Registration process: http://www.azdfi.gov/Licensing/Licensing-FinServ/ALB/ALB.html
Arkansas: All brokers of "a loan of money, a credit card or a line of credit" may not assess or collect an advance fee. In addition, all brokers must register with the Securities Commissioner, post a surety bond of $25.000 and have a net worth of $25,000.
Arkansas Code Annotate sec. 23-39-401 (1995)
California: On September 22, 2016, California Governor Jerry Brown signed SB 777 into law, a bill that restores a de minimus exemption to the California Finance Lenders Law (CFLL) to allow a person or entity that makes one commercial loan per year to be exempt from the CFLL's licensing requirement, regardless of whether the loan is "incidental" to the business of the person relying on the exemption.
"In addition to the lending authority provided by the law, the California Finance Lenders Law provides limited brokering authority. A "broker" is defined in the law as "any person engaged in the business of negotiating or performing any act as broker in connection with loans*made by a finance lender." Brokers licensed under this law may only broker loans to lenders that hold a California Finance Lenders license."
http://leasingnews.org/archives/May2016/05_02.htm#dob
(*any transaction that is not a true rent or meets the accounting and tax rules or is re-sold as a loan or discount or has a nominal purchase option is considered under this nomenclature. ) (2)
Delaware : License required for More Than 5 Loans Per Year.
http://banking.delaware.gov/services/applicense/llintro.shtml
Florida: Brokers of a "loan of money, a credit card, line of credit or related guarantee, enhancement or collateral of any nature" may not assess or collect an advance fee.
Florida Statues, Chapter 687.14 (1992)
Georgia: A broker of "loans of money, a credit card, a line of credit or related guarantee, enhancement or collateral of any kind or nature" may not assess or collect an advance fee unless such fee is for "actual services necessary to apply for the loan." Official Code of Georgia Annotated, sec. 7- 7-1 (1992)
Idaho: No fee may be collected unless a loan is actually made.
Idaho Code, sec. 26-2501 (1992)
Illinois: Code, 815 ILCS 175/15-5.03 Under the Act, a" loan broker" means any person who, in return for a fee from any person, promises to procure a loan for any person or assist any person in procuring a loan from any third party, or who promises to consider whether or not to make a loan to any person. 815ILCS 175/15-5- 15(a) specifically excluded from the application of the Act, however, are (1) any bank …regulated by any service loans for the Federal National Mortgage Association… (3) any insurance producer or company authorized to do business in [Illinois], (4) any person arranging financing for the sale of the person's product, (note that this exception does not apply to any person selling someone else's product and only applies to "the" person's product, implying the exception is for the owner of the product arranging for financing), (5) any person authorized to conduct business under the Residential Mortgage License Act of 1987 and (6) any person authorized to do business in [Illinois] and regulated by the Department of Financial Institutions or the Office of Banks and Real Estate. "In the event that the Act is violated by the broker, the Secretary of State is empowered by the statute to make investigations and examinations, suspend or revoke the broker's approval, subpoena witnesses, compel the production of books and records, order depositions and obtain temporary restraining orders and injunctions against the broker. In the vent that a violate is found, the Secretary of State may impose a fine in the amount of $10,000 for each violation and the broker shall be liable to any person damaged in the amount of tactual damages plus attorneys' fees." This appears as standard language on most states.
Iowa: A broker of loans of "money or property" may not assess or collect an advance fee except for a "bona fide third-party fee" and a broker must obtain a bond or establish a trust account and file required documents with the Commissioner or Insurance.
Iowa Code, sec. 535C (19920)
Kansas: Broker is not exempt. Discounter or Lessor is exempt: " 'Creditor' means any person to whom a loan is initially payable on the face of the note or contract evidencing the loan" is exempt. Anyone who earns a fee or accept a deposit, except a bank, financial institution, discounter or lessor, must be registered.
http://www.securities.state.ks.us/rules/loan.rtf
Kentucky: Brokers of "a loan of money, a credit card, a line of credit or related guarantee, enhancement or collateral of any kind or nature" may not assess or collect an advance fee.
Kentucky Revised Statutes Annotated, sec. 367.380 (1992)
Louisiana: A broker of loans of "money or property…whether such agreement is styled as a loan, a lease or otherwise" must obtain a surety bond or establish a trust account in the amount of $25,000. A broker may not collect an advance fee but may collect an "advance expense deposit for commercial loans" only for actual expenses incurred in obtaining the loan. Louisiana Revised Statutes Annotated, sec. 9:3574 (1993); Louisiana Revised Statutes Annotated, Sec. 51:1910 (1992)
Non-Louisiana leasing companies, with or without offices in the state, must qualify to do business in Louisiana, and are subject to payment of state and local occupational license fees. See: Collector of Revenues v Wells Fargo Leasing Corp., 393 So.2d 1255 (La. App. 1981). Common misunderstanding of Louisiana law. Motor vehicle lessors, with or without offices in Louisiana, additionally are required to be licensed by the Louisiana Motor Vehicle Commission in order to lease a motor vehicle in the state. (La. R.S. 32:1254(N)) Common misunderstanding of Louisiana law.
Maine: No license required: "the regulation of commercial loan brokers does not fall under the jurisdiction of the Maine Bureau of Consumer Credit Protection. Transactions involving two businesses are legal/contractual in nature. Therefore, disputes involving a commercial loan between a business and commercial loan provider or broker must be settled in the court system."
http://www.maine.gov/pfr/consumercredit/faqs/loan_broker_faq.htm#j
Maryland: Lending threshold is $6,000 or less, so now need for license if over
this dollar amount
Massachusetts: Lending threshold is $6,000 or less, so now need for license if over this dollar amount.
Minnesota: License required for loans of $100,000 or less
Money Transfer License
http://mortgage.nationwidelicensingsystem.org/slr/PublishedState
Documents/MN-Money-Transmitter-Company-Description.pdf
Mississippi: A broker or loans of money may not assess or collect an advance fee and can be fined up to $5,000 for each violation. Mississippi Code Annotated, sec. 81-19-17 (1997)
Missouri: A broker of loans of "money or property" may not assess or collect an advance fee. Missouri Revised Statues, sec. 367 300 (19920
Nebraska: A broker of loans of money may not assess or collect an advance fee. Nebraska Revised Statutes, sec. 45-189 (1993)
Nevada: Foreign Corporations Foreign corporations engaged in activities in Nevada are subject to the provisions of Chapter 80 of the Nevada Revised Statutes. Specifically, NRS 80.010 through 80.055 set forth the requirements for a foreign corporation to qualify to do business in Nevada. Of primary importance are the statutes that establish (a) the filing requirements to qualify to do business (NRS 80.010); (b) the activities in which a foreign corporation may engage that do not constitute "doing business" so as to require qualification (NRS 80.015); and (c) the penalties to which a foreign corporation will be subject for failing to comply with the qualification provisions (NRS 80.055). The penalties for failure to comply with the qualification statutes include a fine (capped at $10,000) and/or denial of the right to maintain a court action. However, failure to comply will not impair the validity of contracts entered into by a foreign corporation nor prevent such corporation from defending itself in court. Foreign LLCs Foreign LLCs engaged in activities in Nevada are subject to the provisions of Chapter 86 of the Nevada Revised Statutes, specifically NRS 86.543 through 86.549. Foreign LLCs seeking to operate in Nevada must comply with the initial filing and registration requirements in NRS 86.544, and annual filing requirements of NRS 86.5461. The LLC must also maintain certain records, such as a list of current members and managers, in accordance with NRS 86.54615.
Additionally, NRS 86.5483 lists the activities which do not constitute "doing business" in Nevada for purposes of the Chapter. Foreign LLCs that fail to comply with the Chapter risk penalties similar to those facing a non-compliant foreign corporation. Those penalties are outlined in NRS 86.548.
Nevada has no usury statue.
New Hampshire
Any person making small loans, title loans, or payday loans in New Hampshire must obtain a license from the bank commissioner. N.H. Rev. State. Ann. § 399-A:2. This law does not apply to banks, trust companies, insurance companies, savings or building and loan associations, or credit unions. Id. Any person who violates any provision of this chapter shall be guilty of a misdemeanor if a natural person, or a felony if any other person. N.H. Rev. Stat. Ann § 399-A:18.
New Jersey: Brokers of "loans of money" may not assess or collect an advance fee.
New Jersey Rev. Statutes, sec. 17:10B (1992)

Although New Jersey does not require a lessor to obtain a license to conduct a leasing business in the state, the New Jersey Corporation Business Activities Report Act requires foreign corporations to register with the state. See N.J. STAT. ANN. 14A:13-14. In particular, foreign corporations must file a Notice of Business Activities Report with New Jersey's Department of Taxation. Activities that trigger the requirement of a report include: (a) maintaining an office or other place of business in New Jersey; (b) maintaining personnel in New Jersey, even if the personnel is not regularly stationed in the state; (c) owing or maintaining real or tangible personal property directly used by the corporation in New Jersey; (d) owning or maintaining tangible and/or property in New Jersey used by others; (e) receiving payments from residents in New Jersey, or businesses located in New Jersey, that are greater than $25,000.00; (f) deriving any income from any source or sources within New Jersey; or (g) conducting or engaging in any other activity, property or interrelationships with New Jersey as may be designated by the Director of the Division of Taxation. See N.J.S.A. 14A:13-15. Corporations not required to file a report are those which either received a certificate of authority to do business, or filed a timely tax return under the Corporation Business Tax Act, or Corporation Income Tax Act. See N.J. STAT. ANN. 14A:13-16. Reports must be filed annually by April 15th.
New Mexico: New Mexico currently requires Brokers/Lessors to register for Licensing under the NM Mortgage loan Company or Loan Broker Act with the Financial Institutions Division of the State of New Mexico. Banks with Brick and Mortar within the State of New Mexico are exempt. Prior to licensing applicants must submit the Following:
Articles of Incorporation
Listing of all principals (including management)
A full financial Package (to meet their minimum requirements of liquidity)
Personal financial statements on all principals
Disclosure of all current or past suits (civil or criminal)
Attach a corporate surety bond
Include a $400.00 registration fee renewable yearly

New York: No person or other entity shall engage in the business of making loans in the principal amount of twenty-five thousand dollars or less for any loan to an individual for personal, family, household, or investment purposes and in a principal amount of fifty thousand dollars or less for business and commercial loans, and charge, contract for, or receive a greater rate of interest than the lender would be permitted by law to charge if he were not a licensee hereunder except as authorized by this article and without first obtaining a license from the superintendent.
North Carolina: A broker of "loans of money or property…whether such agreement is styled as a loan, a lease or otherwise" must obtain a surety bond or establish a trust account in the amount of $25,000 and obtain a license. North Carolina General Statutes, sec. 66-106 (1992)
https://www.sosnc.gov/Corporations/pdf/FAQ
TreeLoanBrokerAct20130805.pdf
http://www.ncleg.net/EnactedLegislation/Statutes
/PDF/ByArticle/Chapter_66/Article_20.pdf
North Dakota: License Required "Money Broker's License". N.D. Cent. Code Ann. § § 13-04.1-02.1 and 13-04.1-01.1 http://www.nd.gov/dfi/regulate/index.html
Brokers may not accept an advance fee unless the broker is licensed. North Dakota Century Code, 13-04. 1-09.1 (1993) Ohio: Department of Commerce, Division of Financial Institutions
(Certificate to engage in the business of a credit services organization in accordance with the provisions of Sections 4712.01 to 4712.14 of the revised code of Ohio, subject to all the provisions thereof and to the regulations of the division.) Ohio Department of Taxation requires a "Vendor's License" under provision 5739.17 of the Revised Code (...is hereby authorized to sell tangible personal property and selected services at the retail location specified below.) This also makes the lessor responsible for all taxes with penalties for not doing so.
Ohio: Ohio law provides that no person may engage in the business of lending money, credit, or choses in action in amounts of $5,000 or less, or exact, contract for, or receive, directly or indirectly, on or in connection with any such loan, any interest and charges that in the aggregate are greater than the interest and charges that the lender would be permitted to charge for a loan of money if the lender were not a licensee, without first having obtained a license from the Division of Financial Institutions. O.R.C. 1321.02. This rule is applied to any person, who by any device, subterfuge, or pretense, charges, contracts for, or receives greater interest, consideration, or charges than that authorized by such provision for any such loan or use of money or for any such loan, use, or sale of credit, or who for a fee or any manner of compensation arranges or offers to find or arrange for another person to make any such loan, use, or sale of credit. O.R.C. 1321.02.
Rhode Island: Any person who acts as a lender, loan broker, mortgage loan originator, or provides debt-management services must be licensed. R.I. Gen Laws § 19-14-2(a). The licensing requirement applies to each employee of a lender or loan broker. R.I. Gen Laws § 19-14-2(b). No lender or loan broker may permit an employee to act as a mortgage loan originator if that employee is not licensed. R.I. Gen Laws § 19-14-2(b) R.I. Gen. Laws § 19-14-2 (2012) No person engaged in the business of making or brokering loans shall accept applications from any lender, loan broker, or mortgage loan originator who is required to be licensed but is not licensed. R.I. Gen Laws § 19-14-2(d). There is an exemption from the licensing requirement for a person who makes not more than 6 loans in the state within a 12-month period. R.I. Gen Laws § 19-14.1-10. Persons lending money without a license are guilty of a misdemeanor and can be fined not more than $1,000, or imprisoned for not more than 1 year, or both; each violation constitutes a separate offense. R.I. Gen Laws § 19-14-26.
South Carolina: A broker of "a loan of money, a credit card, a line of credit or related guarantee, enhancement or collateral of any kind or nature" may not assess or collect an advance fee. South Carolina Code Annotated, sec. 34-36-10 91992)
South Dakota: Money Lending License
Required for individuals or corporations to engage in the business of lending money, including creating and holding or purchasing and acquiring any installment loan ("Capital Lease" or EFA), single pay loan, or open-end loan which may be unsecured or secured by personal property. Requires filing a surety bond application. State and national banks, bank holding companies, other federally insured financial institutions, and the subsidiaries of those institutions are exempt from licensure. In addition, SD chartered trust companies are exempt from licensure. Any individual or corporation holding this license is required to pay the bank franchise tax.
Duration: 1 year
Cost: Application: $600
South Dakota has no usury status
Vermont: In the past, Commercial loan license would apply to EFA and "Capital Leases." Exemptions include transactions over $1 million, and brokers who do not engage in transactions more than $50,000 in one year at rates not exceeding 12 percent per annum. As of May 1, 2017. "Loan solicitation licensees must maintain a surety bond, include a specific disclosure in all advertisements of loans and solicitation of leads, observe record retention requirements, and file an annual report and financial statements with the Commissioner of Financial Regulation."
Full information available here:
http://www.counselorlibrary.com/public/alert.cfm?itemID=2420
Ontario, Canada: General Requirements: 1. Branch Operation If a foreign corporation wants to carry on business via a branch operation, without a Canadian corporate entity, it may have to obtain a provincial license in each province in which it intends to carry on business. Pursuant to the Ontario Extra-Provincial Corporations Act R.S.O. 1990 c. E.27 ("EPCA"), a class 3 extra-provincial corporation (a corporation that has been incorporated or continued under the laws of a jurisdiction outside Canada) is prohibited from carrying on business in Ontario without a license under the Act [s. 4(2)]. Failure to comply with this licensing requirement can lead to a maximum fine of $2,000 for a person and $25,000 for a corporation [s. 20(1)]. Directors, officers and any person acting as a representative of the corporation can be fined up to $2,000 for authorizing, permitting or acquiescing to an offence by the corporation [s. 20(2)]. For the purposes of the EPCA, an extra-provincial business is considered to be "carrying on business in Ontario" if: a. It has a resident agent, representative, warehouse, office or place where it carries on its business in Ontario; b. It holds an interest, otherwise than by way of security in real property situate in Ontario; or c. It otherwise carries on business in Ontario [s. 1(2)]. This last category is a catchall. Recent case law in the area stresses that it is very much a fact-specific analysis hinging on the extent to which business is actually conducted in Ontario. 2. Incorporation: a foreign corporation can also choose to incorporate a subsidiary, either federally or provincially. If a subsidiary is incorporated provincially in Ontario, it may have to obtain an extra-provincial license to carry on business in other provinces. An Ontario-incorporated company does not have to obtain a license to carry on business in Quebec but does have to make annual information filings. 3. Bank Act If the financing company is a bank and intends to carry on business in Canada, it must obtain appropriate approval under the Bank Act 1991 c. 46. Whether an entity will be considered a bank under the Bank Act needs to be reviewed on a case-by-case basis, as there are a number of relevant factors.

[headlines]
--------------------------------------------------------------
Leasing Industry Ads---Help Wanted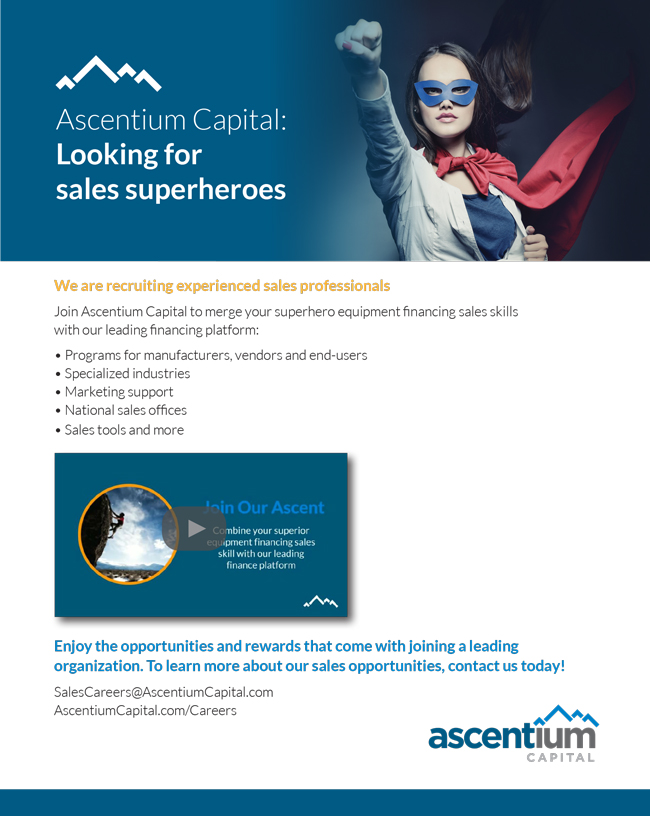 For information on placing a help wanted ad, please click here:
http://www.leasingnews.org/Classified/Hwanted/Hwanted-post.htm
[headlines]
--------------------------------------------------------------
Soft Skills
Career Crossroad---By Emily Fitzpatrick/RII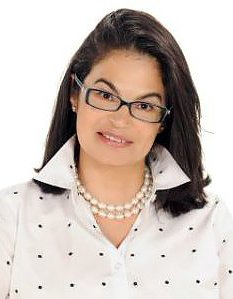 I hear a lot about needing certain "soft skills." What are they?
Soft skills are character traits that a person possesses such as attitudes and how we interact. These are your innate qualities. However, you may improve them by enrolling in workshops or training classes, e.g. time management is considered a soft skill, if you are not particularly good at this skill, you can try to improve your management of time.
Soft skills are qualities in life that assist you getting your job responsibilities done effectively. Every occupation requires a certain number of soft skills to be successful, e.g. you will see on job description's statements such as "must have excellent communication skills" or "must be reliable" or "a team player."
Soft Skill Examples
Active Listening
Flexibility and Adaptability
Interpersonal Skills
Problem Solving & Critical Thinking
Professionalism
Time Management
Verbal Communication
Hiring Managers will be looking for them in interviews and on resumes. As such, make sure your resume lists accomplishments that validate your soft skills and find ways to discuss them during an interview; they are just as important as your technical expertise.
Emily Fitzpatrick
Sr. Recruiter
Recruiters International, Inc.
Phone: 954-885-9241
Cell: 954-612-0567
emily@riirecruit.com
www.riicareer.com
Invite me to Connect on LinkedIn
www.linkedin.com/pub/emily-fitzpatrick/4/671/76
Also follow us on Twitter #RIIINFO
https://www.pinterest.com/recruitersinter/rii-career-services/
Career Crossroads Previous Columns
http://www.leasingnews.org/Conscious-Top%20Stories/crossroad.html

[headlines]
--------------------------------------------------------------
Marlin Business Service Earning Call Transcript
Highlights Q4 2016 Results

Jeffrey A. Hilzinger, Chief Executive Officer
"While strong customer demand in our equipment finance business continues to drive overall growth, we also benefited from our strategy to transform Marlin from primarily a micro-ticket equipment lessor into a broader provider of credit products and services to small businesses.
"Funding Stream, our working capital loan business, also performed well and contributed $11.3 million or 8% of total originations in the quarter. And our franchise finance business, which caters to the unique financing needs of franchisees, contributed $5.1 million, or 4% of total fourth quarter originations. As a result, our investment in leases and loans grew to a record $793.3 million, up almost 5% compared to the previous quarter and up 17% from a year ago with continued strong credit quality.
- page 1

W. Taylor Kamp, Jr., Senior Vice President & General Counsel
"So in the quarter we did several hundred loans but were marketing to prequalified existing customer base about 100,000. So you can get an idea of how much headroom we have there. We did $35 million in funding stream. We're steadfast in focusing on our existing customer base because we believe with that particular product that's where the safety is in terms of credit. So we're absolutely going to continue to do that. The other smaller piece comes from a very small pool of about a dozen brokers that we have very good relationships with. So same plan for 2017. Funding stream loans will be in the in the range of 55 million to $55 million."
- page 9
Seeking Alpha Transcript (11 pages)
http://seekingalpha.com/article/4040215-marlin-business-services-mrln-ceo-jeff-hilzinger-q4-2016-results-earnings-call-transcript?page=11
Press Release
Marlin Business Services Report Net Income $4.8 Million
Up from $3.0 Million Last Year for 4th Quarter (15 pages)
http://leasingnews.org/images/Marlin4thQtr2016.pdf
[headlines]
--------------------------------------------------------------

Leasing News Advisor
Steve Crane, CLFP
Steve Crane, CLFP, is an original member of the Leasing News Advisory Board, joining in July of 2000. Steve stated "Kit Menkin has been a friend of mine for many years and I am honored to serve as an advisor to this widely read and popular publication".
Steve resides in the San Francisco Bay Area and is Manager of the Commercial Division at BSB Leasing. BSB is a funding source for equipment financing brokers and other referral sources, and Steve's group funds financial statement transactions between $100K and $1MM.
Prior to BSB, Steve was Vice President & Marketing Manager for the Indirect Equipment Finance Group at Bank of the West. During his career, which started in 1983, he has held positions at Westinghouse Credit, Ingersoll Rand Financial, CIT, and Taylor Financial. He has also held various volunteer positions with The CLFP Foundation, Eastern Association of Equipment Leasing and National Equipment Finance Association.

Steve Crane, CLFP
Vice President & Commercial Division Manager
BSB Leasing, Inc.
7921 Southpark Plaza, Suite 208
Littleton, CO 80120
scrane@bsbleasing.com
303-376-4668
Fax: 303-329-0240
www.bsbleasing.com
Steve has been married to his wife Cheryl for 33 years and they have two sons, Ryan and Alex. Ryan is a firefighter for the City of American Canyon in Napa County, and Alex is a third-year medical student that will soon be married to his fiancé Jess.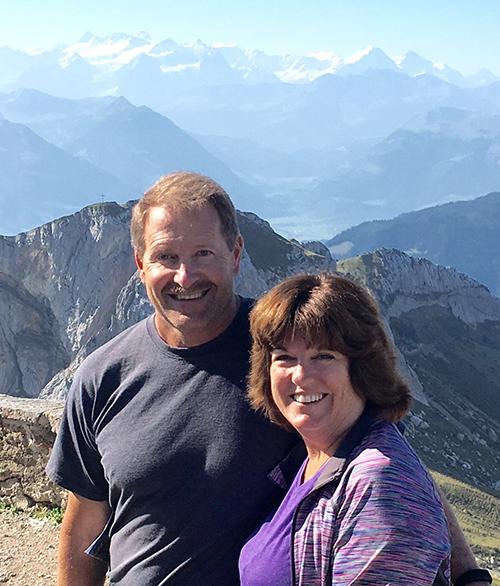 Steve and Cheryl in Alps above Lucerne Switzerland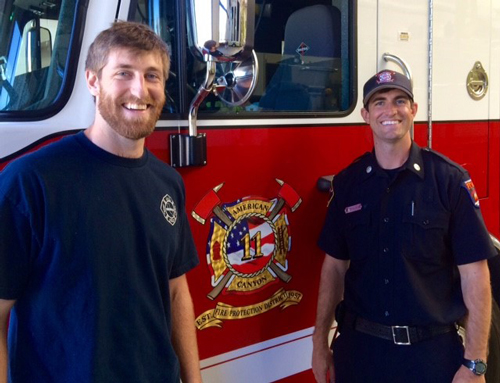 Alex and Ryan at American Canyon Fire Station
An avid exercise enthusiast, Steve enjoys the outdoors and is an active backpacker, golfer, sailor and triathlete.

Steve with his running companion Sadie
Steve enjoys his work and is looking forward to many more years of participating on the Leasing News Advisory Board and the equipment financing industry.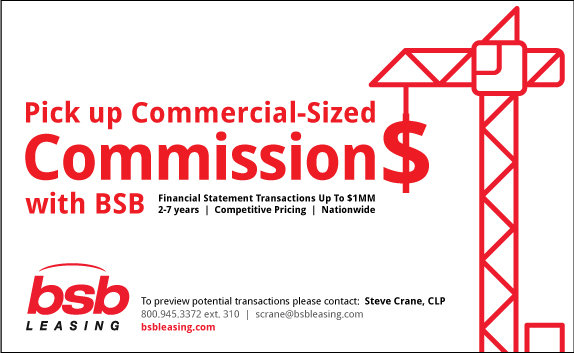 [headlines]
--------------------------------------------------------------
Online Equipment Auction List
This is not a list of companies who hold auctions primarily, but those who conduct on line auctions.
auctioneerexpress.com
Tractor, Mower, Dump Truck, Mower, Cutter, 13 Tire Roller
govocon.com
Both live and virtual online auction format, light and heavy equipment for the construction and transportation industry
govliquidation.com
Mostly trucks and related equipment
HeavyEQ.govdeals.com
Heavy Equipment, Truck and Machinery Industry
Online Gov't Surplus Auctions - Over 1,000 Government Clients
inplaceauction.com
Caters to lessors, lenders, and bankruptcy trustees, conducting both virtual and live auctions of all types of assets including: Agricultural, Medical, Industrial, Transportation, Trucks, Construction, Real Estate, etc. Appraisals - on site and desktop.

ironplanet.com
Cranes, Trailers, Equipment Trucks
motleys.com
Construction Equipment & Trucks
municibid.com
Municibid is an online government auctions website designed specifically for the sale of surplus and forfeited/seized goods directly by the government publicsurplus.com
salvex.com
Salvaged equipment for both re-seller and end user.
tractorhouse.com
Mostly farm equipment
usgovbid.com
Government Online Auctions - Servicing Government Agencies for over a Decade
List of many auction sites for consumer and vehicle:
http://www.100auctionsites.com/

Online auction Top Ten Most Popular Sites
(Primarily for consumers or consumer merchandise)
http://online-auction-sites.toptenreviews.com/
Auction Zip
--primarily consumer
(find auctions anywhere)
http://www.auctionzip.com/

(Leasing News provides this ad as a trade for appraisals
and equipment valuations provided by Ed Castagna)
[headlines]
--------------------------------------------------------------
Australian Cattle Dog/Mix
Chicago, Illinois Adopt-a-Dog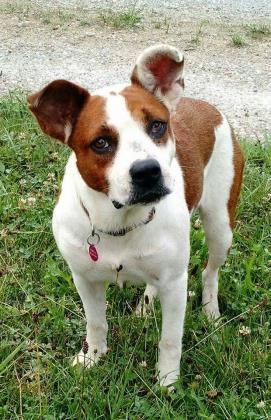 Bridget
Female
2 Years, 3 months
Medium size
Spayed
Adoption Price: $300
Potential Adopters/Foster Volunteers:
"Our process does include a home visit, and for this reason, out-of-state applications can be considered on a case-by-case basis ONLY.
Please take a moment to consider the following questions BEFORE submitting an application.
"If you answer "no" to any of the following, you are not ready to start the adoption process and should not fill out the application at this time.
"Are you ready to take your dog or puppy home in the next 72 hours?
Do you have the approval of your entire household and landlord?
If you have a pet at home already, are you certain that they are up to date on all required vaccinations?"
Chicago Canine Rescue
5272 N. Elston
Chicago, Illinois
Phone: 773.697.8848
Contact:
http://www.chicagocaninerescue.com/contact/
Visitor Hours
Monday: 5pm – 7pm
Tuesday: Appointment Only
Wednesday: Appointment Only
Thursday: 5pm – 7pm
Friday: 5pm – 7pm
Saturday: 12pm – 5pm
Sunday: 12pm – 5pm
Adopt a Pet
http://www.adoptapet.com/
[headlines]
--------------------------------------------------------------
Collector / Collections / Consultant / Communications
Collector: Atlanta, GA
Asset Recovery Specialist. We get your money or we get your > equipment back for you. Physical Asset Recovery Experts!
E-mail: mcrouse911@joimail.com
Collector: Cleveland, OH
Huntley Capital & Associates is your solution to late payments, no payments, and asset recovery. Call 216-337-7075.
Email: ghpatey@msn.com

Collections: Dallas, Texas
Contingency Fee basis. Receivables Outsourcing. We are a fully bonded nationwide licensed agency. We collect for nationally known banks and leasing companies.
800-886-8088.
Collector: Los Angeles, CA
Expert skiptracers covering Southern California. We locate skips, judgment debtors and collateral. When you can't get the job done in house, give us a call at
1-800-778-0794.
E-mail: ceo@interagencyLA.com
Collector: Louisville, KY
We are a full service collection agency with attorney network. 21 years experience. Please call Jon Floyd, VP at 1-800-264-6850
email: jfloyd@collectcsg.com
Collector: Louisville, KY
Euler Hermes/UMA 92 year old Global Receivables Outsourcing. Presence in 143 Countries. Work w/ 4 out of 5 Fortune 500 firms. Contingency Fee Structure.
20% off first time clients.!
Andrew.Newton@eulerhermes.com
1-800-237-9386 x 205.





Collector: Milwaukee, WI
We specialize in ATM machine reposession and remarketing. We can get you top dollar for your inventory.
E-mail: bdperry1@yahoo.com

Collector: Nationwide
End of lease negotiations & enforcement. Third-party collections. Skip-tracing. Background checks. Credit & asset investigations. 15+ years in leasing industry. Providing services to clients nationwide.
800-824-0234
johnkenny2@verizon.net

Collector: Saint Louis, MO
Complete commercial collection agency. Licensed bonded in all states and will out performed any other agency!
Call 1-800-659-7199 ext.315
E-mail
jfloyd@lindquistandtrudeau.com
Consultant: Nationwide
25 yrs. experience: Creating/Refining Business Plans to raise capital· Credit Underwriting support/policy/procedure development · Operations Support/policy/procedure development.
Call: 610-246-2178, McCarthy Financial, LLC, David.mccarthy@mccarthy-financial.com
Consultant: Burlington, CT
We provide our clients with a full range of consulting services such as portfolio conversions, reconciliation, custom programming and leasing operations utilizing InfoLease.
Email: info@new-millennium-assoc.com
Consultant: Europe
15 years doing deals/running own technology leasing company – looking to advise/ lead new entrants to take advantage the European market opportunity.
www.clearcape.co.uk or
kevin.kennedy@clearcape.co.uk

Consultant: Henderson, NV
Focus on new business development and process efficiencies to create incremental revenue and profitability. Executive level vendor experience, and satisfied outsourcing clients. Incredible track record.
E-mail: rbutzek@cox.net

Consultant: Sausalito, CA
Lease trainer and consultant. 50 years in equipment leasing. Expert in transaction analysis, financial statement analysis, credit, packaging, structuring. Presents highly popular classes and workshops.
E-mail:BoTei@aol.com

Consultant: North of Detroit, MI
INFOLEASE EXPERT - 18 years experience. Since being downsized in 2002, working as a consultant for several leasing companies. Seeking consulting projects nationwide.
E-mail: darwint@prodigy.net

Consultant: Ridgefield CT.
Lisa Lersner w/20 years exp. specializing in leasing technology now providinglessor selection andmanagement services, includingthe securing of debt and equity and acquisition guidance services.
Emailwww.leasefinanceconsulting.com

Communications: Chassell, MI

Cartoons on business, finance & computers. Use for your presentations, website, newletter, direct

mail projects etc. Fees are negotiable.
Email: dan@danscartoons.com
http://www.danscartoons.com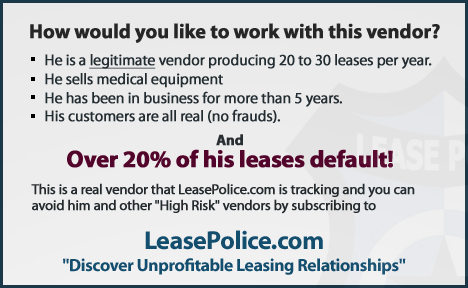 [headlines]
--------------------------------------------------------------

News Briefs---
Citigroup Quietly Launches Business Lending Website
Loans Up to $1 Million, Run by Biz2Credit
http://www.reuters.com/article/us-citigroup-loans-internet-idUSKBN15B2CK
[headlines]
--------------------------------------------------------------

You May Have Missed---
Microsoft's stock-market value surges past $500 billion
http://www.seattletimes.com/business/microsoft/microsofts-stock-market-value-surges-past-500-billion/
[headlines]
--------------------------------------------------------------

Sports Briefs----
Denver Broncos only want Tony Romo as free agent
http://www.upi.com/Sports_News/NFL/2017/01/29/Denver-Broncos-only-want-Tony-Romo-as-free-agent/9391485709850/

49ers tab John Lynch as GM
http://www.espn.com/nfl/story/_/id/18581720/san-francisco-49ers-name-john-lynch-general-manager
Raiders' move to Las Vegas looking like a sure bet
http://www.pressdemocrat.com/sports/6599640-181/raiders-move-to-las-vegas?artslide=0

[headlines]
--------------------------------------------------------------


California Nuts Briefs---
Bay Area tenants get some relief as rents continue to slide
http://www.mercurynews.com/2017/01/27/bay-area-tenants-get-some-relief-as-rents-continue-to-slide/
Sonoma County hotels, airlines enjoy surge of visitors
http://www.pressdemocrat.com/business/6583557-181/sonoma-county-hotels-airlines-enjoy?artslide=0
[headlines]
--------------------------------------------------------------



"Gimme that Wine"

http://www.youtube.com/watch?v=EJnQoi8DSE8
Livermore's Concannon Winery to pay water pollution fine
http://www.eastbaytimes.com/2017/01/26/livermores-concannon-
winery-to-pay-big-nitrate-pollution-fine/
Sonoma seeks to honor Chinese laborers who shaped wine industry
http://www.pressdemocrat.com/news/6555711-181/sonoma-seeks-to-honor-chinese?artslide=0
Epic wildfires decimate Chile's wine country
http://nypost.com/2017/01/26/epic-wildfires-decimate-
chiles-wine-country/
100 Most Powerful Fine Wine Brands 2016
https://www.thedrinksbusiness.com/2017/01/the-worlds-100-most-powerful-fine-wine-brands-2016/
Free Mobile Wine Program
http://leasingnews.org/archives/Feb2010/2_26.htm#mobile
Wine Prices by vintage
http://www.winezap.com
http://www.wine-searcher.com/
US/International Wine Events
http://www.localwineevents.com/
Leasing News Wine & Spirits Page
http://two.leasingnews.org/Recommendations/wnensprts.htm

[headlines]
----------------------------------------------------------------
This Day in American History
1749 - Thomas Isaiah's (d. 1831) birthday at Boston, MA. He was a printer, editor, almanac publisher, historian and founder of the American Antiquarian Society.
1798 - The first brawl to break out on the floor of the US House of Representatives occurred at Philadelphia, Pennsylvania. The fight was precipitated by an argument between Matthew Lyon of Vermont and Roger Griswold of Connecticut. Lyon spat in Griswold's face. Although a resolution to expel Lyon was introduced, the measure failed and Lyon maintained his seat.
1806 - The original Lower Trenton Bridge, with the sign proclaiming "Trenton Makes the World Takes" and spanning the Delaware River between NJ and PA, was opened.
1815 - President James Madison approved an act of Congress appropriating $23,950 to purchase Thomas Jefferson's library of 6,487 volumes. The British had destroyed the 3,000 book collection of the Library of Congress when they burned Washington, D.C. in 1814.
http://memory.loc.gov/ammem/today/jan30.html
1835 - President Andrew Jackson was attacked in the first attempt on the life of a U.S. President. President Andrew Jackson attended a congressional funeral in the Capitol building. As he exited, Richard Lawrence, an unemployed house painter, pointed a pistol at Jackson and fired. The percussion cap exploded, but the bullet did not discharge. The enraged Jackson raised his cane to throttle his attacker, who fired again. The second weapon also misfired and the sixty-seven-year-old President escaped unharmed, but angry as hell, and chased the would-be killer with his cane until others captured him. The deranged Lawrence believed Jackson had conspired to keep him poor and out of work. Jackson was convinced that Lawrence was hired by his political enemies, the Whigs, to stop his plan to destroy the Bank of the United States. Lawrence spent the rest of his life in jails and asylums. Here is a bit of trivia for fans: in the trial that followed, at the first attempted assassination of a US president, the prosecuting attorney was Francis Scott Key. (Some interesting additional trivia: Jackson was the only President to pay off the National Debt. He is also the only President to have been a prisoner of war, and is the only President to have fought in the Revolutionary War and the War of 1812.
http://www.geocities.com/presfacts/jackson.html )
1839 - Samuel Armstrong (d. 1893), the founder of Hampton Institute, was born in Maui. After graduating, Armstrong volunteered to serve in the Union Army. Armstrong subsequently rose through the ranks to lieutenant colonel assigned to lead the 9th Regiment, US Colored Troops (USCT) in late 1863. At the end of the war, Armstrong joined the Freedman's Bureau. With the help of the American Missionary Association, he established the Hampton Normal and Agricultural Institute - now known as Hampton University - in Hampton, VA in 1868. The Institute was meant to be a place where black students could receive post–secondary education to become teachers, as well as training in useful job skills while paying for their education through manual labor.
1844 - Richard Theodore Greener becomes the first African American to graduate from Harvard University.
1847 - Yerba Buena was renamed the Town of San Francisco by order of Alcalde Bartlett. The order was published in the "California Star," the first newspaper in San Francisco, later known as The Alta Californian, published by Samuel Brannan with Elbert P. Jones as editor.
1858 - Birthday of William Wells Brown (d. 1884) near Mt. Sterling, KY. African-American novelist and dramatist, he published the first Black drama, "Leap to Freedom."
http://vi.uh.edu/pages/mintz/28.htm
http://archive.ncsa.uiuc.edu/Cyberia/RiverWeb/History/brown.html
http://www.spartacus.schoolnet.co.uk/USASbrownW.htm
http://docsouth.unc.edu/brownw/about.html
1862 - US Navy's first ironclad warship, Monitor, launched at Greenpoint, Brooklyn, New York into the East River.
http://www.navalships.org/ussmonitor.html
http://www.mariner.org/monitor/04_revunion/des_monitor.html
http://havenworks.com/military/uss-monitor/
http://www.civilwarhome.com/monitor.htm
http://members.aol.com/wfmarabknt/ironclads.html
1866 - Gelett Burgess (d. 1951) was born in Boston, Massachusetts, the author of the whimsical quatrain:
I never saw a purple cow,
I never hope to see one;
But I can tell you, anyhow,
I'd rather see than be one.
In 1897, he began to publish self-illustrated whimsical writings, the best known being, "Goops & How to Be Them." He coined the word "Blurb" and was an iconoclast poet and cartoonist.
http://www.toonopedia.com/burgess.htm
1867 - The American branch of the Evangelical Alliance was organized at the Bible House in New York City, with William E. Dodge elected president.
1882 - Franklin Delano Roosevelt's birthday at Hyde Park, NY. The 32nd President of the US (Mar 4, 1933-Apr 12, 1945), he is the only President to serve more than two terms. FDR was elected four times. He is credited with bringing the country out of depression and was an extremely popular President. He supported the Allies in World War II before the US entered the struggle by supplying them with war materials through the Lend-Lease Act. He became deeply involved in broad decision-making after the Japanese attack on Pearl Harbor Dec 7, 1941. He died a few months into his fourth term at Warm Springs, GA on April 12, 1945.
1883 - James Ritty and John Birch received a U.S. patent for the first cash register.
1894 - C.B. King received a patent for the pneumatic hammer.
1900 - William Goebel was shot, one day before being sworn in as Governor of Kentucky. In 1895, he killed a factional rival, John Stanford, in a political quarrel but was never tried. While contesting the outcome of a gubernatorial election, Goebel was shot and mortally wounded in front of the old Kentucky State Capitol. He was declared elected and sworn in as Governor before he died four days later, in Frankfort, on February 3. He was born in Sullivan County, PA on January 4, 1856. Lawyer; member of Kentucky Senate; a statue of him stands at Old State Capitol Grounds in Frankfort.
http://www.louisville.edu/library/ekstrom/govpubs/states/
kentucky/kygovernors/goebel.html
http://unusualkentucky.com/goebel.html
http://www.amazon.com/exec/obidos/ASIN/0813102405/inktomi-bkasin-20/
002-1241397-9042458
1910 - Work began on the first board-track automobile speedway. The track was built in Playa del Ray, CA.
1911 - Roy Eldridge's (d. 1989) birthday in Pittsburgh. ("Have you ever been uptown, Roy?"). Jazz trumpet player. His sophisticated use of harmony, including the use of tritone substitutions, his virtuosic solos exhibiting a departure from the smooth and lyrical style of earlier jazz trumpet innovator Louis Armstrong, and his strong impact on Dizzy Gillespie mark him as one of the most influential musicians of the swing era and a precursor of bebop.
http://trumpetjazz.com/dbman/db.cgi?db=default&uid=default
& Name=Roy+Eldridge&Birth=
& Death=&Images=&Info=&Links=&keyword=&mh=1&sb=---&so=ascend&view_records=
View+Records
http://www.harlem.org/people/eldridge.html
1911 - The first airplane rescue at sea was made by the destroyer "Terry." Pilot James McCurdy was forced to land in the ocean about 10 miles from Havana, Cuba.
1912 - Barbara W. Tuchman's (d. 1989) birthday at New York, NY. An historian and journalist, Tuchman's most famous works were her Pulitzer Prize-winning books "The Guns of August" (1962) and "Stilwell and the American Experience in China, 1911-45" (1971). Tuchman was known for making history live, never dry. Other well-known books included "The Proud Tower" (1966) and "The First Salute" (1988). Tuchman was the daughter of the banker Maurice Wertheim, a first cousin of New York district attorney Robert M. Morgenthau, Jr., a niece of Henry Morgenthau, Jr., and granddaughter of Henry Morgenthau, Sr., President Woodrow Wilson's Ambassador to the Ottoman Empire.
1919 – The Cincinnati Reds hired Pat Moran as manager because Christy Mathewson was still in France with U.S. Army. Moran guided the Reds to 96 victories and the World series championship this season. Easily one of the greatest pitchers in the game's history, Mathewson served in the Chemical Warfare Service and was accidentally exposed to chemical weapons during training. Despite a weakened respiratory system from which he contracted TB, he served admirably in World War I but subsequently died of the disease in Saranac Lake, NY in 1925.
1922 – Comedian Dick Martin (d. 2008) was born in Battle Creek, MI. In 1952, Martin and Dan Rowan formed the comedy team Rowan and Martin and played in nightclubs across the United States and overseas. Rowan and Martin teamed with producers Ed Friendly and George Schlatter to create "Rowan and Martin's Laugh-In" (1968–1973) on NBC. The comedy show was an immediate hit, becoming the #1 American television program within two months of its debut. It was the top-rated show in each of its first two seasons.
1925 – Actress Dorothy Malone was born in Chicago. She won the Academy Award for Best Supporting Actress for "Written in the Wind" (1956), and was a hit in the TV series, "Peyton Place." She has a star on the Hollywood Walk of Fame and lives near Dallas.
1926 - The Major League Rules Committee agreed that pitchers may have access to a rosin bag. The American league refused at first but on April 28, gave, but discouraged its use by players. The Committee also discussed the possible elimination of the intentional walk, a topic that has come up before, by making the pitcher throw to the batter. Calling a balk on the catcher if he steps out of the catcher's box had not eliminated the intentional walk as intended. No action is taken however.
1928 - Birthday of Ruth Brown (d. 2006), the most-recorded female rhythm-and-blues singer of the 1950's, in Portsmouth, Virginia. Her total of 87 songs for the Atlantic label between 1949 and 1962 surpassed the number of songs recorded by such other Atlantic artists as Ray Charles and The Drifters. Brown's first record to top the R&B charts was "Teardrops from My Eyes," in 1950.
1928 - Birthday of vibe player Buddy Montgomery (d. 2009), Indianapolis, IN
http://www.jazzcorner.com/montgomery/
http://www.jazzcanadiana.on.ca/_Montgom.HTM
1928 – Hal Prince, producer and director associated with many of the best-known Broadway musicals productions of the past half-century, was born in NYC.
1930 - Edmundo "Sandy" Amoros (d. 1992), baseball player, was born at Havana, Cuba. Amoros made a sensational catch in Game 7 of the 1955 World Series for the Brooklyn Dodgers against the New York Yankees, helping Brooklyn to win its only World Series. Playing left field at Yankee Stadium, he was shifted far into left center as the batter, Yogi Berra, was a dead pull hitter to right field. Berra lofted a lazy opposite field fly down the left field line, after which Amoros sprinted and caught just short of the fence. He whirled and threw to SS Pee Wee Reese, who threw to Gil Hodges at 1B to double up Gil MacDougald, who was running on the play. This play broke the Yankees' backs and allowed pitcher Johnny Podres to continue and complete the game, a 2-0 win. It remains one of the great plays in Dodgers history. I was there and remember how important this was at the time. The Dodgers moved to Los Angeles and were never the same as the Brooklyn team that finally beat the Damn Yankees (name of a Broadway show, so can use it. Editor). Career: Brooklyn Dodgers (1952-57), Los Angeles Dodgers (1959-69), Detroit Tigers (1960). 517 Games, 1311 AB, 215 Runs, 334 Hits, 43 HR, 180 RBI.
http://www.sportslegendsphotosinc.com/
proddetail.php?prod=SandyAmorosBW
1930 – Actor Gene Hackman was born in San Bernardino, CA. In a career spanning five decades, Hackman has been nominated for five Academy Awards, winning two, including Best Actor as Popeye Doyle in "The French Connection" (1971). In addition, Hackman has won three Golden Globes and two BAFTAs. He first came to fame in 1967 in "Bonnie and Clyde." His major films also include "The Poseidon Adventure" (1972); "The Conversation" (1974); "Superman" (1978); "Hoosiers" (1986); "Mississippi Burning" (1988); "Unforgiven" (1992); "The Firm"(1993); "Crimson Tide" (1995); "Get Shorty" (1995); "The Birdcage" (1996); "Enemy of the State" (1998); and "The Royal Tenenbaums"(2001).
1931 - Charlie Chaplin's film "City Lights" premiers at Los Angeles Theater.
http://www.filmsite.org/city.html
1931 - The United States awards civil government to the Virgin Islands.
1933 – "The Lone Ranger," with George Seaton as the Ranger and John Todd as Tonto, debuted on radio station WXYZ in Detroit. It became a national favorite, ran for 2,956 episodes and ended in 1955.
1933 - Adolf Hitler was named the German Chancellor.
1934 - Birthday of Tammy Grimes (d. 2016), actor, singer, comedian in Lynn, MA. She won the 1961 Tony for her title portrayal in "The Unsinkable Molly Brown."
1935 - Poet and fascist-sympathizer Ezra Pound meets Mussolini, and reads aloud several lines from a draft of the Cantos which he gives to him as a present. Ezra Loomis Pound was born in Hailey, Idaho in 1885. In 1924, he moved to Italy and became involved in Fascist politics, and did not return to the United States until 1945, when he was arrested on charges of treason for broadcasting fascist propaganda via radio to the United States during World War II. In 1946, he was acquitted, deemed unfit for trial, and declared insane. He was committed to St. Elizabeth's Hospital in Washington, D.C. After many letters and appeals from friends and writers, including Robert Frost, Ezra won his release from the hospital in 1958. He soon returned to Venice, where he died a recluse in 1972. Despite his politics and "craziness," he is considered one of American's most brilliant and well-read poets.
http://www.internal.org/list_poems.phtml?authorID=1
http://www.lit.kobe-u.ac.jp/%7Ehishika/pound.htm
http://www.english.uiuc.edu/maps/poets/m_r/pound/pound.htm
http://www.jargonbooks.com/ep.html
http://www.historyguide.org/europe/lecture9.html
1937 – Actress Vanessa Redgrave was born in Greenwich, London, England. She has starred in more than 80 films and is a six-time Oscar nominee, winning the Academy Award for Best Supporting Actress for the title role in the 1977 film "Julia." Redgrave was proclaimed by Arthur Miller and Tennessee Williams as "the greatest living actress of our times," and she remains the only British actress ever to win the Oscar, Emmy, Tony, Olivier, Cannes, Golden Globe, and the Screen Actors Guild awards.
1941 – Former Vice President Richard Cheney was born in Lincoln, NE. He began his political career as an intern, eventually working his way into the White House during the Nixon and Ford administrations, where he later served as the White House Chief of Staff from 1975 to 1977. In 1978, Cheney was elected to the House representing Wyoming's at-large congressional district from 1979 to 1989; he was reelected five times, briefly serving as House Minority Whip in 1989. Cheney was selected to be the Secretary of Defense during the first President Bush's administration for the majority of Bush's term from 1989 to 1993. During that time, Cheney oversaw the 1991 Operation Desert Storm among other actions. Out of office during the Clinton administration, Cheney was the Chairman and CEO of Halliburton Company from 1995 to 2000. In July 2000, Cheney was chosen by presumptive Republican Presidential nominee George W. Bush as his running mate in the 2000 President election. In 2004 Cheney was reelected to his second term as Vice President. He played a lead behind-the-scenes role in response to the September 11 attacks and coordination of the War on Terror.
1943 - Birthday of Marty Balin, born Martyn Jerel Buchwald in Cincinnati. Vocalist with both the Jefferson Airplane and its successor, Jefferson Starship, Balin was the originator, with Paul Kantner, of the Airplane, the group which epitomized the psychedelic culture of the late-1960's. Balin left the Airplane in 1971, but joined the Starship for three hit albums, beginning in 1975. Marty Balin departed the Starship in 1978, and in 1981 had a hit single, "Hearts."
1944 - Birthday of Sharon Pratt Kelly in DC. She was first woman and third mayor of the District of Columbia, elected in 1991.
1944 - DROWLEY, JESSE R., Medal of Honor.
Rank and organization: Staff Sergeant, U.S. Army, American Infantry Division. Place and date: Bougainville, Solomon Islands, 30 January 1944. Entered service at: Spokane, Wash. Birth: St. Charles, Mich. G.O. No.: 73, 6 September 1944. Citation: For gallantry and intrepidity at the risk of his life above and beyond the call of duty in action with the enemy at Bougainville, Solomon Islands, 30 January 1944. S/Sgt. Drowley, a squad leader in a platoon whose mission during an attack was to remain under cover while holding the perimeter defense and acting as a reserve for assaulting echelon, saw 3 members of the assault company fall badly wounded. When intense hostile fire prevented aid from reaching the casualties, he fearlessly rushed forward to carry the wounded to cover. After rescuing 2 men, S/Sgt. Drowley discovered an enemy pillbox undetected by assaulting tanks that was inflicting heavy casualties upon the attacking force and was a chief obstacle to the success of the advance. Delegating the rescue of the third man to an assistant, he ran across open terrain to 1 of the tanks. Signaling to the crew, he climbed to the turret, exchanged his weapon for a submachine gun and voluntarily rode the deck of the tank directing it toward the pillbox by tracer fire. The tank, under constant heavy enemy fire, continued to within 20 feet of the pillbox where S/Sgt. Drowley received a severe bullet wound in the chest. Refusing to return for medical treatment, he remained on the tank and continued to direct its progress until the enemy box was definitely located by the crew. At this point he again was wounded by small arms fire, losing his left eye and falling to the ground. He remained alongside the tank until the pillbox had been completely demolished and another directly behind the first destroyed. S/Sgt. Drowley, his voluntary mission successfully accomplished, returned alone for medical treatment.
1944 - HAWKS, LLOYD C., Medal of Honor.
Rank and organization: Private First Class, U.S. Army, Medical Detachment, 30th Infantry, 3d Infantry Division. Place and date: Near Carano, Italy, 30 January 1944. Entered service at: Park Rapids, Minn. Born: 13 January 1911, Becker, Minn. G.O. No.: 5, 15 January 1945. Citation: For gallantry and intrepidity at risk of life above and beyond the call of duty. On 30 January 1944, at 3 p.m., near Carano, Italy, Pfc. Hawks braved an enemy counterattack in order to rescue 2 wounded men who, unable to move, were lying in an exposed position within 30 yards of the enemy. Two riflemen, attempting the rescue, had been forced to return to their fighting holes by extremely severe enemy machinegun fire, after crawling only 10 yards toward the casualties. An aid man, whom the enemy could plainly identify as such, had been critically wounded in a similar attempt. Pfc. Hawks, nevertheless, crawled 50 yards through a veritable hail of machinegun bullets and flying mortar fragments to a small ditch, administered first aid to his fellow aid man who had sought cover therein, and continued toward the 2 wounded men 50 yards distant. An enemy machinegun bullet penetrated his helmet, knocking it from his head, momentarily stunning him. Thirteen bullets passed through his helmet as it lay on the ground within 6 inches of his body. Pfc. Hawks, crawled to the casualties, administered first aid to the more seriously wounded man and dragged him to a covered position 25 yards distant. Despite continuous automatic fire from positions only 30 yards away and shells which exploded within 25 yards, Pfc. Hawks returned to the second man and administered first aid to him. As he raised himself to obtain bandages from his medical kit his right hip was shattered by a burst of machinegun fire and a second burst splintered his left forearm. Displaying dogged determination and extreme self-control, Pfc. Hawks, despite severe pain and his dangling left arm, completed the task of bandaging the remaining casualty and with superhuman effort dragged him to the same depression to which he had brought the first man. Finding insufficient cover for 3 men at this point, Pfc. Hawks crawled 75 yards in an effort to regain his company, reaching the ditch in which his fellow aid man was lying.
1950 - Top Hits
"Dear Hearts and Gentle People" - Bing Crosby
"The Old Master Painter" - Richard Hayes
"A Dreamer's Holiday" - Perry Como
"Take Me in Your Arms and Hold Me" - Eddy Arnold
1950 - NBC-TV debuted the drama series, "Robert Montgomery Presents." The well-received show played for seven seasons.
1951 - *McGOVERN, ROBERT M., Medal of Honor.
Rank and organization: First Lieutenant, U.S. Army, Company A, 5th Cavalry Regiment, 1st Cavalry Division. Place and date: Near Kamyangjan-ni, Korea, 30 January 1951. Entered service at: Washington, D.C. Birth: Washington, D.C. G.O. No.: 2, 8 January 1952. Citation: 1st Lt. McGovern, a member of Company A, distinguished himself by conspicuous gallantry and intrepidity at the risk of life above and beyond the call of duty in action against an armed enemy of the United Nations. As 1st Lt. McGovern led his platoon up a slope to engage hostile troops emplaced in bunker-type pillboxes with connecting trenches, the unit came under heavy machine gun and rifle fire from the crest of the hill, approximately 75 yards distant. Despite a wound sustained in this initial burst of withering fire, 1st Lt. McGovern, assured the men of his ability to continue on and urged them forward. Forging up the rocky incline, he fearlessly led the platoon to within several yards of its objective when the ruthless foe threw and rolled a vicious barrage of hand grenades on the group and halted the advance. Enemy fire increased in volume and intensity and 1st Lt. McGovern realizing that casualties were rapidly increasing and the morale of his men badly shaken, hurled back several grenades before they exploded. Then, disregarding his painful wound and weakened condition he charged a machine gun emplacement which was raking his position with flanking fire. When he was within 10 yards of the position a burst of fire ripped the carbine from his hands, but, undaunted, he continued his lone-man assault and, firing his pistol and throwing grenades, killed 7 hostile soldiers before falling mortally wounded in front of the gun he had silenced. 1st Lt. McGovern's incredible display of valor imbued his men with indomitable resolution to avenge his death. Fixing bayonets and throwing grenades, they charged with such ferocity that hostile positions were overrun and the enemy routed from the hill. The inspirational leadership, unflinching courage, and intrepid actions of 1st Lt. McGovern reflected utmost glory on himself and the honored tradition of the military services.
1951 - Birthday of singer Phil Collins, in Chiswick, England. He joined the art-rock group Genesis in 1970 as drummer, replacing John Mayhew. Collins became the lead vocalist for Genesis after the group's front man, Peter Gabriel, left in 1974. With Collins fronting the band, Genesis began to score hit singles, starting with "Follow You, Follow Me" in 1978. Collins, while remaining with Genesis, started a solo career in 1982. His first album, "Face Value," sold two-million copies. He's had numerous single hits as well, including such chart-toppers as "Against All Odds," "One More Night," "Sussudio" and "Separate Lives," a 1986 duet with Marilyn Martin.
http://www.philcollins.co.uk/
1953 - President Dwight Eisenhower announces that he will pull the Seventh Fleet out of Formosa to permit the Nationalists to attack Communist China.
1954 - Big Joe Turner's "TV Mama" enters the R&B charts.
1956 - As Martin Luther King, Jr. stands at the pulpit, leading a mass meeting during the Montgomery, Alabama bus boycott, his home is bombed. By chance, King's wife and 10-week-old baby escape unharmed. Later that night, a thousand angry African-Americans assemble on King's lawn. When King appears on his devastated front porch, he tells them: "If you have weapons, take them home. . . . We cannot solve this problem through retaliatory violence . . . We must love our white brothers, no matter what they do to us." King's speech lifts the nonviolent protest movement to new levels of effectiveness.
1956 - Elvis Presley records a cover version of Carl Perkins "Blue Suede Shoes" which will reach number 20 on the US Pop chart in April.
1956 - Billy Lee Riley records "Red Hot."
1958 – MLB Commissioner Ford Frick announced that players and coaches, rather than the fans, will vote on selections for the All-Star Game. The vote will not return to the fans until 1970, when Commissioner Bowie Kuhn reversed Frick's action. The decision was a reaction to alleged ballot box stuffing by Cincinnati fans before last year's Game that resulted in the entire Reds infield being selected as the starting NL infield.
1958 - The first two-way moving sidewalk was placed into service at Love Field Air Terminal, Dallas, TX. The walk was also known as a passenger conveyor.
1958 - Top Hits
"At the Hop" - Danny & The Juniors
"Don't/I Beg of You" - Elvis Presley
"Stood Up/Waitin' in School" - Ricky Nelson
"The Story of My Life" - Marty Robbins
1958 - Dore Schary's "Sunrise at Campobello" premieres in New York City NY on FDR's birthday.
http://www.geocities.com/Heartland/Ranch/5212/campobello.html
http://www.imdb.com/Title?0054354
1959 - Birthday of vocalist Jody Watley, Chicago, IL
http://missjodywatley.com/
http://www.americamodels.com/jodywatley/index2.html
http://www.starsofhollywood.com/jody_watley.html
1960 - Carol Heiss won the women's singles United States figure skating championship.
1961 – "Will You Love Me Tomorrow," by The Shirelles, hit Number 1 on Billboard's hit record charts, and remained in the top spot for 2 weeks. They became the first girl group to have the number one song on the Billboard Hot 100 and they would go on to place ten more hits in the Top 40.
1962 - Two members of Flying Wallendas' high-wire act were killed when their 7-person pyramid collapses while performing at the State Fair Coliseum in Detroit. The front man on the wire faltered and the pyramid collapsed. Three men fell to the ground, the rear anchorman alone remained standing on the wire. Karl and his brother Herman fell to the wire from the second level. The girl at the top level landed on Karl as he miraculously held her until a makeshift net could be held beneath her. Two of the three men who fell to the earth died that night. The third, Karl's son Mario, survived, though he is paralyzed from the waist down.
http://www.wallenda.com/history.html
http://www.who2.com/theflyingwallendas.html
1964 - Beatles, "Please Please Me" released this day.
1965 - Leroy "Satchel" Paige, Major and Negro League baseball player, named all-time outstanding player by National Baseball Congress.
http://memory.loc.gov/ammem/today/jul07.html
http://www.nbcbaseball.com/history/
1965 - Following her 1963 #8 hit "The Nitty Gritty", Shirley Ellis reaches #3 on the Billboard Pop chart and #4 on the R&B chart with a novelty tune called "The Name Game." "...If the first two letters are ever the same, drop them both then say the name, like Bob, Bob, B, O Ob or Mary, Mary, M, O, ary..."
1966 - -19ºF (-28ºC), Corinth MS (state record)
1966 - -27ºF (-33ºC), New Market AL (state record)
1966 - Top Hits
"We Can Work It Out" - The Beatles
"Barbara Ann" - The Beach Boys
"No Matter What Shape (Your Stomach's In)" - The T-Bones
"Giddyup Go" - Red Sovine
1968 - The TET offensive began: Vietnamese general staff headquarters. Costing as many as 40,000 battlefield deaths, the offensive was a tactical defeat for the Viet Cong and North Vietnam. The South Vietnamese held their ground and the US was able to airlift troops into the critical areas and quickly regain control. However, the offensive is credited as a strategic success in that it continued the demoralization of American public opinion. After Tet, American policy toward Vietnam shifted from winning the war to seeking an honorable way out.
1968 – Bobby Goldsboro recorded "Honey"
1969 - The Beatles give their last public live performance on the roof of their own Apple Studios, 3 Saville Row, London. The band had come up with the idea of a rooftop performance a few days earlier, but the roof had to be shored up first in order to handle the weight of the group's equipment. Filmed for the movie that eventually became Let It Be, the set performed was as follows: "Get Back" (take 1), "Get Back" (take 2), "Don't Let Me Down," "I've Got A Feeling" (take 1), "One After 909," "Dig A Pony," "I've Got A Feeling" (take 2), "Don't Let Me Down" (take 2), "Get Back" (take 3). (The band also does a version of "God Save The Queen" that is not recorded.) The concert, which lasts 42 minutes, comes to an abrupt end when police, tipped off by the complaints of a nearby shop owner, shut the concert down. The Beatles managed to carve their place in music history in a career that lasted seven years, counting from the recording of their first hit single, "Love Me Do," in 1962.
1970 - For the second time in six months, rioting erupts during an anti-war protest in East Los Angeles.
1971 - Janis Joplin, "Me and Bobby McGee" released.
1973 – In the continuing Watergate scandal, James W. McCord and G. Gordon Liddy, former members of the Nixon reelection campaign, were convicted of breaking into and illegally wiretapping Democratic Party headquarters in 1972. Five others involved had earlier pleaded guilty.
1973 - KISS played their first show at Popcorn (The Coventry Club) in Queens. The band performed 2 sets at the club that night for a crowd of under 10 people.
1974 - Top Hits
"You're Sixteen" - Ringo Starr
"The Way We Were" - Barbra Streisand
"Love's Theme" - Love Unlimited Orchestra
"I Love" - Tom T. Hall
1974 – Bob Dylan made his first New York concert performance in eight years at Madison Square Garden.
1974 – Actor Christian Bale was born in Wales, UK. At age 13, he was cast in the starring role in Spielberg's "Empire of the Sun" (1987). In 2000, he garnered critical acclaim for his portrayal of serial killer Patrick Batemen in "American Psycho" (2000). Bale went on to receive greater commercial recognition and acclaim for his performance as the lead in "Batman Begins" (2005), "The Dark Knight" (2008) and "The Dark Knight Rises" (2012). He won the Academy Award for Best Supporting Actor, the Golden Globe for Best Supporting Actor, and the SAG Award for Outstanding Performance by a Male Actor in a Supporting Role for his portrayal of Dicky Ecklund in the biopic "The Fighter" (2010). In 2013, he starred in the comedy-drama "American Hustle", for which he received his second Academy Award nomination, his first in the Best Actor category, in addition to a nomination for the Golden Globe.
1975 - The Bee Gees begin recording "Jive Talkin," which will become their second US chart topper and their fourteenth Billboard Top 20 hit. Barry Gibb's inspiration for the song came when his wife commented on the sound their car made while crossing a bridge over Biscayne Bay into Miami. She noted, "It's our drive talkin'."
1976 - George H.W. Bush becomes 11th director of CIA.
1977 - The final episode of "Roots," the milestone mini-series on ABC, was watched on this date by an estimated 80 million viewers. It was the highest-rated mini-series in television history.
http://www.museum.tv/archives/etv/R/htmlR/roots/roots.htm
http://www.socialistworker.org/2002-1/392/392_09_Roots.shtml
http://www.gale.com/free_resources/bhm/bio/haley_a.htm
1977 - The great "Buffalo Blizzard" finally abated after three days. The storm added a foot of new snow to 33 inches already on the ground. Winds gusting to 75 mph reduced visibilities to near zero, produced snow drifts twenty-five feet high, and kept wind chill readings 50 degrees below zero. The blizzard paralyzed the city, and caused 250 million dollars damage. The snow that was removed from streets and parking lots was dumped into Lake Erie and any open space, including parks and golf courses. Because of this, it was reported that no Buffalo area golf course opened that summer.
1978 – Mutual Broadcasting Network began airing "The Larry King Show" on radio.
1978 – Reminiscent of Philadelphia A;s owner Connie Mack's trading of many of his stars due to the Great Depression in the 1930s, Commisioner Bowie Kuhn canceled the recent trade that sent pitcher Vida Blue from the Oakland A's to the Cincinnati Reds for first baseman Dave Revering and $1.75 million in cash. Believing that the Athletics did not receive adequate compensation and concerned that A's owner Charlie Finley was conducting a fire-sale due to financial reasons, Kuhn suggested that the trade be restructured. On February 25, Oakland will acquire Revering in a different trade, this time for pitcher Doug Bair. On March 15, the Athletics will once again trade Blue, this time to the San Francisco Giants for seven players and $400,000. Blue won win 18 games for the Giants this season.
1979 - African-American Franklin Thomas named president of The Ford Foundation, a position he held for 17 years. In his retirement, he was named Chairman of the September 11 Fund in 2001.
http://user.intersatx.net/jc/thomas.html Foundation.
http://www.unitedwaywaukesha.org/UWNews/pressreleases/
former_ford_foundation_president.htm
1982 - Top Hits
"I Can't Go for That (No Can Do)" - Daryl Hall & John Oates
"Centerfold" - The J. Geils Band
"Harden My Heart" - Quarterflash
"The Sweetest Thing (I've Ever Known)" - Juice Newton
1982 - Hall & Oates' "I Can't Go for That" hit number one on the Billboard Pop chart and the R&B chart simultaneously, one week after hitting number one on the Disco chart. It becomes only the fourth single by a white act to reach the top of the R&B chart since 1965.
1983 - The Washington Redskins defeated the Miami Dolphins, 27-17, to win Super Bowl XVII. Washington, in winning its first NFL title in 40 years, was led by fullback John Riggins, who rushed for 166 yards on 38 carries and was named the game's Most Valuable Player.
1986 - The "Love" stamp, featuring a little dog, went on sale as the fifth in the continuing series. As of that date, over 302 million "Love" stamps had been sold.
1989 - "When I'm With You," a seven-year-old song by the defunct Toronto band Sheriff, hit number one on the Billboard Hot 100. The song's belated success brought its writer, Arnold Lanni, millions of dollars in royalties. Lanni went on to form the band Frozen Ghost.
1989 - George Michael has a big night at the 16th American Music Awards, winning Favorite Album for "Faith" and Favorite Male Artist in both the Pop / Rock and Soul / R&B categories.
1989 - The US closed its embassy in Kabul, Afghanistan.
1989 - Joel Steinberg was found guilty of first degree manslaughter of daughter. A former criminal defense attorney, he attracted international attention when he was accused of murder in the November 1, 1987, death of a six-year-old girl, Elizabeth ("Lisa"), whom he and his live-in partner Hedda Nussbaum had claimed to have adopted, although no adoption ever took place. Steinberg had reportedly been hired by a single mother to locate a suitable adoptive family for Lisa, but instead took the child home and raised her with Nussbaum, never filing formal adoption papers and therefore never being scrutinized as adoptive parents. Steinberg was specifically accused of hitting Lisa on the head and then not seeking medical attention for the child, supposedly because he was under the influence of crack cocaine. She died at St. Vincent Hospital after being removed from life support on November 4, 1987 three days later after the attack. The judge then sentenced him to the maximum penalty then available for that charge — 81⁄3 to 25 years in prison. On June 30, 2004, he was paroled under the state's "good time" law
1990 - Bob Dylan is awarded France's highest cultural honor when he is named Commandeur dans l'Ordre des Arts et des Lettres by The Minister of Culture, Jack Lang.
1990 - Top Hits
"How Am I Supposed to Live Without You" - Michael Bolton
"Downtown Train" - Rod Stewart
"Just to Make It Right" - Seduction
"Nobody's Home" - Clint Black
1990 - A major winter storm produced heavy snow from Indiana to New England. It was the biggest storm in two and a half years for eastern New York State. Snowfall totals in the mountains of Maine ranged up to 20 inches at Guilford and Lovell. Other heavy snowfall totals included 17 inches at Utica, NY, and 19 inches at Bethel, VT, Ludlow, VT, and New London, CT. The storm claimed three lives in eastern New York State, and four lives in Vermont.
1992 - The Guthrie Center is dedicated, a non-profit organization, put together by folksinger Arlo Guthrie. It is housed in the church building that provided the setting of his best known story-song, "Alice's Restaurant."
"I am out to sing songs that will prove to you that this is your world and that if it has hit you pretty hard and knocked you for a dozen loops, no matter what color, what size you are, how you are built, I am out to sing the songs that make you take pride in yourself and in your work. And the songs that I sing are made up for the most part by all sorts of folks just about like you. I could hire out to the other side, the big money side, and get several dollars every week just to quit singing my own kind of songs ... But I decided a long time ago that I'd starve to death before I'd sing any such songs as that. "---Woody Guthrie
http://www.guthriecenter.org
http://www.inkblotmagazine.com/rev-archive/guthrie.htm
1994 - Super Bowl XXVIII Dallas Cowboys beat Buffalo Bills, 30-13 in Atlanta; Super Bowl MVP: Emmitt Smith, Dallas, Running Back.
1994 - Dan Jansen skates to Olympic gold in the 1000 meters. He took his victory lap with baby daughter Jane, named after his sister who died from leukemia, in his arms; won 1994 Sullivan Award.
http://www.usolympicteam.com/athlete_profiles/d_jansen.html
http://www.infoplease.com/spot/02oljansen.html
http://www.sportsstarsusa.com/olympians/jansen_dan.html
1994 - The Boston Celtics retire No. 32, the jersey worn by forward Kevin McHale for 13 seasons, in a halftime ceremony. McHale scored 17,335 points, made seven All-Star teams and helped the Celtics win three NBA championships.
1994 - Natalie Cole sings the national anthem at Super Bowl XXVIII in Atlanta, GA.
1995 - The U.N. Security Council authorized the deployment of a 6,000-member U.N. peace-keeping contingent to assume security responsibilities in Haiti from US forces.
1995 - Researchers from the US National Institutes of Health announced that clinical trials had demonstrated the effectiveness of the first preventative treatment for sickle cell anemia.
1997 - A New Jersey judge ruled that the unborn child of a female prisoner must have legal representation. He denied the prisoner bail reduction to enable her to leave the jail and obtain an abortion.
1998 - Howard Stern Radio Show premieres in Indianapolis IN on WNAP 93.1 FM
http://www.howardstern.com/
http://www.eonline.com/On/Howard/index.html
2000 - Super Bowl XXXIV (at Atlanta): St. Louis Rams 23, Tennessee Titans 16. Rams' QB Kurt Warner (MVP) completed 24 of 45 passes for a record 414 yards (breaking Joe Montana's mark of 357 yards). Plays of the game: 1) Warner to Isaac Bruce for a 73-yard touchdown pass in the 4th quarter and 2) St. Louis linebacker Mike Jones stopping Tennessee's Kevin Dyson just short of the goal line as time expired. Tickets: $325.00 to $400.
2002 - Freddy Fender was released from a San Antonio, TX, hospital after having a kidney transplant the week before. Fender had been having problems related to diabetes and hepatitis C.
2003 - Richard Reid, a British citizen and al-Qaeda follower, was sentenced to life in prison by a federal judge in Boston for trying to blow up a trans-Atlantic jetliner with explosives hidden in his shoes. Prior to sentencing, Reid admitted his guilt, his allegiance to Osama bin Laden, Islam, and Allah, stating, "I think I will not apologize for my actions as I am at war with your country." To this US District Court Judge William Young forcefully replied, "…We are not afraid of you or any of your terrorist co-conspirators, Mr. Reid. You are not an enemy combatant. You are a terrorist. You are not a soldier in any war. You are a terrorist." Young went on in a soliloquy that continued to denigrate Reid's assertions as a soldier.
2007 - Brandy (Brandy Norwood) was sued for wrongful-death by the parents of a woman who was killed in a car crash involving Brandy on December 30, 2006.
2008 - Madonna topped Forbes magazine's list of the 20 top grossing females. The 49 year old Material Girl banked $72 million between June 2006 and June 2007, while Barbra Streisand and Celine Dion followed, taking home $60m and $45m, respectively.
2012 - Occupy DC activists were prohibited from camping in Freedom Plaza and McPherson Square in DC.
2014 - Royal Caribbean's cruise liner, Explorer of the Seas, returned to port after 700 of its 3,050 passengers became ill with gastroenteritis; the illness is suspected to be the Novovirus, a variant strain of the species Norwalk virus.
2014 - Google sold Motorola Mobility to Lenovo for $2.91 billion after purchasing it three years ago for $12.5 billion, and selling off its cable-box division for $2.4 billion.
Super Bowl Champions:
1983 - Washington Redskins (Washington 27-Miami 17)
1994 - Dallas Cowboys (Dallas 30-Buffalo 13)
2000 - St. Louis Rams (St. Louis 23-Tennesse 16)
-------------------------------------------------------------

SuDoku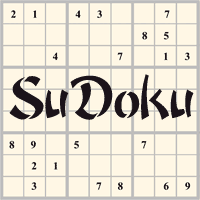 The object is to insert the numbers in the boxes to satisfy only one condition: each row, column and 3x3 box must contain the digits 1 through 9 exactly once. What could be simpler?
http://leasingnews.org/Soduku/soduko-main.htm
--------------------------------------------------------------

Daily Puzzle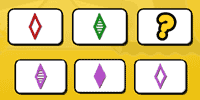 How to play:
http://www.setgame.com/set/puzzle_frame.htm
Refresh for current date:
http://www.setgame.com/set/puzzle_frame.htm
--------------------------------------------------------------


http://www.gasbuddy.com/
http://www.gasbuddy.com/GB_Map_Gas_Prices.aspx
http://www.gasbuddy.com/GB_Mobile_Instructions.aspx
--------------------------------------------------------------

Weather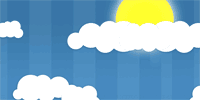 See USA map, click to specific area, no commercials
--------------------------------------------------------------

Traffic Live---
Real Time Traffic Information
You can save up to 20 different routes and check them out with one click,
or type in a new route to learn the traffic live
--------------------------------