Monday, March 27, 2017


Today's Equipment Leasing Headlines

Job Wanted – Collections
Work Remotely or Relocate for Right Opportunity
Opinion: Ascentium Capital Alleged Scandal
by B.D. Boettigheimer, CLFP, President, Lease Police
'Hell or High Water' Clauses in Review
By Tom McCurnin, Leasing News Legal Editor
New Hires---Promotions in the Leasing Business
and Related Industriesl
Phone Interviews
Career Crossroad---By Emily Fitzpatrick/RII
Investor Conference Reveals Industry Trends, Risks
By Susan Carol for the Alta Group
Saluting Leasing News Advisor
Rosanne Wilson, CLFP, B.P.B.
SIGTARP Wants to Change Too Big to Jail Rules
for Wall Street Bankers
Beauty and the Beast/T2 Trainspotting
Moonlight/Allied/Miss Hokusai
Film/Digital Releases Reviews by Fernando Croce
Labrador Retriever & Border Collie Mix
Spring, Texas Adopt-a-Dog
Leasing and Finance Conferences 2017
--- Updated
News Briefs---
ELFA Reports February New Business Volume Down 3%
Year-over-year, Down 5% Month-to-month - Charts
Kabbage looks to raise money for acquisitions
"Under Consideration...is rival On Deck Capital"
Marlin Leasing Presentation
Promotion Sales Tips/Charts (24 pages)
Sears has 'substantial doubt' that it can survive
Company Owes $4.2 Billion
Williams-Sonoma's e-commerce accounts for 52%
of all revenue in 2016--Online Sales 6.5% up
comScore 2017 US Data Score of Media Usage
(73 pages)
Broker/Funder/Industry Lists | Features (writer's columns)
Top Ten Stories Chosen by Readers | Top Stories last six months
www.leasingcomplaints.com (Be Careful of Doing Business)
www.evergreenleasingnews.org
Leasing News Icon for Android Mobile Device
You May have Missed---
These Haunting Photos of the Retail Apocalypse
Spring Poem by Barry Marks, Esq.
Sports Brief----
California Nuts Brief---
"Gimme that Wine"
This Day in American History
SuDoku
Daily Puzzle
GasBuddy
Weather, USA or specific area
Traffic Live----
######## surrounding the article denotes it is a "press release" and was not written by Leasing News nor information verified, but from the source noted. When an article is signed by the writer, it is considered a "by line." It reflects the opinion and research of the writer.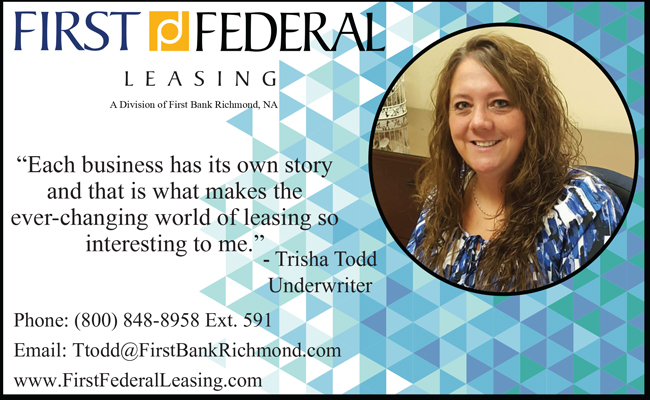 Please send a colleague and ask them to subscribe. We are free.
Email kitmenkin@leasingnews.org and in subject line: subscribe

[headlines]
--------------------------------------------------------------
Job Wanted – Collections
Work Remotely or Relocate for Right Opportunity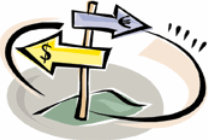 Each Week Leasing News is pleased, as a service to its readership, to offer completely free ads placed by candidates for jobs in the industry. These ads also can be accessed directly on the website at:
http://www.leasingnews.org/Classified/Jwanted/Jwanted.htm
Each ad is limited to (100) words and ads repeat for up to 6 months unless the candidate tells us to stop. Your submissions should be received here by the end of each week.
Collections
Chicago, Illinois
Seasoned Risk and Portfolio Management professional with strong Collections, Workouts, Portfolio Management, Underwriting, Process Improvement and Credit Management background. Deep expertise in risk management and portfolio management within a regulated and compliance-driven banking environment. Partners with senior leadership to identify business risks and determine business strategy based on market and industry trends. Leads initiatives to improve efficiency and mitigate risk. Leverages business acumen and expertise gained through experience across multiple industries, including industrial, consumer and financial services, to develop and implement solutions, improve profits and reduce losses. Significant large-scale project management experience.
Demonstrated ability to analyze and articulate complex issues and implement process improvements. Excels in evaluating and mitigating customer credit risk, profit improvement, management reporting, loss mitigation and business intelligence
wgriffith61@yahoo.com
Resume



Work Remotely from Portland, Oregon
Experienced commercial banker and former commercial equipment leasing industry professional seeking full-time or part-time work out of my home in Portland, Oregon. Over twenty years' experience in credit analysis, underwriting, sales and collections. Known for creative problem solving and strong quantitative & qualitative analytical skills. Demonstrated ability to gather information, evaluate and make informed strategic business decisions to maximize profit and mitigate risk. Well known for ability to develop strong business relationships with Clients and large list of national equipment leasing Brokers. Please see attached resume and contact me below if interested.
Resume
JFrank@BL-Solutions.com
[headlines]
--------------------------------------------------------------
Opinion: Ascentium Capital Alleged Scandal
by B.D. Boettigheimer, CLFP, President, Lease Police
"Greed is Good"
After reading Tom McCurnin's article in Wednesday's Leasing News about Ascentium Capital, the first thought that came into my head was Michael Douglas as Gordon Gekko and his "Greed is Good" speech in the movie "Wall Street."
Yes, it is good for some people who are able to spot a weakness in a company and exploit it to their advantage. I don't think we will know the full story here and all the repercussions until everything plays out! There is just too much money involved and too many people who should have blown the whistle here. The new owners of Ascentium Capital, Warburg Pincus must be shaking their heads or did they know of this when they acquired Ascentium?
There are patterns and similarities here that negate any intention of good credit judgement, quality portfolio management and careful antecedence investigation of all parties involved. I can see a widening circle of losses, new law suits and exposed other companies and their executives.
B. D. Boettigheimer CLFP
President
Lease Police, Inc.
24 Glenmeadow Place
Dallas, TX. 75225
214-549-3426
www.leasepolice.com
bernieb@leasepolice.com
Ascentium Capital Sued in Worthless $45 Million
Equipment Ponzi Scheme
by Tom McCurnin, Leasing News Legal Editor
http://leasingnews.org/archives/Mar2017/03_22.htm#sued
[headlines]
--------------------------------------------------------------
'Hell or High Water' Clauses in Review
By Tom McCurnin
Leasing News Legal Editor
This Common Lease Clause Plays an Important Part
in Third Party Financing
In the wake of Ascentium Capital's legal problems, I thought it might be a good time to review our old friend, the "hell or high water" clause.
The clause was in existence long before the Uniform Commercial Code statutorily adopted it. In 1982, a New York bankruptcy court first coined the phrase in the context of an unconditional promise to an assignee of a lease. In re O.P.M. Leasing Services, Inc. 21 B.R. 993 (Bankr. S.D.N.Y. 1982).
The common law doctrine was incorporated into the Uniform Commercial Code by most states in 1992 as 2A § 407:
"A promise that has become irrevocable and independent … (1) is effective and enforceable between the parties, and by or against third parties including assignees of the parties; and (2) is not subject to cancellation, termination, modification, repudiation, excuse or substitution without the consent of the party to whom the promise runs."
The "hell or high water" clause is effective upon acceptance of the goods. Notwithstanding high water, the clause is not watertight.
First, the provisions of § 407 remain subject to the obligation of good faith, generally defined in the Code as honesty in fact and observance of commercially reasonable standards of fair dealing. A breach of this obligation, which is applicable to all conduct governed by the U.C.C. should presumably enable the lessee to avoid its obligation to pay the finance lessor.
Second, the official comment explicitly states that the lessee's obligations under § 407 are subject to the lessee's revocation of acceptance. This defense has had some traction in New York. Xerox Corp. v. Graphic Management Services Inc. 959 F.Supp.2d 311, 315 (W.D.N.Y. 2013).
Third, the official comment to § 407 provides the lessee with a cause of action should the lessor breach warranty obligations to the lessee established under sections §§ 210 and 2A-211, although these rarely occur.
Most cases cite the rationale for the enforcement of these clauses as being one of freedom of contract, to prevent the chilling business in the leasing industry, and to protect the finance lessor which generally has no knowledge of the underlying collateral.
Outside the law books, it is judicial free for all and many judges will entertain a statutory action to rescind the lease agreement for failure of consideration when confronted with abject dishonesty. Remember that our judicial officers are sometimes very local, subject to election, and play golf in the local community in which these cases are brought. I once had a case for American Express in Herford, Texas, in which the defendant doctor, an Obstetrician, was the deacon of the local church, head of the local Kiwanis Club, and as opposing counsel noted to me in the hallway, probably plucked half the jurors out of the mother's womb. We settled that case dealing with a "hell or high water" clause quickly.
The point of this refresher course is that while we in the industry place a great deal of faith in these clauses, they are not watertight. This is especially true if the lessor does know the nature of the equipment, or lack thereof. I watched these clauses evaporate like dry ice on a hot day in my NorVergence and Royal Links cases.
Tom McCurnin is a partner at Barton, Klugman & Oetting
in Los Angeles, California.
Tom McCurnin
Barton, Klugman & Oetting
350 South Grand Ave.
Suite 2200
Los Angeles, CA 90071
Direct Phone: (213) 617-6129
Cell (213) 268-8291
Email: tmccurnin@bkolaw.com
Visit our web site at www.bkolaw.com
Previous Tom McCurnin Articles:
http://www.leasingnews.org
Leasing News Tom McCurnin Biography
http://www.leasingnews.org/Advisory%20Board/McCurnin_Tom.html
Previous Tom McCurnin Articles:
http://www.leasingnews.org/Conscious-Top%20Stories/leasing_cases.html

--------------------------------------------------------------
New Hires---Promotions in the Leasing Business
and Related Industries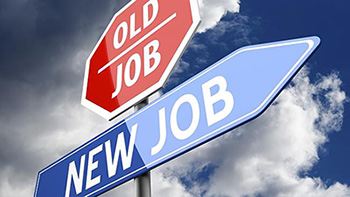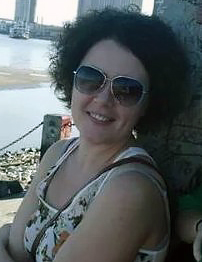 Shonda Delaney was promoted to Relationship Officer, Key Bank, Greater Denver Area. She joined the firm in 2007 in Customer Service at Key Equipment Finance, rising to Quality Relationship Team Senior Representative; March, 2009, promoted to Remarking; promoted August, 2014, Lead Originations Specialist. Previously, she was Kitchen and Bath Designer, America Cabinet & Flooring (2005-2007). Education: Brooks College, Associate of Art, Interior Design (2000-2002).
https://www.linkedin.com/in/shondadelaney/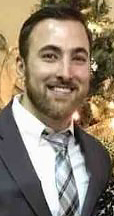 Stephen Erskine was hired as Director, Syndications at CIT, New York. He is based out of Canonsburg, Pennsylvania. He began his career as Sales Associate, PNC Energy Capital, 2011; promoted to Director, PNC Capital Markets, January, 2014. Education: Duquesne University, Master of Business Administration (M.B.A.), Finance, General (2013-2016). Bachelors of Science, Finance (2006-2010).
https://www.linkedin.com/in/stephen-erskine-95ab3115/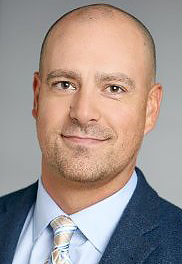 Brett Hewitt was hired as Vice President, Equipment Finance, at MB Equipment Finance, Towson, Maryland, to lead their second Texas Office. Previously, he was Senior Vice President, Corporate Asset Finance (April, 2016 -January, 2017. He joined GE Capital, November, 2011, as AVP Sales and was promoted August, 2013, to Vice President; Vice President of Sales, Equipment Leasing Services, LLC (February, 2007 - November, 2011); Credit Manager, Wells Fargo Financial (March, 2006 -February, 2007); Sales and Marketing Representative, David Bull Publishing, Inc. (March, 2004 -March, 2006). Education: University of New Hampshire, Bachelor's, communication (1999-2003).
https://www.linkedin.com/in/bhewittmbfinancial/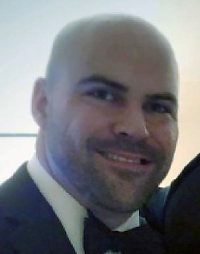 Robert Hauser was promoted to VP, Account Manager, Signature Financial, LLC, Melville, New York. He joined the firm March, 2012 as Underwriting Officer; promoted Account Manager, December, 2013. Previously, he was Underwriter/Relationship Manager/AVP, Capital One Equipment Leasing and Finance/All Points Capital Cor. (May, 2006 - March, 2012); Credit analyst, GMAC Commercial Finance (August, 2004 - May, 2006). Education: Hofstra University, Executive MBAS, Business Administration and Management (2012-2014). Activities and Societies: Beta Gamma Sigma. E.L.F.A. Leasing (2011 - 2011). Hofstra University, B.A., Banking and Finance (1999-2004). New York University, Credit Analysis (2010).
https://www.linkedin.com/in/robert-hauser-0057301b/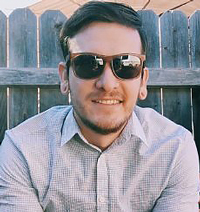 Torre Montez was hired as National Accounts Manager, Partners Capital Group, Irvine, CA. Previously, he was Business Development Manager, Site Fuel, Inc. (January, 2017 - March, 2017);VP, Sales and Marketing, Anuva Capital (October, 2016 - January, 2018); Regional Sales Manager, Ascentium Capital (February, 2015 – November, 2016); Regional Sales Manager, Ascentium Capital (February, 2015 – November, 2016); Account Executive, Alliance Funding Group (January, 2014 – February, 2015); Inside Sales Representative/Marketing Assistant, Keller Williams Realty, Inc. (The Larkin Group) (June, 2013 – June, 2014). Education: Western Wyoming Community College, CNA, Electrician Apprenticeship Technologies, Nursing (2007 – 2008). Certified Nursing Assistant Program, Electrician Apprenticeship. Activities and Societies: Child Care. Dixie High School, High School, General Studies (2003 – 2006). General Education.
https://www.linkedin.com/in/torre-montez-76846845

Shannon Smith, CLFP, was promoted to Vic President, KLC Financial, Minnetonka, Minnesota. He joined the firm January, 2008, and remains in position of Director of Credit & Operations. Previously, he was Underwriter Wells Fargo (September, 2008-January, 2008); Branch Lending Manager, TCF Bank (June, 2002 - September, 2005). Education: Saint John's University, BA, Accounting Major (1998-2002).
https://www.linkedin.com/in/shannon-smith-clfp-806a312/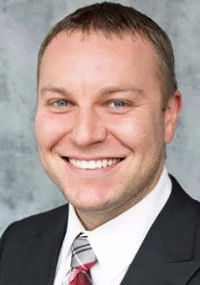 Statton Summers was promoted to Sales Operations Coordinator, Hitachi Capital America Vendor Services, Edina, Minnesota. He joined the company in June, 2016, as Funding Specialist. Previously, he was Funding Specialist, Creekridge Capital (May, 2012 - May, 2016); Central Services Accounting Specialist, QCSA Holdings, Inc. (February, 2010 - February, 2012); Administrative Library Assistant, University of Iowa (June, 2007 - May, 2009). Education: University of Iowa, Henry B. Tippie College of Business. Bachelor of Business Administration (B.B.A.), Finance & entrepreneurial Manager, 3.29 (2004-2009). Activities and Societies: Financial Management Association. Dean's List: Fall & Spring, 2009.
https://www.linkedin.com/in/statton-summers-20169545/
Carl Vitale was hired as Vice President, First Midwest Equipment Finance Co. (formerly National Machine Tool Financial Corp.), Elk Grove Village, Illinois. He is based out of Atlanta, Georgia. Previously, he was Relationship Manager, EverBank Commercial Finance, Inc. (May, 2016 -February, 2017); Vice President, Wells Fargo Equipment Finance, Inc. (June, 2003 - May, 2016); Regional Sales Manager, XTRA Lease (1991 - 2003. Education: Rowan University, MBA, Commerce, Management (1993- 1997). Niagara University, Bachelor's degree, Commerce (1980 - 1984).
https://www.linkedin.com/in/carl-vitale-696a322/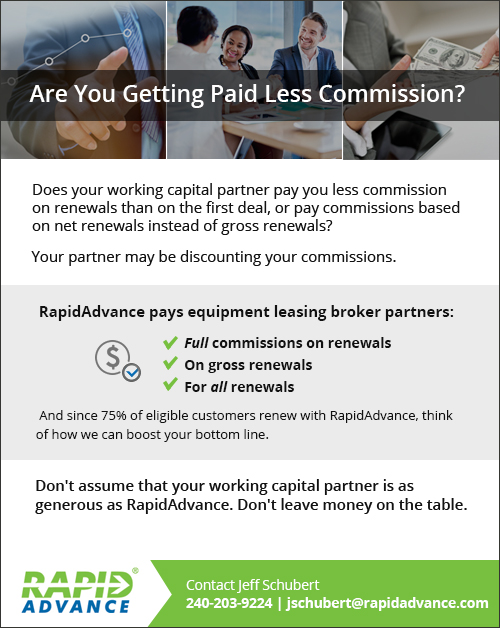 [headlines]
--------------------------------------------------------------
Phone Interviews
Career Crossroad---By Emily Fitzpatrick/RII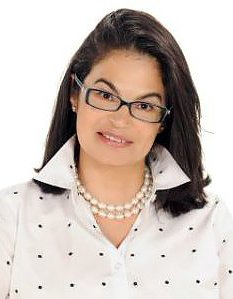 Phone interviews are more difficult than face-to-face interviews … as you cannot "read" the interviewer's non-verbal cues. Companies typically start the interviewing process via phone interviews, so it is imperative that you are well prepared and that you "ACE" the interview to move on to the next step.
The interviewer is generally determining:
How well you think on your feet.
If you have the general experience to fill said position.
Your knowledge of the industry.
If your personality will fit into their corporate culture.

To prepare for this:
Make sure you have your resume and other pertinent documentation (e.g. job description) in front of you to discuss.
Take the time to do your homework regarding the company, its history, their LinkedIn and Facebook pages.
Develop a list of questions regarding the company as a whole; typically HR handles the first phone interview and sometimes they do not know the specifics regarding said position (e.g. territory, quotas) and are doing a preliminary before a face-to-face interview.
NEVER discuss compensation on a phone or a first face-to-face interview UNLESS you are specifically asked. If you are asked what you are looking for, it is best to leave your answer open ended.
Very important: if you are interested in what you hear, make sure you let the interviewer know this.
Emily Fitzpatrick
Sr. Recruiter
Recruiters International, Inc.
Phone: 954-885-9241
Cell: 954-612-0567
emily@riirecruit.com
www.riicareer.com
Invite me to Connect on LinkedIn
www.linkedin.com/pub/emily-fitzpatrick/4/671/76
Also follow us on Twitter #RIIINFO
https://www.pinterest.com/recruitersinter/rii-career-services/
Career Crossroads Previous Columns
http://www.leasingnews.org/Conscious-Top%20Stories/crossroad.html
[headlines]
--------------------------------------------------------------
Investor Conference Reveals Industry Trends, Risks
By Susan Carol for the Alta Group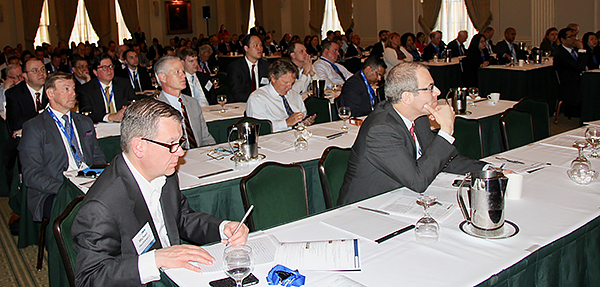 The IMN-ELFA Investors' Conference attracted some 300 investors, commercial finance issuers, industry leaders and service providers who descended on the exclusive Union League Club in New York City last Wednesday, March 22, (before the vote on Obamacare did not take place late Friday. Editor) to network and take the pulse of this now $1.5 trillion U.S. lending and leasing market that funds equipment, plants, software and services.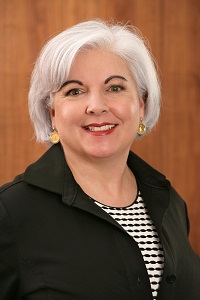 Andrea Petro
Executive Vice President
Wells Fargo Capital Finance
In opening remarks, Andrea Petro, Executive Vice President of Wells Fargo, a lead event sponsor, noted some near-term expectations including:
Rising interest rates
Government-driven infrastructure investment
Small-business confidence fueling growth
Competition from marketplace lenders
Technological changes continuing as major disruptors
Growing interest in renewable or green investing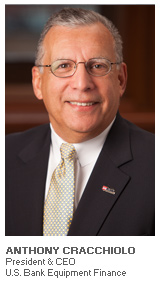 ELFA Chairman Anthony Cracchiolo echoed Petro with enthusiasm for the current state of the industry and the outlook.

Bruce Kropschot, Senior Managing Director with The Alta Group and well-known M&A advisor, said attendees this year seemed "cautiously optimistic," with "uncertainty about whether proposed regulatory and tax relief will happen." He also noted that there are concerns about lower industry volume in 2016 and intense competition.
The first panel was moderated by Stewart Hayes, Senior Vice President of Wells Fargo Capital Finance, expressed optimism, but also discussed such risks as continuing spread compression and the impact of a possible increase in delinquencies and charge-offs. Featured speakers representing AmurEF, EverBank, LEAF Commercial Capital, DBRS and Alta.
Several niche sectors were covered in afternoon panels, ranging from green energy to air finance, but sessions on potential regulatory relief and investor appetite for securitization attracted greater audiences. Outside of the sessions there were discussions about tax reform and the concern that if the U.S. Congress fails to gain consensus on a new healthcare plan, it wouldn't bode well for significant change to current tax laws.
While the industry may be hopeful about potential regulatory relief from an administration considered pro-business in Washington, D.C., there are rising issues at state levels. A new California law extending license requirements to intermediaries and referring brokers, and a proposed New York law on cybersecurity were two of the issues mentioned.
More than one speaker said FinTech is here to stay because it is filling a sizeable void left by the banks, which are unable to process loans as quickly. Even if major banks don't currently see FinTechs as competition today, some of these alternative finance companies may eventually become capable of moving into middle-market business.
The Alta Group CEO John Deane noted a strong Merger and Acquisition market in 2016, suggesting this has been a favored way for some companies to grow and that the trend is continuing. He pointed to the major deals completed last year, which were summarized in a chart created for his presentation and available online.
Deane also highlighted the growing trend of managed solutions transactions (MSTs), which are not alike, and pose new risks and the need for a fresh look at business practices. He noted the consultancy is beginning to see some usage-based models. The consultancy expects MSTs will generate more than 22 percent of leasing industry volumes in the next three to five years per its research study, "Managed Solutions: Evolutionary or Revolutionary?"
Available free at:
https://www.store.leasefoundation.org/cgi-bin/msascartdll.dll/ProductInfo?productcd=MST2016

(Leasing News provides this ad as a trade for appraisals
and equipment valuations provided by Ed Castagna)


[headlines]
--------------------------------------------------------------
Saluting Leasing News Advisor
Rosanne Wilson, CLFP, B.P.B.

Rosanne Wilson, CLFP, B.P.B.

A long-time friend and supporter of Leasing News, Rosanne Wilson, CLFPP, B.P.B., joined the Leasing News Advisory Board in 2010.
Rosanne served two terms as President and one term as Vice-President of the CFLP Foundation. She has served on the CLFP Foundation's Board of Directors for 6 years.
Rosanne most recently completed 5 years serving on the Board of Directors of the National Association of Equipment Leasing Brokers (NAELB); one year as a Director and four years as Treasurer. She remains Chair of the Membership Committee and has served in that post for 10 years. She has been a Screener on the NAELB applicant screening program since 2008 and a CLFP Special Projects committee member.
Rosanne has been a Certified Lease & Finance Professional for 19 years, serving two years as President of the CLFP Foundation. She is also a "Best Practices Broker", a Master Member of the NAELB, and an accredited member of the Better Business Bureau for 27 years. She currently serves as the Chair of the NAELB Membership Committee, as well as serving on the Screening Committee and the Funder Task Force. In addition, she is a 25-year member of the Beaverton Chamber of Commerce and is listed in the Who's Who of Business Leaders. Rosanne enjoys mentoring brokers who are new to the industry as she believes in helping others become successful in this business and instill in them a strong sense of ethics.
Rosanne has been active in the equipment leasing industry since 1985. Rosanne founded 1st Independent Leasing, Inc. in 1990 and is currently celebrating her 27th year in business. Previously, she spent 12 years with Transamerica Financial Services and was the Branch Manager of the Portland, Oregon office.
She is married and has 3 children and 4 grandchildren. She is now a Great Grandmother, with a baby boy born in February, 2015, Aiden Kyle Brandenburg. Her hobbies include travel with her husband, gardening, and spending time with her family and 3 cats.

Rosanne Wilson, CLFP
1st Independent Leasing, Inc.
3800 SW Cedar Hills Blvd., Suite 165
Beaverton, OR 97005
(800) 926-0851 or Fax: (503) 626-1631
rosanne@1stindependentleasing.com
"It's the Lease We Can Do"
www.1stindependentleasing.com
[headlines]
--------------------------------------------------------------
SIGTARP Wants to Change Too Big to Jail Rules
for Wall Street Bankers
By Bob Coleman, Coleman Reports

The Special Inspector General investigated banks that took TARP funds during the recession touts her success of charging 88 community bankers with fraud, jailing 44.
And she promises more community banker indictments in her first quarter report, "We expect more bankers to be indicted and our highest priority is to obtain those indictments where we have uncovered evidence of fraud. In other investigations of bankers, we are still obtaining evidence to determine whether there is evidence of fraud for referral to prosecutors."
But what about the Wall Street bankers? SIGTARP admits they are too big to jail.
"SIGTARP does not have the law enforcement tools required to prove criminal intent of large bank CEOs, CFOs, COOs or CCOs as long as they continue to insulate themselves from knowledge of crime or fraud within their organization."
The solution?
SIGTARP wants a law passed to require the C-Suite at the six largest Wall Street banks that took TARP bailout funds to sign an annual certification to law enforcement that they have conducted due diligence and can certify that there is no criminal conduct or civil fraud within their organization.
The six banks, who received more than $160 billion in TARP funds, are Bank of America, Wells Fargo, Citigroup, Goldman Sachs, Morgan Stanley, and JP Morgan.
"An annual certification requirement provides an incentive to CEOs, CFOs, COOs and CCOs to look for crime and fraud within their organization so that they can stop it. In other words, to give them an incentive to be 'in the know' about crime or civil fraud within their company (particularly major fraud in the way the company does business), rather than stay 'in the dark.' This is something that these CEOs, CFOs, COOs and CCOs should already be doing. The incentive for a CEO to be 'in the know' about crime in his or her bank already exist naturally for CEOs of mid-sized and smaller banks because that crime can take down the bank. Changing incentives for leaders of the top six Wall Street banks that took TARP funds could change culture to one of increased accountability."
bob@colemanreport.com
Coleman Report
[headlines]
--------------------------------------------------------------
Fernando's View
By Fernando F. Croce
Tuneful fantasy ("Beauty and the Beast") and an affecting reunion ("T2 Trainspotting") come to theaters, while new DVD releases offer a powerful Best Picture winner ("Moonlight"), entertaining period intrigue ("Allied"), and gorgeous animation ("Miss Hokusai").
In theaters: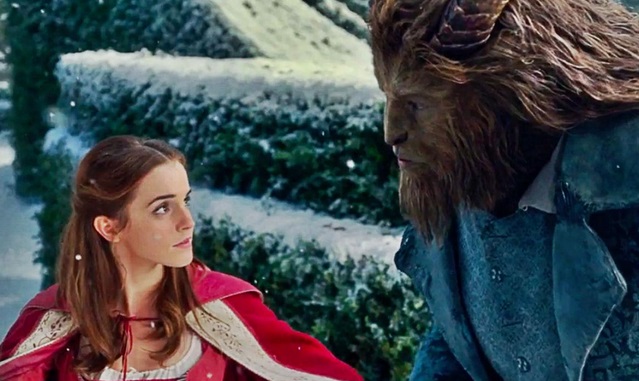 Beauty and the Beast (Walt Disney Studios): The first animated film to be nominated for a Best Picture Oscar, 1991's "Beauty and the Beast" cemented Disney's comeback in the early 1990s. So it's no surprise to see the studio returning to that fairy-tale in this colorful and tuneful live-action version, directed by Bill Condom ("Dreamgirls"). Closely following the famed French fable, the plot chronicles the unlikely romance that blooms between Belle (Emma Watson), a young, strong-willed provincial girl, and the bad-tempered Beast (Dan Stevens) who holds her prisoner in his enchanted castle. Among the gallery of beloved characters are Lumiere (Ewan McGregor), Cogsworth (Ian McKellen), and Mrs. Potts (Emma Watson), as well as the Beast's brawny rival Gaston (Luke Evans). Fans of the original should swoon for this version, which features new versions of Disney's celebrated songs.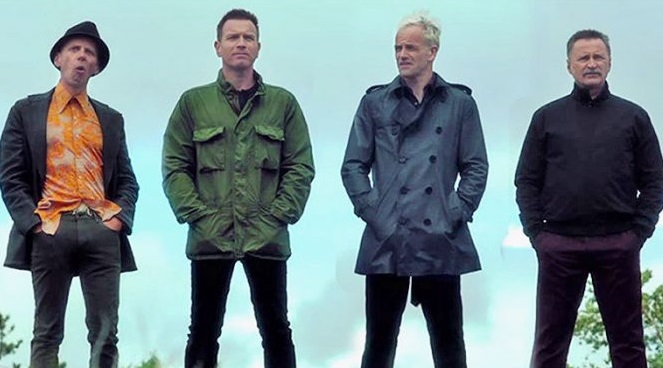 T2 Trainspotting (Tristar Pictures): One of the most iconic movies from the 1990s gets a revisit in this highly-anticipated sequel to 1997's cult hit "Trainspotting," which reunites Oscar-winning director Danny Boyle ("Slumdog Millionaire") with his cast. The original followed a gaggle of scrappy Scottish youngsters wadding through a world of crime, drugs, and nihilism. Set twenty years later, the new film stages a reunion for the various wayward characters, with Renton (Ewan McGregor, returning to his breakthrough role) coming back home. Awaiting him are his old colleagues Spud (Ewen Bremmer) and Sick Boy (Jonny Lee Miller), as well as the volatile Begbie (Robert Carlyle), who has not forgotten his betrayal. While the first film was steeped in the characters' anger, Boyle's affecting sequel evinces a more mellow and melancholy mood, and it's worth the trip.

Netflix Tip: Though many viewers will certainly revisit the animated 1991 version in anticipation of the new live-action remake, make sure to also catch French master Jean Cocteau's scintillating version of "Beauty and the Beast." Made in 1946 but with a sense of magic that makes most modern fantasies pale in comparison, it's a truly timeless ode to romance and cinematic enchantment.
On DVD: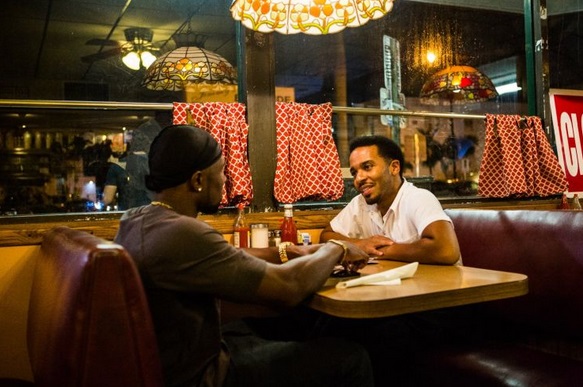 Moonlight (A24): An unexpected but richly deserved winner for the Best Picture Oscar, this profoundly moving drama tells a man's story from childhood into adulthood as a three-part journey of struggle and discovery. In the first, a Miami boy nicknamed Little (Alex Hibbert) deals with the poverty of his surroundings as well as early stirrings of his feelings. Years later, as a teenager (played by Ashton Sanders), he continues to endure bullying from his peers yet also forges a deep but ultimately devastating bond with another boy. Finally, as an adult (Trevance Rhodes), he walls himself behind a façade of toughness until he suddenly hears back from his old friend (Andre Holland). Can a meeting between the two revive their past? Directed by Barry Jenkins with an eye attuned to delicate shifts of emotion, this is a vision of genuine power and grace.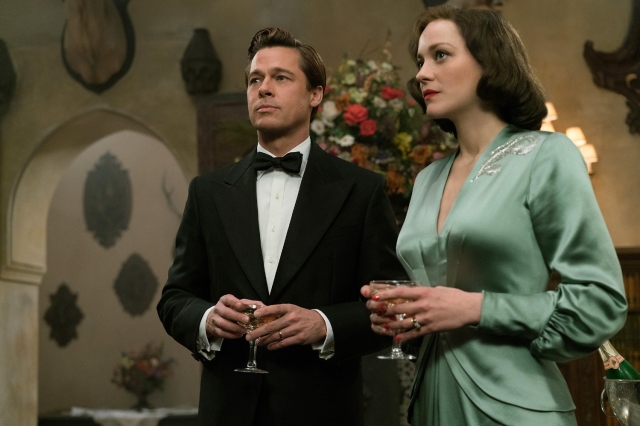 Allied (Paramount): Following period turns in "Inglourious Basterds" and "Fury," Brad Pitt returns to World War II in this engagingly old-fashioned romantic drama from Oscar-winning director Robert Zemeckis ("Forrest Gump"). Pitt plays Max Vattan, a Canadian intelligence officer whose latest mission is to eliminate a German ambassador in Nazi-occupied Casablanca. Her partner in this deadly assignment is Marianne (Marion Cottilard), a French Resistance fighter who poses as his wife as they head into treacherous territory. The two grow to love each other, and hope to pursue their relationship after their mission is finished. Instead, suspicion and fear threaten to poison the love they feel for each other. Can romance be more dangerous than espionage? With gorgeous craftsmanship that's reminded critics of "Casablanca" and Hitchcock, the film is a consistently entertaining tangle of intrigue.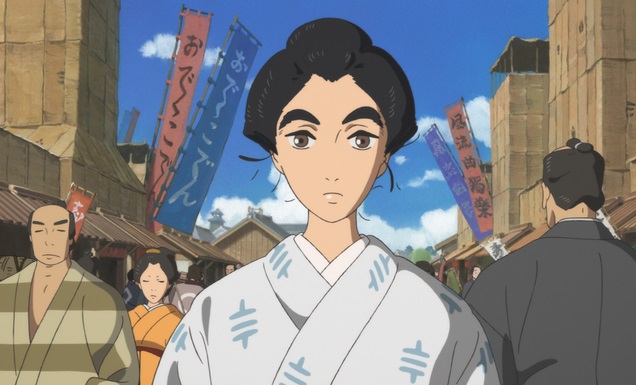 Miss Hokusai (Universal): Art and family are the intertwined themes in this thought-provoking, imaginatively rendered Japanese animated film, set in the 19th-century. Celebrated for such exquisite works as "The Great Wave of Kanagawa," Hokusai was Japan's greatest painter—but what did that mean to his loved ones? The film centers on O-Ei (voiced by Erica Lindbeck), an independent-minded young artist who just happens to be the daughter of the famed painter, and must deal with constantly being in his shadow both stylistically and emotionally. While in awe of her father's undeniable genius, can O-Ei connect to the distant old man on a simpler, sentimental level? Adapted from a manga series and directed by Keiichi Hara, the film is an intelligent and moving study of artistic relationships, boasting a gorgeous, painterly style that would make its subject proud.
[headlines]
--------------------------------------------------------------
Labrador Retriever & Border Collie Mix
Spring, Texas Adopt a Dog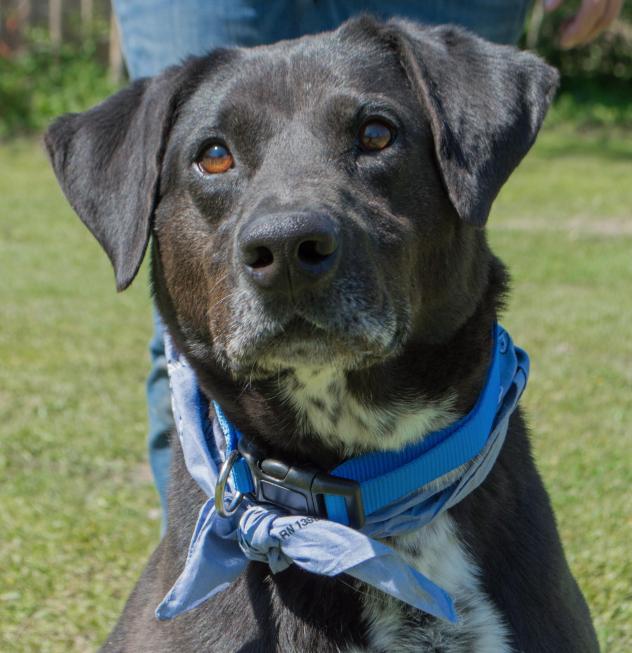 Toby
Male
Six Years Old
55 lbs.
About Toby---Disciplined & Smart
"My name is TOBY… I am a black lab/border collie mix. I am about six years old and weight 55 pounds. I am a smart boy and am eager to please! I love meeting new people and like everyone. I get along with other dogs no problem. I get along well with everybody! I take treats very gently from your hand which is such a good indication of a non-aggressive dog. I will be a very loyal companion to an individual or a family. I appreciate everything you do for me and have lots of love to give!
INQUIRIES: email ppace@mac.com
Adoption fee is $150 and covers all Tobey's vetting. He is neutered, vaccinations and rabies are up-to-date. Dewormed, HW negative, and microchipped.
Best Friends Furever
Spring, Texas
ppace@mac.com
713-859-7415

Adopt a Pet
http://www.adoptapet.com/
[headlines]
--------------------------------------------------------------
Leasing/Finance Conferences 2017
Save the Dates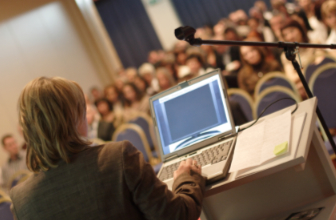 ---
April 4 - April 6, 2017
29th Annual National Funding Conference
Swissotel
Chicago, Illinois

Bruce Kropschot
Senior Managing Director
The Alta Group, Leasing News Board Advisory member since 2000, will be reporting on the conference.
http://www.leasingnews.org/Advisory%20Board/Bruce_Kropschot.htm
Funding Sources at Conference
36th Street Capital
Acrecent Financial
ATEL Capital Group
Banc of America Leasing
Bank of the West
BB&T Equipment Finance
BMO Harris Equipment Finance Company
Boston Financial & Equity Corporation
Bridge Funding Group, Inc.
CapitalSource, Inc.
Channel Partners Capital
CIT
Citizens Asset Finance, Inc.
ECS Financial Services, Inc.
Equipment Leasing Group of America, LLC
EverBank Commercial Finance, Inc.
Fifth Third Equipment Finance Company
Financial Pacific Leasing, Inc., an Umpqua Bank Company
First American Equipment Finance, a City National Bank Company
First Bank of Highland Park
First Eagle Bank
Flagstar Bank
Flushing Bank
Fuyo General Lease (USA) Inc.
GE Capital Markets Group
Hanmi Bank
Huntington Equipment Finance
Indigo Direct Lending, LLC
J.P. Morgan Equipment Finance
Key Equipment Finance
LEAF Commercial Capital Inc.
MB Equipment Finance
MB Financial Bank - Lease Banking
MB Financial Bank - Paying Agent Services
Mitsubishi UFJ Lease & Finance (U.S.A.) Inc.
Nations Equipment Finance, LLC
People's Capital and Leasing Corp.
PNC Equipment Finance, LLC
Santander Bank Equipment Finance
SCG Capital Corporation
Securcor Financial Group
Signature Financial
Societe Generale Equipment Finance
Stearns Bank NA-Equipment Finance Division
Sterling National Bank Equipment Finance Division
Stonebriar Commercial Finance, LLC
SunTrust Equipment Finance & Leasing Corp.
Susquehanna Commercial Finance, Inc.
TCF Equipment Finance, a division of TCF National Bank
Tetra Financial Group, LLC
Tokyo Century (USA) Inc.
VFI Corporate Finance
Wells Fargo Bank Northwest-Corporate Trust Services
Wells Fargo Equipment Finance
Wintrust Commercial Finance
Wintrust Equipment Finance
One highlight will be the Women in Leasing reception -- sponsored by Key Equipment Finance -- on April 4, 4:430-5:30pm, at the Swissotel Chicago
PLEASE NOTE: As of 01-24-2017 all new registrations for Funding Source Suites will be placed in hotel meeting rooms. Actual hotel suites at the Swissotel for funding sources are sold out.
Brochure:
http://www.elfaonline.org/cvweb_elfa/cgi-bin/documentdll.dll/view?DOCUMENTNUM=1499
---
April 5, 2017 – April 7, 2017
National Vehicle Leasing Association
Hilton Nashville Downtown
121 Fourth Avenue South
Nashville, Tennessee 37201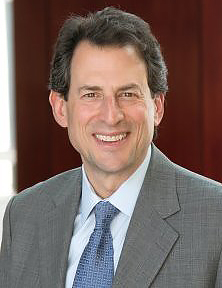 Leasing News Advisor Ed Kaye, Access Commercial Capital, LLC,
will be reporting the NVLA for Leasing News.
Contact: Elizabeth Schlicht
eschlicht@nvla.org
414-533-3300
---
April 27, 2017 - April 29, 2017
NAELB 2017 Annual Conferences
Sheraton Memphis Downtown Hotel
& Memphis Cook Convention Center
Memphis, Tennessee

Hotel Discount to get the $169 per night room rate ends Monday, March 27th

THE WAY WE WILL LIVE NEXT!
This year's NAELB Annual Conference in Memphis boasts a superior group of speakers that will entertain and educate. They will cover everything from cyber security to digital strategies to exploring alternative financing solutions. We will bring brokers, funding sources and service providers together for networking and camaraderie as we explore "The Way We Will Live Next" by embracing technology and not losing sight of the importance of the human connection.
Join fellow conference attendees for an opening reception at Graceland, the home of the King! Network and enjoy a round of golf at Mirimichi, voted one of the best golf courses in the state. Listen to keynote speaker, Robert Evans Wilson, Jr. deliver an entertaining and humorous presentation about finding "Wisdom in the Weirdest Places" and get motivated to achieve your goals.
Don't miss out on an opportunity to better yourself, network with the some of the industry's best and find new ways to make money. Click here to register to get more details of the event.
Beth Malin
2017 NAELB Annual Conference Chair
Agenda
http://iwantmy.naelb.org/events/events-agenda
Speakers
http://iwantmy.naelb.org/events/event-speakers
Pricing
http://iwantmy.naelb.org/events/events-pricing
Hotel
http://iwantmy.naelb.org/events/events-hotel
Conference Information
http://iwantmy.naelb.org/events/event-description?CalendarEventKey=d1aee2bb-e740-4e78-8967-eac8da75e4fe&Home=%2fhome
---
May 3, 2017 - May 5, 2017
37th Annual AGLF Conference
Omni Interlocken Resort
Broomfield, Colorado
Conference Information:
http://www.aglf.org/conference-landing-page
---
October 4, 2017 - October, 6
2017 Funding Symposium
JW Marriott Buckhead
Atlanta, Georgia
---
October 11, 2017 - October 13, 2017
Lend360
Fairmount Dallas, Texas
http://www.lend360.org/
---
October 17, 2017 - October 19, 2017
Third Annual Conference
---
October 22, 2017 - October 24, 2017
2017 56th Annual Convention
Orlando, Florida
---

October 22, 2017 - October, 26, 2017
The Palazzo and Sands Convention Center
Venetian Hotel & Casino
Las Vegas, Nevada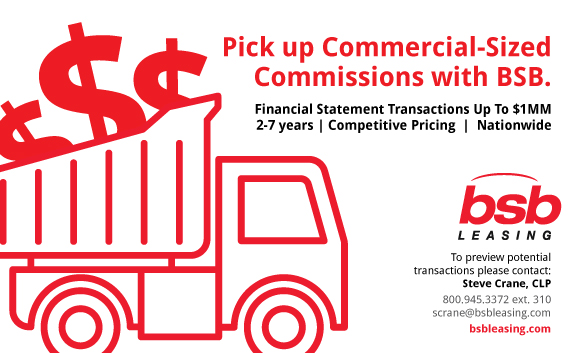 [headlines]
--------------------------------------------------------------

News Briefs---
ELFA Reports February New Business Volume Down 3%
Year-over-year, Down 5% Month-to-month - Charts
https://www.elfaonline.org/data/mlfi-25-monthly-leasing-and-finance-index/view-mlfi/monthly-leasing-finance-index-february-2017
Kabbage looks to raise money for acquisitions
"Under Consideration...is rival On Deck Capital"
http://www.reuters.com/article/us-kabbage-funding-idUSKBN16U042
Marlin Leasing Presentation
Promotion Sales Tips/Charts (24 pages)
http://leasingnews.org/PDF/ReasonsInvestMarlin2017.PDF
Sears has 'substantial doubt' that it can survive
Company Owes $4.2 Billion
http://money.cnn.com/2017/03/22/news/companies/sears-kmart-future/index.html
Williams-Sonoma's e-commerce accounts for 52%
of all revenue in 2016--Online Sales 6.5% up
https://www.digitalcommerce360.com/2016/03/18/williams-sonomas-online-sales-increase-64-year/
comScore 2017 US Data Score of Media Usage
(73 pages)
http://leasingnews.org/PDF/2017_US_Cross_Platform_Future_in_Focus.pdf
[headlines]
--------------------------------------------------------------

You May Have Missed---
These Haunting Photos of the Retail Apocalypse
Reveal a New Normal America
http://www.businessinsider.com/the-american-retail-apocalypse-in-photos-2017-3
[headlines]
--------------------------------------------------------------
Spring Poem
SPRING IS HERE
Winter is gone, just look around and see;
The snow is turning into slush,
Joining the singing river going down to the sea,
And over all there is a mysterious hush.
The soft warm winds are whispering,
"The bride in all her finery will soon be here!"
The bride (we call her Spring) — she's frolicking
Over the landscape, without fear.
She laughs at the trees' bare limbs
Till they tremble and call forth their leaves
To make a dress so green and trim,
Then joyfully they sway with the breeze.
The flowers sleeping beneath the ground
Awake and send up their blossoms to hear,
Then coquettishly join with the singing birds all around,
Acclaiming, "Spring is here, Spring is here!"
Bee Samann
"Easy Reading Poems"
Vantage Press, NYC
[headlines]
--------------------------------------------------------------

Sports Briefs----
Roger Goodell critical of Oakland plan
days before NFL owners vote
http://www.espn.com/nfl/story/_/id/19005953/roger-goodell-critical-oakland-latest-proposal-keep-raiders
'A form of punishment': Colin Kaepernick
and the history of blackballing in sports
https://www.theguardian.com/sport/2017/mar/22/colin-kaepernick-blacklisted-history-sports
Goodell says he's "fine" with Trump's comment
on Kaepernick
http://profootballtalk.nbcsports.com/2017/03/23/goodell-says-hes-fine-with-trumps-comment-on-kaepernick/
Value of Colin Kaepernick's activism aside,
QB skills are suspect
http://www.nfl.com/news/story/0ap3000000794912/article/value-of-colin-kaepernicks-activism-aside-qb-skills-are-suspect
[headlines]
--------------------------------------------------------------


California Nuts Briefs---
Despite Trump promise and a wet winter,
California farmers don't get full water supply
http://www.sacbee.com/news/state/california/water-and-drought/article140149313.html
Damage, design flaws in Oroville Dam spillway
point to lengthy repairs, consultants say
http://www.sacbee.com/news/state/california/water-and-drought/article140390898.html
UC spent nearly $1 million in probe
of former UC Davis Chancellor Katehi
http://www.sacbee.com/news/local/education/article140652933.html
[headlines]
--------------------------------------------------------------



"Gimme that Wine"

http://www.youtube.com/watch?v=EJnQoi8DSE8
Gallo buys Stagecoach Vineyard
https://www.winesandvines.com/template.cfm?section=news&content=182176
Thomas Keller shows off his sleek new French Laundry remodel
http://napavalleyregister.com/lifestyles/thomas-keller-shows-off-his-sleek-new-french-laundry-remodel/article_05680634-d6d4-592a-9c1c-46f3058065de.html
60 Walla Walla Valley Wineries/World-Renowned Winemakers
and Chefs Gather in Walla Walla for Three Event-Filled Days in June
https://www.winebusiness.com/news/?go=getArticle&dataid=182091
Sommeliers of the Year Choose Top Three Wines
http://www.foodandwine.com/wine/fws-2017-sommeliers-year
Napa County Planning Comission praises ZD Wines proposals
http://napavalleyregister.com/news/local/napa-county-planning-comission-praises-zd-wines-proposals/article_d121dfad-6d40-5958-969c-591678d3fe46.html
Founder Dario Sattui reflects on Calistoga's 13th century
Tuscan castle, Castello di Amorosa
http://napavalleyregister.com/star/wine/founder-dario-sattui-reflects-on-calistoga-s-th-century-tuscan/article_3cd84e1b-fb7c-5f86-a361-a83e551bfbbd.html
Free Mobile Wine Program
http://leasingnews.org/archives/Feb2010/2_26.htm#mobile
Wine Prices by vintage
http://www.winezap.com
http://www.wine-searcher.com/
US/International Wine Events
http://www.localwineevents.com/
Leasing News Wine & Spirits Page
http://two.leasingnews.org/Recommendations/wnensprts.htm

[headlines]
----------------------------------------------------------------
This Day in American History
1513 - Spanish explorer Juan Ponce de Leon sighted Florida. He equipped three ships with at least 200 men at his own expense and set out from Puerto Rico on March 4. On March 27, Easter Sunday, they sighted an island that was unfamiliar to the sailors on the expedition. Because many Spanish seamen were acquainted with the Bahamas, which had been depopulated by slaving ventures, some scholars believe that this "island" was actually Florida, as it was thought to be an island for several years after its formal discovery.
1790 - The modern shoestring (string and shoe holes) was invented in England and quickly adopted in New England where shoemaking was a major industry.
1792 - The first Congressional investigation was authorized after troops under the command of Major General Arthur St. Clair were defeated by Native American forces near the Ohio-Indiana border on November 4, 1791. The House of Representatives, by a vote of 44-10, resolved "that a committee be appointed to inquire into the causes of the failure of the late expedition under Major General St. Clair; and that the said committee be empowered to call for such persons, papers and records as may be necessary to assist their inquiries." The seven-member committee, which was headed by Thomas Fitzsimons, a Federalist of Pennsylvania, absolved St. Clair and ruled that his defeat "can in no respect be imputed to his conduct either at any time before or during the action." St. Clair nonetheless resigned his army command, retaining his post as governor of the Northwest Territory.
1794 - President Washington and Congress authorized creation of the U.S. Navy. The bill authorizes construction of 6 frigates, including Constitution.
1794 - James Monroe is appointed the American minister to France replacing Governeur Morris, whose recall the French have requested because of his royalist sympathies and meddling.
1813 - In a US attack on Fort George, near the mouth of the Niagara River, LTC Winfield Scott with a 4000-man force captures the 1600-man British garrison under General John Vincent. The British withdraw from Lake Erie. This action permits Captain Oliver Hazard Perry to surreptitiously remove five vessels from the Black Rock shipyard and take them to Presque Isle in order to reinforce the flotilla under construction there.
1814 - General Andrew Jackson led U.S. soldiers who killed 700 Creek Indians at Horseshoe Bend in central Alabama. Jackson lost 49 men.
1836 - The Mormon Temple built in Kirtland, Ohio by Joseph Smith, the founder of the Church of Jesus Christ of Latter-Day Saints (or Mormon Church), was dedicated. He had moved to Ohio with 50 families.
1836 - In a disastrous setback for the Texans resisting Santa Anna's dictatorial regime, the Mexican army defeats and executes 417 Texas revolutionaries at Goliad. Now determined to break completely from Mexico, the Texas revolutionaries began to yell "Remember Goliad!" along with the more famous battle cry, "Remember the Alamo!" Less than a month later, Texan forces under General Sam Houston dealt a stunning blow to Santa Anna's army in the Battle of San Jacinto, and Texas won its independence.
1841 – The first steam fire engine was tested in NYC
1851 – Europeans first sighted Yosemite.
1855 - Kerosene distilled from bituminous shale and cannel coal for illuminating purposes was obtained by Dr. Abraham Gesner. The name "kerosene" is derived from keros, the Greek work for wax, referring to the use of paraffin in the distillation process.
1860 - The device which, officially, is a "covered gimlet screw with a 'T' handle", or corkscrew, was patented this day by M. L. Byrne of New York City
1865 - President Lincoln meets with Ulysses S. Grant and William T. Sherman at City Point, Virginia, to plot the last stages of the war. Lincoln came to Virginia just as Grant was preparing to attack Confederate General Robert E. Lee's lines around Petersburg and Richmond, an assault that promised to end the siege that had dragged on for 10 months. Meanwhile, Sherman's force was steamrolling northward through the Carolinas. The three architects of Union victory met for the first time as a group--Sherman and Lincoln had never met--to plot the final destruction of the Confederacy. Grant and Sherman confidently assured the President that the end was in sight. Lincoln emphasized to his generals that any surrender terms must preserve the Union war aims of emancipation and a pledge of equality for the freed slaves. After meeting the next day with Admiral David Dixon Porter, the three went their separate ways. In less than four weeks, Grant and Sherman had secured the surrender of the Confederacy.
1866 - President Andrew Johnson vetoed the civil rights bill, which later became the 14th amendment.
1868 - Birthday of Patty Smith Hill (d. 1946), schoolteacher, author and education specialist, born at Anchorage (suburb of Louisville), KY. She was author of the lyrics of the song "Good Morning to All," which later became known as "Happy Birthday to You." Her older sister, Mildred J. Hill, composed the melody for the song which was first published in 1893 as a classroom greeting in the book "Song Stories for the Sunday School." A stanza beginning "Happy Birthday to You" was added in 1924, and the song became arguably the most frequently sung song in the world.
1879 - Birthday of Edward Steichen (d. 1973), celebrated American photographer, in Luxembourg. His photos of gowns for the magazine "Art et Décoration" in 1911 are regarded as the first modern fashion photography ever published. From 1923 to 1938, Steichen was a photographer for the Conde Nast magazines 'Vogue' and 'Vanity Fair' while also working for many advertising agencies including J. Walter Thompson. During these years, Steichen was regarded as the best known and highest paid photographer in the world. In 1944, he directed the war documentary "The Fighting Lady," which won the 1945 Academy Award for Best Documentary.
http://www.cosmopolis.ch/english/cosmo13/steichen.htm
1879 – Miller Huggins (d. 1929) was born in Cincinnati. A second baseman adept at getting on base, Huggins led the National League in walks four times, scored 100 or more runs three times, regularly collected 30 or more stolen bases and had an on-base percentage near .400. But he became much more famous as a manager. He managed two major league teams - first the St. louis Cardinals where he managed the young Rogers Hornsby and then the New York Yankees of Ruth and Gehrig. He led the Yankees to six AL pennants and three World series titles, and his "Murderers" Row" club, which won 110 games before sweeping the 1927 Series, is considered one of the greatest teams in history. Huggins was selected to the Hall of Fame in 1964.
1884 - The first long-distance telephone call was made by branch managers of the American Bell Telephone Company in Boston, MA, and New York City. Said a contemporary account: The words were heard as perfectly as though the speakers were standing close by, while no extra effort was needed at the other end of the line to accomplish the result."
1884 - A Cincinnati mob attacked members of a jury who had returned a verdict of manslaughter in a clear case of murder. Over the next few days they rioted and destroyed the courthouse.
1886 – Geronimo surrendered to Lt Charles Gatewood and General Nelson Miles of the US Army in the Sierra Madre in Mexico, ending the Apache wars.
1890 - An outbreak of tornadoes occurred in the Ohio Valley. One of the tornadoes struck Louisville, KY, killing 78 persons and causing $4 million damage.
1890 - The application of an all-black baseball club made up of former Cuban Giants players was rejected by the Inter-State League.
1899 – Actress Gloria Swanson (d. 1983) was born in Chicago. She was one of the most prominent stars during the silent film era as both an actress and a fashion icon, especially under the direction of Cecil B. DeMille. She starred in dozens of silent films and was nominated for the first Academy Award in the Best Actress category. She also, after a time, successfully transitioned to 'talkies' evidenced by her second Academy Award nomination, for "Sunset Boulevard" (1950).
1906 - Clarinet player Charles Ellsworth "Pee Wee" Russell (d. 1969) birthday in Maplewood, MO.
http://www.redhotjazz.com/peewee.html
1909 - Tenor saxophone player Ben Webster (d. 1973) born Kansas City, MO
http://jazzcanadiana.on.ca/_WEBSTER.HTM
1912 - Cherry trees planted on the Potomac River, a gift from the Empire of Japan. Japan gave 3,020 cherry blossom trees as a gift to the United States to celebrate the nations' then-growing friendship, replacing an earlier gift of 2000 trees which had to be destroyed due to disease in 1910. These trees were planted in Sakura Park in Manhattan and line the shore of the Tidal basin in Washington, D.C.'s West Potomac Park. The first two original trees were planted by first lady Helen Taft and Viscountess Chinda on the bank of the Tidal Basin. The gift was renewed with another 3,800 trees in 1965. In Washington, D.C., the cherry blossom trees continue to be a popular tourist attraction when they reach full bloom in early spring.
http://memory.loc.gov/ammem/today/mar27.html
1914 - Birthday of Snooky Lanson, born Roy Landman (d. 1990) in Memphis, Singer, vocalist on "Your Hit Parade" on radio and TV.
1915 - Mary Mallon (Typhoid Mary) was arrested and returned to quarantine on North Brother Island, New York after spending five years evading health authorities and causing several further outbreaks of typhoid
1916 - US purchases Danish West Indies for $25M and renames them Virgin Islands.
http://www.usvitourism.vi/
1917 - The Boston Red Sox beat the Brooklyn Robins, 11-2, in spring training. For tomorrow's game, players on both teams will sport numbers on their sleeves, the idea of Robins' owner Charles Ebbets. His reasoning is that fans in non-major league cities would be unfamiliar with the players.
1924 - Birthday of Sarah Vaughan (d. 1990), legendary jazz singer, at Newark, NJ. Renowned for her melodic improvising, wide vocal range and extraordinary technique, she began her career by winning an amateur contest at New York's Apollo Theater in 1943. She was spotted and hired by Earl Hines to accompany his band as his relief pianist as well as singer. As her career took off, she was given the nickname "The Divine One" by Chicago disc jockey Dave Garroway, a moniker that would remain with her the rest of her life. She toured with the Norman Granz Gramacy Jazz Group along with Charlie Parker and Dizzy Gillespie in the early 1950's. Her signature song, "Broken Hearted Melody," written by Hal David, was published in 1958 before she recorded it in 1959. Despite the record's commercial success, Vaughan herself always thought the song to be corny. However, "Broken Hearted Melody" was to become her first gold record, peaking at #7 in the Billboard Charts and #5 on the R&B charts.
http://www.parsec-santa.com/celebrity/celeb_pages/SarahVaughn.html
1930 – The first US radio broadcast from a ship at sea
1931 – Charlie Chaplin received France's distinguished Legion of Honor
1931 - John McGraw said night baseball will not catch on.
1933 – The Farm Credit Administration was established by the Farm Credit Act of 1933, part of The New Deal. Allowing farmers to refinance mortgages over a longer time at below-market interest rates at regional and national banks, this helped farmers recover from the Dust Bowl. The Emergency Farm Mortgage Act loaned funds to farmers in danger of losing their properties. The campaign refinanced 20% of farmers' mortgages. An Executive order by President Roosevelt in 1933 placed all existing agricultural credit organizations under the supervision of a new agency, the Farm Credit Administration.
1939 - The Oregon Ducks defeated the Ohio State Buckeyes, 46-33, to win the first NCAA men's basketball tournament. Oregon beat Texas and Oklahoma to reach the final, held at Northwestern's Patten Gymnasium. Ohio State defeated Wake Forest and Villanova in the eastern half of the eight-team draw.
1942 - Seeing the unworkability of his plan to allow Japanese-Americans to leave the Pacific Coast of their own accord (most of the Nisei were turned back at whatever state line they happened to reach, or were attacked by hostile mobs once they did manage to find a new home.), Lt. General John DeWitt ended the voluntary policy of evacuation. Two days letter, a more "practical" policy, forced evacuation and interment, officially took effect.
1943 – "Blue Ribbon Town" with Groucho Marx was first heard on CBS Radio
1943 – The Battle of Komandorski Village began in the Aleutian Islands when United States Navy forces intercepted the Japanese attempting to reinforce a garrison at Kiska.
1945 - Ella Fitzgerald and the Delta Rhythm Boys recorded "It's Only a Paper Moon" for Decca Records.
1945 – General Eisenhower declared the German defenses on the western front broken.
1948 - 11 days after being released from prison, Billie Holiday played in front of a sold-out crowd at Carnegie Hall. On May 16, 1947, she was arrested for possessing narcotics in her New York apartment. During the trial, dehydrated and unable to hold down food, she pleaded guilty and asked to be sent to the hospital. The district attorney spoke in her defense, saying, "If your honor please, this is a case of a drug addict, but more serious, however, than most of our cases, Miss Holiday is a professional entertainer and among the higher rank as far as income was concerned." At the end of the trial, Holiday was sentenced to Alderson Federal Prison Camp in West Virginia, popularly known then as "Camp Cupcake." There were 2,700 tickets sold in advance, a record at the time for the venue.
1950 - Jazz pianist Erroll Garner became one of the first jazz instrumentalists to give a solo concert. He played the Music Hall in Cleveland, OH. In 1954, Garner would gain international applause for writing and recording a standard that has been presented many times since: "Misty." Johnny Mathis and Sarah Vaughan are but two of many recording artists to offer vocal renditions of this renowned Garner composition. Play "Misty" for me. I believe I have all his albums and play them often at the office.
1950 - Top Hits
"Music, Music, Music" - Teresa Brewer
"There's No Tomorrow" - Tony Martin
"If I Knew You Were Comin' I'd've Baked a Cake" - Eileen Barton
"Chattanooga Shoe Shine Boy" - Red Foley
1951 - Frank Sinatra recorded "I'm a Fool to Want You" for Columbia. This was one of the last songs Sinatra recorded for Mitch Miller, who had taken over as head of recording for the label.
1952 – Sam Phillips, owner of Sun Studio of Memphis, Tennessee began releasing records. The label would later become the home of Elvis Presley, Johnny Cash, Jerry Lee Lewis and many others.
1952 - HAMMOND, FRANCIS C., Medal of Honor
Rank and organization: Hospital Corpsman, U.S. Navy, attached as a medical corpsman to 1st Marine Division. Place and date: Korea, 26-27 March 1953. Entered service at: Alexandria, Va. Birth: Alexandria, Va. Citation: For conspicuous gallantry and intrepidity at the risk of his life above and beyond the call of duty as a HC serving with the 1st Marine Division in action against enemy aggressor forces on the night of 26-27 March 1953. After reaching an intermediate objective during a counterattack against a heavily entrenched and numerically superior hostile force occupying ground on a bitterly contested outpost far in advance of the main line of resistance. HC Hammond's platoon was subjected to a murderous barrage of hostile mortar and artillery fire, followed by a vicious assault by onrushing enemy troops. Resolutely advancing through the veritable curtain of fire to aid his stricken comrades, HC Hammond moved among the stalwart garrison of marines and, although critically wounded himself, valiantly continued to administer aid to the other wounded throughout an exhausting 4-hour period. When the unit was ordered to withdraw, he skillfully directed the evacuation of casualties and remained in the fire-swept area to assist the corpsmen of the relieving unit until he was struck by a round of enemy mortar fire and fell, mortally wounded. By his exceptional fortitude, inspiring initiative and self-sacrificing efforts, HC Hammond undoubtedly saved the lives of many marines. His great personal valor in the face of overwhelming odds enhances and sustains the finest traditions of the U.S. Naval Service. He gallantly gave his life for his country.
1952 - CHARETTE, WILLIAM R., Medal of Honor
Rank and organization: Hospital Corpsman Third Class, U.S. Navy Medical Corpsman serving with a marine rifle company. Place and date: Korea, 27 March 1953. Entered service at: Ludington, Michigan. Birth: Ludington, Mich. Citation: For conspicuous gallantry and intrepidity at the risk of his life above and beyond the call of duty in action against enemy aggressor forces during the early morning hours. Participating in a fierce encounter with a cleverly concealed and well-entrenched enemy force occupying positions on a vital and bitterly contested outpost far in advance of the main line of resistance, HC3c. Charette repeatedly and unhesitatingly moved about through a murderous barrage of hostile small-arms and mortar fire to render assistance to his wounded comrades. When an enemy grenade landed within a few feet of a marine he was attending, he immediately threw himself upon the stricken man and absorbed the entire concussion of the deadly missile with his body. Although sustaining painful facial wounds, and undergoing shock from the intensity of the blast which ripped the helmet and medical aid kit from his person, HC3c. Charette resourcefully improvised emergency bandages by tearing off part of his clothing, and gallantly continued to administer medical aid to the wounded in his own unit and to those in adjacent platoon areas as well. Observing a seriously wounded comrade whose armored vest had been torn from his body by the blast from an exploding shell, he selflessly removed his own battle vest and placed it upon the helpless man although fully aware of the added jeopardy to himself. Moving to the side of another casualty who was suffering excruciating pain from a serious leg wound, HC3c. Charette stood upright in the trench line and exposed himself to a deadly hail of enemy fire in order to lend more effective aid to the victim and to alleviate his anguish while being removed to a position of safety. By his indomitable courage and inspiring efforts in behalf of his wounded comrades, HC3c. Charette was directly responsible for saving many lives. His great personal valor reflects the highest credit upon himself and enhances the finest traditions of the U.S. Naval Service.
1952 - "Singin' in the Rain," a musical comedy starring Gene Kelly, Donald O'Connor and Debbie Reynolds, was released
1953 - The State Department bans Dashiell Hammett's novels from its overseas libraries. This year, Senator Joseph McCarthy sent aides Roy Cohn and G. David Schine on a tour of U.S. libraries in Europe to ferret out so-called subversive books. McCarthy's boys found 300 Hammett detective stories there. Questioned by Cohn in front of the House Un-American Activities Committee, Hammett would not say whether he was a Communist, when he wrote the books, nor whether royalties ended up in party coffers. Hammett frustrated the committee with these ambiguous words, and some say inebriated (he was an alcoholic at the time: "If I were fighting Communism, I don't think I would do it by giving people any books at all."
http://www.mysterynet.com/hammett/
http://www.thrillingdetective.com/spade_sam.html
1955 - Steve McQueen made his network TV debut on "Goodyear Playhouse." McQueen starred in "The Chivington Raid." In 1958, McQueen was starred in his own TV series, "Wanted Dead or Alive", on NBC. My father, Lawrence Menkin, wrote many of the scripts.
1955 - The first Jewish mobile synagogue was dedicated, called the Circuit Riding Rabbi Buss, at the Amity Country Club, Charlotte, NC. It was the project of the North Carolina Association of Jewish Men. The first rabbi was Harold A. Friedman. The bus was equipped with desks, blackboards, maps, a projection machine, a record player, and a library.
1955 - Frustrated over Ike Turner's inability to find a label to record the follow up to his hit, Jackie Brenston's "Rocket 88," Sam Phillips decides to form his own independent label in Memphis, known as Sun Records. Within a matter of days, Sun will release its first single, Johnny London's "Drivin' Slow" b/w "Flat Tire" (Sun 175). He is also associated with several other noteworthy rhythm and blues, country, and rock 'n' roll musicians of the period. Phillips sold Sun in 1969. He was an early investor in the Holiday Inn chain of hotels. He also advocated racial equality and helped break down racial music industry barriers.
http://en.wikipedia.org/wiki/Sam_Phillips
1957 - Jerry Lewis (in Hollywood) and actress Celeste Holm (in New York City) hosted the 29th Annual Academy Awards at the RKO Pantages Theater, Los Angeles. Best Picture, "Around the World in 80 Days" (Michael Todd, producer). There were many other epic productions it competed against, including Cecil B. DeMille's "The Ten Commandments." Others of that genre included "The Rainmaker;" "Richard III;" "The Bad Seed;" King Vidor's "War and Peace;" "High Society;" "Written on the Wind;" "The King and I" and "Anastasia." "Around the World in 80 Days" received additional accolades for Best Writing/Best Screenplay - Adapted (James Poe, John Farrow, S.J. Perelman); Best Cinematography/Color (Lionel Lindon); Best Film Editing (Gene Ruggiero, Paul Weatherwax); and Best Music/Scoring of a Dramatic or Comedy Picture (Victor Young). The Oscar for Best Director went to George Stevens for "Giant." Best Actor was Yul Brynner for "The King and I" and the Best Actress prize was given to Ingrid Bergman for "Anastasia." Anthony Quinn was Best Supporting Actor in for "Lust for Life" and Dorothy Malone was Best Supporting Actress in "Written on the Wind." The Best Music/Song Oscar was awarded to Jay Livingston and Ray Evans for "Whatever Will Be, Will Be (Que Sera, Sera)" from "The Man Who Knew Too Much."
http://www.infoplease.com/ipa/A0148697.html
1956 – The US government seized the US communist newspaper "Daily Worker"
1958 - Top Hits
"Don't/I Beg of You" - Elvis Presley
"Tequila" - The Champs
"Breathless" - Jerry Lee Lewis
"Ballad of a Teenage Queen" - Johnny Cash
1958 - CBS Laboratories announced a new stereophonic record that was playable on ordinary LP phonographs, meaning, monaural. In stereo, on the proper equipment, a new rich and fuller sound was heard. It eventually became a standard for record and equipment buyers.
1958 – Khrushchev became Soviet Premier, which had a great effect
on foreign policy.
1960 - Representative Emanuel Celler (D-NY) introduced two bills designed to halt the practice of "payola" -- that is, DJs receiving cash, gifts, or writing credits to promote certain records. Celler, echoing the sentiments of his era, declares that "the cacophonous music called Rock and Roll" could not possibly have risen up the charts without the practice of payola.
1961 - The first mobile computer assignment was undertaken for the Douglas Aircraft Corporation, Charlotte, NC. Remington Rand Univac, a division of the Sperry Rand Corporation, New York City, equipped a motor van with a UNIVAC Solid-State computer. Today's smartphones and tablets have more memory and speed. The ability of a laptop computer was thought to be a Captain Video science fiction fantasy.
1962 - In Louisiana, Archbishop Joseph Francis Rummel ordered all Roman Catholic schools in the New Orleans diocese to end segregation.
1962 – Goalie Jacques Plante tied the record by winning his 6th NHL Vezina Trophy.
1963- Birthday of Quentin Tarantino, director, screenwriter, born Knoxville, TN.
1964 - The strongest earthquake in North American history (8.4 on the Richter scale) struck Alaska, east of Anchorage. 117 people were killed. This was the world's second worst earthquake of the 20th century in terms of magnitude.
1964 – The Great Train Robbers, 15-strong gang, were sentenced to a total of 307 years in prison for robbing a Royal Mail train heading between Glasgow and London in the early hours of August 8, 1963 at Bridego Railway Bridge in Buckinghamshire, England. With inside information from an individual known as 'The Ulsterman' (named as Patrick McKenna in 2014), the robbers got away with over £2.6 million (the equivalent of £48 million today). The bulk of the stolen money was never recovered. Though the gang did not use any firearms, the train driver was beaten over the head with a metal bar that caused injuries were severe enough to end his career.
1965 - The Who released their first US chart entry, "I Can't Explain." Although the song would not crack the Billboard Top 40, the band still gained a large following thanks in part to their exciting live performances.
1966 - Top Hits
"The Ballad of the Green Berets" - SSgt Barry Sadler
"19th Nervous Breakdown" - The Rolling Stones
"Nowhere Man" - The Beatles
"Waitin' in Your Welfare Line" - Buck Owens
1966 - Roy Orbison took a curve too tightly while out motorcycling in Hawkstone Park in Birmingham, England, and fractured his foot, resulting in the Big O playing his next few English dates in crutches on a stool.
1967 - At a ceremony held at the Playhouse Theatre in London, The Beatles were awarded three Ivor Novello awards: best-selling British single of 1966 - "Yellow Submarine."
1967 - Fats Domino played his first UK gig at London's Saville Theatre on a ticket that included the Bee Gees and Gerry & the Pacemakers.
1969 - Bo Diddley opened at the San Francisco Winterland.
1970 - Birthday of singer Mariah Carey, Long Island, NY.
1971 - UCLA became the first team ever to win five consecutive NCAA basketball titles. The Bruins defeated Villanova 68-62. UCLA, under coaching legend John Wooden, dominated NCAA tournament play until 1974, when North Carolina State won the tourney, thus ending UCLA's streak of consecutive championships at seven. The Bruins roared back next season to win the championship once more, the final of the ten of the Wooden era.
1971 - Janis Joplin started her second (and final) week at the top of the pop music charts with the hit, "Me and Bobby McGee," written by Kris Kristofferson.
1971 - Three Dog Night's "Joy to the World" enters the Billboard Hot 100 on its way to becoming the biggest selling single of the year.
1972 - Elvis Presley records what proves to be his last Top Ten hit during his lifetime, "Burning Love." It made #2 on the US chart,
1972 - Adolph Rupp of the University of Kentucky retired after 42 years of coaching the Wildcats. During his long tenure at Kentucky, Rupp won 874 games for a winning average of 82.1 percent. Rupp was second only to Clair Bee who coached at Rider College in New Jersey and at Long Island University.
1973 – A routine speeding ticket in New Jersey for Grateful Dead leader Jerry Garcia became much more when police searched his car and found a significant quantity of LSD. He was released on $2,000 bail.
1973 - It was Oscar night (for the 45th time) at the Dorothy Chandler Pavilion, Los Angeles. The show was hosted by Carol Burnett, Michael Caine, Charlton Heston and Rock Hudson. Most people, when offered an Academy Award, can't get up to the stage fast enough to claim the little gold guy. But, Marlon Brando said, "You can keep it," when AMPAS offered him the Oscar for Best Actor for his performance as "The Godfather". Brando refused to accept the award because he felt that the U.S. and Hollywood were discriminating against American Indians. "The Godfather" (Albert S. Ruddy, producer) also was awarded the prize for Best Picture. That Oscar was accepted, as were several for "Cabaret:" Best Director (Bob Fosse), Best Actress (Liza Minnelli) and Best Supporting Actor (Joel Grey). Best Supporting Actress was Eileen Heckart for "Butterflies are Free" and the Best Music/Song prize went to Al Kasha and Joel Hirschhorn for "The Morning After" from "The Poseidon Adventure."
http://www.infoplease.com/ipa/A0149237.html
1974 - Top Hits
"Dark Lady" - Cher
"Sunshine on My Shoulders" - John Denver
"Mockingbird" - Carly Simon & James Taylor
"There's a Honky Tonk Angel (Who'll Take Me Back In)" - Conway Twitty
1975 – Construction began on the Trans-Alaska pipeline, 800 miles with the diameter of 48 inches that conveys oil from Prudhoe Bay to Valdez, Alaska. The pipeline is privately owned by the Alyeska Pipeline Service Company. The pipeline was completed in 1977 after the 1973 OPEC oil embargo caused a sharp rise in oil prices and shortages in the US.
1977 - Worst accident in aviation history occurs when a Pan Am 747 collided with a KLM 747 on a runway in Tenerife in the Canary Islands, resulting in about 580 deaths.
1979 - Bruce Springsteen's first video, a live version of "Rosalita," made its world debut on the BBC.
1982 - Top Hits
"I Love Rock 'N Roll" - Joan Jett & The Blackhearts
"Open Arms" - Journey
"We Got the Beat" - Go-Go's
"She Left Love All Over Me" - Razzy Bailey
1984 - The temperature at Brownsville, TX, soared to 106 degrees, and Cotulla, TX, reached 108 degrees, equaling the March record for the U.S.
1985 - Billy Dee Williams received a star on the famous Hollywood Walk of Fame. His place, for those looking to visit, is located between Joan Davis and Harry Carey.
1986 - Sammy Hagar plays his first show as lead singer of Van Halen.
1988 - World Ladies Figure Skating Championship in Budapest won by Katarina Witt (German Democratic Republic)
1988 - World Men's Figure Skating Championship in Budapest won by Brian Boitano (USA)
1988 - Temperatures rose quickly, then dropped just as rapidly, in the central U.S. Eight cities reported record high temperatures for the date as readings soared into the 80s. In southeastern Colorado, the temperature at Lamar, CO reached 91 degrees. Strong southerly winds gusted to 63 mph at Gage, OK. Strong northwesterly winds, gusting to 61 mph at Goodland, KS, then proceeded to usher much colder air into the area.
1989 – Sports Illustrated published the first story about Cincinnati Reds manager Pete Rose's gambling activities.
1990 - Top Hits
"Black Velvet" - Alannah Myles
"Love Will Lead You Back" - Taylor Dayne
"I Wish It Would Rain Down" - Phil Collins
"Hard Rock Bottom of Your Heart" - Randy Travis
1990 - Temperatures dipped into the teens and single numbers in the northeastern U.S. Scranton, PA tied their record for the date with a morning low of 18 degrees. Temperatures warmed into the 60s and lower 70s in the Pacific Northwest. The afternoon high of 65 degrees at Astoria, OR equaled their record for the date
1995 – David Letterman was the host of the 67th Annual Academy Awards at the Shrine Auditorium, Los Angeles. The Best Picture was "Forrest Gump"(Wendy Finerman, Steve Starkey, Steve Tisch, producers). Robert Zemeckis and Tom Hanks won Oscars for Best Director and Best Actor, respectively, in...you got it..."Forrest Gump." The Best Actress prize was claimed by Jessica Lange for "Blue Sky." Best Supporting Actor was Martin Landau for "Ed Wood" and the Best Supporting Actress award went to Dianne Wiest for "Bullets Over Broadway." The Best Music/Song Oscar went to Elton John (music) and Tim on "Can You Feel the Love Tonight?" Rice (lyrics) for the fine job they did for the animated movie, "The Lion King," with the song, "Can You Feel the Love Tonight?"
http://www.infoplease.com/ipa/A0149926.html
1998 - The Food and Drug Administration approved the drug Viagra, made by Pfizer, to fight male impotence.
2003 - The city of Liverpool finally opened John Lennon's "Mendips" boyhood home, located at 251 Menlove Avenue, to the public.
2006 - Victor Willis, the "policeman" in the Village People, was arrested in San Francisco for failing to appear at his trial for cocaine and gun possession. After agreeing to enter rehab, his sentence was reduced to three years' probation.
2007 - Jefferson Airplane/Starship vocalist Grace Slick sued former bandmate Paul Kantner for touring with different musicians under the name "Paul Kantner's Starship."
2007 – NFL owners voted to make instant replay a permanent officiating tool.
2009 - President Barack Obama launched a fresh effort to defeat al-Qaida terrorists in both Pakistan and Afghanistan, ordering in 4,000 more troops.
2012 - The group led by former NBA star Magic Johnson and executive Stan Kasten, funded by Guggenheim Partners, emerged as the winner of the bidding process to buy the Los Angeles Dodgers under supervision of a bankruptcy court judge. The winning bid was estimated at $2 billion, the highest amount ever paid for a North American professional sports franchise; an additional payment of $150 million secured the land around Dodger Stadium that McCourt originally wanted to keep for himself. McCourt thus made hundreds of millions in profit, even after paying back the loans he took out to purchase the team for $430 million in 2004, and the $131 million owed his wife Jamie as part of a divorce settlement. The sale was completed later this year.
2014 - Doctors announced that a 3D-printed plastic skull was successfully used to replace part of a woman's real skull in an operation three months ago in the Dutch city of Utrecht.
NCAA Basketball Champions This Date
1939 - Oregon
1945 - Oklahoma A&M
1951 - Kentucky
1971 - UCLA
1978 - Kentucky
2005 - North Carolina
-------------------------------------------------------------

SuDoku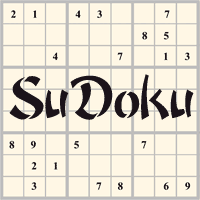 The object is to insert the numbers in the boxes to satisfy only one condition: each row, column and 3x3 box must contain the digits 1 through 9 exactly once. What could be simpler?
http://leasingnews.org/Soduku/soduko-main.htm
--------------------------------------------------------------

Daily Puzzle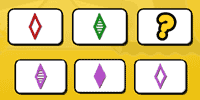 How to play:
http://www.setgame.com/set/puzzle_frame.htm
Refresh for current date:
http://www.setgame.com/set/puzzle_frame.htm
--------------------------------------------------------------


http://www.gasbuddy.com/
http://www.gasbuddy.com/GB_Map_Gas_Prices.aspx
http://www.gasbuddy.com/GB_Mobile_Instructions.aspx
--------------------------------------------------------------

Weather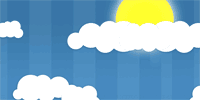 See USA map, click to specific area, no commercials
--------------------------------------------------------------

Traffic Live---
Real Time Traffic Information
You can save up to 20 different routes and check them out with one click,
or type in a new route to learn the traffic live
--------------------------------