Happy St. Patrick's Day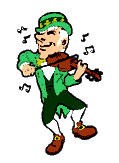 St. Patrick's Day: commemorates the patron saint of Ireland, Bishop Patrick (AD389—461) who, about AD 432, left his home in the Severn Valley, England, and introduced Christianity into Ireland. Feast Cay in the Roman Catholic Church. A national holiday in Ireland and Northern Ireland. Here in the United States there are major parades in major cities, such as New York, held since 1762, the parade is a two mile march starting at 11:30am, lasting six hours, with over a million in attendance.  Other parades include the "Downtown Hornell NY" 14th annual "come as you are", "wearin' of the green," in New Orleans, and in Florida they also celebrate, "Save the Panther Day."  If you drink, don't drive or get a designated driver.
      A public holiday at Boston and Suffolk County, Massachusetts to celebrate the 226th anniversary of the evacuation from Boston of British troops.  They evacuated Boston after American forces seized and fortified Dorchester Heights on March 4. General Howe sailed for Halifax, Nova Scotia, to await reinforcements.  Considered the first major defeat of the British by the Americans, who were losing
most battles with ill trained officers, soldiers, and lack of supplies.
http://memory.loc.gov/ammem/today/mar17.html
 Headlines---
Charter One to Open Branches in Wal-Mart Stores
Fannie Mae Disputes Financial Times Report
Ken Greene Affiliates with Cornerstone Law Group
Premier Appoints Jim Tenhundfeld Divisional Asst.VP
Fitch: BancWest; Places Community First on Rating Watch Positive
De Lage Landen New Regional New Business Development Officers
########  surrounding the article denotes it is a "press release"
-------------------------------------------------------------------------------
Accounting:
PricewaterhouseCoopers seeks individuals with experience in commercial equipment leasing to help clients improve their leasing businesses by designing, developing, and implementing solutions to accounting & operational issues. Email: anthony.g.anderson@us.pwc.com
About the Company: PricewaterhouseCoopers, New York, NY.
Classified Ads---
Collector: Boston, MA. Challenging position where my skills, professional experience, organization, leadership, strategic thinking, creativity, energy, passion, competitive nature will enable me to define opportunities and personal development.
Email: bernd.janet@verizon.net
Collector: Jacksonville, East Brunswick, FL.
13 years experience with collection, recovery, re-marketing and legal on commercial loans and leases. Expertise with distressed portfolios, Six Sigma trained. Willing to relocate. Email:RichardB12364@aol.com
Collector: Joplin, Mo. Will do car repossessions, willing to go about anywhere. Have three years exp. thanks.
Email: derekrgreen@yahoo.com
Collector: West Hartford, CT. Credit/ Collections /Rental Management in leasing & construction fields. Looking for stable company that will appreciate my 20+ years of experience. Email: losterastringban@aol.com
Controller: Seattle, WA
CPA w/ 15 years management exp. as CFO/ Controller/5 yrs w/ PriceWaterhouse Coopers. Extensive exp providing accounting/ tax guidance for the equipment lease industry. Willing to relocate. Email:bltushin@hotmail.com
Controller: Southeastern, MI.
Controller & Management experience w/ equip lessors &broker. MBA, CPA w/ extensive accounting, management, securitization experience with public and private companies. Willing to relocate.
Email: Leasebusiness@aol.com
   full list of jobs wanted at:
http://64.125.68.90/LeasingNews/JobPostings.htm
------------------------------------------------------------------------------------------------------------
Cartoon---California Wine
----------------------------------------------------------------------------------------------------------- 
Charter One to Open Branches in Wal-Mart Stores
                     US Banker Weekly
Cleveland-based Charter One Financial Inc. will open branches in 67 Wal-Mart stores in six states. A bank official said the new in-store network will allow clients to bank in convenient locations, any day of the week and with expanded hours. The first in-store branch is set to open in May in Martinsville, IN. Other branches will open in Ohio, Illinois, Indiana, Michigan, Pennsylvania and New York.
Charter One is one of the nation's 25 largest bank holding companies, with $43 billion in total assets. In 2003, the bank increased its banking center network by 26 percent, primarily through in-store deals with retailers. The Wal-Mart branches will be open seven days a week, and will be located in the direct path of the store's traffic flow. The branches will offer a full range of deposit products, including The Best Free Checking, free business checking, ATM services and business-lending services. Charter One officials say they do not have a specific timetable for the rollout.
-----------------------------------------------------------------------------------------------------------

"Sr.Sales Exec. 5+yrs exp. 10-150K market. Current deal flow and superior closing skills a must. No geo. restrict./satellite office ok. Use our internal line/prefund ability, provides support you need to reach W2 goal. Our 16 years TIB stands alone."
Contact: josephrs@balboacapital.com
About the Company: Balboa Capital. 2010 Main Street 11th Floor Irvine, CA. 92614 www.balboacapital.com
Fannie Mae Disputes Financial Times Report
                 US Banker Weekly
Fannie Mae is disputing a report that appeared in The Financial Times showing that the mortgage financing corporation may have lost billions of dollars on its derivatives positions over four years. The report by the London-based newspaper shows that the U.S. government-sponsored company may have lost $24 billion in derivatives trading between 2000 and the third quarter of 2003. Fannie Mae officials have called the report a "gross misrepresentation."
According to a Financial Times official, the newspaper "used the best available methodology to estimate Fannie Mae's unrealized derivatives losses given the company's lack of disclosure of the actual amount." An independent analyst with the Center for Financial Research and Analysis confirmed that the newspaper's calculations were "the best estimate," given Fannie Mae's disclosures to date. Analysts said that the dispute arose from rules that permit the company to record gains and losses from the value of derivatives on its balance sheet in a way not reflected in its regulatory minimum capital requirement or in earnings.
Ameritrade Fined $10 Million in Margin-Trading Accusation
Kropschot Financial Service
Merger and Acquisition
Advisory Services
For The Equipment Leasing
Industry
Kropschot Financial Services has arranged the sale of over 130 equipment leasing and specialty finance business in the past 17 years.
The following are some of the services we can provide to your organization:
Representing owners in the sale of businesses and portfolio
Performing acquisitions searches for buyers
Developing joint ventures and strategic alliances
Securing lease funding and lines of credit
Arranging subordinated debt and equity financing
Valuation of businesses and portfolio
Visit our website at www.kropschot.com
Bruce Kropschot
116 Estuary Drive
Vero Beach, FL 32963
Phone:
772-234-4544
Fax:
772-234-4406

Jim Billings
309 Windfern Court
Millerville, MD. 21108
Phone:
410-729-1800
Fax:
410-729-8550
### Press Release ##########################
Ken Greene Affiliates with Cornerstone Law Group
Larkspur, California--The Law Offices of Kenneth C. Greene, which specializes in all
 areas of  equipment leasing and  finance law, announces its affiliation with the
Cornerstone Law Group,  with offices in San Francisco and Los  Angeles, California.
"The alliance enhances the ability of the firm to provide legal representation in
other areas of law, including corporate and real estate  matters, tax and estate
planning, employer and labor disputes, ERISA issues,  and more, " Kenneth C. Greene said.
"This expansion provides the Greene firm with an opportunity to  provide a broader
 scope of representation to its leasing clients, while  maintaining its  historical
focus on lease transactions, workouts,  litigation, and bankruptcy."
Mr. Greene began his leasing career with BankAmerilease, then practiced with several firms prior to establishing his own practice. He has been associated with the Equipment Leasing Association ("ELA"), United Association of Equipment Leasing ("UAEL"), Eastern Association of Equipment Lessors ("EAEL"), California Bankruptcy Forum ("CBF"), and American Bankruptcy Institute ("ABI"). He has served twice
 on the Board of Directors of UAEL, and has also been its Legal Committee Chairman, Legal Line Editor, and Regional Committee Chair. He also currently serves on the ELA Service Providers Business Counsel  for 2001-2002, and served as the UAEL Chair of the Spring Education Conference in San Francisco for  the year 2000. He is a charter member of the Leasing News Advisory Board.
He received B. A, at Brandeis University , located in Waltham, MA, graduating cum laude. He received  his J.D. at Santa Clara University in 1980, also graduating cum laude.
980 Magnolia Ave. Suite 6C,
Larkspur, CA 94939
Tel: 415-461-3777
Fax: 415-461-3733
### Press Release #########################
Premier Lease & Loan Appoints Jim Tenhundfeld to Divisional Assistant
Vice President


Superior performance leads to promotion for Spot, AVRG, VSC and GAP
Product Manager

Cincinnati, OH - -Product Manager Jim Tenhundfeld has been
named Divisional Assistant Vice President of Premier Lease & Loan
Services, a division of Great American Insurance Group.

Jim joined Great American in May 1997. He worked in the Personal Lines
division through January 2001 where he managed multi-channel auto
insurance programs in four states as well as data processing for the
entire division. Jim transferred to Premier in February 2001 to manage
the Spot Delivered Auto and the Auction Vehicle Repurchase Guaranty
products. While in this role, he also developed Premier's Vehicle
Service Contract Refund product. In January 2003, Jim also assumed
responsibility for all auto and truck GAP products.

Jim received his bachelor's degree from the University of Cincinnati in
1989. He earned his MBA from Xavier in 1992 and his CPCU designation in
2002.

About Premier Lease & Loan Services
Premier Lease & Loan Services offers a broad range of insurance products
and outsourcing solutions with a focus on customer satisfaction to meet
the needs of equipment lessors. Premier's creative and flexible programs
provide risk management, fee income and product enhancement benefits.
Headquartered in Cincinnati, Premier Lease & Loan Services has offices
in Seattle, Chicago, San Diego, Toronto, the United Kingdom and Germany.
Premier Lease & Loan Services is a member of Great American Insurance
Group. Great American's parent company, American Financial Group, Inc.
is a publicly owned New York Stock Exchange listed corporation (NYSE:
AFG) based in Cincinnati, Ohio.
###

Contact:
Erin Federman
Marketing Specialist
(513) 763-6191

Web Sites:
www.plls.com
www.GreatAmericanInsurance.com
www.amfnl.com
## Press Release #############################

Credit & Doc. Admin. to assist with credit investigation, doc.prep., coordinate territory mgrs. Wayne, NJ fast growing lessor.
Contact: Duane E. Rouba @ 800-848-7210 X 222..
About the Company: www.leasingpartnerscapital.com
Sunrise International Leasing Corporation Reports Fourth-Quarter Results and Record 2003 Net Income
GOLDEN VALLEY, Minn / -- Sunrise International Leasing Corporation (SILC), a wholly owned subsidiary of privately held King Capital Corp., today announced financial results for the fourth quarter and fiscal year ended December 31, 2003.
For the fourth quarter, SILC reported revenues of $9.0 million, versus $21.1 million for the comparable 2002 period.  Fourth-quarter net income was $3.6 million, compared to $4.1 million for the prior-year period.
For the full year 2003, SILC reported record net income of $14.8 million, up slightly from $14.7 million in 2002.  As expected, revenues were down 54 percent to $53.8 million, from $117.4 million recorded in 2002.
Both fourth-quarter and full-year revenues are down considerably from the comparable 2002 periods due to the current down-cycle in technology leasing. The company is encouraged, however, by recent activity in its niche market, which has allowed for business stabilization and a focus on longer-term growth.  SILC continues to realize substantial amounts of free cash flow and earnings, a result of strong lease renewal rates and a substantial improvement in the credit quality of its ongoing leases.  Earnings also were favorably impacted by a tax rate reduction.
Outlook 
Currently, SILC is negotiating vendor agreements and developing new and expanded vendor relationships that will have an immediate positive impact on new lease originations revenues, and net income.
The company expects 2004 to be another challenging year, but believes that it is better positioned than its competitors to withstand current difficult conditions and succeed when opportunities arise.  SILC is committed to run a lean and efficient operation with experienced personnel in all areas.
About Sunrise International Leasing Corporation 
SILC's business consists primarily of developing and implementing customized lease and rental programs for vendors of high technology, medical and other equipment lending itself to the company's vendor program business model.  The company is becoming a major financing source for second placements referred by other leasing companies.  SILC also is a national major reseller of high-quality, off-lease used Sun and Cisco equipment through Redirect Tech, its remarketing subsidiary.
About King Capital Corp.
King Capital Corp., established in 1975 and based in Golden Valley, Minn., offers a wide range of leasing options to manufacturers, distributors and resellers through its primary subsidiary, SILC.
### Press Release ################################
Fitch Affirms BancWest; Places Community First on Rating Watch Positive
Fitch Ratings-New York-: Fitch Ratings has affirmed all of the ratings of BancWest Corporation (BWE) and its affiliates following BWE's announcement that in conjunction with its parent company BNP Paribas (BNP), it has entered into an agreement to buy Community First Bankshares, Inc. (CFBX). The Rating Outlook remains Stable. At the same time, Fitch has placed the ratings of CFBX and its affiliates on Rating Watch Positive.
The definitive agreement announced today calls for BWE to purchase CFBX in a cash transaction valued at $1.2 billion and is expected to close during third-quarter 2004 (3Q'04), at which time the CFBX franchise will be merged with BWE's subsidiary, Bank of the West. The acquisition fits with BWE's strategy to develop its franchise in the Western United States, while expanding its network into the Midwest. The acquisition is expected to generate approximately $50 million in cost savings and BWE should realize some revenue benefits through offering its relatively broader product line to a larger customer base.
The transaction, which will be financed in conjunction with support from BNP, will add a considerable amount of goodwill to BWE's books, which is already burdened by a significant level of intangibles. Fitch remains cautious regarding the capital structure of the U.S. holding company, however, some of these concerns regarding its weak tangible capital base are allayed by the implied support of BNP. Fitch's view toward the differences in the capitalization of the holding company and the bank subsidiaries, which are considered sound, is reflected in the individual ratings of the respective companies.
Fitch believes that the proposed transaction is a positive for CFBX investors, as CFBX becomes part of a larger franchise that is supported by a highly rated global banking company in BNP. For this reason, CFBX's ratings are likely to be equalized with those of BWE resulting in CFBX's ratings being upgraded several notches when the transaction closes.
Contact: Ken Ritz +1-212-908-0368, New York or Ileana Cervantes +1-312-368-5472, Chicago
### Press Release ###########################
De Lage Landen's Office Equipment SBU appoints Regional New Business Development Officers
WAYNE, Pa.- De Lage Landen Financial Services, a leading international provider of high-quality asset-based finance products to manufacturers and distributors of capital goods, has named Chip Hainley and Mike Costello to the newly created positions of Manager, New Business Development, Eastern and Western Regions respectively, for its Office Equipment Strategic Business Unit.
    They will report directly to Pat Neary, Office Equipment Vice President – Sales.
    In their new capacities, Hainley, of Schwenksville, PA, and Costello, of Danville, CA, will be charged with identifying and securing new business opportunities in targeted Office Equipment industries. These include telecommunications, office furniture and mail distribution equipment.
      "The industry knowledge and experience that Chip and Mike bring to their new roles will be key in strategically positioning De Lage Landen's Office Equipment business unit for future growth," Neary said.
    A 16-year veteran of the equipment leasing industry, Hainley joined De Lage Landen in 1998.   During that time, he served as Program Manager, Sales Manager and most recently, Senior Account Executive. He earned a Bachelor of Arts degree in Economics from Denison University in Granville, OH.
    Costello joined De Lage Landen in January 2004. He is a 27-year veteran of the leasing industry, including eight years in the Telecom arena. During his career, he has held a variety of management positions. Costello earned a Bachelor of Arts degree in Economics from Loras College in Dubuque, IA.
    De Lage Landen is a Netherlands-based international provider of high-quality asset financing products. With a presence in 22 countries across the globe, the company focuses on the following industries: Food & Agriculture, Healthcare, Office Equipment, Telecommunications, Technology Finance, Materials Handling & Construction and Financial Institutions. In its domestic market the company offers Equipment Leasing, Car & Commercial Vehicle Leasing, ICT Leasing and Trade Finance through local Rabobanks and direct to market.
    De Lage Landen is a wholly owned subsidiary of the Dutch Rabobank Group that is AAA-rated by Moody's and Standard & Poor's. In 2003 De Lage Landen grew its profits to $129.6 million (€114.8 million) and its balance sheet total to $17.8 billion (€14.1 billion).
    For more information, please contact our website: www.delagelanden.com
###
Sites of Reference:
http://www.delagelanden.com
CONTACT:
Rita DiMartino
De Lage Landen Financial Services
Phone Number: 610 386 5441
Fax Number: 610 386 5840
E-mail: rdimartino@leasedirect.com
#### Press Release ########################
-------------------------------------------------------------------------
Looking for a company change?
SCL is adding to the sales force. We are looking for 8 new sales people. We are a vendor driven company with a large funding portfolio. High Impact commission, 50-65%! We can provide Real Estate Loans to your commercial clients. Profit sharing & Medical. Call 714-573-9804 bgriffith@socallesing.com
About the Company: 250 El Camino Real #111 Tustin Ca. 92780. UAEL Member
News Briefs---
Fed Panel Keeps Key Interest Rate at 1%/Fear of Job Market Decline
http://www.washingtonpost.com/wp-dyn/articles/A64417-2004Mar16.html
Rep. Thomas Looks to Save 15 SILO Deals
Bill Would Exempt Transportation Issues
http://www.bondbuyer.com/article.html?id=20040315I7442GOT&from=home
Housing Starts Show a Decline/Bad Weather to Blame
http://www.nytimes.com/2004/03/17/business/17econ.html
Report: BofA Plans Up to 13,000 Job Cuts
http://www.washingtonpost.com/ac2/wp-dyn?pagename=article&node
=&contentId=A145-2004Mar17&notFound=true
Jet fuel consumes airlines' projected profit
http://www.usatoday.com/money/biztravel/2004-03-16-jetfuel_x.htm
Talk of Greed and Beyond at Tyco Trial
http://www.nytimes.com/2004/03/17/business/17tyco.html
http://www.signonsandiego.com/news/business/20040316-1428-tycotrial.html
Pay Came to $111,000 a Day for Ex-Chief at Citigroup
http://www.nytimes.com/2004/03/17/business/17citigroup.html
------------------------------------------------------------------------------------------------------------

"Sr.Sales Exec. 5+yrs exp. 10-150K market. Current deal flow and superior closing skills a must. No geo. restrict./satellite office ok. Use our internal line/prefund ability, provides support you need to reach W2 goal. Our 16 years TIB stands alone."
Contact: josephrs@balboacapital.com
About the Company: Balboa Capital. 2010 Main Street 11th Floor Irvine, CA. 92614 www.balboacapital.com
Sports Briefs---
Owens deal finally sealed; bound for Eagles
http://cbs.sportsline.com/nfl/story/7180353
http://www.sfgate.com/cgi-bin/article.cgi?f=/chronicle/archive/2004/03/16/OWENS.TMP
Sharks' rally stuns Stars Three goals in final 6:03 steal a draw
http://www.sfgate.com/cgi-bin/article.cgi?f=/c/a/2004/03/17/SHARKS.TMP
------------------------------------------------------------------------------------------------
"Gimme that Wine"
Whiskey's Kingdom (Pop. 361)
http://www.nytimes.com/2004/03/17/dining/17WHIS.html
B.R. Cohn Winery turns 20
http://www.sonomanews.com/articles/2004/03/15/news/business/business01.txt
Kemblefield Estate Winery, New Zealand, Releases The Reserve 2002 Zinfandel.
http://www.vino.com/press/press_release.asp?PRID=290
Great marketing, great grapes define Spain's 'best' wine
http://www.azcentral.com/home/wine/articles/0316vega16.html
California Grape Crush Full Report
http://www.alliedgrapegrowers.org/pdf/03012004.pdf
Skinner $295/$495 Napa Valley Weather/Soil Report
http://home.businesswire.com/portal/site/google/index.jsp?ndmViewId
=news_view&newsId=20040315005413&newsLang=en

Sales: Tired of working on commission and not getting your fair share of the split?
We pay up to 60% of gross margin +residuals !! Contact Michael Wagner @
949-250-0585 x222 or Fax: 949-250-8042.
E-mail: mwagner@dimensionfunding.com
About the Company: Dimension Funding, LLC Formed in 1979. Located on 17748 Sky Park Circle, Irvine, CA. 92614. Website: www.dimensionfunding.com
This Day in American History
=========Early American History=========
=========Colonial Times=========
=========Westward Expansion=========
=========Civil War—including pre and post=========
=========Gilded Age=========
=========World War I --pre and post=========
=========FDR=========
=========Post World War II=========
=========1950's=========
=========1960's=========
=========1970's=========
=========1980's=========
=========1990's=========
**************************** ******************************************************
=========Early American History=========
      1734-Forty-two families of German Protestant refugees landed in the American colonies. Sponsored by the British Society for the Promotion of Christian Knowledge (SPCK), the 78 religious pilgrims soon founded the town of Ebenezer, 30 miles from Savannah, Georgia.
http://historicaltextarchive.com/salzburger/ebenezer.html
http://www.sip.armstrong.edu/Transportation/FullView/Trans_Img6.html
http://www.loc.gov/rr/european/imde/ebenezer.html
http://www.holtzendorff.com/gavacation/ebenezer/ebenezer.html
1755- Transylvania Land Co buys Kentucky for $50,000 from a Cherokee chief
http://www.encyclopedia.com/html/H/HendersoR1.asp
http://www.bartelby.com/65/tr/TransylCo.html
http://wolves.dsc.k12.ar.us/cyberace/sbgone/gen/fam1/history/ky/transylvania.htm
     1776 - Having seized Dorchester Heights, George Washington forced the British under William Howe to evacuate Boston. One a tour of the Boston area, I saw
where the cannon were poised around the British.  It was amazing that they
were able to be put into place over such rough land, poor weather, and under strength crew.  What the British did not know, they had little dry powder to fire the cannon, and many lacked the cannon ball, but Washington surrounded them and bluffed them into leaving Boston.  I would highly recommend a visit to Boston and the surrounding area for the history, great restaurants, and people.  Best is to
hire a personal tour by one of the professional history storytellers who will take you to the
sites, including the famous cemetery with a fabulous view of the city.  I would recommend Robert of
Exciting Tours of Boston, 69 Prescott Avenue, Boston, MA. 02150, Phone 617-699-6140  Fax:
617-889-3011  e-mail: exciting.tours@verizon.net    Four Hour Maximum is a lot.  Plan it so
he can drop you off to one of his favorite Italian restaurants.  You will not be disappointed.
http://patriotresource.com/events/bostonevac.html
http://www.publicbookshelf.com/public_html/Our_Country_vol_2/britishev_he.html
http://www.mountalverniahs.org/mahs/hist-lit10/Dorchester/Battle.htm
http://www.artunframed.com/images/artmis63/stuart42.jpg
    1777-Roger B. Taney birthday, 1777, he became the first presidential nominee to be rejected by the Senate and later became Supreme Court Justice who ruled on the Dred Scott decision.  Taney served as Attorney General under President Andrew Jackson. Nominated as Secretary of the Treasury, his rejection by the Senate centered on his strong stance against the Bank of the United States as a central bank and his role in urging President Jackson to veto the congressional bill extending its charter. The
states want to control banking, and not allow the federal government to do so.  In reality, the first
federal bank failed during a terrible recession and bad decisions by its then president, which
ended the contest between federal and state control.  A year after being rejected later as Secretary
of the Treasury, he was nominated to the Supreme Court as an associate justice by Jackson, but his nomination was stalled until the death of Chief Justice John Marshall July 6, 1835 Taney was nominated to fill Marshall's place on the bench and after much resistance he was sworn in as Chief Justice in March 1836. His tenure on the Supreme Court is most remembered for the Dred Scott decision, that decided a Black man would not be recognized as a "free man" in U.S. territories.
 1804-Frontiersman Jim Bridger born, American fur trader and scout, born at Richmond VA, and died July 17,1881, near Kansas City, MO. Believed to be the first white man to visit (in 1824) the Great Salt Lake, he also established Fort Bridger in southwestern Wyoming as a fur-trading post and a way station for pioneers heading west on the Oregon Trail. Bridger National Forest in western Wyoming is named for him. The son of a surveyor and an innkeeper, Bridger moved with his family to St. Louis in 1818. There, Bridger apprenticed to a blacksmith, learned to handle boats, and became a good shot and skilled woodsman. When the Ashley-Henry fur trading company advertised for "enterprising young men" to travel the Missouri River to trade with the Indians, Bridger was among the first to respond, and he was hired in 1822.Though he lacked much formal education, Bridger demonstrated a brilliant ability for finding his way and surviving in the wilderness. As part of the Ashley-Henry team, he helped construct the first fur trading post on the Yellowstone River. At the age of 21, Bridger became the first Anglo definitely known to have seen the Great Salt Lake, though he mistakenly thought it was the Pacific Ocean at the time. He was adept at learning Indian dialects and culture, and he had a tremendous memory for geographical detail. For several years Bridger worked as an independent trapper and in 1830 he joined with three partners to gain control of the Rocky Mountain Fur Company. Bridger never really enjoyed the life of the businessman, though, and he sold out in 1834. That same year, he married Cora, the daughter of a Flathead Indian chief, and she accompanied him on his fur trapping expeditions. Yet by 1840, Bridger had grown tired of the nomadic trapper life. He was convinced that the emigrant traffic through the West had become heavy enough to support a trading post. He founded Fort Bridger along the Green River section of the Oregon Trail, in present-day southern Wyoming. Fort Bridger quickly became a regular stopping place for overland emigrants, and Bridger happily settled down with Cora, with whom he had three children. Bridger's idyllic life did not last, though. Cora died, Indians killed one of his daughters, and a second wife died in childbirth. Bridger retreated to the mountains to trap and hunt after each of these tragedies, often living for a time with Indians. In 1850, he married the daughter of a Shoshoni chief, and thereafter he and his bride-whom he called Mary- divided their time between summers at Fort Bridger and winters with the Shoshoni. In 1853, Mormons, resenting the competition from Bridger's fort, tried to arrest him as an outlaw. He escaped into the mountains with Mary and his children, but a band of Mormons burnt and gutted the fort, destroying all his supplies. Concerned for his family's safety, Bridger bought a farm near Westport, Missouri, where he left Mary and the children during all of his subsequent western journeys. He sold Fort Bridger in 1858, and spent the next decade working as a guide and an army scout in the early Indian wars. By 1868, Bridger's eyesight was failing, and he increasingly suffered from rheumatism. He retired to his Westport farm, where he cared for his apple trees and no doubt fondly recalled the rugged western mountains he had known so well. He died at the age of 76 on July 17, 1881.
=========Westward Expansion=========
1841- Birth of James R. Murray, American sacred music editor. A veteran of the American Civil War, Murray is better remembered today as composer of the hymn tune MUELLER, to which we sing the Christmas carol, "Away in a Manger."
1842-Female Relief: Society of Nauvoo Organized.  Twenty Mormon women formally initiated this organization at Nauvoo, IL, which is now known as the Relief Society and has grown to almost
four million members.  Information furnished by Church of Latter-Day Saints, Public Affairs Department.
http://www.nauvoohistorical.org/about.htm
1862- Martha Platt Falconer born, one the greatest of all pioneers in changing holding area of delinquent or homeless girls from virtual jails to homes for rehabilitation, education, and social adjustments. She pioneered her work at Sleighton Farm in Pennsylvania and the idea was gradually accepted throughout the nation.
http://search.eb.com/women/articles/Falconer_Martha_Platt.html
=========Civil War—including pre and post=========
1863- Battle of Kelly's Ford, Virginia. Union cavalry attack Confederate cavalry at Kelly's Ford, Virginia. Although the Yankees were pushed back and failed to take any ground, the engagement proved that the Federal troopers could hold their own against their Rebel counterparts. In the war's first two years, Union cavalry fared poorly in combat. This was especially true in the eastern theater, where Confederate General J.E.B. Stuart boasted an outstanding force comprised of excellent horsemen. On several occasions, Stuart embarrassed the Union cavalry with his daring exploits. During the Peninsular Campaign of 1862, Stuart rode around the entire 100,000-man Union army in four days. Later that year, he made a daring raid to Chambersburg, Pennsylvania, and returned unmolested to Virginia after inflicting significant damage and capturing tons of supplies. In February 1863, a raid by General Fitzhugh Lee (son of Confederate commander Robert E. Lee) left the Federals running in circles in search of the enemy force. Now, General Joseph Hooker assumed command of the Federal Army of the Potomac. He sought to bring an end to the Confederate raids by stopping Stuart's cavalry. Hooker assigned General William Averell to attack the Rebel cavalry near Culpeper Court House. Averall assembled 3,000 men for the mission, but he left 900 behind to protect against a rumored Confederate presence near Catlett's Station. Averell led the rest of his men towards Kelly's Ford, a crossing of the Rappahannock River east of Culpeper Court House. Fitzhugh Lee learned of the advance and positioned his cavalry brigade, which was part of Stuart's corps, to block the ford and dig rifle pits above the river. On the morning of March 17, Averell's men reached Kelly's Ford and were welcomed by fire from 60 Confederate sharpshooters. It took four attacks for Averell's men to capture the rifle pits and by noon the entire force was across the Rappahannock. Now, Fitzhugh Lee arrived with 800 troopers and two pieces of artillery. As the Confederates approached, the cautious Averell ordered his men to form a defensive line, thus giving the initiative to the Confederates. Lee arrived and ordered his men to attack, but Yankee fire drove them back. He attacked again and was again repulsed. Averell had a chance to score a major rout with a counterattack, but he instead withdrew across the Rappahannock River. He later said that the arrival of Stuart on the battlefield signaled the possible approach of additional Confederate cavalry. Averell lost 78 men killed, wounded, and captured during the day's fighting. The Confederates lost a total of 133 men. Among the Rebel dead was Major John Pelham, perhaps the best artillery officer in the Confederate army. He happened to be visiting Stuart when the battle began, and he rode forward to see the action. Pelham was mortally wounded by a shell splinter as he observed the Confederate attacks in the afternoon. Although Kelly's Ford was a Union defeat, it signaled a new phase of the cavalry war in the east. The Yankees were closing the gap with the Confederate horsemen. In the next four months, the Union cavalry fought their Confederate counterparts to a standstill at Brandy Station, and then scored a major victory at the Battle of Gettysburg.
1870- Massachusetts legislature authorizes incorporation of Wellesley Female Seminary
http://www.wellesley.edu/PublicAffairs/Media/facts.html
1876 --The Battle of Powder River--In the first of a series of battles over the Black Hills, Colonel Joseph Reynolds leads troops in an attack on a peaceful camp of Northern Cheyenne and Oglala Sioux near the Powder River. From positions on ledges and behind rocks, the Indians hold the soldiers at bay until women and children can escape across the river. Then the soldiers burn the tepees and everything inside, including the winter food supply, and drive away all the Indians' ponies.


After dark, however, the Indians raid the Army encampment and recover their stolen horses. This lead to a court martial of Colonel Reynolds. The fighting near the Powder River culminates at the Little Big Horn and the ultimate destruction of freedom for the northern plains Indians.—
=========Gilded Age=========
1892 - A winter storm in southwestern and central Tennessee produced 26 inches of snow at Riddleton, and 18.5 inches at Memphis. It was the deepest snow of record for those areas.
1894- Novelist and playwright Paul Green is born.  He won the 1927 Pulitzer Prize for his play "In Abraham's Bosom." Although Green was white, his work examined the problems of blacks in the South, based on his observations of his native state, North Carolina. Born in 1894, Green studied at the University of North Carolina at Chapel Hill. He began writing plays for the theater group Carolina Playmakers in 1919, drawing on Southern folklore for his themes. During the Depression, his work took on a tone of social protest and included plays like Hymn to the Rising Sun (1936), about a chain gang. In 1941, he worked with novelist Richard Wright to dramatize Wright's book Native Son. Interested in the interplay of words and music, he wrote a series of symphonic dramas, including The Stephen Foster Story (1959) and The Lone Star (1977). He died in Chapel Hill in 1981.
http://www.ncwriters.org/pgreen.htm
http://www.qbsaul.demon.co.uk/
1886-First Issue of "The Sporting News", published in St. Louis at a price of two cents per copy. The Sporting News, long known as "The Bible of Baseball" and a multi-sport magazine since 1942,is the oldest continuously published sports publication in the country.
1897 - For the first time, motion pictures were shot of a championship prize fight, as 'Sunny' Bob Fitzsimmons knocked out 'Gentleman' Jim Corbett to win the world heavyweight title.
1897 -Emilie Grace Briggs became the first woman in America to graduate from a Presbyterian theological school, when she received her Bachelor of Divinity degree from Union Theological Seminary, in New York City.
http://www.uts.columbia.edu/projects/AWTS/exhibit/briggs1.html
http://www.uts.columbia.edu/projects/AWTS/exhibit/briggs5.html
1902-Golfer Bobby Jones birthday ( Robert Tyre Jones, Jr., first golfer to win the grand slam ( the four major British and American tournaments in one years), Born at Atlanta, GA, he died there December 18,1971.
1903- Radie Britain, composer, writer, teacher born near Amarillo, TX, won more than 50 national and international awards for her more than 150 classical compositions, trained at the American Conservatory in piano, organ, and composition, with advanced work and master classes in Germany. She taught at the Chicago Conservatory. Her daughter Lerae taught anthropology in Hawaii.
http://www.musicweb.uk.net/classrev/2001/June01/Radie.htm
http://www.music.indiana.edu/collections/britain/symph.html
http://orion-1.library.ucla.edu/web2/tramp2.exe/do_ccl_search/guest?
SETTING_KEY=Englishandservers=1uclaandquery=07-ARE-3971andindex=dbcn
http://findaid.oac.cdlib.org/findaid/ark:/13030/ft5d5nb0k4
1906 - In a speech given to the Gridiron Club in Washington, DC, President Theodore Roosevelt coined the word 'muckrake'.
http://staff.killingly.k12.ct.us/~cmarcotte/CP%20US%20documents/progressive
%20era/progressivism_and_the_republican.htm
1906-the temperature at Snake River, Wyoming dipped to 50 degrees below zero -- a record for the US for the month of March.
=========World War I --pre and post=========
1910 - Luther and Charlotte Gulick founded the Camp Fire Girls organization at Lake Sebago, Maine. The group's catch phrase is "Wohelo", an acronym of the words: WOrk, HEalth and LOve. It continues today, though the name has been changed to Camp Fire Boys and Girls, when boys began being accepted into the organization. http://www.campfire.org/start.asp
1917 - In St. Louis, Missouri, America's first bowling tournament for women began with almost 100 women participating in the event.
1919-pianist Leroy Lovett piano born Philadelphia PA
1919 –Singer/Pianist Nat "King" Cole Birthday
http://www.geocities.com/BourbonStreet/Bayou/3168/nkcbio.html
http://www.tip.net.au/~bnoble/natkcole/nat_cole.htm
1926 - In New York City, the musical "The Girl Friend" for a run of 409 performances.
http://home.istar.ca/~townsend/early_years/blue_room.htm
1930-Composer/flutist Paul Horn born, New York, New York.
http://www.harmonies.com/biographies/horn.htm
http://www.canyonrecords.com/arthorn.htm
1930- trombone player Grover Mitchell born Whatley AL, now directs the
Count Basie Band.
http://www.trombone.org/articles/library/grovermitchell-int.asp
http://members.tripod.com/~isaziz/mitch.htm
http://www.mamajazz.org/pages/biobasie.html
=========FDR=========
1938-guitarist Eddie Giles born Shreveport, LA
http://perso.wanadoo.fr/stax.site/egiles.htm
1939- Dean Mathis of the 1960's rock group the Newbeats, was born in Hahira, Georgia. Dean and his brother, Mark, along with Larry Henley, formed the trio in 1964. The Newbeats first record, "Bread and Butter," went to number two on the Billboard Hot 100 in 1964 and was the biggest of their half dozen hits.
http://www.bartsnel.nl/music/newbeats.htm
http://www.centrohd.com/biogra/n1/newbeats_this_distinctive_pop_tr.htm
http://donnymason.tripod.com/hayridesunshineshow/
1940- Vito Picone, lead singer with the Elegants, was born in Staten Island, New York. The Elegants took their recording of "Little Star" to number one on the Billboard chart in 1958.
http://www.doowop.de/reviews/review.asp?id=77
http://www.the-accelerators.co.uk/elegants.html
http://www.northendboston.com/dellacavafeast.html
http://www.bxtimes.com/News/2002/0411/Boroughwide_News/040.html
1941 - In Washington, D.C., the National Gallery of Art
was officially opened by United States President Franklin D. Roosevelt.
http://www.nga.gov/
1941 - Paul Kantner  born San Francisco, CA.(musician: guitar: groups: Jefferson Airplane: Somebody to Love, White Rabbit, LP: Crown, Wooden Ships; Starship: LPs: Dragonfly, Red Octopus, Spitfire, Earth; KBC Band; solo LP: Blows Against the Empire, Planet Earth Rock and Roll Orchestra)
http://www.warr.org/jefferson.html
http://www.airplane.freeserve.co.uk/paul.htm
http://www.geocities.com/dan_paolino/JSTpaul.html
http://www.chesapeake.net/~paolino/trionic/chaos.html
1944- singer and songwriter John Sebastien, founder of the Lovin' Spoonful, was born in New York. Sebastien formed the Spoonful in 1964, and they had seven successive top-ten singles in 1965 and '66. The Lovin' Spoonful hit number one with "Summer in the City." After the group broke up at the end of the '60s, Sebastien began a moderately successful solo career in 1970 with an appearance at Woodstock. In 1976, he had a number-one record with "Welcome Back," the theme from the TV show "Welcome Back, Kotter."
http://www.johnbsebastian.com/bio.html
=========Post World War II=========
1948---Top Hits
Now is the Hour - Bing Crosby
I'm Looking Over a Four Leaf Clover - The Art Moonie Orchestra
Beg Your Pardon - Francis Craig
I'll Hold You in My Heart (Till I Can Hold You in My Arms) - Eddy Arnold
=========1950's=========
1956-"St. Patrick's big snow" fell at Boston, Massachusetts. Nearby Blue Hill observatory recorded 12.6 inches.
1956---Top Hits
Lisbon Antigua - Nelson Riddle
Why Do Fools Fall in Love - Frankie Lymon and The Teenagers
Hot Diggity (Dog Ziggity Boom) - Perry Como
Heartbreak Hotel - Elvis Presley
=========1960's=========
1962-The Shirelles' "Soldier Boy" is released on Sceptor Records. The tune become the girl group's biggest hit, climbing to Number One, selling over a million copies and earning a gold record
1963 - The Boston Celtics' Bob Cousey, played his last regular season basketball game after spending 13 years in the National Basketball Association.
http://www.webcom.com/collectr/bk/couseyb.html
1964---Top Hits
I Want to Hold Your Hand - The Beatles
She Loves You - The Beatles
Please Please Me - The Beatles
Saginaw, Michigan - Lefty Frizzell
1967 - "Peanuts" comic strip characters, Snoopy and Charlie Brown, were on the cover of "LIFE" magazine.
http://www.life.com/Life/covers/1967/cv031767.html
1969- Cardinal first baseman Orlando Cepeda is traded to the Braves for catcher/first baseman Joe Torre.
=========1970's=========
1970 - Eddie Holman was awarded a gold record for the single, "Hey There Lonely Girl", which was originally a hit for Ruby and the Romantics titled, "Hey There Lonely Boy" in the 1960s. While singing this song, dedicated to his daughter, Holman died on stage at a New Jersey performance in the mid-1970s.
http://discomuseum.com/EddieHolman.html
http://www.allbutforgottenoldies.net/eddie-holman.html
1972---Top Hits
Without You - Nilsson
Heart of Gold - Neil Young
The Lion Sleeps Tonight - Robert John
My Hang-Up is You - Freddie Hart
1978 - American Hot Wax, a film based on the story of Cleveland disc jockey Alan Freed, who introduced rock'n'roll to teenage American radio audiences in the 1950's, opened in United States theaters. The film featured a young Fran Drescher as Sheryl and Jay Leno as Mookie in one of their early film roles.
=========1980's=========
1980---Top Hits
Crazy Little Thing Called Love - Queen
Longer - Dan Fogelberg
Another Brick in the Wall - Pink Floyd
My Heroes Have Always Been Cowboys - Willie Nelson
1985 -a strong (F3) tornado tore through Venice, Florida during the early morning hours. 55 homes were destroyed and 220 were damaged. 2 people were killed and 45 were injured.
1988---Top Hits
Never Gonna Give You Up - Rick Astley
I Get Weak - Belinda Carlisle
Man in the Mirror - Michael Jackson
Too Gone Too Long - Randy Travis
=========1990's=========
1990 - Showers and thunderstorms associated with a slow moving cold front produced torrential rains across parts of the southeastern U.S. over a two day period. Flooding claimed the lives of at least 22 persons, including thirteen in Alabama. Up to 16 inches of rain deluged southern Alabama, with 10.63 inches reported at Mobile AL in 24 hours. The town of Elba AL was flooded with 6 to 12 feet of water causing more than 25 million dollars damage, and total flood damage across Alabama exceeded 100 million dollars. Twenty-six counties in the state were declared disaster areas.
1990- Carly Simon, Whitney Houston, Air Supply, Dionne Warwick and Milli Vanilli were among those who turned out in New York for a benefit billed as the single largest fund-raising event for AIDS. About two million dollars was raised. The concert was sponsored by Arista Records, which was celebrating its 15th anniversary.
1995-Chicken Pox vaccine was approved for public use.  Marketed by Merck and Company, Whitehouse Station, JN, under the trade name Variva, the vaccine was believed to be 70 to 90 percent effective.
1997- the Recording Industry Association of America announced that the Eagles "Greatest Hits" album had tied Michael Jackson's "Thriller" as the all-time best-selling album in the US. Each had sold more than 24 million copies. "Thriller" was still the top-seller worldwide, with estimated sales of 46 million copies.
http://www.rockhall.com/hof/inductee.asp?id=96
1998- USA Women's Hockey Team beats Canada for 1st Olympics Gold medal
http://www.jwen.com/hock/whock/whock.html
1998-Van Halen releases their latest album, "Van Halen 3," which is their first album with new lead singer Gary Cherone. That night they hold a record signing for fans at the Virgin Megastore in Times Square.