Operations Manager
Minneapolis,MN
Coordinates lease process from inception through pay off. 3+ years proven leasing account management exper.
For more info, click here

Friday, September 15, 2006
In commemoration of the terrorist attacks on the United States on September 11, 2001.
Headlines---
Classified Ads—Other sites
2006 ELA Survey—An Overview
CIT Small Business Outlook
Selling Up—by Steve Chriest
"A Sure Fire Winner"
EAEL/NAELB Joint Conf. Monday
Classified Ads--- Help Wanted
Placard—Everyone Brings Joy
New Leasing firm in Africa
Woody Prothero/Main Street Bank
Greenbrier/Rail Car America
Willis Lease Finance names COO
News Briefs---
You May have Missed---
Sports Briefs---
"Gimme that Wine"
Calendar Events
Snapple Real Facts
Today's Top Event in History
This Day in American History
Baseball Poem
######## surrounding the article denotes it is a "press release"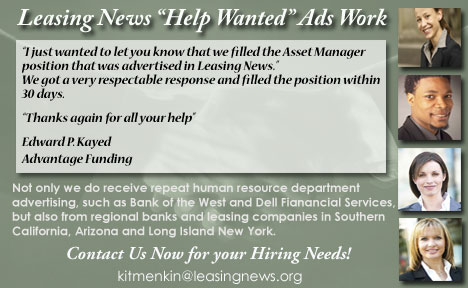 --------------------------------------------------------------------
--------------------------------------------------------------------

Classified Ads—Other sites
Mountain Dome Winery is located on 85 acres of land in the foothills of Mount Spokane only 30 minutes from downtown Spokane, Washington
"Our new press arrived from Germany this week. It is three times larger than our first press and very gentle on grapes."
This is primarily directed at those who are looking for a position, perhaps even wanting to move up or are not happy where they are today.
In addition to these sites, we recommend also going to our various lists, specifically "Funders" and "Captive Lessors." Their web site is located in the listing and therefore you have access to their "human resource" page. Many of those listed have multiply offices, or are opening up a new office, and you may find a position you would like to apply for.
http://www.leasingnews.org/Funders_Only/Funders.htm
http://www.leasingnews.org/Funders_Only/Funders_B.htm
http://www.leasingnews.org/Captive/Captive_lessors.htm
Remember, looking for a job is a big job in itself. Also go on an interview or interviews. Practice as if you are an actor learning their lines. Many of us need a lot of practice in presenting what we have accomplished or want to accomplish. Don't hesitate or make up your mind about a position until you participate in an interview. The Human Resource person must have seen something in your resume or application; while you are "selling them," let them also "sell you" on the position open.
This advice applies all the way up to senior management.
Here are other web sites that list specific positions, and some will let you put your resume on line for free.
Other e-Mail Posting Sites:
www.adams-inc.com
www.affinitysearch.com
www.bajobs.com
www.BayJobs.com
www.careerbank.com
www.careerpath.com
www.craigslist.org (available in many cities now, use scroll feature)
www.elaonline.com
www.goldenparachute.com
www.Headhunter.net
www.hotjobs.com
www.jobs.net
www.jobsearchusa.org
www.JobSpin.com
www.jobsinthemoney.com
www.lessors.com
www.MarketingJobs.com
www.monitordaily.com
www.monster.com
www.monstertrak.monster.com/
www.Postonce.com
www.RecruiterConnection.com
www.resumeblaster.com
www.vault.com
www.vetjobs.com
www.worktree.com
For a full listing of all "job wanted" ads, please go to:
http://64.125.68.91/AL/LeasingNews/JobPostings.htm
To place a free "job wanted" ad, please go to:
http://64.125.68.91/AL/LeasingNews/PostingForm.asp
----------------------------------------------------------------

THE ELA 2006 SURVEY OF INDUSTRY ACTIVITY: AN OVERVIEW
The Equipment Leasing Association's (ELA) 2006 Survey of Industry Activity provides key statistical, financial and operations information on equipment leasing and finance organizations as reported for FY 2005. The findings summarized here have significance for the industry, the business community and the economy at large. Survey respondents report a record annual volume increase, depicting a positive outlook for U.S. businesses as they continue to invest in capital equipment.
ELA Chairman Paul A. Larkin
"The robust performance of the equipment leasing and finance sector is mirroring the optimism of U.S. business," said ELA Chairman Paul A. Larkins, and President and CEO of Key Equipment Finance. "Growth trends show U.S. companies are expecting to expand through (at least) 2007. The surge in annual originations indicates businesses are engaged and preparing for this continued growth."
ELA President Kenneth E. Bentsen, Jr.
ELA President Kenneth E. Bentsen, Jr. said, "The 2005 data would indicate that U.S. businesses remained sufficiently optimistic to expand expenditures for capital equipment over a multi-year horizon. And our research shows that trend has continued into 2006. "
The association's MLI-251, the index of 25 commercial equipment leasing and finance companies surveyed each month, indicates the 2005 growth trend has continued through the first six months of 2006.
Other key SIA findings show lease financing's performance within the commercial finance and capital formation sector:
• Performance. Leasing and finance organizations report average charge-offs are 1.0 percent of the average net lease receivables balance, a healthy decrease from 1.5 percent in 2004. Charge-offs are at their lowest since 2001.
• Profitability. Pre-tax yield increased to 7.4 percent, up from 6.8 percent in 2004. At the same time, the cost of funds grew to 4.23 percent.
• Strong Credit Management. 97.9 percent of average net investment are current (less than 30 days past due) – of the total net investment, only 0.8 percent is more than 90 days past due.
Rick Wolfert, Vice Chairman, CIT, Commercial Finance, added, "Data from survey respondents provide fresh evidence that, four years into an economic recovery, there continues to be high liquidity in the marketplace, which is exerting downward pressure on margins. Thin margins typify a competitive leasing and finance marketplace. The silver lining here can be found in margin pressure being partially offset by historically low charge-offs and delinquencies."
OVERALL FINDINGS
The report shows strong equipment leasing and financing performance in the commercial finance sector.
New Business Volume. In 2005 new business volume was more than $103.7 billion, an increase of 10.3 percent overall. When assessing growth by company, more than 75% of respondents experienced positive growth in new business volume in 2005 compared to 2004.
Performance. Leasing and financing companies report average charge-offs are 1.0 percent of the average net lease receivables balance, a healthy decrease from 1.5 percent in 2004. Charge-offs are at their lowest since 2001.
Profitability . Profitability improved compared to 2004, as seen by average return on equity (ROE) of 14%. ROA, however, remained at 1.7%, steady with ROA levels of the last few years. Pre-tax yield increased to 7.4% in 2005. At the same time, the cost of funds grew more sharply to 4.23%; Pre-tax spreads were compressed (average of 3.17%).
Strong Credit Management. 97.9 percent of average net investment are current (less than 30 days past due) – of the total net investment, only 0.8 percent is more than 90 days past due.
INDUSTRY GAINS AND DECREASES
From the equipment perspective, volume in air transportation, health services, materials handling, and transportation as a whole increased. Key findings include:
Corporate aircraft having the largest gain as survey respondents reported 9.4% of total volume was comprised of this asset type in 2005. This is significantly up from 2004 (2.4%).
Rail was up to 3.6% in 2005 compared to 1.6% the year before.
Trucks & Trailers rose from 9.9% in 2004 to 10.5% in 2005.
Agriculture increased in 2005 to 6.1% from 5.9% in the previous year.
The greatest decreases in volume were in construction equipment (7.9% in 2005 compared to 9.8% in 2004) and commercial aircraft (1.1% in 2005 compared to 4.7% in 2004).
NEW BUSINESS VOLUME FINDINGS BY CATEGORY
Organization Type. There was year over year new business volume growth for each organization type.
Bank volume grew 11.5%, Captive organizations by 10.3%, and Independent/Financial Services organizations 8.4%. ( See following chart )
Organization Size. While the market is still dominated by large companies (83.5% of total volume was from companies with over $1 billion in annual volume and 59% of volume was in the middle and large ticket segments), strong growth was enjoyed by companies with between $250 million to $1 billion in new business volume annually.
Market Segment. The biggest gains from an equipment perspective were rail and aircraft leasing which is reflected in the increase in large-ticket leasing. Large-ticket leasing had an increase of 21.2% after last year's decline of 16.4%.
OPERATIONS PERFORMANCE FINDINGS
The total number of applications submitted is 1,475,129, and the total dollars submitted is $117.6 billion. On average, 70.6% of the dollars submitted are approved and 50% of the dollars submitted are funded or brokered.
• The total number of small ticket applications submitted was 623,851 and total dollars submitted was $21.3 billion. On average, 61.2% of those dollars were approved and 43.8% of them were funded or brokered.
• 53% of original lessees purchased equipment at the end of the initial lease term—the most widely used remarketing method to dispose of equipment.
• Each full-time equivalent employee (FTE) managed on average $8.7 million in net earning assets. Banks and Captives managed a similar amount of assets per FTE, $10.6 million and $8.1 million respectively, while Independents managed the least with $6.8 million. Large ticket organizations managed $14.7 million per FTE while micro ticket only handles $0.7 million.
New Business Volume by Equipment Type – Percentage of Total Annual Volume
The following chart shows the percentage of each type of equipment held in survey respondents' total equipment portfolios. New business volume in 2005 was more than $103.7 billion. This is an increase of 10.3 percent over the 2004 annual volume of $94 billion conducted by the same 130 members who provided year-over-year data.
*Other includes uncategorized or miscellaneous such as consumer goods and food processing industry.
New Business Volume by End-User Industry – Percentage of Total Annual Volume
The following chart of new business volume by end-user industry indicates the percentage of total annual volume of the surveyed organizations' equipment portfolios. Corporate aircraft and rail had the largest increases.
*Other Services (Excluding Health Services) include such services as hospitality, educational services, data processing services, etc.
**Other includes miscellaneous and uncategorized.
Note: Trend data is provided only for respondents who reported both years of data.
About the Survey of Industry Activity
The ELA 2006 Survey of Industry Activity results were compiled from surveys sent to ELA members, of which 125 companies submitted data for the survey. Three companies submitted surveys on behalf of different business units, bringing the total number of surveys used in compiling the results to 133. And, all of the largest 10 U.S. leasing and finance organizations that are members of ELA participated in the Survey. PricewaterhouseCoopers LLP managed the 2006 Survey for the ELA, ensuring confidentiality, integrity and quality of the submitted data and results.
About the ELA
Organized in 1961, the Equipment Leasing Association (ELA) is the premier non-profit association representing companies involved in the dynamic equipment leasing and finance industry to the business community, government and media. As the voice of the leasing industry, ELA promotes the forecasted $220 billion industry as a major source of funds for capital investment in the United States and abroad. For more information on ELA, please visit www.ELAOnline.com .
The full report itself is available at: http://www.elaonline.com./store/ProductDetail.cfm?product_code=RSIA06
Member: $495.00
Non-Member: $695.00
For more information, please contact:
Suzanne Henry or Diane Johnson
shenry@elamail.com
djohnson@elamail.com
• 703-391-2056
### Press Release ###########################

CIT Small Business Outlook Reports U.S. Small Businesses
Expect Continued Growth Despite Weakening U.S. Economy
85% Expect an Increase in 2006 Gross Annual Sales
NEW YORK, -- CIT Small Business Lending Corporation, the nation's #1 provider of Small Business Administration
(SBA) 7(a) loans, and BusinessWeek Research Services announced yesterday the results of the fifth annual CIT Small Business Outlook. The results found that, despite a softening of the U.S. economy, small business owners remain optimistic about the continued success of their businesses and expect to invest more to support this growth in 2007.
"The results of CIT's Small Business Outlook indicate that many small business owners will continue to invest in their businesses throughout 2007," said Chris Reilly, president of CIT Small Business Lending Corporation. "Many will increase their spending to purchase or lease new real estate and upgrade their technology infrastructures to improve operating efficiencies and foster growth. This is good news for the future economic outlook of our country as small businesses remain the backbone of our economy."
The national survey collected responses from a sample of 578 small businesses nationwide with fewer than 100 employees and revenues of $15 million or less. Study participants were sampled among more than 40 different businesses and industries, including consulting services, information technology, healthcare, publishing, financial services, real estate, manufacturing, and construction. CIT Small Business Lending Corporation is a unit of CIT Group Inc. (NYSE: CIT), a leading global provider of commercial and consumer finance solutions. The complete results can be found at http://www.CIT.com and will be featured in the fall 2006 issue of BusinessWeek SmallBiz.
Among the significant highlights from the survey were:
-- 85% of small businesses expect their 2006 gross annual sales to be higher than their 2005 revenue,
-- 75% believe this is a good time for companies to invest in their organizations,
-- 72% expect that increased overall revenue in the second half of 2006 will be driven by new accounts and customers,
-- 57% expect to increase revenue by doing more business with existing customers,
-- 50% expect to increase revenue by expanding into new markets or customer segments,
-- 52% of small business owners plan on raising/borrowing capital for strategic or tactical reasons, and,
• 51% are confident about the future of the U.S. economy.
Technology remains critically important to small business owners with 56% indicating they would spend more on technology (independent of other spending), while 44% indicated they would spend more on sales. Other significant findings include:
-- 40% expect to move from their current location within the next 24 months,
-- Of those who plan to move, 58% plan to lease new office space while 23% plan to purchase new space, and,
-- 22% expect to spend more money on real estate this year than last year.
About CIT Small Business Lending Corporation
CIT Small Business Lending Corporation has been the nation's #1 SBA 7(a) lender for the last six consecutive years. Designated as a "Preferred Lender" by the SBA due to its strong historical record, CIT Small Business Lending Corporation offers loans to finance business acquisitions, owner-occupied real estate purchases, franchises, and medical and professional practice start-ups.
http://www.smallbizlending.com
About CIT
CIT Group Inc. (NYSE: CIT), a leading commercial and consumer finance company, provides clients with financing and leasing products and advisory services. Founded in 1908, CIT has $68 billion in managed assets and possesses the financial resources, industry expertise and product knowledge to serve the needs of clients across approximately 30 industries worldwide.
CIT, a Fortune 500 company and a member of the S&P 500 Index, holds leading positions in vendor financing, factoring, equipment and transportation financing, Small Business Administration loans, and asset-based lending. With its global headquarters in New York City, CIT has more than 7,000 employees in locations throughout North America, Europe, Latin America, and Asia. http://www.CIT.com .
About BusinessWeek Research Services
BusinessWeek Research Services is the custom marketing research division of BusinessWeek with more than 50 years of combined experience. This group of research experts regularly conducts primary research studies for established companies including technology and financial clients as well as leading agencies.
### Press Release ###########################

by Steve Chriest
"A Sure Fire Winner"
As a sales professional, there is at least one sure-fire way to increase your value to your company and to any organization – learn to read and understand financial statements.
Jessica Byrnes wrote to CFO magazine recently and said "There is not a single person working is a U.S. public company…who should not be able to read and understand a financial statement. While this may be true, another reader, Dave Kosek, wrote that Ms. Byrnes was "…out of touch with reality." He continued, "I would bet that more than half of the people in management of our U.S. public companies cannot read or understand a financial statement, not to mention the people who actually do the work!"
An outsider might think that surely everyone in the equipment finance business would know all about financial statements, but that doesn't seem to be true. I am told, in fact, that a great many salespeople in the finance industry don't know much, if anything, about financial statements.
I think most managers would agree that many equipment finance salespeople don't need to become experts in reading financial statements. Unless a salesperson is coincidentally involved in structuring transactions that requires expertise in financial analysis, it may not be necessary to become an expert in analyzing financials, but understanding the basics of financial statements can't hurt professionally, and can help salespeople personally.
In keeping with my perspective that people change behaviors only when they perceive something beneficial in it for them to do so, here is my short list of the benefits to leasing salespeople of learning to read and understand financial statements:
- The ability to read and understand financial statements will make you appear smarter.
- You will build credibility in your organization with your managers, credit analysts and senior managers.
- You will build credibility with your customers as you demonstrate through analysis that you truly understand their business.
- You will save yourself gobs of time as you learn to pass on deals that you know will waste the time of credit analysts and will lead to frustration for everyone.
- You will gain confidence and independence when making personal investment decisions.
From a selfish perspective, assisting credit analysts with an educated point of view on a deal, or saving them time by discarding deals that don't make the grade from a financial analysis perspective, will naturally position you in the eyes of the credit analysts as a professional who cares about their time and workload. Don't be surprised when most analysts are willing to listen to you when you want to present a deal that doesn't quite fit the credit box, but may deserve consideration based on other criteria.
Finally, achieving some level of expertise in understanding financial statements can actually be fun. When you understand that all businesses, sooner or later, suffer from commoditization and become white elephants, that "profit" isn't the end-game of business, but is instead the ultimate cost of staying in business, and that without profits, and real free cash flow, a company is unable to continue the investments it must make to stay competitive, you begin to look at a company's financials with a different perspective. You may even come up with an idea no one else has thought of for keeping a business profitable or helping a business out of trouble.
If you are truly looking for a way to become a more valuable resource to your company, and to your customers, learn about financial statements. There are more resources than ever to help you learn, and you will profit professionally and personally!
Copyright © 2006 Selling Up TM . All Rights Reserved.
About the author: Steve Chriest is the founder of Selling Up TM (www.selling-up.com), a sales consulting firm specializing in sales improvement for organizations of all types and sizes in a variety of industries. He is the author of Selling Up , The Proven System For Reaching and Selling Senior Executives , and Five Minute Financial Analyst , an online workshop teaching basic financial analysis. You can reach Steve at schriest@selling-up.com .
----------------------------------------------------------------

EAEL/NAELB Joint Conference Monday
Leasing News's Steve Chriest will be in the conference discussion regarding:
"Hiring, Training, and Retaining Superior Sales Professionals in Today's Competitive Market"
EAEL and NAELB
Partner Once Again to
Present
EXPO 2006

(September 18th - Teaneck NJ)

Members from both EAEL and NAELB have come together to develop an excellent agenda for this year's EXPO. Every Leasing Professional should plan to attend this exciting event. The theme this year is "INNOVATIVE IDEAS" and the goal of the event is to bring knowledgeable leasing professional together to share and expand their leasing knowledge. The agenda includes but is not exclusive of:

Key Note Speakers: Christine Todd Whitman- 50th governor of NJ.

and past Environmental Protection Agency Administrator

Jonathan and David Murray- regular guests on

The Today Show and CNBC Morning Call where they

discuss current economic conditions and investment themes and

wealth management strategies.

Interactive Forum: "Hiring, Training, and Retaining Superior Sales Professionals in Today's Competitive Market"

CLP Introduction Class: The CLP Foundation is offering an "Introduction Class to CLP" on Sunday Sept 17th

For more information and a registration form visit:

For more information and a registration form visit:

http://www.eael.org/doc/SeptemberMeetingBrochure.pdf or contact Alison at the EAEL Office at (212) 209-1602 or Scott Wheeler- EXPO Chairman at (800) 365-6566.
----------------------------------------------------------------

Classified Ads---Help Wanted
Office Administrator

Office Administrator
Deerfield, Illinois
Proficient in Microsoft Office, 2 years admin. minimum report directly to Director of Operations. To learn more, please click here.

Operations Manager


Operations Manager
Minneapolis,MN
Coordinates lease process from inception through pay off. 3+ years proven leasing account management exper.
For more info, click here

Sales


3 Regional Sales Opportunities
NY/NJ; Dallas & Atlanta/Nashville
Manage existing accounts and develop relationships. Min. Req. 3 years equip. leasing sales or strong leasing operations experience. For more information, click here:

----------------------------------------------------------------

----------------------------------------------------------------

New Leasing firm in Africa
Doha Time Business Reporter
Doha, Quatar: The National Leasing Company (NLCS) is gearing up to set up a wholly-owned equipment and machinery subsidiary with a seed capital of QR20mn.
In a communiqué sent to the Doha Securities Market, NLCS said its board of directors had met on Monday where it approved establishing a 'National Heavy Equipment and Machinery' company, which will be fully-owned by it.
The board also decided on appointing acting general manager for the new subsidiary with effect from October.
However, the communiqué did not give any details on what will be the mandate of the new subsidiary or when it will start operations.
NLCS gained a substantial 5.35% to close QR25.6 yesterday on trading volume of 299,404 shares.
The company, which reported over 6% growth in profits at QR12.92mn in the first half of this year, recently upped its capital base by 70% to QR176.4mn.
NLCS's total assets expanded 94% to QR505.54mn in the first six months of this financial year mainly due to surge in the cash and balances with banks.
### Press Release ###########################

Woody Prothero Joins Main Street Bank
KINGWOOD, TEXAS, – Main Street Bank, Kingwood, Texas, announced the appointment of Woody Prothero as Business Development Manager of the Franchise Division. He will be focusing on developing and building program relationships with franchisors in the restaurant industry, as well as originating business activity directly with franchisees.
Prothero has over 26 years of experience in the equipment leasing and franchise industry. He has served in business development and management positions with Pepper Financial and Wells Fargo Financial Leasing.
Rick Barry, General Manager of the Franchise Division, stated "the addition of Woody to our team is a further indication of the increased dedication of Main Street Bank to the restaurant segment of the franchise industry".
Main Street Bank provides financial services tailored to the capital needs of vertical market segments nationwide. The Franchise Division specializes in providing the franchise industry with creative financing solutions for furniture, fixture, equipment and leasehold improvements, as well as re-imaging and remodeling initiatives.
Main Street Bank, established in 1984, maintains retail-banking offices in the Houston, Texas market and is a national leader in commercial equipment lease financing.
Woody can be contacted for more information on the product offerings and services of the Franchise Division at wprothero@msnbank.com.
### Press Release ###########################

Greenbrier Purchases Assets of Rail Car America
Acquisition Strengthens Greenbrier's Leadership in Intermodal, Railcar Repair, Refurbishment and Replacement Parts
LAKE OSWEGO, Ore., -- The Greenbrier
Companies (NYSE: GBX) announced that on September 11, 2006, it purchased substantially all of the operating assets of Rail Car America, Inc. (RCA), its American Hydraulics division, and its wholly-owned subsidiary, Brandon Corp. RCA is a leading provider of intermodal and conventional railcar repair services in North America, operating from four repair facilities throughout the U.S. RCA also reconditions and repairs end-of-railcar cushioning units through its American Hydraulics (AH) division, and operates a switching railroad in Nebraska through Brandon Corp. The purchase price of the acquisition is approximately $34 million in cash.
RCA currently generates nearly $40 million in annual revenues with a workforce approaching 400 people. The acquisition is expected to be immediately accretive to Greenbrier's fiscal 2007 earnings by approximately $ 0.10 to $ 0.15 per diluted share, on an anticipated EBITDA of $6 to $7 million.
William A. Furman, president and chief executive officer, said, "We continue to execute on our stated strategy to grow each of Greenbrier's business units in a balanced fashion, organically and through acquisition. We have an active growth plan for new railcar and marine manufacturing; railcar repair, refurbishment and replacement parts; and railcar leasing and services. The RCA acquisition will further leverage synergies across the Company's integrated business units, enhance our intermodal leadership position, and expand the geographic reach of our repair network."
Furman also noted, "Demand for railcar repair and refurbishment is accelerating as the railcar fleet continues to age, and robust equipment utilization and traffic loadings put additional stress on railcars. These factors provide strong prospects for future growth in this part of our business. In addition, AH is one of only two companies in North America that repairs and reconditions end-of-car cushioning units used in boxcars and a variety of flatcars."
Furman added, "Management at Greenbrier and RCA subscribe to similar values in conducting business. These core values include maintaining the highest standards for quality, reliability and on time delivery, and respect for the value of our employees and customers. In the past, Greenbrier has worked closely with RCA and knows the company well. Many in the industry, including Greenbrier, consider RCA to be a leading provider of freight car repair services. RCA has received the TTX Excellent Supplier Award 4 out of the last 5 years, and Greenbrier has received the award for 15 consecutive years. We anticipate a smooth integration of this acquisition."
Tim Stuckey, president of Greenbrier's Rail Services (GRS) unit, noted, "Post acquisition, Rail Services' railcar repair, refurbishment and replacement parts business will generate about $160 million in annual revenues. With 23 repair and wheel shop locations, GRS will operate one of the largest shop networks in North America. Railroading is a network business. This expanded geographic coverage will meet customer requirements to work with fewer suppliers and provide seamless, high-quality service, with close proximity to a shop network, and quick turn-around times. The acquisition also complements other recent initiatives in the parts business, including our Ohio Castings joint venture and an acquisition from YSD Industries, which produce railcar side-frames and bolsters, and boxcar door and roof products, respectively."
Furman concluded, "Greenbrier's balance sheet and liquidity position remain strong. Over the past year, we have made substantial progress in building upon our integrated business model, which balances our core railcar manufacturing business with our less cyclical marine, railcar repair, refurbishment and parts, and our higher margin railcar leasing and services businesses. Including RCA, we have made about $60 million in manufacturing investments over the past 12 months for the acquisition of additional railcar repair facilities, the expansion of our marine facility, acquisitions in the railcar parts business, new railcar product line expansion and various manufacturing efficiencies. Over $100 million of capital has also been deployed into our owned lease fleet. We remain focused on allocating additional capital toward strategic growth opportunities in each of our business units in the coming quarters."
The Greenbrier Companies ( http://www.gbrx.com ), headquartered in Lake Oswego, OR, is a leading supplier of transportation equipment and services to the railroad industry. The Company builds new railroad freight cars in its manufacturing facilities in the U.S., Canada, and Mexico and marine barges at its U.S. facility. It also repairs and refurbishes freight cars and provides wheels and railcar parts at 23 locations across North America. Greenbrier builds new railroad freight cars and refurbishes freight cars for the European market through both its operations in Poland and various subcontractor facilities throughout Europe. Greenbrier owns approximately 9,000 railcars, and performs management services for approximately 135,000 railcars.
### Press Release ###########################

Willis Lease Finance names COO
SAUSALITO, Calif. (AFX) - Willis Lease Finance Corp., which leases spare aircraft engines to commercial airlines, air cargo carriers and other organizations, on Wednesday said it named Lee G. Beaumont as chief operating officer.
Beaumont, 48, had served as executive vice president of strategy and business development.
He replaces Don Nunemaker, 59, who becomes general manager of leasing. Steve Oldenburg, 57, who had been senior vice president of sales and marketing, will take on the newly created post of general manager of trading.
Before joining Willis Lease Finance Corp., Beaumont was a consultant to Carlyle Group in Washington, D.C. He was also an executive at Standard Aero Ltd. for 17 years.
'As a result of our strategic planning process, we decided to make changes to our organizational structure to better prepare the company for the future. These changes play to the strengths of our senior people and optimize our ability to tap their experience and talents,' said Charles F. Willis, president and CEO.
### Press Release ###########################
--------------------------------------------------------------

News Briefs----
Lawmakers seek to loosen up banking proposal
http://www.usatoday.com/money/industries/banking/2006-09-14-commercial-usat_x.htm
IRS: Tyco still owes millions
http://www.nypost.com/business/irs__tyco_still_owes_millions_business_.htm
Rates, energy prices help boost mortgage foreclosures
http://www.stltoday.com/stltoday/business/stories.nsf/moneymarkets/story/
5C08DEF689A4E4F8862571E9000C81A2?OpenDocument
HP Scandal Investigation Expands to Massachusetts
http://www.internetnews.com/bus-news/article.php/3632091
New rules encourage battles in boardroom
http://www.siliconvalley.com/mld/siliconvalley/15517737.htm
Ford plans to offer buyouts to remaining hourly workers
http://www.signonsandiego.com/news/business/20060914-1451-fordcuts.html
Paulson admonishes China
http://www.boston.com/business/globe/articles/2006/09/14/paulson_admonishes_china/
Saudi official: 82% of crude is untapped
Oil executive says supply could power globe for 140 years
http://www.boston.com/business/globe/articles/2006/09/14/
saudi_official_82_of_crude_is_untapped/
Lehman's Hits Jackpot-longest streak of earnings gain
http://www.nypost.com/business/lehman_net_hits_jackpot_business_.htm
Immigrants turn Utah into mini-melting pot
http://www.usatoday.com/news/nation/2006-09-14-utah-cover_x.htm
McCain stands his ground on CIA jails
http://www.ft.com/cms/s/4fadbf1c-4424-11db-8965-0000779e2340.html
---------------------------------------------------------------


You May have Missed---
Russian banking watchdog assassinated
http://www.chron.com/disp/story.mpl/world/4188296.html
---------------------------------------------------------------

Sports Briefs----
Belichick vs. Mangini has a special intrigue—Ira Miller
http://www.mercurynews.com/mld/mercurynews/15520766.htm
----------------------------------------------------------------


"Gimme that Wine"
Arrowood, Byron and Freemark Abbey Wineries Sold to Kendall-Jackson and Jackson Family Wines
http://biz.yahoo.com/prnews/060913/law104.html?.v=43
Wine sales pass spirits for first time in Canada
http://www.theglobeandmail.com/servlet/story/RTGAM.20060913.wwine0913
/BNStory/National/home
Time ripe for founders to sell Ventana Vineyards
http://www.montereyherald.com/mld/montereyherald/news/local/15506604.htm
Oregon auction aims for $1m for vineyard laborers
http://www.decanter.com/news/94764.html
In California, Late crops, so-so yields and possibility of farmworker shortage has vintners on edge
http://www1.pressdemocrat.com/apps/pbcs.dll/article?AID=/20060913/
NEWS/609130305/1033/NEWS01
Grape glut crushes local growers in Northern California
http://www.contracostatimes.com/mld/cctimes/business/15516086.htm
Wine Prices by vintage
http://www.winezap.com
http://www.wine-searcher.com/
US/International Wine Events
http://www.localwineevents.com/
Winery Atlas
http://www.carterhouse.com/atlas/\
Leasing News Wine & Spirits Page
http://two.leasingnews.org/Recommendations/wnensprts.htm
The London International Vintners Exchange (Liv-ex)
is an electronic exchange for fine wine.
http://www.liv-ex.com/
----------------------------------------------------------------

Calendar Events This Day
Costa Rica: Independence Day
National holiday. Gained independence from Spain in 1821
El Salvador: Independence Day
Gained independence from Spain in 1821.
Guatemala: Independence Day
National Holiday. Gained independence from Sapain in 1821.
Honduras. Independence Day
Gained independence from Spain in 1821
Monterey Jazz Festival
September 15-17, Monterey, Ca. Celebrating it s49th year, the country's oldest continuous jazz festival features the sounds of some of the world's finest jazz musicians. www.montereyjazzfestival.org
Nicaragua: Independence Day
Gained independence form Spain in 1821.
United Kingdom: Battle of Britain Day
US Troops of the VII and V Corps reached the southwestern frontier of Germany. The war had finally moved into the third Reich's backyard.
----------------------------------------------------------------

11% of people in the world are left-handed
http://www.coolquiz.com/trivia/explain/docs/lefthand.asp
http://www.indiana.edu/~primate/left.html
http://www.nibs.com/Left-hand%20writers.htm
----------------------------------------------------------------

Today's Top Event in History
1949-"The Long Ranger" premiered on TV and we all had cowboy hats, masks, and wore two six guns as kids, as many did not have television sets and would gather in groups to watch this favorite TV show. The Long Ranger was created for a radio serial in 1933 by George W. Trendle. The famous masked man was the alter ego of John Reid, a Texas Ranger who was the only survivor of an ambush. He was nursed back to health by his Native-American friend, Tonto. Both men traveled around the West on their trusty steeds, Silver and Scout, fighting injustice. Clayton Moore played the Lone Ranger/John Reid and Jay Silverheels co-starred as Tonto. The theme music was Rossini's "William Tell Overture."---Of course, there is the favorite joke today, the short version, with the Long Ranger and Tonto surrounded by Indians, running out of ammunition, and Clayton Moore turns to Tonto, and says, "What are we going to do? " Tonto responds, "What do you mean 'we?' White Man."
----------------------------------------------------------------

This Day in American History
1752 - A great hurricane produced a tide along the South Carolina coast which nearly inundated downtown Charleston. However, just before the tide reached the city, a shift in the wind caused the water level to drop five feet in ten minutes.
1776-The Continental Army evacuates New York, as British General William Howell has captured the city. On September 22, he hanged Nathan Hale as a spy (caught returning lantern to the wrong ship for pick up from his mission, an English frigate.) Howe then went on to defeat General George Washington at Brandywine, captured Philadelphia, Pa, and he said due to the weather and insufficient troops, he camped for the winter in Philadelphia. In May 1778, Howe is replaced as British Army Commander in America by Lt. General Henry Clinton and recalled as he had thought he had won the war, but Washington re-grouped, got stronger and the troops better trained as most were originally farms fighting professional troops well armed and trained (the Continental Army in several battles actually ran out of ammunition and were forced to retreat.) In actuality Howe's reasons for not crushing the rebels were calculated and sensible. Strategically, he wanted to secure a base of operations for the winter from which he could launch a campaign in the spring. So his first priority was driving the rebels from Manhattan, in which he was wholly successful. Howe's entire strategy rested on the premise of the safe re-conquest of territory versus a single crushing victory. He theorized that as areas came under royal control again, they could be secured as loyal. The re-conquest of territory was a European military tradition, in an era when learned commanders did not strive to crush an enemy. In this respect, he was a product of his time, a very capable, but unimaginative European general. "He simply did not think in terms of annihilation. Victory would come from an accumulation of minor successes, not from a single decisive stroke."
The inevitable question from the armchair strategist is, if Washington's army could rapidly fly away, why could not Howe equally as rapidly pursue him? The reason is that Washington was not encumbered by the proverbial, and in this case actual, baggage train. As with all European armies, the British army in America was wedded to an extensive baggage train, thereby slowing the army significantly. Conversely, Howe was fighting against an enemy adept at escape and so loosely organized, that it could be broken apart and re-formed a few days later rendering it very difficult to strike a final destructive blow. Despite the few critics, the Battle of Long Island was such a great victory for the British that it was generally believed that Howe had dealt the rebels a fatal blow. Many of Howe's military colleagues were so convinced of this that they thought the rebellion would not last another year. Cornwallis wrote that, "in a short time their army will disperse and the war will be over." Lord Percy wrote to Germain, believing, "that this Business is pretty near over." Neither his top advisors, nor the General himself thought a pursuit of a defeated and disintegrating army valuable, and Howe had victoriously achieved his strategic goal with minimal loss.
http://www.americanrevolution.com/WilliamHowe.htm
http://www.earlyamerica.com/review/2001_winter_spring/howe_1.html
1789-Birthday of James Fenimore Cooper. American novelist, historian and social critic, born at Burlington, NJ, James Fenimore Cooper was one of the earliest American writers to develop a native American literary tradition. His most popular works are the five novels comprising The Leatherstocking Tales, featuring the exploits of one of the truly unique American fictional characters, Natty Bumppo. These novels, The Deerslayer, The Last of the Mohicans, The Pathfinder, The Pioneers and The Prairie, chronicle Natty Bumppo's continuing flight away from the rapid settlement of America. Other works, including The Monikins and Satanstoe, reveal him as an astute critic of American life. He died Sept 14, 1851, at Cooperstown, NY, the town founded by his father.
1830-The first national convention for blacks was held at Bethel African Methodist Episcopal Church, Philadelphia, PA. It was attended by delegates from seven states. Bishop Richard Allen presided. The convention was organized to protest the work of the American Colonization Society, which was calling for the return to Africa of free African-Americans. There was a wave of groups who wanted to return to Africa, particularly to Nigeria.
1853-The first minister who was a woman was the Reverend Antoinette Brown Blackwell, age 28, who was ordained at the Congregational Church, South Butler, NY. She became an ardent feminist and left the ministry because of conflicts over the rights of women. She married the brother of America's first woman doctor, Elizabeth Blackwell.
1857-Birthday of William Howard Taft, the 27th president of the US was born at Cincinnati, OH. His term of office was Mar 4, 1909-Mar 3, 1913. In a lesser known fact there was a group that was to swing the election not to Taft, but to have Abraham Lincoln selected as vice-president candidate with Roosevelt (a last minute deal), and a group of delegates votes were halted by security at the door, and by the time they received clearance to enter, the vote had taken place and Taft was chosen. Following his presidency he became a law professor at Yale University until his appointment as Chief Justice of the US Supreme Court in 1921. Died at Washington, DC, Mar 8, 1930, and was buried at Arlington National Cemetery.
( --lower half of http://memory.loc.gov/ammem/today/sep15.html )
1857-The first typesetting machine that actually operated was invented by Timothy Alden of New York City, who obtained a patent this day. The type was arranged in cells around the circumference of a horizontal wheel. As the wheel revolved, several receivers also started to rotate the desired type was picked up and dropped in proper order in a line. It would not be until 1884 that the Linotype machine was invented with the blower on 1886 making very popular, resulting in the growth of newspapers all over the country.
1862-The Union arsenal at Harpers Ferry, W.Va., was captured by General Stonewall Jackson. A tremendous quantity of material was seized, and 12,500 men were captured. Harpers Ferry was abandoned and the captured troops set free by the Confederates on September 20 and reoccupied by the North on the 22nd .
1896-- Great Train Crush. The collision, intended as publicity for the railroad, nearly 50,000 people had gathered anxiously on a wide stretch of Texas prairie near Waco. Moments later, they watched two 35-ton locomotives, each pulling seven boxcars, collide head-on at a combined speed of 120 miles per hour.
http://www.lsjunction.com/facts/crush.htm
1858—Until this date mail from one end of the country to the other traveled by ship. The Overland mail service to the Pacific Coast began this day by the Overland Mail coaches, the old John Butterfield stage line. Stages left Tipton, MO, and San Francisco, simultaneously every Monday and Thursday. The route was operated under government contract, authorized by act of Congress of March 3, 1857. The contract was signed on September 16, 1857, and specified payment of $600,000 a year for six years, for semiweekly trips in both directions in "good four horse post coaches or spring wagons suitable for the convenience of passengers as well as the safety and security of the mails. The specified running time for the 2, 8000 miles was a maximum of 25 days. The first trips were made in a little less than 24 days.
1898-Birthday of Edward (Eddie) Gottlieb, Basketball Hall of Fame executive, born at Kiev, Russia. Barely 20 years old, Gottlieb organized the Philadelphia SPHAS, one of the best early professional basketball teams. He also promoted Negro Leagues baseball and wrestling. Gottlieb owned and coached the Philadelphia Warriors and helped to engineer the merge of the BAA and NBL in 1949. His innovative ides to improve the game included double-headers involving four teams, outlawing zone defenses and awarding bonus foul shots. He also arranged the NBA's schedule for years, inducted into the Hall of Fame in 1971. Died at Philadelphia, PA, December 7, 1979.
1902-Chicago's Cubs' short stop Joe Tinker, second baseman, Johnny Evers and first baseman Frank Chance recorded their first double play together. This was two days after they took the field for the first time in this configuration, and the Cubs went on to beat the Cincinnati Reds, 6-3. The threesome was later immortalized in Franklin Pierce Adam's poem" Baseball's Sad Lexicon." Tinker, Evers and Chance were inducted together into the Baseball Hall of Fame in 1946.
*** see baseball poem at end****
1903-Grand Ole Opry "King of Country Music," often called the "Father of Country Music," Roy Acuff was born at Maynardville, TN. Singer and fiddler Acuff (who was co-founder of Acuff-Rose Publishing Company, the leading publisher of country music) was a regular host on weekly Grand Ole Opry broadcasts. He frequently appeared at the Opry with his group, the Smoky Mountain Boys. In December of 1991 Acuff became the first living member elected to the Country Music Hall of Fame. Some of his more famous songs were "The Wabash Cannonball" (his theme song), "Pins and Needles (In My Heart)" and "Night Train to Memphis." Roy Acuff died Nov 23, 1992, at Nashville, TN.
1904-Bachelor Father premiers on TV. John Forsythe (Bentley Gregg) and Noreen Corcoran (Kelly Gregg) starred in this sitcom about a bachelor attorney's life turning upside-down after his orphaned niece moves in with him. The series aired at different times on all three networks. Supporting players included: Sammee Tong as Peter Tong, the butler, Jimmy Boyd as Kelly's boyfriend, Howard Meachum, Bernadette Withers as Kelly's friend Ginger, Whit Bissell as Ginger's father, Bert Loomis, Alice Backes as Bentley's secretary, Vicki, Sue Ann Langdon as Bentley's secretary, Kitty Marsh and Victor Sen Yung as Peter's cousin, Charlie Fong.
1910-Birthday of Harmonica player "Rhythm Willie" ( Willie Hood) also known as Lee McCoy on some dates, considered one of the best blues Harmonica players.
1920-Birthday of great alto saxophone player Julian "Cannonball" Adderley, Tampa, Florida. Died August 8, 1975
http://www.cannonball-adderley.com/bio2.htm
1923-Birthday of bass player Arvell Shaw, St. Louis, best known for playing with Louis Armstrong. In Bing Crosby's genial routine for Now You Has Jazz, in the 1956 film High Society, each of Louis Armstrong's bandsmen was introduced in turn, with bassist Arvell Shaw, who has died aged 79, especially prominent. His eager, animated persona, bear-like frame and propulsive bass style had obvious visual appeal, as well as musical merit, making him a natural for a concert and movie attraction like the Armstrong All-Stars.
http://www.pbs.org/jazz/biography/artist_id_shaw_arvel.htm
http://www.vh1.com/artists/az/shaw_arvell/253488/album.jhtml
1926-Birthday of Bobby Short, singer, pianist, cafe song stylist, born Robert Altrip at Danville, IL, Sept 15, 1926. Died Monday, March 21, 2005. He was 80.
http://www.imdb.com/name/nm0795027/
1927---The rules for the game of bridge became effective this day as outlined in the "Laws of Contract Bridge 1927," which was adopted and issued by the Whist Club, New York City. It was published by John C. Winston Company, New York City, and contained 57 pages. The game was originally invented in 1925 by Harold Stirling Vanderbilt.
1929-- Seven North Carolina men are indicted for the murder of Ella May Wiggins on 09-14-1929. EMW, widowed mother of five and a labor balladeer, was slain by vigilantes while en route to a meeting for strikers in Gastonia, North Carolina. The workers were striking for better wages and working conditions. The murder was seen as an attempt to intimidate the women workers to drop the strike.
1930 - On the Victor record label, Hoagy Carmichael recorded "Georgia on My Mind"; which has been the official state song of Georgia since 1922. Over the years, the song has been recorded by many artists, such as Ray Charles, one of his greatest performances.
1930 - Chic Young's new comic strip, Blondie, debuted in newspapers. In the first episode, readers were introduced to the ditzy flapper, Blondie Boopadoop, and her fondest admirer, Dagwood Bumstead, a mild-mannered playboy and son of a railroad tycoon. Dagwood was later disinherited for marrying Blondie. The comic strip eventually was syndicated around the world.
1931-Birthday of bassist Richard Payne, New Orleans, Louisiana Died May 5, 2000. Noted New Orleans R&B and jazz bassist was also a classical musician and music educator; he performed with dozens of musicians over the years, including Ray Charles, Duke Ellington, Professor Longhair, Ellis Marsalis, and Allen Toussaint; in later years Payne was a regular at Preservation Hall.
1935 - In Germany, the Nazis enacted the Nuremburg Laws, starting off a program of violent religious and racial persecution. As America slept, all Jews were deprived of their citizenship, ghettos were revived and the Swastika became the national flag.
1938-Birthday of Gaylord Jackson Perry, Baseball Hall of Fame pitcher, born Williamston, NC.
1939-the temperature at Detroit, MI soared to 100 to set a new September record.
1940 - At the height of the Battle of Britain, Britain claimed to have shot down 185 German planes; the day has been subsequently celebrated as Battle of Britain day.
1943 - With German support, Benito Mussolini formed a rival fascist government to the Pietro Badoglio administration. 1950 - In the Korean War, the United Nations landing at Inchon proved decisive in driving North Korean troops out of the south.
1943-Paul Robeson, Black actor and activist, portrays Othello for the 296th time at New York City's Shubert Theater, 1943.
1949-"The Long Ranger" premiered on TV and we all had cowboy hats, masks, and wore two six guns as kids, as many did not have television sets and would gather in groups to watch this favorite TV show. The Long Ranger was created for a radio serial in 1933 by George W. Trendle. The famous masked man was the alter ego of John Reid, a Texas Ranger who was the only survivor of an ambush. He was nursed back to health by his Native-American friend, Tonto. Both men traveled around the West on their trusty steeds, Silver and Scout, fighting injustice. Clayton Moore played the Lone Ranger/John Reid and Jay Silverheels co-starred as Tonto. The theme music was Rossini's "William Tell Overture."---Of course, there is the favorite joke today, the short version, with the Long Ranger and Tonto surrounded by Indians, running out of ammunition, and Clayton Moore turns to Tonto, and says, "What are we going to do? " Tonto responds, "What do you mean 'we?' White Man."
1945 -a major hurricane made a direct hit on southern Florida with wind gusts as high as 170 mph. The Naval Air Station in Homestead suffered heavy damage with many hangars destroyed. 4 people were killed and damage totaled $55 million
1947-Birthday of singer Ronn Matlock, Detroit, MI
http://www.soulwalking.co.uk/Ronn%20Matlock.html
http://shopping.yahoo.com/p:Ronn%20Matlock:1927263856:page=biography
1947-Birthday of drummer Charles "Bobo" Shaw, Pope, MS
http://www.cmt.com/artists/az/shaw_charles_bobo/bio.jhtml
1949---Top Hits
Room Full of Roses - The Sammy Kaye Orchestra (vocal: Don Cornell)
You're Breaking My Heart - Vic Damone
Maybe It's Because - Dick Haymes
Why Don't You Haul Off and Love Me - Wayne Raney
1953 - The National Boxing Association adopted the 10-point 'must' scoring system for all of its matches. The winner of each round must get 10 points, while the loser of each round must have fewer than 10 points.
1954- The scene in the movie "The 7 Year Itch" where Marilyn Monroe's skirt is blown up by the wind from a subway grate is shot, 51st St., NYC.
1955 - On the eve of Rosh Hashanah,- the Jewish New Year, at services held at Temple Avodah in Long Island, New York, Betty Robbins, Mrs. Sheldon Robbins, became the first woman cantor.
1957---Top Hits
Tammy - Debbie Reynolds
Diana - Paul Anka
Honeycomb - Jimmie Rodgers
Fraulein - Bobby Helms
1959 - Russian Premier Nikita Khruschchev arrived in the United States at the start of a 12-day visit.
1959 - No. 1 Billboard Pop Hit: "Sleep Walk," Santo & Johnny.
1961-Birthday of football player Daniel Constantine (Dan) Marino, Jr., born Pittsburgh, PA.
1964-The first Soap Opera on prime-time television was "Peyton Place," which first aired on the CBS network this day, and continued to run for five years. The series was based on the 1956 novel by Grace Metalious, which also spawned a popular 1957 Hollywood film. It detailed the steamy doing sin a small New England town. . Grace Metalious wrote three other books, 1956, "Return to Peyton Place; 1959"The Tiger White Colar;" 1963, "No Place in Eden." All were considered "trash fiction" by critics as the main theme was always centered around sex. An alcoholic, Thirty-nine-year-old Grace Metalious died of cirrhosis of the liver on February 25, 1964. She never lived to see her book become a hit television series.
http://www.meekermuseum.com/peytonp.html
http://www.trashfiction.co.uk/grace_metalious.html
http://www.fawi.net/Grace/GMLinks.html
1962—"Sherry" by the Four Seasons topped the charts and stayed there for 5 weeks.
1963-
A church bombing in Birmington, Alabama. left four young black girls dead. The attack on the 16th Street Baptist Church sparked further violence in the city, leaving two more dead and 19 injured. The same year, Eugene "Bull" Conner the Police Commissioner of Birmington, Alabama attacked peaceful non-violent black protesters with dogs and fire-hose. This televised action alerted the nation about the racial problems in the south After years of frustrating investigations and delays, a Klux Klux Klansman was finally charged with the bombing in 1977. Robert Chambliss, who was known as "Dynamite Bob," was convicted of murder in the bombing in 1977 and died in prison. Ex-Klansman Thomas Blanton Jr. was convicted of four counts of murder last year and was sentenced to life in prison. A fourth suspect, Herman Cash, died in 1994 without being charged. Cherry was supposed to have gone on trial with Blanton, but was ruled mentally incompetent to stand trial. After psychologists testified that Cherry was faking, the judge reversed himself and declared Cherry competent. He went to Bobby Frank Cherry, age 71, was found guilty.
http://archives.cnn.com/2002/LAW/05/18/church.bombing/index.html
full story:
http://www.al.com/specialreport/?bombing/
1963 - Matty, Felipe and Jesus Alou, the famed Alou Brothers of baseball, played together for the first time. They played for the San Francisco Giants, beating the Pittsburgh Pirates, 13-5, at Candlestick Park in San Francisco.
1963-"She Loves You" backed by "I'll Get You" by the Beatles is released by Swan Records in the U.S. Though its tops in the U.K., "She Loves You" doesn't do anything until 1964 when it runs up to Number One.
1964-"Shindig!" premieres on ABC-TV. It was inspired by the success of British Invasion groups on "The Ed Sullivan Show." The show features both British and American performers plus a cast of go-go dancers and a house band. Within a few months NBC has an imitation, "Hullabaloo."
1965---Top Hits
Help! - The Beatles
Like a Rolling Stone - Bob Dylan
Eve of Destruction - Barry McGuire
Is It Really Over? - Jim Reeves
1965- "I Spy" premiered on TV. Bill Cosby made television history as the first African-American actor starring in a major dramatic role in this spy series. Cosby played Alexander "Scotty" Scott, an intellectual spy with a cover as a tennis trainer. Robert Culp played Kelly Robinson, the "tennis pro" and Scotty's partner in espionage. The series was notable for filming worldwide
1968 - Television musical series "Soul" premieres on NBC with guests Lou Rawls, Martha & the Vandellas.
1969 - No. 1 Billboard Pop Hit: "Sugar, Sugar," The Archies. Billboard ranks the song as the No. 1 single of the year.
1971-Greenpeace founded: The environmental organization Greenpeace, committed to a green and peaceful world, was founded by 12 members of the Don't Make a Wave committee of Vancouver, BC, Canada, when the boat Phyllis Cormack sailed to Amchitka, AK, to protest US nuclear testing. Greenpeace's basic principle is "that determined individuals can alter the actions and purposes of even the overwhelmingly powerful by 'bearing witness'--drawing attention to an environmental abuse through their mere unwavering presence, whatever the risk."
1971-"Colombo" premiers on TV. Based on a 1968 made-for-TV movie, entered the lineup of NBC"s "Mystery Movie" series on this date. The other two original shows were McMillan and Wife and McCloud. Peter Falk starred as one of TV's greatest character, Lieutenant Columbo, the crime-solving policeman, dressed in rumpled raincoat and bearing a chewed up cigar. In almost every episode, Columbo latches himself onto the main suspect, usually a polished sophisticated in comparison to Columbo's seeming simpleness, and nags him or her to death with questions and comments such as "But one thing bothers me, Sir." Bing Crosby, at age 67, had been approached first, but he turned down the role. The series ended in 1978, but reemerged in the form of periodic movies beginning in 1989. A very popular show in its time and fans look forward to re-runs on TV.
1972-Rod Stewart's "Never A Dull Moment" hits #2 on the LP charts.
1972-The Temptations' "All Directions" enters the LP charts. The album features the #1 single, "Papa Was A Rollin' Stone."
1973- "Delta Dawn" by Helen Reddy topped the charts and stayed there for a week.
1973---Top Hits
Delta Dawn - Helen Reddy
Say, Has Anybody Seen My Sweet Gypsy Rose - Tony Orlando & Dawn
Loves Me like a Rock - Paul Simon
You've Never Been This Far Before - Conway Twitty
1977-"CHIPS" premiers on TV. A popular action-packed NBC police series depicting cases and chases of the motorcycle-riding California Highway Patrol. The show starred Erik Estrada as Francis "Ponch" Poncherello and Larry Wilcox as Jonathan Baker, two quick-witted cops. Wilcox left the show, and Estrada's new partner, Bobby "Hot Dog" Nelson, was played by Tom Reilly. Other regulars included Robert Pine, Paul Linke, Lou Wagner, Brodie Greer, Brianne Leary, Randi Oakes, Michael Dorn, Bruce Jenner, Bruce Penhall and Tina Gayle.
1978-Ali Wins Title for Third Time: Muhammad Ali became the only fighter to win the heavyweight championship for a third time when he scored a unanimous 15-round decision over Leon Spinks at the Louisiana Superdome. Ali, then known as Cassius Clay, won the title for the first time on February 25, 1964, over Sonny Liston. He regained the crown the first time on October 30, 1974 by knocking out George Foreman.
1978—Dodgers Pass the Three Million Mark. The Los Angeles Dodgers became the first major league baseball team to pass the 3-million mark in home attendance in a 5-0 victory over the Atlanta Braves.
1980 - On Broadway, "The Elephant Man" made its debut, with rock singer David Bowie in his acting debut.
1981---Top Hits
Endless Love - ---Top Hits Diana Ross & Lionel Richie
Slow Hand - Pointer Sisters
Stop Draggin' My Heart Around - Stevie Nicks with Tom Petty & The Heartbreakers
Older Women - Ronnie McDowell
1982-USA newspaper first published. Media corporation Gannett published a new kind of daily---the "Nation's Newspaper"---that featured general interest articles for a national audience.
1982-a snowstorm over Wyoming dumped 16.9 inches of snow at Lander to establish a new 24 hour record
1987 - Computer hackers in Germany known as the Chaos Computer Club, said they had tapped into NASA's computer system and planted a program called "Trojan Horse."
1987 - No. 1 Billboard Pop Hit: "I Just Can't Stop Loving You," Michael Jackson with Siedah Garrett.
1989---Top Hits
Hangin' Tough - New Kids on the Block
Don't Wanna Lose You - Gloria Estefan
Heaven - Warrant
I Wonder Do You Think of Me - Keith Whitley
1990-"Please Me" by Wilson Phillips topped the charts and stayed there for 3 weeks.
1994 - The last United States marine guards left Somalia after 21 months of American intervention.
1996-The Baltimore Orioles hit 5 home runs as they beat the Detroit Tigers, 16-6, to set a new major league record for most home runs in a season by a team. Mark Parent's 3-run home in the 3 rd inning wins the record-breaker, the team's 241 st home run of the year, breaking the mark set by the 1961 New York Yankees. The orioles ended the year with 357 homers.
1998-- In a 12-7 win over Twins, Mariner Ken Griffey Jr. becomes the fourth-youngest (28 years and 10 months) player to reach 1,000 RBIs. Junior got to 1000 mark younger than anyone except Mel Ott (27 years, three months), Jimmie Foxx (27 years, eight months) and Lou Gehrig (28 years, 9 1/2 months).
1998--- Ending a six-game drought without a homer, Mark McGwire, pinch-hitting in the ninth inning, hits his 63rd homer; the solo shot off Jason Christiansen in the Cardinals' 8-6 loss to Pirates allows 'Big Mac' to regain the home-run lead over Sammy Sosa.
1998 - Reba McEntire joins the prestigious Hollywood Walk of Fame. Her star, the 2,120th planted in the famous foot thoroughfare, is unveiled in front of the Johnny Grant Building, 7018 Hollywood Boulevard.
1999 - For the first time since it's opening in 1971 Walt Disney World was closed as Hurricane Floyd moved in on central Florida. It was the first time any of the parks had been closed since Disney opened the first one there in 1971.
2000---Top Hits
Country Grammar---Nelly
Oops!...I Did It Again -- Britney Spears,
The Marshall Mathers- Eminem
Human Clay-- Creed
2005—Top Hits
Gold Digger-- Kanye West Featuring Jamie Foxx
Shake It Off-- Mariah Carey
Lose Control- Missy Elliott Featuring Ciara & Fat Man Scoop
We Belong Together- Mariah Carey
--------------------------------------------------------------


Baseball Poem
Please see This Day in American History: 1902
"Baseball's Sad Lexicon" (Tinker to Evers to Chance) (1910)
(Franklin Pierce Adams)
These are the saddest of possible words:
"Tinker to Evers to Chance."
Trio of bear cubs, and fleeter than birds,
Tinker and Evers and Chance.
Ruthlessly pricking our gonfalon bubble,*
Making a Giant hit into a double--
Words that are heavy with nothing but trouble:
"Tinker to Evers to Chance."
--------------------------------------------------------------

SuDoku
The object is to insert the numbers in the boxes to satisfy only one condition: each row, column and 3x3 box must contain the digits 1 through 9 exactly once. What could be simpler?
http://leasingnews.org/Soduku/soduko-main.htm