Wednesday, April 28, 2010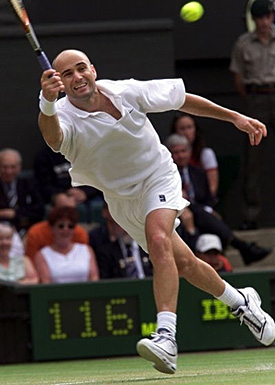 Tennis player Andre Kirk Agassi born April 29, 1970, Las Vegas, Nevada. He has won eight Grand Slam singles tournaments and an Olympic gold medal in singles.
http://www.imdb.com/name/nm1152468/bio

Headlines---
Bo Bohannon Heart Surgery Successful
Charlie Lester in Hospice
Classified Ads---Sales Manager
Tygris Cuts Back Employees
"The List"---March
Sales Make it Happen by Kit Menkin
"Beat Yesterday"
Placard---What is the best use of my time NOW?
Classified Ads---Help Wanted
Meet the Government Leasing Players/Funders
CIT Reports 1st Q Net Income of $97 Million
New President of ELFA---and it isn't Ralph Petta
Truck Renting/Leasing Elects New Chairman
Leasing Division at Beverly Bank & Trust
IDS Outlines Annual User Conference
New LEAN firms in Kansas, Idaho & Rhode Island
Santa Ana, California---Adopt-a-Dog
Classified ads—Asset Management
PinnFund/PinnLeasing Michael Fanghella Out of Jail
Seeks $150,000 Job
News Briefs ---
ILFC founder Udvar-Hazy forming new leasing co.
Synovus to seek $600 million in new capital
Sonoma Valley Bank ordered to raise more money
BOQ equips itself with CIT buy
John Deere Opens Factory in $500M Russia Plan
Intel CFO Sees U.S. Losing Battle High-Tech Jobs
Man! Twain helps 'Idol' singers sound like stars
50 Best Restaurants in the World
You May have Missed---
California Nuts Briefs
Sports Briefs---
"Gimmie That Wine"
Today's Top Event in History
This Day in American History
Baseball Poem
SuDoku
Daily Puzzle
GasBuddy
Weather, USA or specific area
Traffic Live----

######## surrounding the article denotes it is a "press release"

((Please Click on Bulletin Board to learn more information))
(Leasing News provides this ad "gratis" as a means
to help support the growth of Lease Police)

[headlines]
--------------------------------------------------------------

[headlines]
--------------------------------------------------------------

[headlines]
--------------------------------------------------------------

[headlines]
--------------------------------------------------------------

[headlines]
--------------------------------------------------------------

[headlines]
--------------------------------------------------------------
[headlines]
--------------------------------------------------------------

[headlines]
--------------------------------------------------------------

[headlines]
--------------------------------------------------------------

[headlines]
--------------------------------------------------------------

[headlines]
--------------------------------------------------------------

[headlines]
--------------------------------------------------------------

[headlines]
--------------------------------------------------------------

PinnFund Michael Fanghella Out of Jail, Seeks $150,000 Job
(Fanghella was the head of PinnFund, a mortgage company, and PinnFund Leasing, where officers all went to jail, including Fanghella. Leasing News started covering the California front page story in 2000. Fangehlla was convicted in 2003 and sentenced to ten years; evidently out now for "good behavior" or other reasons, and says he has "served my time." Editor)

http://www.sandiegoreader.com/weblogs/financial-crime-politics/2010/apr/18/michael-fanghella-seeking-150000-job/
Fanghella Pleads Guilty
http://www.leasingnews.org/Conscious-Top%20Stories/PinnFund.htm

Here is the full, complete story:
http://www.leasingnews.org/docs/Pinn_1.htm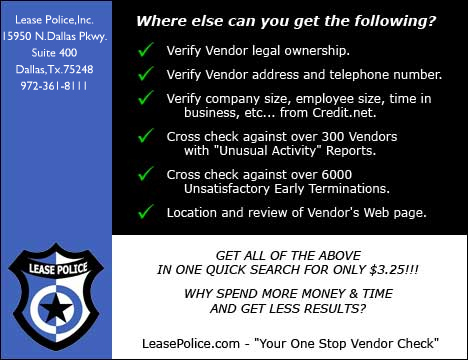 (Leasing News provides this ad "gratis" as a means
to help support the growth of Lease Police)

[headlines]
--------------------------------------------------------------



News Briefs----
[headlines]
---------------------------------------------------------------

[headlines]
----------------------------------------------------------------
Today's Top Event in History
[headlines]
----------------------------------------------------------------
This Day in American History
1758-- James Monroe birthday. President Monroe served two terms in office, March 4, 1817 to March 3, 1825
1788- Maryland became the seventh state to ratify the Constitution, by a vote of 63 to 11. N amed in honor of England's Charles I's queen, Henrietta Maria. Maryland's capital city, Annapolis, is famous as the home of the U.S. Naval Academy. Maryland, the Free State or Old Line State, calls the black-eyed Susan its state flower, and the Baltimore Orioles are the state bird/s. Using this same reasoning, you'd think that baseball .Maryland symbols include: dog - Chesapeake Bay retriever; fish - rockfish; crustacean - Maryland blue crab; tree - white oak; insect - Baltimore checkerspot butterfly. "Maryland, My Maryland" is the official state song. Its state motto: Fatti maschii, parole femine. In English: Manly deeds, womanly words.
1789- The most famous of all naval mutinies occurred on board HMS Bounty. Fletcher Christian, leader of the mutiny, put Bligh and 18 of his loyal followers adrift in the open sea in a 23-foot boat. Miraculously Bligh and all his supporters survived the 47-day ordeal. Meanwhile, Christian put ashore on Tahiti the remaining crew (except for 8 men and himself). They took off with 6 Tahitian men and 12 women and settled on Pitcairn Island. They burned the Bounty and remained undiscovered for 18 years, when an American whaler, the Topaz, called at the island (1808) and found only one member of the mutinous crew surviving. However, the little colony had thrived, and when counted by the British, number 194 persons.
1828- The birthday of Mifflin Wister Gibbs In 1873 he became the first black man to be elected a judge in the US, winning an election for City Judge at Little Rock, AR.
1854-"Gold Hills News," first Chinese paper, published. There were 25,000 Chinese in California and almost all of them could read.
1855-The first veterinary college was the Boston Veterinary Institute, Boston, Ma. The first president was Daniel Denison Slade, MD. Courses were giving in anatomy, physiology, chemistry, pharmacy, and the theory and practice of medicine and surgery.
1884-Birthday of banjo player Harry Reed, Monroe County, West Virginia.
http://memory.loc.gov/ammem/today/apr28.html
1899 - A tornado struck Kirksville, MO, killing 34 persons and destroying 300 buildings.
1899- Cameraman G.W. "Billy" Bitzer filmed Professor Leonidas and his troupe of dogs and cats in the film short "Stealing a Dinner."
(lower half of: http://memory.loc.gov/ammem/today/apr28.html )
1921 - A severe hailstorm in Anson County, NC, produced hail the size of baseballs. Gardens, grain fields and trees were destroyed. Pine trees in the storm's path had to be cut for lumber because of the hail damage.
1926-Blossom Dearie - U.S. supper club style singer, pianist, and recording artist. Her mother, a Norwegian immigrant, also played the piano.
1926 -- Birthday of Harper Lee, Monroeville, Alabama. American author famous for her Pulitzer Prize winning race relations novel To Kill a Mockingbird. An international bestseller adapted to the screen in 1962. She modeled the boy Dill after her childhood next-door neighbor, author Truman Capote.
http://www.kirjasto.sci.fi/harperle.htm
1940 - On Bluebird Records, Glenn Miller recorded his signature song, "Pennsylvania 6-5000". According to the original label, on the old 78-RPM disk, it was record number 10754.
1941—Birthday of actress-singer Ann-Margaret.
1942 - A destructive tornado swept across Rogers County and Mayes County in Oklahoma. The tornado struck the town of Pryor killing 52 persons and causing two million dollars damage.
1943-MINUE, NICHOLAS Medal of Honor
Rank and organization: Private, U.S. Army, Company A, 6th Armored Infantry, 1st Armored Division. Place and date: Near MedjezelBab, Tunisia, 28 April 1943. Entered service at: Carteret, N.J. Birth: Sedden, Poland. G.O. No.: 24, 25 March 1944. Citation: For distinguishing himself conspicuously by gallantry and intrepidity at the loss of his life above and beyond the call of duty in action with the enemy on 28 April 1943, in the vicinity of MedjezelBab, Tunisia. When the advance of the assault elements of Company A was held up by flanking fire from an enemy machinegun nest, Pvt. Minue voluntarily, alone, and unhesitatingly, with complete disregard of his own welfare, charged the enemy entrenched position with fixed bayonet. Pvt. Minue assaulted the enemy under a withering machinegun and rifle fire, killing approximately 10 enemy machine gunners and riflemen. After completely destroying this position, Pvt. Minue continued forward, routing enemy riflemen from dugout positions until he was fatally wounded. The courage, fearlessness and aggressiveness displayed by Pvt. Minue in the face of inevitable death was unquestionably the factor that gave his company the offensive spirit that was necessary for advancing and driving the enemy from the entire sector.
1945--RUIZ, ALEJANDRO R. RENTERIA Medal of Honor
Rank and organization: Private First Class, U.S. Army, 165th Infantry, 27th Infantry Division. Place and date: Okinawa, Ryukyu Islands, 28 April 1945. Entered service at: Carlsbad, N. Mex. Birth: Loving, N. Mex. G.O. No.: 60, 26 June 1946. Citation: When his unit was stopped by a skillfully camouflaged enemy pillbox, he displayed conspicuous gallantry and intrepidity above and beyond the call of duty. His squad, suddenly brought under a hail of machinegun fire and a vicious grenade attack, was pinned down. Jumping to his feet, Pfc. Ruiz seized an automatic rifle and lunged through the flying grenades and rifle and automatic fire for the top of the emplacement. When an enemy soldier charged him, his rifle jammed. Undaunted, Pfc. Ruiz whirled on his assailant and clubbed him down. Then he ran back through bullets and grenades, seized more ammunition and another automatic rifle, and again made for the pillbox. Enemy fire now was concentrated on him, but he charged on, miraculously reaching the position, and in plain view he climbed to the top. Leaping from 1 opening to another, he sent burst after burst into the pillbox, killing 12 of the enemy and completely destroying the position. Pfc. Ruiz's heroic conduct, in the face of overwhelming odds, saved the lives of many comrades and eliminated an obstacle that long would have checked his unit's advance.
1946-- Quebec pop singer Ginette Reno was born in Montreal. She performs equally well in both French and English, and in 1972 she won first prize for performance at the Tokyo International Song Festival singing Les Reed's "I Can't Let You Walk Out of My Life." Reno's recording of "Second Hand Man" was popular in the early '70s.
1946 - No. 1 Billboard Pop Hit: "Prisoner of Love," Perry Como.
1948- Yom Ha'atzma'ut (Independence Day) Celebrates the proclamation of independence from British mandatory rule by Palestinian Jews and establishment of the state of Israel and the provisional government May 14, 1948.
1950---Top Hits
If I Knew You Were Comin' I'd've Baked a Cake - Eileen Barton
My Foolish Heart - The Gordon Jenkins Orchestra (vocal: Eileen Wilson)
The Third Man Theme - Alton Karas
Long Gone Lonesome Blues - Hank Williams
1950-- Birthday of comedian Jay Leno, New Rochelle, NY
1957 - Mike Wallace, one of television's most respected people was first seen coast to coast, as the host of "Mike Wallace Interviews", a Sunday night program in which Wallace interviews greats, such as Gloria Swanson, Steve Allen and stripper, Lili St. Cyr.
1958-David Seville's novelty tune, "Witch Doctor" peaks at #1 on Billboard Magazine's music chart and would go on to be the fourth best selling song of the year.
1958---Top Hits
Tequila - The Champs
All I Have to Do is Dream - The Everly Brothers
The Witch Doctor - David Seville
Oh Lonesome Me - Don Gibson
1959 - For the last time, Arthur Godfrey was seen, in this the last telecast of "Arthur Godfrey and His Friends" on CBS-TV. Part of CBS for 10 years, the cast included: Tony Marvin (announcer), singers Carmel Quinn, Lou Ann Sims, Frank Parker, Janette Davis, Marion Marlowe and Julius LaRosa. "Howiya, Howiya, Howiya."
1960 --- The 100th General Assembly of the Southern Presbyterian Church (PCUS) passed a resolution declaring that sexual relations within marriage -- without the intention of procreation -- were not sinful.
1961-- Five days past his 40th birthday, Warren Spahn becomes the second oldest pitcher (Cy Young -41 years, three months) to throw a no-hitter. Henry Aaron knocks in the game's only run as Braves beat the Giants at County Stadium, 1-0.
1962 - Jim Grelle became the fourth American runner to break the four-minute mile with a mark of 3 minutes, 59.9 seconds in Walnut Creek, California.
1964-- Elvis Presley song "Viva Las Vegas" is released.
1965---Barbra Streisand stars on "My Name is Barbra" special on CBS.
1966---Top Hits
(You're My) Soul and Inspiration - The Righteous Brothers
Bang Bang (My Baby Shot Me Down) - Cher
Secret Agent Man - Johnny Rivers
I Want to Go with You - Eddy Arnold
1967 - Muhammad Ali, whose real name was Cassius Clay, refused to join the United States Army. Critics and supporters have discussed the boxing champs refusal to serve in the armed forces for years. Although Ali refused because of religious beliefs, his world heavyweight crown taken from him as a result of his actions.
1967-- Gary Lewis and the Playboys received their only gold record - for "This Diamond Ring."
1968-the rock musical "Hair" opened at the Biltmore Theatre on Broadway. "Hair," the first musical to successfully adapt rock music to the stage, had already played in an off-Broadway version, which opened in October 1967. The melodic soft-rock score by Montreal native Galt MacDermot, with lyrics by Gerome Ragni and James Rado, appealed to people of all ages. The show ran for 1,729 performances, finally closing on July 1st, 1972. By that time, the original cast recordings of the off-Broadway and Broadway versions of "Hair" had sold a total of more than five-million copies. As well, there were numerous hit songs from the show, including the medley of "Aquarius-Let the Sunshine In" and "Good Morning Starshine."
1969- Chicago releases Chicago Transit Authority (Chicago I).
1971- Samuel Lee Gravely appointed first Black admiral in US Naval history.
1971-- Braves' outfielder Hank Aaron joins Babe Ruth and Willie Mays as the only major league player to hit 600 home runs. His historic homer, a 350-feet drive over the left field wall, comes off Gaylord Perry in the third inning of a 6-5 ten-inning loss to the Giants at Atlanta's County Fulton Stadium.
1971-Barbara Streisand gets a gold album for "Stoney End," one of her rare forays into rock music. At 28 years old, Streisand is intent on changing her image and takes to lighting joints onstage in Las Vegas.
1974 - No. 1 Billboard Pop Hit: "Loco-Motion," Grand Funk. This marks the second time the song hits No. 1. The original 1962 dance version is performed by Little Eva. It is covered again in 1988 by Kylie Minogue, who takes it to No. 3.
1974---Top Hits
TSOP (The Sound of Philadelphia) - MFSB featuring The Three Degrees
Best Thing that Ever Happened to Me - Gladys Knight & The Pips
The Loco-Motion - Grand Funk
Hello Love - Hank Snow
1980 - United States Secretary of State Cyrus Vance resigned over the failed commando mission to rescue American hostages in Iran.
1982---Top Hits
I Love Rock 'N Roll - Joan Jett & The Blackhearts
We Got the Beat - Go-Go's
Chariots of Fire - Titles - Vangelis
Crying My Heart Out Over You - Ricky Skaggs
1984--- The first number-one hit for The Judds, "Mama, He's Crazy," entered the US country charts.
1985-- For the fourth time, Billy Martin is named manager of the Yankees.
1987 - Forty-two cities in the western and south central U.S. reported record high temperatures for the date. The afternoon high of 87 degrees at Olympia WA was an April record, and highs of 92 degrees at Boise ID, 95 degrees at Monroe LA, and 96 degrees at Sacramento CA tied April records. (The National Weather Summary) More than 300 daily temperature records fell by the wayside during a two week long heat wave across thirty-four states in the southern and western U.S. Thirteen cities established records for the month of April.
1990 - A Chorus Line closed on Broadway at the Shubert Theatre. It broke the record for number of performances - a record 6,237 performances. The musical, written by James Kirkwood, Nicholas Dante, Marvin Hamlisch, and Edward Kleban, opened on July 25, 1975, and was an instant hit. It won the Tony award for Best Musical. A Chorus Line's cast, during the 15-year period, employed 510 different members.
1990---Top Hits
Nothing Compares 2 U - Sinead O'Connor
I Wanna Be Rich - Calloway
How Can We Be Lovers - Michael Bolton
Love on Arrival - Dan Seals
1990-Forty-three cities in the eastern U.S. reported record high temperatures for the date. Records highs included 94 degrees at Charleston WV, 95 degrees at Baltimore MD and96 degrees at Richmond VA
1994- Northwestern University announced that the so-called biological clock, that gene governing the daily cycle of waking and sleeping called the circadian rhythm, had been found in mice. Never before pinpointed in a mammal, the biological clock gene was found on mouse chromosome #5.
1999 - The results of a study on the occurrence of drug references in movies and music are released by the Clinton Administration's top drug enforcement officials. The study finds that 27% of the most popular sound recordings from 1996 and 1997 "contained a clear reference to either alcohol or illicit drugs.
2005 - E.Y. "Yip" Harburg _ writer of such well known songs as "Over the Rainbow" from "The Wizard of Oz" and (with Jay Gorney) "Brother, Can You Spare a Dime?" _ is immortalized on a U.S. postage stamp during a ceremony in New York.
[headlines]
--------------------------------------------------------------

--------------------------------------------------------------

SuDoku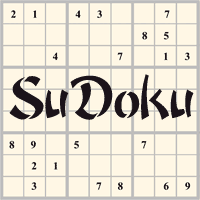 The object is to insert the numbers in the boxes to satisfy only one condition: each row, column and 3x3 box must contain the digits 1 through 9 exactly once. What could be simpler?
http://leasingnews.org/Soduku/soduko-main.htm
--------------------------------------------------------------

Daily Puzzle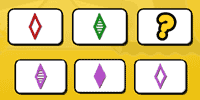 How to play:
http://www.setgame.com/set/puzzle_frame.htm
Refresh for current date:
http://www.setgame.com/set/puzzle_frame.htm
--------------------------------------------------------------


http://www.gasbuddy.com/
http://www.gasbuddy.com/GB_Map_Gas_Prices.aspx
http://www.gasbuddy.com/GB_Mobile_Instructions.aspx
--------------------------------------------------------------

Weather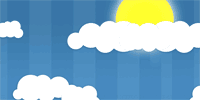 See USA map, click to specific area, no commercials
--------------------------------------------------------------

Traffic Live---
Real Time Traffic Information
You can save up to 20 different routes and check them out with one click,
or type in a new route to learn the traffic live
--------------------------------