Bank of Ozark Top Dog
SNL's 2011 regional bank ranking
Two regional banks from Arkansas are on top of SNL Financial regional bank rating. The top dog was Bank of the Ozarks, Little Rock, who finished first. First Security Bancorp, Searcy, came in second.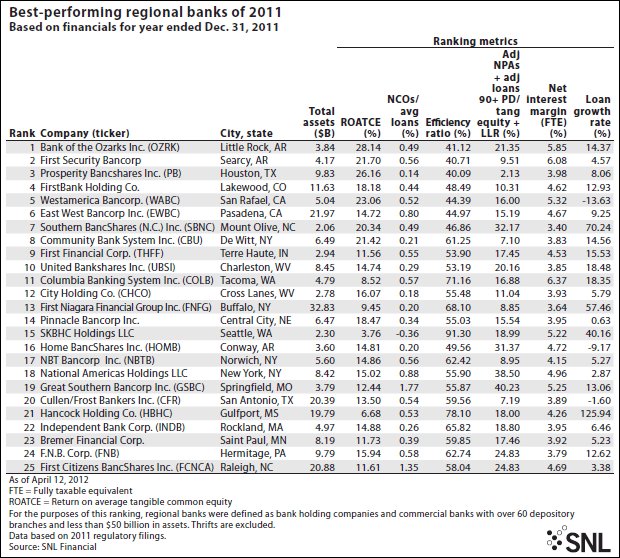 Bank of the Ozarks CEO George Gleason II said 2011 represented the 11th consecutive year of record net income for the company. The bank posted a 28.1% return on average tangible common equity, the highest of the top 25 in terms of profitability. Gleason has been Chairman and CEO since 1979. He was named American Banker magazine's Community Banker of the Year, 2010.
Bank of Ozarks purchased three failed banks in 2010: Chestatee State Bank, Dawsonville, Georgia, December 17, 2010, Woodlands Bank, Bluffton, South Carolina July 16, 2010, United National Bank, Cartersville, Georgia March 26, 2010. Bank of Ozarks recognized a $65.7 million gain on bargain purchase in 2011.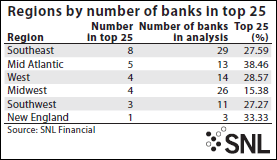 According to SNL Financial, "The strength and appeal of the Texas market, combined with strong management, put Houston-based Prosperity Bancshares Inc. in the No. 3 spot in the rankings. It was the most efficient company in its class with an efficiency ratio of 40.1%. Prosperity also made headlines Feb. 26 when it announced the acquisition of American State Financial Corp. The target company placed 10th in SNL's ranking of top community banks with total assets between $500 million and $5 billion. This deal, valued at $529.2 million at announcement, is the second-largest bank deal in the U.S. announced thus far in 2012."

SNL ranked the best-performing regional banks using six core financial performance metrics that focus on profitability, asset quality and growth for the 12-month period ended Dec. 31, 2011. The metrics used were: return on average tangible common equity, net charge-offs as a percentage of average loans, adjusted Texas ratio, efficiency ratio, net interest margin and loan growth. SNL measured each company's standard deviation from the mean of each metric. The standard deviations, which were equally weighted, were then added together to calculate a performance score for each company.
For the purposes of this ranking, SNL defines regional banks as banks below $50 billion in assets with a branch network consisting of greater than 60 offices. Additionally, to be included in the analysis, banks had to be well-capitalized according to regulatory standards. Based on these criteria, 96 companies were included in the ranking. Thrifts were excluded from the analysis.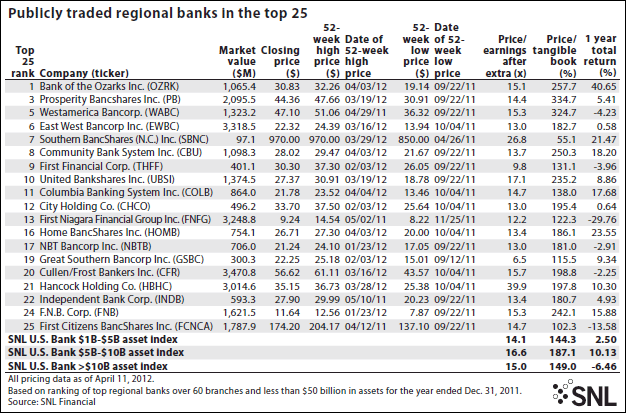 [headlines]
--------------------------------------------------------------
#### Press Release #############################
IRS Tackles Tax Fraud and Related Crimes

"The IRS Criminal Investigation takes violations of tax law very seriously," said Leslie P. DeMarco, Special Agent in Charge of the IRS Criminal Investigation, Los Angeles Field Office. "Tax Return Preparers and individuals who choose to prepare and file false tax returns, steal refund payments, misuse client's identity, or in any other manner undermine the honesty and integrity of our tax system risk prosecution."
In the greater Southern California area, IRS Criminal Investigation special agents are actively investigating those involved in alleged criminal violations of involving alleged return preparer fraud, questionable refund fraud, and identity theft. United States District Court records for the Central District of California reveal the following legal actions this week:

Costa Mesa Tax Preparer Indicted for Aiding and Assisting In the Preparation of False Tax Returns
Ronald Vernon Strawn, 67, of Costa Mesa was arrested in Prescott, Arizona.
On April 11, 2012, in Santa Ana, a federal grand issued a 50-count indictment charging Ronald Strawn, 67, with preparing and filing false Federal Income Tax Return Forms 1040 in the Central District of California.
The indictment alleges that Strawn prepared tax returns claiming false Schedule E (used to report losses from rental real estate, royalties, partnerships, S corporations, estates, trusts, REMICs) losses or false Schedule C (used to report profit or loss from a sole proprietorship business) losses.
According to the indictment, Strawn knew that the taxpayer for whom the tax returns were prepared were not entitled to the fictitious business losses he claimed on Schedule E and Schedule C.
Strawn is alleged to have claimed over $6.5 Million in false business losses on at least 50 tax returns.
Strawn previously pleaded guilty to one misdemeanor count of filing a false tax return in violation of 26 U.S.C. § 7207 in the United States District Court for the District of Arizona on December 16, 2008.
Each count of preparing and filing a false Federal Income Tax Return carries a maximum penalty of three years in prison, one year of supervised release, and a $100,000 maximum fine. Strawn faces a total maximum penalty of 150 years imprisonment and a fine of up to $5,000,000.
The investigation of Ronald Vernon Strawn is being conducted by IRS Criminal Investigation and is being prosecuted by Assistant United States Attorney Todd T. Tristan of the U.S. Attorney's Office for the Central District of California. Assistant United States Attorney Todd T. Tristan may be reached at (714) 338-2829

Apple Valley Women Indicted for Tax Fraud and ID Theft
Lynda McNeal, 57, of Apple Valley was arrested in Phoenix, Arizona.
On April 6, 2012, a federal grand jury in Los Angeles issued two separate indictments charging, Lynda McNeal and Ayeesha Stallworth, both from Apple Valley, with multiple counts of making false claims against the United States by filing federal tax returns that claimed false tax refunds. McNeal was also charged with identity theft.
McNeal is charged with filing seven false tax returns for others, each claiming a refund of between $15,846 and $31,968. Two of these returns were for individuals whose identities she stole. McNeal also filed two false returns for herself, for 2007 and 2008, each claiming over $30,000 in false refunds. Altogether, these nine returns claimed over $140,000 in false refunds.
Similarly, Ayesha Stallworth, 40, is charged with filing four false tax returns for others and one for herself, claiming a total of nearly $70,000 in false refunds.
Each tax count of making false claims against the United States carries a maximum penalty of five years in prison, one year of supervised release, and a $250,000 maximum fine. Each identity theft count carries a maximum penalty of five years in prison, three years of supervised release, and a $250,000 fine. McNeal faces a total maximum penalty of 40 years imprisonment and a fine of up to $2,500,000. Stallworth faces a total maximum penalty of 25 years imprisonment and a fine of up to $1,250,000.
The next court appearance scheduled for Lynda McNeal is today, April 18, 2012 in Riverside before U.S. Magistrate Judge Oswald Parada.
The investigation of Ayeessa Stallworth and Linda McNeal is being conducted by IRS - Criminal Investigation and is being prosecuted by Trial Attorney Ignacio Perez de la Cruz for the U.S. Justice Department's Tax Division and by Assistant United States Attorney Jerry Yang of the U.S. Attorney's Office Central District of California. Assistant United States Attorney Jerry Yang may be reached at (951) 276-6221.
An Indictment and Information only contain allegations that a defendant has committed a crime. Each defendant is presumed to be innocent unless and until proven guilty in court.
The IRS encourages taxpayers to visit the IRS website for the latest updates on tax schemes and scams and what to avoid. The IRS website at http://www.irs.gov provides various tips in what to look for - and what to look out for - when choosing a tax professionals and tips for protecting your identity.
If you suspect tax fraud or know of an abusive return preparer, you can report the subject directly to IRS – Criminal Investigation in person at one our local offices or over the phone. In the Los Angeles area, you can call (213) 576-3232 to report suspected tax fraud.

##### Press Release ############################
((Please Click on Bulletin Board to learn more information))
(Leasing News provides this ad "gratis" as a means
to help support the growth of Lease Police)
[headlines]
--------------------------------------------------------------

### Press Release ############################
15 Ways to Spend Your Tax Refund
By Bill Losey, CFP®



Is a tax refund coming your way? If you have already received your refund for 2012 or are about to receive it, you might want to think about the destiny of that money. Here are some possibilities.

Start (or add to) an emergency fund. Many people don't have a dedicated rainy day fund, only the presumption that they might have enough cash in case of a financial tight spot.

Invest in yourself. You could put the money toward education, career training, personal improvement, or some sort of personal experience with the potential to enhance your life.

Put it into an IRA or workplace retirement account. If you haven't maxed out your IRA this year or have a chance to get an employer match, why not?

Help your child open up a Roth IRA. Has your under-18 son or daughter worked and earned money this year? He or she can open a Roth IRA. Your child's contribution limit is $5,000 or the amount of his or her earned income for 2012 (whichever is lower). You can actually make this Roth IRA contribution with your own money if your child has spent his or her earnings.

Pay down debt. Always a smart choice.

Establish a financial strategy. Some financial advisors work on a fee-only basis. They can perform a review of your current financial situation and give you pointers for the future for roughly $1,000 with no further obligation.

Pay for that trip in advance. Instead of racking up a bigger credit card bill, consider pre-paying some costs or taking an all-inclusive trip (some are not as pricey as you might think).

Get your home ready for the market. A four-figure refund may give you the cash to spruce up the yard and/or exterior of your residence. Or, it could help you pay a professional who can assist you with staging it.

Improve your home with energy-saving appliances. Or windows, or weather-stripping, or solar panels – just to name a few options.

Create your own food bank. What if a hurricane or an earthquake hits? Where would your food and water come from? Worth thinking about.

Write a proper will. Your refund could pay the attorney fee, and the will you create might end up more ironclad.

See a doctor, optometrist, dentist or physical therapist. If you haven't been able to see these professionals due to your insurance situation or your personal cash flow, the refund might provide a way.

Give yourself a de facto raise. Adjust your withholding to boost your take-home pay.

Pick up some more insurance coverage for cheap. The typical flood insurance policy in a low-to-medium risk area costs less than $1,000 (and sometimes less than $500). A $1 million personal liability umbrella policy can usually be bought for $400 or less.

Pay it forward. Your refund could turn into a charitable contribution (deductible on your 2012 federal tax return if you itemize deductions).
In the past two years, federal tax refunds have averaged about $3,000. That's a nice chunk of change – and it could be used to bring some positive change to your financial life and the lives of others.
Bill Losey, CFP® specializes in secure retirements for women and couples over age 50. He is President of Bill Losey Retirement Solutions, LLC, and an independent fee-based registered investment advisory firm. Bill is the author of Retire in a Weekend! The Baby Boomer's Guide to Making Work Optional and he also publishes Retirement Intelligence®, a free weekly award-winning newsletter. Learn more at www.MyRetirementSuccess.com and
www.BillLosey.com
.
####### Press Release ##########################
The object is to insert the numbers in the boxes to satisfy only one condition: each row, column and 3x3 box must contain the digits 1 through 9 exactly once. What could be simpler?