Extra---First American Equipment Finance Sold to City National Bank
### Press Release ##################

City National Bank today announced that it has entered into a definitive agreement to acquire First American Equipment Finance, a privately owned, full-service mid-ticket equipment leasing company that owns and services approximately $325 million in assets.

Headquartered in Rochester, New York, First American Equipment Finance leases technology and office equipment nationwide. Its clients include educational institutions, hospitals and health systems, large law firms, insurance underwriters, enterprise businesses, professional service businesses and nonprofit organizations. The company employs approximately 100 people. Its lease transactions typically range between $250,000 and $3 million.

"In order to expand its long-standing leasing business, City National identified First American Equipment Finance as the best company to add to its organization," said City National Bank Chairman and Chief Executive Officer Russell Goldsmith. "First American's outstanding management team led by Bill Verhelle, its strong reputation and client relationships, great products and marketing skills, and a similar focus on certain key industries are an ideal fit with City National.

"Combining First American Equipment Finance's many strengths, its talented team and national reach with City National's lower funding costs and access to thousands of clients will enhance the capabilities of both companies to more profitably and effectively meet the equipment leasing needs of clients and more rapidly build our equipment leasing business."

First American's CEO, Bill Verhelle, and his management team will continue to lead the company, which will operate as a wholly owned subsidiary of City National Bank. Verhelle will report to the bank's president, Christopher Warmuth.

"We're very pleased to have found such a great partner in City National," Verhelle said. "Joining forces with the nation's 26th largest bank will allow us to provide clients with even better service and support. It also will give us better capital access, lower-cost funding and many of the other resources we need to continue our strong growth trajectory."

City National has been leasing equipment to business clients and municipal agencies for many years. At March 31, 2012, the company's business and municipal lease portfolios together totaled $418 million. However, City National leases other types of equipment principally to its clients in the communities it serves.

The all-cash transaction is expected to close in the second quarter of this year, and will be modestly accretive to earnings in 2012.

The Alta Group acted as a financial advisor to City National.

ABOUT CITY NATIONAL
City National Bank is the wholly owned subsidiary of City National Corporation It is backed by $24 billion in total assets, and provides banking, investment and trust services through 79 offices, including 16 full-service regional centers, in Southern California, the San Francisco Bay Area, Nevada, New York City, Nashville and Atlanta. The company and its investment affiliates today manage or administer $57.8 billion in client investment assets, including $32.5 billion under direct management.

### Press Release################

Advance Restaurant Finance

Looking for sales reps to call on small to medium
sized retail merchants nationwide.
Experience preferred in this industry, but open
to ambitious "make sales" self-motivators.
Base salary, commissions,full benefits available.
Email with resume to: slohmann@arfcash.com
* Fast Approvals
* No Need to Change Credit Card Processors
"When bank financing is unavailable, we are your best alternative for an unsecured working capital loan up to $1,000,000 per location."
www.arfcash.com

Monday, April 23, 2012

Today's Equipment Leasing Headlines

Classified Ads---Asset Management/Collections
The State of the Leasing Industry by its Associations
by Christopher Menkin
Leasing Companies Out of Business
plus No Longer taking Broker/Discounting Business
Bank Beat---Greek-Turkish Bank Fails in New Jersey
Classified--Help Wanted
Career Crossroad---—"I believe I may be let go"
Leasing 102 by Mr. Terry Winders, CLP
What is a Legal Lease?
New DNS Virus Attack Making the Rounds/Apple, too
---Pizza Consumption Grows 15% from 2010
Top Stories April 18-April 20
English Labrador Retriever Mix
Salt Lake City, Utah Adopt-a-Dog
Classified ads—Back Office
News Briefs---
Vast Mexico Bribery Case Hushed Up by Wal-Mart After Top-Level Struggle
---Small Banks Get a Freer Hand
Broker/Funder/Industry Lists | Features (collection)
Top Ten Stories Chosen by Readers | Top Stories last six months

Perfect Produce iPhone App
SparkPeople--Live Healthier and Longer
Sports Briefs---
Spring Poem
California Nuts Briefs---
"Gimme that Wine"
This Day in American History
SuDoku
Daily Puzzle
GasBuddy
Weather, USA or specific area
Traffic Live----
######## surrounding the article denotes it is a "press release" and was not written by Leasing News nor information verified, but from the source noted. When an article is signed by the writer, it is considered a "by line." It reflects the opinion and research of the writer. It is considered "bias" as it is the writer's viewpoint.
[headlines]
--------------------------------------------------------------

The State of the Leasing Industry by its Associations
by Christopher Menkin
| | | | | |
| --- | --- | --- | --- | --- |
| | 3/31/12 | 2012 | 2011 | |
| NAELB | 566 | 617 | 696 | National Association of Equipment Leasing Brokers |
| ELFA | 522 | 565 | 582 | Equipment Leasing and Finance Association |
| AGLF | 277 | 274 | 250 | Association of Government Leasing and Finance |
| CFA | 260 | -- | -- | Commercial Financial Association |
| NEFA | 154 | 191 | 210 | National Equipment Finance Association |
The membership trend continues down as there are fewer brokers, funders, lessors and other financial institutions utilizing leasing. From conversations and email, the word finance in the name of associations
was a preclude as more business loans and advance cash, even factoring, is now being offered by those who were primarily in leasing before. Perhaps the best example of the changes comes from Five Point Capital, San Diego, California, where the company once had 210 employees and is down to 40. When David Gilbert bought out his partner in March of this year, and made changes, there were executives let go, as well as he added seven more leasing reps to make it a total of 10. Gilbert told Leasing News his company does more business loans and capital advance than leasing, although hopes increase the leasing end, primarily using Ascentium Capital and Financial Pacific.
Both the merger of the National Funding Association into the Commercial Finance Association and the many leasing entities now performing more "financing" than leasing, brings CFA to the list, and hopefully more information on their activities to Leasing News readers. There are those who believe with accounting changes, leasing will become less viable. I personally believe the opposite is true, and believe it will rejuvenate the creative side: there will be more "true leases."
There also are other changes happening, which are affecting associations. The new way of networking is growing with IPhone, digital devices, laptops, cloud computing, working from your home with fast speed internet. As others catch up, T1 will be considered slow (maybe it is today.)
The use of the World Wide Web and satellites is very apparent with the younger members of the industry. Wi-Fi will soon be everywhere. For business, this does not mean the social networking of Facebook or Twitter, but the growth of Linkedin.com with groups that members join for free and can ask who is doing what or can you do this deal or advertising and even soliciting employment or employees.
Perhaps the larger deals are still very relationship oriented, but the small ticket and perhaps even the middle market no longer use "cold calls" or "lunches" or even get togethers, but everything from credit, to documentation and funding is done of the world wide web. To ignore this new way of doing business as not affecting association membership is naive.
It also should be noted the growth on Oracle and other software, as well as use of video and sound meetings. William H. Verhelle, president of First American Equipment Finance, Fairport, New York who has had great success by using Cisco's Show and Share and other internet/software programs.
| | | | | | | | | | | | | | |
| --- | --- | --- | --- | --- | --- | --- | --- | --- | --- | --- | --- | --- | --- |
| | 3/31/12 | 2012 | 2011 | 2010 | 2009 | 2008 | 2007 | 2006 | 2005 | 2003 | 2002 | 2001 | 2000 |
| AGLF | 277 | 274 | 250 | 238 | 265 | 277 | 255 | 255 | 255 | 203 | 263 | 343 | 250 |
| EAEL | * | * | * | * | 183 | 181 | 196 | 198 | 180 | 191 | 216 | 227 | 240 |
| ELFA | 522 | 565 | 582 | 604 | 700 | 741 | 768 | 817 | 780 | 732 | 862 | 873 | 850 |
| NAELB | 566 | 617 | 696 | 847 | 1021 | 1089 | 950 | 731 | 648 | 480 | 433 | 415 | 475 |
| UAEL | * | * | * | * | 289 | 314 | 314 | 314 | 297 | 248 | 378 | 379 | 589 |
| NEFA | 154 | 191 | 210 | 274 | * | * | * | * | * | * | * | * | * |
| CFA | 260 | * | * | * | * | * | * | * | * | * | * | * | * |
The March 31, 2012 numbers are really the year-end 2011 as after three months, if the company has not paid their dues, they are off the list. Yes, new members come in, but the fact is many associations had a tough time getting members to pay their dues.
In addition to the drop in membership (except for AGLF, supported by ELFA and CLP Foundation), there are other changes due to the drop in leasing entities thus the drop in those that service these entities.
3/31/2012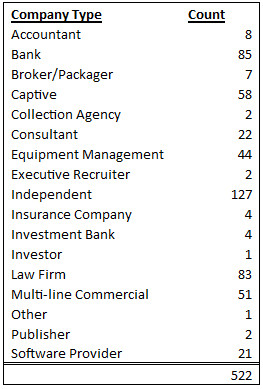 2012 year end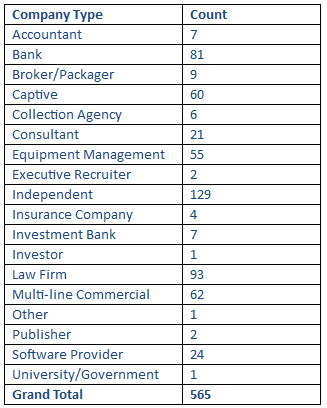 2011 Year-end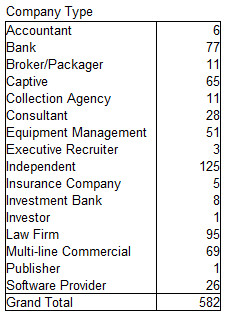 As evidence of the drop in service or support industries, note the drop in management, law firms. Captives have also dropped and are at 58 from 65 in 2011. I have often thought this is the most neglected of all the leasing categories, which perhaps should have their own association, and at least, should be members of ELFA, not only for the contacts but all the programs, sessions, and networking that they bring to the table.
The most noticeable drop was in "multi-line commercial," from 69 to 62 to 51. These would be companies like CIT and GE. Many of them are large corporations with their own training departments, attorneys, education, and are global, yet they do need to network with other executives, perhaps recruit, and definitely want support for their own lobbying efforts.
"Independent has remained basically steady. These would be Balboa, LEAF, Marlin."
Note the growth in "bank" from 77 to 81 and in three months to 85. This has been a campaign to attract community and regional banks as they have been getting into the lease product, and perhaps is indicative of a trend that ELFA is right on top. They have a chance to network, many special conferences, meetings, education, to learn more about the ins and outs and the who's in leasing and appear to be fueling the small and medium size business marketplace. Getting the community and regional banks involved will also attract more service and leasing companies, making the association larger and more effective.
It should be noted that President William Sutton is making the rounds to other associations, even making speaking presentations, and has also take staff with him, noticeably Dennis Brown, very active in state and local legislation for many years. Both are ex-military men, too. Make a plan and follow it.

The organization that has lost the most members in the last ten years is the National Association of Equipment Leasing Brokers, echoing the tightening of the credit marketplace as well as businesses not wanting to expand. Newer members have gotten more in business loans, cash advances, and subprime leases, while the older professionals have their sources and experience, as well as network among each other.

Another factor, also affecting all associations, as mentioned earlier, is the growth of the internet communication by iPhone, IPad, laptop, digital device making sales calls, setting up documentation, and doing funding from a home office via the World Wide Web. As important there are few cold calls or visits in the small ticket and middle market, meaning relationships are not "eye-to-eye" but screen to screen. It is not Facebook or Twitter, but LinkedIn that brokers ask who is doing what and funders soliciting others, including vendors, and there are very active group sessions that are free (you can pay for other features, but not necessary to join).
It is my observation that the once popular NAELB Forum is being used less and less as LinkedIn groups have seemed to replace much of the communication. Older members are still active on the NAELB Forum, but the fact is the leasing world has changed.
NAELB has much to offer to its membership and the discounts, information, availability and networking make the membership the best bargain of all association dues.
The good news for NAELB is the loss of members has slowed from 17.83% to 11.35% to 8.66%.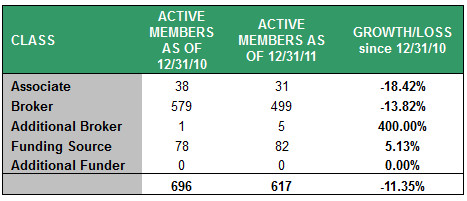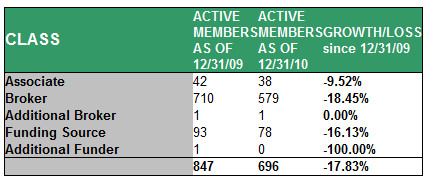 03/31/12

98 Basic
129 Industry Leader
19 Individual & Government
27 Limited
4 Emeritus
277 Members

12/31/2011:
100 Basic
126 Industry Leader
18 Individual & Governmental
4 Emeritus
26 Limited
274 Total
12/31/2010:
99 Basic
93 Industry Leader
22 Individual & Governmental
24 Limited
238 Members


"CFA currently has 260 members. I don't have a breakdown other than I can say approximately 25% are bank affiliated and 75% are non-bank companies." Brian Cove

There was no breakdown available at the end of last year, but Hugh Swandel, the current president was able to report:

03/31/2012
88 – Broker Lessor
35 - Service Providers
29 – Funding Source
154 Members
3/31/10
103 Broker/Lessor
31 Funding Source
49 Service Provider
5 Honorary/ Complimentary
188 Members
2009 Year-End
158 Broker/Lessor
51 Funding Source
62 Service Provider
3 Honorary/Complimentary
274 Members
The recent San Diego Conference drew over 200, and the theme was to have brokers learn how to become lessors, perhaps even establishing warehouse lines to pre-fund leases and then actually fund them non-recourse.
There still are experienced and dedicated members who are determined to bring the association back up by the end of this year.

2007: 204
2008: 179
2009: 182
2010: 159
2011: 174
2012: 168
03/21:170
Despite the economy, less leasing companies, and the retirement of many members, as well as the unfortunate death of its 2011 President Chris Walker, as well as the battle with cancer by its then President-elect Rosanne Wilson membership has grown.
More are taking the test, Leasing News was told, and the pipeline looks strong.
It reflects a dedicated board of directors and the desire by those in the industry for the education and value of being a Certified Leasing Professional.
Many CLP's retire in the last two years and are starting a list to put on their newsletter of the recent 17 retired CLPs, including Joe Woodley, who says he is retired from the leasing business. renewed. Others have changed jobs, such as the former president of the NEFA, Paul Knowlton, now in business lending at Union Bank.
Long time executive director Cindy Spurdle retires this month, giving the organization "new energy" to continue the enthusiasm of the program (although Ms. Spurdle will surely be missed).

Arizona Equipment Leasing Association at one time has an estimated 25 members. No official count is available at this time. The group is active. They get together for social and business meetings during the year, even invite speakers.

The Equipment Financing and Leasing Foundation does not have members. It does have a board of directors as well as contributors but is not a "membership organization." It is under the wing of the Equipment Leasing and Finance Association.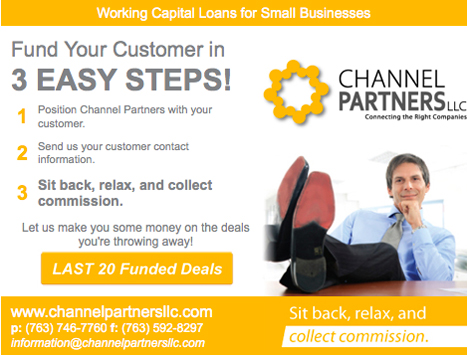 [headlines]
--------------------------------------------------------------


Classified Ads---Asset Management/Collections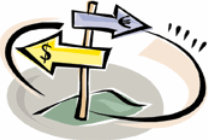 (These ads are "free" to those seeking employment or looking
to improve their position)
San Francisco, CA
Ten years experience setting residuals, negotiating leases and remarketing equipment across a broad spectrum of large ticket asset types including marine, intermodal, mining, energy, manufacturing.
geoffwalshe@yahoo.com
Port St Lucie, FL
20+ yrs exp. commercial collection/late stage specialist.
Prefer to work from home based office or transfer to Sarasota areamichaelgalan@comcast.net | Resume
Free Posting for those seeking employment in Leasing:
http://www.leasingnews.org/Classified/Jwanted/Jwanted-post.htm
All "free" categories "job wanted" ads:http://www.leasingnews.org/Classified/Jwanted/Jwanted.htm
[headlines]
--------------------------------------------------------------

[headlines]
--------------------------------------------------------------

[headlines]
--------------------------------------------------------------
[headlines]
--------------------------------------------------------------
[headlines]
--------------------------------------------------------------
[headlines]
--------------------------------------------------------------
Top Stories April 18-April 20
Here are the top ten sorties opened by readers:
(Tie) (1) Greg Wells/Tamara McCourt, CLP---Out at Five Point
Also Michael Losey and Jason Norton released
http://leasingnews.org/archives/Apr2012/4_18.htm#five_point
(Tie)(1) The Dave Murray Connection by Kit Menkin
http://leasingnews.org/archives/Apr2012/4_18.htm#murray
(2) The Changing Leasing Employment Picture
http://leasingnews.org/archives/Apr2012/4_18.htm#employment
(3) 24th Annual ELFA National Funding Conference
---Reported by Bruce Kropschot, The Alta Group
http://leasingnews.org/archives/Apr2012/4_20.htm#elfa
(4) TCF Has $282.9 Million Loss 1st Quarter
http://leasingnews.org/archives/Apr2012/4_20.htm#tcf
(5) New Hires---Promotions
http://leasingnews.org/archives/Apr2012/4_20.htm#hires
(6) Top Ten Beaches in the United States
http://leasingnews.org/archives/Apr2012/4_20.htm#beaches
(7) Leasing 102 by Mr. Terry Winders, CLP
Sales Record Keeping for the Salesman
http://leasingnews.org/archives/Apr2012/4_18.htm#record
(8) Small Illinois town rocked by $30 million CFO theft case
http://www.chicagotribune.com/news/local/ct-met-dixon-comptroller-embezzle-charges-20120418,0,5457912.story
(9) April 30, 2001 Archives ---eLeasing software
http://leasingnews.org/archives/Apr2012/4_20.htm#archive
(Tie) (10) Bank of Ozark Top Dog
SNL's 2011 regional bank ranking
http://leasingnews.org/archives/Apr2012/4_18.htm#snl
(Tie) (10) TimePayment/Microfinancial $2 MM Net 1st Quarter
http://leasingnews.org/archives/Apr2012/4_20.htm#micro
John Kenny Receivables Management

• End of Lease Negotiations & Enforcement • Fraud Investigations
• Credit Investigations • Asset Searches
• Skip-tracing • Third-party Commercial Collections

john@jkrmdirect.com | ph 315-866-1167| www.jkrmdirect.com
(Leasing News provides this ad as a trade for investigations
and background information provided by John Kenny)

[headlines]
--------------------------------------------------------------

English Labrador Retriever Mix
Salt Lake City, Utah-- Adopt-a-Dog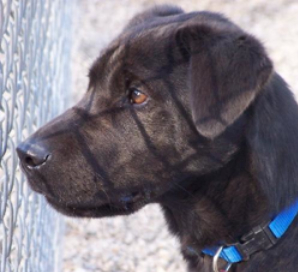 Celeste
Pet ID: 4464876
Spayed
Up-to-date with routine shots
House trained
Female
"Celeste is a 1 1/2 year old Lab mix. She is very sweet but shy at first. She warms up quickly and loves to play."
Second Chance for Homeless Pets, Salt Lake City, UT
801-590-8999
adopt@utahpetadoptions.org
Visit our website at www.utahpetadoptions.org
Second Chance for Homeless Pets is a no-kill, non-profit animal rescue. We get most of our pets from animal control shelters, when they run low on space. We have a facility located in Salt Lake City at 200 E. Gordon Lane (4180 S.) Our regular business hours are Tuesday thru Saturday: 9am-7pm, Sunday: 11am-4pm, Monday: By Appointment Only. Stop by during our regular hours or Call for an appointment 801-590-8999. We run strictly from private donations, all donations may be sent to:

Second Chance for Homeless Pets
200 E. Gordon Lane
Salt Lake City, UT 84107

Adopt-a-Pet by Leasing Co. State/City
http://www.leasingnews.org/Conscious-Top%20Stories/Adopt_Pet.htm

Adopt a Pet
http://www.adoptapet.com/
[headlines]
--------------------------------------------------------------


Classified ads—Back Office
Leasing Industry Outsourcing
(Providing Services and Products)

Back Office: Atlanta, GA
Let Tax Partners handle your sales and use tax compliance duties w/less risk and cost than in-house. Largest tax compliance firm
in US
E-mail:sales@taxpartners.com
Back Office: 58 Calif. counties
Property tax, assessment appear representation and
consulting, including hearing appearances.
www.rpcpropertytax.com
Ken Sullivan

800-540-3900

Backoffice: Dallas, TX
Property Tax and sales and use tax administration services performance is guaranteed and we will save you time and money or our service is free.
E-mail: info@osgsolutions.com
Back Office: Gig Harbor, WA
Orion First Financial provides comprehensive lease/loan account servicing, collection/workout solutions and strategic advisory services. Contact David T. Schaefer


253-857-9610


dtschaefer@orionfirst.com
Back Office: Laughlin, NV
20 years experience on funder/broker sides. Looking for a relationship where I act as credit shop for smaller brokers when financial statements are involved.
E-mail:batarista@laughlin.net
Back Office: National Property Tax Compliance Services to the leasing industry. Over 60-years experience and fifty Lessors as clients. References and free quotes available,
(216) 658-5618,
E-mail gary@avptc.com
Back Office – National
Spending too much time on processing credit applications, preparing lease documents and other administrative tasks and not enough time marketing and growing your business? Call us!

407.964.1232


dee@leasebrokerassistant.com
Backoffice: New Rochelle, NY
Proactive management/administration of commercial/consumer vehicle lease/finance portfolios covering insurance, titles,
registrations, sales/property taxes, tickets, collections, accounting, vehicle disposition. Since 1975
E-mail: Barrett@BarrettCapital.com

Back Office: Northbrook, IL
Our staff of CPA's and lease professionals can handle any or all portfolio responsibilities incl. portfolio mgmt, invoicing, sales/property/income tax, accounting, etc.


800-826-7070


E-mail: ngeary@ecsfinancial.com
Back Office: San Rafael, CA
We can run your back office from origination to final payoff. 30 years experience in commercial equipment lease and loan portfolio management.
E-mail:gmartinez@phxa.com
Back Office - Portland, OR
Keep more of your hard-earned commissions! Middle-Market, Small-Ticket for brokers, nationwide, 20+years experience, negotiable splits. Contact us for more information at (888)745-9481 or
bev@alliedpacific.net
Back Office -Portland
Portfolio Financial Servicing Company is a leading provider of private label primary and backup servicing for lease and loan contracts.

800-547-4905


sales@pfsc.com

Portfolio Servicing: Portsmouth, NH
Servicing without all the subcontracting. Payments, billing, collection, legal, recovery, accounting, tax. Leading systems; highly recognized professionals. Call 855.EENGINE
http://lendersolutions.equipmentengine.com
All "Outsourcing" Classified ads (advertisers are both requested and responsible to keep their free ads up to date:
http://www.leasingnews.org/Classified/Outsourcing/Outsourcing.htm
How to Post a free "Outsourcing" classified ad:
http://www.leasingnews.org/Classified/Outsourcing/Outsourcing-post.htm
[headlines]
----------------------------------------------------------------
This Day in History
-------------------------------------------------------------

SuDoku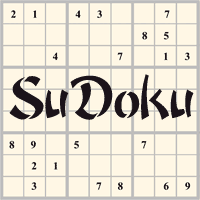 The object is to insert the numbers in the boxes to satisfy only one condition: each row, column and 3x3 box must contain the digits 1 through 9 exactly once. What could be simpler?
http://leasingnews.org/Soduku/soduko-main.htm
--------------------------------------------------------------

Daily Puzzle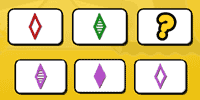 How to play:
http://www.setgame.com/set/puzzle_frame.htm
Refresh for current date:
http://www.setgame.com/set/puzzle_frame.htm
--------------------------------------------------------------


http://www.gasbuddy.com/
http://www.gasbuddy.com/GB_Map_Gas_Prices.aspx
http://www.gasbuddy.com/GB_Mobile_Instructions.aspx
--------------------------------------------------------------

Weather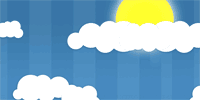 See USA map, click to specific area, no commercials
--------------------------------------------------------------

Traffic Live---
Real Time Traffic Information
You can save up to 20 different routes and check them out with one click,
or type in a new route to learn the traffic live
--------------------------------