Archives April 30, 2001
Leasing Salesman Pay Survey

Here are responses from eight companies we have received to date, divided into Lessor and Lessor:
#1
We pay 2% of equipment volume in compensation. Generally there is a base of $48K and the 2% commish is paid for volume over $200K. They also earn 25% of the fee of any brokered deal they bring in. The 25% split of broker income is independent of our funded equipment volume. We pay monthly though will probably shift to quarterly.
#2
As a sales rep, with 4 years experience I make a base salary of $48k with a chance to make commission once I make more money for the company than it takes to keep my seat, i.e. $4000 per month. It seemed to be online with the Advanta commission plan but unless you really generate volume you cannot realize commission.
#3
Our plan is pretty simple. Our sales reps working with vendors and lessees are paid a commission of 3% of the equipment cost.

#4
Around here, be it small ticket or big ticket, I believe all the lease origination personnel have had a base salary and then a bonus once a certain minimum volume was done on a monthly (for the small ticket group) or annual (for the large ticket group) basis. Our most experienced and senior large ticket salesperson makes well into the 6 figure range I've heard but they consistently book volume in the tens of millions each year. I think all our large ticket group that have been here two or more years each make over$100,000 per year between base and bonus.
Our small ticket people have had the potential to make six figures but it has always been heavily volume dependent.
There are several different bases, based on whether or not they hit their bogey for the year or month. Bonus is only paid once minimum target volume is reached. If someone is not hitting their target within a year around here they usually let them go.
Discount/Broker

#1
I pay my in-house sales people as follows: Base Salary of 30K per year. this covers the first $5,000 in GP. I allocate 50% of any deal the generate themselves and 10% of the GP on any house deal that I assign to them to help them cover the first $5,000 in GP. On the second 5,000 in GP the sales rep earns 25% and 40 % on any GP generated after that. A rep working for me can justify their existence at about $800K per year in volume. They will make$45-50K at $100K per month in volume and about $75K at $150K per month in volume.
#2
We get 35% of the first $10,000 per month in gross that we bring into the company. We get 45% above $10,000 and 50% above $18,000 per month. We split document fees over the amount required in the approval. It is all commission, no guarantee.
#3
We pay a reconciling draw against commissions ranging from $10,000.00 per month to $2,000.00 per month. The rep makes commission of 25% of the gross revenues generated. Once they become three months behind on their draw, the draw is discontinued.
#4
You may quote me.
Several years ago I became aware of a survey done by The Manifest Group where they found that the average equipment leasing salesperson, with two year's experience, earned an average of $25,000 per year. This was, I was told, a national average, which by definition means that half the salespeople nationally earned less than $25,000 per year, and half earned more than $25,000 per year.

At my former company, we compensated salespeople with a 50% split of the gross commission due on the leasing transaction. The salespeople generally had use of our office space, and we paid for special promotions. In addition, we provided an auto allowance of $300 per month, and a telephone allowance of $150 per month. We found it necessary, in virtually all cases, to provide the salespeople with a draw against future earned commissions. We found that even our most experienced salespeople did not break-even on this arrangement until they were employed with us at least three years.
The most generous compensation program I have first-hand knowledge of provides the leasing salespeople with 65% of the gross transaction commission. This company, a longtime, successful leasing broker, also provides office space, use of telephone, and the payment of advertising promotions.
In fairness to all leasing salespeople, their compensation potential depends as much on their company's access to capital, and flexible financing plans, as it does on their individual sales ability and work ethic. In our case, at just the time our salespeople began to realize their individual potential, their ability to grow their earnings was drastically curtailed by our loss of bank funding.
My only advice to your inquirer is: carefully evaluate the company you represent or will represent. Your ability to cultivate vendor and lessee relationships depend to a great degree on your company's ability to deliver on its credit program and funding promises. Unfortunately, in today's economic and leasing environment, the only thing you can count on is uncertainty.
Steve Chriest
Five more from May 1, 2001:
Lessor
#1

$50K base
.25% of volume
Cell phone paid for.
They should be making $100,000-
I really enjoy your news letter.

#2
Base Salary $75,000 (not a draw)
10% of the gross profit
Buy rates ranged from 200-300 over T's.
Commissions were to be paid 30 days after the quarter was closed.
Both commissions paradigms were geared for volume to be in excess of $1MM er month.

Discount Broker
#1

#1 Base Salary $75,000 (draw)
Salary x2 = $150,000
Expenses $ 30,000
Total $180,000 / 12 = $15,000 Hurdle per month
50/50 split PV on all deals
Buy rates ranged from 300 to 500 over like T's
Commissions were paid monthly
#2

Here we make no salary, 45% of the gross margin on $1.00 residual deals, and 5% of the GM on the deals that we retain the FMV or 10% residual. We make 100% of the doc fee over what our sources charge and a draw is available on case by case basis.
#3

We pay our sales reps 50% of the GP after inspections, UCC's and routine office costs. We also pay for marketing and promotion items, business cards, brochures, handouts, mailings, etc, etc.
The reps responsibility is to bring in the business and that is it. I do not require a monthly volume, but do ask that they stay in contact, preferably in person, with any customer or vendor once a month at least. I price, doc, close and fund the deals. All they do is make the contact.
Any deal originated or referred by that salesperson's vendor or customer is theirs even if they haven't talked with them about the specific deal.
Average annual compensation is usually 50 to 65K, but the opportunity is unlimited. We are presently looking for reps in northern New Jersey and western NY and eastern PA.
888-583-0400
Bob Runyon,
Capital Agreements Corporation
capitallease@adelphia.net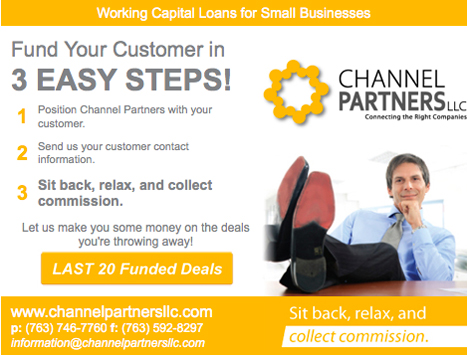 [headlines]
--------------------------------------------------------------


Classified Ads---Sales Manager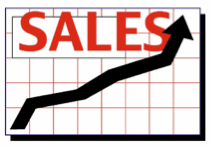 (These ads are "free" to those seeking employment or looking
to improve their position)
Fort Myers, Florida
Very experienced and strong skills with both Captive and Specialty Sales Management. Over 25 years , will relocate and travel---successful and team player.
e-mail:
tlinspections@gmail.com
Free Posting for those seeking employment in Leasing:
http://www.leasingnews.org/Classified/Jwanted/Jwanted-post.htm
All "free" categories "job wanted" ads:http://www.leasingnews.org/Classified/Jwanted/Jwanted.htm
Lab Mix 21 Weeks Old
Broomfield, Colorado -- Adopt-a-Dog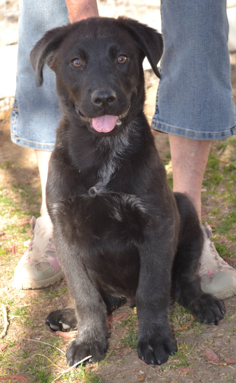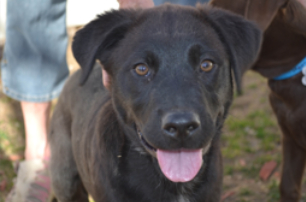 Vernon
Age: 21weeks
Breed: Lab mix
Sex: male
Altered: nope - way too young
Size: growing!
Other Dogs: friendly and outgoing
Cats: unsure
The adoption donation for Rescue Labs is $250 for young Labs to the age of 2.
Mile High Labrador Retriever Missin:
http://www.milehighlabmission.com/home/about-us
Facebook:
https://www.facebook.com/MileHighLabMission
milehighlabmission@gmail.com
720-989-1LAB (720-989-1522)


Adopt-a-Pet by Leasing Co. State/City
http://www.leasingnews.org/Conscious-Top%20Stories/Adopt_Pet.htm

Adopt a Pet
http://www.adoptapet.com/
Open Positions at Leasing Funders/Various Locations

(Most of the listing have "open positions." While you may find ones that do not, check back later, as they may have added an opening.)

Advantage Funding
http://www.advantagefund.com/employment.htm
AIG
http://www.aigcorporate.com/addresources/globalcareers.html
Altec
https://careers.altec.com/psc/P90HALT_APP/APPLICANT/HRMS/c/HRS_HRAM.HRS_CE.GBL?nocrumbs=yes&
Alter Moneta
http://www.altermoneta.com/careers/opportunities.html
Atlas Copco
http://www.atlascopco.com/us/careers/openjobs/
Balboa Capital
http://www.balboacapital.com/about_us/careers.aspx
Bank of America
http://careers.bankofamerica.com/overview/overview.asp
Bank of Ozarks
https://bankozarks.applicantharbor.com/jobmainlist.php?a=m
Bank of the West
https://www.bankofthewest.com/about-us/careers/job-search.html
(type in state, and keyword leasing or category)
CIT Job Openings
http://sj.tbe.taleo.net/SJ1/ats/careers/jobSearch.jsp?org=CIT&cws=1
CSI Leasing
http://www.csileasing.com/ViewJobPostings.aspx
Data Sales
http://www.datasales.com/open_jobs.html
De Lage Landen Financial
https://tbe.taleo.net/NA4/ats/careers/jobSearch.jsp?org=DELAGELANDEN&cws=1
Direct Capital
http://tbe.taleo.net/NA2/ats/careers/jobSearch.jsp?org=DIRECTCAPITAL&cws=1
Farm Credit
http://www.farmcreditnetwork.com/careers/opportunities
Financial Pacific
http://www.finpac.com/careers.aspx
Fifth-Third Bank
https://cvg53.cvgs.net/Main/careerportal/JobAgent.cfm
GE Capital
www.ge.com/careers
GreatAmerica Leasing
http://jobs.greatamerica.com/
Hillcrest Bank
https://www.hillcrestbank.com/Careers.aspx
Home Savings Bank
http://www.home-savings-bank.com/careers.php
Huntington Bank
https://www.huntington.com/us/HNB3400.htm

Key Bank
Click here

Marlin Business Services
Key (not available at this time)
https://www.marlinleasing.com/Careers/joblisting.html?location=all
Madi$on Capital
http://www.madisoncapital.com/employment.php?expandable=3&subexpandable=5
Meridian Bank
https://www.meridianbank.com/careers.html
Microfinancial/Timepayment
http://www.hirebridge.com/jobseeker2/Searchjobresults.asp?cid=5224
Northern California Farm Credit (office listings)
http://www.norcalfc.com/locations.html
People's United Bank
https://www3.ultirecruit.com/PEO1003/JobBoard/ListJobs.aspx
PL Capital
http://www.plcapital.com/careers.asp
Prime Alliance Bank
http://www.primealliancebank.com/home/careers
Regions Bank
https://regions.taleo.net/careersection/2/jobsearch.ftl
Republic Financial
http://tbe.taleo.net/NA8/ats/careers/jobSearch.jsp?org=REPUBLICFINANCIAL&cws=1
Sterling Bank
https://www.synovus.apply2jobs.com/ProfExt/index.cfm?fuseaction=m
External.showSearchInterface

TCF Bank
https://tcfbank.taleo.net/careersection/corporate/jobsearch.ftl?lang=en
TD Bank
https://tderec.ijob.com/recruit/servlet/com.lawson.ijob.util.Login
US Bank
(type position in blank space and/or state)
http://www.usbank.com/cgi_w/cfm/careers/careers.cfm
Wells Fargo
https://employment.wellsfargo.com/psp/PSEA/APPLICANT_NW/HRMS/c/HRS_HRAM.HRS_CE.GBL
Zions Bank
https://zionsbancorp.taleo.net/careersection/zfnbexternal/jobsearch.ftl?lang=en
Leasing News invites other employers to list their "open positions." The listing is free.


The object is to insert the numbers in the boxes to satisfy only one condition: each row, column and 3x3 box must contain the digits 1 through 9 exactly once. What could be simpler?