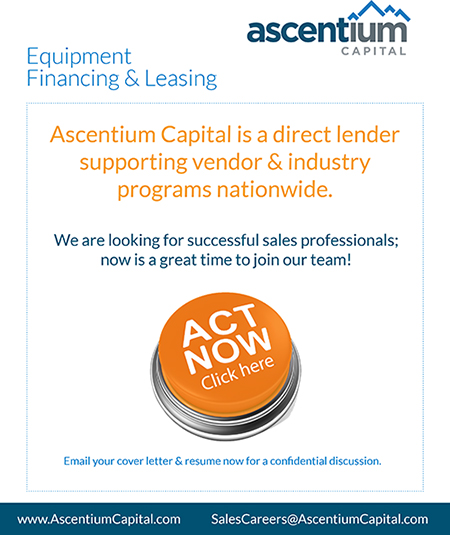 Thursday, May 2, 2013


Today's Equipment Leasing Headlines
Newport Financial Partners, Newport Beach, California
---Bulletin Board Complaint 4th Posted
By Christopher Menkin, editor
Classified Ads---Sales
Sterling Financial Purchases Commerce National
by Kit Menkin
"A look outside Pawnee at 7am this morning!"
from Gary Souverein
Please Sponsor Karl Sigerist
Shoppers Drug Mart Ride
National Restaurant, Hotel-Motel Show
Chicago, May 19-21
Banks Scramble to Shed Servicing Duties as a
Result Basel III Accords--- Will Affect Leasing?
By Tom McCurnin, Leasing News Legal News Editor
Top bank branch acquisitions since 2012
by Tahir Ali, SNL Financial
Classified Ads---Help Wanted
Roberto Fernandez Joins the Alta Group
as Latin American Business Process & App. Consultant
Marlin Business Services Reports 1st Quarter 2013
Balboa Doubles Size Commercial Financing Team
Graphic Savings Group New Name GSG Financial LLC
Mortgage rates head back down in April
By Salman Aleem Khan, SNL Financial
Mud/Pain & Gain
Silver Linings Playbook/Side Effects
The Henry Fonda Film Collection
Film/DVD Reviews by Fernando Croce
Dachshund/Chihuahua Mix--Puppy
Fort Collins, Colorado Adopt-a-Dog
News Briefs---
Banks Ease Capital Cost of Loans to Brokers
Boeing says taking next step toward launching 777X jet
Spring car sales off to a strong start for U.S. automakers
Ford to add shift, hire 900 at Kansas City plant
Investors Go Bananas for Apple Debt
Lehman Brothers sues Intel over $1 billion in seized collateral
Forecasts point to weak jobs report Friday
Tablet shipments soar in first quarter
Broker/Funder/Industry Lists | Features (collection)
Top Ten Stories Chosen by Readers | Top Stories last six months
www.leasingcomplaints.com (Be Careful of Doing Business)

You May have Missed---
SparkPeople--Live Healthier and Longer
Sports Briefs---
California Nuts Brief---
"Gimme that Wine"
This Day in American History
SuDoku
Daily Puzzle
GasBuddy
Weather, USA or specific area
Traffic Live----


######## surrounding the article denotes it is a "press release" and was not written by Leasing News nor information verified, but from the source noted. When an article is signed by the writer, it is considered a "by line." It reflects the opinion and research of the writer.

Please send Leasing News to a colleague and ask them to subscribe.
We are free!

[headlines]
--------------------------------------------------------------
Newport Financial Partners, Newport Beach, California
Bulletin Board Complaint 4th Posted
By Christopher Menkin, Editor


This is the culmination of a complaint posted November, 2012 which resulted in the loss of $1,000 plus 40 hours of court time, not counting all the effort prior effort to get a $5,664.76 advance payment on a lease that never went together. (1)

Here is a synopsis with the final result:

January 12, 2012

"We just got scammed by Newport Financial partners LLC
Something has to be done, saw several complaints on your site but too late for us!
They took 6 Grand!
I need help with legal aid...Please call me ASAP!

"Thank you,"
Stan Friedman
Amor Electronics Inc.
23331 Peralta Dr., Suite 12
Laguna Hills, Ca. 92653

Leasing News asked for documents and he sent them later that morning:
"This was promised Dec 14th (2011) and after the New Year they tell me the underwriter never got back to them and they wanted to put this through my other company which I told them had a credit hit from 2 years ago and did not want to do that. I asked for my money back and they said they were keeping my 6 grand. They told me I had to let them finish their work otherwise they were keeping my first and last month on a lease they already sent me approval paperwork on. Did not hear back from them for several days and then this past Monday my vendor who was called 6 xs by these people, Sold the 2 units he was holding and I got charged 18K in fees from him for all the extra equipment he added for us that he had to remove. I called Newport back and told them because it was now a month, we lost the 2 units and I was coming over for a refund check. They tried to tell me not to come down but I did.
"They put me in a room with 3 very large goons and tried to force me to sign a paper that they had 180 days to return my money. I left and called the Newport Beach sheriff. They came out, took the complaint, talked to their Detectives while they were there in the fraud squad… HOW MANY PEOPLE ARE THEY SENDING FAKE LEASES TO FOR SIGNING AND GETTING FIRST AND LAST MONTH AND THEN KEEPING THE MONEY? Sheriff told me several complaints were on them but they had been there for 3 years so they hoped I could go to small claims court to get my money."
George Bojorkuez of Newport Financial Group responded, gave us his position on this, and the problem of two corporations, one Mr. Friedman's and one by his wife, requiring cross guarantees of both corporations and personal guarantees. He outlined how many places and the work involved, and certainly they spent a lot of time in trying to put the lease together at many places. (1)
This complaint went back and forth with many telephone calls and emails, until Mr. Friedman said he would take the matter to Small Claims Court, and George Bojorkuez responded the following to Leasing News with a cc: Richard Nicholson.
"Thank you for your time and assistance in the matter. We will be seeing him in small claims court."
It took a while to serve the officers of Newport Financial Partners and the case went ahead for $5,000, allegedly the limit of the small claims court in his county. Mr. Freidman won the first small claims court. Mr. Friedman noted "Judge also warned me that in the future I should know Who I am dealing with and should deal with banks direct. I told him I did not realize the difference which now I know."
On 2/22/2013 the next development was Newport was appealing the verdict, claiming they were owed a commitment fee in the contract, which the judge did not recognize.
Newport made a second appearance, and this judge awarded the commitment fee to Newport, but nothing else. Newport Financial Partners appealed this in a higher court, and this was the third appearance. October 30, 2012, Mr. Friedman told Leasing News, "Courts came back and said the judge's ruling stands: he needs to pay us back. Will find out this week by going down there how to make sure we get our money back and time frame. I believe they have 30 days to give us a check back."
After never receiving the check, he made an effort to take them back to court for an examination of the ability to pay, and had difficulty serving them again, as they moved again. John Kenny was very helpful in this in finding the addresses of the officers as it appeared they were working out from where they lived now.
Most business addressed seemed to be mail drops where they were located, and they were not keeping the Department of Corporation Finance Lenders Unit apprised of their new addresses, a requirement of their license. During this period the Department had the old address, not the new addresses noted on the Newport web site, nor could they be served at this addresses.
After many attempts with private service, and working on it himself, with many hours involved (his office and home were local, so he could spend this time), this time he went to the Sheriff on December 6, 2012 and paid to have them make the service.
During this time Leasing News had other complaints with Newport Financial Partners, but continued to assist Mr. Friedman with searches for new addresses of the officers with the help of John Kenny. Finally the Sheriff was to serve them and get them to court, which they did and were ordered to show up and the judge ordered them to pay Mr. Friedman in 30 days.
On 4/25/2013, two years later, and the day before Mr. Freidman had a court date since the check was not paid, he received a check for $4,754, took it to the bank to deposit and first asked if it was "good." They said funds were in their account. Two days later the bank said the check cleared. $1000 lost and 40 hours for the court work plus other times was well worth it, according to Stan Friedman
Original Complaint Postinghttp://leasingnews.org/archives/Nov2012/11_21.htm#bbc



Other Newport Complaints on www.leasingcomplaints.com
http://leasingnews.org/archives/Jan2013/1_15.htm#bbc
http://leasingnews.org/archives/May2012/5_09.htm#bbc
http://leasingnews.org/archives/Aug2011/8_03.htm#newport_bbc
John Kenny Receivables Management

• End of Lease Negotiations & Enforcement• Fraud Investigations
• Credit Investigations • Asset Searches


• Skip-tracing • Third-party Commercial Collections

john@jkrmdirect.com | ph 315-866-1167| www.jkrmdirect.com
(Leasing News provides this ad as a trade for investigations
and background information provided by John Kenny)


[headlines]
--------------------------------------------------------------
Classified Ads---Sales


(These ads are "free" to those seeking employment
or looking to improve their position)
Central Valley, California
6 years sales, management, marketing, business development, budget planning, finance. Proven track record challenging and competitive situations. Expert: healthcare, banking, and entrepreneurship. dsp559@outlook.com| Resume
Garfield, NJ
15 years experience small to large ticket sales exp. All types of equipment industries. Vendor & direct. Self motivated. Work with leasing company or broker.
Tony Lio tonylio@optonline.net
Montgomery, AL
Individual with 10 years advertising sales exp. & 7 years insurance sales exp. Wants independent contractor situation in Alabama.
Work with leasing company or broker. 334-590-5133
E-mail: billmcneal2003@yahoo.com
Orange County, CA
25+ yrs. leasing sales/sales mgmt.
Have an established office w/Lessee/Vendor following
Request direct funding source to exclusively partner with.
shermbp@gmail.com
San Francisco Bay Area:
15 year Vendor Program Agreement HUNTER. Currently employed at major IT manufacturer captive supporting direct and channel sales. Must have base, commission and benefit package.
E-mail: VdrPgmBizDev@aol.com
Texas/Oklahoma
15 year lease vet looking for plact to take business.great references. all major equipment types. open to compensation. please contact if interested.
E-mail: bankingdallas@yahoo.com
Remote
MBA, CLP, 20 yrs. experience, highly energy. Ethics, high volume producer Work from remote sales location, for national, independent Lessor/broker
Commission only preferred. E-mail: stefitony@yahoo.com
Free Posting for those seeking employment in Leasing:
http://www.leasingnews.org/Classified/Jwanted/Jwanted-post.htm
All "free" categories "job wanted" ads:
http://www.leasingnews.org/Classified/Jwanted/Jwanted.htm
[headlines]
--------------------------------------------------------------
Sterling Financial Purchases Commerce National
by Kit Menkin
According to a highly reliable source, Sterling Financial of Spokane, Washington is about to announce the purchase of Commerce National Bank, Newport Beach, California. Commerce National is a $300 million bank with a leasing department--- Sterling is a $9 billion bank that had some rough times with the housing market, but wants to grow and doesn't have a leasing department and covers more geography.(1)
Commerce National has primarily been focusing on California business, but has been expanding and does work with third party originations.
Leasing News hopes to have more information in the next edition. According to their web site: "Sterling Financial Corporation of Spokane, Washington is the bank holding company for Sterling Savings Bank*, a state chartered and federally insured commercial bank, that operates under the trade names of Sterling Bank and in California as Sonoma Bank."
(They also reportedly purchased a bank in Borrego Springs "a while ago." Editor).
"Sterling Bank is the largest commercial bank headquartered in Washington State and one of the largest regional community banks in the western United States. Sterling Bank and Sonoma Bank serve more than 54,000 small and medium-sized businesses and more than 280,000 retail accounts throughout the Pacific Northwest in a network of branches that span from northern California to the Canadian border.
"As the leading community bank in the Pacific Northwest, Sterling's service culture reflects its relationship banking. Our business model centers on bringing the full product suite of a large regional institution to customers with the personalized service of a local community bank.
"Sterling Bank and Sonoma Bank operate branches in Washington, Oregon, Idaho and Northern California."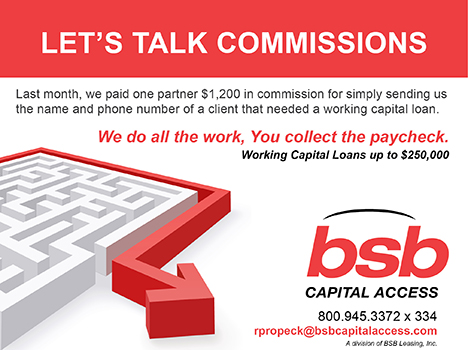 [headlines]
--------------------------------------------------------------
"A look outside Pawnee at 7am this morning!"
From Gary Souverein
"It was 80 degrees here on Monday and this morning we have this scene at Pawnee Leasing with the NOAA weather report below for the balance of the day!
"Colorado weather!
"Happy Leasing!
SNOW WILL CONTINUE ACROSS THE FOOTHILLS AND FRONT RANGE URBAN CORRIDOR THROUGH THE REST OF THE MORNING. THE SNOW MAY BE HEAVY AT TIMES WITH SNOWFALL RATES UP TO 1 INCH PER HOUR...WITH 1 TO 2 INCH PER HOUR RATES POSSIBLE IN THE FOOTHILLS OF LARIMER COUNTY.
Gary Souverein
President & COO
(Gary loves to ski, so as long as Pawnee can stay open and he can ski, Gary will be one happy skier! Editor)
[headlines]
--------------------------------------------------------------




Broker/Lessor Relationship Manager
Canada

Responsible for the development and maintenance of all broker/lessor relationships for Financial Pacific Leasing located in Canada. Promote the FinPac product and develop new sources of business. Work remotely from your location in Canada with periodic travel within Canada and Seattle, WA. Base salary plus commission plan.

Please click here for more information.

www.finpac.com
Since 1975 serving the broker/lessor industry
in the $5,000 to $50,000 marketplace.


[headlines]
--------------------------------------------------------------
National Restaurant, Hotel-Motel Show
Chicago, May 19-21
Don't miss the opportunity to meet with 60,000 professionals and 2,000 exhibitors starting May 19 through May 21 at McCormick Place, Chicago, Illinois. Talk about business, leasing, loans, vendors, franchisors, all in one spot.
More about the Restaurant, Hotel-Motel Show:http://show.restaurant.org/Home
Registration:
http://show.restaurant.org/Attend/Register
NRA App
http://www.leasingnews.org/photos/nra_qrs52013.jpg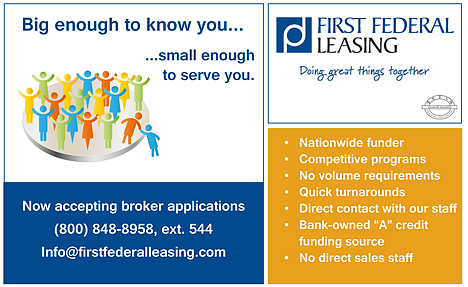 [headlines]
--------------------------------------------------------------
Leasing Industry Help Wanted



Broker/Lessor Relationship Manager
Canada

Responsible for the development and maintenance of all broker/lessor relationships for Financial Pacific Leasing located in Canada. Promote the FinPac product and develop new sources of business. Work remotely from your location in Canada with periodic travel within Canada and Seattle, WA. Base salary plus commission plan.

Please click here for more information.

www.finpac.com
Since 1975 serving the broker/lessor industry
in the $5,000 to $50,000 marketplace.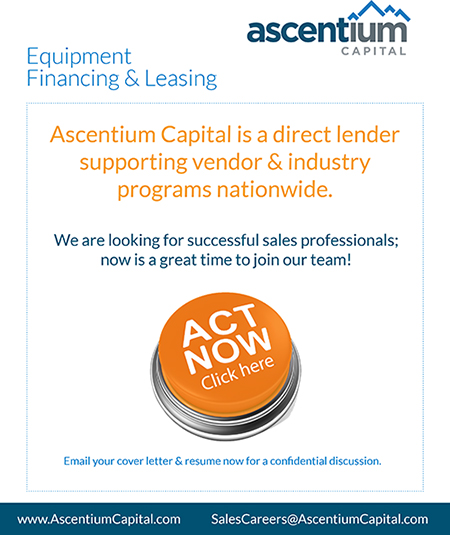 Please see our Job Wanted section for possible new employees.
[headlines]
--------------------------------------------------------------
Banks Scramble to Shed Servicing Duties as a
Result Basel III Accords--- Will Affect Leasing?
By Tom McCurnin
Leasing News Legal News Editor
Swiss-Based Basel Accord Requires Banks to Disproportionately Increase
Capital to Maintain Servicing Rights, So Third Party Servicers May
Have New Market Edge

One of the most important agreements you've never heard of may provide independent servicers with a big market opportunity later this year—Basel III
Never heard of Basel III? You're probably not alone. The Basel Accords is an international group of experts formed in 2009 to study bank liquidity out of the center's headquarters in Basel, Switzerland. Because the banking industry is no longer local nor even national, blips in Greece affect banks in Ozark, Arkansas overnight. Therefore, if all financial institutions had similar and adequate capital and liquidity standards, banks could survive market forces better. The Federal Reserve has adopted many of the recommendations of Basel III and much of the requirements of Basel III will be applied to American banks in 2013 and 2014.
One of the liquidity requirements of Basel III is to require banks to set aside specific amounts of capital if they exercise Mortgage Servicing Rights ("MSRs"). Most of the big lenders are starting to reduce their MSRs' size. By way of example, Ally Bank sold Quicken Loans its servicing rights for $34 million dollars. Bank of America followed suit and sold its MSR to Nationstar Mortgage. Most banks are dumping their MSR, on the rationale that if they are going to have capital, it should not be restricted and a reliable source of capital is essential.
Independent servicers, financed by hedge funds are financing the purchases, betting that loan will remain outstanding for a longer, rather than a shorter period of time, and those interest rates will uptick.
Although banks are well suited to service mortgage loans, the new capital requirements will force independent servicers to take up the slack, and we are likely to see mortgage pool owners pick their new dance partners over the next few months.
Where does this leave the leasing industry? Most portfolios are small enough not to require bank servicing but many pools do use banks to service the leases. I would expect that most banks will be out of the servicing business by the end of 2013.
If a reader either works for a bank servicer, or has servicing experience, then 2013 may be a good year to be flexible in term of employment opportunities.
Tom McCurnin is a partner at Barton, Klugman & Oetting in Los Angeles, California.
Tom McCurnin
Barton, Klugman & Oetting
350 South Grand Ave.
Suite 2200
Los Angeles, CA 90071
Direct Phone: (213) 617-6129
Cell (213) 268-8291
Email: tmccurnin@bkolaw.com
Visit our web site at www.bkolaw.com
Previous Tom McCurnin Articles:
http://www.leasingnews.org/Conscious-Top%20Stories/leasing_cases.html
Bookmark us

[headlines]
--------------------------------------------------------------
Top bank branch acquisitions since 2012
by Tahir Ali, SNL Financial
New branch openings are on the decline, but some banks continue to expand their branch networks through mergers and acquisitions.
There were 89 deals announced in 2012 involving only bank branches. That is up from 83 in 2011. If all pending branch deals announced in 2012 close, the transactions will result in the transfer of 376 branches, compared to 429 branches transferred in 2011.
SNL ranked the 10 largest branch deals announced since the beginning of 2012. For this analysis, SNL evaluated deals announced between Jan. 1, 2012, and March 31, 2013, in three categories: branch-only deals, whole company deals and government-assisted deals.
People's United Financial Inc.'s acquisition of 57 branches in the Greater New York metro area from RBS Citizens Financial Group Inc. was the largest branch-only acquisition announced since Jan. 1, 2012. With the majority of acquired branches located in stores, People's United now ranks sixth among banks and thrifts with the most in-store branch deposits.
Following an agreement with the U.S. Department of Justice, First Niagara Financial Group Inc. completed the sale of 37 branches to KeyCorp and another divestiture of 19 branches to Community Bank System Inc., with the deals ranking second and seventh, respectively, among branch deals announced between 2012 and March 31, 2013.
Bank of America Corp. has announced eight branch deals encompassing 93 locations since the start of 2012, as part of its shrinkage plan.
Most recently, the bank agreed to sell nine branches to First Financial Corp. and 24 branches to Old National Bancorp. Once completed, Old National's deal will tip the bank over the $10 billion asset threshold.
Among all of the 371 whole company, branch and government-assisted bank and thrift deals announced in 2012, FirstMerit Corp.'s acquisition of Citizens Republic Bancorp Inc. and its 215 branches ranked at top of the charts for total number of branches transferred in 2012. The deal allowed First Merit an entry into the Michigan and Wisconsin markets.
Although M&T Bank Corp.'s plan to acquire Hudson City Bancorp Inc. received shareholders' approval, the deal is facing a delay due to regulatory concerns. If completed, the announced acquisition of 135 branches will rank second place among deals announced since the beginning of 2012.
Mitsubishi UFJ Financial Group Inc., completed the acquisition of Pacific Capital Bancorp in 2012, adding 47 branches to its network along with $4.7 billion in deposits, as of Sept. 30, 2012. The Japanese megabank has shown keen interest in the U.S., as it strives toward expanding its overseas revenue contribution to 40% by March 2015.
There were 47 government-assisted deals for 186 branches in 2012, down from 90 deals for 626 branches in 2011.
The acquisition of Citizens First National Bank and its 21 branches by Heartland Bancorp Inc. remains at the top of the government-assisted branch M&A chart in 2012. At the time of its failure, Citizens First National was expected to cost the FDIC's deposit insurance fund $259.6 million.
So far, a total of eight government-assisted deals have closed in 2013. Heritage Financial Group Inc.'s March 8 purchase of Frontier Bank remains at top of the branch transfer rankings for 2013, with 10 branches.
(Note: This article does not include closed banks and their branches assumed by banks who assumed the deposits and assets).
[headlines]
--------------------------------------------------------------
####Press Release ##############################

Roberto Fernandez Joins the Alta Group
as Latin American Business Process and Applications Consultant

The Alta Group, a global consultancy focused on equipment leasing and asset finance, has appointed Roberto Fernandez as Business Process and Applications consultant for its Latin American Region (LAR). Fernandez's broad expertise in financial and information technology (IT services) includes notable skills in business planning, operations streamlining, project management professional (PMP) services, risk management, database design, accounting and taxes in the Latin American region.

Roberto Fernandez
Consultant, Business Process and Applications
As CIT's former vice president and chief information officer (CIO) in Latin America, serving Mexico, Brazil, Colombia, Chile, Argentina and Puerto Rico, Fernandez led the implementation of several important projects. These include receivables systems, front ends for mid and large transactions, front ends for small tickets, credit scoring, pricing models, interfaces with corporate systems, universal data base (UDB), and reporting for local regulatory and corporate environments.


Rafael Castillo-Triana
LAR CEO
"Roberto brings Alta additional senior executive level IT services talent in equipment leasing/financing, and also broad financial and operations market skills," noted Alta LAR CEO Rafael Castillo-Triana. "His talent will support Alta's continuing growth, and his strong operational and IT experience will help serve the business intelligence and systems architecture needs for our clients."
Fernandez, presently based in Brazil, earlier in his career was an independent consultant assisting with the development of leasing and factoring systems for several companies.
About The Alta Group
Since 1992, The Alta Group has represented equipment leasing and finance companies, financial institutions, manufacturers and service providers, offering management consulting and expertise in global market entry, vendor finance, professional development, legal support services, asset management, and mergers and acquisitions. The practices in LAR are described at www.thealtagroup.com/latin-america.

#### Press Release ##############################
[headlines]
--------------------------------------------------------------
#### Press Release ##############################


Marlin Business Services Reports 1st Quarter 2013
(This company is listed with a complaint at www.leasingcomplaints.com)

Net income of $3.7 million for the first quarter of 2013, an increase of 121% compared to first quarter 2012
New lease originations of $80.9 million for the first quarter of 2013

Risk adjusted net interest and fee margin of 11.78% for the quarter

$419.6 million of insured deposits, up 76% year-over-year

Average cost of deposits of 0.95%

Strong capital position, equity to assets ratio of 27.7%

Total risk-based capital ratio of 32.1%

Efficiency ratio of 55% compared to 72% a year ago
MOUNT LAUREL, N.J., -- Marlin Business Services Corp. Nasdaq: MRLN) reported first quarter 2013 net income of $3.7 million, or $0.28 per diluted share. Net income improved 121% and diluted earnings per share improved 115% over first quarter 2012.



Dan P. Dyer
"Performance for the quarter was led by solid asset growth," says Daniel P. Dyer, Marlin's co-founder and Chief Executive Officer. "As we move forward in 2013, our growth focus is on expanding our market footprint and serving the credit needs of small business," says Mr. Dyer.
First quarter 2013 lease production was $80.9 million based on initial equipment cost, 12% higher than the first quarter of 2012.
Net interest and fee margin of 13.5% is stable compared to the fourth quarter of 2012.
The Company's cost of funds improved 24 basis points from the fourth quarter of 2012 and 118 basis points from the first quarter of 2012. The improvement resulted from the Company's use of lower-cost insured deposits issued by the Company's subsidiary, Marlin Business Bank, as its primary funding source.
The allowance for credit losses as a percentage of total finance receivables stands at 1.35% at March 31, 2013, compared to 1.30% as of December 31, 2012. The allowance for credit losses as of March 31, 2013 represents 207% of total 60+ day delinquencies.
Leases over 30 days delinquent were 0.99% of Marlin's lease portfolio as of March 31, 2013, 7 basis points higher than the fourth quarter of 2012 and 6 basis points higher than a year ago. Leases over 60 days delinquent were 0.57% of Marlin's lease portfolio as of March 31, 2013, up 15 basis points from 0.42% at December 31, 2012 and 16 basis points higher than a year ago.
First quarter net charge-offs were 1.25% of average total finance receivables, flat compared to the fourth quarter and 2 basis points higher than the first quarter of 2012.
In conjunction with this release, static pool loss statistics and a vintage delinquency analysis have been updated as supplemental information on the Investor Relations section of the Company's website at www.marlinfinance.com.
First quarter total operating expenses were $10.4 million, up $0.6 million, or 6%, from the fourth quarter of 2012. The increase in operating expenses is primarily due to seasonal expenses recorded in the first quarter related to withholding taxes, accruals and restricted stock.
The Company's efficiency ratio improved to 54.7% at March 31, 2013 compared to 72.2% at March 31, 2012.
The Company maintains strong capital ratios with a consolidated equity to assets ratio of 27.74%. Our risk based capital ratio is 32.1%, which is well above regulatory requirements.
The Board of Directors of Marlin Business Services Corp. declared a $0.10 per share quarterly dividend. The dividend is payable May 22, 2013, to shareholders of record on May 10, 2013. Based on the closing stock price on April 29, 2013, the annualized dividend yield on the Company's common stock is 1.70%.
#### Press Release ##########################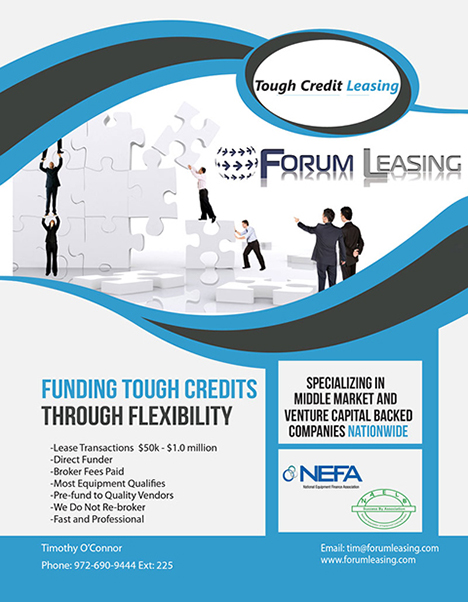 [headlines]
--------------------------------------------------------------
#### Press Release ##########################


Balboa Capital Doubles Size Commercial Financing Team,
Enhances Product Offering
(This company is listed with a eleven complaint at www.leasingcomplaints.com)

Increased Staff, New Credit Facility Highlight Company's Growth in Commercial Equipment Financing Sector

Irvine, California: Balboa Capital, a leading independent financing company in the United States since 1988, announced the large expansion of its commercial finance division to accommodate demand and serve middle-market businesses nationwide. The company doubled the size of its commercial financing team and made a significant enhancement to its commercial equipment financing program.
"Our commercial financing business is expanding rapidly, and we took the steps necessary to meet the needs of middle-market companies in all industries," said Don Hansen, Vice President of Balboa Capital's Commercial Finance Division. "We now have over 20 talented commercial finance managers who work with both existing and prospective customers throughout the country. Our team has extensive knowledge of credit-based and asset-based lending and is dedicated to developing dependable, value-driven equipment financing plans for our customers," added Mr. Hansen.
Balboa Capital's commercial division works with companies with annual revenues from $10 million to $200 million that need equipment financing ranging from $250,000 to $10 million. The company recently enhanced its commercial financing capabilities by securing a new revolving credit facility from Wells Fargo Capital Finance. "Our new credit facility is the perfect complement to our commercial equipment financing program because it gives us bigger lending power," said Mr. Hansen. "Sound financing solutions backed by fast, dependable funding are what today's CFOs and Controllers want, and Balboa Capital delivers."
For more information about Balboa Capital's commercial financing program, please contact Don Hansen at (949) 553-3464 or via email at donfh(at)balboacapital(dot)com.
About Balboa Capital
Celebrating its 25th year in business in 2013, Balboa Capital has provided financing to thousands of small and medium-sized businesses throughout the United States. Balboa Capital is one of the largest independent finance companies in the nation delivering access to capital, speed of processing, leading-edge technology and state-of-the-art marketing tools that help fuel the growth and success of today's businesses and equipment vendors. The company's portfolio of financing options includes equipment leasing, franchise financing, equipment vendor financing and small business loan options. You can learn more about Balboa Capital by visiting their corporate website at http://www.balboacapital.com/

### Press Release ###############################
[headlines]
--------------------------------------------------------------
### Press Release ###############################


Graphic Savings Group New Name GSG Financial LLC
New Name Reflects Increased Financial Offering
and Corporate Development
Brooklyn, NY-- – Graphic Savings Group LLC dba GSG Leasing has completed its company name change to GSG Financial LLC, effective immediately. This change is part of a larger rebranding effort to emphasize the company's commitment to expand its product offering to service its expanding vendor, end user and financial partner base.
"The GSG Financial name clearly defines our company focus. Our new name also more accurately reflects our evolution to a financial solutions provider," said Andrew A. Bender, chief executive officer of GSG Financial. "As larger banks continue to try to automate processes, our partners value personalized service and customizable financial products. With the breadth of our services expanding parallel to our partner bases and the markets in which we operate, our company is better positioned to strengthen our industry standing. This is a very exciting time for our company as we continue to position ourselves for accelerated growth in an improving economy."
The company provides financial solutions including leases and equipment loans to a variety of core industries including material handling, office products, graphic arts, information technology, mailing and packaging and energy throughout the United States and Puerto Rico. GSG is focused on structuring transactions with middle market and investment-grade companies that require more creative and flexible financing than typically offered by traditional banks.
GSG Financial is celebrating its tenth anniversary in June. Over the past decade, GSG expanded from a captive leasing company to a full service financial solutions provider. GSG Financial partners with organizations to facilitate capital acquisitions through personalized service and customized financial solutions. Novel product development, coupled with the current name change, will help investors and customers better understand how GSG's signature single point of contact and customizable financial offerings most effectively provide financial solutions.
In addition to GSG Financial, GSG services customers through two primary affiliates. GSG Financial facilitates energy capital acquisitions through GSG Energy Finance. GSG Finance of PR LLC provides financial solutions in Puerto Rico.
To support the new name launch, the company unveiled a redesigned website, www.gsgfinancial.com, featuring a unified product, service and solution portfolio.
About GSG Financial LLC
GSG Financial is an independent equipment lessor and financial solutions provider based in New York City. GSG partners with organizations to facilitate capital acquisitions through personalized service and customized financial products. The company's core offerings consist of operating leases, capital leases and equipment finance agreements structured to meet the unique needs of each client. GSG's primary industries include material handling, graphic arts, mailing and packaging, office products, IT and software, and energy. GSG leverages relationships to effectively connect vendors, end users and financial institutions with flexible financial packages. The signature single point of contact approach connects clients with the same experienced account executive from the beginning of the credit process to the time the equipment lease or loan is finalized. GSG Financial's affiliates include GSG Energy Finance and GSG Finance of PR LLC.
For more information on the new GSG Financial, visit www.gsgfinancial.com or call 718-243-2243.
### Press Release ########################
[headlines]
--------------------------------------------------------------
Mortgage rates head back down in April
By Salman Aleem Khan, SNL Financial
Mortgage rates headed back down after rising for the first two months of 2013, seemingly encouraged by the Federal Open Market Committee's meeting minutes released on March 20. The FOMC announced that it would continue purchasing agency mortgage-backed securities at a rate of $40 billion per month and long-dated Treasury's at $45 billion per month. Ben Bernanke also noted the fact that the housing industry has strengthened and home prices have gone up in the past few years, renewing faith in the mortgage market.
Interest rates on mortgages at some of the largest publicly listed U.S. banks had some variation. Looking at the average 30-year mortgage rate at these behemoths, BB&T Corp. offered the lowest rate at 3.34%, with Northern Trust Corp. on the other end offering a rate of 4.38%. The median of the group was calculated to be 3.61% within the 30-year mortgage loan category. PNC Financial Services Group Inc. offered the lowest average interest rate on a 15-year mortgage among the top 15 banks, at a rate of 2.51%. Bank of New York Mellon Corp. and Northern Trust Corp. both offered an average rate of 3.13% on a 15-year mortgage, the highest among the group.
The average nationwide rate for a 30-year fixed mortgage dropped to 3.67% at April 19, down from 4.05% a year earlier. The average 30-year fixed mortgage rate had plummeted to 3.51% in December 2012 but then rose again to 3.75% in late March, before the Federal Open Market Committee concluded its meeting. However, the FOMC's impact was not as evident when observing the average national 15-year fixed mortgage rate, as it only fell by 6 basis points to 2.97% from 3.03% in late March.
Alaskans looking for a home will once again find the lowest average rate for 15- and 30-year mortgages in their state. Alaska's average 15-year mortgage rate was 2.71%, and its average 30-year mortgage was 3.48%, as of April 19. However, Alaska's current rates have increased since the last analysis done by SNL in December 2012. Montana and Iowa were tied for second place in 15-year mortgages, as both states offered a rate of 2.75%. Montana also had the second-lowest average 30-year mortgage rate at 3.49%.
Banks and thrifts with less than $100 million in assets posted the highest average rate for a 15-year mortgage at 3.08% while those with $100 million to $500 million in assets posted the highest average rate for a 30- year mortgage at 3.69%. On the other side of the spectrum, banks and thrifts with assets of $1 billion to $10 billion offered the most competitive average mortgage rates with 15-year rates at 2.85% and 30-year rates at 3.60%. Banco Popular de Puerto Rico's average rate of 2% on a 15-year mortgage and 2.88% on a 30-year mortgage were the lowest on offer across the industry.
A similar trend was evident looking at credit unions at different asset thresholds. Credit unions with assets between $100 million to $500 million were seen to have an average 30-year mortgage rate of 3.71%, which increased by 5 basis points for institutions with assets below $100 million. The lowest average 30-year mortgage rate was observed in the large credit unions, as institutions with an asset size of greater than $10 billion offered an average 30-year mortgage rate of 3.42%. Similarly, credit unions with an asset threshold between $1 billion to $10 billion were seen to offer the lowest average 15-year mortgage rate of 2.85%, and the lowest rate within this category was seen to be 2.50%.
Mr. Terry Winders available as a consultant regarding assisting attorneys in resolving disputes or explaining procedures or reviewing documents as utilized in the finance and leasing industry.
He is the author of several books, including DVD's, as well as weekly columnist to Leasing News. He also performs audits of leasing companies as an expert on documentation, and has acted as an expert witness on leasing for litigation in legal and tax disputes, including before the IRS. He also has taught the senior bank examiners, how to review a bank leasing department, for the Federal Reserve in Washington D.C. and has trained the examiners for the FDIC on how to prepare a lease portfolio for sale.
502.649.0448/WindersConsulting@yahoo.com
(This ad is a "trade" for the writing of this column. Opinions
contained in the column are those of Mr. Terry Winders, CLP)

[headlines]
--------------------------------------------------------------
[headlines]
--------------------------------------------------------------

Dachshund/Chihuahua Mix--Puppy
Fort Collins, Colorado Adopt-a-Dog
KitKat
Male
Puppy
Tan/Yellow/Fawn
Dachshund/Chihuahua Mix
Small: 25lbs or less
"I am up to date with shots, good with kids, good with dogs, and good with cats.
"KitKat is a very sweet 12-14 week old puppy rescued from a high kill shelter. This puppy has been started on housebreaking and crate training in foster care and is current on vaccinations and dewormers. Please go to www.aaanimalrescue.org and complete the adoption application and email it to marissa@aaanimalrescue.org.
"During the week appointments can be arranged with a pre-approved application. This puppy will be at our adoption event this Saturday (postings are current for the upcoming weekend, all dogs adopted will be removed from the site promptly.
"If this ad is still listed the puppy will be at our upcoming Saturday event.) The event is located at the NorthGlenn Petsmart at 10600 Melody Drive off 104th and I-25. Hours run approx. 10-3:00. Please call/text/email Marissa at 970-691-0166 or arissa@aaanimalrescue.org for more information! Please check out our FaceBook page http://www.facebook.com/allaboardrescue and give us a thumbs up!
Contact This Rescue Group...
Rescue Group: All Aboard Animal Rescue
Phone:(973) 452-5127
E-mail: allaboardanimalrescue@gmail.com
Website: http://www.aaanimalrescue.org
Address: PO BOX 271245
Fort Collins, CO 80526
Adopt-a-Pet by Leasing Co. State/City
http://www.leasingnews.org/Conscious-Top%20Stories/Adopt_Pet.htm

Adopt a Pet
http://www.adoptapet.com/
[headlines]
--------------------------------------------------------------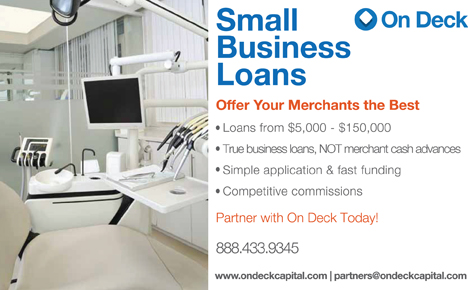 News Briefs----
Banks Ease Capital Cost of Loans to Brokers
http://dealbook.nytimes.com/2013/05/01/banks-ease-capital-cost-of-loans-to-brokers/?ref=business
Boeing says taking next step toward launching 777X jet
http://finance.yahoo.com/news/boeing-says-taking-next-step-042146483.html
Spring car sales off to a strong start for U.S. automakers
http://money.cnn.com/2013/05/01/news/companies/car-sales/index.html
Ford to add shift, hire 900 at Kansas City plant
http://www.marketwatch.com/story/ford-to-add-shift-hire-900-a-kansas-city-plant-2013-05-02
Investors Go Bananas for Apple Debt
http://online.wsj.com/article/SB100
Lehman Brothers sues Intel over $1 billion in seized collateral
http://finance.yahoo.com/news/lehman-brothers-sues-intel-over-052816476.html
Forecasts point to weak jobs report Friday
http://www.usatoday.com/story/money/business/2013/05/01/april-jobs-report-preview/2126397/
Tablet shipments soar in first quarter
http://www.usatoday.com/story/tech/personal/2013/05/01/tablet-shipments-first-quarter/2128161/

[headlines]
--------------------------------------------------------------




---You May Have Missed

Brooklyn, pooch on death row in New York, now free in New Jersey
http://www.nydailynews.com/new-york/brooklyn/brooklyn-pooch-free-n-article-1.1331654



[headlines]
--------------------------------------------------------------



SparkPeople--Live Healthier and Longer

SparkPeople--Live Healthier and Longer

The Sleep Quiz
http://www.sparkpeople.com/resource/quizzes_start.asp?quizid=43
[headlines]
--------------------------------------------------------------
Baseball Poem
"In the family pictures,
my brother stands at the plate
forever waiting on a pitch,
my dad squats by the dugout fence,
his chin resting on his hands;
somewhere beyond the eye or the camera,
I hold a huge scarlet plum behind my back,
left leg kicked high in a pitching motion,
as near to the spirit or the game
as I'd ever be."
(With permission of the author from his book:
"Touching All the Bases"
Poems from Baseball
available from Amazon
or direct from the publisher at: www.mcfarlandpub.com
Tim Peeler celebrates with candor and wit both the overlooked and the standout as he merges the topics of personal and baseball rediscovery. The poet reconsiders events and people from his adolescence, offering the reader new takes on old memories, gracefully relating the foibles of family and friends, and cataloging the heroic feats and tragic flaws of players he watched, read about — or merely imagined.
English lecturer, journal editor, essayist and poet, TlM PEELER lives in Hickory, North Carolina. He is a winner of the Jim Harrison Award for his contributions to baseball poetry.

[headlines]
--------------------------------------------------------------

Sports Briefs----

(click to enlarge)
Cubs unveil Wrigley Field Jumbotron, plaza plans
http://www.chicagobusiness.com/article/20130501/BLOGS04/130439944
Sacramento investors shooting to give NBA a finalized deal for Kings by May 15
http://www.sacbee.com/2013/05/01/5384875/sacramento-investors-shooting.html
((Please Click on Bulletin Board to learn more information))
(Leasing News provides this ad "gratis" as a means
to help support the growth of Lease Police)
[headlines]
--------------------------------------------------------------


California Nuts Briefs---

Bay Bridge tower welds flawed, need repairs
http://www.sacbee.com/2013/05/01/5387460/bay-bridge-tower-welds-flawed.html
[headlines]
--------------------------------------------------------------


"Gimme that Wine"
http://www.youtube.com/watch?v=EJnQoi8DSE8


$1 million will go to naturalize immigrants in Napa County
http://www.latimes.com/local/lanow/la-me-ln-napa-valley-immigrants-20130423,0,764698.story
Why is Ridge adding ingredients to its back labels?
http://www.ridgewine.com/About/ingredient%20labeling
The Weird and Wild Wine-Drinking Games of History
http://www.winespectator.com/webfeature/show/id/48337
TOP 10 ST GEORGE'S DAY DRINKS
http://www.thedrinksbusiness.com/2013/04/top-10-english-drinks-for-st-georges-day/
Free Mobile Wine Program
http://leasingnews.org/archives/Feb2010/2_26.htm#mobile
Wine Prices by vintage
http://www.winezap.com
http://www.wine-searcher.com/
US/International Wine Events
http://www.localwineevents.com/
Winery Atlas
http://www.carterhouse.com/atlas/\
Leasing News Wine & Spirits Page
http://two.leasingnews.org/Recommendations/wnensprts.htm
[headlines]
----------------------------------------------------------------
This Day in History
1830---Birthday of Mary Harris Jones, better known as "Mother Jones," Irish-born American labor leader. After the death of her husband and four children (during the Memphis yellow fever epidemic of 1867) and loss of her belongings in the Chicago Fire in 1871, Jones devoted her energies and her life to organizing and advancing the cause of labor. It seemed she was present wherever there were labor troubles. She gave her last speech on her 100th birthday. Born at Cork , Ireland , she died Nov 30, 1930, at Silver Spring , MD. In 1923, at the age of ninety-three, she was still working among striking coal miners in West Virginia . A passionate organizer, she counted among her more spectacular achievements the leading of a march of miners wives who routed strikebreakers with brooms and mops in the Pennsylvania coalfields in 1902, and the leading of a march of striking child textile workers from Kensington, Pennsylvania, to President Theodore Roosevelt s Long Island home in 1903 to dramatize the case for abolition of child labor. In 1905 she helped found the Industrial Workers of the World." Women of Achievement and Herstory
http://www.johnshepler.com/articles/mojo.html
http://www.mojones.com/info/maryharris.html
1850-The "Panama" sailed from San Francisco with $1,500,156 in gold dust destined for the East.
1855-When nationally known public speaker and feminist Lucy Stone married Henry Blackwell, a marriage contract written by the bride and groom was read at the wedding that disavowed the gross inequity married women suffered un American law, and the word "obey" was omitted from their marriage vows. A year after the ceremony, the bride further shocked society by taking back her maiden name, which she kept for the rest of her life.
http://ads.addynamix.com/creative/2-2127570-1i?
http://www.lucystoneleague.org/
1852-Birthday of Martha Jane (Calamity Jane) Canary - U.S. frontierswoman and stagecoach driver. CJ joined Buffalo Bill Wild West Show and has been romanticized in movies, fiction stories, and legends. She was reportedly rough mannered (as well most people of the place and era) and as was also common in those days for women without the protection of one man, was a prostitute of sorts. She frequented bars, was rumored (mostly disproved) to have driven stagecoaches, but she was a crack shot. It is believed that she began roaming the mining areas after she was orphaned at 15. Known as a companion of Wild Bill Hickock, she is buried next to him - more as a tourist attraction since he died many years before she did and their relationship was questionable at best. She toured with several Wild West shows including Buffalo Bill's. She often dressed in men's clothing (also not a particularly unusual thing in the pioneer west for active and poor women). According to some legends (told mostly by herself), she scouted for the army including Col. George Custer. She went to the Black Hills of South Dakota with a geological expedition and stayed in Deadwood after the gold strike there. There she became a companion to Wild Bill Hickock although a rumored marriage probably never took place. The name "Calamity" has been variously explained as being derived from her care of patients during a smallpox epidemic or warnings to men who felt a single woman alone was a plaything to be used as they would. She eventually moved to El Paso and married (maybe). She had a habit of referring to her male companions as husbands. She exhibited herself in some shows following depictions of her as a romantic character in the dime novels of the day. Living in abject poverty for many years, she eventually traveled back to South Dakota where she died in 1903 and was buried next to Wild Bill Hickock.
http://www.lkwdpl.org/wihohio/cana-mar.htm
http://www.cowgirls.com/dream/cowgals/calamity.htm
http://womenshistory.about.com/library/bio/blbio_calamity_jane.htm
http://www.watermargin.com/graves/wildbill.html
1855-Birthday of Cecilia Beaux - artist, generally recognized as the leading U.S. portrait painter of her day. Her first paintings, those of her family, won prizes in the U.S. and Paris. She was elected to the Socieacture; Nationale des Beaux-Arts ( Paris ) and the American Academy of Arts and Letters (1933). Her paintings are in major museums throughout the world including the Metropolitan Museum of Art. An injury cut short her career. One historian wrote:
In 1895 she became the first woman instructor at the Pennsylvania Academy of the Fine Arts, and in 1896, on the strength of her showing at the Paris Salon, she was elected to membership in the Soci6t6 Nationale des Beaux- Arts. Cecilia Beaux moved to New York City in 1900. Later major works included commissioned portraits of Mrs. Theodore Roosevelt and her daughter Ethel, Mary Adelaide Nutting (for the Johns Hopkins Hospital ), Mrs. Andrew Carnegie, Richard Watson Gilder, and, for the National Art Committee's project on World War I leaders, Adm. Lord David Beatty, Georges Clemenceau, and Cardinal Mercier. "Her paintings were placed in such major collections as the National Collection of Fine Arts, the Metropolitan Museum , the Art Institute of Chicago, the Luxembourg Museum of Paris, and the Uffizi Gallery of Florence. Cecilia Beaux was acknowledged as one of the leading portraitists of her day. Her work, while it suggested at times the influence of some of her French Impressionist teachers, and at other times was compared to that of John Singer Sargent, was not imitative of any master." Some of her work is also exhibited at the Women's Museum of Art in Washington, D.C.
http://www.butlerart.com/pc_book/pages/cecilia_beaux_1855.htm
http://www.artrenewal.org/museum/b/Beaux_Cecilia/page1.html
http://www.allposters.com/gallery.asp?aid=731567&c=&search=Beaux
http://www.artcyclopedia.com/artists/beaux_cecilia.html
1864-Birthday of Anna M. Jarvis - U.S. mother of Mother's Day.
After many women had attempted to have a special day set aside to honor mothers after the U.S. Civil War, Jarvis was successful in having the second Sunday of May set aside to honor mothers. By 1913 every state in the union established the observance and in 1914 President Woodrow Wilson signed a joint resolution of Congress to officially recognize the day.
She was unalterably opposed the commercialization of the observance wanting to keep it a pure and simple remembrance. A number of other women, including Julia Ward Howe had suggested Mother's Day, but none were successful until Jarvis's campaign, which started in Philadelphia , May 1908 with the pink carnation being worn if the mother was alive and white in memorial. The observance was originally to be a renunciation of war, militarism, and the patriarchy that cost women their husbands and sons in the Civil War. Jarvis spent most of her declining years in attempt to keep the holiday pure from the inroads of florists, jewelers, and the like who made it a marketing circus. Here is the original, pre-Hallmark, Mother's Day Proclamation, penned in Boston by Julia Ward Howe in 1870.
http://www.rootsweb.com/~wvtaylor/founder.htm
1862- Capt. David G. Farragut and Union forces took possession of New Orleans after running past Forts Jackson and St. Philip on the Mississippi R. at night and then defeating a small Confederate flotilla. In it's 19 months of service, the Hartford was hit 240 times by enemy fire Farragut was promoted to rear admiral in July.
http://www.nps.gov/vick/visctr/sitebltn/farragut.htm
http://www.us-civilwar.com/farragut.htm
1863-at the battle of Chancellorsville , 50 miles southwest of Washington, DC., Gen. Robert E. Lee won his greatest victory over huge Union forces under Gen. Joseph Hooker. The battles lasted for four days. In the North, 17,275 were killed or wounded; in the South, 12,821. Here is a good piece of trivia, General Hooker allowed his troops to bring "ladies of the evening" into camp, and many also traveled with his troops. They were nicknamed "Hooker's," and thus the argut today.
http://www2.cr.nps.gov/abpp/battles/va032.htm
http://www.nps.gov/frsp/cville.htm
http://www.bergen.org/civilwar/defense/chnclee.html
http://www.war-art.com/chancellorsville.htm
http://www.civilwarhome.com/chancell.htm
http://www.militaryhistoryonline.com/gettysburg/intro/chance.htm
http://www.collectorsnet.com/cwtimes/chancell.htm
1873---birthday of William Morris, founder of the William Morris Agency, Schwarzenau, Germany .
http://www.wma.com/
1873-Congress enacted the one cent postal card. The first cards were made by the Morgan Envelope Company, Springfield, MA. Stamp collectors state the first cancellation was May 12, 1873.
1874-Birthday of Romaine Brooks - U.S. artist whose palette of primary black, grey and brown produced amazingly insightful portraits. The daughter of an unstable mother and brother who became dangerously paranoid, she was sent away to various schools. Following their deaths she inherited a fortune. She married for form's sake but lived openly as a lesbian, maintaining am on\off liaison for 40-years with the wandering Natalie Clifford Barney, noted U.S. expatriate writer. She continued to paint until her late 80s. The largest collection of her works are to be viewed at the National Museum of American Art, Washington, DC. Died December 7, 1970 in Nice , France at the age of 96.
http://www.satanic.org/~succubus/romaine.html
http://www.uwrf.edu/history/prints/women/brooks.html
http://www.bampfa.berkeley.edu/exhibits/brooks.html
http://www.tfaoi.com/aa/1aa/1aa636.htm
http://www.queerstudies.com/histories/b/brooks_romaine.htm
http://www.csupomona.edu/~plin/women2/images/brooks_big.jpg
http://www.queerculturalcenter.org/Pages/Brooks/BrooksChron.html
1884-c onstruction was begun on the Home Insurance Company building in Chicago , IL , on what was to become the modern skyscraper. The 10-story building was completed in 1885. Designed by William Le Baron Jenney, it had a steel frame which carried the weight of the building. The walls provided no support but hung like curtains on the metal frame. This method of construction revolutionized American architecture and allowed architects to build taller and taller buildings. This building was constructed of marble and flanked by four columns of polished granite supporting a marble balcony. Two additional stories were added to it later. The steel frame supported the entire weight of the walls, instead of the walls themselves carrying the weight of the building.
http://www.skyscrapers.com/english/worldmap/building/0.9/102645/index.html
April 24, 1813, the first 750 feet building, the Woolworth Building , opened with 55 floors.
http://www.bluffton.edu/~sullivanm/woolworth/woolworth.html
1893-the Columbian Exposition Opened a t 12:08 PM, when President Grover Cleveland, in the presence of nearly a quarter of a million people, placed his finger on a golden key opening the Columbian Exposition at Chicago, IL. Amid the unfurling of thousands of flags, sounding of trumpets and booming of cannons, the key activated an electromagnetic valve, steam rushed into great cylinders and the immense pump began its enormous burden of pumping 15,000,000 gallons of water a day to supply the 685-acre fair and its visitors with an ample water supply.
http://columbus.gl.iit.edu/
http://xroads.virginia.edu/~MA96/WCE/title.html
http://www.whitehouse.gov/history/presidents/gc2224.html
http://www.caldwellnj.com/grover.htm
1906-the Night and Day Bank opened in New York City . It was open 24 hours a day. Oakleigh Thorne was the first president. The idea was originated by Thomas Benedict Clarke. 03/01/1911 Converted Federal Harriman National Bank of the City of New York 1932 Acquire By Merger Liberty National Bank & Trust Company in New York 03/01/1933 Closed
1908-birthday of trombonist Henderson Chambers, Alexandria, LA
1909-birthday of Kate Smith, one of America's most popular singers. Kate Smith, who never took a formal music lesson, recorded more songs than any other performer (more than 3,000), made more than 15,000 radio broadcasts and received more than 25 million fan letters. Nineteen of her records sold over a million copies, and she sold more war bonds during World War II than anyone else. On Nov 11, 1938, she introduced a new song during her regular radio broadcast, written especially for her by Irving Berlin: "God Bless America." It soon became the unofficial national anthem. Born Kathryn Elizabeth Smith at Greenville, VA, she began her radio career May 1, 1931, with "When the Moon Comes Over the Mountain," a song identified with her throughout her career. She died at Raleigh, NC, June 17, 1986.
http://www.katesmith.org/
1909-birthday of drummer Jesse Price, Memphis, TN
http://www.umkc.edu/orgs/kcjazz/jazzfolk/pricj_00.htm
1915- birthday of Archie Williams, who along with Jesse Owens and others, debunked Hitler's theory of the superiority of Aryan athletes at the 1936 Berlin Olympics. As a black member of the US team Williams won a gold medal by running the 400-meter in 46.5 seconds (.4 second slower than his own record of earlier that year). Williams, who was born at Oakland , CA , earned a degree in mechanical engineering from the University of California — Berkeley in 1939 but had to dig ditches for a time because they weren't hiring black engineers. He became an airplane pilot and for 22 years trained Tuskegee Institute pilots, including the black air corp of WWll. When asked during a 1981 interview about his treatment by the Nazis during the 1936 Olympics, he replied, Well, over there at least we didn't have to ride in the back of the bus." Archie Williams died June 24, 1993, at Fairfax, CA.
http://www.usatf.org/athletes/hof/williams.shtml
http://sunsite.berkeley.edu:2020/dynaweb/teiproj/oh/
blackalum/williams/@Generic__BookView
1917- Jack Paar Birthday
http://www.jackpaar.com/
( I remember many nights staying up with my father watching the Jack Paar Show. He and I were both night owls.
http://talkshows.about.com/cs/jackpaar/
1920-the Brooklyn Dodges and the Boston Braves played the long game in major league baseball history, but did not finish it. After 26 innings, the game was halted because of darkness with the score tied,1-1. Each team used just one pitcher, Leon Cadore for the Dodgers and Jose Oescher for the Braves, who gave up 12 and 9 hits, respectively. Despite its 26 innings, the game took just 3 hours,50 minutes. The next day, the Dodgers lost to the Philadelphia Phillies in 13 innings. the day after that, they returned to Boston and lost again in 19 innings.
1924-May 1, —Big Maybelle
http://www.p-dub.com/thang/maybelle.htmlBirthday
http://www.soulwalking.co.uk/Big%20Maybelle.html
http://www.amazon.com/exec/obidos/ASIN/B00000094N/
avsearch-df1-9-20/103-6620160-9563023
1930-Blues harmonica player Little Walter, real name Marion Walter Jacobs, was born in Marksville, Louisiana. He was a pioneer in the use of a microphone to amplify the mouth harp, and his techniques were widely copied, particularly by white blues musicians in England. Little Walter died in 1968 after being stabbed in a street fight in Chicago.
http://www.celticguitarmusic.com/harmlw.htm
http://www.island.net/~blues/little_w.html
http://www2.burstnet.com/cgi-bin/ads/ad3341a.cgi/2739/RETURN-CODE
1931-the Empire State Building, 103 stories, more than 1,250 was dedicated. The builder was Colonel William Aiken Starrett; the architect, William Frederick Lamb; the engineer, Homer Gage Balcom. In 1950, a 222-foot television sending-tower was constructed on the roof.
http://memory.loc.gov/ammem/today/may01.html
http://www.esbnyc.com/
1931-On her 22nd birthday, singer Kate Smith began her long-running radio program on CBS. Smith's program appeared opposite "Amos 'n' Andy" on NBC, and was so successful that NBC switched its comedy program to another evening. Smith's theme song was "When the Moon Comes Over the Mountain," but the song for which she is best remembered is "God Bless America." Kate Smith died in 1986 at the age of 77.
1933---birthday singer/song writer Titus Turner, Atlanta, GA
http://www.centrohd.com/biogra/t2/titus_turner_a_us.htm
1939-Folk singer Judy Collins was born in Seattle, Washington. She gained widespread fame in 1961 with her debut album "Maid of Constant Sorrow." Collins is best known for her hits "Both Sides Now" - top ten in 1969 - and "Amazing Grace" from 1971. She also helped promote the careers of Randy Newman, and Canadians Joni Mitchell and Leonard Cohen.
http://www.judycollins.com/
http://www.elektra.com/elektra/judycollins/index.jhtml;jsessionid
=L0EFAZRD3J5GQQAMEEQSFEY?_requestid=546276
http://www.richardhess.com/judy/
1946-Elliot Lawrence cuts first commercial session for Columbia.
(this is a great album:http://www.fantasyjazz.com/catalog/lawrence_e_cat.html )
http://www.52ndstreet.com/reviews/mainstream/
lawrenceplaysmulligan.mainstream.html
1946--- Emma Clarissa Clement, a black woman and mother of Atlanta University President Rufus E. Clement, was named "American Mother of the Year" by the Golden Rule Foundation. She was the first Afro-American woman to receive
1950—African-American Gwendolyn Brooks become the first black to win the Pulitzer Prize for Poetry for her book,"Annie Allen," Harpers.
http://voices.cla.umn.edu/authors/GwendolynBrooks.html
http://falcon.jmu.edu/~ramseyil/brooks.htm
1955--Leonard Chess signs Chuck Berry to a recording contract after he came highly recommended by Muddy Waters.
1961- so-called " militant students" joined James Farmer of the Congress of Racial Equality (CORE) to conduct "freedom rides" on public transportation from Washington, DC, across the deep South to New Orleans. The trips were intended to test Supreme Court decisions and Interstate Commerce Commission regulations prohibiting discrimination in interstate travel. In several places riders were brutally beaten by local people and policemen. On May 14, members of the Ku Klux Klan attacked the Freedom Riders in Birmingham, AL, while local police watched. The rides were patterned after a similar challenge to segregation, the 1947 Journey of Reconciliation, which tested the US Supreme Court's June 3,1948, ban against segregation in interstate bus travel.
1953—Tops Hits
Pretend - Nat King Cole
Till I Waltz Again with You - Teresa Brewer
I Believe - Frankie Laine
Mexican Joe - Jim Reeves
1960-the U2 Incident: o n the eve of a summit meeting between US President Dwight D. Eisenhower and Soviet Premier Nikita Khrushchev, a U-2 espionage plane flying at about 60,000 feet was shot down over Sverdlovsk, in central USSR. The pilot, CIA agent Francis Gary Powers, survived the crash, as did large parts of the aircraft, a suicide kit and sophisticated surveillance equipment. The sensational event, which US officials described as a weather reconnaissance flight gone astray, resulted in cancellation of the summit meeting. Powers was tried, convicted and sentenced to 10 years in prison by a Moscow court. In 1962 he was returned to the US in exchange for an imprisoned Soviet spy. He died in a helicopter crash in 1977.
1961-the first skyjacking of a commercial American airplane took place during the flight of a National Airlines twin-engine Convair CV 440 from Miami, FL, to Key West, FL. The plane left Marathon, FL, at 3:23pm with eight passengers. A passenger name dAntillo Ortiz, using the name of El Pirata Cofresi, threatened the crew and passengers with a pistol and knife. The plane landed in Havana. The string of airplane highjackings that followed were dubbed "skyjackings" by the press and led to the U.S.'s first air piracy law, passed in September, 1961.
1961—Tops Hits
Runaway - Del Shannon
Mother-In-Law - Ernie K-Doe
I've Told Every Little Star - Linda Scott
Don't Worry - Marty Robbins
1963-J.Walter Kennedy was named the second president of the NBA, succeeding Maurice Podoloff, who retired after the 1962-63 season.
1963-James W. Whittaker of Redmond, WA, the leading member of the first American Mount Everest Expedition, became the first American to ascent to the top, 10 years after Sir Edmund Hillary and Tenzing Norgay made ascent of the 29,028-foot peak.
1965-After just two weeks on the Billboard Hot 100, Herman's Hermits reach #1 with "Mrs. Brown, You've Got a Lovely Daughter".
1965-The Supremes release "Back In My Arms Again", which will become their fifth consecutive US number one hit.
1967 –Priscilla Beaulieu, born Brooklyn, NY, marries Elvis Presley at the Aladdin Hotel in Las Vegas. The wedding cake alone cost $3,500.
Priscilla was the teenaged daughter of a US Army officer whom Elvis had met in Germany. She had lived at Presley's Graceland Mansion since 1961, ostensibly under the supervision of Presley's father and stepmother. On February 1st, 1968, their only child, Lisa Marie, was born. Four years later, the couple separated, and in 1973, Elvis filed for divorce.
http://www.swinginchicks.com/priscilla_presley.htm
http://www.elvis.com/
1969—Tops Hits
Aquarius/Let the Sun Shine In - The 5th Dimension
It's Your Thing - The Isley Brothers
Hair - The Cowsills
Galveston - Glen Campbell
1969 - Leonard Tose pays $16,155,000 to buy the Philadelphia Eagles of the National Football League. It was the largest price paid to that date for a pro football franchise. It was over a decade [1981] before the Eagles made it to the Super Bowl
(XV: Oakland Raiders 27, Eagles 10).
1970 - Elton John and lyricist Bernie Taupin combined for the first time on Elton's first American album simply titled, "Elton John". The LP contained Elton's first hit, "Your Song", which made it to the top ten on in December.
http://www.eltonjohn.com/flash_index.asp
http://www.eltonography.com/
http://www.artistdesktopthemes.com/st/j/elton_john.dt.1.html
1971-Amtrak, the national rail service which combined the operations of IS passenger railroads, went into service. Personal service, great food, full attention, and very comfortable rides were available to all who rode the national rails.
http://www.amtrak.com/
http://www.amtraktrains.com/
get an Amtrak ticket on line at:
http://reservations.amtrak.com/JBookIt?function=handlers.amtrak.
AmtrakMainSimple&storefront=1003&saveSession=no
1971-The Rolling Stones' "Brown Sugar" is released. It would reach number one in the US and number two in the UK.
1975- Lila Cockrell defeated nine male oppoents to become mayor of San Antonio, Texas, the the nation's 10th largest city with a population of 750,000. According to "Women of Achievement and Hesrstory, " She was empowered to run for the mayoralty post following Janet Gray Hayes's amazing victory in San Jose, California that in those pre Silicon Valley days was far from the size of San Antonio, but her victory convinced LC that a woman could be elected to head a big city. ( Janet Gray Hayes is a very good friend of mine, devoted to her physician husband, and in her day, quite a tennis player). Women had served as mayors of small towns since the late 19th century but none of a major metropolis. Mayor Cockrell was 53 years old when elected, married with two daughters. Her political life began with the League of Women Voters
http://www.trilateraltechsummit.com/cockrellBio.htm
1977—Tops Hits
Southern Nights - Glen Campbell
Hotel California - Eagles
When I Need You - Leo Sayer
She's Pulling Me Back Again - Mickey Gilley
1981- American Airlines began the first frequent flyer program on this date. Now most airlines offer a frequent flyer program but American is still the industry leader with 45 million members. Today 40 percent of all miles are earned on the ground with affiliated business that pay the airlines for the miles, such as hotels, car rental companies, credit card companies, phone companies and retailers.
1982 - "I Love Rock 'N Roll", by Joan Jett and The Blackhearts, appeared at the top of the pop music charts for the seventh, and final, week. The rocker stayed on the charts for 16 weeks. Jett from Philadelphia PA, played guitar and formed the all-female rock band, The Runaways, in the mid-'70s. The Blackhearts were founded in 1980. Jett starred in the film, "Light of Day", playing the role of leader of a rock band called The Barbusters. The movie also starred Michael J. Fox and Michael McKean. The title song, "Light of Day" was written by Jett and Bruce Springsteen. Joan Jett and the Blackhearts had nine hits on the charts into 1990, but "I Love Rock 'N Roll" was the group's only million-plus selling record.
http://www.joanjett.com/Lyrics/lyrics/ILRNR.htm
1985—Tops Hits
We are the World - USA for Africa
Crazy for You - Madonna
Rhythm of the Night - DeBarge
Girls Night Out - The Judds
1986 - Race car driver Bill Elliott set a stock car speed record with his Ford Thunderbird in Talladega, AL: 212.229 mph.
1988—Tops Hits
Wishing Well- Terence Trent D Arby
Anything For You- Gloria Estefan
Angel- Aerosmith
Where Do Broken Hearts Go- Whitney Houston
Pink Cadillac- Natalie Cole
1988-Pink Floyd's, "Dark Side of the Moon" finally dropped off the US albums chart after a run of 725 weeks (almost 14 years).
1989-Police were called to a jewelry store in Simi Valley, California after employees reported a suspicious person. He turned out to be Michael Jackson, who had donned a wig, fake moustache, false teeth and eyelashes to go shopping. Officers had him remove his disguise and show his identification.
1989 - Thunderstorms produced heavy rain in the southeastern U.S. Rainfall totals of 1.84 inches at Charlotte NC and 2.86 inches at Atlanta GA were records for the date. Strong thunderstorm winds uprooted trees in Twiggs County GA.
1990 - Thunderstorms produced severe weather from northern Alabama to North Carolina. There were sixty-three reports of large hail or damaging winds, with hail four inches in diameter reported near Cartersville GA. Ten cities in the southeastern U.S. reported record high temperatures for the date as readings warmed into the 90s. Jacksonville FL reported a record high of 96 degrees. Late night thunderstorms over central Texas produced up to ten inches of rain in southern Kimble County and northern Edwards County.
1991-Noyaln Ryan of the Texas Rangers pitched the seventh no-hitter of his career, extending his own major league record. Ryan struck out 16 as the Rangers beat the Toronto Blue Jays, 3-0.
1991-Rickey Henderson of the Oakland Athletics stole third base, the 939 th steal of his career, to set a new major league record, surpassing Lou Brock. The A's beat the New York Yankees, 74.
1993-—Tops Hits
Freak M- Silk
Informer- Snow
Nuthin But A "G" Thang- Dr. Dre
I Have Nothing (From "The Bodyguard")- Whitney Houston
2002——Tops Hits
Foolish- Ashanti
What's Luv?, Fat Joe Featuring Ashanti
U Don't Have To Call- Usher
I Need A Girl (Part One)- P. Diddy Featuring Usher & Loon
Ain't It Funny- Jennifer Lopez Featuring Ja Rule

Stanley Cup Champions This Date
1965---Montreal Canadiens
-------------------------------------------------------------

SuDoku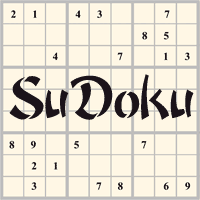 The object is to insert the numbers in the boxes to satisfy only one condition: each row, column and 3x3 box must contain the digits 1 through 9 exactly once. What could be simpler?
http://leasingnews.org/Soduku/soduko-main.htm
--------------------------------------------------------------

Daily Puzzle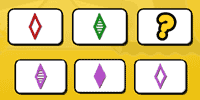 How to play:
http://www.setgame.com/set/puzzle_frame.htm
Refresh for current date:
http://www.setgame.com/set/puzzle_frame.htm
--------------------------------------------------------------


http://www.gasbuddy.com/
http://www.gasbuddy.com/GB_Map_Gas_Prices.aspx
http://www.gasbuddy.com/GB_Mobile_Instructions.aspx
--------------------------------------------------------------

Weather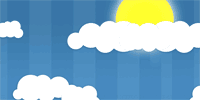 See USA map, click to specific area, no commercials
--------------------------------------------------------------

Traffic Live---
Real Time Traffic Information
You can save up to 20 different routes and check them out with one click,
or type in a new route to learn the traffic live
--------------------------------