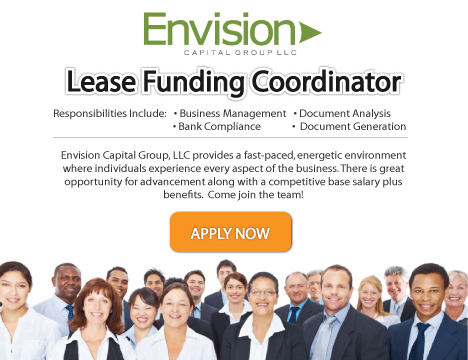 Monday, April 21, 2014


Today's Equipment Leasing Headlines
Pictures from the Past---1984
---Randy Bauler, CAE
Classified Ads---Sales
ZRG Partners Reports Q1 20% Hiring Growth
by Larry Hartmann, Managing Partner
Classified Ads---Help Wanted
"How to Evaluate Your Interview Performance"
Career Crossroad---By Emily Fitzpatrick/RII
Leasing 102 by Mr. Terry Winders, CLP
Sales Effort
Microfinancial 2014 1st & 2013 4th Quarter Soft
Not into "Cash Advance" Loans
Securitization Viable Procedure for Raising Capital
for Brokers and Other Leasing Companies
By Tom McCurnin, Leasing News Legal News Editor
ELFA Funding Conference—-Major Turnout Expected
Bruce Kropschot to Cover for Leasing News
5 Ways to Give Your Brain a Break Right Now
by Jeff Stibel
Loans, Credit, Volume—Up: Reports Beige Book
Community Banks Keep Rural America Growing
Coast Capital Group of Companies & Travelers Financial
Corporation to combine equipment finance businesses
Poodle Miniature Cross/Terrier
Vancouver, British Columbia Adopt-a-Dog
Accounting/Aircraft/Appraisals/Asset/Recovery
Classified ads
Easter in Saratoga, California
News Briefs---
Over-the-Road Haulers Expanding to Meet Demand
Credit Unions to Lease Slot Machines?
U.S. Venture Capital Investment Highest Since 2001
Earnings increase 27% at Exchange Bank
FreshDirect voted best online grocery service
Broker/Funder/Industry Lists | Features (collection)
Top Ten Stories Chosen by Readers | Top Stories last six months
www.leasingcomplaints.com (Be Careful of Doing Business)
www.evergreenleasingnews.org

You May have Missed---
SparkPeople--Live Healthier and Longer
Poem
Sports Briefs---
California Nuts Brief---
"Gimme that Wine"
This Day in American History
SuDoku
Daily Puzzle
GasBuddy
Weather, USA or specific area
Traffic Live----

######## surrounding the article denotes it is a "press release" and was not written by Leasing News nor information verified, but from the source noted. When an article is signed by the writer, it is considered a "by line." It reflects the opinion and research of the writer.


Please send to a colleague and ask them to subscribe.
We are free.

[headlines]
--------------------------------------------------------------
Pictures from the Past---1984---Randy Bauler, CAE
Randy Bauler, CAE, formerly Executive Vice President of the Electric League of Arizona, joined the Western Association of Equipment Leasing executive staff in February.
"We are delighted to have someone of Randy's experience and enthusiasm join us," said WAEL president Bob Jacobson. "WAEL has grown tremendously in the past few years and many new programs are planned for this year. Randy will be a real asset to the WAEL management team."
Bauler will work with the WAEL Board and Long Range Planning Committee in developing a strategic plan for WAEL's next five years. Responsibilities for committee projects and other WAEL programs will be divided between Bauler and WAEL Executive Director Irene Devine.
http://www.leasingnews.org/archives/April%202003/4_21_03.htm
TODAY
Randy Bauler, CEM
Corporate Relations & Exhibits Director
American Assn of Critical-Care Nurses
Orange County, California
(October 1996 – Present)
www.linkedin.com/pub/randy-bauler-cem/5/201/406
[headlines]
--------------------------------------------------------------
Classified Ads---Sales
(These ads are "free" to those seeking employment or looking
to improve their position)
Boston, Mass.
Accomplished Sales & Relationship Management Professional with business development experience in the financial services industry. Recognized by market leaders as industry expert in Professional Practice financing, as well as Residential Mortgage Lending. Keen insight and understanding of transaction process and financial requirements of customer. Proven record of exceeding sales goals. deb.harold@hotmail.com
Work Remotely
Business Development - Are you looking to enter/increase your Healthcare lending? Let me identify and qualify healthcare (all verticals) vendors, distributors, and end users who utilize leasing/financing as a tool to sell equipment for you. Many years experience - contact Mitchell Utz at mitutz@msn.com or
(215) 460-4483.
Free Posting for those seeking employment in Leasing:
http://www.leasingnews.org/Classified/Jwanted/Jwanted-post.htm
All "free" categories "job wanted" ads:
http://www.leasingnews.org/Classified/Jwanted/Jwanted.htm
[headlines]
--------------------------------------------------------------
ZRG Partners Reports Q1 20% Hiring Growth
by Larry Hartmann, Managing Partner
We are officially in a candidate driven market
Hiring demand in the U.S. continued to increase with five straight quarters of growing demand for new talent in the sector.
It is safe to declare that we have officially entered a candidate driven jobs market in the U.S., where offers are more competitive and flexibility to attract top talent is needed.
All of the three major index firms, CIT, GE and DLL, showed higher numbers of new job openings in the first quarter, confirming the industry wide sentiment of positive growth and hiring plans.
In tandem with these index firms, on-line advertising for equipment leasing and finance roles is also up substantially, opening up the question that should be asked. Is the employment market for leasing and lending talent getting so tight that traditional web site advertising and on-line job postings are not enough?
From our work in the market, clients are reporting several things. First, the success rate from on-line job postings is challenging. It could be surmised that top talent and mid-range talent is now more happily engaged and not as responsive to passive recruitment efforts such as job postings, LinkedIn notes, and corporate in house recruiters.
With more money being spent to try to find talent with fewer results, firms will have to begin to rethink their recruitment strategies to attract needed talent to fill the increasing number of openings.
ZRG Partners Market Update:
http://www.leasingnews.org/PDF/ZRG1stQuarter_4212014.pdf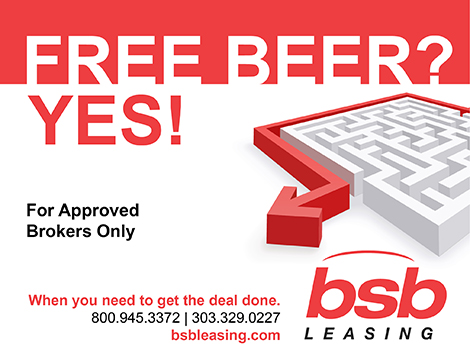 [headlines]
--------------------------------------------------------------
Leasing Industry Help Wanted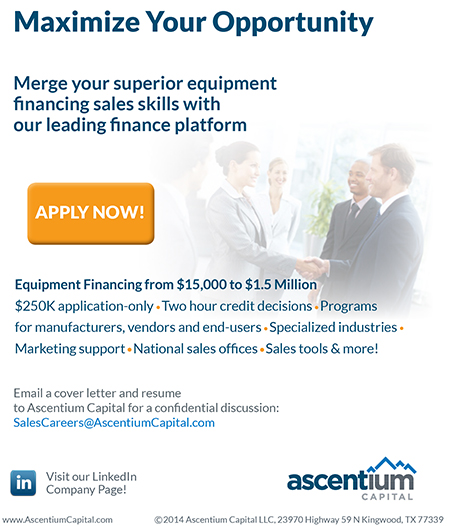 We are looking to grow our sales team!
Sales Managers and Sr. Account Executives
CalFirst is seeking seasoned sales professionals to join our sales team in Irvine, CA. Our sales professionals are responsible for originating equipment leasing and
secured loan opportunities with middle to
large size companies located nationwide.
Transactions range from $1,000,000 to $30,000,000.
For more information, please contact
recruiting at: (949) 255-0500 ext. 392
Email: bcrogan@calfirst.com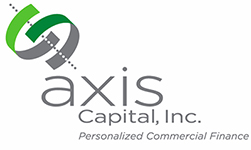 National Sales Representatives
Experienced, with existing business to bring, all industries. Salary plus commission, good benefit package. AXIS - A, B, C lender for small and mid-ticket markets. Call Jean Harlow– 800.994.0016
email or forward resumes to: HR@Axiscapitalinc.com
axiscapitalinc.com
Growing with fast approvals and quick fundings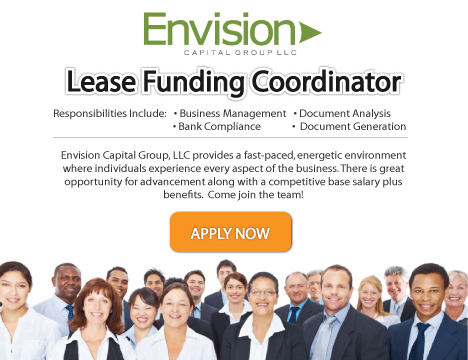 For information on placing a help wanted ad, please click here:
http://www.leasingnews.org/Classified/Hwanted/Hwanted-post.htm

Please see our Job Wanted section for possible new employees.
[headlines]
--------------------------------------------------------------
"How to Evaluate Your Interview Performance"
Career Crossroad---By Emily Fitzpatrick/RII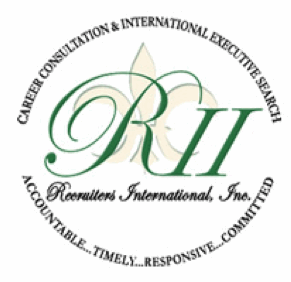 Question: How can I self-evaluate my interview performance?
Answer:Self-Evaluating the interview will offer valuable insight as it can reinforce positive behaviors and point out negative behaviors in need of change.

Follow the basic evaluation, which covers three objectives

I. Building Rapport: e.g. Discussed one or two common acquaintances or experience
Sample items to rank on a scale from 1-5
1. Made eye contact
2. Felt free to ask questions
3. Expressed my ideas openly
4. Interviewer provided information about the company
II. Accomplish the Interviewer's Agenda: e.g. Interviewer learned of two or three of my strongest competencies
Sample items to rank on a scale from 1-5
1. Interviewer did not have to clarify or repeat many questions
2. Interviewer gained a clear picture of my strongest personal and professional skills
3. Provided strong examples of my flexibility and adaptability
III. Accomplish the Candidate's Agenda: e.g. Identified three or four of the company's needs and confirmed them with the interviewer
Sample items to rank on a scale from 1-5
1. Was comfortable asking questions
2. Confirmed the company's needs
3. Was clear and concise in my presentation
4. Interviewer was interested and involved
Please feel free to contact us for full Candidate Self-Evaluation Forms

Emily Fitzpatrick
Sr. Recruiter
Recruiters International, Inc.
Phone: 954-885-9241
Cell: 954-612-0567
emily@riirecruit.com
Invite me to Connect on LinkedIn
www.linkedin.com/pub/emily-fitzpatrick/4/671/76
Also follow us on Twitter #RIIINFO
Career Crossroads Previous Columns
http://www.leasingnews.org/Conscious-Top%20Stories/crossroad.html
[headlines]
--------------------------------------------------------------
Leasing 102
by Mr. Terry Winders, CLP

Sales Effort
Our leasing industry appears to be in a growth mode, so it is time to sharpen our marketing skills. In the last four years, those who could not make a living left this field. Those who were professional, with a following, survived, and many continued to do well. They knew their marketplace.
As noted in the recent leasing conferences, it appears the senior salespersons are in attendance, and perhaps for the first time, a younger group, called the Millennial Generation (now defined as being born between 1977 and 1992), are becoming active.
While "dialing for dollars" is still being employed by many, those who want to survive need to look further. This includes defining your market and planning out your calls to maximize your effort. Too many sales people shotgun their effort and waste time on non-productive calls just to show a high number of sales calls.
Refining your market means spending some time selecting equipment industries you want to pursue, and learning who you will complete with, and what programs they offer. Some markets have been controlled for many years by national lessors, and in the past ten years, we have seen the rise of captive lessors who also are hard to compete with. Knowing these competitors and their programs will help you decide where you may be successful and where you may want to avoid.
Researching equipment vendors in your market area before you decide to establish a calling effort will help make your sales calls more effective. There are lots of reference books on manufacturers, distributors, and local vendors. Take the time to look over your market area and restrict your effort to a very specific territory. The time between calls is wasted time so plan to stay in a very close area.
Prepare a call report on each call to remind you of the basic discussion and where and when to recall on that source. All of the successful sales people I have met have very good records on each of the calls they have made and know the potential for future business. The information on each customer has to be complete and should include the new employer of someone you have done business with. This information should be forwarded to the person in your company that calls on your customer's new company.
Be careful not to call on people that like you and love to talk, but rarely provide any business. Do not be afraid to call early and stay out late. Some of my best contacts preferred to discuss business very early in the morning so as not to disturb the day's requirements.
Be sure to ask your manufacturers/distributors what trade shows they attend and why. Also, ask if you could stand in their booth to promote leasing to help move equipment. Also, offer training classes on how to use leasing to improve sales. In addition, explain he need for "complete" credit applications and equipment use/description forms. The more information you have on the lessee the better your lease proposal will be and your rate may get better to make you more competitive.
You should stay on top of local news and sporting events to break the ice on a new cold call. The more you can get on common ground with the person you are calling on the better your call will be. Be sure to listen the first 15 minutes to determine their true needs. Never present you terms before you have a good idea of the customers' requirements. This goes for both distributors and end users.
Set your goals weekly and forget monthly or yearly goals. If you obtain weekly goals, the rest will take of itself. Lunches and other outside activities should be restricted to after business success, not before. It is a very expensive cost of doing business if not watched closely.
My last comment is to thoroughly understand commercial equipment leasing regardless of what you have to offer. The more complete you understand all parts of leasing, and your competition, the better you will know when to walk away from an opportunity and not spend your or your company's time spinning your wheels on a very low chance of success. The same can be said for bad credits. The easiest customer to sell is "bad credits." Understand the quality of your customer by being observant of their facilities. Bad credit usually means poor facilities. Work smart, not hard!
Don't just limit yourself to very large leases. Often they are the most time consuming and do not happen. Don't let a small size lease go by to work on a very large one. The small size leases add up, plus create relationships for future business.
Mr. Terry Winders, CLP, has been a teacher, consultant, expert witness for the leasing industry for thirty years and can be reached at terrywinders11@yahoo.com or 502-649-0448.
He invites your questions and queries.
Previous #102 Columns:
http://www.leasingnews.org/Conscious-Top%20Stories/Leasing_102/Index.htm


Mr. Terry Winders available as Expert Witness. 35 years as a professional instructor to the top equipment leasing and finance companies in the United States, author of several books, including DVD's, as well as weekly columnist to Leasing News. He also performs audits of leasing companies as an expert on documentation, and has acted as an expert witness on leasing for litigation in legal and tax disputes, including before the IRS. He also has taught the senior bank examiners, how to review a bank leasing department, for the Federal Reserve in Washington D.C. and has trained the examiners for the FDIC on how to prepare a lease portfolio for sale.
Mr. Winders received his Master of Business Administration and his Bachelor of Science degrees from the College of Notre Dame.
502.649.0448/terrywinders11@yahoo.com
(This ad is a "trade" for the writing of this column. Opinions
contained in the column are those of Mr. Terry Winders, CLP)

[headlines]
--------------------------------------------------------------
Microfinancial 2014 1st & 2013 4th Quarter Soft
Not into "Cash Advance" Loans

Microfinancial (NASDAQ: MFI), parent of TimePayment, Burlington, Massachusetts, with a West Coast office in Westlake Village, Southern California, reported that net income decreased from $2.3 million in first quarter, 2013, to $2.1 million, first quarter of 2014. At the same time, first quarter 2014 net charge-offs increased to $5.8 million from $4.2 million in the comparable period of 2013.
According to the company press release, "Headcount at March 31, 2014 was 157 as compared to 151 for the same period last year."
The company specializes in leases from $500 to $15,000, with the current average of $4,900. TimePayment offers "a web based application and credit approval process for its vendors which provides credit decisions usually within 2-3 minutes," according to http://www.microfinancial.com/.
The company is very popular with "small ticket" vendors and third party originators. It should be noted Microfinancial is apparently not very active in small business loan capability where more liberal credit requirements, shorter terms, and no residuals are the norm.
In the small ticket marketplace, "cash advance" has become very popular, using credit cards as well as bank statement cash flow analysis.
On the positive news side, Microfinancial noted:
increased originations by 14.8% to $23.0 million, up from $20.1 million for the same period in 2013;
The Company repurchased 66,552 shares for during the quarter at a total cost of approximately $536 thousand; and
Paid a quarterly dividend of $1.0 million during the first quarter, representing $0.07 per share.
January 31, 2014, Richard Latour, President and Chief Executive Officer, commented on the year-end, "The number of new contracts originated in 2013 increased by 7.6% to 19,051; however, due to our continued focus on micro-ticket transactions, the average funded amount declined from approximately $5,200 in 2012 to $4,800 in 2013.
"As a result of this decline, new contract originations for the year ended December 31, 2013 declined slightly to $90.6 million as compared to $91.7 million in the prior year."
As for the first quarter of this year, 2014, he stated, "We increased the number of lease applications processed by approximately 10% to 20,050 and increased our lease application dollars by approximately 17%. In addition, we increased new vendor approvals by approximately 33% for the quarter to 338, along with an increase in our lease originations by approximately 15% to $23.0 million, as compared to the same period last year.
"Cash received from customers continues to improve and increased approximately 11.5% or $3.6 million to $34.6 million as compared to the first quarter of 2013. The average deal size increased slightly from approximately $4,600 in the first quarter of 2013 to $4,900 in the first quarter of 2014."

Full Press Release with condensed balance sheets (six pages)
http://www.leasingnews.org/PDF/MicrofinancialInc_4212014.pdf
Microfinancial: Every Investor Should Love
http://seekingalpha.com/article/1767392-microfinancial-a-subprime-lender-every-investor-should-love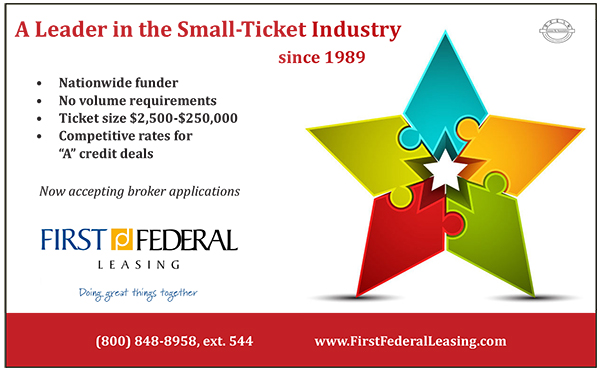 [headlines]
--------------------------------------------------------------
Securitization Viable Procedure for Raising Capital
for Brokers and Other Leasing Companies
By Tom McCurnin
Leasing News Legal News Editor
Securitization Pools Are Common in Leasing and Large Loans, To Spread the Risk. To Further Insulate the Pool from Credit Risks Downstream from the Debtor's Business Activity, Many Pools Use Bankruptcy Remote Entities. Illinois Bankruptcy Court Finds That Conveyance to Special Purpose Entity Is Not A Fraudulent Conveyance.

In re Doctor's Hospital 2013 WL 5524696 (Bankr. N.D. Ill. 2013)
I love securitizations which take large leases, or pools of leases, and fractionalize them to various participants to spread around the risk of the credit. Sometimes, part of the process involves separating the collateral from the debtor in some fashion, beyond the typical security agreement and UCC-1 financing statement. The vehicle for this type of financing is called a "Special Purpose Entity" ("SPE") or 'Bankruptcy Remote Entity." These entities are formed as part of the credit process and generally do not have the same equity structure as the debtor, and are often formed with "neutral" shareholders and directors. Because the directors are not related to the debtor, they will not file bankruptcy, which insulates the creditor from the debtor's claims.
In a SPE securitization, the debtor conveys the collateral to the SPE. The loan is funded to the SPE, and the SPE, in turn, disburses the funds to the borrower. If the collateral consists of accounts receivable, leases or other contracts, the creditor appoints a neutral servicer, and the borrower is often is appointed the servicer's agent (called a sub-servicer) to actually collect the payments.
Today's case concerns whether that conveyance by the borrower to a SPE is a fraudulent conveyance. Clearly it is a transfer and while the borrower received value for it, did the borrower receive "reasonably equivalent value?" An Illinois bankruptcy court, in a 147 page ruling, ruled that conveyance to a SPE is not a fraudulent conveyance, so leasing securitization pool managers and servicers may now sleep well tonight. The facts follow.
Doctor's Hospital, ("the Borrower,") ran a hospital in Chicago, Illinois, and, in 1997, entered into a securitized loan in which LaSalle Bank was appointed trustee. As part of the securitization, a SPE was appointed to receive the assets, called MMA Funding LLC. About two years later, the Borrower filed a Chapter 11 bankruptcy. A trustee was appointed and in 2004, the trustee filed an adversary proceeding to declare the transfers from the Borrower, now a bankruptcy debtor, to the SPE as fraudulent conveyances. The case went to trial in 2006, was appealed, and was re-tried in 2013.
The issues before the bankruptcy court were two-fold.
First, was Doctor's Hospital insolvent when the conveyances were made in the year 2000? If so, the transfers could be deemed fraudulent transfers, and if not, the trustee would lose the case. Because the hospital's real estate was also conveyed, were the lease payments to the lender fraudulent conveyances?
Second, was the issue of the use of a bankruptcy remote entity and whether the transfers to it were, per se fraudulent conveyances and whether the transfer of the accounts receivable was a true sale or merely a secured loan.
Insofar as the first issue of insolvency is concerned, the court consumed nearly 70 pages of analysis to conclude that the Borrower was solvent. There are two tests for solvency, both a balance sheet test and the ability to pay debts test. It was clear that the Borrower was paying its bills, so the focus of the two litigants was on the balance sheet.
The trustee's expert used an accounting assumption called "trailing twelve month" analysis ("TTM"), which the court criticized. For those non-accounting types a TTM analysis calculates net worth at 12 points during the preceding year, and then averages those to reach a conclusion. The idea is that while the calculation is a bit fuzzy, it is supposed to even out anomalies in the balance sheet. In addition, the trustee used weighted average cost of capital to further degrade the balance sheet.
LaSalle Bank used a simple balance sheet analysis, which the court concluded was more accurate. But LaSalle also sought to normalize the balance sheet by adding back into the hospital's assets $1.2 million dollars of extraordinary legal expense, on the theory that only normal and recurring expenses would be accounted for. LaSalle Bank pointed out that at the first trial, the trustee did not use a weighted average cost of capital.
The court concluded that the Borrower was solvent, adopting all of LaSalle Bank's arguments.
Insofar as the issue of the SPE, and whether the transfer was a secured loan or a sale is concerned, the trustee introduced accounting records that showed that the hospital carried the assets on its books for a year after the loan, and that the hospital was appointed servicer for the accounts receivable.
LaSalle Bank did a great job of presenting witnesses to explain why a SPE is used and the history of the practice, and the role of a sub-servicer, which does not own the receivables it manages. LaSalle Bank also introduced evidence that the carrying of the receivables on the books of the hospital was a mistake to which its accountant testified. Finally, LaSalle did a great job of explaining the concept of a "true sale" in receivable financing. Finally, it was uncontested that the Borrower received millions of dollars for the receivables and that there was no recourse by the lender to the hospital, two facts largely ignored by the trustee.
The bankruptcy court rejected the trustee's arguments and ruled that the use of a securitization and a bankruptcy remote entity was customary in the industry and not a fraudulent conveyance. This is obviously great news for brokers and lenders which rely upon securitizations for capital. A point also overlooked by the trustee is the fact that these types of hard money loans are a benefit to the borrowers as well, as they encourage growth of companies through readily available loans.
Our lessons for today are:
First, securitizations and the use of bankruptcy remote entities are alive and well and are so far legally protected vehicles for financing large and risky loans or lease pools.
Second, for those drafting the securitization agreements, the case has some excellent drafting tips, especially for servicers of such pools. It should be noted that the decision points out that many States have specific laws on the books that make a true sale of receivables unassailable except by proof of actual fraud.
Third, because solvency was such a crucial issue, the creditor should have detailed financials which demonstrate the actual balance sheet net worth of the borrower for the time period of the funding. Those financials saved the day here.
Fourth, given the fact that securitizations are a fact of life, I was surprised that the trustee pursued this claim through two trials and an appeal. That said, the trustee has appealed to the district court.
The bottom line is that securitizations are still a viable procedure for raising capital for brokers and other leasing companies, and form a critical link in the leasing chain.
Doctor's Hospital Case (147 pages)
http://www.leasingnews.org/PDF/DoctorsHospitalCase_4212014.pdf
Tom McCurnin is a partner at Barton, Klugman & Oetting in Los Angeles, California.

Tom McCurnin
Barton, Klugman & Oetting
350 South Grand Ave.
Suite 2200
Los Angeles, CA 90071
Direct Phone: (213) 617-6129
Cell (213) 268-8291
Email: tmccurnin@bkolaw.com
Visit our web site at www.bkolaw.com
Previous Tom McCurnin Articles:
http://www.leasingnews.org/Conscious-Top%20Stories/leasing_cases.html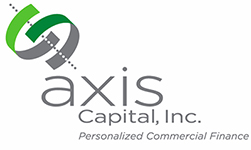 National Sales Representatives
Experienced, with existing business to bring, all industries. Salary plus commission, good benefit package. AXIS - A, B, C lender for small and mid-ticket markets. Call Jean Harlow– 800.994.0016
email or forward resumes to: HR@Axiscapitalinc.com
axiscapitalinc.com
Growing with fast approvals and quick fundings


[headlines]
--------------------------------------------------------------
ELFA Funding Conference—-Major Turnout Expected
April 23 - 25
2014 National Funding Conference
Chicago, Illinois

Bruce Kropschot, The Alta Group, will be covering
the conference for Leasing News readers.
Exhibitors
Alliance Partners, LLC
ATEL Capital Group
Banc of America Leasing
Banc of California
Bank of the West
Barnett Capital Ltd.
BB&T Equipment Finance
Boston Financial & Equity Corporation
BMO Harris Equipment Finance Company
Bridge Capital Leasing, Inc.
Capital One Equipment Leasing & Finance
CapitalSource, Inc.
CIT
Cole Taylor Equipment Finance
EverBank Commercial Finance, Inc.
Financial Pacific Leasing, Inc.
First American Equipment Finance, a City National Bank Company
First Bank of Highland Park
First Eagle Bank
Fifth Third Equipment Finance Company
Fuyo General Lease (USA) Inc.
GE Capital Markets Group
Hudson Valley Bank
Huntington Equipment Finance
HVB Equipment Capital LLC
Key Equipment Finance
Lease Corporation of America
MB Financial Bank
Nations Equipment Finance
NXT Capital
People's Capital and Leasing Corp.
PNC Equipment Finance LLC
RBS Citizens Asset Finance
SCG Capital Corporation
Securcor Financial Group
Signature Financial
Societe General Equipment Finance
Stearns Bank NA-Equip. Finance Division
Sterling National Bank Equipment Finance Division
SunTrust Robinson Humphrey Equipment Finance Group
TCF Equipment Finance
Varilease Finance, Inc.
Wells Fargo Equipment Finance, Inc.
Wintrust Equipment Finance, a division of Beverly Bank
Schedule
https://www.elfaonline.org/cvweb_elfa/cgi-bin/eventsdll.dll/EventInfo?sessionaltcd=FUND2014
Pricing:
https://www.elfaonline.org/cvweb_elfa/cgi-bin/eventsdll.dll/EventInfo?sessionaltcd=FUND2014
Brochure:
http://www.leasingnews.org/PDF/AprilELFAConference2014.pdf
[headlines]
--------------------------------------------------------------
5 Ways to Give Your Brain a Break Right Now
by Jeff Stibel

Chairman & CEO, Dun & Bradstreet Credibility Corp.
and author of NYT bestseller "Breakpoint"
www.linkedin.com/in/stibel
Hip Silicon Valley tech companies started the growing trend of offering their employees unique perks that seem to encourage stepping away from the desk. Google's free massages, Twitter's rock climbing wall, and Dropbox's gaming tournaments come to mind. Some may dismiss these initiatives as ploys for PR or to impress new recruits, but there is solid evidence that fun creativity breaks actually improve employee productivity.
I was recently interviewed for an Entrepreneur article about how pursuing varied interests can make you a better entrepreneur, but the same basic principle applies to all employees. Human brains are not meant to focus on the same task for hours at a time, yet most Americans work at least 8 to 9 hours per day on the same thing.
The eight hour workday became the norm after the Ford Motor Company found that number resulted in maximum productivity at its factories. But there is a major problem with this: the idea of an eight-hour day with a short lunch break is based on the most effective formula for physical labor, not mental work and certainly not creative mental work. The brain is much more active – and therefore much more likely to drain – than any other muscle or organ in our bodies. Evidence shows that the brain cycles from highest attention to lowest attention approximately every 90 minutes. This suggests that you should hit the reset button about that often.
One of the best ways to recharge is to engage in something different. If you've been reviewing a document for 90 minutes, don't take a break by reading news articles. Get up and do something completely different. The brain is an efficient task-switcher; it has no problem going from java programming to power yoga to basket weaving. And doing so may make you a better java programmer, since you've allowed your brain's java programming circuit to rest. If you are a slave to work, then switch tasks productively, from programming to checking email to thinking about a new problem.
Here are five other ways to give your brain a break during your workday:
1. Take a moment to do something you love. This is the idea behind all the games available at those Silicon Valley campuses. Take advantage of what's at or near your office. Being fully engaged in an activity lifts the mood and contributes to feelings of overall well-being. At Dun & Bradstreet Credibility, we encourage team members to pursue personal interests, and our employees have created clubs including whiskey club, Russian club, and running club.
2. Get in touch with nature. Being outside activates different brain regions than sitting inside, as most of us do for the majority of our workday. Simple ways to incorporate nature include taking a walk in a nearby park or regularly having lunch outside. At my office, we took it up a notch by bringing in a wildlife expert and her exotic animals during a particularly challenging week for our developers. Nothing like petting a sugar glider or a hedgehog to activate less-used parts of the brain!
3. Be physically active. Company-sponsored yoga classes and in-office gyms are becoming increasingly common, with good reason. Exercise is good for our brains. If you can't get in a full workout, don't fret: stretching for five minutes or even using a standing desk makes small changes that can spur creativity and recharge your batteries.
4. Nap. I'll admit that this is the hardest to do in a typical office environment, but if you can find a way, the benefits are huge. Some offices actually have sleeping pods, but for those that don't, slip out into your car for a power nap. Much of what happens in the brain while we sleep is still unknown, but what is certain is that people perform better in terms of memory and concentration after a nap.
5. Do nothing. If a snooze isn't possible, then simply sit in a quiet place and allow yourself to relax for ten minutes. Just as when sleeping, important mental processes occur when we daydream.
Brain breaks can make a big difference in your ability to be productive, creative, and innovative. The paradox is that doing less often allows you to do more.
What do you do to give your brain a break, and how does your company help you do it?
[headlines]
--------------------------------------------------------------
Loans, Credit, Volume—Up: Reports Beige Book
Commercial loan volumes grew in each of the Districts reporting on banking except St. Louis, where lending declined marginally.
Loan demand strengthened since the previous Beige Book. Credit quality improved in the Philadelphia, Cleveland, Richmond, and Kansas City Districts. New York and Dallas reported especially strong increases. New York, Philadelphia, Cleveland, and Richmond cited the inclement weather as a factor reducing home sales and therefore mortgage borrowing.
With respect to credit quality, slight improvements were noted in Philadelphia and Cleveland, and modest advancements were made in Richmond and Kansas City. The New York and Dallas Districts reported especially strong increases. San Francisco indicated no net change in credit quality but noted that credit standards had tightened and that small business lending was primarily reserved for better-quality borrowers. Credit standards were reported to be loosening in the Atlanta District. New York, Cleveland, Richmond, and Kansas City indicated that standards were unchanged.
Conditions in the manufacturing sector improved since the previous Beige Book. The Chicago and Minneapolis Districts reported moderate growth, with a pickup in new orders and production. The San Francisco District stated that manufacturing activity appeared to gain some momentum. Manufacturing in the Boston, New York, Atlanta, St. Louis, and Dallas Districts grew at a steady pace, while Philadelphia, Cleveland, and Kansas City reported mild growth. Richmond reported mixed conditions in manufacturing. The Boston, New York, Philadelphia, Cleveland, Richmond, Atlanta, Chicago, Kansas City, and Dallas Districts noted that lingering winter weather hampered business activity, but the impact was less severe than earlier this year.
Reports by District

[headlines]
--------------------------------------------------------------
#### Press Release #############################

Community Banks Keep Rural America Growing



Just one of the many ways community banks build
more economically sustainable communities
Washington, D.C.—Community banks keep rural America growing by lending to local farmers and ranchers, said the Independent Community Bankers of America ® (ICBA) and thousands of its community bank members that are celebrating ICBA Community Banking Month this month. Community banks are able to serve as financial first responders to the agricultural community because they operate locally—knowing their marketplace—and putting local deposits back to work in their communities through loans to local farmers, ranchers, residents and small businesses.
John Buhrmaster, Chairman, ICBA
President, 1st National Bank of Scotia, N.Y.
"Community banks are pivotal to the overall health and financial success of rural America because they provide an overwhelming share of credit to local farmers," said ICBA Chairman John H. Buhrmaster, president of 1st National Bank of Scotia, N.Y. "Many community banks have been serving farmers for well over 100 years. And because community banks are small business owners—like farmers and ranchers—they are better able to serve their agricultural customers because they know both the local market and have highly specialized expertise in the agriculture business."
Community banks have consistently been the largest provider of agricultural credit within the commercial banking sector and are often the catalysts for new and expanded business opportunities within their communities to ensure long-term economic viability and vitality. In fact, community banks with assets under $10 billion provide more than 75 percent of all commercial bank agricultural loans, and banks with assets less than $1 billion provide nearly 60 percent of all commercial bank agricultural financing.
"Community banks stimulate rural economies in a multitude of ways, including creating off-farm jobs, maintaining the local tax base and facilitating development of the infrastructure and public services necessary to keep rural communities vibrant," Buhrmaster said.
There are more than 6,500 community banks, including commercial banks, thrifts, stock and mutual savings institutions, with more than 50,000 locations throughout the United States. Assets may range from less than $10 million to $10 billion or more. Community banks constitute 96.8 percent of all banks.
To find your community bank, visit ICBA's Community Bank Locator at www.banklocally.org. Simply type in your ZIP code and you will see community banks in your area. Customers can also download the free ICBA bank locator apps on their iPhone, Android or BlackBerry devices.
To follow the conversation on ICBA Community Banking Month, follow the hashtag #BankLocally on Twitter. To learn more about community banks, visit www.icba.org.
About ICBA
The Independent Community Bankers of America®, the nation's voice for more than 6,500 community banks of all sizes and charter types, is dedicated exclusively to representing the interests of the community banking industry and its membership through effective advocacy, best-in-class education and high-quality products and services. For more information, visit www.icba.org.
##### Press Release ############################



John Kenny
Receivables Management

• End of Lease Negotiations & Enforcement
• Fraud Investigations
• Credit Investigations • Asset Searches


• Skip-tracing • Third-party Commercial Collections

john@jkrmdirect.com | ph 315-866-1167| www.jkrmdirect.com
(Leasing News provides this ad as a trade for investigations
and background information provided by John Kenny)
[headlines]
--------------------------------------------------------------

##### Press Release ############################
Coast Capital Group of Companies & Travelers Financial
Corporation to combine equipment finance businesses
VANCOUVER (BC), – Coast Capital Equipment Finance Ltd. (CCEF), a subsidiary of CoastCapital Savings, and Travelers Financial Corporation (TFC) announced today that the assets of the prime equipment and vehicle finance business of TFC will become part of the Coast Capital Group of Companies.
The deal is expected to close early next month. Following the close, the consolidated equipment finance business of the Coast Capital Group of Companies will be carried out under CCEF and two new entities, Travelers Finance Ltd. and Travelers Leasing Ltd.
The combined organizations' position in the Canadian equipment financing sector will be strengthened as a result of this agreement. The transaction will allow the two organizations to align their combined expertise and core strengths, while capitalizing on shared efficiencies and reaping the benefits of increased opportunities, including a broader customer base across the country and position it for future growth.
TFC is one of the largest independent finance and leasing companies in Canada, offering a wide range of assets-based financing solutions to commercial and industrial sectors. Headquartered in Burnaby B.C., they also have offices in Alberta, Saskatchewan, Manitoba and Ontario.
While the ownership structure is changing, it's business as usual. Customers can expect the same level of personal attention from the staff they have come to know. In the future, customers will benefit from the new arrangement, including a more efficient credit and funding process and more competitively priced products.
"At Travelers we're proud of all that our employees and leadership team have accomplished. Finding an organization that shares mutual goals for growth and improved service means that we can continue to watch our team grow and succeed while ensuring that we're doing the best we can for our customers in a competitive marketplace,' says Jim Case, Chief Executive Officer, Travelers Financial Corporation" This opportunity holds so much potential and really puts us on the map as an industry leader."
"We're excited about the possibilities that bringing Travelers' business into the Coast Capital Group of Companies offers," says Tracy Redies, Coast Capital Savings' President and CEO. 'With our combined industry expertise and superior offerings, this deal brings our customers several new financing options that will ultimately help our business customers access the tools they need to succeed and continue to grow."
Under the terms of the agreement, Travelers' shareholders will have a minority equity interest in the combined operations. TD Securities Inc. acted as financial advisor to Coast Capital in connection with the transaction.
ABOUT COAST CAPITAL EQUIPMENT FINANCE LTD. ("CCEF")
CCEF is a subsidiary of Coast Capital Savings. Coast Capital Savings is Canada's second largest credit union, owned by its 512,000 members. It has 50 branches in the Metro Vancouver, Fraser Valley and Vancouver Island regions of British Columbia.
Coast Capital Savings, directly and through CCEF offers commercial and industrial equipment leasing and financing to companies located from British Columbia to Ontario. The activities of CCEF are focused on securing financing opportunities primarily in the transportation, manufacturing, and construction markets, as these financings are secured with strong resale values to mitigate risk.

ABOUT TRAVELERS FINANCIAL CORPORATION ("TFC")
TFC was founded in 1986, and has since maintained a focus on the mid-market equipment leasing business. TFC offers a wide range of asset-based financing solutions to commercial and industrial sectors including transportation, construction, manufacturing, and other capital intensive industries, as well as corporate aircraft and automobile leasing.
In addition to the business operated by TFC, the operations of the Travelers Group were diversified in 1993 with the acquisition of a consumer acceptance company, Travelers Acceptance Corporation, which in 2010 was acquired by Servus Credit Union. Further diversification was achieved in 1995 with the national expansion of Travelers Leasing Corporation, an automobile leasing company that in 2007 was acquired by Scotiabank and renamed Scotia Dealer Advantage. Travelers expanded again in late 1999with the acquisition of an Alberta-based equipment leasing company, which was later merged into Travelers Financial Corporation.

### Press Release ############################

[headlines]
--------------------------------------------------------------

Poodle Miniature Cross/Terrier
Vancouver, British Columbia Adopt-a-Dog
Zeus
Animal ID: 324393
Tattoo: 2840ABGX
Suitability Guide
OK with Cats
OK with Dogs
Breed: Poodle Miniature Cross
Second Breed: Terrier
Sex: Male
Colour: Black
Neutered: Yes
Age: Young Adult
Size: Small
A Little Bit About Me:
"I'm Zeus....A big name for a little boy! I was abandoned at someone's home and now want to find a home to call my own - forever!
"I'm affectionate and cuddly and I love people. In fact, I prefer to be with someone all the time, getting anxious when left alone so I need guardian who will not be gone for long hours and will work on getting me confident on my own with gradual departure exercises.
"I am currently living happily in a foster home with dogs and cats - having another canine buddy does help ease my anxiety when I'm left so I hope to find an adoptive home with another dog. I am silly and playful, throwing my stuffies around and catching them. I have a previous injury that has affected some nerves in my hind legs. Though it doesn't cause me any pain, I am sometimes unsteady but it sure doesn't slow me down.
"If you are looking for a big love in a little body and have a lot of time for me, please speak to the staff at the Vancouver SPCA about meeting me.
Where can you find me?
I am at the Vancouver location.
You can contact me by
Email vancouver@spca.bc.ca
Phone 604-879-7721
BCSPCA
Address 1205 East 7th Avenue,
Vancouver, BC V5T 1R1

Adoption Questionnaire:
http://www.spca.bc.ca/assets/documents/pet-care/adopt/dog-adoption-application.pdf

Adopt a Pet
http://www.adoptapet.com/
[headlines]
--------------------------------------------------------------
Accounting/Aircraft/Appraisals/Asset/Recovery

Leasing Industry Outsourcing
(Providing Services and Products)
Appraisals: Boston, MA
Nationwide appraisals, remarketing, audits, inspections and more! Over 15-years industry experience and dedicated to deliver personal, prompt, professional services.
Call Chris @ 508-785-1277. Email:
chris@dovermanagementgroup.com



Appraisals: National Equipment Appraisal prepares Certified Machinery and Equipment Appraisals. IRS qualified, USPAP Compliant. Nationwide - fast turnaround.
Visit
nationalequipmentappraisal.com or
call 714-282-1525."
Accounting: Dallas, TX
Provide cost effective Sales and Use Tax and Property Tax consulting and administration Services to the leasing industry. Many leasing industry referrals available.
E-mail: mattm@osgsolutions.com

Accounting: National Property Tax Compliance Services to the leasing industry. Over 60-years experience and fifty Lessors as clients. References and free quotes available, (216) 658-5618,
E-mail gary@avptc.com

Asset Management: Canada
Cease Bailiff Services Incorporated:
Asset Investigation/Tracing; Asset Recoveries; Asset Protection/Security
Asset Liquidations/Sales; Ottawa, Canada;www.ceasebailiff.ca dave@ceasebailiff.ca; Phone

613 898 7376

; Fax 613 225 2452

Asset/Recovery & Collections:
Charlotte, NC
IRTC Continencies: Commercial Collections-Skip Trace- Repossessions-judgment enforcement-Investigations- Asset Re-marketing& No Cost Warehousing East Coast USA. Call 336-877-3077 ask for Robert or
E-mail to Robert@mbsfinancial.com

Nationwide Seasoned anfair priced workforce is at your service for all lease collections, repossessions, and asset liquidations, appraisals. Call
Nassau Asset Management
800-462-7728 dcastagna@nasset.com

Asset/Recovery: NorthWest
Sequent provides collateral recovery, remarketing, and storage services to lenders with assets located in the greater Pacific Northwest. Professional services at reasonable pricing. Contact
rossr@sequentam.com
Asset Marketing/Recovery: Remarking solutions for big rigs assets and trucking related companies including collections, recovery, repair and re-sales. North South Leasing cell #

586-909-8797

bob@nsleasing.com
Appraisals/Asset Recovery
Melville, New York
Auctions, Appraisals, National Repossessions. ALL asset classes. 20+ year team works for you. Spend less, Net More… Fast!
Ed Castagna

516-229-1968

ecastagna@inplaceauction.com

Appraisals/Inspections – Construction & Mining Heavy Equipment, Transport, Agriculture and Manufacturing. We provide Certified Appraisal Reports, (USPAP Compliant), Inventory Inspections, Collateral Valuation, VIN and Serial Number Verification with Detailed Photos, Lessee and Vendor Site Inspections including Customized Inspections. In a Hurry? Try our Kwik-Kwote
Emailwww.MobileEquipAppraisals.com
All "Outsourcing" Classified ads (advertisers are both requested and responsible to keep their free ads up to date:
http://www.leasingnews.org/Classified/Outsourcing/Outsourcing.htm
How to Post a free "Outsourcing" classified ad:
http://www.leasingnews.org/Classified/Outsourcing/Outsourcing-post.htm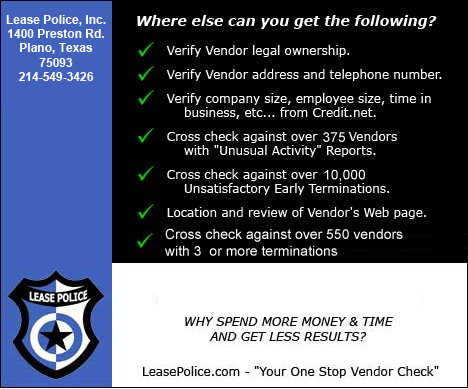 (Leasing News provides this ad "gratis" as a means
to help support the growth of Lease Police)
[headlines]
--------------------------------------------------------------
Easter in Saratoga, California
It was 81 degrees in Saratoga, California on Easter Sunday. Walked Bode early as not to get into the heat of the day. It seems many had the same idea, as ran into many friends and told them of our spring break vacation in Hawaii with grandkids, as well as a few days just by ourselves.
This is a small part of large estate on Monte Vista Drive, former head of Juniper Networks, etc.
Their vineyard with roses.
Up the street, a neighbor also has a vineyard with roses. The original idea was if the roses got mildew, spray the grapes with sulphur before they also succumbed. Today with all the other types of sprays as well as making sure there is good air flow, the roses serve primarily as decorations. He also has a large lighted outdoor tennis court.

It seems since I was gone this job is almost finished, and there is grass, too.

There is more planting and the front of the house is also being re-done. It is quite a large house and this is only part of it, as it not only has a large swimming pool but tennis court, and golf putting green area in the large backyard area.
Kit Menkin
[headlines]
--------------------------------------------------------------

News Briefs----
Over-the-Road Haulers Expanding to Meet Demand
http://www.crainsdetroit.com/article/20140420/NEWS/304209966/united-road-gears-up-for-long-haul-acquisition-helps-car-hauler-meet
Credit Unions to Lease Slot Machines?
http://www.cutimes.com/2014/04/17/slot-machines-a-good-loan-bet-onsite-coverage
U.S. Venture Capital Investment Highest Since 2001
http://blogs.wsj.com/digits/2014/04/17/us-venture-capital-investment-highest-since-2001/?mod=ST1
Earnings increase 27% at Exchange Bank
http://www.northbaybusinessjournal.com/90906/earnings-increase-26-at-exchange-bank/
FreshDirect voted best online grocery service
http://www.leasingnews.org/PDF/FreshDirect_4212014.pdf


[headlines]
--------------------------------------------------------------





--You May Have Missed It

Powdered alcohol -- palcohol -- now a thing
http://www.upi.com/Business_News/2014/04/19/Powdered-alcohol-palcohol-now-a-thing/8371397951670/?spt=sec&or=bn


[headlines]
--------------------------------------------------------------

SparkPeople--Live Healthier and Longer

The Truth about Green Tea
http://www.sparkpeople.com/resource/nutrition_articles.asp?id=107
[headlines]
--------------------------------------------------------------
Lines Written in Early Spring
BY WILLIAM WORDSWORTH

I heard a thousand blended notes,
While in a grove I sate reclined,
In that sweet mood when pleasant thoughts
Bring sad thoughts to the mind.
To her fair works did Nature link
The human soul that through me ran;
And much it grieved my heart to think
What man has made of man.
Through primrose tufts, in that green bower,
The periwinkle trailed its wreaths;
And 'tis my faith that every flower
Enjoys the air it breathes.
The birds around me hopped and played,
Their thoughts I cannot measure:—
But the least motion which they made
It seemed a thrill of pleasure.
The budding twigs spread out their fan,
To catch the breezy air;
And I must think, do all I can,
That there was pleasure there.
If this belief from heaven be sent,
If such be Nature's holy plan,
Have I not reason to lament
What man has made of man?


[headlines]
--------------------------------------------------------------

Sports Briefs----
Bruins even series against Red Wings
http://www.bostonglobe.com/sports/2014/04/20/bruins-win-even-series-red-wings/uliCnipbT1cKkmIx2dJbhI/story.html
[headlines]
--------------------------------------------------------------


California Nuts Briefs---


Leland Yee case: Disgraced California state senator's legislative efforts fueled cash for campaigns
http://www.mercurynews.com/politics-government/ci_25600424/leland-yee-case-disgraced-senators-legislative-efforts-fueled


[headlines]
--------------------------------------------------------------


"Gimme that Wine"
http://www.youtube.com/watch?v=EJnQoi8DSE8
Napa trend for 'leaner, less-oaked' Chardonnay
http://www.thedrinksbusiness.com/2014/04/napa-trend-for-leaner-less-oaked-chardonnay/
Napa Cabernets From a Cold, Wet Year
http://www.nytimes.com/2014/04/16/dining/napa-cabernets-from-a-cold-wet-year.html?_r=0
Americans Are Thirsty for the New Zealand Wine Business
http://www.winespectator.com/webfeature/show/id/49858
California's 2013 grape acreage totaled 878,000 acres
http://westernfarmpress.com/grapes/california-s-2013-grape-acreage-totaled-878000-acres

Free Mobile Wine Program
http://leasingnews.org/archives/Feb2010/2_26.htm#mobile
Wine Prices by vintage
http://www.winezap.com
http://www.wine-searcher.com/
US/International Wine Events
http://www.localwineevents.com/
Winery Atlas
http://www.carterhouse.com/atlas/\
Leasing News Wine & Spirits Page
http://two.leasingnews.org/Recommendations/wnensprts.htm
[headlines]
----------------------------------------------------------------
This Day in History
1649 - The Toleration Act was passed by the Maryland Assembly. It protected Roman Catholics within the American colony against Protestant harassment, which had been rising as Oliver Cromwell's power in England increased.
1782 -- The Presidio, overlooking San Francisco, is erected by the Spanish to subdue Indians interfering with mail transmissions along El Camino Real.
1801-Birthday of M.T. Hunter, Essex County, Virginia, one of the South's most pro-slavery congressmen and leaders.
http://memory.loc.gov/ammem/today/apr21.html
1828 - Noah Webster published the first American dictionary. It took grammarian and Editor Noah Webster nearly 20 years to complete his two-volume dictionary of more than 35,000 entries.
1836-Battle of San Jacinto, in which Texas won independence from Mexico. A 570-foot monument dedicated on the 101st anniversary of the battle, marks the site on the banks of the San Jacinto River, about 20 miles from present city of Houston, TX, where General Sam Houston's Texans decisively defeated the Mexican forces led by Santa Ana in the final battle between Texas and Mexico.
http://www.lsjunction.com/events/jacinto.htm
http://www.sanjacinto-museum.org/
http://www.tsha.utexas.edu/handbook/online/articles/view/SS/qes4.html
1838-American naturalist, explorer, conservationist and author John Muir birthday, born at Dunbar, Scotland. He emigrated to the US in 1849, where he urged establishment of national parks and profoundly influenced US forest conservation. The 550-acre Muir Woods National Monument in Marin County (Mill Valley) is named after him. In 1892, he and several other early preservationists formed the Sierra Club. Muir served as the club president for 22 years, tirelessly advocating the importance of preserving wilderness as a place where thousands of "tired, nerve-shaken, over-civilized people" could find spiritual and physical rejuvenation. It is hard to overestimate Muir's influence in fostering modern concepts of wilderness appreciation and protection. However, in practical terms, Muir and the Sierra Club lost several of their battles to protect the wilderness. From 1908 to 1913, Muir fought fervently against the proposed construction of the Hetch Hetchy dam in Yosemite National Park, which was being built to provide a reservoir of water for the city of San Francisco. Muir railed against his opponents, calling them "temple destroyers" and "devotees of raging commercialism," but to no avail--the dam was built and water covers the Hetch Hetchy Valley today.
http://www.sierraclub.org/john_muir_exhibit/
http://www.visitmuirwoods.com/
http://www.jmt.org/
http://www.sfgate.com/getoutside/1996/apr/muirwoods.html
1856 - The first railroad bridge over the Mississippi River opened with the first crossing of a locomotive. The train belonged to the Chicago, Rock Island, and Pacific Railroad Company, commonly known as the Rock Island Line. The bridge ran between Rock Island, Illinois and Davenport, Iowa.
1865- Abraham Lincoln's funeral train leaves Washington with hundreds of thousands of people surrounding the rail road tracks of his journey.
1869- President Ulysses S. Grant appointed Brigadier General Ely Samuel Park, who served as his military secretary during the Civil War, to the post of commissioner of Indian Affairs. He was the first Native American Indian ever appointed to be superintendent of Indian Affairs.
1878-Captain David B. Kenyon of Engine Company No. 21, New York City, installed the first firehouse pole. A hole was cut in an upper floor to accommodate a greased pole three inches wide that extended between the two stories, to enable the firemen to slide down the pole instead of using the stairs.
1895 - In New York City, Woodville Latham demonstrated the first moving picture projected on a screen.
1897--- Birthday of A. W. Tozer, one of the most popular and influential pastors to come out of the Christian and Missionary Alliance Church. Tozer was also a prolific writer, and his best- known publications include "The Pursuit of God" (1948) and "The Root of Righteousness" (1955). Died May 12, 1963
http://www.intouch.org/myintouch/mighty/portraits/aw_tozer_213610.html
1898 -- Using the sinking of battleship Maine as rallying cry, the US declares war on Spain in an attempt (successful) to acquire colonies seeking to win independence from Spain. The US gains Puerto Rico, Guam and the Philippines, with plans to annex the independent nation of Hawai'i later that year.
1914--- US marines occupy Vera Cruz México, stay 6 months.
1918- German flying ace Baron Manfred von Richtofen was shot down and killed during the battle of the Somme. The 'Red Baron," so named for the color of his Fokker triplane, was credited with 80 kills in less than two years. Royal Flying Corp pilots recovered his body and the Allies buried him with full military honors.
1916-Birthday of record owner, but better known as DJ "Huntin' with Hunter," Hunter Hancock, Uvalde, Texas ( I remember listening to him when I went to University High School, West Los Angeles, California) Died August 4, 2004
http://www.electricearl.com/dws/hunter.html
http://en.wikipedia.org/wiki/Hunter_Hancock
1922-Guitarist Mundell Lowell Birthday
http://www.spaceagepop.com/lowe.htm
http://www.mundelllowe.com/
http://www.shs.starkville.k12.ms.us/mswm/MSWritersAndMusicians/musicians/
MundellLowe/Lowe.html
1924-Birthday of singer Clara Ward, Philadelphia, PA
http://www.aaregistry.com/african_american_history/830/One_of_gospels_best_Clara_Ward
http://multirace.org/firstday/stamp41.htm
http://musicstore.connect.com/artist/bio/100/878/2/bio-1008782.html
1924---Birthday of Ira Louvin, who formed a gospel and bluegrass duo with his brother Charlie, was born in Rainesville, Alabama. The Louvin Brothers first gained notice in the 1950s with their talking gospel songs, such as "Satan Is Real" and "Make Him a Soldier." Their secular hits included "When I Stop Dreaming" and "I Don't Believe You've Met My Baby." "Love Thy Neighbor as Thyself," a song written by the Louvin Brothers, remains popular among bluegrass groups. Ira Louvin died in a car crash in Jefferson City, Missouri on June 20th, 1965.
1944 - Birthday of Cathie Black, U.S. publisher, who was president of Heart Magazines, the world's largest publisher of monthly magazines with readership of nearly 125 million. Among the magazines under her overall direction were Cosmopolitan and Esquire.
1945--INOUYE, DANIEL K. Medal of Honor
Second Lieutenant Daniel K. Inouye distinguished himself by extraordinary heroism in action on 21 April 1945, in the vicinity of San Terenzo, Italy. While attacking a defended ridge guarding an important road junction, Second Lieutenant Inouye skillfully directed his platoon through a hail of automatic weapon and small arms fire, in a swift enveloping movement that resulted in the capture of an artillery and mortar post and brought his men to within 40 yards of the hostile force. Emplaced in bunkers and rock formations, the enemy halted the advance with crossfire from three machine guns. With complete disregard for his personal safety, Second Lieutenant Inouye crawled up the treacherous slope to within five yards of the nearest machine gun and hurled two grenades, destroying the emplacement. Before the enemy could retaliate, he stood up and neutralized a second machine gun nest. Although wounded by a sniper's bullet, he continued to engage other hostile positions at close range until an exploding grenade shattered his right arm. Despite the intense pain, he refused evacuation and continued to direct his platoon until enemy resistance was broken and his men were again deployed in defensive positions. In the attack, 25 enemy soldiers were killed and eight others captured. By his gallant, aggressive tactics and by his indomitable leadership, Second Lieutenant Inouye enabled his platoon to advance through formidable resistance, and was instrumental in the capture of the ridge. Second Lieutenant Inouye's extraordinary heroism and devotion to duty are in keeping with the highest traditions of military service and reflect great credit on him, his unit, and the United States Army.
1945-MAY, MARTIN O. Medal of Honor
Rank and organization: Private First Class, U.S. Army, 307th Infantry, 77th Infantry Division. Place and date: legusuku-Yama, Ie Shima, Ryukyu Islands, 19-21 April 1945. Entered service at: Phillipsburg, N.J. Birth: Phillipsburg, N.J. G.O. No: 9, 25 January 1946. Citation: He gallantly maintained a 3-day stand in the face of terrible odds when American troops fought for possession of the rugged slopes of legusuku-Yama on Ie Shima, Ryukyu Islands. After placing his heavy machinegun in an advantageous yet vulnerable position on a ridge to support riflemen, he became the target of fierce mortar and small arms fire from counterattacking Japanese. He repulsed this assault by sweeping the enemy with accurate bursts while explosions and ricocheting bullets threw blinding dust and dirt about him. He broke up a second counterattack by hurling grenades into the midst of the enemy forces, and then refused to withdraw, volunteering to maintain his post and cover the movement of American riflemen as they reorganized to meet any further hostile action. The major effort of the enemy did not develop until the morning of 21 April. It found Pfc. May still supporting the rifle company in the face of devastating rifle, machinegun, and mortar fire. While many of the friendly troops about him became casualties, he continued to fire his machinegun until he was severely wounded and his gun rendered useless by the burst of a mortar shell. Refusing to withdraw from the violent action, he blasted fanatical Japanese troops with hand grenades until wounded again, this time mortally. By his intrepidity and the extreme tenacity with which he held firm until death against overwhelming forces, Pfc. May killed at least 16 Japanese, was largely responsible for maintaining the American lines, and inspired his comrades to efforts which later resulted in complete victory and seizure of the mountain stronghold.
1945- One of the world's first great R&B labels, Modern Records, is formed by Saul and Jules Bihari in Los Angeles. It would prove to be the launching pad for everyone from John Lee Hooker to Etta James.
1947---Birthday of new wave performer Iggy Pop, whose real name is James Jewel Osterberg, was born in Ann Arbor, Michigan. Pop and his band the Stooges, formed in 1968, are now considered forerunners to the punk rock movement. He earned notoriety for his wild concert performances, which included flinging himself into audiences and smearing his body with anything handy, from peanut butter to blood.
1948-First Polaroid camera sold in US and becomes obsolete with the popularity of the digital camera at the turn of the 20th century.
1951- Les Paul and Mary Ford's "How High the Moon" hits #1.
1951 - Top Hits
If - Perry Como
Mockingbird Hill - Les Paul & Mary Ford
Would I Love You - Patti Page
The Rhumba Boogie - Hank Snow
1956 --- "Heartbreak Hotel," Elvis Presley's first single for RCA Victor, went to number one in the US. It stayed in the top spot for eight weeks, becoming his first million-seller.
1958- The Platters' "Twilight Time" hits #1
1959---Top Hits
Come Softly to Me - The Fleetwoods
I Need Your Love Tonight - Elvis Presley
(Now and Then There's) A Fool Such as I - Elvis Presley
White Lightning - George Jones
1960 -- Dick Clark, described as "the single most influential person" in the pop music business, testifies before a congressional committee investigating payola. He admits he had a financial interest in 27% of the records he played on his show in a 28 month period. But unlike his rival, Alan Freed, Clark was exonerated of any wrongdoing and went on building entertainment empires among the most influential in the world.
1961 - The Beatles debut at the Cavern Club in Liverpool, England.
1962 - Elvis Presley's "Good Luck Charm" hits #1
1963 - The Beatles went to the Crawdaddy Club in London to see the Rolling Stones. Impressed with the Stones, the Beatles recommended them to their former publicist Andrew Loog Oldham. Oldham became manager of the Rolling Stones.
1966-President Lyndon B. Johnson in 1966 presented the Medal of Honor awarded posthumously in the Vietnam War to the first African American soldier, Private First Class Milton Lee Olive, III, Company B, 503rd Infantry, 173rd Airborne Brigade, who was killed when he grabbed an enemy grenade and fell on it to save the lives of four companions.
1967 - MARTINI, GARY W. Medal of Honor
Rank and organization: Private First Class, U.S. Marine Corps, Company F, 2d Battalion, 1st Marines, 1st Marine Division. Place and date: Binh Son, Republic of Vietnam, 21 April 1967. Entered service at: Portland, Oregon. Born: 21 September 1948, Lexington, Va. Citation: For conspicuous gallantry and intrepidity at the risk of his life above and beyond the call of duty. On 21 April 1967, during Operation UNION* elements of Company F, conducting offensive operations at Binh Son, encountered a firmly entrenched enemy force and immediately deployed to engage them. The marines in Pfc. Martini's platoon assaulted across an open rice paddy to within 20 meters of the enemy trench line where they were suddenly struck by hand grenades, intense small arms, automatic weapons, and mortar fire. The enemy onslaught killed 14 and wounded 18 marines, pinning the remainder of the platoon down behind a low paddy dike. In the face of imminent danger, Pfc. Martini immediately crawled over the dike to a forward open area within 15 meters of the enemy position where, continuously exposed to the hostile fire, he hurled hand grenades, killing several of the enemy. Crawling back through the intense fire, he rejoined his platoon which had moved to the relative safety of a trench line. From this position he observed several of his wounded comrades lying helpless in the fire-swept paddy. Although he knew that 1 man had been killed attempting to assist the wounded, Pfc. Martini raced through the open area and dragged a comrade back to a friendly position. In spite of a serious wound received during this first daring rescue, he again braved the unrelenting fury of the enemy fire to aid another companion Lying wounded only 20 meters in front of the enemy trench line. As he reached the fallen marine, he received a mortal wound, but disregarding his own condition, he began to drag the marine toward his platoon's position. Observing men from his unit attempting to leave the security of their position to aid him, concerned only for their safety, he called to them to remain under cover, and through a final supreme effort, moved his injured comrade to where he could be pulled to safety, before he fell, succumbing to his wounds. Stouthearted and indomitable, Pfc. Martini unhesitatingly yielded his life to save 2 of his comrades and insure the safety of the remainder of his platoon. His outstanding courage, valiant fighting spirit and selfless devotion to duty reflected the highest credit upon himself, the Marine Corps, and the U.S. Naval Service. He gallantly gave his life for his country.
1967 - Top Hits
Somethin' Stupid - Nancy Sinatra & Frank Sinatra
This is My Song - Petula Clark
A Little Bit Me, A Little Bit You - The Monkees
Lonely Again - Eddy Arnold
1967 - Severe thunderstorms spawned 48 tornadoes in the Upper Midwest. Hardest hit was northern Illinois where sixteen tornadoes touched down during the afternoon and evening hours causing fifty million dollars damage. On that Friday afternoon tornadoes struck Belvidere IL, and the Chicago suburb of Oak Lawn, killing 57 persons.
1969- Rock singer Janis Joplin gave one of her greatest performances at the Royal Albert Hall in London. The show was attended by a glittering array of British rock performers. A year-and-a-half later, on October 4th, 1970, Joplin was dead of a drug overdose. She had just finished recording her album "Pearl," which contained her first number-one single, Kris Kristofferson's "Me and Bobby McGhee."
1970- Elton John makes his stage debut as a solo act when he opens for T. Rex, Spooky Tooth, and Jackie Lomax at the Roundhouse in London.
1971-- "Sticky Fingers," the Rolling Stones' first album for their own label, Rolling Stones Records, was released.
1973- Tony Orlando and Dawn's "Tie a Yellow Ribbon Round the Ole Oak Tree" hits #1
1973-Alice Cooper had the #1 album in the US with "Billion Dollar Babies". The LP also topped the chart in the UK.
1975---Top Hits
Philadelphia Freedom - The Elton John Band
(Hey Won't You Play) Another Somebody Done Somebody Wrong Song - B.J. Thomas
He Don't Love You (Like I Love You) - Tony Orlando & Dawn
Always Wanting You - Merle Haggard
1975 - No. 1 Billboard Pop Hit: "(Hey Won't You Play) Another Somebody Done Somebody Wrong Song," B.J. Thomas. The song has the longest title of any No. 1 single.
1976 - A Cadillac convertible, the 'last' American-made rag top automobile, came off the assembly line at GM's production facility in Detroit, Michigan, ending a tradition starting in 1916. A few years later, Chrysler Corporation, headed by Lee Iacocca, began producing soft-top cars again. Ford then brought back the convertible Mustang and GM returned with the convertible Pontiac Sunbird and a smaller Cadillac version.
1976-Ex-Raspberries lead singer Eric Carmen enters the pop chart with his first and biggest solo smash, "All by Myself." It peaks at #2.
1977 – "Annie", a musical based on Harold Gray's comic strip "Little Orphan Annie", debuted on Broadway. The play received rave reviews, and Dorothy Louden, who played the sinister orphanage matron, received a Tony for Best Actress in a Musical/Comedy for her performance.
1977 - ABC airs Frank Sinatra's TV special Frank Sinatra and Friends, featuring guest stars Natalie Cole and John Denver.
1979- Amii Stewart's "Knock on Wood" hits #1
1980 - The temperature at International Falls, MN hit 90 degrees.
1980 - Birthday of Football Quarterback Antonio Ramiro "Tony" Romo, San Diego, California, raised in Burlington, Wisconsin. He played college football at Eastern Illinois University in Charleston, Illinois. He went undrafted during the 2003 NFL Draft; he joined the Dallas Cowboys in summer training camp, sitting third on the depth chart. After Vinny Testaverde's tenure in Dallas ended in 2005, the Cowboys signed veteran quarterback Drew Bledsoe, the eighth starting quarterback for the Cowboys since 2000. Elevated to the Cowboys' #2 quarterback in 2005. He eventually took over the starting quarterback role from Drew Bledsoe during half time against the New York Giants on October 23, 2006. Romo finished the 2009 season as the first quarterback in team history to take every snap for a full season. He also passed his own mark for single season passing yardage, with 4,483 yards, and became the first Cowboys quarterback to throw 20+ touchdowns and less than ten interceptions in a season. His eight 300 yard games was also a team record, surpassing his own record from 2007. His 1.6% interception percentage tied a team record, and his career interception percentage is now the lowest in franchise history.
http://www.tonyromo9.com/index.php?option=com_content&view=article&id=73&Itemid=63
http://www.myspace.com/tony_romo
1983---Top Hits
Billy Jean - Michael Jackson
Come on Eileen - Dexys Midnight Runners
Mr. Roboto - Styx
Dixieland Delight - Alabama
1984 - Michael Jackson's album "Thriller" slipped from number 1 to number 3 on the pop album charts after 37 weeks at #1, setting a record in for the longest run at the top.
1984 - David Palmer pitched the fourth shortened, perfect game in the history of major-league baseball. Palmer was taking the Montreal Expos to a 4-0 lead over the St. Louis Cardinals when the home plate umpire called the game after five innings due to rain. Until that point, Palmer had made 57 pitches.
1987 - For the first time, the United States Postal Service offered special occasion stamps. Among the messages offered were: "Happy Birthday," "Get Well" and others.
1988 - After having had just twelve rainouts in the previous twenty-six years at Dodger Stadium, a third day of heavy rain in southern California rained out a double-header at Dodger Stadium which had been scheduled due to rainouts the previous two days.
1989 - The temperature at Las Animas, CO., soared to 100 degrees to establish a state record for April. Twenty-two cities in the central and southwestern U.S. reported record high temperatures for the date. Eight cities equaled or exceeded previous April records.
1991---Top Hits
You're in Love - Wilson Phillips
Baby Baby - Amy Grant
Joyride - Roxette
Down Home – Alabama
1993 - Bill Kreutzmann, drummer for the Grateful Dead, spots a 17-year-old surfer foundering in a riptide near Mendocino, CA and dives in, saving his life.
1995 - The FBI arrested former soldier Timothy McVeigh at an Oklahoma jail where he had spent two days on minor traffic and weapons charges; he was charged in connection with the Oklahoma City bombing two days earlier in which over 200 people were killed by a truck bomb that exploded in front of a Federal building
1997 - The ashes of 1960s LSD guru Timothy Leary and "Star Trek" creator Gene Roddenberry were blasted into space in the world's first space funeral.
1999 - Elvis Crespo is the big winner at Billboard's Latin Music Awards. The merengue star picks up four trophies, tying him with Selena for the most wins at one show. Crespo takes three awards in the tropical/salsa category - album of the year, male; album of the year, new artist; and hot Latin track of the year - as well as the prize for Latin dance maxi-single.
1999 - Brooks & Dunn debut their newest video, "South of Santa Fe," while internet site country.com simultaneously streams the video using Microsoft Windows Media technology. It is the first time that a country video debuts simultaneously on TV and the Internet.
2000 --In Cincinnati, the Dodgers/Reds game is delayed for 27 minutes due to the umpires' equipment being accidentally been shipped to New York. Replacement gear is secured from a downtown store but due to heavy traffic a police escort is needed to get the goods to Cinergy Field.
2002--- Atlanta shortstop Rafael Furcal ties a major league record, which was most previously done by White Sox outfielder Lance Johnson in 1995, by hitting three triples in a game. The last time a Braves' player hit three three-baggers in one contest was on June 13, 1956 when Danny O'Connell accomplished the feat.
2014--118th Boston Marathon. The marathon begins in the rural New England town of Hopkinton, winds through eight cities and towns and finishes near downtown Boston. Always, the first Monday in April. 37,755 participants. Athletes qualify by meeting time standards that correspond to age. Est. Attendance: 1,000,000. Sue's daughter Sara has run in the Boston Marathon. www.baa.org
-------------------------------------------------------------

SuDoku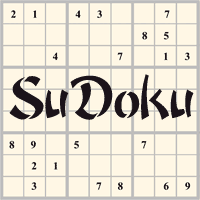 The object is to insert the numbers in the boxes to satisfy only one condition: each row, column and 3x3 box must contain the digits 1 through 9 exactly once. What could be simpler?
http://leasingnews.org/Soduku/soduko-main.htm
--------------------------------------------------------------

Daily Puzzle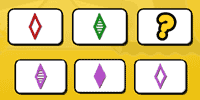 How to play:
http://www.setgame.com/set/puzzle_frame.htm
Refresh for current date:
http://www.setgame.com/set/puzzle_frame.htm
--------------------------------------------------------------


http://www.gasbuddy.com/
http://www.gasbuddy.com/GB_Map_Gas_Prices.aspx
http://www.gasbuddy.com/GB_Mobile_Instructions.aspx
--------------------------------------------------------------

Weather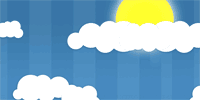 See USA map, click to specific area, no commercials
--------------------------------------------------------------

Traffic Live---
Real Time Traffic Information
You can save up to 20 different routes and check them out with one click,
or type in a new route to learn the traffic live
--------------------------------