Second decade of business, providing sales incentives that require a
commitment and passion for driving sales success.
www.fivepointcapital.com


Wednesday, August 11, 2010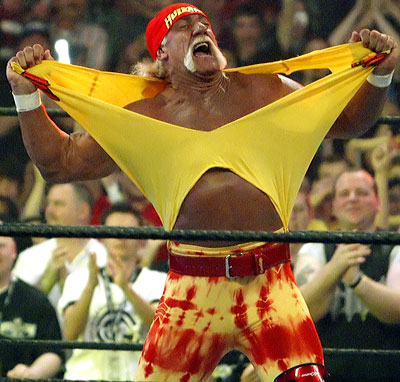 Twelve-time Heavyweight World Champion Wrestler Hulk Hogan born Terry Gene Bollea August 11, 1953 Augusta, Georgia. He is a six-time WWF/E Champion and a six-time WCW World Heavyweight Champion, as well as a former World Tag Team Champion with Edge. He was the first wrestler to win the WWE Championship three times. He was also the winner of the Royal Rumble in 1990 and 1991 and the first to win two Royal Rumbles in a row.

Headlines---
Classified Ads---Employment Web Sites
Alexa Report on Leasing Web Newsletters/Sites
Ready, Willing, Able: Dwight Galloway, CLP
Classified Ads---Help Wanted
Sales makes it Happen---by US Bank Manifest
"Broker Protection Policy"
Evergreen calendar makes Marlin Leasing Profitable
OnePlace Capital Joins Funder List
Texas Capital in for $608,602 plus Allied Status Report
Adopt-a- Dog---Rancho Palos Verdes, California
News Briefs---
Fed leaves rates near zero
Fed, worried about recovery, will buy US debt
Wells says new rules will be costly
Wells Fargo alleged party house in Malibu sells for $14.9MM
Coffee, tea or flee? JetBlue attendant Becomes Hero
Guy Fieri, Chef-Dude, Is in the House
Banks Eye Revival of Home-Loan Conduit
You May have Missed---
California Nuts Brief---
Sports Briefs---
"Gimme that Wine"
This Day in American History
Baseball Poem
SuDoku
Daily Puzzle
GasBuddy
Weather, USA or specific area
Traffic Live----

######## surrounding the article denotes it is a "press release" and was not written by Leasing News nor information verified, but from the source noted. When an article is signed by the writer, it is considered a "by line." It reflects the opinion and research of the writer. It is considered "bias" as it is the writer's viewpoint.


[headlines]
--------------------------------------------------------------

Classified Ads---Employment Web Sites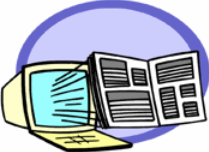 www.adams-inc.com
www.affinitysearch.com
www.bajobs.com
www.careerbank.com
www.careerbuilder.com
www.careerpath.com
www.careerjet.com
www.craigslist.org
ELFA Career Center
www.FinanceLadder.com
http://www.findhow.com/
www.hotjobs.com
www.indeed.com
www.jobs.net
www.jobssearchengine.net
www.jobsearchusa.org
www.JobSpin.com
www.jobsinthemoney.com
www.ladders.com
www.leasingworld.co.uk
www.lessors.com
www.MarketingJobs.com
www.monitordaily.com
www.monster.com
www.monstertrak.monster.com/
www.Postonce.com
www.RecruiterConnection.com
www.resumeblaster.com
www.vault.com
www.vetjobs.com
www.worktree.com
www.worldleasingnews.com
For a full listing of all "job wanted" ads, please go to:
http://www.leasingnews.org/Classified/Jwanted/Jwanted.htm

Other e-Mail Posting Sites:
http://www.leasingnews.org/Classified/Posting_sites.htm
Please send Leasing News to a Colleague

We are free, easy to subscribe, just send us email
to kitmenkin@leasingnews. org
and in subject: subscribe.
[headlines]
--------------------------------------------------------------

Alexa Ranks Leasing Media Web Sites
US rankings

| | | | | |
| --- | --- | --- | --- | --- |
| Rank | 8/9/2010 | 7/9/2010 | | |
| 1. | 27,942 | 28,492 | | www.leasingnews.org Leasing News |
| 2. | 82,537 | 74,756 | | www.lessors.com eLessors Networking Association |
| 3. | 83,867 | 69,063 | | www.monitordaily.com Monitor Daily |
| 4. | 188,212 | 239,814 | | www.naelb.org* National Assoc. of Equip Leasing Brokers |
| 5. | 193,422 | 266,394 | | www.elfaonline.org |
| 6. | 195,512 | 193,602 | | www.icba.org Ind Community Bankers of America |
| 7. | 217,552 | 213,333 | | www.Worldleasingnews.com World Leasing News |
| 8. | 1,168,895 | no data | | www.cfa.com Commercial Finance Association |
| | | | | |
| | no data | 458,248 | | www.clpfoundation.org CLP Foundation |
| | no data | 462,964 | | www.nefassociation.org National Equipment Finance Assoc. |
| | no data | no data | | www.executivecaliber.ws Exec Caliber-Jeffrey Taylor |
| | no data | no data | | wwww.leasefoundation.org Equip. Leasing & Fin Fndn |
| | no data | no data | | www.iicl.org Institute of International Container Lessors |
| | no data | no data | | www.aglf.org Assoc of Government Leasing Financing |
| | no data | no data | | www.Leasingpress.com Leasing Press |
| | no data | no data | | www.leasingnotes.com Leasing Notes |
| | no data | no data | | www.leaseassistant.org Lease Assistant |
| | no data | no data | | www.leasecollect.org Lean -Lease Enforcement Att Net |
| | no data | no data | | www.nationalfunding.org |
| | no data | no data | | www.lesseeadvocate.com Lessee Advocate |
Alexa Ranks Leasing Media Web Sites
World rankings

| | | | | |
| --- | --- | --- | --- | --- |
| Rank | 8/9/2010 | 7/9/2010 | | |
| 1. | 136,022 | 164,321 | | www.leasingnews.org Leasing News |
| 2. | 344,850 | no data | | www.leasinglife.co.uk The Journal for Asset Finance |
| 3. | 380,243 | 429,941 | | www.monitordaily.com Monitor Daily |
| 4. | 400,451 | 523,543 | | www.lessors.com eLessors Networking Association |
| 5. | 888,314 | 850,112 | | www.icba.org Ind Community Bankers of America |
| 6. | 1,068,425 | 1,373,126 | | www.elfaonline.org |
| 7. | 1,072,913 | 1,516,707 | | www.Worldleasingnews.com World Leasing News |
| 8. | 1,077,335 | 1,119,606 | | www.naelb.org* National Assoc. of Equip Leasing Brokers |
| 9. | 1,859,705 | 1,930,821 | | www.cfa.com Commercial Finance Association |
| 10. | 2,201,458 | 2,242,445 | | www.nefassociation.org National Equipment Finance Assoc. |
| 11. | 2,959,100 | 3,250,339 | | www.clpfoundation.org CLP Foundation |
| 12. | 3,196,096 | 2,596,983 | | wwww.leasefoundation.org Equip. Leasing & Fin Fndn |
| 13. | 4,347,078 | 4,440,510 | | www.iicl.org Institute of International Container Lessors |
| 14. | 5,009,707 | 5,071,096 | | www.aglf.org Assoc of Government Leasing Financing |
| 15. | 8,816,565 | 10,885,742 | | www.leasecollect.org Lean -Lease Enforcement Att Net |
| 16. | 9,669,468 | 4,411,143 | | www.executivecaliber.ws Exec Caliber-Jeffrey Taylor |
| 17. | 11,134,275 | 10,925,090 | | www.lesseeadvocate.com Lessee Advocate |
| 18. | 14,184,631 | 13,951,534 | | www.nationalfunding.org |
| 19. | 16,565,140 | 16,340,890 | | www.Leasingpress.com Leasing Press |
| 20. | 22,005,084 | 21,664,681 | | www.leasingnotes.com Leasing Notes |
David G. Mayer's Business Leasing and Finance News is not included in the Alexa report list as it does not have its own individual site and Alexa finds Patton Boggs, LLP Attorneys at Law. The rating is not valid as it includes all those who visit and communicate with the law firm. When Business Leasing and Finance News has its own individual web site, it will be included in the Alexa survey.
*It should be noted that NAELB web site "list serve" requires logging onto their site, meaing their e-mails are counted as a visit to the site, whereas they are "list serve" communication. These are technically visits to the web site, but primarily to use "list serve."
The Alexa tool bar works on most browsers. They are partnered with Google.
You may download their free tool bar A graph and analysis of the last three months are available.
The editor tries to place banner ads where they will be read by those the advertisers want to reach, rather than placed at random. News stories that will have an "ill" effect are avoided as best as possible. Often it is the position of the banner ad that attracts more response. This is at the sole discretion of the editor.
Banner ads may appear under the headlines at the choice of the editor, but are not guaranteed. An attempt is made to share them on a rotation basis with other banner advertisers.

We reserve the right to refuse any advertising.
Ad design: no charge.

Click to another page or web site: no charge.

(Cannot be a "help wanted" ad for employment, must advertise company, service or product)


Pricing Information

Price

Ad Size

Pixels Size

Term

$595.00

6.5" W X 1.5" H

468W X 180H

21 days

$695.00

6.5" W X 2.5" H

468W X 180H

21 days

$895.00

6.5" W X 4" H

468W X 288H

21 days

$995.00

6.5" W x 5"H

468W X 360H

21 days
[headlines]
--------------------------------------------------------------

Ready, Willing, Able: Dwight Galloway, CLP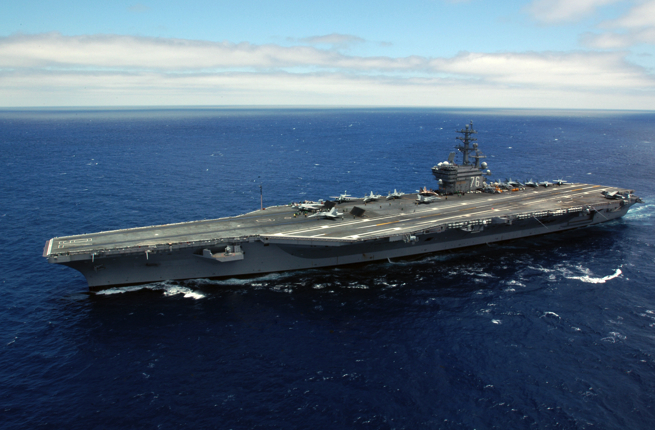 USS Ronald Reagan
FirstTrillion.com original web site first page is no longer up announcing the formation of a Columbia, South Carolina leasing company exclusively for broker business. The following message has taken its place:
"Thank you for your inquiry. At present this company does not exist. The website was a brief, unauthorized design test and was taken down on August 2. All that remain are remnants in web crawling robot caches. If the company does start up, an announcement will be made.
"Emails to this address will not be returned.
"Thank you,

"Web Host."
Several readers noted that Barry Reitman, Keystone Financial email was originally returned to them when they used the email on the site: info@firsttrillion.com. It was speculated the baldguy@keystoneleasing.com" designed the web site. He was not available for a comment. Leasing News was told he was on a poker tour.
Dwight Galloway, CLP, Columbia, South Carolina states "With Leaf's knowledge, I am still trying to help the former Republic\Net bank employees establish a broker funding source with a new owner but without success thus far. As I told you before, if and when that team finds a home, I will let you know."
A well informed source told Leasing News this "Columbia, South Carolina group of professionals to do business exclusively with brokers" was actually cancelled by Leaf in favor of another option.
While there were several service providers notified, as well as ex-LEAF Specialty employees were looking forward, Leasing News was told that "No portfolio was purchased because the deal was not consummated. The prospective company name(s), one of several possibles, was a shell, the test site closed when the deal fell through. There is no deal in the works involving Leaf."
In the recent article about Resource America, Philadelphia, Pennsylvania, parent of LEAF Specialty, Columbia, South Carolina, now closed, there was mentioned the possibilities about selling business units, such as LEAF Financial, as well as going private or selling the entire company. Here is a list of the Resource America companies
http://resourceamerica.com/about.html
What seems to be left at LEAF are the portfolio's, including their delinquencies and defaults, all used as security for the portfolio's with management fees made. As far a staff, it appears the only going concern is Leaf Dealer Solutions (formally Dolphin Capital). "There are about 80 people at the Missouri location. They reportedly have full operations at this facility, including sales, credit and collections. Most of this groups business is in office tech (copiers) which Dolphin did a lot of.
The former Dolphin Capital operations (use to be part of a bank that was taken over by Goldman Sachs then sold to Leaf – now call Leaf Dealer Solutions) could be sold as a stand alone entity. Dolphin had a good name at one time and there are some good people still there. They say they're out of the loop with what goes on in Philadelphia.
What is left at corporate headquarters: most of the Operations staff down; Chris Casey is still vice-president, but Leasing News is told her staff is gone; Collections and Litigation are still staffed heavily under Jim Grant. But there is no more asset recovery business, nor inside sales, with only Business Development Vice-President Bryan Spence left, as well as Crit DeMent, Dave English, Bob Hunter, Earle Compton, Miles Herman.
Leasing News is told the "VPs" are maintaining the shop while their staff gets laid off. No one at headquarters will confirm nor deny this, but Leasing News receives emails from other leasing companies who have been interviewing those who have left:
"I have gotten several calls from LEAF guys (past and present) who are peddling the LEAF deal 'engine' - the message being that there are a significant number of vendors that will following these guys wherever they land.
"Having followed your reporting on LEAF over the past few years – and the recently published RA (Resource America) quarterly numbers - the question I keep asking myself is what is left at LEAF in terms of new business potential? My assumption being that any good guys with any relationships have already moved down the street and joined DLL (De Lage Landen US).
"I would be curious as to what you think seeing you are tied in to what is going on there."
(name with held)
A lot of very good people with a lot of experience and talent are available, not just sales, but in all aspects in leasing. Employers won't find bargains like this in 2011.
Kit Menkin, editor

LEAF Buys Dolphin:
http://www.leasingnews.org/archives/November%202007/11-26-07-extra.htm
Google Finds Dwight Galloway's New Company
http://www.leasingnews.org/#google_galloway
LEAF for Sale?
http://www.leasingnews.org/#leaf_sale

"FinPac has lowered their best rates by 400 bps to 12%. While our focus is still in our second tier credit niche with appropriate pricing, we are trying to respond to our TPO's (third party originators) needs in that better rate segment. We believe that our historical knowledge and the experience we've gained over the past two years helps us properly identify and price for risk."
Paul J. Menzel, CLP
President & CEO

Contact: Terey Jennings, CLP
888-239-8338
www.finpac.com
[headlines]
--------------------------------------------------------------

Sales makes it Happen---by US Bank Manifest
"Broker Protection Policy"
With all the changes in the leasing industry, including acquisitions, mergers, purchases of "assets only" or bankrupt portfolio's, changing broker qualifications, who has the "rights" to repeat business or the dealer who sold the equipment?
Many companies spell out this policy, such as the Manifest Group, which issues an "insurance policy" to its brokers, while others have provisions in their "representation and warranty agreement," others have none, and perhaps many are now unenforceable.
The Manifest Insurance Policy

August 1987
In today's competitive marketplace it seems as though everyone is trying to get more from their current base of customers. Whether it is your lessee base or your vendor base, we would all agree that these are the lifelines of any third party leasing company. At The Manifest Group, we understand the importance of your customer base and we would like to insure the protection of these lists with the following policy:
Your lessee and vendor lists will remain confidential to The Manifest Group. At no time will this information be shared with anyone outside The Manifest Group. This policy holds true even if your company is no longer doing business with The Manifest Group.
At The Manifest Group, we take this "Insurance Policy" very seriously. We understand that the cost of a "claim against our integrity far outweighs any revenues that we might receive from a vendor or lessee that calls us directly.
This policy was initiated when The Manifest Group opened its doors back in 1987. Our industry has experienced tremendous change over the years. One thing that has not changed is the confidentiality of your database. This policy is taken just as seriously today as it was when it was introduced in 1987.
Troy Molitor, General Manager
The Manifest Group
April 2000
(From Leasing News Archives)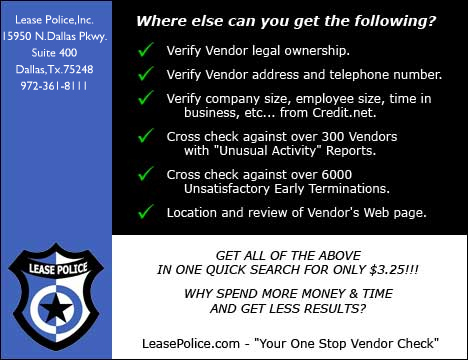 [headlines]
--------------------------------------------------------------

Leasing Industry Help Wanted

Second decade of business, providing sales incentives that require a
commitment and passion for driving sales success.
www.fivepointcapital.com


Looking for experienced vendor reps. across the country.
A book of business is a plus... Our value proposition
is unmatched in the industry.
contact: mscritchfield@homecoastcapital.com

Sales Account Executives: Jacksonville, FL/Philadelphia, PA. Small ticket funder with broad funding and exceptional vendor service capabilities. E-mail resume to: garyshivers@navitaslease.com
Navitas Lease Finance Corp is an innovator in the Small Ticket Leasing Industry. We offer solutions to small-to-medium-sized businesses looking to acquire and finance equipment.

Territory Managers
Originate FMV leases for IT/Communication equipment.
10+ years direct origination required.
For more info, click here
Please see our Job Wanted section for possible new employees.

[headlines]
--------------------------------------------------------------

"Evergreen" calendar makes Marlin Leasing Profitable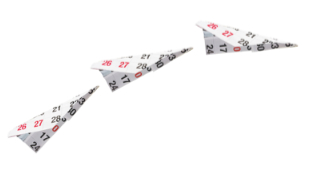 An "Evergreen Clause," legal in 47 states, requires a mandatory 90 day notice to return the equipment or the evergreen clause goes into effect. Often it can be an automatic twelve month payments. This is standard on large operating leases that have a true "fair market value," but has been abused by many in the small ticket marketplace, even on $1.00 purchase options or 10%. If the lessee does not notify the lessor of their intention at the end of the original term of lease payments, the security deposit is forfeited (applied to the lease legally) and payments continue for twelve months. Many lessees in the small ticket marketplace are not aware as they often don't count payments or realize the original term is up. The "Evergreen Clause" is abused by many in the small ticket marketplace, perhaps more than anyone, Marlin is the leader in this "ruse:"
Marlin Business Services, Mount Laurel, New Jersey (NASDQ-MRLN) reported a $1.6 million net profit second quarter, 2010.
Marlin 10-Q Second Quarter Filing, page 43:
"Our leases generally include automatic renewal provisions and many leases continue beyond their initial contractual term. We consider renewal income a component of residual performance. Renewal income net of depreciation totaled approximately $2.0 million and $1.7 million for the three-month periods ended June 30, 2010 and June 30, 2009, respectively. Renewal income net of depreciation totaled approximately $3.9 million and $3.5 million for the six-month periods ended June 30, 2010 and June 30, 2009, respectively."
Mostly from copiers:
"As of June 30, 2010, there were $40.2 million of residual assets retained on our Consolidated Balance Sheet, of which $32.4 million, or 80.5%, were related to copiers. No other group of equipment represented more than 10% of equipment residuals as of June 30, 2010 and December 31, 2009, respectively."
(Marlin 10-Q Second Quarter Filing, page 43)
Also from complaints received by Leasing News, most of these automatic renewals involve copiers, where it is also reported dealers and vendor may participate in the extension, a practice not "uncommon" in the industry.
A dealer told Leasing News:
"They (Marlin) also offer their vendors the option to share the evergreen - sales explains to vendor that it helps to lock their client and service of vendor. They also offer the same share with the IR (interim rent) charges."
There are also other complaints that get settled, including those by the by Ralph Petta, COO, Equipment Finance and Leasing Association:
"Mr. Petta was instrumental in moving my file up the chain of command at Marlin such that I ended up working with Mr. Ray Schilling, Vice President, Office Equipment Division, Mount Laurel, New Jersey. I first contacted Mr. Petta at ELFA on or about March 13, 2010. Once I made contact with Ray Schilling, things moved fairly quickly. I received my "ownership letter" from Marlin dated April 26, 2010. I feel that I have managed to effectively end my business relationship with Marlin Leasing and, of course, have learned a great deal about equipment leases!
"I want to thank you for your advice and for your newsletter which provided me with very useful information about the equipment leasing industry. I thank you also for taking a personal interest in my case."
Best regards,
Wes Frost
Oak Run, CA
Better Business Bureau Rating: "F"
http://www.bbb.org/new-jersey/business-reviews/business-consultants/marlin-leasing-in-mt-laurel-nj-80012102
Marlin 10-Q Second Quarter Filing:
http://leasingnews.org/PDF/Marlin_10Q_Second_quarter.pdf

Bulletin Board Complaints:
http://www.leasingnews.org/bulletin_board.htm
Marlin Profit is from "Evergreen" clause:
http://leasingnews.org/archives/May2010/5_10.htm#marlin_profit
[headlines]
--------------------------------------------------------------

OnePlace Capital Joins Funder List

5

National

$10,000 to $250,000
avg: $50,000

N

N/A

N

N

N
Direct sales team dedicated to small ticket programs and one-off transactions exclusively in the Healthcare markets. Private Label Programs available for Vendors.
"We specialize in equipment leasing for medical, dental and veterinary practitioners in the U.S.
"Take advantage of leasing with One Place Capital:
•No prepayment penalties
•We never sell our leases to third parties
•Flexible financing terms and competitive rates
•Simple and quick application process
•Affordable monthly payments"
http://www.oneplacecapital.com


[headlines]
--------------------------------------------------------------

Texas Capital in for $608,602 plus Allied Status Report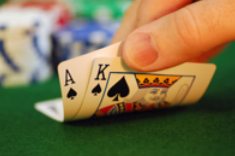 Texas Capital Bank, Dallas, Texas, filed in the District of New Jersey, Newark, a complaint for $608,602 with defendants Allied Health Care Services, Inc., and Charles K. Schwartz. This is the third lease of the nine ACC Capital, Utah, said they put together "non-recourse."
It also asks to obtain its equipment back (or prove that it exists at all:)
(Against Allied For Replevin)
"55. Texas Capital repeats and re-alleges each and every allegation contained in Paragraphs 1 through 54 above, as if set forth fully herein.
56. Pursuant to Paragraph 16 of the Master Lease, Texas Capital is permitted to "take possession of any or all of the Equipment listed on any or all Equipment Schedules, wherever situated and for such purpose . . . without court order and without liability for so doing . . . ." (Exhibit A at ¶ 16).
57. Texas Capital also has a statutory right to replevin pursuant to N.J.S.A. § 2B:50-1.
58. The ventilators subject to the Equipment Schedules are being wrongfully held by Allied, despite Texas Capital's demand that they be returned.
59. By reason of the foregoing, Texas Capital is entitled to take possession of the ventilators that are subject of the Equipment Leases."
Various credits have found the equipment not costing $5,000 but $825 to $1250, site inspections were always at Allied's office, as they were to be "sub-leased" to medical patients. It should be noted that several creditors, including Leasing News, called the manufacturer who said the serial numbers from the Donner Medical invoices were not the manufacturers' serial numbers.
It has taken other creditors 30 to 60 days to serve Charles K. Schwartz, who's attorney has responded in several of the cases with denial of most of the charges set forth.
John Kenny, Receivables Management, Mohawk, New York, who has resolved off-lease residuals with Allied stated he had been trading emails and voice messages with Charles Schwartz who expressed willingness in trying to come with a resolution to these complaints.
At this time, he has talked to several creditors, each of who have expressed an interest in having him work on their behalf with Allied and Mr. Schwartz to resolve their individual deficiencies:
"I plan to handle these on a first come-first serve basis. Whichever creditors step up first will be put at the top of my list to address their particular issue, regardless of the amount of the deficiency or the creditor name or perceived 'prestige'. This seems like the fairest way to proceed."

john.kenny6@att.net
800-824-0234
Several bankers are holding off, waiting, but they don't say for what. Others don't want to appear in Leasing News, but if Allied goes into bankruptcy their name and debt will become public, as well as moving from "noncurrent loan" status to "charge off." Certainly the FDIC will become aware of the many banks in the same predicament with Allied, especially if the equipment is unrecoverable.

List with latest actions, ranked by date of complaint:
(does not include Municipal actions, four to date):
American Bank FSB, Bethesda, MD
American Bank FSB, Rockville, MD
Republic Bank, Salt Lake City, Utah
Eastern Funding, New York, NY
http://leasingnews.org/PDF/D&BAlliedCases.pdf

August 4-- Texas Capital Bank, Dallas, Texas, filed in the District of New Jersey, Newark, a complaint for $608,602. Not served. Asks for Replevin.
August 2-- Franklin National Bank of Minneapolis, 525 Washington Avenue North, Minneapolis, Minnesota (First Premier Capital lease) for $216,000---Not served
July 30-- AEL Financial et. al. for $661,000 ( AEL Financial, 600 North Buffalo Grove Road, Buffalo Grove, Illinois; M2Lease Funds, 175 N. Patrick Boulevard, Brookfield, Wisconsin; Cedar Rapids Bank, 500 1st Avenue NE, Cedar Rapids, Iowa---not served
July 19th-- National Bank, Bettendorf, Iowa as the holder of three leases by First Premier Capital, Edina, Minnesota for 50 LifeCare Respirators costing $250,000 each. The demand is for $800,000, bringing the total in the suits over $20 million to date. Attorney Dennis Lenard responded August 10th, denying charges.
July 13th-- ABCO Leasing, Bothell, Washington filed against Allied Health Care Services, Orange, New Jersey as well as the guarantor Charles K. Schwartz. It regards two leases for a total of $400,000. Attorney Dennis Lenard responded August 4th, denying charges.
July 12th-- Onset Financial, South Jordan, Utah and CW Onset, a Utah limited company, on July 12, 2010 filed a $9,798,000. Not Served.
July 9th-- Crossroad Bank, Wabash, Indiana, formerly known as First Federal Savings Bank of Wabash filed for $144,788.20 plus attorney and court costs regarding respirators. Charles K. Schwartz served July 27, 2010. No response to date from attorney.
June 18th-- Commonwealth Capital Corporation filed 18 for $4,224,543.02 against the corporation and $1,792,893.82 against the personal guarantee of Charles K. Schwartz, "plus attorneys fees, costs, and interest, as well as all other relieve which this court deems just;" July 27, Scheduling Conference for 8/31/2010
May 18-- MinnWest Capital Corporation, Minnetonka, Minnesota, (subsidiary of MinnWest Bank Metro) $2,070,690 suit against Allied as well as the Charles Schwartz, president of the company, as personal guarantor to the corporation. August 5: CLERK'S QUALITY CONTROL MESSAGE - Please disregard Doc. #'s 13 & 14 [ANSWER TO CMP.] fld. by D. LENARD on 8/4/10. They were inadvertently fld. in wrong case. [SEE CIV. 10-3558] (DD, ) (Entered: 08/05/2010) ORDER ON ORAL MOTION: indicating a schedule for filing dispositive motions shall be addressed at the initial scheduling conference on 10/26/10 at 12:00 p.m. Signed by Magistrate Judge Claire C. Cecchi on 7/30/10. (sr, ) (Entered: 07/30/2010)
May 3-- Kingsbridge Holding, LLC, Lake Forrest, Illinois, was first with a suit against Allied Health Care Services for $1,051,207.74 plus attorney and court fees--joint discovery plan prior to joint conference September 8th, Newark.
(Information from PACER.)

((Please Click on Bulletin Board to learn more information))
(Leasing News provides this ad "gratis" as a means
to help support the growth of Lease Police)

[headlines]
--------------------------------------------------------------

Rancho Palos Verdes, California--Adopt-a-Dog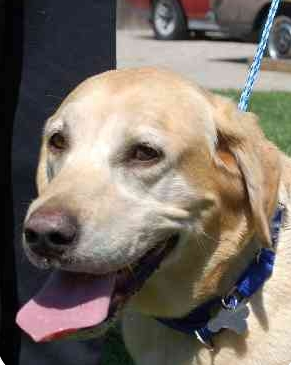 Trixie
Pet ID #: 2542645
Breed: Labrador Retriever
Size: Large 61-100 lbs (28-45 kg)
Color: Tan/Yellow/Fawn
Sex: Female

Age: Adult
Trixie is:
already spayed
housetrained
purebred
good with kids
good with dogs
good with cats
up to date with shots

"Trixie is a perfectly lovely senior girl; she must have been an absolute knockout when she was younger.
"She was fortunate to come into rescue, as she was a sad girl-- an absolute basket case, unlikely to be adopted from the shelter. Not only was she underfed, but she had an arthritic elbow made her almost unable to walk. She also had an undiagnosed and untreated condition that caused overproductive adrenal glands. Lacking treatment, the latter could have led to some very serious health problems.

"After a few weeks of good nutrition, joint supplements and medication for the adrenal glands, she's bright as can be and full of vim and vigor. "Her elbow still bothers her some, but she can now go on walks of a mile, and loves to do it.
We're terribly pleased with how far she's come and grateful that her love of life has been restored.
"If you'd like to bring a little more sunshine into your life by taking in Trixie, please submit an online adoption application and send us a note at info@fetchingcompanions.org."
Rescue Group: Fetching Companions
Phone: (888) 412-3382
E-mail: info@fetchingcompanions.org
www.fetchingcompanions.org


Adopt-a-Pet by Leasing Co. State/City
http://www.leasingnews.org/Conscious-Top%20Stories/Adopt_Pet.htm

Adopt a Pet
http://www.adoptapet.com/

[headlines]
---------------------------------------------------------------



News Briefs ---
Fed leaves rates near zero
http://www.bankrate.com/finance/federal-reserve/fed-reserve-holds-rate-for-14th-time.aspx
Fed, worried about recovery, will buy US debt
http://www.boston.com/business/articles/2010/08/10/
wall_street_closely_watching_feds_next_move/
Wells says new rules will be costly
http://www.mercurynews.com/breaking-news/ci_15718466?nclick_check=1
Wells Fargo alleged party house in Malibu sells for $14.9 million
http://latimesblogs.latimes.com/money_co/2010/08/hot-property-former-wells-fargo-party-house-in-malibu-sells-for-1495-million.html
Wells Fargo VP was fired:
http://www.lugaluda.com/cheronda-guyton-photos-cheronda-guyton/
Coffee, tea or flee? JetBlue attendant Becomes Hero
http://www.washingtonpost.com/wp
dyn/content/article/2010/08/10/AR2010081005859.html?hpid=topnews

Guy Fieri, Chef-Dude, Is in the House
http://www.nytimes.com/2010/08/11/dining/11Fieri.html?ref=dining


You May have Missed---
Banks Eye Revival of Home-Loan Conduits
http://www.securitization.net/article.asp?id=1&aid=9397

Sports Briefs----

Father of three college football players killed in Alaska plane crash
http://collegefootballtalk.nbcsports.com/2010/08/10/father-of-three-div-1-a-players-killed-in-alaska-plane-crash/
Prognosis good after Mickelson reveals arthritis
http://news.yahoo.com/s/ap/glf_pga_mickelson
When will the 49ers give up on Alex Smith?
http://blog.pressdemocrat.com/49ers/2010/08/one-step-back-for-alex-smith.html


California Nuts Briefs---

Jobs bill gets final OK; sends California $2.5 billion
http://www.sacbee.com/2010/08/10/2949981/jobs-bill-gets-final-ok-sends.html
Governor appeals judge's furlough ruling
http://www.sfgate.com/cgi-bin/article.cgi?f=/c/a/2010/08/10/BAJ51ERRB8.DTL&tsp=1
Winemaker Talks, Consumers Buy
http://www.winesandvines.com/template.cfm?section=news&content=77147&amp
;htitle=Winemaker%20Talks%2C%20Consumers%20Buy

Mondavi's Estate Is Listed for $25 Million
http://online.wsj.com/article/SB10001424052748703866704575224181745815578.html?
mod=WSJ_latestheadlines

Wine-searcher.com levels the wine industry playing field
http://www.latimes.com/features/food/la-fo-winesearcher-20100812,0,7895446.story

Basque Country Wines--by Eric Asimov
http://dinersjournal.blogs.nytimes.com/2010/08/10/basque-country-wines/?ref=dining



Free Mobile Wine Program
http://leasingnews.org/archives/Feb2010/2_26.htm#mobile
Wine Prices by vintage
http://www.winezap.com
http://www.wine-searcher.com/
US/International Wine Events
http://www.localwineevents.com/
Winery Atlas
http://www.carterhouse.com/atlas/\
Leasing News Wine & Spirits Page
http://two.leasingnews.org/Recommendations/wnensprts.htm

[headlines]
----------------------------------------------------------------
This Day in American History
1760-The first Methodist preacher, Philip Embury, arrived in New York City on the Perry, which carried 70 passengers, half of whom were Methodists. With the assistance of Barbara Heck, he organized the first Methodist Society in America in 1776.
1807-Birthday of David R. Atchison, Missouri legislator who was president of the US for one day. Born at Frogtown, KY, Atchison's strong pro-slavery opinions made his name prominent in legislative debates. He served as president pro tempore of the Senate a number of times, and he became president of the US for one day Sunday, Mar 4,
1841-Having escaped from slavery only three years earlier, Frederick Douglass was legally a fugitive when he first spoke before an audience this day in 1841. At an antislavery convention on Nantucket Island, Douglass spoke simply but eloquently about his life as a slave. His words were so moving that he was asked to become a full-time lecturer for the Massachusetts Anti-Slavery Society. Douglass became a brilliant orator, writer and abolitionist who championed the rights of blacks as well as the rights of all humankind.
1849--pending the swearing in of President-elect Zachary Taylor Monday, Mar 5, 1849. The city of Atchison, KS, and the county of Atchison, MO, are named for him. He died at Gower, MO, Jan 26, 1886.
http://www.history.rochester.edu/class/douglass/home.html
1860—Nevada is known as the "Silver State" as the first silver mill to treat sliver ore successfully, as well as the first reducing mill to treat ore-bearing quartz, was established by the Washoe Gold and Silver Mining Company, No. 1, near Virginia City, Nevada. The mill operated by waterpower, was built by Almarin B. Paul, who began construction work on May 25, 1860, and completed it on August 9, 1860. It consisted of 24 stamps that began to crush on August 11, 1860.
1862-Birthday of Carrie Jacobs Bond, American composer of well-known songs, including "I Love You Truly" and "A Perfect Day," and of scores for motion pictures, Carrie Jacobs Bond was born at Janesville, WI. She died at Hollywood, CA, at age 84, Dec 28, 1946.
1861-The first US Senator to address the Senate in military uniform was Edward Dickinson Baker, Republican of Oregon. He was drilling his regiment at Meridian Hill when he was summoned to refute Senator John Breckinridge, Democrat of Kentucky, who was speaking against a proposal to send troops against the South. Baker did not have time to change into civilian attire, but removed his sword prior to delivering his speech. Baker City and County were named for London-born Edward Dickinson Baker, a Disciple minister. E.D. Baker had been converted to Christ at the Carrolton Church in Greene County, Illinois. Baker held many roles. He defeated Abraham Lincoln in a primary election in 1842. Baker and Lincoln were friends and the Lincolns named their second son Edward Baker Lincoln in honor of E. D. Baker. He came to Oregon in 1860 and campaigned for Lincoln. Later, becoming United States senator from Oregon, Baker introduced Lincoln at his first inaugural.
He was killed at the battle of Balls Fluff, VA, on October 21, 1861.
http://bioguide.congress.gov/scripts/biodisplay.pl?index=B000059
http://www.ehistory.com/uscw/features/regimental/pennsylvania/union/71stPennsylvania/eb.cfm
1862-Birthday of song writer Carrie Jacobs Bond she had been left a penniless widow with a baby son and earning her living running a boarding house and painting china. She was able to supplement her income by giving recitals in private homes. Her growing popularity gave her courage to start her own publishing company. Using borrowed money, the Carrie Jacobs-Bond and Son Publishing Company became highly successful printed the sheet music to her songs. Wildly popular in her day, the perennial favorite "I Love You Truly" made her a wealthy woman but it was "When You Come to the End of a Perfect Day" that was the most popular of all, selling more than 5 million copies of the sheet music. She wrote about 400 songs and published slightly less than half. Her autobiography is The Roads of Melody (1927).
http://parlorsongs.com/bios/cjbond/cjbond.asp
http://www.library.wisc.edu/etext/WIReader/Galleries/Bond.html
http://findaid.oac.cdlib.org/findaid/ark:/13030/kt5p300680
1874 - Harry S. Parmelee of New Haven, Connecticut got a patent for the sprinkler head.
1896 - The pull-chain electric-light socket was patented by Harvey Hubbell of Bridgeport, Connecticut.
1897-Birthday of poet Louise Bogan; chairman of poetry at the Library of Congress, poetry critic for New Yorker magazine for 37 years (1931-1969), and a distinguished poet in her own right. Her final collection The Blue Estuaries: Poems, 1923-1968 (1968) presents her finest work.
http://www.english.uiuc.edu/maps/poets/a_f/bogan/life.htm
1904 pianist Jess Stacy birthday, "Sing,Sing,Sing" soloist, born Bird's Point, Mo
http://ml.islandnet.com/pipermail/dixielandjazz/2002-November/004847.html
1909 - The first United States ship to use the "SOS" radio distress call was the liner "Arapahoe".
The first distress signal used was the "CQ" for "stop sending and listen." The first SOS was made by Theodore D. Hauber, operator of the Clyde liner Arapahoe, a single-screw freight and passenger steamer of som3 3,000 tons, bound for Charleston, SC, and Jacksonville, Fl, from New York City. Its engines were disabled 21 miles southeast of Diamond Shoals, off Cape Hatteras at 3:45pm. Both the SOS and the CQD signals were sent. The SOS was first heard and acknowledged by R.J. Vosburg, wireless operator at station HA in Cape Hatteras, NC.
1908—Birthday of clarinetist Russell Procope, NYC. He was Duke Ellington's alto clarinetist for 28 years.
1911-Duke Kahanamoku breaks the world record in the 100-yard free-style swim by 4.6 seconds in Honolulu Harbor, Hawaii.
http://memory.loc.gov/ammem/today/aug11.html
1921-Birthday of author Alex Haley , Ithaca, New York. He was raised by his grandmother at Henning, Tennessee, and entered the US Coast Guard in 1939 serving as a cook, but eventually he became a writer and college professor. His interview with Malcolm X for Playboy magazine led to his first book, " The Autobiography of Malcolm X," which sold six million copies and was translated into eight languages (it was an excellent, moving biography of a man I interviewed several times as a newsman; he was quite an "electric" interview ). His Pulitzer Prize-winning novel published in 1976, Roots, sold millions and was translated into 37 languages and was made into an eight-part TV miniseries in 1977, holding the first top ratings of any such series, generating interest in all human ancestry. Haley died at Seattle, WA, Feb 13,1992
http://www.tnstate.edu/library/digital/Haley.htm
http://www.suite101.com/article.cfm/literary_tour/26207
http://www.kintehaley.org/
1922-Birthday of Mavis Gallant - Canadian short story writer and novelist. Although she settled in France, she considered herself primarily a Canadian. She traveled widely. Most of her short stories were published in The New Yorker magazine.. "Green Water, Green Sky," "A Fairly Good Time," and "Home Truths" are considered her best stories by man
http://www.reaaward.org/html/mavis_gallant.html
1929-Babe Ruth of the New York Yankees became the first player to hit 500 career home runs when he connected off Willis Hudlin as the Cleveland Indians defeated the Yankees, 6-5. The home was also the 30th of the year for the Bambino.
1934-The first prisoners arrive at Alcatraz, San Francisco, a prison for the "most dangerous."
(lower half of: http://memory.loc.gov/ammem/today/aug11.html )
1940 - A major hurricane struck Savannah, GA, and Charleston, SC, causing the worst inland flooding since 1607.
1941 - With his orchestra, Glenn Miller recorded "Elmer's Tune" for Bluebird Records.
1942-Moview star Hedy Lamarr, born Hedwig Eva Maria Kiesler in Vienna about 1914, received a patent while under contract with the MGM studio in Hollywood for the development of the concept of "frequency hopping" as a means of controlling torpedoes by radio.
1944-Burlington, VT reaches a scorching 101 for all-time maximum record.
1946---Top Hits
They Say It's Wonderful - Frank Sinatra
The Gypsy - The Ink Spots
Surrender - Perry Como
New Spanish Two Step - Bob Wills
1946-Birthday of writer Marilyn Vos Savant, holder of the world's highest IQ according to the Guinness book of records.
http://www.marilynvossavant.com/
http://www.nationmaster.com/encyclopedia/Marilyn-vos-Savant
1951 -The Braves beat the Dodgers 8-1 in the first major league game to be televised in color.
1954---Top Hits
Sh-Boom - The Crewcuts
The Little Shoemaker - The Gaylords
In the Chapel in the Moonlight - Kitty Kallen
One by One - Kitty Wells & Red Foley
1956-Elvis Presley's "Don't Be Cruel" is released. It will become his second Billboard chart topper.
1958 - "Hard Headed Woman," the feature song of the movie "King Cole," earned Elvis Presley a gold record.
1962---Top Hits
Breaking Up is Hard to Do - Neil Sedaka
The Loco-Motion - Little Eva
Ahab, the Arab - Ray Stevens
Wolverton Mountain - Claude King
1962-A flood of new releases hit the Billboard Hot 100 chart, that will go on to be hit records. Mary Wells' "You Beat Me to the Punch", Ray Stevens' "Ahab the Arab", Johnny Tillotson's "Send Me the Pillow That You Dream On", The Marvelettes' "Beechwood 4-5789", The Contours' "Do You Love Me", The Beach Boys' "Surfin' Safari", Booker T and the MGs' "Green Onions" and Tony Bennett's "I Left My Heart in San Francisco".
1963-- The Kingston Trio appear as the celebrity "mystery guests" on CBS-TV's What's My Line?
1964- The Beatles' first film, A Hard Day's Night, has its US premiere in New York City.
1964 - No. 1 Billboard Pop Hit: "Everybody Loves Somebody," Dean Martin. The song becomes the theme song to NBC's "The Dean Martin Show" the following year.
1965-Watts Riot: A minor clash between the California Highway Patrol and two young blacks set off six days of riots in the Watts area of Los Angeles. Thirty-four deaths were reported and more than 3,000 people were arrested. Damage to property was listed at $40 million. The less-immediate cause of the disturbance and the others that followed was racial tension between whites and blacks in American society.
1966--The Beatles held a press conference at the Astor Towers Hotel in Chicago where John Lennon apologized for his remarks that The Beatles were "more popular than Jesus now." The US media mis-quoted Lennon and rallies were held all over the country to smash and burn Beatle records. Lennon said later that he was trying to say, "the way they (some fans) carry on, it's like we're more popular than Jesus Christ."
1967---WHEAT, ROY M. Medal of Honor
Rank and organization: Lance Corporal, U.S. Marine Corps, Company K, 3d Battalion, 7th Marines, 1st Marine Division. Place and date: Republic of Vietnam, 11 August 1967. Entered service a*: Jackson, Miss. Born: 24 July 1947, Moselle, Miss. Citation: For conspicuous gallantry and intrepidity at the risk of his life above and beyond the call of duty. L/Cpl. Wheat and 2 other marines were assigned the mission of providing security for a Navy construction battalion crane and crew operating along Liberty Road in the vicinity of the Dien Ban District, Quang Nam Province. After the marines had set up security positions in a tree line adjacent to the work site, L/Cpl. Wheat reconnoitered the area to the rear of their location for the possible presence of guerrillas. He then returned to within 10 feet of the friendly position, and here unintentionally triggered a well concealed, bounding type, antipersonnel mine. Immediately, a hissing sound was heard which was identified by the 3 marines as that of a burning time fuse. Shouting a warning to his comrades, L/Cpl. Wheat in a valiant act of heroism hurled himself upon the mine, absorbing the tremendous impact of the explosion with his body. The inspirational personal heroism and extraordinary valor of his unselfish action saved his fellow marines from certain injury and possible death, reflected great credit upon himself, and upheld the highest traditions of the Marine Corps and the U.S. Naval Service. He gallantly gave his life for his country.
1969-Diana Ross invites 350 guests to a Beverly Hills club to see the newest Motown act, The Jackson 5.
1970---Top Hits
(They Long to Be) Close to You - Carpenters
Make It with You - Bread
Signed, Sealed, Delivered I'm Yours - Stevie Wonder
Don't Keep Me Hangin' On - Sonny James
1970-Jim Bunning of the Philadelphia Phillies defeated the Houston Astros,6-5, to become the first pitcher to win 100 games in each major league. Bunning, who started his career with the Detroit Tigers became a Congressman from Kentucky after retiring from baseball and was inducted into the Baseball Hall of Fame in 1996.
1974 - No. 1 Billboard Pop Hit: "The Night Chicago Died," Paper Lace. The song is written by Mitch Murray and Peter Callander.
1975-Aerosmith's "Toys In The Attic" LP goes gold.
1978---Top Hits
Miss You - The Rolling Stones
Three Times a Lady - Commodores
Grease - Frankie Valli
Love or Something Like It - Kenny Rogers
1981 - No. 1 Billboard Pop Hit: "Endless Love," Diana Ross & Lionel Richie. The song holds onto the top spot for nine weeks, making it the most successful duo, most successful Motown single and most successful soundtrack single of all time.
1982-The debut of Anglo-American pop-rock band, the Pretenders is certified platinum about three years after it's released. The L.P. contained two hits, "Brass in Pocket" and "Kid."
1984- President Ronald Reagan's voice-test joke: in preparation for a radio broadcast, during a thought-to-be-off-the-record voice level test, instead of counting "one, two, three . . ." the president said: "My fellow Americans, I am pleased to tell you I just signed legislation which outlaws Russia forever. The bombing begins in five minutes." The statement was picked up by live television cameras and was heard by millions worldwide. The incident provoked national and international reactions, including a news network proposal of new ground rules concerning the use of "off-the-record" remarks.
1984 - Ray Parker, Jr.'s single, Ghostbusters, hit the Number 1 spot on the Billboard's record charts on this date, and stayed there for 3 weeks. Parker also wrote and produced the song, which was the title theme song for one of the highest-grossing comedy films in movie history. He later received an Academy Award nomination for it.
1986---Top Hits
Glory of Love - Peter Cetera
Papa Don't Preach - Madonna
Mad About You - Belinda Carlisle
Rockin' with the Rhythm of the Rain - The Judds
1987-The Beatles' album "Sgt. Pepper's Lonely Hearts Club Band" was named 'the best album made during the last 20 years' by Rolling Stone magazine.
1987 - Music magazine "Rolling Stone" said "Sgt. Pepper's Lonely Hearts Club Band" was "the best album made during the last 20 years".
1988 - Moisture from what remained of Tropical Storm Beryl resulted in torrential rains across eastern Texas. Twelve and a half inches of rain deluged Enterprise TX, which was more than the amount received there during the previous eight months. Philadelphia PA reported a record forty-four days of 90 degree weather for the year. Baltimore MD and Newark NJ reported a record fourteen straight days of 90 degree heat
1989 - One of the most severe convective outbreaks of record came to a climax in southern California after four days. Thunderstorms deluged Benton CA with six inches of rain two days in a row, and the flooding which resulted caused more than a million dollars damage to homes and highways. Thunderstorms around Yellowstone Park WY produced four inches of rain in twenty minutes resulting in fifteen mudslides. Thunderstorms over Long Island NY drenched Suffolk County with 8 to 10 inches of rain. Twenty-three cities in the southeastern U.S. reported record low temperatures for the date. It was, for some cities, the fourth straight morning of record cold temperatures.
1991- In only his second big league start, 21-year old White Sox southpaw Wilson Alvarez no-hits the Orioles, 7-0. Only Browns' hurler Bobo Holloman, who threw a no-hitter in his first major league start in 1953 accomplished the feat in fewer starts.
1993-First foreign-born officer appointed chair of joint chiefs: President Bill Clinton appointed Army General John Shalikashvili to succeed Colin Powell as Chairman of the Joint Chiefs of Staff. Shalikashvili was born at Poland, but his family fled to Germany in 1944 to escape advancing Soviet troops. After moving to the US, his family lived at Peoria, IL. "General Shali" has a distinguished military record and is a Vietnam war veteran.
1993-a severe thunderstorm spawned a high elevation F3 tornado in the Ashley National Forest, 20 miles north of Roosevelt, UT. The tornado touched down 3 times along a 17 mile path and was up to 1/2 miles wide. 1000 acres of trees were snapped or uprooted. The highest elevation damage was at 10,800 feet.
1994 ---Randy Johnson's pitch to strike out A's Ernie Young will become the last ball thrown in the major league for seven and half month as the longest work stoppage in baseball history begins.
1994---Top Hits
Stay (I Missed You) (From "Reality Bites"), Lisa Loeb
I Swear- All-4-One
Fantastic Voyage- Coolio
Wild Night- John Mellencamp With Me Shell Ndegeocello
Can You Feel The Love Tonight (From "The Lion King")- Elton John
1994- Record high set at Miami with 96 then heavy thunderstorms drop the temperature to 70, a record low for the same date.
1997-- Sonny West, Red West, Lamar Fike and Marty Lacker, four of the biggest members of Elvis' "Memphis Mafia," recall the King in a one-time-only webchat.
1997—Congress passed the line-item veto for the President in 1996, but this day in 1997 William Jefferson Clinton was the first to use it, eliminating three provisions from legislation that had been passed by Congress. The line-item veto, a power sought by presidents since Ulysses S. Grant, enables presidents to strike particular items from newly enacted federal laws without having to veto the entire bill.
1998- Lawrence Ferlinghetti was named the first poet laureate of San Francisco.
1999—Top Hits
Genie in a Bottle- Christina Aguilera
Tell Me It s Real- K-Ci
Bills, Bills, Bills- Destiny s Child
All Star- Smash Mouth
2001- Using fewest number of games anyone has ever needed to hit 50 homers in a season, Giant outfielder Barry Bonds reaches the milestone in 117 contests. In 1999, Sammy Sosa reached the mark in 121 contests.
2002- Sammy Sosa's grand slam and run-scoring double against the Rockies gives the Cubs' slugger 14 RBIs over two games establishing a new a National League record. The previous mark was 13 shared by Nate Colbert (Padres-1972) and Mark Whiten (Cardinals -1993).
2003- By fanning Jeff Kent in the seventh inning at Wrigley Field, Kerry Wood became the
fastest major leaguer to record his 1,000th career strikeout needing only 134 games to reach the milestone. It took 143 games for Roger Clemens to accomplish the feat.
Top Hits---2003
Crazy In Love- Beyonce Featuring Jay-Z
Right Thurr- Chingy
Never Leave You - Uh Ooh-- Uh Oooh!, Lumidee
P.I.M.P-, 50 Cent
[headlines]
--------------------------------------------------------------

Baseball Poem

Double Play

From the book

by Paul B. Janeczko, Carole Katchen (Illustrator)

The runner is
a non-swimmer in deep water,
inching from the bag
timid
returning in alarm.
The shortstop and second baseman
are schoolboys
passing secrets
behind the pitcher's back.
Moving before the pitch,
the shortstop dashes to the bag
glove up in anticipation
as runner and
peg from his partner at second
approach.
He drags the toe of his right shoe
across the bag
as the ball slaps home
and he leaps
to avoid the spikes.
Resting in air
safely above the slide
long enough to throw to first
before he tumbles to the dirt,
his eyes on the ball
the mitt
until
the umpire's confirmation of perfection.
--------------------------------------------------------------

SuDoku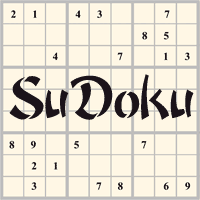 The object is to insert the numbers in the boxes to satisfy only one condition: each row, column and 3x3 box must contain the digits 1 through 9 exactly once. What could be simpler?
http://leasingnews.org/Soduku/soduko-main.htm
--------------------------------------------------------------

Daily Puzzle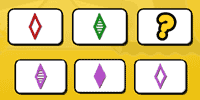 How to play:
http://www.setgame.com/set/puzzle_frame.htm
Refresh for current date:
http://www.setgame.com/set/puzzle_frame.htm
--------------------------------------------------------------


http://www.gasbuddy.com/
http://www.gasbuddy.com/GB_Map_Gas_Prices.aspx
http://www.gasbuddy.com/GB_Mobile_Instructions.aspx
--------------------------------------------------------------

Weather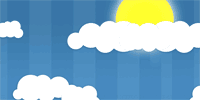 See USA map, click to specific area, no commercials
--------------------------------------------------------------

Traffic Live---
Real Time Traffic Information
You can save up to 20 different routes and check them out with one click,
or type in a new route to learn the traffic live
--------------------------------