Allied Health--A Bizarre Story: $50 Million and climbing
by Christopher "Kit" Menkin
BK Hearing requested to be moved to September 7th

Key Equipment Finance, Superior, Colorado, Kingsbridge Holding, Lake Forest, Illinois, Republic Bank, Oakbrook, Illinois who the filed Involuntary Bankruptcy Chapter 7 against Allied Health Care Services, Orange, New Jersey have filed a petition to have a trustee take property of the estate and move the hearing to September 7, 2010, 12pm. Courtroom 3A, MLK, Jr. Federal Building, Newark, New Jersey. Objections to be received no later than September 3, 2010, 11am.
Perhaps the most important, even more important than the FBI investigation, will be the Medicare, Medicaid, and collateral involved, being used by many whose lives depend on the respirators. Some are required to have three, one as spare if one is being maintained (at least every nine months or specific hours of usage) and always having a back-up. Many also are AID patients and others will serious breathing conditions. This is going to be a nightmare for the workout, as well as extremely difficult for the users. The actual personal property value after all the work will be very small. The problems with the equipment, as in NorVergence, Brican, Royal Carts, should have been the first signal to any credit decision.
Kingsbridge Holding was the first to file a complaint, $1,089,371.14. Of the 19 who have filed since then, the other two joining for an involuntary Chapter 7 (all the way, not reorganization): Key Equipment Finance for $3,768,449 and Republic Bank of Chicago for $3,053,923 were not one of the 19 who filed. There also is a connection with Thomas X. Geisel President/CEO, Sun National Bank and Key Corp., as he worked for the bank before joining Sun.
Combining the numbers of those who have filed complaints and both Key and Republic, the total is now over $50 million. This number does not include others, one bank with a $1 million, nor another that had $2 million (originally), and many others at such as Larry LaChance at $6 million, so this might be one of the largest fraud to hit Leasing in a long time.
Sun National may be the largest, $15 million, who allegedly hold a lien on all Charles K. Schwartz's property, the alleged sole owner (his fomer wife Marilyn never signed any personal guarantees and there is an attorney letter on record with many creditors about this and their tacit agreement to accept her non-involvement.) In the lien agreement with Sun National Bank, he did not lien his house, perhaps in the back of his mind, planning in advance for a personal bankruptcy filing.
Schwartz's September 1, 2009 (before the Sun National liens, used by all leasing companies Kit Menkin spoke to, including brokers, for lease applications and leases after the September 1,2009 date) personal financial statement values his real estate investment at $4,715,000, Allied Health at $16,990,584 and Evenstar Stables at $1.5 million (more on this later in this story.)
All property 100% owned by Charles K. Schwartz (wife not included, nor does she appear as guarantor on any of the leases.)
Several, more than three brokers, asked Kit Menkin for his assistance in understanding and wanted to "sell" the lease and utilized his financial assistance, submitting financial and tax returns personally on Charles K. Schwartz and Bruce Donner and their companies. In addition, several banks who had leases were quite concerned and "off the record" help quite a big in gathering information, sharing information, wanting to get the story public (without their name involvement.) Even tax returns were verified with the signer's permission, as well as a QuikTrac, published in a previous story.
Credit should go to them for this story and the original alert could not have been written without their direct assistance.
Allied's Year End 2009 statements: Not since Equipment Acquisition Resources have I seen such an increase in sales and net income. His net profit margins are incredible at over 43%, again, like Equipment Acquisition Resources.
A broker with one of the many packages being hawked the first quarter asked me to come up with questions to ask Charles K. Schwartz. Here are the questions and his responses:
"How many LifeCare units do you have on lease and or own outright?
4,425 Half are leased and they own the other half.
"2) How many people are using these units and what do they pay each month per unit?
1,450 to 1,475 patients and he said that most have 2 to 3 units each for back-up.
(He said they are $1,050 per mo per unit. And that includes peripheral equipment.)
"3) Do you re-sell any of these units? If so how many LifeCare units do you sell versus rent each year?
He didn't tell me if they re-sell them but he said they don't sell any units outright. He said they have a useful life of 8 to 12 years."
It should be noted Medicare requires that the patient own the unit after a specific period of time.
Looking at the numbers, here are units Allied is buying at $5,000 each (no sales tax or property tax in New York or New Jersey on this type of equipment) and renting out at $1,050 a month, Schwartz states, so in five months everything after that is free and clear, except for expenses in running the operation. His gross by his own numbers is $1,548,750 a month.
His financial statement shows a $43 million gross not $538,788 and purchases $4.5 million. His lease payments, according to his tax return appear to be about $500,000 a month. Where is the other $1 million going? If the number is $18,500,000.
$43 million gross 2009, gross profit $17 million, net income $18 million. That is after making the $500,000 a month payments in the expense cost. Allied has over a $1 million a month and should no way be behind three months with a lease.

And then there is the vendor's corporate salary and profit, as well as Schwartz.
The $1,500,000 on the Schwartz financial statement (from a $585,000 original investment as per his PFS) Evenstar Stable shows an incorporation: Status Report For: EVENSTAR FARM, L.L.C.
Business Name: EVENSTAR FARM, L.L.C. Report Date: 08/16/2010
Business ID Number: 0600170267 Transaction Number: Sequence: 1711872: 1
======================================================
Business Type: DOMESTIC LIMITED LIABILITY COMPANY
Status: ACTIVE
Filing Date: 05/20/2003 Home Jurisdiction: NJ
Status Change Date: Stock Amount: 0
DOR Suspension Start Date: DOR Suspension End Date:
Tax Suspension Start Date: Tax Suspension End Date:
Annual Report Month: 5
Last Annual Report Filed: 07/24/2009
For Last Annual Report Paid Year: 2009
Incorporator:
Agent: CHARLES K SCHWARTZ
Agent Address: 84 MAIN ST P O BOX 738
ORANGE, NJ 07051
Office Address Status: Deliverable
Main Business Address: 86 GEORGE HILL RD
FRANKLIN, NJ 07416
Principal Business Address:
Officers/Directors/Members
1) Title: OTHER
Name: CHARLES SCHWARTZ
Address: ********* ******, NJ
(home address deleted)
A public record finds a purchase of the stable April, 2010, perhaps his original goal when he applied for $6 million in August, 2009 at Sun National Bank:
Property:
Parcel Number − 05−00025−0000−00014
Book − 8742
Page − 851
Property Address: − 86 GEORGE HILL RD, AUGUSTA NJ 07822−2004, SUSSEX COUNTY
Owner Address: **************** SUSSEX COUNTY
Sale Date − 04/19/2010
Loan Amount − $13,684,095
Loan Type − CONVENTIONAL
(leaving the Schwartz home address off.)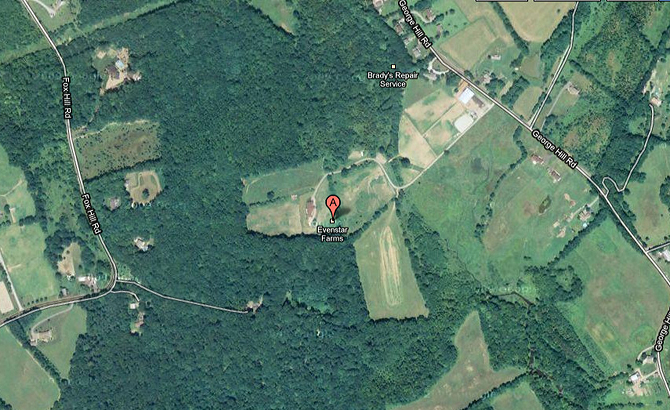 The actual address by Google is:
86 George Hill Road, Branchville, NJ 07826
(there are discrepancies in the public records of the actual city.)
Thomas X. Geisel, President/CEO, Sun National Bank came to the bank in January, 2008 after a personal turmoil in New York. His 2008 salary was $1,015,933. "He joined Key in July 1999 in New York City where he served as Managing Director of Investment Banking for the East and West Regions of KeyBanc Capital Markets… In 2002, he was promoted to President of Key's Capital Region New York District and subsequently to Regional Executive for Commercial Banking for which he (and his wife Sandra Beth, a school teacher. editor) relocated to Albany, New York. From 2005 through 2007, served as President for KeyBank's Northeast Region, which comprised eight districts across New York, New England and Florida, with assets of approximately $20 billion and revenue exceeding $550 million. Mr. Geisel's other experience includes representing the U.S. Department of Justice in various capacities domestically and as a diplomat in Latin America and the Caribbean."
http://people.forbes.com/profile/thomas-x-geisel/75272S
Sun had gone from 745 full time employees the beginning of January 1, 2008 to 717 employees by the end of the year. Equity had dropped from $435 million to $431.6 million and net income had dropped to $18.4 from the year end. At the time Schwartz applied for the loan, September 30 shows an increase in net equity to $436.9 million but a large jump in non-current loans from $28.1 million to $84.399 million. The bank was showing a $8.6 million loss due primarily to real estate loans (charge offs: $2.1 million construction and real estate development; $3.8 in 1-4 multifamily homes, $2.3 million in non-farm, non-residential property and $9.5 million in commercial and industrial loans. Year-end equity was down to $430 million, noncurrent loans $95 million and a loss of $14.5 million. The June, 2010 FDIC filing shows an $80.6 million loss.
https://cdr.ffiec.gov/Public/ViewFacsimileDirect.aspx?ds=call& amp;idType=fdiccert&id=26240&date=06302010

As reported in previous stories, July 7th the bank raised $100 million. The money came from billionaire Wilbur Ross, who now owns a 25 percent interest in the bank, as he invested $50 million, and the majority stock holders of the bank, the Brown family who contributed $30 million; other investors contributed $20 million.
Does Sun have other liabilities in this transaction? What else is going to "pop up." Leasing News has some ideas, but the story is bizarre enough to end this chapter and to wait for the full disclosure of all debts owed by Allied Health Care Services and the names of the debtors. Stay tuned.
Thomas X.Geisel LinkedIn
http://www.linkedin.com/in/txgeisel

OST Interim Motion:
http://leasingnews.org/PDF/OST_Interim_Trustee_Motion.pdf

Previous stories:
http://www.leasingnews.org/Conscious-Top%20Stories/allied_health.html
((Please Click on Bulletin Board to learn more information))
(Leasing News provides this ad "gratis" as a means
The object is to insert the numbers in the boxes to satisfy only one condition: each row, column and 3x3 box must contain the digits 1 through 9 exactly once. What could be simpler?