Archive: August 3, 2000
35 Leasing Companies Major Changes
American Business Leasing (gone)
BankVest (bankrupt)
Bombadier (reported having problems, not confirmed)
Charter Financial (purchased by Wells Fargo)
Commerce Security (closed to leasing broker program)
Copelco (sold to Citibank)
Dana (sold off, active as captive)
DVI Capital (out of broker)
Fidelity (acquired by EAB, a wholly owned subsidiary of ABN AMRO Bank N.V., headquartered in the Netherlands)
Finova (out of market place)
Franklin Bank (no more leases)
Imperial (sold portfolio)
Lease Acceptance (will accept no more broker business)
Leasing Corp of America (for sale below book value)
Leasing Solutions (bankrupt)
Liberty Leasing (closed, California Company)
Linc Capital (out of vendor and broker business, NASDAQ halts stock sales)
Merit Leasing (gone)
METWEST LEASING CO. Spokane WA. (Advising brokers that they have run out of funds so they are
unable to fund a transaction we have there for funding.)
Metrolease--reports closing operation, will not confirm nor deny, many rumors floating around the marketplace, will not return telephone calls to leasingnews.org)
NationsBank Leasing (sold to Textron, no longer doing broker business)
New England Capital (sold to Network Capital Alliance a division of Sovereign Bank. Sovereign did hire two people who will run a sales office in CT, doing basically the same deals with the same people as before. Little will change in that aspect.
Newcourt (sold off)
Onset Capital (Irwin buys 87% equity)
Orix (closes small ticket division in Portland, Oregon)
Phoenix (both divisions)
Prime Capital ("yes and no" sold off, may be negotiating)
Rockford (sold to American Express)
SDI (closed to broker programs)
T&W (bankrupt, lost their listing)
Transamerica (sold)
UniCapital (chairman, CEO, CFO resign, 38 employees cutback, good reports, on comeback trail)
United Capital (coming back, changes, good reports)
United leasing (re-financing)
USA Capital Leasing (gone)
[headlines]
--------------------------------------------------------------
Archive August 3, 2009
Ken Bentsen resigns from ELFA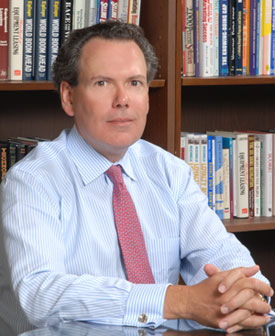 Hon. Ken Bentsen, Jr.-He became president of the Equipment Finance and Leasing Associations (ELFA) July 1, 2007. In this relatively short period of time, he has brought considerable attention to the media about the leasing industry, quoted often in major magazines and newspapers, appearing on radio and television, quite frequently, too. On the personal side, he is also an active member of a number of educational, civic and charitable boards, including Chairman of the Board of the Susan G. Komen for the Cure.

The next day came the official announcement from ELFA:
*****Announcement**************************************
A Message to ELFA Members
Bentsen to leave ELFA for SIFMA, Petta to serve as Interim President
Washington, DC - August 4, 2009-The Equipment Leasing and Finance Association (ELFA) announced today that ELFA President Ken Bentsen was stepping down to take a new position as Executive Vice President of the Securities Industry and Financial Markets Association (SIFMA). Ralph Petta, ELFA Vice President for Research and Industry Services, was named to serve as interim President upon Bentsen's departure.
"Ken Bentsen brought the ELFA to a new level of awareness in Washington among policy makers, crafted a sustainable strategy for our great association, navigated our association through an unprecedented financial crisis and drove a multi-faceted advocacy effort that continues to benefit many of our members," said ELFA Chairman James J. Ambrose, president of Equipment Finance, GE Health Care Financial Services. "We are well positioned as the "the" source of equipment finance industry information largely due to Ken's leadership and vision."
"We are fortunate to have thought through such an event in advance and are prepared for a smooth transition into our next chapter of ELFA leadership." Accordingly, we are pleased to announce Ralph Petta as interim President for the ELFA. Ralph has been an integral thought leader across many of our initiatives and possesses a keen operational focus, which will greatly benefit the association," said Ambrose.
********Announcement************************************

[headlines]
--------------------------------------------------------------
Classified Ads--- Sales Management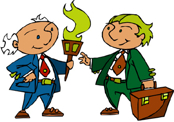 (These ads are "free" to those seeking employment or looking
to improve their position)

Philadelphia, PA
27 yrs. exp. sales, ops., credit, strategy, P&L mngmet. Most recently created & executed the biz plans for 2 highly successful Bank-owned small ticket leasing subsidiaries.
email: mccarthy2020@comcast.net
Southern CA
20 years exp. as hands-on leasing CFO, managing accounting, treasury, FP&A, including securitizations, Great Plains/FRx, budgets, risk management. MBA. Also available as interim Controller/CFO, consultant.
Email: leasecfo@gmail.com

Free Posting for those seeking employment in Leasing:
http://www.leasingnews.org/Classified/Jwanted/Jwanted-post.htm
All "free" categories "job wanted" ads:http://www.leasingnews.org/Classified/Jwanted/Jwanted.htm


Comprehensive personal property tax outsourcing services
We accept file exports and integrate personal property tax information with all lease management or accounting software. No other firm offers the combination of individual attention, software capabilities expertise, "full disclosure" and web port accessibility to information more than we do.

Click here to learn what our clients say about our service
Gary DiLillo, President 440.871.0555 or gary@avptc.com

[headlines]
--------------------------------------------------------------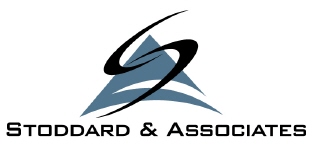 Joins
Companies who notify lessee in advance of lease expiration
Stoddard & Associates, Los Angeles, California
"Early on, when I was not an independent broker, I worked for a lessor that sometimes offered an extension option on the lease, especially since the majority of what we were doing were fives and the client often needed that extra quarter (or even a year) to decide and/or trade in/return equipment. I always told the client to calendar any end of term provisions; however, I carefully calendared all this at my end as well. It was often a challenge to track down the person responsible for taking action, but I made it a point to do so. I never had one problem as a result.
"I carried this process over when I started Stoddard & Associates in 2002. And, I've gone to bat for clients with other company's leases who may have had a problem when slipping a deadline on notification. It's not rocket science. Simply make sure your customer is aware of the contract stipulation, as some of them will not pay attention. Then, safeguard your client by keeping a follow-up so nothing falls through the cracks."
Sonia von Matt Stoddard, BPB
(NAELB Best Practices Broker*)
Companies who notify lessee in advance of lease expiration
and require their discounter to also notify lessee in advance
ABCO Leasing
Advantage Funding
Agility Ventures LLC
Allegiant Partners
American Leasefund, Inc.
Balboa Capital Corp.
BancLease Acceptance Corporation
Bank of Ozarks Leasing
Bankers Capital
Bank of the West, Indirect Equipment Finance
Black Rock Capital
BSB Leasing
Calfund
Capital Technology & Leasing, LLC
Cobra Capital, LLC
Commerce National Bank
Dakota Financial, LLC
Direct Capital
eLease
Financial Pacific Leasing



Five Point Capital, In
Forum Financial Services, Inc.
Gonor Funding
GreatAmerica Leasing
Innovative Lease Services, Inc.
Lease-$mart
Madison Capital
Macrolease Corporation
Manufacturer's Lease Plans, Inc
Mesa Leasing
Maxim Commercial Capital
Mount Pleasant Capital
National Machine Tool Financial Corporation
Navitas Lease Corp.
Northwest Leasing Company
P&L Capital Corporation
Pacifica Capital
Pawnee Leasing Corporation
Southern California Leasing, Inc
Standard Professional Services, LLC
Stoddard & Associates
TEAM Funding Solutions
Vehicle Lenders Group, LLC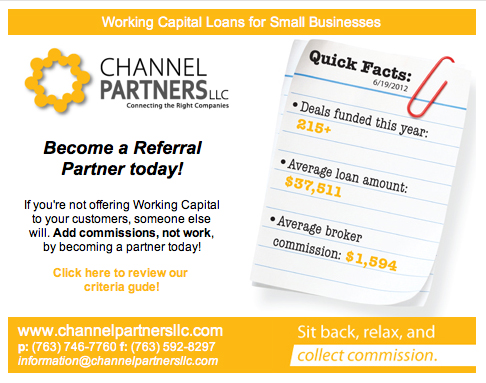 [headlines]
--------------------------------------------------------------
Onset Financial PPR as Marquette, Mazuma, Tetra
by Christopher Menkin

This began as a press release received:

#### Press Release #####################

Onset Begins Funding $3MM Digital Billboards

Onset Financial has begun funding $3MM in LED digital billboards for a national advertising firm. The billboards represent cutting-edge technology for oversized electronic displays, and allow the firm to increase their advertising inventory and market reach.
"We are excited to have successfully underwritten another difficult transaction," said Scott Miller, President of Onset Financial. "Onset has become even more versatile in our ability to credit approve deals with challenging collateral."
About Onset Financial, Inc. — Founded in 2008, Onset Financial, Inc. is an Equipment Leasing & Financing company specializing in providing increased funding options to its clients. Onset's seasoned Management Team has decades of equipment leasing experience and key industry relationships that enable Onset to offer additional flexibility in lease structuring. For more information, please call 801 878 0600 or visit www.onsetfinancial.com.
If you are interested in learning more about Onset's deal parameters or our Broker programs, please call or email me. Thanks, DB
Dustin Bond
Intermediary Relations Manager
###Press Release################################
The company was not named. An email was sent, "who is the company that is leasing the digital billboards. They should be mentioned, and perhaps the president, as Scott Miller is also mentioned in the press release."
The response, "Why, are you going to call them? Take care!"
And return, "Strange that you left them out of the release, as all announcements name the company. You have my curiosity up now, as is there a reason why I should not call them?"

Most press releases not only mention the company, as well as the president, and have a comment from the president, too. Since Leasing News had been writing about PPR purchase options, I decided to go to PACER, and sure enough, up popped the devil in a suit with a copy of the Onset Financial contract, which contained:
"Section 20
n. Lessee's Options at Maturity of Base Period. At the maturity of the Base Period of any Lease, Lessee shall, provided at least one hundred fifty (150) days prior written notice is received by Lessor from Lessee via certified mail, do one of the meowing: (1) purchase the Property for a price to be determined by Lessor end Lessee, (2) renew the Lease for twelve (12) additional months at the rate specified on the respective Schedule, or (3) terminate the Schedule and return the Properly to Lessor at Lessee's expense to a destination within the continental United States specified by Lessor; provided, however, that for option (3) to apply, all accrued but unpaid late charges, interest, taxes, penalties, and any and all other sums due end owing under the Schedule must first be paid in full, the provisions of Sections 8f, 8g and 7d hereof roust be specifically complied with, and Lessee must enter into a new Schedule with Lessor to lease Property which replaces the Property fisted on the old Schedule. With respect to options (1) and (3), each party shall have the right in its absolute and sole discretion to accept or reject any terms of purchase or of any new Schedule, as applicable. In the event Lessor end Lessee have not agreed to either option (1) or (3) by the maturity of the Base Period, or if Lessee fails to give written notice of Its option via certified marl at least one hundred fifty (150) days prior to Use maturity of the Base Period, or if an Event of Default has occurred under any Lease, then option (2) shall apply at the maturity of the Base Period. At the maturity of the renewal period provided for In option (2) above, the Lease shall continue in effect at the rate specified in the respective Schedule for successive periods of six (6) months each subject to termination at the maturity of any such successive six-month renewal period by either Lessor or Lessee giving to the other party at best thirty (30) days prior written notice of termination." (1)

A telephone call to Onsetfinancial did not bring a response.
Perhaps the worry was a call to the president would have brought up was he aware of the Evergreen purchase option, or perhaps he was told it was nominal, and the wording for tax purposes only. Anyway, it would have been too late as the contract was signed.

Onset Contract with PPR purchase option:
http://leasingnews.org/PDF/OnsetContract.pdf

Mazuma Takes Exception on Being on Evergreen List
http://leasingnews.org/archives/Jul2012/7_30.htm#mazuma
Marquette removed from Companies who notify lessee in advance of lease expiration
http://leasingnews.org/archives/Aug2012/8_01.htm#marquette
((Please click on ad to learn more))
(Leasing News provides this ad "gratis" as a means
to help support the growth of Lease Police)
[headlines]
--------------------------------------------------------------
New Hires---Promotions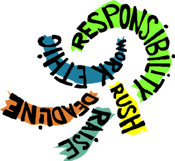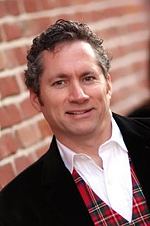 David Bromage was named vice president of business development-healthcare, Key Equipment Finance, Superior, Colorado. He will be based out of Kansas City, Missouri. He joined the company earlier this year, previously director-global financial services, Life Technologies (2007-2011), leader-global enterprise financing Solutions (global Treasury), Nortel, 2005-2007), senior consultant-business development (innovation Unit) Akzo Nobel Chemicals, Amhem, The Netherlands (2004-2005), Leaser, European Sales & Business Develo9pment, Mitel Financial Services, first Asset Finance, London, United Kingdom (200-2002), senior manager, business development-Vendor Finance, CIT Group, London, United Kingdom (1997-2000)m manager, business development-asset & vendor finance, ING Lease, London (1995-1997), manager, business develop-Asset Finance, First Asset Finance, London (1993-1995), trainee chartered accountant (ICAEW), Ernst & Young, London (1992-1993). Georgetown University - The McDonough School of Business MBA, Corporate Strategy & Marketing (2002 – 2004), Georgetown University - The Walsh School of Foreign Service Honors Certificate, International Business Diplomacy (2002 – 2004), The Walsh School of Foreign Service London Business School Certificate, Corporate Finance Evening Programme (1997 – 1998), University of Durham MA, European Politics & History (1988 – 1990), College of the Holy Cross BA, History (1983 – 1987). "David has a strong and successful track record of winning new business in the leasing industry, specifically in healthcare where he has worked as the global leader of a captive financing organization in the life sciences field," said Tim Duerr, senior vice president of business development for Key Equipment Finance. "I look forward to working with David to deliver flexible and innovative healthcare vendor finance solutions to meet the broad range of capital equipment investment needs in this important market."
http://www.linkedin.com/in/dhbromage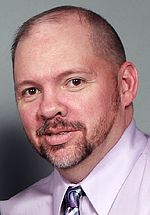 Robert Fagan promoted to Vice President-Collections, Eastern Funding, New York City, New York. He joined the company in the credit department and noted last as credit manager. He "...has over 20 years of customer service and collections experience from CIT Bank and Copelco Capital where he served as Loan Workout Manager and Manager of Debt Recovery, respectively." According to Eastern Funding, President Michael Fanger, "Robert brings a wealth of experience to the company and we are very excited about his new role."
http://www.linkedin.com/pub/robert-fagan/b/a47/213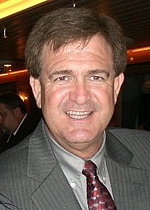 Randy Freeman promoted to VP National Business Development, Western Equipment Finance, working out of Naples, Florida. He joined the company in 2009. Previously he was vice president, Business Development, Huntington Equipment Finance (January, 2006-November, 2008), vice president, business development (Irwin Commercial Finance (2002-2006), vice president, national accounts, ABB Business Finance/Fidelity Leasing (January, 2001-January, 2002), vp business development, Citicapital (2000-2001), vice-president, business development, AT&T Capital).Rollins College - Crummer Graduate School of Business BS, Finance, General (1977 – 1981).
http://www.linkedin.com/pub/randy-freeman/11/601/856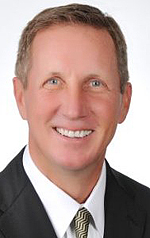 Bill Glos appointed, vice-president, Premier Finance at Konica Minolta Business Solutions, USA, working out of Scottsdale, Arizona. "I am pleased and honored to accept a new position with Konica Minolta. My role is to lead the greatest leasing programs in our industry while helping our remarkable company continue to grow. My new email is bglos@kmbs.konicaminolta.us and my cell phone remains the same - 928-642-2749. Please give me a call so we can connect soon." Previously he was a salesman at Remarkable Performances (June, 2011-July, 2012), Prescott, Arizona on a Konica Minolta project, salesman, US Bancorp, Office Equipment Finance Services ( October, 2001-May, 2011), salesman, Copelco Capital (May, 1989-January, 2000).Boston College B.S., Business Administration and Management, General (1981 – 1985), School of Management Concentrations in Marketing, Business Law.
"Glos will be responsible for managing operating agreements with leasing partners, working with sales channels to enhance financing options, and working with partners to develop new leasing programs as part of Konica Minolta's solutions and services business. Glos will report directly to Kevin Kern, Senior Vice President Marketing, Konica Minolta Business Solutions U.S.A., Inc."
http://www.linkedin.com/pub/bill-glos/8/727/92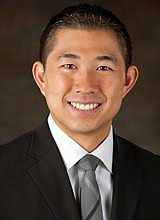 Brandon M. Hamada joins Askounis & Darcy, PC, Chicago, Illinois, as an associate. He "...concentrates his practice in commercial litigation and equipment leasing transactions. He is a member of the Chicago Bar Association and the Asian American Bar Association of Greater Chicago. Prior to joining Askounis & Darcy, PC, Mr. Hamada worked in-house for a North American railcar leasing company (a subsidiary of a global trading company) where he drafted and negotiated various contracts and equipment leases with Fortune 500 companies. While there, he also played an integral role in obtaining a $10 million judgment and dismissal of a counterclaim in a breach of contract dispute. While in law school, Mr. Hamada served as a judicial extern to the Honorable Judge Daniel J. Lynch of the Circuit Court of Cook County, Law Division, and an editor of the Chicago-Kent Journal of Intellectual Property."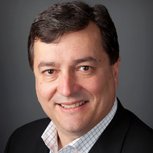 John Miller named north central regional manager-municipal for Key Government Finance. "In this role, Miller will be responsible for the origination of municipal, non-profit and other tax-exempt obligations for Key Government Finance in a ten-state area that includes Colorado, Wyoming, Montana, North Dakota, South Dakota, Nebraska, Kansas, Missouri, Iowa and Minnesota." "John adds extensive public sector experience to our team, especially in the areas of direct sales, vendor programs and sales management," said Amy M. Gross, senior vice president of Key Government Finance. "He understands the unique challenges of public sector finance, and I look forward to working with him to expand our products and services in this 10-state market." Previously he was lead sales representative, GE Capital, Equipment Finance, state and local government financing (March, 2010-August, 2012), vice-president and national sales manager, GE Capital (May, 2004-January, 2009), vice president & national sales manager, GE Commercial Finance (1984-2009), vendor program manager GE Public Finance (January, 1991-January, 1995), business development manager, GE Public Finance (January, 1987-January, 1991), sales manager/marketing analyst ( GELCO CTI Container Corporation (January, 1984-January, 1987), COLLEGE OF ST THOMAS MBA, Finance, General (1982 – 1983),University of Saint Thomas - School of Business MBA, Business (1981 – 1983), University of Minnesota B.S, Business (1977 – 1981), PROFESSIONAL DEVELOPMENT,(partial list, post college), Six Sigma Certification - Greenbelt, University of Minnesota - Carlson School of Management BS Business, business (1977 – 1981).
http://www.linkedin.com/pub/john-miller/10/b0a/42b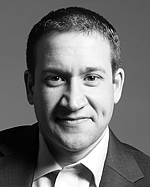 JP Nicoletta promoted to vice-president of Sales and Marketing, Eastern Funding, New York City, New York. He joined the firm in May, 2009, previously held the position of area vice-president, New World Equipment Funding, LLC (2005-2008), relationship manager, Sovereign Bank, CEVF (1999-2005), account manager, The Leeds Company ( 1998-1999).Long Island University, C.W. Post Campus MBA (2007 – 2010), Fordham University B.S, Business Admin (1994 – 1998). According to Eastern Funding, "We are very excited about his promotion. His commitment to a customer-focused business model has helped set us apart and set our clients on their own paths to success. Building strong and lasting customer relationships continues to be a cornerstone of Eastern Funding's success."
http://www.linkedin.com/in/jpnic419
Joseph W. O'Brien appointed vice president Univest Capital, a subsidiary of Univest Bank and Trust. Previously he was president and CEO, Municipal Capital Corp., Allentown, Pennsylvania, a company he founded in 1995. "He will assume responsibility for Univest Capital's existing municipal activities and act as the director of municipal finance at the company. "Joe's team will complement our existing municipal leasing platform and set the stage for continued expansion of this specialized business line," commented Hugh Connelly, president, Univest Capital. The municipal leasing activities of Univest Capital will be conducted under the trade name Municipal Capital." O'Brien also serves as vice president of the Association for Government Leasing and Finance.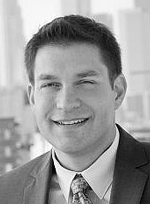 Shane Passarelli appointed senior vice president Capital One Bank,"...Commercial and Specialty Finance Business. Passarelli joined the bank to support the Healthcare Sponsor Finance, Asset Based Lending and the Real Estate Finance businesses. In this role, Passarelli will focus on providing capital to middle-market healthcare companies in connection with acquisitions, leveraged buyouts, recapitalizations, refinancing and other financing needs. He will report to Brian Morris, managing director, Capital One Bank, and will be based in Los Angeles." He joined the company May, 2012. Prior he was senior vice president, Healthcare Finance Group (March, 2004-April, 2012), vice-president, GE Healthcare (2002-2004), senior association, Cerberus Capital Management (2000-2002), "Shane brings nearly 15 years of experience in the finance industry with a focus on healthcare, and we are pleased to welcome him to our team," said Keith Reuben, executive vice president, Commercial and Specialty Finance, Capital One Bank. "His appointment reflects Capital One Bank's commitment to serving the west coast." Passarelli currently serves as a director and the membership chair of the Los Angeles chapter of the Commercial Finance Association. University of Virginia B.S., Finance (1994 – 1998).
http://www.linkedin.com/pub/shane-passarelli/0/296/b31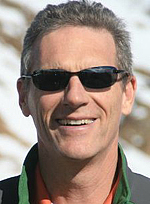 Eric Retzlaff hired as executive vice president, national sales manager, ATEL. Previously he was head of distribution, Lightstone Group (November, 2006-August, 2012), senior vice-president, AXA Distributors (2001-2006), national sales manager, CEO (Aver Development Corp. (2001-2006), senior vice president, PIMCO (1994-2001), Claremont Graduate University - Peter F. Drucker and Masatoshi Ito Graduate School of Management Masters, Management (1992 – 1994), "I am confident that Eric brings outstanding management capabilities and a broad base of contacts within the financial planning market that will enable him to do an outstanding job in this role and help take our securities division to an even higher level," commented Dean Cash, president and CEO. Principia College BA, Business Admin. (1976 – 1980).
http://www.linkedin.com/pub/eric-retzlaff/b/94/623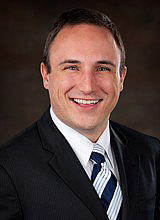 Justin A. Seccombe joins Askounis & Darcy, PC, Chicago, Illinois, as an associate. He concentrates his practice in commercial litigation. Previously he "...practiced insurance coverage litigation on behalf of the insurance industry across all lines of coverage. During law school, Mr. Seccombe interned with Creative Artists Agency Football, helping to negotiate contracts for rookies, Pro Bowlers, and a two-time Super Bowl MVP.•Washington University, J.D., 2010, cum laude, •Emory University, B.A., 2007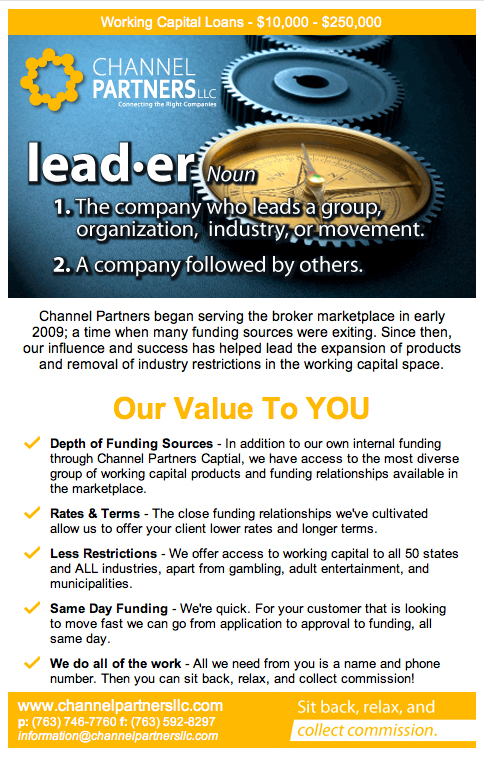 [headlines]
--------------------------------------------------------------


Classified Ads---Help Wanted
Testimonials

Northeast
"Thanks much – we've gotten some resumes, and are still vetting, so an additional ad time will be appreciated.
"Appreciate your help and we will gladly advertise again when needed."
International Financial Services Corporation
Libertyville, Illinois
----
""I want to thank you for listing our Business Risk employment position in Leasing News.
""I am very happy to report that the position has been filled..."
Laurie Bakke, President
Western Equipment Finance
Devils Lake, North Dakota
Southern California
"We are definitely satisfied customers after placing our employment ad in Kit's Leasing News. Although the person we hired hadn't seen the ad, a friend of hers in the leasing industry saw the ad and told her that Dakota was hiring...
(The position was filled and time was left on the ad, so it was changed to a marketing person, which they also were successful in finding. editor.)
"It turned out we not only filled our open position, but were able to find an experienced leasing veteran who just wanted a location change. It worked out well for everyone!"
Mae G. Philpott
Sales & Marketing Director
Dakota Financial, LLC
Los Angeles, California
----
"The ad worked great. We hired a Documentation Coordinator that has been out of the industry for almost 3 years as a friend of hers saw our ad on Leasing News. She is now in her 2nd full week.
Andrew Nere, President
Innovative Lease Services, Inc. ®
Carlsbad, California
Leasing News Help Wanted Ad Pricing
Take Advantage of this Limited Offer!!!
25% Off regular rate below plus 30 day run
Help Wanted Web Ad New Programs
Classified Ad Section

21 days in a row:
$595 four lines (a space is a line)
($40 each additional line or space)
All you need do is send us the copy or the position description you want to fulfill and we do the rest. We will design the ad with the idea to fit you budget best, as well as recommend a "click to a web page" or seprate full page job description. Lines and spaces determine the price of the "help wanted ad" as the Logo is free as well as company description at the bottom of the ad (not to exceed the number of lines of the ad.) Also free: click to a click to a web site or a full description of the position.

Ads are placed in the "Help Wanted' section by category, alphabetical, with the ad with the most lines first in the group. They appear on the web site and in each news edition at the top, not in flash, but in separate news editions. (The "help wanted" top ad are changed in each news edition in sequence with other "help wanted" ads, mostly in a chronological basis.) The ad always appears in the classified help wanted section in each news edition, plus remains on the web site, even when it appears at the top of the headlines.
Most readers scroll the newsletter, or those directly interested in classified, will click on the headline and go direct to the news edition classified help wanted section, or click on the web site, and go to it at this site.
Leasing News reserves the right to refuse advertising, particularly to a company that has appeared in the complaint bulletin board
[headlines]
--------------------------------------------------------------
13 Awesome Sports the Olympics Killed
by Michael B. Sauter, Alexander E. M. Hess,
Lisa Uible and Samuel Weigley
24/7 Wall St.

Ireland 600 kg team in the European Championships 2009

1.
Tug-of-war
Year introduced: 1900
Number of Olympics: 6
Last played: 1920
The tug-of-war was first held during the 1900 Paris Olympics and was staged in six different Games as part of the wider track-and-field set of events. Winners included multinational teams: a Danish-and-Swedish team won in 1900 and a German-and-Swiss team won in 1906. Gold medal winners also included private clubs: the Milwaukee Athletic Club on behalf of the United States in 1904 and the City of London Police Club on behalf of Great Britain in 1908. During the 1908 Games in London, when British teams won gold, silver and bronze medals, controversy arose after the American manager accused the Liverpool Police Athletic Society team of wearing pronged boots following his team's defeat.

Climber taking the final few steps onto the 6,160 m (20,210 ft)
[1] summit of Imja Tse (Island Peak) in Nepal, 2004
2.
Alpinism
Year introduced: 1932
Number of Olympics: 2
Last played: n/a
In 1924, at the first Winter Olympic Games in Chamonix, the first medals for Alpinism, or mountain climbing, were awarded. The event was not a traditional competition held while the Games were in session, but instead, medals were awarded to the individual or group that had achieved the most notable feat in mountaineering since the previous Games. The first medals were awarded to members of the unsuccessful 1922 British expedition to Mt. Everest. This included seven posthumous medals for those who had died. After two medals were awarded in 1936, there were no further mountaineering merits until the 1988 Calgary Games, when Reinhold Messner and Jerzy Kukuczka were honored for successfully summiting each of the 14 8,000-meter peaks.


Clockwise from upper left: a self-portrait from Vincent van Gogh, an African Chokwe statue, detail from the Birth of Venus
by Sandro Botticelli and a Japanese Shisa lion
3.
Arts competition
Year introduced: 1912
Number of Olympics: 7
Last played: 1948
Beginning at Stockholm in 1912, the Olympics included an arts competition. This was purportedly part of the vision that Pierre de Coubertin, who founded the International Olympic Committee (IOC) in 1894, had for the Olympic Games. De Coubertin would later win a gold medal himself, for literature, at the 1912 Games. In 1948, 25 nations sent artists to London to compete in architecture, painting, sculpture, literature and music; this was the last time arts would be featured in the Olympics. As the majority of artists competing were professionals, and the IOC opposed professional competitions at the time, the event was removed.


4.
Cricket
Year introduced: 1900
Number of Olympics: 1
Last played: 1900
In 1900, cricket was played as an Olympic sport in Paris, with only two participating teams, Great Britain and France, playing after Belgium and the Netherlands withdrew. Great Britain fielded a team consisting mostly of members of the Devon County Wanderers' Club, many of them part-time players who had been on a tour of France. The French team was composed of many British expatriates who lived in Paris and competed in the Olympics under the name All-Paris. The game originally was intended to be included as part of the program in the first Olympics in 1896, but was removed due to a lack of participants.
5.
Croquet
Year introduced: 1900
Number of Olympics: 1
Last played: 1900
Croquet was featured only once — during the 1900 Olympics in Paris — as an official sport. Medals were awarded for both men's individual one-ball and two-ball competitions, as well as a doubles contest. All six medals for individual competitors were won by France, as was the gold in doubles. The competition was also the first Olympic event in which women participated.

Jeu de paume in the 17th century

6.
Jeu de Paume
Year introduced: 1908
Number of Olympics: 1
Last played: 1908
Jeu de Paume, meaning "game of the palm," made its first and only appearance in 1908 in London. The aristocratic French sport is considered an early ancestor of tennis and was originally played with the palm of the hand instead of a racquet. In 1908, it was played with heavy wooden racquets and balls that had cork centers, which gave them very little bounce. American tycoon Jay Gould II won the gold medal, while competitors from Britain won both the silver and bronze.

Lacrosse at the University of North Carolina
7.
Lacrosse
Year introduced: 1904
Number of Olympics: 2
Last played: 1908
Lacrosse was only played at the 1904 Games in St. Louis and the 1908 Games in London, although it was included as a demonstration sport rather than an official Olympic event in 1928, 1932 and 1948. In 1904, Canada fielded two teams since team sport athletes were registered as individuals in the Olympics until 1908. Canada's Shamrock Lacrosse team ended up winning gold and the Mohawk Indians, also of Canada, won bronze. Meanwhile, in 1908, lacrosse featured only two teams, with Canada taking the gold and Great Britain taking the silver.




Model of the first motor boat constructed by Daimler and
Maybach at the Daimler Gedächtnis Stätte in Cannstatt

8.
Motorboating
Year introduced: 1908
Number of Olympics: 1
Last played: 1908
Motorboating appeared once, in the 1908 London Games. It was not included in the program again because of a rule in the current Olympic Charter banning activities that rely heavily on mechanized propulsion. The three motorboating races were composed of five laps of an eight nautical mile course. France won the gold in the open class and Great Britain won the gold in the race for boats six to eight meters in length and in the class for boats under 60 feet in length. Thomas Thornycroft, who won both of the golds for Great Britain, later returned to Olympic competition in 1952 at the age of 70 when he was selected for his country's yachting team.

A game of pelote as played in Ustaritz
9.
Pelota
Year introduced: 1900
Number of Olympics: 1
Last played: 1900
Demonstrated at the 1924, 1968 and 1992 Summer Olympics
Recognized as an Olympic sport
According to David Goldblatt and Johnny Acton, authors of "How to Watch the Olympics," Pelota is a high-speed game involving throwing and catching a ball off a wall using a curved basket or other tool. As with croquet and cricket, Pelota, also called Basque Pelota, was only an official Olympic sport during the 1900 Paris Games. The only medals awarded were a gold medal won by a two-man team from Spain and a silver presented to a two-man team from France. At the Olympic Games in 1992, held in Barcelona, Pelota was featured as a demonstration sport.

10.
Polo
Year introduced: 1900
Number of Olympics: 5
Last played: 1936
First introduced as an Olympic sport in Paris in 1900, polo is an ancient game that draws its origins from China, Iran and India. Due to a shortage of skilled players, the game featured four mixed teams of men from Mexico, England, Spain, France and the United States in its first Olympic appearance. The game was not included in the 1904 Games because of the cost of shipping the horses thousands of miles. The United States did not field a team for the same reason in 1908 in London. In its Olympic debut in 1924, Argentina won the gold against the United States. And in polo's last appearance in the Olympics in 1936, Argentina again won the gold after an 11-0 match against England.

R. P. Keigwin (right) with AEJ Collins the College's rackets team at Clifton College c. 1902


Interior of the Eglinton Castle Rackets Hall in 1842
11.
Racquets
Year introduced: 1908
Number of Olympics: 1
Last played: 1908
The game of racquets, sometimes called rackets, is similar to today's squash. However, there are a few differences, including the equipment. The game had its origins in 18th-century Britain, where inmates in debtor prisons kept themselves entertained. In the 1908 Games in London, there were only participants from Great Britain. The singles final was never contested, as one of the competitors had to withdraw due to a previous hand injury. John Jacob Astor V, part of the prominent Astor family, won a gold medal in doubles with his partner Vane Pennell, and a bronze medal in singles.


The Olympic roque competition in 1904.
12.
Roque
Year introduced: 1904
Number of Olympics: 1
Last played: 1904
The only time that roque appeared as an Olympic sport was in St. Louis in 1904, replacing croquet. Roque was considered the cut-rate, American version of the game. Devised by Samuel Crosby, who named it by dropping the 'c' and 't' from croquet, the game was played on a hard court, resembling aspects of billiards and golf, in addition to croquet. The only entrants in the competition were Americans. The sport remained popular in the United States for several more decades after its appearance in the Olympics, due in part to the large number of surfaces built as public works projects during the Depression. The game is mentioned by Stephen King in his novel, The Shining, when the main character, Jack Torrance, uses a roque mallet as a weapon.
Rotter Nemere, Hungary, 1936, Olympic soaring plane
The design work was started in January 1936 by Lajos Rotter
(pilot and aircraft designer) to be ready for the anticipated glider demonstration program at the Berlin Olympics. First flight took place on July 27, 1936. Without any soaring flights, it was taken to Berlin. On August 12, Rotter declared a 326.5 km goal flight to Kiel, which was completed in 3h 53'. It was the longest goal flight by any sailplane at that time, and the longest distance flight of 1936. Still during the Olympics, P. Nannini flew the Italian altitude record with the Nemere. [Ivan Jaszlics]

13.
Aeronautics
Year introduced: 1936
Number of Olympics: 1
Last played: 1936
Switzerland's Hermann Schreiber probably felt pretty good about his gold-medal chances before competing in aeronautics in Berlin's 1936 Olympic Games. After all, he was the only participant. The event involved a glider being launched from a bungee. Although considered a demonstration sport and not a medal contest, the International Olympic Committee approved the event for the 1940 Olympics scheduled in Tokyo. But since World War II halted the Games, Schreiber is still the lone aeronautics participant at the Olympic Games.

[headlines]
--------------------------------------------------------------
#### Press Release #############################

United Capital Finances Acquisition of 12 Papa John's® restaurants
HUNT VALLEY, MD – August 2, 2012 - United Capital Business Lending, a national business lender specializing in franchise finance, announced today that it provided $2,200,000 in financing to PJ's East, L.P. to acquire 12 Papa John's® Pizza locations in the Los Angeles area. The California based franchisee also owns Del Taco® and Denny's® restaurants.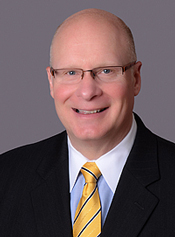 William Johnson
Sr. VP, Sales/Business Development
"Despite intense competition, Papa John's® remains a leader among the national pizza chains," says William Johnson, senior vice president of sales and business development for United Capital. "United Capital is committed to supporting Papa John's® franchisees with loans for new store development, acquisitions and debt refinancing."
United Capital Business Lending is a subsidiary of BankUnited (NYSE: BKU), the largest bank headquartered in Florida with over $12 billion in assets.
In addition to Papa John's® Pizza, the United Capital team has financed franchisees for Subway®, Denny's®, Dunkin' Donuts®, Popeyes® and Buffalo Wild Wings® among others.
For information about financing for franchise acquisition, new unit development, remodeling or debt refinancing, call United Capital at 866-218-4793 or visit the company's website at www.unitedcapitalbusinesslending.com.
##### Press Release ############################