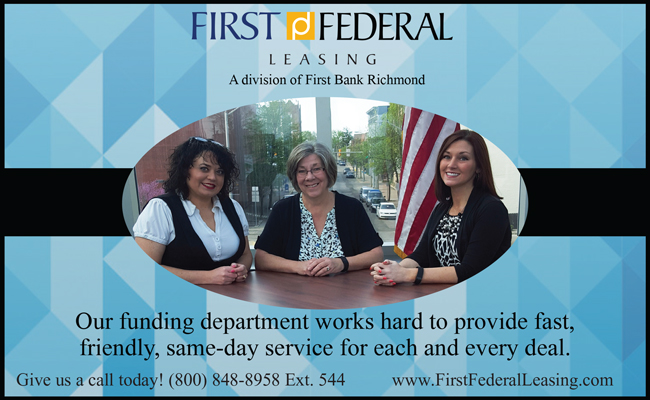 Friday, August 11, 2017


Today's Equipment Leasing Headlines

Class Action/Ascentium Settlement Discussions
By Christopher Menkin
New Hires/Promotions in the Leasing Business
and Related Industries
Leasing News Help Wanted Testimonial
We Want You!
The Top Performer's Corner
By Gerry J. Ricco, Managing Director, ZRG Partners
Paul A. Larkins
Equipment Leasing & Finance Foundation
Launches Modern, Attractive Redesigned Website
Leasing/Finance Conferences
Updated
Detroit/Person to Person
Digital: Colossal/Shin Godzilla/L'Argent
Film/Digital Reviews by Leasing News' Fernando Croce
Carin Terrier
Murray, Utah Adopt-a-Dog
Steve Wozniak/Steve Jobs
August 11, 2008
News Briefs---
PayPal to Expand Lending Offering with Acquisition
offering term loans of up to $500,000 to its larger merchants
As many as 160 Applebee's and IHOP locations to close
"the two chains now will open 125 restaurants globally"
Broker/Funder/Industry Lists | Features (writer's columns)
Top Ten Stories Chosen by Readers | Top Stories last six months
www.leasingcomplaints.com (Be Careful of Doing Business)
www.evergreenleasingnews.org
Leasing News Icon for Android Mobile Device
You May have Missed---
Baseball Poem
Sports Brief----
California Nuts Brief---
"Gimme that Wine"
This Day in American History
SuDoku
Daily Puzzle
GasBuddy
Weather, USA or specific area
Traffic Live----
######## surrounding the article denotes it is a "press release" and was not written by Leasing News nor information verified, but from the source noted. When an article is signed by the writer, it is considered a "by line." It reflects the opinion and research of the writer.


Please send a colleague and ask them to subscribe. We are free.
Email kitmenkin@leasingnews.org and in subject line: subscribe

[headlines]
--------------------------------------------------------------
Class Action/Ascentium Settlement Discussions
By Christopher Menkin

It appears a settlement is being worked out, according to the latest filings, in the class action suit against Ascentium Capital, Kingwood, Texas (1).
The collateral was a few iPads, a license to use a home health care product whereby the doctor would sell home health care, administered by nurse practitioners hired by the vendor. Reportedly Ascentium financed $45,000,000 of these deals. The vendor, MHT, sold these licenses for $300,000 to doctors and allegedly promised the doctors:
• Start-up costs (line of credit) is supplied by Ascentium, in the amount $75,000;
• No physician ever has to make payment on these lines of credit;
• The license can be returned at any time through a "novation" in which it is resold to another doctor; Proprietary software is included for CMS requirements (Medicare and Medicaid)
• There are no fees or interest associated with the license.
MHT filed bankruptcy, but in a filing, it appears Ascentium found out what was going on before this event, was collecting money back from MHT and working to straighten the matter out. It looks like an inside discovery from a previous employee and are trying to make restitutions to the doctors involved. Neither party has made a made a public comment at this time. (2)
Attached is the most recent record of the settlement discussion. (1). Since this is a class action matter, the actual dollar amount will be made public. In the majority of private settlements, it is rare the settlement dollars and actual terms of the settlement are made public.
The 12 Univest Capital cases continue, although perhaps there is settlement talk here as well. Ascentium is in a very strong financial position as well as extremely well backed by Warburg Pincus. Leasing News Legal Editor Tom McCurnin is following the cases, waiting for concrete news to report and whether there is a class action settlement.
It also appears the events here have not cut into Ascentium sales or ability to hire employees as the company continues record months as well as was named by Monitor Magazine as the number one "Private Independent" leasing/finance company.
Joint and Agreed Motion for Entry of Scheduling Order
Concerning Class Settlement (3 pages)
http://leasingnews.org/PDF/MotionSchedulingOrder2017.pdf
MHT Hearing Transcript (42 pages)
(Note: next hearing August 11, 2017).
http://leasingnews.org/PDF/MHTTranscript2017.pdf
[headlines]
--------------------------------------------------------------
New Hires/Promotions in the Leasing Business
and Related Industries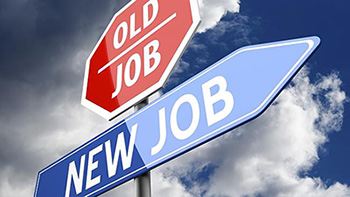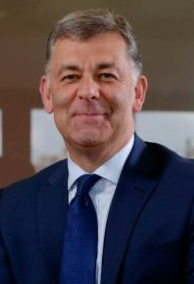 Iain Corbett was hired as Sale Director, Haydock Finance, Glasgow, United Kingdom. Previously, he was head of Asset Finance, Clydesdale and Yorkshire Banks (July 2013 - July, 2017); Director,
Corporate Asset Finance, Clydesdale and Yorkshire Banks (January, 2011 - June, 2013); Sales Director, Fortis Lease UK Ltd. (February, 2009 - January, 2011); Director, Bridge Asset Finance Ltd. (May, 2008 - January, 2009); Head of Broker Division, Hitachi Capital Business Finance (January, 2002 - April, 2006).
https://www.linkedin.com/in/iain-corbett-726bb49/detail/photo/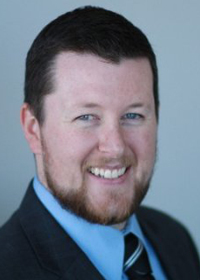 Steve Gustafson was promoted to National Marketing Manager, Mazuma Capital Corp., South Jordan, Utah. He joined the firm March, 2015, and his prior position was Senior Account Executive. Previously, he was Portfolio Manager, Zula Marketing (January, 2015 - February, 2015); Owner, Prestige PC Utah (January, 2012 - January, 2015); VP Sales, Elevate Mentoring Group (January 2014 - December, 2014); Internet Marketing Consultant, Catalyst Coaching Inc (August, 2012 - January, 2104); Account Relationship Specialist, Zions Bank (November, 2010 - January, 2012); Education: University of Utah, Bachelor of Science (BS), Psychology (2011 - 2013); Salt Lake Community College, Associate of Science (AS), Psychology (2009 -2010).
https://www.linkedin.com/in/steen-gustafson-14821126/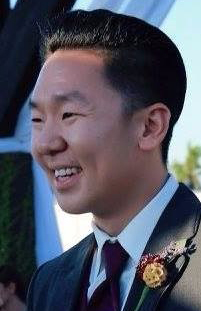 William Houng was hired as Vice President of Sales, Nations Equipment Finance, Norwalk, Connecticut. He is located in NEF's Brea, California office. Previously, he was Regional Sales Manager, Summit Funding Group, Inc. (July, 2014 - August, 2017); Senior Account Executive, California First National Bank (August, 2009 - June, 2014); Agent, New York Life Industry Company (July, 2008 - June, 2009). Education: University of California, Riverside. Bachelor of Arts (B.A).) Business Administration and Management, General. (2004 - 2008).
https://www.linkedin.com/in/williamhoung/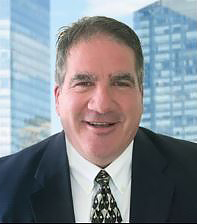 Michael Karman was promoted to Co-President, Amur Equipment Finance, Grand Island, Nebraska. "(He)...will be working alongside Andrea Zana, AmurEF's Co-President and Chief Risk Officer. In addition to his new responsibilities, Michael will retain his current position of Chief Commercial Officer. Malia K. Du Mont, former Co-President and Chief Operating Officer is stepping down to pursue other opportunities in academia, but will remain an advisor to AmurEF." He is based in Concord, Massachusetts. He joined the company August, 2011, as Senior Vice President; promoted January, 2015, Chief Commercial Officer. Previously, he was Chief Executive Officer, Finance Services, LLC (July, 2009 - July, 2011); Executive Vice President, Greystone & Company (June, 2006 - September, 2009); Senior Vice President, BankVest Capital Corp. (January, 1995 - November, 1999); VP, AT&T Capital (January, 1986 - January, 1995). Education: Bentley University (1987 - 1989), Accounting and Finance.
https://www.linkedin.com/in/michael-karman-bb7541110/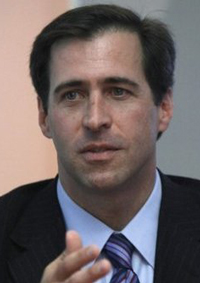 Robert McMahon hired as Chief Operating Officer at Encina Capital Partners, Stamford, Connecticut. Previously, he was Managing Partner, The Windrush Group (June, 2016 - July, 2017); Senior Managing Director, Specialty Finance Verticals, GE Capital (February, 2014 - May, 2016); Senior Managing Director, Commercial Recruitment Leader, GE Capital Americas (2011 - 2012); Senior Managing Director, Product Development, GE Capital Americas (2010 - 2011); Managing Director, Restructuring Finance Group, GE Capital Americas/Corporate Finance (2006 - 2010) Chief Operating Officer, GE Commercial Finance, Commercial Industrial Finance (2004 - 2006); Six Sigma Quality Leader, GE Commercial Finance, Capital Funding (2001 - 2003); Senior Vice President, Structured Assets Group, GE Commercial Finance, Capital Funding (June, 2000 - 2001); First Vice President, ABN AMRO Bank N.V. (1987 - 2000). Volunteer Experience: President, Fairfield University Friends of Soccer, Fairfield University (2009 - Present). Executive Member, Dolan School of Business Advisory Council, Fairfield University (2007 - 2014); Executive Member of Advisory Council, Chairman of Investment Committee, Sacred Heart Academy, Hamden, CT (2015 - Present.) Education: Northwestern University, Kellogg School of Management, Master of Business Administration (M.B.A.), Finance, Management Strategy, Real Estate & Organizational Behavior. Fairfield University, Bachelor's Degree, Economics: Activities: NCAA Division/Soccer.
https://www.linkedin.com/in/rmmcmahon/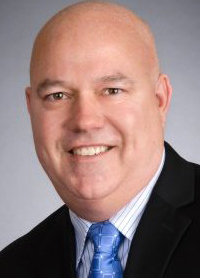 Bob Seidenberger was hired as Vice President, Bay View Funding, Santa Clara, California. He is based in Bethlehem, Pennsylvania. Previously, he was Vice President of Originations, Super G Funding (2015 - 2016); Managing Director, Metis Commercial Finance (September, 2014- 2015); Vice President, Commercial Lending, BofI, Federal Bank (2012 - 2014); Senior Vice President of Business Development, Meridian Capital Finance (2009 - 2012); Vice President of Business Development, Northern Healthcare Finance (2006 - 2009). Education: Penn State University, Bachelor of Science, Finance/Accounting (1980 - 1984).
https://www.linkedin.com/in/bobseidenberger/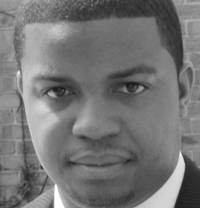 Maurice Smith was hired as AVP, Industrial Sales, to cover the Eastern Territory by CIT Group, Inc. He is based in the Greater Philadelphia area. Previously, he was Senior Territory Sales Manager, ECN Capital (May, 2015 - July, 2017). He started at GE Capital as Capital Markets, Accounting Analyst, May, 2004; promoted July, 2006, Senior Securitizations Analyst; promoted, May, 2011, Assistant Vice President, Originations. Education: Morehouse College, Bachelor of Arts (BA), Economics (2000 - 2004).
https://www.linkedin.com/in/maurice-smith-01706553/
Susan Taldone was hired as AVP, Industrial Sales, to cover the Midwest Territory for the CIT Group. She is based in Bensenville, Illinois. Previously, she was Vice President, Sales, Bank of the West,
"with over two decades of experience in commercial client financing of construction, material handling, and transportation assets."
https://www.linkedin.com/in/susan-taldone-666b12122/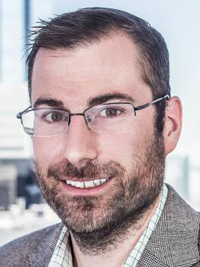 James Truran was promoted to Chief Operating Officer, Amur Equipment Finance, Grand Rapids, Nebraska. He joined the company in 2016 and remains as Vice President of Strategic Planning. Prior to Amur, James worked in the Pentagon as the United Kingdom's Exchange Officer to the Office of the Secretary of Defense. "(He)...has also worked in military Headquarters including the UK's Permanent Joint Head Quarters, U.S. Central Command, and deployed locations; with a focus on operational policy and planning."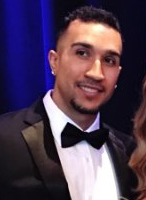 Taylor Weeks was promoted to National Marketing Manager, Onset Financial, South Jordan, Utah. He joined the firm April, 2013 as National Account Manager. Volunteer: Stocker, Utah Food Bank (January, 2016 - Present). Education: Salt Lake Community College, Associate of Science (A.S.), Finance, General, 3.5. Graduated with honors, 3.6 cumulative GPA while working fulltime.
Layton High School, High School Diploma (2006 - 2008).
https://www.linkedin.com/in/taylor-weeks-31158253/


[headlines]
--------------------------------------------------------------
Leasing News Help Wanted Testimonial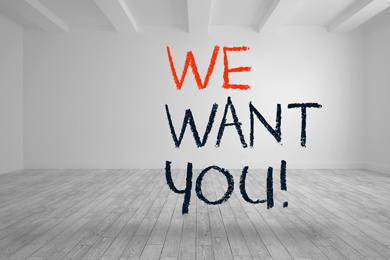 "As a result of our ad with LN, in last 6 months, we have hired 6 National Account Managers and 1 Funding Coordinator with 15+ years industry experience."

Darren Gardner, CLFP
President
Alliance Capital Corporation
Minneapolis, MN
How to Obtain a Help Wanted Ad
http://www.leasingnews.org/Classified/Hwanted/Hwanted-post.htm

[headlines]
--------------------------------------------------------------
The Top Performer's Corner
By Gerry J. Ricco, Managing Director, ZRG Partners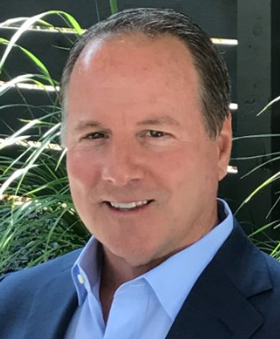 Paul A. Larkins
President, CEO, Director
Square Two Financial
Our Top Performer's Corner executive is Paul A. Larkins. Paul has an impressive 30-year business record; his many accomplishments are recognized throughout the industry. Paul chaired the Equipment Leasing and Finance Board and was recognized in the CEO of the Year magazine by ColoradoBiz Magazine. He was the second professional to be presented the Leasing News "Person of the Year" Award. * He was inducted into Equipment Finance Hall of Fame in 2015. Paul is a giving person both professionally and personally. He is also very private and humble; I can attest to this because it took some real probing to find out what Paul's passion is outside of his professional world. Before we unveil Paul's passion outside of work, here is a brief and fascinating career history.
In 1980, while still in college, Paul joined IBM. He was part of a new "co-op" program that gave college students the opportunity to work in IBM's offices. The program provided extensive in-office and field training to learn a vast array of technologies and sales practices.
After graduating from St. Mary's, Paul stayed with IBM as an account manager rotating through a series of product specialties in three geographic locations: California, Washington, and Alaska. Paul feels his time with IBM was transformative. He said, "I felt the culture and people were like family." He also said, "the talented people at IBM helped me understand the inner workings of large scale systems, storage devices, and ultimately the newly-announced, personal computer."
One of Paul's roles at IBM was to help customers' transition from rental contracts to leases. With that experience, Paul was introduced to US Leasing Corp. (USL) in San Francisco. USL was one of two IBM "Partners" - Citicorp being the other - that was authorized to convert customers from rentals to leases. Paul accepted this opportunity and moved back to Seattle to join USL working exclusively on the IBM program until he rejoined IBM.
Paul worked for IBM and US Leasing twice; he ultimately ended up in San Francisco with USL. As Senior Vice President and National Sales Manager, Paul lead all USL sales and vendor and manufacturer relationships. He built a highly successful national and direct, equipment financing sales organization. Paul said, "The 13-years working at IBM and USL were thoroughly enjoyable, exciting, educational, and rewarding. Those years also set the stage for the next exciting 16-years of my career."
Paul met some great people, industry icons at IBM and USL. One of those industry icons he got to know at USL was Rick Wolfert. When Rick Wolfert left USL to create Key Bank's leasing company, he reached out to Paul and convinced him to join KeyCorp Leasing Ltd, and KeyBank U.S.A. in 1993. For 16 years, Paul ran the leasing company and a number of other bank and non-bank businesses. Over those years Paul advanced to the positions of President and CEO, Key National Finance and Executive Vice President KeyCorp (holding company). As the business leader, Paul led 3,000 professionals in 6 businesses comprising $23 billion in assets in 27 countries. Paul said, "Key's business success was due to all of the hard working, smart, and fun people that were dedicated and proud to be part of Key's success."
In 2009, Paul took on another business challenge and joined Square Two Financial Corporation as their CEO and held a board seat. KRG Capital, a private equity firm, hired Paul to turn around a failing investment platform in the distressed debt industry. Paul said, "It was a challenging, rewarding experience that concluded with the sale of the company to KKR and Apollo in 2016." Here is further insight into Paul's dedication and formula for success. "When I took over SquareTwo, I really did not understand the details of the business. I knew there were a lot of problems, but I did not have a grasp of the details. So I moved into a hotel right next to the office. I lived there for three months and worked about 18 hours a day, 6 days a week. I hosted breakfasts, lunches and dinners every day, and I spent countless hours with the top 50 people in the organization. This deep immersion provided me a very clear picture of what was going on in the company, and in the marketplace. It was invigorating, and I completed this effort with the development of a comprehensive plan that I spent the next three years implementing."
In all of Paul's business successes, there is one thing that is consistent and unwavering, that is his philosophy in building business cultures. As he stated in an article that was published by ColoradoBiz, Paul said, "Culture is the soul of a company. Culture is more than just a buzzword used in employee satisfaction surveys; it is the multifaceted personality, soul, and character of a company. A company's culture includes concrete aspects of work life, such as compensation, benefits, and career development, as well as less tangible aspects like the attitudes, values, and behaviors of employees."
Paul also firmly believes for a company to succeed it must attract top talent. Here Paul's views on this, "Top talent migrates to culturally inspiring companies. I've always believed in developing and driving a culture of excellence. This takes time and a lot of hard work. But once a culture is established, great people can feel it. They sense it when they walk into your building. And that is how you attract top talent."
Paul believes a good business leader needs to make tough concise decisions. As Kenny Rogers sings in his song "The Gambler," "You got to know when to hold 'em, know when to fold 'em, know when to walk away, know when to run..." Paul firmly believes in Kenny Rogers' poker and life philosophy. Here is some solid advice from Paul regarding making tough and challenging decisions. "Acquiring and integrating companies is always challenging. It is invigorating and can be consuming. The hardest, and sometimes best, part of being acquisitive is allowing deals to not happen. I have led efforts to acquire companies and portfolios, and I have made the tough decision after significant amounts of time and effort have been expended to walk away. I have always told my teams not to fall in love while pursuing a deal. And that gets harder and harder the longer you work on a transaction. But some of the best transactions are the ones where I pulled the plug." I wouldn't want to play poker with Paul. Great, advice, Paul!
For up-and-comers in our industry here are some great tips from Paul. "Commit to continuous learning. And never be afraid to ask for help. The best decisions we all make involve the inclusion of input from multiple sources. So listening, hearing, and then forming action plans is a pretty good way to go. And making mistakes is just part of this. Don't be afraid of chalking up a couple of disasters along the way!"
Paul is an incredibly talented, hardworking and passionate top business executive. He has given of himself to our industry by holding many Equipment Leasing and Finance Association positions and numerous outside board seats. He is also a passionate person who loves his family and loves to help those not as fortunate as us, especially children. About 5 years ago, Paul and his wife, Jeane, who also is a very passionate caring person, helped start a non-profit organization, "Food For Thought," in Denver, CO, to help feed low-income "Title 1" students in Denver Public Schools who are not getting enough food or proper nutrition over the weekend. During the regular school week, these children receive free and reduced lunches at school. Unfortunately, Friday's lunch may be their last meal till Monday. When these children return to school, teachers are reporting that students come to school on Monday mornings hungry, complaining of stomach aches, headaches and unable to focus and learn. "Food For Thought" strives to eliminate this problem by providing PowerSack meals to each student to take home for the weekend.
There are currently 35,000 families in Denver that cannot provide proper nutrition to their children over the weekends. Food For Thought is providing on Fridays over 4,000 PowerSack meals. Their goal is to help all 35,000.
In closing, this quote seems to fit. "We make a living by what we get. We make a life by what we give." ― Winston Churchill
Thank you, Paul and Jeane, for sharing your world with us. We wish you all the best. For those who are so moved by Food for Thought's mission here is a link, (http://foodforthoughtdenver.org/).
Note, there is a big fundraiser coming up November 4, 2017, called Rock-A-Belly Festival. (http://foodforthoughtdenver.org/rock-a-belly/ )
To all take care.
Gerry J. Ricco

Gerry J. Ricco
Managing Director
ZRG Partners
Office: 949-354-0663
Cell: 949-842-9219
gricco@zrgpartners.com
www.zrgpartners.com
*Paul Larkins---2006 Leasing News Person of the Year
http://www.leasingnews.org/archives/January%202007/01-03-07.htm#year
The Top Performer's Corner
http://www.leasingnews.org/Conscious-Top%20Stories/corner.htm
[headlines]
--------------------------------------------------------------
Equipment Leasing & Finance Foundation
Launches Modern, Attractive Redesigned Website

The Equipment Leasing & Finance Foundation has launched a fully redesigned website at www.leasefoundation.org. The new site provides user-friendly resources in a visually dynamic format to connect donors, academics, students and industry participants. Visitors to the new site will find enhanced sections for the Guest Lecture Program and Research Opportunities, as well as upgraded search and navigation for easy access to the Foundation's entire library and industry resources. The library has been upgraded to feature an easy, one-stop download capability for all Foundation research library content. Make sure you check it out today!
https://www.leasefoundation.org/
[headlines]
--------------------------------------------------------------
Leasing/Finance Conferences 2017
Save the Dates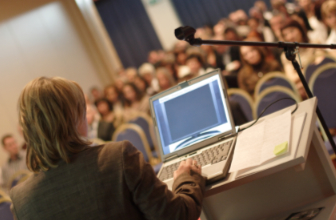 ---
Canadian Finance & Leasing Association
September 12 -14
The Delta Okanagan, Kelowna, BC (Wine Country)
Program
http://members.cfla-acfl.ca/cfladocs/online%20program.pdf
Hotel
http://members.cfla-acfl.ca/Conference2017/Hotel.aspx
Free Shuttle Service
http://members.cfla-acfl.ca/Conference2017/Shuttle_Bus.aspx
Organized Activities
http://members.cfla-acfl.ca/Conference2017/Organized_Activities.aspx
---
Women in Leasing Luncheon
September 14, 2017
12:00PM 1:00PM
$35.00
"NAELB is hosting the luncheon at the regionals this year
so anyone who wants to attend can register on the regular form for the event."
Register/Agenda/Exhibitors/Hotel Information
https://www.naelb.org/events/event-description?CalendarEventKey=4d5fa9e3-972e-4a39-b75e-c7e4aa5ba9da&Home=%2fhome
---
October 4, 2017 - October, 6
2017 Funding Symposium
JW Marriott Buckhead
Atlanta, Georgia
Register and conference details

---
October 11, 2017 - October 13, 2017
Lend360
Fairmount Dallas, Texas

LEND360 brings together the entire ecosystem of online lending, including consumer, small business and marketplace lenders, tech platforms, legal counsel, investors, marketing and advertising professionals and more.
It will be three days packed with content following four tracks:
Policy and regulation
Business Lending
Consumer Lending
Advertising, Marketing, Data & Analytics
View Agenda
http://www.lend360.org/2017-agenda/
---
October 17, 2017 - October 19, 2017
2017 56th Annual Convention
Gaylord Resort & Convention Center
Orlando, Florida

Gaylord Palms Resort & Convention Center, a Marriott Hotel
What makes this conference difference are funders and brokers who normally do not attend conferences, but come from all parts of the United States. This is not just for members of one group, but open to all, many who do not belong to finance and leasing associations, including specialists with specific followings in business loans, equipment finance and leasing, merchant advance, working capital and other commercial financial transactions.
"Our registration is now open and we anticipate over 600 brokers
to attend based on the success of last year and growth we experienced."
Kris D. Roglieri
kris@commercialcapitaltraining.com

For More Information:
www.naclb.org
---

October 22, 2017 - October 24, 2017
2017 56th Annual Convention
Orlando, Florida
Brochure/Schedule of Events/Speakers/Registration
https://www.elfaonline.org/cvweb_elfa/cgi-bin/documentdll.dll/view?DOCUMENTNUM=1649&DOCUMENTNUM=1649
---

October 22, 2017 - October, 26, 2017
The Palazzo and Sands Convention Center
Venetian Hotel & Casino
Las Vegas, Nevada
Speakers and More Information
https://10times.com/money/speakers


---
"Positioning Today's Lessors for Tomorrow" in Dubai,
United Arab Emirates / October 30 – 31, 2017
Amembal & Halladay is pleased to announce that our Management Symposium, "Positioning Today's Lessors for Tomorrow", will be held in Dubai, United Arab Emirates from October 30th – 31st of 2017.
Critical operational factors such as funding, improving profitability, identifying vulnerabilities and assessing the company's financial health are explored in depth. The speakers, including leasing company executives, will provide insights into successfully shepherding the leasing company into the future.
All members of management will greatly benefit from attending this symposium, including CEOs, CFOs, COOs, middle managers, and those being groomed for management positions.
Registration is now open with an early bird discount in effect until August 15, 2017.

Contact Kelly Farnham for more information and to register:
kelly@amembalandhalladay.com


---
8:00AM - 6:00PM EST
Tickets
$499 ( + $28.44 fee) Early Bird
https://www.eventbrite.com/e/fintech-world-summit-2017-the-evolution-of-finance-tickets-34997256737#tickets
For More Information, please go here:
https://www.eventbrite.com/e/fintech-world-summit-2017-the-evolution-of-finance-tickets-34997256737?aff=es2
---

November 7, 2017
The Regency Ballroom
1300 Van Ness Avenue
San Francisco, CA 94109
$100 Early Bird
Information:
https://www.empirefintechconference.com/pages/sf2017
---
Western Regional Meeting
November 17 - 18, 2017
Doubletree by Hilton - Anaheim
Anaheim, California
Presentation Proposal for November 17 - 18, Orange, California
https://www.surveymonkey.com/r/REGIONALSESSSION


[headlines]
--------------------------------------------------------------
Fernando's View
By Fernando F. Croce
Hard-hitting drama ("Detroit") and bittersweet comedy ("Person to Person") make for a contrasting night at the movies, while new DVDs offer a pair of nervy monsters ("Colossal," "Shin Godzilla") and a master's withering farewell ("L'Argent").
In theaters: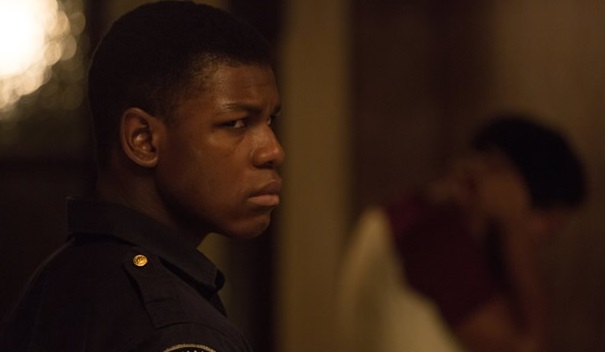 Detroit (Annapurna Pictures): Following "The Hurt Locker" and "Zero Dark Thirty," the Oscar-winning duo of director Kathryn Bigelow and screenwriter Mark Boal scores another hard-hitting look at a dark chapter in American history, this time turning to explosive racial tensions in the 1960s. Chronicling the tragic real-life events at the Algiers Hotel in 1967 Chicago, the film centers on Melvin Dismukes (John Boyega), a rookie law officer who finds himself in the middle of tense confrontations involving cops led by a racist commander (Will Poulter). A prank gone awry points to the Algiers hotel, where black residents are subjected to a harrowing night of brutality. Using the visceral, you-are-there approach that's her specialty, Bigelow crafts a stark, angry, and urgent history lesson that will leave audiences engrossed and shaken.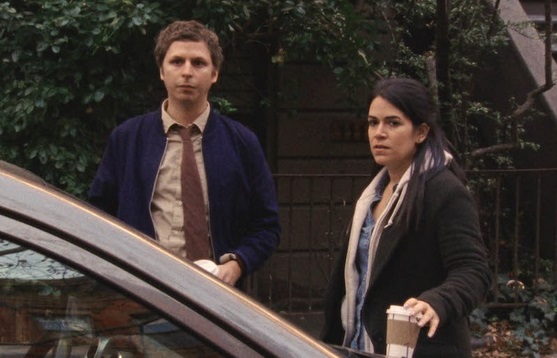 Person to Person (Magnolia Pictures): A slight, charming array of New York voices, this bittersweet indie comedy-drama charts a variety of sometimes intertwined stories to register one crazy-quilt day in the big city. If there is a center to the mosaic, it's in the meanderings of a crime reporter named Phil (Michael Cera) and his trainee Claire (Abbi Jacobson), though much of the film's pleasures come from the interactions on the sidelines of plot. They include crotchety repairman Jimmy (Philip Baker Hall) trying to kick start a business, would-be lothario Buster (Isiah Whitlock Jr.) boasting of his connections, and a hipster named Bene (Bene Coopersmith) seeking a rare record. Directed by Dustin Guy Defa, this gentle slice-of-life has plenty to offer for those ready to get into its drifting groove.

Netflix Tip: A true legend of art-house cinema, French actress Jeanne Moreau (1928-2017) gathered over the decades a full gallery of unforgettable performances. So check out Netflix for this icon's best roles, which include "The Lovers" (1958), "La Notte" (1961), "Jules and Jim" (1962), "Diary of a Chambermaid" (1964), "Chimes at Midnight" (1965) and "Going Places" (1974).
On DVD: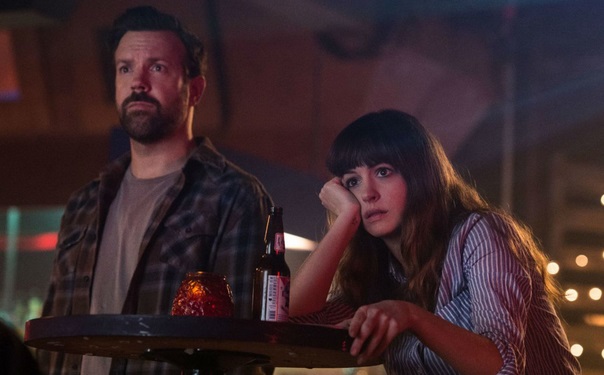 Colossal (Universal): An absurdist concept gets an ingenious treatment in this wild monster comedy from clever Spanish director Nacho Vigalondo ("Timecrimes"). Anne Hathaway stars as Gloria, an ex-writer whose messy life has led her back to her old home in New York City. While she gets a new job at a bar run by her childhood friend Oscar (Jason Sudeikis), there are mysterious reports of a giant, monstrous creature wreaking havoc in Asia. Gradually, Gloria comes to realize that the scaly behemoth is nothing less than the manifestation of her problems with men and alcoholism. Can she find a way to control it before more devastation comes her way? The bizarre premise leads to an unpredictable look at relationships that benefits greatly from Vigalondo's imagination and Hathaway's commitment.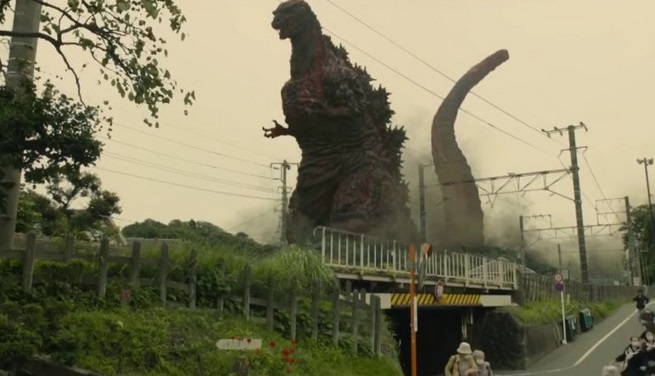 Shin Godzilla (FUNimation Films): Everybody's favorite Tokyo-stomping behemoth is back in this satirical entry in the long-running Japanese monster series, directed by science-fiction veterans Hideaki Anno and Shinji Higuchi. Things get rolling when what at first appears to be volcanic activity turns out to be nothing less than Godzilla, a creature from the depths bent on destruction. Young government executive Rando (Hiroki Hasegawa) gets on the case, in a race against time as the radioactive monster continues to grow in size. With other nations pressuring Japan to employ nuclear weapons, the crisis quickly escalates to global scale. Snapping at the heels of the recent, CGI-heavy American reboot, this Godzilla offers a surprisingly thoughtful take on its tale of allegorical scaly giants, adding eccentric details without neglecting thrills. With subtitles.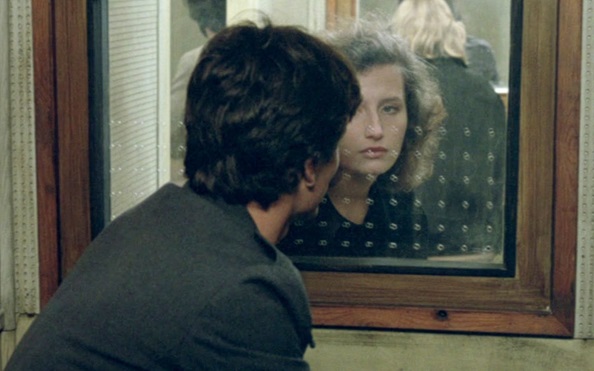 L'Argent (Criterion): One of the medium's most distinguished and demanding masters, French filmmaker Robert Bresson served up a most withering farewell with this indelible 1983 drama, which magnificently crystallizes themes and styles he'd been working on for decades. Working from the Biblical verse that "money is the root of all evil," the movie chronicles the disturbing spirals that result from monetary ends. The main character is a delivery man named Yon (Christian Patey), whose life takes a sharp turn when he's given counterfeit bills. After losing his job, he continues to try to support his family and becomes involved with increasingly shady characters, leading to a shatteringly tragic conclusion. With his trademark use of nonprofessional actors and minimalistic storytelling, Bresson's final film is a masterpiece that gazes pitilessly into both cruelty and grace. With subtitles.
[headlines]
--------------------------------------------------------------
Carin Terrierr
Murray, Utah Adopt-a-Dog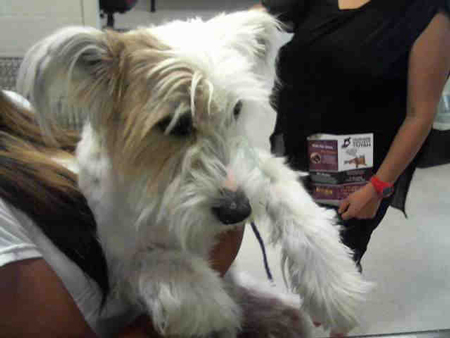 Snowy
ID A115376
Female
Age:1 Year
Kennel No: DM31
How to Adopt:
https://petharbor.com/get_image.asp?RES=Detail&ID=A115376&LOCATION=UTAH
Adoption Hours:
Monday - Saturday
10:00 AM – 7:00 PM
Sunday
12 Noon – 5:00 PM
Humane Society of Utah
4242 South 300 West
Murray, Utah 84107
(801) 261-2919 Ext: 295
Adopt a Pet
http://www.adoptapet.com/
[headlines]
--------------------------------------------------------------
Steve Wozniak Birthday
August 11, 1950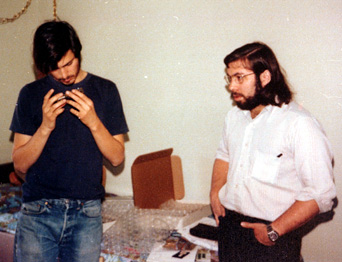 (Photo: Steve Jobs and Steve Wozniak in 1975 with a "Blue Box".)
Steve Wozniak, co-founder of Apple Computer. Born August 11, 1950, San Jose, California. Feb.1981: a plane crash changed his health and life. He is still an employee of Apple and major stockholder.
http://en.wikipedia.org/wiki/Steve_Wozniak
http://www.woz.org/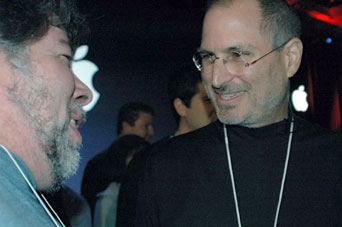 Steve Wozniak and Steve Jobs in 2005 at Macworld Keynote in San Francisco, 1/11/05
(photo by Al Luckow)
[headlines]
--------------------------------------------------------------
News Briefs----


PayPal to Expand Lending Offering with Acquisition
offering term loans of up to $500,000 to its larger merchants
https://www.nytimes.com/reuters/2017/08/10/business/10reuters-paypal-m-a-swiftfinancial.html
As many as 160 Applebee's and IHOP locations to close
"the two chains now will open 125 restaurants globally"
https://www.usatoday.com/story/money/2017/08/10/many-160-applebees-and-ihop-locations-close/556343001/
[headlines]
--------------------------------------------------------------

You May Have Missed---
Wells Fargo's scandal-scarred chairman
to step down next year
http://nypost.com/2017/08/10/wells-fargos-scandal-scarred-chairman-to-step-down-next-year/
[headlines]
--------------------------------------------------------------
Baseball Poem
Catch the Ball that's
Thrown to you
Francis Levy,
New York Times, August 7, 2006
I had my little moment of glory
when I caught a baseball at
Yankee Stadium
and my son looked at me in
disbelief.
He was really proud of me,
thought I hadn't done anything but
grab what was coming my way.
I had to do two things:
stand up
and extract my good fortune
from a biblical
sea of hands.
[headlines]
--------------------------------------------------------------

Sports Briefs----
Reviews are in on 49ers' first female coach
http://www.eastbaytimes.com/2017/08/10/katie-sowers-more-than-just-49ers-groundbreaking-coach/
49ers cut losses by releasing center Jeremy Zuttah
http://www.sfgate.com/49ers/article/49ers-cut-loss-by-releasing-C-Zuttah-11746046.php


[headlines]
--------------------------------------------------------------


California Nuts Briefs---
$350 million Bel Air estate is the most expensive
house on the market in the U.S
http://www.sfgate.com/realestate/article/most-expensive-house-Bel-Air-estate-350-million-11746118.php
[headlines]
--------------------------------------------------------------



"Gimme that Wine"

http://www.youtube.com/watch?v=EJnQoi8DSE8
Ex-bookkeeper gets three-year sentence for Graton embezzling
http://www.pressdemocrat.com/news/7295908-181/ex-bookkeeper-gets-three-year-sentence-for
Sonoma-Cutrer Leads Three Decades Reunion
of "Focus on Chardonnay"
https://www.winebusiness.com/news/?go=getArticle&dataid=188199
Monterey County Now Picking Grapes
https://greenfieldnews.com/article/harvest-time
An excellent Texas grape harvest this year means
good things for wine lovers
https://www.dallasnews.com/life/wine-spirits/2017/08/09/excellent-texas-grape-harvest-year-means-good-things-wine-lovers

Free Mobile Wine Program
http://leasingnews.org/archives/Feb2010/2_26.htm#mobile
Wine Prices by vintage
http://www.winezap.com
http://www.wine-searcher.com/
US/International Wine Events
http://www.localwineevents.com/
Leasing News Wine & Spirits Page
http://two.leasingnews.org/Recommendations/wnensprts.htm

[headlines]
----------------------------------------------------------------
This Day in American History
1760 - The first Methodist preacher, Philip Embury, arrived in New York City on the Perry, which carried 70 passengers, half of whom were Methodists. With the assistance of Barbara Heck, he organized the first Methodist Society in America in 1776.
1806 – While hunting for elk along the Missouri River, Meriwether Lewis is shot in the hip, probably by one of his own men. Meriwether Lewis and William Clark had embarked on their epic journey to the Pacific two years earlier. The near-sighted Cruzatte probably mistook the leather-clad Lewis for an elk, though it is unlikely the private's guilt will ever be proven with absolute certainty. His wound was not serious, but Lewis spent the next several days lying face down in the bottom of a canoe as the party proceeded down river. The following day, they caught up with Clark. By the time they reached St. Louis on September 23, Lewis' wound had healed and the excitement of homecoming overshadowed the event.
1807 - Birthday of David R. Atchison (d. 1886), Frogtown, KY. Missouri legislator who was President of the US for one day. Atchison's strong pro-slavery opinions made his name prominent in legislative debates. He served as President Pro Tempore of the Senate a number of times, and he became president of the US for one day on Sunday, Mar 4, 1849, pending the swearing in of President-elect Zachary Taylor the next day. The city of Atchison, KS, and the county of Atchison, MO, are named for him.
1841 - Having escaped from slavery only three years earlier, Frederick Douglass was legally a fugitive when he first spoke before an audience on this day. At an antislavery convention on Nantucket Island, Douglass spoke simply but eloquently about his life as a slave. His words were so moving that he was asked to become a full-time lecturer for the Massachusetts Anti-Slavery Society. Douglass became a brilliant orator, writer and abolitionist who championed the rights of blacks as well as the rights of all humankind. http://www.history.rochester.edu/class/douglass/home.html
1860 - Nevada is known as the "Silver State" as the first silver mill to treat sliver ore successfully and the first reducing mill to treat ore-bearing quartz was established by the Washoe Gold and Silver Mining Company, No. 1, near Virginia City, Nevada. The mill operated by waterpower, was built by Almarin B. Paul, who began construction work on May 25, 1860, and completed it on August 9, 1860. It consisted of 24 stamps that began to crush on August 11, 1860.
1861 - The first US Senator to address the Senate in military uniform was Edward Dickinson Baker, Republican of Oregon. He was drilling his regiment at Meridian Hill when he was summoned to refute Senator John Breckinridge, Democrat of Kentucky, who was speaking against a proposal to send troops against the South. Baker did not have time to change into civilian attire, but removed his sword prior to delivering his speech. Baker City and County were named for London-born Edward Dickinson Baker, a Disciple minister. E.D. Baker had been converted to Christ at the Carrolton Church in Greene County, Illinois. Baker held many roles. He defeated Abraham Lincoln in a primary election in 1842. Baker and Lincoln were friends and the Lincolns named their second son Edward Baker Lincoln in honor of E. D. Baker. He came to Oregon in 1860 and campaigned for Lincoln. Later, becoming United States senator from Oregon, Baker introduced Lincoln at his first inaugural. He was killed at the battle of Balls Fluff, VA, on October 21, 1861.
http://bioguide.congress.gov/scripts/biodisplay.pl?index=B000059
http://www.ehistory.com/uscw/features/regimental/
pennsylvania/union/71stPennsylvania/eb.cfm
1862 - Birthday of songwriter Carrie Jacobs Bond (d. 1946), Janesville, WI. She had been left a penniless widow with a baby son, earning her living running a boarding house and painting china. She supplemented her income by giving recitals in private homes. Her growing popularity gave her courage to start her own publishing company. Using borrowed money, the Carrie Jacobs-Bond and Son Publishing Company became highly successful printed the sheet music to her songs. Wildly popular in her day, the perennial favorite "I Love You Truly" made her a wealthy woman but it was "When You Come to the End of a Perfect Day" that was the most popular of all, selling more than 5 million copies of the sheet music. She wrote about 400 songs and published slightly less than half. Her autobiography is "The Roads of Melody" (1927).
http://parlorsongs.com/bios/cjbond/cjbond.asp
http://www.library.wisc.edu/etext/WIReader/Galleries/Bond.html
http://findaid.oac.cdlib.org/findaid/ark:/13030/kt5p300680
1864 – Among the earliest recorded games in organized baseball, the Brooklyn Atlantics finished a 4-game series in Philadelphia' beating the Athletics' 43-16. The visitors whipped Camden' 64-10, on the 8th' beat the Keystone Club' 65-10, on the 9th' and won, 58-11, over the 30-year-old Olympic Club yesterday.
1874 - Harry S. Parmelee of New Haven, Connecticut got a patent for the sprinkler head.
1885 - $100,000 raised in U.S. for pedestal for Statue of Liberty
1896 - The pull-chain electric-light socket was patented by Harvey Hubbell of Bridgeport, Connecticut.
1897 - Birthday of poet Louise Bogan (d. 1970), Livermore Falls, ME. Chairman of poetry at the Library of Congress, poetry critic for New Yorker magazine for 37 years (1931-1969), and a distinguished poet in her own right. Her final collection, "The Blue Estuaries: Poems, 1923-1968" (1968) presents her finest work.
http://www.english.uiuc.edu/maps/poets/a_f/bogan/life.htm
1904 - Pianist Jess Stacy (d. 1995) birthday, Cape Girardeau, MO. "Sing, Sing, Sing" soloist.
http://ml.islandnet.com/pipermail/dixielandjazz/2002-November/004847.html
1907 - St. Louis Cardinal pitcher Ed Karger pitches a 7 inning perfect game vs the Boston Braves, 4-0.
1909 - The first United States ship to use the "SOS" radio distress call was made by Theodore D. Hauber on the Clyde liner "Arapahoe," a single-screw freight and passenger steamer of some 3,000 tons, bound for Charleston, SC, and Jacksonville, FL, from New York City. The first distress signal used was the "CQ" for "stop sending and listen." Its engines were disabled 21 miles southeast of Diamond Shoals, off Cape Hatteras at 3:45pm. The SOS was first heard and acknowledged by R.J. Vosburg, wireless operator at station HA in Cape Hatteras, NC.
1908 - Birthday of clarinetist Russell Procope (d. 1981), NYC. He was Duke Ellington's alto clarinetist for 28 years.
1911 - Duke Kahanamoku breaks the world record in the 100-yard free-style swim by 4.6 seconds in Honolulu Harbor, Hawaii.
http://memory.loc.gov/ammem/today/aug11.html
1912 - In an 8-3 win over the New York Highlanders, Cleveland's Shoeless Joe Jackson became the second American Leaguer to steal home twice in a game. He stole home in the 1st inning' and then in the 7th' he stole second base' third' and home.
1921 - Birthday of author Alex Haley (d. 1992), Ithaca, New York. He was raised by his grandmother at Henning, Tennessee, and entered the US Coast Guard in 1939 serving as a cook. He eventually became a writer and college professor. His interview with Malcolm X for Playboy magazine led to his first book, " The Autobiography of Malcolm X," which sold six million copies and was translated into eight languages (it was an excellent, moving biography of a man I interviewed several times as a newsman; he was quite an "electric" interview). His Pulitzer Prize-winning novel published in 1976, "Roots," sold millions, was translated into 37 languages, and was made into a celebrated eight-part TV miniseries in 1977, holding the first top ratings of any such series, generating interest in all human ancestry.
http://www.tnstate.edu/library/digital/Haley.htm
http://www.suite101.com/article.cfm/literary_tour/26207
http://www.kintehaley.org/
1922 - Birthday of Mavis Gallant (d. 2014), Montreal. Canadian short story writer and novelist. Although she settled in France, she considered herself primarily a Canadian. She traveled widely. Most of her short stories were published in The New Yorker magazine… "Green Water, Green Sky," "A Fairly Good Time," and "Home Truths" are considered her best stories.
http://www.reaaward.org/html/mavis_gallant.html
1924 - First newsreel pictures of presidential candidates were taken.
1925 - Birthday of Mike Douglas, born Michael Delaney Dowd, Jr., (d. 2006) at Chicago. This pioneer of daytime talk shows hosted his first afternoon talk show in Cleveland in 1961 and within five years was a household name. His nationally syndicated show featured celebrity interviews and topics and remained on the air until 1981. The show received the first Emmy Award for Individual Achievement in Daytime Television and memorable guests included first time performances by Aretha Franklin, Barba Streisand and Bill Cosby. Tiger Woods appeared at the age of two alongside avid golfer Bob Hope.
1929 - Babe Ruth of the New York Yankees became the first player to hit 500 career home runs when he connected off Willis Hudlin as the Cleveland Indians defeated the Yankees, 6-5. The home was also the 30th of the year for the Bambino. The next highest total at the time was 237 by Cy Williams.
1934 - The first prisoners arrive at Alcatraz, in San Francisco Bay, a prison for the "most dangerous."
(lower half of: http://memory.loc.gov/ammem/today/aug11.html )
1940 - A major hurricane struck Savannah, GA, and Charleston, SC, causing the worst inland flooding since 1607.
1940 – Pitcher Stan Musial of the Daytona Beach Islanders landed on his left shoulder while making a shoestring catch in the outfield. The injury ended his pitching career.
1941 – President Franklin Roosevelt and British Prime Minister Winston Churchill sign the Atlantic charter.
1941 - With his orchestra, Glenn Miller recorded "Elmer's Tune" for Bluebird Records.
1942 - Movie star Hedy Lamarr, born Hedwig Eva Maria Kiesler in Vienna about 1914, received a patent while under contract with the MGM studio in Hollywood for the development of the concept of "frequency hopping" as a mean of controlling torpedoes by radio. This later became the basis for modern technologies in wireless telephones and Wi-Fi.
1943 – German forces begin a six-day evacuation of the Italian island of Sicily, having been beaten back by the Allies, who invaded the island in July. The Germans had maintained a presence in Sicily since the earliest days of the war. But with the arrival of Gen. George S. Patton and his 7th Army and Gen. Bernard Montgomery and his 8th Army, the Germans could no longer hold their position. The race began for the Strait of Messina, the 2-mile wide body of water that separated Sicily from the Italian mainland. The Germans needed to get out of Sicily and onto the Italian peninsula. While Patton had already reached his goal, Palermo, the Sicilian capital, on July 22 (to a hero's welcome, as the Sicilian people were more than happy to see an end to fascist rule), Montgomery, determined to head off the Germans at Messina, didn't make his goal in time. The German 29th Panzergrenadier Division and the 14th Panzer Corps were brought over from Africa for the sole purpose of slowing the Allies' progress and allowing the bulk of the German forces to get off the island. The delaying tactic succeeded. Despite the heavy bombing of railways leading to Messina, the Germans made it to the strait on August 11. Over six days and seven nights, the Germans led 39,569 soldiers, 47 tanks, 94 heavy guns, 9,605 vehicles, and more than 2,000 tons of ammunition onto the Italian mainland. (Not to mention the 60,000 Italian soldiers who were also evacuated, in order to elude capture by the Allies.) Although the United States and Britain had succeeded in conquering Sicily, the Germans were now reinforced and heavily supplied, making the race for Rome more problematic.
1944 - Burlington, VT reaches a scorching 101 for all-time maximum record.
1946 - Top Hits
"They Say It's Wonderful" - Frank Sinatra
"The Gypsy" - The Ink Spots
"Surrender" - Perry Como
"New Spanish Two Step" - Bob Wills
1946 - Birthday of writer Marilyn Vos Savant, born Marilyn Mach, St. Louis, MO. She is the holder of the world's highest IQ according to the Guinness Book of Records. She took the 1937 Stanford-Binet, Second Revision test at age ten. She claims her first test was in September, 1956 and measured her mental age at 22 years and 10 months, yielding a 228 score. Savant is a magazine columnist, author, lecturer, and playwright. Since 1986, she has written "Ask Marilyn," a "Parade" magazine Sunday column where she solves puzzles and answers questions on various subjects.
http://www.marilynvossavant.com/
http://www.nationmaster.com/encyclopedia/Marilyn-vos-Savant
1947 - WHEAT, ROY M., Medal of Honor
Rank and organization: Lance Corporal, U.S. Marine Corps, Company K, 3d Battalion, 7th Marines, 1st Marine Division. Place and date: Republic of Vietnam, 11 August 1967. Entered service a*: Jackson, Miss. Born: 24 July 1947, Moselle, Miss. Citation: For conspicuous gallantry and intrepidity at the risk of his life above and beyond the call of duty. L/Cpl. Wheat and 2 other marines were assigned the mission of providing security for a Navy construction battalion crane and crew operating along Liberty Road in the vicinity of the Dien Ban District, Quang Nam Province. After the marines had set up security positions in a tree line adjacent to the work site, L/Cpl. Wheat reconnoitered the area to the rear of their location for the possible presence of guerrillas. He then returned to within 10 feet of the friendly position, and here unintentionally triggered a well concealed, bounding type, antipersonnel mine. Immediately, a hissing sound was heard which was identified by the 3 marines as that of a burning time fuse. Shouting a warning to his comrades, L/Cpl. Wheat in a valiant act of heroism hurled himself upon the mine, absorbing the tremendous impact of the explosion with his body. The inspirational personal heroism and extraordinary valor of his unselfish action saved his fellow marines from certain injury and possible death, reflected great credit upon himself, and upheld the highest traditions of the Marine Corps and the U.S. Naval Service. He gallantly gave his life for his country.
1950 – Hitting .279, Yankees CF Joe DiMaggio is benched for the first time in his career by Mgr. Casey Stengel.
1950 - Stephen Gary "Steve" Wozniak was born in San Jose, CA. Wozniak single-handedly developed the 1976 Apple I, which was the computer that launched Apple. He primarily designed the 1977 Apple II, while Steve Jobs oversaw the development of its unusual case and Ros Holt developed the unique power supply. In 1969, Wozniak returned to the Bay Area after being expelled from University of Colorado in his first year for hacking into the institution's computer system. During this time, Wozniak designed and built his "Cream Soda" computer with his friend Bill Fernandez. Before focusing his attention on Apple, he was employed at Hewlett-Packard where he designed calculators. It was during this time that he befriended Steve Jobs with whom he co-founded Apple Computer while they were working at Atari.
1951 - The Braves beat the Dodgers 8-1 in the first Major League game to be televised in color.
1951 – Losing again, the New York Giants fall 13 ½ games behind the Brooklyn Dodgers. From here on, the Giants go 44-7, tie the Dodgers on the last day of the season, then win in a three-game playoff on Bobby Thomson's game-winning "Shot Heard 'Round the World" HR in the bottom of the 9th off Ralph Branca.
1954 - Top Hits
"Sh-Boom" - The Crewcuts
"The Little Shoemaker" - The Gaylords
"In the Chapel in the Moonlight" - Kitty Kallen
"One by One" - Kitty Wells & Red Foley
1956 - Elvis Presley's "Don't Be Cruel" is released. It will become his second Billboard chart topper.
1958 - "Hard Headed Woman," the feature song of the movie "King Cole," earned Elvis Presley a gold record.
1961 – Hall of Fame pitcher Warren Spahn, the winningest lefthander in Major League history, recorded his 300th win, beating the Cubs, 2-1. Spahn won 363 games in his career.
1962 - Neil Sedaka's "Breaking Up Is Hard To Do" hits #1
1962 - Top Hits
"Breaking Up is Hard to Do" - Neil Sedaka
"The Loco-Motion" - Little Eva
"Ahab, the Arab" - Ray Stevens
"Wolverton Mountain" - Claude King
1962 - A flood of new releases hit the Billboard Hot 100 chart, that will go on to be hit records. Mary Wells' "You Beat Me to the Punch," Ray Stevens' "Ahab the Arab," Johnny Tillotson's "Send Me the Pillow That You Dream On," The Marvelettes' "Beechwood 4-5789," The Contours' "Do You Love Me," The Beach Boys' "Surfin' Safari," Booker T and the MGs' "Green Onions" and Tony Bennett's "I Left My Heart in San Francisco." 1963 - The Kingston Trio appear as the celebrity "mystery guests" on CBS-TV's What's My Line?
1964 - The Beatles' first film, "A Hard Day's Night," has its US premiere in New York City.
1964 - No. 1 Billboard Pop Hit: "Everybody Loves Somebody," Dean Martin. The song becomes the theme song to NBC's "The Dean Martin Show" the following year.
1965 - Watts Riots: A minor clash between the California Highway Patrol and two young blacks set off six days of riots in the Watts area of Los Angeles. Thirty-four deaths were reported and more than 3,000 people were arrested. Damage to property was listed at $40 million. The less-immediate cause of the disturbance and the others that followed was racial tension between whites and blacks in American society.
1966 - The Beatles held a press conference at the Astor Towers Hotel in Chicago where John Lennon apologized for his remarks that The Beatles were "more popular than Jesus now." The US media misquoted Lennon and rallies were held all over the country to smash and burn Beatle records. Lennon said later that he was trying to say, "the way they (some fans) carry on, it's like we're more popular than Jesus Christ." Separately, the Beatles begin their final tour.
1967 - WHEAT, ROY M., Medal of Honor.
Rank and organization: Lance Corporal, U.S. Marine Corps, Company K, 3d Battalion, 7th Marines, 1st Marine Division. Place and date: Republic of Vietnam, 11 August 1967. Entered service: Jackson, Miss. Born: 24 July 1947, Moselle, Miss. Citation: For conspicuous gallantry and intrepidity at the risk of his life above and beyond the call of duty. L/Cpl. Wheat and 2 other marines were assigned the mission of providing security for a Navy construction battalion crane and crew operating along Liberty Road in the vicinity of the Dien Ban District, Quang Nam Province. After the marines had set up security positions in a tree line adjacent to the work site, L/Cpl. Wheat reconnoitered the area to the rear of their location for the possible presence of guerrillas. He then returned to within 10 feet of the friendly position, and here unintentionally triggered a well concealed, bounding type, antipersonnel mine. Immediately, a hissing sound was heard which was identified by the 3 marines as that of a burning time fuse. Shouting a warning to his comrades, L/Cpl. Wheat in a valiant act of heroism hurled himself upon the mine, absorbing the tremendous impact of the explosion with his body. The inspirational personal heroism and extraordinary valor of his unselfish action saved his fellow marines from certain injury and possible death, reflected great credit upon himself, and upheld the highest traditions of the Marine Corps and the U.S. Naval Service. He gallantly gave his life for his country.
1968 – Satchel Paige, in his 60s and needing 158 days to qualify for a Major League pension, signs a contract with the Atlanta Braves.
1969 - Diana Ross holds a party for 350 at Beverly Hills' Daisy Club to announce her discovery of the singing group the Jackson 5 -- even though Gladys Knight actually recommended them to Motown head Berry Gordy. That night, the group gains even more exposure by performing at the first Miss Black America pageant
1969 – The last Dodger to have played in Brooklyn, Don Drysdale, announced his retirement due to lingering shoulder ailments.
1970 - Top Hits
"(They Long to Be) Close to You" - Carpenters
"Make It with You" - Bread
"Signed, Sealed, Delivered I'm Yours" - Stevie Wonder
"Don't Keep Me Hangin' On" - Sonny James
1970 - Jim Bunning of the Philadelphia Phillies defeated the Houston Astros,6-5, to become the first pitcher to win 100 games in each major league. Bunning, who started his career with the Detroit Tigers, became a Congressman from Kentucky after retiring from baseball and was inducted into the Baseball Hall of Fame in 1996.
1972 - The last United States ground combat unit leaves South Vietnam.
1974 - No. 1 Billboard Pop Hit: "The Night Chicago Died," Paper Lace. The song is written by Mitch Murray and Peter Callander.
1975 - Aerosmith's "Toys in the Attic" LP goes gold.
1978 - Top Hits
"Miss You" - The Rolling Stones
"Three Times a Lady" - Commodores
"Grease" - Frankie Valli
"Love or Something Like It" - Kenny Rogers
1981 - No. 1 Billboard Pop Hit: "Endless Love," Diana Ross & Lionel Richie. The song holds onto the top spot for nine weeks, making it the most successful duo, most successful Motown single and most successful soundtrack single of all time.
1982 - The debut of Anglo-American pop-rock band, the Pretenders is certified platinum about three years after it's released. The L.P. contained two hits, "Brass in Pocket" and "Kid."
1984 - President Ronald Reagan's voice-test joke: in preparation for a radio broadcast, during a thought-to-be-off-the-record voice level test, instead of counting "one, two, three . . ." the President said: "My fellow Americans, I am pleased to tell you I just signed legislation which outlaws Russia forever. The bombing begins in five minutes." The statement was picked up by live television cameras and was heard by millions worldwide. The incident provoked national and international reactions, including a news network proposal of new ground rules concerning the use of "off-the-record" remarks.
1984 - Ray Parker, Jr.'s single, "Ghostbusters," hit the Number 1 spot on the Billboard's record charts on this date, and stayed there for 3 weeks. Parker also wrote and produced the song, which was the title theme song for one of the highest-grossing comedy films in movie history. He later received an Academy Award nomination for it.
1984 – Cincinnati Reds retire catcher Johnny Bench's #5. Bench is regarded by many as baseball's greatest catcher and he is in the Baseball Hall of Fame.
1986 - Top Hits
"Glory of Love" - Peter Cetera
"Papa Don't Preach" - Madonna
"Mad About You" - Belinda Carlisle
"Rockin' with the Rhythm of the Rain" - The Judds
1987 - The Beatles' album "Sgt. Pepper's Lonely Hearts Club Band" was named 'the best album made during the last 20 years' by Rolling Stone magazine.
1988 - Moisture from what remained of Tropical Storm Beryl resulted in torrential rains across eastern Texas. Twelve and a half inches of rain deluged Enterprise, TX, which was more than the amount received there during the previous eight months. Philadelphia, PA reported a record forty-four days of 90 degree weather for the year. Baltimore, MD and Newark, NJ reported a record fourteen straight days of 90 degree heat
1989 - One of the most severe convective outbreaks of record came to a climax in southern California after four days. Thunderstorms deluged Benton, CA with six inches of rain two days in a row, and the flooding which resulted caused more than a million dollars damage to homes and highways. Thunderstorms around Yellowstone Park, WY produced four inches of rain in twenty minutes resulting in fifteen mudslides. Thunderstorms over Long Island, NY drenched Suffolk County with 8 to 10 inches of rain. Twenty-three cities in the southeastern U.S. reported record low temperatures for the date. It was, for some cities, the fourth straight morning of record cold temperatures.
1989 - Bruce Springsteen joins Ringo Starr onstage at a concert in Holmdel, NJ, to sing four songs: "Get Back," "Long Tall Sally," "Photograph," and "With A Little Help From My Friends."
1991 - In only his second big league start, 21-year old White Sox southpaw Wilson Alvarez no-hits the Orioles, 7-0. Only Browns' hurler Bobo Holloman, who threw a no-hitter in his first Major League start in 1953 accomplished the feat in fewer starts.
1993 - First foreign-born officer appointed chair of joint chiefs: President Bill Clinton appointed Army General John Shalikashvili to succeed Colin Powell as Chairman of the Joint Chiefs of Staff. Shalikashvili was born at Poland, but his family fled to Germany in 1944 to escape advancing Soviet troops. After moving to the US, his family lived at Peoria, IL. "General Shali" has a distinguished military record and is a Vietnam War veteran.
1993 - A severe thunderstorm spawned a high elevation F3 tornado in the Ashley National Forest, 20 miles north of Roosevelt, UT. The tornado touched down 3 times along a 17 mile path and was up to 1/2 miles wide. 1000 acres of trees were snapped or uprooted. The highest elevation damage was at 10,800 feet.
1994 - Randy Johnson's pitch to strike out A's Ernie Young will become the last ball thrown in the Majors for seven and half months as the longest work stoppage in baseball history begins. Among the casualties was the 1994 World Series, the first to be cancelled in MLB history.
1994 - Top Hits
"Stay (I Missed You)" (From "Reality Bites") - Lisa Loeb
"I Swear" - All-4-One
"Fantastic Voyage" - Coolio
"Wild Night" - John Mellencamp With Me Shell Ndegeocello
"Can You Feel The Love Tonight" (From "The Lion King") - Elton John
1994 - Record high set at Miami with 96 then heavy thunderstorms drop the temperature to 70, a record low for the same date.
1997 - Sonny West, Red West, Lamar Fike and Marty Lacker, four of the biggest members of Elvis' "Memphis Mafia," recall the King in a one-time-only webchat.
http://en.wikipedia.org/wiki/Memphis_Mafia
https://www.facebook.com/LegacyRecordings/photos/a.410741997995
.182278.157335342995/10151749009902996/?type=1
1997 - Congress passed the line-item veto for the President in 1996, but on this day in 1997, William Jefferson Clinton was the first to use it,
eliminating three provisions from legislation that had been passed by Congress. The line-item veto, a power sought by presidents since Ulysses S. Grant, enables presidents to strike particular items from newly enacted federal laws without having to veto the entire bill.
1998 - Lawrence Ferlinghetti was named the first poet laureate of San Francisco.
1999 - Top Hits
"Genie in a Bottle" - Christina Aguilera
"Tell Me It's Real" - K-Ci
"Bills, Bills, Bills" – Destiny's Child
"All Star" - Smash Mouth
2001 - Using fewest number of games anyone has ever needed to hit 50 homers in a season, Giant outfielder Barry Bonds reaches the milestone in 117 contests. In 1999, Sammy Sosa reached the mark in 121 contests.
2002 - Sammy Sosa's grand slam and run-scoring double against the Rockies gives the Cubs' slugger 14 RBIs over two games establishing a new a National League record. The previous mark was 13 shared by Nate Colbert (Padres-1972) and Mark Whiten (Cardinals -1993).
2003 - By fanning Jeff Kent in the seventh inning at Wrigley Field, Kerry Wood became the fastest Major Leaguer to record his 1,000th career strikeout, needing only 134 games to reach the milestone. It took 143 games for Roger Clemens to accomplish the feat.
2003 – Top Hits
"Crazy In Love"- Beyoncé Featuring Jay-Z
"Right Thurr"- Chingy
"Never Leave You - Uh Ooh-- Uh Oooh!," Lumidee
P.I.M.P-, 50 Cent
2012 – The Republicans' presumptive nominee for President, Mitt Romney, selects Wisconsin Congressman Paul Ryan as his running mate.
2012 – The Yankees' all-time hit leader, Derek Jeter, collected his league-leading 150th hit of the season, joining Hank Aaron as the only two players to have 17 seasons of 150 or more hits.
2013 - At the Oak Hill Country Club in Pittsford, New York, American golfer Jason Dufner wins the 2013 PGA Championship.
2014 - Sale of the Los Angeles Clippers to Microsoft ex-CEO Steve Ballmer was approved by the NBA, despite attempts by former owner Donald Sterling to stop the transaction; Sterling was forced to sell after being banned from the NBA for his racist remarks.
-------------------------------------------------------------

SuDoku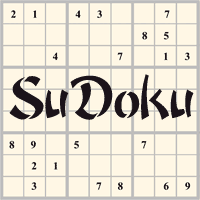 The object is to insert the numbers in the boxes to satisfy only one condition: each row, column and 3x3 box must contain the digits 1 through 9 exactly once. What could be simpler?
http://leasingnews.org/Soduku/soduko-main.htm
--------------------------------------------------------------

Daily Puzzle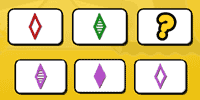 How to play:
http://www.setgame.com/set/puzzle_frame.htm
Refresh for current date:
http://www.setgame.com/set/puzzle_frame.htm
--------------------------------------------------------------


http://www.gasbuddy.com/
http://www.gasbuddy.com/GB_Map_Gas_Prices.aspx
http://www.gasbuddy.com/GB_Mobile_Instructions.aspx
--------------------------------------------------------------

Weather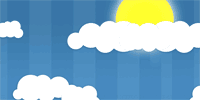 See USA map, click to specific area, no commercials
--------------------------------------------------------------

Traffic Live---
Real Time Traffic Information
You can save up to 20 different routes and check them out with one click,
or type in a new route to learn the traffic live
--------------------------------