Sales Reps

Due to expansion, we have openings in Richmond VA, Raleigh NC and Washington DC. To see job information, click here. Submit resume to pshelley@wwsmanagement.com

Since 1986, CSC Leasing has worked with well-managed companies who appreciate the value of leasing.

Wednesday, August 15, 2007
Headlines---
Classified Ads---Sales
Rates lower on short-term US Treasury bills
CIT to be Sold? by Christopher Menkin
Results on Site Inspections Questionnaire
Classified Ads---Help Wanted
Drayer surrenders/Barker gets 60 months
IDS okay in Minneapolis, Minnesota
Sales Makes it Happen---Linda P. Kester
"Objections we all see"
ModSpace® selects IDS
More $$$ for banks in Europe
Subprime Problems Spread Into Commercial Loans
Sovereign CEO keeping eye out for recession
Northbrook firm freezes $1.5 billion fund
Most of HomeBanc's employees laid off
Canadian Stocks Fall on Credit Crunch
Humbled Goldman Bails out one troubled fund
Conrad Black hit for $22 Million plus time in jail
Microsoft issues 'critical' patches
Royal Bank's Group Buys $1.9 Billion of ABN Shares
News Briefs---
You May have Missed---
California Nuts Brief---
Sports Briefs---
"Gimme that Wine"
Calendar Events
Snapple Real Facts
Today's Top Event in History
This Day in American History
Baseball Poem
SuDoku
Daily Puzzle
######## surrounding the article denotes it is a "press release"
-------------------------------------------------------------------------------
-------------------------------------------------------------------------------

Classified Ads---Sales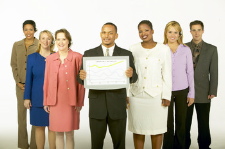 Atlanta, GA
Experienced/successful self-starter w/solid background & book of business general equipment & franchise finance/ vendor & direct. Excellent communication, strong negotiation, biz development, ACT, HP19II, etc.
Email: 2jacksonhole@bellsouth.net

Copenhagen, Denmark
10 years of experience as VP Europe, Middle East and Africa for a US based Equipment Leasing Company. $500,000 plus w/ excellent connections European shipping lines/ maritime financing.
Click here.

Fresno, CA
Aggressive, competitive self-starter w/successful vendor/direct equipment
leasing and asset-based lending experience seeks return to leasing industry
after successful stint in business banking sales.
Email: dsp559@hotmail.com
Resume
Montgomery, AL
Individual with 10 years advertising sales exp. & 7 years insurance sales exp. Wants independent contractor situation in Alabama.
Work with leasing company or broker.334-590-5133
E-mail: billmcneal2003@yahoo.com
Oklahoma
Over 30 years of financing experience, resume posted at www.geocities.com/bobbybenmoore,
phone 580-351-2531
Philadelphia, PA
25 years in Healthcare and seeking an opportunity to represent a lender for dental/medical funding in the Northeast to Mid-Atlantic states.
email: mitutz@msn.com
San Diego , CA
Tenacious, competitive self-starter w/successful vendor/direct equipment leasing and asset-based lending experience seeks return to leasing industry after successful stint in secondary mortgage markets sales.
E-mail: pajohnson1@cox.net
Stuart, FL area
Years of experience in leasing sales, credit, operations, documentation and syndication. Seeking position with direct middle market lender, equip. mfr or major equip. distributor. email: southernleasing@bellsouth.net
To place a free "job wanted" ad here, please go to:
http://www.leasingnews.org/Classified/Jwanted/Jwanted-post.htm
For a full listing of all "job wanted" ads, please go to:
http://www.leasingnews.org/Classified/Jwanted/Jwanted.htm
--------------------------------------------------------------

Rates lower on short-term US Treasury bills
Perhaps overlooked in the news, Monday's short-term Treasury bills fell, with rates on six-month bills dropping to the lowest level in more than a year.
The US Treasury Department auctioned $21 billion in three-month bills at a discount rate of 4.630 percent, down from 4.770 percent last week. Another $17 billion in six-month bills was auctioned at a discount rate of 4.710 percent, down from 4.730 percent last week.
The three-month rate was the lowest since three-month bills averaged 4.490 percent on June 18. The six-month rate was the lowest since these bills averaged 4.700 percent on April 10, 2006.
The discount rates reflect that the bills sell for less than face value. For a $10,000 bill, the three-month price was $9,882.96, while a six-month bill sold for $9,761.88.
Separately, the Federal Reserve reports the average yield for one-year Treasury bills, a popular index for making changes in adjustable rate mortgages, fell to 4.78 percent, down from 4.83 percent the previous week.
--------------------------------------------------------------

CIT to be Sold?
by Christopher Menkin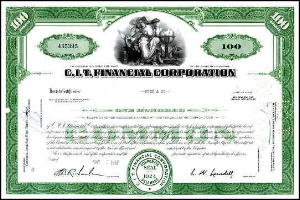 The above stock certificate was issued in 1967.
Shares of CIT Group Inc. jumped more than 5% Monday after an analyst said the New York lender might sell itself.
"We believe CIT's board will ultimately be forced to act in the best interest of shareholders and entertain offers to sell CIT," Meredith Whitney of Canadian Imperial Bank of Commerce's CIBC World Markets Inc. wrote in a research report. CIT could fetch more than $50 a share, Ms. Whitney wrote.
Tuesday the Dow Jones took a dive again, as well as the CIT Group, going down 5% here: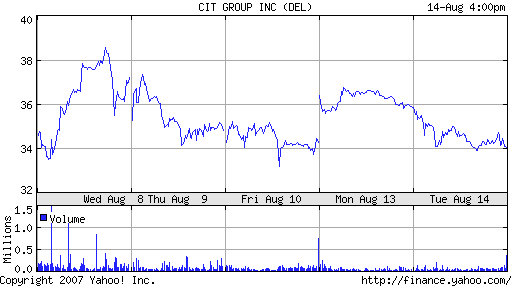 Five Day chart, Yahoo.com
It should be no surprise to Leasing News readers who over the last year have read about banks closing down mortgage units, mortgage departments, letting people go, starting to depart over a year ago from subprime loans, and also mortgages in portfolio purchases altogether, or getting into trouble about accounting, such as Fannie Mae, or financial trouble such as NetBank.
So what is driving the stock market? European fear. The Yale professors will make it more complicated, but those of us on the street know it stems from the United States involvement in Iraq and the European lack of confidence in the U.S. government. The presidential debates from all the parties are stirring it up even more. Why it looks so bad, we should all move to New Zealand.
It's going to get worse, too. Not just for us subjected to the media coverage, but all the negatives are heard on Europe television. Any American who travels in Europe and adjacent countries knows exactly what I mean. Talk to the Swedes, the Swiss… A nice way of putting it would be: they have lost confidence in the Yankee know how.
The fear itself then drives the economy down.
As to CIT being sold---Not Again!!!
In 1908, Henry Ittleson founded the Commercial Credit and Investment Company to help fuel the growth of a rapidly-expanding nation. Ninety-plus years and several name changes later, The CIT Group is now stronger than ever, with managed assets of over $50 billion and 11 consecutive years of increased earnings.
The following is a timeline detailing the evolution of the CIT Group, from our inception in 1908 to 1999's acquisition of Newcourt Credit Group Inc.
1908 CIT was founded as Commercial Credit and Investment Company by Henry Ittleson in St. Louis (initial business efforts were in financing receivables).
1915 Company moved its headquarters to New York City and changed its name to Commercial Investment Trust with the identifying initials "C.I.T."
1915 CIT signed an agreement with Studebaker for nationwide wholesale and retail financing of automobiles. This was the first automobile financing program in the U.S.
1920 CIT began to build its industrial financing business alongside its consumer business.
1924 CIT went public and its stock was listed on the New York Stock Exchange. It issued its first annual report. The company had 600 employees and assets of $44.7 million.
1942 CIT Financial Corporation, the company's industrial financing entity, was incorporated.
1933 The company acquired Ford Motor Company's financing arm, Universal Credit Corporation.
1964 Several CIT owned factoring companies were merged to form CIT's Meinhard-Commercial Corporation. William Iselin & Co. was another CIT factoring organization at the time.
1969 CIT began its withdrawal from the automobile financing business. The company refocused energies on industrial equipment financing, factoring and leasing.
1980 RCA acquired CIT.
1984 Manufacturers Hanover Bank purchased CIT from RCA.
1986 The company officially changed its name to The CIT Group.
1987 Albert R. Gamper, Jr., sector executive vice president of Manufacturers Hanover, was named chairman and CEO of CIT. When Dai-Ichi Kangyo Bank purchased 60% of CIT's stock in 1989, he was named president and CEO of CIT.
1988 CIT sold its consumer loan businesses.
1989 Dai-Ichi Kangyo Bank acquired 60% of CIT from Manufacturers Hanover.
1991 CIT acquired Fidelcor Business Credit Corp. and renamed it CIT Credit Finance.
1991 CIT's new equity investment unit, founded a year earlier, made its initial investment.
1992 CIT Consumer Finance was started 'de novo' to offer home equity loans, returning CIT to the home equity loan business.
1992 CIT Venture Capital became a licensed Small Business Investment Corporation.
1994 CIT acquired Barclays Commercial Corp. and merged it with its commercial services unit to create the largest factoring organization in the U.S.
1995 Dai-Ichi Kangyo Bank acquired an additional 20% of CIT from Chemical Banking, the successor company to Manufacturers Hanover.
1995 The CIT group ended the year with a record $17 billion in assets, reached the $225 million mark in earnings and employed approximately 2800 people across the U.S.
1996 Chemical Bank merged with Chase Manhattan. CIT ownership is 80% by Dai-Ichi Kangyo Bank and 20% by the Chase Manhattan Corporation.
1997 CIT launched an initial public offering of 20% of CIT's common stock to acquire from The Dai-Ichi Kangyo Bank, Limited its option to purchase the 20% interest owned by the Chase Manhattan Corporation and to exercise such option. CIT once again lists its stock on the New York Stock Exchange ("CIT").
1998 CIT completes a successful secondary stock offering, reducing DKB's stake to approximately 44% with the balance of the shares owned by the public.
1999 On January 28, 1999, CIT reports record earnings of $338.8 million with more than $26.2 billion in managed assets.
On March 8, 1999, CIT announced it will acquire Newcourt Credit. On November 15, CIT completed acquisition of Newcourt.
In the new century, CIT survived a brief acquisition by the ill-fated Tyco Corporation and became 100 percent publicly owned in 2002. Following Al Gamper's retirement in 2004, new CEO Jeffrey M. Peek worked to maximize CIT's cross-marketing potential while reorganizing along industry-focused, rather than product-focused, lines. That September, CIT's purchase of CitiCapital's vendor financing business in Germany was the company's first European acquisition.
The history was obtained from the CITGroup.com website.
--------------------------------------------------------------

Brokers/Discounters—Funders Disagree: Site Inspections
76% of the broker/discounter who responded stated they were not in favor of site inspections on lower dollar amounts.
79% of the broker/discounts who responded state they do not inspect delivery of equipment and working order on leases that they present. -
One broker/discounter said there should be a site inspection on all leases, but did not sign his name. It appears to be a "tongue in cheek" response. Another who did not sign their name said they inspected all their own deals themselves thus didn't believe site inspections should be lowered. This person sounded sincere.
Those that were in favor:
"Inspections are good for all of the good guys."
Email: david@lease-one.com
Name: David M. Rothenberg
Sonia Stoddard says her company does site inspections 50% of the time

"Questions: Are you in favor of site inspections on lower dollar amounts? - Yes
Do you inspect delivery of equipment and working order on leases that you present? - Yes
Brokers/Discounters - Comments: I try to visit all my local clients at or near completion of their installations, especially when I don't know the vendor well. It's a great time in the relationship to "be there" for your client in a non-sales situation. The independent site inspections are invaluable for those that I cannot personally oversee, such as those that are out-of-state, etc.; however, I prefer an independent site inspection for ALL acceptances. They typically don't cost very much and the peace of mind for me as well as the funder is also invaluable."
Email: Lease@StoddardAssociates.com
Name: Sonia Stoddard
This broker/discounter thought the site inspection dollar limit should be $75,000:
"Inspections are an essential part of our business for deals with high soft cost, off-brand technology, and at dollar benchmarks. Being collateralized is an essential part of a lease thus confirmer you are should be welcomed and then balanced with the value prop of convenience lending to our lessee's
and vendor's. "
Email: davidan@envisioncapitalgroup.com
Name: David Normandin

There were many who responded (without their name) with this similar answer:
"I do not believe inspections should be done on leases less than $50K."
Email: equities@att.net
Name: STEVE KOLTON EQUITIES FUNDING GROUP, INC.
Those who signed their name as against it, make these comments:
"Requiring site inspections on dealer referrals under 25K is an obstacle to doing business with funders who require it. All things being equal, we'd choose a funder with no site to speed the closing process."
Email: LJohnson@IntegraLeasing.com
Name: L Johnson

"I believe the vendor approval process-- doing business with legitimate resellers of equipment producing proper invoices with serial numbers-- along with the verbal confirmation and signature verification is the best way to do business on lower dollar transactions."
Email: jmodes@gemcredit.net
Name: Joan Modes

100% of the funders who responded said they had a policy regarding site inspections for vendor related business.
98% of the funders who responded said they had a policy regarding inspections for
broker related business.
Over 75% of those who responded said their site inspection dollar amount was $50,000. 15% said $75,000. There were other answers from $1.00 to $250,000. Several noted on all "used equipment."
Here are some of their comments:
"Are you in favor of site inspections on lower dollar amounts? - No
Comments: Circumstances drive the inspection not the dollars. We inspect who and what we don't know. Most broker transactions. Repeat business, whether broker or not, from a repeat vendor may not require inspection. However, a policy to inspect will never hurt you.
allan levine
Email: alevine@madisoncapital.com

"Comments: We once had a transaction that was assigned to a now defunct funding source. It was $250K and the funding source did not require a site inspection. It was our policy to do so, however, so we had the inspection report from Quik Trak. The customer absconded with approximately $5MM in equipment 15 months after it was delivered. Our equipment was included. The funding source tried to make us repurchase the lease stating that the lease was not "marketable" because the equipment never existed. Fortunately, we were able to provide their counsel with a copy of the inspection report. Their reaction was "we didn't require this". Well, we did require it and still do. Anyone that objects to it does not belong on our customer list. We also use our VOIP phone system to digitally record every verbal acceptance call for every disbursement on any lease or loan."
drlease@mountpleasantcapital.com
Bob Rodi, CLP
"Comments: Although we are currently considering raising our site inspection requirement from $25,000 to $50,000, we believe the inspection is a key part of our process. Enterprise has been extremely successful in dodging the commonly known frauds over the years and site inspections have certainly contributed to that success. We have used QuikTrak on hundreds of transactions and found them to be a very responsive and dependable partner. Since fraud only increases the cost of doing business, we believe that the small cost of the inspection fee is well worth our investment."
mcoon@enterprisefundinggroup.com
This poll was not scientific and should be considered "informal" at best, but it does confirm that broker/discounters are not in favor of lowering the dollar amount on site inspections as they believe it slows down the funding of the transaction.
Previous articles on site inspection:
Why site inspections?
http://www.leasingnews.org/archives/July%202007/07-27-07.htm#inspec
Readers on site inspections:
http://www.leasingnews.org/archives/July%202007/07-30-07.htm#inspec
Site Inspections: the Inspector General
http://www.leasingnews.org/archives/August%202007/08-10-07.htm#truth
Site Inspection companies:
http://www.leasingnews.org/Site_Insp/Default.htm
--------------------------------------------------------------

Leasing Industry Help Wanted
Accounts Manager

ACCOUNT MANAGER
Phoenix, AZ or virtual office
Responsible for developing and managing Vendor Programs with equipment manufacturers and vendors
Click here for more detailed information.
Manufacturers' Lease Plans Inc. (MLPi) is the pioneer of short-term rental and operating lease financing, funding high technology equipment manufacturers since the 1960s.
Collections

Collections Opportunity
Seeking an experienced collector to join its growing staff. Candidates should have a minimum 2 years of high volume collections experience, preferably in commercial vehicle lending or leasing. Competitive salary plus comprehensive package available. For consideration please fax resume in confidence to R.Z. 718-392-3933 or e-mail to rzerillo@advantagefunding.us


Controller


Controller
Boca Raton, FL
CPA, 5 yrs leasing exp. min. 15 yrs in accounting. For more info, please
click here
Océ Financial Services, Inc. is a dedicated captive leasing company, consolidating all lease-related activity for Océ North America and Océ Imagistics.


EFD Credit Officer


EFD Credit Officer
Walnut Creek, CA
You will underwrite equipment financing and leases of generally high complexity. Requires a BA & 5+ years of relevant experience. CLICK HERE for a detailed description and resume submission info.

Visit www.bankofthewest.com, for more information. Bank of the West and its subsidiaries are equal opportunity/affirmative action employers.


Managed Services Division
Operations / Doc / Funding

OPERATIONS / DOC / FUNDING
COSTA MESA, CALIFORNIA

Full Time Documentation / Funding Clerk
START DATE:
Position Available Immediately

Ground floor opportunity to join fast growing Independent Lessor. Experience required. Word and Excel skills a must.
Benefits provided. Bonus plan participation.
Salary commensurate with experience.
Please fax resume to 714-556-3765. Outline salary expectations.
Sales Representatives

Sales Reps

Due to expansion, we have openings in Richmond VA, Raleigh NC and Washington DC. To see job information, click here. Submit resume to pshelley@wwsmanagement.com

Since 1986, CSC Leasing has worked with well-managed companies who appreciate the value of leasing.

--------------------------------------------------------------

RW Professional: Drayer surrenders/Barker gets 60 months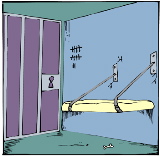 Convicted of defrauding banks of $28 million after spending five years under house arrest, Barry Drayer, 67, has "surrendered." He never testified to his defense.
He continues to protest that he is not guilty.
He claims he is innocent and never ran RW Professional nor was responsible for what other officers, including his sister and brother did. He held the matter up for five years, living at his residence. He is now serving his sentence at the Cumberland Federal Correctional Institution in Maryland. His projected release date is 7/13/2017.
Leasing News is attempting to obtain a statement from Drayer, to hear his side of the story, and have asked our emeritus Leasing News advisor Charlie Lester to request an interview at Cumberland
Federal Correctional Institution from his long time medical financing colleague.
The last person to be sentence was Stephen Barker, who was reprimanded to jail in February, 2006, when found guilty. On August 9th, Stephen Barker was sentenced to 60 months, but Federal Judge Arthur Spatt, Central Islip, New York has vacated the sentence because he gave an upward departure without giving the defendants prior notice. The sentencing has been re-scheduled for September 4, 2007 (Barker remains in custody).
Steven L. Tiscione, Assistant United States Attorney Eastern District of New York was the lead attorney after attorney Linda Lacewell left the office.
The hearing delays seems to center around the defense that Barker's financial responsibility and some other technical matters. The point is he has been serving time for one and a half years to date. The correspondence regarding the sentencing is very revealing:
From Kevin J. Keating letter to Gregory Giblin, U.S. Probation Officer:
"In the PSR (Presentence Investigation Report), Barker is held accountable for Guidelines losses totaling $2,236,249.97 and a concomitant offense level increase of 15.
Specifically, the Report seeks to hold Barker accountable for $336,249.97, representing an aggregate loss suffered by five financial institutions on a total of six loans, and $1.9million purportedly diverted by Barker for his own personal use."
Steven Tiscione, Assistant U.S. Attorney for Roslynn R. Mauskopf, US Attorney outlined a rebuttal that basically not only argues the case about the $4.3 million, but sums up the action:
http://leasingnews.org/PDF/Stephen_Barker3.pdf
"Barker's entire business relationship with Drayer was built on fraud and deception. Not a single one of the MedPro loans was legitimate, and Barker clearly knew, at the absolute minimum, that each and every one of the "many hundreds of loans to physicians" (Def. Let. at 2) that Barker brokered for PLS was the product of fraud. As explained at trial by numerous witnesses from the victim financial institutions, the result of Barker and Drayer's criminal partnership is that the banks agreed to fund much riskier loans than they otherwise would have. Indeed, given that many of Barker's MedPro loans were working capital, debt consolidation or sale-leaseback loans, which were all considered by the financial institutions to be high-risk loans, it was certainly foreseeable to Barker that many of the loans would never be paid back to the financial institutions. Moreover, since his entire business was built on fraud, it should have been reasonably foreseeable to Barker that the PLS "house of cards" would ultimately collapse, as it did, and that the victim financial institutions would suffer
significant losses as a result of that collapse – which they undisputably have...
As established at trial, Barker created MedPro, a sham entity that was formed for the singular purpose of duping the Case 2:02-cr-00767-ADS Document 604 Filed 08/07/2007 Page 10 of 14
11 victim financial institutions into believing that Barker's highrisk loans were actually fully secured by new medical equipment purchased from a legitimate equipment vendor. Modeled after Drayer's creation of Riteway, another sham entity, MedPro's entire reason for existence was to perpetuate a complex fraud scheme. Barker incorporated MedPro and obtained a tax identification number (although he never actually paid any taxes for MedPro). Barker also established a MedPro telephone number
(which he instructed employees like Tallie Jo Allen to answer as if they were actual employees of MedPro even though the phone line went straight to Barker's offices at Carefree).
Barker even established a sham bank account in the name of MedPro, which he used to receive loan proceeds from PLS in an effort to further bolster the appearance that PLS was paying a legitimate vendor for new medical equipment. The vast majority of those funds were then immediately transferred to Barker's Carefree bank account. Barker undertook all of these actions as part of an elaborate plan to misrepresent MedPro to the victim financial institutions as a legitimate vendor that was purportedly selling new equipment to medical providers, while at the same time, keeping the medical providers completely in the dark as to the existence of MedPro.
As established by the trial testimony of Tallie Jo Allen and Susan Cottrell, Barker carefully hid the existence of MedPro from the medical providers by removing any mention of the MedPro name
from documents submitted to the medical providers, by vigorously instructing his employees never to send MedPro invoices to the medical providers, and scrupulously avoiding any mention of MedPro during the hundreds of verbal audit calls Barker participated in with the medical providers. Moreover, Barker transferred the loan proceeds from the MedPro account to his Carefree account before distributing it to the medical providers so as to prevent them from questioning why the source of their
loan funds was a company they never heard of.
"Barker's failure to comply with the grand jury subpoena and false statements to investigating agents regarding his possession of business records clearly obstructed justice. The MedPro invoices were a critical component in the government's case. Barker's concerted efforts to hide these false invoices
resulted in the government having to piece together evidence from multiple other sources – including a search warrant executed at the offices of PLS in New York, and resulted in the collection of less evidence since the PLS records were not complete. Barker's ultimate production of the documents was prompted not by any perceived obligation on his part to comply with the subpoena, but as a last-ditch gambit to avoid criminal liability. The fact that Barker lied about the existence of the records and concealed them until the very last minute (at the point Barker produced Case 2:02-cr-00767-ADS Document 604 Filed 08/07/2007 Page 9 of 14 10 these documents a trial date in this complex case had already been set for October 2005) demonstrates his intent to obstruct justice and further supports the two-level enhancement."
To read the full case given by Stephen Barker's attorney, please read these two documents
that are public information:
Kevin J. Keating, Barker's attorney in defense of the claim for actual dollar losses:
http://leasingnews.org/PDF/Stephen_Barker1.pdf
Kevin J. Keating, Barker's attorney outlining defense to probation officer:
http://leasingnews.org/PDF/Stephen_Barker2.pdf
----------------------------------------------------------------

IDS okay in Minneapolis, Minnesota

Leasing News tried to reach many of the business in and near Minneapolis, Minnesota
after the bridge collapsed.
From Gina M Koenen,Sales & Marketing Support Specialist, International Decision Systems, Inc.:
"I want to apologize for not getting back to you with news that everyone at IDS is OK.
"Ron Dolan, VP of Global Sales, Marketing and Product Marketing was in the UK along with some of the other IDS executives.
"The IDS team that remained here was completely absorbed in making sure that all of our employees and Minnesota IDS customers were safe.
"In fact we discovered that one of our customer's sister was on that bridge when it collapsed."
"We also posted a thank-you response on our website's home page.
(http://www.idsgrp.com)"
"I hope that you accept our apology and want to thank you for your concern for IDS, we appreciated your kind thoughts.
Warmest Regards,
Gina M Koenen
Sales & Marketing Support Specialist
International Decision Systems, Inc.
1500 IDS Center
80 South 8th Street
Minneapolis, MN 55402
gkoenen@idsgrp.com
www.idsgrp.com
----------------------------------------------------------------

Sales Make it Happen
OBJECTIONS WE ALL SEE
By: Linda P. Kester
In 1988 I would drive my Saab to a vendor's location and ask them "Do you have any apps for me?" Inevitably they said "No, we don't have any leasing deals for you right now, but you can stop back in a couple of weeks." A couple of weeks would go by, I'd stop by again and they would tell me "No leasing deals now, but feel free to stop by again."
Was I prospecting? I thought I was. What I was really doing was wasting everyone's time! Wasting my own time by prospecting with no clear objective, not uncovering the vendors needs with good questions and not moving the sales process forward.
I was wasting the prospect's time because I didn't give them any value in doing business with me. They saw nothing to gain, and they didn't want to come right out and tell me NO.
In the leasing industry there are many types of objections. I shared my experience above because I didn't uncover any specific objections. I just kept getting a stall, and a stall is an objection that can happen at any point in the sales cycle. The stall I experienced happened very early in the process. You may experience this as a "brush off". The typical brush off objections that come early in the sales call are:
We're happy with who we are using
Just send me some literature
We don't use leasing
If a vendor tells me in the first 25 seconds of the call that they are happy with their present leasing company, I know that my opening statement was not very effective, and then I'll say "some of my best customers said the same thing the first time I called them. Who are you using?" I brush off their brush off and ask a question.
If the prospect says "Just send me some literature on that." Reply with "There are questions people have that simply aren't addressed in the literature. That's why I'd like to ask you a few questions."
Other objections/resistance come further in the sales process:
Your rates are too high
All our customers pay cash
We've been disappointed in the past with turn-around time or speed of payment
The worst thing we can do when faced with an objection is tell the other person that they are wrong. Unfortunately, that's what most objection rebuttals do. The best route is to show empathy and ask questions and help someone to:
Doubt their own beliefs
Change their mind on their own
For example, I was in the market for a Jaguar automobile. I questioned the salesman about the reliability of the car. Everyone knows that Jaguars have a reputation for frequent breakdowns. The salesman did not show any empathy when I voiced my objection. He gave a heavy sigh and announced that Jaguar was bought by Ford and now they have an excellent service record. He didn't show any empathy, in fact he demonstrated annoyance. He then tried to have me change my mind with some lame service record report. If he followed my model he would say something like. "I understand, Jags used to have that kind of reputation. Have you heard this about any models made after 2004? Do you know we have an all inclusive maintenance program?" These comments would have made me feel better. And that is a big point.don't underestimate how big of a role emotions can play in decisions. They can certainly cause someone to throw logic out the window.
Sometimes the prospect doesn't even know his true objection. He may not be confident offering leasing or he doesn't understand how leasing works and so he's embarrassed to admit it. He feels uneducated and his ego demands that he say that he won't offer it. The prospect thinks if they get a leasing company involved they may lose control of their transaction. They say to you."We let the customer get their own financing", or "We don't offer leasing." So, all of your logic backed facts won't change their mind. You have to go back and ask more questions. You have to focus on the vendor or the lessee and what is important to them. What we want or think doesn't matter. The customer in this case is similar to a credit analyst. A credit analyst is not (in most cases) just going to change his mind and approve your deal. He will, however, make a new decision based on additional information. A prospect is not going to change his mind and suddenly start using your leasing company. He may make a new decision based on additional information. That is why it's so important to have an arsenal of value based programs to offer the prospect.
If a vendor says "All my customers pay cash", a good response is "I understand. In your situation customers have a lot of different ways of acquiring your equipment. Why do you think that they pay cash? Are you getting your cash they day you deliver your equipment? Are you waiting 30 days or more for your money? Do you have to handle payment and collection issues? What happens if the customer asks about financing options? Suppose I handled all the leasing details then would you feel comfortable using it?"
Early in my sales career I rarely got to the objection part of the sales cycle. What I've learned is that a sales pro will bring out all the objections as early possible so each objection can be dealt with effectively. If the objection is: " Your rates are too high" Your response could be "Competitive rates are an important ingredient in our services. Can you tell me what you are comparing my rates against? Besides rate, is there any other reason why you wouldn't use my leasing company? Tell me about your current rates, how many payments are required in advance and what type of residual options you quote.
If you can identify the true objection, then you can take steps to resolve it or move on to the next prospect instead of wasting time trying to close a sale that will never be closed.
Linda Kester motivates, educates and empowers leasing sales reps to obtain top performance and increase volume. She provides enthusiastic and practical ideas for success. For more tips visit www.lindakester.com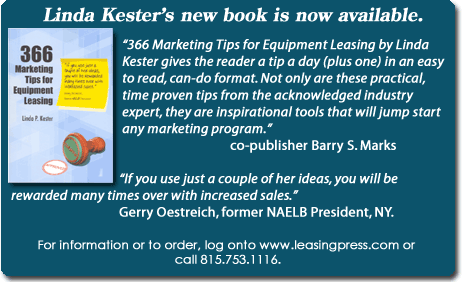 ---------------------------------------------------------------
### Press Release ###########################

ModSpace® Selects Software Solutions Rapport and ProFinia
From International Decision Systems

MINNEAPOLIS, Minn., -International Decision Systems, Inc. announced that Modular Space Corporation (ModSpace) has selected Rapport and ProFinia, the leading asset management solutions for equipment leasing and finance companies.
Charles Paquin, president and chief executive officer of ModSpace, views the selection of International Decision Systems as the solution provider as a significant strategic advantage for both ModSpace and its customers. "ModSpace realized it needed a new asset management and operating system. Our priorities were simple. We needed robust capability, greater efficiency, and real-time data availability," said Paquin.
ModSpace evaluated several potential equipment finance solution providers but eventually selected International Decision Systems, the author of Rapport and ProFinia.
"We demanded certain functionality and at the end of the day, the strength, stability, and the experience of IDS was a deciding factor," said Paquin. "We know that when our business triples in size, or we enter new markets, we will be well-supported."
Ron Dolan, International Decision Systems' global vice president of Sales, Marketing & Product Marketing stated, "The relationship that we have formed with ModSpace is very strategic and indicative of the strength of our vertical solutions and our commitment to our partners in the equipment finance industry. The ability to dynamically configure an ever-changing business environment through the use of Rapport and ProFinia allows ModSpace the ability to deliver market leading solutions to their customers."
Todd Davis, International Decision Systems' chief executive officer, states. "This announcement helps to illustrate the success that comes from all of our long term relationships and our dedication to the manufacturing and finance industry. We will continue to work with our strategic partners to bring innovative best practices, which drive efficiency and integrity to all facets of their organizations."
About ModSpace
Building on over forty years of experience and history, ModSpace is a leading provider of turnkey, engineered modular solutions for temporary and permanent application serving commercial, education, construction, government, and healthcare markets. ModSpace provides solutions to a diverse set of customers and markets through an extensive nationwide branch network throughout the United States and Canada. More information is available at www.modspace.com.
"ModSpace" and the ModSpace logo are registered service marks of Modular Space Corporation. Any unauthorized use of the name, logo, or mark is strictly prohibited.
About International Decision Systems, Inc.
International Decision Systems is the global leader in developing equipment finance portfolio management software and services. Headquartered in Minneapolis, Minnesota, International Decision Systems also has offices in London, Sydney, Singapore and Bangalore. International Decision Systems offers the largest and most experienced global consulting, implementation, and technical support teams in the equipment financing industry. For additional information about International Decision Systems, visit www.idsgrp.com, or call 1-866-465-9393 to reach global headquarters.
### Press Release ###########################
--------------------------------------------------------------

News Briefs----
More $$$ for banks in Europe
http://www.nypost.com/seven/08142007/business/more__for_banks_in_europe_business_.htm
Subprime Problems Spread Into Commercial Loans
http://www.nytimes.com/2007/08/15/business/15fund.html?ref=business
Sovereign CEO keeping eye out for signs of recession
http://www.snl.com/interactivex/article.aspx?CdId=A-6408744-11872
Northbrook firm freezes $1.5 billion fund amid global liquidity crisis
http://www.chicagotribune.com/business/chi-070824-sentinel,0,989922.story
Most of HomeBanc's employees laid off
http://www.ajc.com/business/content/business/stories/2007/08/14/homebanc_0814.html
Canadian Stocks Fall on Credit Crunch; Bank of Montreal Drops
http://www.bloomberg.com/apps/news?pid=20601082&sid=axFq1NAhXnXg&refer=canada
Humbled Goldman Bails out one troubled fund
http://www.nypost.com/seven/08142007/business/sachs_cloth_business_roddy_boyd.htm
Conrad Black hit for $22 Million plus time in jail
http://www.nypost.com/seven/08142007/business/black_hit_for_22m_business_.htm
Microsoft issues 'critical' patches
http://www.usatoday.com/tech/news/computersecurity/2007-08-14-microsoft-patches_N.htm
Royal Bank's Group Buys $1.9 Billion of ABN Shares
http://www.bloomberg.com/apps/news?pid=20601085&sid=aPI9FVx0o4YM&refer=europe
Two Giant Retail Chains Say Sales Are Slumping
http://www.nytimes.com/2007/08/15/business/15shop.html?_r=1&ref=business&oref=slogin
American Railcar stock tumbles after reporting weak earnings
http://www.stltoday.com/blogs/business-business-ticker/2007/08/
american-railcar-stock-tumbles-after-reporting-weak-earnings/
CBS Settles With Fired Shock Jock Don Imus
http://www.nytimes.com/reuters/arts/entertainment-media-imus.html
---------------------------------------------------------------


You May have Missed---
List of Mattel Toys recalled:
http://leasingnews.org/PDF/Mattel_Recall.pdf
Sarge Toy Jeep recall:
http://leasingnews.org/PDF/Sarge_Recall.pdf
---------------------------------------------------------------

Sports Briefs----
Vick attorneys negotiating plea
http://www.ajc.com/sports/content/sports/falcons/stories/2007/08/14/vick_0815.html
Source: Former NBA referee Donaghy to plead guilty in Brooklyn court
http://www.signonsandiego.com/sports/nba/20070814-1756-bkn-bettingprobe.html
----------------------------------------------------------------


California Nuts Briefs---
Calif. AG Jerry Brown's car broken into outside S.F. City Hall
http://www.sfgate.com/cgi-bin/article.cgi?f=/c/a/2007/08/13/BAE6RGM7G.DTL
----------------------------------------------------------------


"Gimme that Wine"
"Toad Hollow" Founder, Todd Williams, Passes Away
http://www.winebusiness.com/news/DailyNewsArticle.cfm?dataid=49836
Thai to wine
Buck the traditional rules for the best matchups with Southeast Asian flavors
http://www.sfgate.com/cgi-bin/article.cgi?f=/c/a/2007/08/10/WI96R46AP.DTL&type=wine
Willamette Valley Vineyards Posts Profit for the Quarter Ended June 30, 2007
http://money.cnn.com/news/newsfeeds/articles/prnewswire/AQTU17514082007-1.htm
Freedom Run Winery Grand Opening a Huge Success, Niagara Wine Trail
http://home.businesswire.com/portal/site/google/index.jsp?ndmViewId=news_view
&newsId=20070813005912&newsLang=en
Enjoy a taste of Healdsburg and its history: this Saturday
http://www1.pressdemocrat.com/article/20070809/NEWS04/708090305/-1/
SPECIAL&THEMES=FOODWINE
Wine Prices by vintage
http://www.winezap.com
http://www.wine-searcher.com/
US/International Wine Events
http://www.localwineevents.com/
Winery Atlas
http://www.carterhouse.com/atlas
Leasing News Wine & Spirits Page
http://two.leasingnews.org/Recommendations/wnensprts.htm
The London International Vintners Exchange (Liv-ex) is an electronic exchange for fine wine.
http://www.liv-ex.com/
----------------------------------------------------------------

Calendar Events This Day
Assumption of the Virgin Mary
Greek and Roman Catholic churches celebrate Mary's ascent to Heaven. In Orthodox Churches called the Dormition or Theotokos and commemorated on August 15 or August 28. A holiday in many Christian countries.
Best Friend Day
Celebrate this special day by doing something fun with your best friend. Go shopping, go to the movies, go to a park or restaurant, play a game, or just hang out and be together.
www.cosmocompany.com
Congo(Brazzaville). National Day.
National day of the People's Republic of the Congo. Commemorates independence from France in 1960.
https://www.cia.gov/library/publications/the-world-factbook/geos/cf.html
Equatorial Guinea: Constitution Day.
National holiday. Commemorates the 1982 revision of the original constitution of 1968.
https://www.cia.gov/library/publications/the-world-factbook/geos/gv.html
India: Independence Day.
National holiday. Anniversary of Indian independence from Britain in 1947.
Korea: Independence Day
National holiday commemorates acceptance by Japan of Allied terms of surrender in 1945, thereby freeing Korea form 36 years of Japanese domination. Also marks formal proclamation of the Republic of Korea in 1948. Military parades and ceremonies throughout the country.
Liechtenstein: National Day
Public holiday on Assumption Day
https://www.cia.gov/library/publications/the-world-factbook/geos/ls.html
National Relaxation Day
Hold the phones or just take a nap. Today is the perfect excuse to reduce stress and improve your lifestyle by relaxing.
http://holidayinsights.com/moreholidays/August/relaxationday.htm
Panama: Panama City Foundation Day
Traditionally annual cultural observance recognizes foundation of Panama City.
https://www.cia.gov/library/publications/the-world-factbook/geos/pm.html
Saint feast Days
http://www.catholic.org/saints/f_day/aug.php
----------------------------------------------------------------

Mt. Katahdin in Maine is the 1st place in the U.S. to get sunlight each morning.
Since the sun rises in the East and sets in the West, this statement appears correct.
http://en.wikipedia.org/wiki/Mount_Katahdin
http://www.americasroof.com/usa.shtml
http://www.peakbagger.com/list.aspx?lid=12003
Mt. McKinley, Alaska
http://www.peakbagger.com/peak.aspx?pid=271
----------------------------------------------------------------

Today's Top Event in History
1870- the Golden Spike ceremony at Promontory Point, UT, May 10, 1869, was long regarded as the final link in a transcontinental railroad track reaching from an Atlantic port to a Pacific port. In fact, that link occurred uncer­emoniously on another date in another state. Diaries of engineers working at the site establish "the completion of a transcontinen­tal track at a point 928 feet east of today's milepost 602, or 3,812 feet east of the present union Pacific depot building at Strasburg (formerly Comanche)," CO. The final link was made at 2:53 PM, Aug 15, 1870.
[headlines]
----------------------------------------------------------------

This Day in American History
1096- The armies of the First Crusade set out from Europe to deliver Jerusalem from the occupying forces of Islamic Turks. Championed by French religious leader Peter the Hermit. In 1093, Pope Urban II had sanctioned the crusade at the Council of Clermont in 1095. In their invasion of the holy city, history records they went wild in a blood feast, killing every Muslim, man, woman, and child in Jerusalem, as they were not followers of Jesus Christ. This act has not been forgotten by the tribes of the Middle East, who perhaps today bring their prejudice from this day.
1534 -The Society of Jesus (Jesuits) was founded by Ignatius of Loyola, 43. Created to foster reform within Catholicism, and to undertake education and missionary work, this colorful religious order was formally approved by Pope Paul III in 1540.
1549- The first Christian missionaries to reach Japan landed at Kagoshima (on the coast of Kyushu, southernmost of the four main islands of Japan). They were a band of Spanish Jesuits, led by pioneer Catholic missionary Francis Xavier, 43.
1634- the first hurricane of record occurred when a cyclonic storm ravaged the Plymouth colony.
1787 - Tornadoes were reported in Connecticut, Rhode Island, Massachusetts, and New Hampshire. Wethersfield CT was hard hit by the tornado outbreak.
1790- Reverend John Carroll became the first Catholic bishop in the United States of America. He was born in Upper Marlboro, Maryland in 1735 and was the brother of Daniel Carroll, one of the signers of the Declaration of Independence.
http://memory.loc.gov/ammem/today/aug15.html
http://www.archbalt.org/content.asp?id=71
http://www.archbalt.org/content.asp?id=2
http://www.jcarroll.org/John_Carroll.htm
1812- A massacre at Fort Dearborn, on the site of what is now Chicago, took place when American soldiers, traders, and their families evacuated the fort. Indians attacked the fleeing Americans along a trial that later became Indiana Avenue. Only two women and one trader survived. The first West Point graduate killed in action was George Ronan, killed fighting against Native American allies of the British in the wary of 1812. He was mortally wounded during Captain Nathan Heald's desperate battle near Fort Chicago, IL, against a vastly superior force of Native Americans. Before he died, he killed two Native Americans in hand-to-hand fighting. After the massacre, the fort was razed. British-supported Indians controlled the area for several years after. The Iroquois, to the south, Allied with the French in the prior century, were "neutral" and did not come to the defense of the United States. Today the location of the fort is marked and
skyscrapers reach toward the sky with the river below.
1812 - Potawatomi Indians kill William Wells, an Indian captive turned Indian fighter. Born in Pennsylvania in 1770, Wells migrated with his family to Kentucky when he was nine years old. Five years later he was captured by Miami Indians and adopted into the family of the Wea village chief Gaviahatte. The young boy quickly adapted to Indian ways. He became a distinguished warrior and married the daughter of a prominent Miami war chief. For several years, Wells fought with the Miami against American soldiers attempting to push them off their land. In 1792, however, the army captured his wife and adopted mother. In exchange for their freedom, Wells agreed to join the American army as an interpreter. A reunion with a long lost brother helped reinforce the allegiance of Wells to the Americans, though his loyalties remained conflicted for the rest of his life.
On this day in 1812, Wells led a small company of men, women, and children out of the fort. They had not gone far before hundreds of Potawatomi Indians ambushed the party, killing more than 50 and taking the remainder captive. Wells, who was dressed and painted as a Miami warrior, fought heroically but was eventually shot through the lungs. When he fell from his horse, witnesses claimed the Potawatomi swarmed over his body, cut out his heart, and divided it among them.
1816-- Ann Pamela Cunningham birthday- U.S. southern club activist who organized and supervised the all-woman task of purchasing Mount Vernon as a national monument for posterity. Neither the State of Virginia and the U.S. government were not interested in preserving the home of George Washington (actually the home of Martha Custis whose marriage to Washington moved the property to HIS name in the ways of the time). In addition to raising enough money, APC had to overcome the social prejudices against women engaging in any activities except home and church. She also had to fight the political climate of the times which did not revere the "Founding Fathers" as we do today.
http://www.ls.net/~newriver/va/apcunn.htm
http://www.nbm.org/Exhibits/current/Mount_Vernon.html
1824 - Freed American slaves formed the country of Liberia.
1845 - U.S. Naval Academy established at Annapolis, MD on former site of Fort Severn.
1848- M. Waldo Hanchett of Syracuse, NY, received a patent on a dental chair that provided such necessary convenience as a headrest and adjustments in height and position. The design is still in use today.
1859-Birthday of Charles Comiskey, Baseball Hall of Fame first baseman, manager and executive born at Chicago, IL. Comiskey's career spanned 50 years, 30 of them as founding owner of the Chicago White Sox. But before that, he was an outstanding and innovative player and a tough, successful manager. Inducted into the Hall of Fame in 1939. Died at Eagle River, WI, October 26, 1931.
1860-Birthday of Florence Kling DeWolfe Harding, wife of Warren Gamaliel Harding, 29th president of the US, born at Marion, Oh. Died at Marion, Ohio November 21,1924. She and her husband also hold the trivia distinction of being the only husband and wife to die in their presidential term. Her husband was a well-known philander and she traveled with him whenever she could, and according to historians, not only ruled the roost but the running of the presidential office.
( lower half of: http://memory.loc.gov/ammem/today/aug15.html _)
1864- Off New England coast, CSS Tallahassee captures 6 Yankee schooners. Before leaving the Halifax area, she destroys more federal ships, even dares to enter Long Island harbor in New York, causing havoc up and down the Eastern shores with her two-screw propeller ship, out running and maneuvering sail mast powered ships with ease.
http://www.tcs.ednet.ns.ca/history.htm
http://www.chebucto.ns.ca/EasternPassage/chronology.html
http://hub.dataline.net.au/~tfoen/tallahassee.htm
http://www.default.aunz.org/~tfoen/tallahasseeroster.htm
http://www.csa-dixie.com/Liverpool_Dixie/tallahassee.htm
1870- the Golden Spike ceremony at Promontory Point, UT, May 10, 1869, was long regarded as the final link in a transcontinental railroad track reaching from an Atlantic port to a Pacific port. In fact, that link occurred uncer­emoniously on another date in another state. Diaries of engineers working at the site establish "the completion of a transcontinen­tal track at a point 928 feet east of today's milepost 602, or 3,812 feet east of the present union Pacific depot building at Strasburg (formerly Comanche)," CO. The final link was made at 2:53 PM, Aug 15, 1870.
1876 - US law removed Indians from Black Hills after gold find. Sioux leaders Crazy Horse and Sitting Bull led their warriors to protect their lands from invasion by prospectors following the discovery of gold. This led to the Great Sioux Campaign staged from Fort Laramie. Gold was discovered in Deadwood in the Dakota territory by Quebec brothers Fred and Moses Manuel. The mine was incorporated in California on Nov 5, 1877, as the Homestake Mining Company.
1877 - Thomas Edison wrote the president of the Telegraph Company in Pittsburgh, PA. The letter stated that the word, "hello" would be a more appropriate greeting than "ahoy," as suggested by Alexander Graham Bell when answering the telephone.
1887- Edna Ferber was born at Kalamazoo, Ml. She wrote her first novel, Dawn O'Hara, in 1911 and became a prolific writer, pro­ducing many popular magazine stories. Her novel So Big brought her commercial success in 1924 as well as a Pulitzer Prize. Her other novels include Show Boat, Cimarron, Saratoga Trunk, Giant and Ice Palace, all of which were made into successful films. Fer­ber collaborated with George Kaufman in writing for the stage on The Royal Family, Dinner at Eight, Stage Door and Bravo. Fer­ber died at New York, NY, Apr 16, 1968.
http://www.apl.org/history/ferber/
1903-Birthday of jazz composer Joe Garland, Norfolk, VA. "In the Mood,""Leap Frog." http://www.centrohd.com/bio/bio19/joe_garland_b.htm
1908 - First Navy post offices established in Navy ships.
1912--Birthday of Julia Child - U.S. cooking expert, author, and television personality. JC won a Peabody Award in 1965 and an Emmy in 1966 for cooking shows that centered around traditional French cuisine. But the shows became a general viewing audience favorite as she conducted them in her inimitable aplomb and down-to-earth methods. Saturday Night Live had several skits about her.
1914 - The American-built waterway across the Isthmus of Panama, connecting the Atlantic and Pacific oceans, is inaugurated with the passage of the U.S. vessel Ancon, a cargo and passenger ship.
1923-Birthday of Rose Marie - U.S. actor best known for her role in the Dick Van Dyke TV series. Her trademark was a bowed ribbon in her hair above her ear.
1925-Birthday of bass player George Morrow, Pasadena, CA.
http://www.artistdirect.com/music/artist/bio/0,,470572,00.html?artist=George+Morrow.
1925- Pianist Oscar Peterson birthday
http://www.cosmopolis.ch/english/cosmo3/peterson.htm
http://www.oscarpeterson.com/
1926- Babe Herman of the Brooklyn Dodgers doubled with the bases loaded in a game against the Boston Braves. The hit drove in the winning run, but the runner on second, the runner of first and Herman all wound up or near third base. Two of them were called out, so that Herman, in effect, doubled into a double play.
1931-Birthday of jazz pianist Terry Pollard, Detroit, MI.
http://www.artistdirect.com/music/artist/bio/0,,480304,00.html?artist=Terry+Pollard
1933-Birthday of jazz drummer Bill Dowdy, Benton Harbor, MI.
http://isd.ingham.k12.mi.us/~99mich/entert.html#dowdy
1933 ---Ruth Wakefield invented the absolute favorite cookie of all-time - the chocolate chip cookie. She added chocolate to a known cookie batter.
http://www.cookiedough.info/
http://inventors.about.com/library/inventors/blchocolatechipcookies.htm
http://www.premiersystems.com/recipes/desserts/cookie-chip.html
1938-Birthday of drummer Stix Hooper, Houston, TX.
http://www.pearldrum.com/s_hooper.html
http://www.clubcd.com/lin/stixhooper.htm
1941-Peggy Lee cuts her first side with the Benny Goodman bank, Chicago "Elmer's Tune."
1942 --The Japanese submarine I-25 departs Japan with a floatplane in its hold which will be assembled upon arriving off the West Coast of the United States, and used to bomb U.S. forests. Bombs attached to balloons also exploded in Oregon and California, but not reported in newspapers, therefore the Japanese did not think
they "worked."
1944- After several postponements, Allied forces began Operation Dragoon, the landing on the south coast of France. More than 2,000 transports and landing craft trans­ported 94,000 men to an area between Toulon and Cannes, with only 183 Allied losses. The lead was by the Seventh Army under the leadership of Lt. Gen. Alexander M. Patch. They encountered minimal opposition, and by the end of August the French coast from the mouth of the Rhone to Nice was in Allied hands.
1944--CONNOR, JAMES P. Medal of Honor
Rank and organization: Sergeant, U.S. Army, 7th Infantry, 3d Infantry Division. Place and date: Cape Cavalaire, southern France, 15 August 1944. Entered service at: Wilmington, Del. Birth: Wilmington, Del. G.O. No.: 18, 15 March 1945. Citation: For conspicuous gallantry and intrepidity at risk of life above and beyond the call of duty. On 15 August 1944, Sgt. Connor, through sheer grit and determination, led his platoon in clearing an enemy vastly superior in numbers and firepower from strongly entrenched positions on Cape Cavalaire, removing a grave enemy threat to his division during the amphibious landing in southern France, and thereby insured safe and uninterrupted landings for the huge volume of men and materiel which followed. His battle patrol landed on "Red Beach" with the mission of destroying the strongly fortified enemy positions on Cape Cavalaire with utmost speed. From the peninsula the enemy had commanding observation and seriously menaced the vast landing operations taking place. Though knocked down and seriously wounded in the neck by a hanging mine which killed his platoon lieutenant, Sgt. Connor refused medical aid and with his driving spirit practically carried the platoon across several thousand yards of mine-saturated beach through intense fire from mortars, 20-mm. flak guns, machineguns, and snipers. En route to the Cape he personally shot and killed 2 snipers. The platoon sergeant was killed and Sgt. Connor became platoon leader. Receiving a second wound, which lacerated his shoulder and back, he again refused evacuation, expressing determination to carry on until physically unable to continue. He reassured and prodded the hesitating men of his decimated platoon forward through almost impregnable mortar concentrations. Again emphasizing the prevalent urgency of their mission, he impelled his men toward a group of buildings honeycombed with enemy snipers and machineguns. Here he received his third grave wound, this time in the leg, felling him in his tracks. Still resolved to carry on, he relinquished command only after his attempts proved that it was physically impossible to stand. Nevertheless, from his prone position, he gave the orders and directed his men in assaulting the enemy. Infused with Sgt. Connor's dogged determination, the platoon, though reduced to less than one-third of its original 36 men, outflanked and rushed the enemy with such furiousness that they killed 7, captured 40, seized 3 machineguns and considerable other materiel, and took all their assigned objectives, successfully completing their mission. By his repeated examples of tenaciousness and indomitable spirit Sgt Connor transmitted his heroism to his men until they became a fighting team which could not be stopped.
1946- Kathyrn Whitmore birthday - U.S. politician. KW was the first mayor of Houston, Texas, who was also a woman. She served four terms. A changing economy, and maybe the fact that she appointed a woman police chief who became pregnant, damaged her career. (Watson was a very good police chief, but they got rid of her too. Watson was the first police chief of a major city in the history of the world to bear a child while in office. She wore maternity uniforms!)
1947 - No. 1 Billboard Pop Hit: ``Smoke! Smoke! Smoke! (That Cigarette),'' Tex Williams.
1948 - CBS-TV inaugurated the first nightly news broadcast, with anchorman Douglas Edwards reporting the day's events.
1950--Two U.S. divisions are badly mauled by the North Korean Army at the Battle of the Bowling Alley in South Korea, which rages on for five more days.
1950---Top Hits
Mona Lisa - Nat King Cole
I Wanna Be Loved - The Andrews Sisters
Sam's Song - Bing & Gary Crosby
I'm Moving On - Hank Snow
1951-Birthday of jazz vocalist Bobby Caldwell, New York City, NY.
http://www.homdrum.no/caldwell/bio.html
1953-President Eisenhower appointed the first Navy man, Admiral Arthur William Radford, to serve as Joint Chief of Staff. He served until 1957.
1955-Pitcher Warren Spahn of the Milwaukee Braves hit a home run off Mel Wright of the St. Louis Cardinals in Sportsman Park, St. Louis, to give him at least one homer in every National League ballpark.
1958---Top Hits
Poor Little Fool - Ricky Nelson
Nel Blu Dipinto Di Blu (Volare) - Domenico Modugno
My True Love - Jack Scott
Alone with You - Faron Young
1961 - Two days after sealing off free passage between East and West Berlin with barbed wire, East German authorities begin building a wall--the Berlin Wall--to permanently close off access to the West. For the next 28 years, the heavily fortified Berlin Wall stood as the most tangible symbol of the Cold War--a literal "iron curtain" dividing Europe.
1966---Top Hits
Summer in the City - The Lovin' Spoonful
They're Coming to Take Me Away, Ha-Haaa! - Napoleon XIV
Sunny - Bobby Hebb
Almost Persuaded - David Houston
1967--56,000 acre "Sundance Fire" in northern Idaho was started by lightning following one of the hottest and driest summers on record. The heat produced whirlwinds of flame with 300 mph winds which flung giant trees through the air like matchsticks.
1967-Chuck Berry, Young Rascals, Charles Lloyd
and Count Basie at the San Francisco Fillmore Auditorium.
What a show!!! I was there, booze everywhere, too.
1968 - No. 1 Billboard Pop Hit: ``People Got to Be Free,'' The Rascals. Band member Felix Cavaliere wrote the song following the assassinations of Sen. Robert F. Kennedy and the Rev. Martin Luther King Jr.
1969 - The Woodstock Music and Art Fair opened. Two dozen bands came to play on a wooden stage in the middle of a pasture. It was a happening unlike any other. 450,000 people formed a love-in for three days and nights. Jimi Hendrix was there, Joan Baez, and Arlo Guthrie, too. Country Joe and the Fish, Santana, Crosby, Stills and Nash. Jefferson Airplane, Creedence Clearwater Revival, The Who, and so many more. There were hippies, and bikers, Viet Nam war vets, and high school kids ... college kids and college grads, longhaired and short, young and old ... and the world watched and joined in through the magic of the television. It last until August 18 with quite inadequate planning and bad weather which threate4ned for a time to make it a full disaster area of the site, Max Yasgur's farm near Bethel. A good portion of the crowd failed to reach the fair when traffic jams clogged all roads leading to the Catskill area. Helicopters were pressed into service to supply food, water, and medicine. Rains made a quagmire of the festival grounds. Drugs circulated freely and a number of people were treat for bad drug reactions. Almost miraculously, there were only three deaths. the police adopted a hands-off posture, and the youths present enjoyed themselves in a general spirit of peace, cooperation, and enthusiasm. While many treated the affair as an idyll, other expressed alarm at the incontrovertible evidence of a mass drug culture.
1970, the first professional football game in which a woman participated took place at Orlando, FL, when the Orlando Panthers of the Atlantic Coast League played the Bridgeport Jets. Patricia Palinkas, 27 year old, the wife of a player on the Panthers team, held the ball as her husband attempted to kick it for the extra point. The 122-pound woman was forced to run with the ball and was brought down within seconds by a 235-pound tackle. The Panthers won 26-7.
1971-Projected GNP figures were off, unemployment was up to 6%, and inflation rose above 4% for the year. For the first time in the twentieth century imports exceeded exports. President Richard M. Nixon this day announced a plan to control wages and prices, coupled with devaluation of the dollar to improve the US balance of trade. He called for a 90-day wage and price freeze, reductions in federal spending, and a temporary 10% surcharge on imports. the dollar would be allowed to float from its formerly fixed exchange rat4e of $35 per ounce of gold. On November 15, the second phase of the new program was instituted. A pay board responsible for setting standards for wage increases set a 5.5% guideline, and a price commission established a 2.5% guideline for annual price increases. In 1972, President Nixon enhanced his already substantial chances for reelection with trips to the People's Republic of China in February, 1072. The inflationary spiral appeared to be coming under control, Unemployment was down, as was inflation, and economic growth was up. In fact, the economy's record was the best since 1967.Nixon won an outstanding November election, 521 electoral votes to George McGovern's 17. Yet the following year, Vice-President Agnew would resign in disgrace, and the missing 18 minute gap in the Watergate tape would be
revealed by the White House.
1974---Top Hits
Feel like Makin' Love - Roberta Flack
The Night Chicago Died - Paper Lace
Please Come to Boston - Dave Loggins
Rub It In - Billy "Crash" Craddock
1977 - No. 1 Billboard Pop Hit: ``Best of My Love,'' The Emotions. The song wins a Grammy as best R&B vocal performance by a duo, group or chorus.
1980 - "I Me Mine", an autobiography by former Beatle George Harrison, went on sale.
http://www.hariscruffs.com/biography.html
http://www.eskimo.com/~cathy/hariontour/harifaq.htm
(book is "out of print." At the time, ebay.com did not have available )
1981 - Lionel Richie and Diana Ross hit number one on the pop music charts with their beautiful duet, "Endless Love". It was a huge success for the two singers. "Endless Love" was number one for nine weeks.
1982---Top Hits
Eye of the Tiger - Survivor
Hurts So Good - John Cougar
Abracadabra - The Steve Miller Band
I'm Gonna Hire a Wino to Decorate Our Home - David Frizzell
1988 - Thirty five cities in twenty states in the north central and northeastern U.S. reported record high temperatures for the date, including Lamoni IA and Baltimore MD, where the mercury hit 105 degrees. Temperatures 100 degrees or above were reported in twenty-two states. Pierre SD was the hot spot in the nation with a high of 114 degrees. Bluefield WV reported eight straight days of record heat.
1989 -In his second start after coming back from cancer surgery, Giant Dave Dravecky suffers a broken arm beating Expos, 3-2; he collapsed to the ground and clutched his left arm in severe pain after throwing a wild pitch to Tim Raines.
1990- A dramatic game-winning grand slam by Mark McGwire gives the A's a ten-inning victory over the Red Sox, 6-2; he becomes the first player to hit thirty HRs in each of his first four seasons.
1990- Phillie Terry Mulholland faces just twenty-seven hitters no-hitting the Giants 6-0 as a double play erases only batter to reach base due to third baseman Charlie Hayes' throwing error. It is the record eighth no-hitter of the season surpassing the previous record of seven set in 1908 and tied in 1917.
1990---Top Hits
Vision of Love - Mariah Carey
The Power - Snap!
If Wishes Came True - Sweet Sensation
Good Times - Dan Seals
1991-750,000 attend Paul Simon's free concert in Central Park
http://www.medialab.chalmers.se/guitar/central.park.81.html
http://www.rottentomatoes.com/m/PaulSimonsConcertinthePark-1036280/about.php
1995 -Appalachicola, FL soars to 103 degrees to set all-time high
2000-- Club owner Ted Turner and two-time National League MVP Dale Murphy are inducted into the Atlanta Braves Hall of Fame joining Hank Aaron, Eddie Mathews, Phil Niekro and Warren Spahn.
--------------------------------------------------------------

Baseball Poem
Frankly Speaking
What makes hot dogs
Taste better
At the ball park
Than anywhere else?
Can't be the brand Or the roll Or the mustard
I think it's The
process Of
spotting The
vendor Ordering
over The noise of
The fans
Passing your bucks
To the right And
watching The dog
Move from hand to hand
To the left
Then looking up
And rejoining the
Miracle play
In progress
Becoming again an active
Part of the hopefuls
Eating quickly
So you can keep score
again And clap along
With the kids over there
Chanting
WE WANNA HIT!
Written by Gene Carney, "Romancing the Horsehide," Baseball Poems on
Players and the Game, published by McFarland and Company
--------------------------------------------------------------

SuDoku
The object is to insert the numbers in the boxes to satisfy only one condition: each row, column and 3x3 box must contain the digits 1 through 9 exactly once. What could be simpler?
http://leasingnews.org/Soduku/soduko-main.htm
--------------------------------------------------------------

Daily Puzzle
How to play:
http://www.setgame.com/set/puzzle_frame.htm
Refresh for current date:
http://www.setgame.com/set/puzzle_frame.htm
--------------------------------